Want to give or get something awesome this year?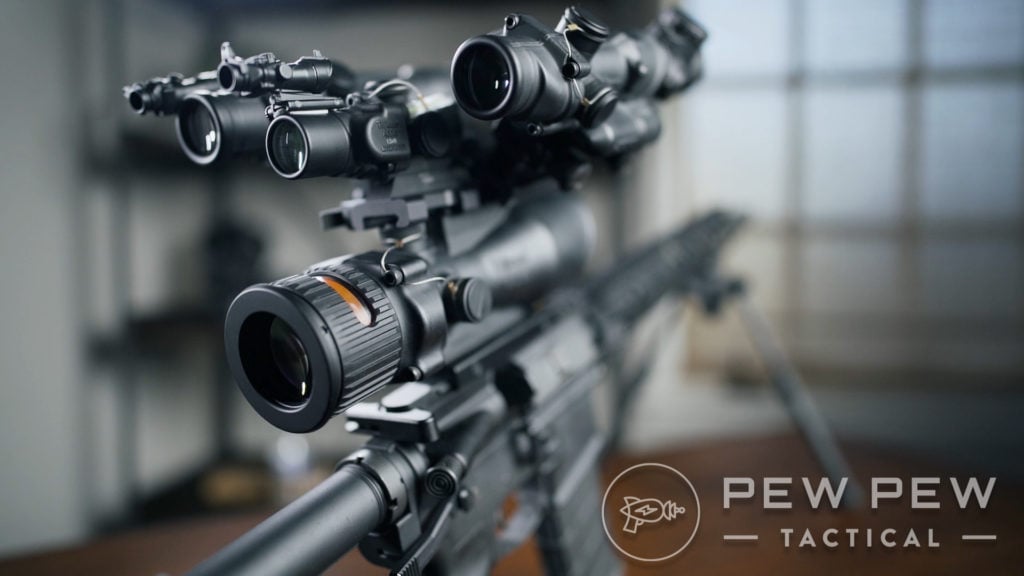 We see, test, and abuse a ton of gun stuff here at Pew Pew Tactical.
Here's some of our perennial favorites…as well as new things to the market in 2019 across all budgets.
Optics
This year it seemed everyone made their own red dot and/or 1-6x scope.
We're glad…because the quality is getting higher while prices drop.
Sig Sauer Romeo 5
We've still got a little bit of testing to do for other brands…but as of now the Romeo 5 might be the best red dot under $200.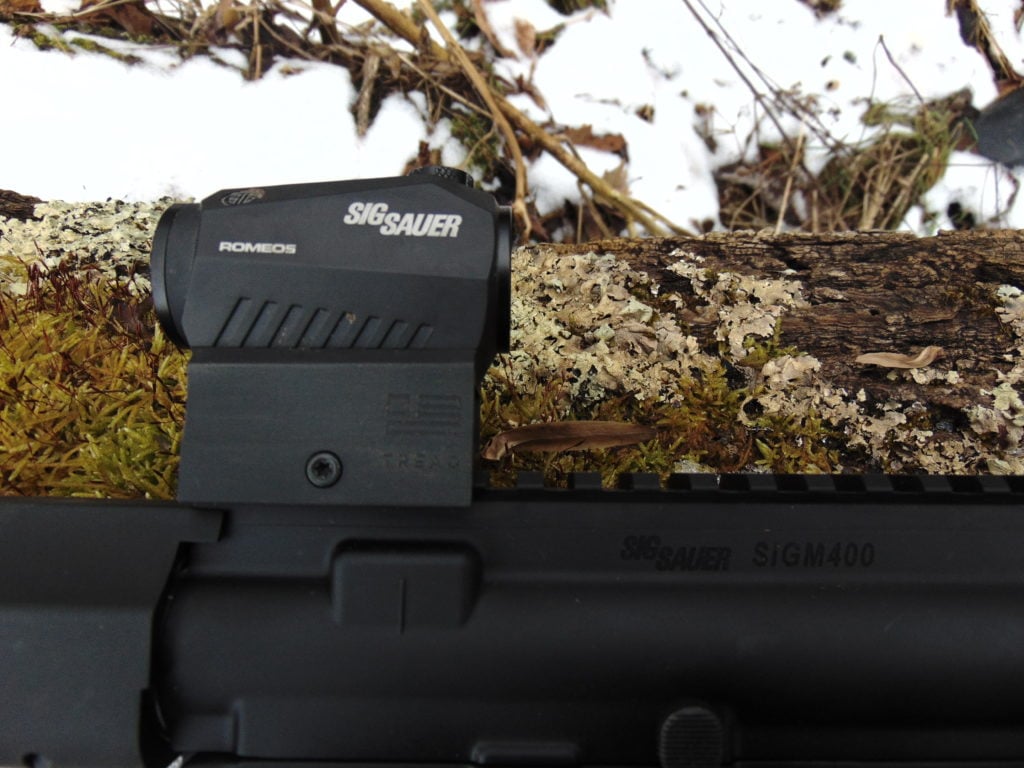 And when it's on sale it gets really close to the $100 mark.
Check out our full review.
Want to go cheaper? Check out our destructive tests in Best Red Dots Under $100.
Primary Arms 1-6x
Our current favorite for a low power variable optic (LPVO) is the PA 1-6x that can get everything done from close-up engagements out to 400+ yards.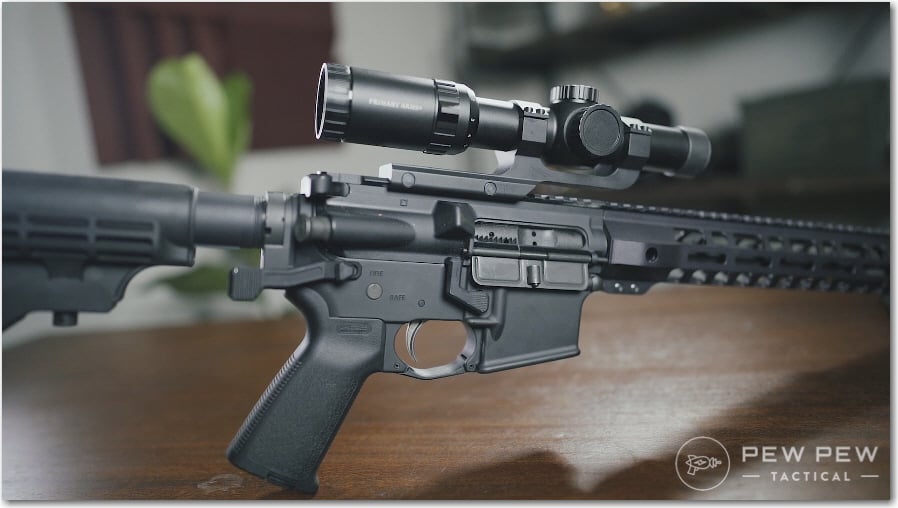 Clear glass, great reticle, and excellent bang-for-the-buck.
Check out a quick vid of it at the range.
See our full review here…and video!
Trijicon MRO
We're finishing up our in-depth review but right now the MRO is our go-to "premium" red dot that we'd feel comfortable on a home defense or battle rifle.
Check out our definitive article on Best Red Dots.
Trijicon RMR
Several have tried to unseat the king of pistol red dots.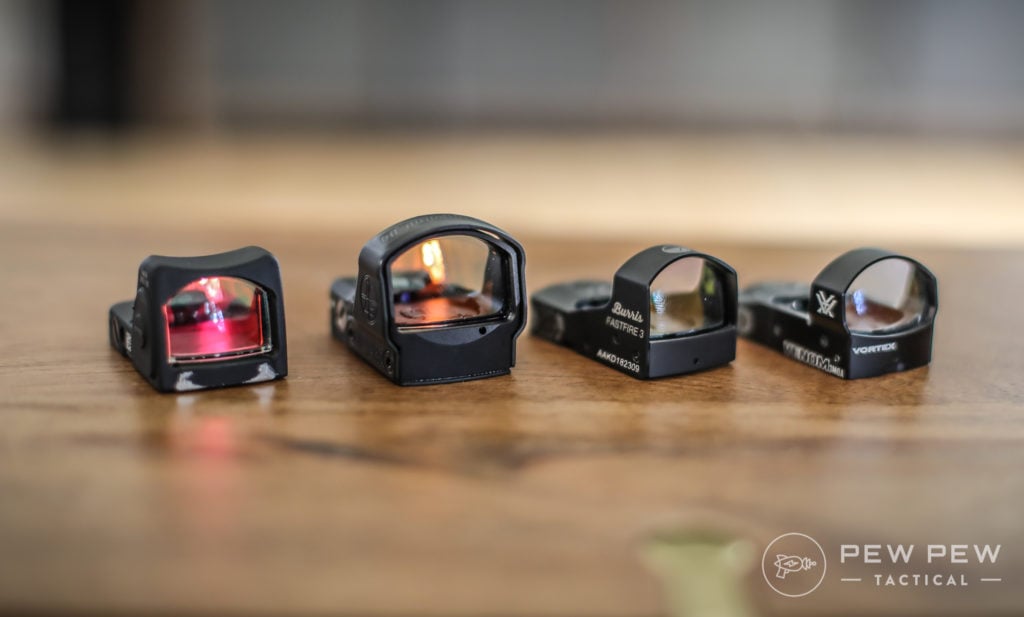 But our favorite still goes out to the Trijicon RMR.
However, there's still ton of more affordable options in our Best Pistol Red Dot review.
Now…let's jump into some rifle stuff!
AR-15 Upgrades
Again…another year of super "innovative" AR-15 upgrades. But really it's the same stuff slightly more refined.
Endomag
This is pretty cool…and we're going to come out with a full review and video soon.
But the Endomag turns your 30-round PMAG and standard AR-15 lower into a 9mm platform.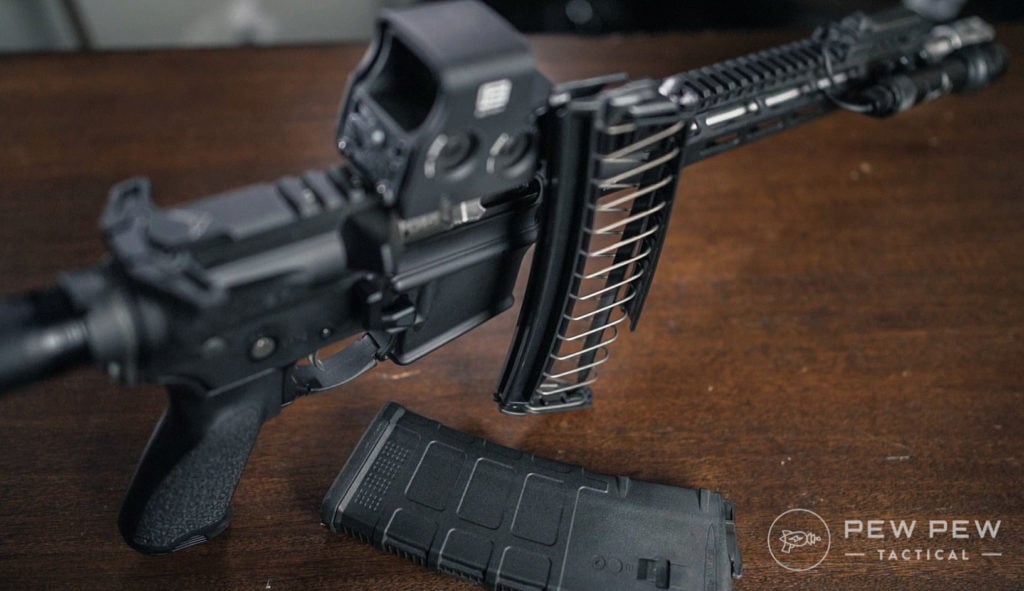 No need to buy a new 9mm lower!
Full review here and also a YouTube video too.
Precision Armament M4-72 Severe Duty
Our overall favorite AR-15 muzzle brake is the M4-72 Severe Duty.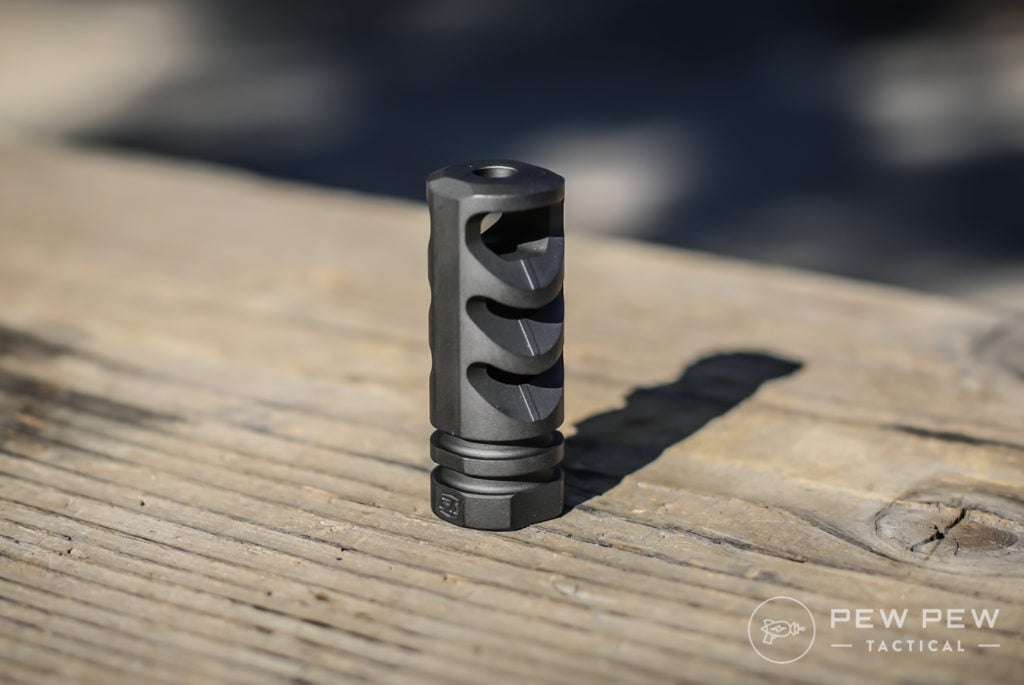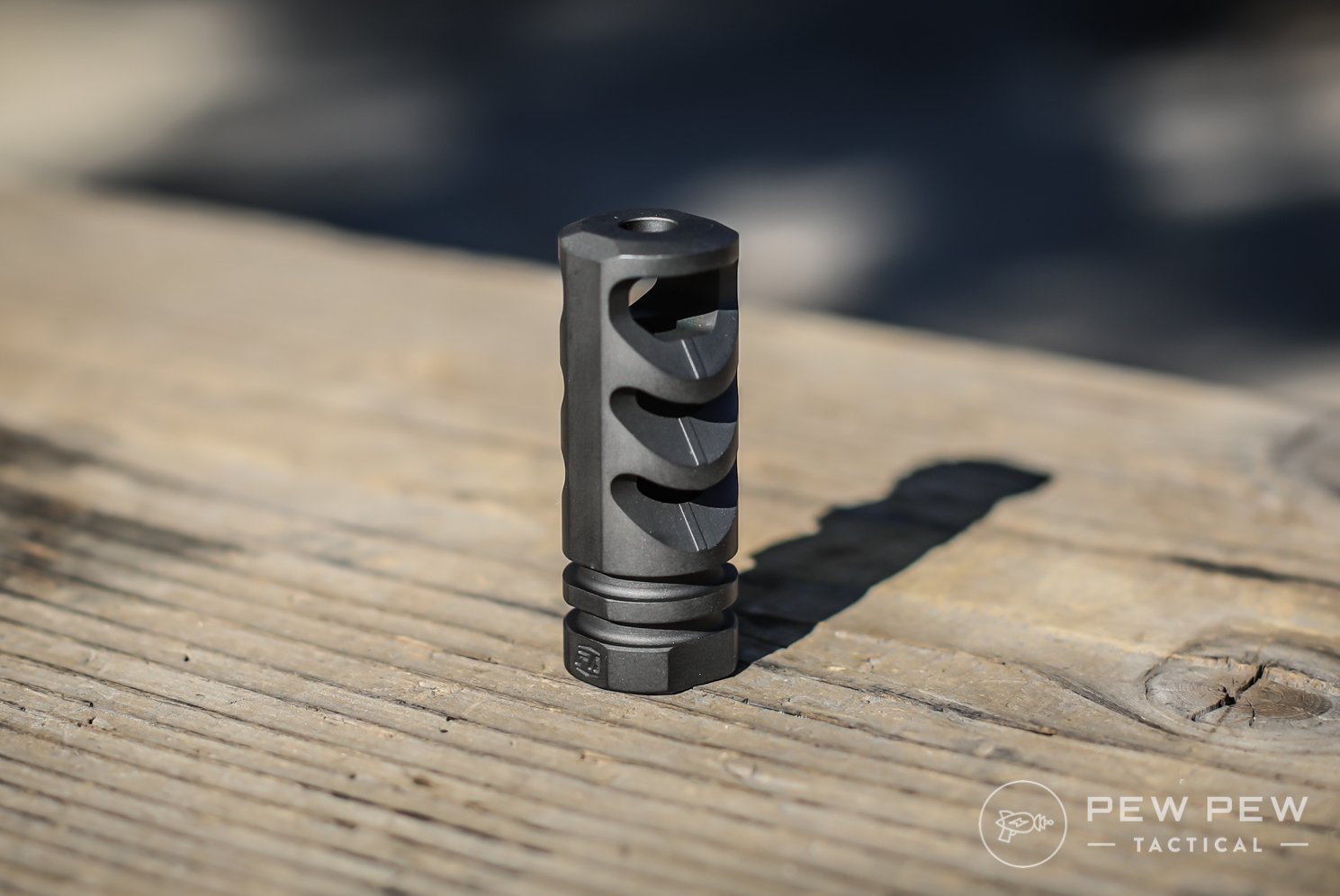 It's loud and your buddies on the side will hate you…but wow your reticle doesn't move!
And it's not a terrible value at $89 compared to others.
Check out the rest of our tested brakes in 8 Best AR-15 Muzzle Brakes.
Or if you're going big boy…6 Best .308 Muzzle Brakes.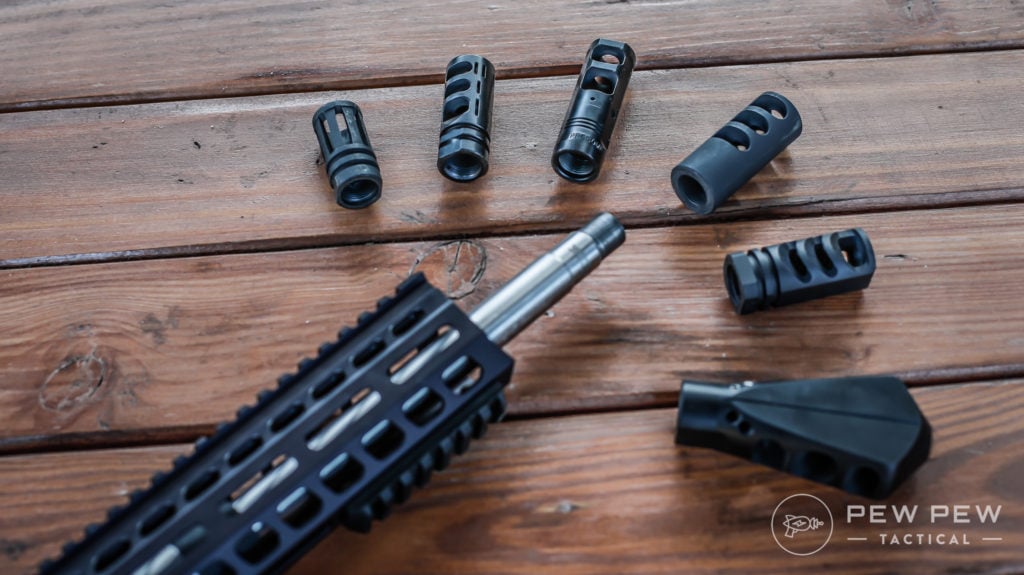 SBA3 Pistol Brace
AR-15 pistols are all the rage. And which pistol brace you choose matters…
We really like the SBA3 from SB Tactical.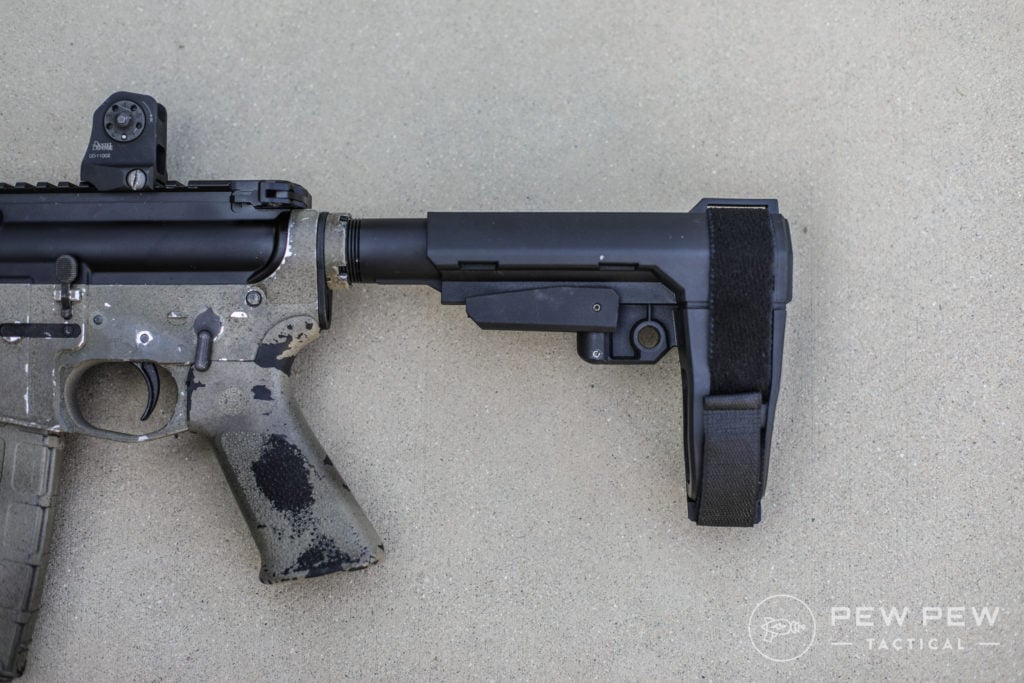 And yes…we tested a whole bunch of them out in Best AR and AK Pistol Braces.
Faxon Gunner Barrel
Building a new upper? You'll need a nice barrel.
One of my favorites for accuracy and affordability is the Faxon Gunner Barrel.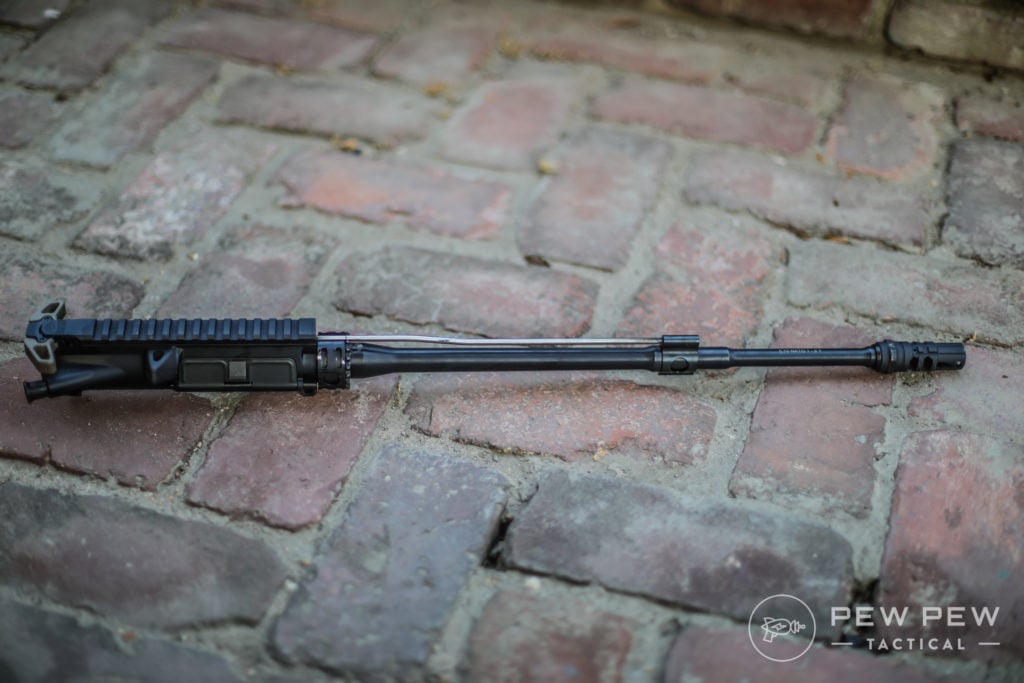 Find out why I use it in most of my builds and why I always recommend it to my buddies in the full review.
Superlative Arms Adjustable Gas Block
Want to further reduce your reticle movement?
You might want to check out an adjustable gas block and tune it for your specific loads.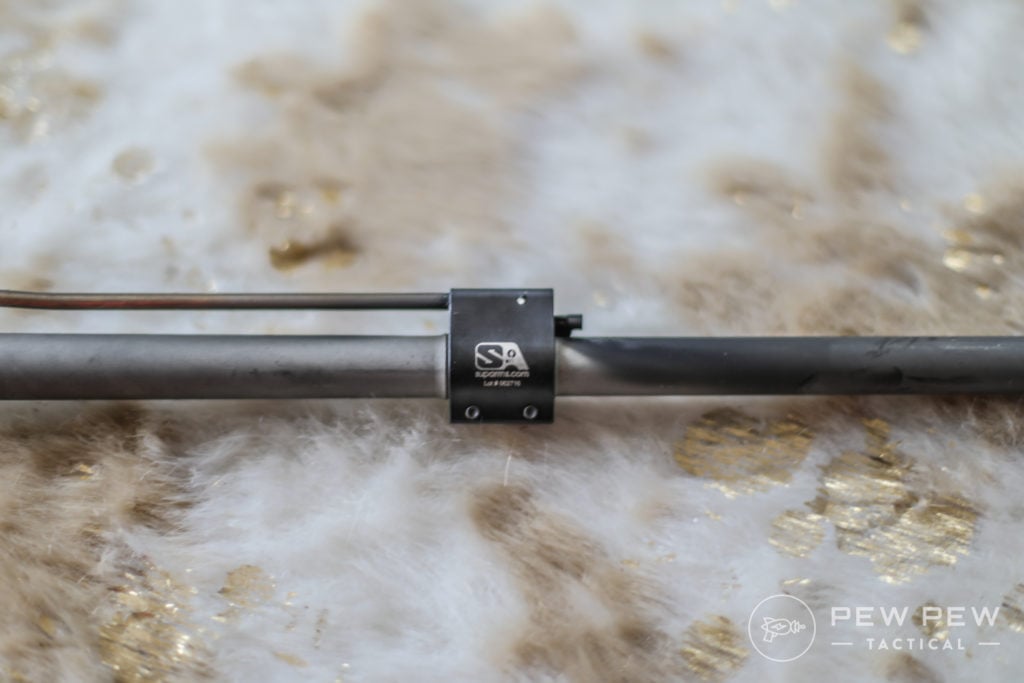 The Superlative Arms bleeds off the excess gas so your BCG doesn't smash into you unnecessarily. It really makes a world of difference.
Of course…full review here.
STNGR Handguards
My new recent best bang-for-the-buck handguards for new builds goes to the STNGR VYPR.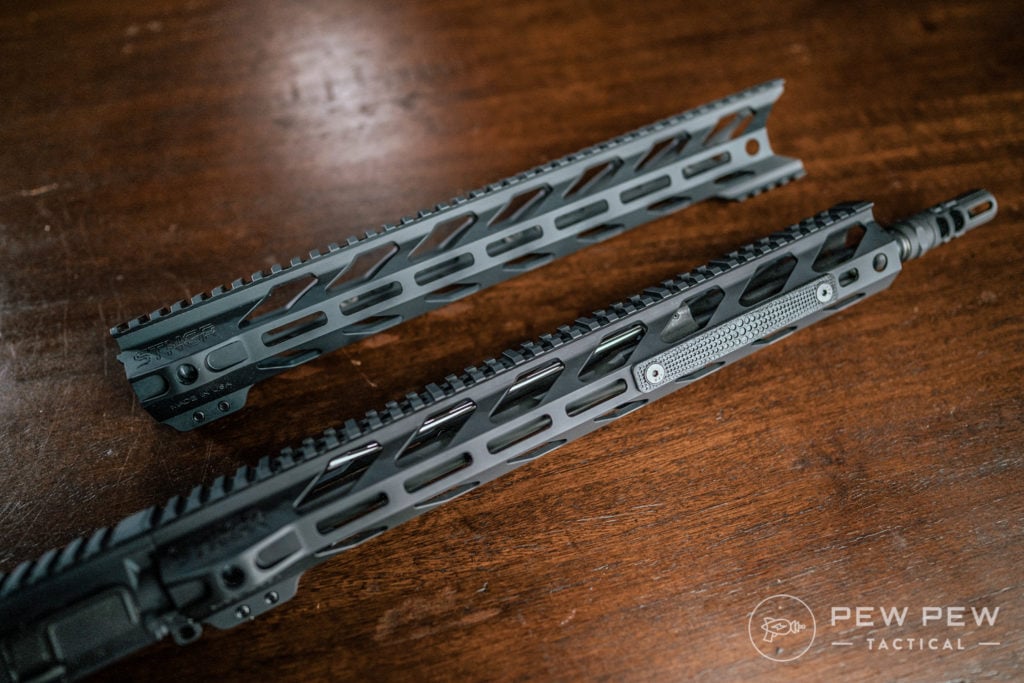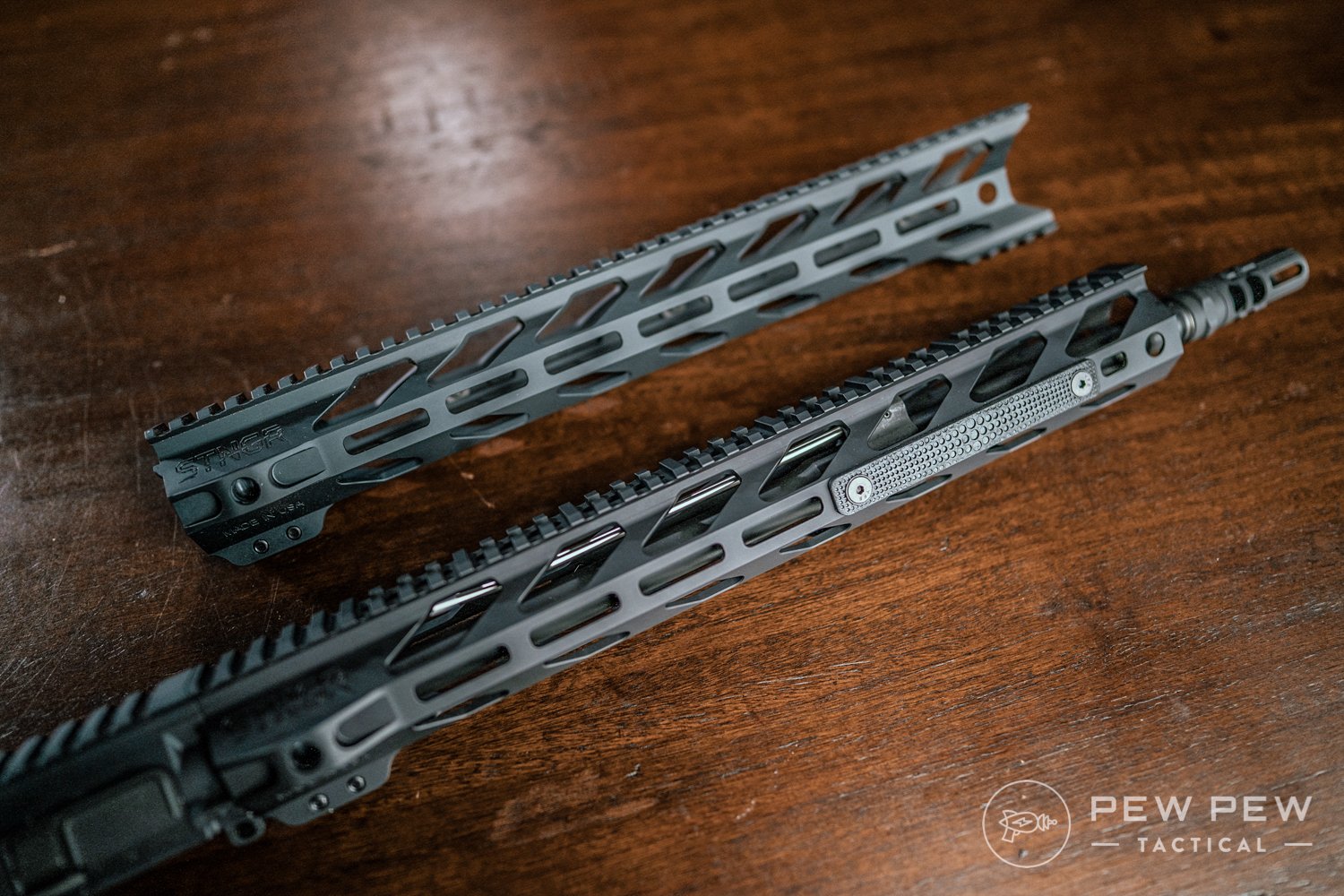 What it doesn't have in vowels they make up for in fit/finish/color…and price.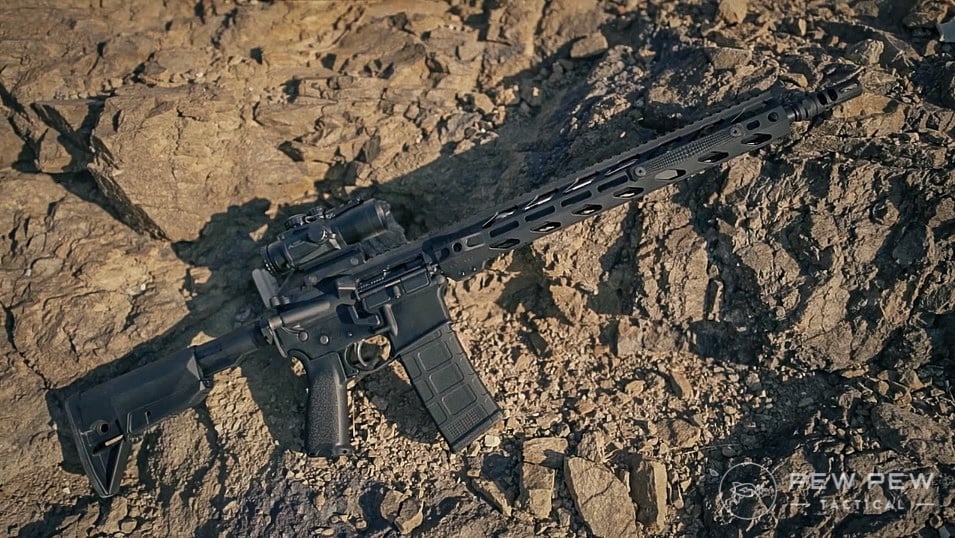 With the 13.5″ at $119 and the 15″ variant coming in at $125.
The cuts are aggressive which helps with the weight (11.5 oz) but I was afraid it was almost too aggressive so that my finger would touch the barrel.
But with plenty of mags and shooters…none of us had that problem.
Oh yea there's other models too like the HWK which is my second favorite.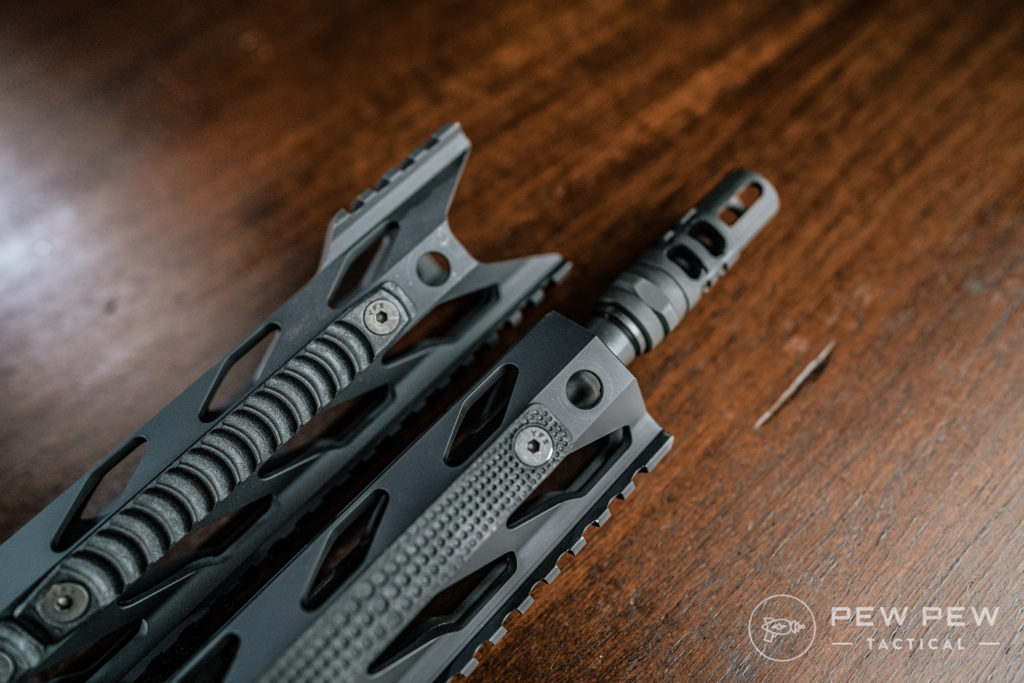 See more in Best AR-15 Handguards. But this is my best value pick.
Patriot Pin & ARMag Lock
These next two go out to my CA folks who make due with the hand dealt to them.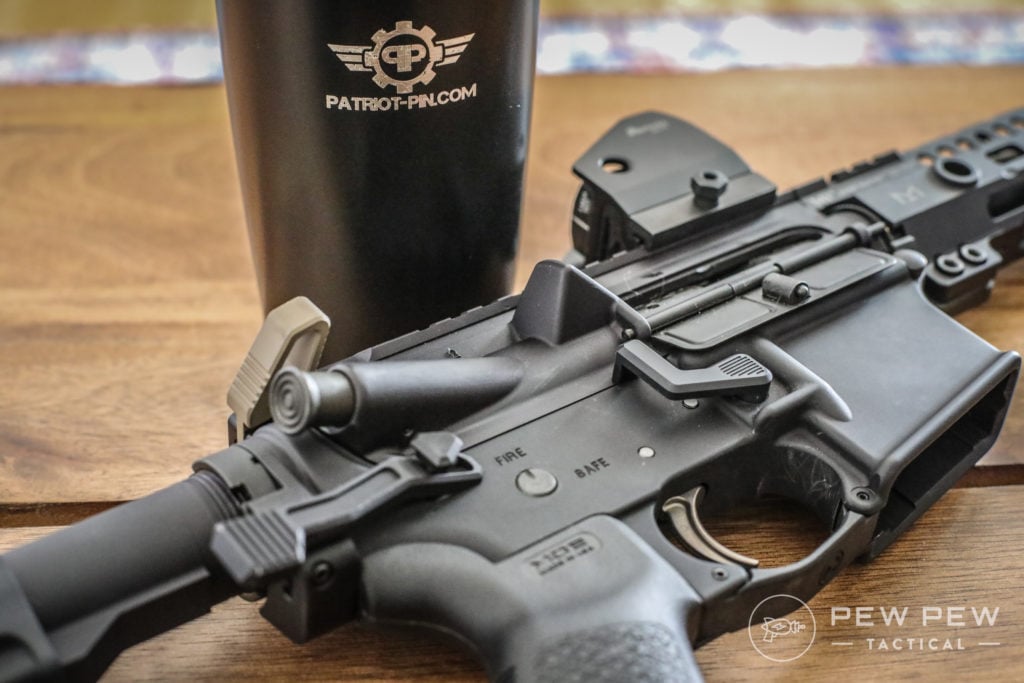 This combo system helps you have a fixed magazine, open up your two receiver halves, and get reloaded…quickly.
Sometimes you gotta do what you gotta do to stay compliant…full review here.
Resurgent Arms Featureless Grip
Ok…one more for CA folks!
This one is my favorite featureless grip that allows an almost normal wraparound grip.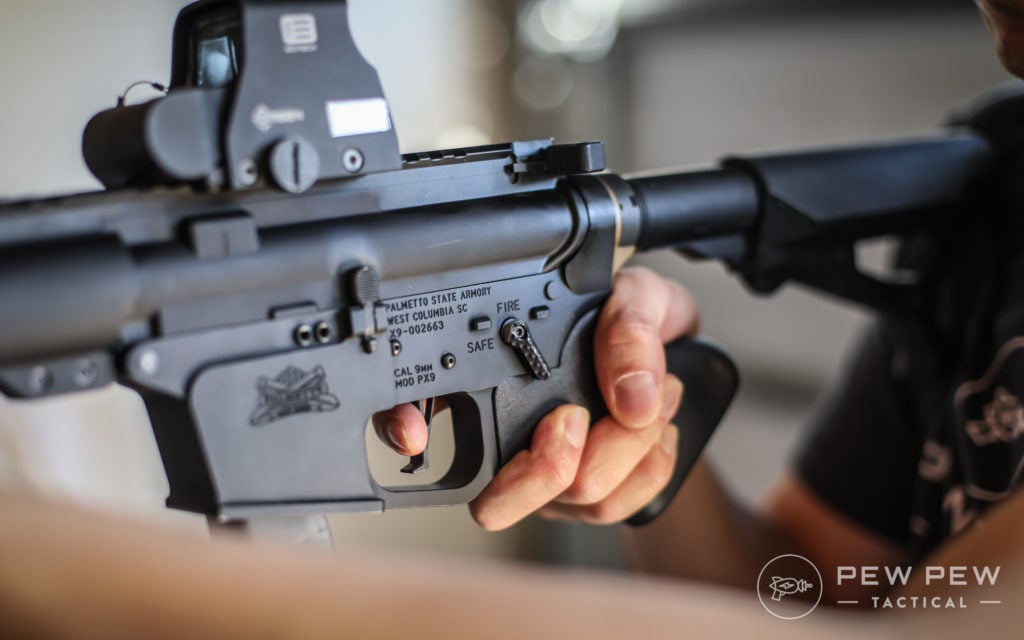 Now with an extended safety latch!
Full review along with some others at Best Featureless Grip.
Range Gear
Guns…check. Ammo…check. How about the other stuff you might need?
Cedar Mills Guitar Gun Case
Need to go covert with a really nice looking case?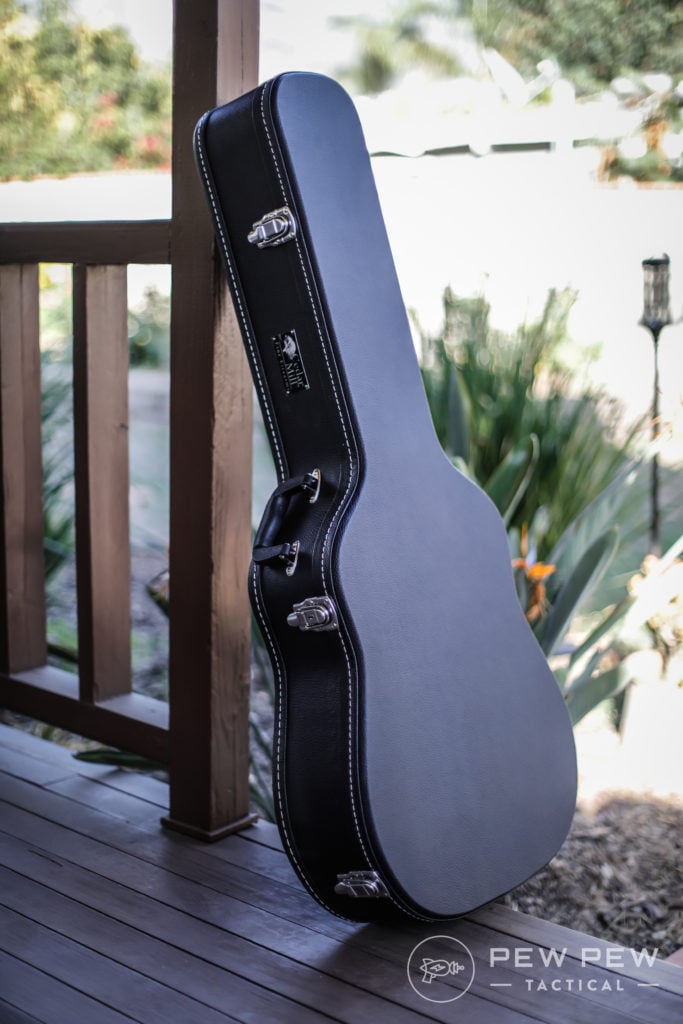 Cedar Mill has got you! Fits a collapsed 16″ AR with room to spare for mags or a pistol.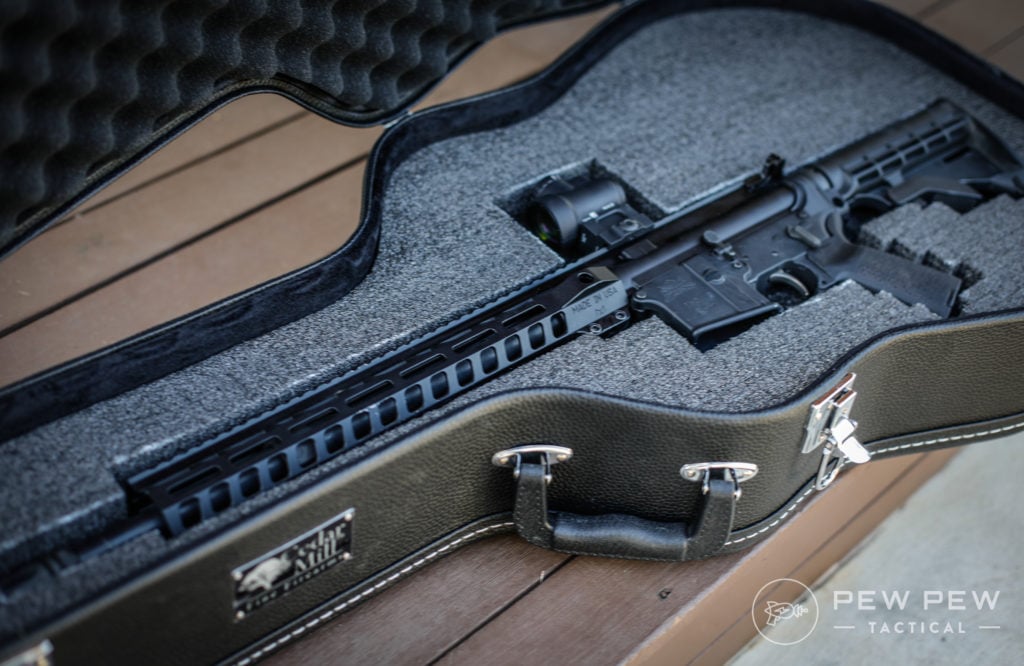 See more of our favorites in Best Gun Cases.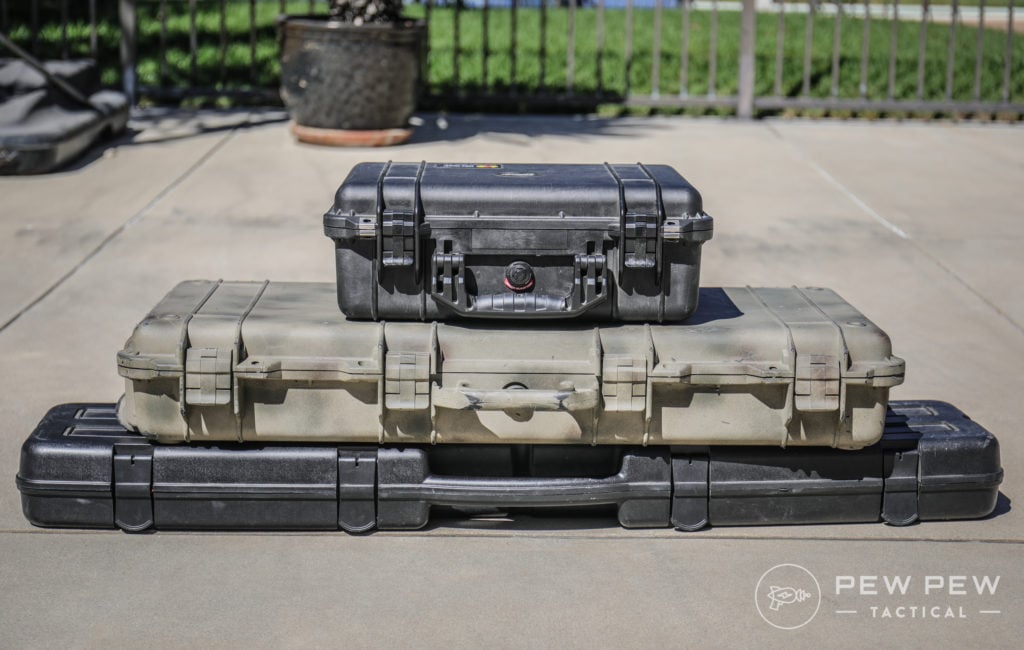 5.11 Range Bag
How about our go-to range bag?
It's big…it's study. It's the 5.11 Range Bag.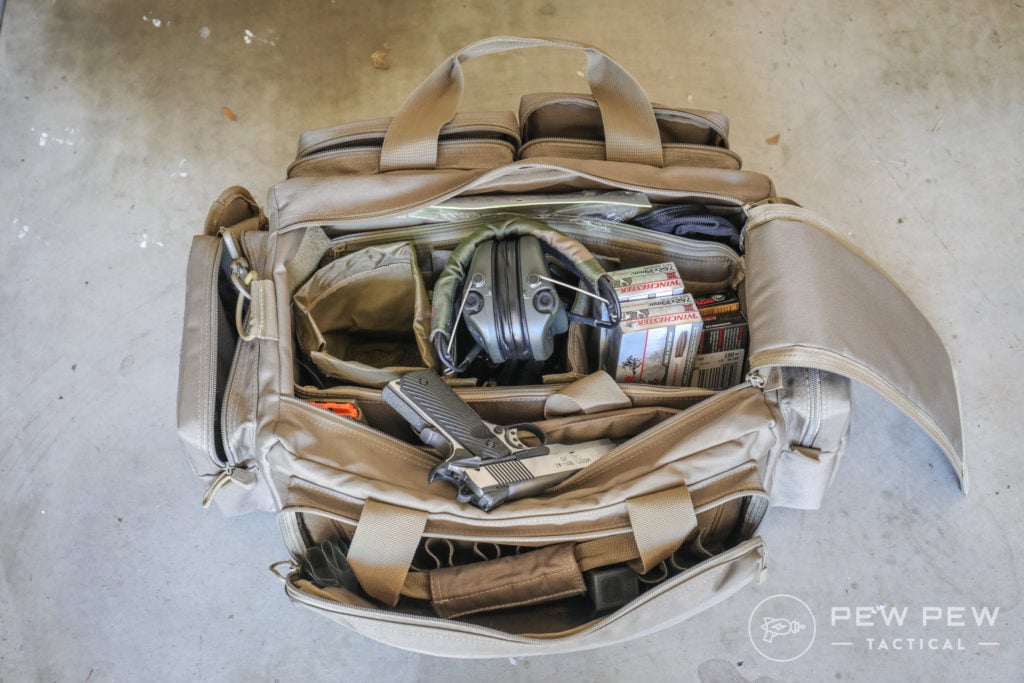 But for those that might not need a ton of space…check out our Best Range Bags.
Savior Equipment Rifle Bags
We've been through covert and range bags…what's our favorite rifle bags?
For most things it's going to be Savior Equipment.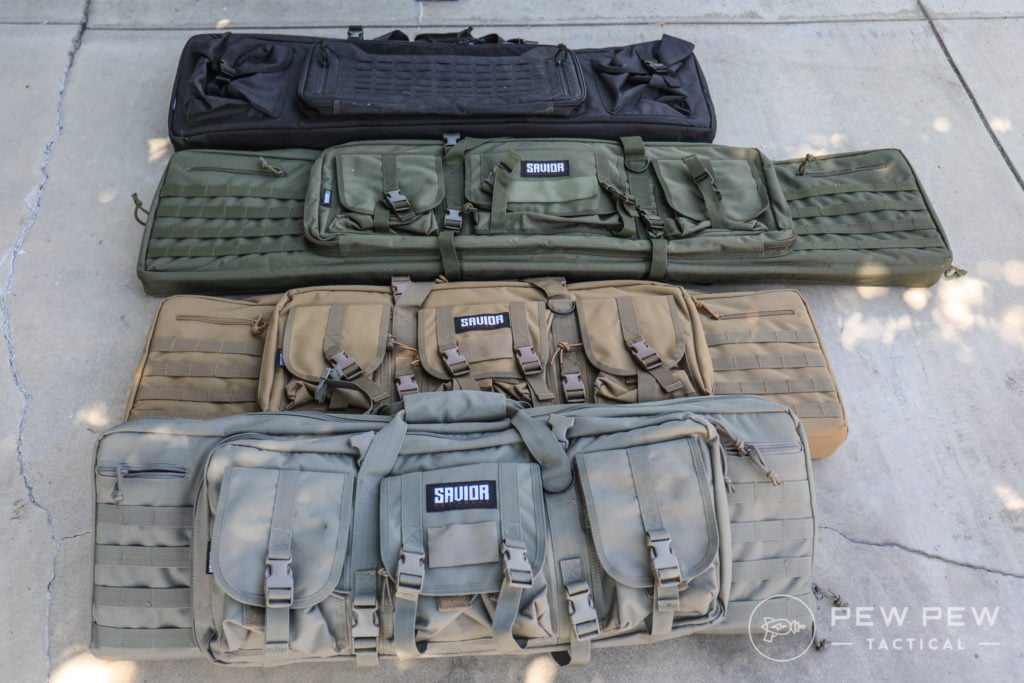 High quality Cordura and stitching compared to el cheapo bags.
I've been hauling multiple rifles with optics each range trip with them and so far they've held up well.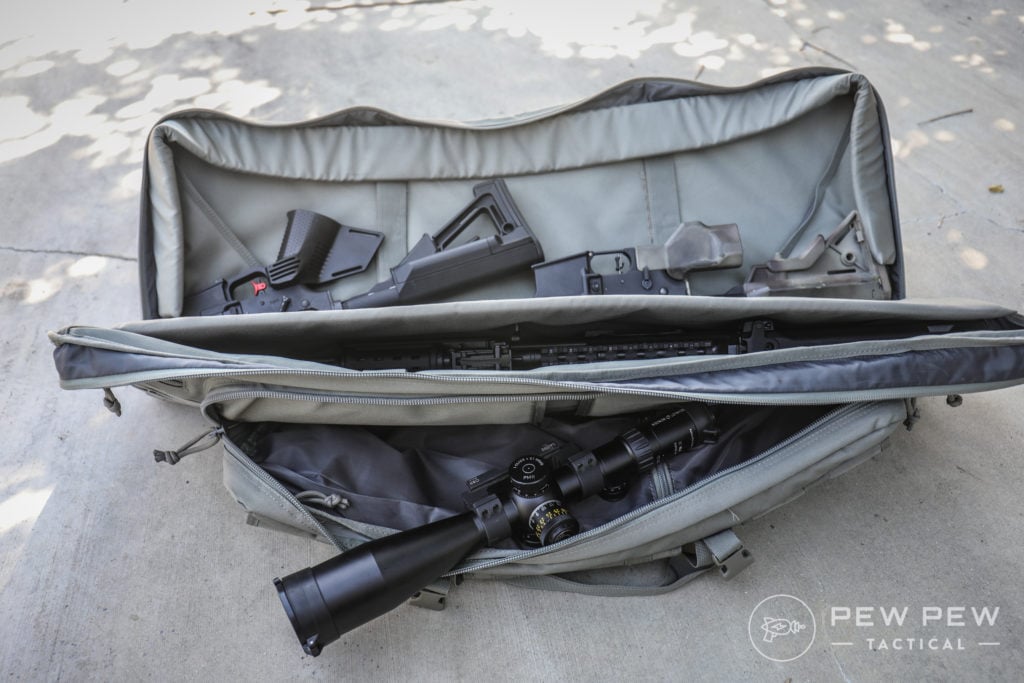 See more analysis and other picks in Best Gun Cases.
Celestron 52250 Spotting Scope
Our go-to spotting scope for most people just getting into long range shooting.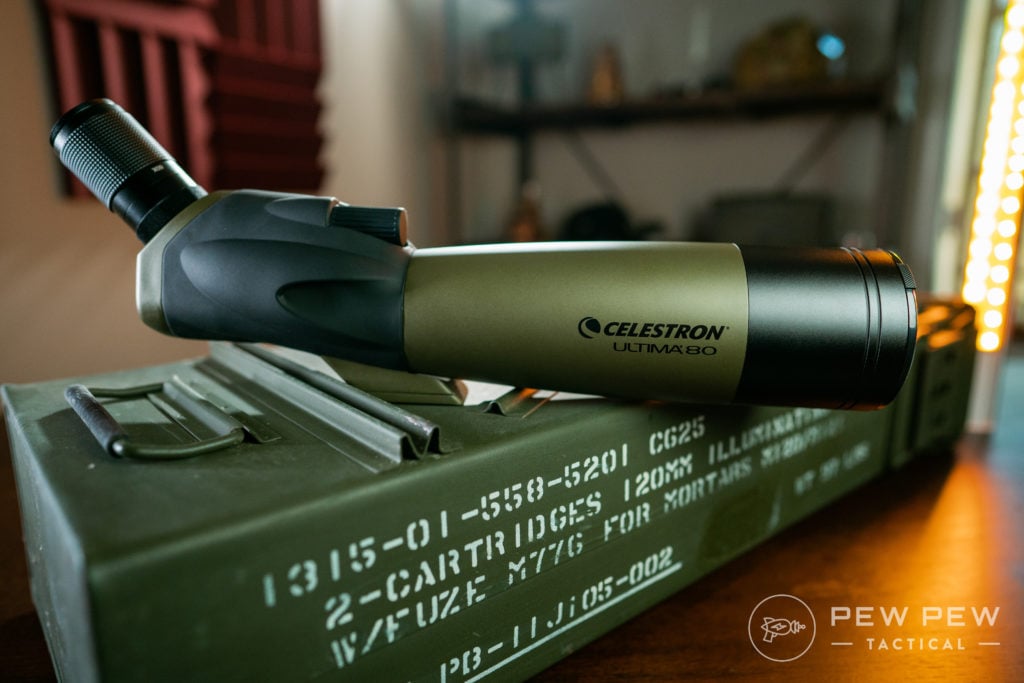 The Celestron is affordable with decent glass. Here it is showing 600 yard targets.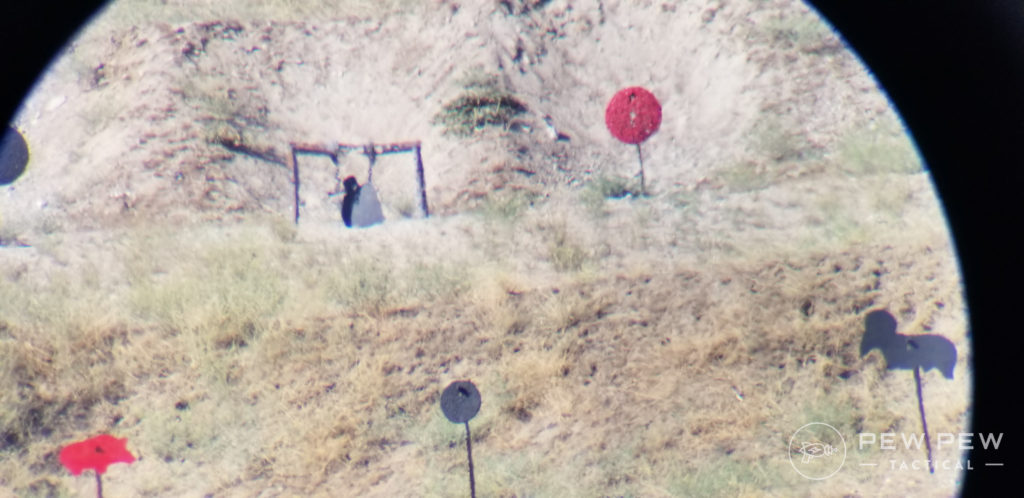 If you need something a little more robust or clearer glass…check out our Best Spotting Scopes article.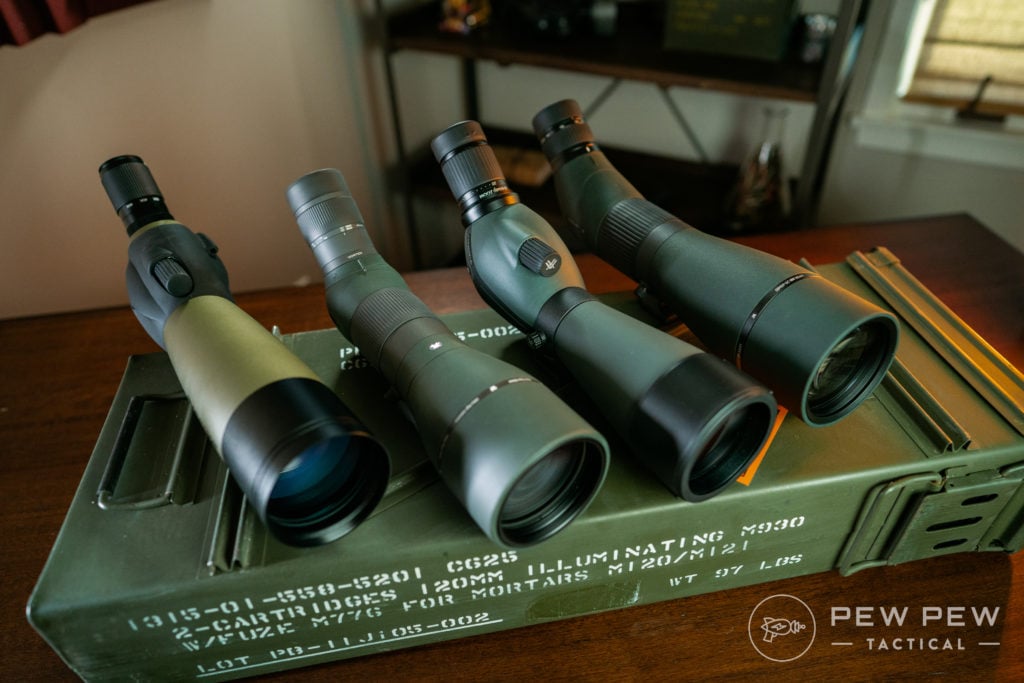 Caldwell DFT 2 Lead Sled
We do a lot of benched shooting for groups…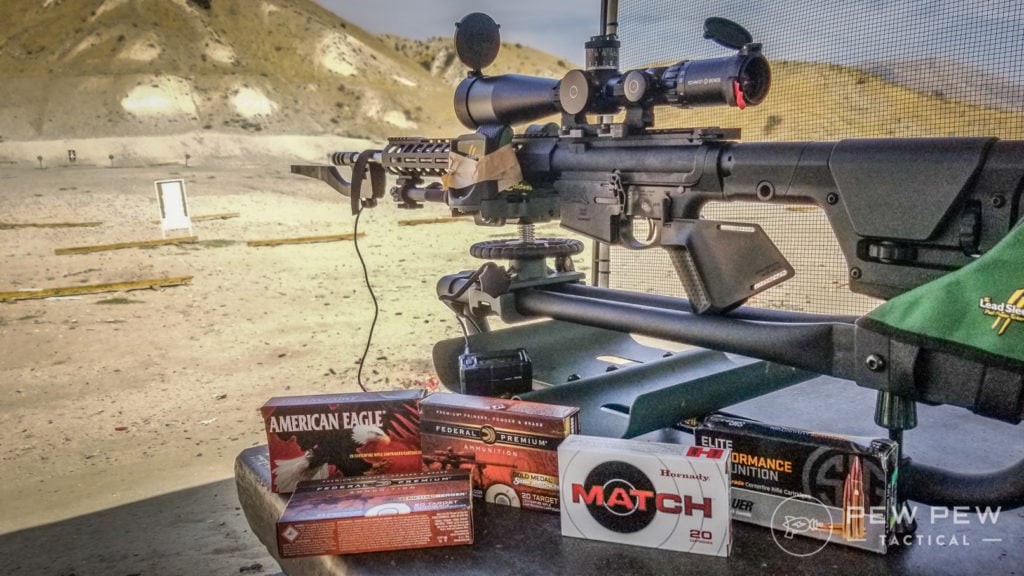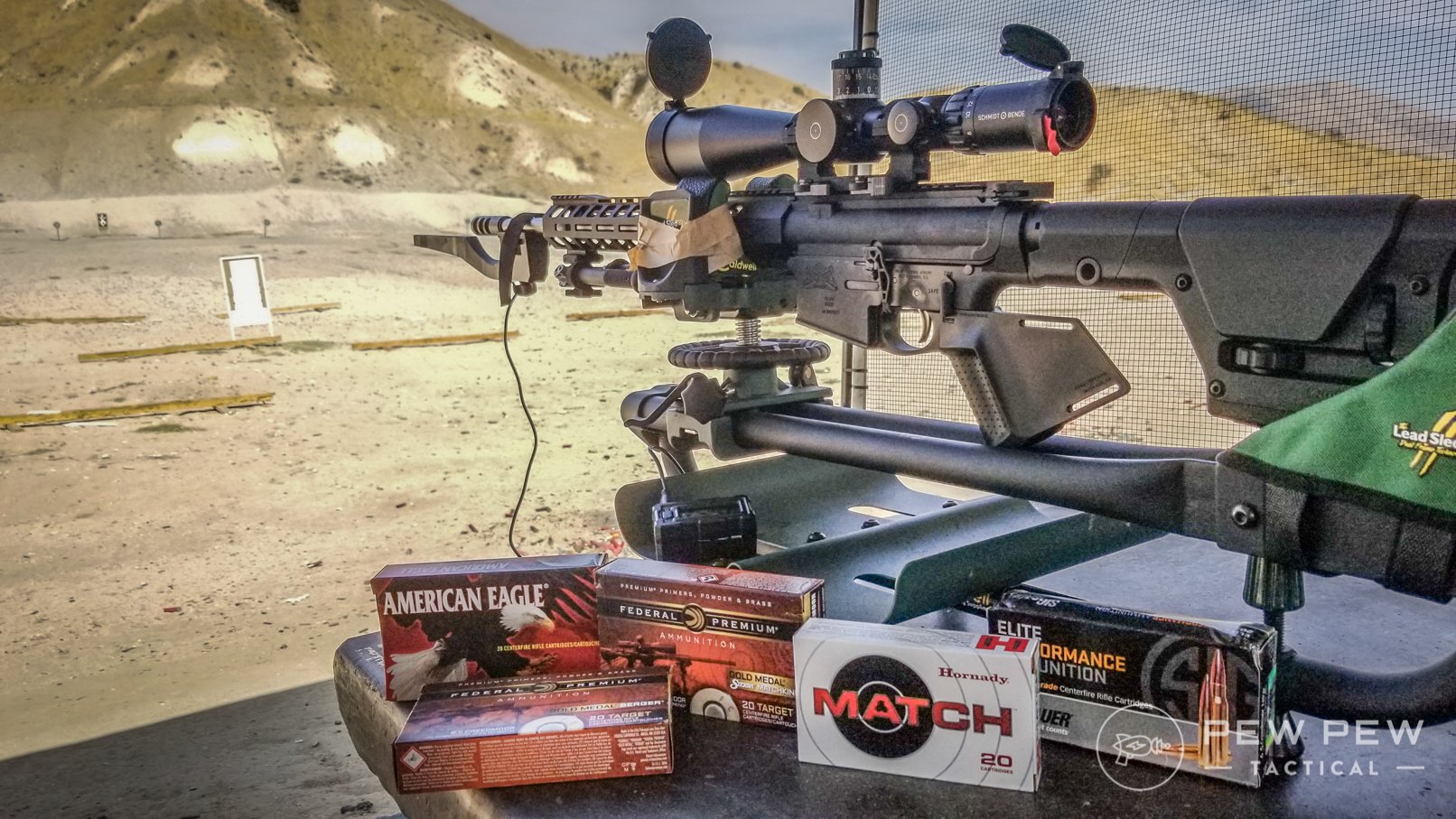 And our go-to is the Caldwell DFT series of lead sleds.
Caldwell DeadShot Combo
If you need something a little more portable and gives you more feel than a true lead rest…
Check out the DeadShot Combo which has a nice height that accommodates a wide range of rifles.
ShootSteel AR500 Targets
Looking for a little more *ting* in your life?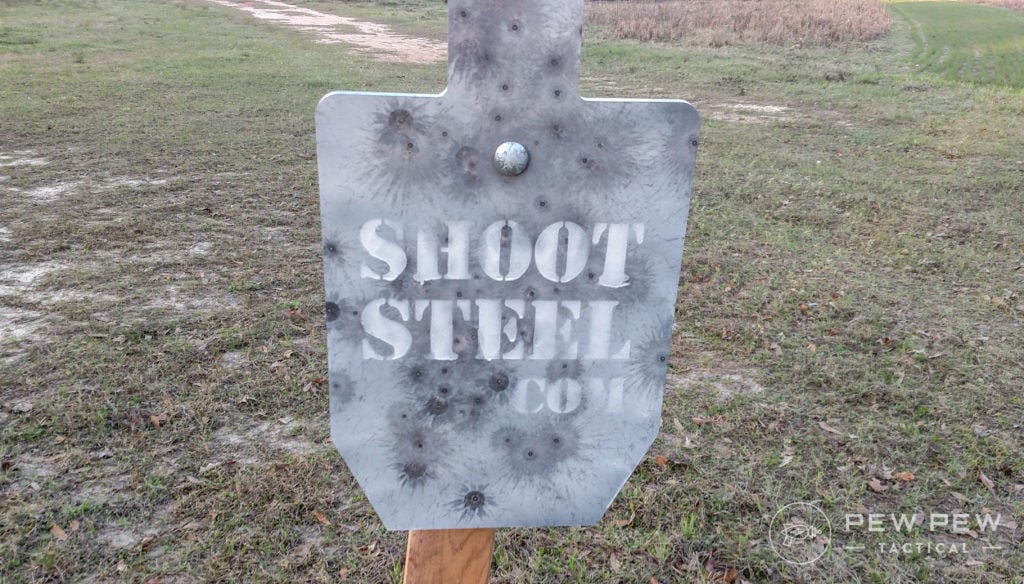 Our go-to AR500 steel targetmaker is ShootSteel. Check out our full review here.
Glock Upgrades
Killer Innovations Muzzle Brake
We were honored to judge Triggrcon's annual Golden Triggerr Awards…and Killer Innovation's Glock Muzzle Brake was one of our winners.
We were very pleasantly surprised that it kept the sights on target MUCH better than with a bare muzzle.
And it looks freakin' cool (with an easy on/off too).
Tyrant CNC Glock Package
Since custom Glock frames have flooded the market…the race is on to make your Glock the most unique looking out there.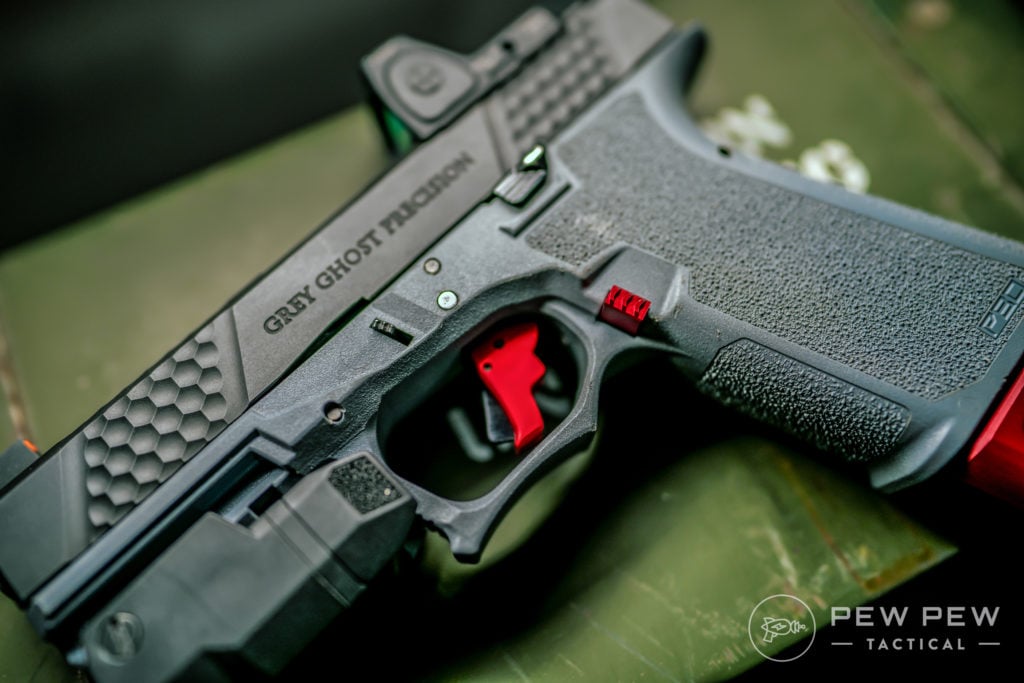 One of my current favorites is Tyrant CNC's extended mag release, extended mag bases, and slide plate.
Check out more of my favorite Glock Upgrades…from pure performance inside to cool looking stuff on the outside.
Soft Goods
SKD Shooting Gloves
If it's too hot or too cold…or you don't want your hands to get ripped up.
You'll want some nice shooting gloves that give protection but don't hinder your trigger finger.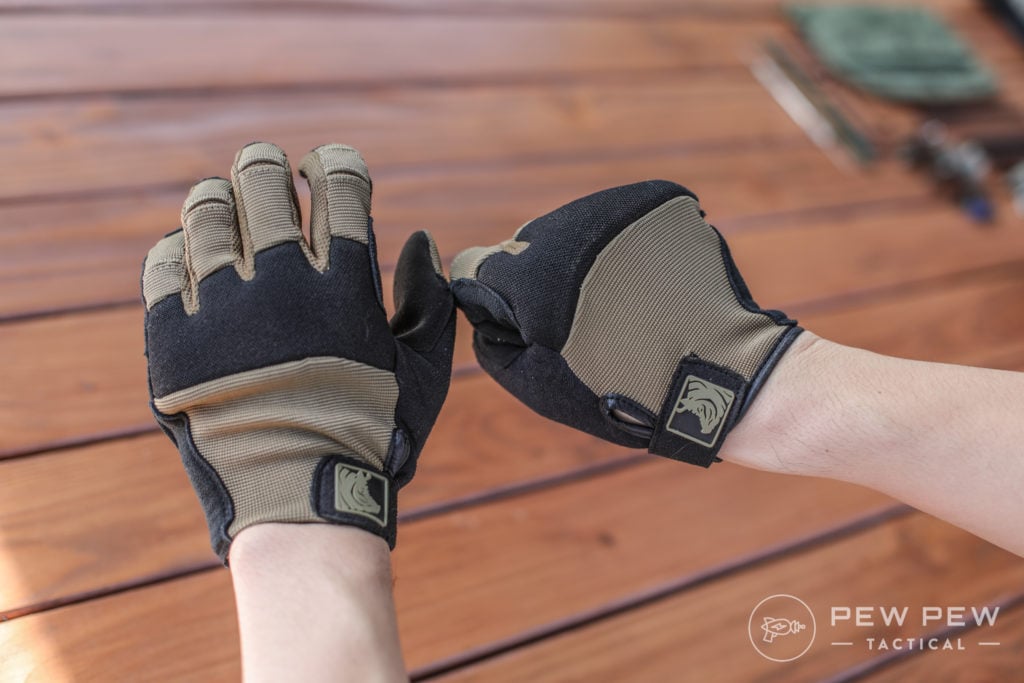 My pick for overall shooting gloves is the SKD Alpha.
Learn more about them as well as my other picks (such as thinnest gloves and best for women) in our Shooting Gloves article.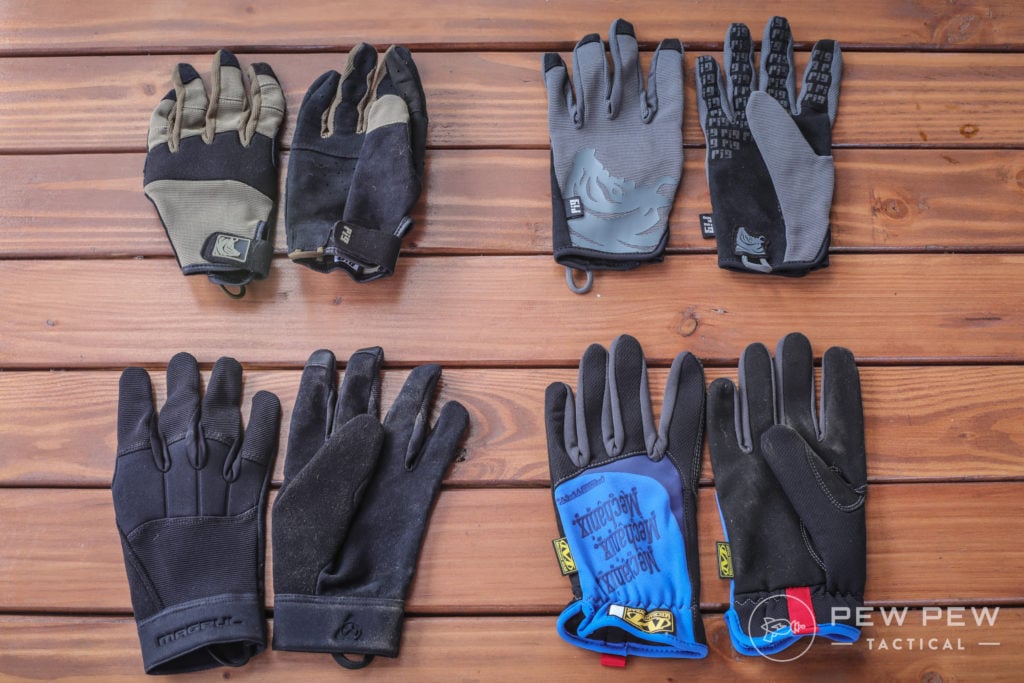 Wiley X Saber Shooting Glasses
How about protecting your eyeballs?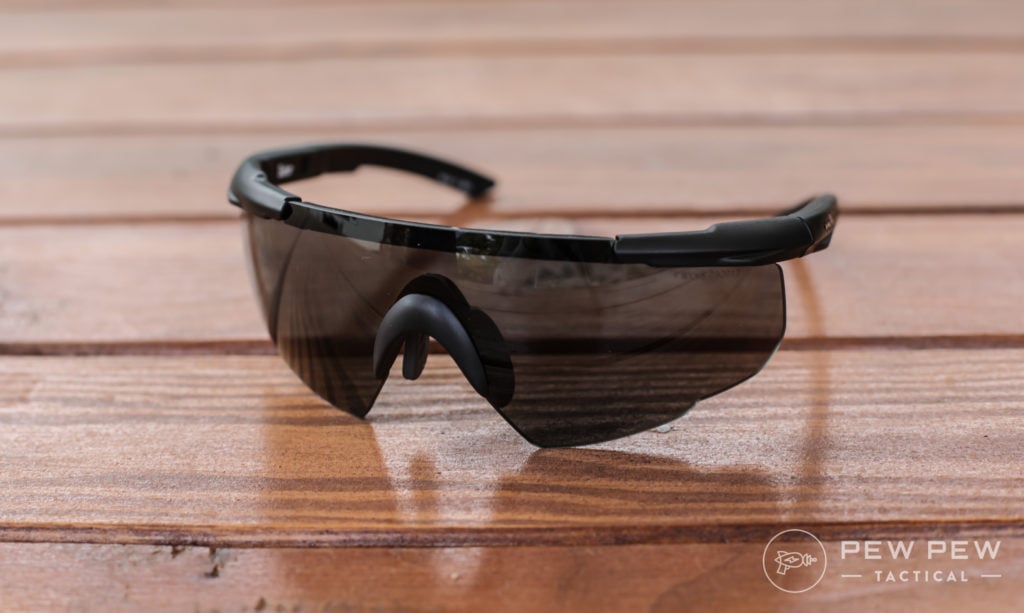 My go-to for affordable and comfy shooting glasses is the Wiley X Saber.
Check out more budget (and baller) picks in Best Shooting Glasses.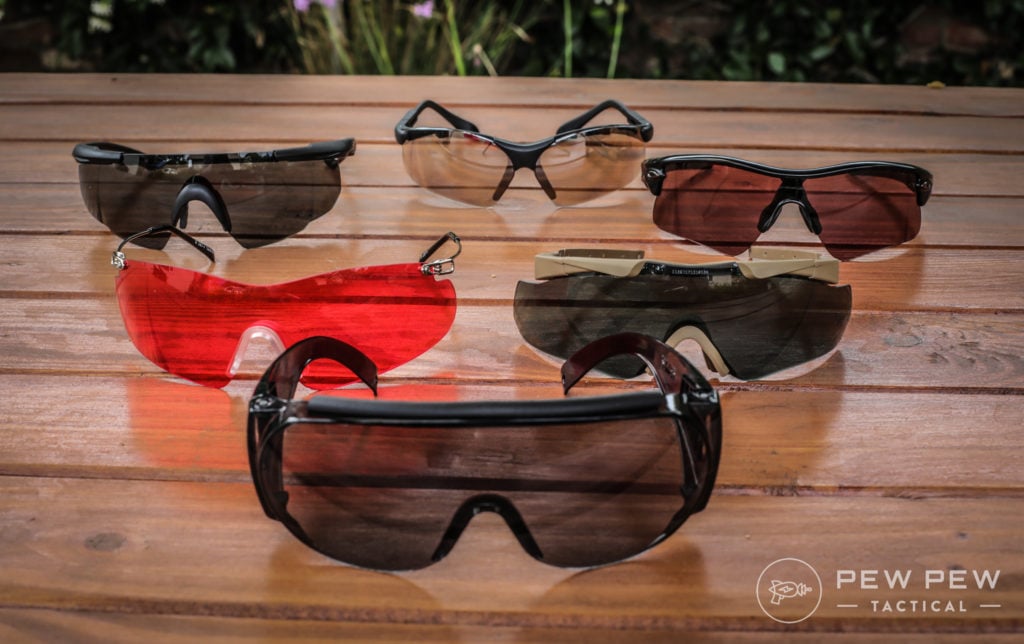 MSA Sordin Supreme Pro X
It's full name is a mouthful but the MSA Sordins are my favorite electronic hearing protection.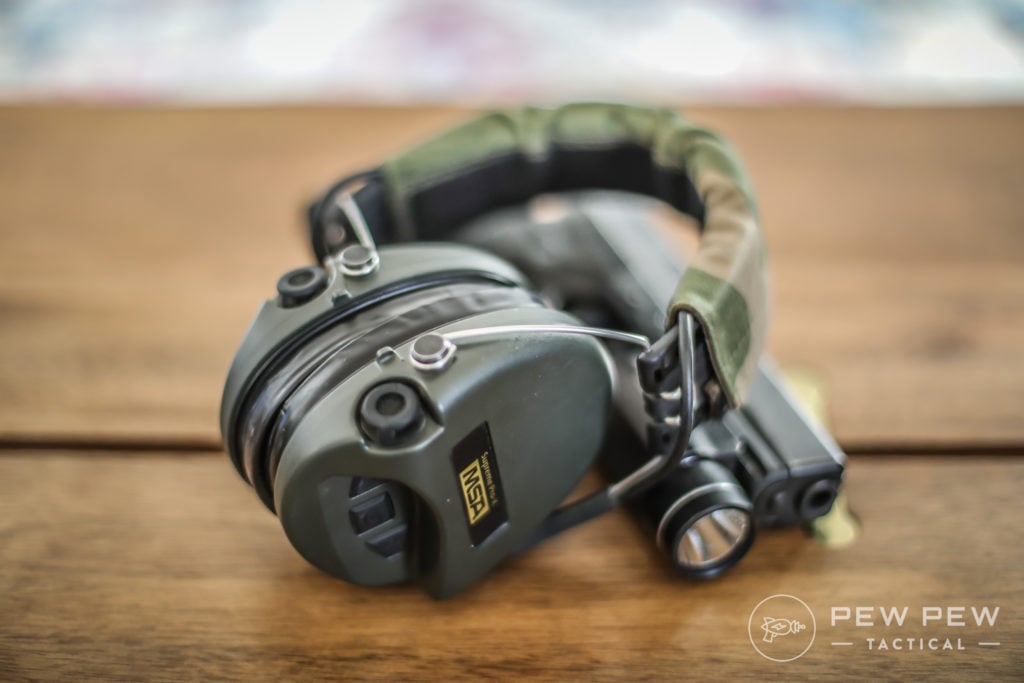 It's comfy for hours and has great sound quality.
Only downside is if you're next to compensated rifles for an extended amount of time I'd suggest doubling up.
Check out passive protection, earbuds, and more budget friendly electronic ones in our Best Shooting Ear Protection article.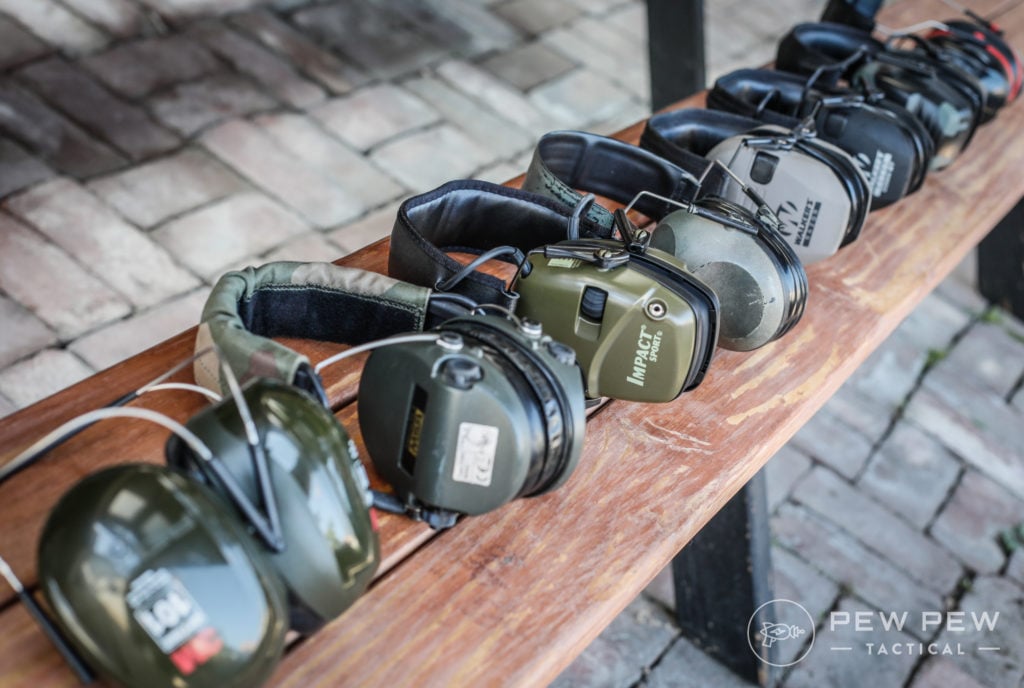 VTAC Wide Hybrid Sling
One of the team's favorite rifle slings is the VTAC.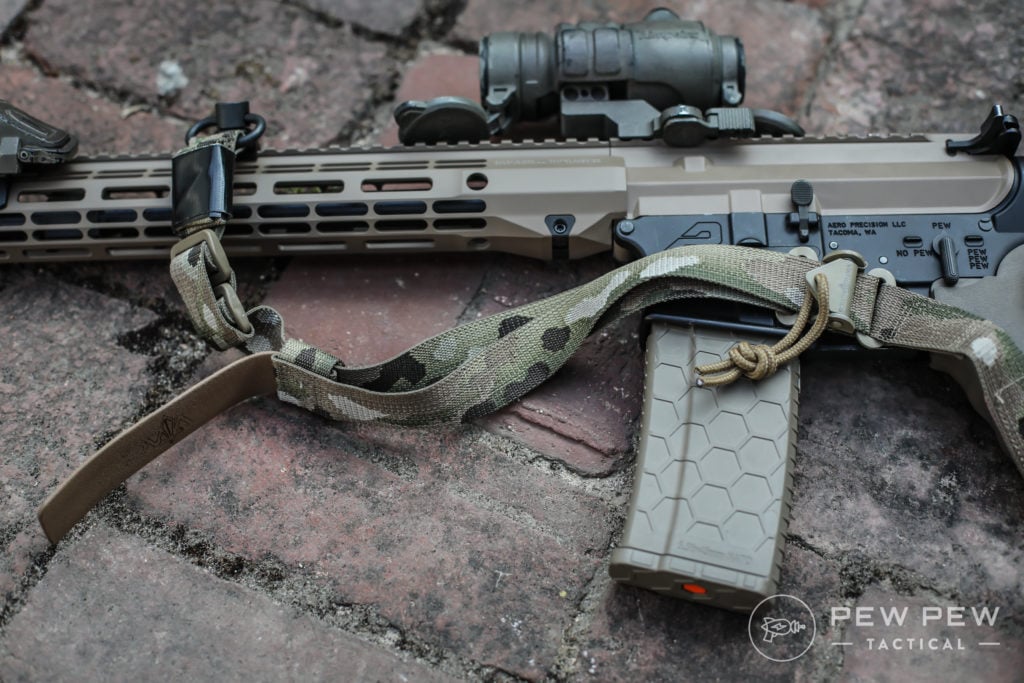 See it in action against our other favorite sling from Blue Force Gear.
Looking for something more than a standard AR-15 sling?
We go over all the other options like single-point, pure leather, and Ching slings in Best Rifle Slings.
5.11 AMP72 Low Profile Pack
Looking for a mid-capacity backpack (40L) that has all the bells and whistles but doesn't scream TACTICAL?
Enter the 5.11 AMP72 Backpack that's perfect for a 3-day op…or a carry-on.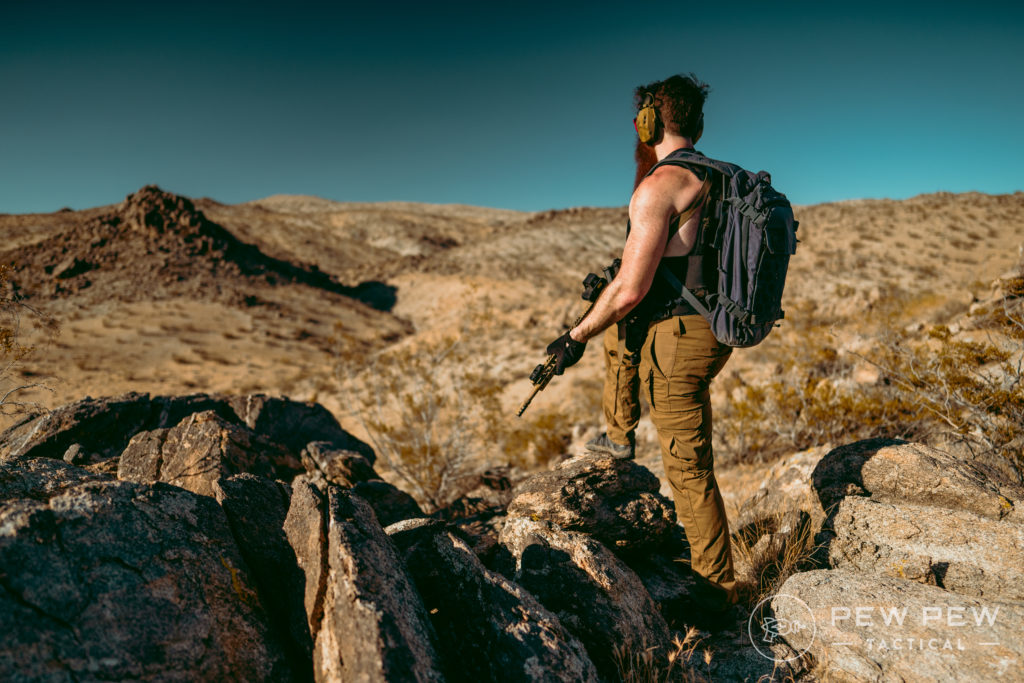 We cover a few of 5.11's packs in our Low Profile Packs Review and also video.
Hard Goods
AR500 Armor
Want some affordable and effective body armor?
Take a look at AR500 Armor's options if you don't mind some heft.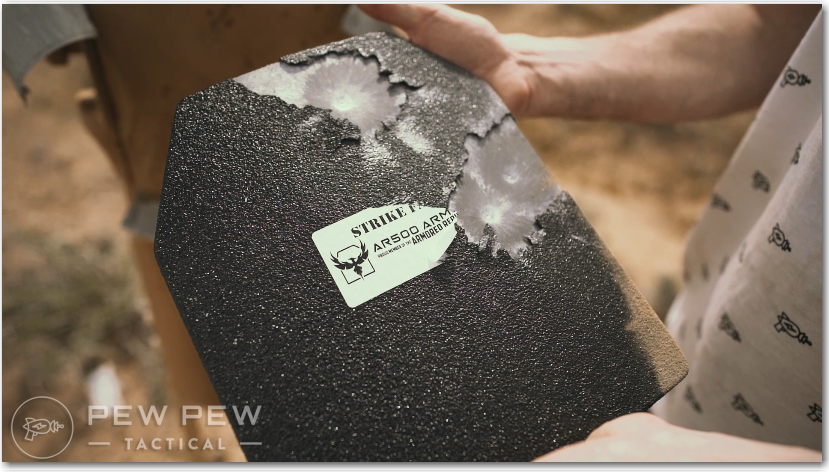 We tested almost all their options from soft pistol-rated armor to their ceramic plates in our full review.
Plus a full video on the results because you want to see us flip a mannequin.
For everything you ever wanted to know about body armor…check out our Best Body Armor Guide.
Ferro Concepts Slickster
Looking for a super low-profile plate carrier? We really like our Slickster.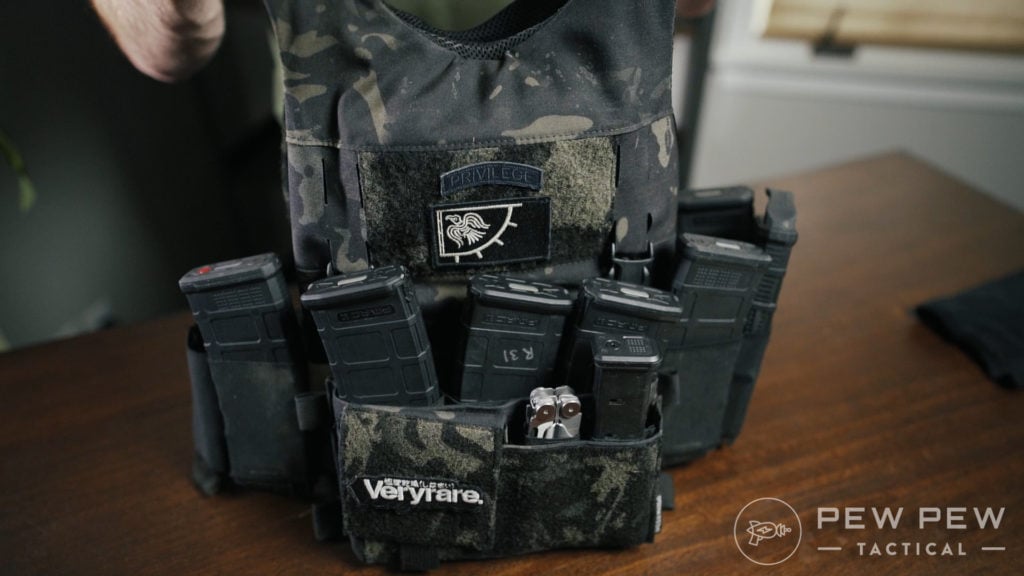 It's meant to be worn under clothing but you can add a lot of stuff if you need to with its swift clips and elastic cumberbund.
We go over it as well as upgrade options in our full review and video:
Ballistic Helmet from Hard Head Veterans
Need some Level 3 and frag protection for your noggin?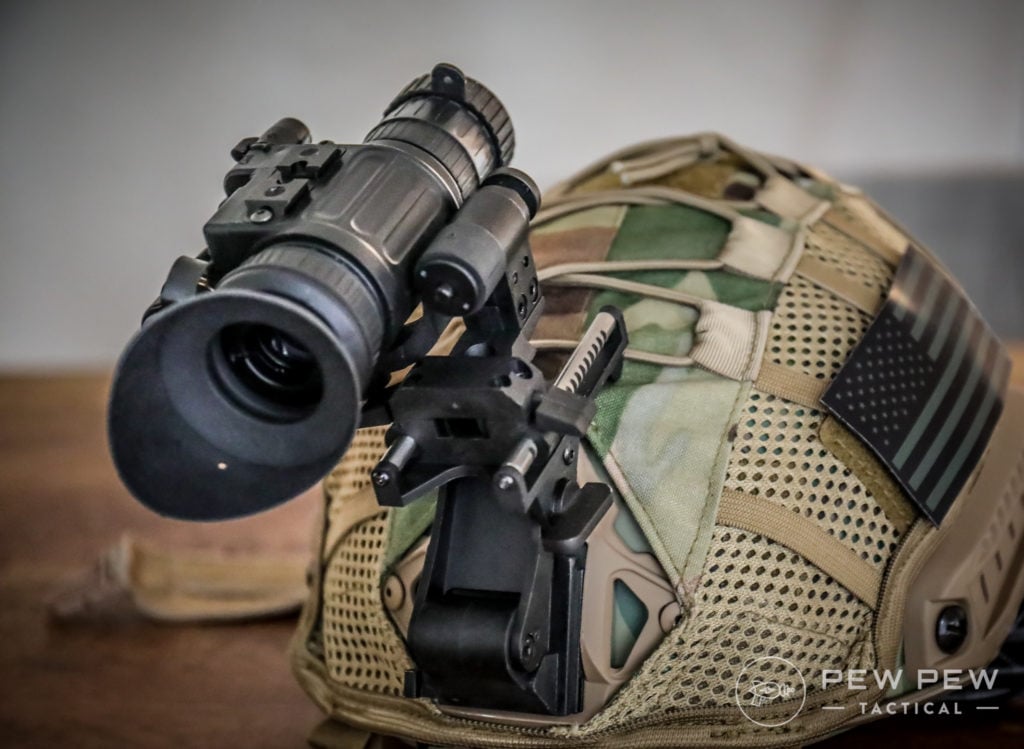 We've been testing the previous version and also the current gen of Hard Head Veterans' ballistic helmet.
They are really comfy and have all the mounting platforms you'll need for your night vision and comm gizmos.
Use the link above or coupon "PEWPEW" for $15 off your helmet!
And check out our other picks in Best Tactical Helmets for some non-ballistic recs too.
SecureIt Safe
Looking for a flat-packed safe that isn't so heavy that you'll need to hire people to move it?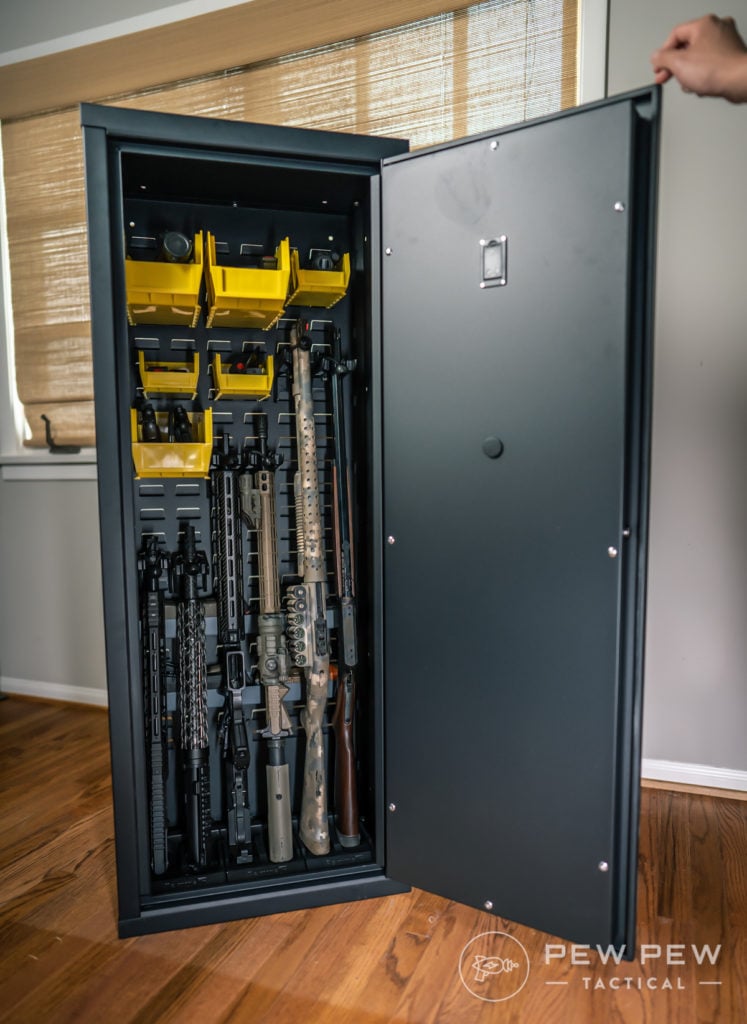 We really like our SecureIt Agile 52 which comes in around 100 lbs packed up.
It doesn't take the place of a full-blown safe for protection…but when deterrence ,modularity, and ease of install is the name of the game…
Plus a full review here and video!
Fort Knox FTK-PB
What about our favorite pistol safe for when something goes bump in the night?
We love the Fort Knox FTK-PB.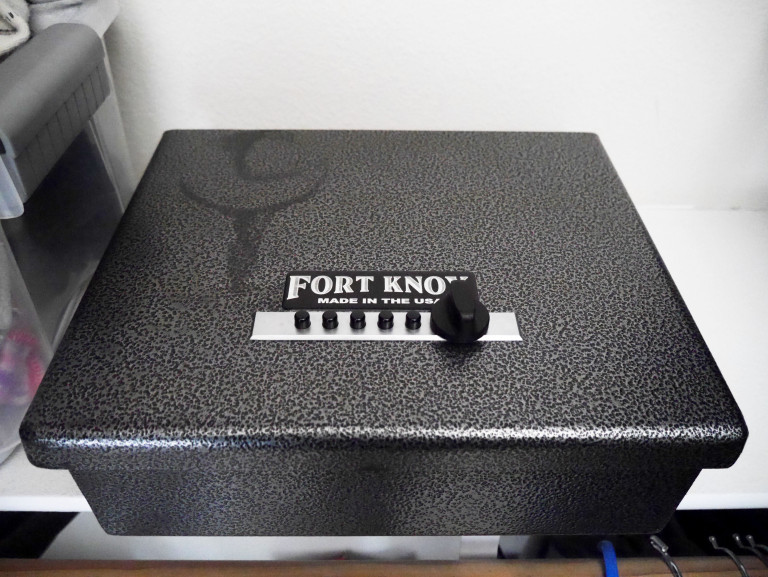 Sturdy, decent amount of space for two handguns, and most of all…Simplex lock for super fast retrieval.
See it in action in our video and also in our Best Gun Safes article.
SentrySafe QAP1BE
Ok…one more safe! The SentrySafe is a biometric one.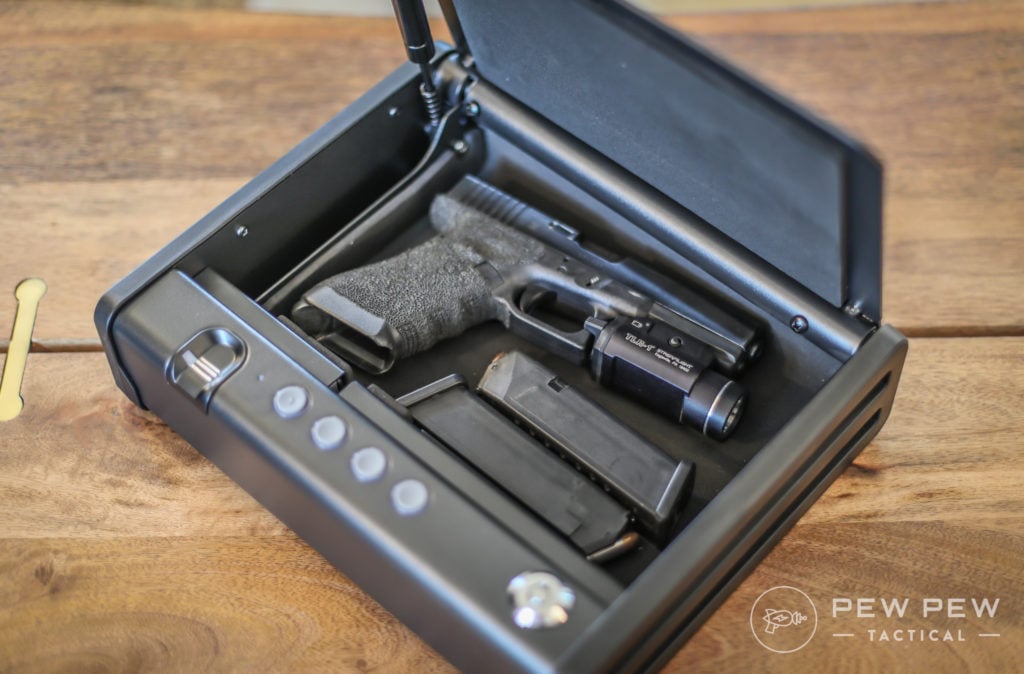 Good amount of storage, solid build quality, and quite good at reading fingerprints. Plus the option of buttons or a key.
See it in action…
Learn more about it in our Best Biometric Safes article.
Lights
All of the lights! We're in the middle of testing a whole new batch of pistol, rifle, EDC, and tactical lights.
But here's our running favorites…
Streamlight ProTac 2
Our most recommended light for almost everyone out there is the ProTac 2.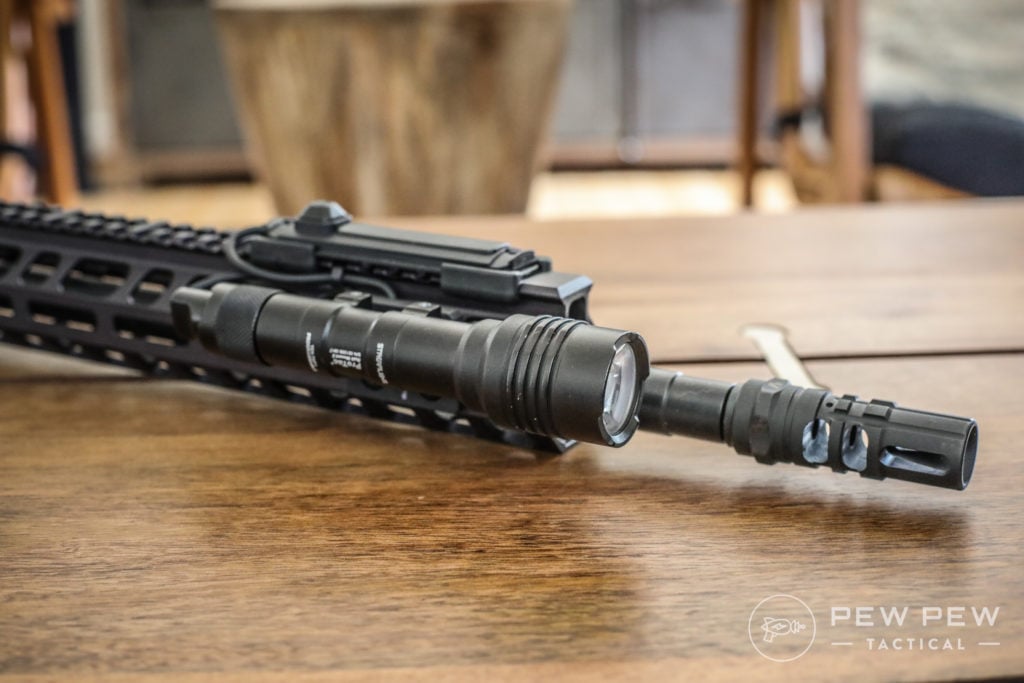 It doesn't break the bank and has a nice output of 625 lumens. Plus comes with a nice pressure pad and mount!
We've been using several of them for our defensive and competitive guns.
See more of our favorites in Best AR-15/Rifle Lights.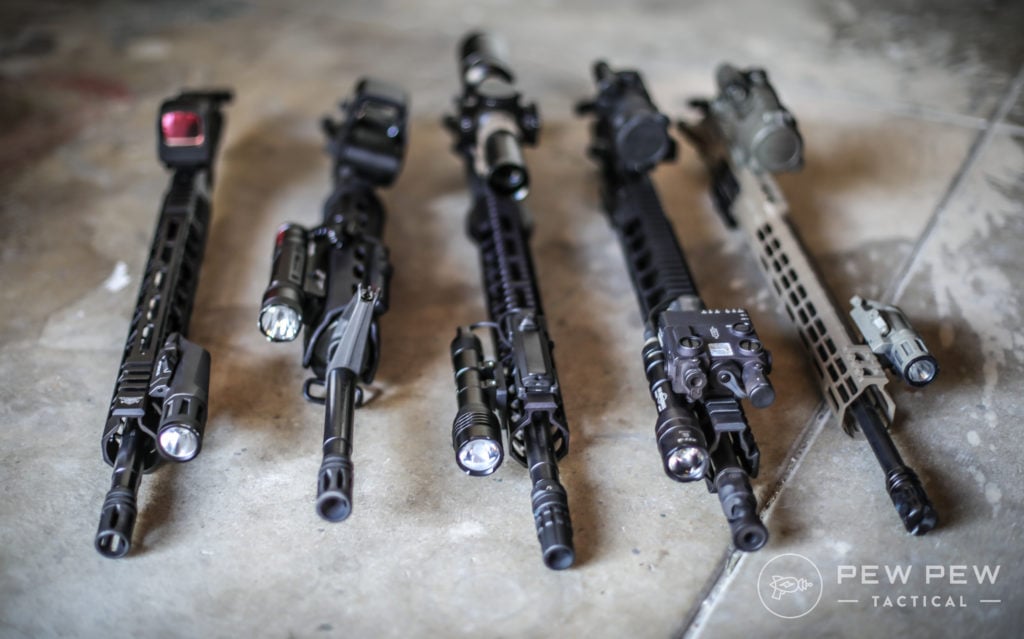 Streamlight TLR-1HL
We like our Streamlights…and the TLR-1HL is our favorite pick for pistol light.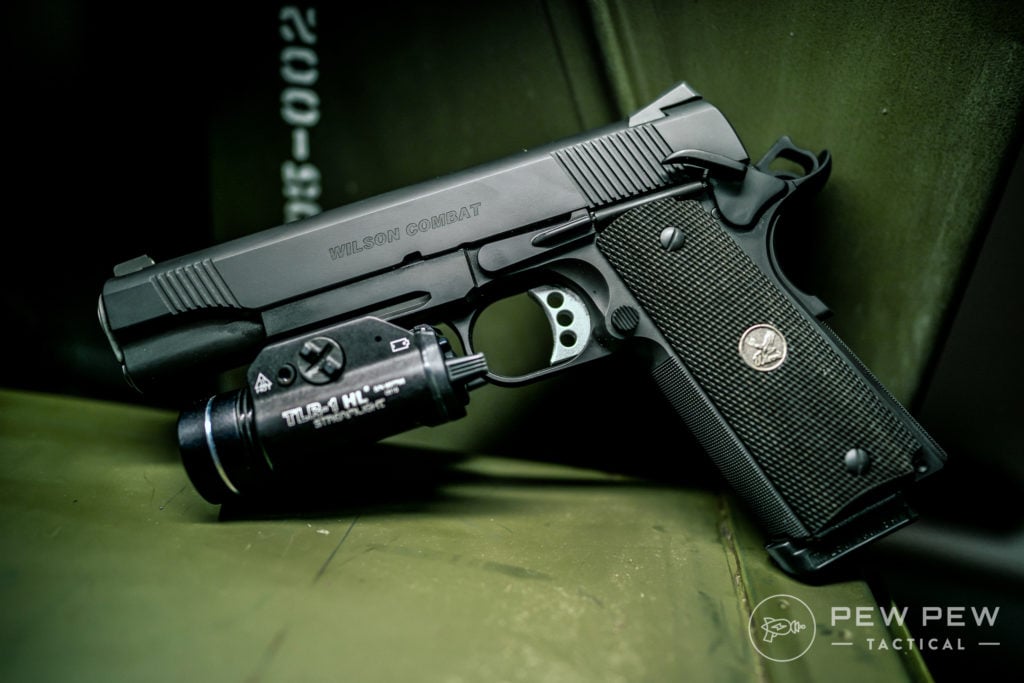 The HL model runs an eye-searing 800 lumens and continues our good experience with Streamlights.
My original TLR-1 is at 5000 rounds and still going strong.
See more of our tested torches in Best Pistol Lights.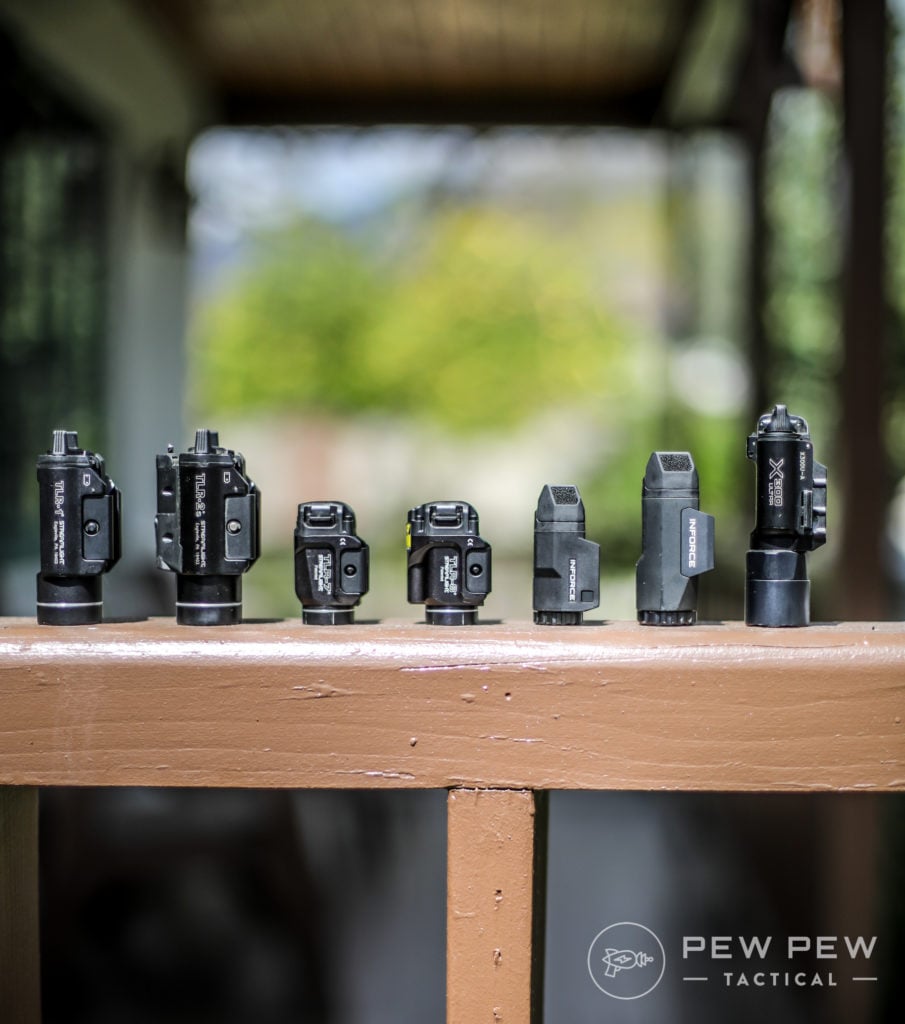 Holsters
There's a lot of holsters…and we cover them all in our Best Holsters article. But here are some selected ones in the biggest categories.
Hidden Hybrid Holsters
Our current favorite in the world of "hybrid" holsters…basically Kydex shell and either leather or synthetic….is Hidden Hybrid Holsters.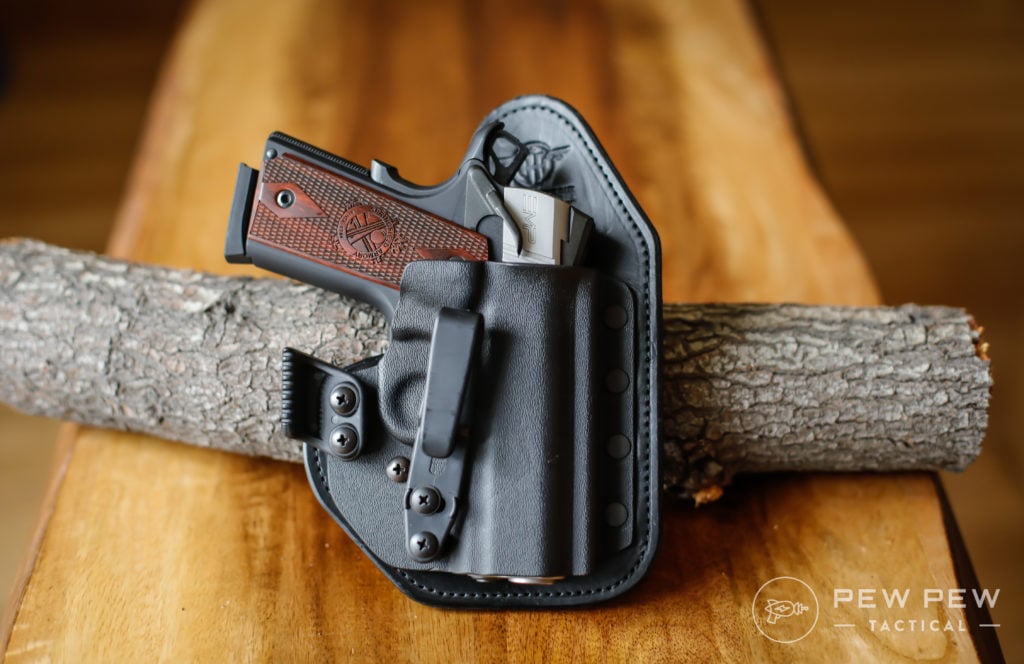 I like HHH's Amish leather since it gets that Goldilocks level of rigidity plus nice-feeling suede.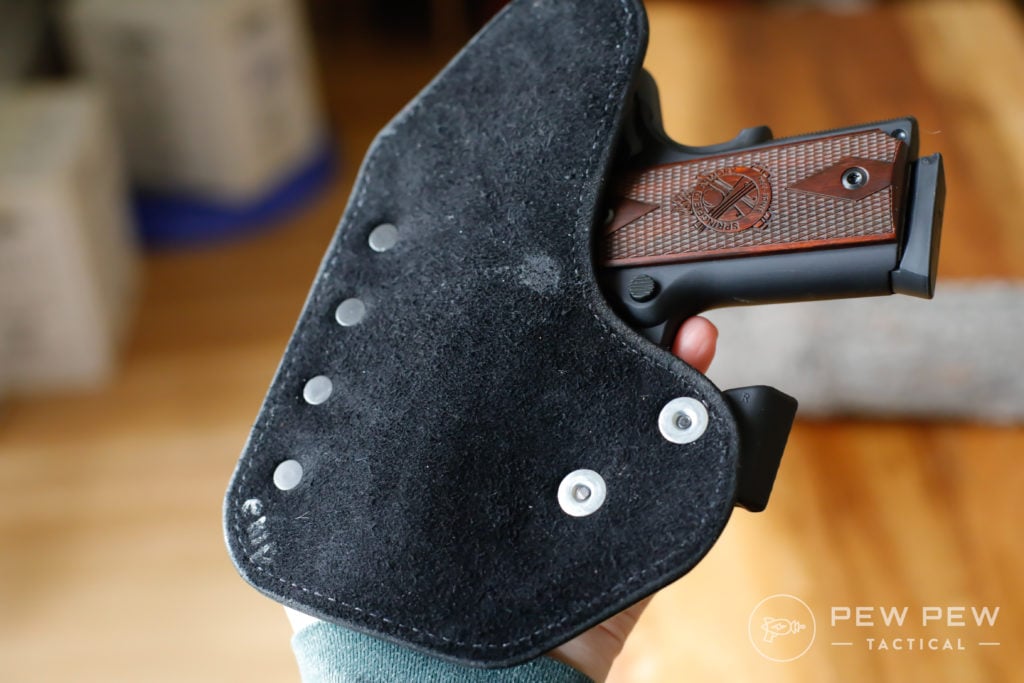 Boom!
See our full review of them here.
Concealment Express
My go-to for an affordable pure Kydex option is Concealment Express.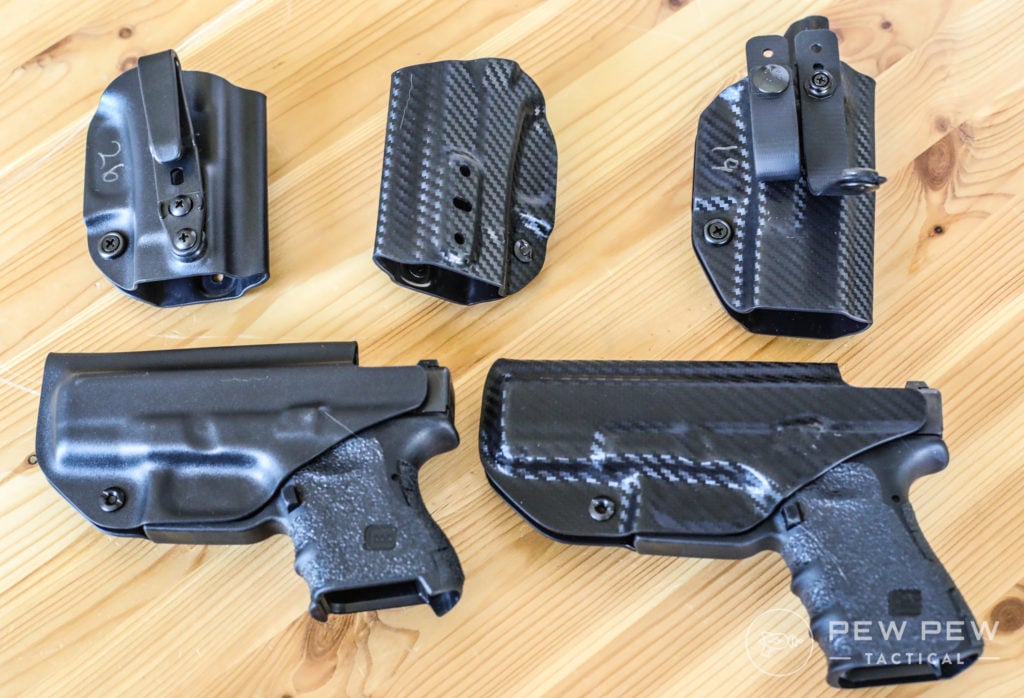 Check out the full review here.
Tenicor
A new cey arontender in the pure Kydex realm is Tenicor. They are pricey but really comfortable.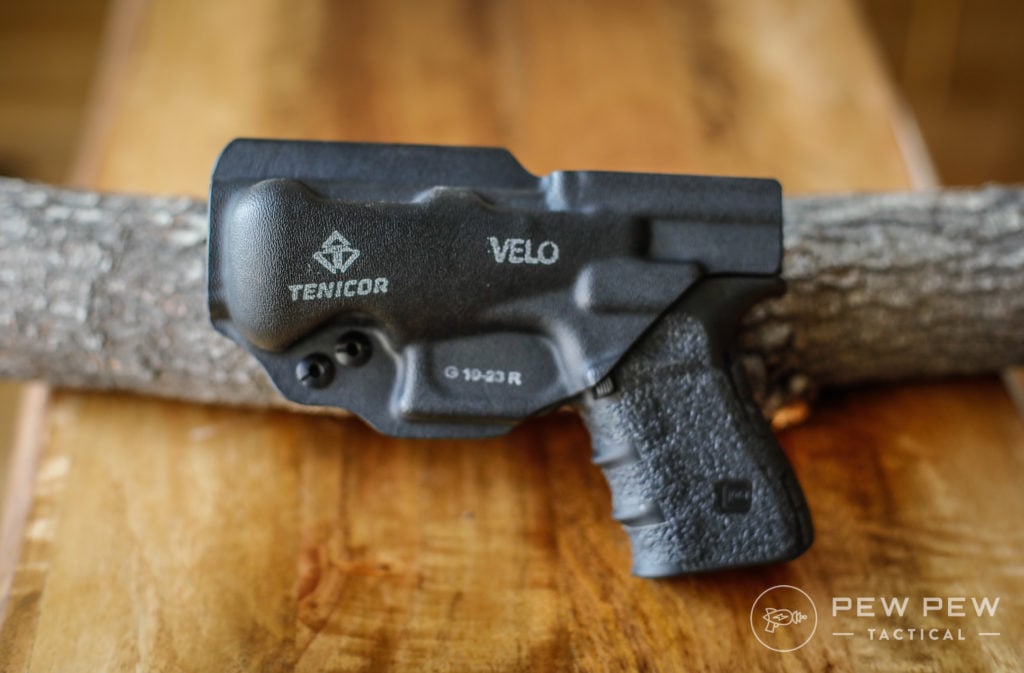 They are formed for actual bodies and have some super effective retention clips.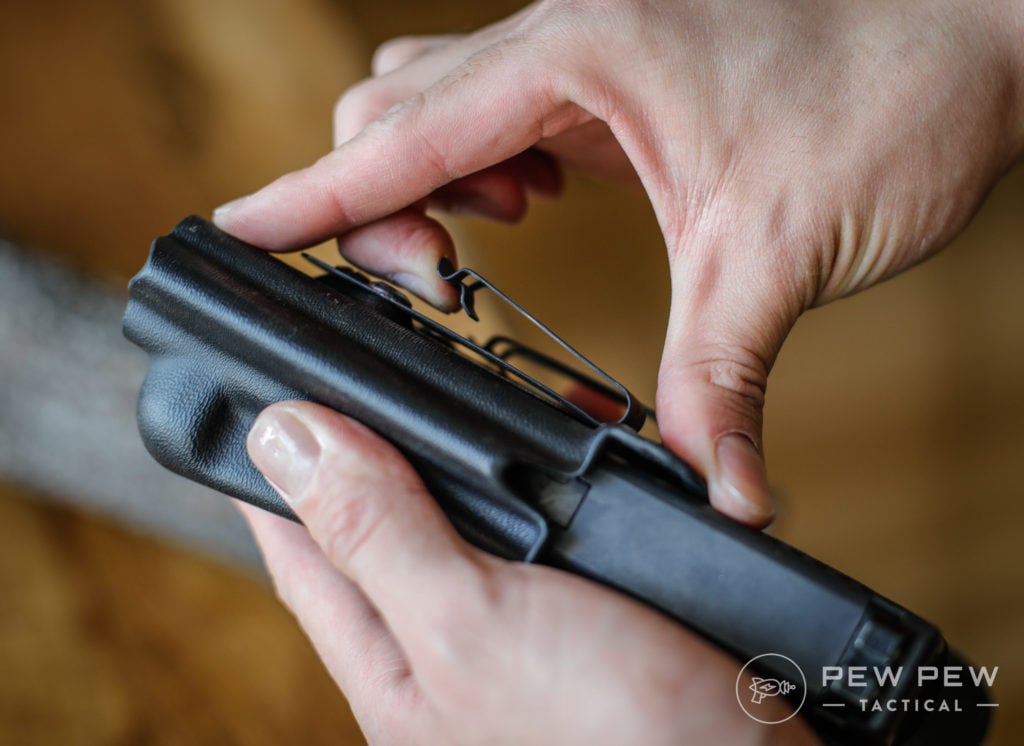 What I'd recommend if you're serious about appendix carry, comfort, and absolute retention.
Tools/DIY
80% Arms Easy Jig 2
Looking to complete your own AR-15 80% project?
The 80% Arms Easy Jig 2 is my favorite for ease of use.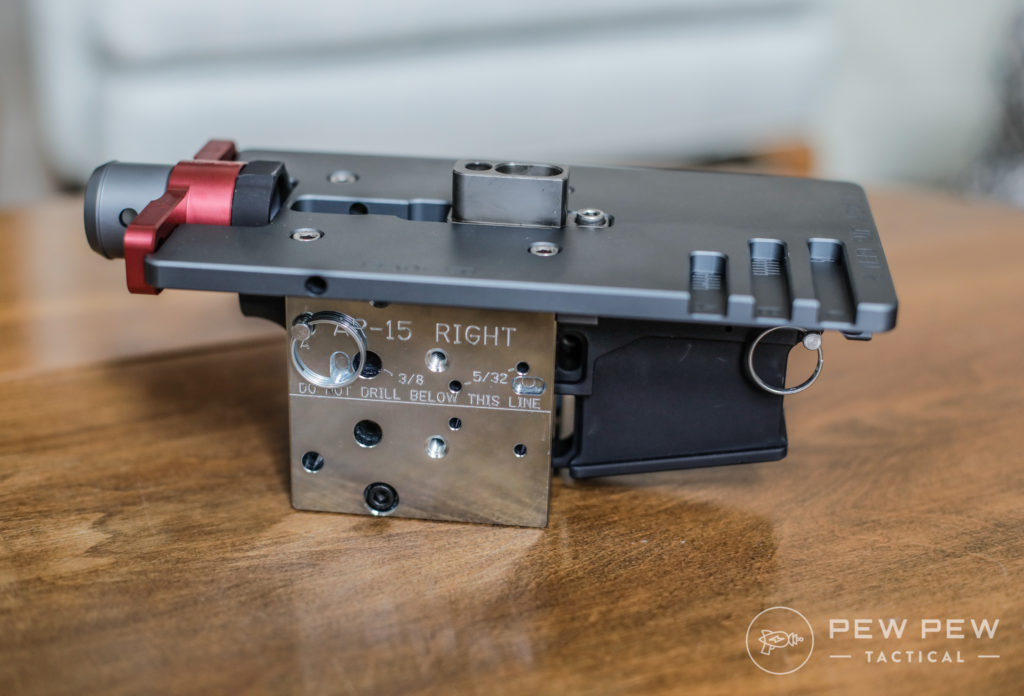 All you need is the jig, an 80% lower, regular drill, and a router. No more CNC machine or even a drill press.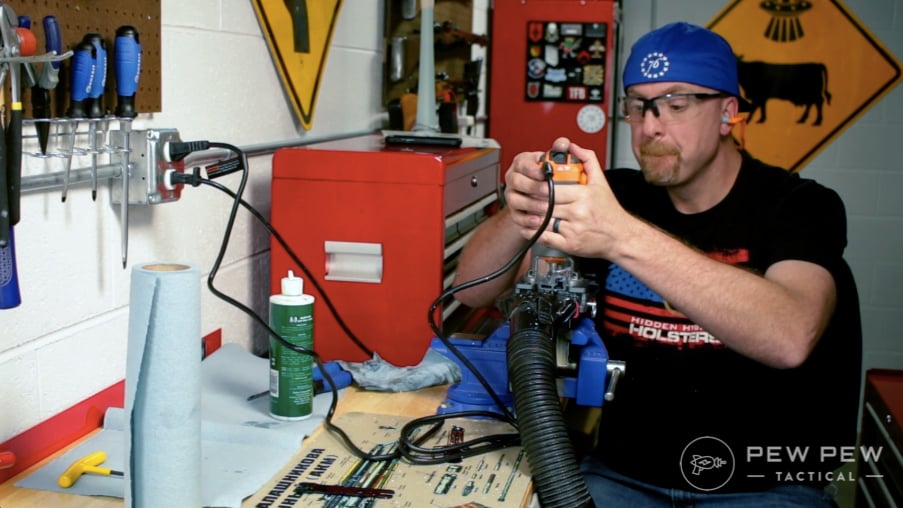 Check out more info in Best 80% Receivers & Jigs.
And our video!
Wheeler Torque Wrench
I use the Wheeler Torque Wrench almost every time I do something at my bench.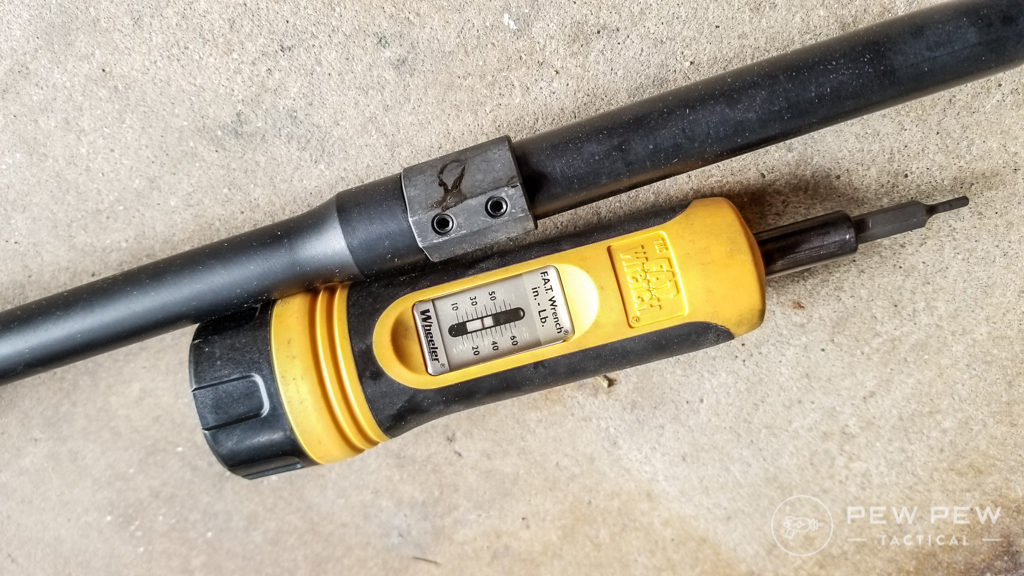 If you're even semi-serious about gunsmithing…get one!
Real Avid AR-15 Armorer's Master Kit
Looking for an all-in-one AR-15 kit?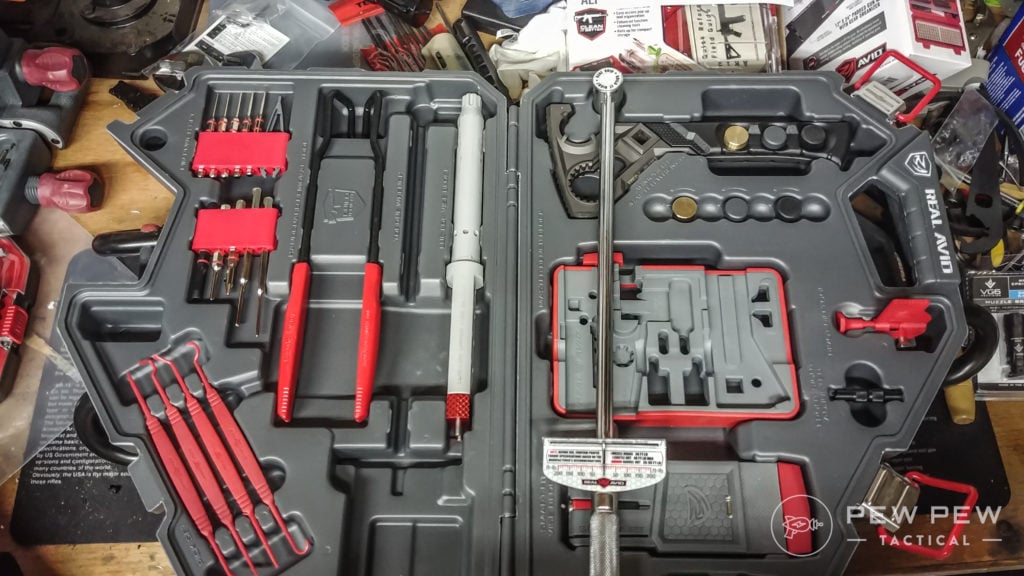 Boom, the Real Avid kit is it.
Check out our full review.
Leatherman Wave+
Our current favorite multitool is the Leatherman Wave+.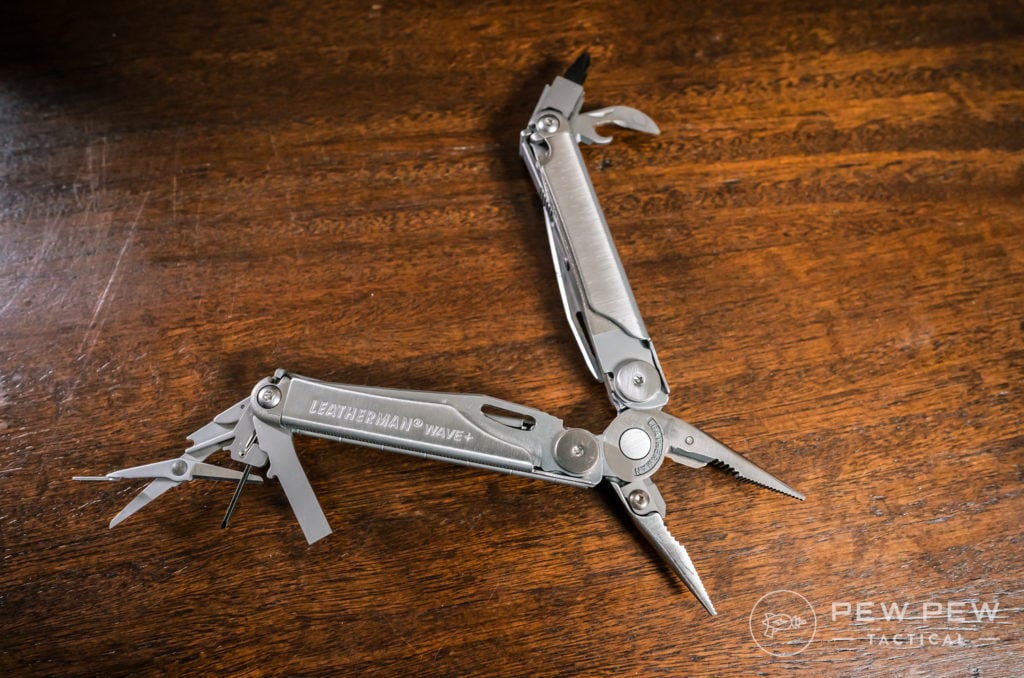 It has almost everything you need in an EDC multitool, plus it's silky smooth.
We tested a bunch more in our Best Multitools article (one with an axehead…), but the Wave+ is our overall Editor's Pick.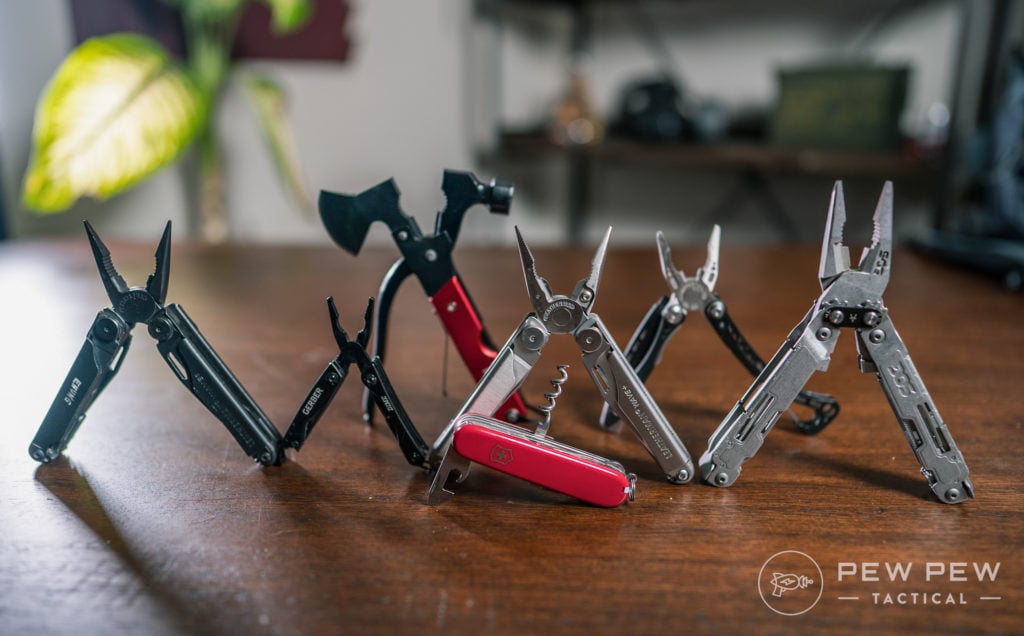 Reloading
Looking to get into reloading? Here's a couple of our favorite case cleaners.
Frankford Armory Tumbler
Mine has been running for years and thousands of rounds. It lives in the garage since it's kind of loud but it's super effective.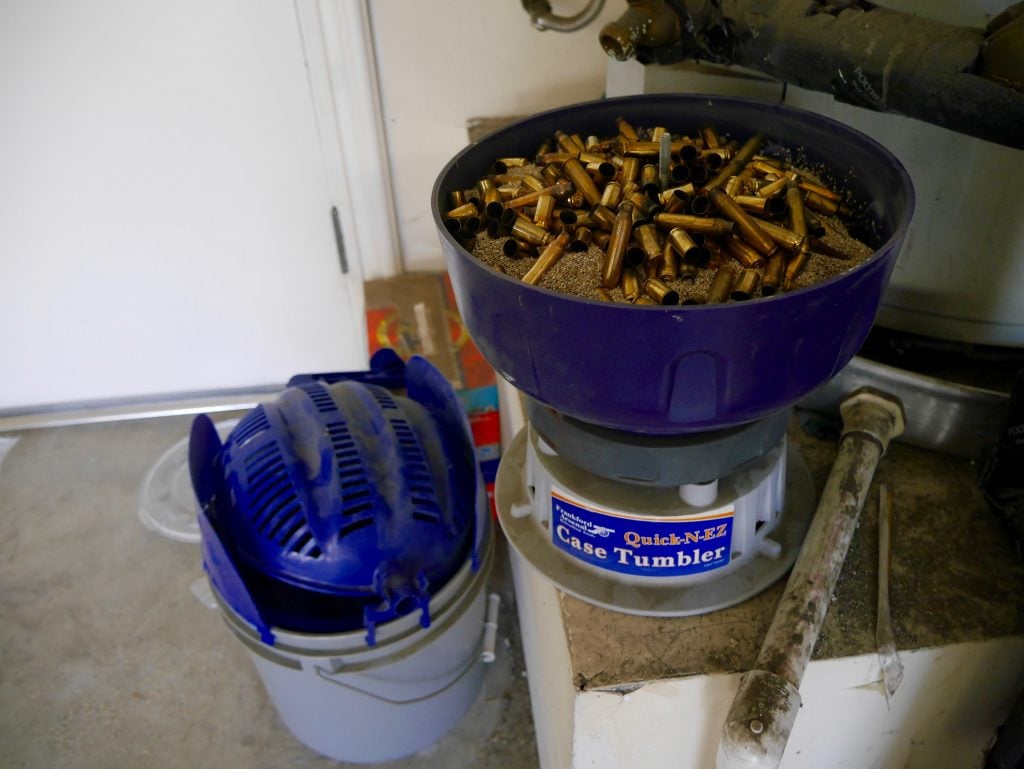 Get the full kit for some sparkling clean brass to reload!
Check otu our Guide to Relaoding Ammo for more essential gear.
Lyman Turbo Sonic Case Cleaner
Ready to upgrade to a sonic cleaner for your brass or gun parts?
My go-to is the Lyman since it is cheaper than the competition, has a larger capacity…but only has a max 8 minutes timer.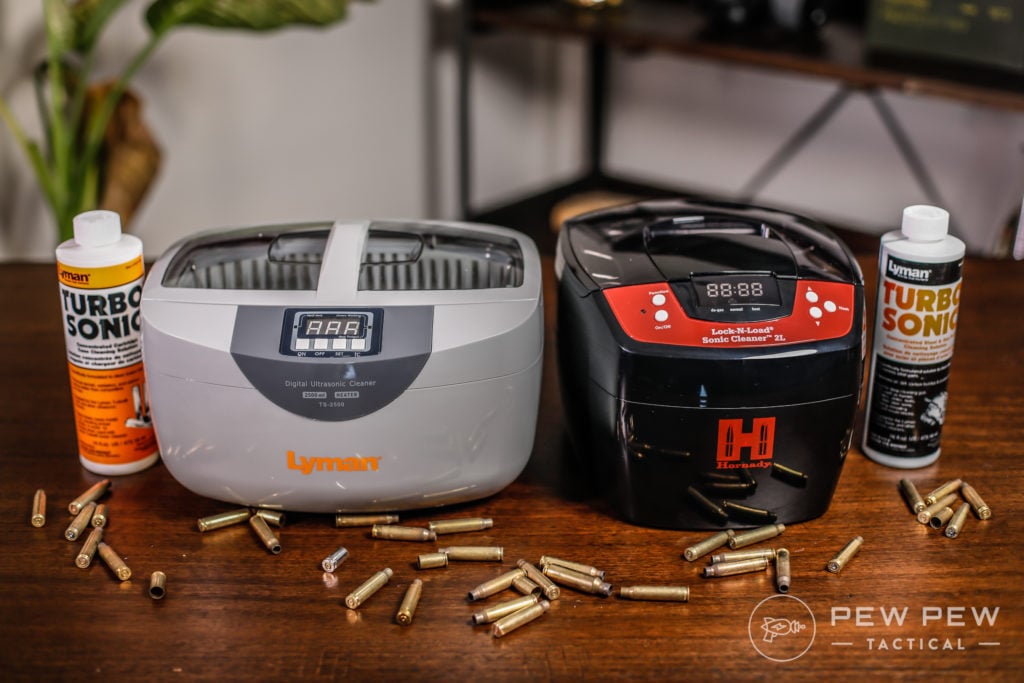 Check our our in-depth review in Best Ultrasonic Gun Cleaners.
Random Things
These are some random but well-liked stuff from our readers.
GOAT Guns
Great little gifts for the gun lover in your life.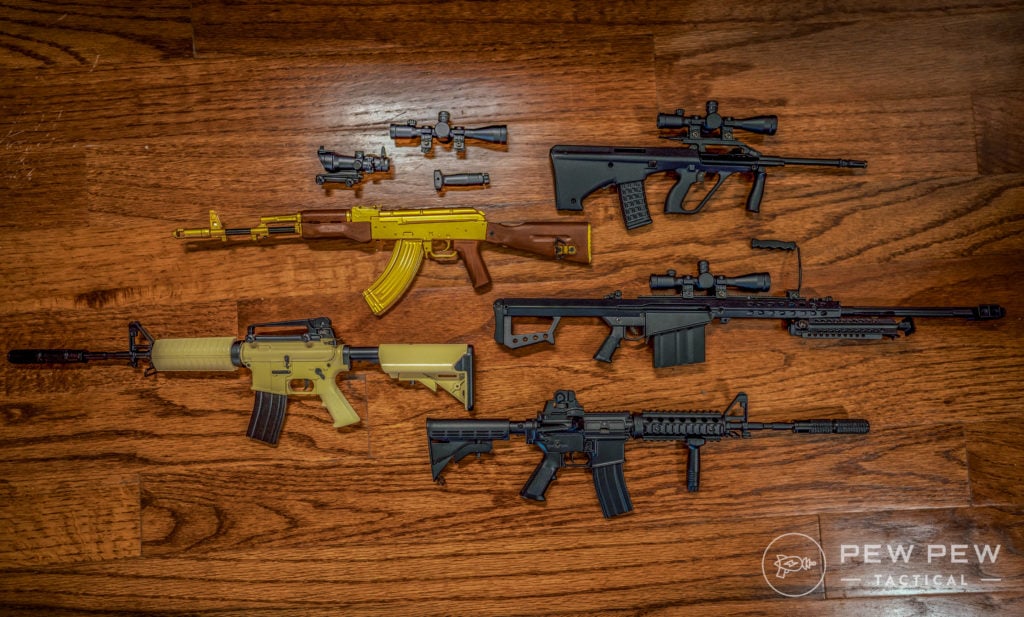 These GOAT Guns are tiny replicas of the real thing that have moving parts and are (almost) all metal.
Check out our full review and our favorite models.
CRKT Minimalist Bowie
Neck knives…not just for mall ninjas anymore!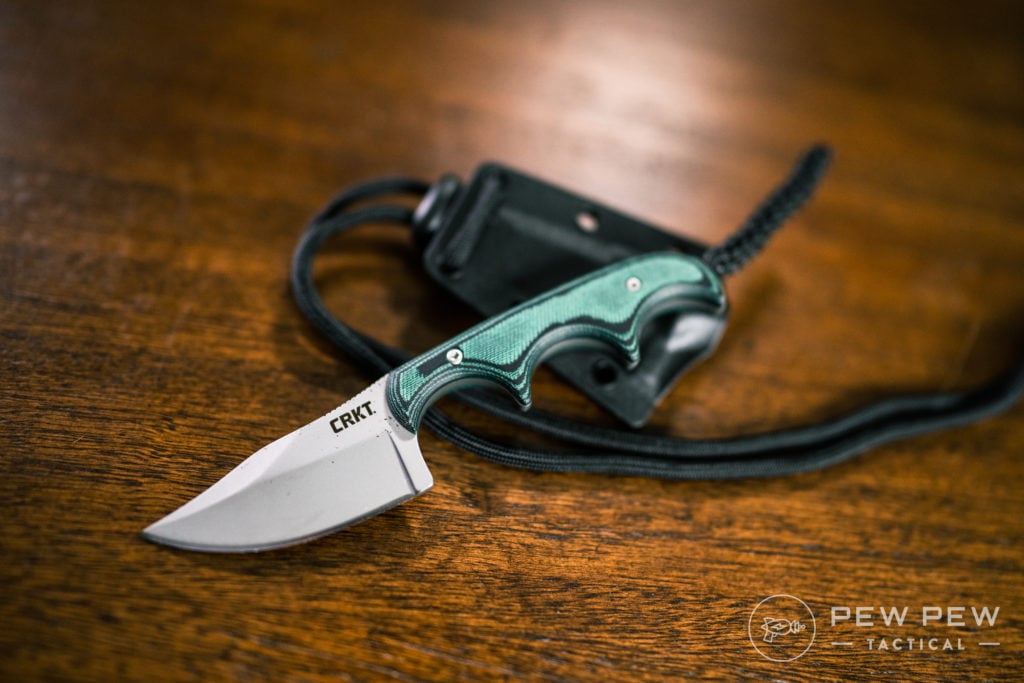 Our favorite is the CRKT Minimalist which is a steal at around $20.
Check out others in our Best Neck Knives article.
Battlbox
Need a gift of cool stuff that also keeps on giving?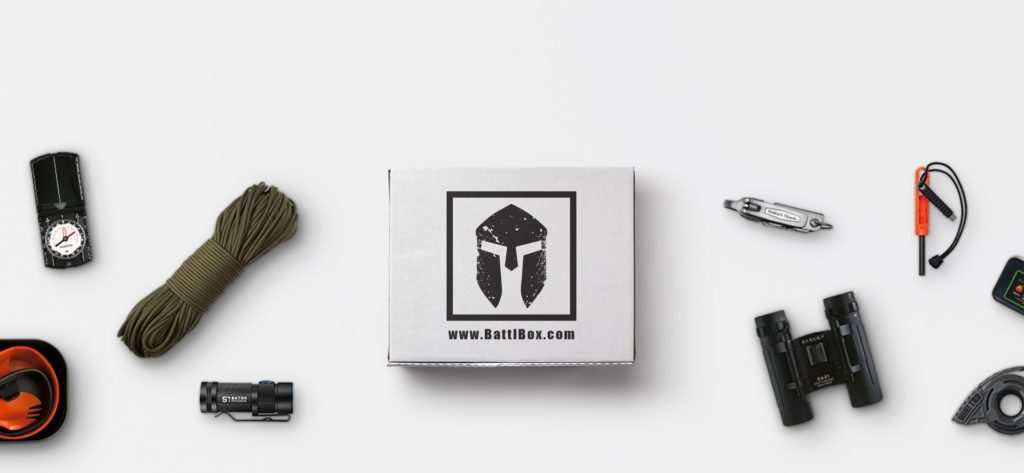 Check out BattlBox's subscription tactical boxes.
Sabre 3-in-1 Pepper Spray
Sometimes you can't carry a gun…or you don't want to.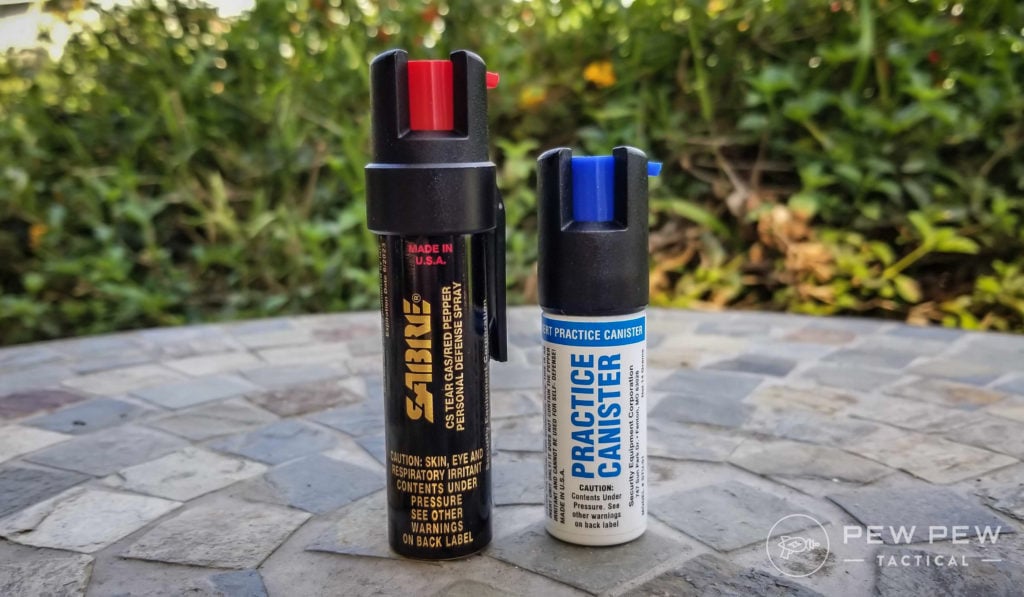 The Sabre 3-in-1 is our favorite pepper spray that's used by tons of police departments.
The three mixtures include pepper spray, a UV dye for marking, and CS tear gas.
I like the combo pack with the inert formula for testing the range and trigger mechanism.
USCCA Concealed Carry Insurance
Do you concealed carry?
Want some piece of mind that your bail and court costs are taken care of in the event you have to use your gun?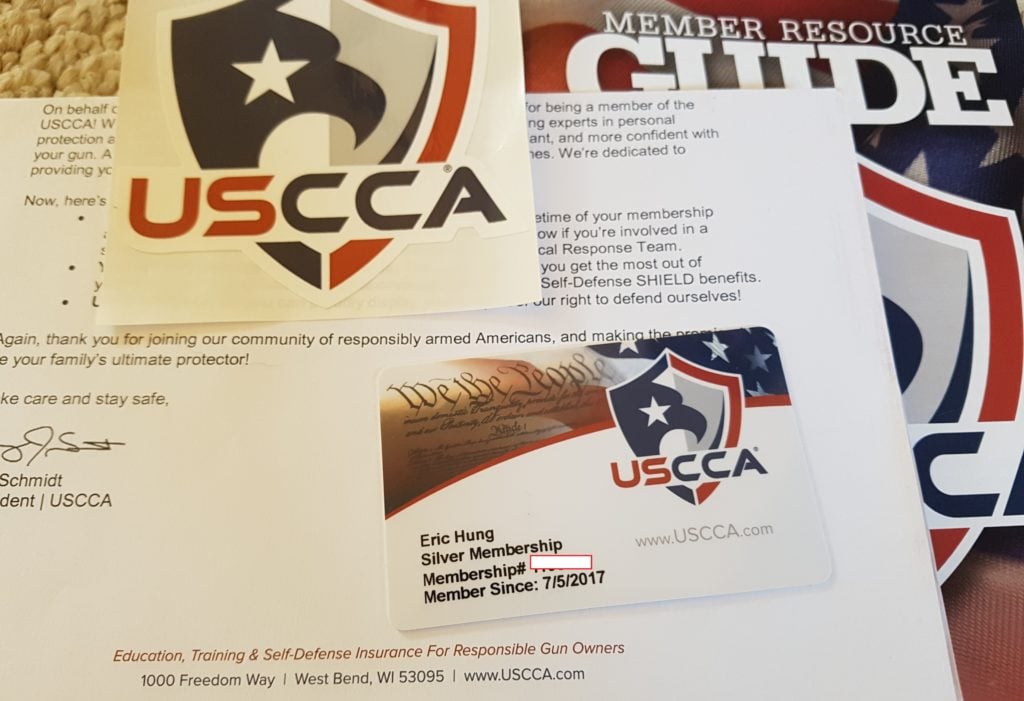 Check out my full review of what you get in USCCA.
Sorry NY, NJ, and WA people though!
Funny/Gag Gifts
Firefield Pistol Bayonet
This pistol bayonet makes me sad inside since we meant it as a joke…and tons of people bought it.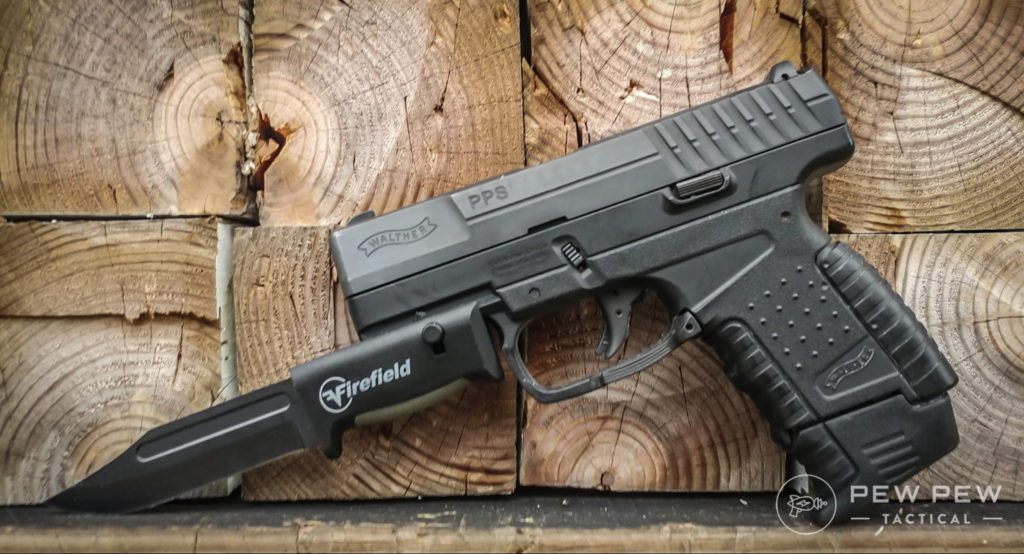 If you have a friend who needs a LOL build…
Check out more dumb stuff in our Weird Tactical Stuff from Amazon article.
Gunsticles
Yup.
Tactical Baby Gear
I first give you this tweet which got about the exact amount of attention on our Facebook page as you might expect.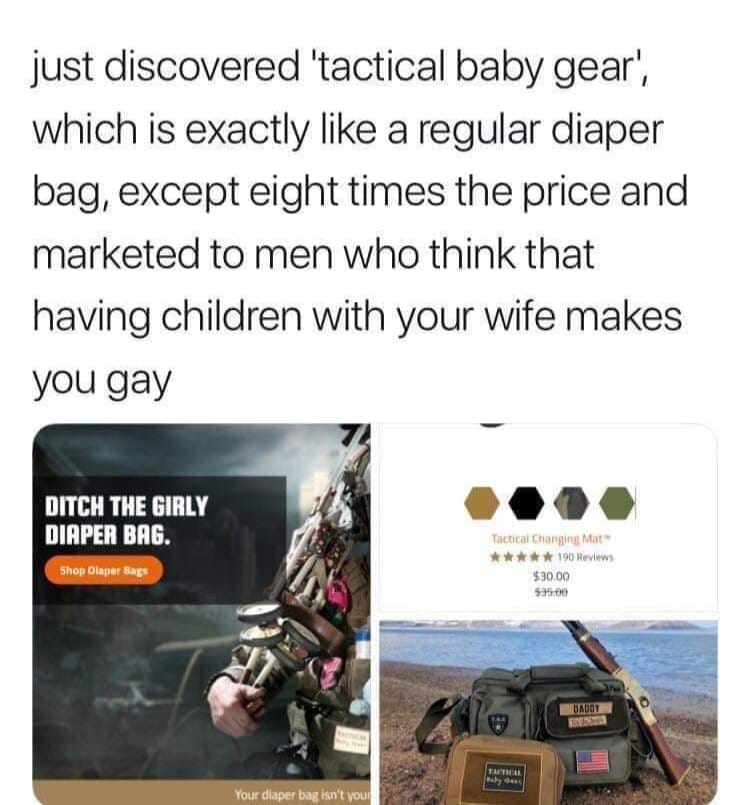 And here's the offender diaper bag…
I do have one…AS A GIFT.
And though I'm rocking a pink messenger bag or Totoro backpack most of the time…I do use the changing mat since it's super useful.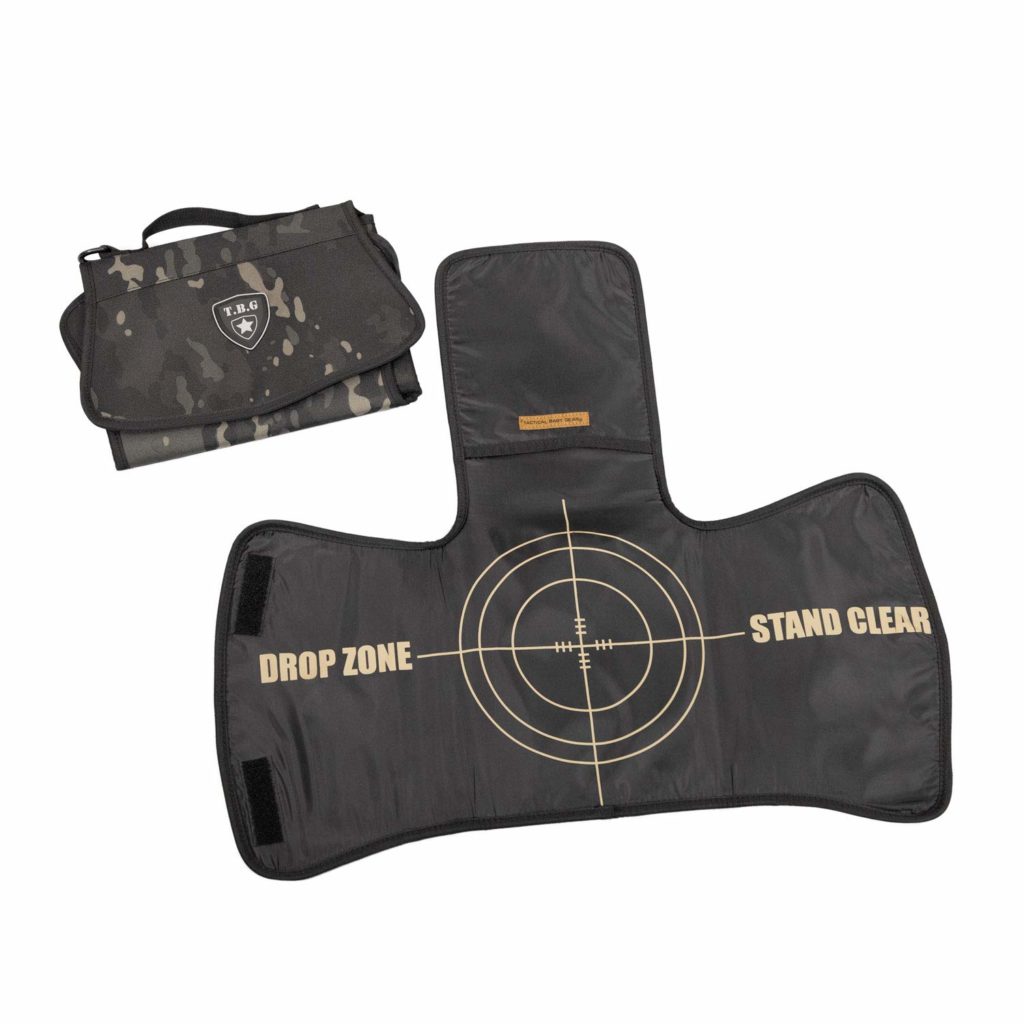 Conclusion
Ok that does it!
If you're looking for deals…check out our Black Friday & Cyber Monday Gun Deals Page…complete with 40+ retailers and exclusive Pew Pew deals.
What would you add onto this list? What are YOU wanting for the holidays? For a bunch more of our favorite tested products…check out our Editor's Picks.