Ready to upgrade your AR-15 with a new handguard? Or choosing the perfect one for a new build?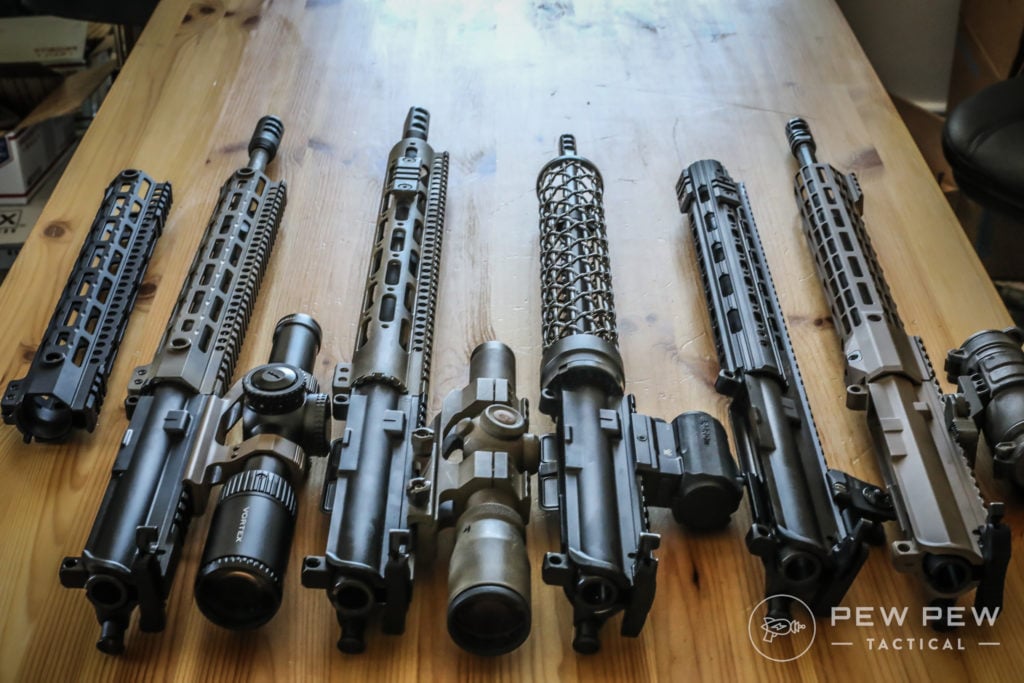 We'll help with decisions such as going drop-in vs free-float or KeyMod vs M-LOK. By the end, you'll know the best handguard to get for your specific purpose and budget.
M-LOK vs KeyMod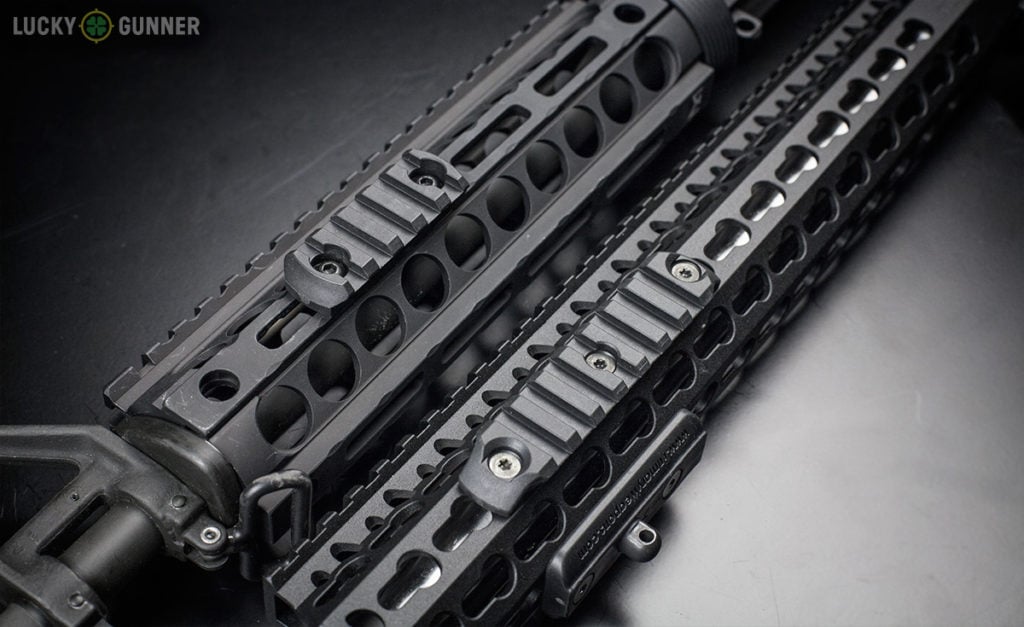 One of the first decisions you'll make is which attachment system…M-LOK or KeyMod. It used to be personal preference but recently USSOCOM (US Special Operations Command) released their results of testing.
And M-LOK is the clear winner due to much better impact test results.
Best Free-Floating Handguards
Your best bet if you are building your own AR-15 upper.
Free-floating handguards give you an accuracy advantage since it doesn't contact the barrel…so your hand position and extra gadgets such as bipods don't affect barrel harmonics.
Plus, you can choose any handguard length if you have the right low-profile gas-block for it to go over. I personally like ~12″ handguards with 16″ barrels since I use the c-clamp grip.
1. Aero Precision ATLAS
One of my current favorite best-bang-for-the-buck free-floating handguards.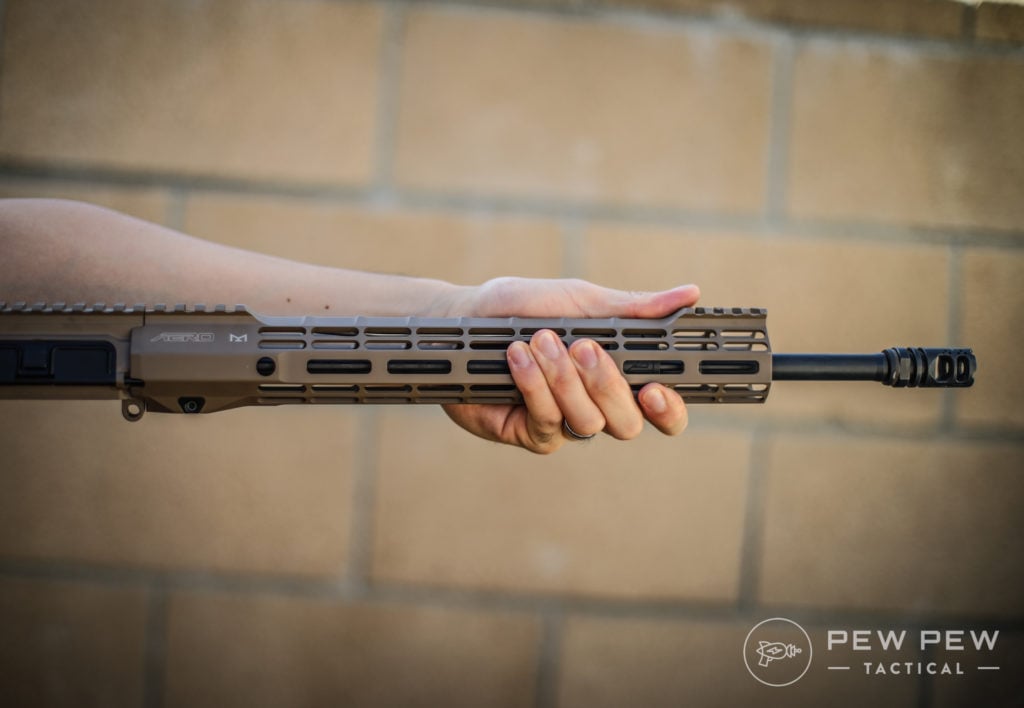 Here it is on their new upper that I'm testing (full review).
I love how it saves weight by not having a full Picatinny rail on top.
Plus the taper at the front perfectly fits my thumbs.
Note that the top where the rail would have been is rounded so if you're thinking of putting a pressure pad for lights…you're out of luck.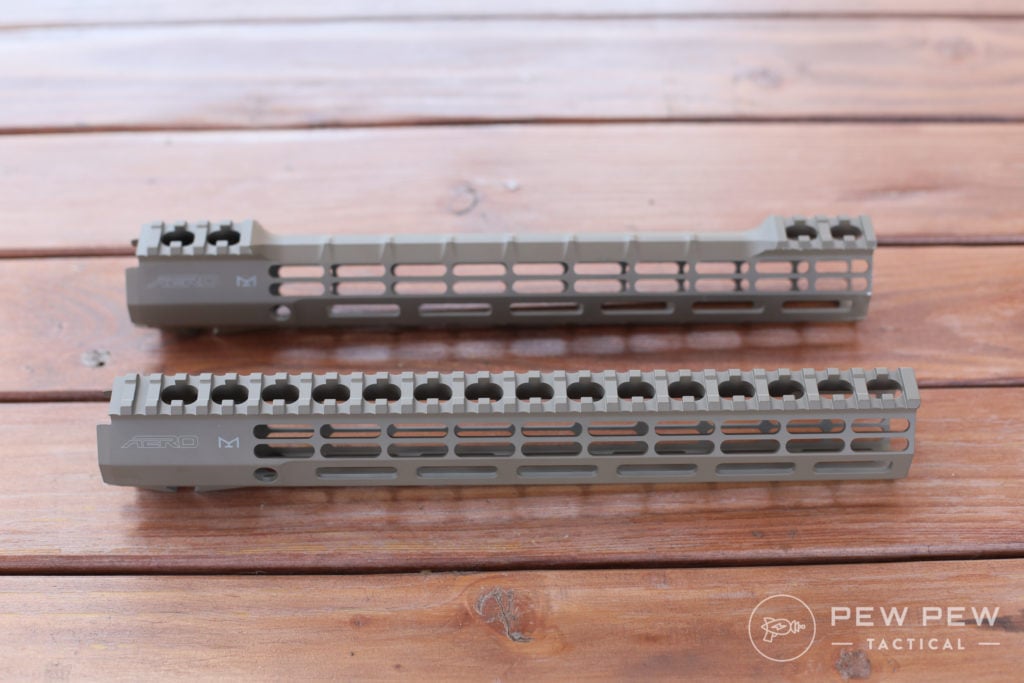 Otherwise the price vs fit/feel is perfect.
Price: $140
Length: 12″
Handguard Weight: 7.0 oz
Barrel Nut Weight: 4.7 oz
Total Weight: 11.7 oz
And now Aero has the full-rail version if you have more gizmos that need attaching.
Only negative about the Aero handguards is that sometimes (especially after a seasonal sales) they are out of stock for a while.
2. STNGR VYPR & HWK
The STNGR VYPR is the handguard that recently bumped Aero off my Best Bang-For-The-Buck handguard list.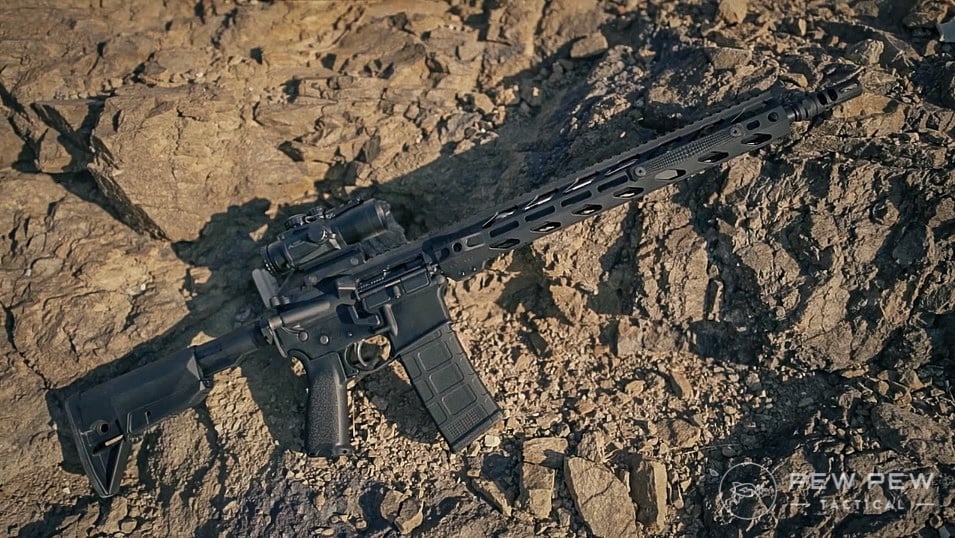 You get a really nice 13.5″ M-LOK handguard for $120 and a 15″ for a few bucks more at $125.
The VYPR is the most "standard" looking one and what I'd recommend.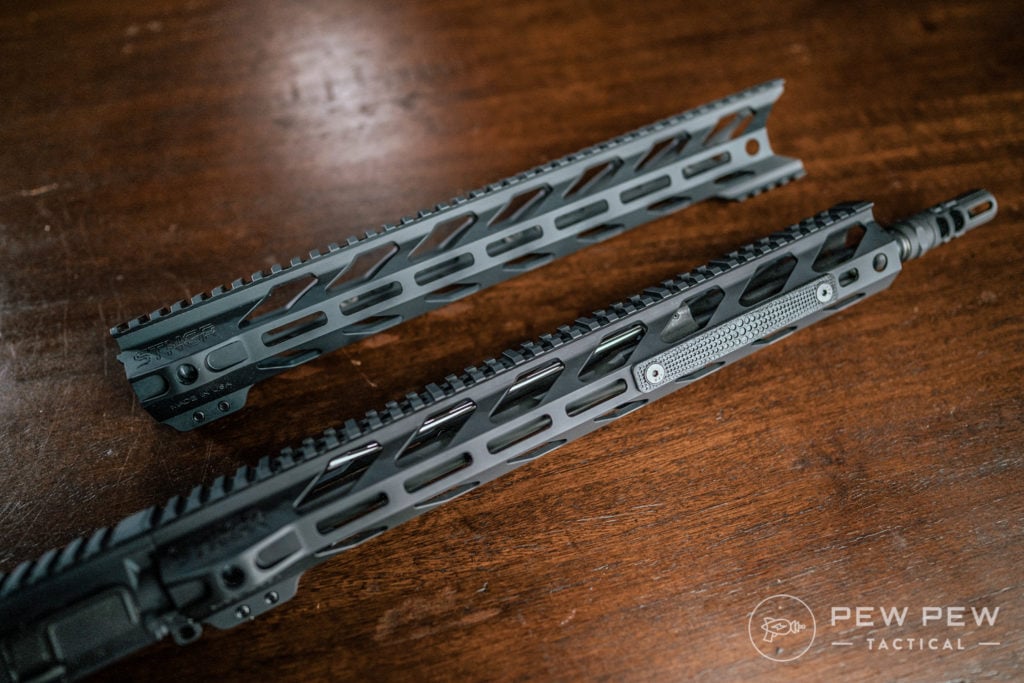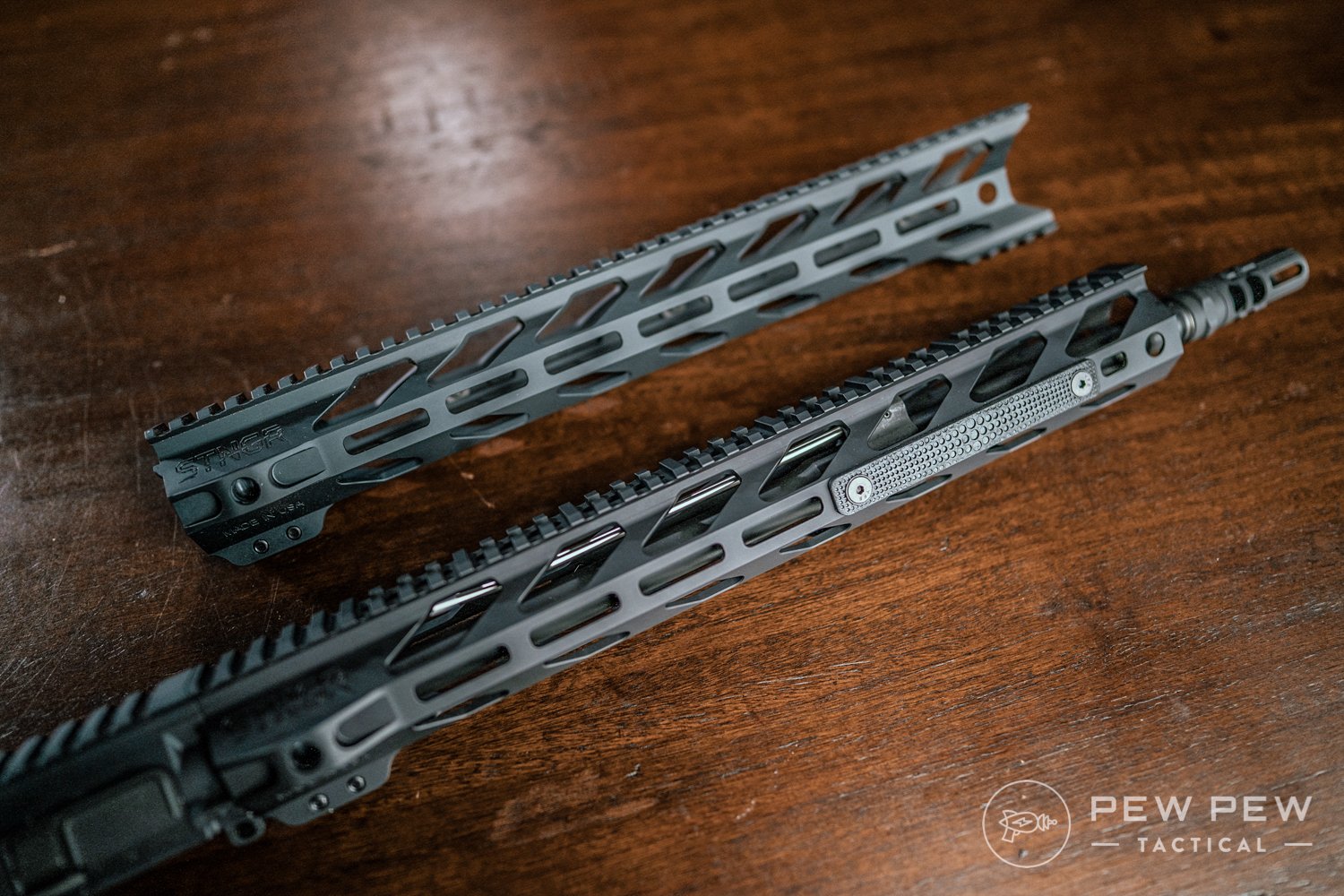 Install was standard and there's some strong feeling anti-rotation tabs built into the handguard.
Fit/finish/color were top notch and my only initial worry was that the top cuts were too aggressive/large so a finger could slip through.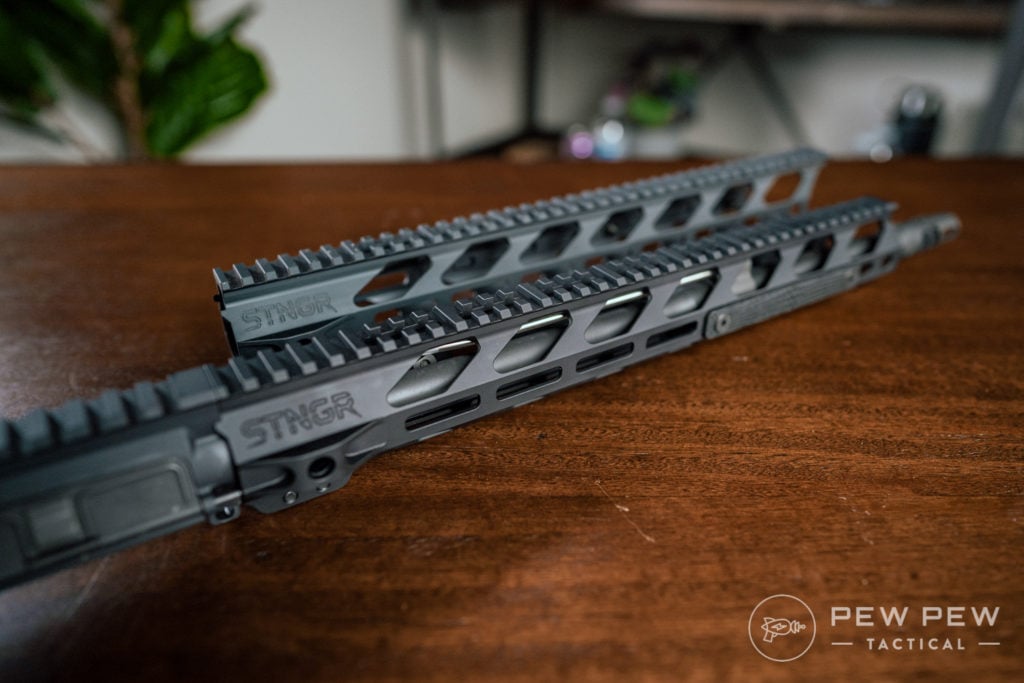 However after a bunch of mags I found that it was fine (unless you have really thin fingers). And no problem if you C-Clamp grip it.
Check out the video:
The logo isn't too pronounced either which I like.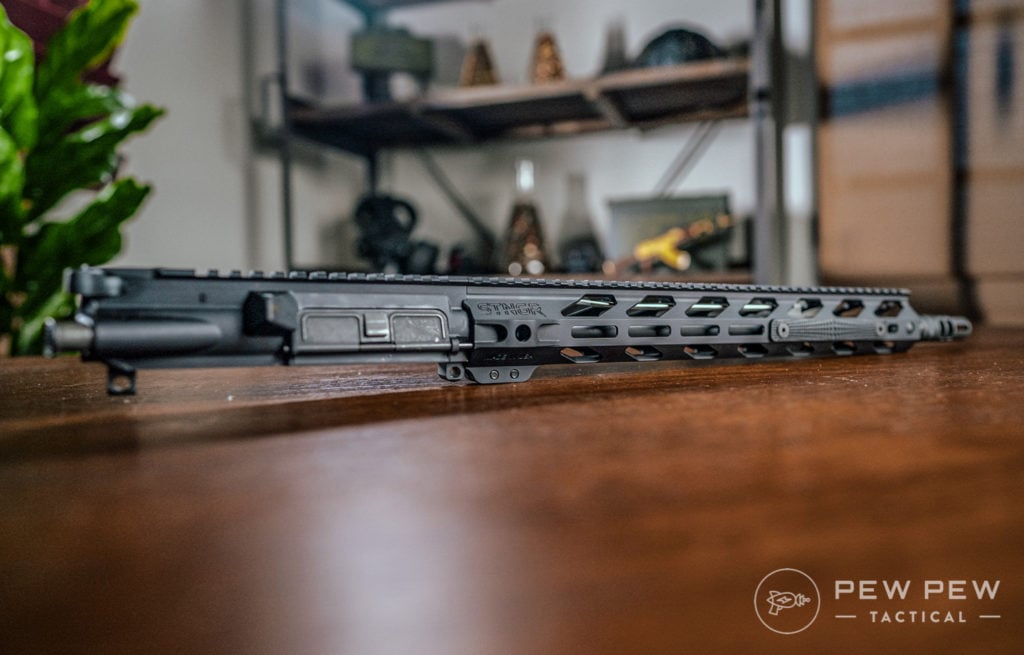 Plus there's sometimes some blemished versions so you can save even more if you don't care to have a "perfect" rail.
Price: $125
Length: 15″
Total Weight: 11.5 oz
What's your take on the VYPR?
Want a little more style?
There's the HWK handguard which gives a more aggressive "prong-ed" look and the ability to add a light/laser to the bottom with the included rail.
3. Midwest Industries G3M
This lightweight handguard includes a full Picatinny rail on top. If you need to attach more things…this is our favorite pick.
Comes with 7 sides of M-LOK attachment capability.
I've been using the older version of this (non M-LOK) for years as my primary competition rifle handguard. Check out the left two uppers.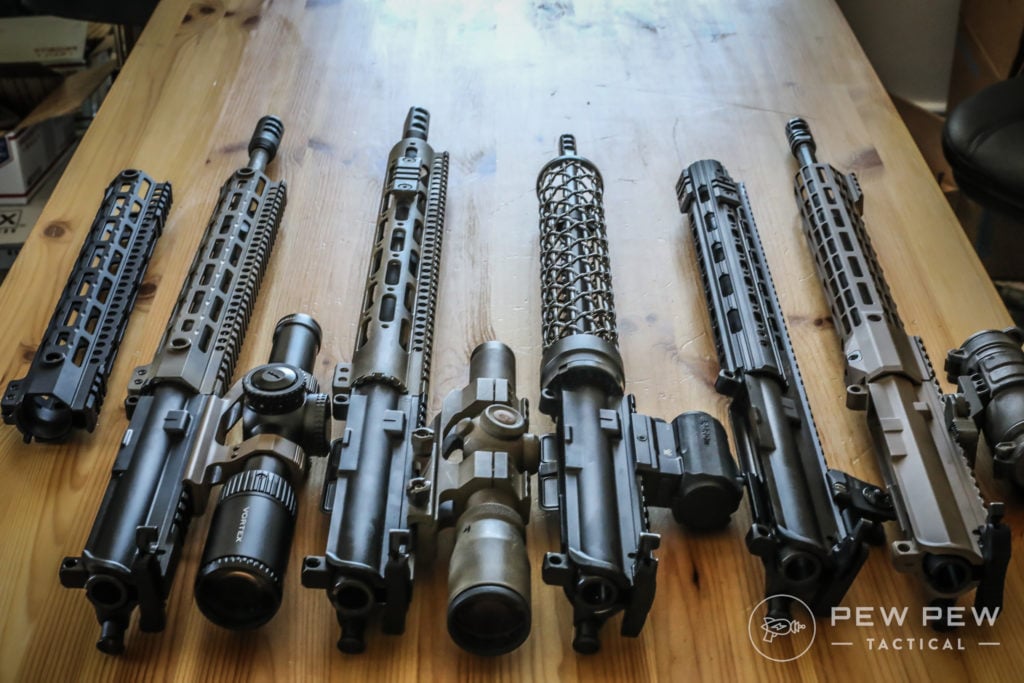 Price: $190
Length: 12.625″
Total Weight: 9.4 oz
4. UTG Pro M-LOK
My previous favorite for best Bang-for-the-Buck handguard until the Aero came along. But still a great handguard if you're looking to save a little and still keep the full top rail.
The UTG Pro is US-made and comes in 13/15/17 inch variants. So it's great if you're looking for slightly longer than 12″ models or a 17″ for longer barrels.
Here is the 13″ on my 11.5″ pistol upper.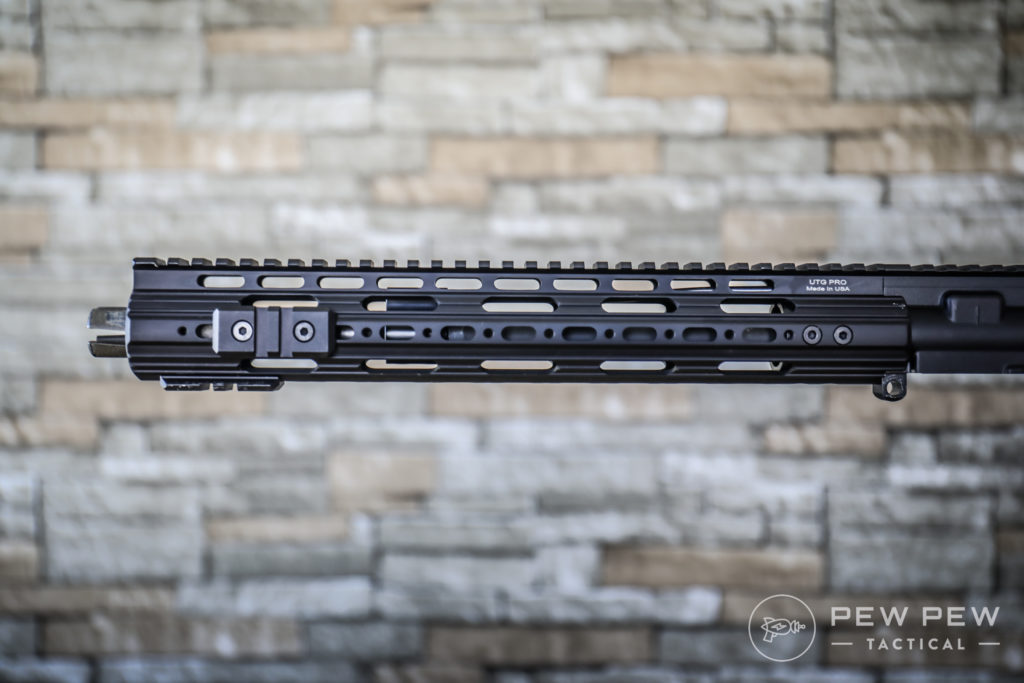 Price: $145
Length: 13″
Total Weight: 11.3 oz
5. Yankee Hill Machine Quad Rail
If you're needing lots of Picatinny real estate…the perennial favorite YHM has got you covered. "Rifle" length is equal to 12.6″ but will cost you a couple more ounces in weight compared to M-LOK varieties.
Price: $160
Length: 12.6″
Total Weight: 15.2 oz
6. Brigand Arms Carbon Fiber
When you absolutely positively have got to have the lightest handguard. It was the best performing BY FAR in our Lightest Handguard roundup.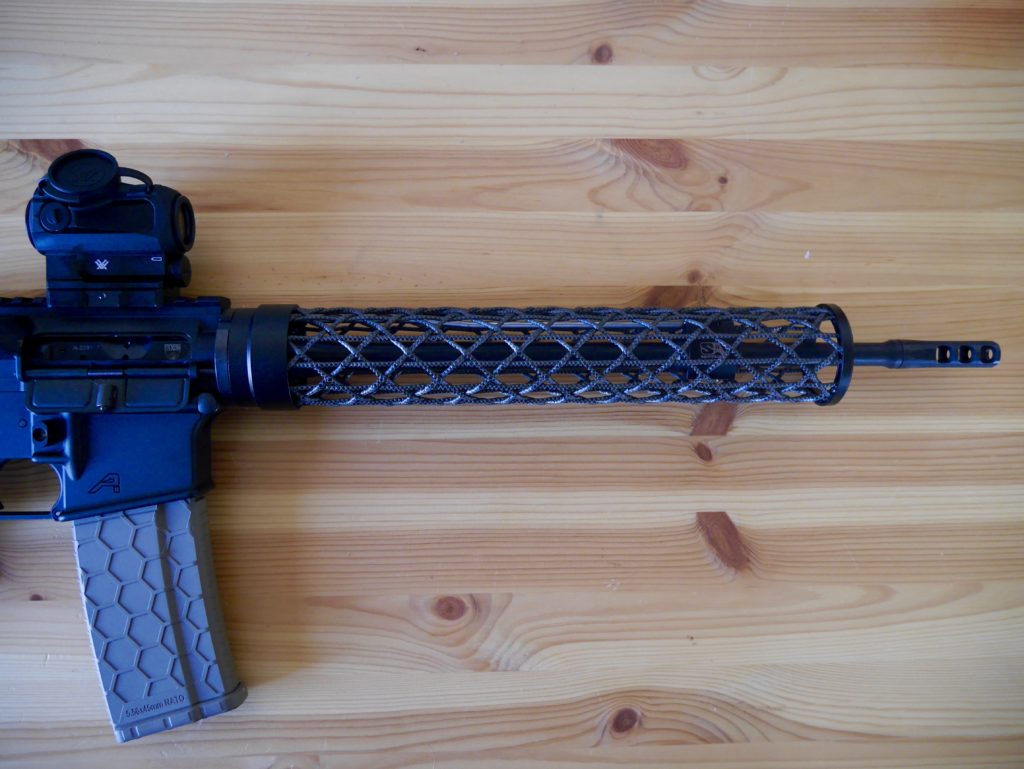 Combined with a pencil 14.5″ barrel…this AR was nearing 5 lb territory.
But keep in mind that you won't be able to add anything to it…and since it is cylindrical all the way through…you're going to have a harder time bracing against barriers.
Price: $296
Length: 12.4″
Handguard Weight: 2.9 oz
Barrel Nut Weight: 1.4 oz
Total Weight: 4.3 oz !!!
7. Bootleg PicLOK
As you guessed from the name…this handguard combines M-LOK attachments throughout with Picatinny compatibility at the front sides.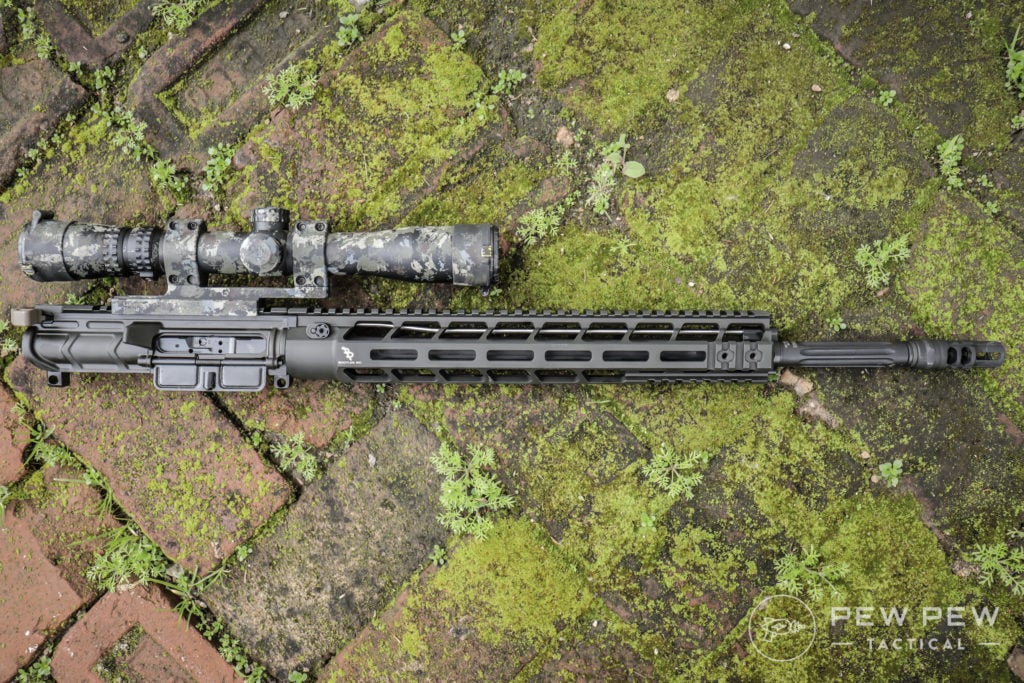 I'm using it for my newest AR-15 precision build with a fluted 18″ Faxon barrel.
Price: $199
Length: 15″
Handguard Weight: 9.6 oz
Honorable Mention Free-Float Handguards
Yes…there's going to be a lot of disagreement in the list. Here's some of the honorable mentions that are sure to pop up.
I've seen them around a lot in competitions but either didn't like the look, feel, or price combination.
Drop-In vs Free-Floating Handguards

If you have a delta ring and a front sight base (FSB)…your best bet is to go with a drop-in unless you want to shave down the FSB and remove the delta ring.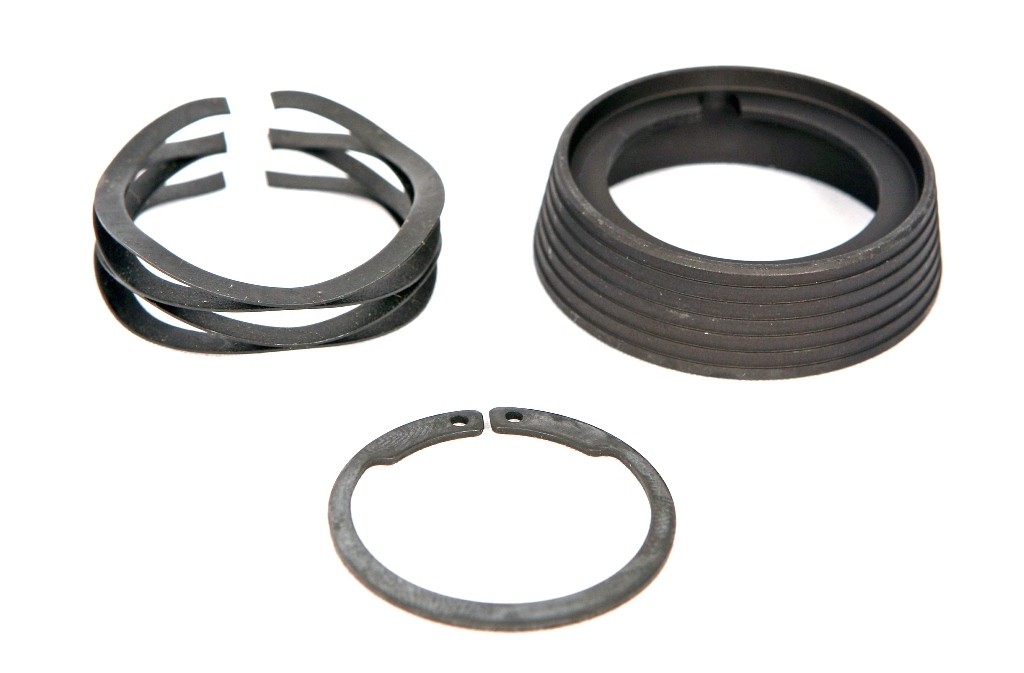 You're also limited in handguard length by the FSB. Here's a couple of the most popular lengths.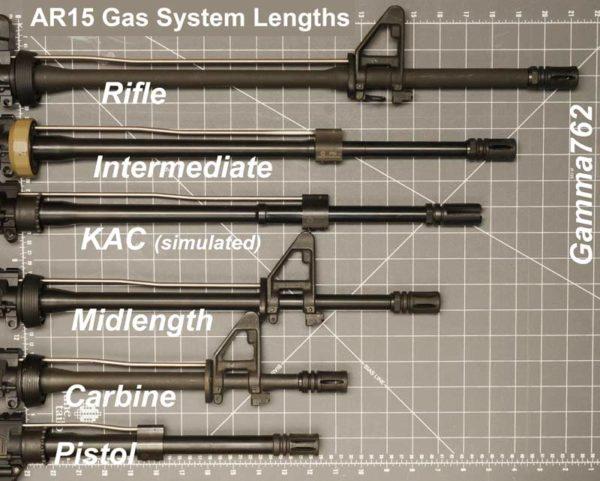 Many of them come in two pieces, which are placed on the gun and are screwed together to prevent the need to take off the barrel.
The biggest advantage of going with a drop-in handguard is simplicity.
You shouldn't need to make any modifications to your AR-15 when installing a new drop-in handguard, and since they've got a relatively simplistic design, they're usually cheaper than their free float counterparts.
Best AR-15 Drop-In Handguards
First off, if you're looking for a fancy handguard with extra frills, the Magpul MOE M-LOK isn't for you.
As you can probably tell by its price, this handguard is pretty simplistic – and for good reason.
What you get with the M-LOK is a heat-resistant polymer handguard that's hardy enough to handle your clanging and banging and comfortable enough to grip onto.
Despite its simplistic design, the M-LOK has slots on its 2, 6, and 10-o'clock positions where you can mount an optional Picatinny rail system. But what you're really getting when you go for the M-LOK is a lightweight handguard that can withstand anything you throw at it.
At $33 for a mid-length gas system…I think that's a good deal.
Price: $33
Length: 9.2″ (Mid-Length)
Total Weight: 8.7 oz
Another winner from one of our favorite manufacturers. The drop-in version is M-LOK compatible and available in a couple gas system lengths.
Price: $130
Length: 9″ (Mid-Length)
Total Weight: 6.6 oz
Looking for the easiest way to add a longer rail and still keep your FSB? The Model 4 is the perfect solution (albeit a heavier one).
Price: $105
Length: 15″ (Mid-Length)
Total Weight: 14.1 oz
Want the additional rail space? Go with the Troy Industries Quad Rail.
Price: $160
Length: 9″ (Mid-Length)
Total Weight: — oz
Pricing
Note…I don't have any "cheap" rails on this list. I've tried out a bunch of great deals I've found at gun shows and especially on Amazon and Ebay. The rails look great when they come in…but something has always been off:
Attachment system sucks (too heavy, too many screws, etc)
Doesn't align correctly to the upper receiver
Picatinny rails are not mil-spec (stuff doesn't fit onto them)
I have a box of holsters and cheapo rails now that sit in the back of my shed. Learn from my fails…you get what you pay for in rails.
Build It and Shoot It
There you have it.
That's my list of the best AR-15 handguards for your AR-15.
How did we do? Any experience with the ones we listed? Or did we seriously miss some great ones?
And if you're just getting into guns and are in the beginning stages of learning about the AR-15, you might want to check out our comprehensive AR-15 guide. There, you'll learn everything there is to know about shooting, maintaining, and customizing your AR.