Looking for something accurate, light, and won't break the bank?
The Ballistic Advantage Hanson series of AR-15 barrels might fit the bill.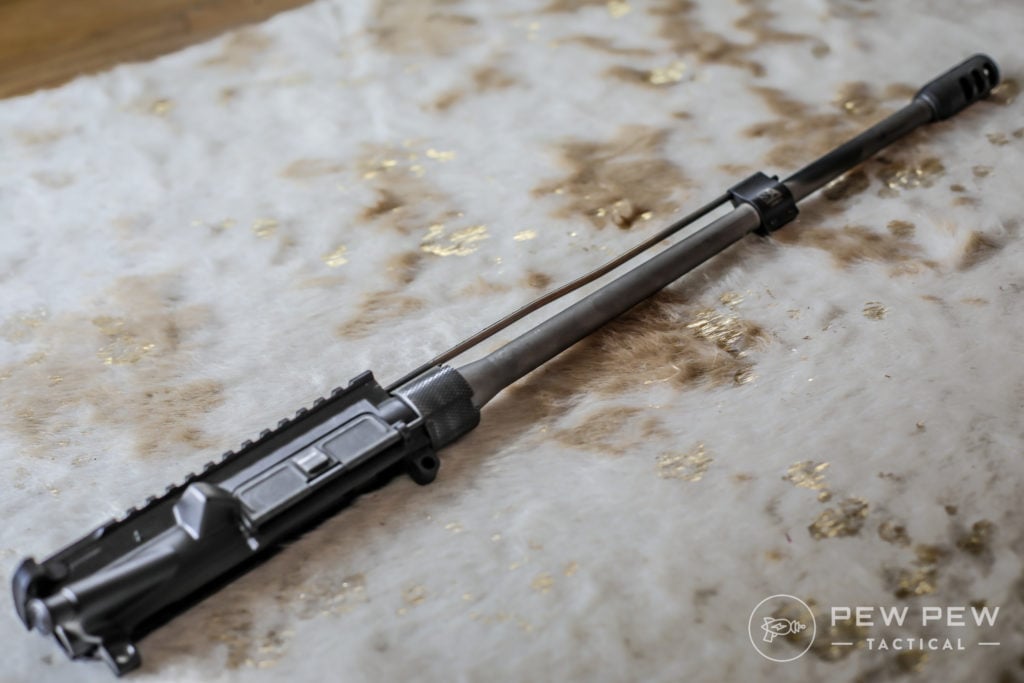 I've been shooting a BA barrel for over 3 years, 2 seasons of rifle competitions, and an estimated 3,000 rounds.
Here's my experience…and of course accuracy tests!
Table of Contents
Loading...
Review at a Glance
Pros
Great bang-for-the-buck in terms of price and quality
1.0 – 1.5 MOA tested
Shoulderless "Hanson" profile
Cons
Sometimes specific barrels are out of stock
The Bottom Line
Can't go wrong with a BA barrel (especially in a Hanson profile) for a general AR-15 build.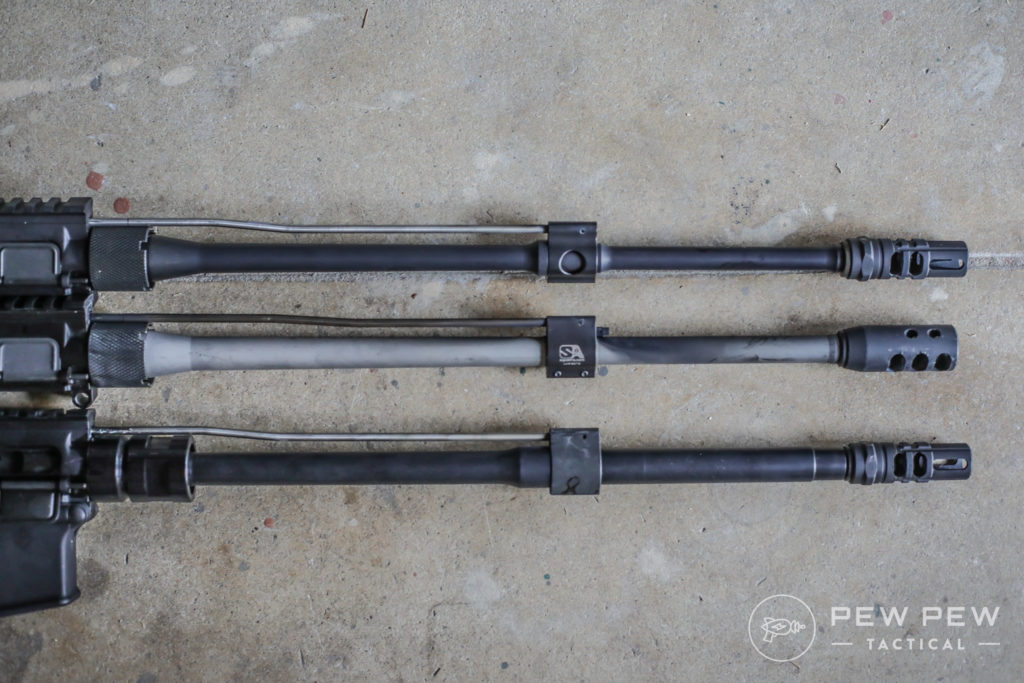 Background: Ballistic Advantage & Hanson Barrels
Aero Precision (manufacturers of my favorite stripped uppers & lowers) acquired Ballistic Advantage in the end of 2014.
That put it on the map for me…and I was happy to get my hands on one of their Hanson barrels after.

In a regular "Government" profile barrel there's a "shoulder" that arises near the gas block. Theory is that by removing the shoulder lump it reduces barrel whip and makes it easier for follow-up shots and overall accuracy.
There's a lot of Hanson barrels…but the specific one I chose was this one:
All-Around Barrel
220
at Ballistic Advantage
Prices accurate at time of writing
Prices accurate at time of writing
16″ to avoid short barreled rifle regulations
.223 Wylde for increased accuracy (and still ability to shoot .223 and 5.56)
Mid-length gas system for a softer shooting impulse
My complete build is documented in How to Build an AR-15 Upper.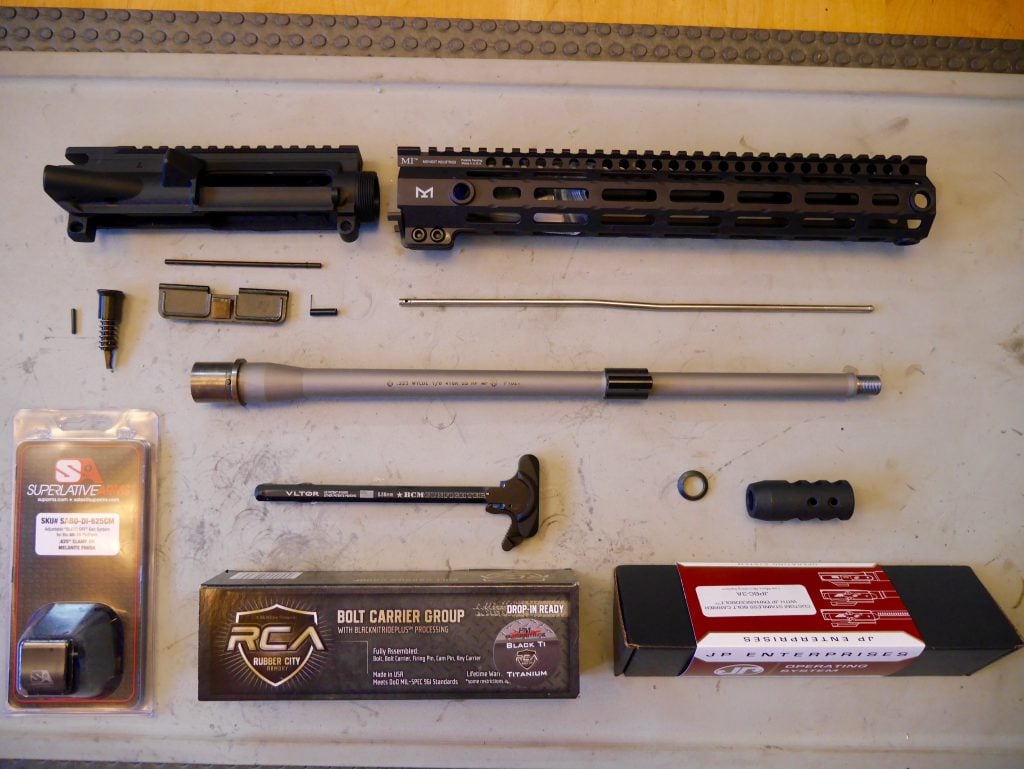 To make it a little confusing…there's two models of 16″ .223 Wylde Mid-length Hanson barrels.
One with a .750″ gas block (27 oz) and one with a .625″ gas block (22 oz). I went with the smaller one for the weight savings.
Who Is It For?
In my opinion, a BA Hanson barrel is perfect if you are building a lightweight AR-15 but still want it to be accurate with the .223 Wylde chamber and shoulder-less design to minimize barrel whip.
Fit, Feel & Install
First off…it's really light! 22 oz for a 16″ barrel is great…especially when regular Government profile barrels are in the 27 oz range.
I also like the bead-blasted stainless look that is different from traditional black coatings…but isn't too shiny or a black hole for fingerprints.

Everything from the barrel nut, gas block, and muzzle brake installed normally and easily…and it's still chugging along 3 years later.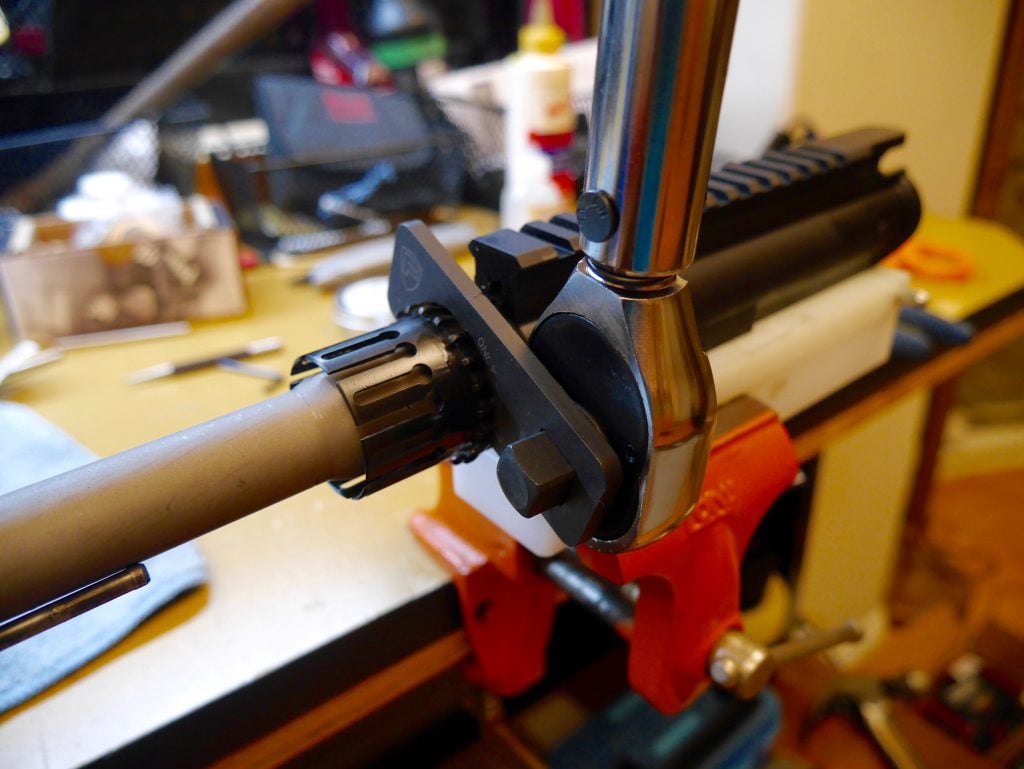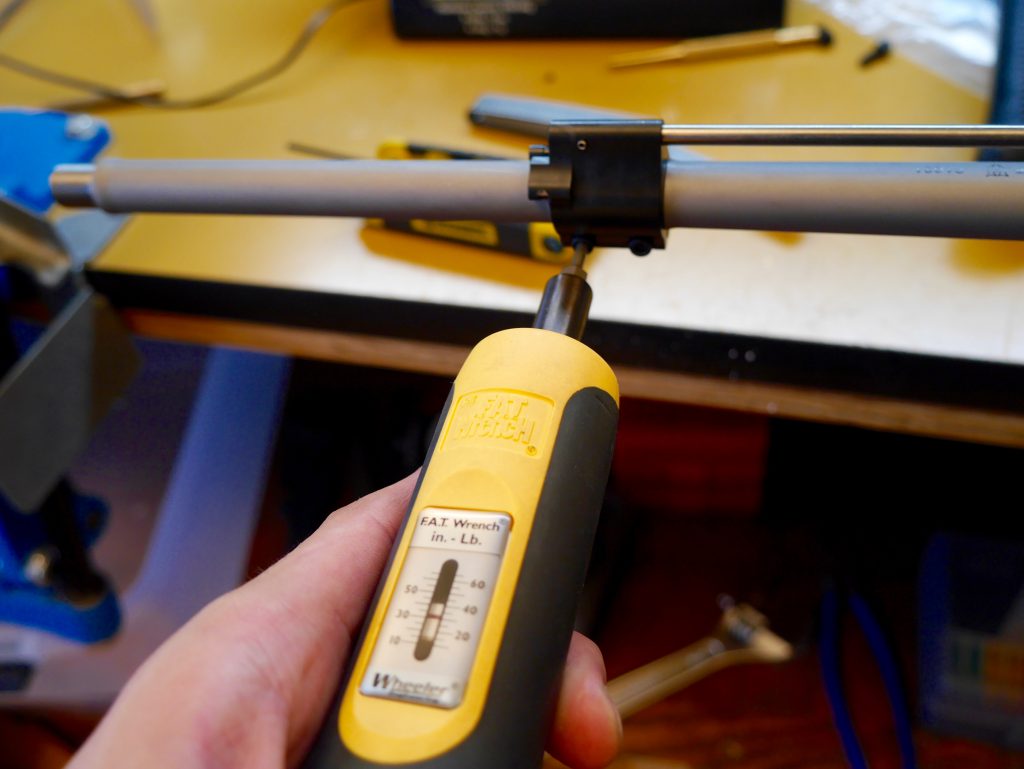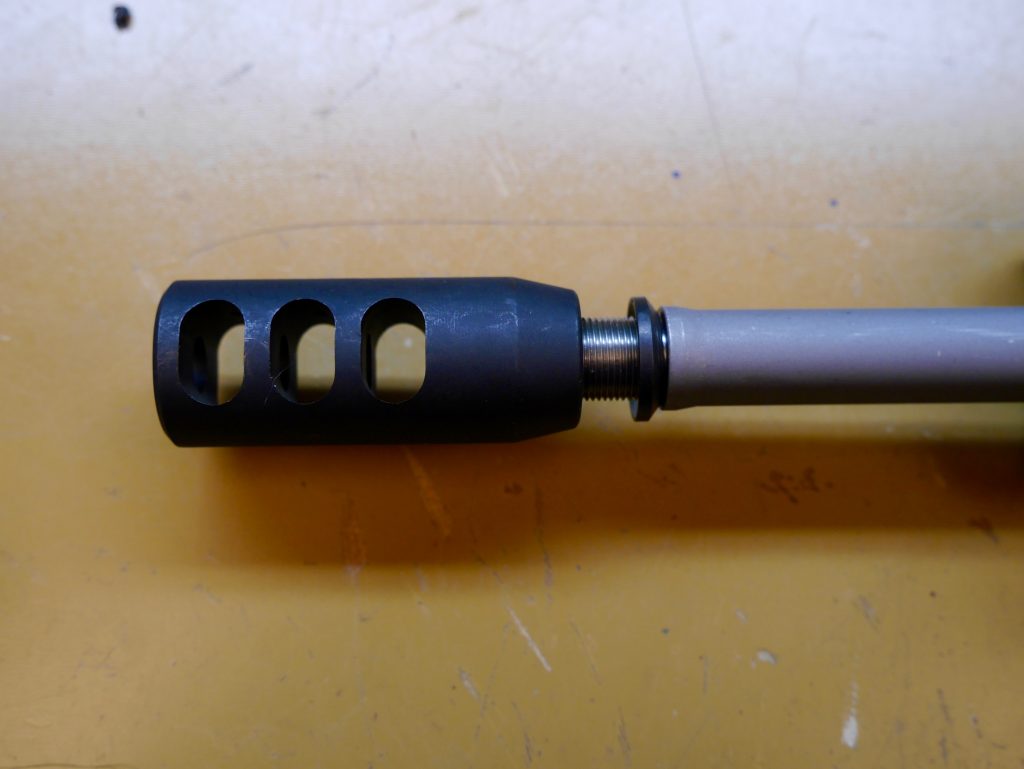 And of course the finished product: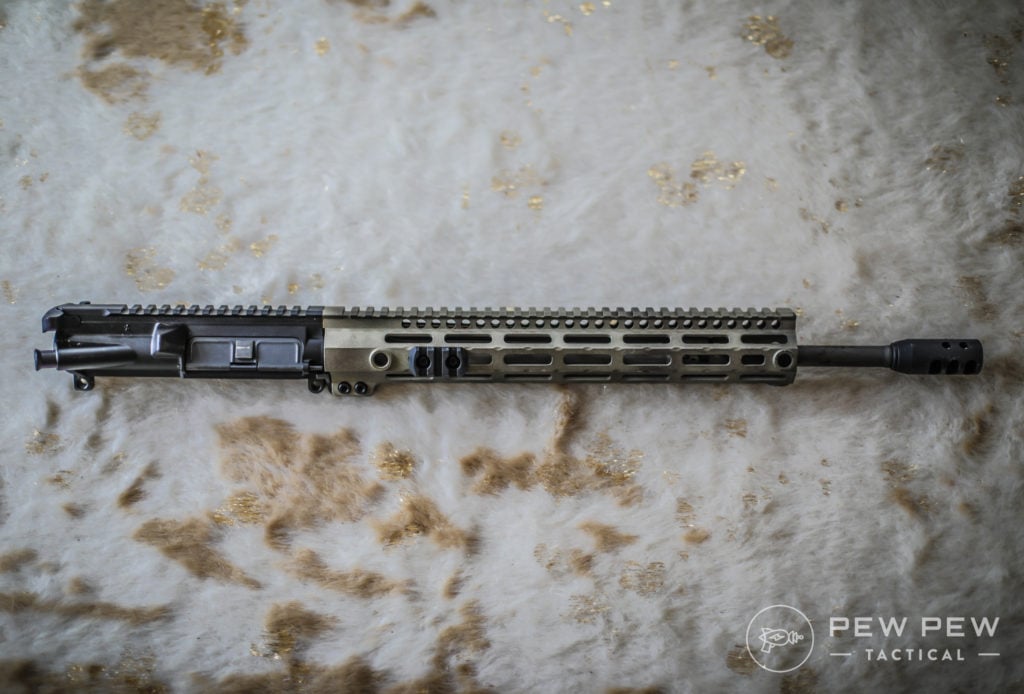 Check out the bleed-off from my favorite adjustable gas block after all these rounds!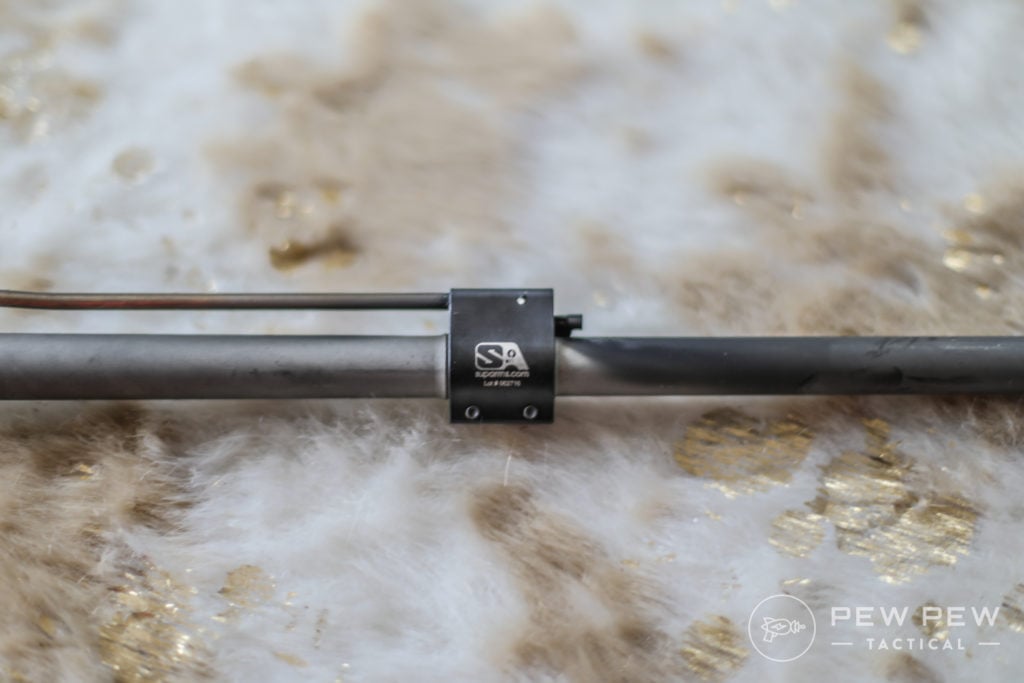 How It Shoots
What you've been waiting for…
All I can say is that it shot super light. Especially when I set the adjustable gas block to just the right amount of gas.
Editor's Pick
89
at Brownells
Prices accurate at time of writing
Prices accurate at time of writing
One negative of going lightweight is that there's less mass to absorb recoil…but when you lower the gas to prevent your upper from sending the BCG back too fast…it kind of cancels out.
Movement between targets also sped up since there's less metal to physically move around.
I say it definitely improved my rifle shooting game.
Accuracy
It can be the lightest barrel around…but if it's not accurate it doesn't matter.
How does the Hanson fare?
I didn't break in my barrel initially and I haven't copper cleaned it either in the thousands of rounds. Keep in mind mil-spec M4 barrels are around 4 MOA.
I went with my standard testing equipment setup: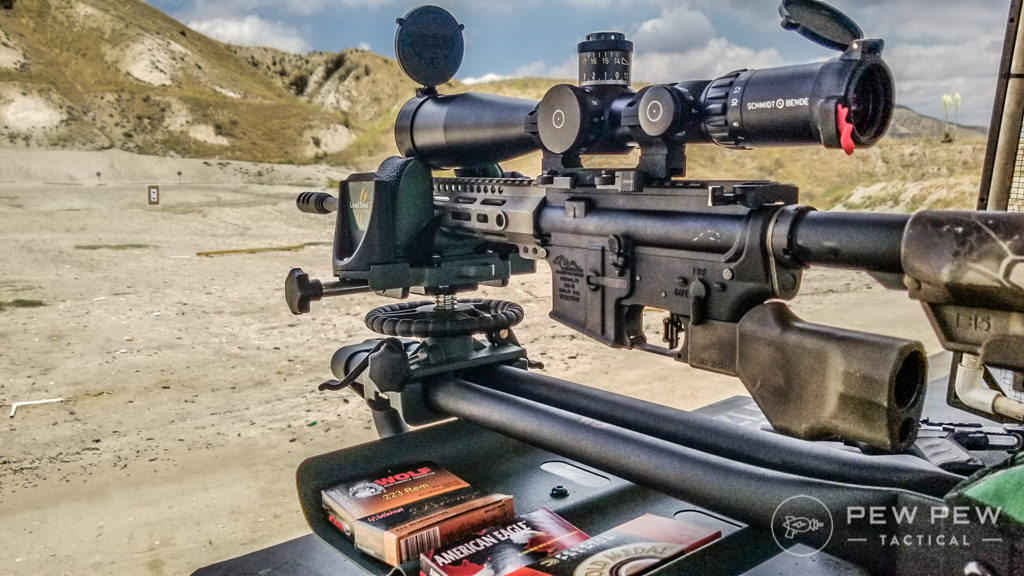 I shot at a slow-ish pace of around 1 shot per 10 seconds. 100 yard target. And I let the barrel cool down to being able to be comfortably grabbed between each group.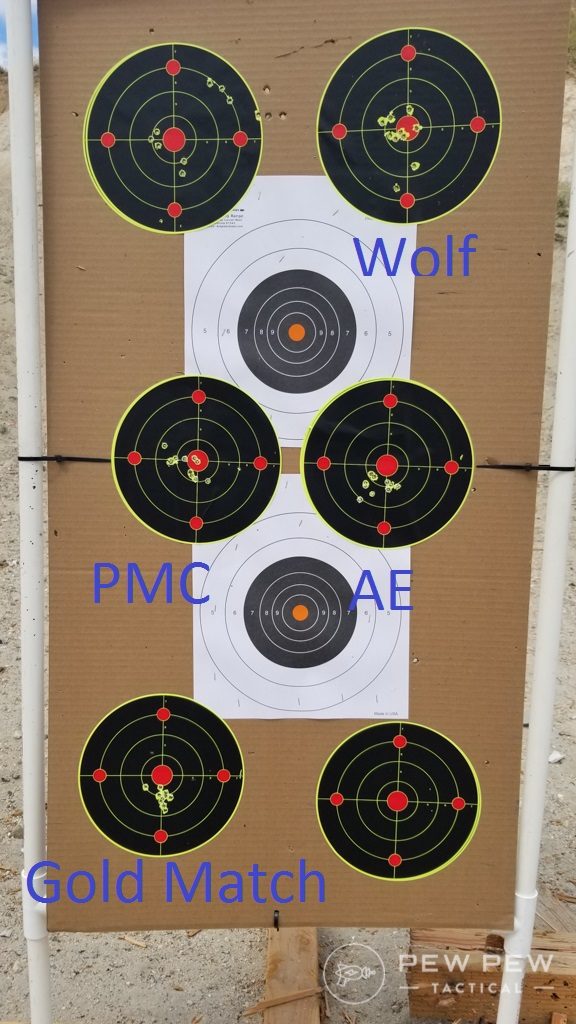 Surprisingly good accuracy for Wolf Gold which is the cheapest brass cased stuff (I pulled those bottom two shots), I'd estimate 1.5 MOA (1.5 inches at 100 yards)
PMC and American Eagle opened up a little bit, estimate of 2 MOA
Gold Match was the tightest group at around 1 MOA with one flyer
Not surprising though…is how my build let me hit 400 yard targets during competitions when I did my part and had a good scope (Best 1-6x Scopes).
I'd imagine better groups if I cleaned it up and reloaded my own ammo. But with 1.5 MOA using the cheapest brass cased ammo out there…I'm very happy.
Specifications
Length: 16″
Material: 416R Stainless Steel
Profile: Hanson
Finish: Bead Blasted
Gas System Length: Mid-length
Gas Glock Journal: 1″ Gas Block Seat for .625″ Low Profile Gas Blocks Only
Twist Rate: 1:8 inches
Muzzle: 1/2×28 Threaded
Weight: 22 oz
Other: HP & MPI Tested
By the Numbers
Reliability: 5/5
No barrel based failures in my thousands of rounds. Installed easily for barrel nut, gas block, and muzzle device. Individually HP & MPI tested.
Accuracy: 4.5/5
Remarkably good for a pencil barrel and it ate up my cheapo ammo at 1.5 MOA. Using match ammo brought it down to 1 MOA and I'm sure with reloads you can get it sub-MOA. The 1:8 twist is great for a wide variety of bullet weights too. AND…there's a 1-MOA guarantee using match ammo.
Looks: 5/5
Love the bead-blasted look that doesn't shine nor attract fingerprints.
Bang for the Buck: 4.5/5
$250 for a high quality barrel is what I expect…but keep in mind that it does come with a gas block already. It's non-adjustable but if that doesn't matter…it saves you about $30-40.
Overall Rating: 5/5
Conclusion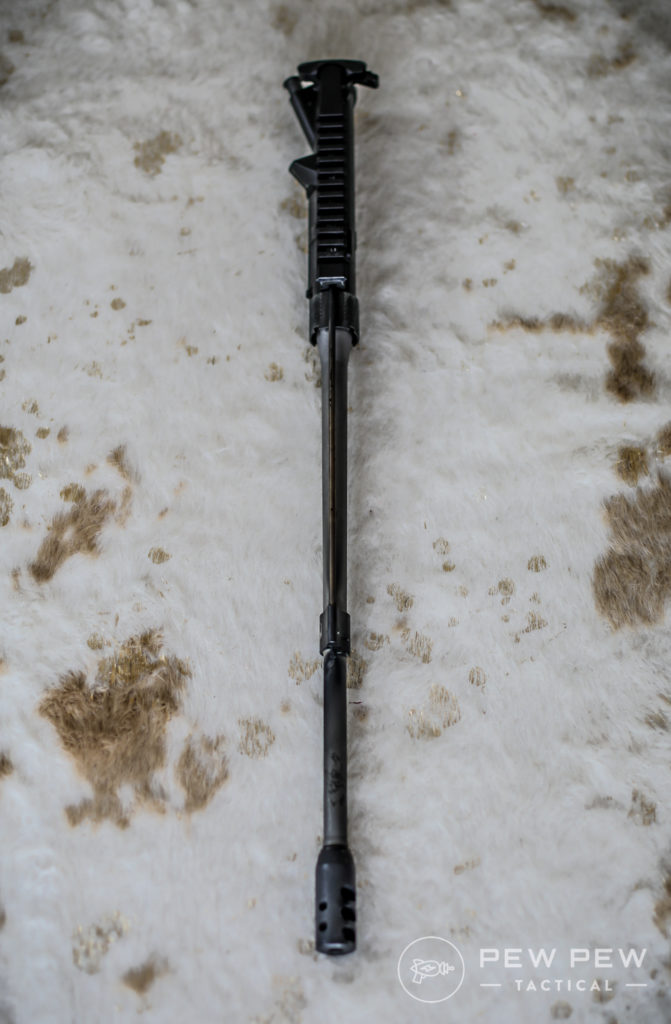 The Ballistic Advantage Hanson barrel has served me well. I'm testing out other barrels all the time but I know I'll be coming back to this one…especially for competition.
Lightweight, accurate, and pretty good bang-for-the-buck…it's one of the barrels I wholeheartedly recommend in my Best AR-15 Barrels article.
205
at Ballistic Advantage
Prices accurate at time of writing
Prices accurate at time of writing
What's your experience with BA barrels…or have you tried one of their other variants?  Or check out our other Favorite AR-15 Barrel Manufacturers. Let us know in the comments below!