Want reduced recoil and minimal vertical movement?
Then you want an upgraded muzzle brake.
We hands-on test nine of the most popular and high-performing muzzle devices out there. Not only utilizing reduced recoil data…but looking at side blast, decibel readings, and reticle movement.
And of course…offer our suggestions based on your budget.
With the latest update, we also snuck in some of the best recoil tamers…suppressors!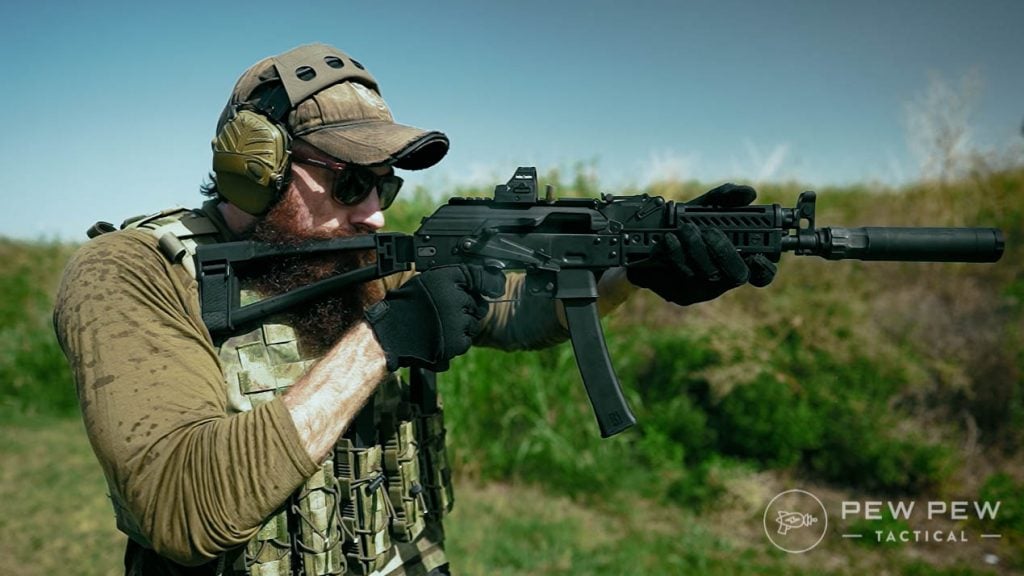 But first, let's start off with some quick terminology.
Summary of Our Top Picks
Difference Between Muzzle Brake, Compensator, and Flash Hider
Most muzzle devices are hybrids now. But it's good to get the technicalities out of the way.
Muzzle Brake: reduces felt recoil, mostly with side vents
Compensator: reduces the vertical movement, mostly with holes on the top
Flash Hider: ok, this one is easier to guess…it reduces the fireball when you pew pew
Now let's talk about hole size.
What?
Brakes and compensators will have exit holes roughly the size of the round.
While flash hiders are larger, so there's space for unburnt powder to…burn.
For states that don't allow flash hiders…make sure the exit hole is about the size of the round and that nowhere in the literature does it mention flash-hiding abilities.
For some pure flash hiders, check out our Best AR-15 Flash Hiders article.
Now let's get on with testing.
Testing Procedures
Basis
I try to stand on the shoulders of giants.
And Jeremy S. over at TTAG has done some amazing work on muzzle devices.
I humbly start with his info on reduced recoil distance from his Muzzle Brake Shootout #1, Shootout #2, and Shootout #3.
Side Blast
Then I amp it up with some side blast comparison…since sometimes it's cool to think about your fellow shooters next to you — on the range or when clearing rooms (of course).
I had grandiose delusions of measuring the angle of floating balloons or using some cool powder that would disperse. But what worked best, in the end, was a windsock on its side.
It's not super scientific, but I kept the same distance and position…and tried to keep the angle of blast the same.
Much movement = a really uncomfortable guy/gal next to you.
Decibel Readings
Now a little for your own pleasure.
When you reduce recoil and vertical movement…a lot of that energy is converted into that side blast and also sound.
I usually have to double-up ear protection when I shoot compensated AR-15s. So I got measurements at shoulder level to mimic what you might hear.
If you don't want ringing ears…check out our Best Shooting Ear Protection for our tested favorites.
Note that decibels (dB) are on a logarithmic scale (thanks, math), so a 3 dB change is roughly 2x the loudness.
Reticle Movement
And what might matter the most…what you see down your optic/scope. I'm using a Strike Eagle 1-6x at 1x at a ~25-yard target.
Check out Best AR-15 Optics or Best 1-6x Scopes for more details.
So I have video through the scope with a couple of shots downrange.
I shoot standing up with a c-clamp grip and try my best to let the shot move naturally before moving it back on target.
And also, my camera adapter flips the image, so my right hand is now on the left. And the "true" movement of the reticle is also flipped.
But since we're looking at the absolute movement of the reticle…we're still good because all the muzzle devices are timed to 12 o'clock (top of the device is matched with the top of the barrel).
Now let's get on with it…in no particular order except how I set up my original picture…
Best Muzzle Brakes & Compensators
1. A2 Birdcage
The OG and what likely came on your stock AR-15.
The A2 Birdcage does a very effective job of reducing blinding flash (.48 Lux compared to >10K Lux for a bare muzzle, TTAG Flash Hider) but not so great at felt recoil or vertical movement.
A perfect control for our next candidates.
Not a lot of movement on the windsock and from personal experience…perfectly pleasant to shoot next to with proper ear protection.
Average of 116.3 dB, although the last one might have been an error. Otherwise, around 118.8 dB.
But you can see the fairly large movement of the reticle.
It does the job and at a super reasonable price and weight (1.9-ounces) too.
2. Precision Armament M4-72 Severe Duty
The M4-72 Severe Duty was the winner of two shootouts with 74% reduced recoil…so I had to try it out for myself.
It has some pretty aggressive side cuts, which make it a pure compensator.
Lots more side blast…I would not want to be next to this bad boy since almost all the energy is going to the sides
Average sound of 119.4 dB
And really little reticle movement!
It's definitely longer and heavier (2.6-ounces) than the A2 but really does its job in the reticle department.
Your buddies might hate you, and it's a little louder for you.
But if recoil reduction and keeping your reticle on target is the name of the game…this one might be our winner if ~$100 is within your budget.
What's your take on the M4-72? Give it a rating below.
3. Nero 556
Now let's get REAL exotic.
Looks different…doesn't it?
That's because the Nero 556 is 3D-printed from Inconel…the stuff they use in rocket engines.
And because it's 3D-printed, they can do lots of cool stuff you can't with milling steel.
Windsock movement is pretty decent, although I found it to be more pleasant than the M4-72 and Miculek
Sound rating is 117.6 dB which is pretty average
But did you see how the reticle moved?
It actually went down.
I'm glad I read somewhere that this happens to a lot of shooters that first try out the Nero.
We're so used to an upward movement that a flatter shooting muzzle device makes us press down. Later on in the day, when I man-handled the Nero rifle less…I had even better results.
If you want bleeding-edge technology at whatever the cost…check out the Nero. The makers have hooked you up with coupon code "PewPew" for 10% off. The link here and below will auto-add it.
4. VG6 Gamma
I've shot this A LOT on my go-to Aero Precision rifle (full review), and it shows.
The VG6 Gamma was a great upgrade from my A2 and had a very nice 66% recoil reduction in the TTAG article.
Decent windsock movement
Sound rating of 116.5 dB
It's a little more movement than this, but I couldn't get a good screen capture.
But you can see there are a lot of vertical vents on the Gamma, so it also pushed the reticle down for me.
It's also pretty compact and light (2.1-ounces) for its great performance.
Plus, the price is coming down, which makes it a deal for something all-around that doesn't destroy the people to your side.
5. Strike Industries J-Comp V2
What I've been shooting the most recently since I started reviewing a lot more uppers.
And the main reason was cost. It adds up when I have to buy five comps at a time. The J-Comp V2 comes in around $30 to $40.
Oh…and also that it performed well across the board on TTAG's tests…with 61% recoil reduction and also 1.44 Lux in flash hiding.
Note that they used the V1 of the comp…but the V2 is super similar but without literature that says it has flash-hiding capabilities. But the exit hole is larger than the caliber so…yea…
Now let's see how it performs in our tests:
Pretty extreme movement on the windsock…and I can attest that it sucks to be next to on the range
Sound level of 118 dB which is a little higher than others
But pretty good in terms of low reticle movement.
However, it's longer than normal and weighs in at a hefty 3.0-ounces.
My go-to choice if you want something that's all around in terms of price, recoil reduction, flash hiding (possibly), and reticle movement.
6. SureFire SOCOM + Warden
We've tested the SOCOM Muzzle Brake and Warden Blast Diffuser and really like it.
So…I'm throwing it into this list.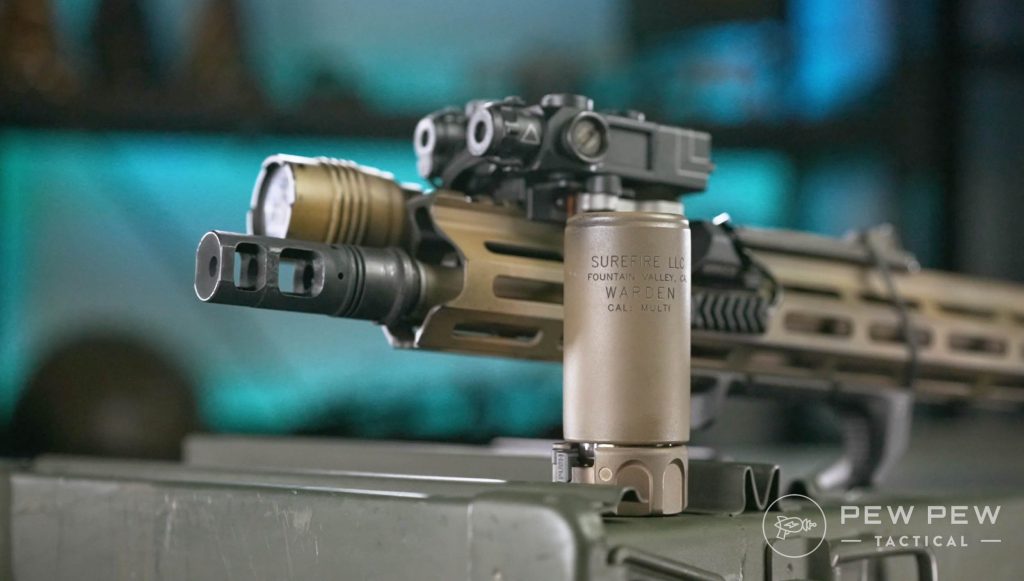 SureFire's SOCOM pulls double duty as both a muzzle brake and an adapter for suppressors.
The brake comes in a few varieties to accommodate calibers like .223, .260, .277, .308, .338, .408, and .50-cal.
Specs-wise, you can expect to see a 2.6-inch length and 3.9-ounce weight.
On the other hand, the Warden is a linear comp that measures 3.5-inches in length and easily attaches to the SOCOM SFMB Muzzle Brake Suppressor Adapter or 7.62 muzzle brake via a QD design.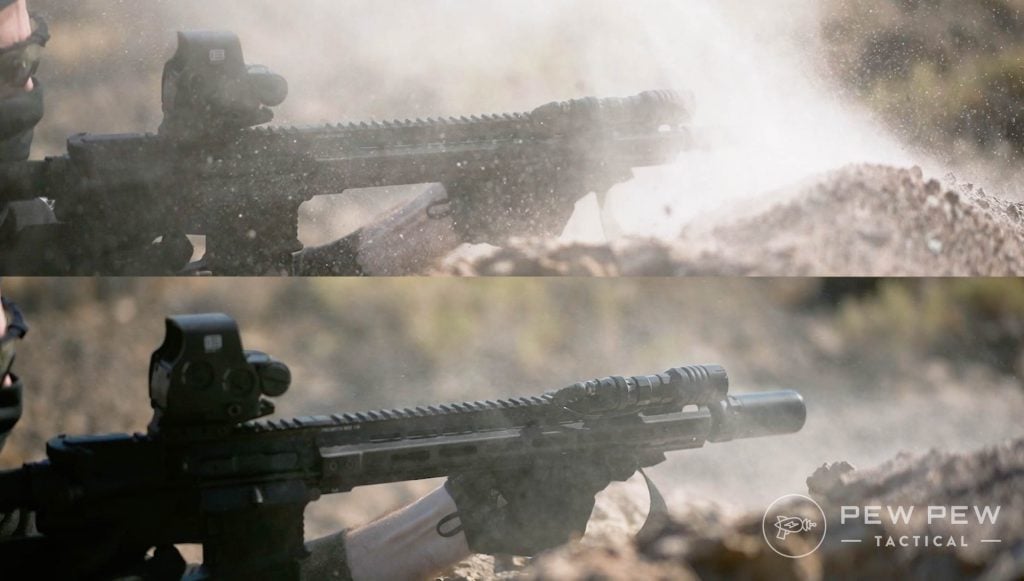 The Warden does a great job of forcing gases forward and away from the shooter or whoever is hanging out nearby.
We tested out the SureFire SFMB and Warden together and found them an enjoyable pair. If you can find these…and it can be tricky…we recommend picking both up. You won't regret it.
Be sure to read the review on the SureFire set-up or watch the full video review below.
A Note About QD Suppressors
Though this article is about muzzle brakes, we would be remiss if we didn't at least mention that QD suppressors.
We dig QD because you don't have to go through the annoying process of switching everything around every time you want some quieter plinking.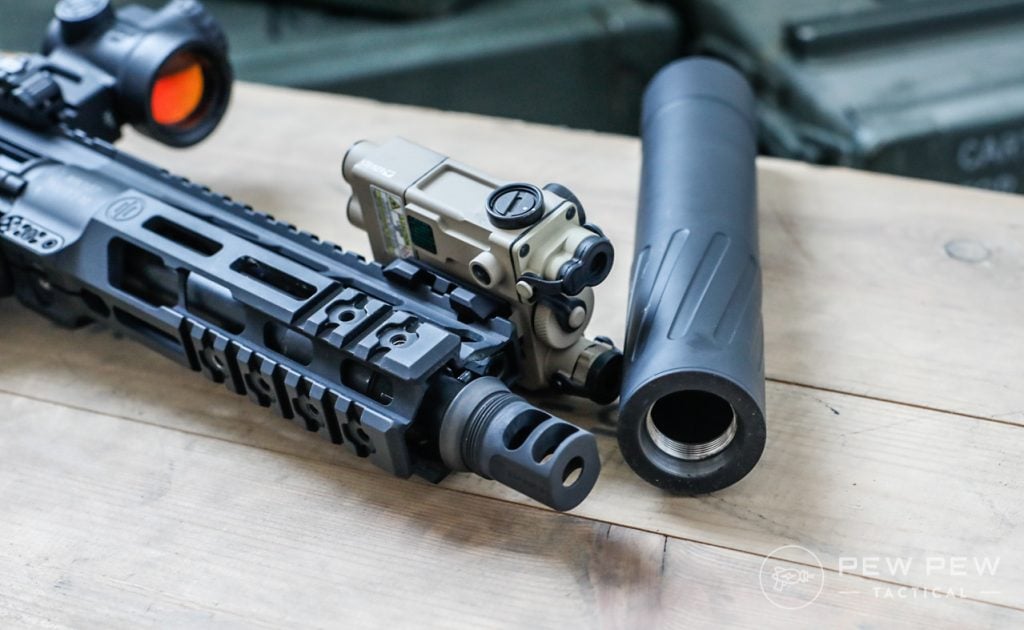 These allow you to just toss your suppressor on whenever you want. Easy peasy.
What are some of our favorite QD suppressors?
Glad you asked…
We really like the Banish 30 Gold from Silencer Central.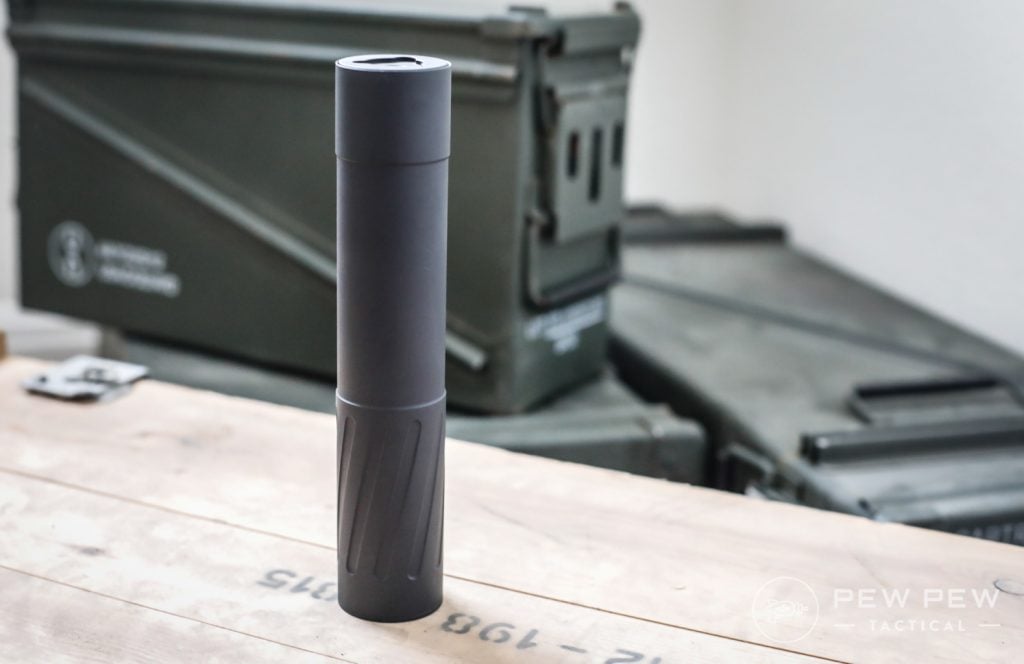 A .30 caliber suppressor, it reduces that familiar bang down to 132.9 dB. Easy to disassemble and a great suppressor!
Other models we like are the YHM Turbo 2 and Resonator K.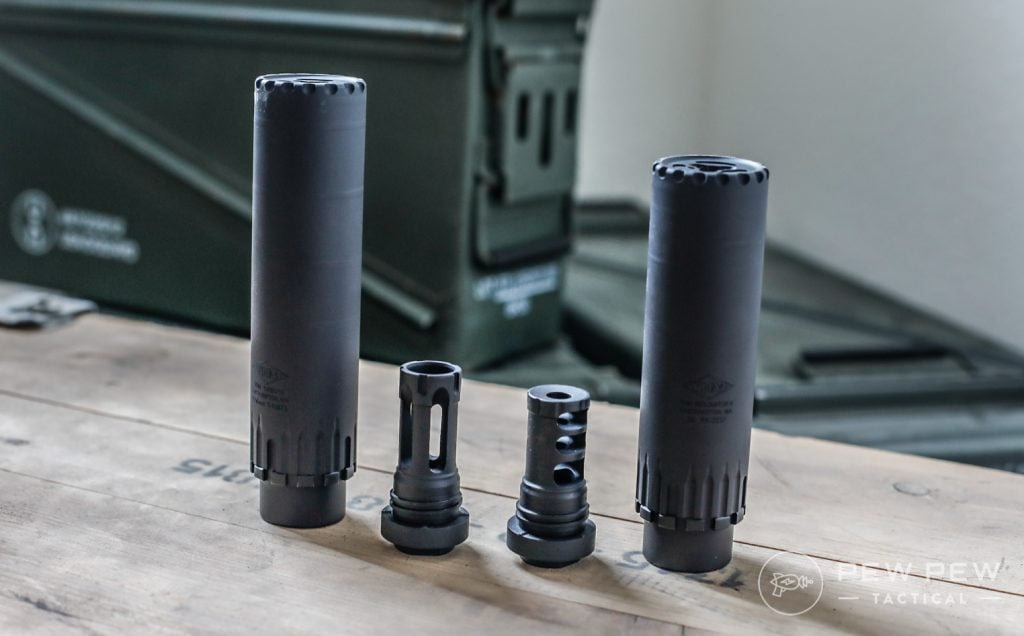 The Resonator K is another .30 caliber model that takes the bang of .308 Win down to 137 dB and 5.56 to 150 dB.
YHM's Turbo 2 is a 5.56 can that takes that sound down to 134 dB.
Final Thoughts
Let's summarize based on some scientific but mostly my subjective opinion.
Best Compensator goes to the Precision Armament M4-72 Severe Duty since it reduces the felt recoil the most. Plus had the least reticle movement. But the people next to you (and your own ears) will hate you.
Best Brake/Compensator Hybrid goes to the VG6 Gamma since it's got some great downward force on the reticle, and is annoying but not as annoying to others.
Plus…it's more compact, lighter, and still affordable.
Best Goldilocks Muzzle Device goes to Strike Industries J-Comp V2 since it's got great recoil reduction, possibly flash-hiding capability, and decently little reticle movement.
Most High Tech Muzzle Device goes to the Nero 556 with its 3D-printed Inconel design that will turn heads, not destroy eardrums, and give you tremendous downward force.
I'm keeping this on my primary tester rifle, so I get more used to the very different recoil/movement profile. Stay tuned for updates!
Remember to use the code "PewPew" for 10% off on the Nero.
What's your fave brake? Let us know in the comments below. Need a brake for a short-barreled rifle or rifle caliber pistol? Check out the Best Linear Brakes! And if you want to make your AR-15 run even better…check out the rest of our Best AR-15 Upgrades series.