---
The world of magnified optics is flush with options for those shooters needing to reach out with some clarity at distance.
Narrowing the field, there are a lot of low-powered variable optics (LPVO) too.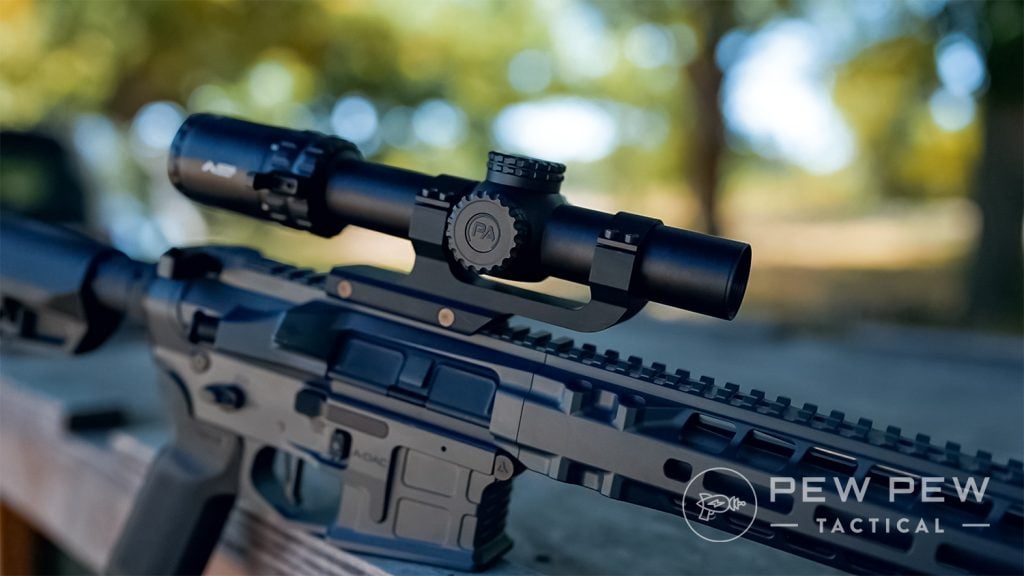 The high-end scopes available on the market are amazing but can have you considering a second mortgage. But there are good options that do most of what you need without breaking the bank.
We can agree we should have options that provide good performance at a low price — optics that don't suck.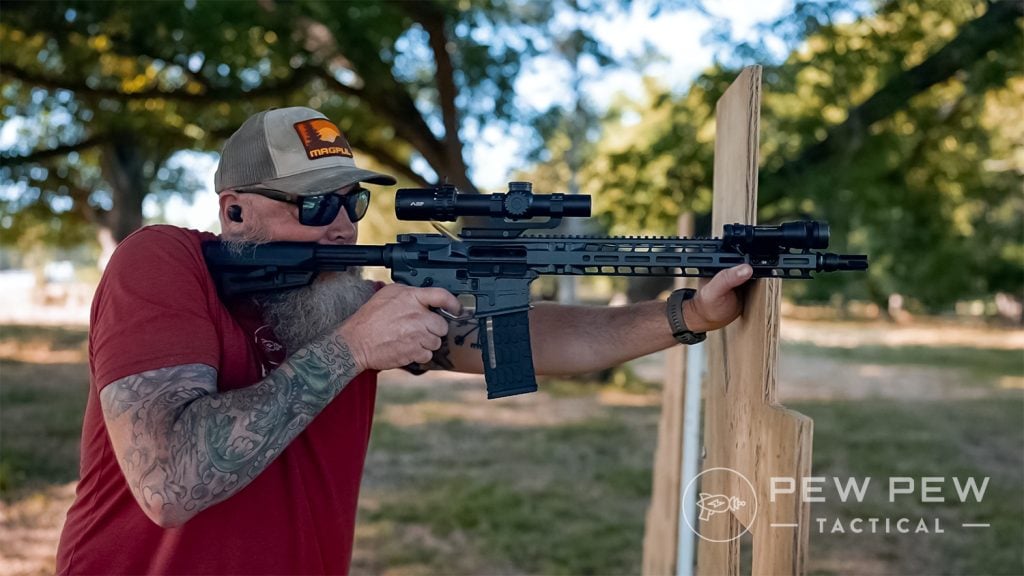 Primary Arms recently sent us their latest SLx 1-6 to test out, and after putting it through the wringer…we think it's a great value.
So keep reading while we walk through the pros and cons and take it to the range!
Table of Contents
Loading...
Why You Should Trust Us
Sean Curtis has been shooting since childhood but really began to delve into guns more during his law enforcement career of over two decades. He received continued training for his roles in SWAT and as a POST-certified handgun instructor.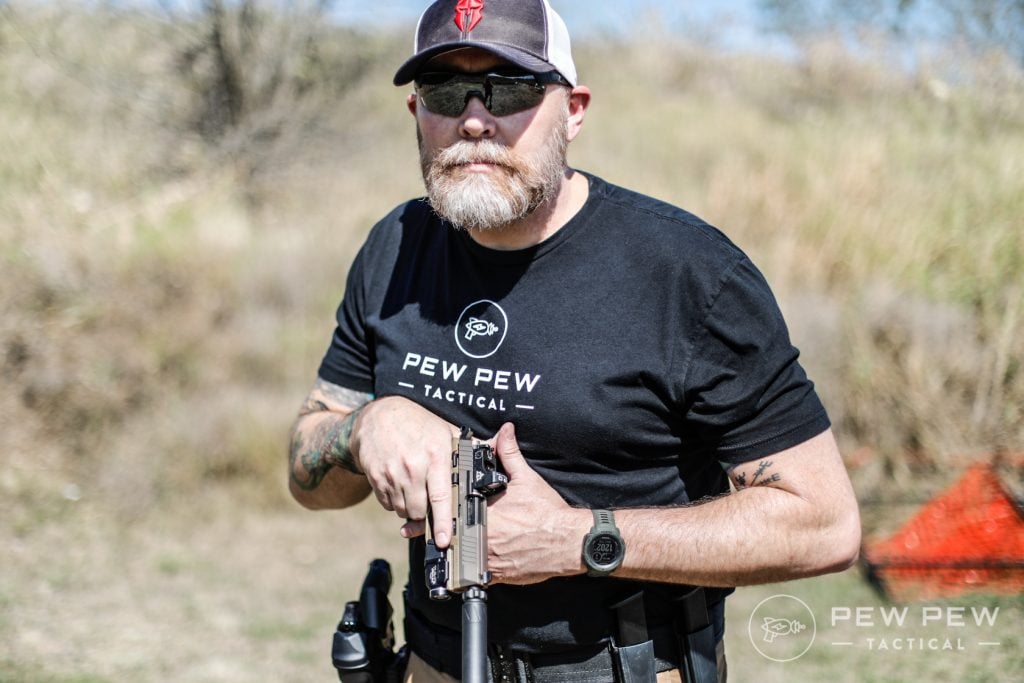 He began writing in 2014 for Police1.com, covering many topics, including firearms reviews. From there, his works spread to Guns.com, American Survival Guide, Gun World Magazine, and the Glock Annual.
Sean then came on board full-time in 2021 where he soon began focusing on reviews and videos…with tons of hands-on experience with a variety of optics.
Primary Arms SLx 1-6x24 Gen IV Pros & Cons
Pros
Affordable

Daylight bright dot

Clean reticle
Cons
Minor loss of clarity at edges

Stiff magnification adjustment
The Bottom Line
The Primary Arms SLx 1-6x24 Gen IV is an excellent value for the money. The quality of materials and features at this price point is stellar, even when including some minor gripes.
339
at Primary Arms
Prices accurate at time of writing
Prices accurate at time of writing
Primary Arms SLx 1-6x24 Gen IV Specs & Features
Specs
Focal Plane
Second Focal Plane
Adjustment Range
120 MOA elevation and windage
Primary Arms SLx 1-6×24 Gen IV Background
The SLx lineup (read silver) is a budget-minded series offering good features at a competitive price. Primary Arms also has a GLx line representing gold at a slightly better quality and higher price.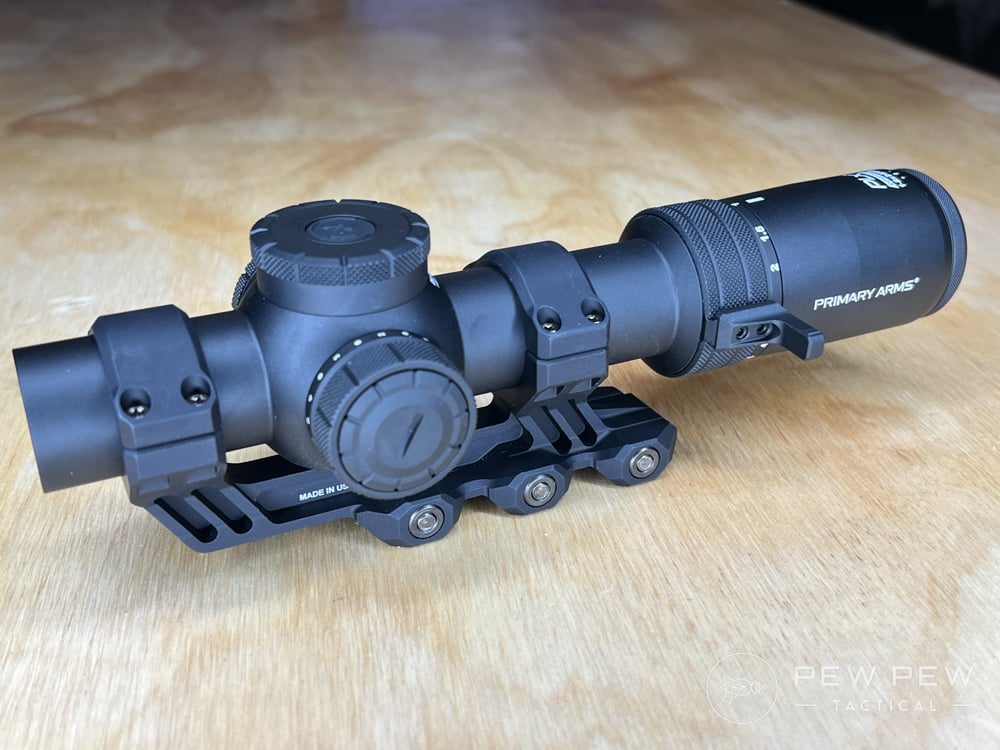 There are also PLx or platinum offerings that represent the premium category of optics. As the Gen IV designation of this 1-6 indicates, there have been previous versions of this scope, and the Texas-based company seems to improve them with each iteration.
Feedback to Primary Arms from previous models consisted of the reticle light not being daylight bright. The improvement of that feature with this new model is dramatically brighter.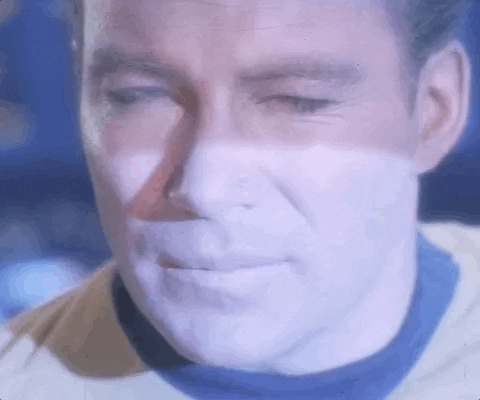 Who Is It For?
Anyone wanting to extend the capabilities of their rifle should check out low-powered variable optics since they offer greater clarity at distance when compared with a simple red dot.
The tradeoff is added weight, bulk, and a bit of distortion at the lowest magnification.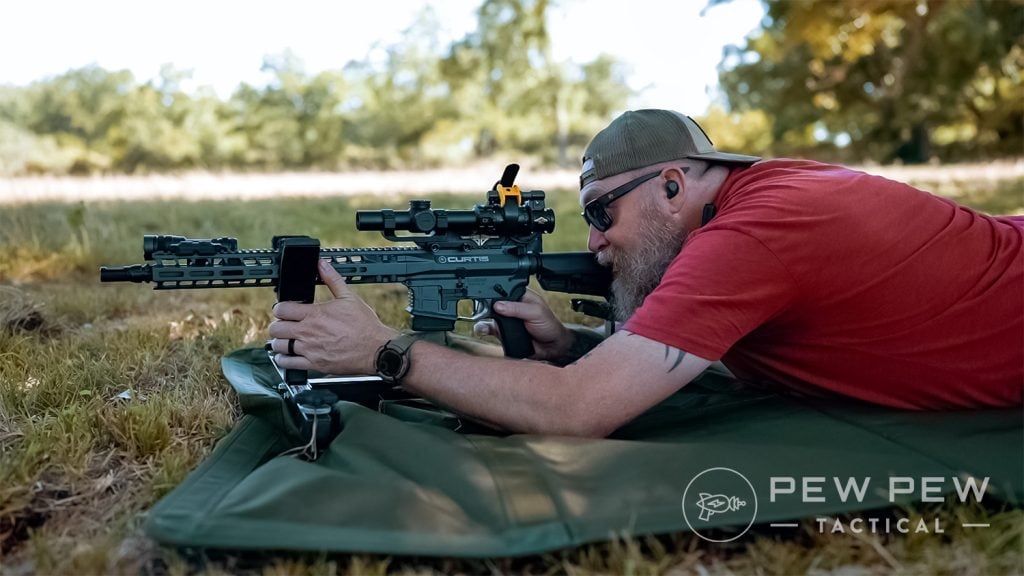 The SLx 1-6 Gen IV is a great place to dive into these waters. The quality of the materials, feature set, price, and lifetime warranty make it a low to no-risk option.
Knobs & Settings
The SLx 1-6 is made with a 30mm tube of 6061 T6 aluminum, allowing more room for the internals and, accordingly, more adjustment. Its exterior surface appears to be black aluminum with a nice finish and white lettering.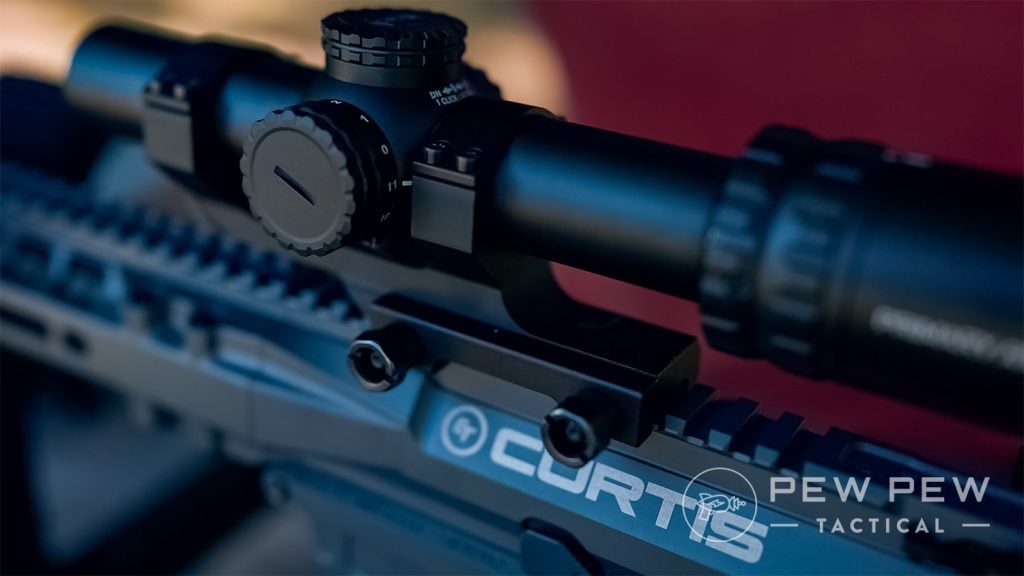 The exit pupil (end you look through) features a diopter adjustment to dial in for your particular vision. This is very stiff, but it's okay because you typically set it and forget it.
Moving up the optic, you soon arrive at the magnification adjustment, which features some well-textured knurling and a 90-degree throw lever. The (removable) lever is well placed, sitting at 3 o'clock at 1x magnification and 9 o'clock at 6x.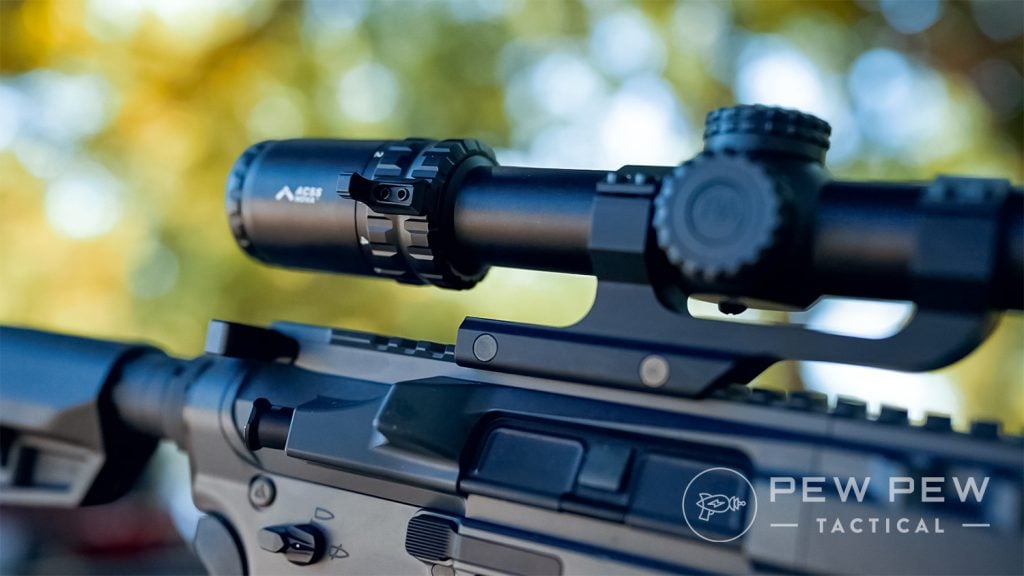 Adjusting magnification is a bit stiff and takes a good grip. This is a delicate balance because you don't want your scope to easily adjust magnification by bumping into something, but you also don't want to strain to get there.
Toward the middle, you reach the windage and elevation controls, which feature capped turrets. These are fairly low profile and likely a money-saving feature compared to exposed turrets.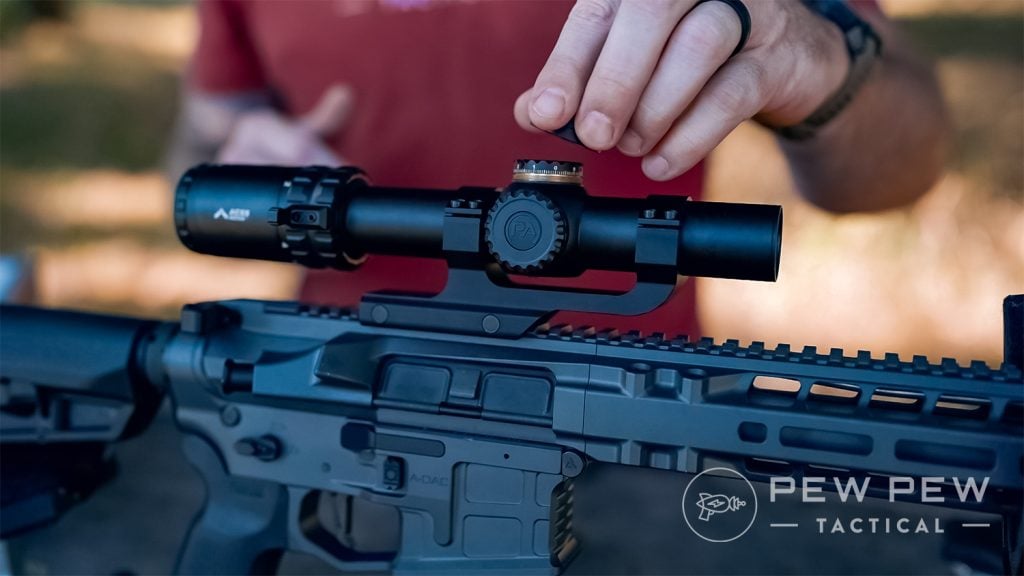 Removing the caps, the dials adjust easily with a slight tactile bump and minimal sound. There are 120 MOA of adjustment available on windage and elevation.
In the same area on the left side of the scope lies the illumination knob, which shares the same knurled exterior as the windage and elevation caps. The actual adjustment is fairly stiff, gives good tactile feedback, and makes a soft pop each time you hit a setting.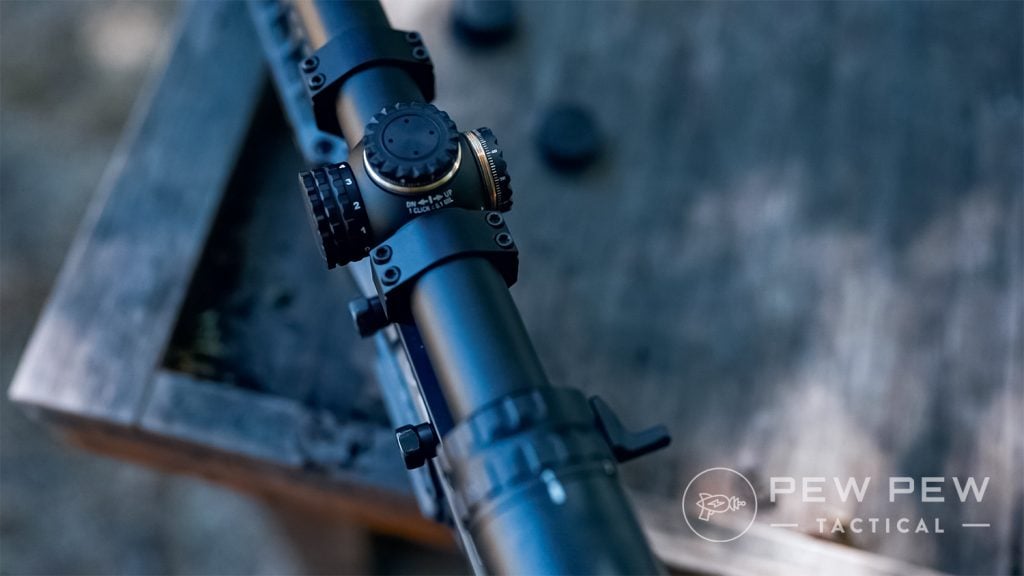 There are 11 numbered brightness settings, with zero representing the off position. There are no off settings in between the various power levels, requiring users to spin the dial all the way back to zero to turn it off.
Additionally, the SLx 1-6 Gen IV also comes with pop-up caps for the objective and exit pupil. These are closeable for extra protection of the lenses or removed easily.
Glass & Reticle
The clarity of the glass on the SLx 1-6 Gen IV is quite good, as is light transmission. In fact, the middle portion of the glass is quite sharp.
It was only with greater scrutiny that I noticed a little bit of loss of quality out on the edges. Again, the middle was very sharp up close and under magnification, but the edges lost a tiny bit of sharpness.
Check out this quick video of it zoomed in:
The quality of glass is one of the most significant factors in the performance of a scope, and this result is a worthy tradeoff when you consider the price of the SLx 1-6 Gen IV.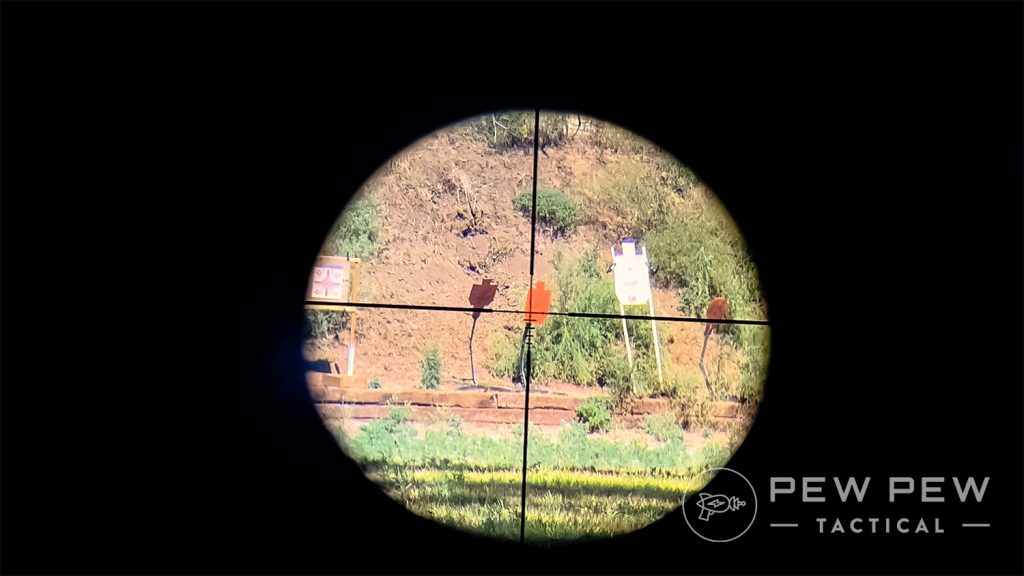 Check out this quick video of it at 1x and also activating the illuminated reticle:
I like the ACSS Nova reticle as it is uncluttered and easy to use. From the dot in the middle of the crosshairs, there are three stadia representing holds for moving targets.
The first is for a target moving at 3 MPH, the next is 6 MPH, and the last is 9 MPH. These handy references enable shooters to quickly build leads without guessing.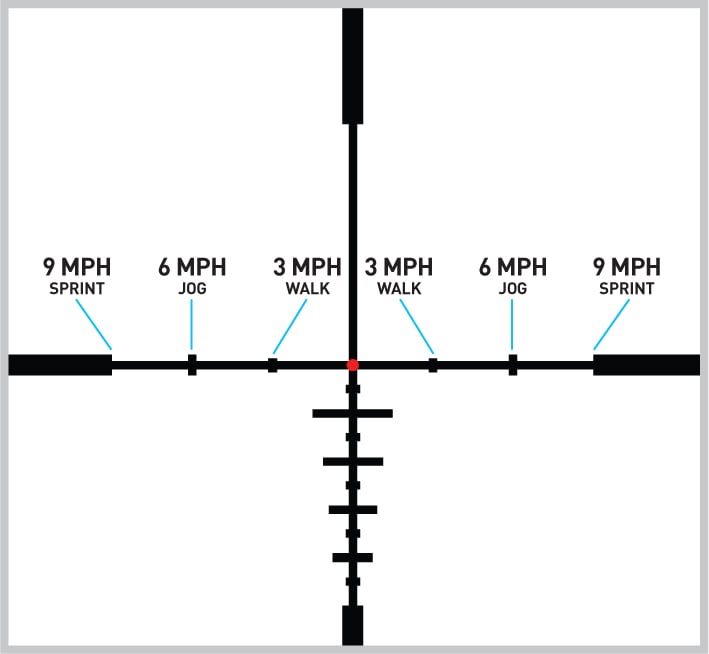 Below the red dot are 10 additional stadia for elevation. These decrease in width the lower they go and are designed to allow shooters to range a target based on an 18-inch width.
If the first MIL covers and matches the target width best, your target is approximately 300 yards. This progresses with smaller MILs as you move down.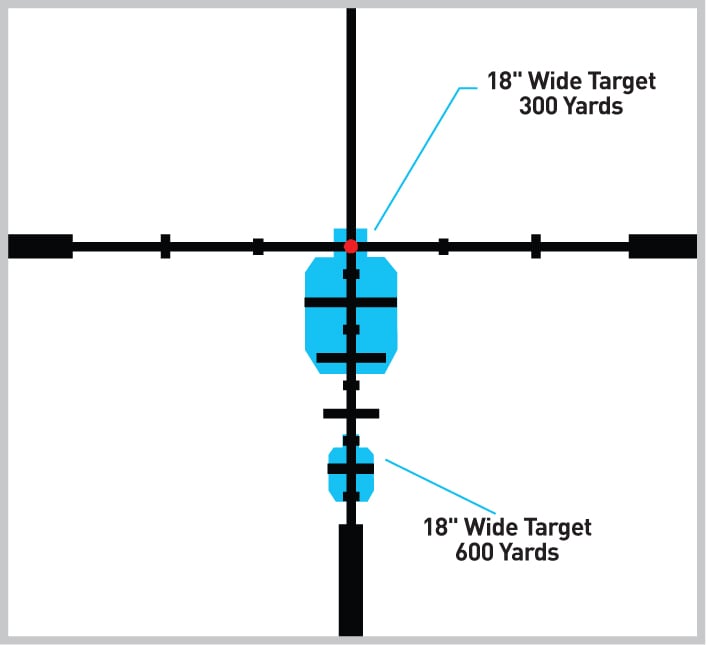 Shooters who know their ballistic performance at distance may also use these MILs as a ballistic drop calculator (BDC). Again, holdovers are simplified by simply moving the reticle up to the appropriate stadia on the reticle.
As this model is a second focal plane, the reticle does not enlarge as magnification is increased.
In the very middle of the crosshairs lies one of the most significant improvements with the Gen IV, and that is the red dot. Primary Arms installed a high-efficiency fiber optic wire to achieve impressive brightness.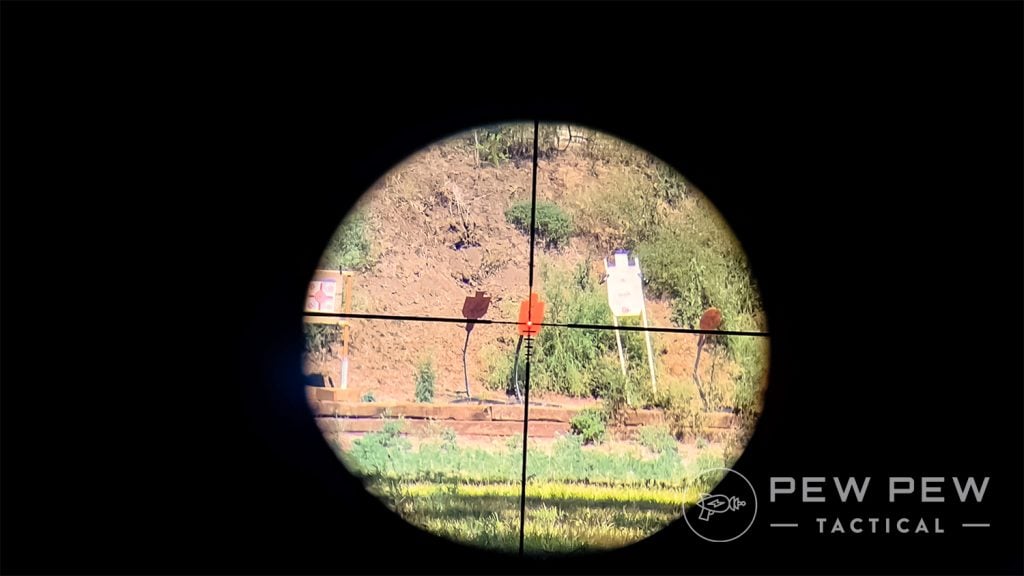 Notably, with the Gen IV Nova, the highest setting is more than daylight bright. I was able to engage a red steel plate in the high noon Texas sun at various distances and could clearly distinguish the dot.
It is much brighter in comparison to previous versions and other optics I've used from Primary Arms. In the video, you can tell the difference is stark, even between the SLx and the very impressive PLx we reviewed previously.
SLx 1-6×24 Gen IV Performance
The overall performance of the SLx 1-6 Gen IV was solid. Establishing zero was a piece of cake, and over the course of testing, I noted no shift from zero.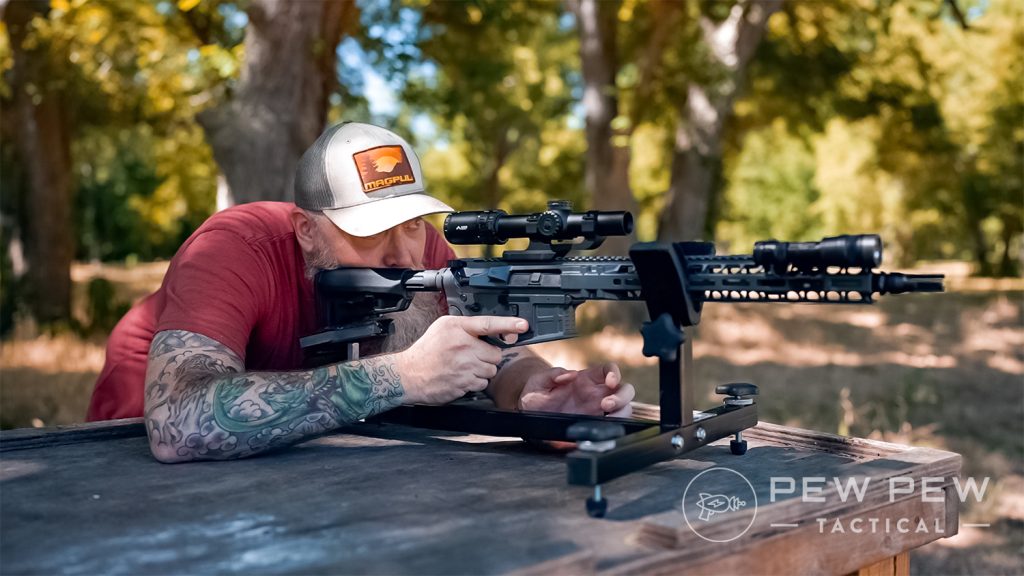 The eye relief, listed at four inches, feels right on though I was able to pick up normal shadow when I got my head a little off-axis. This increased with magnification but, again, was totally normal.
At 1x, there is a slight distortion, a magnification-induced appearance of making things a tiny bit smaller. It was not disturbing in any sense, and the optic performed well as I transitioned between targets at low power.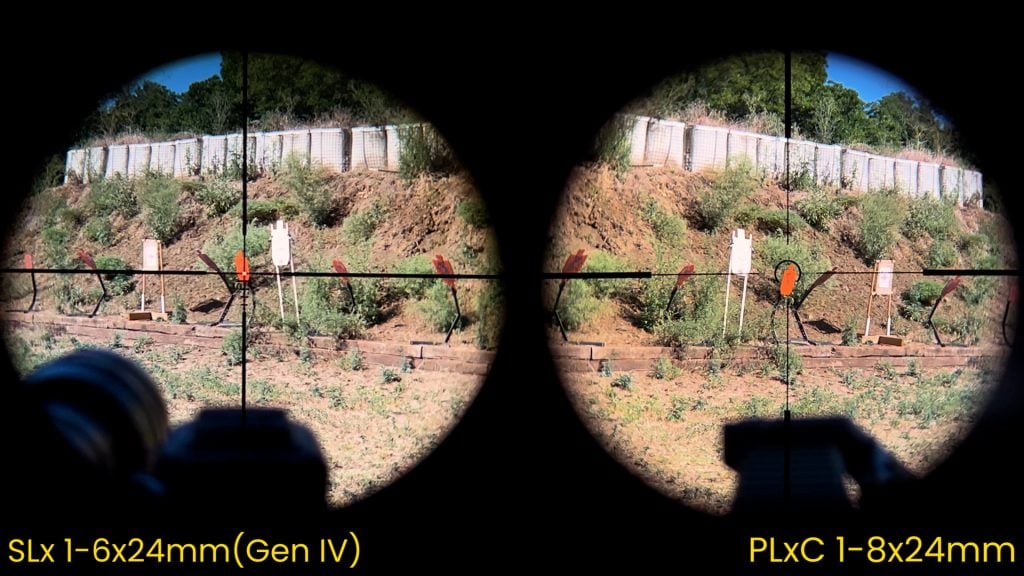 While I noted the minor loss of sharpness at the far edges of the optic, I realistically don't use that area for targeting. Instead, I find targets in the field of view, move the reticle to the center, and press the trigger.
During a recent training, I learned the importance of returning your LPVO back to 1x after you've shot at magnification. This way, you aren't lost at 6x if a close-range target is your next shot.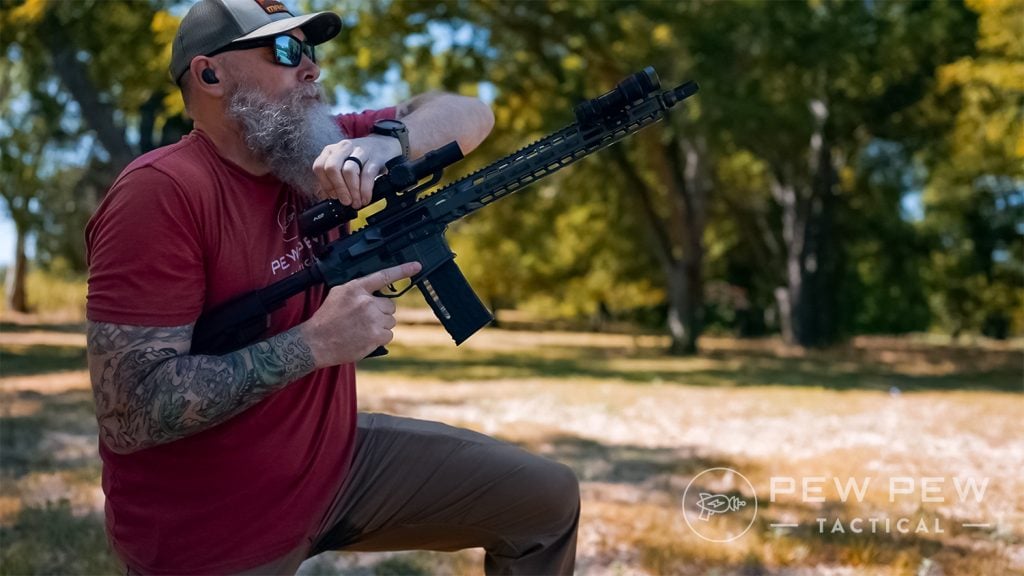 The stiffness of the magnification adjustment ring made this transition a little more challenging. Time will tell if this will loosen up, but again, this is a balance between holding magnification and ease of use.
Check this quick video of it zooming between 1x and 6x:
The ACSS Nova reticle was easy to use, and although I didn't have moving targets, I was able to use the lower stadia for distance holds. Brightness on the dot, as noted previously, was impressive.
What Sets it Apart?
Two things help distinguish the SLx 1-6 Gen IV: the brightness of the dot and the value. This optic is marginally better than much of the competition at this price point.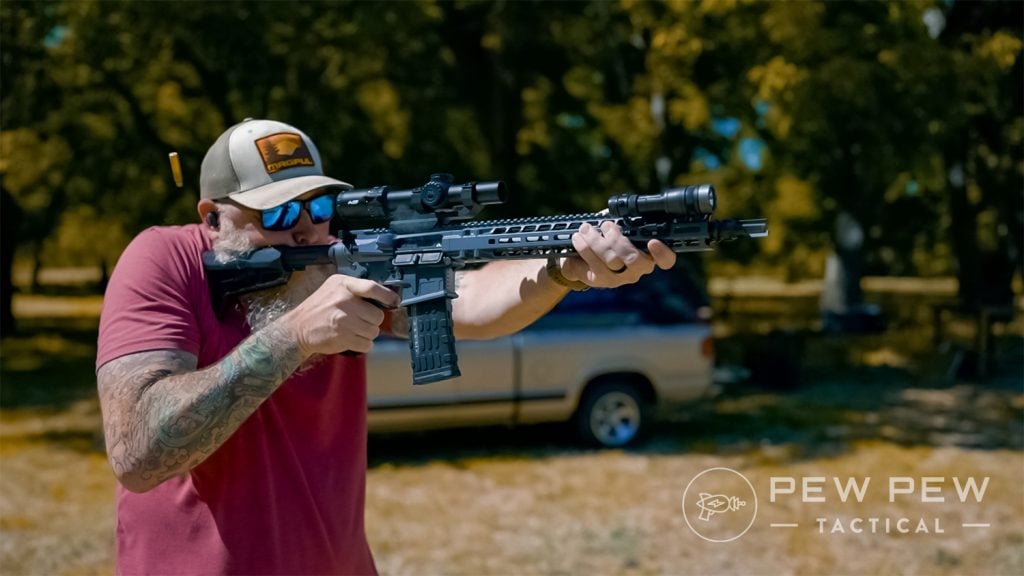 In many ways, I feel like the SLx line is becoming a benchmark in budget optics, something other companies should be compared against.
By the Numbers
Durability: 4/5
While I did not abuse the SLx 1-6 Gen IV, over the course of normal use, I tested zero and found the optic held true. This optic is IPX6 and covered by a full lifetime warranty.
Clarity: 3.5/5
The visual clarity of the main targeting area is crisp though this drops a bit on the periphery at 1x and throughout the magnification range.
Magnification: 3/5
At 1x there is slight distortion. The magnification adjustment is also a little stiffer than I would prefer.
Value: 5/5
At a current price of around $339.99, this optic is tough to beat, given its capabilities. Plus if you use our link you'll get the choice of a free mount.
Overall: 4/5
339
at Primary Arms
Prices accurate at time of writing
Prices accurate at time of writing
For the free mount, go to the options and click the dropdown.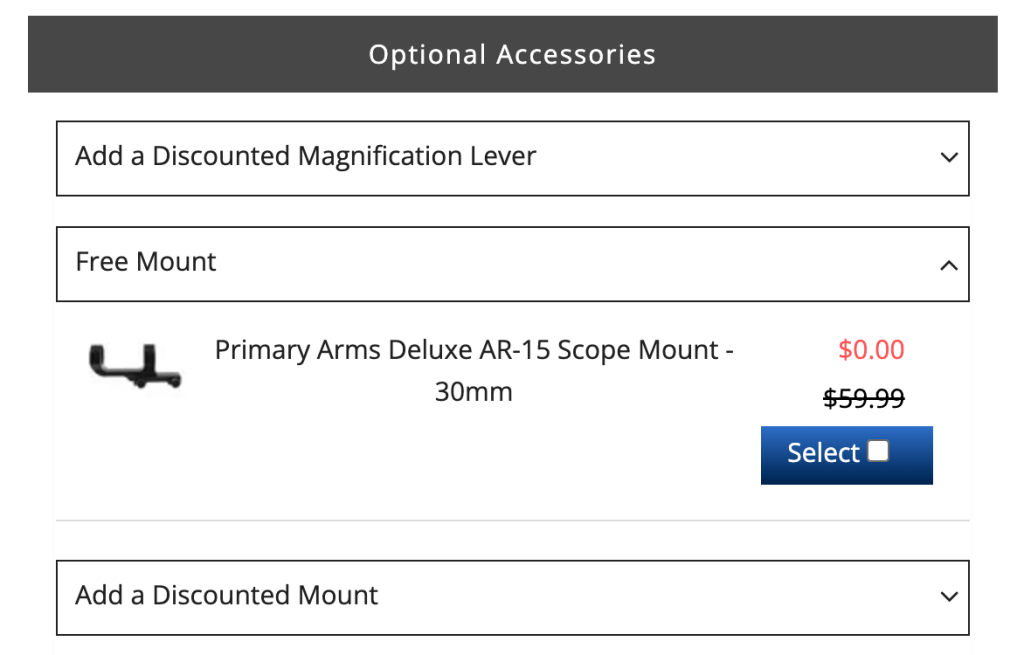 Primary Arms SLx 1-6x24 Gen IV Upgrades & Accessories
Final Verdict
The Primary Arms SLx 1-6 Gen IV is an outstanding value.
While it has some minor drawbacks, the overall quality for the price is what makes this scope an excellent choice.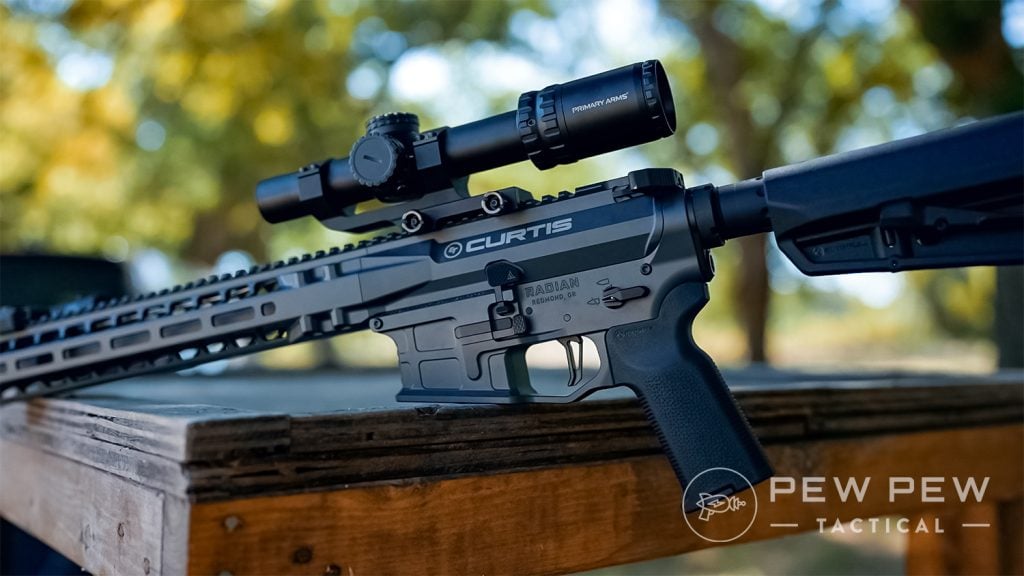 If you want to increase your range with an LPVO but don't want to shell out $1,000+, you've got a good option here. We'll keep testing this one, but the performance so far has been great.
Will you be purchasing a SLx 1-6? Let us know in the comments below. For more LPVO love, be sure to check out the 7 Best LPVOs: Low, Mid & High Power!