Kiss shooting in the dark goodbye, because today we're going to show you why you should have a flashlight attached to your AR-15 or other tactical rifles.
This must-have modification is perfect for hunting raccoons and hogs at night – where flashlight hunting is legal – as well as optimizing your weapon for home defense. They're also key for those nighttime competitions that are gaining popularity.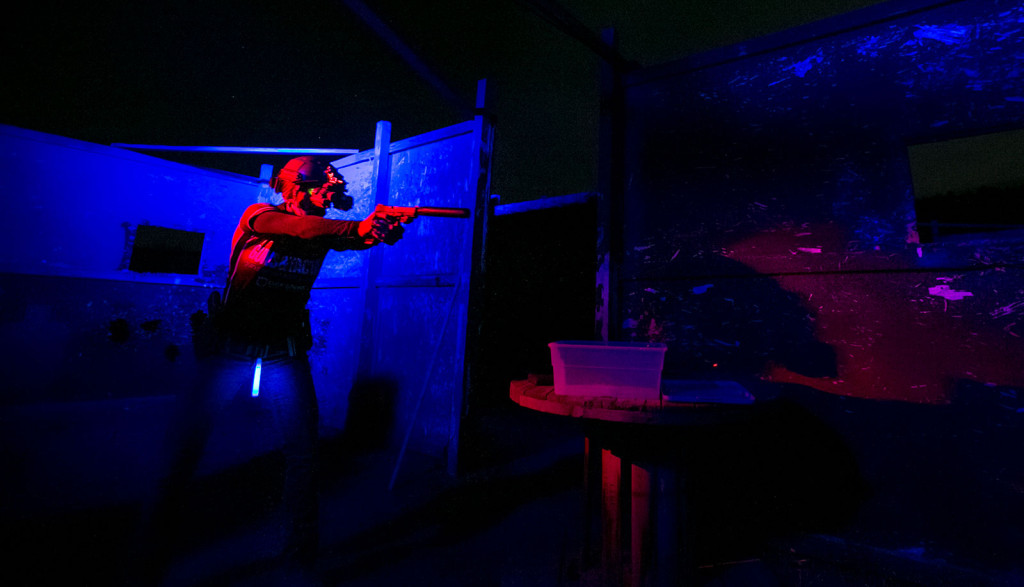 Today, we're going to look at some of the best flashlights for your AR-15 and how to use them.
If you want to get straight to the recommendations, here they are:

Why Would I Want a Flashlight Mounted to My AR-15?
Simply put, mounting a flashlight to your AR-15 or other tactical weapon is a good idea if you need a gun for home defense.
They enable you to see in low-light situations, especially indoors where night-vision or thermal optics aren't feasible, and help give you the opportunity to safely identify potential hazards.
Never fire your gun into the dark without first identifying the target.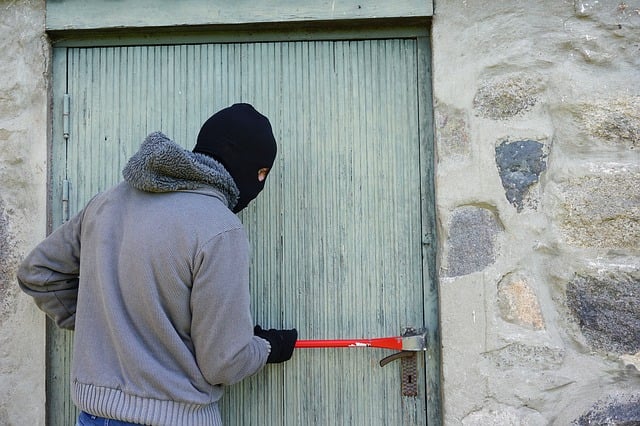 As you already know, it's never okay to fire your gun without first identifying your target. That alarming sound that woke you up in the middle of the night may not be an intruder, but rather a friend, family member, or pet.
Additionally, AR-15s are easy to mod and you can find just about any aftermarket piece you could possibly want.
The real question is, "Why wouldn't you mount one to your AR-15?"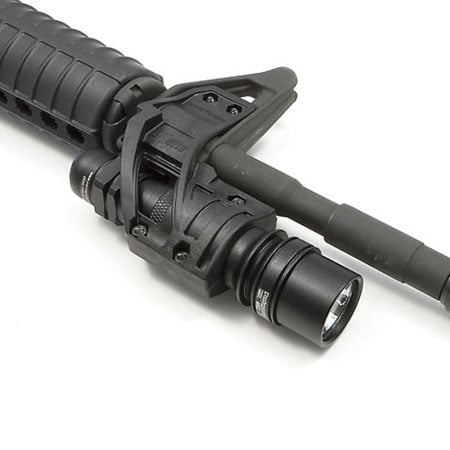 We can't think of a reason why you wouldn't have one on a defensive AR-15, but if you can come up with something, let us know down in the comments.
What to Look for in a Good Flashlight
Now that you've decided to mount a flashlight onto your AR-15, don't go out and buy the first tactical light you come across.
After all, if you use a gun-mounted light for self-defense purposes, you're going to want one that you can depend on when in a pinch.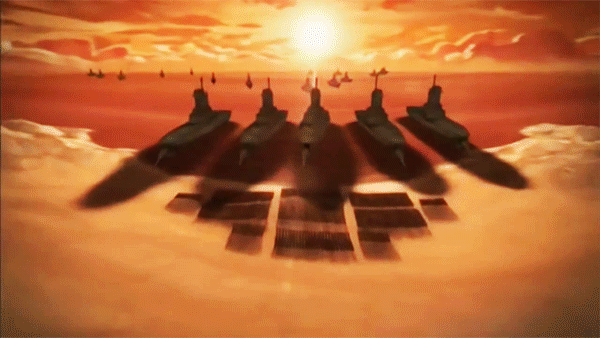 So how do you pick the best one?
Here are some things to look for when shopping around for your tactical flashlight:
Dependability – make sure it's easy to operate and is guaranteed to switch on you press its button.
Weight – your AR-15 is meant to be a lightweight rifle. You want to make sure you add a flashlight that isn't bulky and puts excessive weight on your gun.
Durability – a weapon-mounted flashlight needs to be shock resistant and able to withstand its batteries and internal parts being knocked around from running.
Battery power – you want a light that's not going to suck the power from your batteries. With the advancements in LED technology, many newer LED flashlights provide better battery life and brighter light than their incandescent counterparts.
Lumens – to put it as simple as possible, lumens are how the brightness of the beam is measured; the more lumens, the brighter the light. Anywhere between 300 – 600 lumens seems to be bright enough for close-range tactical situations.
Mounting the Flashlight
Where you decide on your AR-15 to mount your flashlight depends on your personal preferences. When mounting your light, ask yourself the following:
If I mount it on top (12 o'clock) will it get in the way of my optics or sight? (Probably so, yes)

Do I plan on wearing a sling that pulls the gun close to my body? If so, will the light get in my way?

Is the light in an easy-to-access location?
Some shooters like to mount the light to the side opposite of their dominant hand because they feel it's easier to switch the light on. However, with pressure switches readily available, you can mount your light anywhere and put the switch in a convenient location.
Once you've determined placement, it's time to mount the flashlight to your handguard. The A 2" accessory rail by Magpul ($6) is the perfect lightweight accessory for mounting your flashlight on either side of your handguard.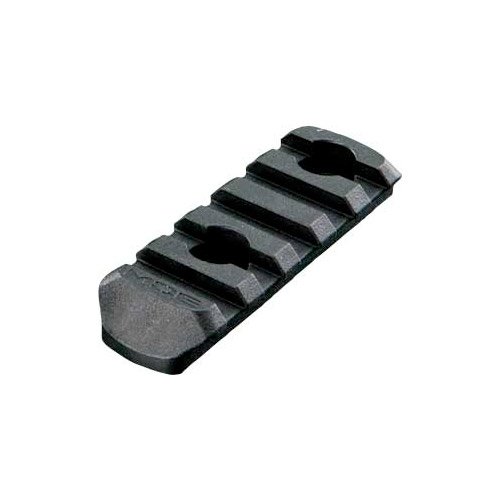 A 2" mini-attachment rail that works with Picatinny-mounted accessories
You also need an actual mount to attach the light to. If you don't want something complex, stick with your run-of-the-mill 1" ring. Alternatively, Accushot's UTG High Profile ring ($14) is durable and easy to install.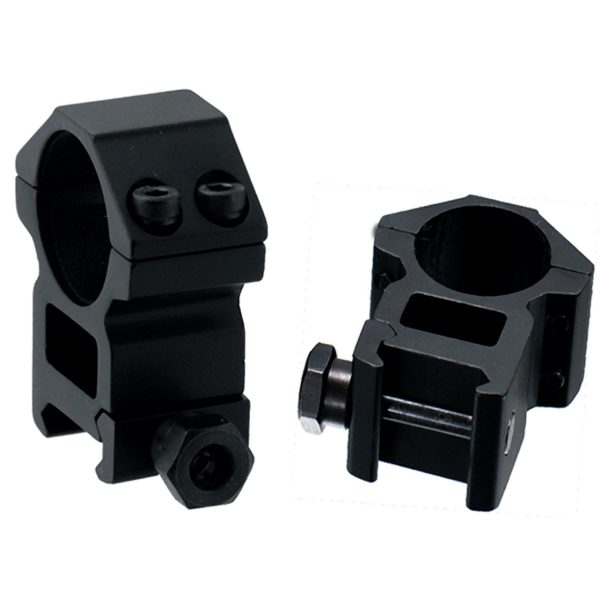 A 1" ring is all you need to mount a flashlight to your AR-15
If you need something a little stronger and sleeker looking, consider a special flashlight mount like the JetBeam GM-02 ($14) or the Olight WM20 Mount ($17) pictured below.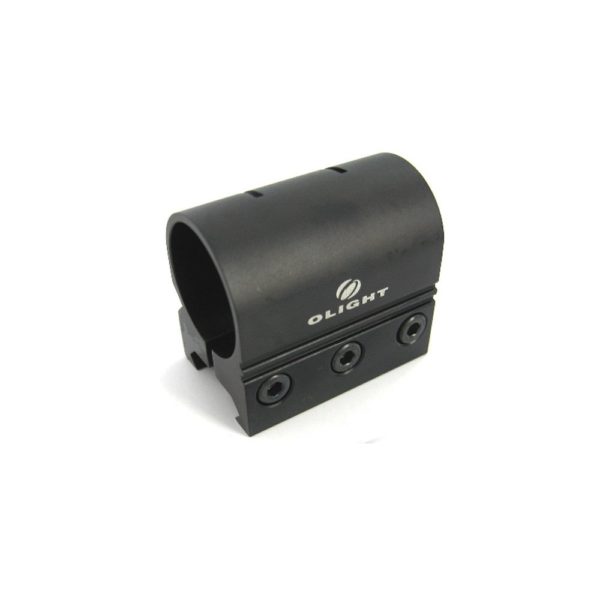 Best Flashlights for Your AR-15
Now that you know a little bit about gun-mounted flashlights, let's take a look at some of the top AR-15 flashlights on the market.
4Sevens Maelstrom X10 Tactical Flashlight ($99)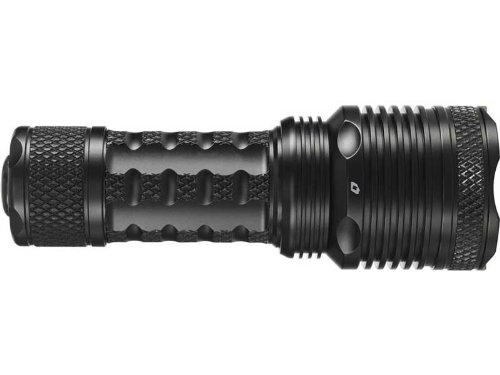 The Maelstrom X10 ($99) is a high-quality flashlight that puts out 640 lumens and offers two light settings:
Full power (1.8 hours)

100 lumens (15 hours)
It has a hard, durable shell that's made out of an anti-reflecting material. The button is located at the back of the light and is easy to use.
Simply press it once for full power, twice for the 100 lumen low power mode, and a third time to switch the flashlight off. You can also turn the tail cap to switch the flashlight into a constantly on setting.
4Seven's tactical flashlight gives you a lot of bang for your buck
This light does come with a rechargeable lithium-ion battery.
Unfortunately, the 4Sevens battery charger is sold separately, but when used together, you can get a lot of usage out of one battery.
Overall, the Maelstrom X10 is a great tactical flashlight. Its only drawback is the difficulty that may come from switching from constantly on to off, which is difficult to do one-handed because of the turning motion required.
 JetBeam JET 3M Pro Military Series ($62.50)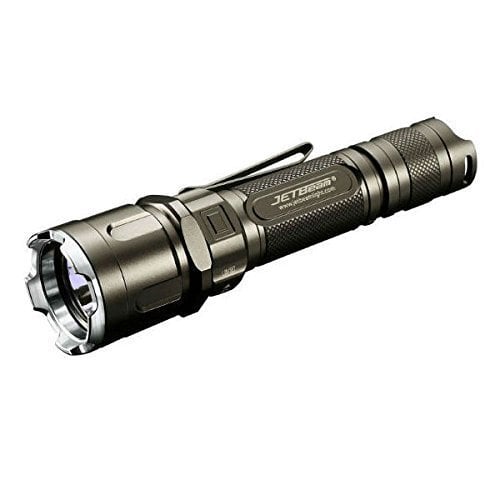 The JetBeam JET 3M Pro ($62.50) is a military-grade flashlight designed specifically for weapons mounting.
One of the coolest features of the JET 3M Pro its programmable mode.
in this mode. the light cycles from high to low beam – or from slow to rapid strobe – and you can choose the intensity or strobe setting  you want by clicking the button at the back.  
Along with strobe, it also comes with two built-in light settings:
1100 lumens full-beam (0.6 hours)

1lumen low-beam (280 hours)
The body to this light is sleek, compact, and fits on a 1" ring.
The JetBeam has a stylish look and feel to it
As a military-grade flashlight, the JET 3M Pro is extremely durable. It's waterproof up to two meters, has a stainless-steel bezel, and can withstand any wear-and-tear that comes with frequent tactical usage.
To see just all the damage that a JetBeam 3M can withstand, check out this stress-test video of one being put through the ringer:

If you're looking for a superb tactical flashlight to mount on your AR-15, this is a good one to have. Since the flashlight is less than 5.5 ounces without batteries, it's lightweight enough to not throw off the balance of your gun.
 SureFire X300
The X300 by SureFire ($215) is an LED gun-mounted flashlight designed specifically for tactical usage. It's compact, powerful, and has a length less than 4", making it the perfect light to mount on your AR-15.
It fastens securely to your rifle and has easy-to-access controls at the back of the light, making it easy to switch on and off, making it ideal for a high-stress situation
The X300 is powerful and one of the easiest lights to mount on your AR-15, but you can easily attach the 300 lumen light to almost any firearm.
Best of all, when ordering the light, SureFire gives you the option of choosing between a T-Slot or Rail-Lock mounting system, which means that it is totally compatible with virtually any type of rail system your AR-15 has.
 Inforce WMLX Multifunction LED Light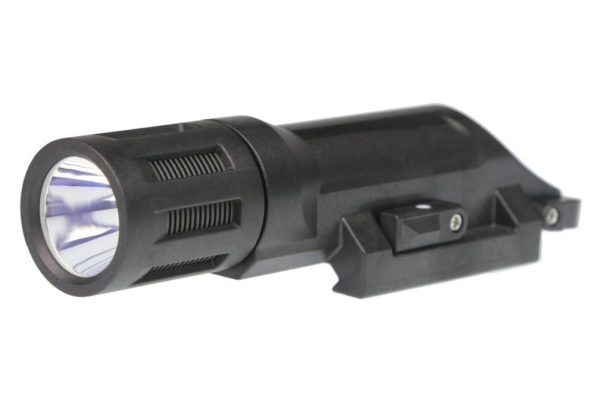 The WMLX Multifunction by Inforce ($130) is a lightweight flashlight that kicks out a powerful 500 lumens while weighing only four ounces. It's powered by two lithium metal batteries that are able to power it continuously for more than two hours.
In addition, this flashlight also comes with three light settings:
Full beam

Strobe light

Momentary flash of light
The WMLX is a great AR-15-mounted flashlight that's compact and stays out of the way
Since this flashlight is so light and is less than 5.5 inches long, it's an excellent tactical light to mount on your AR-15 or other defense rifle. It's heavy duty, dependable, and has an easy-to-access pressure sensitive switch at the back of the light.  
Klarus XT30R Long-Distance Illuminator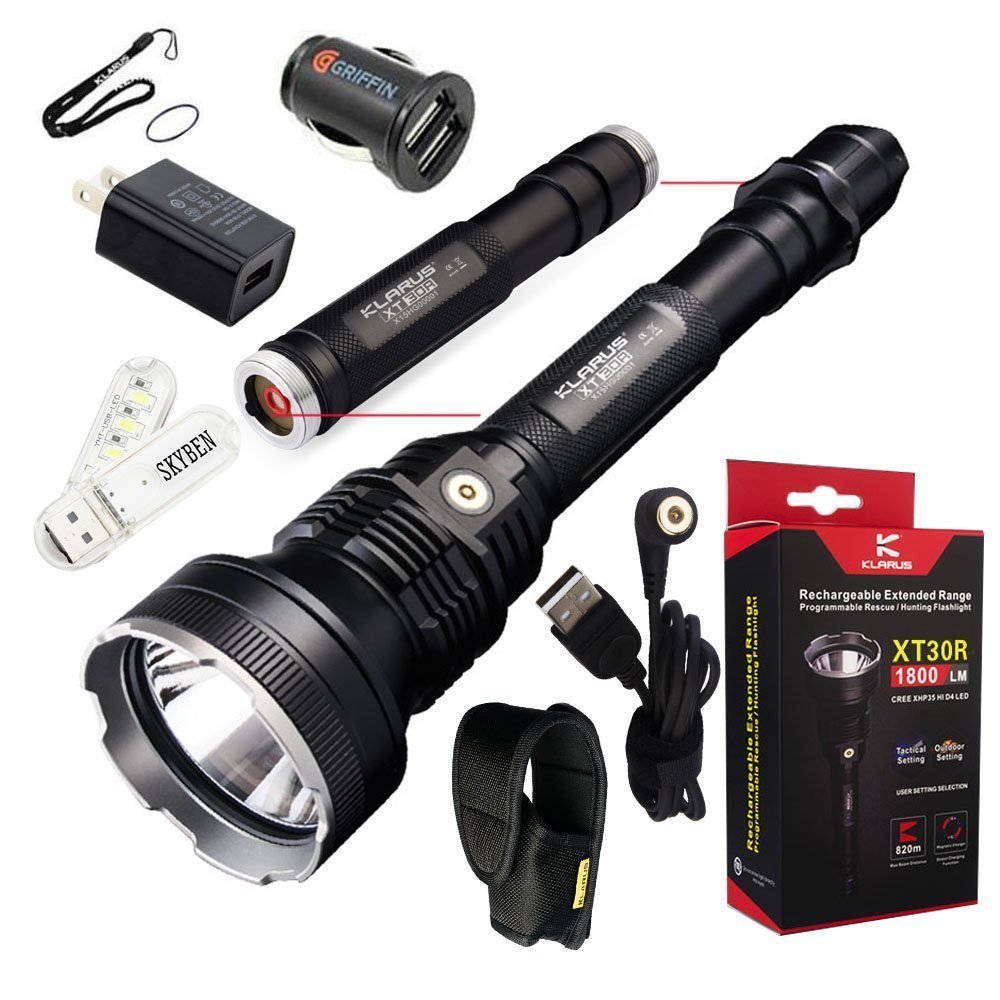 If you need a flashlight that provides intense light, the XT30R 1800 Lumens Long-Distance flashlight by Klarus ($145) is your best bet.
This powerful flashlight fits all rifles, is small and compact, relative to its power, and fits in all 1" rings.
The XT30R has five light settings:
Full power (2 ½ hours)

400 lumens (6 ½ hours)

20 lumens (155 hours)

Strobe light / 1800 lumens (5 hours)

SOS / 100 lumens (75 hours)
When operated at full power, the XT30R's beam can reach 820 meters – more than six football fields.
When it comes to beam intensity, the XT30R is second to none
This flashlight is easy to operate, built from aircraft-grade aluminum, and is incredibly powerful. Its only drawback is that it weighs just under 10 ounces, which is quite heavy for an AR-15 light, so make.
With that said, if you're looking for the most powerful flashlight on the market for a reasonable price, its awfully hard to go wrong with the XT30R. 
Safety First
Now that you've purchased a new tactical flashlight and mounted it to your AR-15, you'll need to get acclimated to using it.
Spend some extra time at the range getting used to working with your tactical flashlight before you use it for home defense. Otherwise, if you try to switch it on in a stressful situation, you could end up accidently firing your gun and hurting yourself or someone else.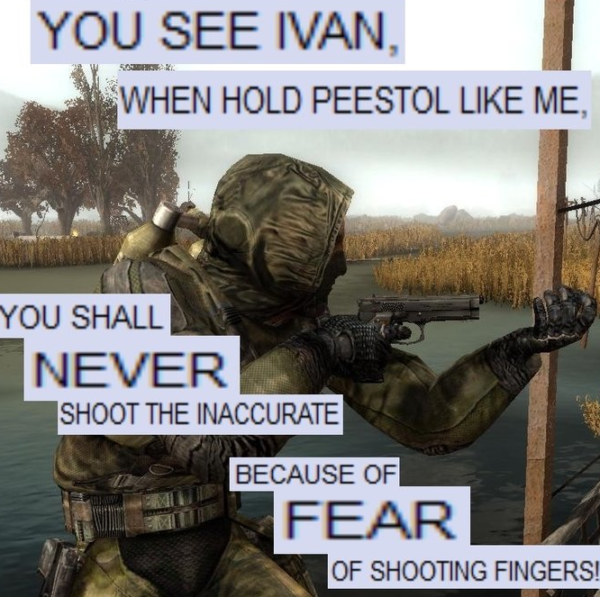 You also want to learn how to properly use your flashlight, otherwise it can be a dangerous hindrance instead of a tool.
Here are some things to remember when searching the area with your weapon-mounted light:
We shouldn't ever use new safety equipment without proper training – consider registering for a training course for gun-mounted flashlights.

Never use a gun-mounted light for things you'd use a regular flashlight for – only use it for situations where it's likely you'll shoot your gun and need visibility.

Remember that pointing your gun-mounted flashlight is the same thing as pointing your AR-15. Same gun safety rules apply.

If using your light in a safety situation, switch it on only when needed. Use your light when clearing a room or looking down a hallway. Leaving it on will hinder you and give away your position.

Look into nighttime shooting events such as Crimon Trace's Midnight  3Gun to get used to your new rig.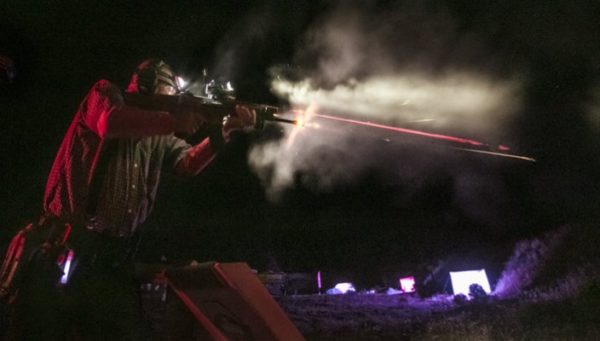 The Last Word on AR-15 Flashlights
Now that you know a little bit about how to mount flashlights to your AR-15 or other tactical rifle, it's time to get a flashlight of your own. Your best bet is to try out a variety of flashlights until you find one that's easy to operate and works best for you.
For those of you who've been using a flashlight on their AR-15, what kind of light are you using? Do you have a light you think we should have mentioned up above? Let us know in the comments!