---
Palmetto State Armory is a name familiar to budget-minded shooters, but at SHOT Show 2023, the firearms manufacturer announced they were releasing a premium line of rifles.
Called Sabre, the guns promised to provide a higher-end experience, with one of them even touted as being capable of shooting 1 MOA.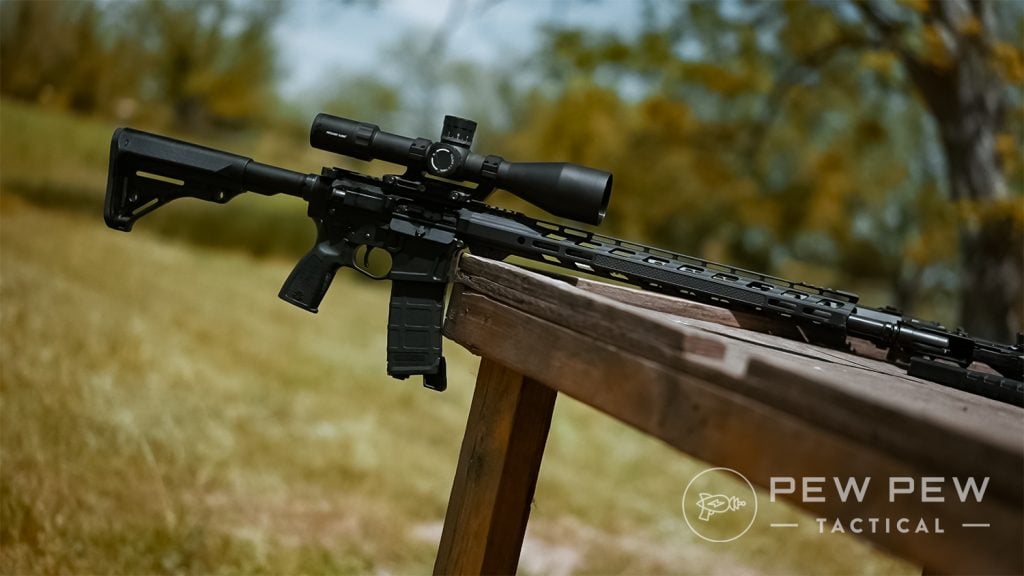 This wasn't hard to believe, but PSA also indicated the guns would still be below a $1,000 price tag.
We can agree that you usually get what you pay for. But can you get higher-end performance out of a rifle in this price range?
Palmetto sent us a couple of models to test for ourselves, and we set out to answer that very question. We'll share the results with you below!
Table of Contents
Loading...
PSA Sabre Pros & Cons
Pros
Good value

Premium features

Good accuracy
Cons
Steel case struggles

Slightly heavier
The Bottom Line
The 20 inch barreled Sabre we tested had excellent fit and finish and was very accurate, feeding reliably with brass ammo. Steel case presented an issue until the feed ramps were cleaned, then fed reliably too.
999
at Palmetto State Armory
Prices accurate at time of writing
Prices accurate at time of writing
PSA Sabre Specs & Features
Specs
Capacity
30+1 (or by magazine)
Comes with
Cardboard box, 1 30-round magazine, owner's manual
Features
Radian Raptor charging handle
Source: Palmetto State Armory
Sabre Background
Other than the standard AR-15s, there isn't a lot of background to the Sabres because they are a new series of rifles.
Notably, there are a ton of options within the lineup, with most remaining below that $1,000 high-water mark.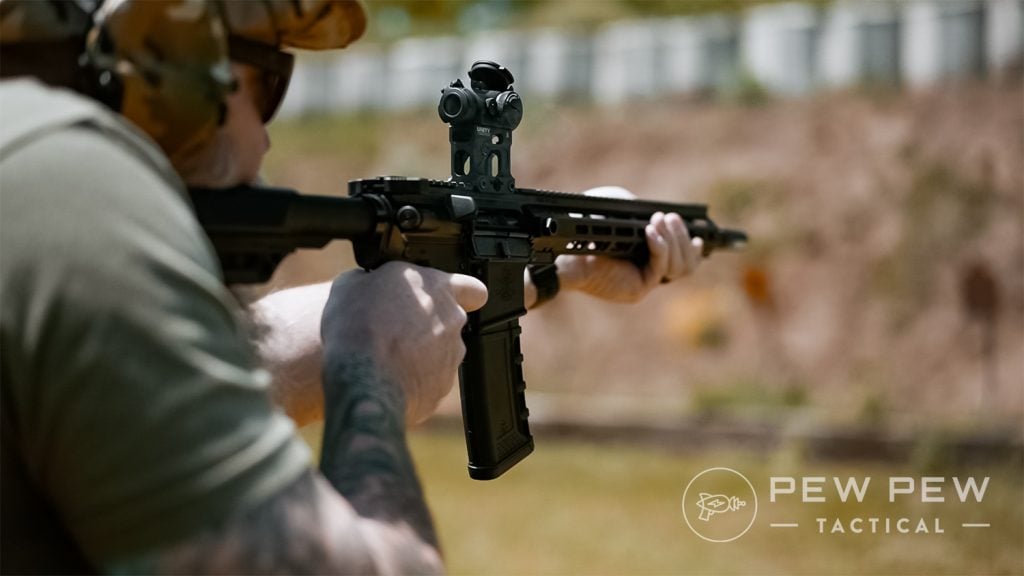 Shoppers can select from a number of different barrel lengths, furniture, colors, muzzle devices, billet, forged, and more. In addition, there are complete uppers, lowers, and parts kits if you want to assemble something you didn't see listed in the options.
For the purposes of this review, we'll be focusing primarily on the 20-inch billet version of the rifle, but we'll also reference the forged 14.5 where applicable.
Who Is It For?
The Sabre series is made for the AR-15 enthusiast who wants something a little higher quality without paying a lot more for it. With all the options available, you can't really pin the series down to a dedicated use.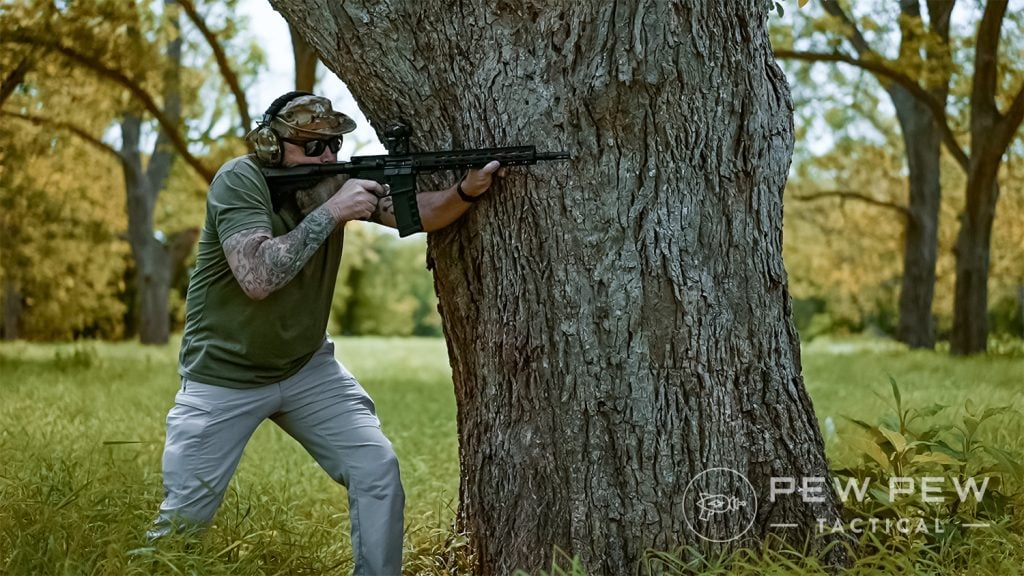 Any number of applications are within reach, from a long-barreled, designated marksman all the way down to pinned and welded 13.7-inch options. It's really up to the user to determine what they either want to pull off the rack or build for themselves.
Fit & Feel
Again, focusing primarily on the 20-inch billet gun, the fit and feel of this firearm are more refined than previous PSA products I've handled.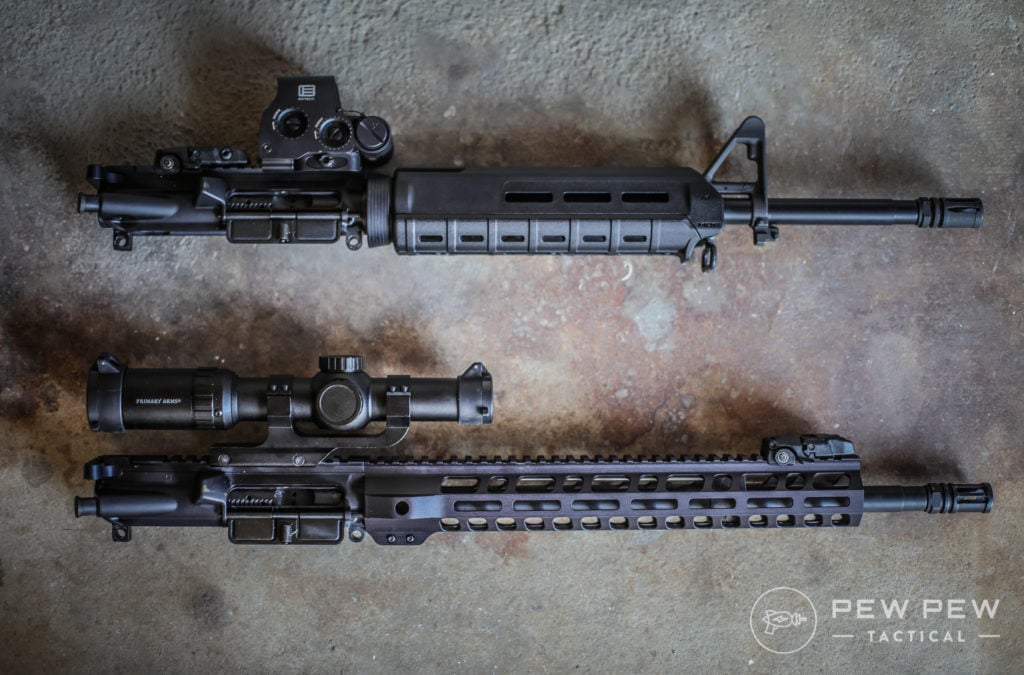 The milled receiver and lower are very nice, and while stylish, they're still very functional.
Fit between the upper and lower is good though there is a tiny bit of wiggle. Moving forward, the handguard is extremely nice, with slanted vents cut into the portions above and below the barrel.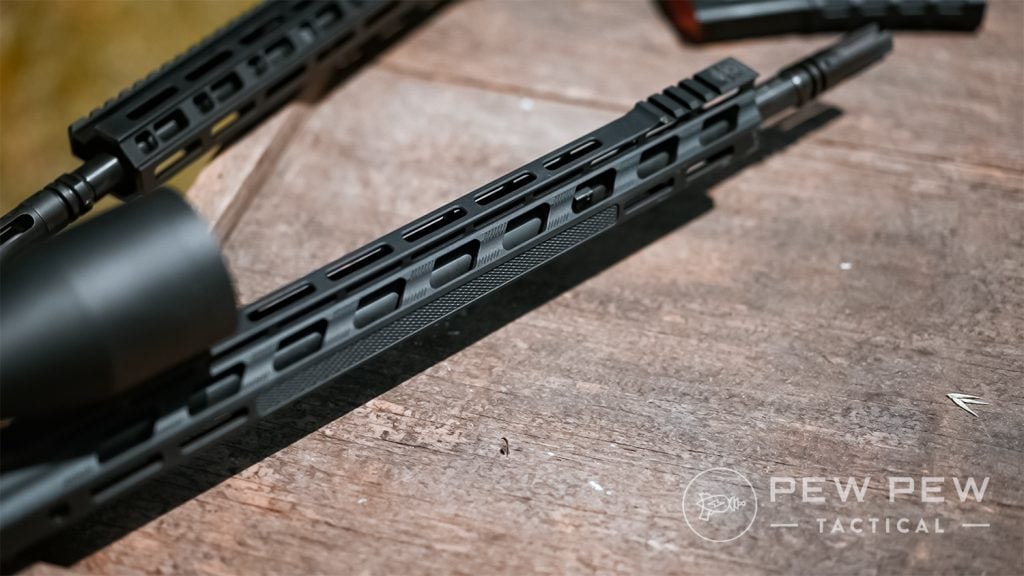 There are M-LOK slots present at the traditional 12, 3, 6, and 9 positions, but notably, an 8-inch section of textured pattern exists on the side of the rail where the support hand comes into contact.
The lines of the rail don't perfectly flow into the receiver, but the lockup is extremely good, with a 3-bolt mounting system.
Picatinny rail adorns the very front at the top, disappears for a while as you work your way down, then reappears again over the receiver.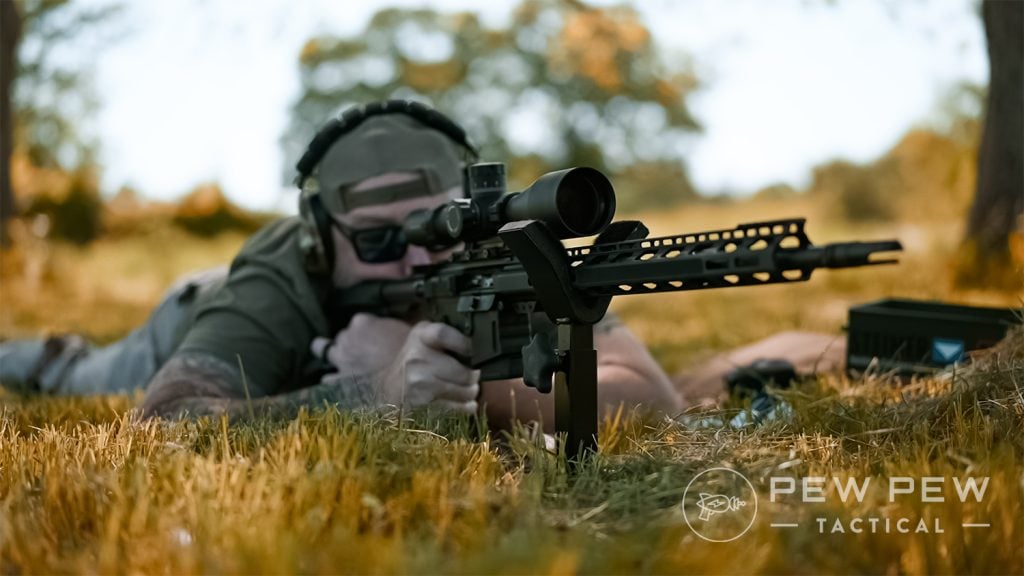 The entire effect is beefy and strong without being unduly heavy. The milling definitely stands out when compared to standard forged uppers and lowers.
Controls are largely ambidextrous in that on the right side, you have a standard fire control and mag release, but above this, there is a bolt release, which is a nice touch.
On the left side, the fire control is echoed, as is the mag release, bolt release, and the usual bolt catch.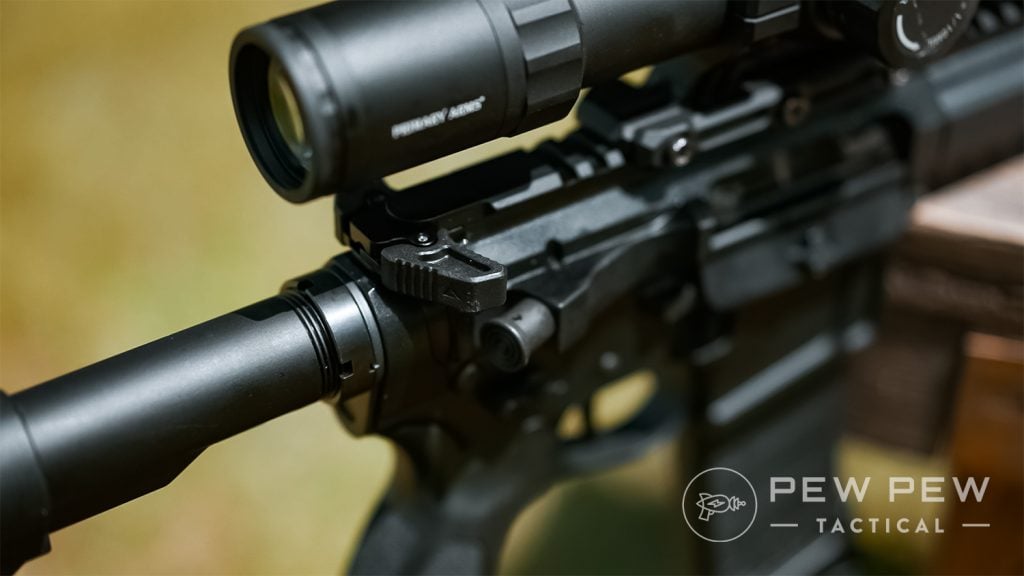 Mil-spec is great as far as standards go, but mil-spec charging handles simply suck, in my humble opinion. PSA included a Radian charging handle, and this is an appreciated upgrade — one I would have done anyway.
It's worth noting the 14.5-inch Sabre did not have ambidextrous controls, though did have all the new PSA Sabre furniture.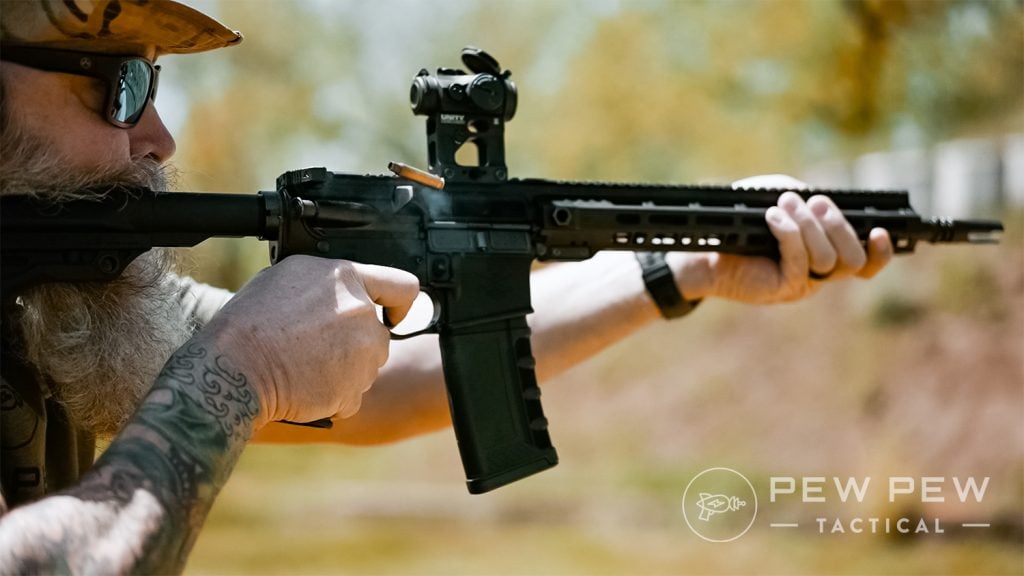 Palmetto's new Sabre line furniture is new looking but has a familiar feel. The stock is a rebranded THRIL CCS which has a good butt pad, multiple sling attachment points, and six positions of adjustment.
Accordingly, it should be no surprise the grip appears to be a rebranded THRIL RTG.
This grip offers a good, more straight-down angle and features four pretty aggressive grip panels front, rear, and both sides.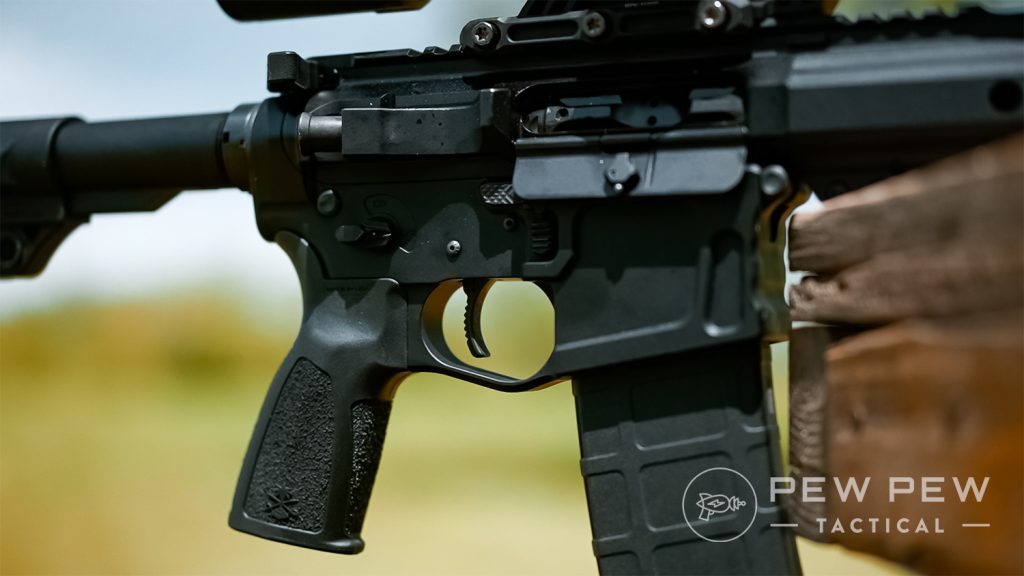 The trigger was a bit of a surprise at first. I had not previously tried the Hiperfire RBT but found it immediately to be a delight as it was crisp and fast.
Much better than the mil-spec or even EPT triggers from PSA's standard line.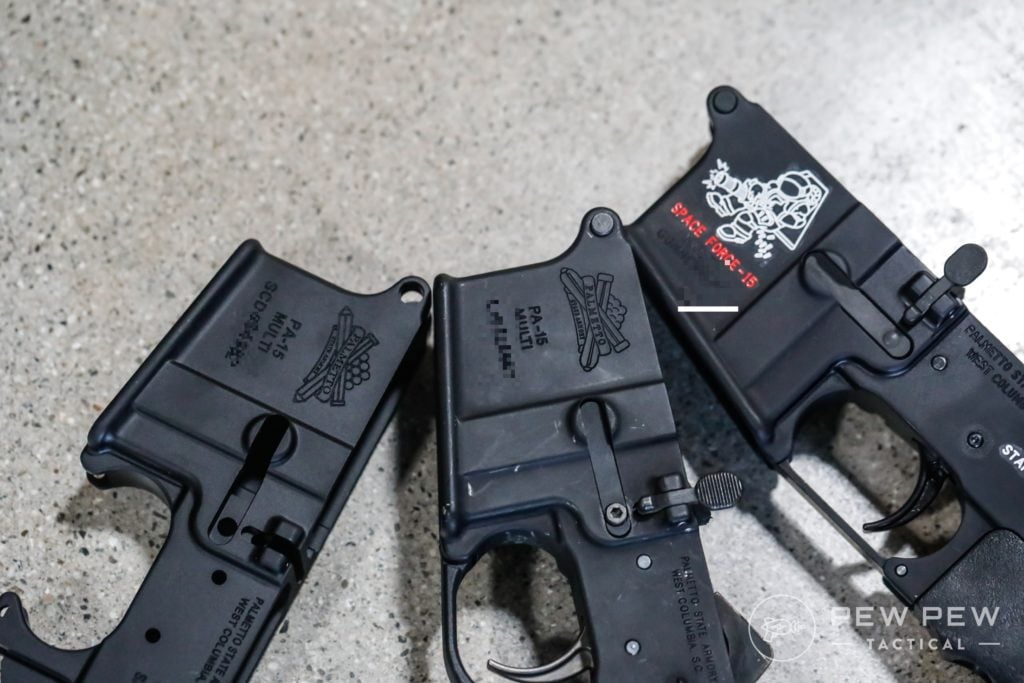 This is a single-stage trigger and has a pretty short throw, maybe a few millimeters. There is no build; the trigger doesn't move until it breaks very cleanly at 2.6 lbs. on the Lyman Digital Gauge.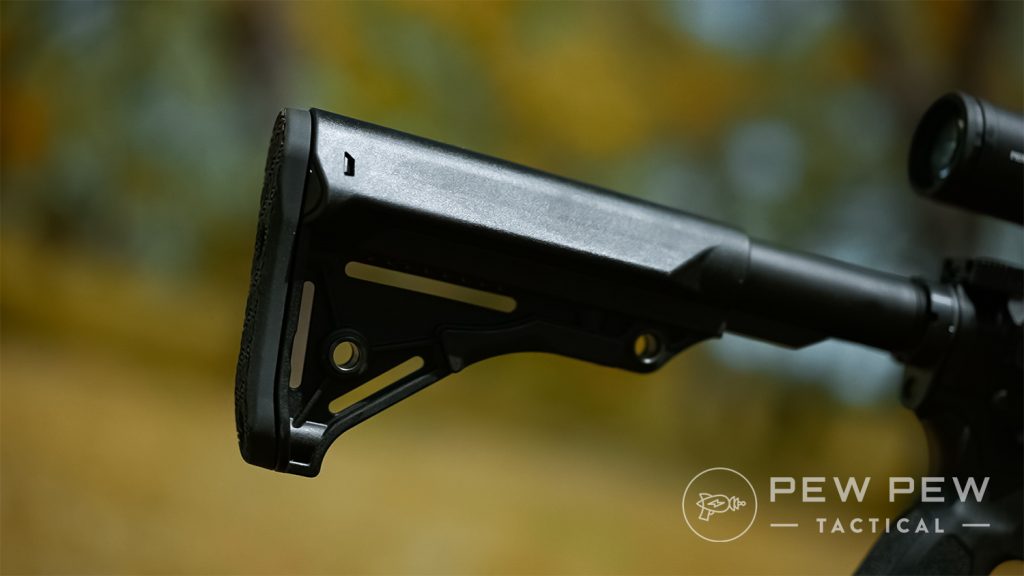 Reset was immediate and was both tactile and audible. I really liked this trigger and found its short throw and reset capable of running very quickly while still doing well in providing accuracy.
Unless I miss my guess, the magazine, too, appears to be a rebranded THRIL, 30-round PMX. I've used these in the past and have had good results with seating, feeding, and locking back on the last round.
How Does It Shoot?
Because of the specs of this gun, we had to lay it out in a shady spot of Texas ranch and see what kind of groups it might produce. The allure of 1 MOA mentioned at SHOT Show was still ringing in my ears.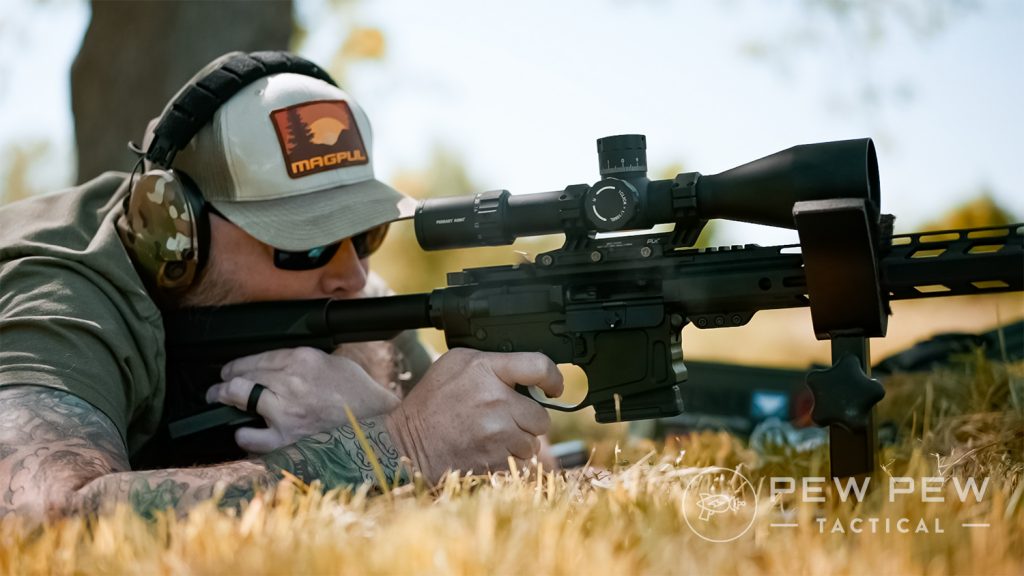 I mounted some superior glass, a Primary Arms 6-30X56 FFP, so I could see my groups from 100 yards. This scope was possibly overkill but certainly more than equal to the task.
With that complete, I settled into a prone position using a rest to shoot several 5-shot groups at 100 yards. The rifle is certainly capable of 1 MOA, as we learned, depending on the ammunition used.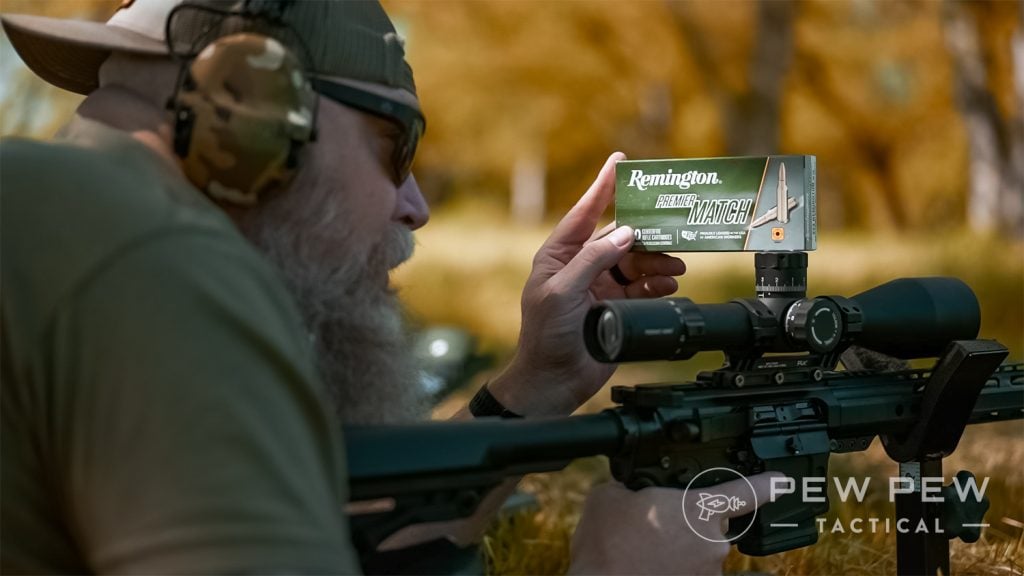 Standard, run-of-the-mill stuff grouped around 2 MOA, and match ammo was 1 MOA.
The only issue we ran into was problems with feeding steel-cased Tul Ammo.
| | |
| --- | --- |
| MOA Chart | |
| AAC 55 grain | 2.5 MOA |
| Remington Premier Match 69 grain | 1 MOA |
| PMC Bronze 55 grain | 1.3 MOA |
| Speer Gold Dot 75 grain | 1.5 MOA |
| Tul Ammo 55 grain | 5.5 MOA |
Here we experienced several failures to feed and had to work our way through malfunctions.
Eventually, I got enough to get a 5-shot group together, and the accuracy was about what you'd expect.
After cleaning the feed ramps of the Sabre fully, I was able to finish the better part of a magazine of steel-cased ammo without any problems.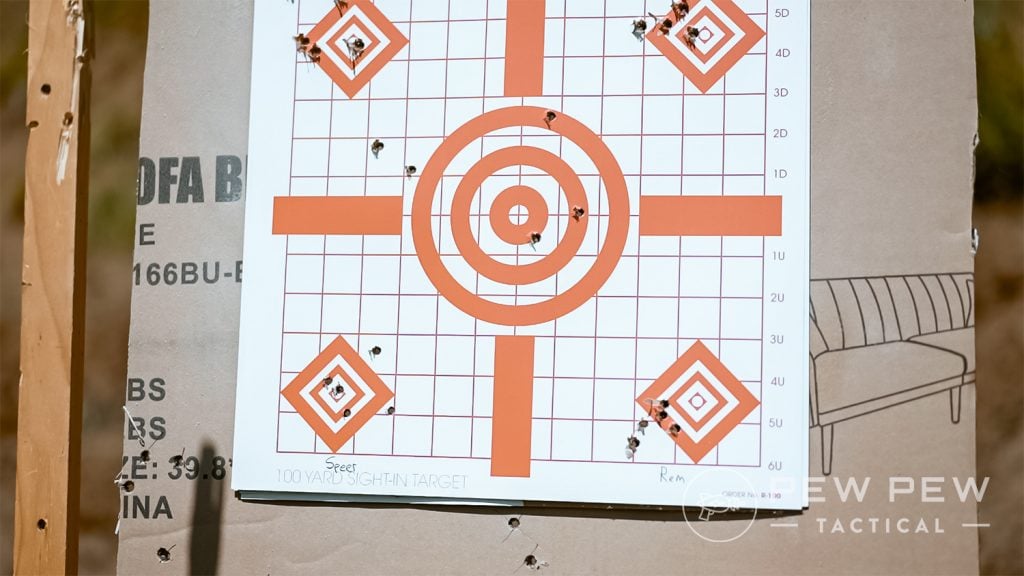 Notably, the 14.5 Sabre had no problems running the Tul Ammo whatsoever.
While the rifle is a bit heavy, it's not the heaviest I've reviewed, even recently. It's also a bit weighted to the front, but that is somewhat expected with a 20-inch barrel.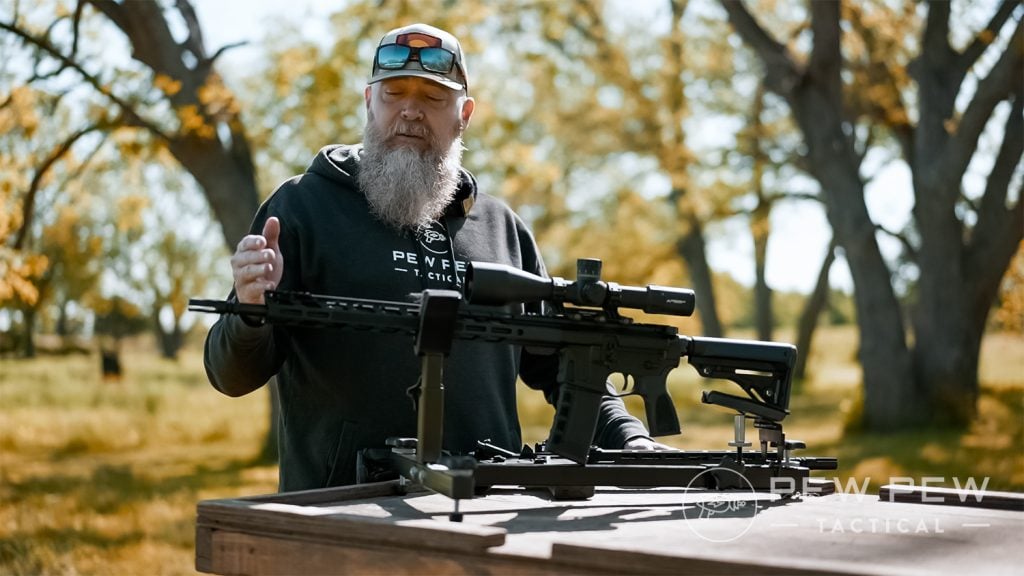 The recoil impulse was minimal, and I found the rifle was a breeze to shoot. I didn't adjust the gas system though considered it when we had issues with the steel-cased ammo.
The 14.5-inch gun was akin to a rabid beast that ate up and shot out anything I fed it. By comparison, it was lightweight and much more nimble.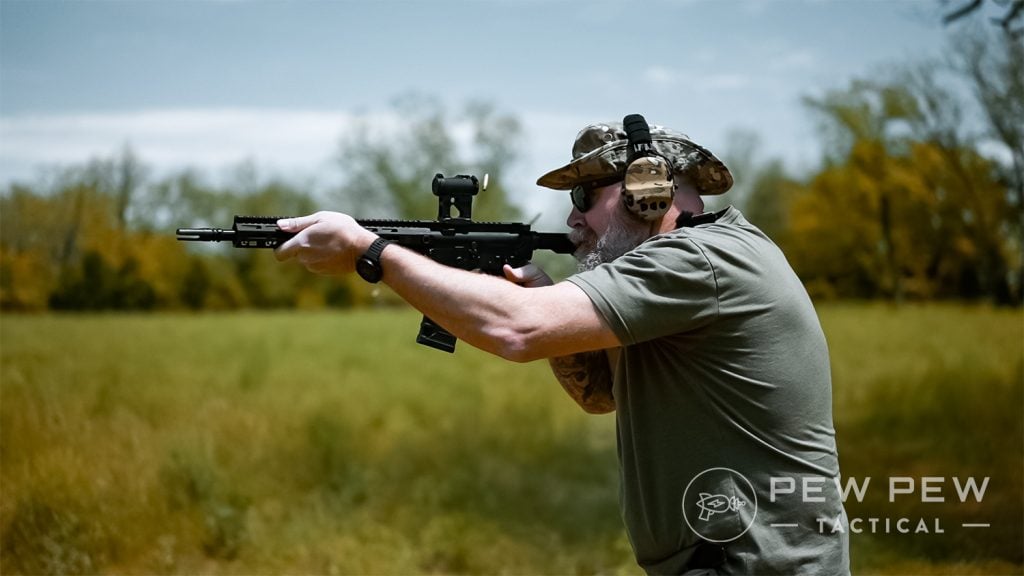 The 3-pronged muzzle device did a great job overall and also provided us with several seconds of what I'd guess to be a high C after each shot.
What Sets it Apart?
There are a couple of distinctions PSA has set with the Sabre Series and, in particular, this rifle. First, this rifle has a billet upper and lower, and while not uncommon, it is a departure from the norm for PSA.
Second, this particular model has ambidextrous (mostly) controls that should please the occasional left-handed shooter—worth pointing out in a world filled with neglected lefties.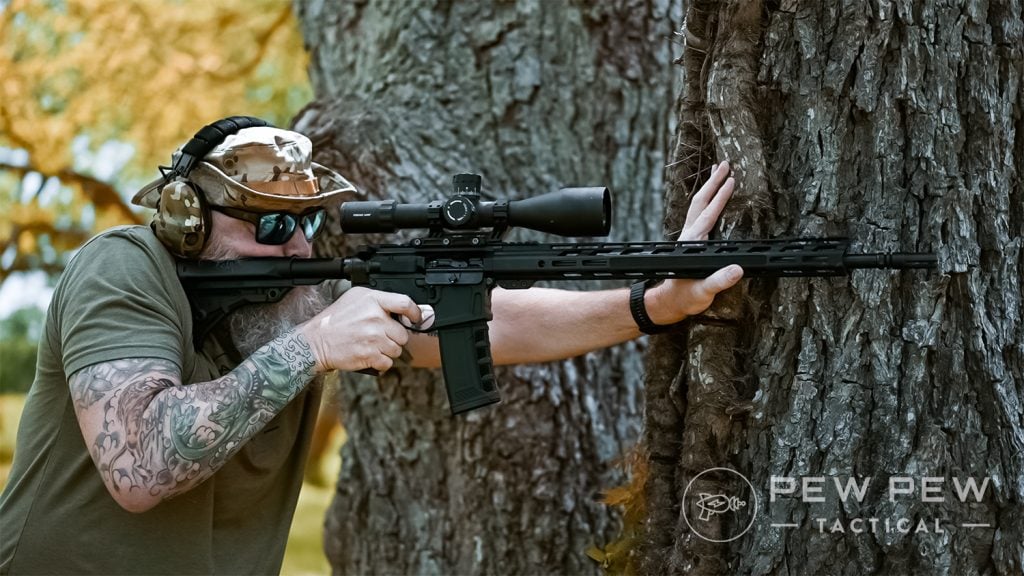 Third, PSA worked to keep the price of most of these guns in the Sabre line under $1,000.
Palmetto kept the prices low but punched up the value.
PSA Sabre By The Numbers
Accuracy
5/5
Taming standard, practice ammo to 2 MOA is good, but with the right ammo, the 20" rifle is 1 MOA.
Reliability
4/5
While the 14.5 Sabre was flawless with everything we fed it, the 20 inch struggled with steel cased ammo until I cleaned the feed ramps. Then, it was fine.
Customization
4/5
As a standard AR-15 style rifle, you can greatly customize and add just about any accessory you like.
Ergonomics
5/5
While both guns we tested were very ergonomic, only the 20 inch had ambidextrous controls.
Value
4/5
Providing these kind of higher end features and performance at under $1,000 is an admiral goal.
Overall
4.5
999
at Palmetto State Armory
Prices accurate at time of writing
Prices accurate at time of writing
PSA Sabre Upgrades & Accessories
Final Verdict
With the Sabre series, Palmetto State Armory introduced a higher premium product while staying respectful of the budget-minded folks who helped them become so successful.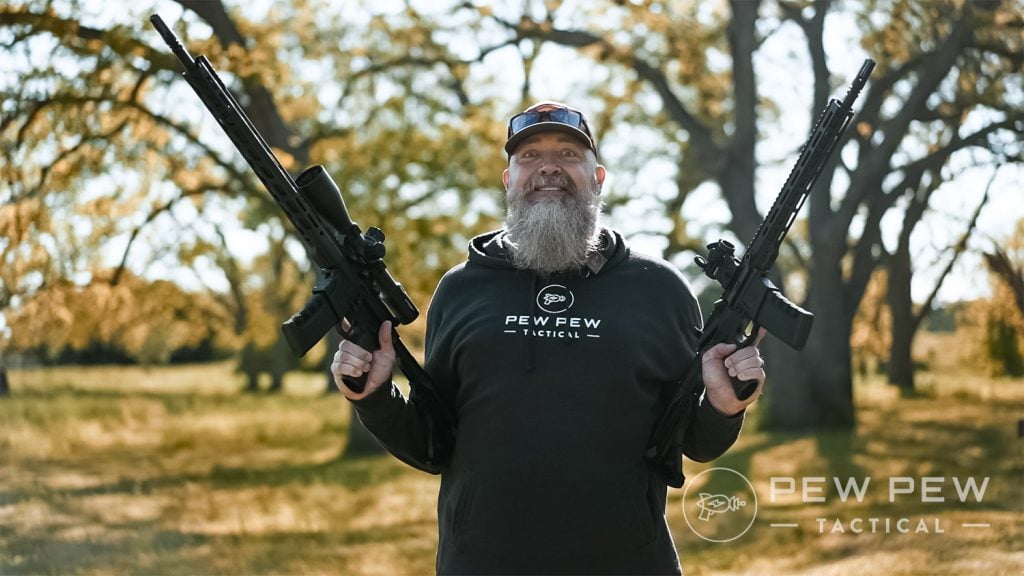 The Sabres are good guns and performed well, with the exception of steel-cased ammo, and even that cleared up after cleaning. I'm really impressed that both these guns come in under that magic $1,000 price tag.
But this is only the beginning of the story of the Sabre line. You can go in and buy the one you want or "roll your own" by choosing options from Palmetto to your heart's content!
Did the Sabre line live up to your expectations? Let us know in the comments below. Check out our guide to the best ARs at 11 Best AR-15s: Ultimate Guide!