There's a lot of red dots out there.  And probably even more GUIDES to finding the perfect red dot.
What sets this guide apart?
We have everything in-hand and tested them across tons of rifles, shotguns, and pistols.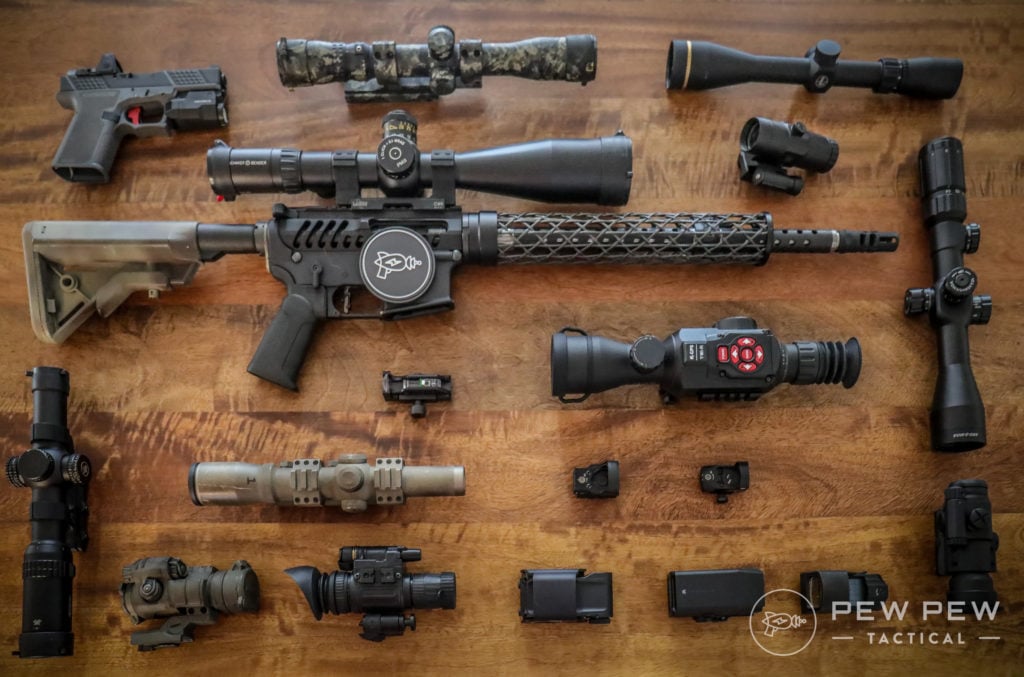 By the end you'll know the best red dot for your specific firearm AND budget.  Plus some of the great reasons to even use a red dot in the first place.
Best Red Dot Sights For Your Gun
1. Aimpoint PRO
The Aimpoint PRO ($437) is our Editor's Choice if you want the very best red dot that can handle everything from range plinking to all-out war.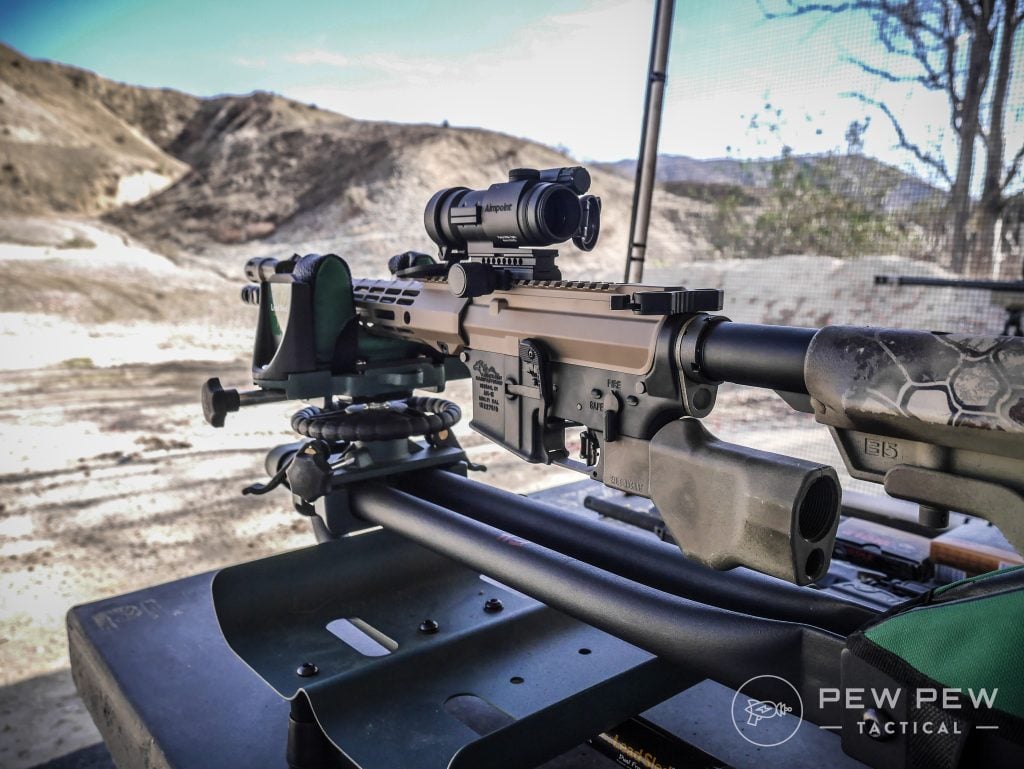 Literally bomb-proof with 30K hours of continuous use…you can just leave it on and forget it.  And then change out the batteries every few years.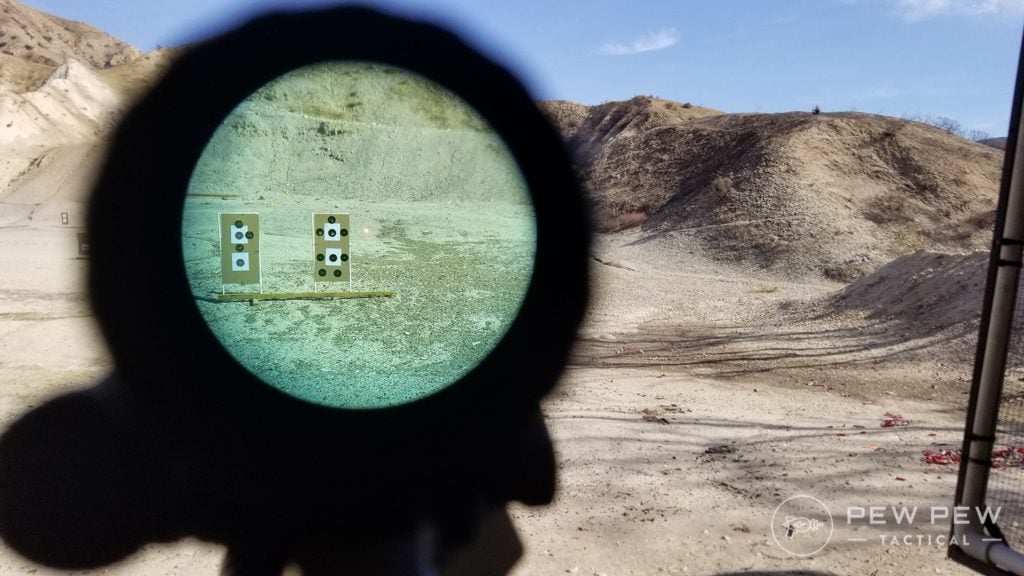 Plus it has a crisp 2 MOA dot (dot will cover 2 inches at 100 yards), is night vision compatible, waterproof up to 150 feet, and has an operating range of -49 to 160 degrees F.
If you need more than that…then I don't know what to tell you!
We now have a YouTube review of it as well after 3+ years of testing and thousands of rounds.
And check out our full-on written review of it where we bash it real good with a hammer.  It kept zero and didn't even hiccup.
The "Goldilocks" Red Dot
435
at Amazon
Prices accurate at time of writing
Prices accurate at time of writing
2. Bushnell TRS-25 AR Optics
We understand not everyone has $400 to spend on a red dot.  The Bushnell TRS-25 is our go-to for something around $50.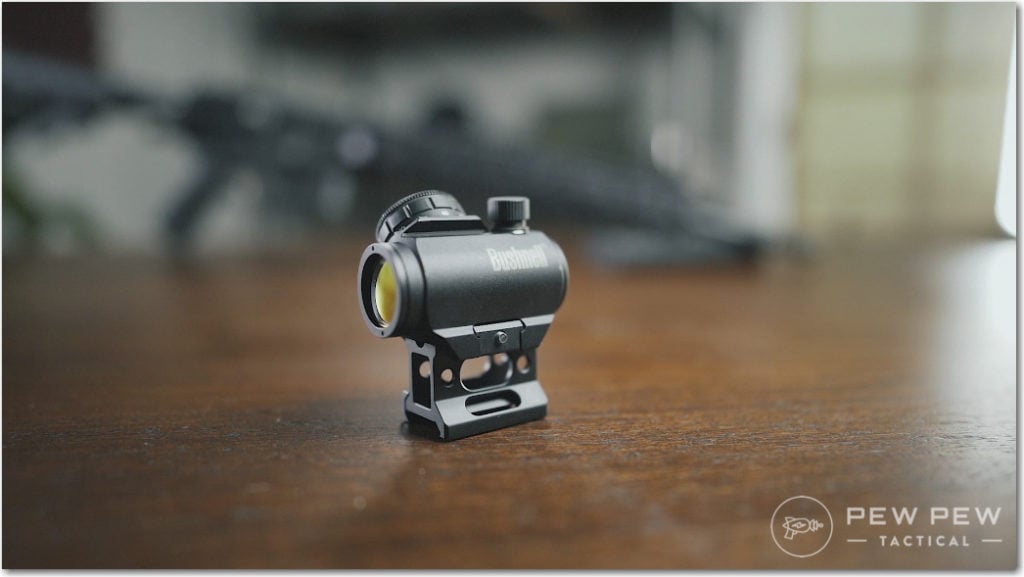 It's served me well on my first AR and now currently lives on my AK pistol…which has even more recoil.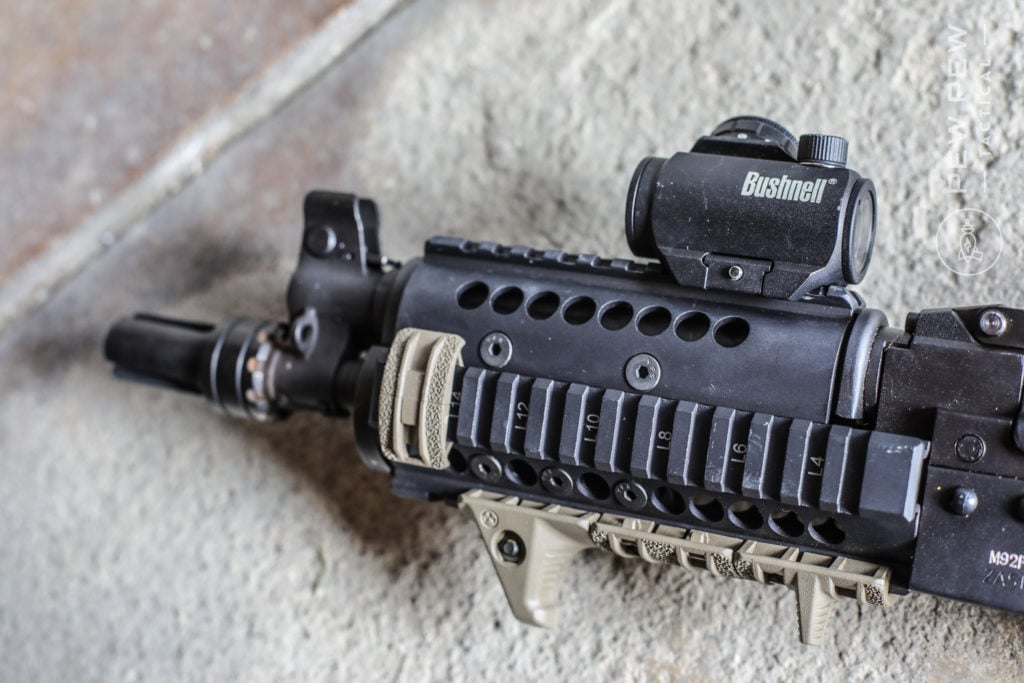 3000 rounds total (with 1000 on the harsher recoiling AK and still going strong…plus some rain here and there.
Not the greatest glass but she'll work!
If you're thinking of going even cheaper…don't!
This is the lowest I would go for something that will stand up to range plinking here and there.
Most Affordable Red Dot
53
at Amazon
Prices accurate at time of writing
Prices accurate at time of writing
Don't get the TRS-25 with a riser…it's terrible!  I highly recommend getting it with the UTG 1″ Slim Riser ($14) so it's the perfect height (1/3 cowitness) on an AR-15.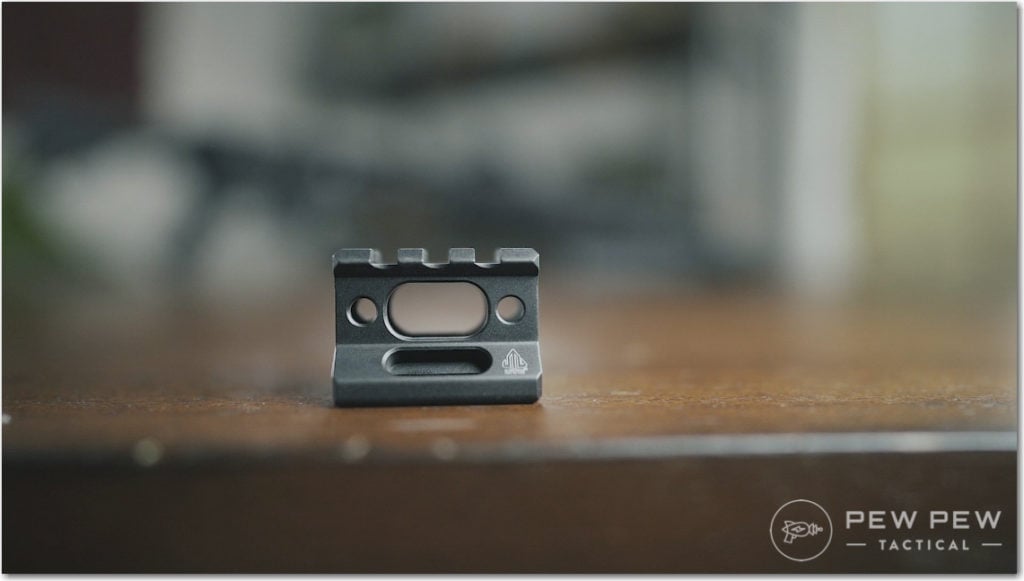 Check it out more in our Best Under $100 Red Dots article and video.
3. Holosun HS403A
The Holosun ($140) is our pick for the Best Bang-For-The-Buck after some torture testing with a Vortex and Primary Arms red dot.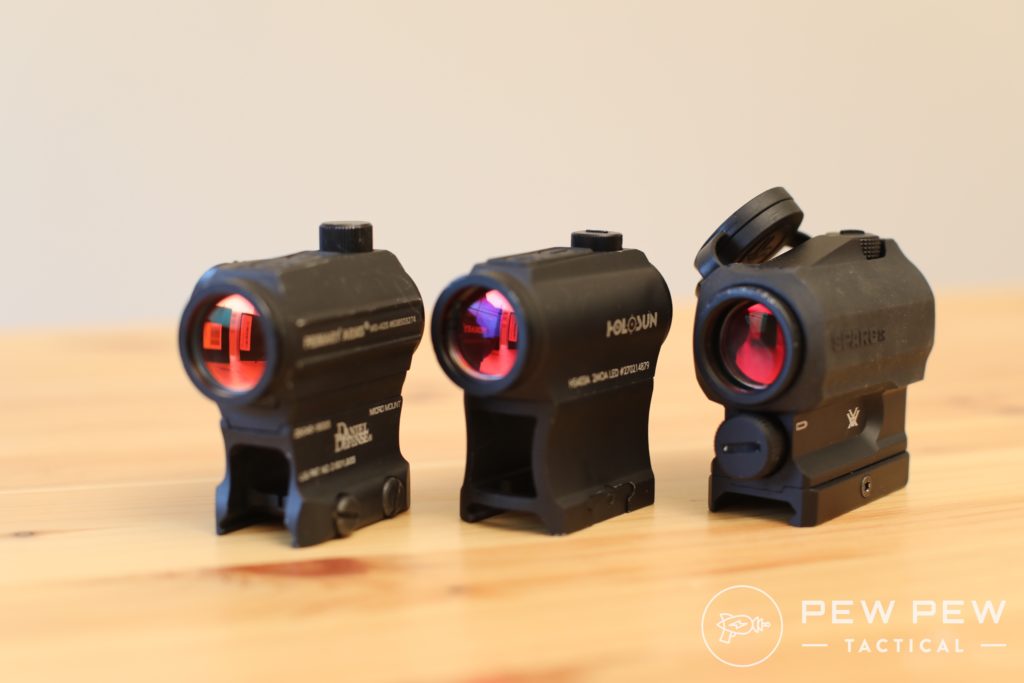 It survived multiple drops, submersion in water, and heat tests.  2 MOA dot, 50K hours (even more than the Aimpoint PRO), 1m water proofness, and night vision compatible.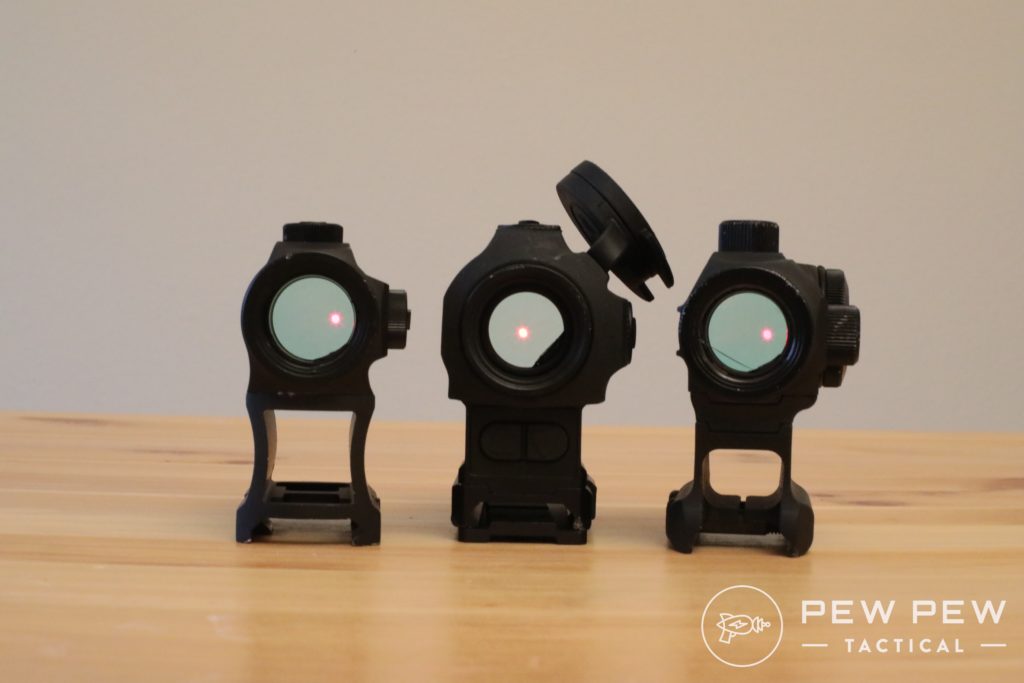 Everything the weekend warrior needs.  AND it already comes with a decent riser.
Read all about it in Best Red Dots Under $200.
Best Red Dot Under $200
170
at Amazon
Prices accurate at time of writing
Prices accurate at time of writing
What do you think of the Holosun?
4. Trijicon RMR Type 2
Now we're entering the realm of micro red dots…or red dots that fit on your pistol.
We'll start with the Gold Standard…the Trijicon RMR Type 2 ($469).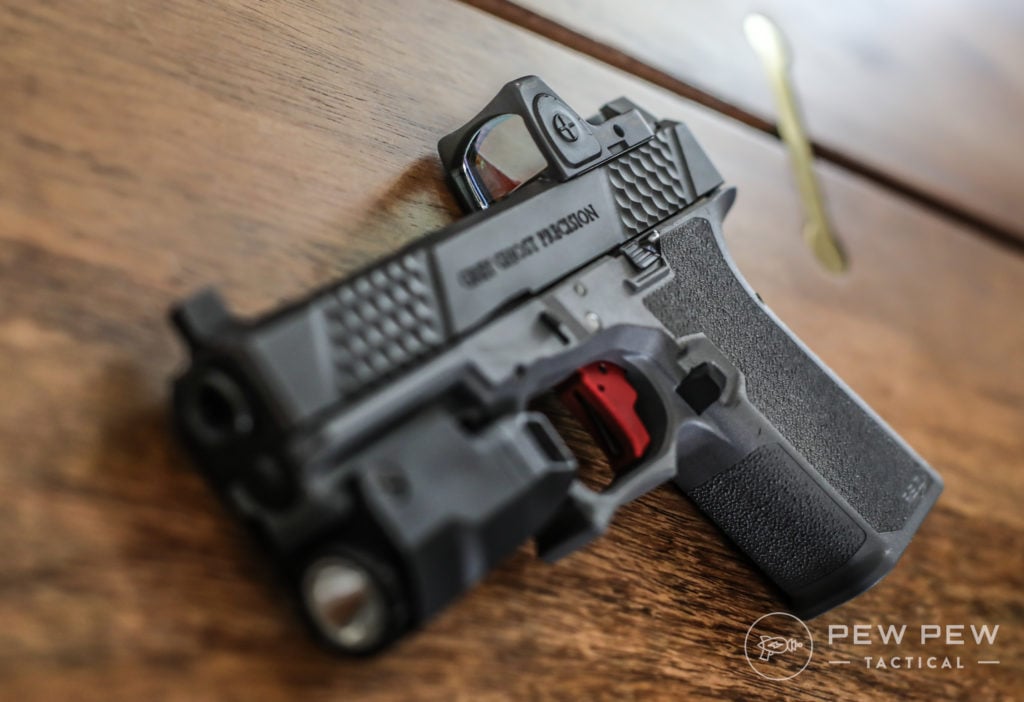 If you're serious about a red dot enabled fighting/competition pistol…you go with an RMR.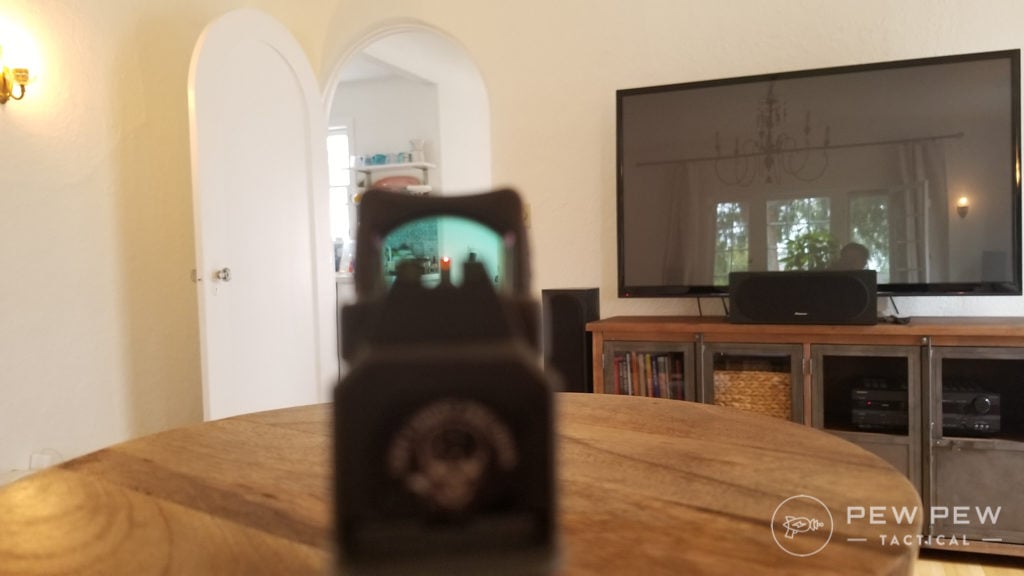 Trusted by professionals and has the most widespread "cut" for pistol slides so if you're upgrading your slide it will likely be RMR cut.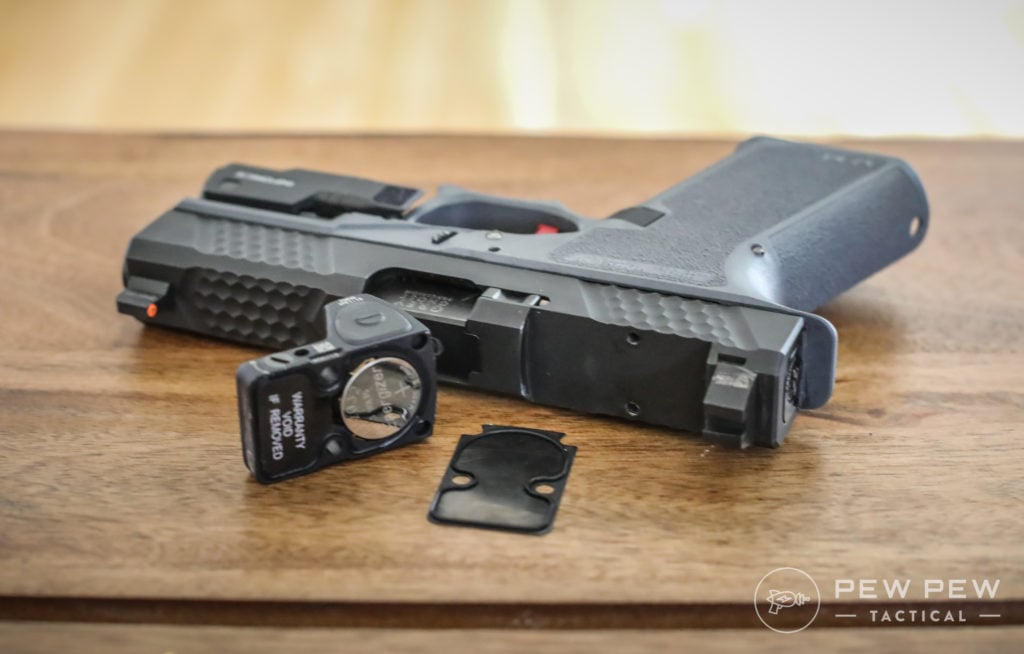 4 years of battery life (always keep it on) plus night vision compatible.
Find out more about the RMR Type 2 in our Best Pistol Red Dots article.
5. Vortex Venom
Now how about a pistol red dot for the rest of us?  Enter the Vortex Venom ($230).
It's the lowest and smallest of the bunch that we tested.  Plus it comes with a Picatinny rail mount for other pistols and even rifles.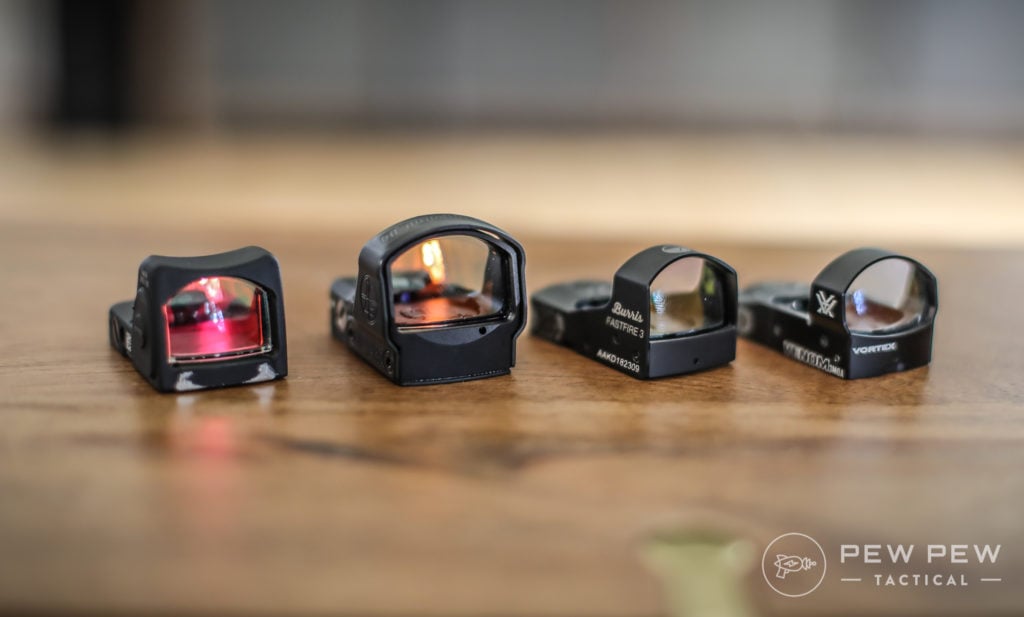 We like the Venom over Vortex's older Viper because it comes in two dot sizes (3 MOA or 6 MOA) and has slightly better reviews.  Check out our video on both:
If that helped, please subscribe to our YouTube channel since we're adding new videos every week!
It's "cut" is not as widespread as the RMR but there's adapters for out-of-the-box optic-ready slides such as the Glock MOS and M&P Core.
Or you can always get a Outer Impact dovetail mount.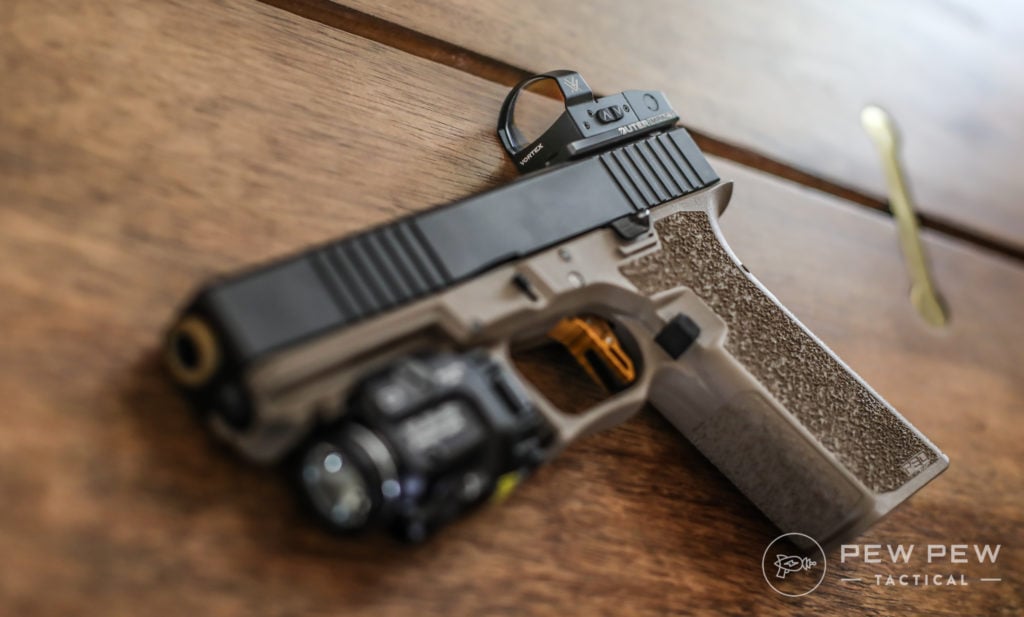 Check out the install in our video:
Learn more about the Venom and the other pistol red dots in our Best Pistol Red Dots article.
230
at Amazon
Prices accurate at time of writing
Prices accurate at time of writing
6. EOTech EXPS-2
This one is technically a "holographic" sight.  The technology of showing the reticle in front of your eyes may be different…but it still does the same thing as a red dot.
The EOTech EXPS-2 ($490) is my go-to for a serious rifle.  As it is for a lot of our military.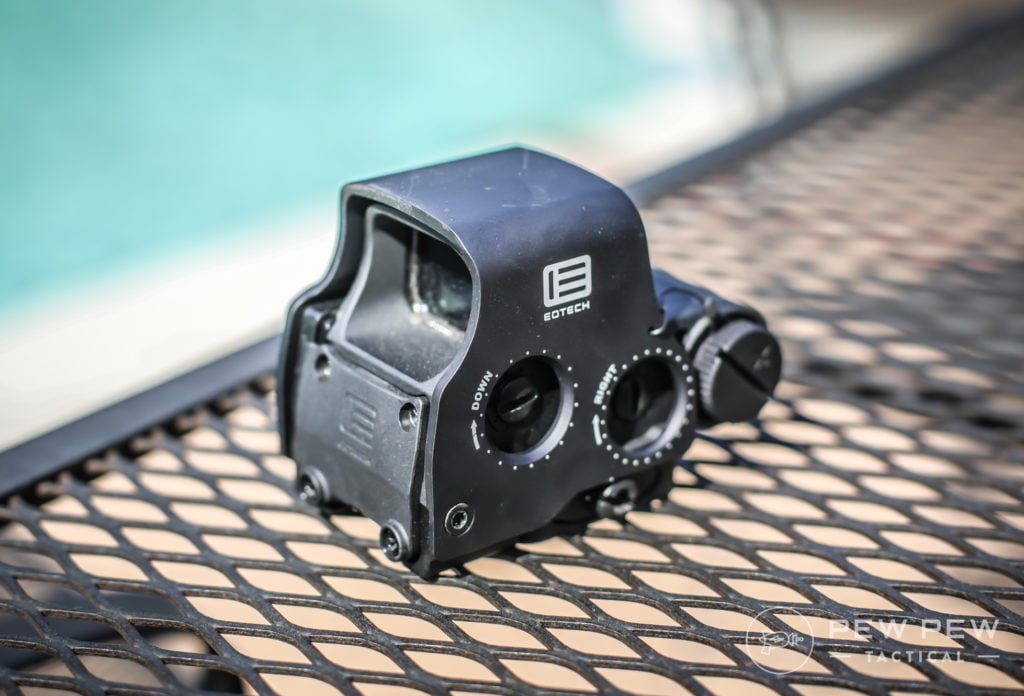 EOTech pioneered the reticle that has become synonymous with other holographic sights.  The large 68 MOA circle and small 1 MOA center that gives you both quick acquisition and precise targeting.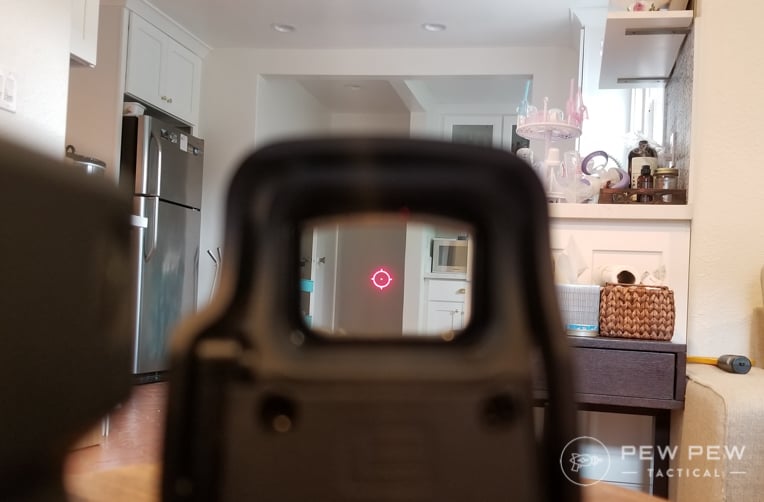 Battery life is less for holographics overall.  The EXPS2-0 has 600 hours…but you get a much larger view window and the great reticle.
Learn more in our Best Holographic Sights.
Best Holographic Sight
490
at Amazon
Prices accurate at time of writing
Prices accurate at time of writing
7. Holosun 510C
And you know I wouldn't leave you hanging without a more affordable holographic option…
Holosun's 510C ($299) combines the typical holographic reticle with red dot technology.  Now you get tons of hours, a great view window, and the ability for quick snap or more precise shots.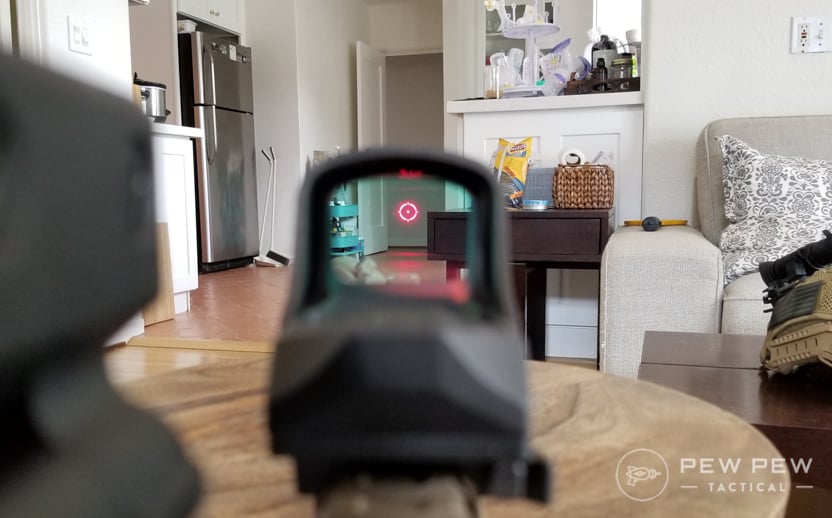 Plus…it even has a solar panel to not use up battery power during the day.  Not that you have much to worry about…it's rated for 50K hours.
Most Worth It Holographic Sight
299
at Amazon
Prices accurate at time of writing
Prices accurate at time of writing
Check out more pics and videos of the 510C in Best Holographic Sights.
Why Do You Want a Red Dot?
Now that we've gotten our favorite picks out of the way…why would you even want a red dot?  Haven't iron sights worked for hundreds of years?
Well…there's always room for improvement!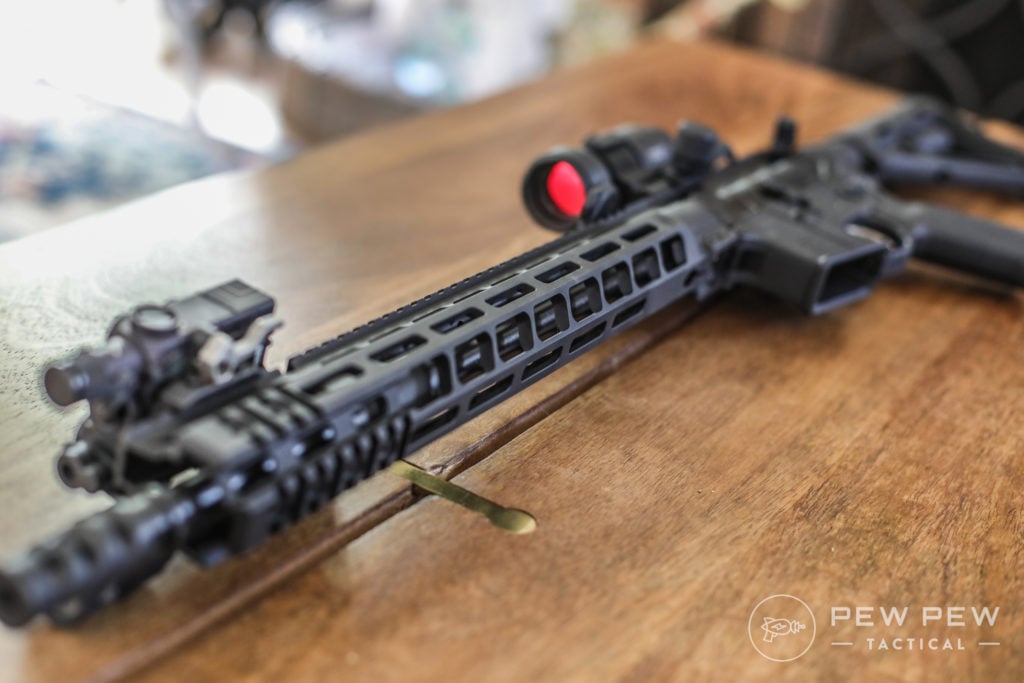 1. Eye Relief
This means you don't need to have a set distance of your eyeballs from the sight.  More apparent for scopes…but it's also a thing you deal with on iron sights.
2. Parallax Free
This means when you move your head around…the red dot still stays on target.  This combined with eye relief gives you a lot more freedom in position.
3. Co-Witness
You always want a backup since electronics can fail…even if you go with the gold standards.
Red dots let you either absolute co-witness or lower 1/3 co-witness with your existing iron sights.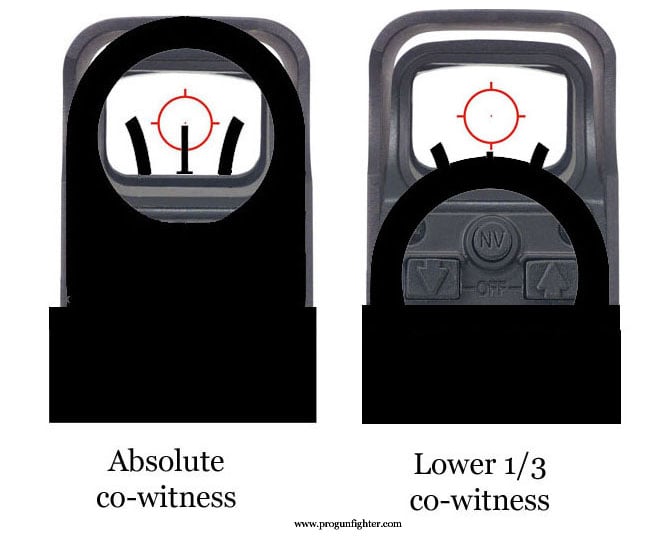 I prefer the lower 1/3 so you don't always see the front post in your face until you drop a little lower and WANT to see it.
You can select the specific co-witness height based on models and riser heights.  Don't worry…we cover everything in the in-depth articles!
4. Both Eyes Open
Lastly…you can keep both eyes open with red dots which opens up your entire field of view.  No more squinting behind your irons and ignoring potential threats on the side.
Conclusion
There you have it…our picks of the best red dot (and holographic) sights for all types of guns.  Here are the specific articles we referenced if you want to see more in-depth reviews.
How did we do…anything else you'd add to our list?  If you're looking for something with a little more magnification…check out our Best AR-15 Scopes & Optics post.