---
Metal-framed pistols are making a comeback, with a handful of manufacturers slowly introducing metal versions of their most popular guns.
So, it's no surprise that Smith & Wesson would jump into the metal resurgence with a new addition to its famed M&P series.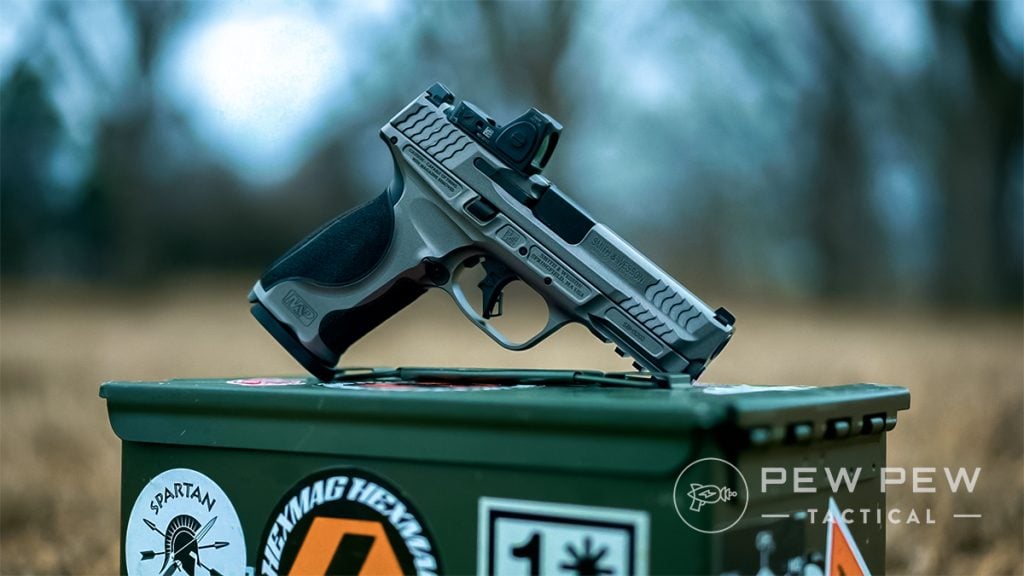 The M&P M2.0 Metal uses the company's solid platform but ditches polymer for an aluminum frame and adds on some upgraded features as well.
We got our hands on the Metal and took it to the range to see if it improved the M&P series. Spoiler alert, it does!
But stick around and keep reading to see what sold us on the Metal.
Table of Contents
Loading...
Smith & Wesson M2.0 Metal Review at a Glance
Pros
Accurate
Good ergonomics
Handsome
Cons
The Bottom Line
Form and function are often at odds with each other in the firearms world. What works well doesn't always end up being very pretty. There are a lot of examples to support this theory. The Smith & Wesson M2.0 Metal is not one of them.
The M&P 2.0 Metal is a great combination of show and go. It looks great but is also accurate and reliable.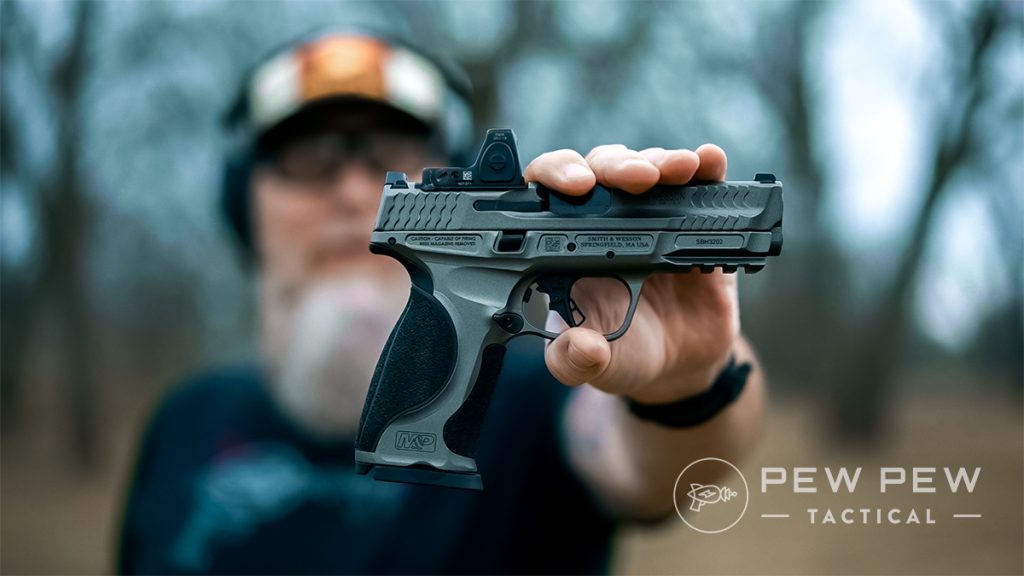 Specs & Features
Specs
Caliber: 9mm
Capacity: 17+1
Action: Striker fired semi-auto
Length: 7.25"
Barrel Length: 4.25"
Height: 5.5"
Width: 1.3"
Weight: 1.76 lbs.
Comes With: Cardboard box, two 17-round magazines, 6 optic plates & screws, 4 grip panels, lock, manual.
Features
Flat face trigger
18-degree grip angle
Textured polymer grip
Source: Smith & Wesson
749
at GrabAGun
Prices accurate at time of writing
Prices accurate at time of writing
Background
Smith & Wesson was founded in 1852, and the M&P line started over 100 years ago. There is a lot of history here.
M&P was originally marketed toward the military and police, but the general shooting public found love for the line of firearms those professions could trust.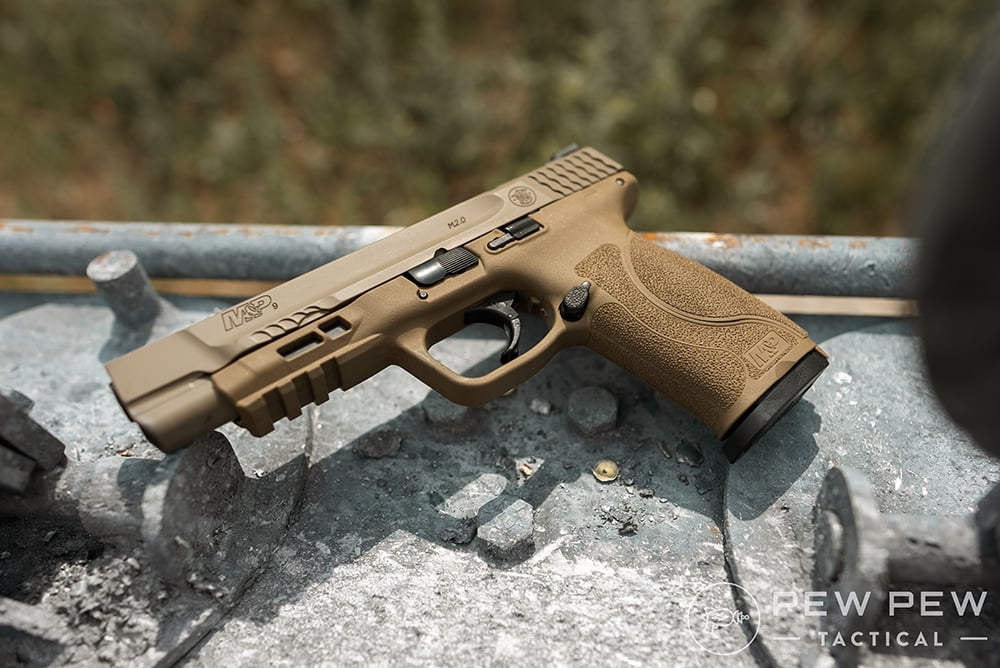 In my own LE career, I never used an M&P, and when I first tried it, I didn't like the trigger because it felt squishy compared to what I was used to.
After I stuck with it for a while, though, I realized how wrong I was.
The guns are great, and the trigger greatly contributes to the accuracy, as I found out in this review of the M&P 2.0.
Who Is It For?
The M2.0 Metal is a cut above the average handgun. It's certainly still worthy of its namesake heritage, so it would make a fine defensive handgun for just about anyone.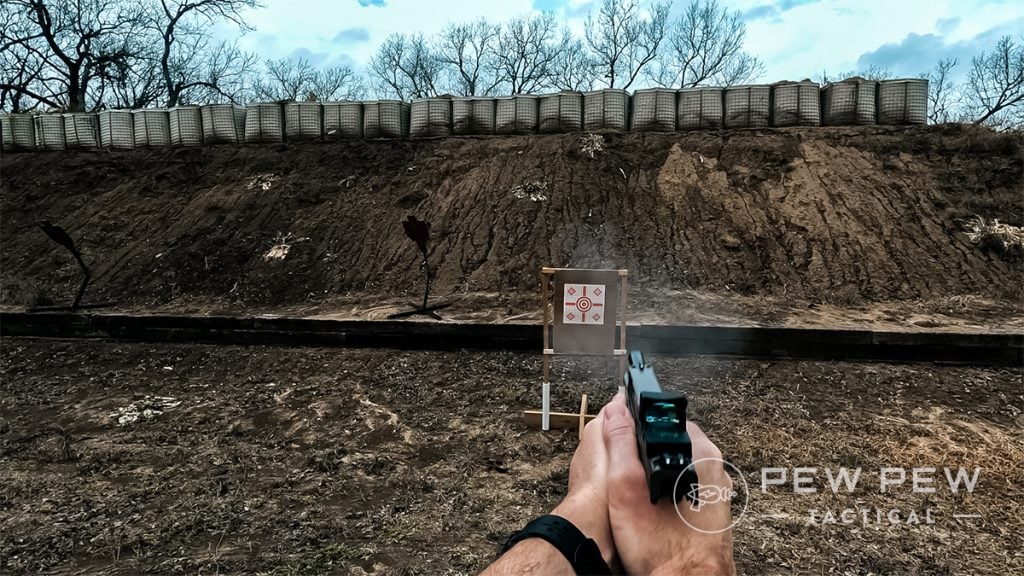 The model we tested is full size and came in at just over 7 inches long, so keep that in mind when considering concealment.
Fit & Feel
The gun feels outstanding in the hand — light and well-balanced, with a slight tip toward the business end.
Its aggressive texture of the polymer front strap and back strap really helps keep the pistol firmly in hand during recoil and manipulation.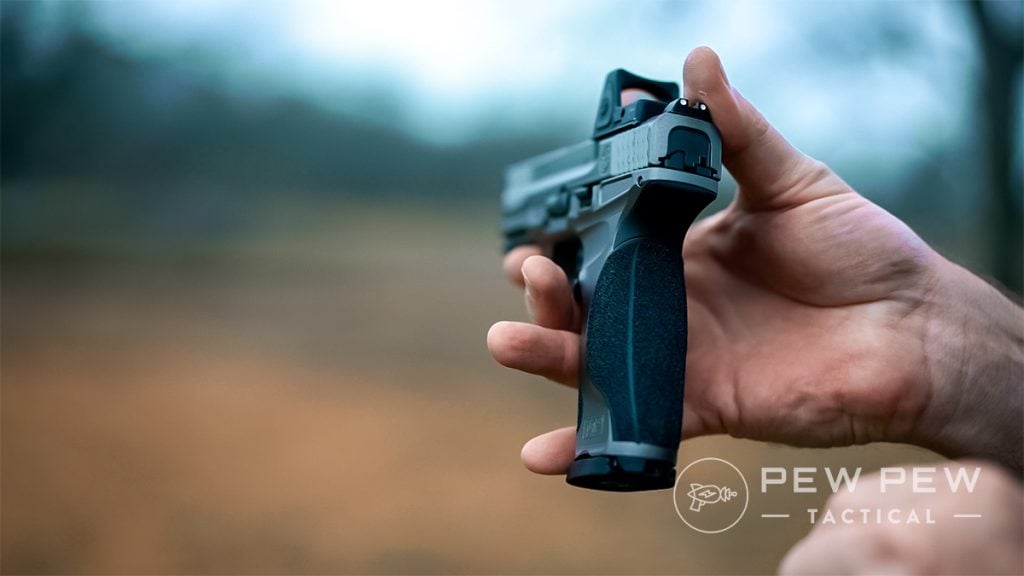 The trigger bow has a light curve and a nice, flat-face surface that is comfortable to use.
There's quite a bit of pre-travel before hitting a defined wall that broke at an average of 3 pounds, 14 ounces — reset was a little softer than I prefer, but was still tactile, though barely audible.
Its magazines are steel with a large plastic base pad that allows you to grab onto them when seated should a malfunction occur and stripping become necessary. They included a light grey follower that was clearly visible when the slide locked back.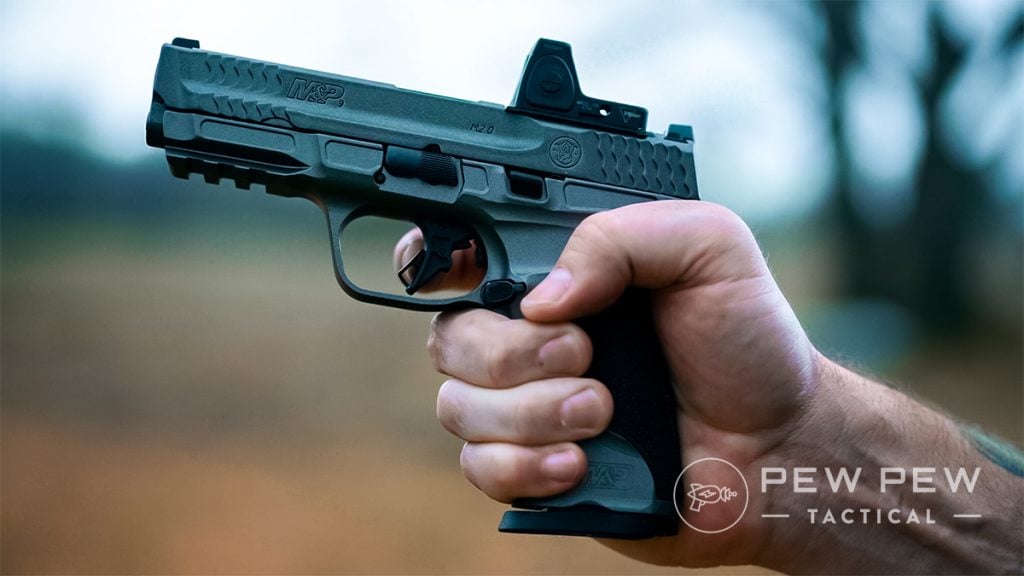 In addition, the grip features beveled angles on the interior, which guide magazines in for seating. The external size isn't flared, but you're getting some assistance regardless.
Sights are also metal (an ongoing theme) in a white, 3-dot configuration and include serrations on the rear block. Both front and rear are held in place with a dovetail and are replaceable.
How Does It Shoot?
I shot several 3-shot groups for accuracy at 7 yards and was very impressed. The groups were all very close, with some holes even touching.
The trigger, once mastered, really allows the shooter to get on, then break the shot without disturbing the gun. This is achieved by holding the trigger back to the wall, finalizing the sight picture, then pressing the rest of the way like a two-stage trigger.
I was able to ride the dot through the recoil thanks to the aggressive grip texture and found the M2.0 pointed naturally with the 18-degree angle. This made follow-up shots quicker.
What Sets it Apart?
The M2.0 Metal has a T6 aluminum frame, different from the polymer versions of the old. This makes the gun slightly heavier as a result. This isn't a bad thing, though.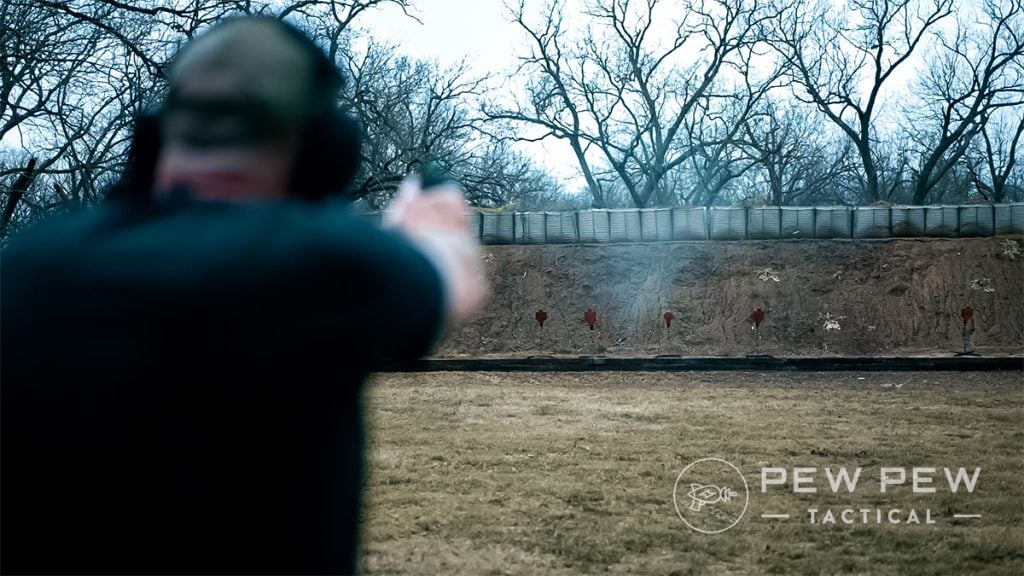 I feel like the minimally additional weight helped me to control the recoil a little better. Another thematic difference is going to be the Tungsten Gray Cerekote color, which I find to be marvelous.
This version is also compatible with previous M&P models of similar size in both magazines and holsters.
It also has forward slide serrations!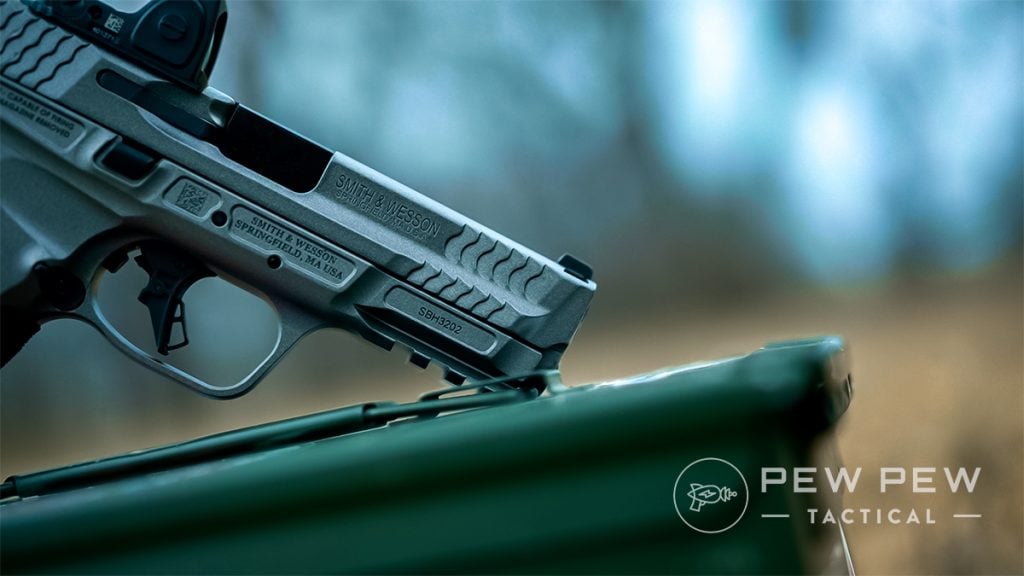 I also enjoyed having everything I needed to mount several different optics in the box.
That said, the plates are plastic, so I'm curious to see how they'll do long term.
By the Numbers
With approximately 500 rounds downrange, we experienced zero issues. Magazines fed cleanly, dropped clearly, and the gun fired and extracted as expected.
The M2.0 Metal has nice curves on the grip that fit even my large hands well, plus the beavertail was just enough to protect my hands from the slide. Controls were easy to reach, and the magazine release is reversible for lefties.
Three nearly touching rounds at 21 feet are pretty darn good and only reveal the limitations of this shooter. The M2.0, like previous iterations, is accurate.
Having been around for quite some time, the M&P line enjoys strong support in the aftermarket. Shooters have a lot of options to customize to their heart's content.
The current MSRP listed on the Smith & Wesson website is $899 though several web prices have the M2.0 Metal listed at around $850. That's a little steep compared to the average handgun, but this gun is above average in looks and performance.
599
at Kygunco
Prices accurate at time of writing
Prices accurate at time of writing
Upgrades for M2.0 Metal
For this review, we mounted a Trijicon RMR.
Best Pistol Red Dot
454
at Amazon
Prices accurate at time of writing
Prices accurate at time of writing
While that is a great optic, Holosun just released their new SCS model for the M&P series. Either would be an excellent choice.
349
at Amazon
Prices accurate at time of writing
Prices accurate at time of writing
Another critical upgrade would be a light; we're stoked about Holosun's new P.ID.
114
at OpticsPlanet
Prices accurate at time of writing
Prices accurate at time of writing
Final Verdict
You can have your cake and eat it too. The cost is a little above the median, but our testing revealed a handgun that is reliable, accurate, and beautiful.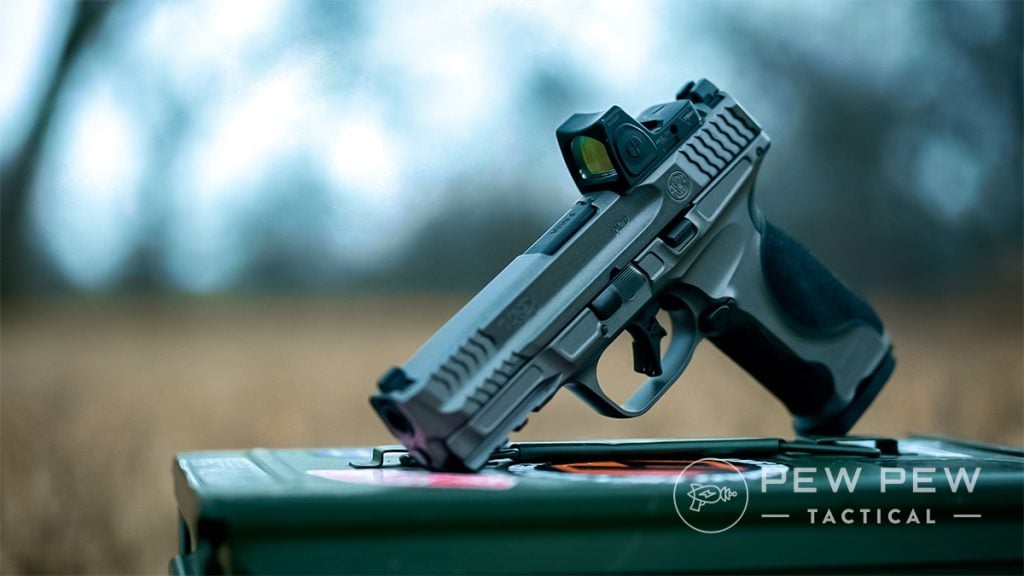 Whether you're an officer on the street or a citizen concerned with your safety and that of those around you, the M2.0 Metal is a great choice.
Will you be picking up an M&P9 M2.0 Metal? Let us know in the comments below! And for more metal options, check out our Best Metal Framed Guns!