It's no secret that 9mm reigns supreme when it comes to both popularity and flexibility for handguns.
But with that popularity comes a mind-boggling amount of pistols to choose from when doing your research, but helping you get pointed in the right direction is precisely why we are here.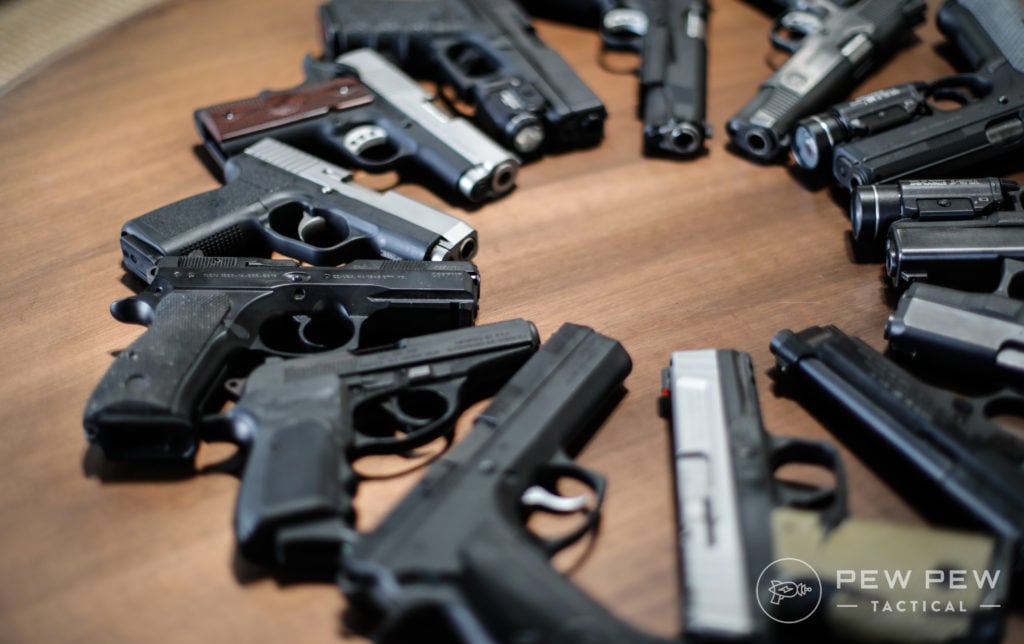 Today we are going to take a look at some of our favorite 9mm pistols for concealed carry, general use (home defense and range/fun), and competition.
Unfortunately, there is not enough room for me to include every gun I like on this list without breaking the internet, so keep in mind that this is absolutely not a definitive list by any means.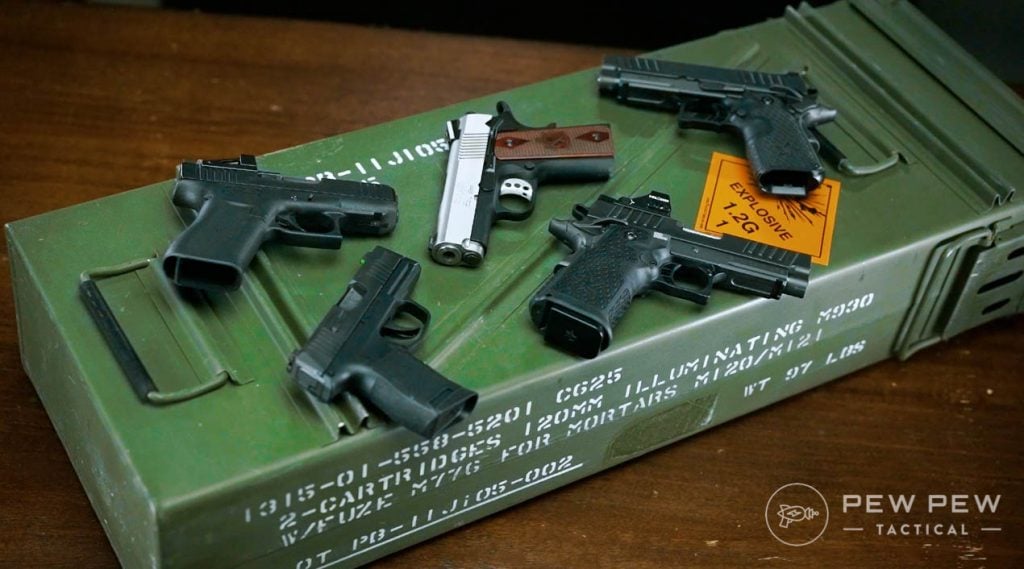 So without further ado, let's jump right in!
Summary of Our Top Picks
Table of Contents
Loading...
Best for Concealed Carry
1. Sig Sauer P365XL
It should be no surprise that a P365 variant would make the list. These guns are immensely popular and have quickly become a go-to recommendation throughout the gun community.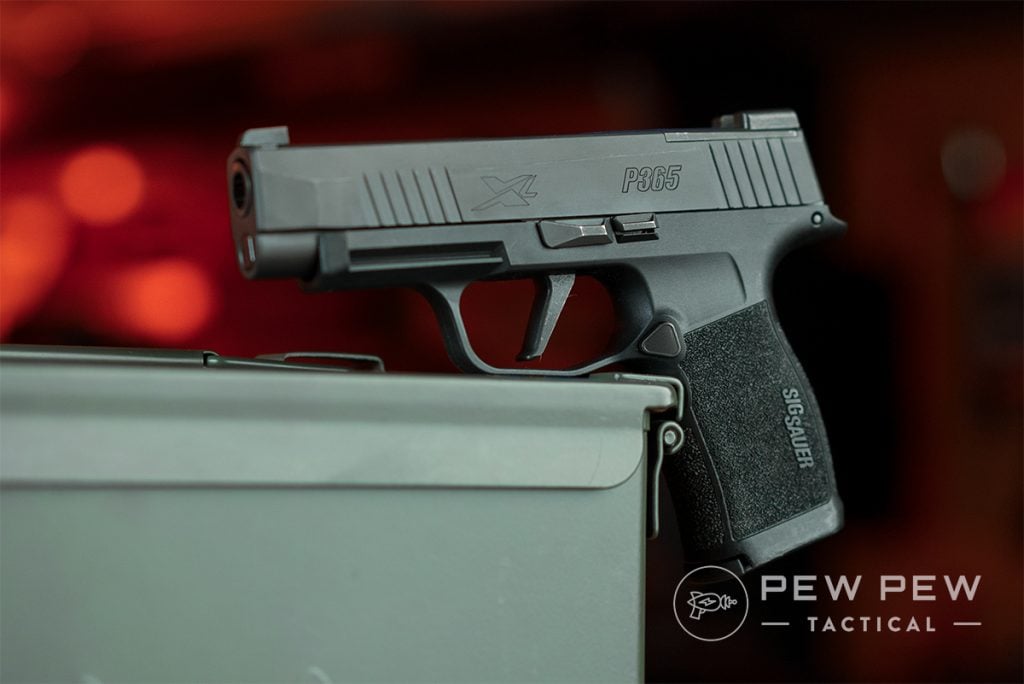 The Sig P365XL holds 12 rounds of 9mm in a gun that is only 1 inch wide. Couple that with good ergonomics, factory night sights, an optics-ready slide, and a flat-faced trigger, and you have a winner.
While the regular P365 is still the king for deeper concealment, I find that the XL's slightly longer grip and barrel improve handling and shootability without adding too much bulk that it still isn't easily tucked away.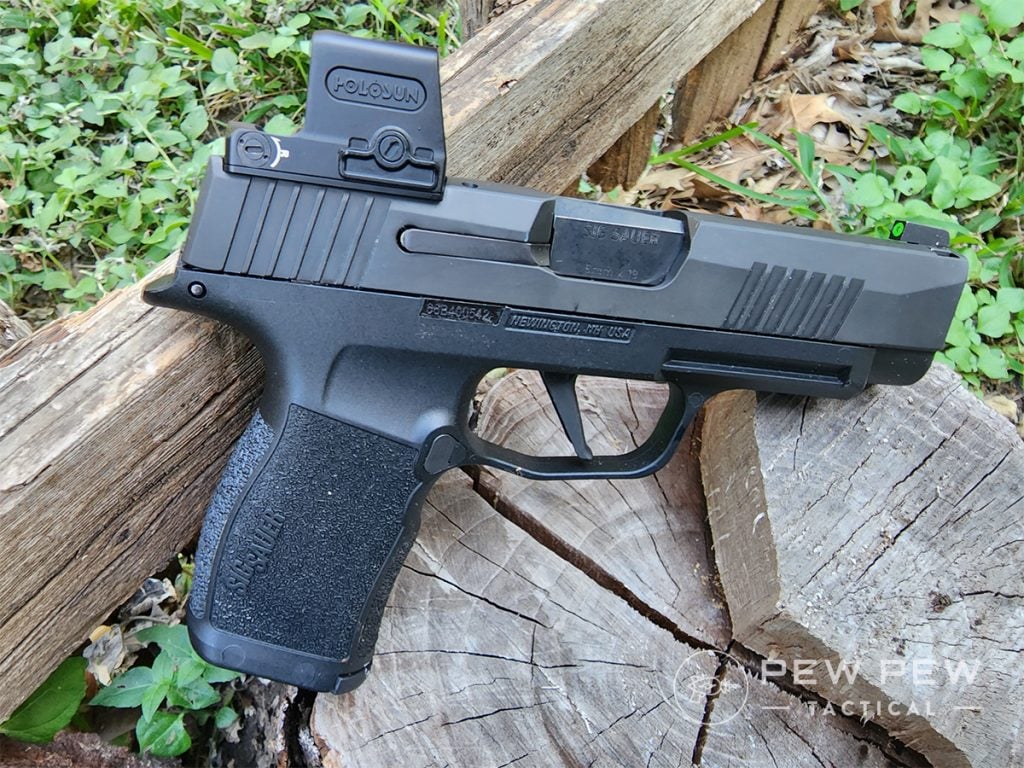 Accuracy has been excellent on all the models I have tested, especially given the size of the gun. With a red dot equipped, I can easily nail the x-ring time and time again at 7-12 yards with cheap range ammo.
When I want to carry something thin that sticks close to my body, but I don't want to feel like I am sacrificing terminal performance, I grab my P365XL.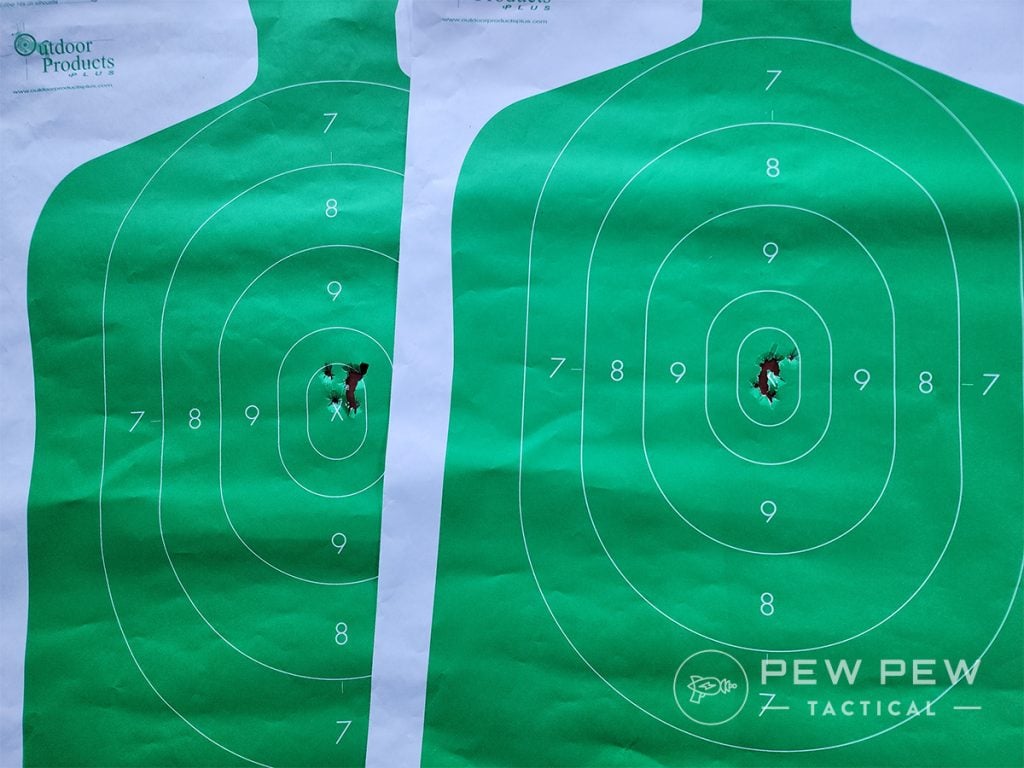 Oh, and if there is anything you want to change, the aftermarket for these guns is massive.
Best for Concealed Carry
599
at GrabAGun
Prices accurate at time of writing
Prices accurate at time of writing
For more details on the P365XL, check out our full review here.
2. CZ 75 D PCR
In a world where ultra-slim polymer pistols are the current meta, it is easy to forget about older designs that can still hang with the new kids on the block. The CZ 75 D PCR is precisely that.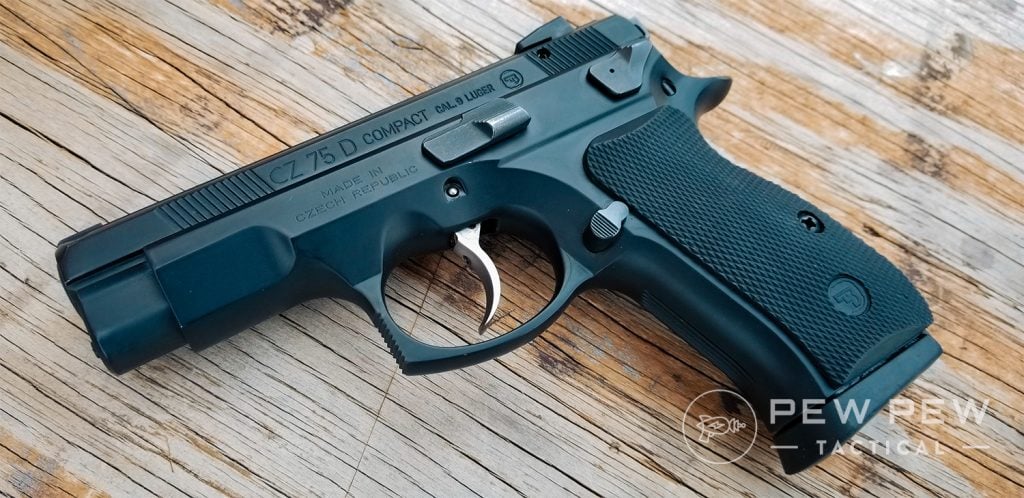 Based on the venerable CZ 75 design, the PCR is a compact, alloy-framed version with a 3.8-inch barrel, 14-round capacity, and a decocker. A variant with an accessory rail is also available, the CZ 75 P-01.
It is a DA/SA gun, and the double-action pull is a bit heavy, but the single-action pull is fairly good.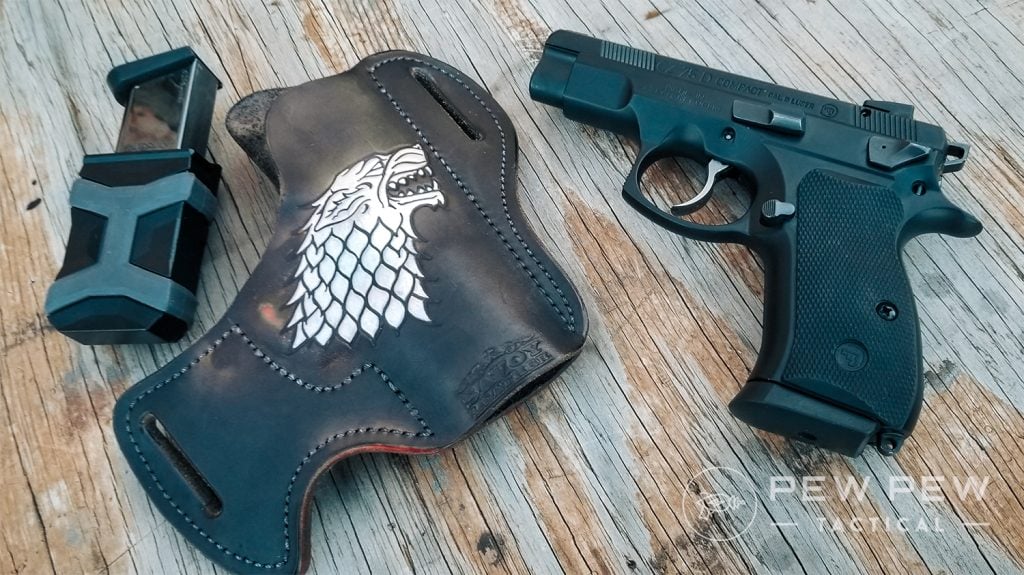 Being a CZ 75 derivative means you also get a low bore axis and extremely good grip ergonomics, which results in a very pleasant shooting experience.
Accuracy of these guns is outstanding, and I find they shoot much more like a full-sized pistol. That substantial "normal pistol" feeling is something that is often absent from the newer micro-compacts.
Although these are not the slimmest or trimmest concealed carry pistols out there by today's standards, they are some of the best shooting ones in my experience.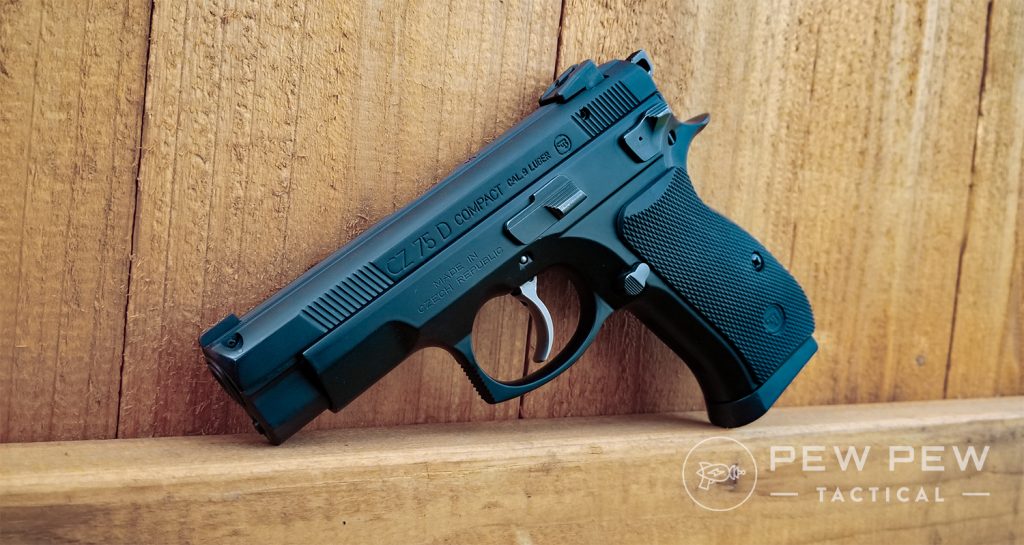 I added the defensive carry package from Cajun Gun Works to my personal PCR and ended up with one of, if not the nicest shooting compact pistols I have ever laid my hands on.
I honestly prefer my Cajunized PCR even over my higher-end guns like my Staccato C2 and Wilson EDC X9.
699
at GrabAGun
Prices accurate at time of writing
Prices accurate at time of writing
3. Walther PDP
I'll admit, I'm a huge Walther fan, but for a good reason. The Walther PDP is yet another home-run hit for the company.
So what sets it apart? Let's take a look.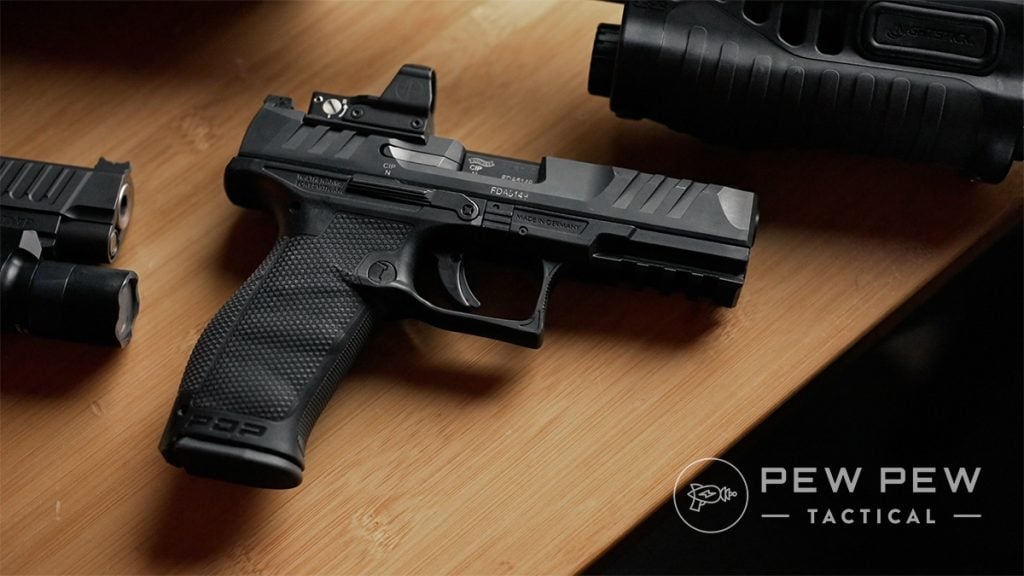 This gun features the PDT, or Performance Duty Trigger. Measuring around 4.5 pounds out of the box with an ultra-crisp break, this is arguably the best striker-fired pistol trigger out of the box.
Second, we have the ergonomics. Large, easy-to-reach controls and a well-contoured and textured grip make this gun almost feel like a natural extension of your hand.
I especially appreciate the oversized slide release. It is ambidextrous, lengthy, and easy to actuate without shifting the grip on my medium-sized hands. I never feel strained to reach or use anything on the PDP.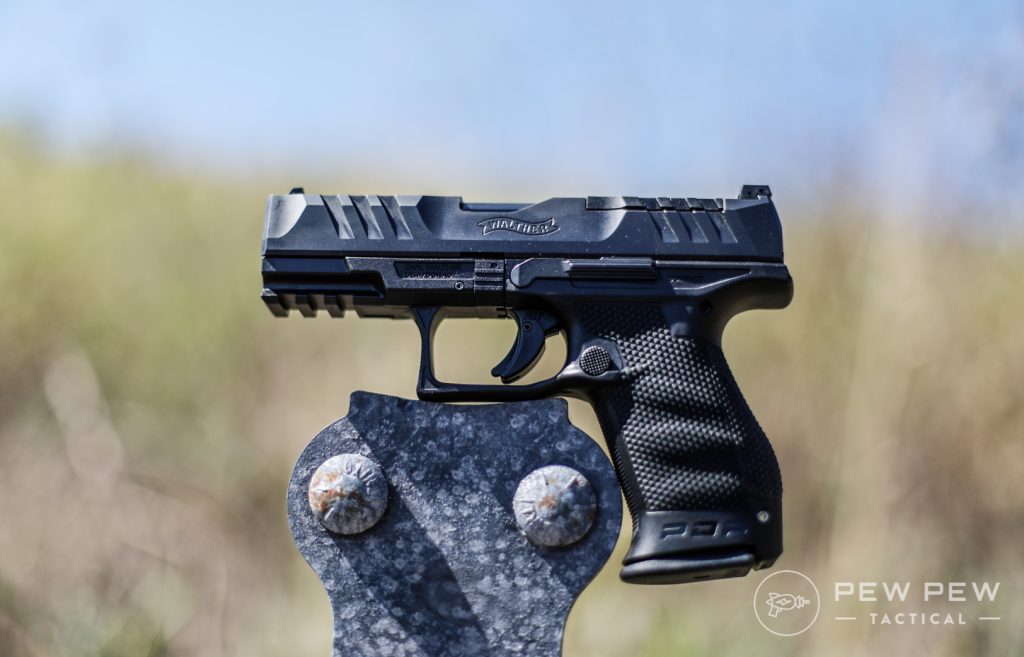 These features, combined with Walther's excellent build quality and fitment, lead to a very accurate and easy-to-shoot pistol. Additionally, it is optics-ready out of the box, and the rear sight is fully adjustable.
What about size? While the gun is a little chunkier than some, they have size options to fit just about anyone out there.
Best Compact 9mm Pistol
649
at Grabagun
Prices accurate at time of writing
Prices accurate at time of writing
Two grip options are available, the compact 15-round grip or the full-size 17-round grip. Barrels are available in 4-, 4.5-, and 5-inch lengths. Walther sells every configuration, so you can get whatever size grip with whatever size barrel you wish.
Additionally, Walther has recently introduced the PDP-F, which sports a slimmer grip front-to-back for those with smaller hands. The F-series is available in both 3.5 and 4-inch barrels.
Walther may have very well made the best striker-fired pistol on the market and did so while keeping it competitively priced.
Check out our full review here or watch the video review below.
What do you think about the Walther PDP (or PDP-F)? Rate it below!
Best for General Use
4. Glock 19
I would probably have been hunted down by an angry mob and burned at the stake if I didn't include a Glock somewhere on this list. But all seriousness aside, the Glock 19's place on this list is well deserved.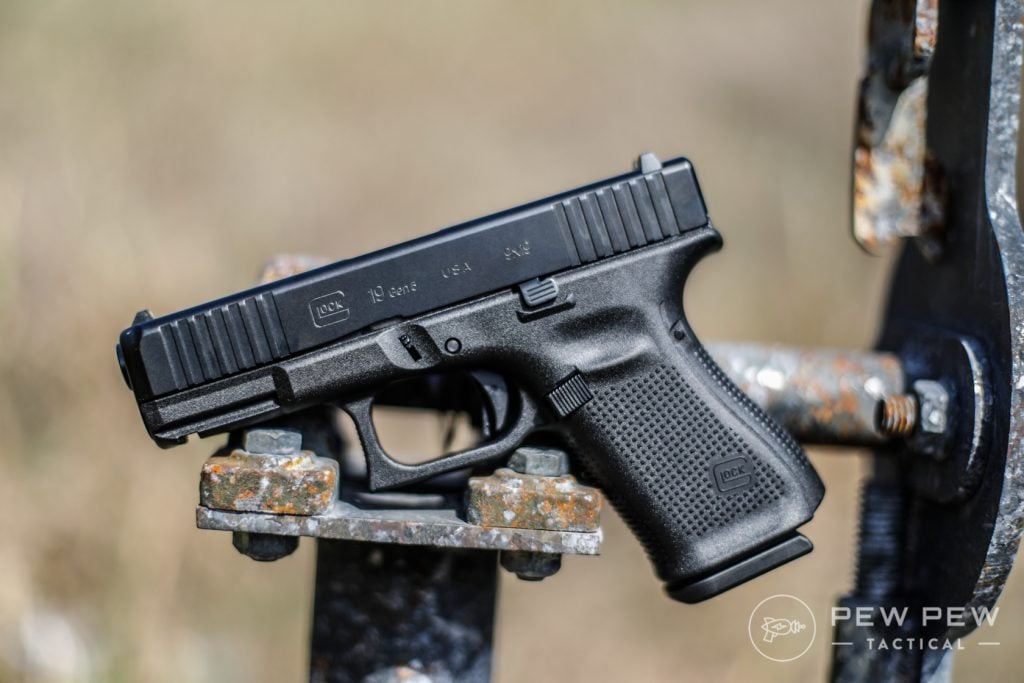 As straightforward as it gets, this polymer, striker-fired pistol holds 15 rounds and has everything you need and nothing you don't.
The Glock 19 is the definition of the perfect size for general use. The 4.02-inch barrel and overall form factor make this gun well-suited for everything from duty use, to home defense, to concealed carry and everything in between.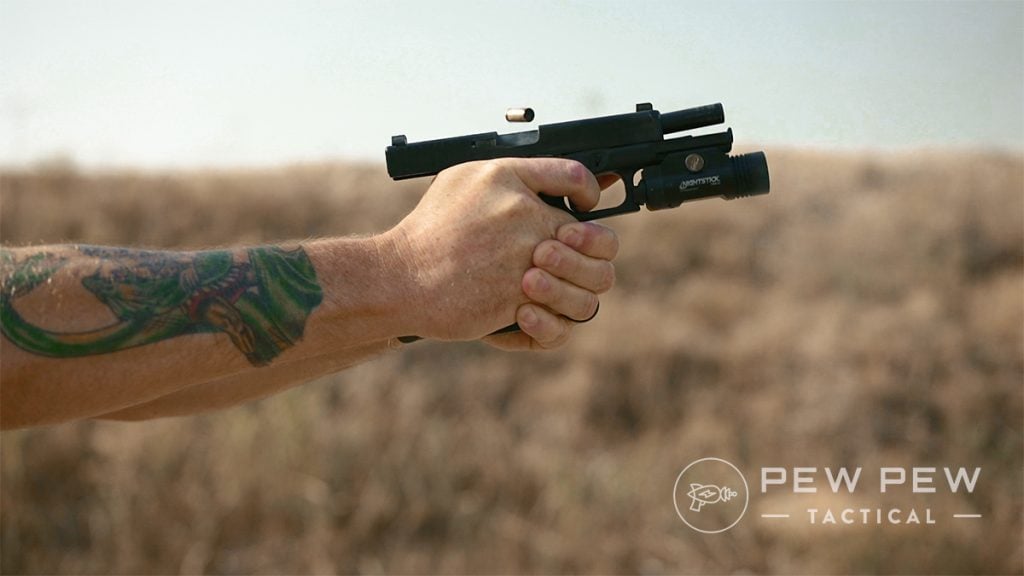 Yeah, the trigger may not be the best, but it isn't the worst, either. It isn't the best-looking pistol, but what polymer gun is? What matters is that the reliability and track record just can't be matched.
These guns will almost always run 100% right out of the box without batting an eye. A solid grip angle and relatively low bore axis make these guns very easy to shoot.
Glocks are far from my favorite pistols, but there is a reason I have five of them. There is a kind of raw beauty in their simplicity that can't be quantified. I may not like their feel, but they are the very definition of universal and is a gun that works well for just about anyone, me included.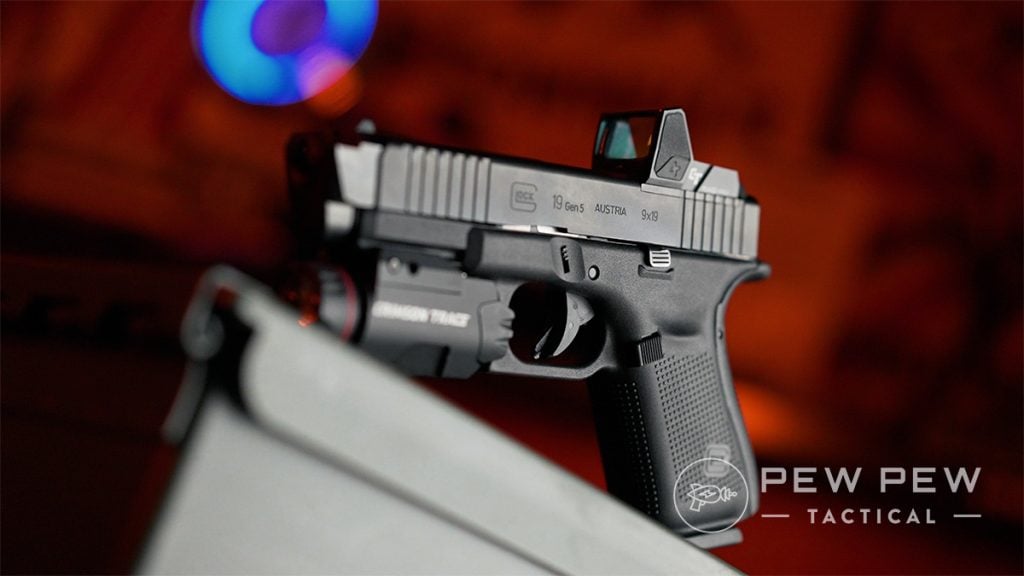 Even if there are parts you want to swap out, like the lackluster stock iron sights, Glock pistols enjoy the largest aftermarket of any pistol — ever. You can get anything and everything you could ever want to fully personalize and customize your Glock.
Affordability, reliability, shootability, availability, and cheap magazines are some of the reasons why this is the gold standard by which all other polymer pistols are judged.
Most Reliable
539
at Palmetto State Armory
Prices accurate at time of writing
Prices accurate at time of writing
Check out our full review here.
5. Sig Sauer P226
Ah, an oldie but a goldie.
The Sig P226 is the quintessential duty gun. It's big, heavy, accurate, and dead-reliable. It has been battle-tested and time-proven. It's seen use by elite special forces units such as the Navy SEALs and other groups around the world.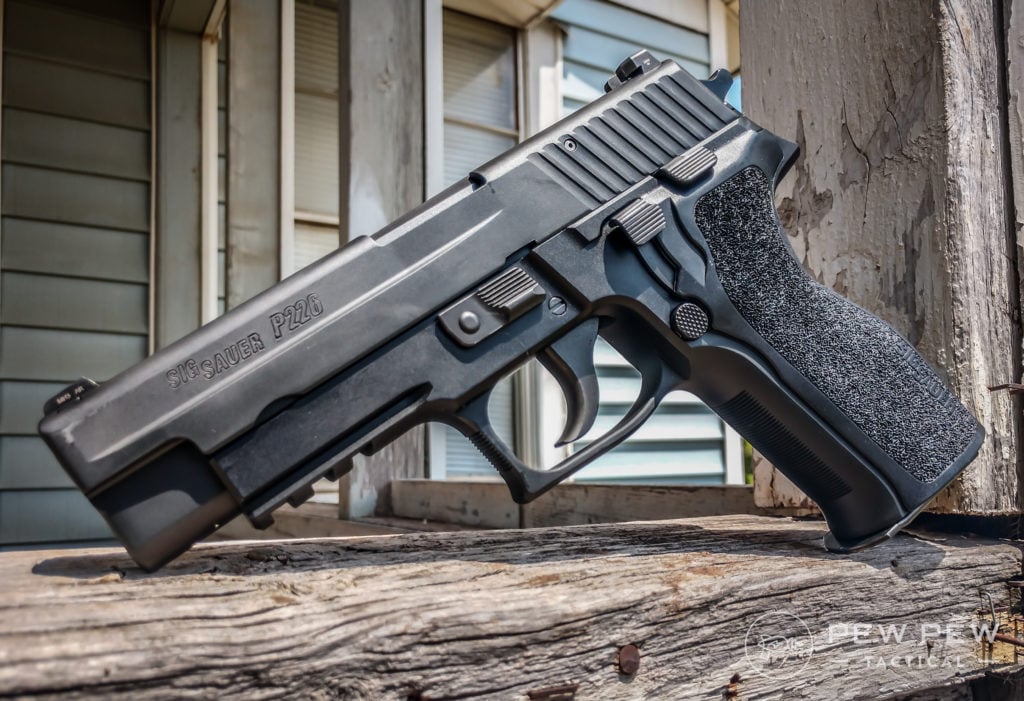 In general, the P226 is a full-sized handgun with a 4.4-inch barrel, weighing in at 34 ounces, and typically comes in a DA/SA configuration with a decocker mounted just above the magazine release.
On regular P226s, the trigger is nothing to write home about but is far from terrible. A standard heavier double-action pull is punctuated by a fairly crisp and light single-action pull with a slightly longer-than-desired reset (the Sig SRT kit fixes this).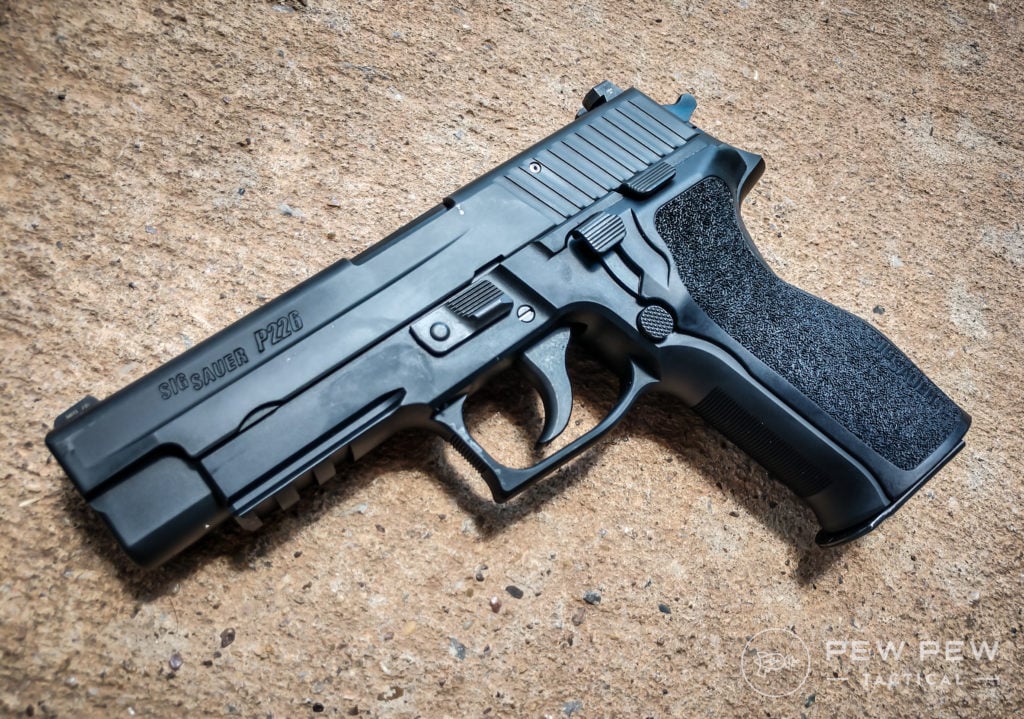 Admittedly, the boxy feel of the P226 turned me off for over a decade. But when I finally took the plunge, I realized I had been missing.
At first glance, these guns look bulky with a high bore axis, which is true. However, once you actually shoot one, you realize that what seems like the flaws of an outdated design actually work really well together.
Everything about the P226 just makes it feel tough—like chunking it off the top of the Empire State Building and expecting a working gun at the bottom tough.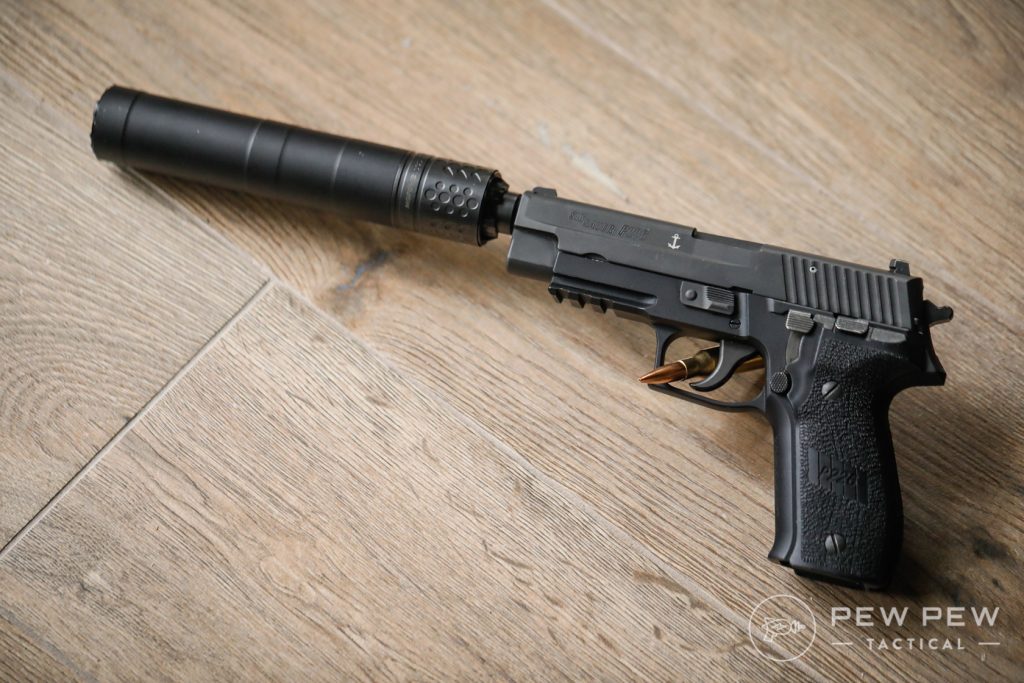 There are a ton of variants available for this gun. Fancy finishes, improved triggers, SAO-only models, military models, and more are available.
Smooth operation, ease of use, solid accuracy, and durability are hallmarks of the P226. Its positive reputation is just too hard to overlook when making a best-of list, thus it earns its spot among the top 9mm pistols.
999
at Kygunco
Prices accurate at time of writing
Prices accurate at time of writing
Check out our full review of the PP26 here.
6. H&K VP9
While Heckler and Koch are known for their reliable military-grade firearms, it is no secret that many of their designs are getting long in the tooth.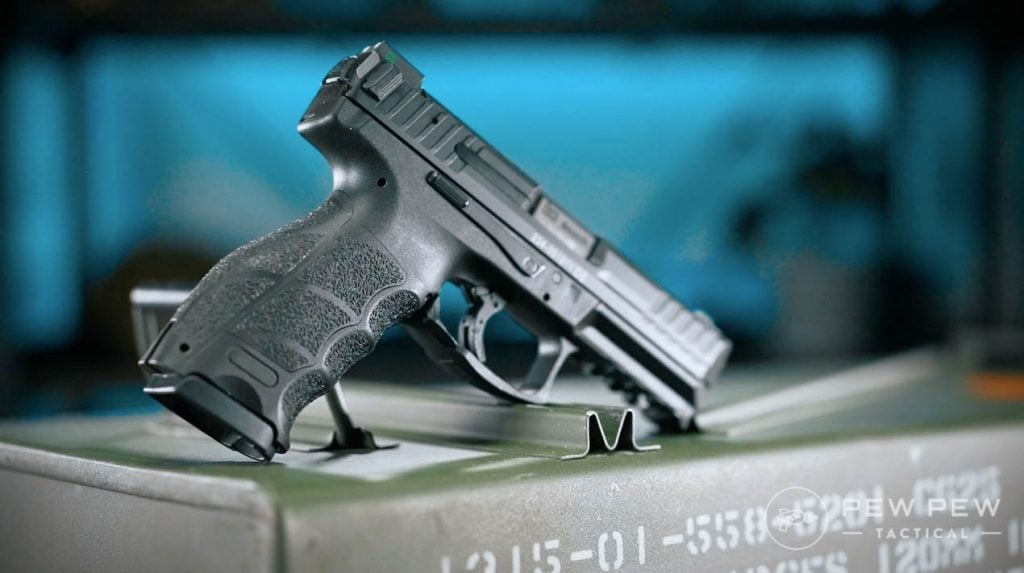 H&K set out to rectify that problem with their introduction of the VP9 into the burgeoning market of polymer striker-fired pistols.
Although it is easy for guns to blend into the endless sea of striker guns, H&K rose to the top thanks to some keen design choices.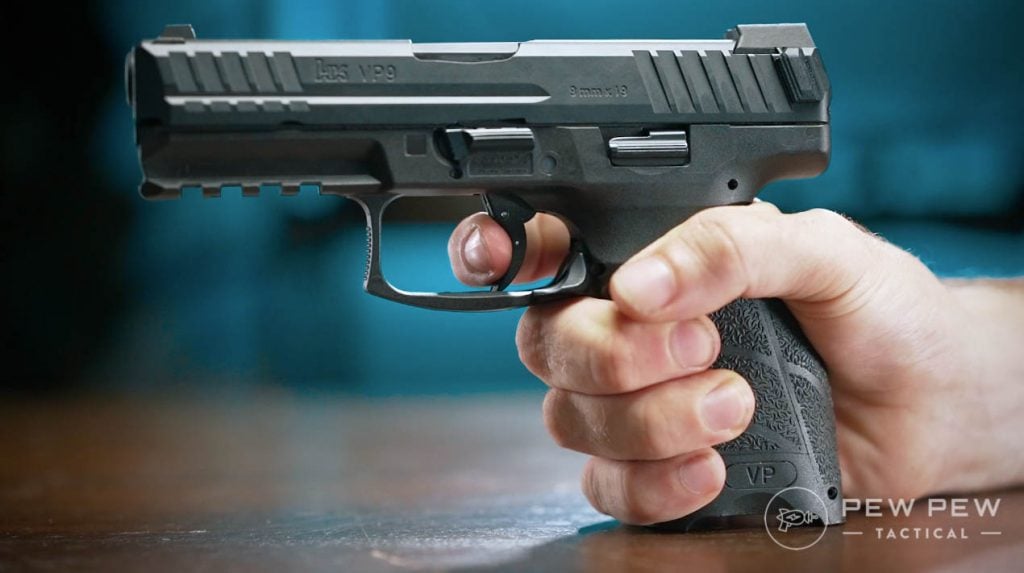 First and foremost, the trigger on these guns is excellent. It is in the same tier as the Walther PDP, with a light, clean break that does away with the mushiness of many of its contemporaries.
But where this gun really shines is in its ergonomics.
The gun features fully ambidextrous controls that are well-sized and extremely easy to reach. Instead of only having interchangeable backstrap sizes, the side panels of the grips are also interchangeable with different-sized palm swells that are included. Aggressive slide serrations and rear cocking wings are just icing on the cake here.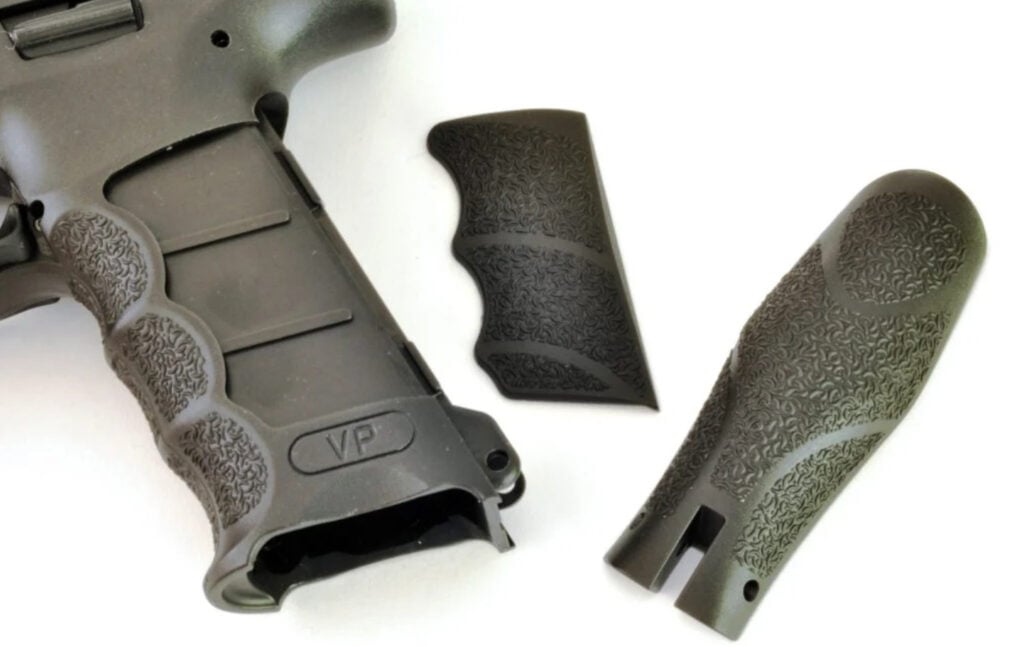 My hands are medium-sized but slightly wiry, with a heft dose of arthritis. I love the ability to change the right grip panel to a larger palm swell while leaving the left side flat.
This helps the gun fill my natural hand shape better and aids me on days when my grip strength is less-than. Sometimes we are fighting our bodies, and it is nice to have a gun that you don't have to fight at the same time.
It is available with both a European-style ambi paddle magazine release and a more standard push-button release, giving more options to the end-user. The standard capacity is 17 rounds.
Best Ergonomics
559
at GrabAGun
Prices accurate at time of writing
Prices accurate at time of writing
As is the case with most H&K guns, you can expect impeccable build quality, reliability, and good accuracy.
Check out our full review here or watch the video review below.
Best for Competition
7. CZ Shadow 2
There isn't much to be said about the Shadow 2 that hasn't already been said. It redefined what an out-of-the-box competition pistol should be.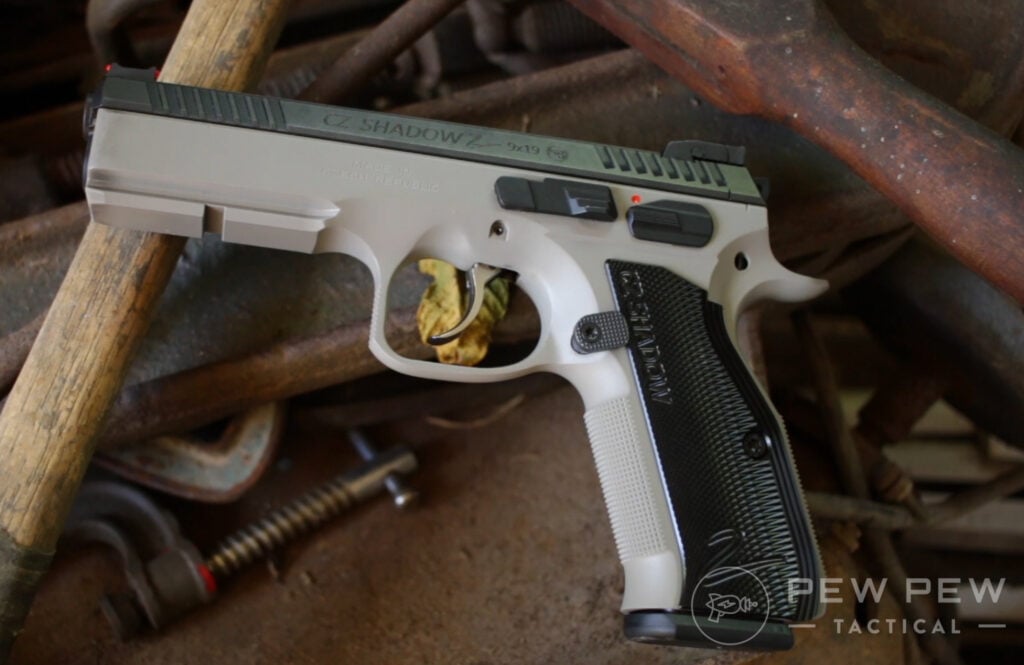 Built specifically to tackle the USPSA and IPSC production class competitions, the Shadow 2 quickly became the standard and one of the most winningest guns in pistol competition history.
Utilizing the base design of the CZ 75, the Shadow 2 adds a ton of weight to keep recoil down, cuts on the frame to help get an even higher grip on an already-low bore axis, and a match barrel and trigger.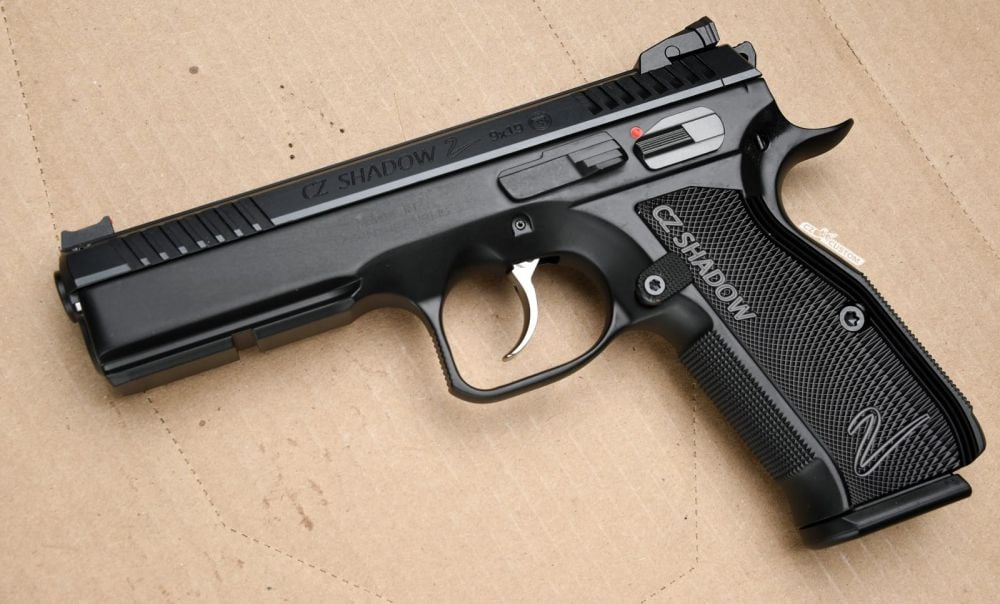 The result? A $1,000 to $1,300 gun that knocked the socks off pistols that cost twice as much.
Everything about this gun was built to dominate, and it shows. These guns are incredibly easy to shoot and will instill confidence in anyone who picks one up and lets loose.
Shooting the Shadow 2 for the first time made me want to buy one—so I did. Buying one made me want to shoot it more, and shooting it more made me push myself to improve. Having a gun that you know is only limited by your own skill is a powerful tool that can help motivate you to reach that next level.
Best Competition 9mm
1245
at Kygunco
Prices accurate at time of writing
Prices accurate at time of writing
If you want something that is ready to go for competition without having to do a bunch of modifications, this is the ticket.
Most people won't be able to outshoot this gun, but they will damn sure have a fun time trying to.
Check out our full review here or see the full video review below.
8. Canik TP9 SFx Rival
I know, a Canik on a best-of list? Really? Just hear me out.
You know when I said the PDP arguably had the best striker-fired trigger? Yeah, that is arguable because of the Canik SFx Rival.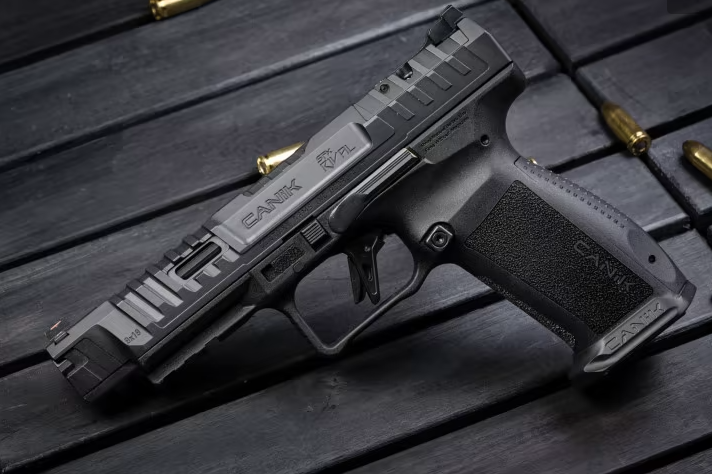 The Rival is Canik's latest iteration of the TP9 SFx, which was made to bring a true competition-ready gun to the masses at an extremely affordable price point — and man, does it deliver.
We are graced with an ungodly good trigger that has a tiny bit of take-up, a clean break, and a scary-short reset. Seriously…try the trigger at a gun store if you can.
I have yet to find a newer Canik pistol that didn't have a great trigger or outstanding accuracy. This is widely due to the fact they are based on the Walther P99/PPQ/PDP designs. I shoot both Walthers and Caniks better than any other striker-fired pistols, so there has to be some secret in the sauce there.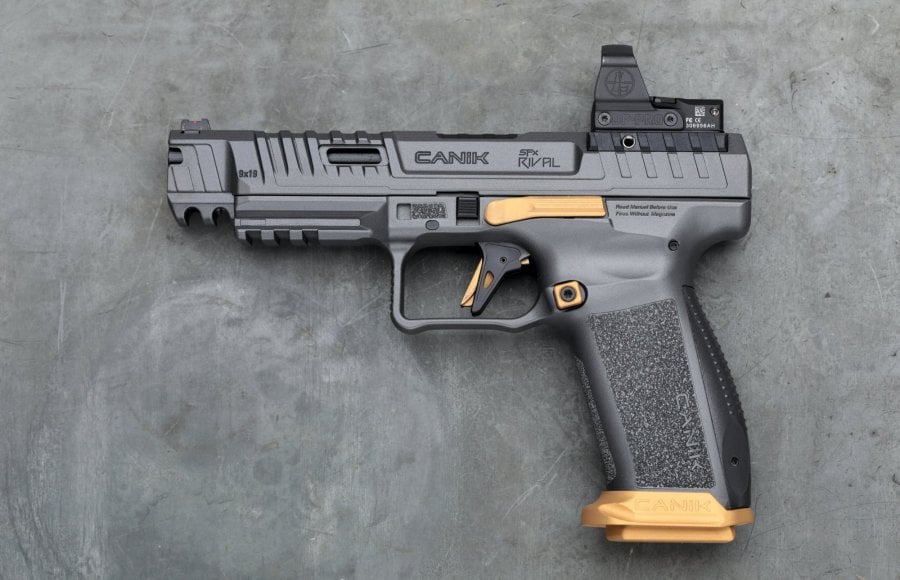 It features an ambidextrous slide release, reversible magazine release, optics-ready slide, interchangeable back straps, 18-round magazines, and a fully adjustable rear sight with a fiber optic front sight.
Additionally, Canik includes a removable external flared magwell, holster, magazine loader, cleaning kit, and multiple sizes of mag releases — all for around $600.
Not sold yet? Nils Jonasson has won back-to-back USPSA national championships with the Canik SFx series.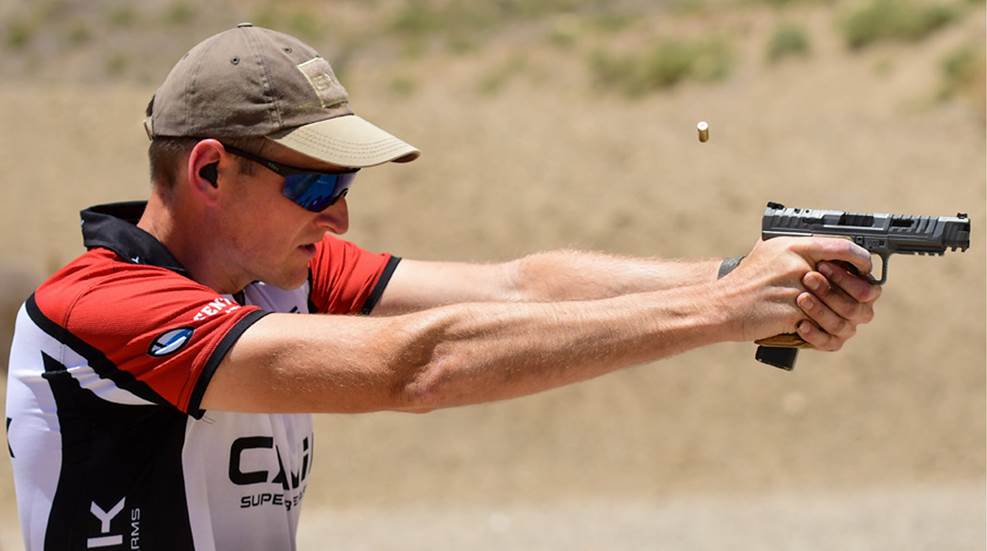 With its amazing performance-to-dollar ratio, the Canik SFx Rival clawed its way onto this list and truly shows that you don't have to shell out the big bucks to hang with the big guys.
Best Budget Competition 9mm
579
at Grabagun
Prices accurate at time of writing
Prices accurate at time of writing
9. Staccato XC
Unfair advantage. That is the term Staccato uses to describe their XC model, and I am inclined to agree.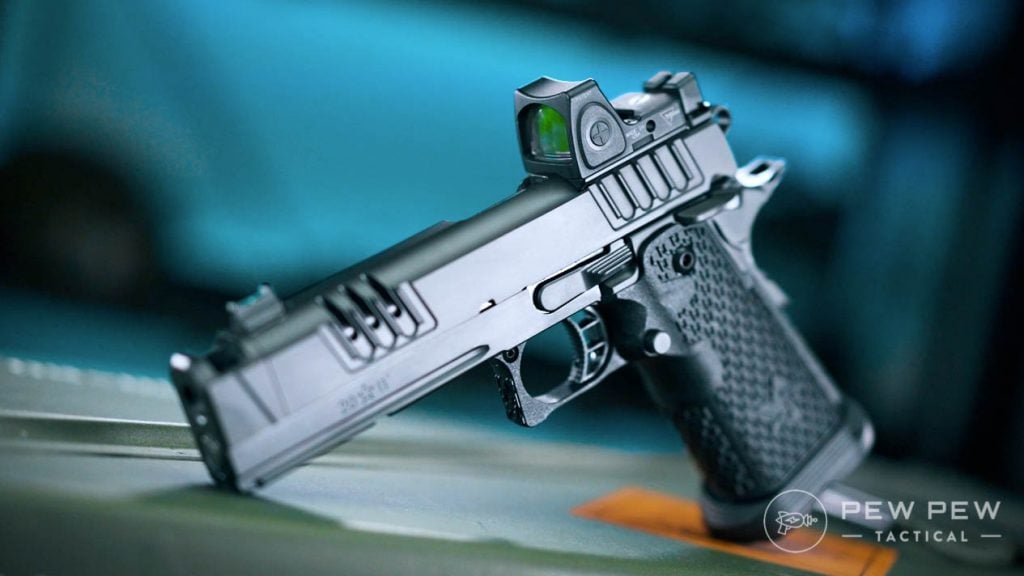 2011s have long ruled the world of open-class competition shooting, and the Staccato XC is no exception.
A Dawson Precision recoil system, integrated compensator, feathery 2.5-pound match trigger, and excellent ergonomics create a pistol that is so easy to shoot it is almost like cheating.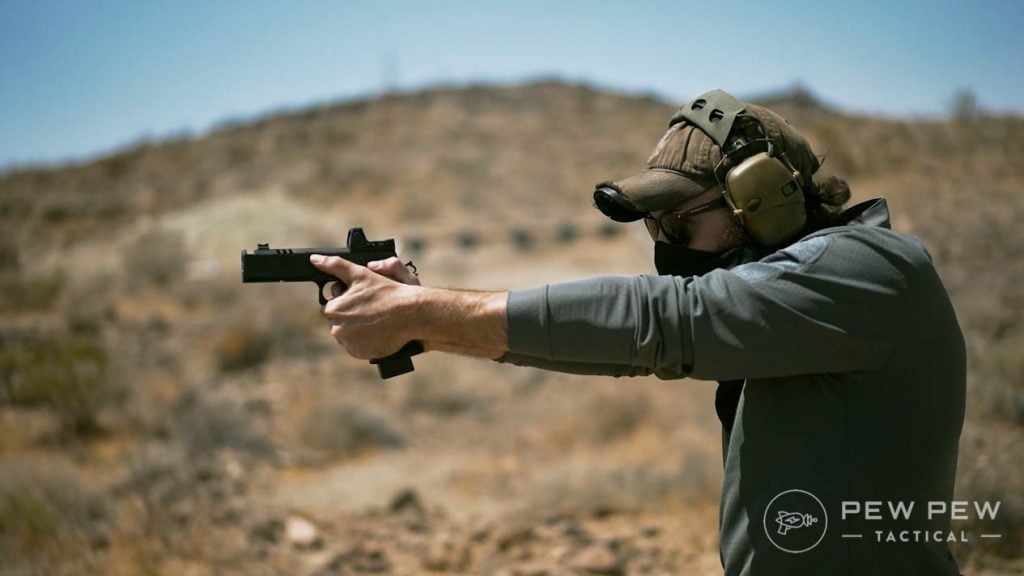 The recoil is so negligible that you might as well feel like you are shooting a nerf gun. Combine that with a quality red dot and some black magic physics that Staccato conjured, and you have a gun that shoots flat and faster than you can run it.
Staccato includes two 17-round magazines and one 20-round magazine, which glide effortlessly into the flared magwell at the bottom of the grip. An extended beavertail and the well-placed safety of the 2011 platform ensure you can get a nice high, positive grip on the firearm.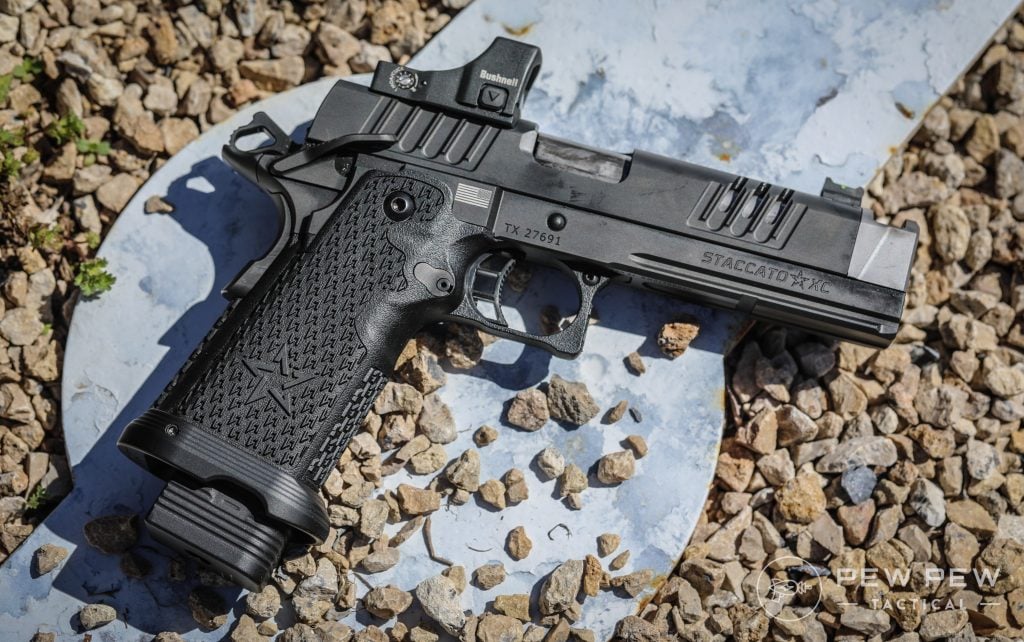 Additionally, the optics mount goes in front of the rear sight instead of replacing it, allowing you to co-witness your optic with your iron sights.
I was long wary of the reliability of double-stack 1911s and 2011s, but Staccato seems to have figured everything out with their Gen 2 magazines. My C2 is a staple in my duty gun lineup, and the XC runs just as flawlessly.
All XCs are hand-fitted to exacting tolerances, resulting in a true premium-grade competition pistol that is ready to kick ass.
Best High-End 9mm
4299
at Staccato
Prices accurate at time of writing
Prices accurate at time of writing
The downside, you ask? If it wasn't already obvious, these are expensive firearms. Coming in well over $4,000, it is definitely the most expensive gun on this list.
While the Staccato XC might not represent the best value, it represents some of the best performance that money can buy.
Check out our full review here.
Final Thoughts
As expected, narrowing down the best 9mm pistol list to nine guns is going to ruffle some feathers. There is a vast amount of amazing firearms out there, and in reality, this is more of a "some of the best" list.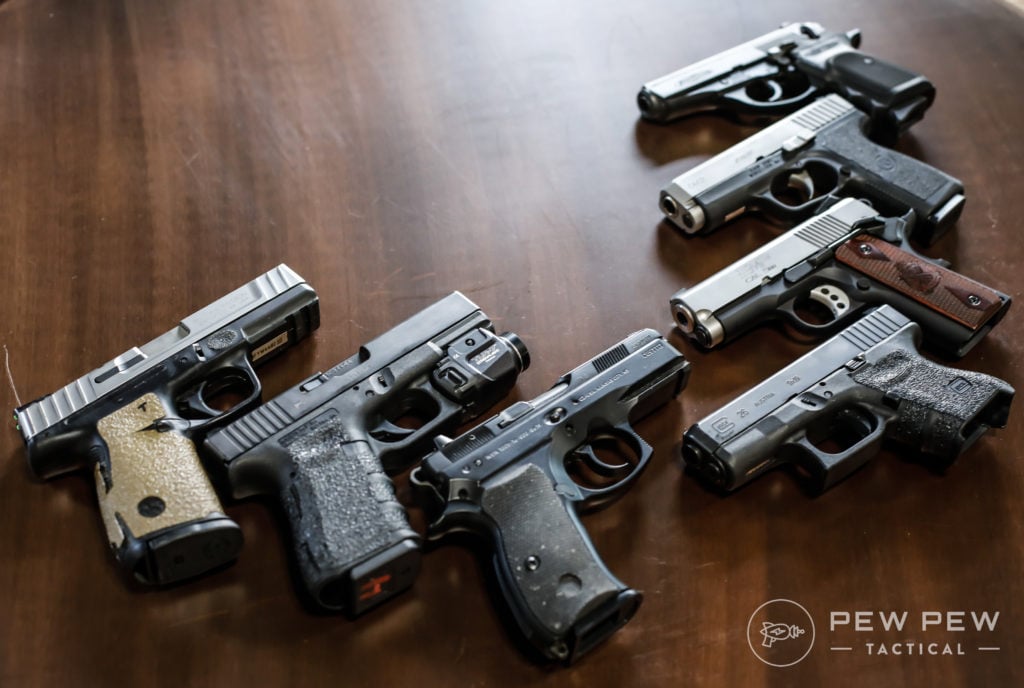 Even then, everybody is different, and their preferences are different. We know this, and companies know this too. The beauty of it all is that there is something out there for just about everyone.
What do you think should or shouldn't have made the list? Let us know what you think in the comments below! Just looking for concealed carry options? Check out our articles on the 8 Best Compact 9mm handguns and Best Micro Compact 9mm Handguns.