Looking for a new red dot? Need something with long-term battery life?
Sig's Romeo line-up may be the right choice for your needs.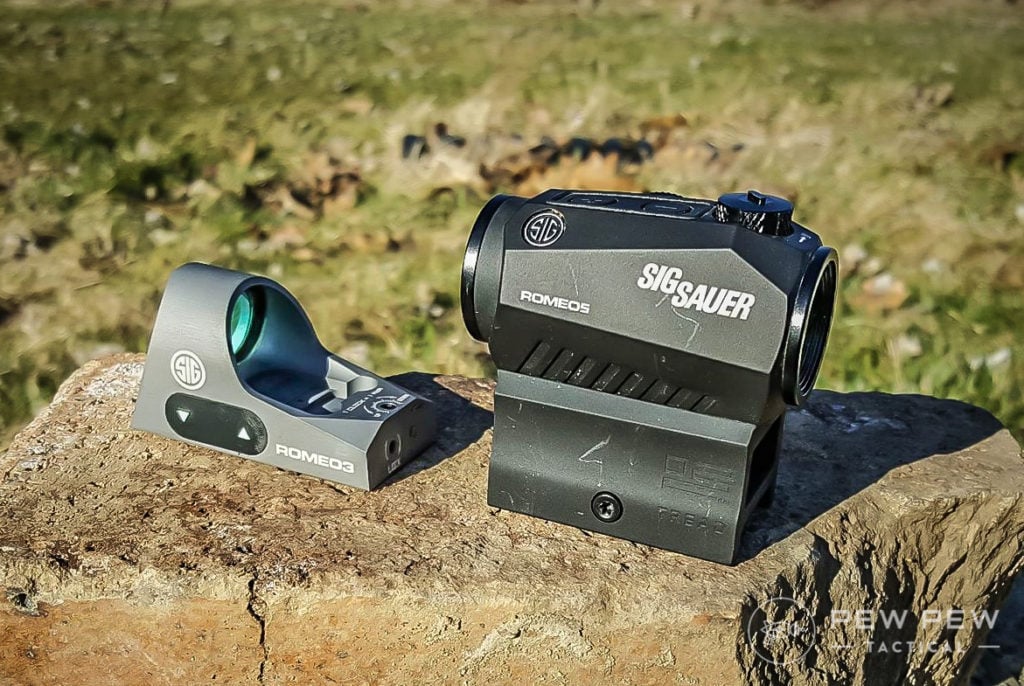 I ran the Romeo3 and Romeo5 over the last couple of months and put them through some brutal testing and evaluation.
By the end you'll know if one of them is right for you.
An Optic for Any Budget
Between these two optics from Sig Sauer, they offer two great options depending on your budget. Currently, the Romeo3 comes in around the $320 mark without a riser.
320
at Amazon
Prices accurate at time of writing
Prices accurate at time of writing
A price tag of $320 is a large step up in price compared to red dot optics in the $100-250 price range, but it does offer some features that typical "tube style" red dots don't have.
Most notably the amazing field of view that this optic offers using both eyes open while shooting.
The Romeo5 is more of a conventional "tube style" red dot.
It can be found for $119, or even cheaper nowadays. It comes standard with a riser mount to co-witness with typical AR15 iron sights.
Brutally Tested Budget Red Dot
109
at EuroOptic
Prices accurate at time of writing
Prices accurate at time of writing
The price point that the Romeo 5 offers is very solid.
For a recreational firearm, or for a light-use, home defense carbine for someone on a smaller budget, this 2 MOA dot packs a lot of features in a solid design.
The Future is Now
One of the coolest and most efficient features that both the Romeo3 and Romeo5 have is the "MOTAC" system.
It is a motion sensing feature that will turn off the optic after 2 minutes of being idle. After sensing motion, the optic will immediately turn back on at its previous setting.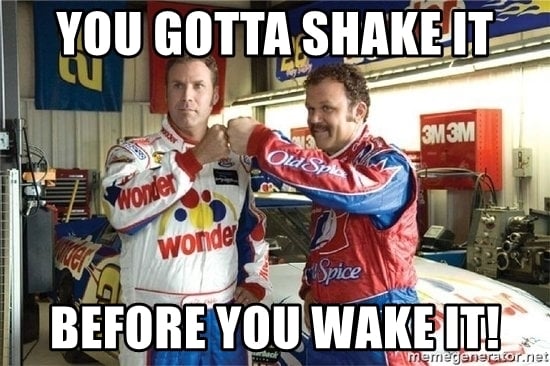 This feature greatly increases battery life and allows the shooter to leave the optic on. Once the firearm is stored, the optic can be left on, but will not use battery power unless picked up and moved.
For the Romeo5, this allows the unit to have a 40,000+ hour battery life, but obviously YMMV depending on use and temperature it is stored at.
On top of the "MOTAC" motion activation system, the optics also have a specialized Spectracoat lens coating.
This coating helps increase battery life by allowing a shooter to keep the brightness level on a lower setting but still allowing maximum visibility of the 3 MOA dot on the Romeo3 or 2 MOA dot on the Romeo5.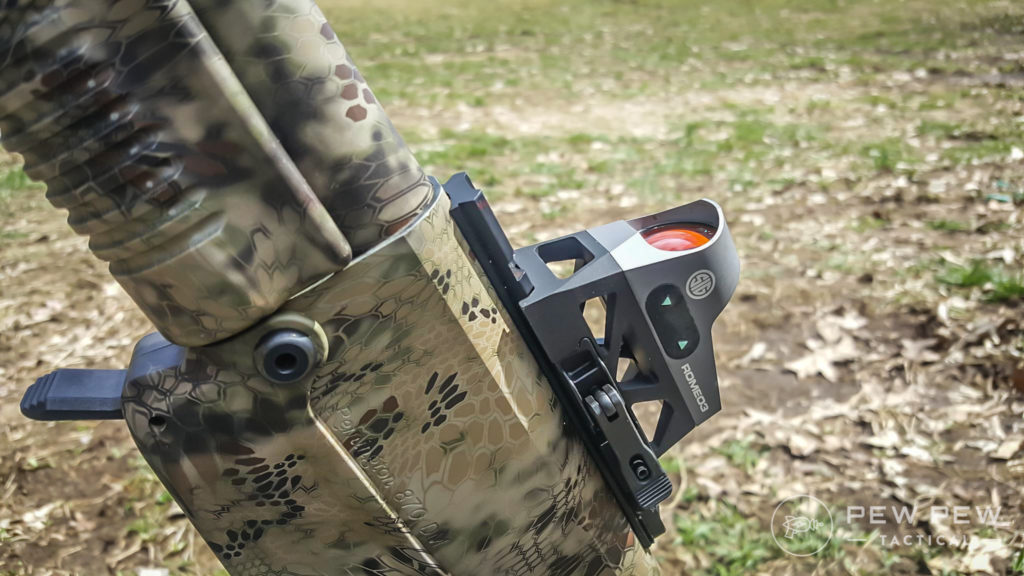 On the Gun
With the Romeo5, the included mount provides for an absolute co-witness with iron sights, as well as the Romeo3. Attaching either of them keeps the irons centered within the field of view of the optics, unlike some cheaper models that may not line up as well.
Aesthetically, the Romeo5 is a typical tube-style red dot like more expensive models from Aimpoint. It is a smaller red dot with adjustable brightness settings using a push-button system, instead of a rotating knob located at the battery compartment.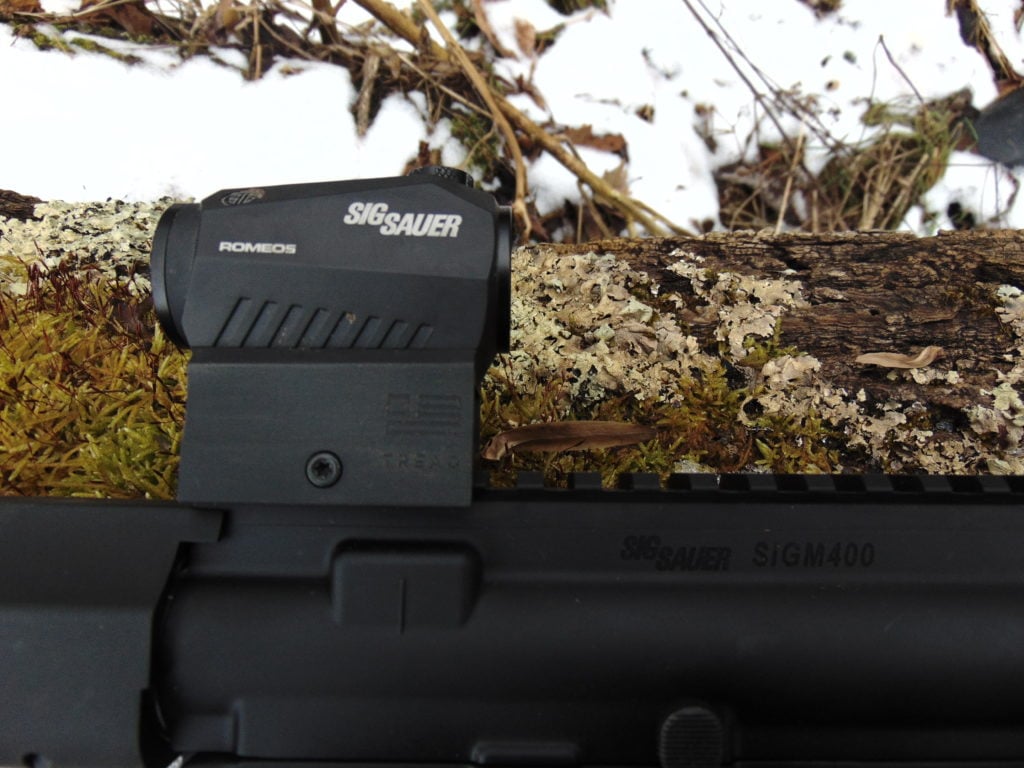 The included riser mount is of basic design and works well.
It is lightweight but is rather basic. While this will work for a lot of people, some people prefer a better mount using a QD lever, or a skeletonized mount to shave off weight.
Luckily, the Romeo5 model that has the removable riser mount seems to be compatible with Aimpoint T2 footprint mounts.
The Romeo3 also uses a push-button system, but because of its reflex style system, its battery compartment is a removable disk-style compartment. As mentioned before, the field of view is something to behold with this model.
Instead of a bulky tube, this reflex optic has a very thin housing that disappears when shooting with both eyes open.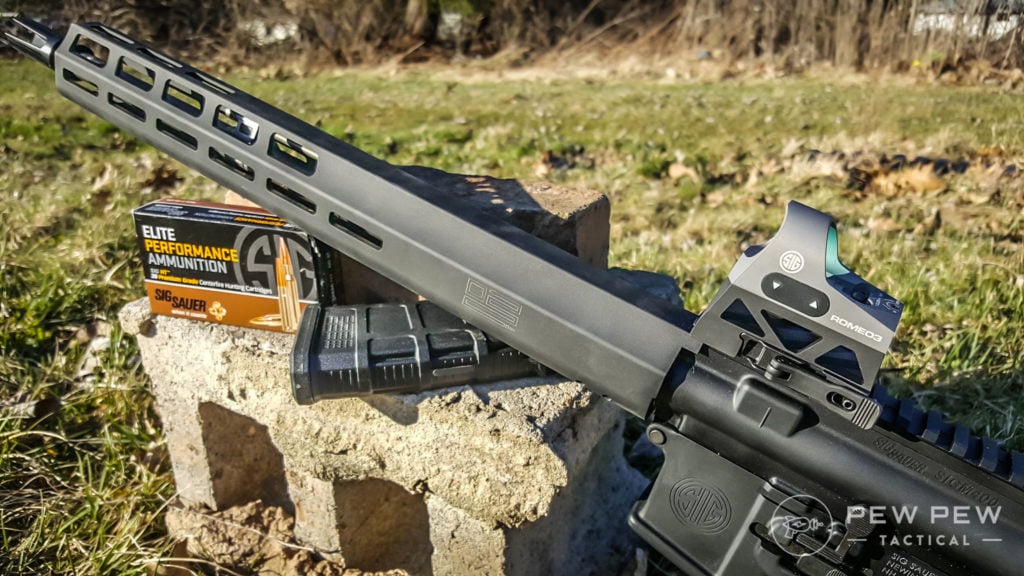 The model provided to me by Sig came with the riser mount for an absolute co-witness, and a lower mount to attach directly to a picatinny rail. For an AR, this mount will be too low for comfortable use, but for a shotgun, this mount shines.
Its footprint is rather large though, so it will probably be too large for handguns, except for the larger framed models.
The Beatings Will Stop When Moral Increases
Over the course of the last few months, I have shot roughly 1,000 rounds of varying rifle and shotgun ammunition through each of these two models from Sig. The first range visit consisted of zeroing the red dots at ranges of 25, and 50 yards, and shooting at steel out to 300 yards.
Both red dots performed well, with the Romeo5 being a little more precise due to its 2 MOA dot at extended ranges.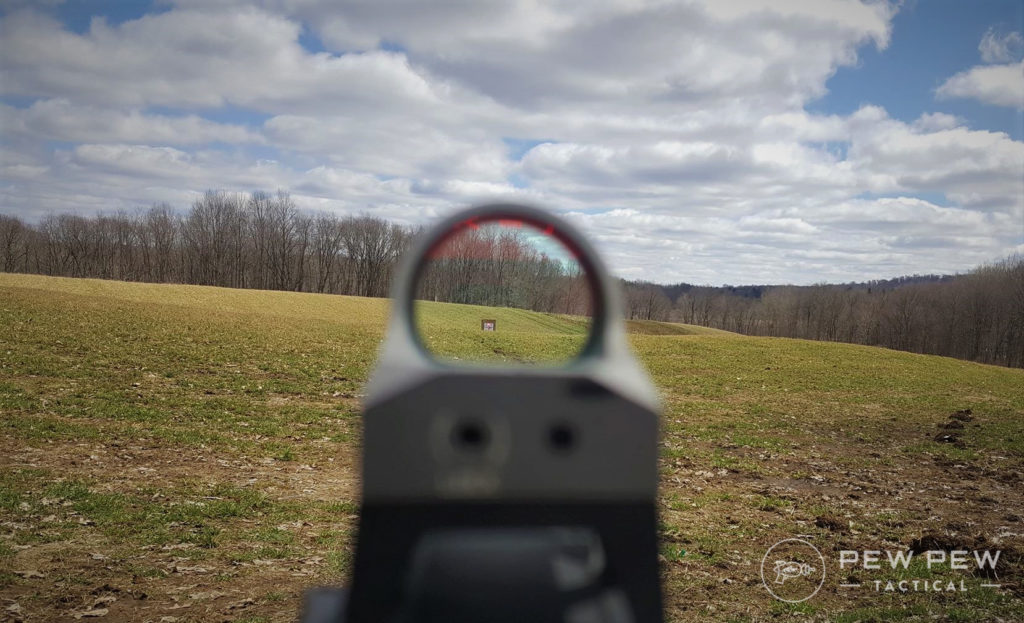 To fully test out these optics, I decided to run them through different conditions. These tests varied from recoil testing, water immersion, impacts from drops, and extreme cold.
Over the course of multiple range trips, the optics were fired on multiple AR15's from the Sig Sauer M400 Tread, to my own home-rolled rifles, to my Remington 870 DM Predator to increase the force of recoil.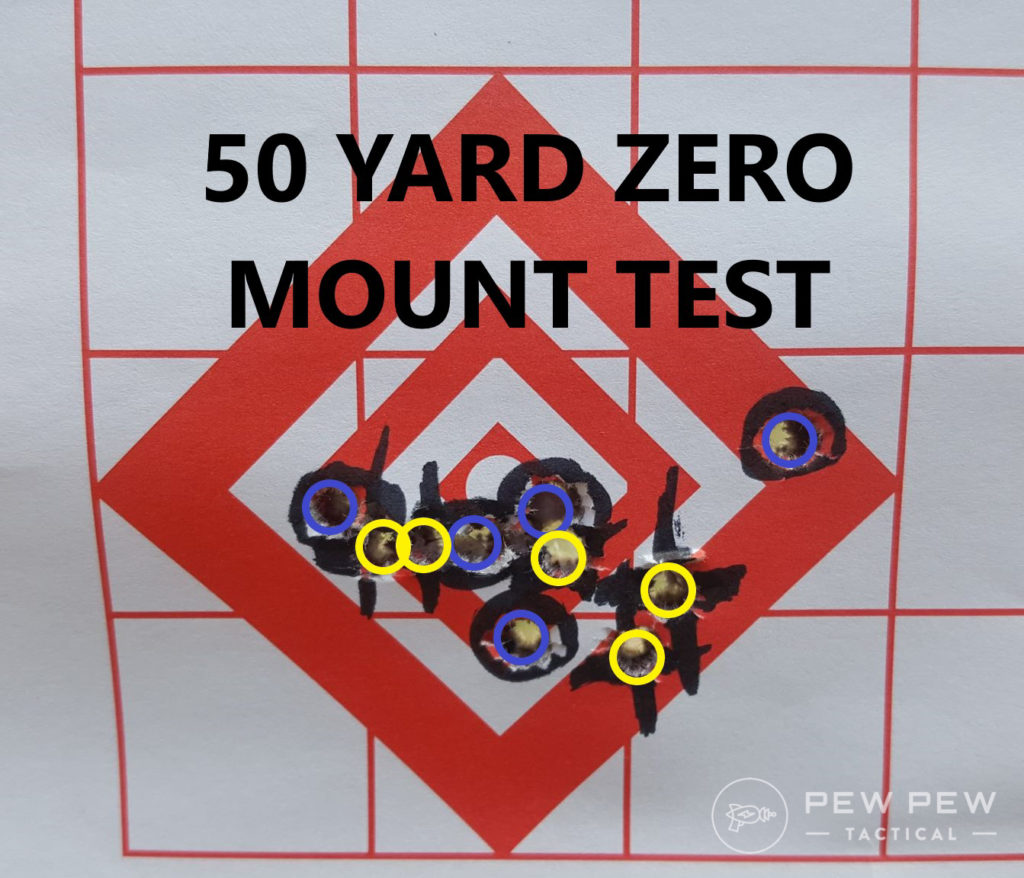 The Romeo3 did exceptionally well with its quick-disconnect mount.
After zeroing at 50 yards on the Sig M400 Tread, the optic was taken off and then put through 100 rounds of miscellaneous shotgun loads. Attaching the Romeo3 back onto the M400 Tread in the same spot showed no signs of point of impact change at 50 yards.
Submerging both optics in water showed that they are indeed waterproof.
They were submerged for 10 minutes, and once pulled out and the exterior dried off, no water or fogging was visible within the tube of the Romeo5, and function wasn't interrupted with the Romeo3.
Between the waterproofing of both optics, and the nitrogen purged tube for the Romeo5, both are buttoned up tight.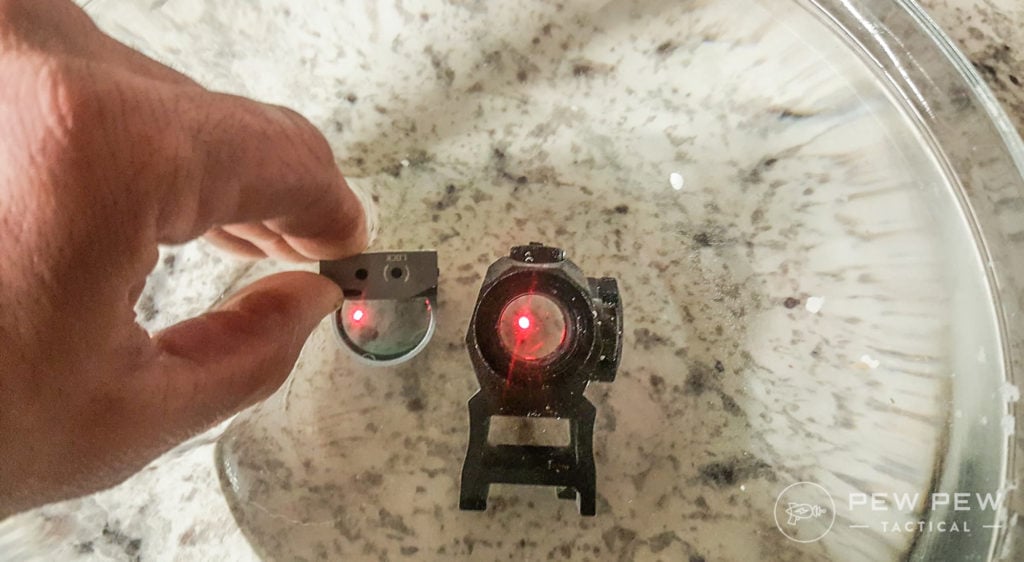 Dropping the optics while mounted showed no signs of zero being disturbed. Dropping was done at knee to shoulder height on different types of terrain including dirt, grass, and rocky terrain. My first worry was with the Romeo3 due to its thin lens housing…
No damage besides minor scuff marks appeared on either of the optics.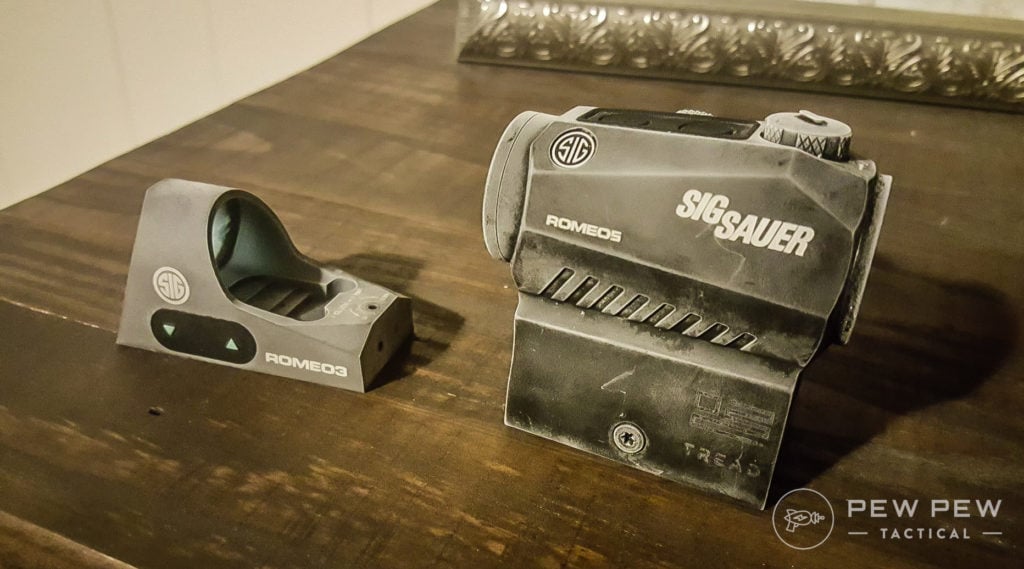 Finally, after being left in the freezer at -5 degrees Fahrenheit for 3 hours, both optics showed no overall dimness with their red dot brightness.
After doing testing with imported red dots of lesser quality, usually with extreme cold, the electronics could not perform at subzero temperatures. Usually, the dot will go very dim and choke itself out until it gets warmer.
Both Sigs proved to handle the cold perfectly fine – great news for those of you in colder states.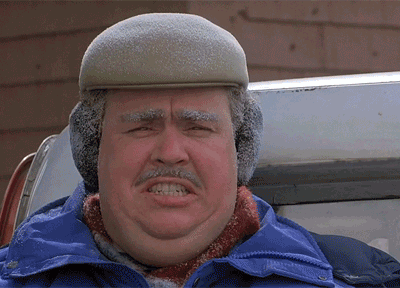 The Run Down
First, lets talk about the Romeo5. Here's some footage of our Editor's optic used in his backyard.
There really isn't much that I can say bad about it or complain. It is a VERY solid red dot within its price point. Even the push buttons seem sturdy and well made.
In a market saturated with imported red dots from China, the Sig Romeo5 really stands out from other big-name companies like Vortex.
When you break down the features that the Romeo5, for money it is very hard to come close to what you can get. I am a huge fan of an efficient system. My favorite red dots provide battery life that is measured in years, not by hours.
With the "MOTAC" system, battery life is extended into the Trijicon and Aimpoint territory.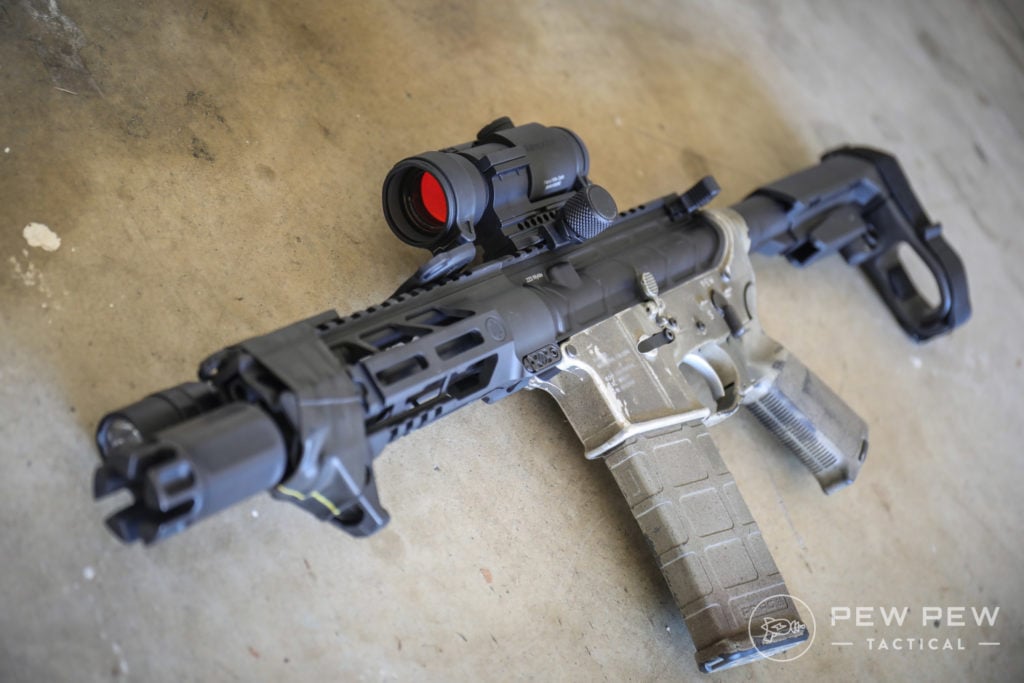 Clarity of glass is also on point.
The lenses on the Romeo5 are clear and do not "fishbowl" around the edges like some models. The glass does not take on a darker tint either which can be a complaint in even more expensive red dots.
The anodizing on the tube and riser mount are of good quality, and resistant to scratching and damage.
Now onto the Romeo3!
The field of view is amazing.
Due to its thin housing at the lens and reflex style, shooting with both eyes open really opens your vision. Depending on eye dominance, even when shooting with both eyes open, tube style optics can still interfere with a shooters field of view.
While the housing did not bend, or damage during drop testing, I am still hesitant about it taking too hard of a direct impact. It could just be me overthinking it, but I like things to be overbuilt and bombproof.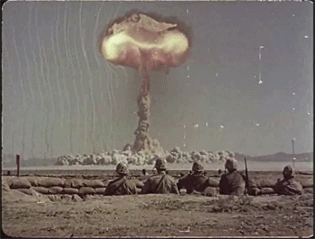 Quality wise the Romeo3 is on a slightly higher level as well.
These models are made in Japan which is why the price tag is a bit higher than other Romeo models. Clarity of the glass is great, and the slightly larger 3 MOA dot is brilliant even if it is a bright sunny day.
The mount is well made and holds zero very well even after being detached and remounted. The battery tray that is removable without taking the optic off a mount is also a very smart design that even some more expensive models lack.
By The Numbers
ROMEO5
Affordability: 5/5
For the price point, the Sig Romeo5 is an excellent choice in my opinion. When on sale, and under $150, it provides many features that other companies fall short on. The "MOTAC" system is a game changer and did not fail me in my months of testing.
Looks: 4/5
The Romeo5 is a solid looking red dot. Much like the higher priced Aimpoints, the smaller tube style red dots offer a lot of strength in a relatively small package. The mount is a little too plain for my liking, but it does offer a solid attachment point.I'd prefer a lighter cantilever mount, or possibly a QD mount.
Reliability: 5/5
The red dot did not fail me in my couple months of torturing it. The "MOTAC" system worked every single time and I left the optic constantly on. Even after multiple drops on varying terrain, the optic refused to quit. Short of going through an explosion, or falling down a mountain, this optic should last for the long haul.
Overall: 4.75/5
I would highly recommend the Romeo5 for someone on a smaller budget but wants to maximize their purchase. Battery life is fantastic. The "MOTAC" system should be an industry standard, and the 2 MOA dot is precise enough to stretch out to extended ranges when properly zeroed.
Brutally Tested Budget Red Dot
109
at EuroOptic
Prices accurate at time of writing
Prices accurate at time of writing
ROMEO3
Affordability: 3/5
Even when on sale at $399, the Romeo3 hits the wallet hard compared to the Romeo5. Instead of being made in China, it is manufactured in Japan which is one of the big reasons for the expense. For what you get with this optic, the added cost compared to cheaper models might be a hard sale.
Looks: 4/5
The Romeo3 has its own style. While the body shape is like other reflex optics, the angled cuts, and the overall size is different. Its hood is one of the thinnest I have seen and provides an excellent field of view while shooting. Personally, I am not a fan of the gray color, but others may love it.
Reliability: 5/5
The Romeo3 chugged along over the course of the last few months. The "MOTAC" system did not fail and was left constantly on. Drop testing did not damage or affect the optic, even though I had my worries. The QD mount maintained zero even after remounting after a session on the shotgun.
Overall: 3.5/5
320
at Amazon
Prices accurate at time of writing
Prices accurate at time of writing
I enjoyed using the Romeo3 over the last few months. It is a great design and overall would be a great choice for anyone wanting an optic that offers an excellent field of view. My only complaint is the price tag. At $400, personally, I would be looking at other options that have been proven in combat such as the Aimpoint PRO or the Trijcon MRO.
Parting Thoughts
Both of the Romeos are great choices for optics but what is best for you will depend on the features you're looking for and the price you're willing to spend.
That said, for the price – the Romeo5 might be the best red dot on the market right now.
Do you run the Romeo3 or 5? How do you like it? For some more awesome optics, take a look at the Best AR-15 Scopes & Optics!