Got a Ruger 10/22 and want to make it shoot (and look) better?
Since it's one of the most popular rifles out there… there are so many options and ways to get overwhelmed.
But don't worry, we'll guide you through all the best upgrades from stocks to internals, optics, and even cosmetics.
We'll cover both full-sized 10/22s as well as the shorter 10/22 Chargers.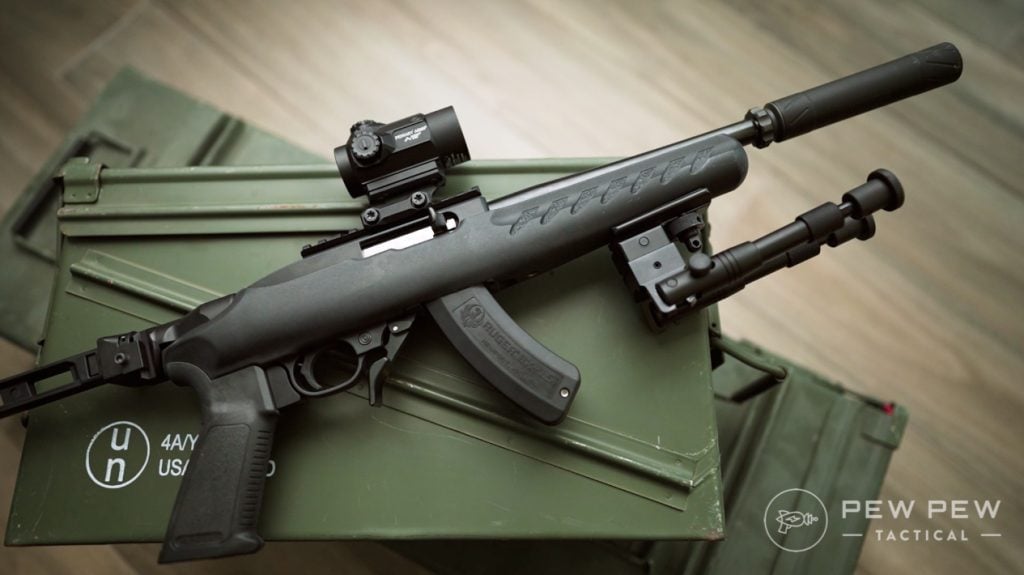 By the end, you'll know exactly how to modify your 10/22 to meet your exact needs and budget.
Summary of Our Top Picks
Best Bang-For-The-Buck Trigger

Straight from Ruger, the BX trigger is light and crisp.

Best Picatinny Rail

Adds a top Picatinny rail for optics and other accessories.

Best Red Dot Sight

Our go-to sight recommendation for the AR-15 works great on the 10/22.

Best Mag Release

Large mag release that works both directions for faster reloads.

Best Charging Handle

Easier to manipulate the bolt at speed, plus left-handed options as well.

Best Muzzle Brake

Helps with rapid fire and transitions.

Great Barrel Upgrade

Affordable 10/22 barrel upgrade for increased accuracy.

Best 25-Round Mags

A two-pack of Ruger's own 25-round magazines.

Best Rimfire Suppressor

Super quiet, light, and tiny. Plus purchase straight to your door.
Ruger 10/22 Background
My first gun (and favorite rimfire rifle)…after I shot it the first time…I knew I was hooked.
It's gone through a couple of iterations as my needs and tastes have changed.
Here was the first mod. Go easy on my rattlecan paint job!
Almost all my friends have one and we've all got the modding bug. So, we know what works and what doesn't.
There are a LOT of different models of the 10/22 on the market, to find the one that is right for you, take a look at the 9 Best 10/22 Models!
And now even a pistol variant…the 10/22 Charger.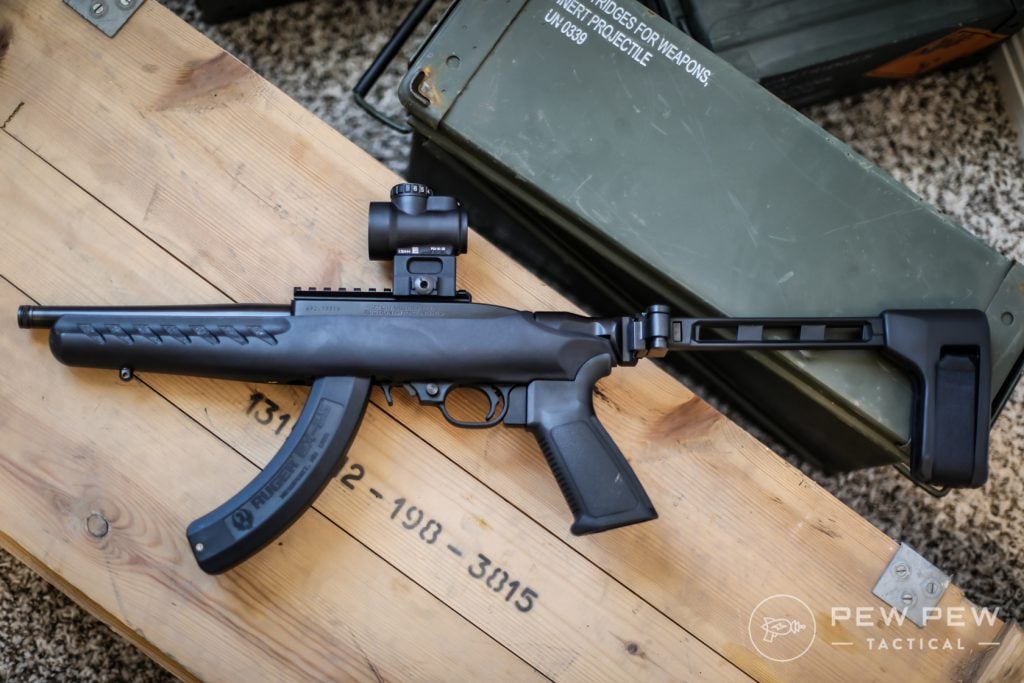 Without further ado…all the best upgrades you can do to your Ruger 10/22.
Best Ruger 10/22 Upgrades
Let's start with stocks.
Stocks are the biggie in determining the overall feel and look of your rifle. I used the standard synthetic one for a couple of outings before I wanted to go with something different.
But here are some that build upon the standard look, while others take it to more tactical, competitive, and even bullpup configurations.
1. Hogue Overmolded Stock
Another favorite of people who want to keep it simple is the Hogue Overmolded Stock. This stock feels great in the hand with just the right amount of rubberized grip.
Even more affordable at than the Intrafuse above…the Hogue comes in Regular and Takedown varieties.
2. Tactical Solutions
The Tactical Solutions Stock is the go-to for precision shooting with its thumbhole stock. A lot pricier but worth every penny.
Only for bull barrels though!
3. High Tower Armory
This super-cool bullpup stock comes to you from High Tower Armory.
Expensive but now you get a sweet .22 LR P90 clone.
4. Magpul
My previous personal favorite, Magpul's X-22 Hunter has a great grip angle and overall feel.
It comes with adjustable inserts to match your length of pull. Plus multiple sling mounting options.
And finally…it will fit regular or bullpup barrels.
And how about install? Easy with just a few screws and lifting the receiver out. Tip…keep the safety button in the middle.
5. FAB Defense
How about another great stock? It's the R10/22 M4 Foldable Stock from the Israeli company FAB Defense.
It folds down so you meet the 26-inches overall length laws for CA with the stock barrel.
Please be sure to check your local laws for length.
There's plenty of rails up front, the stock collapses and extends, and some spacers to fit both bull and normal barrels.
I figure if it's good enough for the IDF's less lethal weapon of choice, it's good enough for me to plink and sometimes shoot Steel Challenge.
Stay tuned for a more in-depth review as I run it more.
Now onto some 10/22 triggers.
If you want better accuracy…you better change the stock trigger.
Having a trigger with a lower pull weight…plus one that breaks like a glass rod is almost guaranteed to up your precision game.
We hands-on review four of the most popular triggers out there in Best 10/22 Triggers…but here are our favorite two.
6. Ruger BX Trigger
Straight from the Ruger source.
The BX Trigger is Ruger's upgraded trigger.
Normally I'm pretty *meh* about factory upgraded triggers…but the BX is great. It lives up to its 2.5- to 3.0-pound trigger pull (mine is 2.4-pounds). Check it out in my short clip:
The break is clean and has minimal over-travel.
It's what I have in my upgraded 10/22 since it's the best bang-for-the-buck in my opinion.
What's your take on the best (and one of the easiest) upgrades you can do to your 10/22?
7. Volquartsen 10/22 Trigger
If you've been reading up on 10/22 upgrades…Volquartsen has to have come up.
They make some great stuff that's worth the high price tag if you're looking at the best.
If you are…here is their upgraded trigger.
Light trigger pull, glass rod break, and adjustable for minimal overtravel.
Plus it comes with auto bolt release and an extended magazine release (two other upgrades we recommend).
Best 10/22 Sights & Scopes
The sights that come stock on a 10/22 are ok for plinking…but what about when you want to get serious with groups/precision or speed?
8. Techsights
What I first installed on my 10/22.
The GI style Techsights allow much more precise shots and also windage adjustment.
Plus you don't need to install third-party scope mounts.
9. 10/22 Picatinny Rail
If you want some newer optics such as red dots or scopes like in the rest of the upgrades list…you'll need to add a Picatinny rail.
10. Sig Sauer Romeo5
If you want to get the fastest sight acquisition…you've got to go red dot.
My current vote goes to the Sig Sauer Romeo5 which is my best Bang-For-The-Buck pick for the AR-15.
Check the viewthrough video:
Plus you can mount it low on the rail (very important for the 10/22 compared to an AR-15).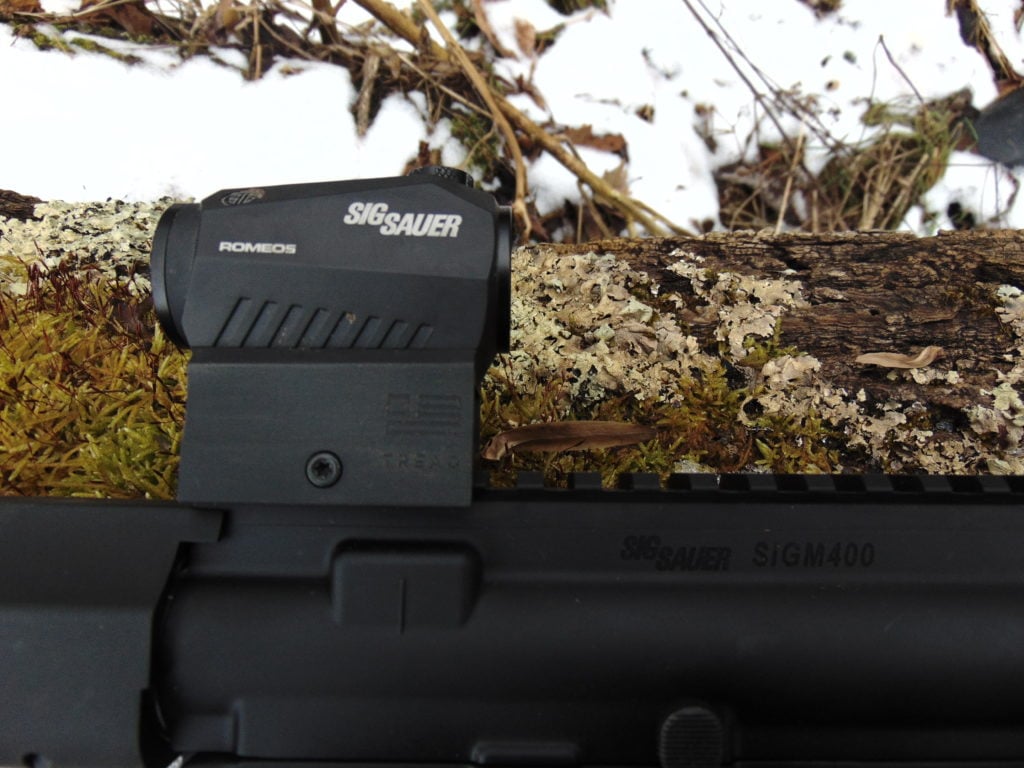 I cover a variety of red dot sights in my Best Red Dot Sights article.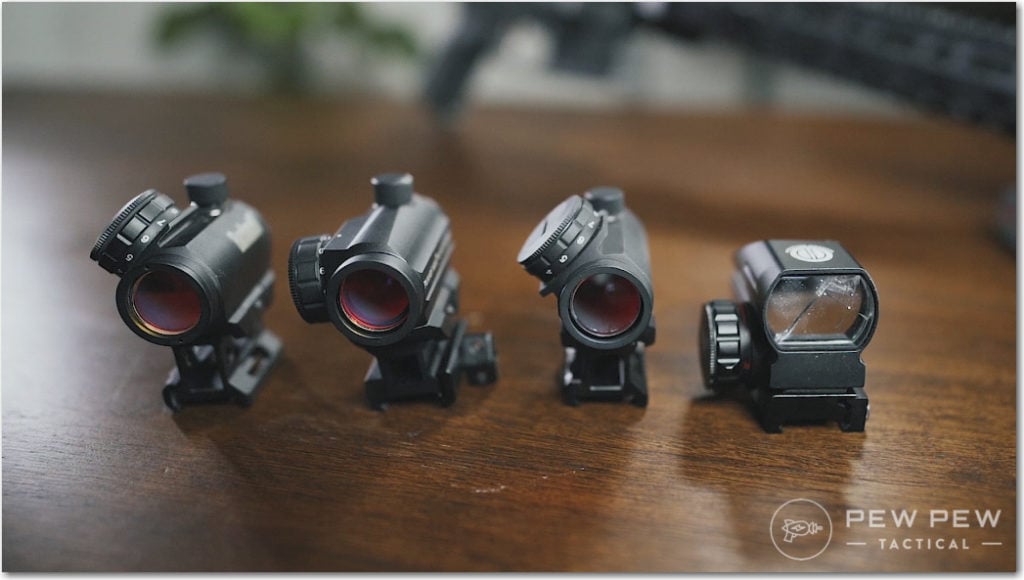 11. Simmons 3-9x Scope
Planning to reach out and touch something?
Get yourself an affordable and super highly-rated rimfire scope like the Simmons 3-9x.
Be sure your mount will work with the provided dove-tail attachments.
Looking for more magnified options? Check out our new Best 10/22 Scopes article.
Now that we've got stocks, triggers, and optics out of the way…here's the Best 10/22 Accessories.
12. TK Titanium Takedown Knob
This titanium takedown knob saves you a LOT of time since you can use hand power to enable a quick takedown.
Like how Volquartsen holds the ground for big upgrades…Tandemkross rocks for the accessories.
Just make sure you're using the correct models for it. It holds on my Magpul stock but isn't super tight.
13. TK Extended Mag Release
If you're taking your time plinking at the range…you probably won't need this.
But if you want some speedier reloads…especially during competitions…I'd take a look at getting an Extended Mag Release.
I love it since you can either push OR pull to release the mag.
If you only need it one direction, you can check out this one.
14. TK Charging Handle
I also like having an extended charging handle.
Again…makes it much easier to manipulate the bolt during competitions. Plus it looks super cool being skeletonized.
And if you're a lefty…or share your rifle with a lefty. This combo charging handle + Picatinny scope base might be for you.
I have it installed and my left-handed buddy raved about it.
It's a little more difficult to pull than having the extended charging handle…but much easier than having to change hands or going underneath.
15. TK Muzzle Brake
Since the recoil is so minimal…there's not a true need for a muzzle brake when compared to larger calibers.
But it still helps with rapid firing and engagement of multiple targets.
I don't have one installed since my barrel is unthreaded…but I've tried my buddy's and it does help when you're double-tapping.
Now how about some Best 10/22 Internal Upgrades?
These are the internal upgrades that will add some much-needed capabilities to your 10/22. It's kind of odd that these weren't added from the factory in the first place…especially given how much they help!
16. TK Bolt Release
So the 10/22 bolt release…it's pretty annoying, especially for newbies. The Guardian Bolt Release affordably solves this problem.
Now all you have to do is pull the bolt back when it is locked…and it will spring forward upon release.
17. TK Extended Extractor
Sometimes your 10/22 fails to extract correctly and you jam up? Getting an extended extractor will fix it right now.
18. TK Bolt Tune Up Kit (Extractor + Firing Pin)
This Volquartsen tune up kit adds the extended extractor plus firing pin which will help improve ignitions if you aren't using the best rimfire ammo.
Because of the way rimfire ammo's primer is all around the bottom…sometimes you need a better geometry firing pin…which you'll get right here.
Best 10/22 Barrels
When you're dead serious about making your 10/22 the most accurate rifle it can be…you upgrade the barrel. I personally haven't reached this point yet…but the most accurate 10/22's I've seen have…
19. E.R. Shaw Barrel
Heavy contour barrels that are available in stainless steel, 18″, and even fluted varieties.
20. Volquartsen Carbon Fiber Barrel
Daaang, these carbon fiber barrels are ultralight with match chambers and some already have built-in compensators.
21. Faxon Firearms Barrel
Faxon Firearms is well-known for its high-quality parts and barrels — so, it's no surprise the company made our list.
Expect to get some really cool colors to trick out your build all backed by Faxon's top-tier quality.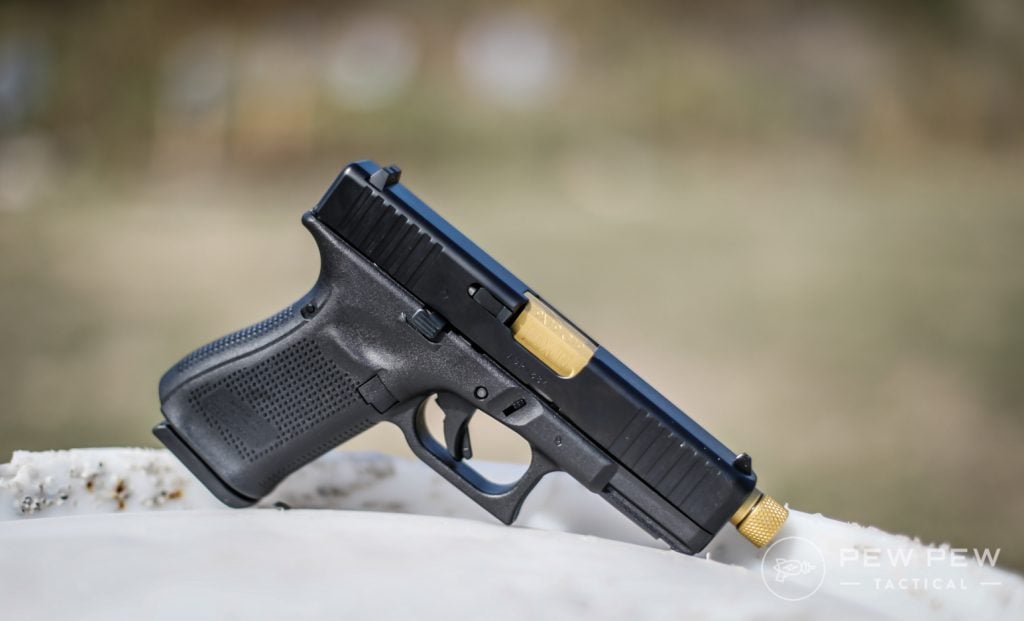 We love their stuff for AR-15 and Glock barrels.
Now how about some miscellaneous upgrades?
22. Triple Mag Coupler
If you can't buy higher capacity mags…but still want to rock and roll. The Triple Mag Coupler is the answer. This "coupled" with a Tandemkross extended mag release and you're GTG.
There's also a Tandemkross double clear version ($10) too.
23. Ruger 25-Round Magazines
10-rounds is just too fast…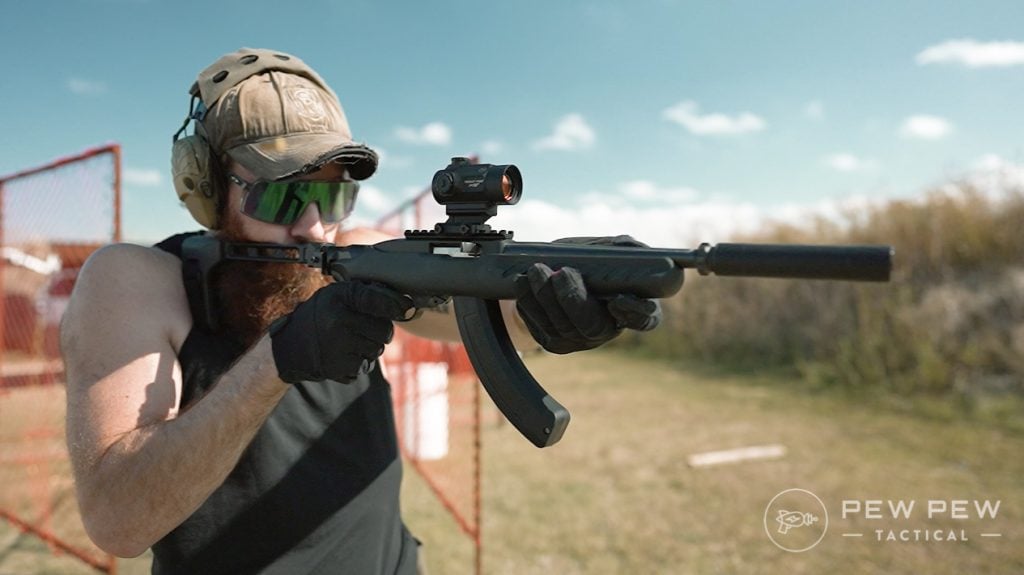 You'll want 25-rounder straight from the source.
24. Banish 22 Rimfire Suppressor
We fancy our Silencer Central Banish 22 for its ease of purchasing (you can complete everything from your home).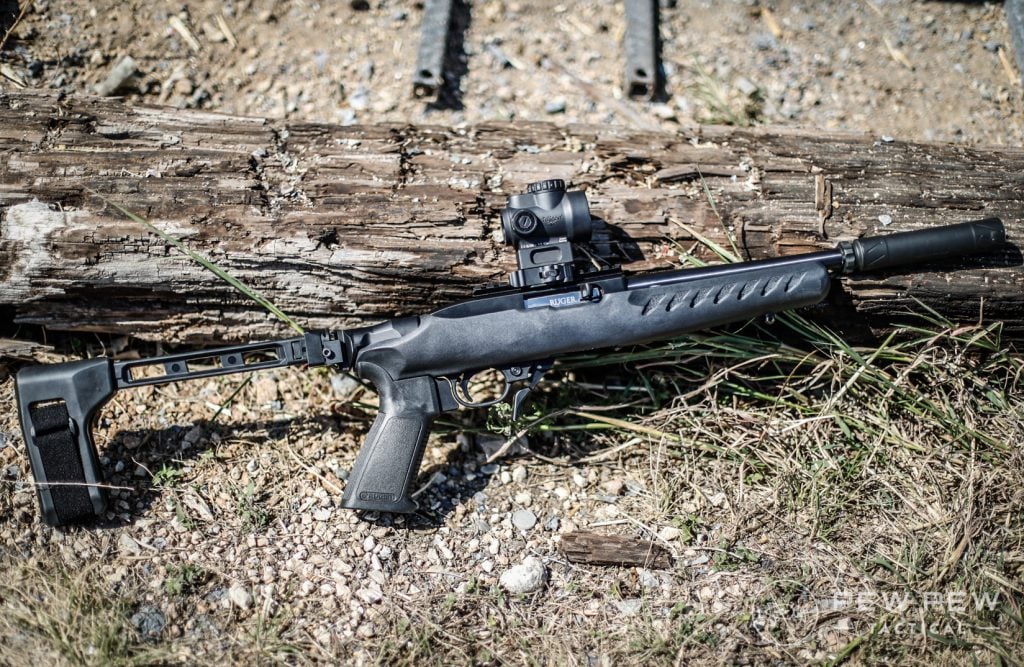 It's easy to install, clean, and makes .22LR almost whisper quiet like in the movies (if you're using sub-sonic ammo). Check out our video:
But we've also reviewed a couple other of our Favorite Rimfire Suppressors.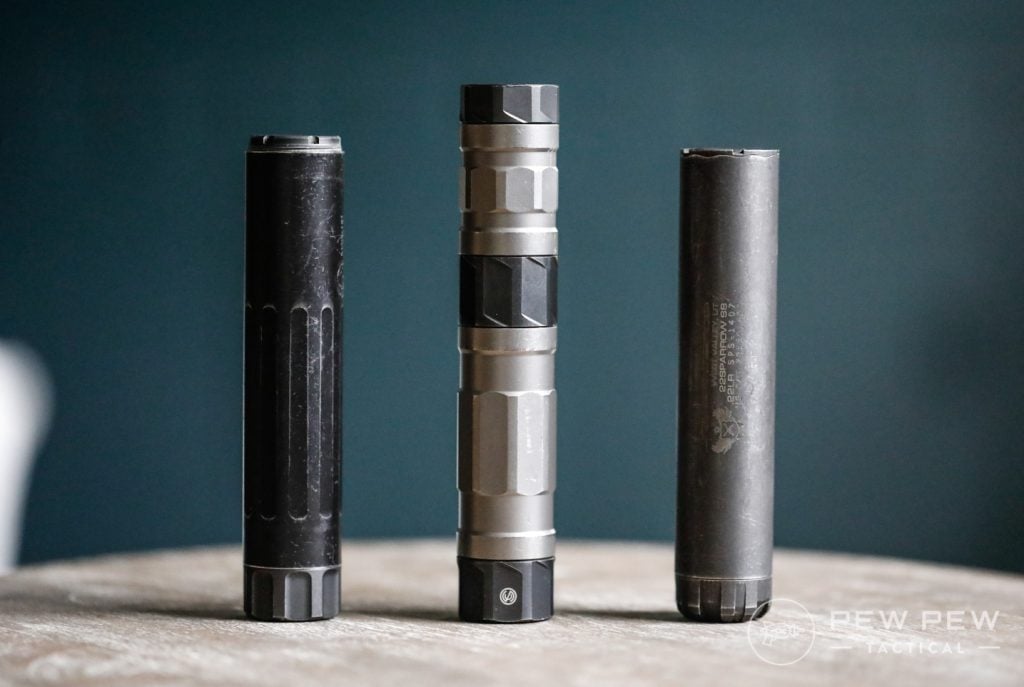 Plus with Silencer Central you don't even have to leave your house. Check out our Best Places to Buy Suppressors.
25. FS1913 Pistol Brace
Got a shorty 10/22 Charger?
The brace to get is the FS1913 that perfectly attaches to the Picatinny rail on the back.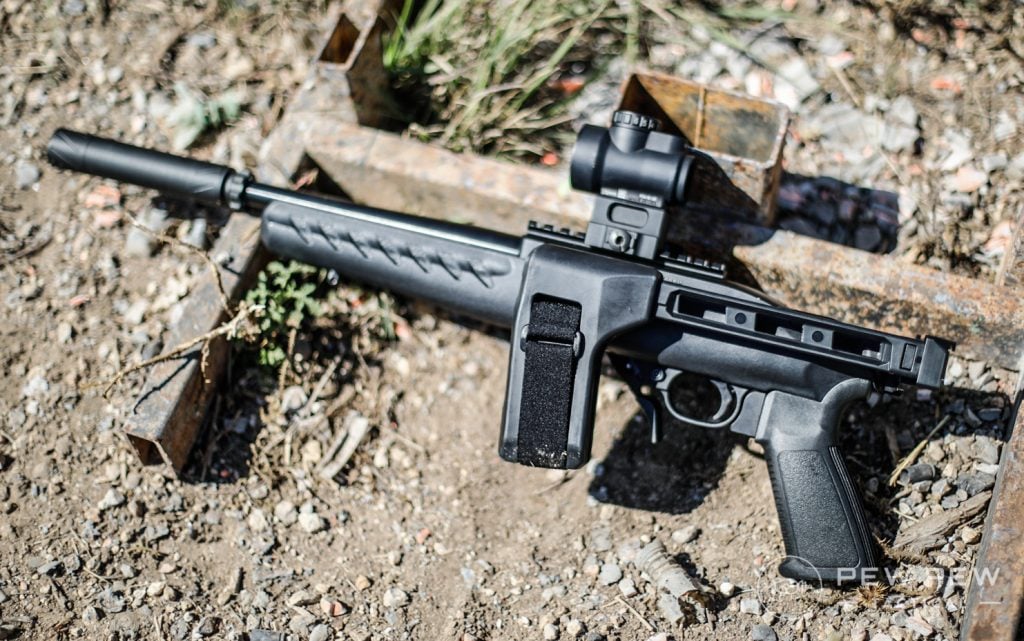 Check out our full review on the Ruger 10/22 Charger.
Best 10/22 Ammo
I cover a lot in my Best .22LR Ammo article, but I've found my 10/22 to be a little finicky with ammo…especially before I did some of the upgrades I listed above.
But…CCI varieties have always been the best.
Conclusion
So there you have it…all the best Ruger 10/22 upgrades to make yours the best it can be.
This versatile and venerable firearm can be modified to an extreme degree and is a great choice for those who want to tinker and toy with a new gun or get into some light-to-moderate gunsmithing.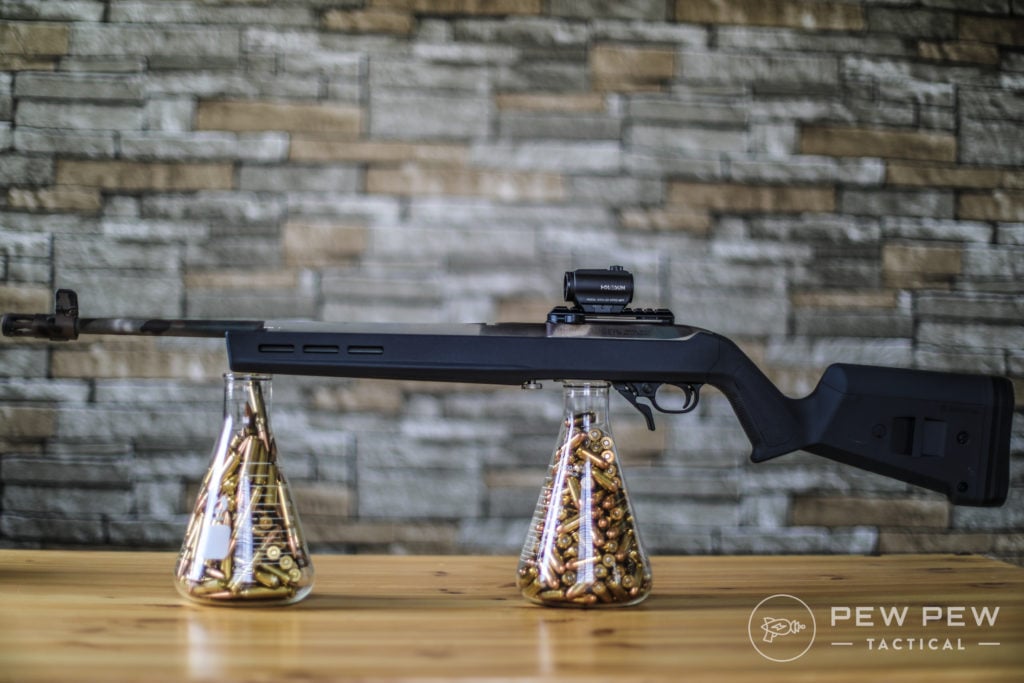 Is there anything that might find a home on your 10/22? Anything I missed? Let me hear about it in the comments below. Ready to add another 10/22 to your arsenal? Check our recs over at the Best Ruger 10/22 Models.