Need to keep your guns out of the hands of unauthorized family and burglars?
Then you need a gun safe.
There's A LOT of them out there…from $30 to over $10,000.
We'll cover the different types (handgun safes to bigger long gun safes) and give you a few options for going affordable, best bang-for-the-buck, or high-end.
Old school mechanical and even newer biometric and wi-fi versions.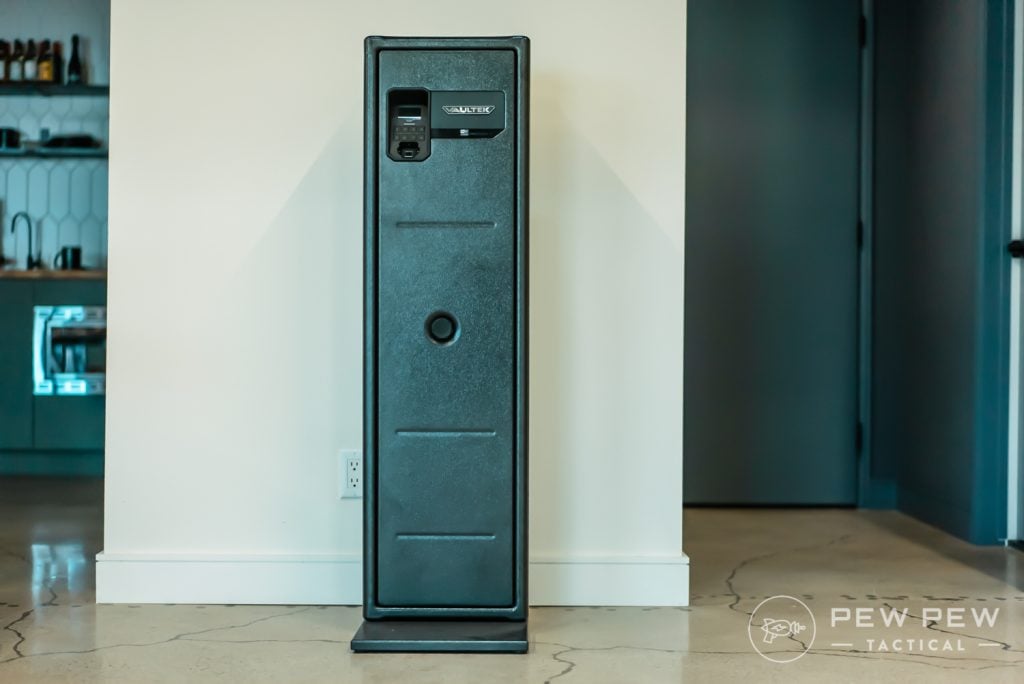 Summary of Our Top Picks
How Much Should I Spend?
The best answer I've gotten for this question is "If you lost everything in the safe…how much would you spend to recover it all?"
Guns are expensive.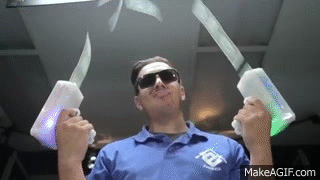 But if you only have a few that are mass-produced…you can choose a smaller number that makes sense for some piece of mind.
But if you have heirloom items that cannot be replaced…I'd up the price even more.
Think of your safe as insurance for the stuff inside (plus it should lower your insurance rates too).
Electronic or Mechanical Lock?
I'm a little old school. So for important safes I go strictly mechanical. Important as is I hear a bump in the night and I need access NOW.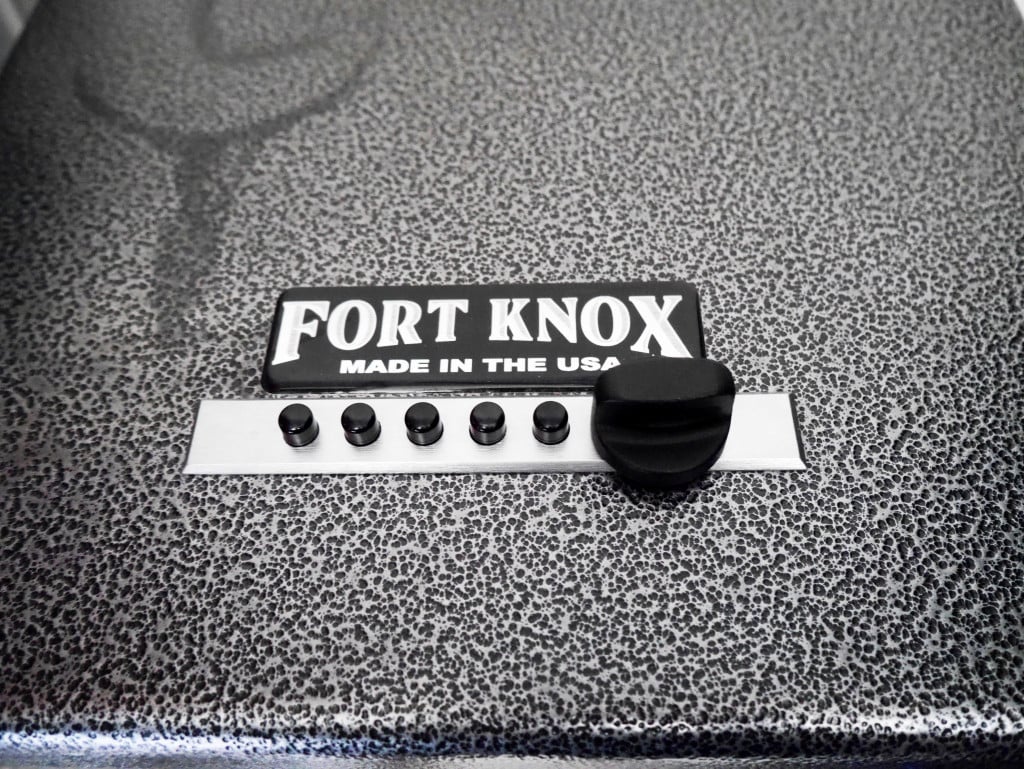 No batteries to replace and less potential for hacking.
But I still think there's room for electronic locks (even Bluetooth & biometric ones) when ease-of-use is the primary concern.
You can set up multiple combinations, have a running log of access, and use your fingerprints.
Important Numbers & Ratings
You'll see "gauge" come up soon and it's a measure of how thick is the steel used in a safe. Like shotgun gauge…a smaller numerical number is actually thicker.
More affordable safes are in the 14 to 12 gauge range for steel walls.
There's also going to be talk of "RSC" (Residential Security Container) that is coined by Underwriters Laboratory (UL) which develops standards for consumer products.
There's different categories within but basically…RSC means the unit was tested to protect against hammers, chisels, wrenches, pry bars, punches and screwdrivers for at least 5 minutes.
Still with me?
Types of Gun Safes
We're going through a lot of safes below and are breaking them down by type.
Handgun/Pistol Safes
These are smaller and likely portable gun safes for you to keep on your nightstand, hidden away, or bring along with you for travel.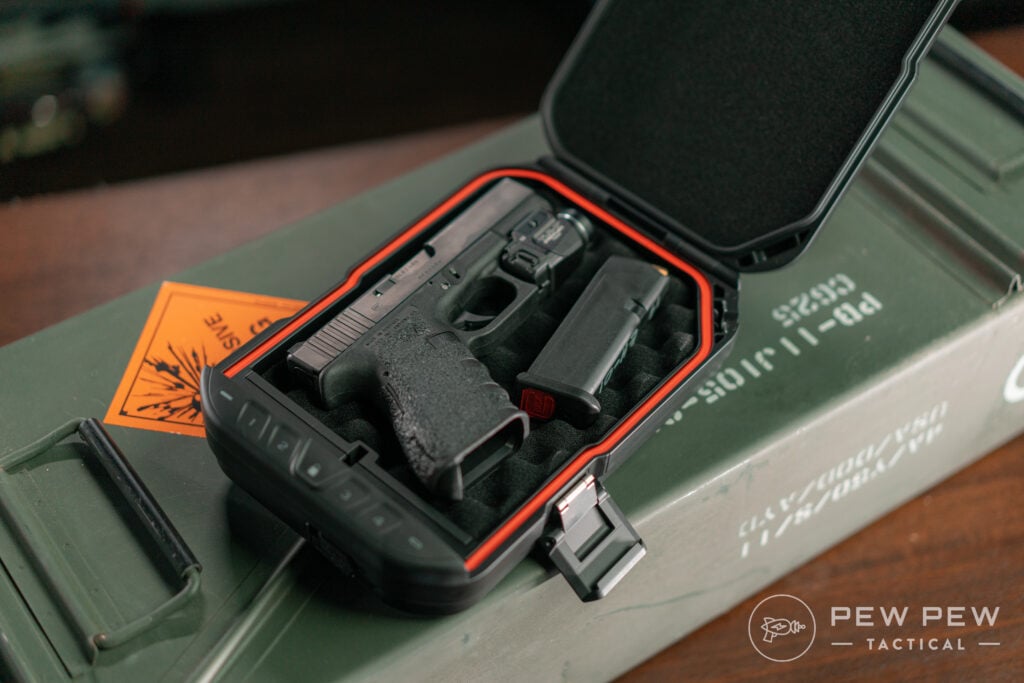 Most will have some way to either bolt or tie down with a steel cable.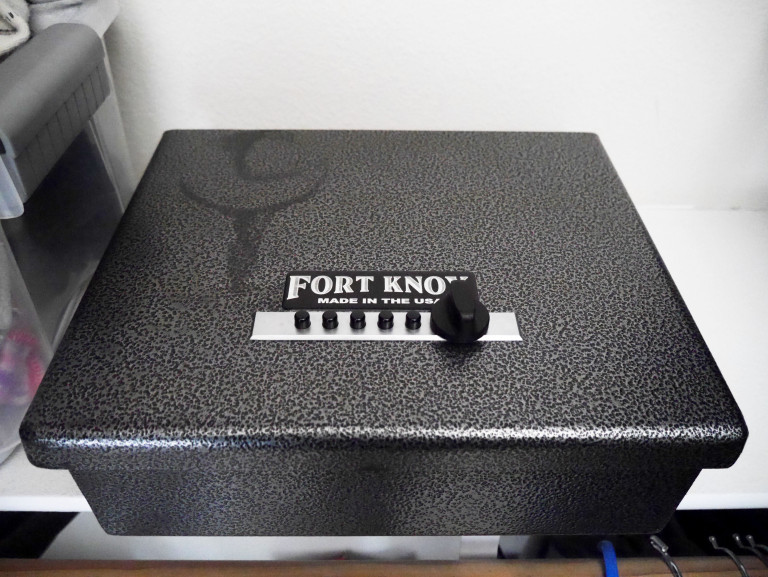 I'll also cover some high-tech and biometric options as well.
Long Gun Safes
We've got the smaller safes for handguns…now it's time for larger safes for long guns like your AR-15s and bolt action rifles.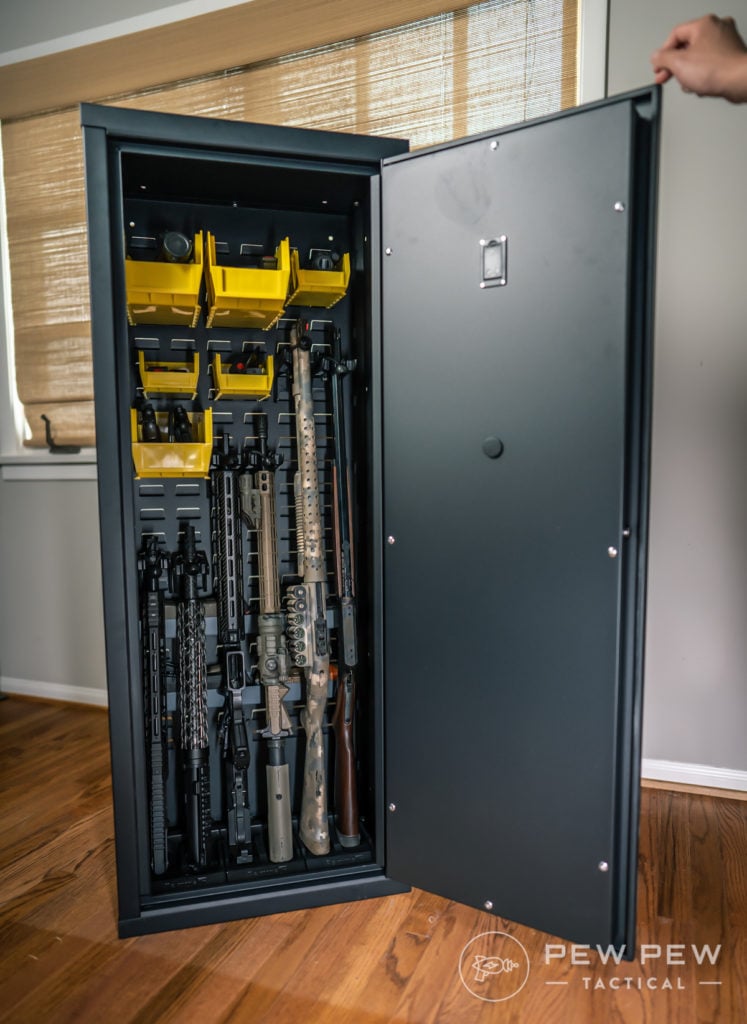 These will range from "cabinets" to more full-blown safes.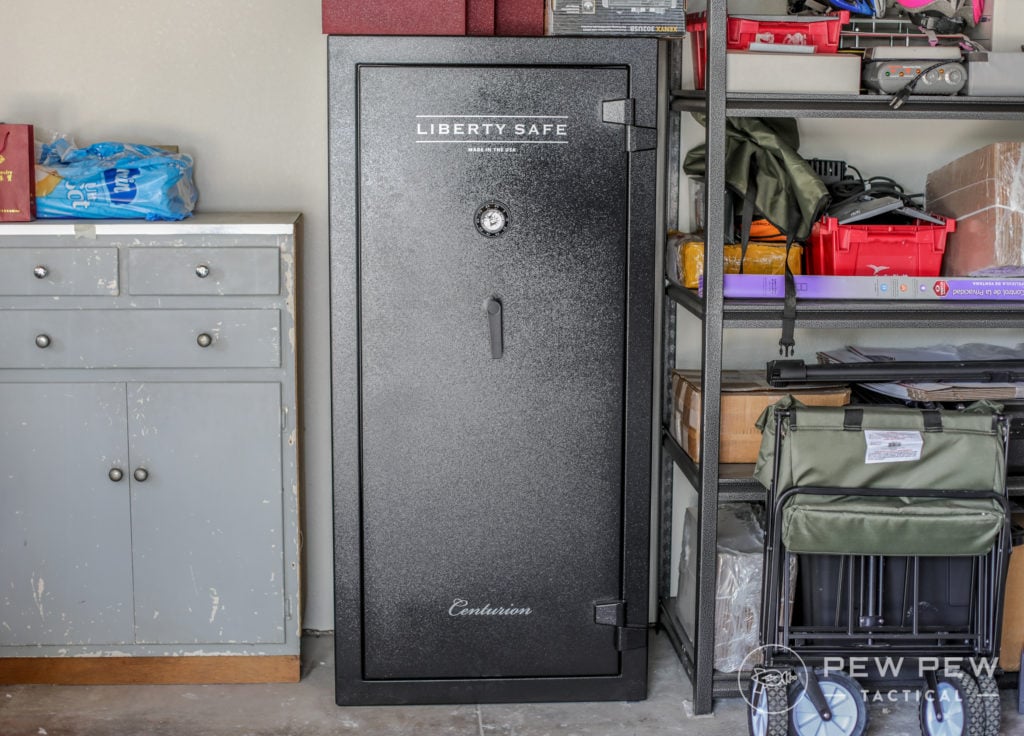 These are gun safes hiding in plain sight…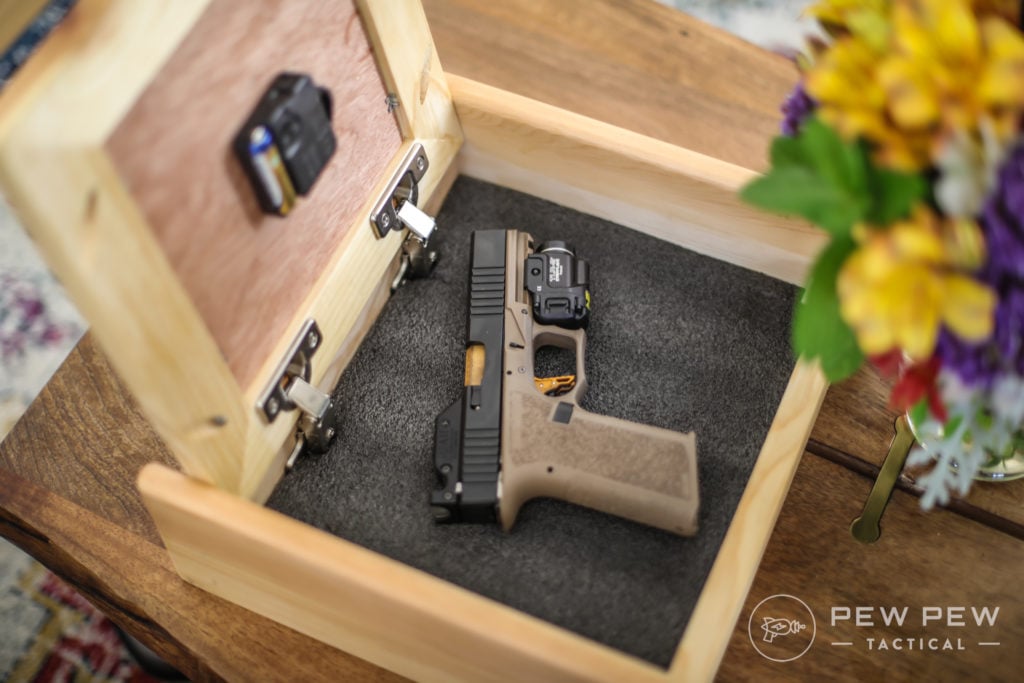 Car Safes
Lastly are some safes optimized for the car although many of the handgun safes can make do in a jam. Because the last thing you want is to have to put your gun in your glove compartment.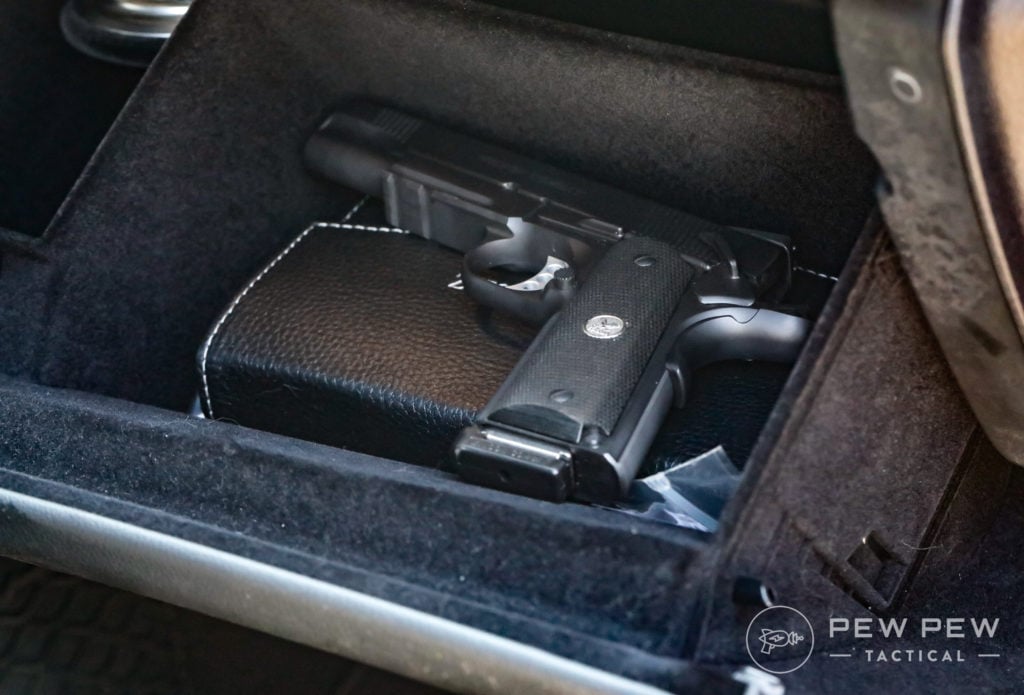 Best Gun Safes
Let's start with some handgun or pistol gun safes…
1. Fort Knox FTK-PB
My personal "bump in the night" safe and what I recommend to all my friends is the Fort Knox FTK-PB.
Not the cheapest at ~$345 but it's heavy (20 lbs, 10 gauge thickness), boltable, and uses the mechanical Simplex lock which is super fast and easy to use in the dark.
Check how fast I can unlock it in this video clip:
Setting the combo is super easy if you follow the instructions.
Plus it holds 2-3 pistols plus some mags depending on how you want to stack them.
One negative is that there's only 1081 combinations so if you have a teen that knows how to Google and has patience…you need to work on concealing it or teaching them to respect your firearms.
I also ended up cutting a little bit of the foam near the hydraulic arm for it to close better.
See the full review and more choices in our Best Bedside Quick Access Safe.
And boom…we have a full video review of the Fort Knox plus some other handgun safes.
If that helped, please subscribe to our YouTube channel since we're adding new videos every week!
2. GunVault SpeedVault
If you're at a desk most of the time…this nifty safe from GunVault doesn't need RFID keys or biometrics.
After inputting your code…your handgun drops down easy to grip. Check out how forceful it opens up:
One downside is that it won't hold a revolver or extra magazines for your semi.
Perfect if you're at your desk a lot and you don't want an exposed small handgun safe.
I'm using one right now…somewhere…
3. GunVault NV300 NanoVault
Another GunVault…I use the NV300 for travel so it's legal in the car…and an extra layer of security where I'm staying.
Tightly fits a full-size Glock 17 and two mags and has holes for securing a cable. Since it's a dial lock you're going to be slower than other options.
However for me it's a light and easy option to bring my handgun around and if I think I might need it once I reach my destination…I end up unlocking it beforehand.
Plus it's easy to stash in the car and tie with a steel cable.
4. Vaultek LifePod & LifePod 2.0
The Vaultek LifePod is now my go-to travel case when I'm driving and also staying over somewhere.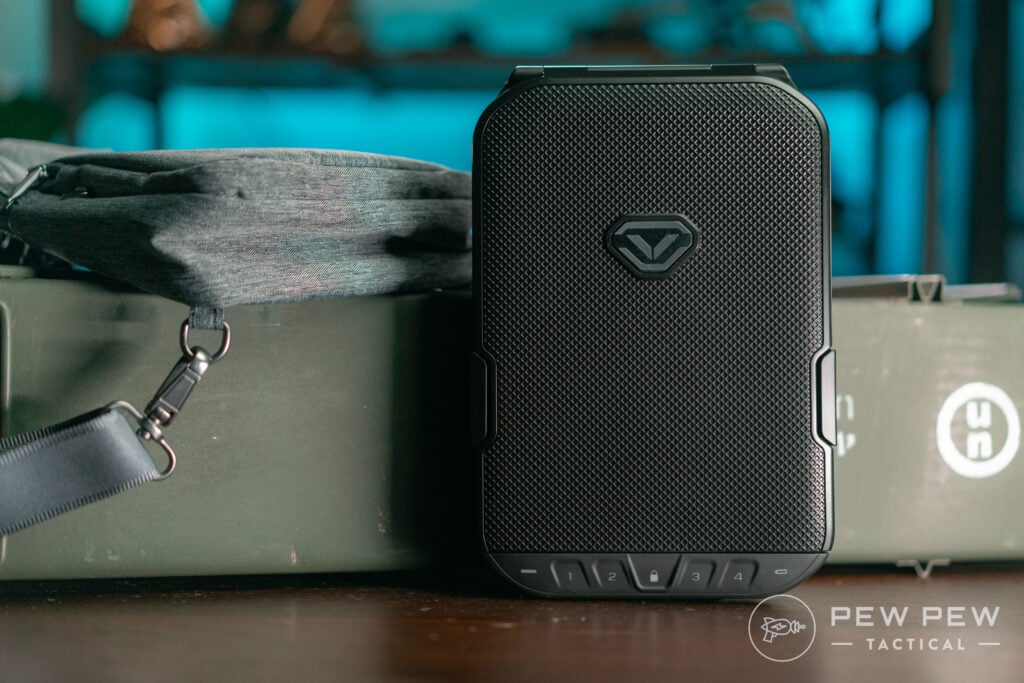 Discreet, enough protection, quick access, and still able to be tethered to something sturdy.
Check it out in action:
Buttons work well even when wet since they are capacitive. I like having the latches undone but still locked when I go down for the night.
There's also the option for their slingbag which is pretty nifty.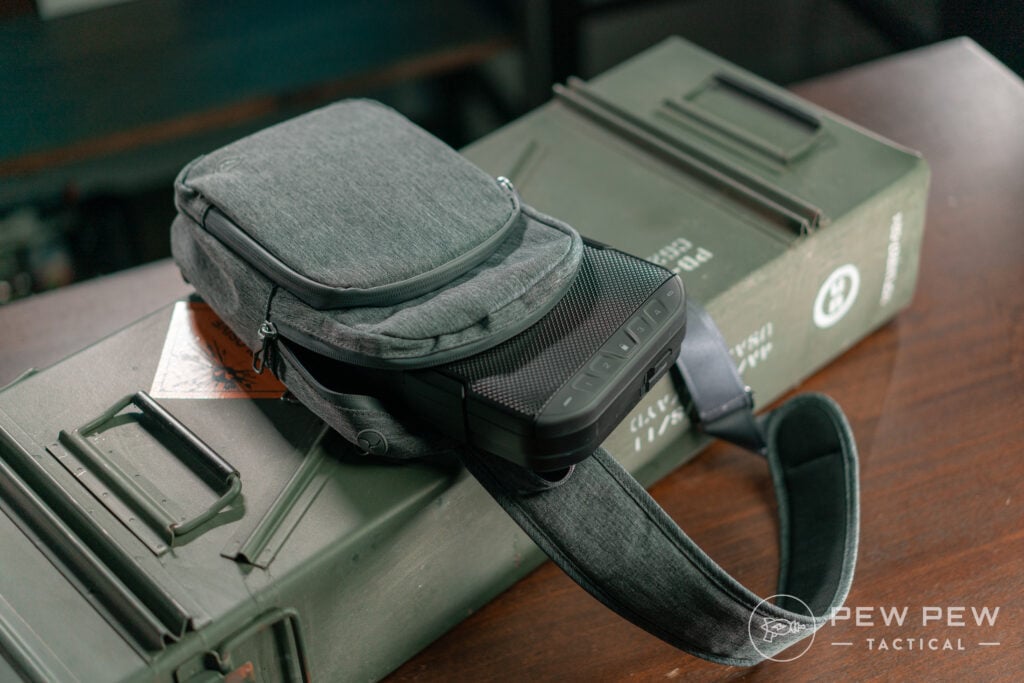 Capacity is just right for me…compact gun with light and a mag.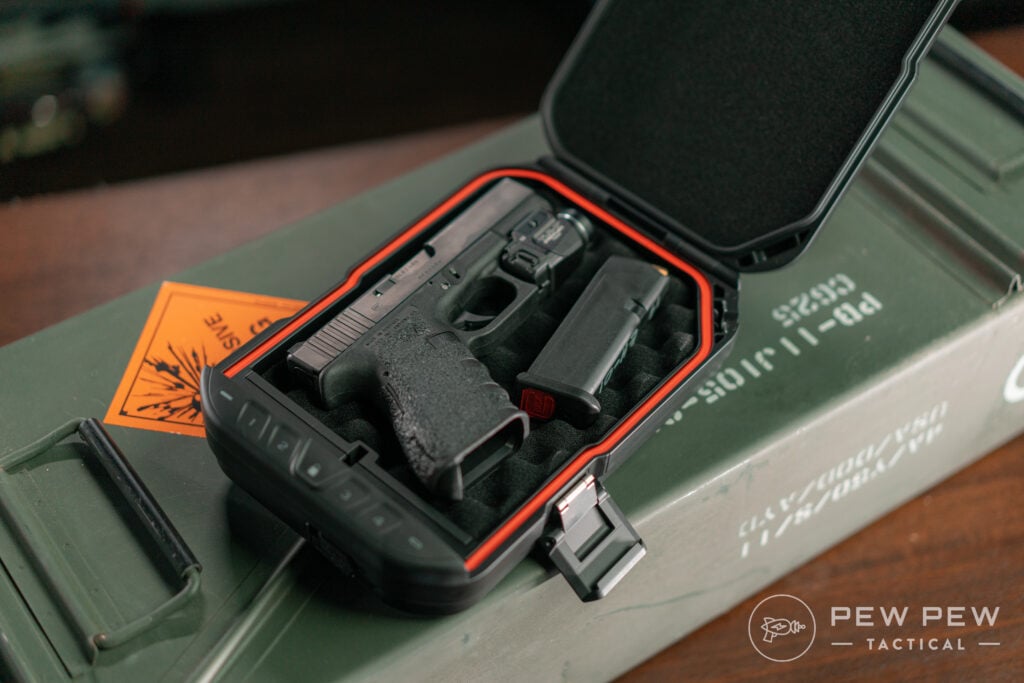 Great for trips where you only need one gun.
And now a larger version with the LifePod 2.0 that can hold a LOT MORE stuff and also comes with trays if you aren't transporting a handgun.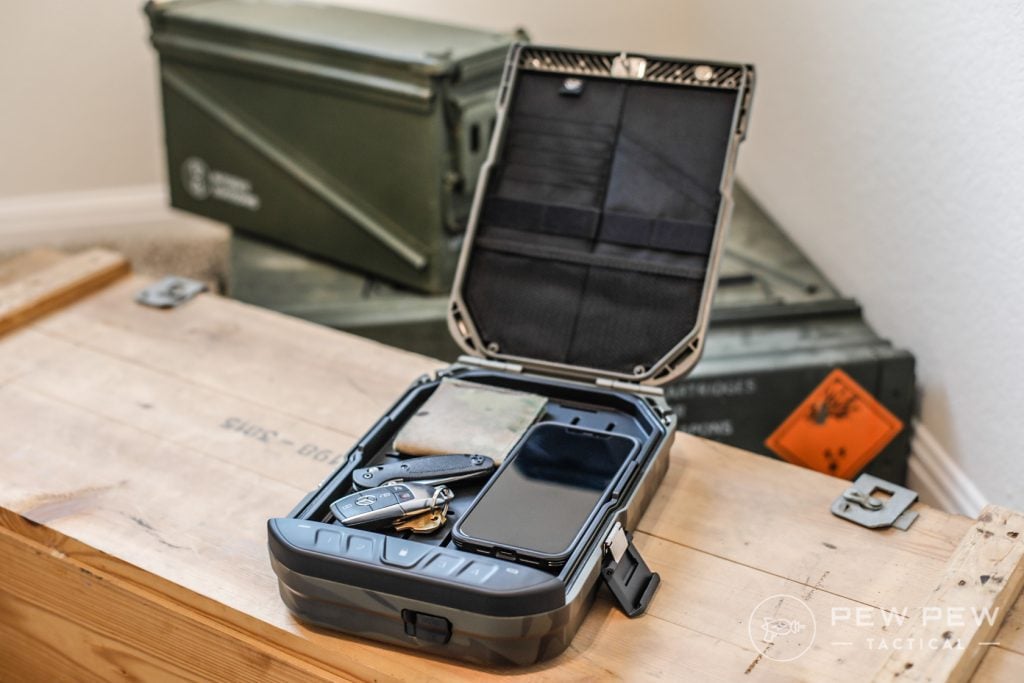 And if you are…the larger size let's you carry two guns. Here is a full-size and micro.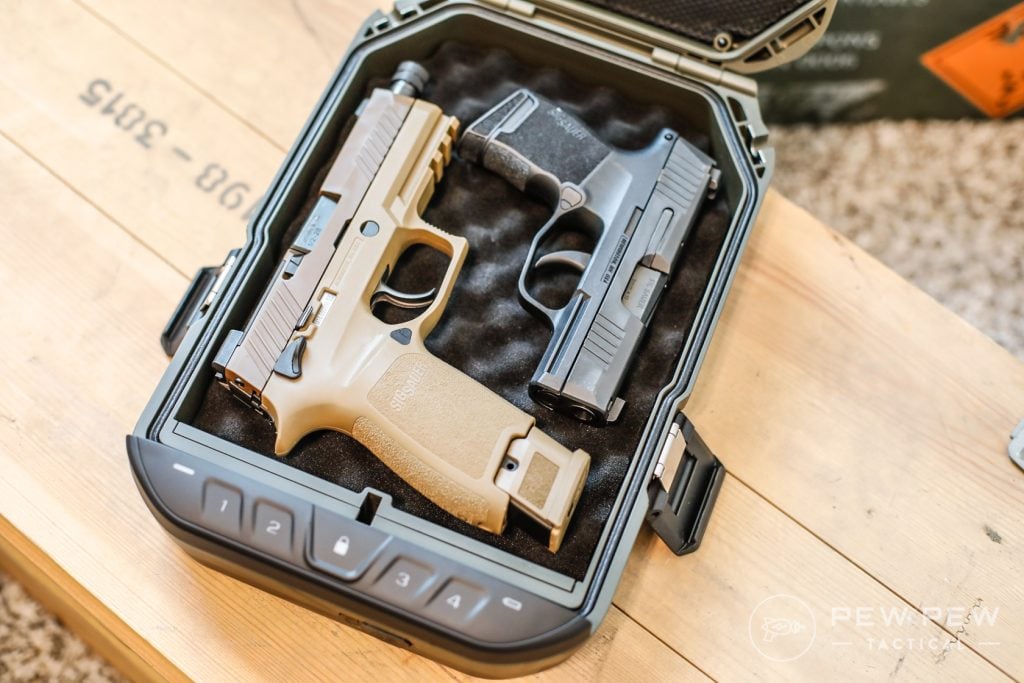 Or even some other goodies…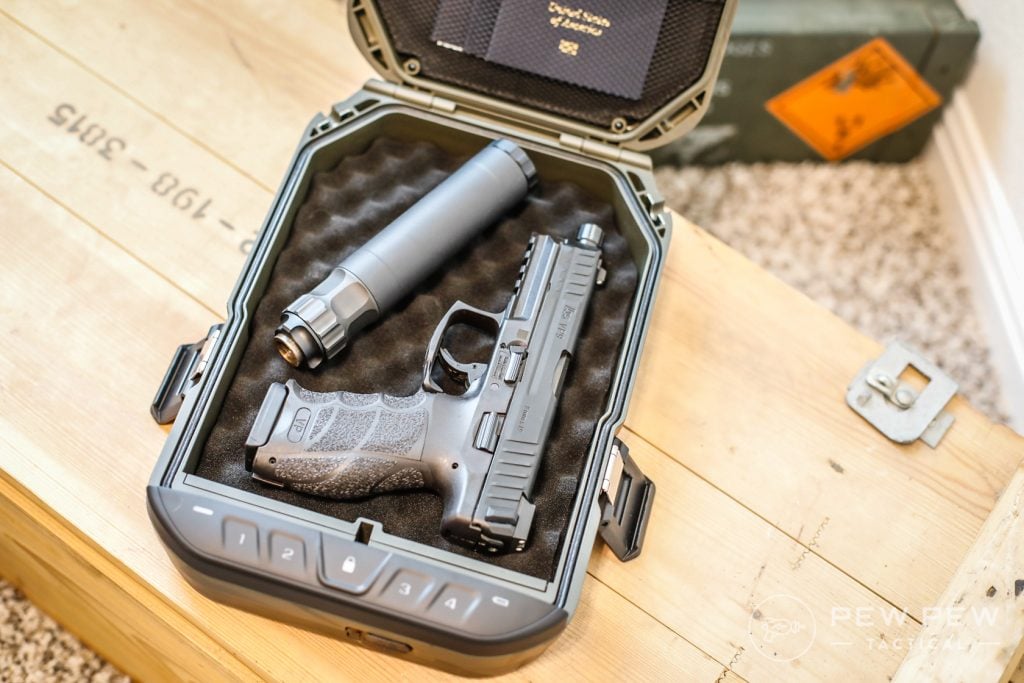 And even some special editions with different colors, additional foam, and lid organization.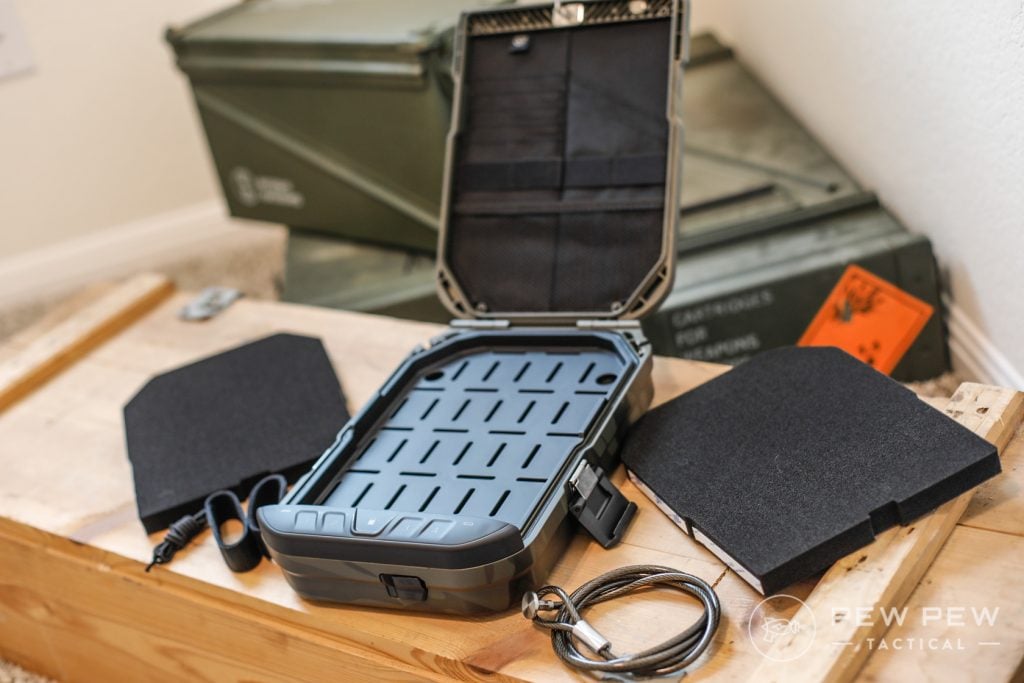 I use mine for holding my holstered CCW gun at the end of the day. Its main purpose is to keep it away from little ones and wandering eyes.
I end up placing my holstered gun face down so the Kydex is in the foam and doesn't get in the way of the lid closing.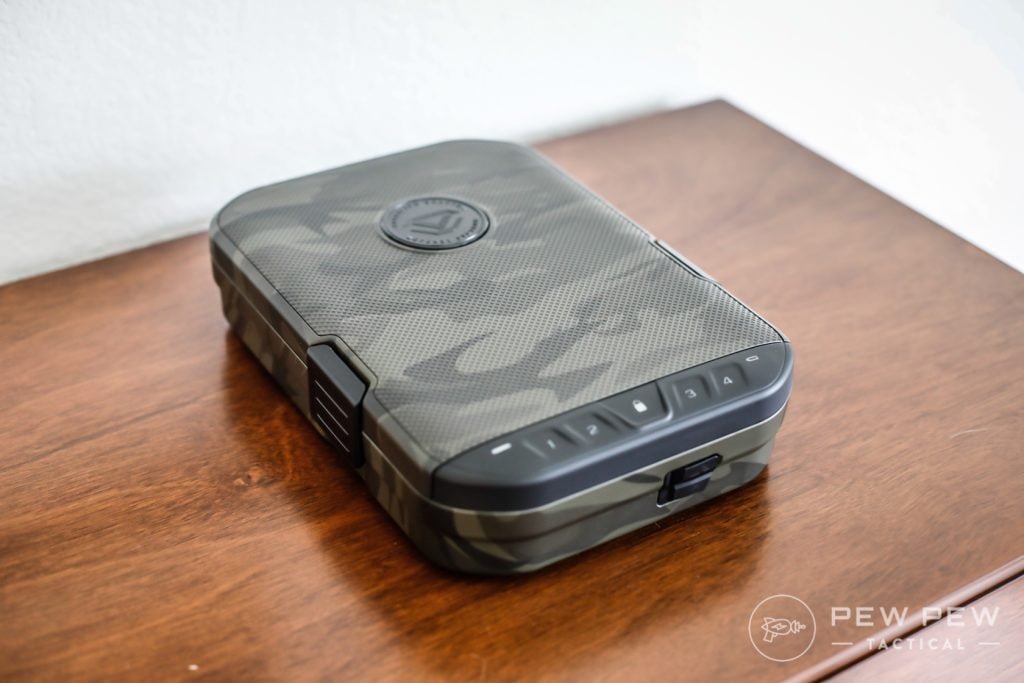 Did I mention the camo looks awesome?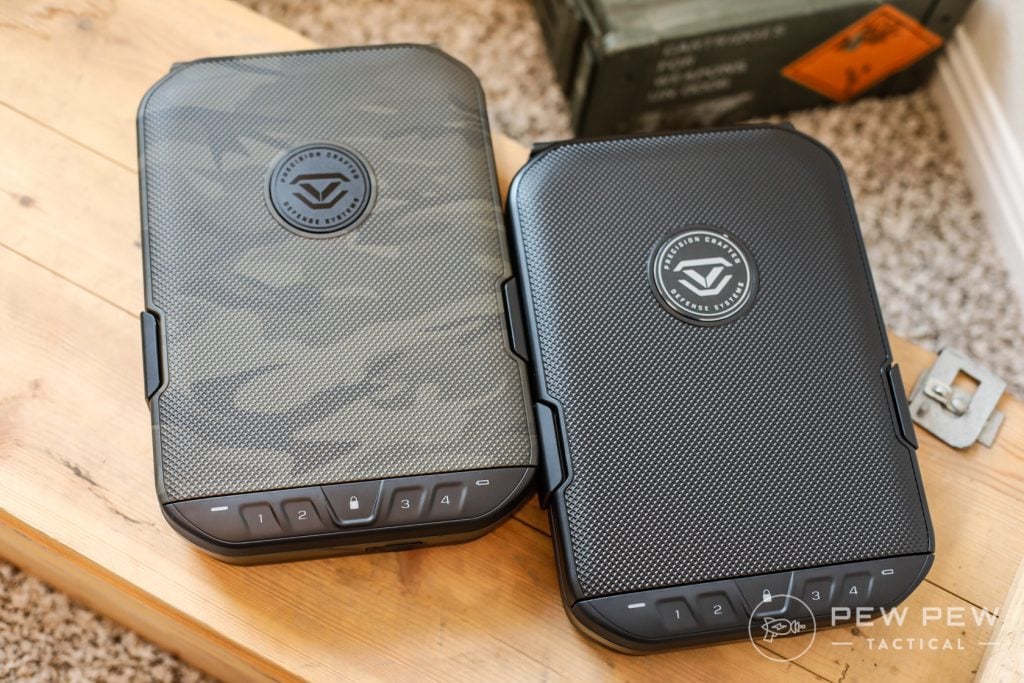 Check em out for a larger travel solution or for keeping two guns (or a holstered CCW) safe at home.
5. SentrySafe QAP1Be
The QAP1BE has 3 different ways to open up this highly rated safe…buttons, fingerprint scanner, or backup key. Also pretty thick steel at 12 gauge.
Can hold up to two guns but I think one full-size and two mags might be the realistic max without stacking.
I like that it's pretty quiet when opening.
Easy to bolt down and of course you can tie it down with a steel cable for travel.
Fingerprints your thing? See more of the SentrySafe and others in our Best Biometric Safes article.
6. Awesafe Gun Safe
Move over SentrySafe? Awesafe is in the house as what might be the most popular biometric gun safe on Amazon.
We've gotten a lot of requests to try it out and we like it as a best bang-for-the-buck biometric.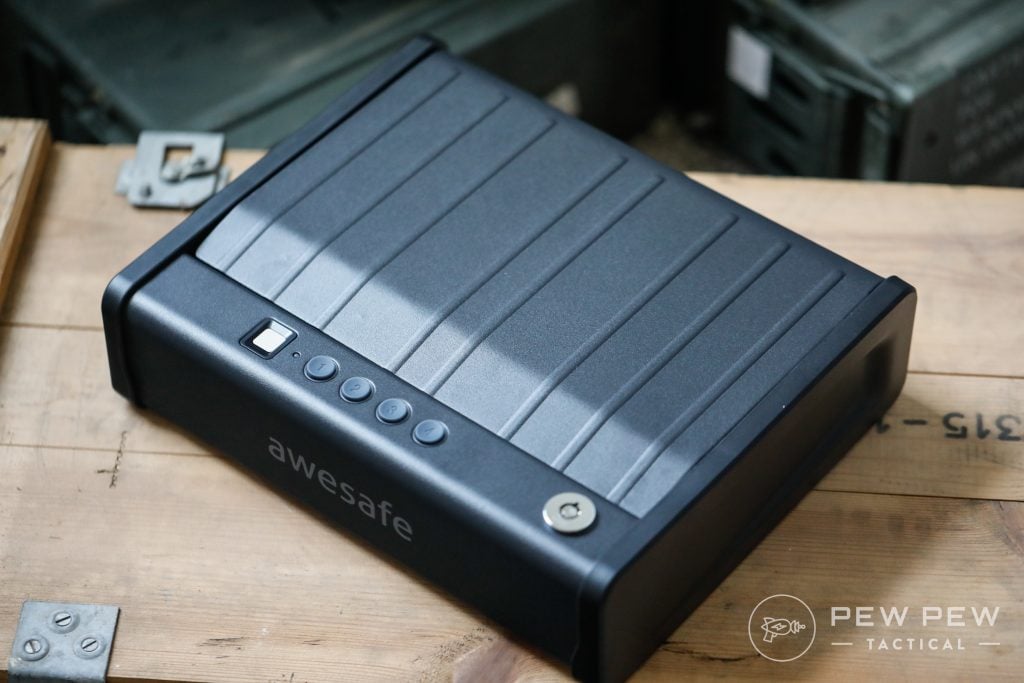 It's built sturdily-feeling enough and looks nice. Although you're probably going to be hiding it away from prying eyes!
There is a tiny gap on the sides where you can slip in a screwdriver and go to town. But remember if given enough time you'll probably get into any safe out there.
Otherwise the capacity is really good…I can fit a full-size and micro-compact gun in there. If you're only having one gun you can definitely fit 2-3 mags as well.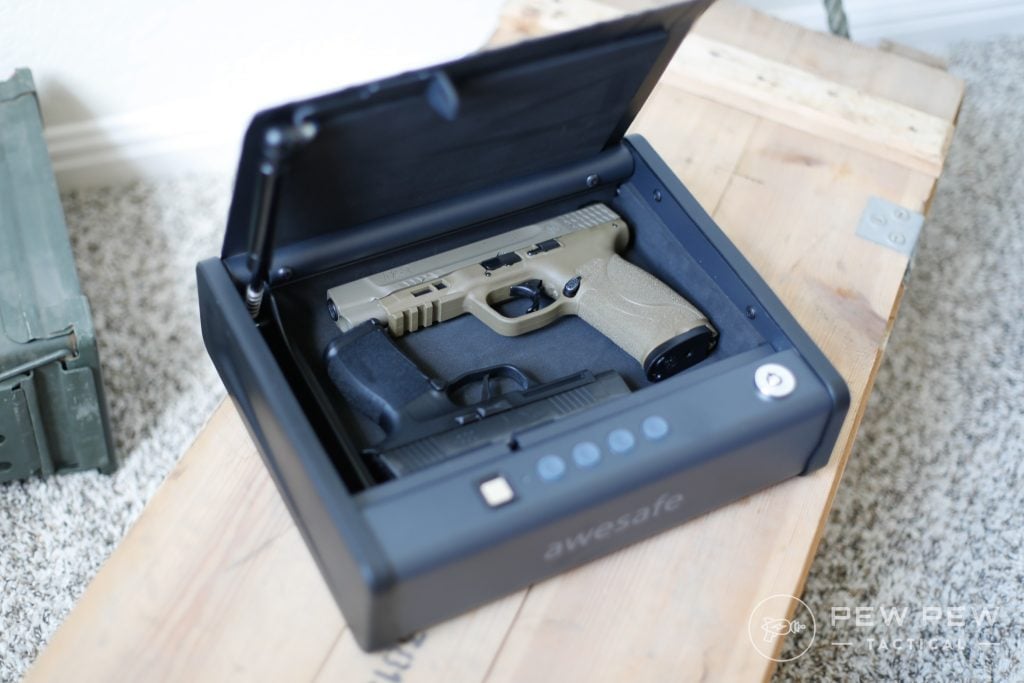 Biometric setup and use are great.
Easy instructions and it seems to be high 90% in terms of accuracy. But of course when there's excessive moisture it starts to fail (like all the other ones).
See me try it out:
Buttons were good as well.
The main selling point is it's price…at around $149 it's hard to beat.
We also tested their Slider Safe variant…and didn't love it as much.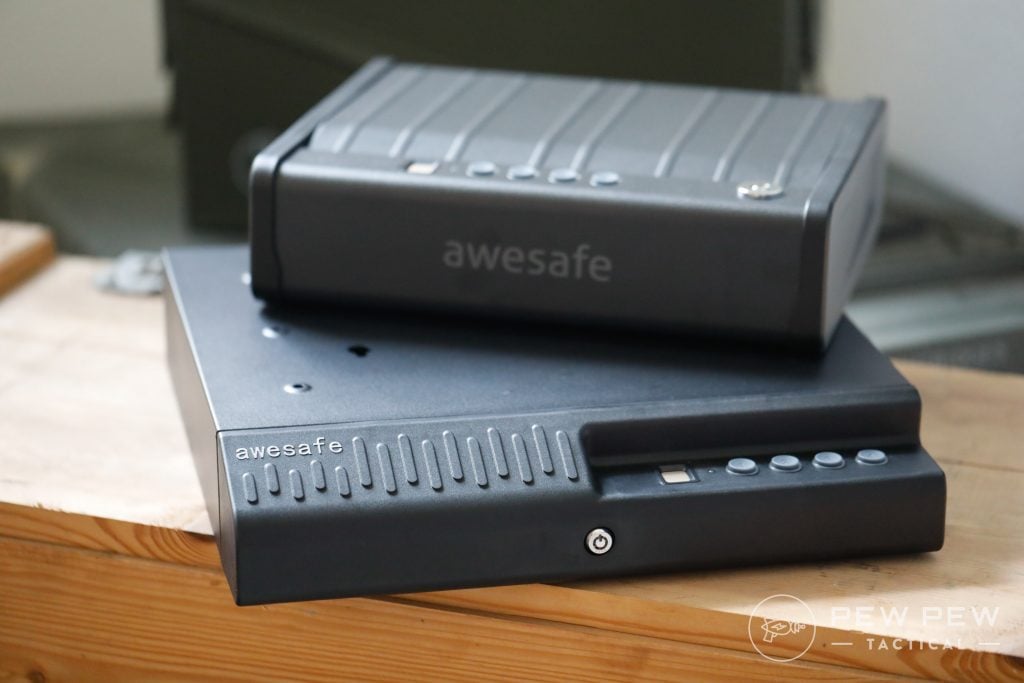 But mainly because when you unlock it there's not too much force to push the drawer out to a usable level.
Here's a video of it…I know it's on something but it does the same thing when suspended in the air (as if attached to the bottom of a desk).
However it's much larger than the regular gun safe and even more affordable at $119 if you know the drawbacks.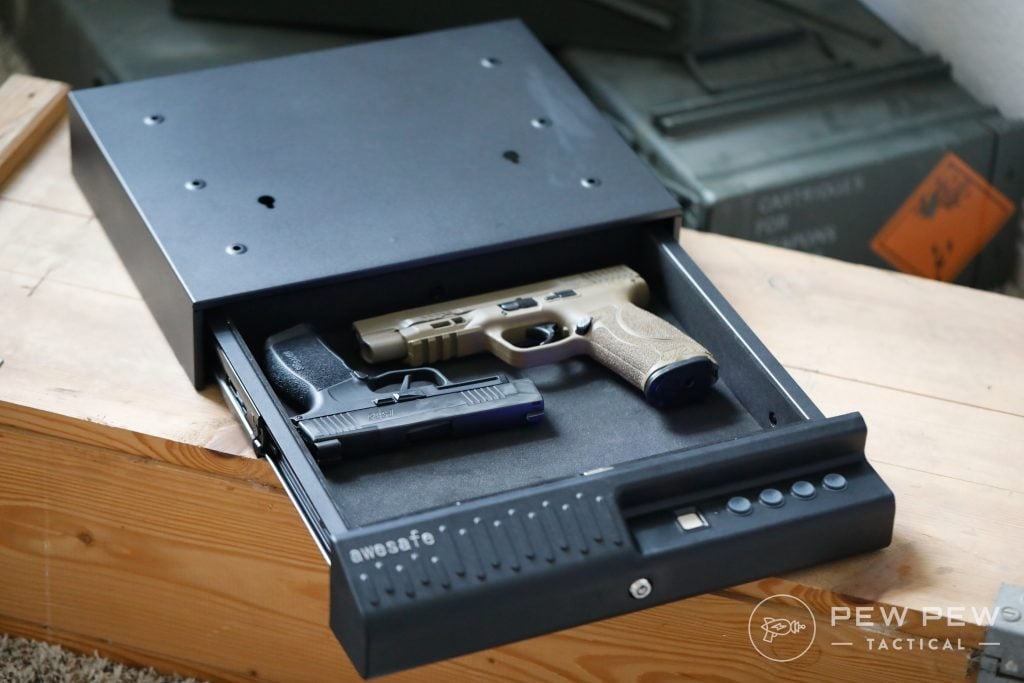 7. Vaultek VT20i & VT10i
We're moving up in tech!
These Vaultek bad-boys have key, electronic button, fingerprint, and Bluetooth phone app ways of opening up. They look and feel great too if that matters to you.
We tested the biometric reader and had a rough 90% reliability factor. Good for when you don't need it 100% in a hurry.
The VT10i holds a full-sized pistol and two mags.
While the larger VT20i can hold even larger guns (maybe 2 compacts).
Check out the full review with plenty of gifs.
Plus an overview of their other models which don't have biometrics (saving you money) and their new flagship…the PRO MX Series.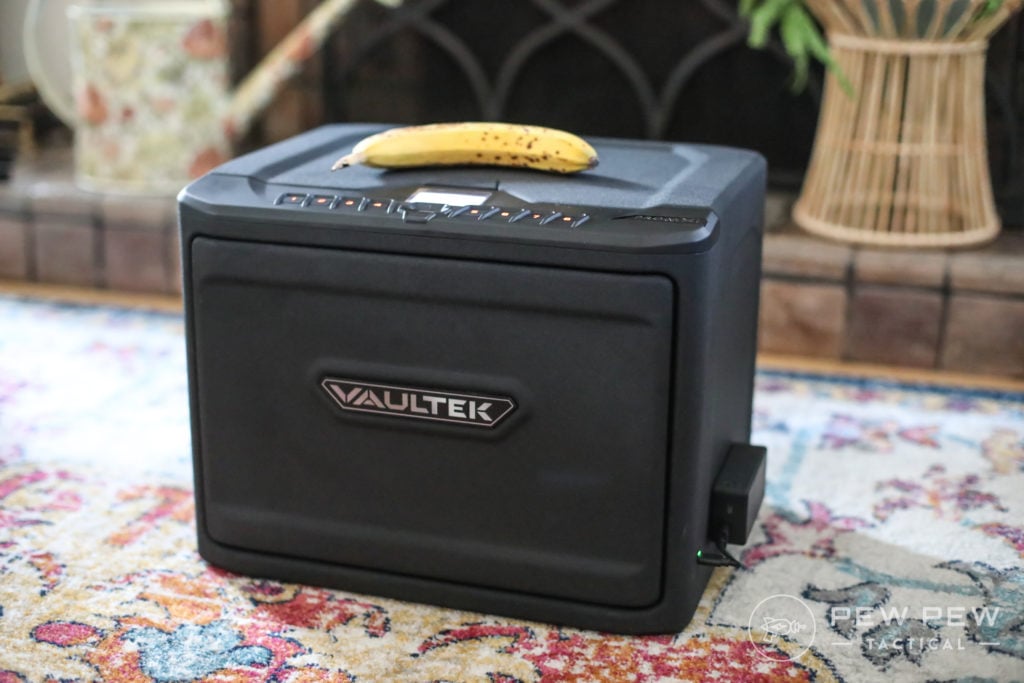 We have a full review of the Vaultek MX line here.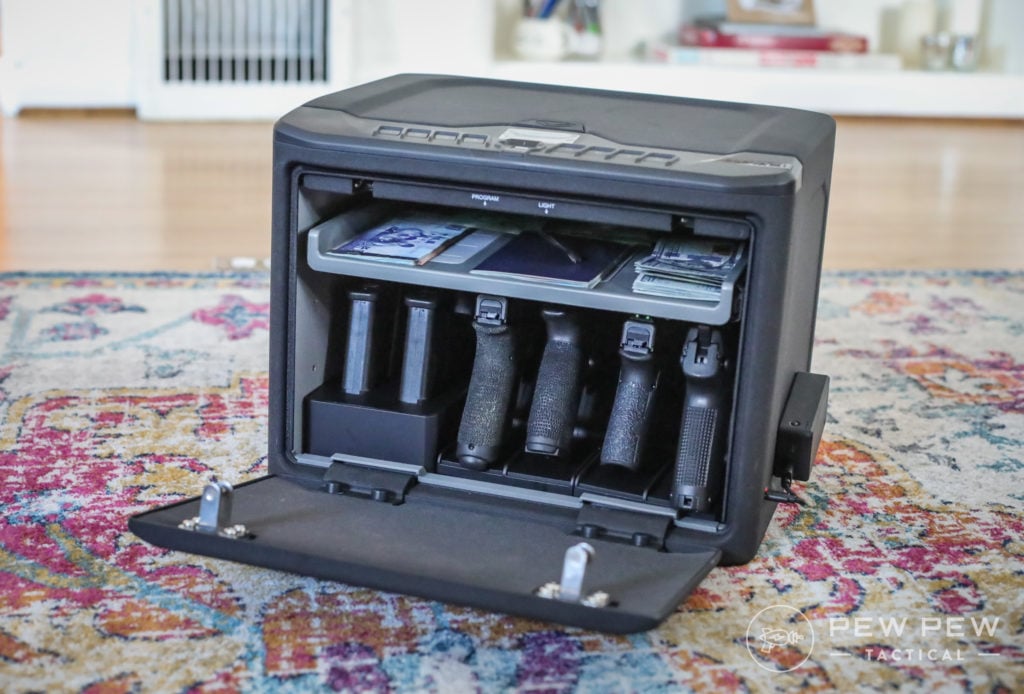 Now let's move into Best Long Gun Rifle Safes…
These are what you probably traditionally think of as "gun safes."
They can hold long guns and are much bigger (and more expensive) than their handgun-only counterparts.
You also don't need to spend TOO much to get everything you want. After a while, you just get better aesthetics.
How Big of a Gun Safe Should I Get?
When looking at a traditional safe…the rule-of-thumb is double what you think.
It's not because you'll likely buy more (ok…it's a little that), but because the number of guns that manufacturers quote a safe can hold is for un-scoped rifles stacked on top of each other.
You should also definitely measure wherever you're going to be placing that thing. It's likely a couple of hundred pounds and hard to move without a bunch of friends and some extra maneuvering space.
Now let's get to it!
8. Stack-On 8-Gun Cabinet
The Stack-On is what I would suggest as a starter "safe" since it's technically a cabinet with a lock. No RSC rating on this one.
It has a keyed lock, but with 18 gauge steel sides and weighing in at 64 lbs…it's not going to resist a lot of prying (even with it bolted down). 10″ x 21″ x 55″ dimensions.
I had a 5-gun cabinet as my starter safe when I only had a handgun and rifle.
It quickly became too small to hold more than 3 rifles with optics. So if you have any inkling to buy more guns…start with an 8 gun safe at least unless space is the primary factor. A few of my buddies really like theirs.
If you need something bigger but still in the affordable price range…check out their 18-Gun Cabinet which comes recommended from some of our readers.
9. Liberty ProVault or Centurion
I opted for the largest 24-gun (59.5″ x 28.25″ x 22″) Liberty ProVault since it was going to be an overflow safe of my newer guns. Mechanical lock since I didn't want to deal with batteries.
There are also the 12 and 18 gun models which is what I actually recommend after my experience.
The ProVault version is a special color edition made by Liberty (probably the largest safe manufacturer) for Cabela's It had awesome reviews so I wanted to see it for myself.
Flex means an upgraded interior that can hold other stuff and be re-configured.
The problem was that the combo didn't work.
I gave Liberty a call and they had great customer service. The guy walked me through everything and even called me back when he said he would. But in the end, the combo didn't work.
So he found a local dealer to come pick it up (free of charge) and swap it with their Centurion. Which is the same exact thing except in a different color.
Which…did work. The Liberty rep said this was the first time the combo didn't work for the ProVault…and same with the local dealer. I really am the best at breaking stuff.
Here's the inside (with Flex Interior that you can somewhat reconfigure). With scoped rifles, I'd estimate I could fit maybe 12 total in both of the long gun segments.
375 pounds so it's not walking away…but determined people with a dolly can still move it. I'd recommend bolting it into the concrete which is what I did.
Exterior: 59.5″(H) x 28.25″(W) x 22″(D)
Interior: 57.4″(H) x 26.7″(W) x 15.6″(D)
Weight: 370 lbs.
Fire: 30 minutes at 1200 degrees
Or simply up my budget a little higher to get something RSC-rated (up next)…which the ProVault/Centurion is not.
10. SecureIt Agile Model 52
And when the day came…I realized there's no way I was able to move the 375 lb safe into my closet without destroying stuff.
Enter…SecureIt's Agile Model 52 ($599) which is delivered flat…and can be assembled quickly.
Plus, all the assembly is internal so there's no screws or anything to take apart on the outside.
It has a depth of 15 inches and weighs 105 pounds so it's easy to store anywhere (and likely out of sight). I'd definitely still bolt it down though even if it's hidden.
The disadvantage is you give up capacity…to the tune of only holding 6 long guns with scopes. BUT…they are nicely held in almost any configuration due to the modular Cradle Grid backing.
But if that's enough…the Agile 52 might be the easiest solution to setting up your own gun safe.
Mine is set up with 6 long guns (hardware included…I really like the bungee retention system for the barrel).
And I also got the optional bins…yellow bins for stuff on top and two metal trays that fit in nicely behind the long guns.
Plus…the Agile 52 might be the cheapest to ship solution…I was testing zip codes and got results from around $30 if you're on the East coast to $70 on the West coast.
Check out our new YouTube review.
And our standalone written review if video isn't your thing.
Plus now we've secured a 10% off coupon PEW10 for Pew Pew Tactical readers.
What's your take on the SecureIt?
11. Liberty Cabela's Outfitter
Now we're getting serious…
The Cabela's Outfitter by Liberty is the #1 selling line of safes in the US. The Cabela's Outfitters is what I recommend for large collections of 48 long guns. Or realistically half of that if you're going with optics.
Made from thick 11 gauge steel…it is RSC rated along with its locks.
Here's my buddy's current load out…he's working hard on filling it up!
Everything feels quality and if you don't have a place to put it…it's pretty enough by itself to be a decoration piece!
Exterior: 42″ (W) x 25″(D) x 60.5″(H)
Interior: 38″(W) x 14.5″(D) x 56″(H)
Weight: 760 lbs
Fire: 40 minutes at 1200 degrees
12. American Security BF6032 18
Research enough and "Amsec" will keep coming up. They are one of the best in the biz for higher security and beautiful safes.
One of their most popular is the BF6032 18-Gun Safe ($3379) which is RSC rated with thick doors (.375″ solid steel), body, and bolts. Also the longest fire rating yet.
And like a fine 1911…there's tons of options to customize…so it's likely to cost you even more.
But what price can you put on peace of mind?
Exterior: 59.25″(H) x 30″(W) x 21″(D)
Interior: 52.8″(H) x 26″(W) x 14″(D)
Weight: 913 lbs
Fire: 120 minutes at 1200 degrees
13. Rhino Safe Ironworks 6033
A newer brand to me…but they've been in business 20+ years manufacturing in the US.
Check out their hand-made Ironworks 6033 safe…
That is just too pretty!
Plus with the right stuff inside to back it up.
There's a lot more sizes (up to a ginormous 72″ x 56″) but this 60″ x 33″ is their most popular.
Thick 10 gauge steel body and tons more security features (including RSC rating). Plus the best fire protection on our list.
Exterior: 60″(H) x 33″(W) x 27″(D)
Weight: 960 lbs
Fire: 130 minutes at 1400 degrees
All this awesomeness is going to cost you a little…but if you want the best looking and one of the best performing safes out there…
We're done with our list of long gun safes…but what if you didn't get the $5000 safe with all the fixings?
14. Vaultek RS500i
Want something super hi-tech and looks great as a decoration piece?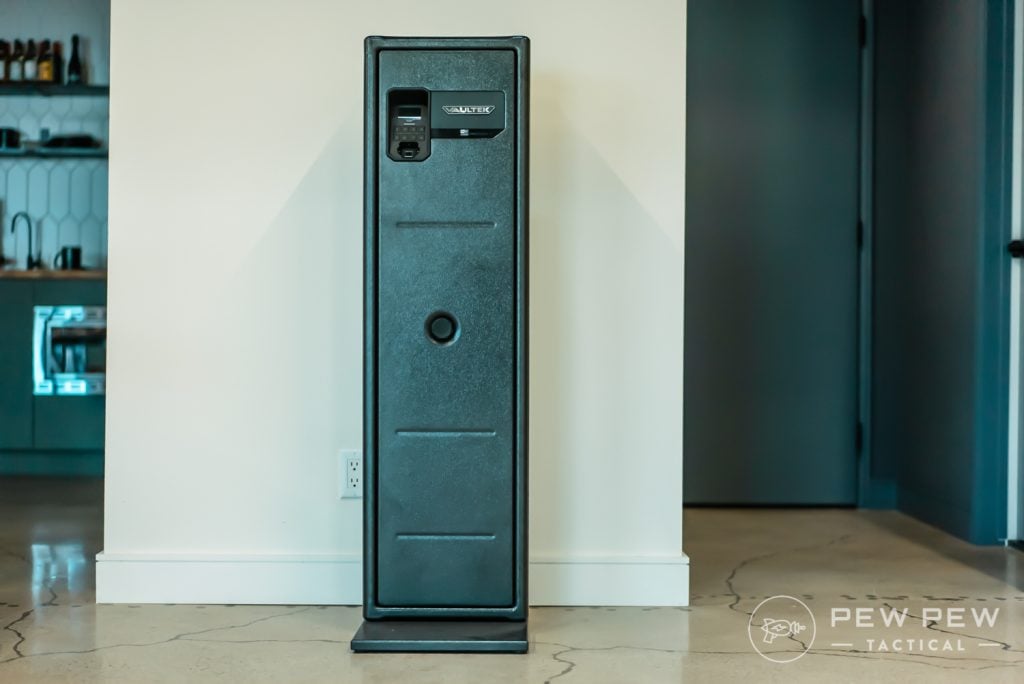 Check out the Vaultek RS line…and here specifically is their medium-sized RS500i.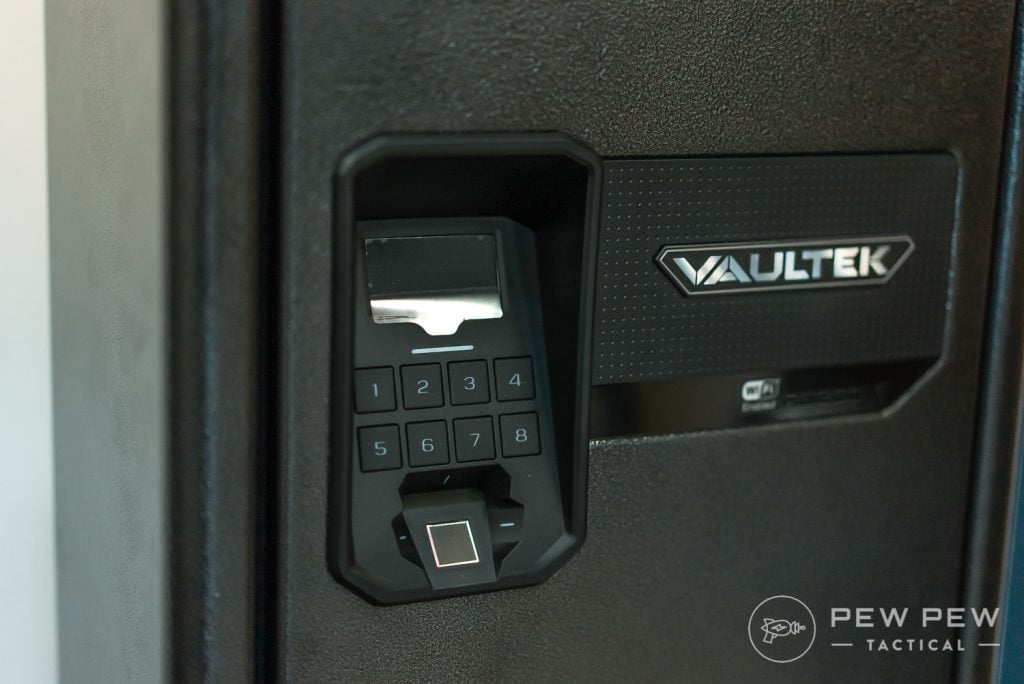 Everything you can think of…the RS has it:
capacitive keypad
fingerprint scanner
Wi-Fi to get alerts and receive commands
smart key for quick access
manual keys
super modular interior
Check ours out in action:
The RS500i has an interior of 13.75″ L x 9.75″ W x 53.25″ H which places it in the middle of the series.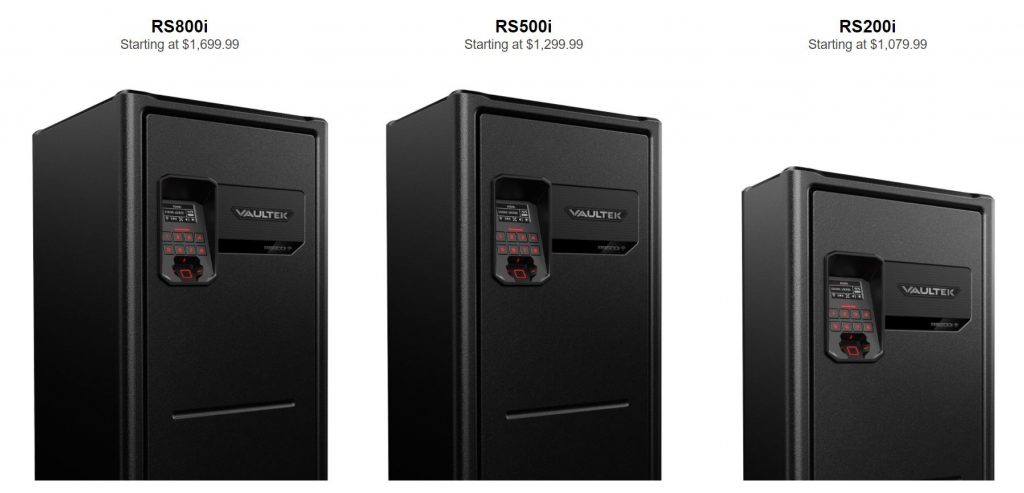 We can comfortably place around 3-4 rifles with optics in there and some handguns with the added rack.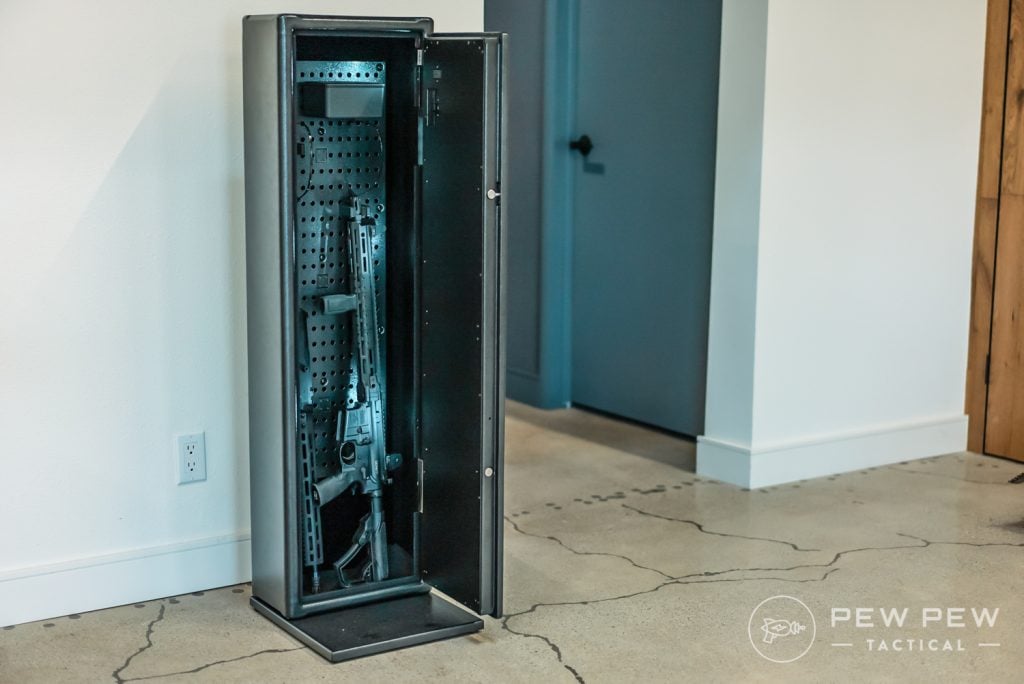 It's our go-to safe for stuff we use on the regular and even after 3 months the battery is still going strong. It's easy to keep plugged in as well.
If you're spending over a grand for a nice electronic safe with all the fixins…I'd start at least with the RS500i if not the larger RS800i.
Now…let's move onto some hidden safes…
Best Hidden Safes + Job Site Boxes
Sometimes you don't want your safe to be easily found…we'll cover a few options.
15. Tactical Walls 1450M
Want to feel like you're out of a spy movie?
Take a look at Tactical Walls' concealment mirror. Useful day-to-day…while also harboring some awesome firepower when needed.
Want more?
Check out our full review of Best Hidden Gun Safes.
And finally…Best Car/Travel Safes
If you're going bare bones…I like the NanoVault from earlier. A couple of the electronic safes fare well as vehicle safes too.
But if you want quicker access…
16. V-Line Top Draw
Enter V-Line's lightweight entry into the Simplex lock category.
I have one in my car when traveling that is chained to my car seat. You'll have to practice a little since it's top open…gravity is working against you.
Gun Safe Upgrades
Now that you've got your safe…you can start to upgrade it! It never ends in the gun world…
I would recommend getting a Gun Safe Panel Organizer that fits your long gun safe door. One of the best upgrades that let's you store a lot of handguns and miscellaneous items.
If you're only wanting to expand your pistol storage…get some Handgun Hangers.
Or Pistol Racks that come in wire or foam…I opt for the wire since I'm not sure how the foam will handle long periods of time against my pistols.
If your safe doesn't come with lights…I really like the new LED Light Switches. I've put them in my safes and my car so I'm not wasting the car battery when I'm rustling through stuff at night.
And if you're in even a semi-humid area…I highly recommend getting a dehumidifier. I use this renewable Mini-Dehumidifier. 
But there's also plugin models that are less of a headache and stronger powered.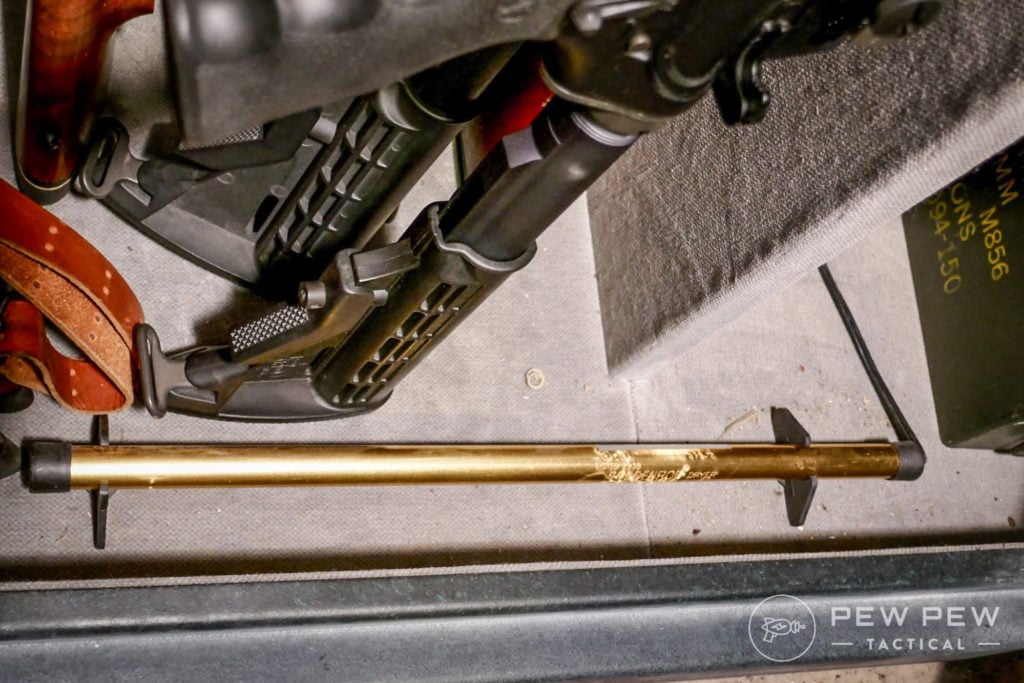 Check out our Best Safe Dehumidifiers if you want more research.
You can see it along with the light and handgun hangers too in my Centurion.
Last Line of Defense
We're almost done!
Your gun safe should be the last line of defense against unauthorized access to your guns. How do you make it harder to reach that last line?
This advice is after talking with some police officers that see a lot of stolen guns…
keep your home/car doors locked
get an alarm system (or at least a sticker)
don't advertise you have guns (I'm sorry…this means stickers for NRA, gun logos, etc)
teach your kids not to touch your guns
And keep in mind no safe is impenetrable given enough time and tools…you just want to make it annoying enough so that baddies give up or don't even try.
To sum it up…here's our best picks for each safe category.
Summary of Our Top Picks
Any other safe categories or info you'd like to see? Let us know in the comments below. Want more…look at our specific Best Beside Safes and Best Biometric Safes.