Looking for a simple kydex holster that conceals well and is pretty comfortable?
Rounded Gear (formerly Concealment Express) might be the key.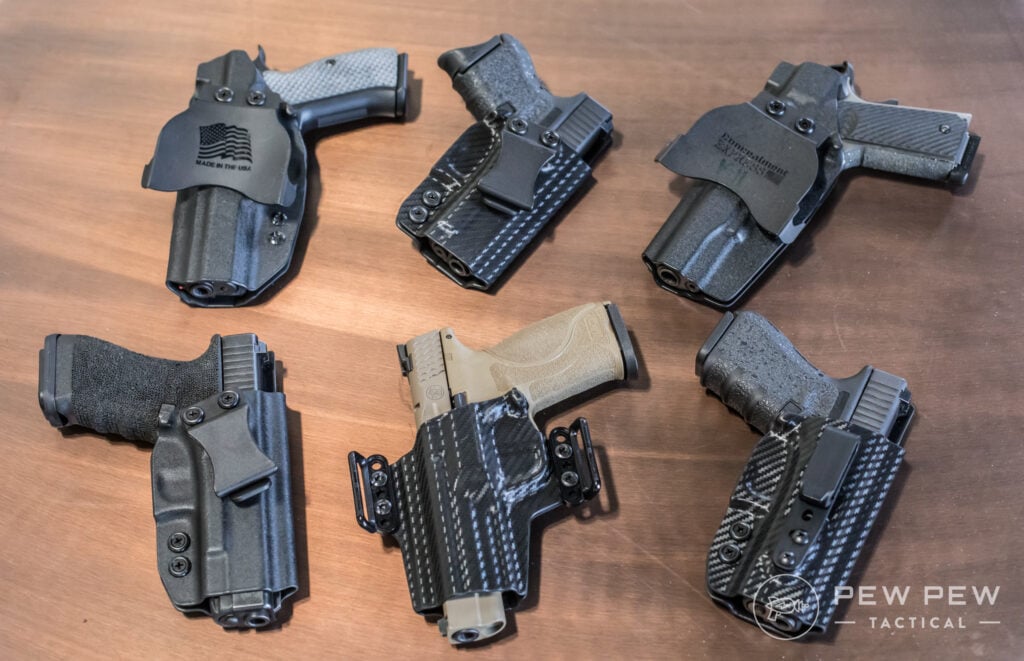 They are affordable, super light, and get the job done with a variety of attachment options.
I'll cover how they conceal and ease of draw across all their offerings with a couple of my favorite handguns.
Table of Contents
Loading...
Who Is It For?
Concealment Express sent me a couple kydex holsters to me for my unbiased review…more than 2 years ago.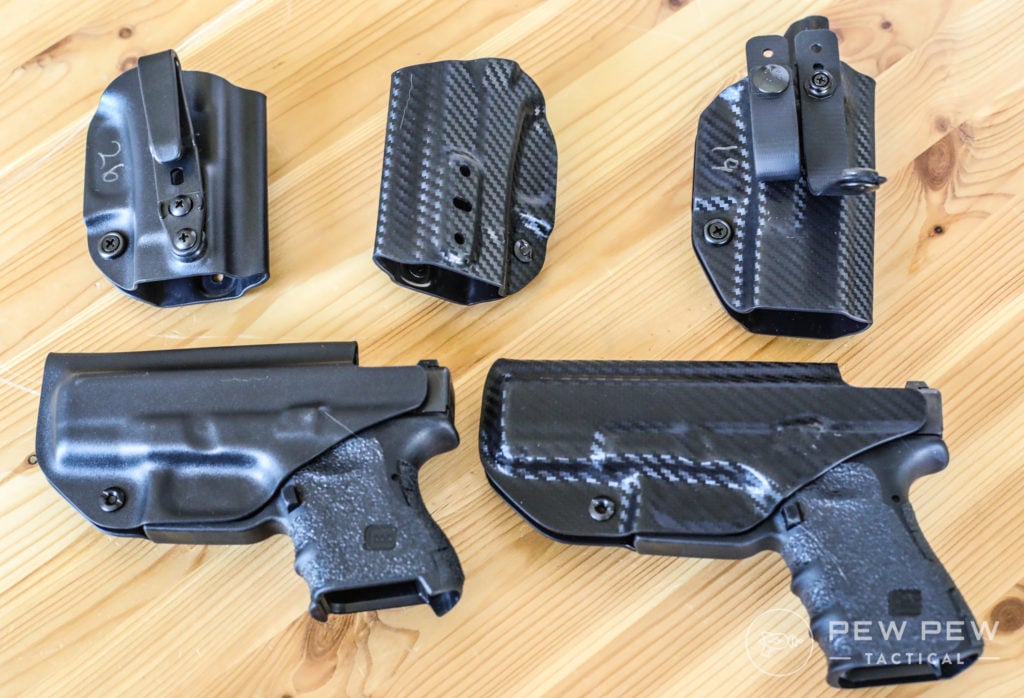 They were new to the scene and made good stuff…even though at that time they didn't cover their mag releases.
Now fast forward and I'm testing their updated models. That yes…do cover mag releases!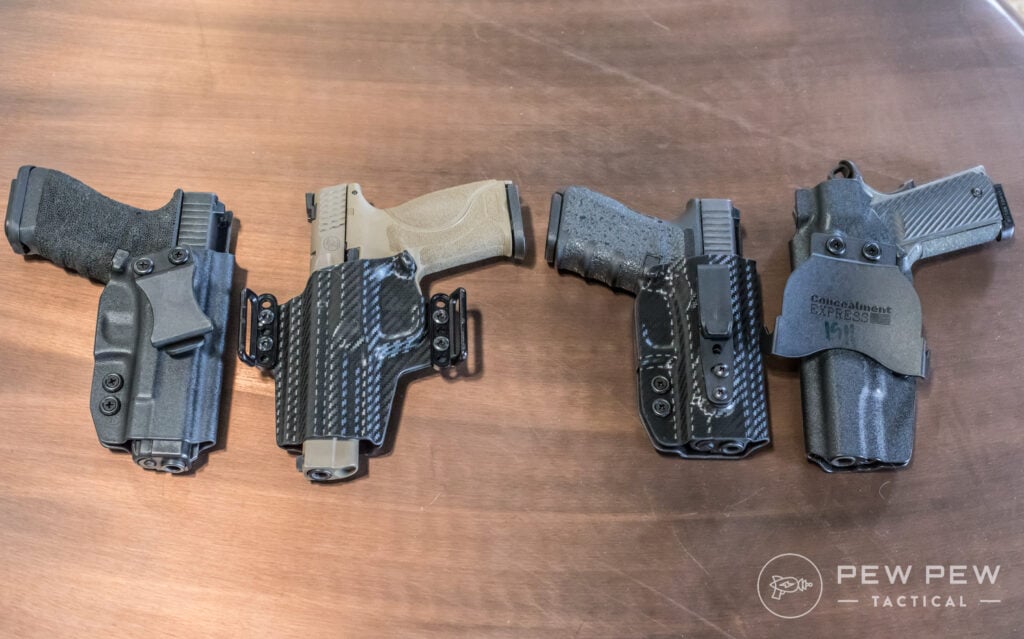 They are still my #1 recommendation for a beginner inside waistband (IWB) carry holster that doesn't break the bank.
Gets It Done (IWB)
37
at Rounded Gear
Prices accurate at time of writing
Prices accurate at time of writing
Plus they have stellar reviews on Amazon.
They especially shine in appendix inside waistband (AIWB) carry since the kydex is thin and the entire holster weighs less than 3 oz for the G19 version.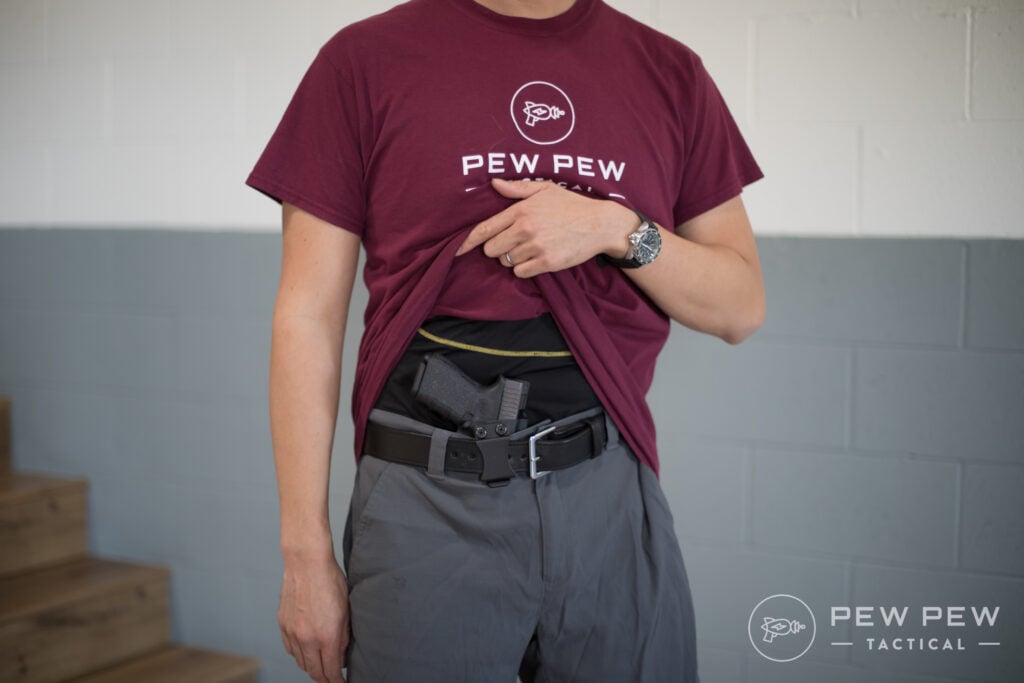 What I'm Wearing
Since someone always ends up asking:
Standard IWB Holster
Nothing to see here!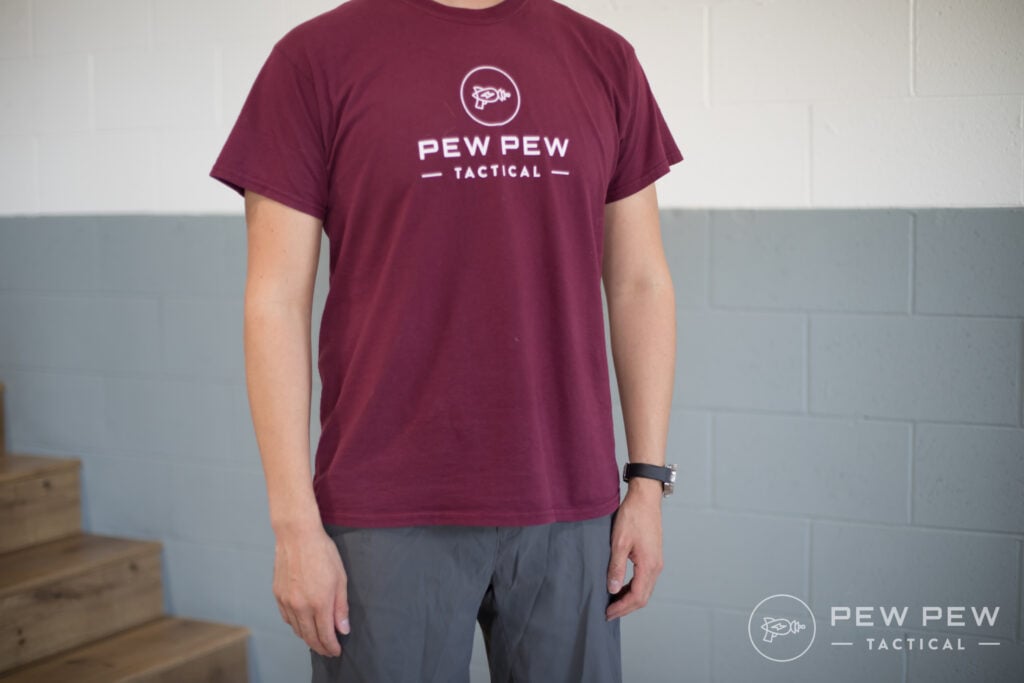 The G19 is now considered relatively big for concealed carry (see all my favorite CCW guns) but you can't tell with the standard IWB holster in appendix carry position.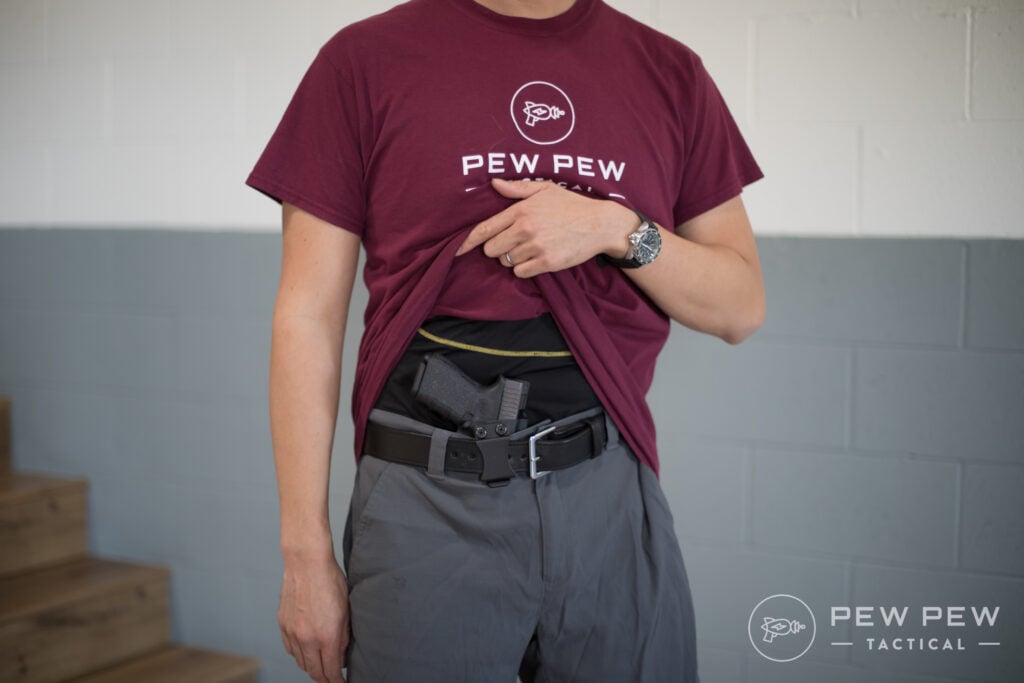 Even carrying the fullsize G17 is ok.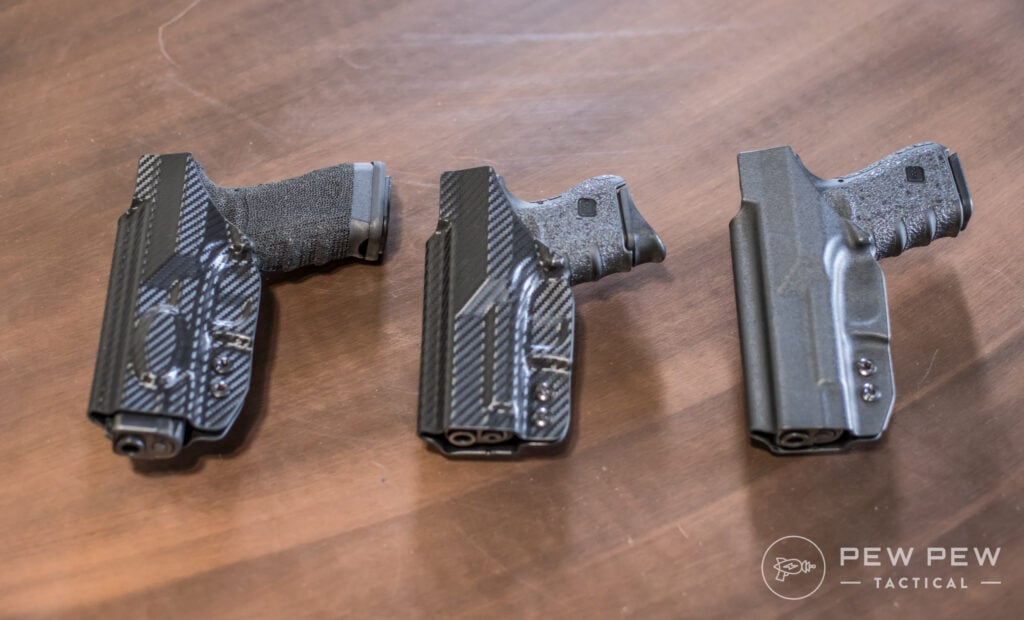 I'm a fan of AIWB since it's easier to draw and more comfy than with it at 4 o'clock for me.
The cut of the kydex allows me to get a good high grip during my draw. The standard belt clip is effective and I never ended up accidentally pulling the entire holster out.
Comfort is pretty good (even sitting) since there's just a little kydex sticking up above the slide and the grip is small enough that it doesn't dig into my stomach.
And though it probably doesn't matter for the real world…but for classes or practice it's easy to re-holster. Remember to take your time and be safe!
A nice upgrade for AIWB carry is the addition of their "claw" kit.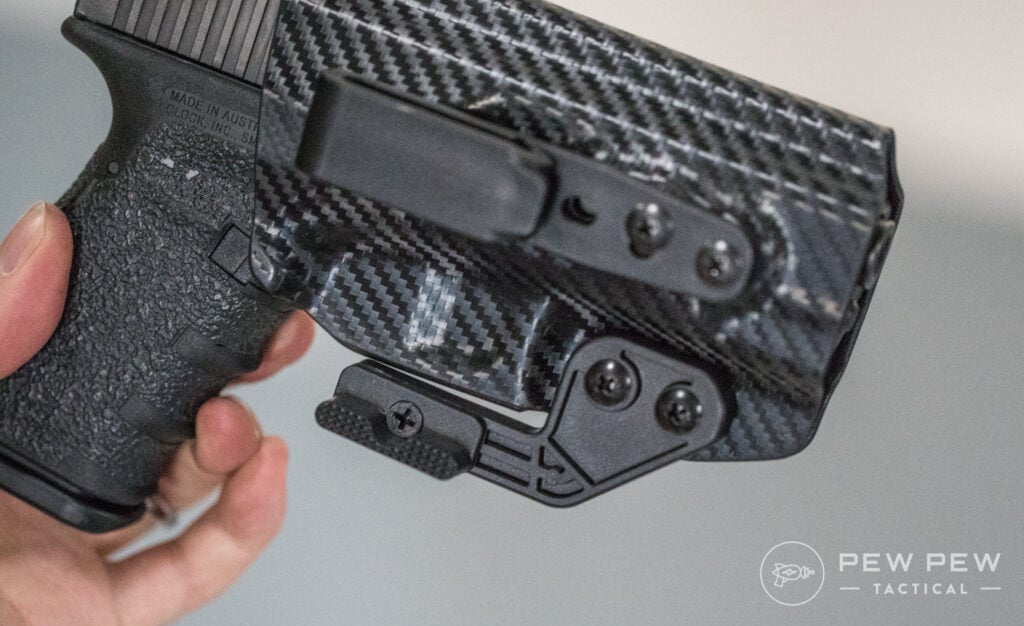 It essentially pushes your holster/gun closer to your body from the grip side…lowering your potential printing.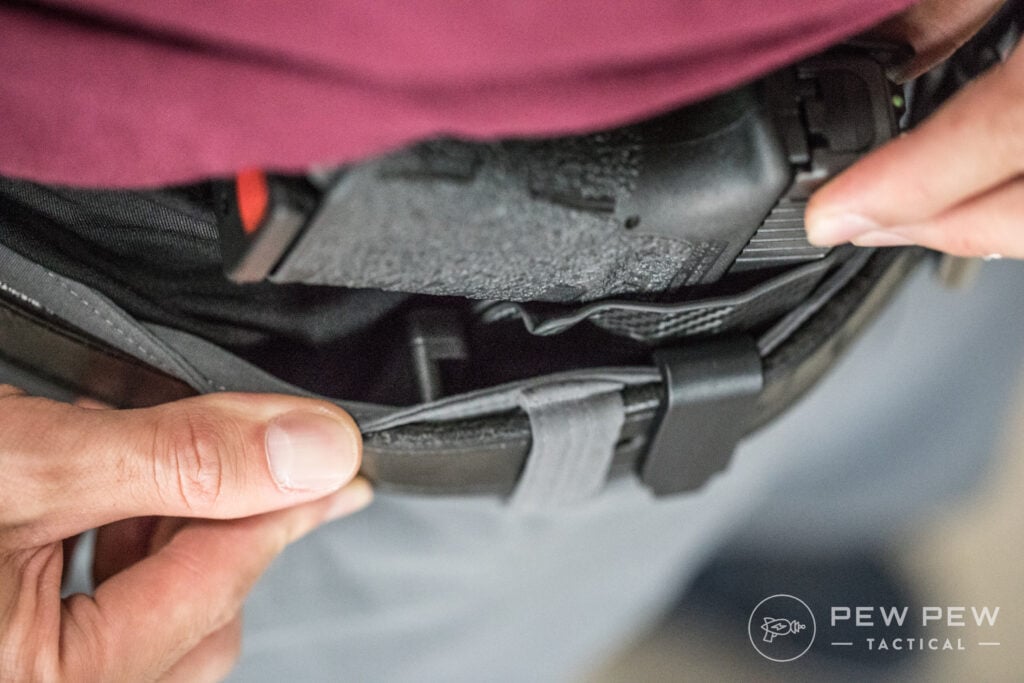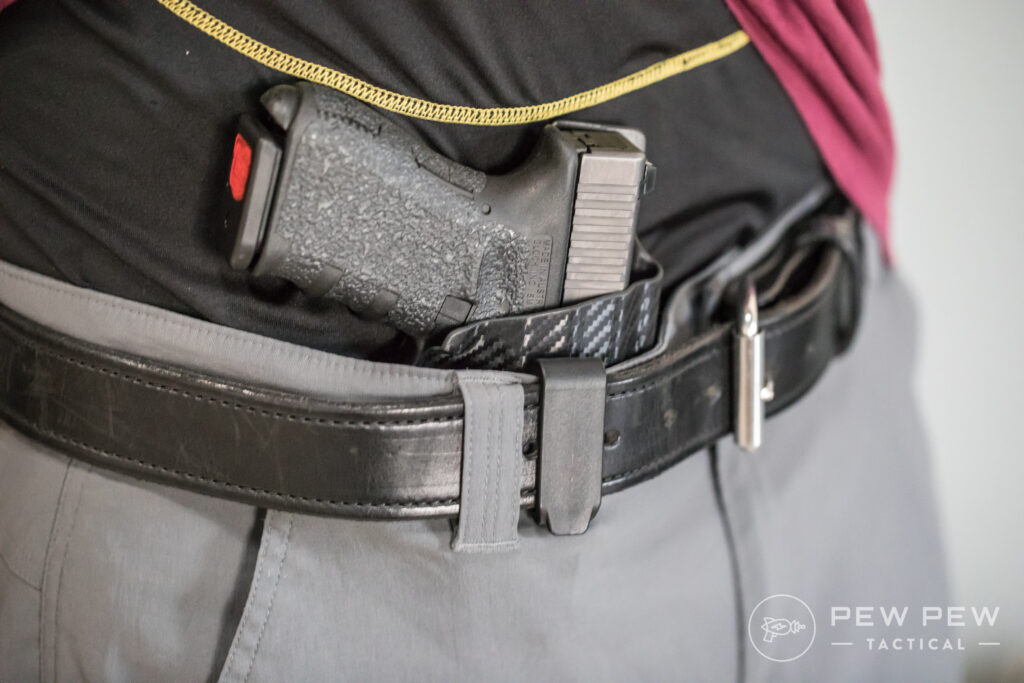 It never was a problem for me with their holsters…but I wear fairly loose t-shirts.
If you're wearing tighter fitting things or using their tuckable holster (coming up)…I would suggest it!
Gets It Done (IWB)
37
at Rounded Gear
Prices accurate at time of writing
Prices accurate at time of writing
Now how about the 4 o'clock position?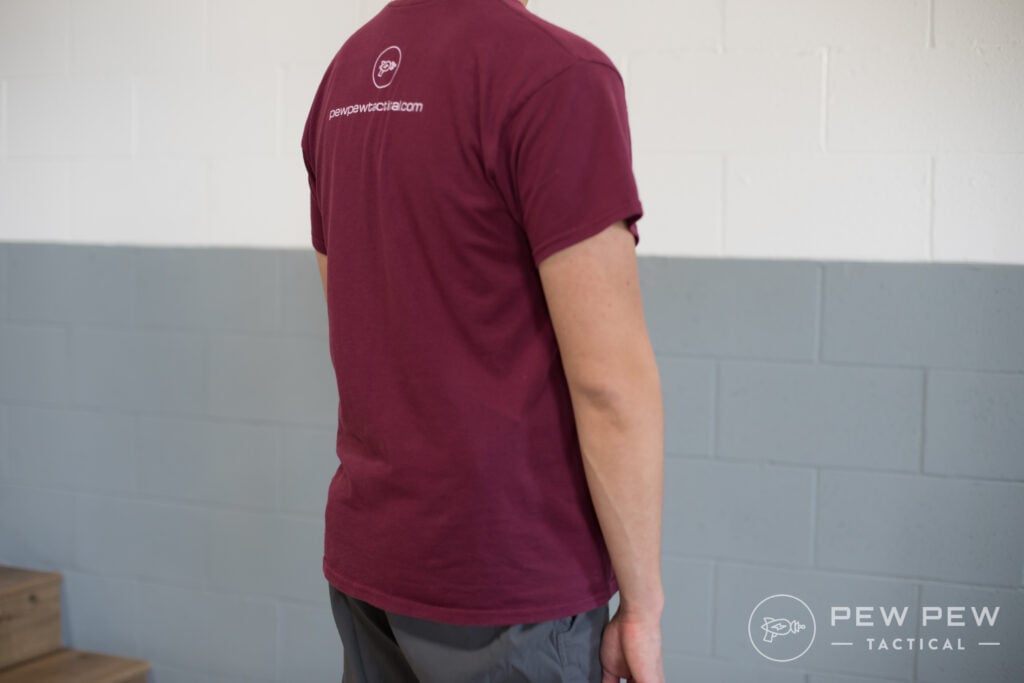 It hides well and still gives an excellent draw.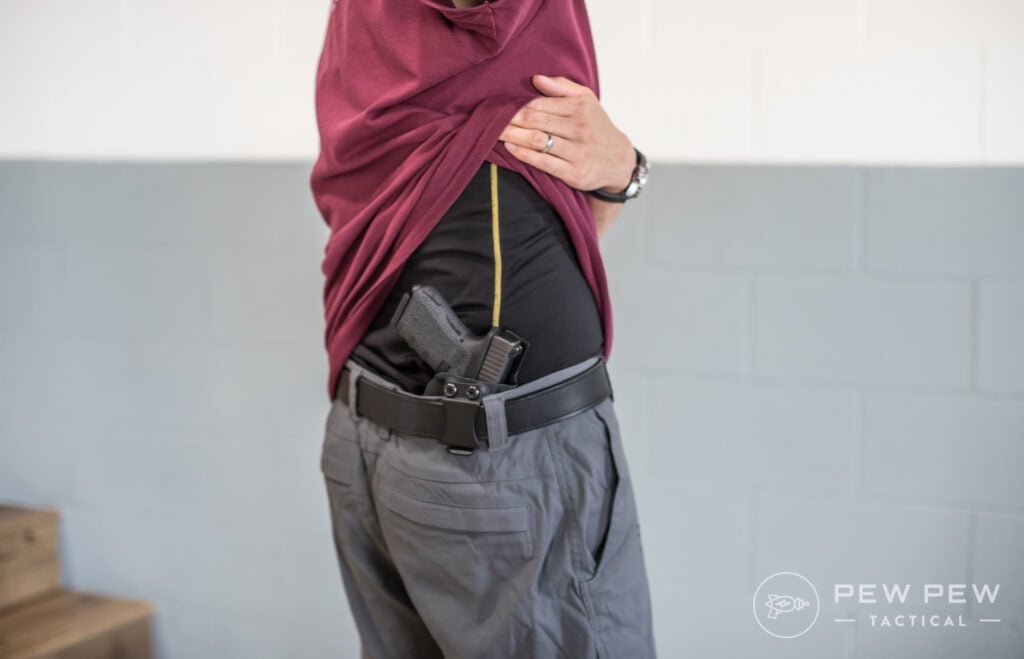 Comfort could be better since in the end it's still a hard piece of plastic on your back. For 4 o'clock stuff I like hybrid holsters more.
Tuckable Holster
A new offering is the "tuckable" holster.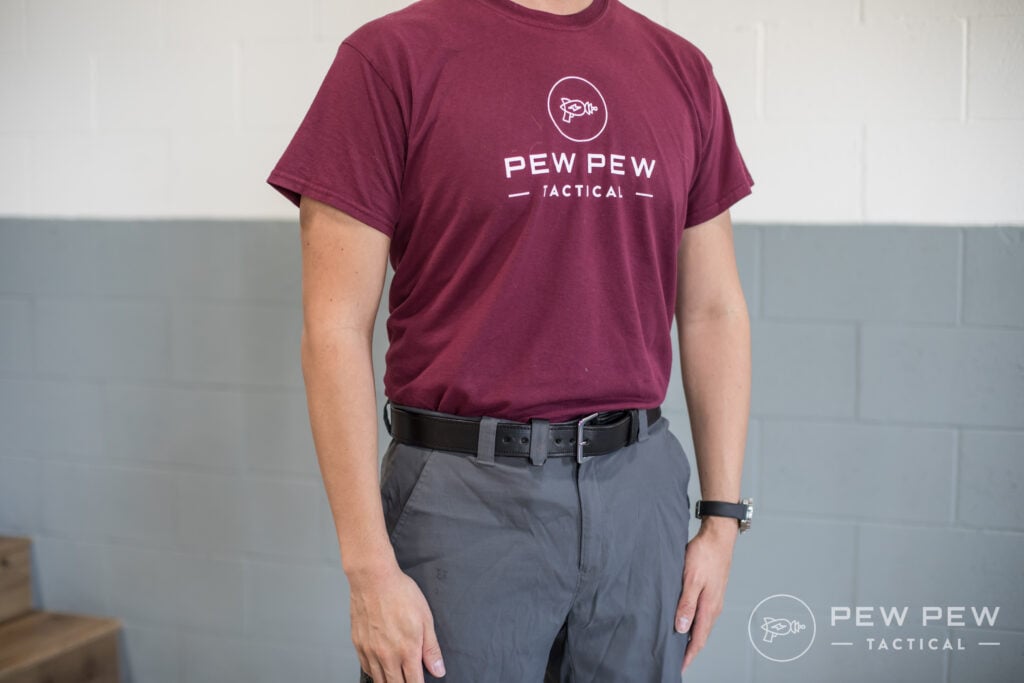 It's a thinner belt attachment from the front.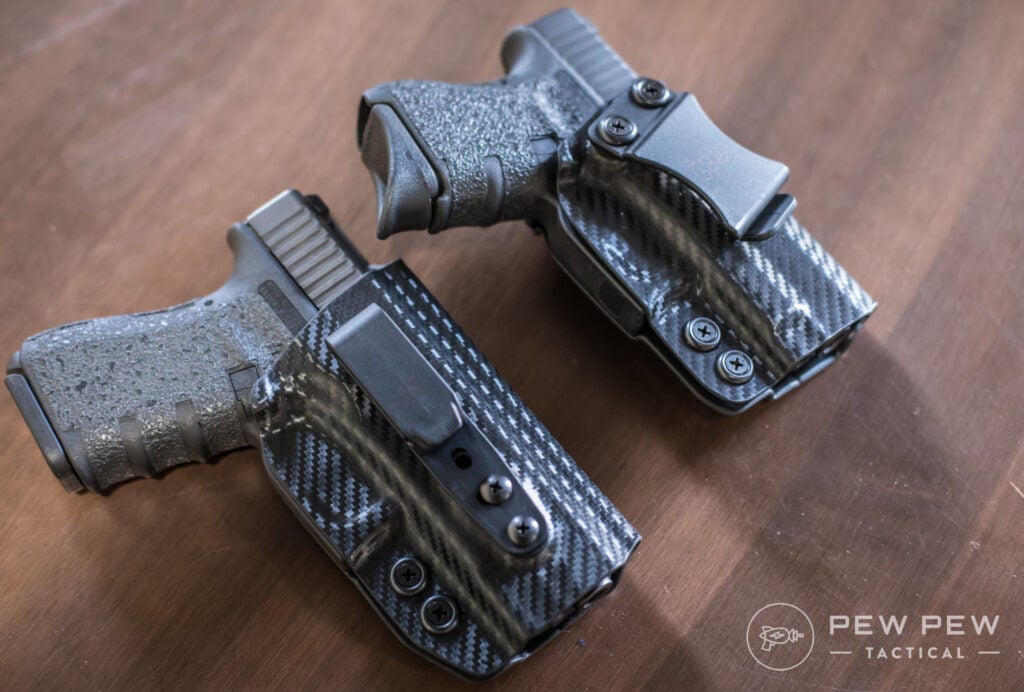 And allows a small channel to tuck in your shirt over the holster.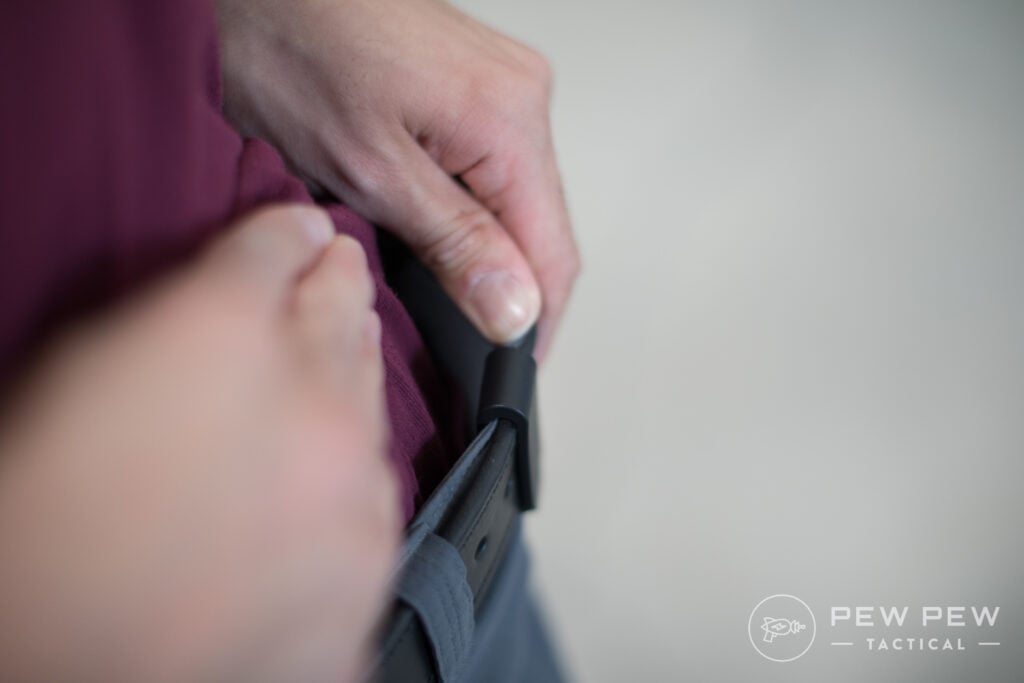 Note that if your shirt is really long it will still work but there might be some bunching of material about 2 inches underneath.
But for those that want to carry and have to tuck in a shirt…the tuckable holster is a pretty good solution!
Also note that your gun will sit a tiny bit lower compared to the regular holster…maybe half an inch.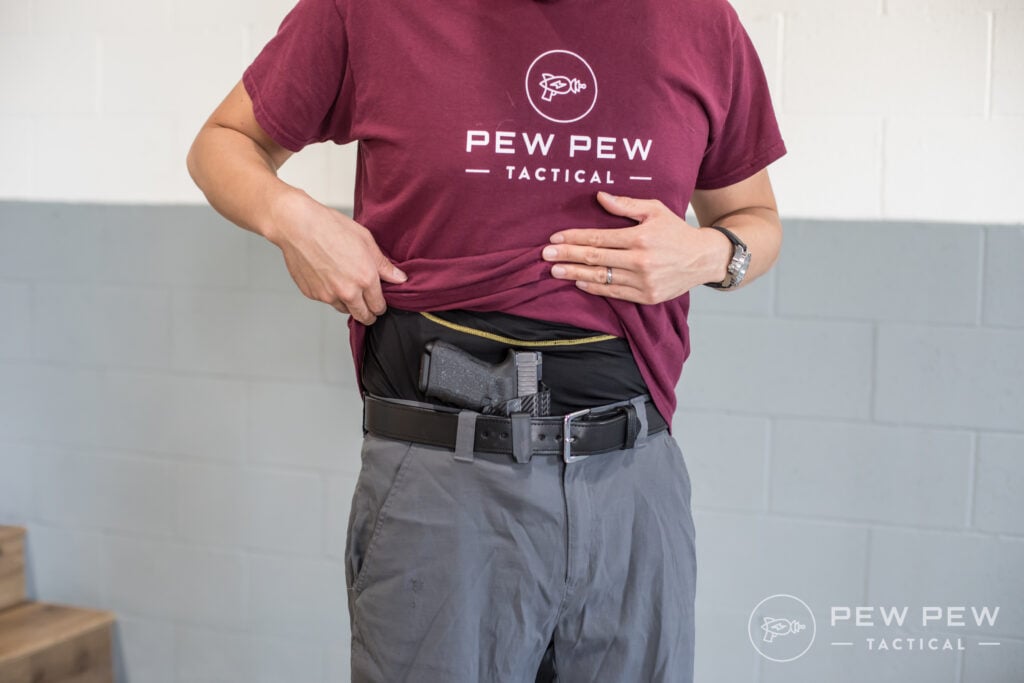 OWB Holster
A new foray for Concealment Express are their OWB (outside the waistband) holster offerings.
First up is their paddle holster.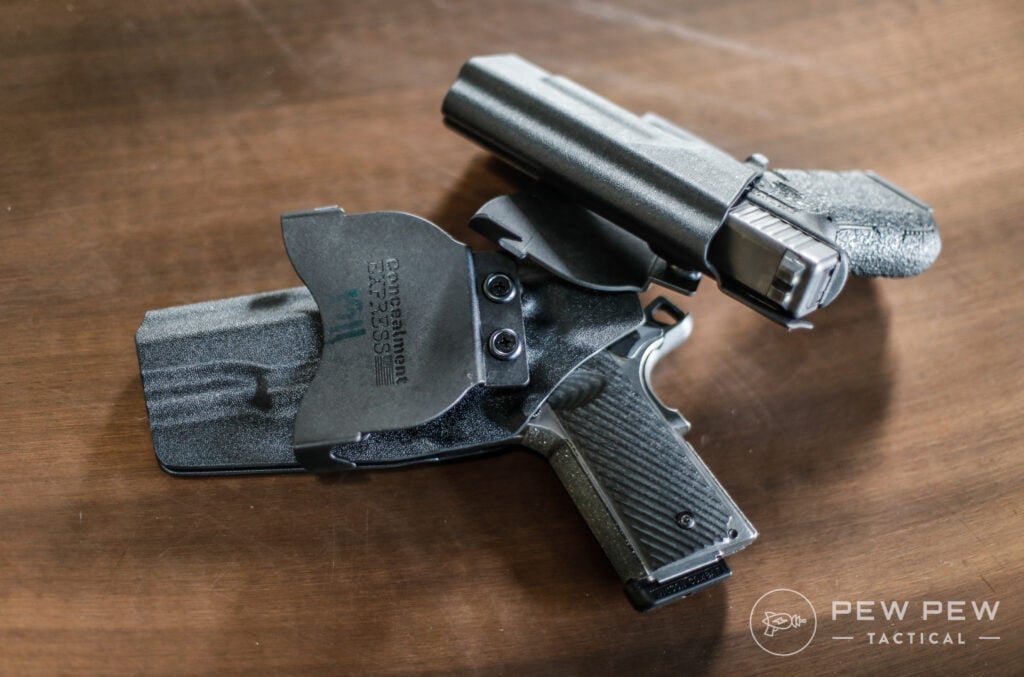 Easy to put on and take off if you have a proper belt (check out my best gun belt suggestions).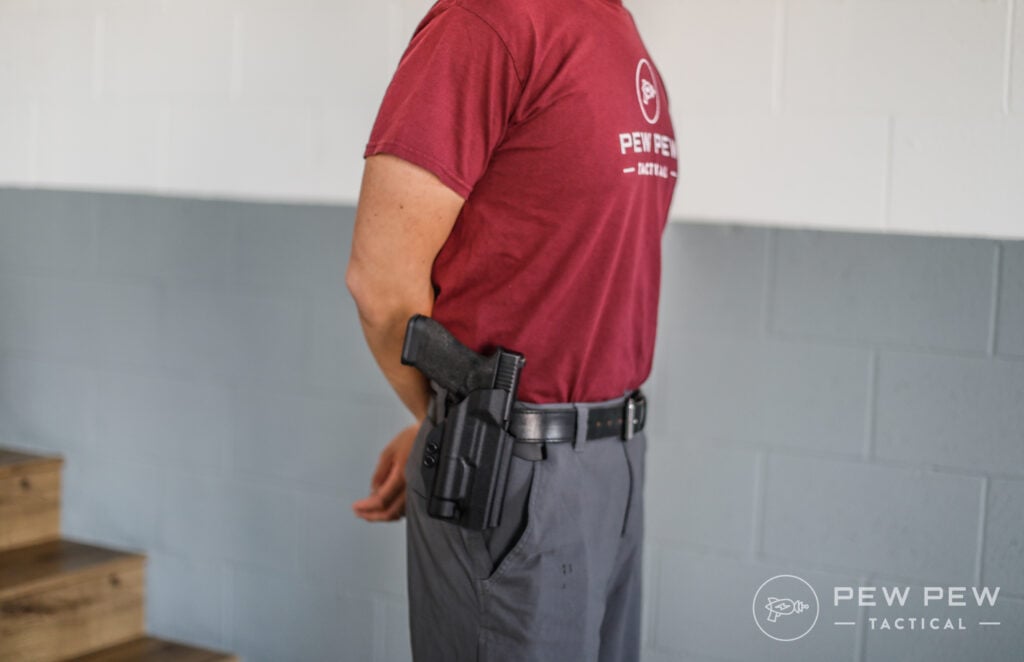 And likely what you want if you don't care about concealing…such as for competitions, range use, or duty.
You get a full combat grip and there's also tons of light options for the most popular guns.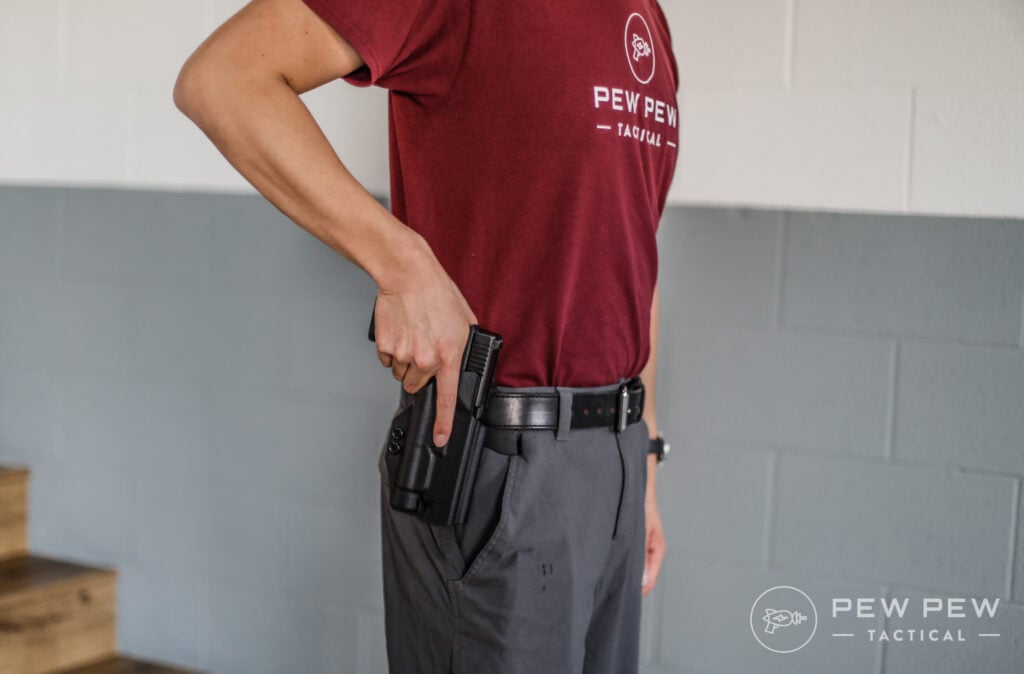 If you don't have a torch on your pistol…check out my Best Handgun Lights article.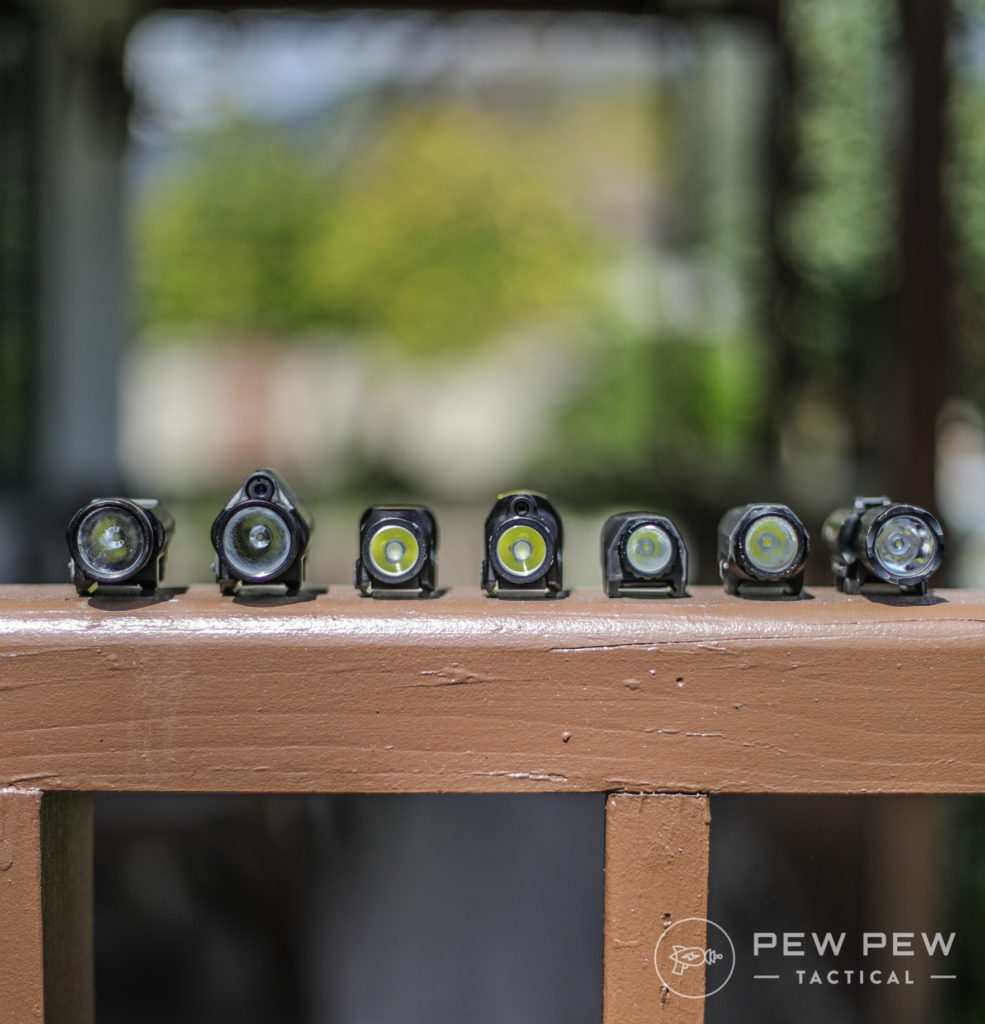 Ok…back to the holster! Here it is in action…
Easy to draw with adjustable tension. And good enough for drills where you'll draw and holster a bunch.
My only complaint would that with a 1.5″ belt there's some slack in the paddle hooks.
Here it is pulled "high."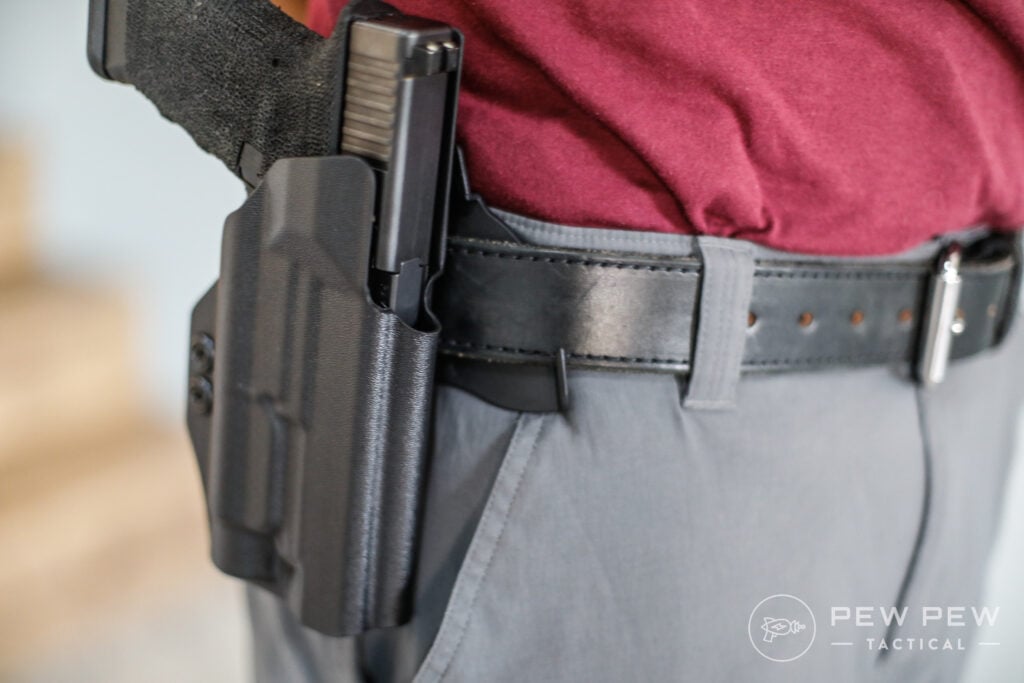 And how it looks after some movement or when you push it down.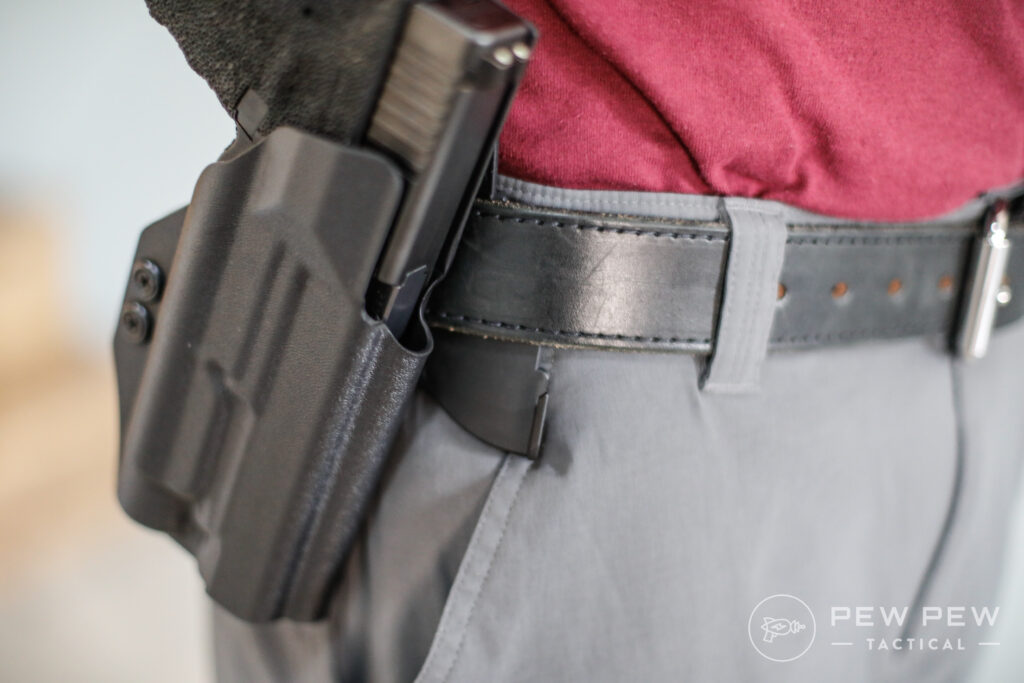 You can see it cants the gun a little forward. Not a big deal when I'm at the range or competitions (I'll move it into the "high" position).
However I never feel it moving when walking and it doesn't negatively affect my draw even with down…nor has the holster come out with a draw.
Another OWB option is the belt loop model.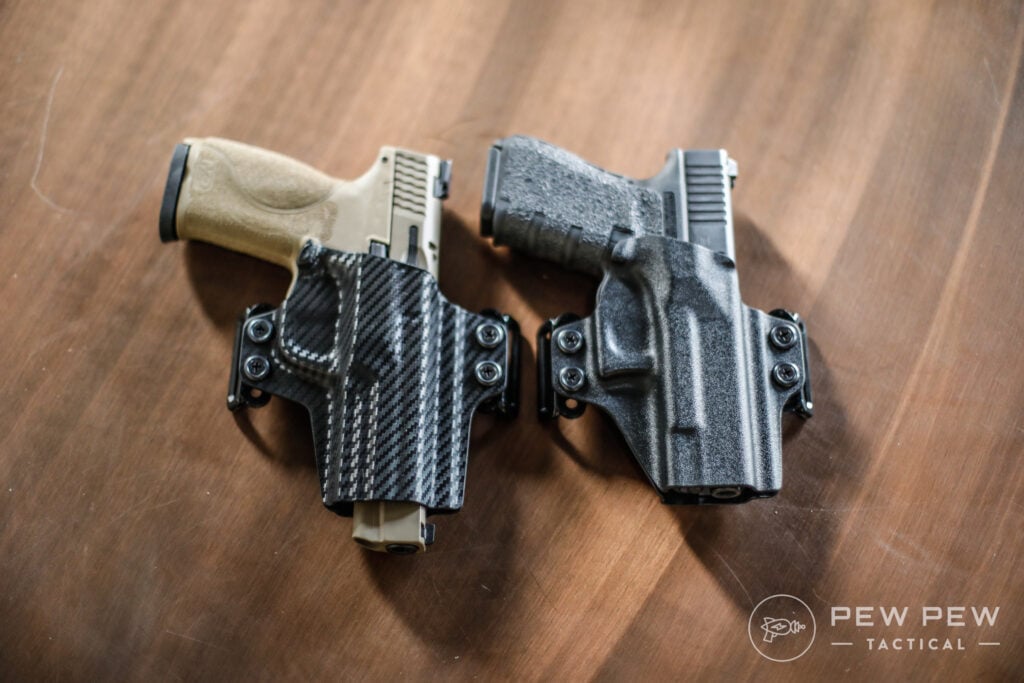 A good choice if you want it more securely attached to your belt or if you have a dedicated inner/outer belt setup to throw on.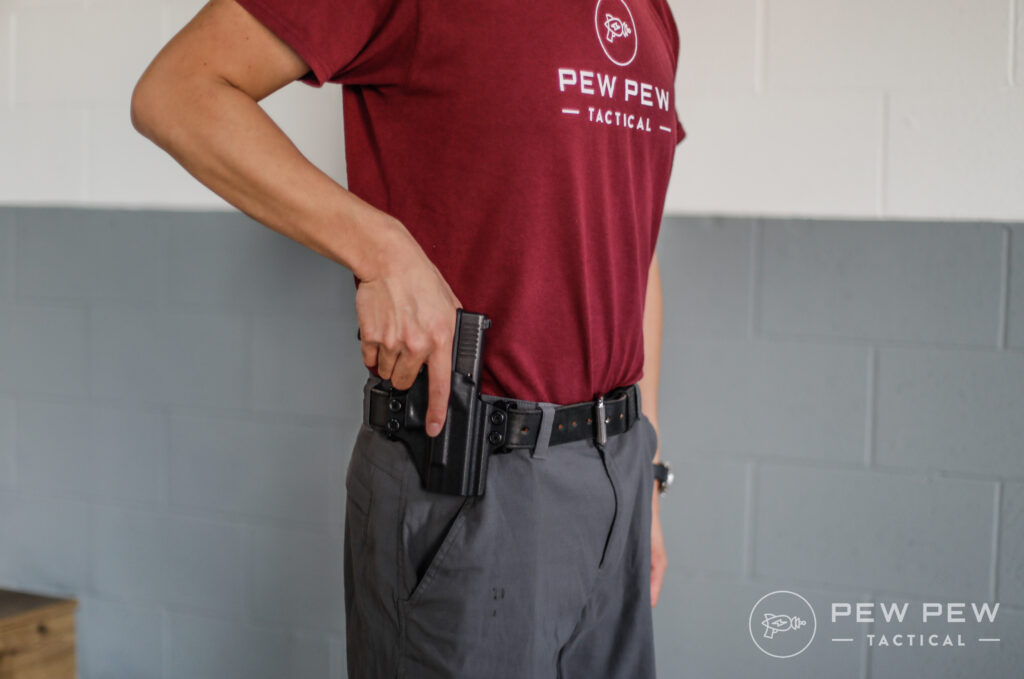 Mag Holsters
Not much to say here except that their mag holsters work for double-stack and single stack of all the mags I had on hand to test.
Conclusion
Concealment Express kydex holsters are a great entry in simple yet effective AIWB options. The regular belt clips work, cant is adjustable, appendix carry is comfortable, and the price is right. Plus now they have tuckable and OWB options.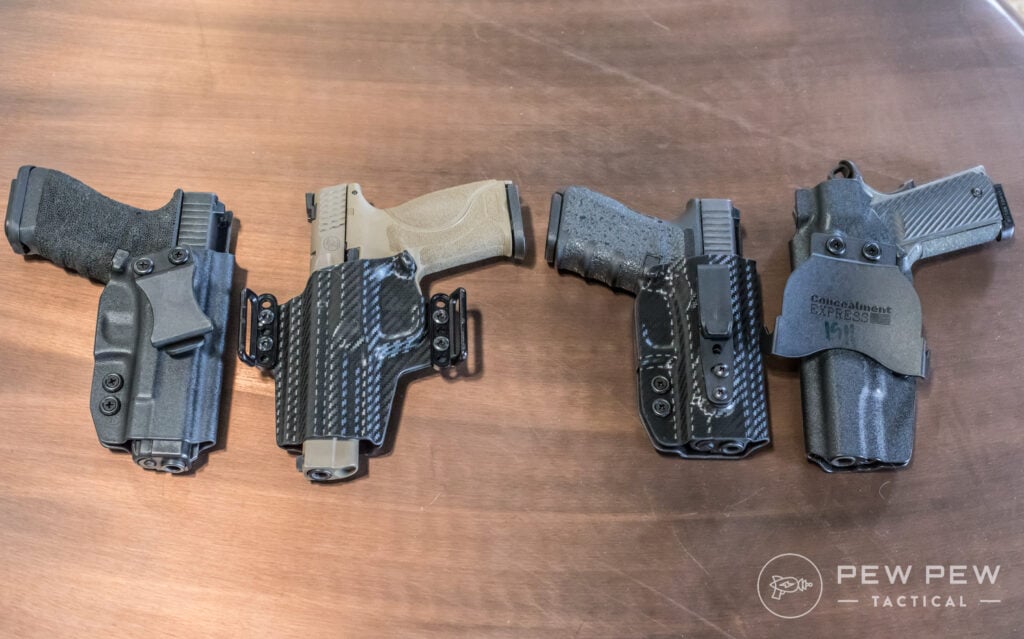 And of course…they conceal well and the give you a good high draw.
Gets It Done (IWB)
37
at Rounded Gear
Prices accurate at time of writing
Prices accurate at time of writing
Have you had experience with Concealment Express? Let us know in the comments! And if you're looking for other options, check out our Best Concealed Carry Holsters article.