Need to tame your .308 rifle's recoil?
AND get back on target quicker?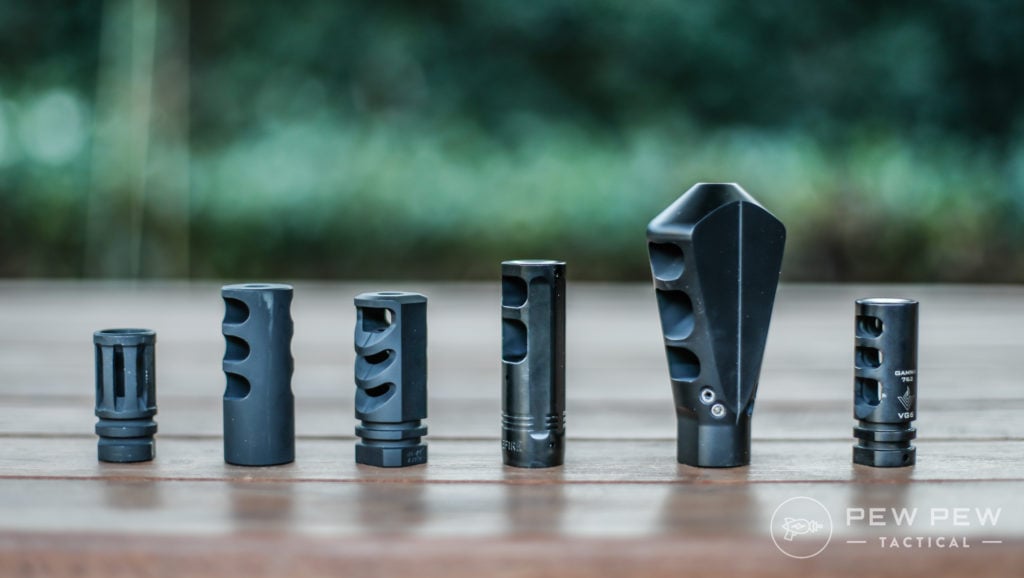 You'll want to swap out that factory muzzle device and get a new muzzle brake or compensator.
We hands-on test 6 of the most popular and well-reviewed devices out there. Not only looking at recoil data but checking out side blast, decibel readings, and reticle movement.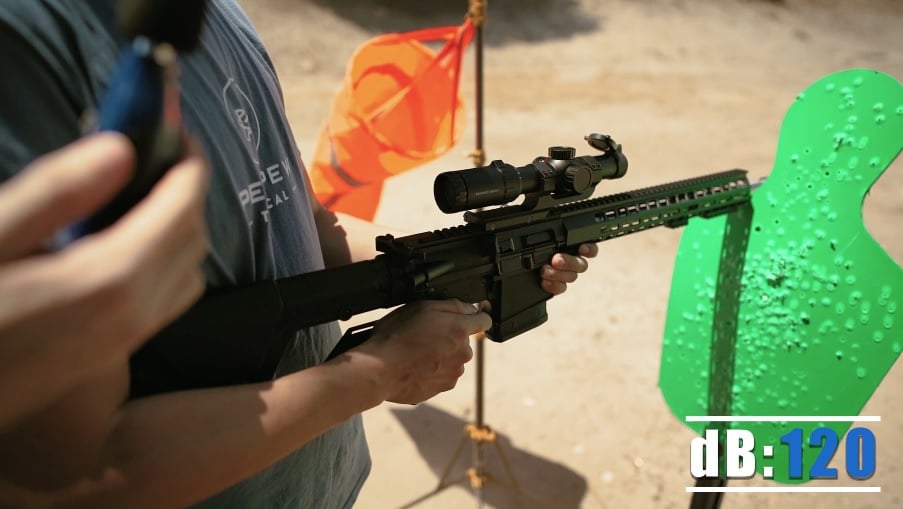 By the end you'll know the best brake for your end-use and budget.
Now let's start off with some quick terminology…
Flash Hider vs Muzzle Brake vs Compensator
Flash Hider: reduces the muzzle flash/fireball when you shoot
Muzzle Brake: reduces felt recoil backwards with side vents
Compensator: reduces vertical movement with holes on top
One easy way to tell a flash hider from the others is hole size…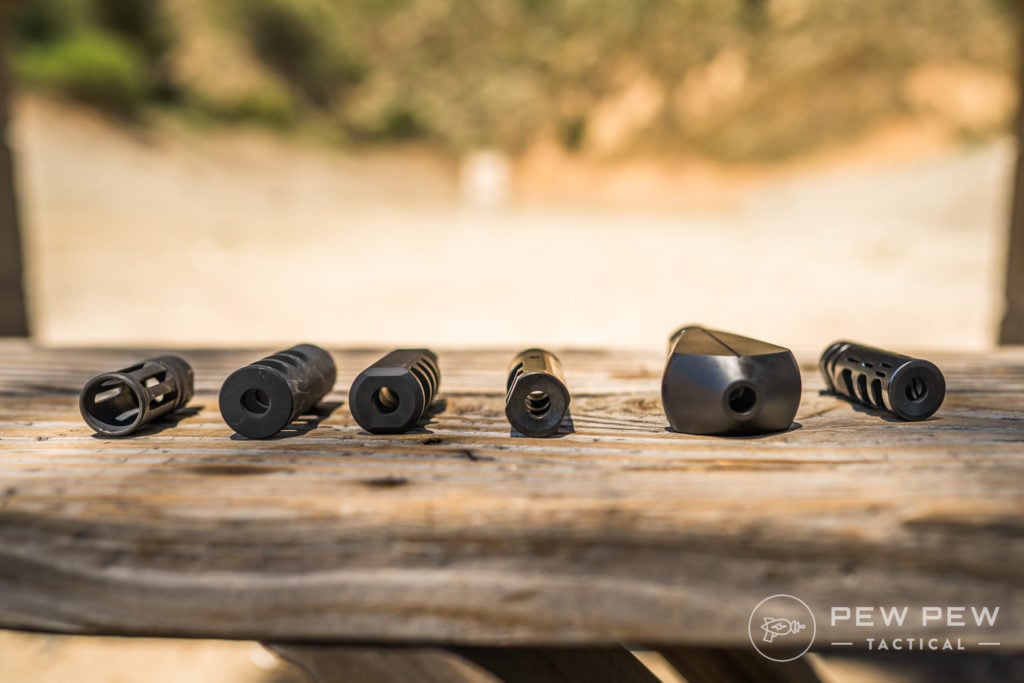 The left-most is a flash hider with a much larger exit diameter than the other brakes and compensators…which have an exit diameter close to the caliber.
And unlike AR-15 muzzle devices, which are mostly hybrids of muzzle brakes and compensators (holes on the side and top), there's still quite a few pure brakes in the .308 arena.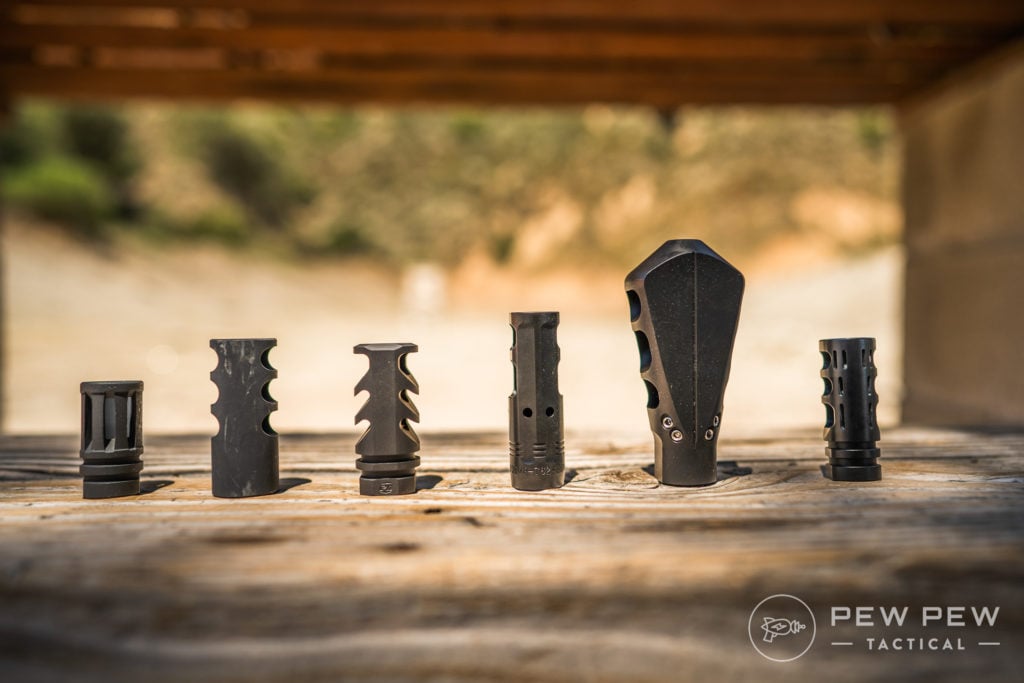 My guess is that .308 includes a lot of bolt guns…and many people are looking at pure recoil reduction and care less about vertical movement reduction (from compensators).
Now let's get on with how I tested…
Testing Procedures
Background
Like my Best AR-15 Muzzle Devices article, I started my research with Jeremy S. over at TTAG who did amazing research on recoil reduction.
Check it out here.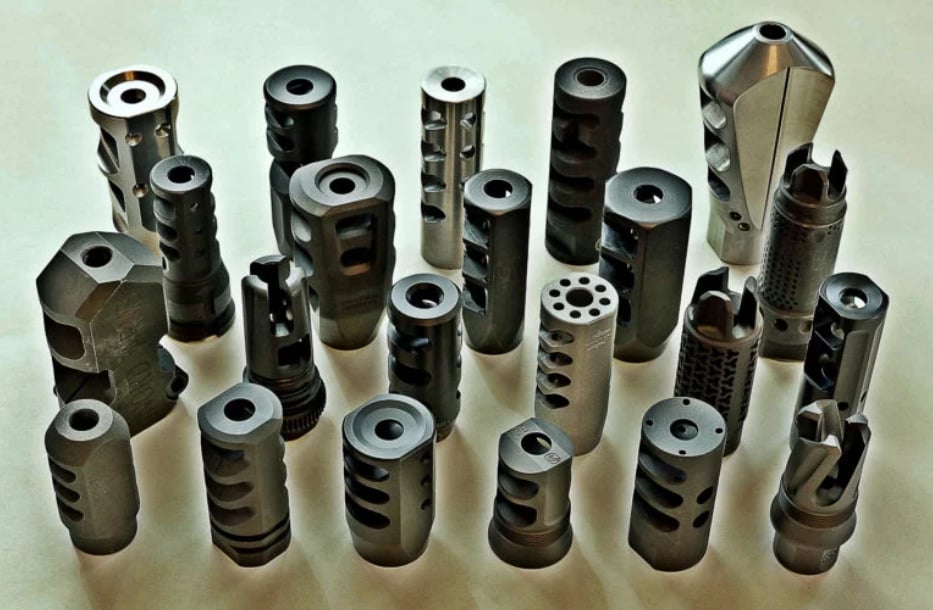 That's a lot of muzzle devices.
I started with some of the top I already had and that had some great reviews already.
Got them in hand…and shot them a bunch before starting the tests.
Gun
I'm using a .308 AR-10 from Palmetto State Armory. Full review here where I go over its reliability, accuracy, and more.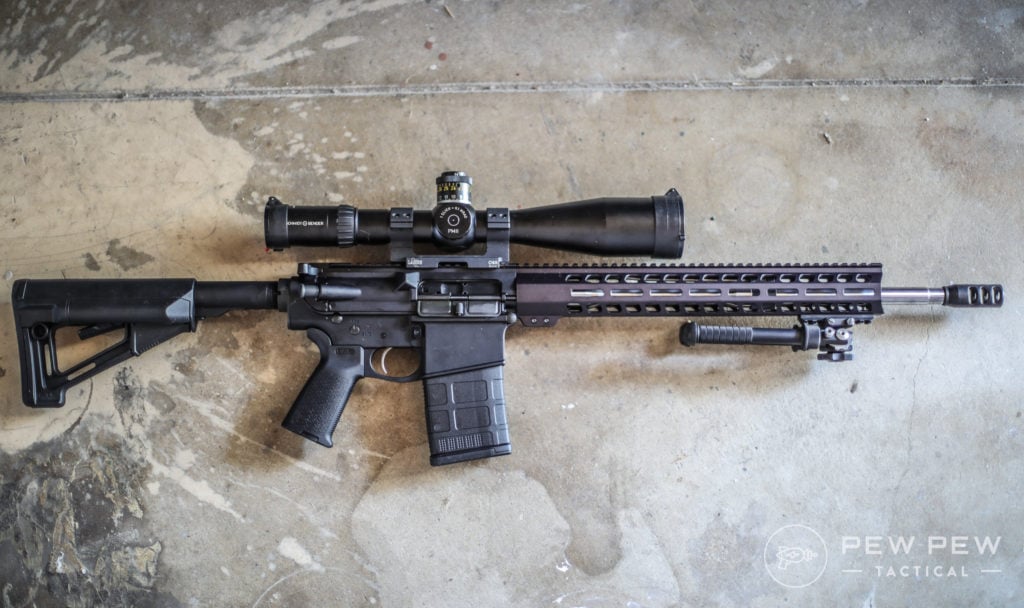 I chose it since it feels very over-gassed and in need of a great muzzle device.
Side Blast Measurement & Decibel Measurement
You're less likely to be clearing rooms with a .308 compared to an AR-15…but it's still good to be nice to your fellow shooters next to you.
I rigged up a windsock on its side and kept the distance from the muzzle roughly the same for each brake/compensator.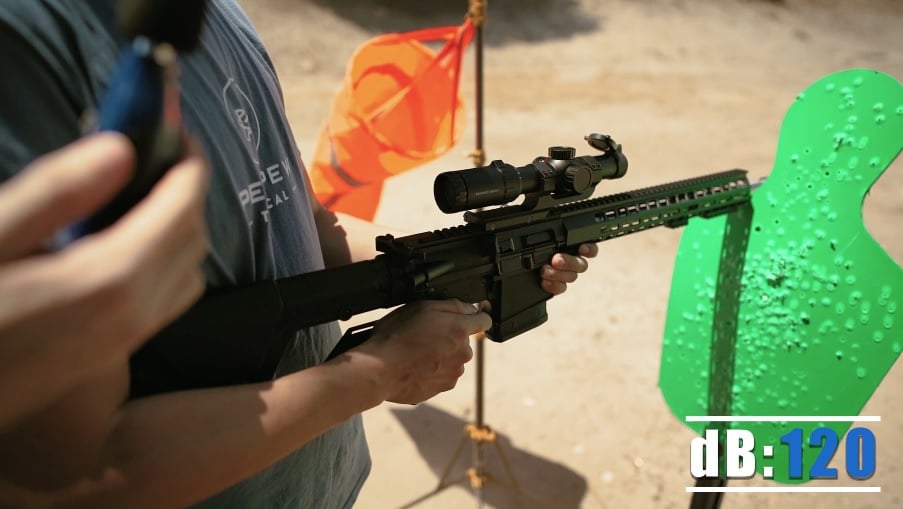 Not the most scientific, but we got some decent results for the side blast.
And I also kept a decibel meter roughly at my shoulder for loudness-to-shooter readings.
If you don't want ringing ears…check out our Best Shooting Ear Protection for our tested favorites.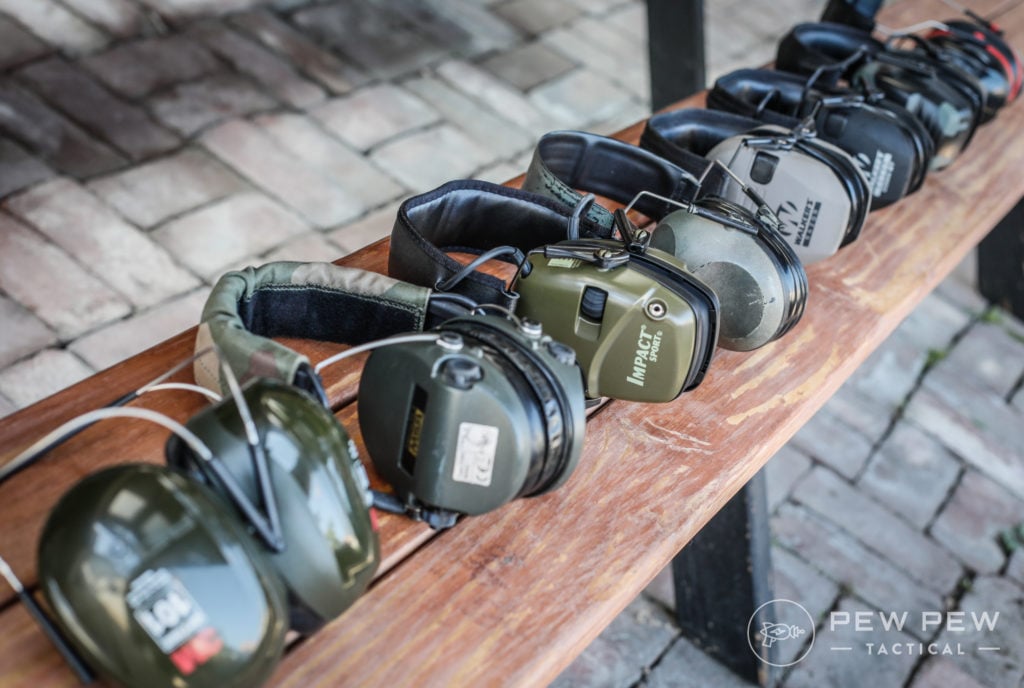 Reticle Movement
What matters to me most in the end if I'm running & gunning…or trying to move quickly between targets (even on a bolt gun).
I ran a Primary Arms 1-6x with ACSS reticle scope at a 25 yard target. Oh…and I got each on video too with multiple shots.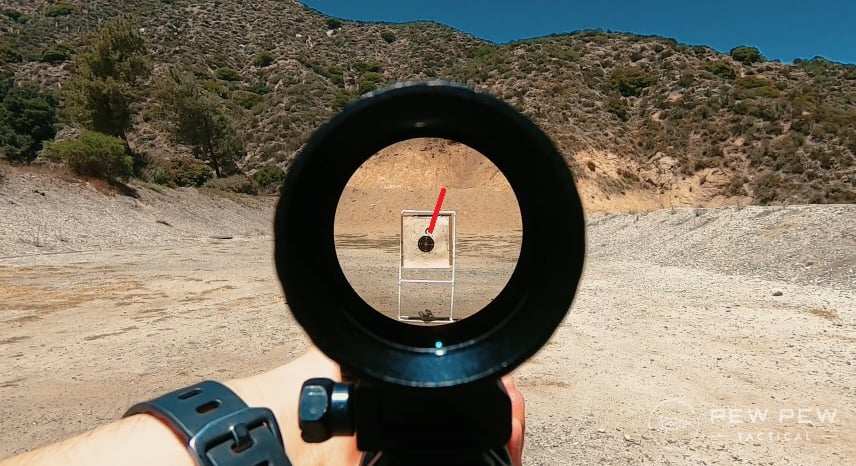 Check out Best AR Optics or Best 1-6x Scopes for more details on my optic.
I shot standing up with a c-clamp grip and did my best to let the reticle move naturally before followup shots.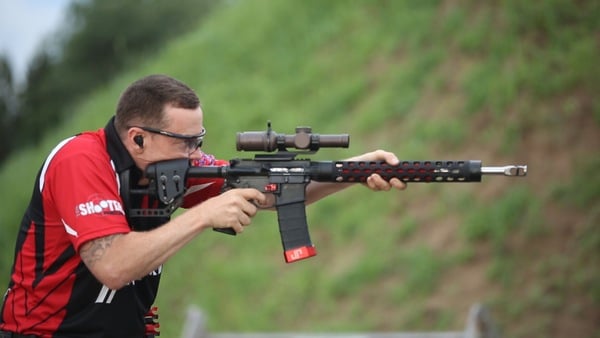 I was somehow aiming a little above the bulls-eye so I included some screengrabs and Microsoft Paint red lines of what I deemed "average" movement.
Now let's get on with it!
Best Muzzle Brakes & Compensators
1. A2 Birdcage .308 Flash Hider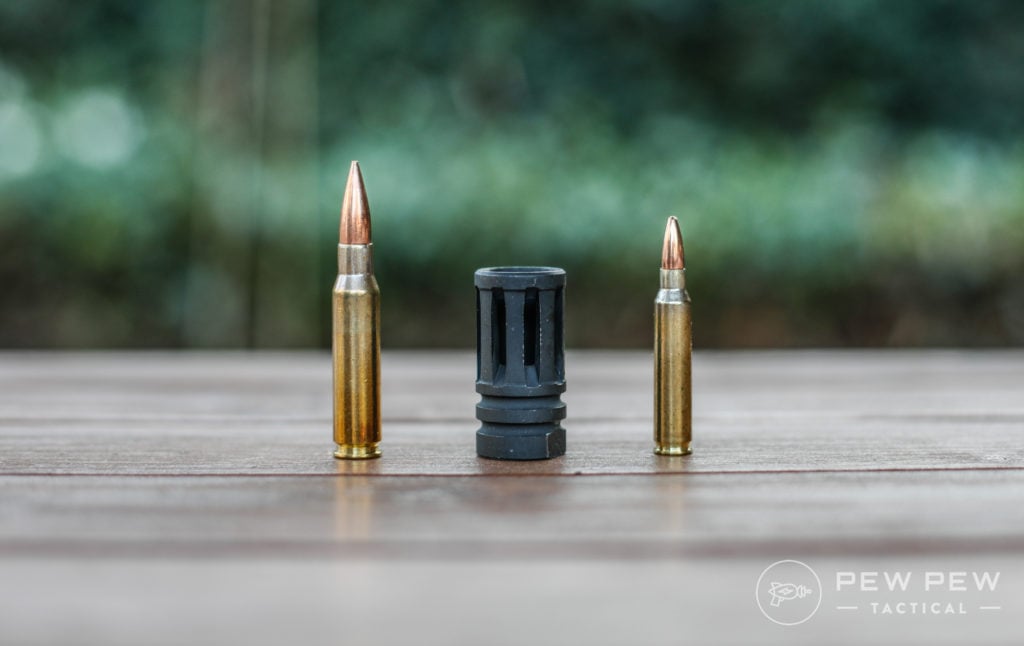 The A2 Flash Hider is probably what came with your .308 if it was a semi-auto.
It does an awesome job of reducing blinding flash compared to a bare muzzle…but it's not made to reduce recoil or vertical movement.
Plus there's nothing on the bottom to kick up excess dust if you're going prone.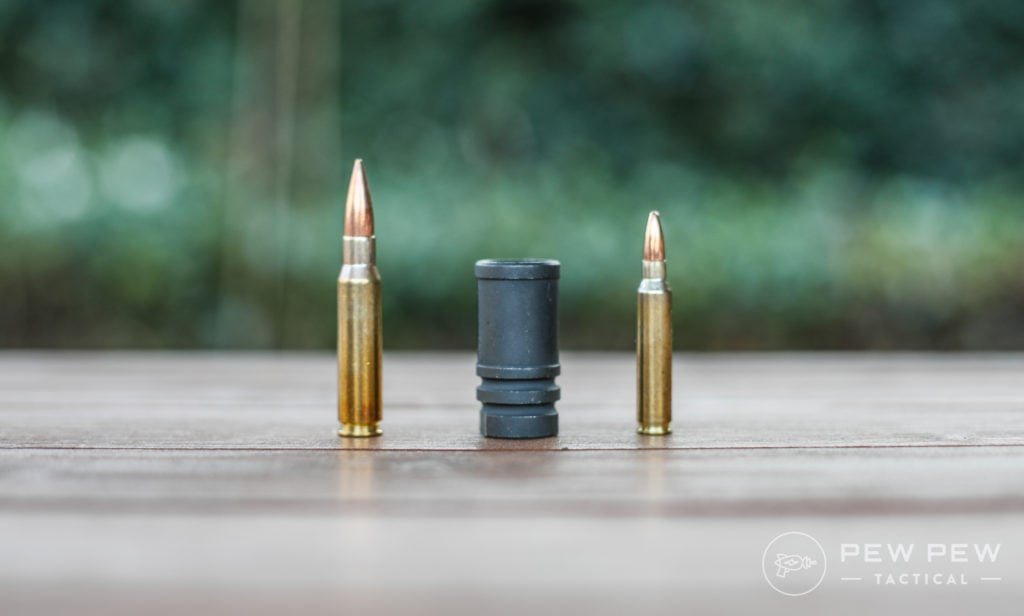 We're using it as the control against all the other devices.
Check out the short video!
It held at 120 dB for three shots.
For comparison, the A2 Bird Cage on an AR-15 was 116 dB. Every three dB means a rough 2x increase in loudness.
And that's why I tend to double-up on ear pro for .308 rifles.
As for the movement…there was a good amount upwards and only slightly to the right (due to my left-handed c-clamp grip).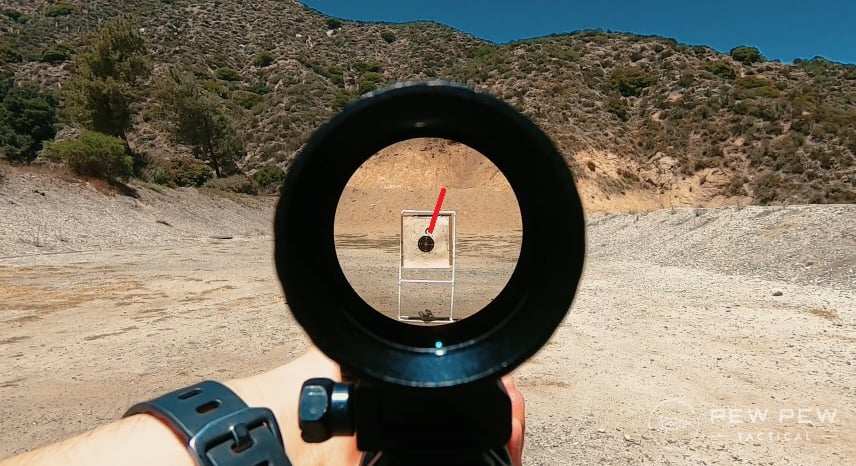 Plus it knocked my camera out of alignment after the first shot.
Again, good since it was probably free or cheap. And it's light at under 2 oz.
10
at Aero Precision
Prices accurate at time of writing
Prices accurate at time of writing
Now let's see what the real brakes and compensators can do!
2. DPMS .308 Miculek Brake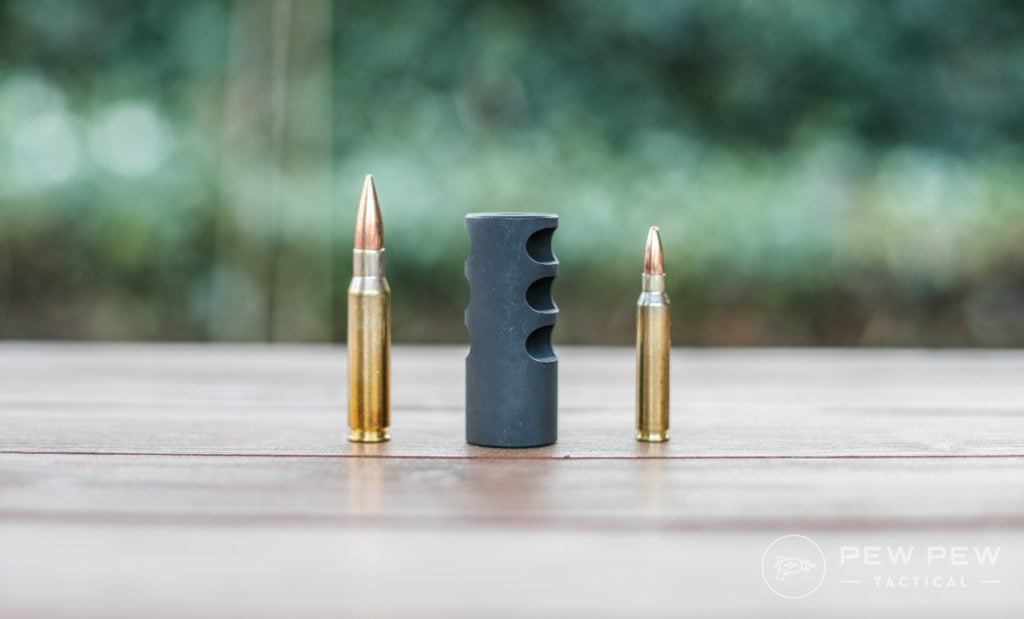 The DPMS is a traditional brake with big side vents developed with uber-shooter Jerry Miculek.
Great recoil reduction but it usually destroys in side-blast and loudness. Let's see…
Yup, you can see that windsock DANCE.
And though it maxed at 121 dB, it's not the worst for the shooter if you're wearing proper ear pro.
"F" for your team mates or shooters next to you at the range.
Reticle movement is also pretty large and inconsistent…some shots were more vertical while some were in the 2 o'clock range.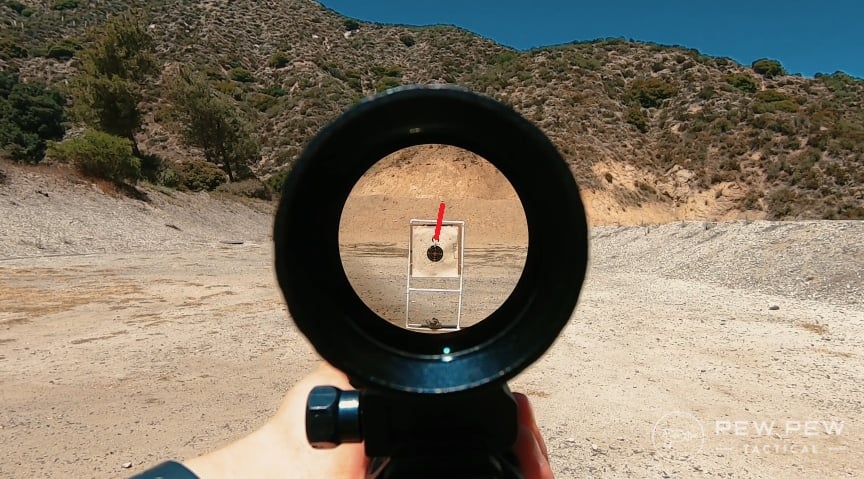 Recoil was definitely reduced and so I'd say it does its job as a pure brake.
It's the most affordable pure brake on the list…but at around $60 you're probably wanting to spend just a little more to upgrade.
62
at Brownells
Prices accurate at time of writing
Prices accurate at time of writing
Let's continue.
3. Precision Armament M4-72 Severe Duty .308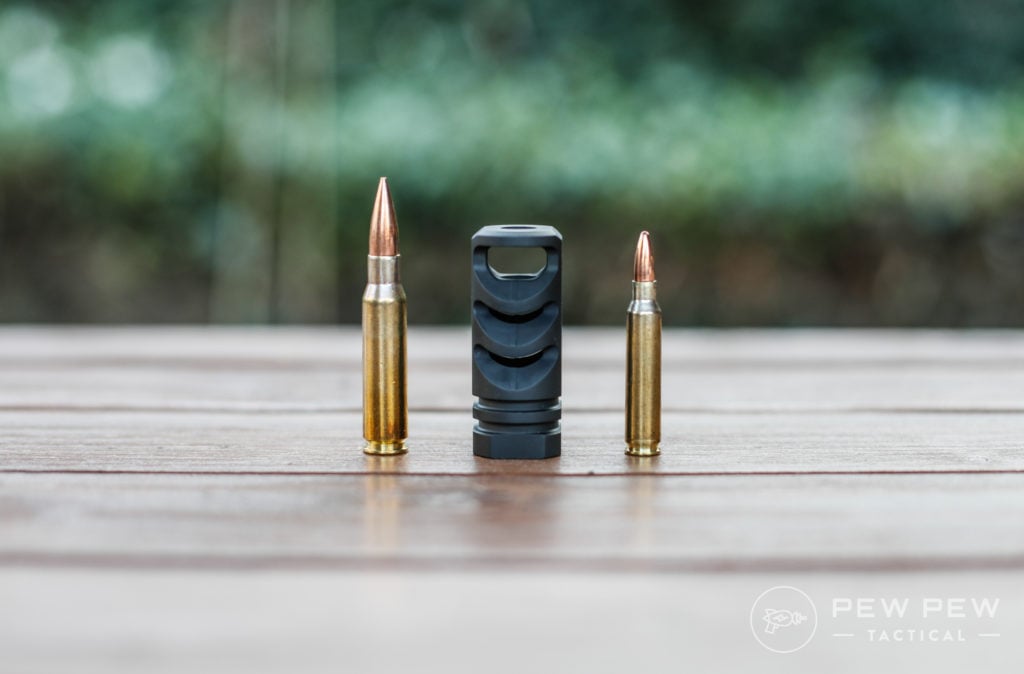 The M4-72 in .308 from Precision Armament is the highest rated model for both .308 and .223 in terms of recoil reduction.
The .308 model reduces recoil 64.4% with those angled side vents.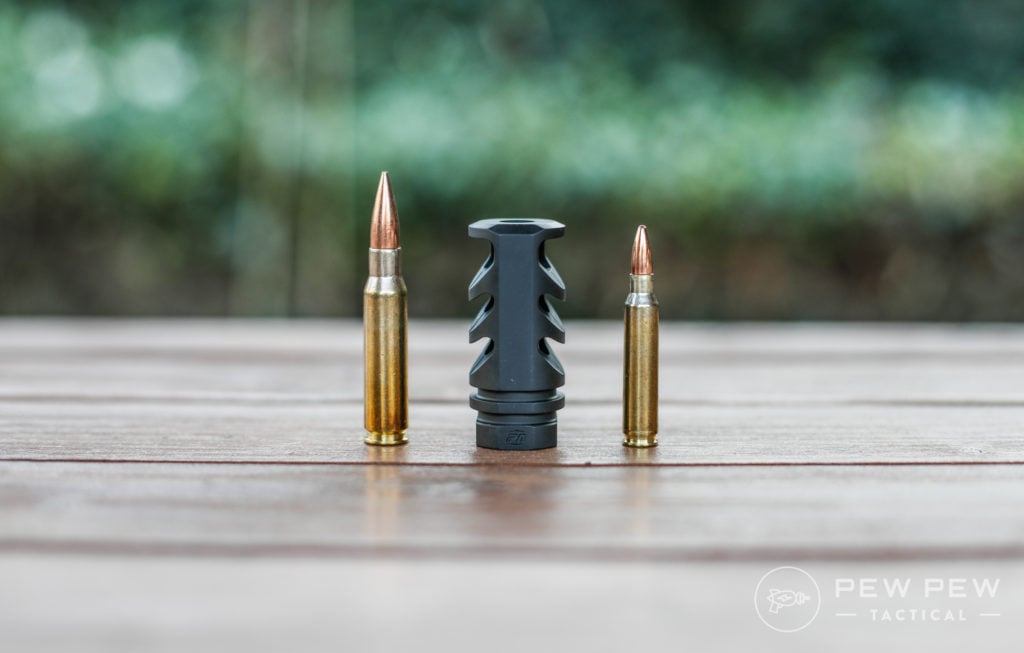 But how does it to for our other tests?
You can see some movement in the wind sock but it's nowhere near as bad as the DPMS. I think the angle of the vents has as lot to do with it.
And we even get one shot at 117 dB!
As for reticle movement…it does the job decently well with some movement at the 1-2 o'clock.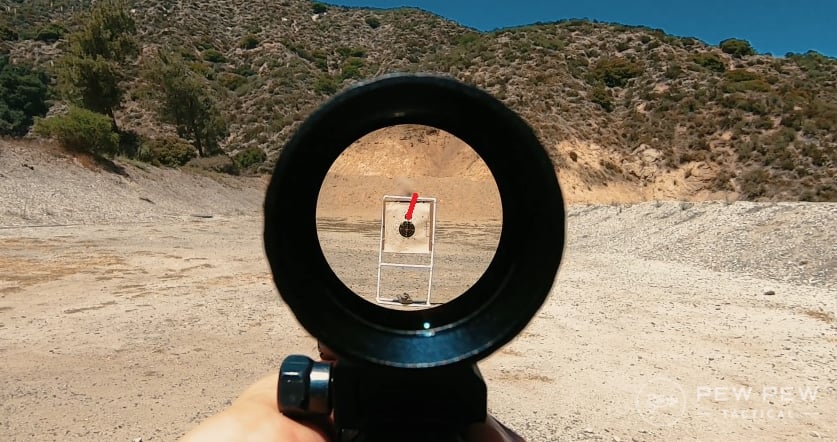 One of my recommendations if you're after more recoil reduction but can live with some side blast and decent reticle movement mitigation.
99
at Brownells
Prices accurate at time of writing
Prices accurate at time of writing
4. SureFire ProComp 7.62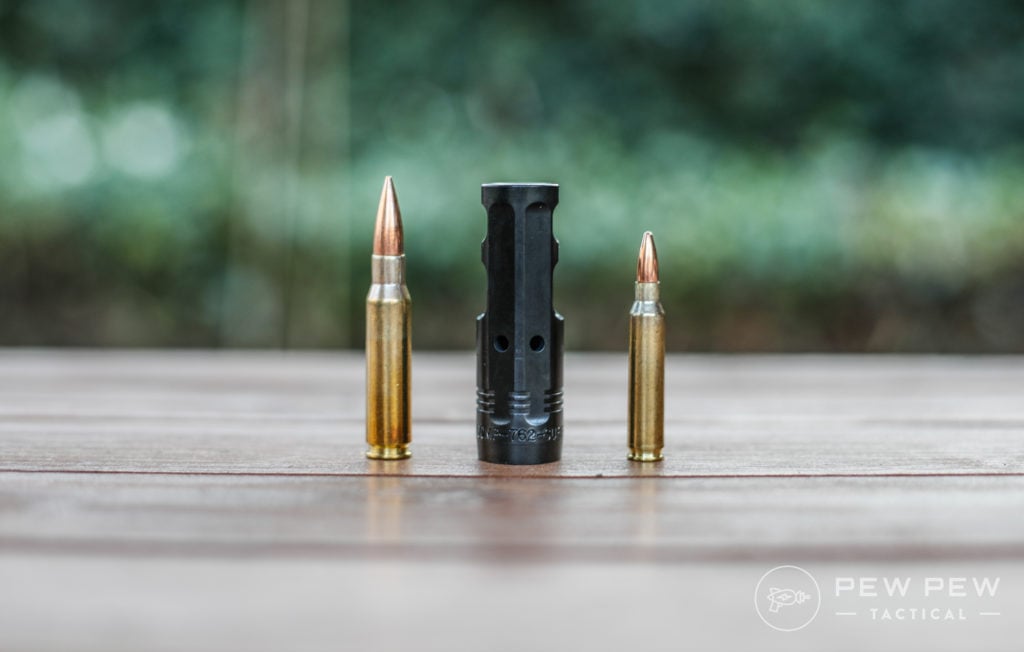 The SureFire ProComp in 7.62 was a winner of the best recoil reduction for the buck.
With 53% reduction at around $50.
It also gets some points since it's a hybrid brake/compensator…check out those holes at the top to mitigate vertical movement.
It's a two side-vent system and there's also two blind pilot holes at the 3 and 9 o'clock if you want to drill for side-to-side movement reduction.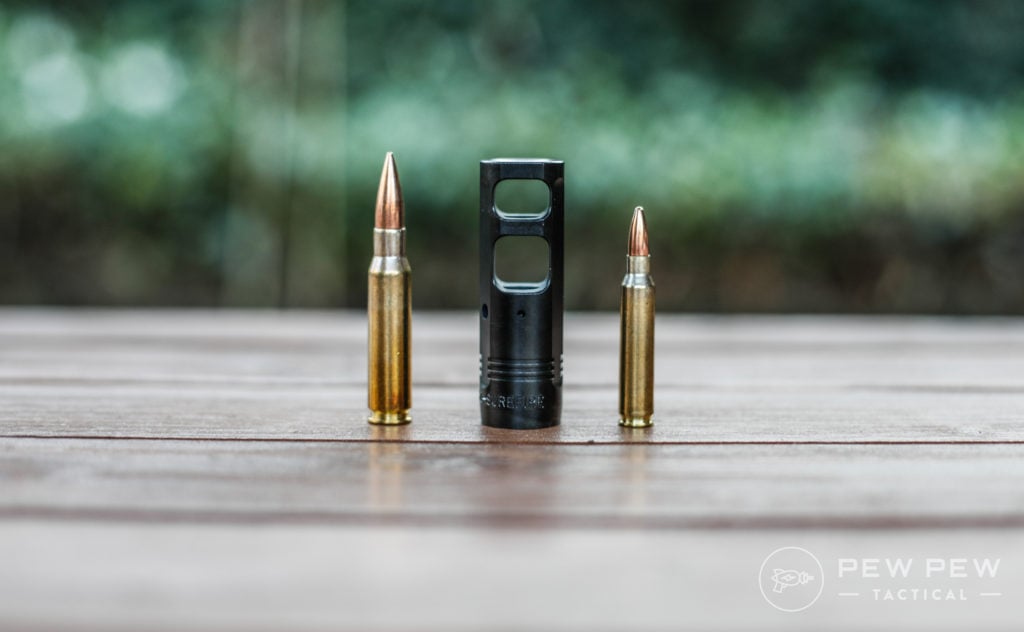 Let's see how it does with just the vents and two holes on top…
In a nutshell…not too shabby for the price.
Not a lot of movement on the wind sock and holding steady at 120 dB at the shooter.
Vertical movement of the reticle was low but instead it seemed to shift a lot more towards the 2 or 3 o'clock location.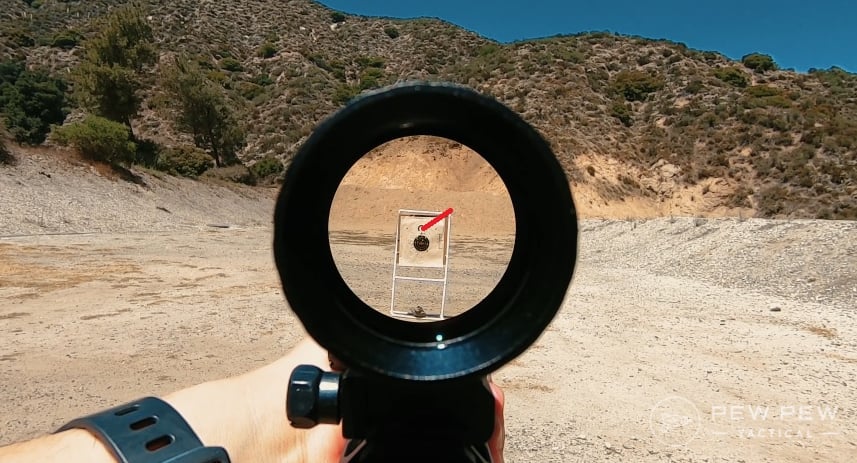 I can see why they included the pilot holes at 3 and 9 o'clock. When I have time I'm going to drill at the 3 o'clock and redo the test.
One more goodie is that it has a blind pin hole at the 6 o'clock position for you to pin and weld onto shorter barrels.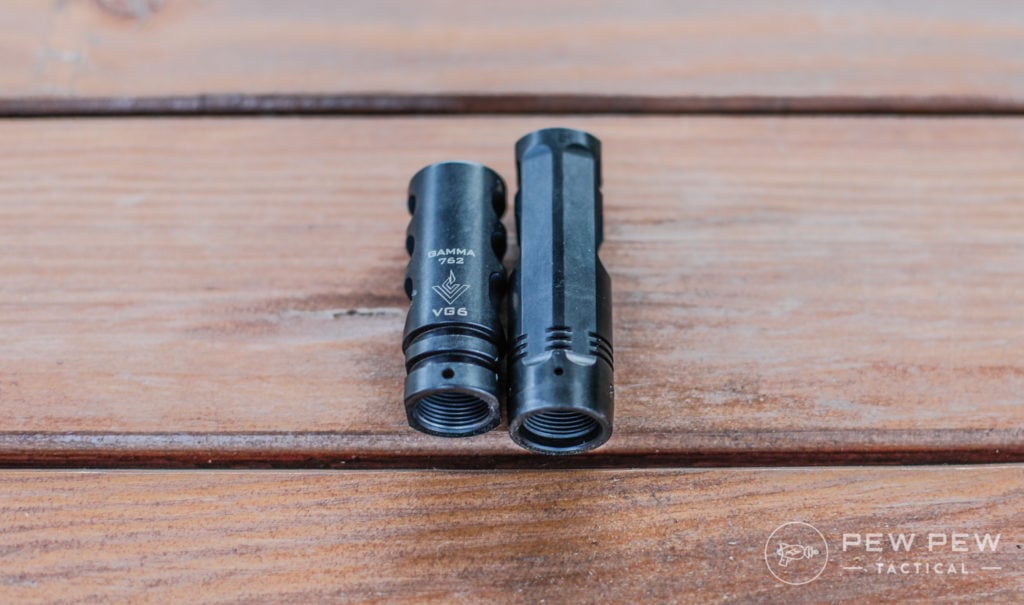 Until I test again…it's pretty decent for the price!
50
at Brownells
Prices accurate at time of writing
Prices accurate at time of writing
5. Lancer Viper .308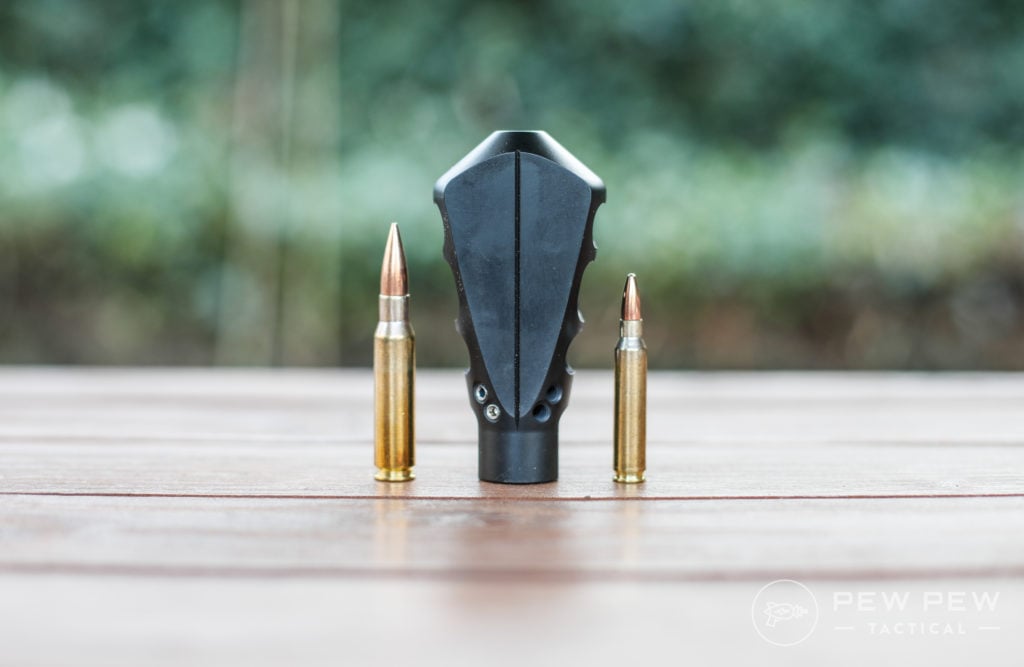 This giantboi is the Lancer Viper .308 and it's huge.
Like almost 4″ and 11.7 oz huge.
It's sort of shaped like a viper head so I can understand the name. But the really cool thing is that it's easily tunable.
Check out those 4 angled jets…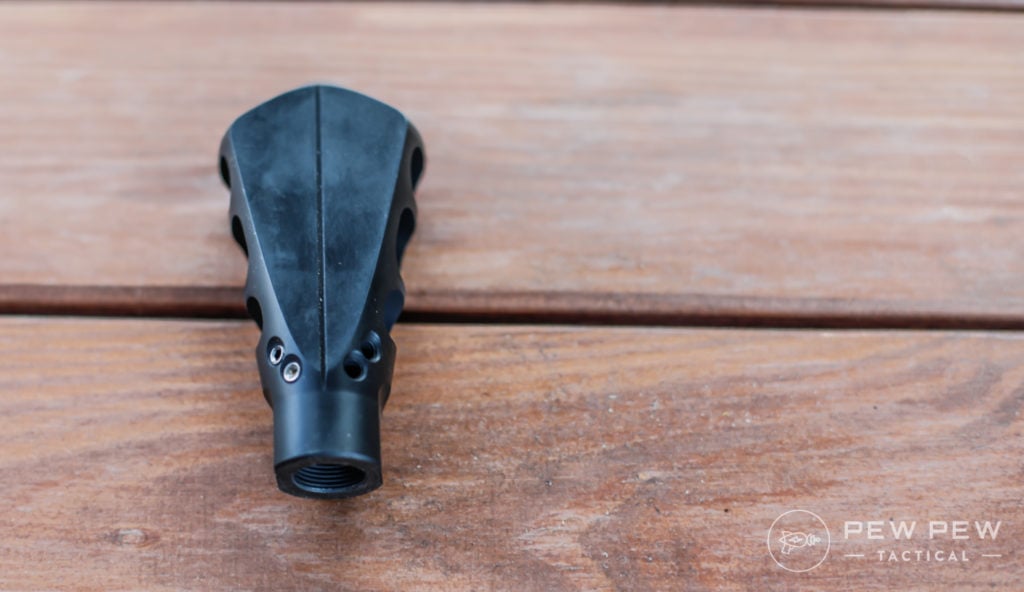 There's a closed option, slightly open option, and fully open option (the two on the right).
I settled on that since I hold on the left and most of my shots tend to go 1 o'clock.
I really like this design since it's not simply holes on the top…but slightly angled like how most humans hold a rifle.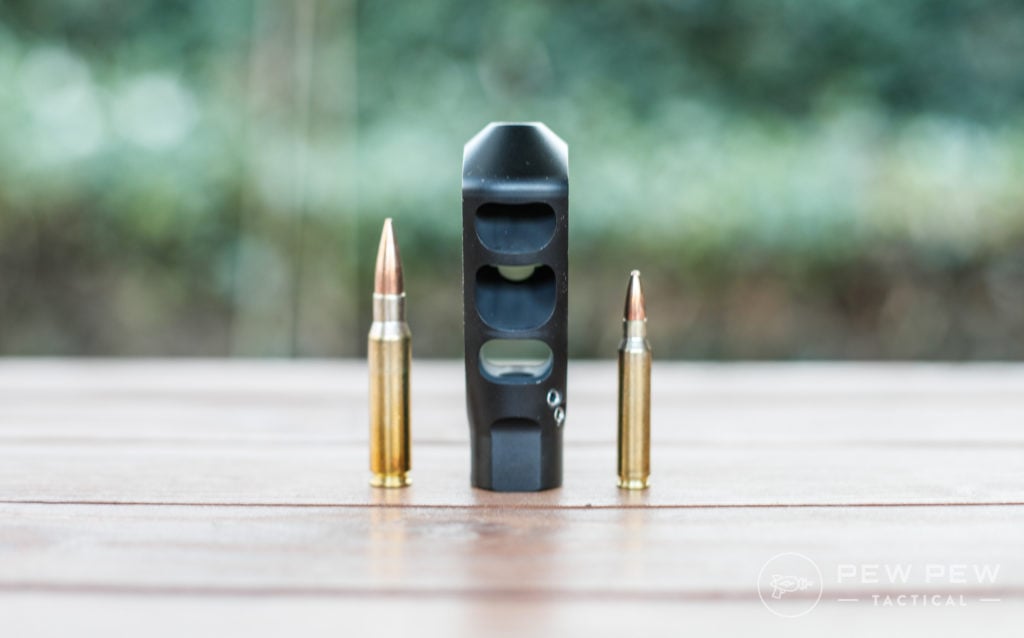 The giant side vents also won it 3rd place in recoil reduction with 63.7% reduction.
Let's see how tuning helped…
Some movement from the wind sock and a normal-for-308 120 dB. Much less than I'd have thought from the sheer size of the brake.
But where it really shines is the minimal reticle movement.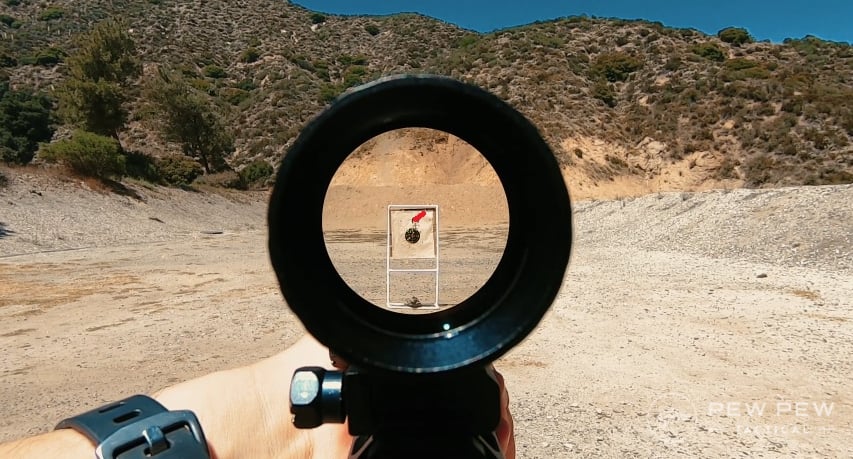 I experimented to figure out that removing the two set screws on the right side yielded the best results for my gun/grip.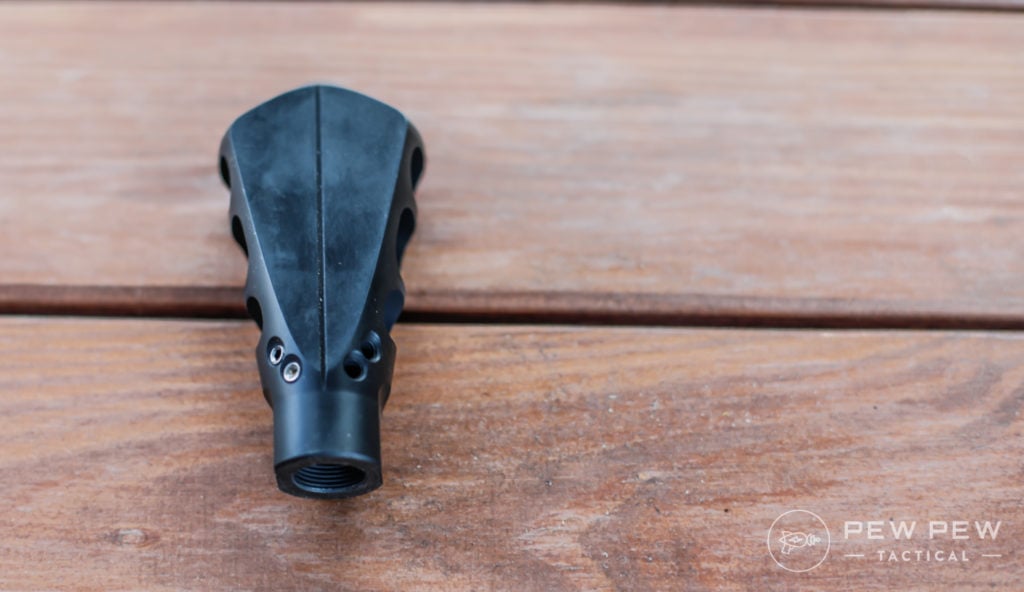 However, it's pricey at around $160.
And did I mention it's huge and weighs about 3/4 of a pound?
That adds up in the front of the gun…and it might disqualify you for some competitions.
But if recoil reduction (63.7% for the Viper vs 64.4% of the M4-72) and quick double-taps on target are your name of the game…you can't do any better.
160
at Brownells
Prices accurate at time of writing
Prices accurate at time of writing
6. VG6 Gamma 7.62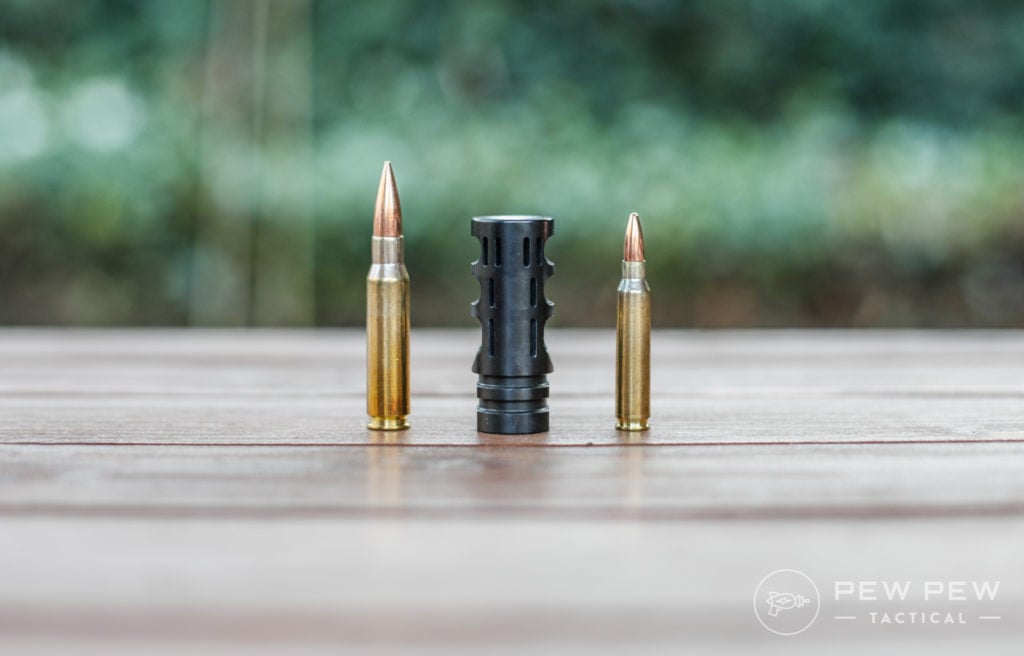 Last up from one of my favorite muzzle device manufacturers is the VG6 7.62 Gamma.
Check out those slots on top to give this hybrid some vertical movement reduction.
The 5.56 version did well in recoil reduction coming just behind the Miculek. There wasn't data for the 7.62 version but I'm thinking it's on par with the same side vent design.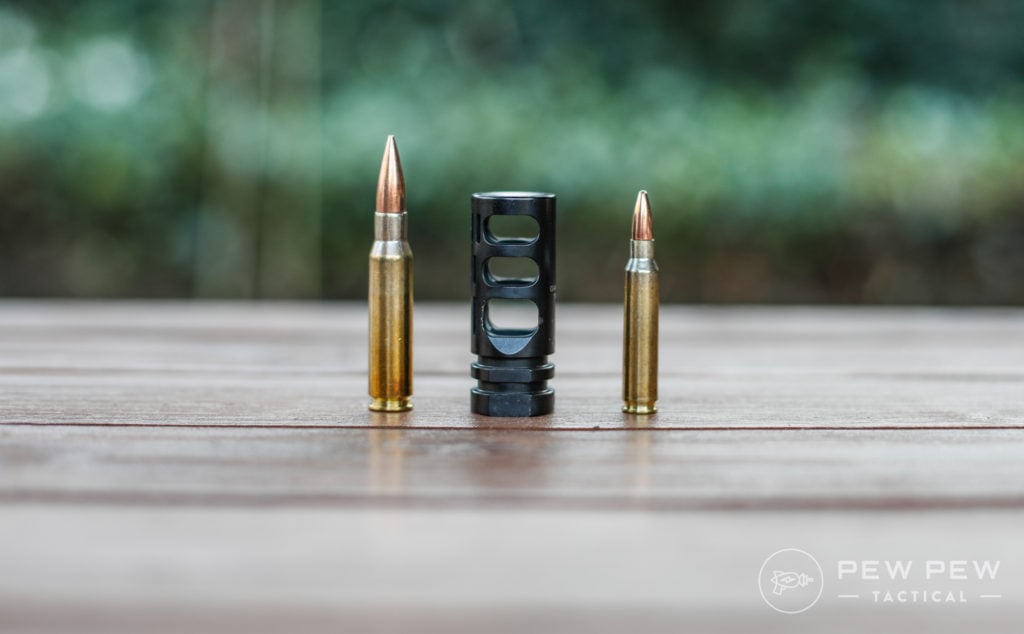 Let's see its performance…
Like its 5.56 version the side blast is pretty brutal…not as bad as the pure Miculek but your neighbors won't like you.
Sound is the same as most of the others at 120 dB for all three shots.
And reticle movement is decent at a more horizontal 2 to 3 o'clock position…probably because the top compensator vents are doing their job.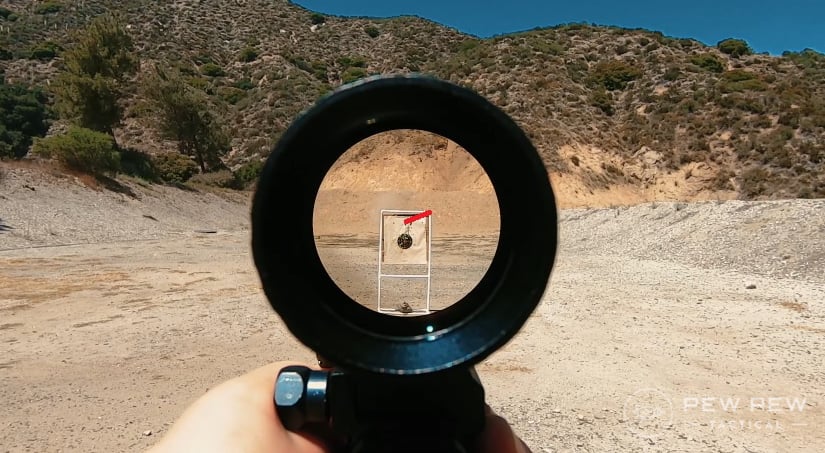 Like the Surefire, the VG6 Gamma has a blind pin hole for welding to your barrel.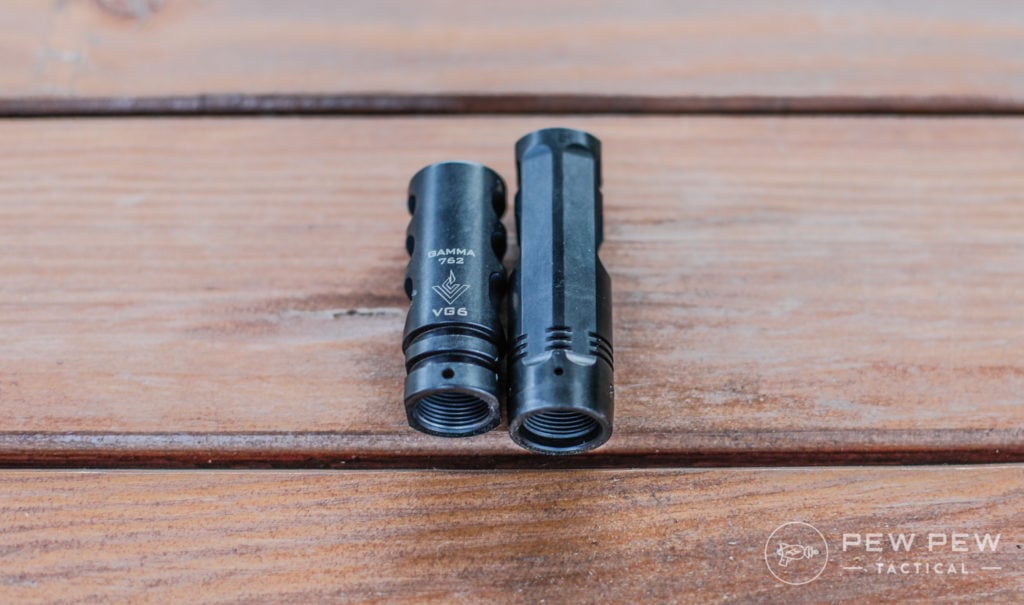 The VG6 might be my overall Editor's Pick for a good mix of price (it's around $70), recoil reduction, and reticle movement.
It's up there in the side blast but I'm usually far enough away from other shooters it's ok for me and my AR-10.
71
at Brownells
Prices accurate at time of writing
Prices accurate at time of writing
What's your take on the VG6 Gamma?
Conclusion
And I'm done!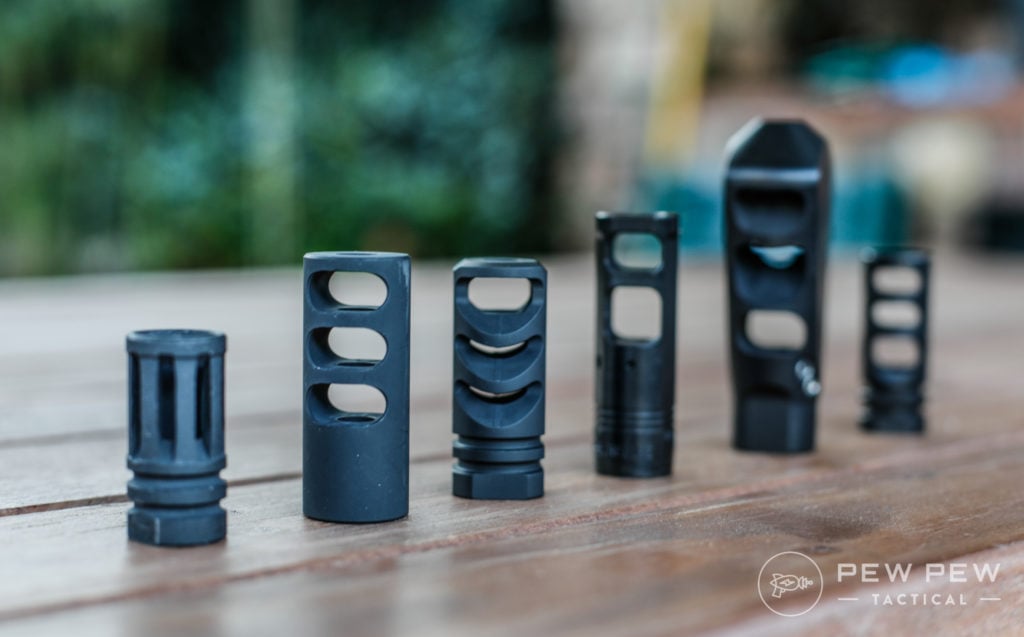 Keep in mind a lot of these recommendations are based off my usage with a semi-auto AR-10 in .308 instead of a bolt gun so I focus a little more on reticle movement.
My overall pick is the VG6 7.62 Gamma brake since it's $20 over the cheapest of the group (Surefire ProComp), has great recoil reduction, and acceptable reticle movement.
71
at Brownells
Prices accurate at time of writing
Prices accurate at time of writing
For those of you who focus on least reticle movement…you can't beat the Viper and it's easy adjustability. It's probably what I'd use on a semi-auto where quick and accurate follow-up shots are a must.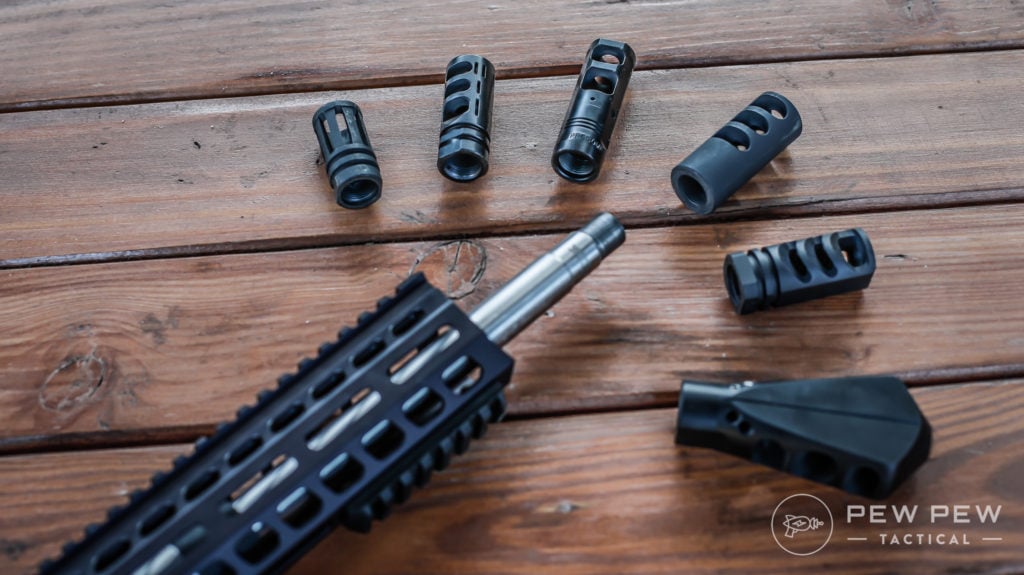 But it's the most expensive and ginormous.
160
at Brownells
Prices accurate at time of writing
Prices accurate at time of writing
How about pure recoil reduction?
That goes to the Precision Armament M4-72 Severe Duty in .308. Long name but consistently top of the list for recoil taming.
A good choice for a bolt gun to save your shoulders.
99
at Brownells
Prices accurate at time of writing
Prices accurate at time of writing
How about a good bang-for-the-buck?
I'd still likely save up $20 for the VG6…but for $50 bones you get a nice hybrid brake/compensator that does everything ok.
50
at Brownells
Prices accurate at time of writing
Prices accurate at time of writing
How did I do? I know there's a bunch more brakes out there and I'm always updating so let me know what I missed. And be sure to check out Best AR-10 Rifles and Best AR-10 Buttstocks.