Not able to bring an entire shed with you everytime you step out of the house?
We've got you!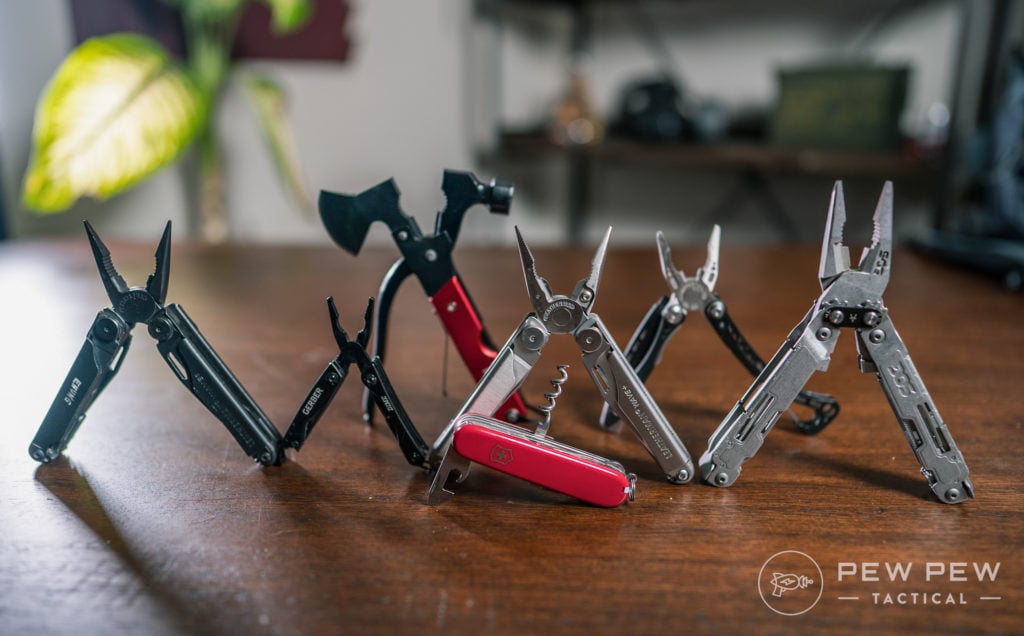 We researched and bought the most popular multitools across different price points and use philosophies.
Then tested them across camping trips and regular work days (some are our daily EDCs for years).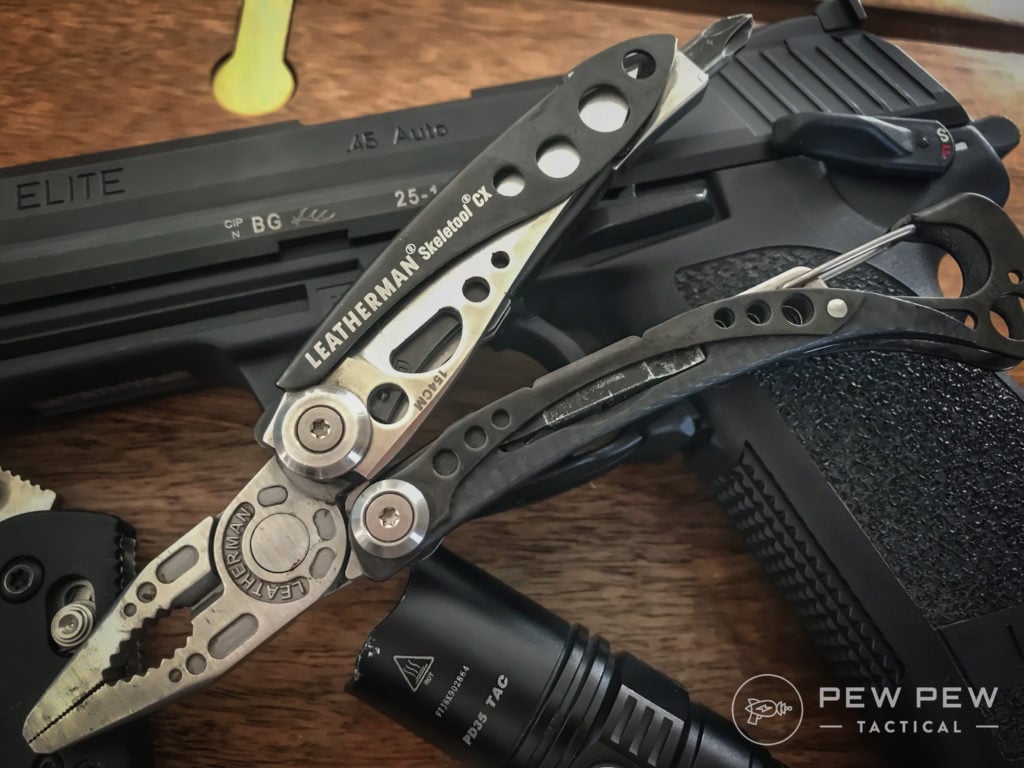 And took some pretty pictures, illustrative videos, and wrote down our thoughts.
By the end you'll know the best multitool for you.
Best Multitools
1. Leatherman Wave+
My favorite multitool out of the handful we tested for this review, the Leatherman Wave+ is packed full of features that drip the quality you'd expect from such a huge name brand.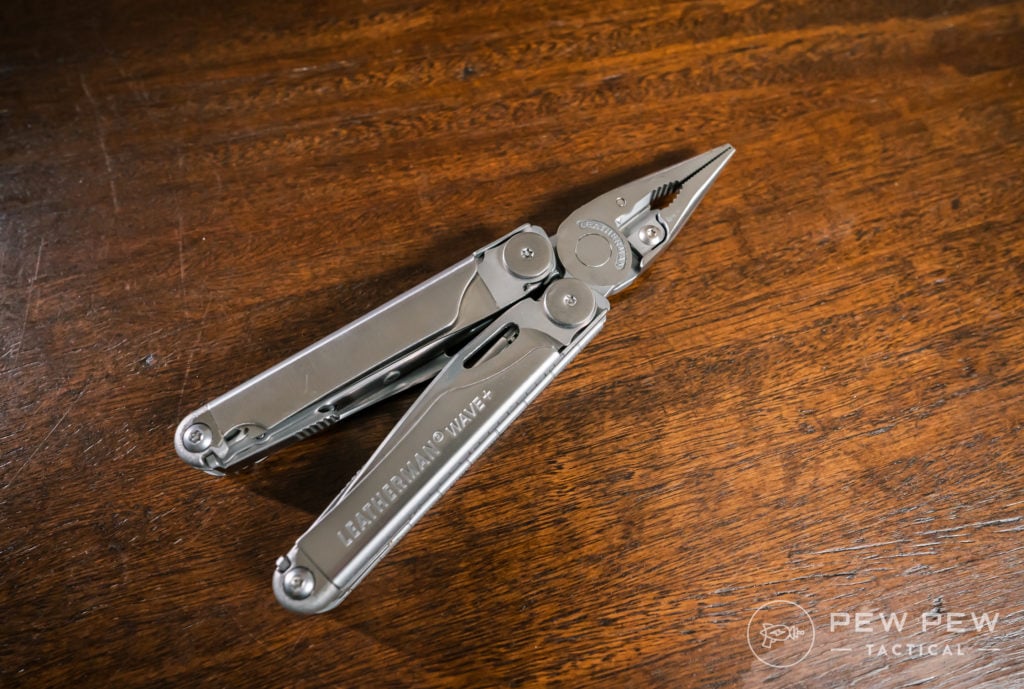 Right off the bat, you'll notice the Wave+ has a smoothness to it's opening and locking functions that are only rivaled by the SOG that's also included a bit further on in this list. 
The Wave+ is Leatherman's 2018 update to the classic Wave series, first introduced in 1998.
Realistically the only huge difference between the two is the introduction of removable wire cutters, which, as our well-used OG Wave demonstrates, have a tendency to dent when used to snip harder materials over time.
This also induces a bit of bite on the teeth of the wire cutter itself, which can adversely affect the opening and closing mechanism of the tool overall.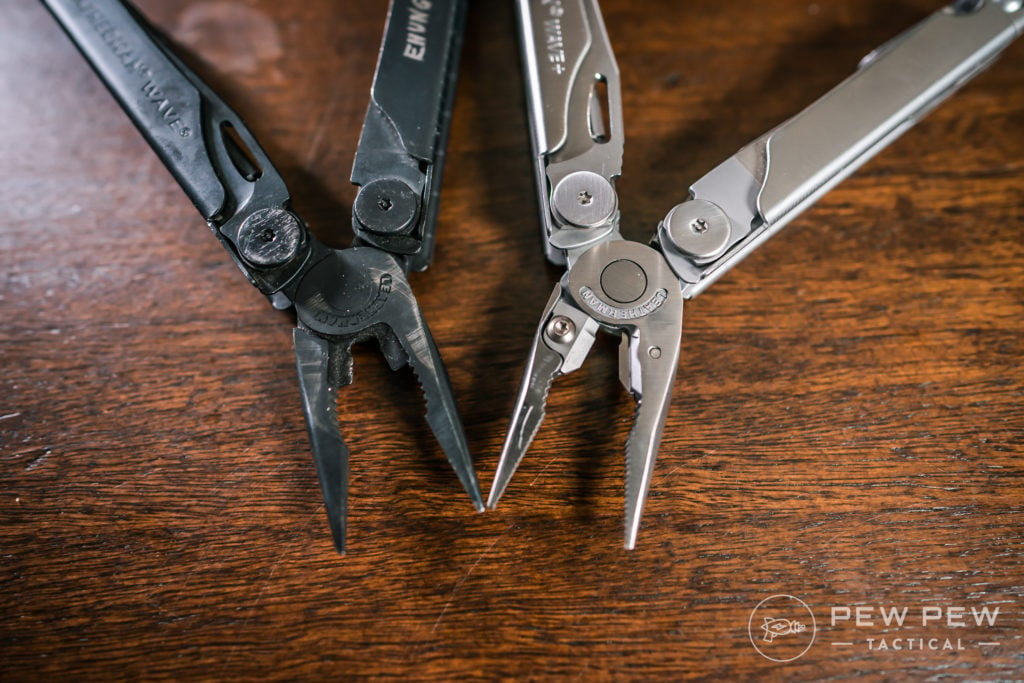 This has been my go-to multitool for a while now and has gotten a substantial amount of use in the small amount of time I've owned it.
It usually rides in a pistol magazine insert on my Spiritus Systems micro fight rig, and as such, has collected a decent amount of grit and dust while living there.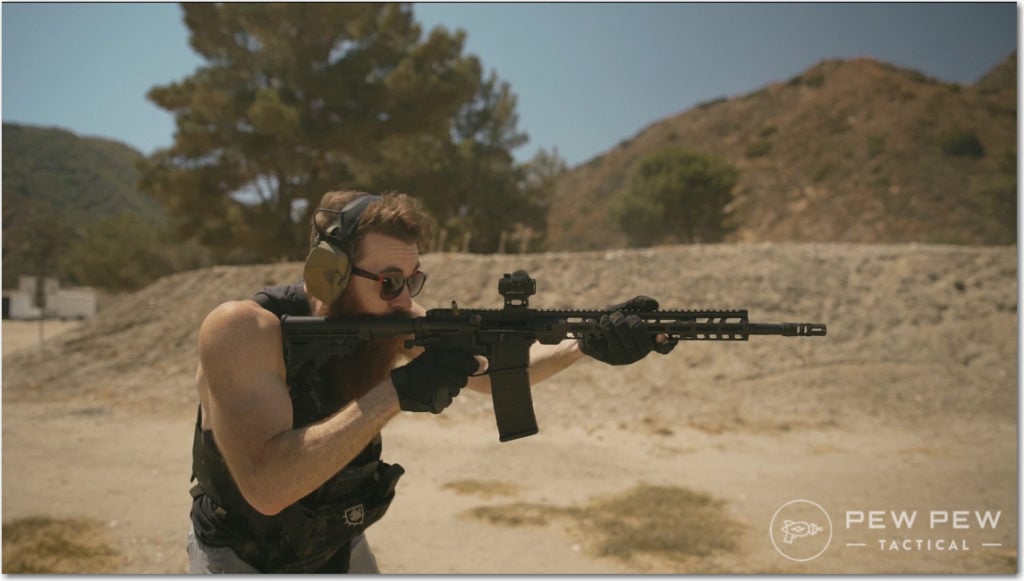 While you can feel a tiny bit of crunchiness, the Wave + is still super smooth to deploy, and I love that this isn't a tool that needs to be babied. 
Once deployed, you've got immediate access to solid set of needle nose pliers that include a built-in wirecutter.
The pliers lock into place with a solid tactile thunk and take a tiny bit of force to close again, ensuring that you don't accidentally unlock the tool while you're using it. 
The host of built-in tools is also fantastic!
On one side, you've got a large flathead screwdriver, a jeweler's driver with both flat and Phillip's attachments, and a small pair of shears. On the other, you've got both a larger Phillips with a reversible small flathead attachment and the classic can opener.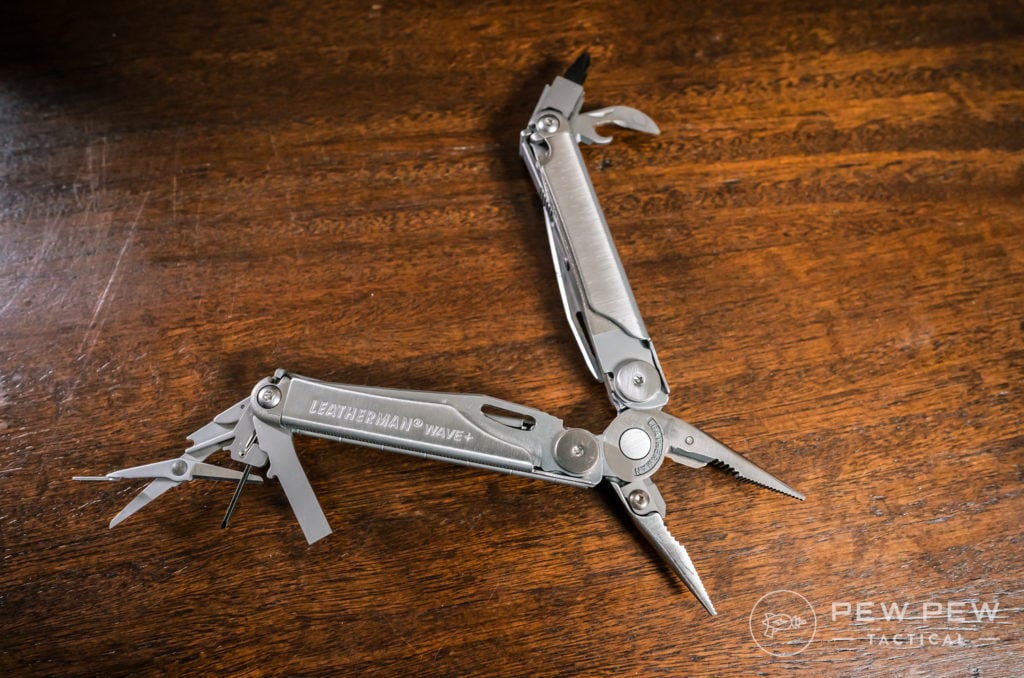 Knife wise, I really appreciate that the Wave+ primary blade is sharp.
Many multi-tools can feel as if the knife is a bit of an afterthought – not so here.
The Wave+ also includes a serrated blade, a saw blade, and a file to boot.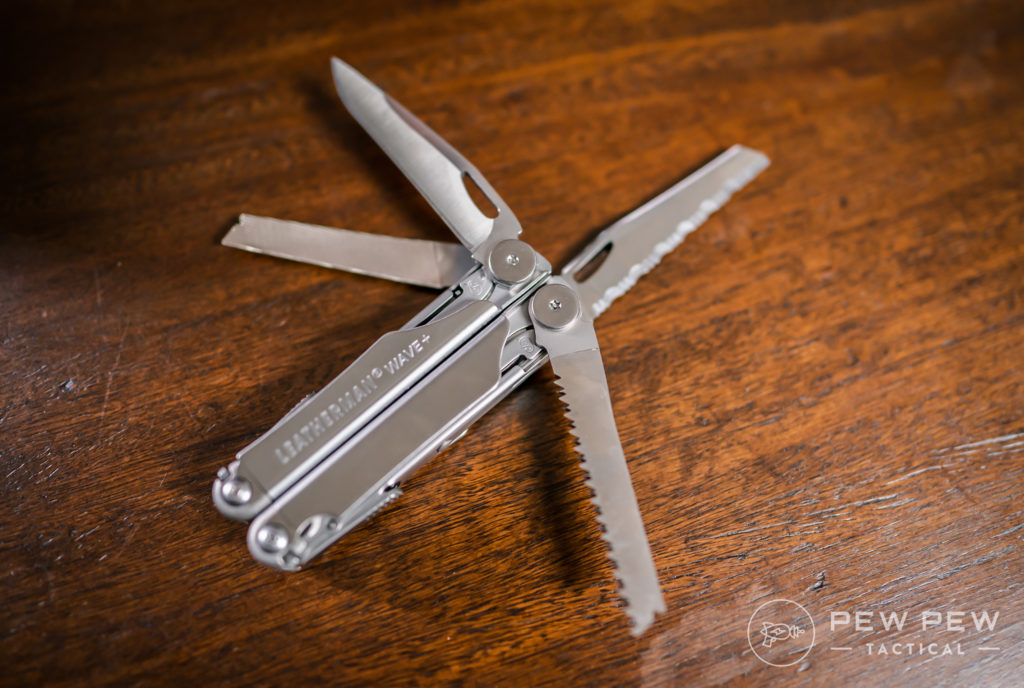 Notably, neither the serrated blade nor the primary knife can be deployed without the multitool in the fully closed position, which helps mitigate the chance of having an extremely sharp knife come into play accidentally. 
The knife blade locking mechanism should also be familiar to anyone that's carried a pocket folder, ever.
The Wave+ also has an edge (heh) in terms of its locking mechanisms for the various tools.
Once deployed, all of the tools outside of the knives can be unlocked with the use of a small thumb switch, which disengages the lock and allows the tool to be folded back down into the body of the Wave once more.

Personally, pressing down on a release feels much more intuitive than the unlocking methods found in the rest of the tools we're covering, but your mileage may vary.

Overall, the Leatherman Wave+ is a quality piece of hardware that's got the utilities you need in a day to day situation without being overburdened by bells and whistles you'll likely never use.
It's my go-to for a reason, and if you're in the market for a new multitool, you won't be disappointed!
Author's Pick
109
at Amazon
Prices accurate at time of writing
Prices accurate at time of writing
What's your take on the Wave+?
2. SOG Power Access Deluxe
If you need a tiny bit more versatility out of your multitool, SOG's Power Access Deluxe is worth taking a look at.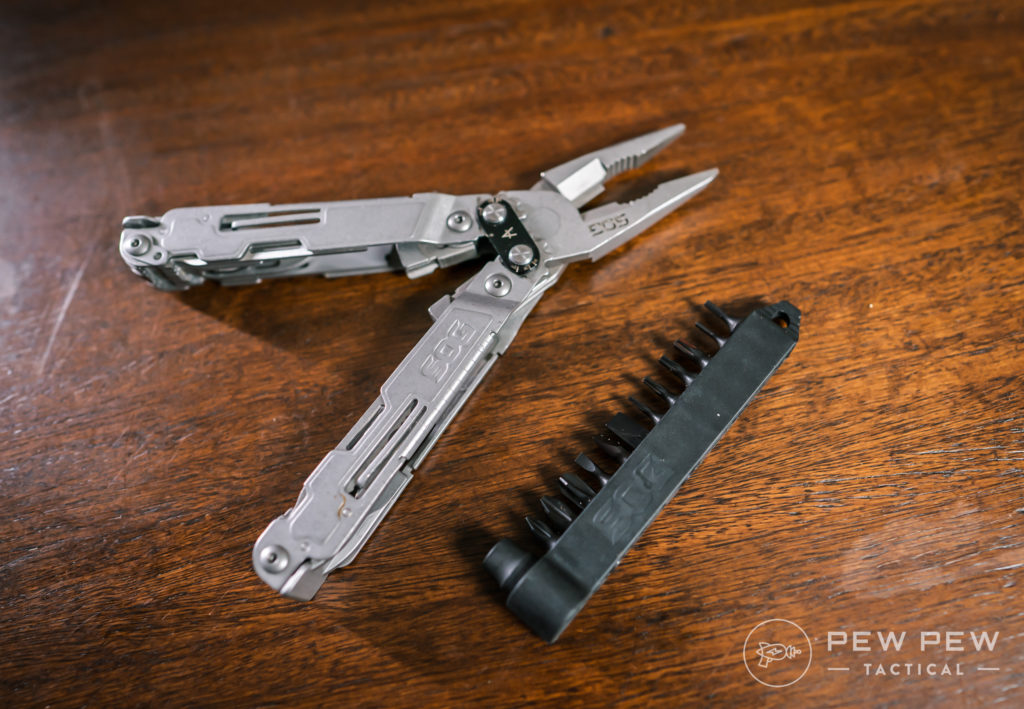 Coming in at a bit less than Leatherman's Wave+, the PAD has all of the features you'd expect out of a multitool, with the addition of SOG's handy little magnetic hex driver to boot!

The opening of SOG's PAD is just about as fluid as the Wave+ but lacks the gentle locking motion that keeps the pliers in place. Nitpicky for sure, but definitely not a disqualifier if you don't particularly mind that.
The pliers are also slightly thicker than the Wave+, but the difference isn't super huge.

Tool wise, the SOG's got small serrated and primary blades, a can opener, small Phillips, chisel, and a jeweler's flathead on one side.
Opposite, you've got a file, awl, a ¼" socket driver, larger flathead, and small wood saw.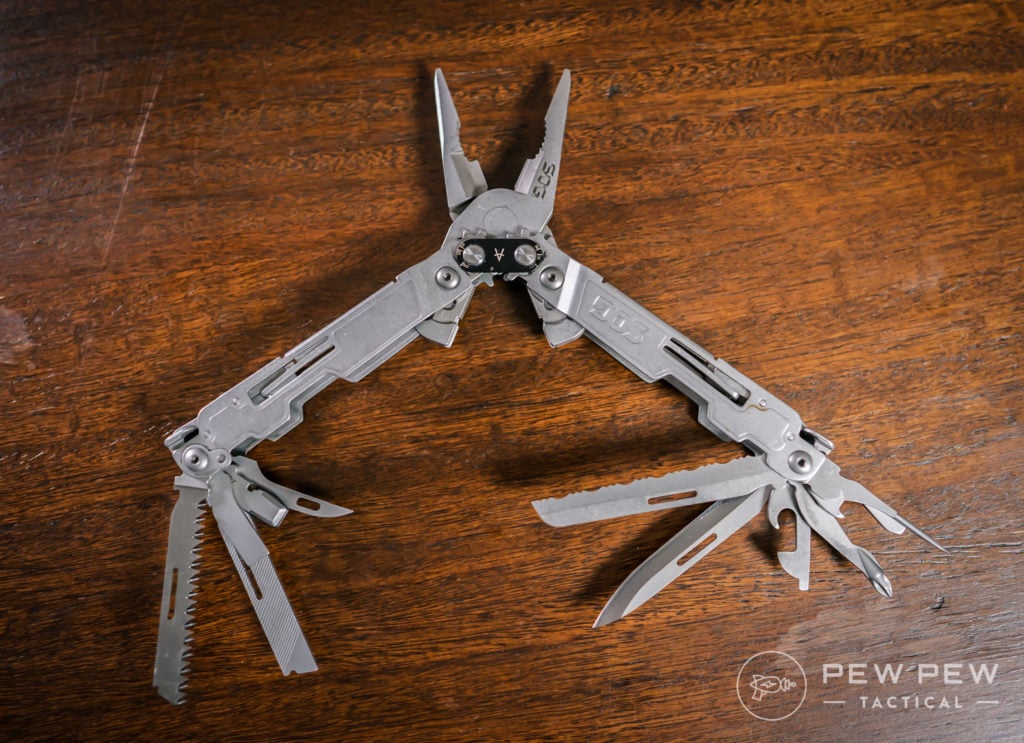 There's a tiny bit of play in the tools when deploying them from closed to open, though you'll hear an audible click once they're locked and ready to go.
One thing to note is that it's a tiny bit harder to select just one tool at a time with the PAD given the close proximity of all the pieces, and you'll likely have to bring a few out to select the individual tool you need at the moment.
Again, minor gripes. 
However, the PAD loses perhaps a few points for its unlocking system.
Compared to the Wave+, the PAD requires you to lift a latch that locks the tools in place, which can be a tiny bit awkward. I don't particularly care for having to press down on a latch with a fingernail if flipped over, and then close a very sharp knife blade towards my fingers, but the system is totally fine once you're used to it. 
The PAD also includes a ruler and a protractor, and its pliers have built-in wire cutters as well.
The main selling point of the PAD is definitely its magnetic hex driver though, and it's actually pretty cool!

Included with the PAD is a 12 piece hex set, which allows you to install several different Allen, Torx, Flathead and Phillips drivers. The reverse side of the pliers is cleverly magnetized, giving you the ability to slap in a driver, then close the PAD as you would normally.
The 'teeth' then lock the driver in, and you're ready to go! 
I have much less time on the SOG Power Access Plus than Leatherman's Wave+, but it's still an incredibly handy multitool if you routinely work on things that require manipulation of tons of different types of screws.
The ability to switch on the fly is fantastic compared to carrying an individual socket driver, and the PAD includes a nylon sheath that fits both the multitool itself and all 12 hex bits.

For the price range, we don't think you can beat the overall versatility of the SOG Power Access Plus, even if some of its controls aren't the best on the market.
Definitely worth considering if you're trying to slim down the number of individual tools and drivers you need for any given situation! 
62
at Amazon
Prices accurate at time of writing
Prices accurate at time of writing
3. Gerber Dime
Full-size multitools are all well and nice, but sometimes you want something smaller…like the Gerber Dime.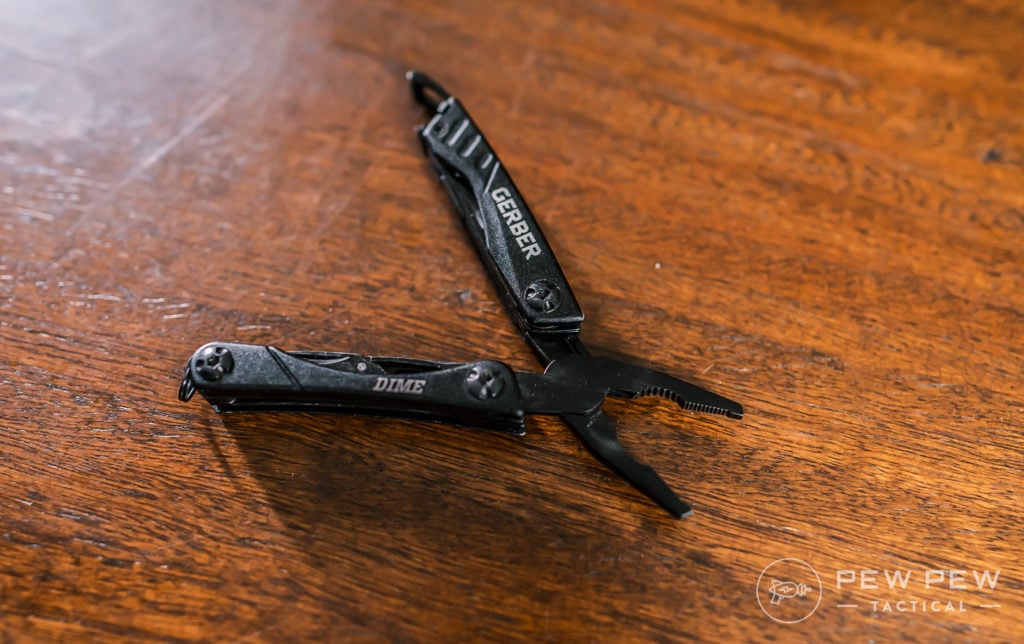 The Gerber Dime solves that problem, as it's a micro multitool meant to fit on a keychain while still offering you the maximum amount of utility for its size. 
The Dime features 10 tool bits and bobs, including your standard pliers, wire cutters, tweezers, a small knife blade, scissors, a file and cross driver, a small flathead, a bottle opener, and a specialized tool for opening those godforsaken plastic retail clamshell packages.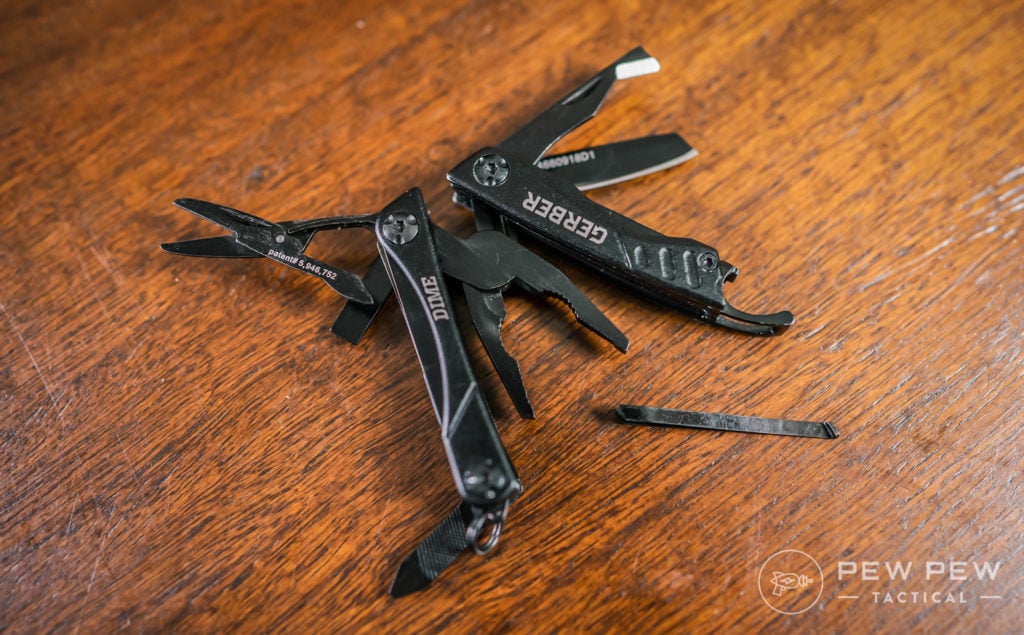 I don't have huge hands, but I do find the Dime a tiny bit delicate to manipulate.
The tools certainly take a bit of force to deploy, but everything is a tradeoff, and if you want utility in a small package, there's only so much you can do for ergonomics.

Keep in mind, this thing is approximately 4" long, and while it'll come in handy for tackling equally small, menial tasks, this is certainly not a robust tool. None of the tools have any kind of locking mechanism either, outside of the tension that holds them in place when deployed. 
However, considering the size and the ability to just slap it into your keys and forget its there until you need one of its functions – it's great!
I'm a bit of a forgetful oaf at times, and having this little guy on my keyring has actually come in handy on a few separate occasions.
If you don't need all of the versatility and functions of a bigger tool and want something that requires minimal brainpower to wield and carry, the Gerber Dime is a fantastic EDC utility. 
Plus it's affordable price makes it ok to get lost…or confiscated in foreign countries (true story).
25
at Amazon
Prices accurate at time of writing
Prices accurate at time of writing
4. Victorinox Swiss Army Knife Huntsman
The iconic red Swiss Army Knife is still a viable tool despite its antiquated design and aesthetic!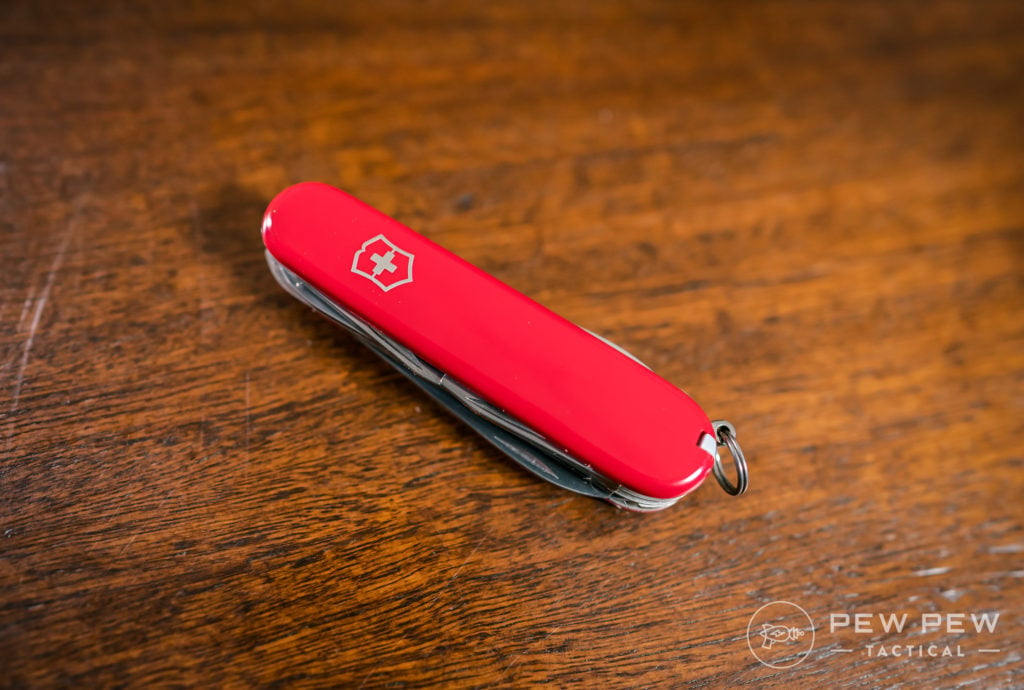 It's also the only tool on this list that I managed to cut my finger open with during the course of this review. Take that for what its worth. 
While lacking a lot of the modern-day functionality and ergonomics of the other multitools on this list, Victorinox's genuine Swiss Army Knives are still useful.
The Huntsman we've got here includes both a large and small blade (which I can confirm, are sharp), a wood saw, a pair of scissors, both bottle and can openers, a corkscrew, a wire stripper, a sewing awl, tweezers, and a toothpick.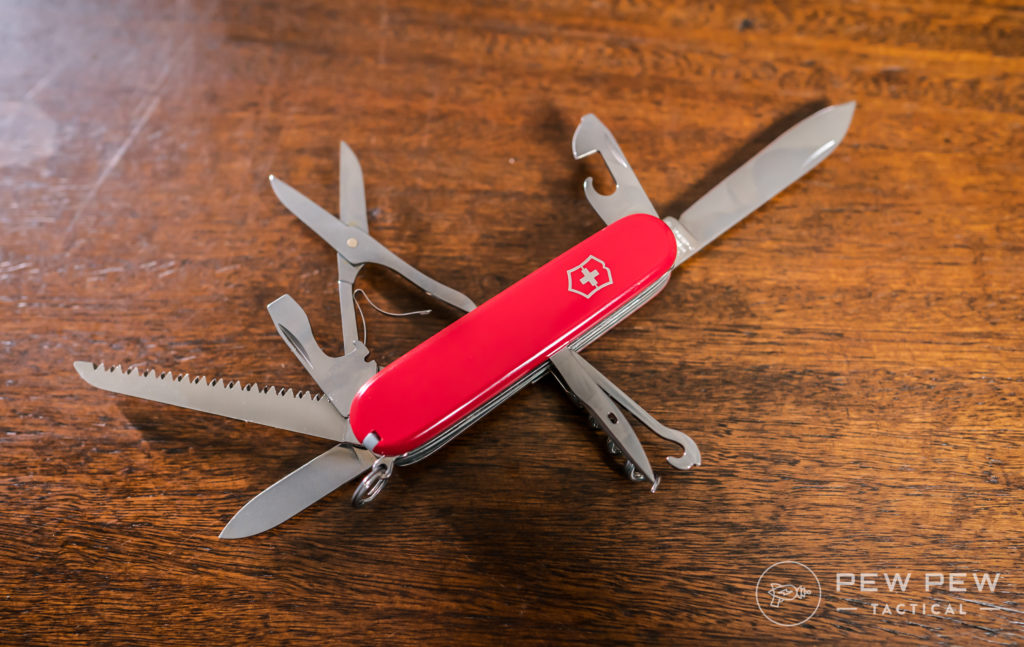 These tools are all fine and reasonably functional on their own, but some of them are downright stubborn to deploy – and I had to use the flathead on the Wave+ to pry some of them open from the body of the Huntsman itself.

Ergonomics are certainly not the best, and while attempting to grab onto the finger grooves cut into one of the tools on the back of the huntsman, my hand slipped off, and I gave myself a nice cut on the already deployed larger blade.

My fault?
For sure, but I also don't particularly enjoy tools that I have to fight against to use – especially when the penalty for not doing so perfectly is flesh wounds.
Your mileage may vary.

The Huntsman is still totally serviceable if you want a general utility tool to toss in a backpack and have out on the trail. If you're not super concerned with ease of use or want a particularly budget-friendly option, it's hard to beat for the price!
That being said, there's a reason that multi-tool ergonomics have come such a long way, and don't resemble the relic that is the Swiss Army Knife any longer. 
31
at Amazon
Prices accurate at time of writing
Prices accurate at time of writing
5. RoverTac Hammer Hatchet
I mean, I guess?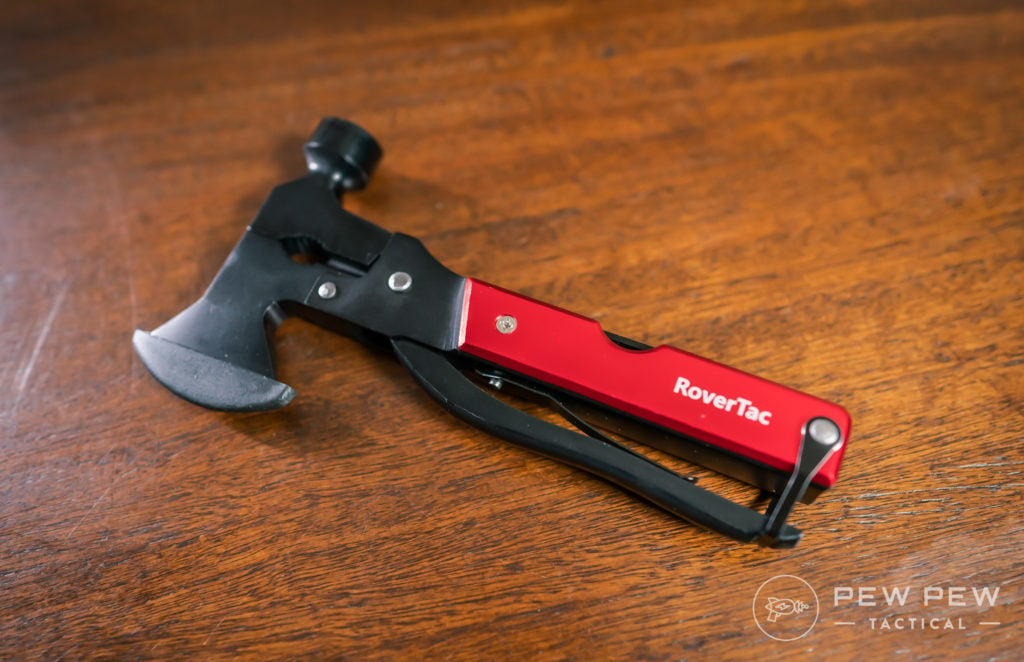 I think my editor was playing a joke on me…
For me, the entire point of having a multitool is the convenience of a ton of small tools cleverly packed into a relatively small and portable package.

The RoverTac Multitool is… not quite that.
And that's okay! Perhaps it doesn't need to be.
This thing is pretty damn huge and includes a blade, fish descaler, bottle opener, Phillips screwdriver, wood saw, and most prominently, a small hatchet and hammer built into the pliers.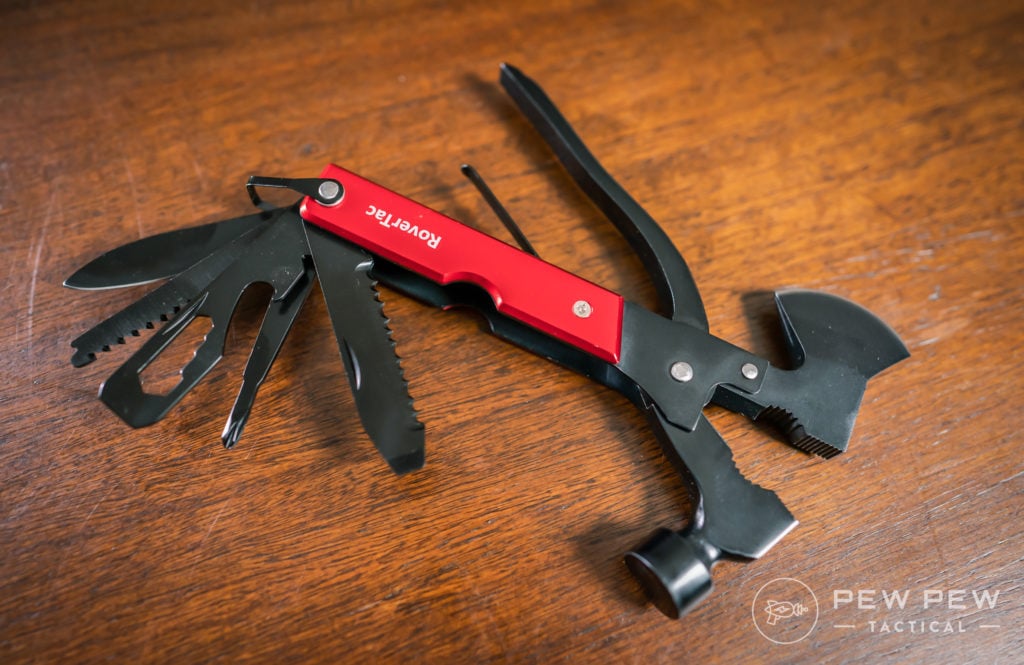 While the RoverTac is certainly pushing the limits of what I'd call portable… I can definitely see the utility of it as something you might throw in a box or bin for a relaxing weekend of camping.
In fact, it's probably awesome if you need both the ability to assemble a tent and rend the scales off a fish in the same tool.
Who am I to judge?

Neither the blade nor hatchet are particularly sharp, but I'm sure they'd have a decent edge after a good sharpening.
Notably, the hatchet's edge is exposed when tucked into the included sheath, and there's a small rubber slipcover that slides over the edge for safety's sake.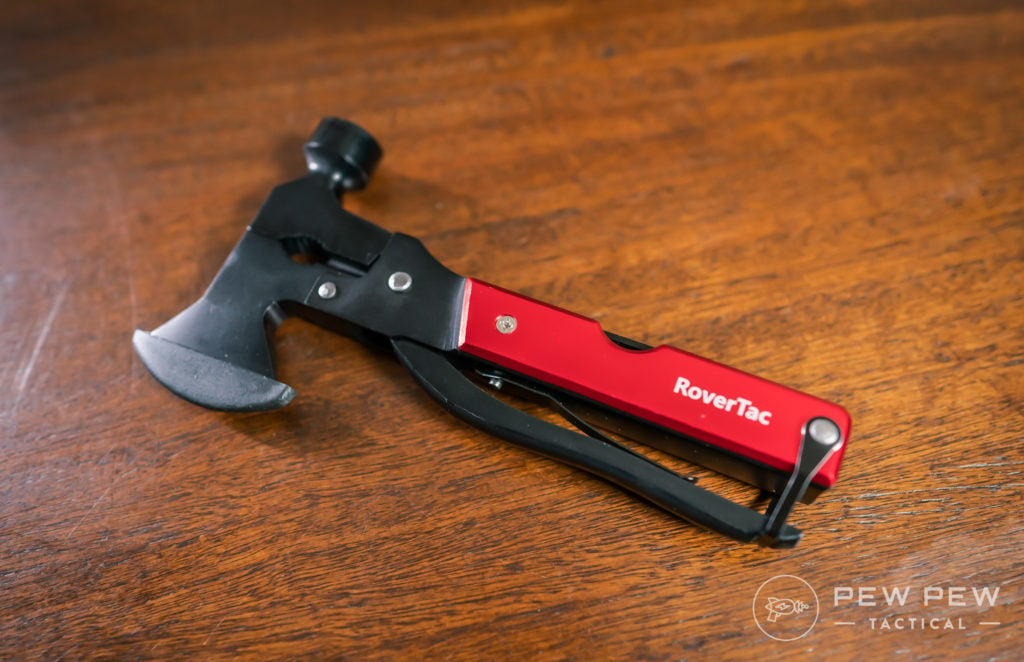 It's not super secure, but as long as your mindful about wild flailing movements, you're probably going to be fine.

At just $25, it might not be a bad tool to throw into a tackle box or keep with your camping gear, but I also wouldn't expect a ton of longevity or sustained use out of a $25 oddball tool.
The RoverTac is not quite my thing, but by all means! 
28
at Amazon
Prices accurate at time of writing
Prices accurate at time of writing
6. Leatherman Skeletool CX
The Leatherman Skeletool CX has a unique design that stands out against all of the more traditional multitools on this list.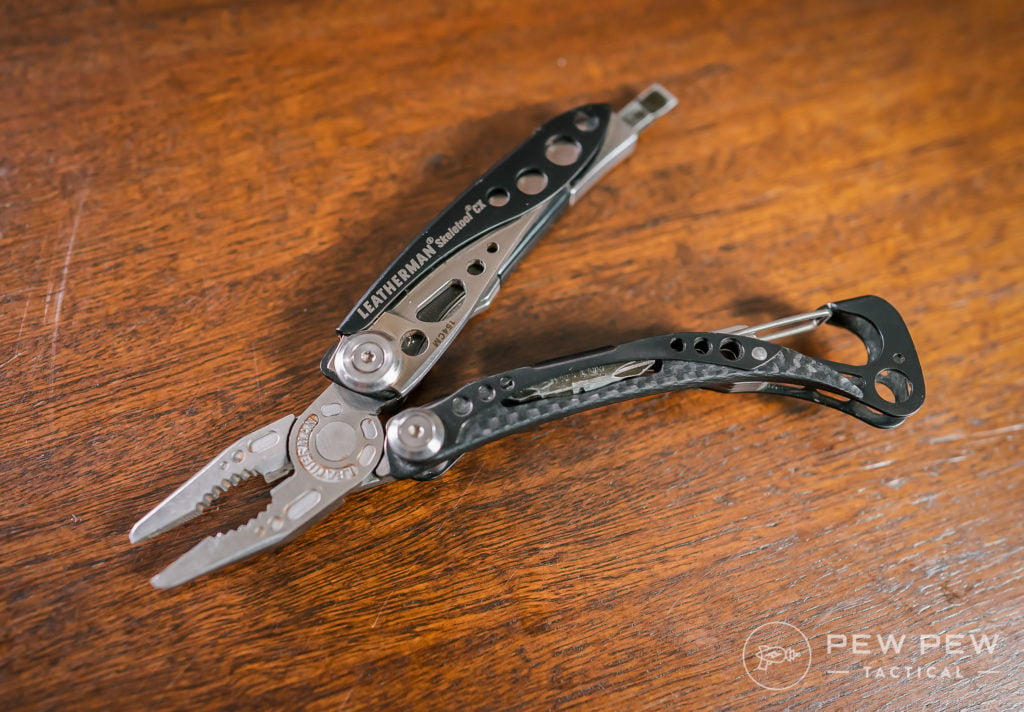 Compared to many multitools that attempt to jam as many features into a beefy tool as possible, the Skeletool keeps it very simple.
You've got your standard needle nose pliers, wire cutters a knife, a bottle opener with a built-in carabiner function, and a modular driver gives you either two different sized flathead bits while a double-sided Phillips bit is stored in the opposite grip, or vice versa.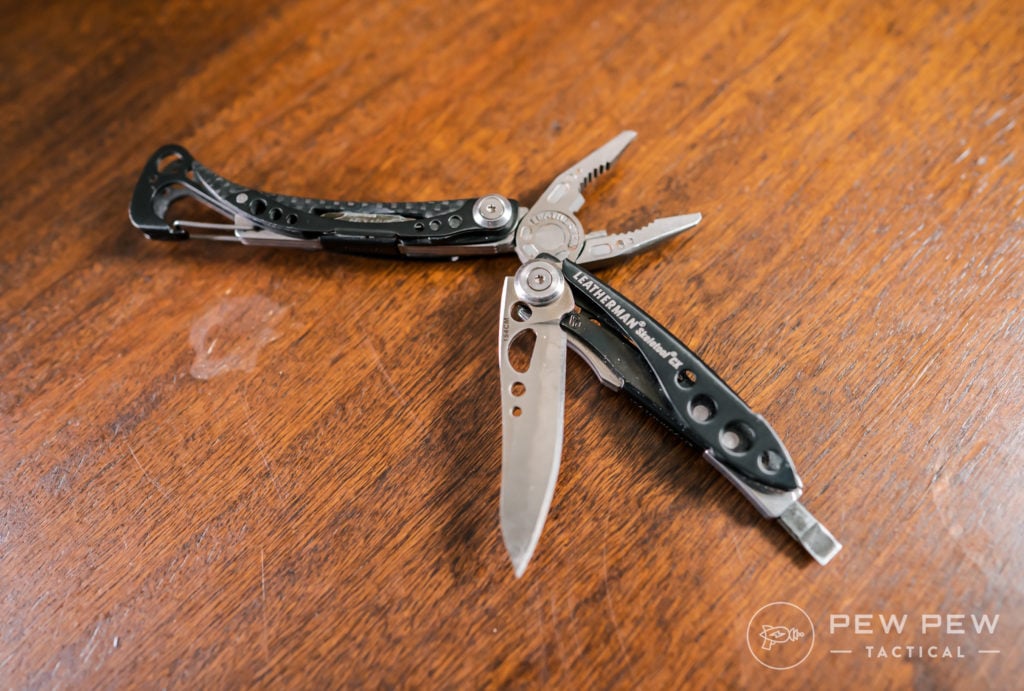 The entire package tucks away nicely, and an included pocket clip means this guy's really more of an expanded EDC knife than anything meant to directly compete against it's beefier, more feature-laden counterparts.
It is however also compatible with Leatherman's own expanded bit collection – giving you a tiny bit more versatility if you need the Skeletool for something specific. 
The Skeletool doesn't open quite as nicely as the Wave + or SOG offerings, but it does snap into place with a satisfying thud.
Swapping the bits out is controlled via a very stiff button that rides right on top of the driver itself, though the bits are absolutely secure and not going anywhere once they're locked in.
Standard pricing we've seen puts the Skeletool CX a bit on the steeper side considering what you get.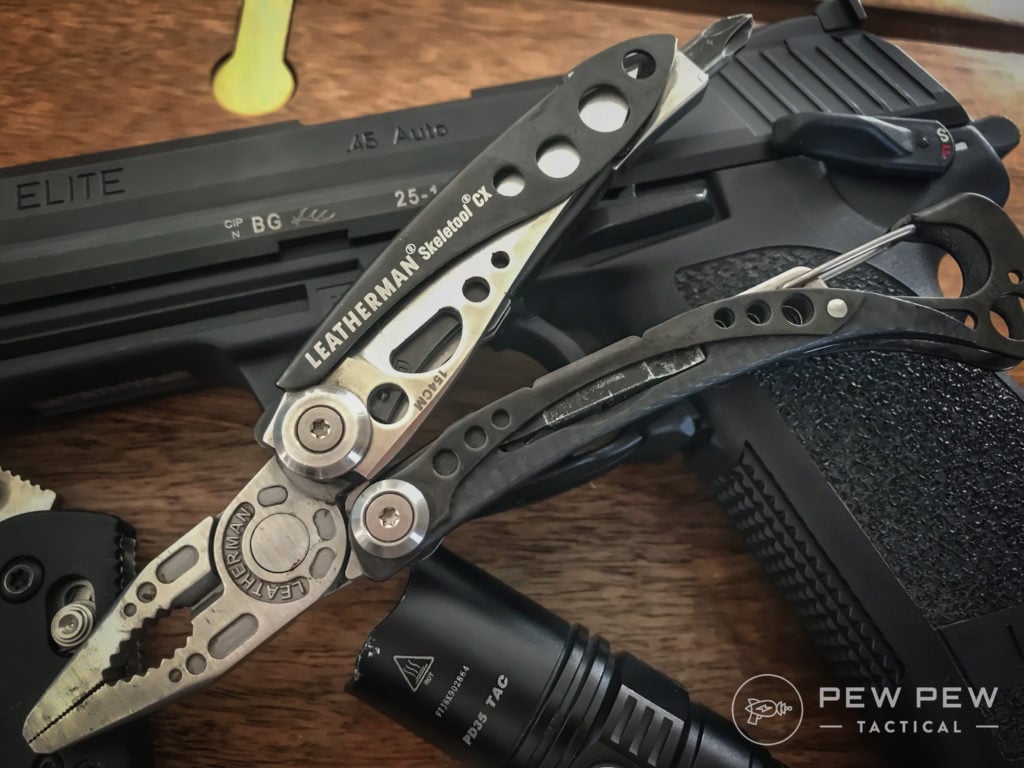 However, we have no doubt that some of you specifically looking for an EDC knife with a few extra features will find a lot of value in what the Skeletool brings to the table. 
It's what our editor likes as his favorite. But for me…it's my runner-up.
Editor's Pick
60
at Amazon
Prices accurate at time of writing
Prices accurate at time of writing
Conclusion
If I had to choose one…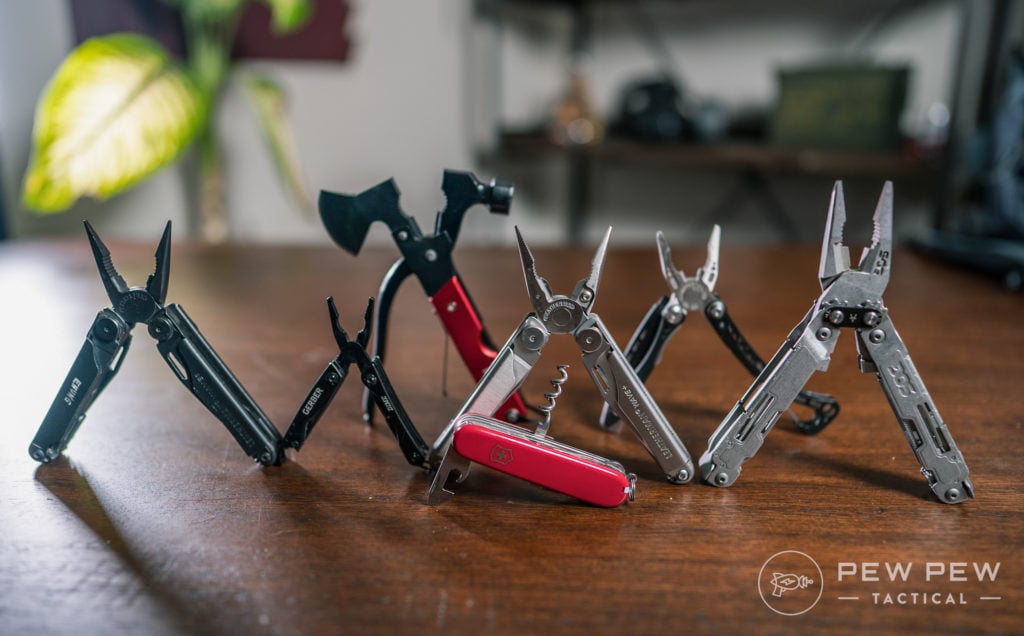 It'd be the Leatherman Wave+. All the stuff you need in a nice feeling package.
Author's Pick
109
at Amazon
Prices accurate at time of writing
Prices accurate at time of writing
However…if my editor has anything to say about it…he'd go with the Leatherman Skeletool CX for its beautiful minimalism. Or something.
Editor's Pick
60
at Amazon
Prices accurate at time of writing
Prices accurate at time of writing
If you're feeling like a tiny boi that you can "misplace" some times…get the Gerber Dime.  You'll forget it's on your keychain or in your pants (when they drag you off to answer some questions).
25
at Amazon
Prices accurate at time of writing
Prices accurate at time of writing
What are your favorite multitools – do you think there are any must-haves we missed out on? Let us know below! For more awesome EDC tools, take a look at the Best Everyday Carry Flashlights!