Not sure what optic or scope to get for your AR? We've bought or used almost all of them…
We'll cover 1x optics and magnified scopes, plus recommended mounts, accessories, and backup sights.
All with view-throughs and hands-on experience.
By the end of this, you'll know the perfect one for your budget and end-use.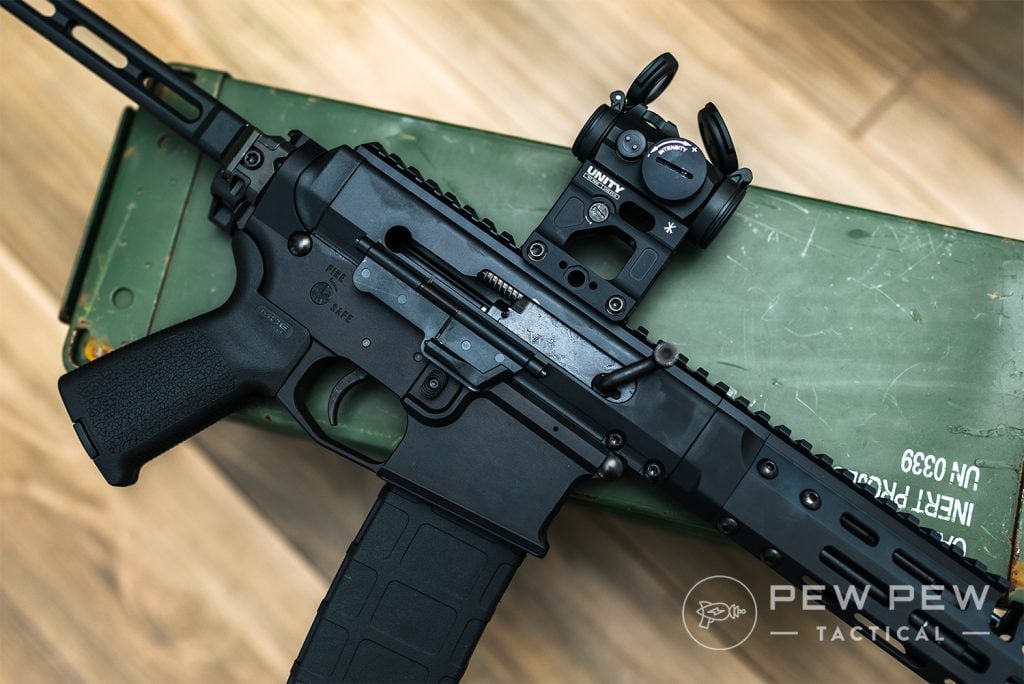 Summary of Our Top Picks
Best Bang-For-The-Buck Red Dot

Our favorite under-$200 red dot.

Best Budget Red Dot

The most budget option that we still trust but requires more battery changes.

Gold Standard Red Dot

The bombproof gold standard in red dots that is night vision compatible.

Best Holographic Sight

Our go-to holographic sight that's compact, reliable, and our favorite type of reticle.

Best 3x Magnifier

When you want the advantages of a red dot plus magnification.

Best 1x Prism Optic

Compact, doesn't require batteries, and great for astigmatism.

Battle Proven ACOG

Want the most battle proven optic? It's going to be an ACOG.

Best 1-6x Scope

Our favorite 1-6x that doesn't cost an arm and a leg.

Best Hunting Scope

Our go-to hunting scope that's robust and with the perfect magnification range.

Perfect Backup

Using a red dot or scope? You'll want some flip up back-up irons.
Best AR-15 Red Dots
These are "red dots" or "reflex" sights which are exactly what they sound like…they superimpose a red dot as the aiming reticle.
Whereas with standard "iron sights," where you normally keep one eye closed and have to perfectly line up the two sights…red dots allow you to keep both eyes open and have a lot more leeway with where your head or eyes are positioned.
This makes them much faster in acquiring a target and also allows for more peripheral vision. Plus, they are much more useful in darker environments.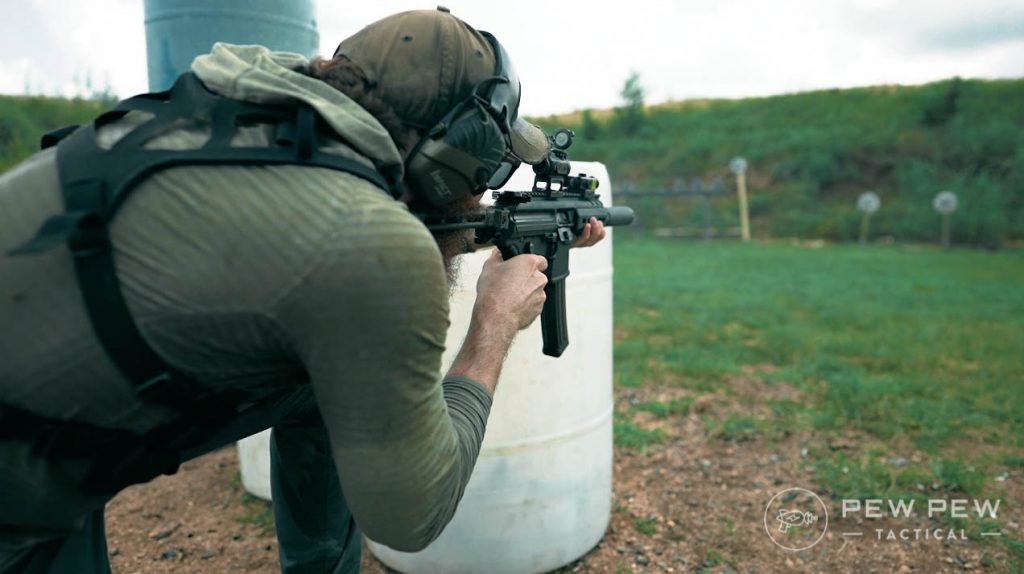 1. Sig Sauer Romeo 5
Red dots in the $100 to $200 space have multiplied recently and are picking up nice upgrades previously only available to high-end ones.
Sig Sauer Romeo 5 Specs:
Magnification: 1x
Dot Size: 2 MOA
Weight: 5.1 oz
Battery Life: 40,000 hrs
Battery: CR2032
Illumination: 8 daytime and 2 night vision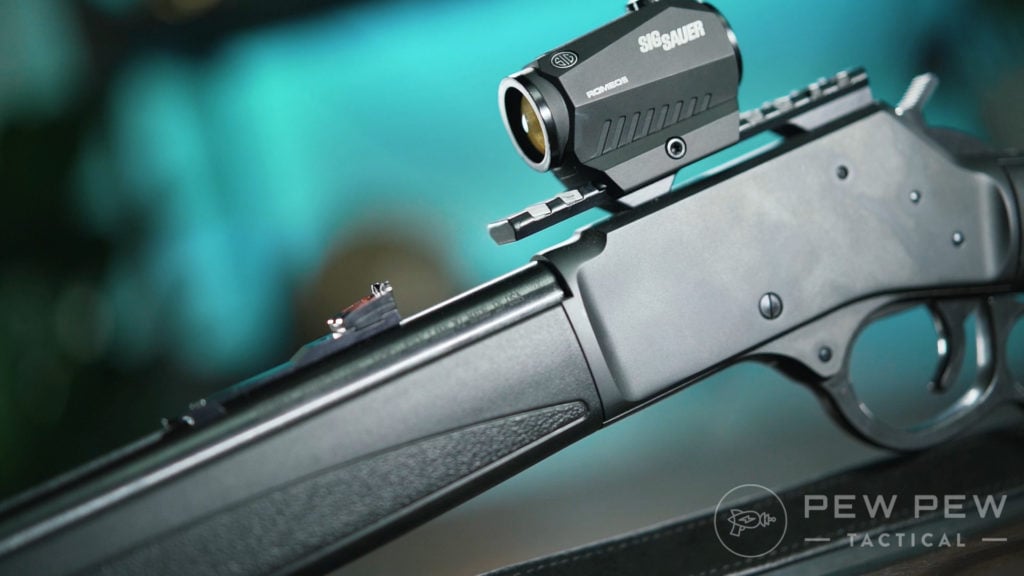 The Sig Romeo 5 brings eight daylight settings (that actually are visible in bright light) and two night vision settings.
PLUS motion on and off so you don't have to deal with buttons. Not that you couldn't just leave it on since battery life is at 40,000+ hours at a medium setting.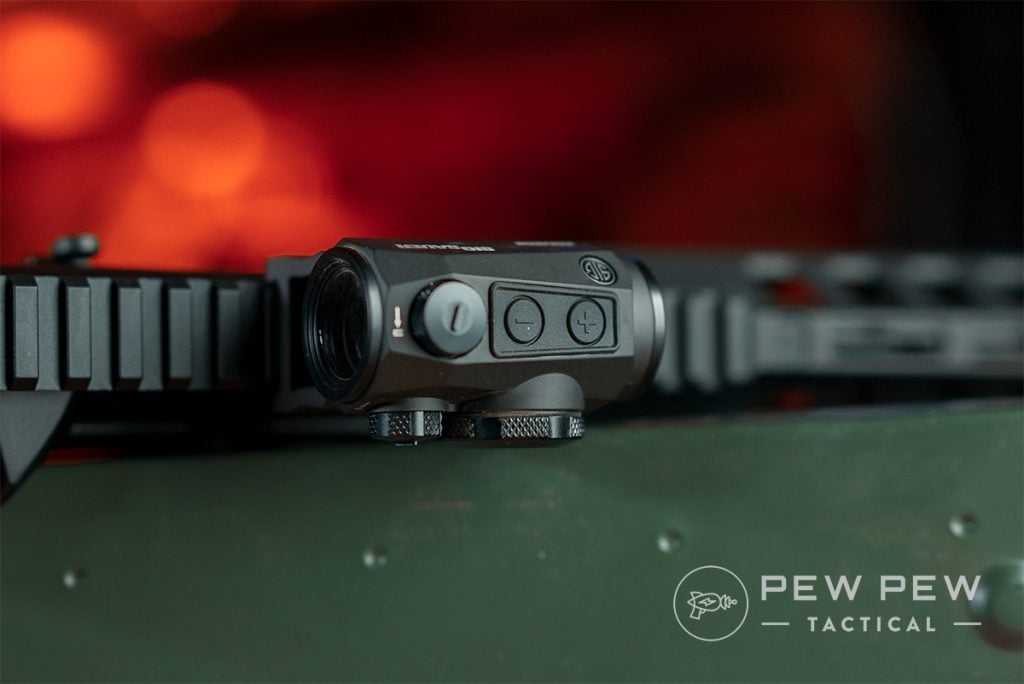 Glass is pretty clear with a good field of view.
And for around $120, it's pretty robust that I wouldn't hesitate to have it on a home defense gun. Check out the crispness and slight green glass indoors.
Another added bonus is that the Romeo5 comes with a high-rise that's the perfect height for AR-15 shooters.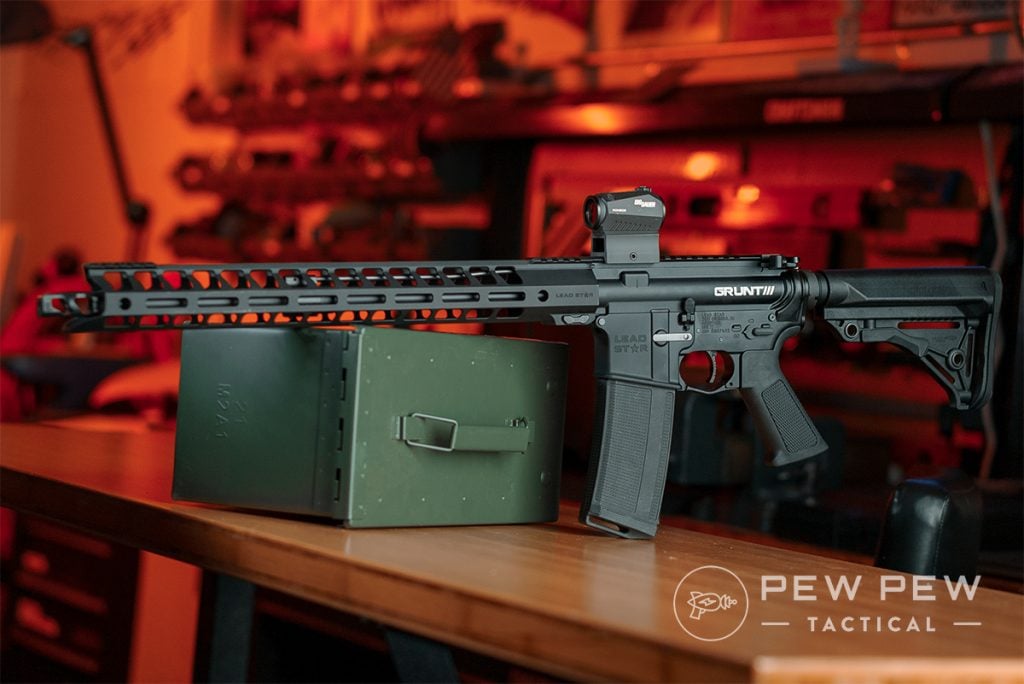 We've put TONS of rounds through several units spread across ARs and PCCs..and they're all still running strong. Get our full report in our Romeo 5 review here.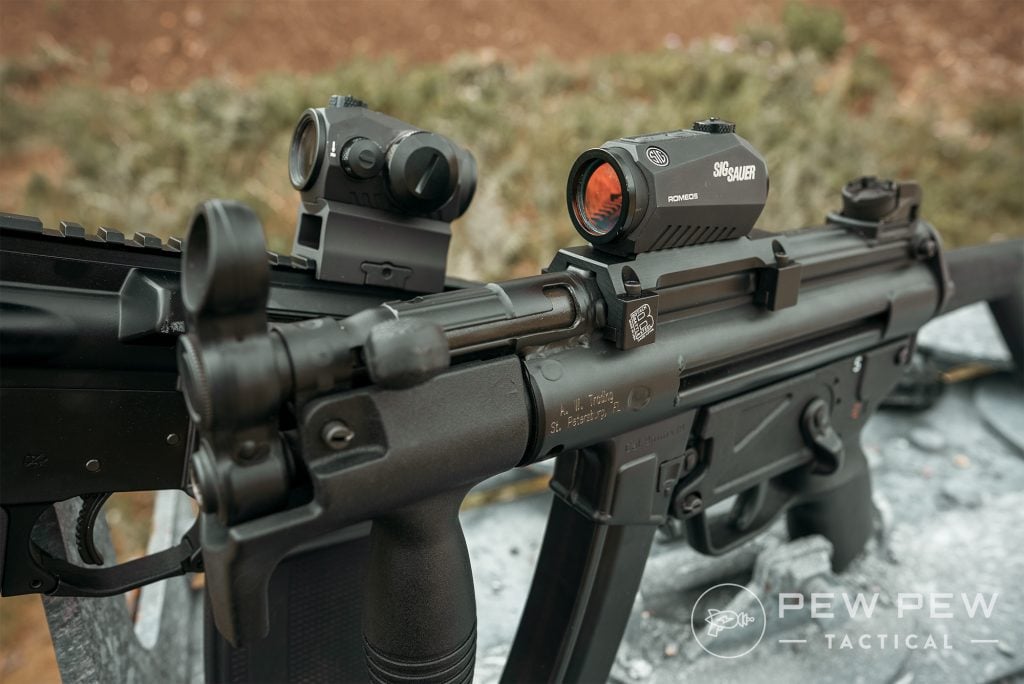 2. Sig Sauer Romeo MSR
How about our most budget pick that we would still trust to go on a defensive rifle? That would have to be the Romeo MSR which clocks in around ~$90.
Sig Sauer Romeo MSR Specs:
Magnification: 1x
Dot Size: 2 MOA
Weight: 4.9 oz
Battery Life: 20,000 hrs
Battery: CR1632
Illumination: 10 daytime and 2 night vision
You CAN go cheaper, but unless it's purely for plinking, I would get this at a minimum. The MSR has taken over our previous affordable recommendation of the Bushnell TRS-25 since that was older tech.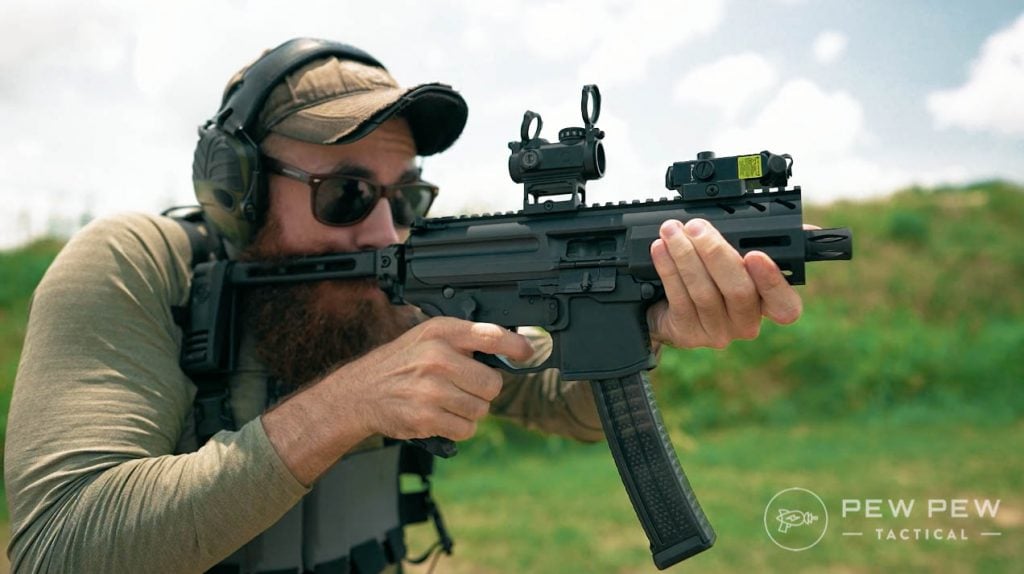 The view-through is slightly smaller, but runtime is still rated at 20K hours at a low setting. Speaking of settings…there are 10 daytime and 2 night-vision settings on a stiff dial.
I've kept mine on at the 7-level but found at 9 months the battery had gone dead. So be sure to set up a schedule for 6 months or leave it at a lower level.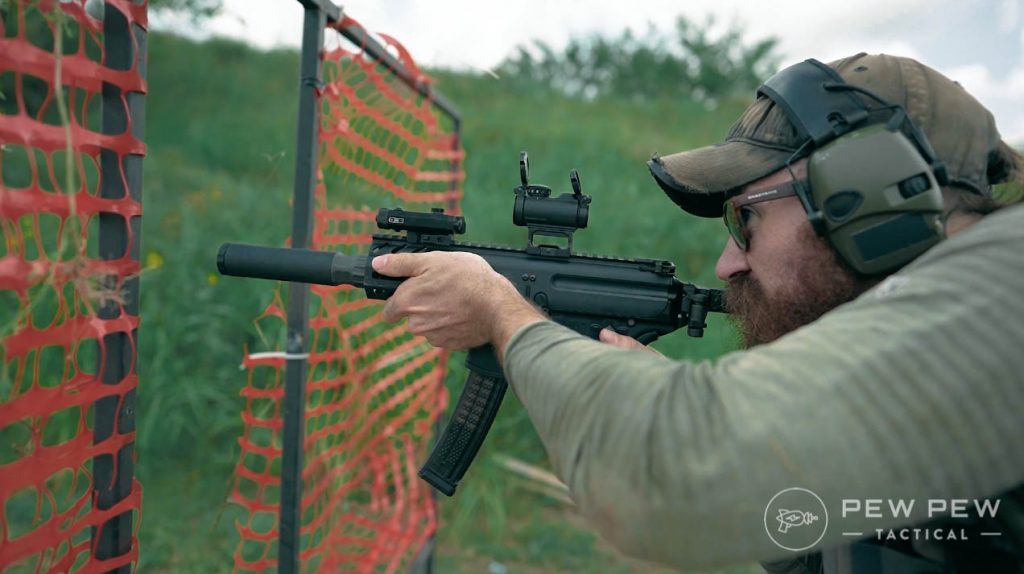 Another thing to keep in mind is that it's a slightly weirder CR1632 battery.
However, the dot is crisp, and the glass is clear for the price point.
Plus…you get a lightweight high-rise mount that's perfect for AR shooting.
3. Trijicon MRO
A relative newcomer to the high-end red dot game is the Trijicon MRO.
Trijicon MRO Specs:
Magnification: 1x
Dot Size: 2 MOA
Weight: 4.1 oz
Battery Life: 43,800 hrs (5 years) at setting 5 out of 8
Battery: CR2032
Illumination: 6 daytime and 2 night vision
It's priced at around $400 but is smaller with a bigger field of view compared to others (such as the Aimpoint PRO down the list).
Check it out in action…
It has great reviews and has survived a bunch of abuse (High-End Optics Torture Test).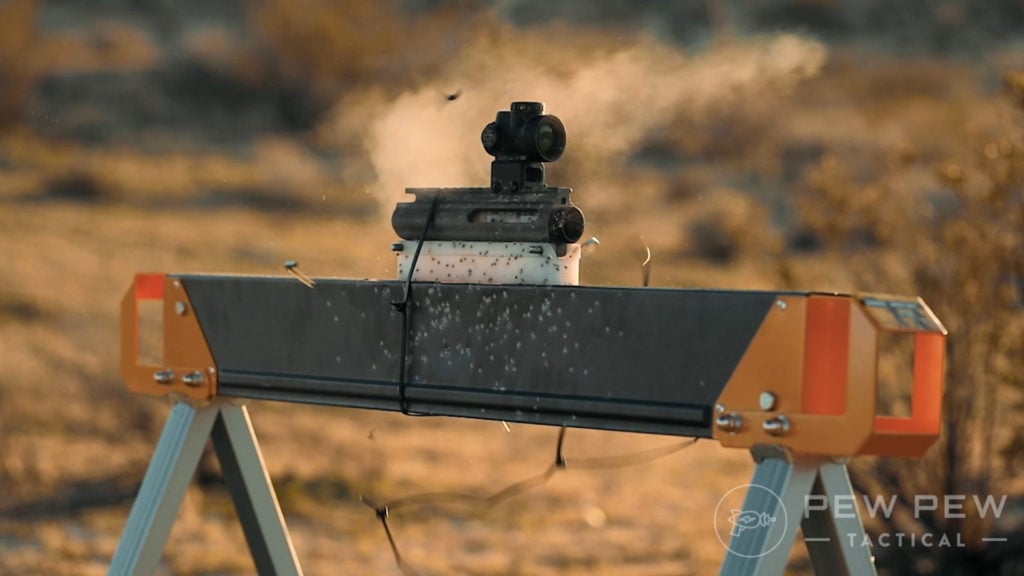 From water submersion to drop testing, hot/cold cycling, and a variety of gun loads…the MRO survived with the best of them.
This is what I'd consider a duty optic.
Six daylight settings with one super bright one that works even in our desert hellscape…and two night vision settings.
There are a couple of different flavors based on riser…from no riser to 1/3 co-witness and full co-witness.
Our preferred one is 1/3 co-witness, so you can use irons as a backup — but they aren't distracting.
Or you can opt for a quick-detach one from Midwest Industries.
Check out the full Trijicon MRO review and video for all our hot takes and tons of view-through sequences.
And if it suits your budget and end-use…
What's your take on the MRO? Rate it below!
4. Aimpoint Micro T-2
The gold standard of red dots…the Aimpoint.
Aimpoint Micro T-2 Specs:
Magnification: 1x
Dot Size: 2 MOA
Weight: 3.0 oz
Battery Life: 50,000
Battery: CR2032
Illumination: 8 daytime and 4 night vision
Costs a pretty penny but lasts for 50,000 hours on one battery and is fully waterproof. Also has extreme weather capabilities (around -20 to 140 degrees Fahrenheit).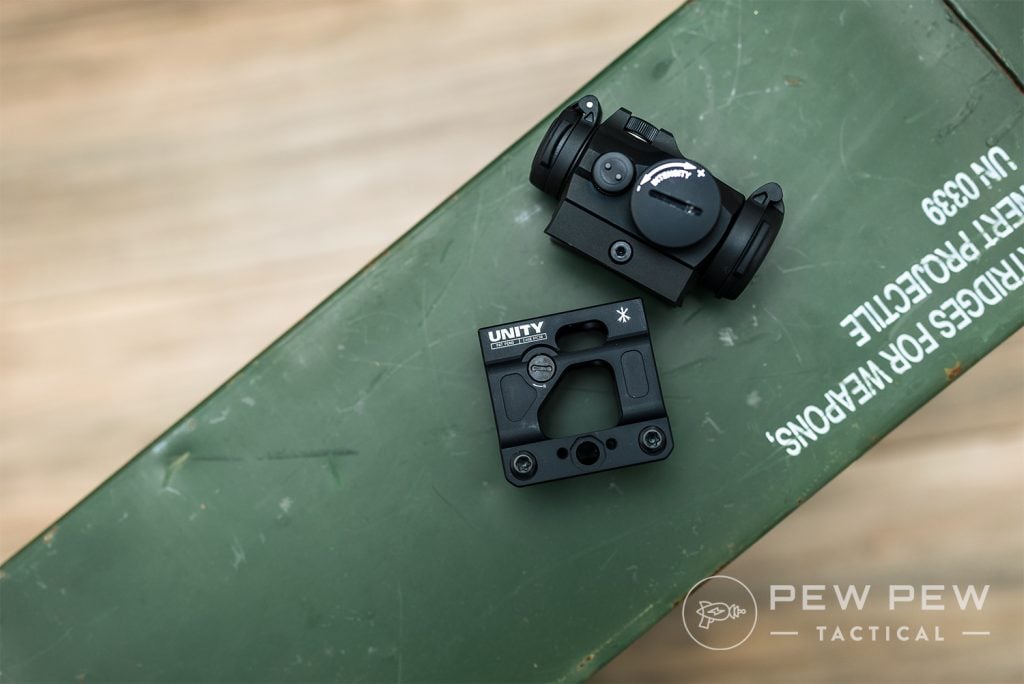 The older Micro H-1 is what I run on my regular AK, where the optic directly sits on top of the gas block, which gets extremely hot.
Thousands of rounds and still going strong. I would not hesitate to go into something unknown with my Aimpoint H-1.
However, the H-1 is discontinued, and the new H-2 is hard to find as of now. So I would recommend the T-2, which has additional protection for the adjustment knobs AND night vision capability.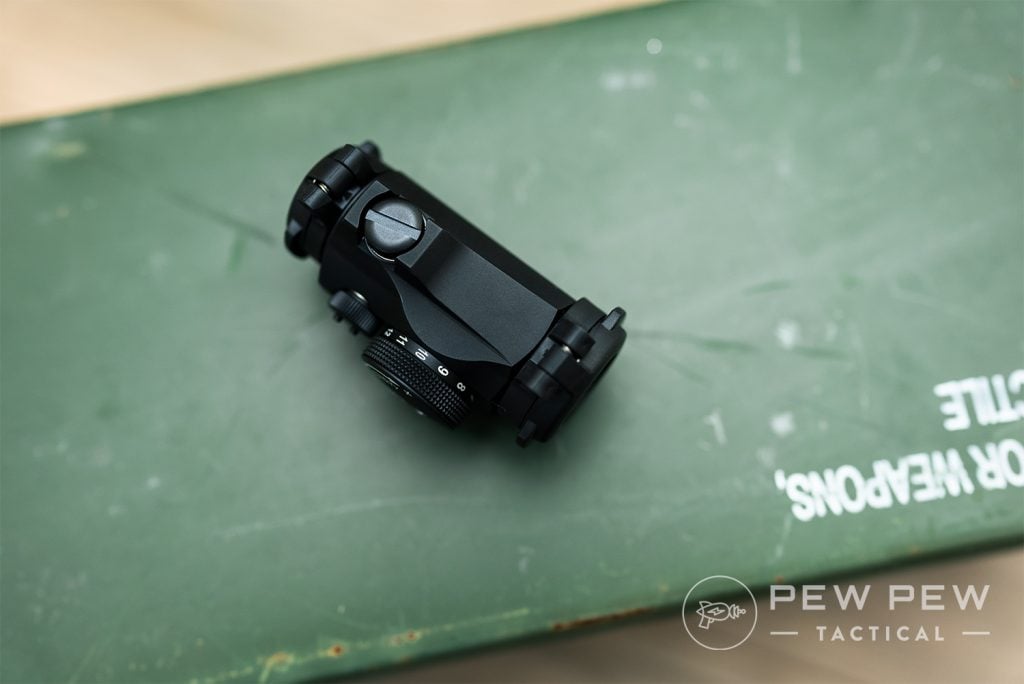 It's what I'm using on night vision setups.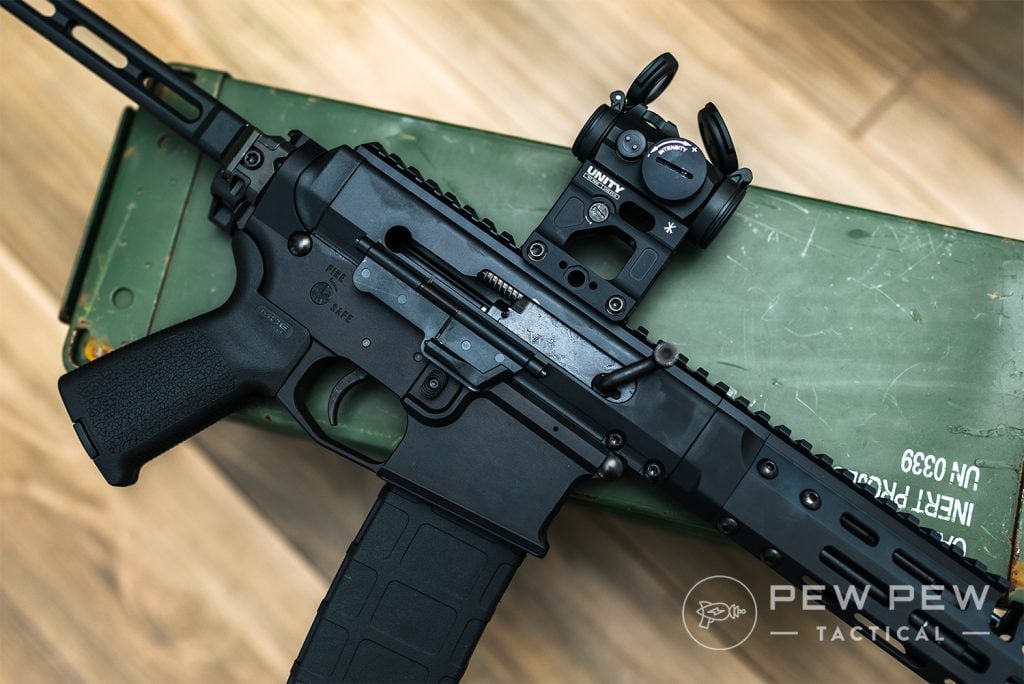 The 2 MOA red dot is still plenty good for close quarters but can be useful for further engagements or if you ever plan on using a magnifier.
And for a nice optic…you need a better mount that will hold zero better. I suggest Unity Tactical's FAST mount, which lets you see through your front irons still and is rock-solid.
If you don't run irons…it even has its own front sight you can easily add.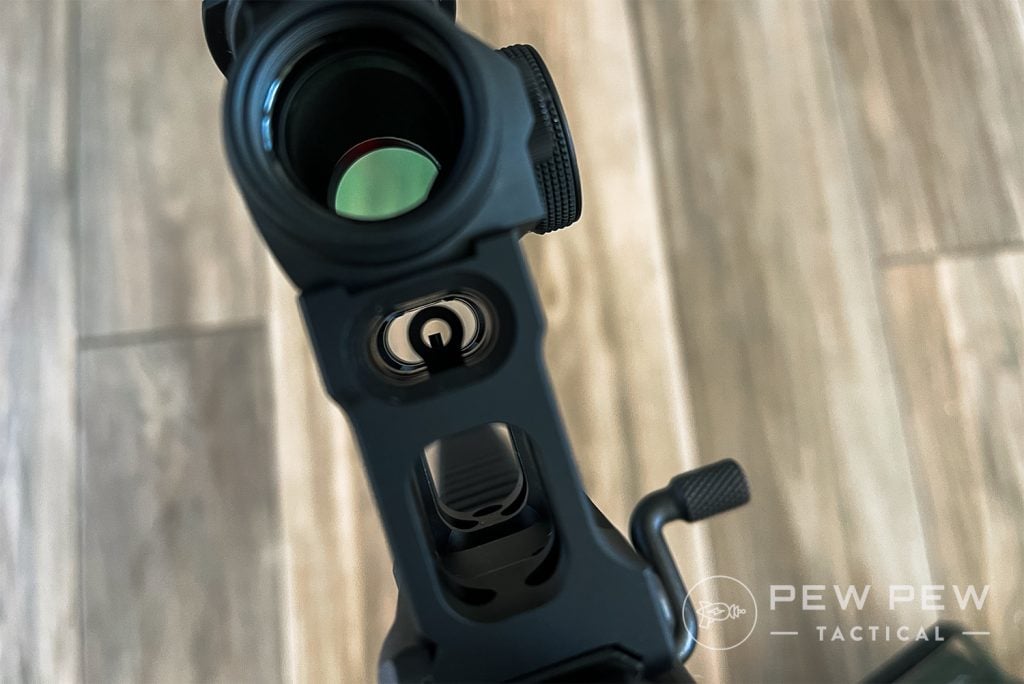 5. Aimpoint PRO (Patrol Rifle Optic)
What I recommend the most for someone who wants duty-rated optic.
The Patrol Rifle Optic optic is bigger but gives an even beefier enclosure, 3 years of continuous battery life, night vision capability, submersible up to 150 feet, and better temperature tolerance (-50 to 160 degrees).
Aimpoint PRO specs:
Magnification: 1x
Dot Size: 2 MOA
Weight: 7.8 oz
Battery Life: 30,000
Battery: CR2032
Illumination: 6 daytime and 4 night vision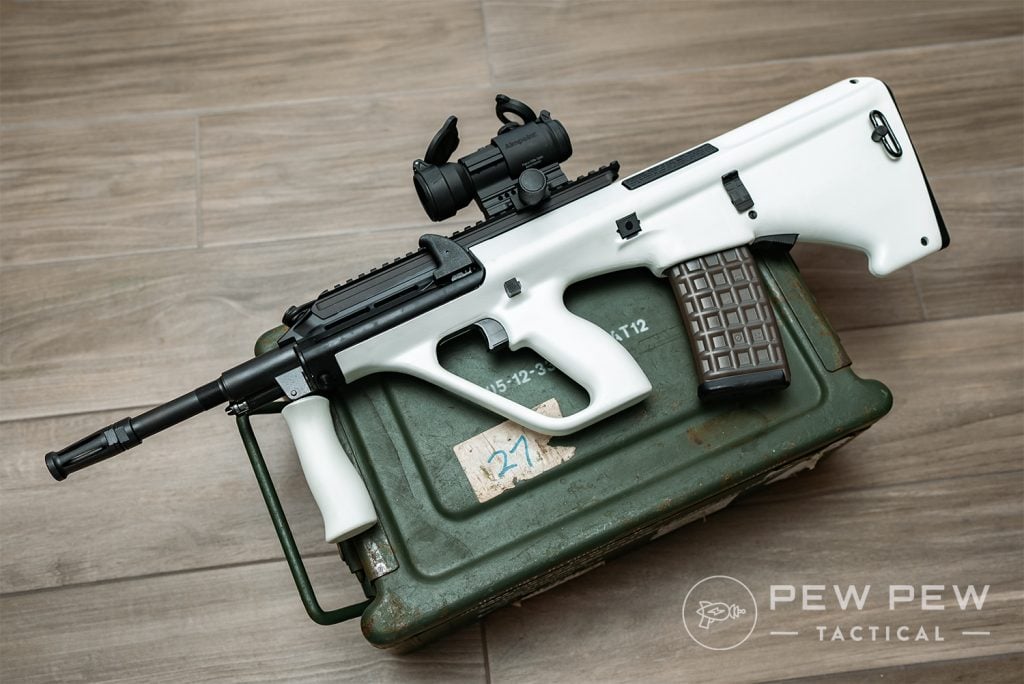 Plus, it's cheaper than the Micro and comes with a mount that adds a little more to the stated weight.
Check out our YouTube review of it after 3+ years and thousands of rounds:
We also have a full written review (with some hammer torture testing, of course).
Best Holographic Sights
6. EOTech EXPS2
For a long time, it was Aimpoint vs. EOTech.
Aimpoint had its tubular "reflex" sights, while Eotech had its distinct "holographic" sights. While the technology was a little different, both were heavily used by the U.S. military and had fervent supporters.
Then a disaster hit EOTech and culminated in a lawsuit from the U.S. Government in 2015 for the sights losing their zero due to hot/cold weather and moisture.
But they are back.
And if you do like the large circle reticle, I would recommend the newer EXPS2-0 model, which allows for 1/3 co-witness with iron sights.
EOTech EXPS2-0 specs:
Magnification: 1x
Dot Size: 1 MOA Dot with 68 MOA ring
Weight: 7.8 oz
Battery Life: 30,000
Battery: CR2032
Illumination: 6 daytime and 4 night vision
It's the smallest EOTech model currently and has clear glass, 1000 hours of battery life, an integrated QD mount, and tons of other stuff.
We test this and others from Vortex and Holosun in our Best Holographic Sights article and video below. Complete with video through each one.
If you've got moderate to severe astigmatism, then people usually have a better time with a holographic compared to a regular red dot.
Plus, holographic sights can survive complete destruction to their front lens without skipping a beat. And, oh yes…it was in our High-End Optics Torture Test and passed with flying colors.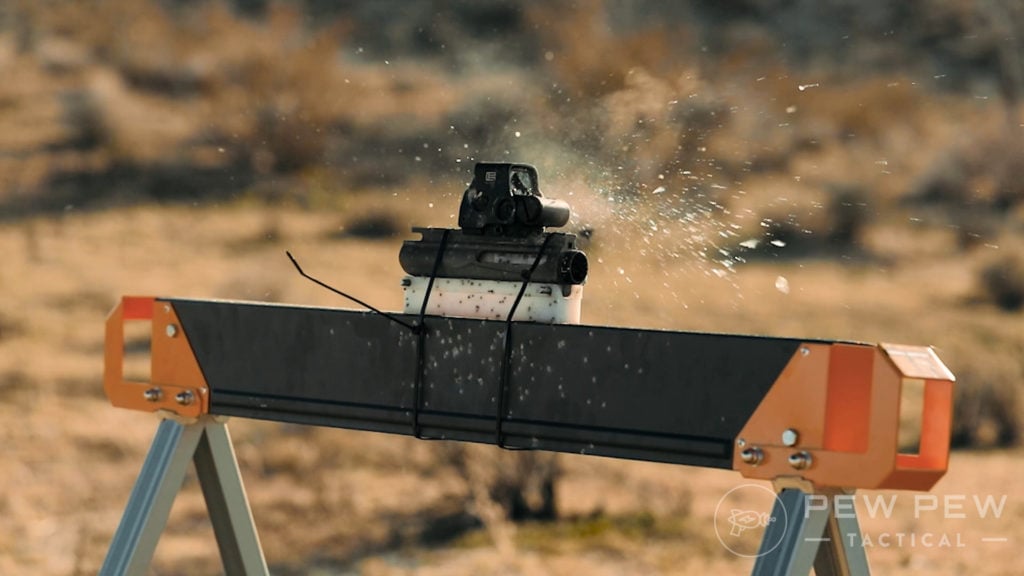 Learn more in Red Dots vs. Holographics.
Best Flip-Mounted 3x Magnifiers
Want the quick target acquisition of a 1x red dot or holographic sight…but still need to hit out farther?
We tested three of the most popular 3x magnifiers under $200 and found the best…
Drumroll…
7. Vortex 3x Magnifier
The Vortex 3x had the clearest glass, good eye-relief, changeable for lefties, easy to use mount, slim design, and was the lightest of the bunch.
Vortex 3x Magnifier Specs:
Magnification: 3x
Eye Relief: 2.2″
Weight: 11.9 oz
Field of View: 38.2 ft/100 yards
Check how it compared to the competition in our Best 3x Magnifiers shootout.
Best Prism (Fixed Magnification) Scopes
Now we dive into optics with some magnification!
We'll first start with some prism scopes and then on to more traditional variable magnification scopes.
See all our Best Prism Scopes article as well as our full video review:
But these are our favorites
Prism scopes offer some great pros:
Etched reticles so it doesn't require batteries
Much better for those with

astigmatism

More robust construction
But also some cons:
Not cheap
Heavier than red dot counterparts
Worse eye relief and eyebox
8. Primary Arms 1x Prism (Cyclops)
First up is Primary Arms 1x Cyclops, which you'll love if you have astigmatism and/or are deathly afraid of running out of batteries.
Primary Arms 1x Prism Specs:
Magnification: 1x
Dot Size: Cyclops Gen 2 Reticle
Weight: 5.5 oz
Battery Life: 25-50K hours
Battery: CR2032
Illumination: 10 daytime and 3 night vision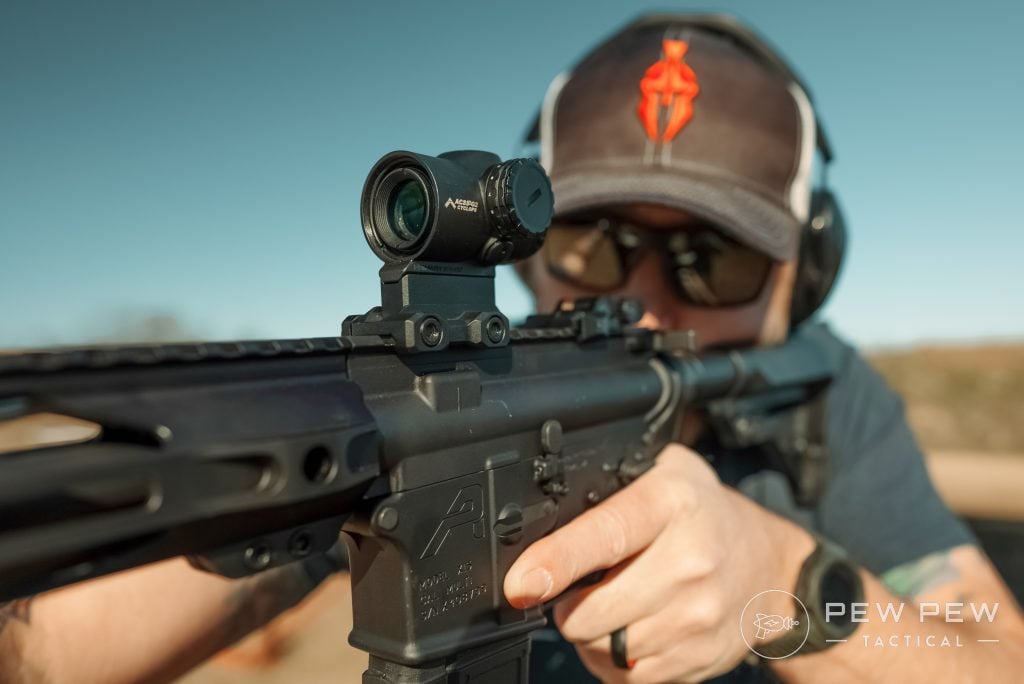 If neither of those points applies to you…stick with a red dot.
Otherwise, the Cyclops is nicely built and has decent eye relief for close-up work. We've had a good time with the series ever since the Gen 1.
It also has the ACSS reticle, which we love for higher magnifications, but at 1x, you don't really get all the benefits.
Still…it was decently quick when you needed it.
Check it out if astigmatism is ruining your red dot life.
And now…the newest generation that's even better…
Much smaller, better battery life, better eye relief, and tons of riser options in the box.
Check out the full review of the PA Cyclops 1x Gen 2.
9. Primary Arms SLx 3 Prism
Our overall winner for a prism sight goes to the Primary Arms SLx 3, which gives the perfect amount of magnification.
Primary Arms 3x Prism Specs:
Magnification: 3x
Dot Size: CQB-M2 Reticle
Weight: 18.4 oz
Battery: CR2032
Illumination: Illuminated but no night vision mode
It's only slightly slower at close quarters compared to a 1x prism or red dot…especially with the ACSS CQB reticle.
But it also enables you to reach a little farther out with ease…
Check out more of it in action in our Best Prism Scopes article.
10. Sig Sauer Bravo 5
Want a bigger field of view and more magnification?
Check out the Sig Sauer Bravo 5, which is one of the most impressive pieces of glass we've had the chance to use.
Sig Sauer Bravo 5 Specs:
Magnification: 5x
Dot Size: 5.56/7.62 Horseshoe Dot
Weight: 23 oz
Battery Life: 25-50K hours
Battery: CR2032
Illumination: 8 daytime and 3 night vision
With Megaview™ (lol), you get a much bigger field of view through its crystal clear glass.
The only knock is on its hefty 23-ounce weight…but it has three Picatinny rails that can be removed if you aren't adding a micro red dot onto it.
11. ACOG TA31F 4×32
The Trijicon Advanced Combat Optical Gunsight (ACOG) is battle-proven, compact, and basically bombproof.
The recommended TA31F version is a fixed 4x magnification and has a reticle calibrated for ARs shooting 5.56 from 0-800 meters.
The ACOG is expensive because it combines the best of all worlds…it does not need a battery during the day since its fiber optic system illuminates the chevron (upside-down V) reticle, while at night the tritium lamps take over and are guaranteed to glow for 15 years.
Trijicon ACOG TA31F Specs:
Magnification: 4x
Dot Size: ACOG Chevron
Weight: 15.1 oz
Battery Life: 10+ Years (Tritium)
Battery: none
I would highly recommend trying one out in person since the fixed sight system is not for everyone.
Consider the ACOG or the Spitfire if you're looking at mostly longer-range engagements since shorter distances require some getting used to.
But if you need a two-decade proven combat optic…it's gotta be an ACOG.
And if that wasn't enough…the ACOG was the only optic to make it through our High-End Optics Torture Test and still be usable at the end.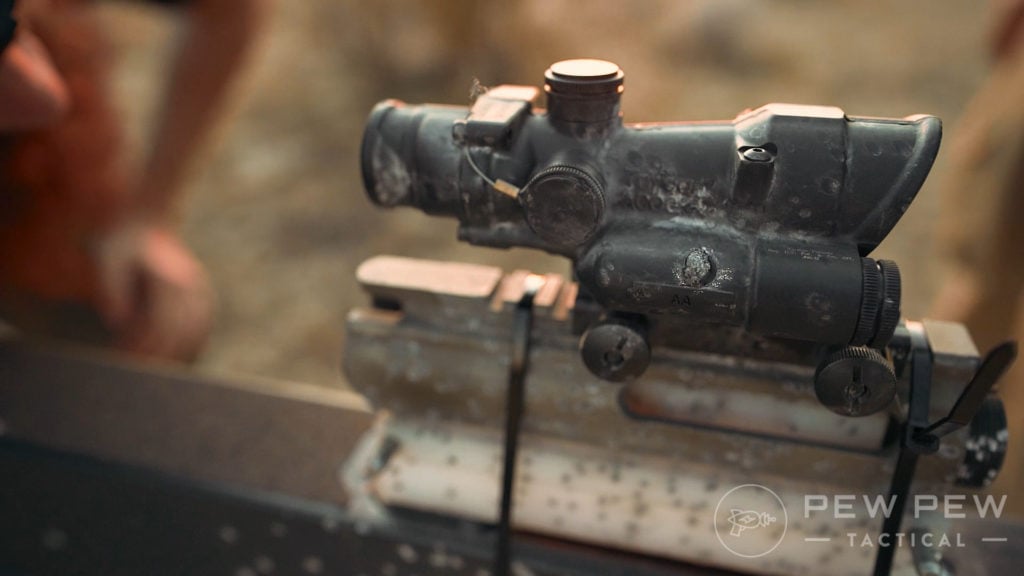 Need a tank? This is it!
We also cover more popular (and newer) models in Best ACOG Scopes.
Now with a full review video too!
Best AR-15 Scopes
12. Primary Arms SLx 1-6x ACSS, Gen III & IV
The Primary Arms SLx 1-6x ACSS Gen III has been the winner of our Best 1-6x Scopes article for years. And for under $300, you can't really beat it.
These scopes that start at 1x magnification and go up to 6x, 8x, and now even 10x are known as LPVOs (low-powered variable optics).
And they are a great option for ARs for close-quarters shooting at 1x and zooming in for some farther shots.
Primary Arms SLx 1-6x Gen III ACSS Specs:
Magnification: 1-6x
Objective Diameter: 24mm
Reticle: ACSS 5.56/5.45/.308
Weight: 16.9 oz
Battery: CR2032
Great glass at 1x plus a sweet reticle they dub the ACSS, which has a small reticle for precise shots and a larger circle for close-up targets.
1x is very clear, and there's less distortion at 6x compared to the runner-up Strike Eagle 1-6x scope.
Here it is at the range.
We've also shot it a bunch in the desert and at competitions.
Here's a 200-yard target that was almost too easy to hit once we learned our bullet drop.
We now have a full review of the 1-6x ACSS scope…AND Youtube:
And get a free Primary Arms mount (in the last dropdown) when you use our link.
But now there's the Gen IV with Nova ACSS reticle version that sports crisper glass and a true daytime bright reticle…for only a few bucks more.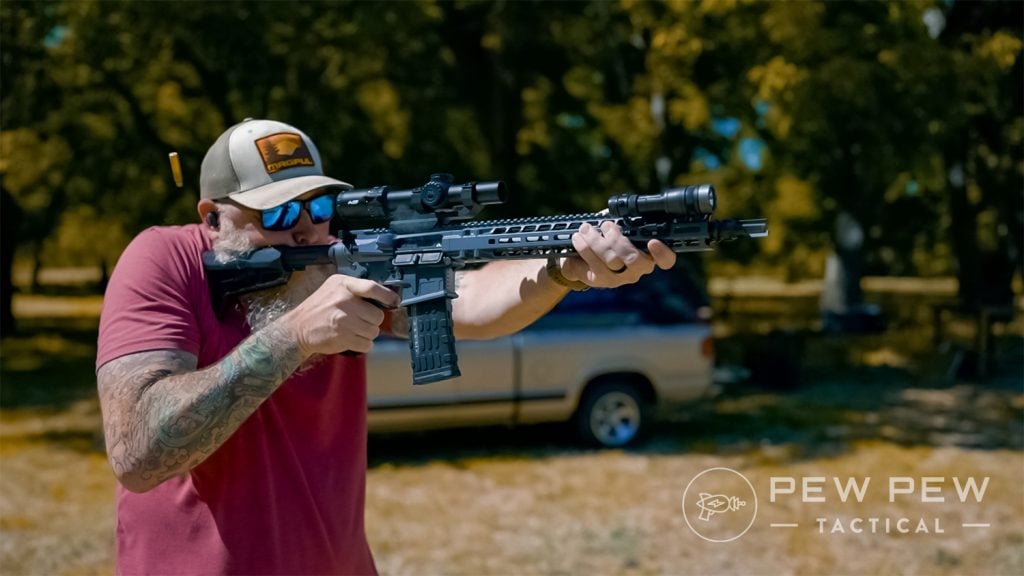 Primary Arms SLx 1-6x Gen IV Nova ACSS Specs:
Magnification: 1-6x
Objective Diameter: 24mm
Reticle: Nova ACSS 5.56/5.45/.308; daylight bright
Weight: 17.9 oz
Battery: CR2032
Check it out in action at 1x:
The Nova ACSS reticle is great for a variety of calibers and also for both holding and ranging.
Check out the zooming from 1x to 6x:
Also qualifies for the free mount from the dropdown.
Check out the full written review and YouTube review.
But this is our new recommendation for the best bang-for-the-buck LPVO that's worth the few extra bucks to get the daylight bright reticle.
13. Vortex 1-6x Strike Eagle
My previous 3-Gun optic of several years allowed me to much more easily hit the 375-yard targets at my local competition compared to a 1-4x scope.
The Strike Eagle 1-6x is very affordable and has very clear glass from 1-4x.
Vortex Strike Eagle 1-6x Specs:
Magnification: 1-6x
Objective Diameter: 24mm
Reticle: Strike Eagle
Weight: 17.6 oz
Battery: CR2032
I can see some hints of distortion at 6x, but since I usually only use the max magnification one stage a match, it doesn't bother me.
If you're shooting closer matches or distances, you can just turn it to 3-4x as well to minimize the minor distortion.
The reticle is pretty good for close-up shots as well as farther shots.
I paired mine up with an extended Aero one-piece mount for a super-secure hold and weight savings.
Recommended Add-Ons:
14. Vortex Viper PST 1-4x
Now with great 1-6x scopes under $300…there's almost no reason to have a 1-4x. But if you really want one…here's my pick for one with great glass.
Vortex Viper 1-4x Specs:
Magnification: 1-4x
Objective Diameter: 24mm
Reticle: TMCQ MOA
Weight: 16.2 oz
The PST 1-4x is a higher-end 1-4x scope with better/clearer glass and a different reticle that excels at both close-quarters and distance shooting.
Second focal plane. With a better optic, I recommend a better mount as well.
Recommended Add-on:
15. Vortex Viper PST Gen II 1-6x
What I now run in my competition rifle. The Viper PST II is the best combo of glass quality, a forgiving eye box, and daytime-bright illumination.
Vortex Viper PST Gen II 1-6x Specs:
Magnification: 1-6x
Objective Diameter: 24mm
Reticle: VMR-2 MOA
Weight: 22.7 oz
Battery: CR2032
That means for close-up shots, I can use it as a red dot (hard to show in pics)…
And get up to 6x zoom of crystal clear glass with almost no side distortion.
Plus, unless you're in the blazing sun of the desert, the illuminated reticle is quite good.
Check out more in our Best 1-6x Scopes article.
Recommended Add-Ons:
Best Hunting Scopes
16. Leupold 3-9x VX Freedom
One of our recommended hunting optics (Best Hunting Rifles) where you don't necessarily need 1x but might need something more magnified. The 3-9x VX Freedom fills this need nicely and at a great price.
Leupold 3-9x VX Freedom Specs:
Magnification: 3-9x
Objective Diameter: 40mm
Reticle: Duplex
Weight: 22.7 oz
I'm running it on my 30.06 rifle, and so far, it's held up to the pretty large recoil.
Glass is very clear at 3x.
As well as at 9x.
Plus, the 40mm objective lens brings in plenty of light.
The Freedom takes over from Leupold's venerable VX-1 scope, which we previously recommended. If you don't mind it being phased out, there could be some good deals there.
Recommended Add-On:
Best Long Range Scopes
This is a whole can of worms…check out our huge list in Best Long Range Scopes.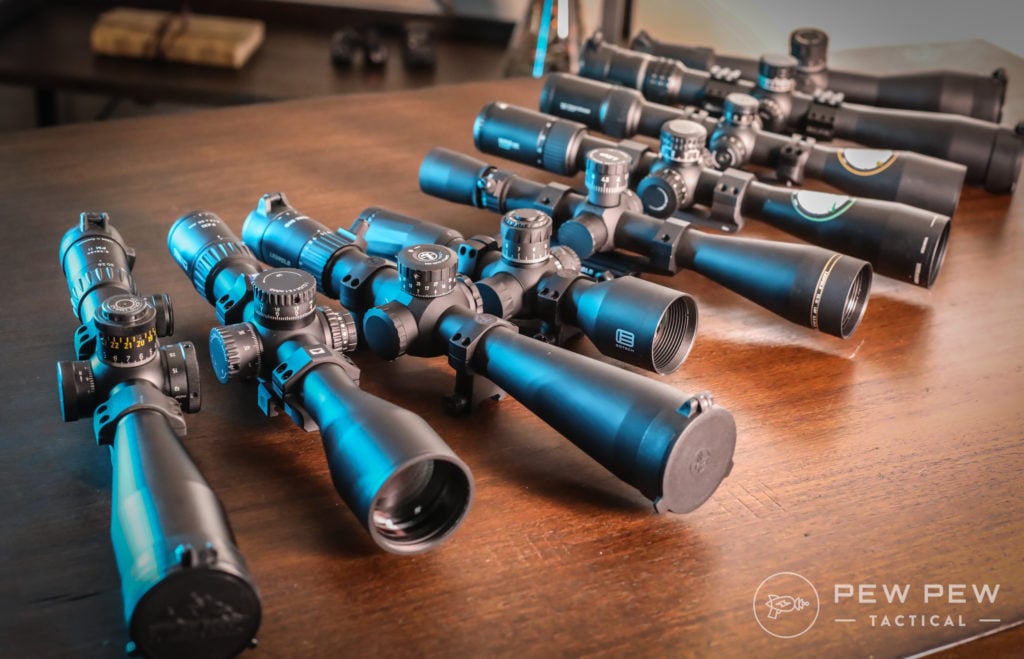 Best AR-15 Back-Up Iron Sights (BUIS)
Now that you have your primary sight, you'll need some backup sights in case your primary breaks, runs out of batteries, or just falls off.
For 99.99% of their life, they will live flat underneath your scope. But if something happens to your primary, you'll wish you had these to flip up!
Magpul Gen 2 BUIS
Polymer Magpul BUIS paved the way for backup sights to become mainstream. Affordable and still plenty accurate when you need them.
Magpul MBUS Pro
The latest iteration from Magpul, the MBUS Pro is steel instead of polymer to survive anything you can throw at it.
Offset Iron Sights
Maybe not for everyone, but if you're competing and don't have time to switch your AR-15 scope back to 1x…these offset sights from Ade Advanced will help you get a better time.
All you need to do is tilt your gun, and you have these ready for close targets.
Our budget picks so you can see if you want to upgrade to Magpul MBUS Offset ones (the Gold Standard).
And, of course…now we have full in-depth reviews of both Backup Irons Sights and Offset Iron Sights.
Final Thoughts
Hopefully, we've given you a good starting point when it comes to choosing the perfect optic for your AR-15. From red dots to scopes and backup iron sights, make sure you have what fits your lifestyle.
And don't forget to sight that baby in.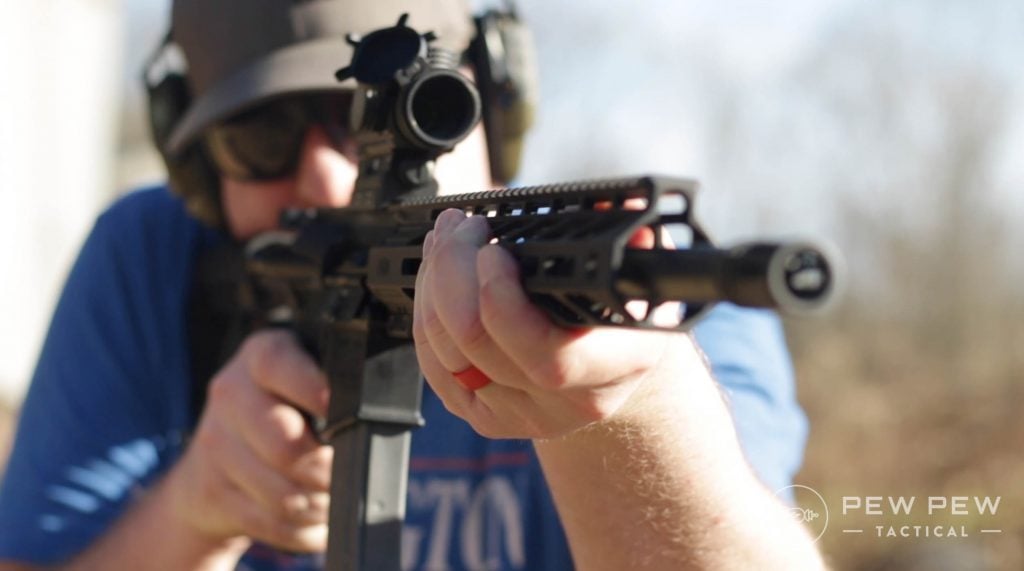 Of course, you're probably going to need to mount your optic, so take a look at our list of the Best Scope Mounts.
Now that you've seen everything for the AR-15, from red dot sights to ACOGs and variable optics, what will you choose for your purpose? Need some glass for a non-AR platform like rimfire or long-range…check out our huge Best Rifle Scopes and Best Pistol Red Dots article.