You've got your concealed carry gun.
And hopefully you've got your perfect concealed carry holster.
One more super important piece of kit is your gun belt.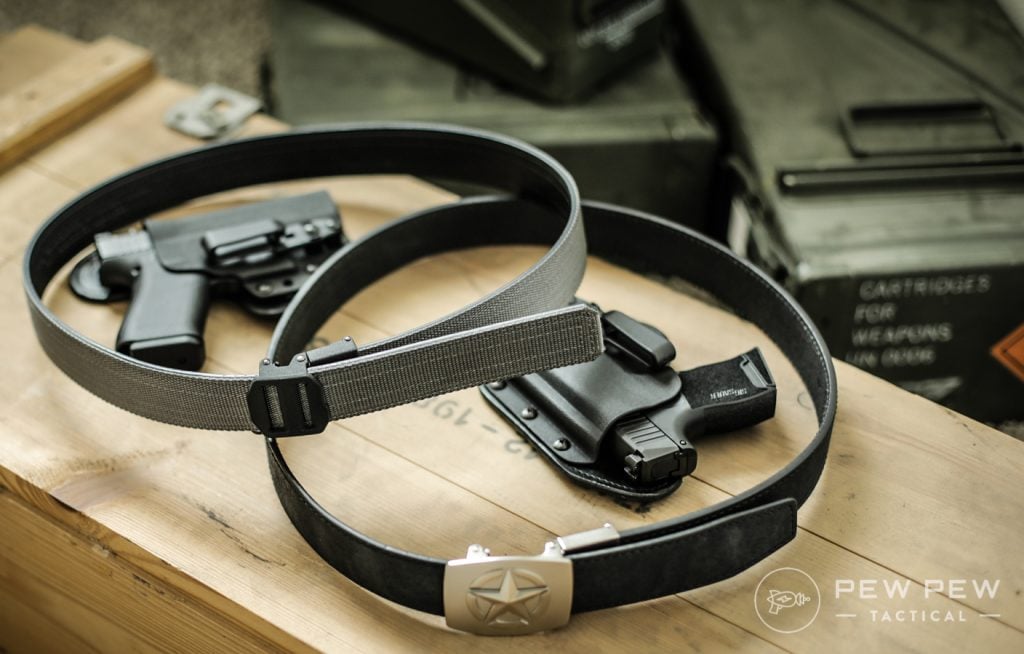 I've used and tested a lot of gun belts throughout the years.
And they all have their place.
Some I like for carrying tons of gear. Some are better for a range day.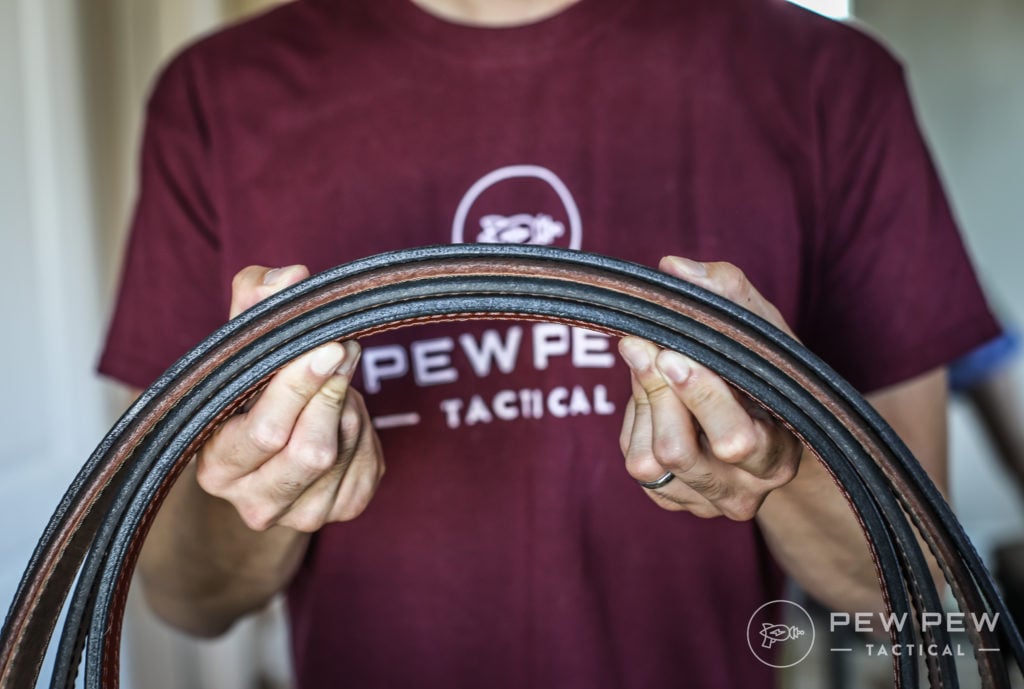 But for everyday carry…my new favorite is the Kore Essentials Tactical Gun Belt. Use code "PEWBELT10" to take 10% off.
64
at Tri Star Trading
Prices accurate at time of writing
Prices accurate at time of writing
Table of Contents
Loading...
Why You Need a Great Belt
Guns and holsters are heavy.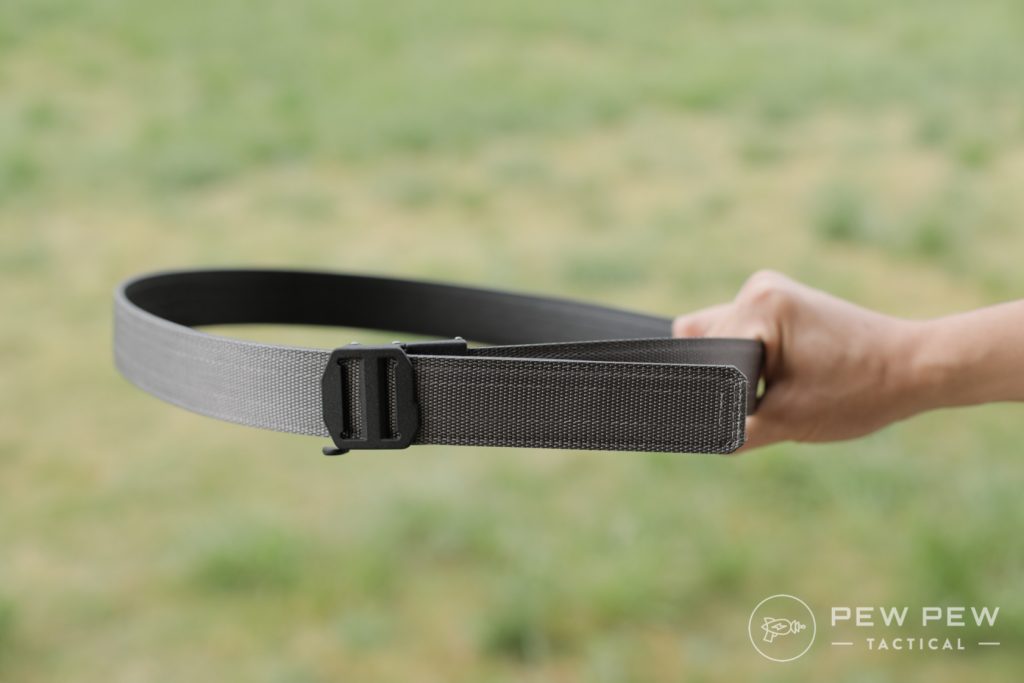 If your regular belt isn't up to the task…things are going to sag.
Which will make you print more…and maybe even negatively affect your draw stroke.
Plus it's going to be uncomfortable with improper weight distribution.
Oh…and adding a gun/holster is going to increase your waist even more than a delicious Thanksgiving day dinner.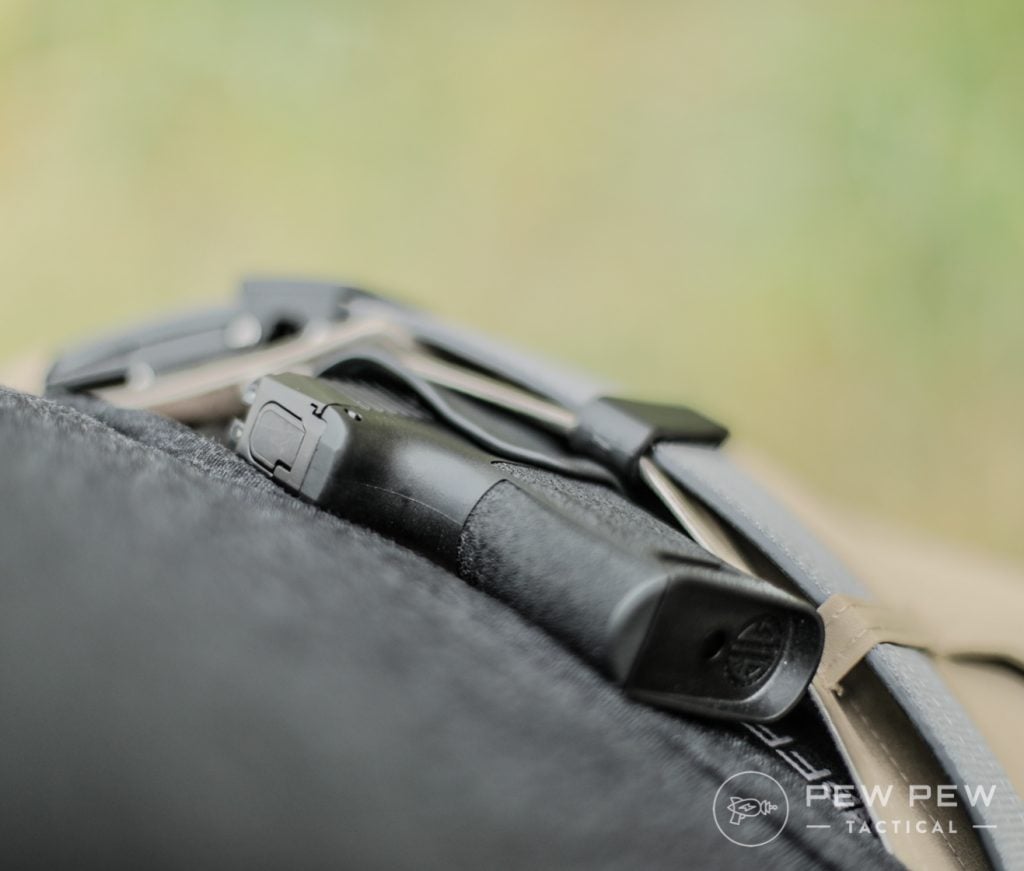 You want a belt that's slightly larger than your normal measurements. And ideally very adjustable.
Boom…enter Kore Essentials!
Super Adjustable
Their main differentiator from regular belts is that they don't have holes.
Instead you have a hidden track that allows for 1/4 inch adjustments on the fly.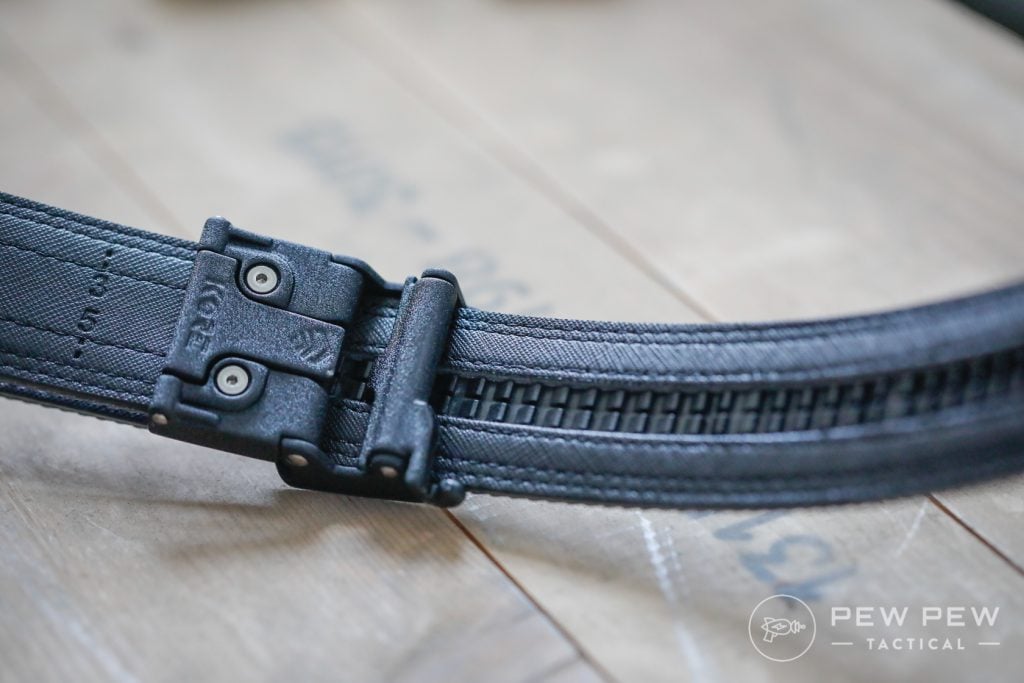 You press the hidden but not too hard to find lever to allow loosening.
I love it because I can choose to have a normal fit if I'm somehow not carrying that time period.
And then instantly adjust for when I do.
I also sometimes sit or drive for an extended amount of time. I appendix carry and like to ride the holster a little up for more comfort.
The Kore allows me to loosen a little bit. Then when I stand up or get out of the car I can instantly tighten again.
Just the Right Rigidity
For an everyday concealed carry belt…you want rigid but not TOO rigid.
My favorite model is the X7 belt buckle on the "tactical" nylon belt. The tactical version holds 6 pounds which is plenty for almost all gun/holster combos.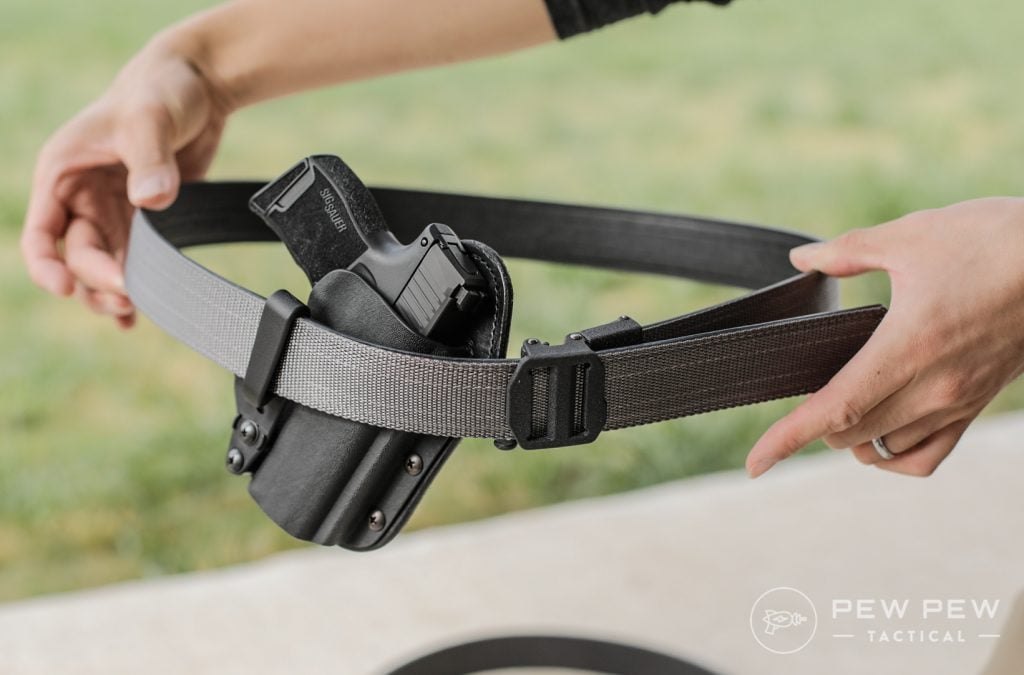 It holds its shape well and distributes weight pretty evenly. Coupled with a Hidden Hybrid Holster it's a dream to wear.
Again…use code "PEWBELT10" for 10% off at Shall Not Comply…and check out our Pew Pew Tactical shirts while you're at it!
64
at Tri Star Trading
Prices accurate at time of writing
Prices accurate at time of writing
The nylon belt also doesn't scream GUN as much as some others.
I'm almost always wearing an untucked shirt so it doesn't matter as much. But if you want something more business…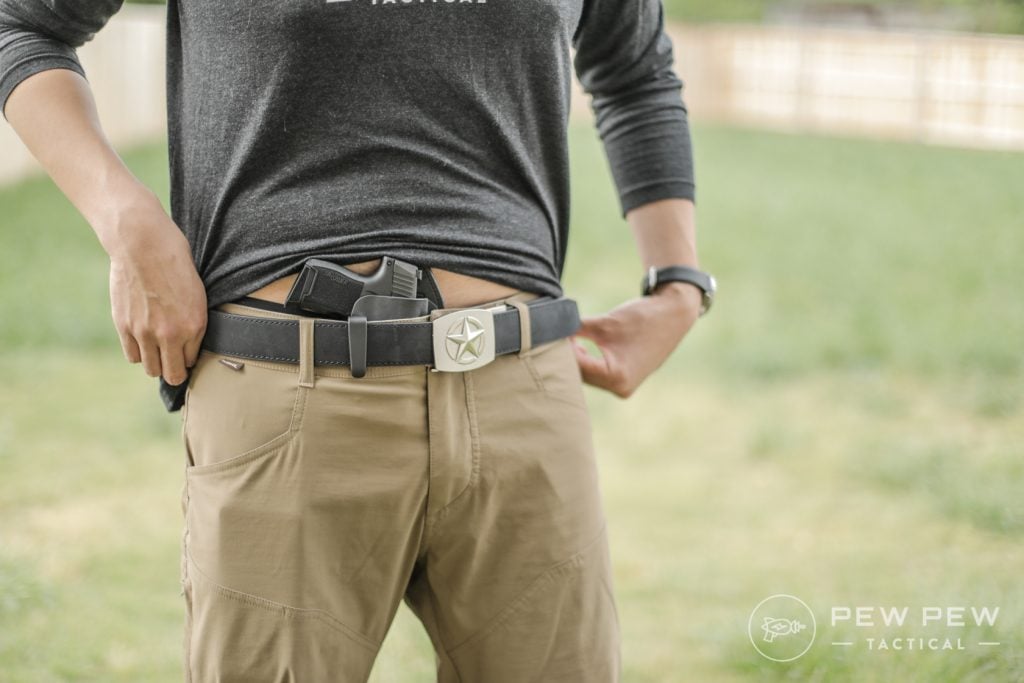 You can check out their leather gun belt options which hold up to 4 pounds. Still plenty but it is slightly flimsier. Use code PEWPEWTACTICAL for 10% off at Kore direct.
59
at Kore Essentials
Prices accurate at time of writing
Prices accurate at time of writing
If you're packing a micro-compact like the P365…you'll be fine!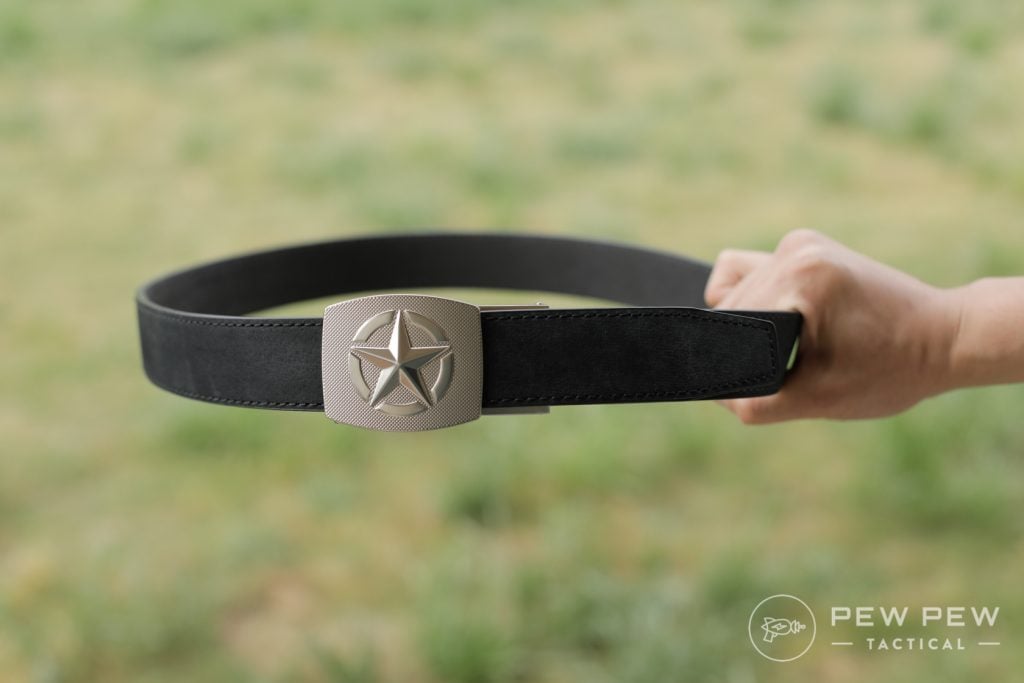 My Favorite Model
There's tons of buckle options that work on all the belts.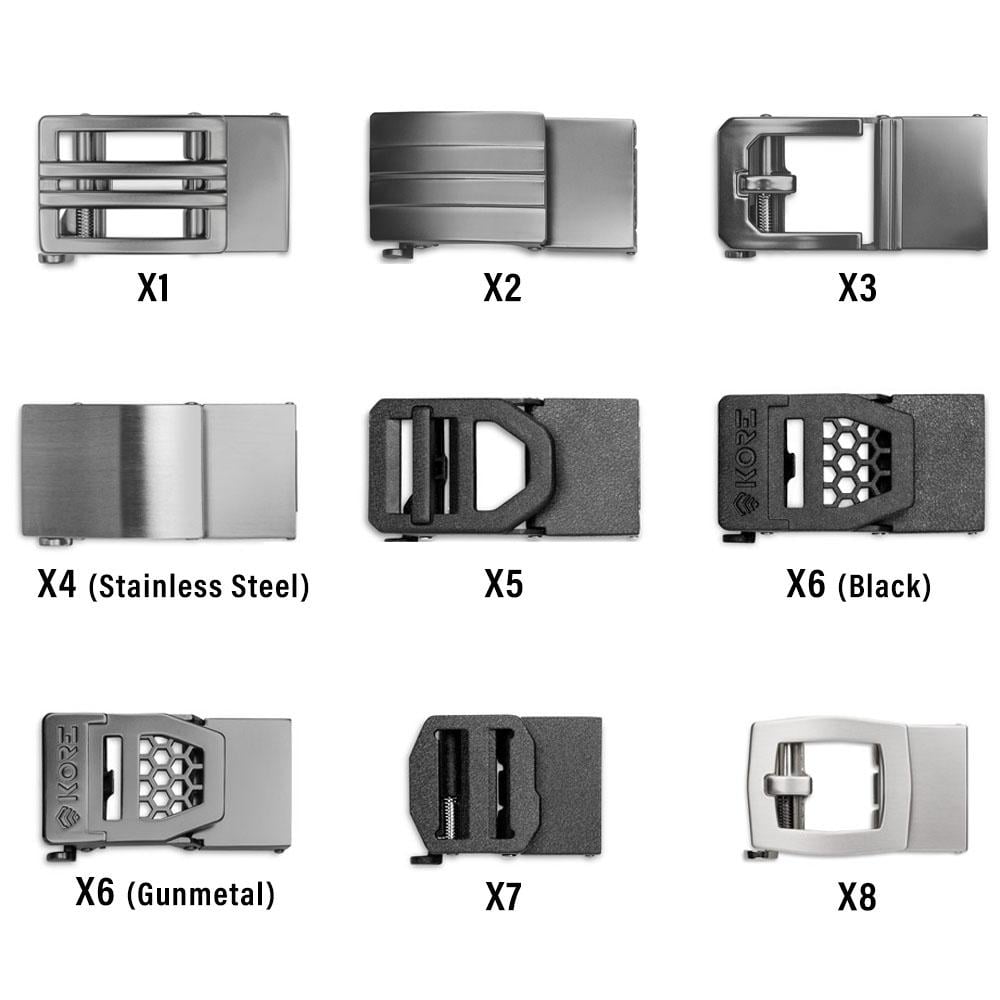 But I like the X7 Tactical Belt since it's the lowest profile buckle but there's plenty of other options and belt colors (including Multicam).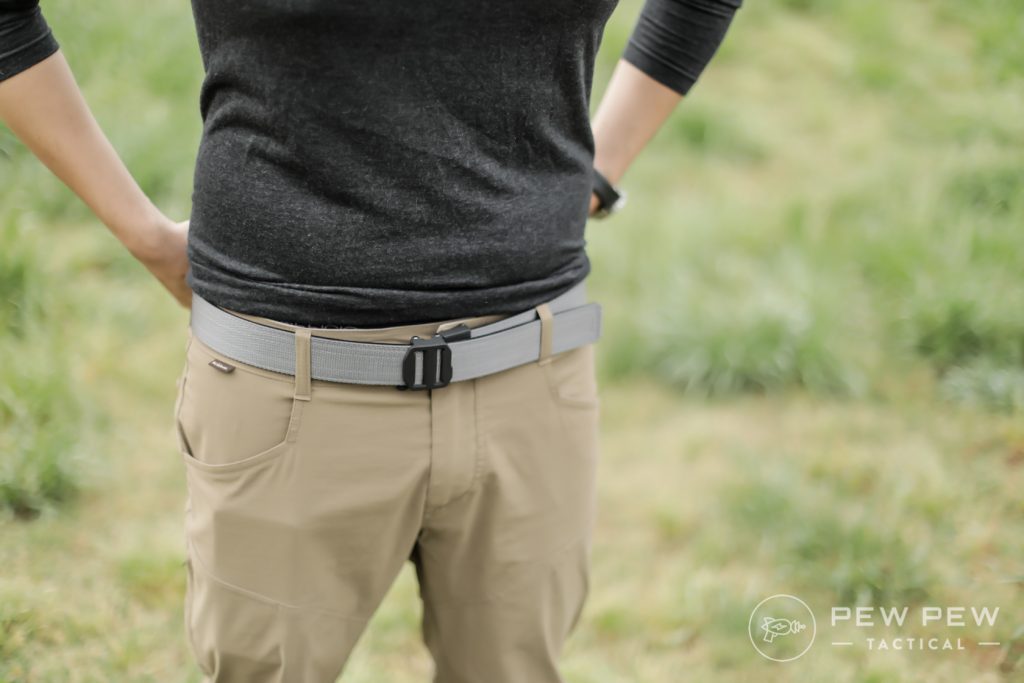 Given the design there's going to be some sort of gap created by the buckle.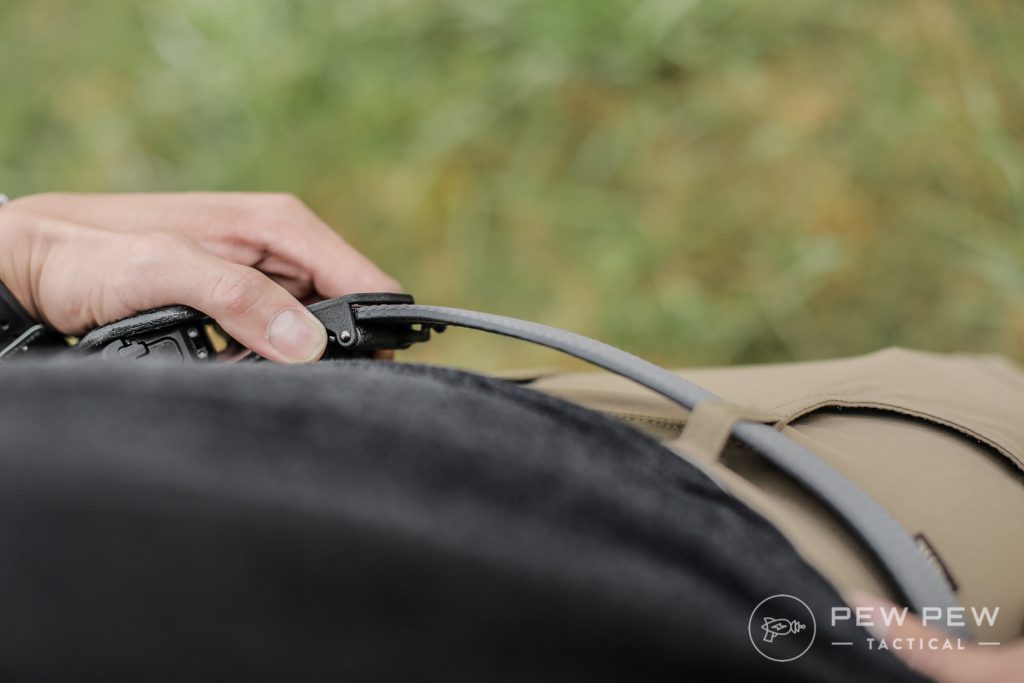 But since we're talking CCW…it's a perfect location for your holster!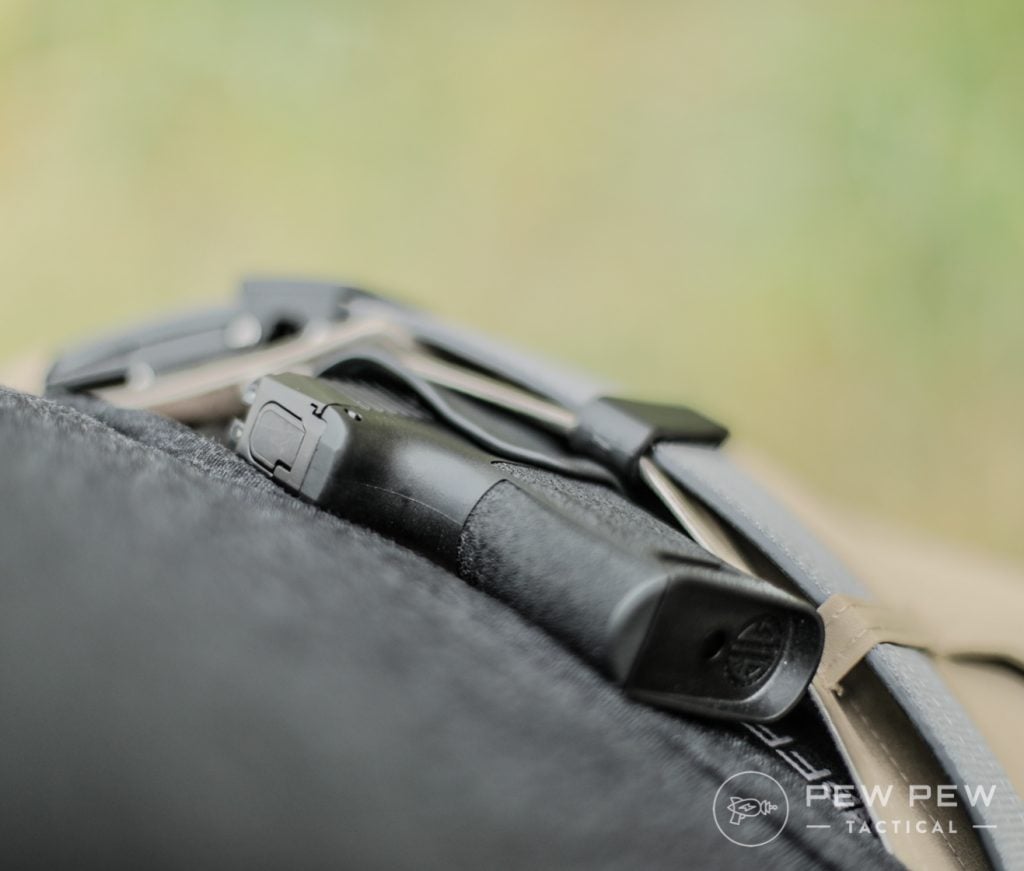 I slightly shift the buckle over to the left and you can't tell I'm wearing anything.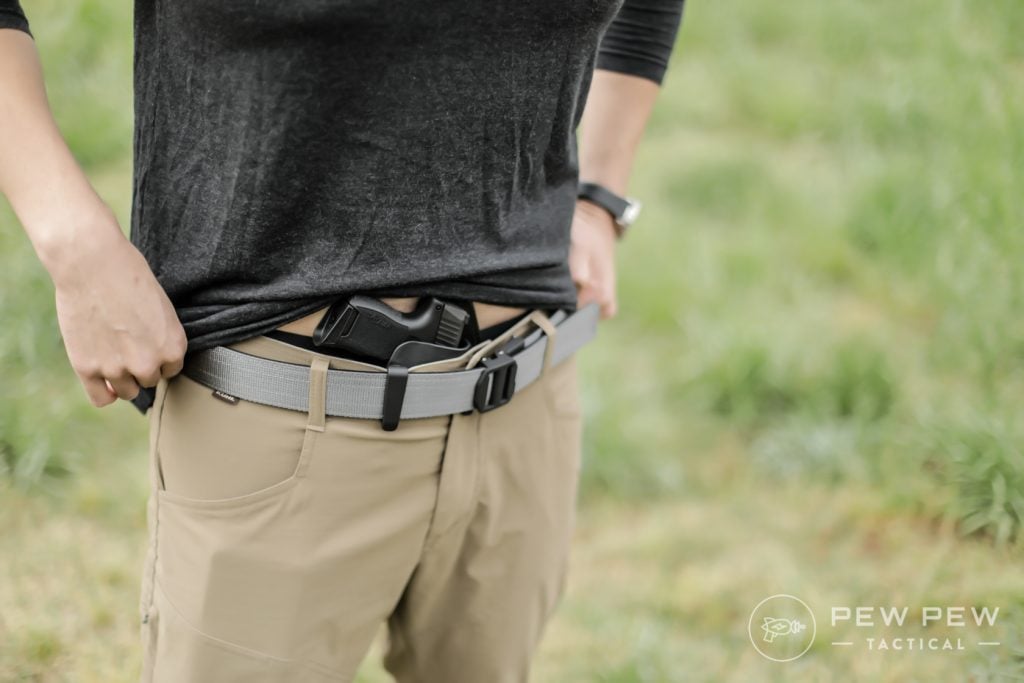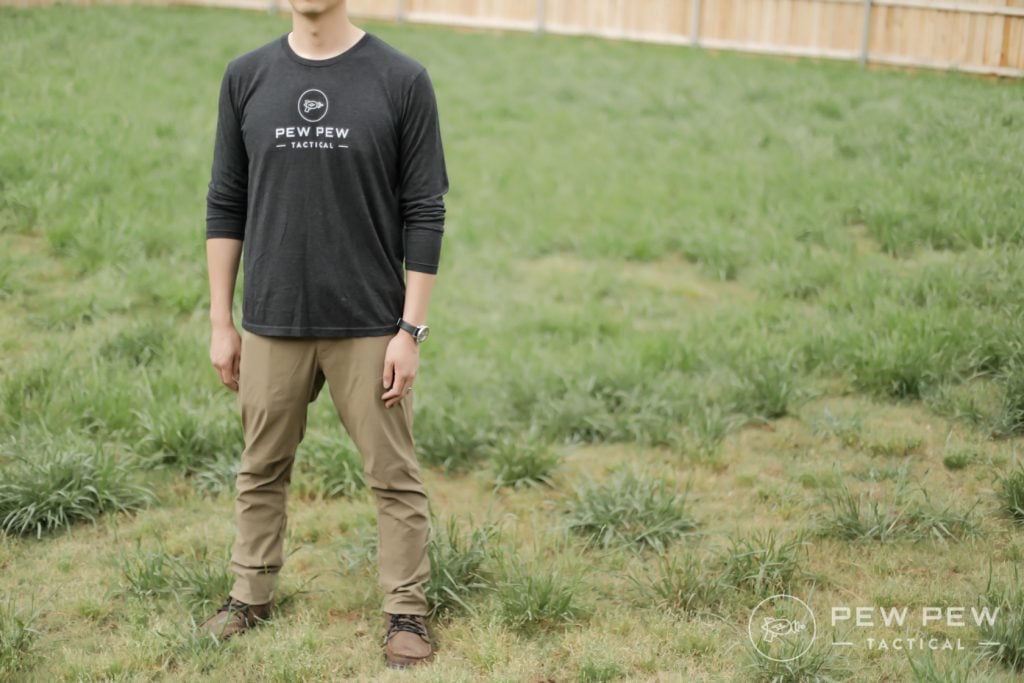 How To Set It Up
When you first get your buckle and belt it's going to be pretty long. There's one size and it will fit size 24 to 54 inch waists.
You get a sharp pair of scissors and cut the back to about 4″ more than your regular waist size.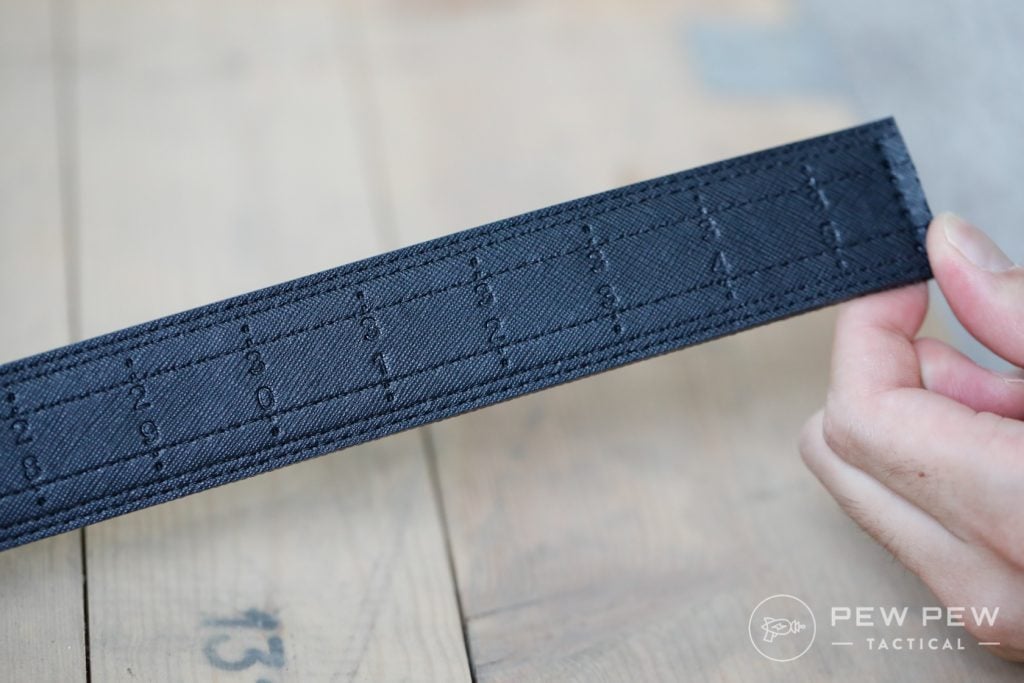 I did 5 inches at first since you can always cut more…
You also get to see the reinforced cores inside the tactical and leather options.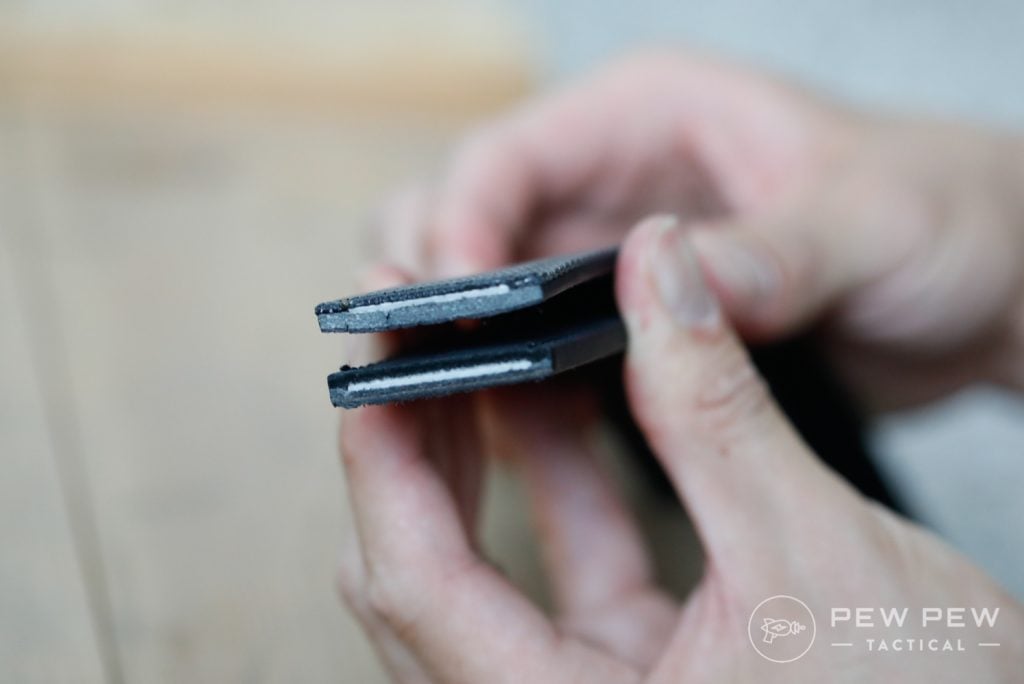 Then you install it using the teeth clamp. Tactical models also include set screws if you want it SUPER secure.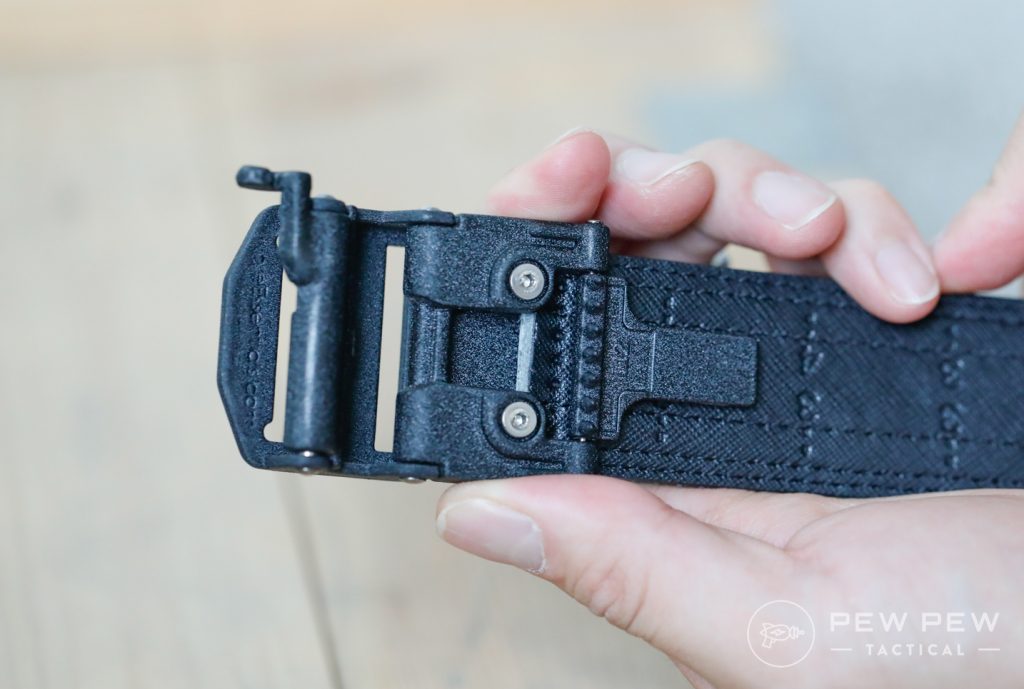 Then you're ready to rock and roll!
I snipped a little more after wearing it for a few days across different pants/shorts. If you have it too long the excess may poke out depending on your belt loops.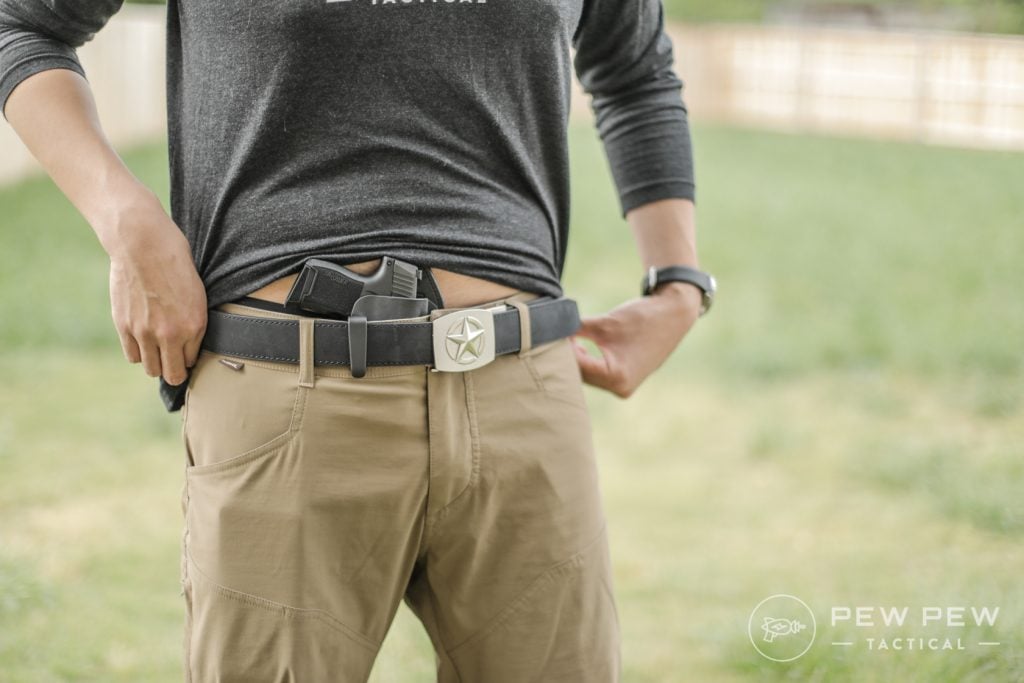 Conclusion
I've been wearing both for a few months and unless I'm testing out some other belts…I have no intention of going back to my other ones for everyday concealed carry.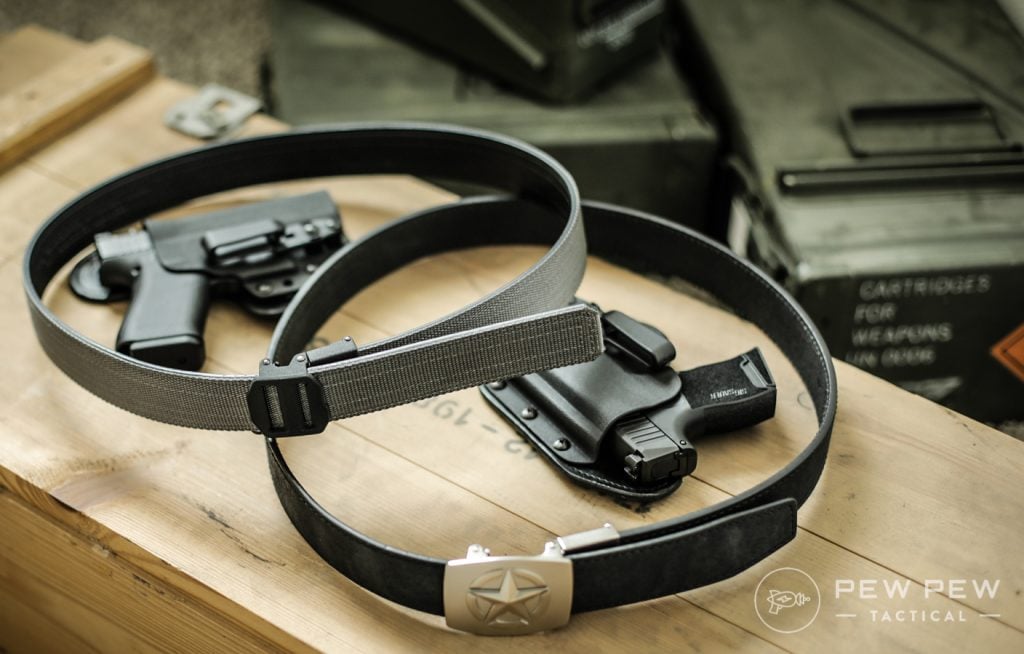 Given how easy it is to swap out buckles and different colors, designs, materials of belts…I can see the Kore satisfying even fashion-minded folks.
But for me it's the adjustability, perfect rigidity for its purpose, and comfort. It gets a full 5 out of 5 stars from me.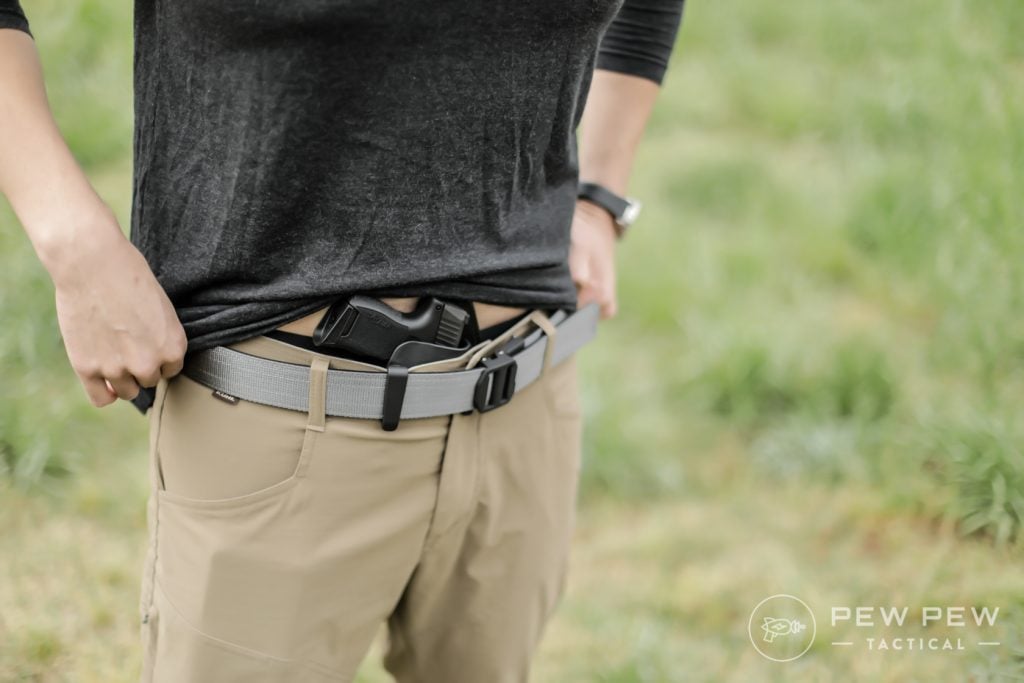 Check Kore Essentials out and one last time…use coupon code "PEWBELT10" for 10% off at Shall Not Comply and "PEWPEWTACTICAL" for 10% off at Kore direct.
Looking to perfect your concealed carry game? Check out these super helpful articles: