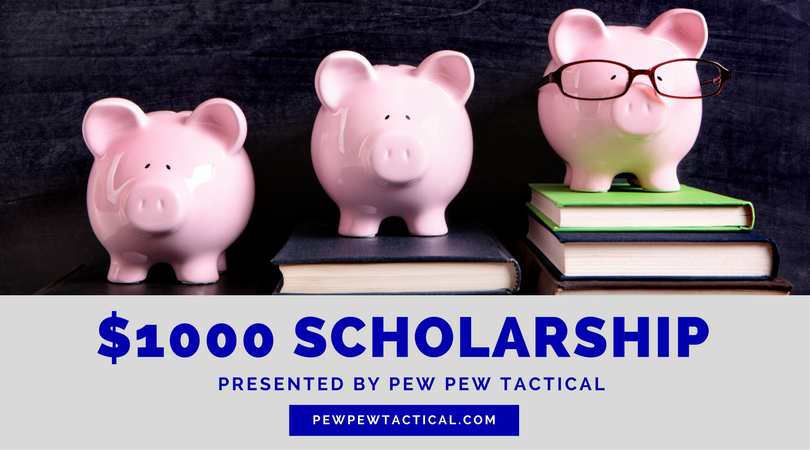 Mission
The Pew Pew Tactical scholarship is dedicated to our mission of promoting gun safety and providing quality firearms education without politics or ego.
It rewards those who demonstrate both exceptional academic ability and thought leadership in "common sense" firearm law reform.
Scholarship Overview
Scholarship of $1,000 USD to one winner each year to assist in funding their education
Open to all current US high school, college, and graduate school students who possess a cumulative GPA of at least 3.0/4.0
Application Process
In 1000 words or fewer, tell us how you would reform current US firearms laws.  This is a purposely open-ended question.
Attach proof of school enrollment and latest transcript for GPA verification.
Optional response to  "Why Should We Choose You" personal essay.
Deadline for submission is March 31,2018 11:59 PM PST.  Applications will be reviewed by Pew Pew Tactical Editor-in-Chief and Head Editor.
Winner will be chosen by April 15, 2018 and contacted via email.  Winner will also be named on this page with their personal essay.
About Pew Pew Tactical
Pew Pew Tactical provides online education for firearms beginners, with an emphasis on safe gun handling.  We also focus on reviews of firearms/gear, and state laws regarding gun ownership, use, and concealed carry.
Terms & Conditions
No purchase or payment necessary.  The scholarship is open to any citizen or resident of the United States and its territories.  Must be currently enrolled in a high school, college, or graduate school located in the United States or its territories.  All other entries will be disqualified.  Employees of Pew Pew Tactical and its divisions and their immediate family members are not eligible.  Winner agrees to have their name and essay published with credit given.
Application