Eyes and ears…the two most important things to have at the shooting range. You don't want to end up like this guy…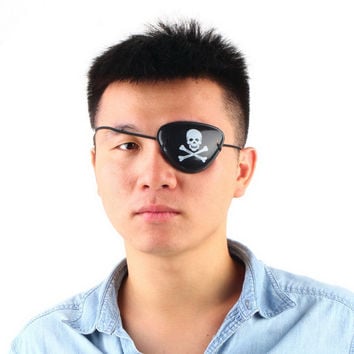 We bought 6 of the most popular ones across different price points and tried them out with several buddies over a bunch of range trips.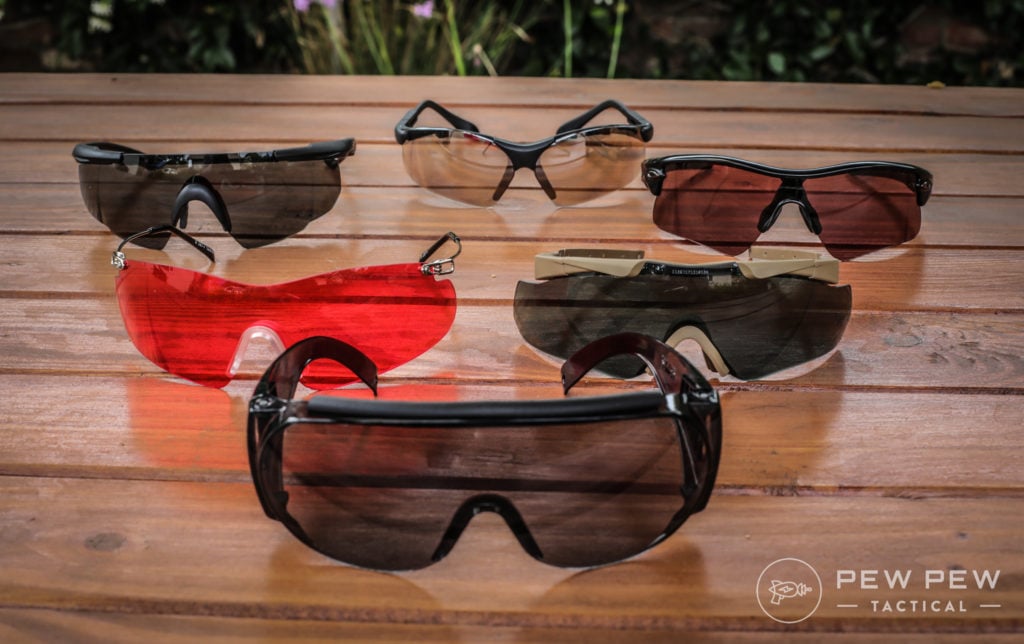 By the end, you'll know which one is best for your budget and intended use.
Ballistic Eyewear Standards
When you get shooting glasses…you want to make sure they meet some standard of impact resistance. Otherwise, what's the point?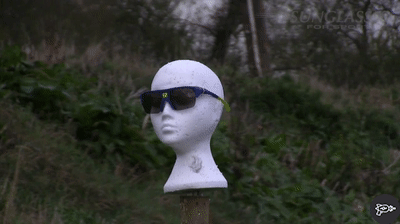 There are three major standards:
US Civilian: ANSI Z87.1
US Military: MIL-PRF-31013
European: EN166
It's recommended the minimum to meet is the civilian ANSI Z87.1 and if you're really at risk of frag or projectiles…to meet the US military specs.
Now let's get into it…
Best Shooting Glasses
1. Wiley X Saber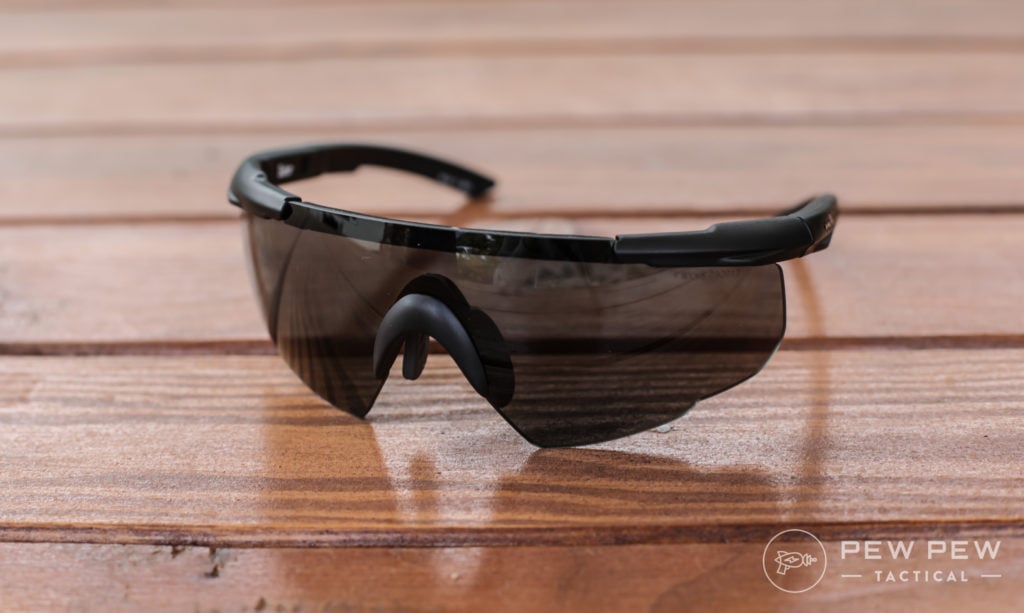 My overall favorite for style, coverage, and protection is the Wiley X Saber.
It covers more angles and exceeds the military MIL-RF-31013 standards for impact resistance, UV protection, and optical clarity.
Nosepiece is pretty comfortable and adjustable while the frame is normal thickness. It didn't smush into my head when wearing electronic earmuffs.
Also light…but not the cheap kind of light.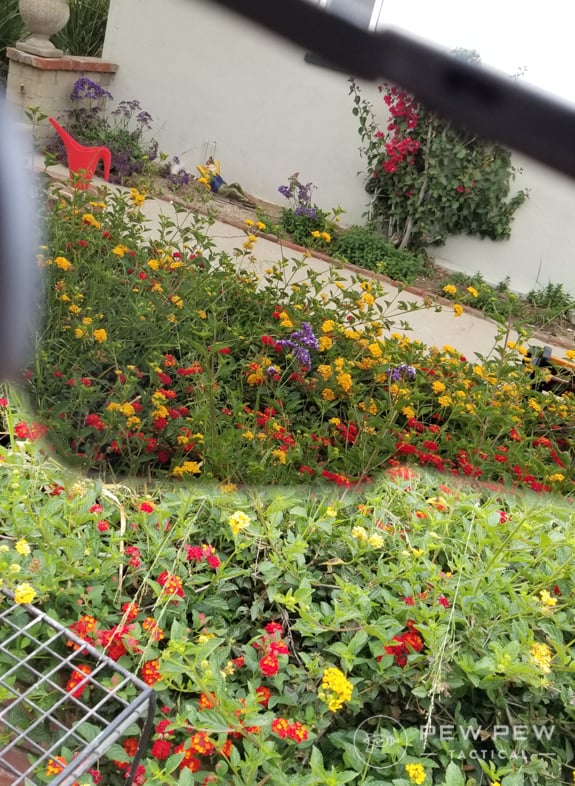 Smoke grey is also perfect for sunny days or gloomy days like the above.
2. Radians Revelation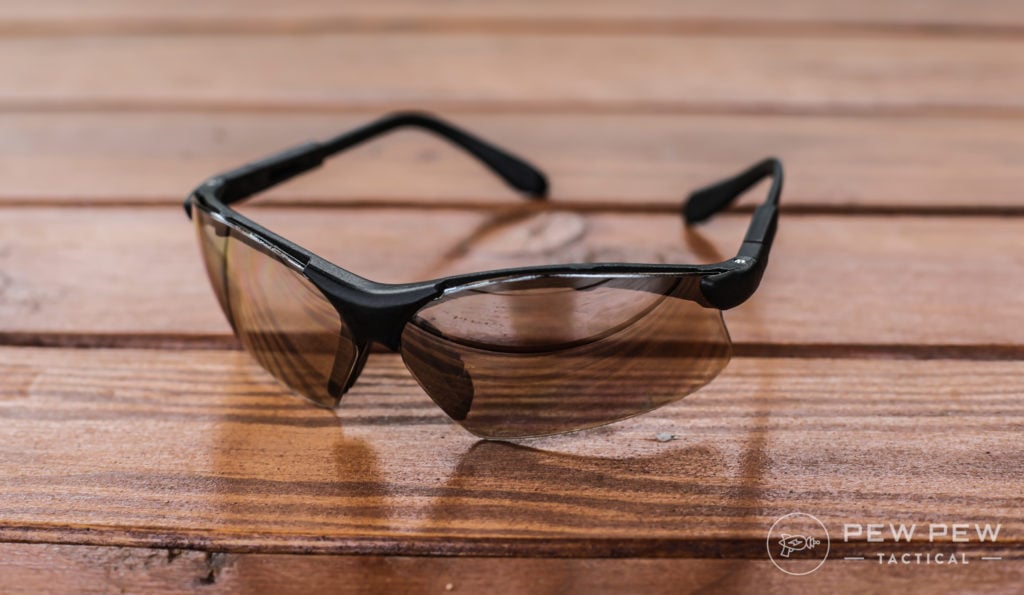 Radians Revelations are what I consider the bare minimum to get. $8 bucks and available in a couple colors. They are decent in style but I do feel their affordable price point in the construction.
Meets ANSI Z87.1+ standards for high-velocity impacts so they'll protect your eyes.
One great thing is that the frames are pretty thin and can bend up at angles to match almost all faces.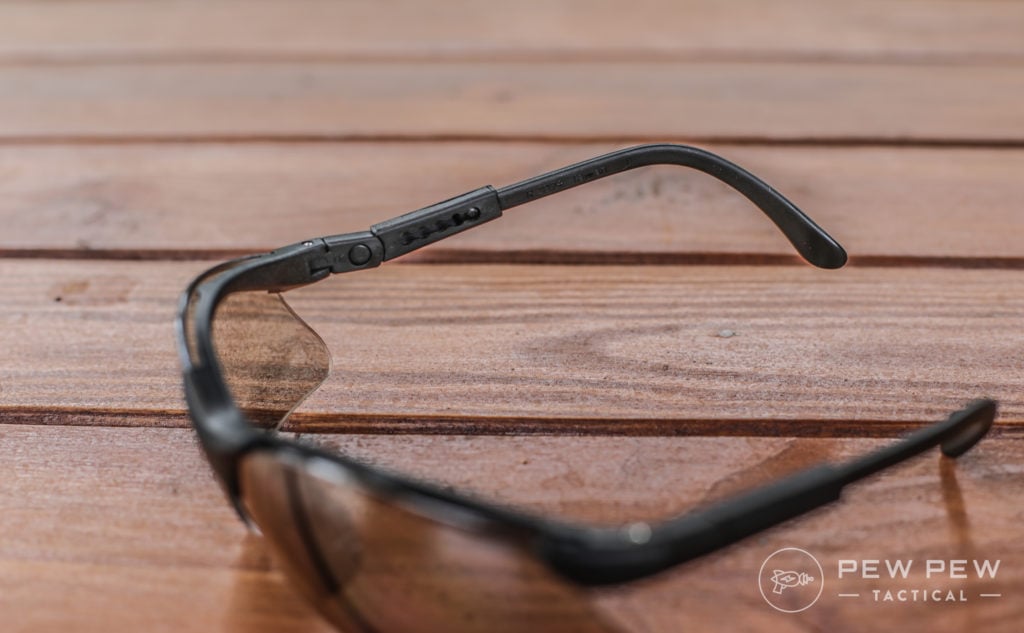 I got the light smoke lens and it's a good mix for daytime and when it starts getting dark (or indoors).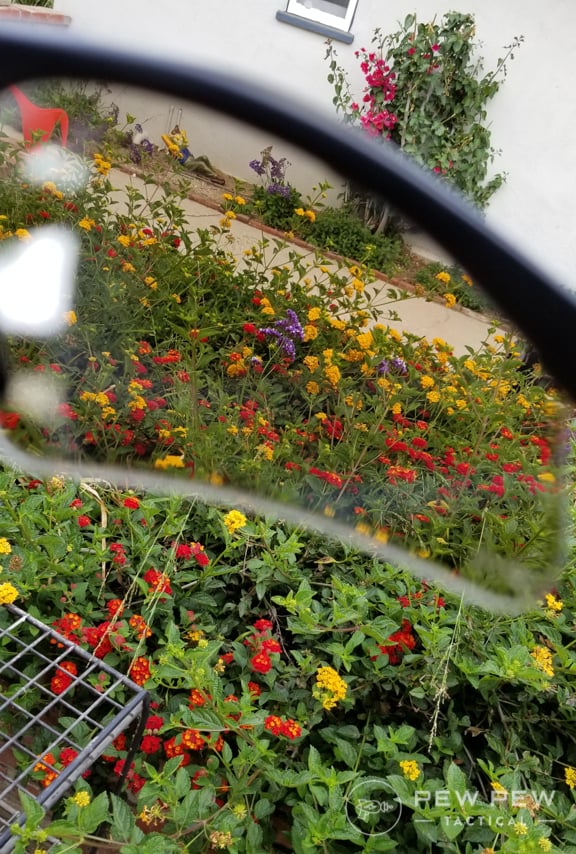 3. Allen Over Shooting Glasses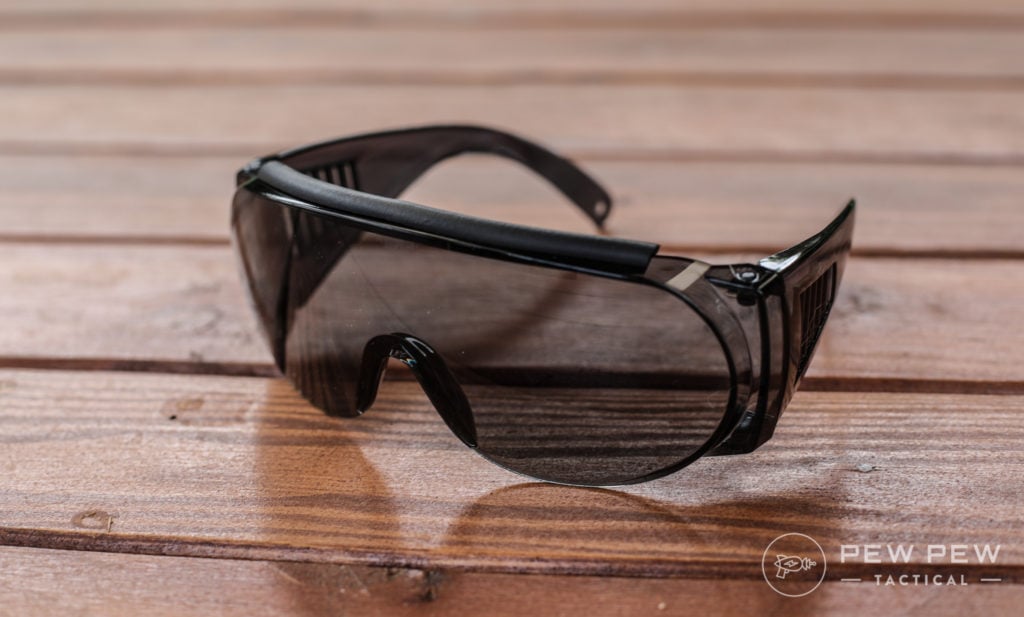 All my people out there with prescription glasses…Allen Over Shooting Glasses don't look sexy but it will go over most regular glasses.
If you have prescription sunglasses…make sure they are not glass since glass plus impact is not good. I'd opt for something like this that meets ANSI Z87.1 standards.
I always wear contacts and regular shooting glasses at the range…but this one I wore my regular glasses at home for 3 hours. It definitely adds weight but after a while, you don't notice it.
The sides are a little thicker so it can interfere with earmuff style hearing protection. I'd opt for earplugs when wearing these.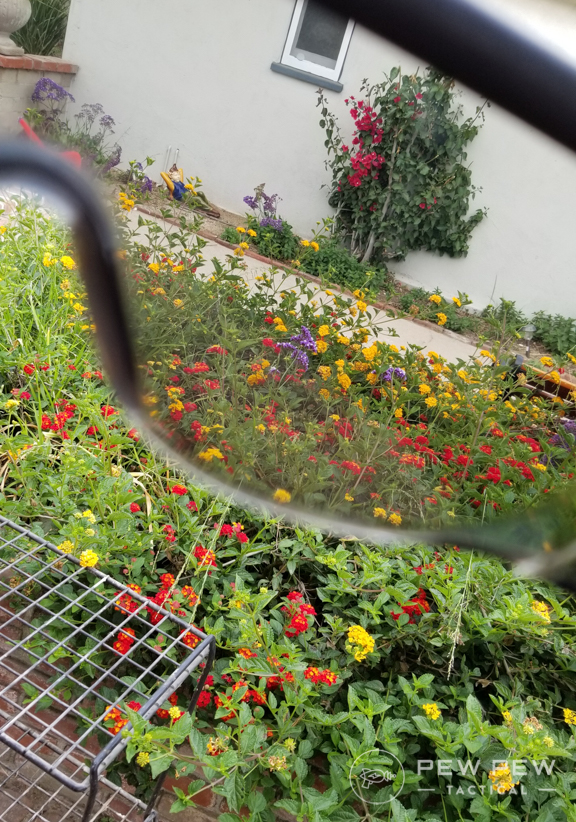 Smoke color isn't too dark so it should be usable for indoors shooting.
4. Radians Clay Shooting Glasses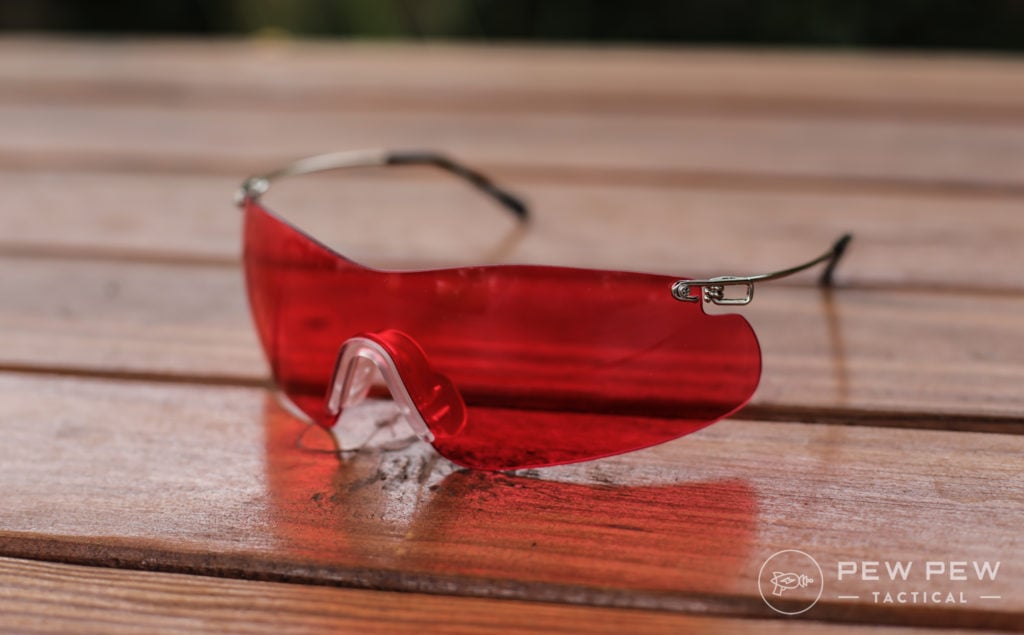 If you're really into clay shooting…Radians Clay Shooting Glasses might be for you.
The color is meant to make the orange clays pop out. It works somewhat and I like how there's no frame on the top to obstruct views…especially when looking upwards.
Nose is not that comfortable since it's not adjustable. But the frame is a thin wire so earmuffs are not a problem. Very light overall but also a little flimsy.
Meets ANSI Z87.1+ standards for higher velocity.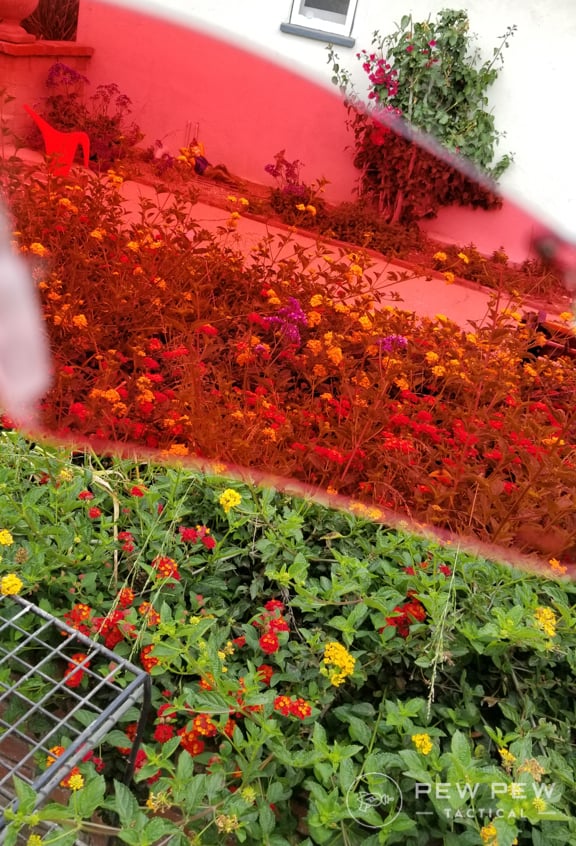 If only I could pull off red lenses…
5. Oakley Radar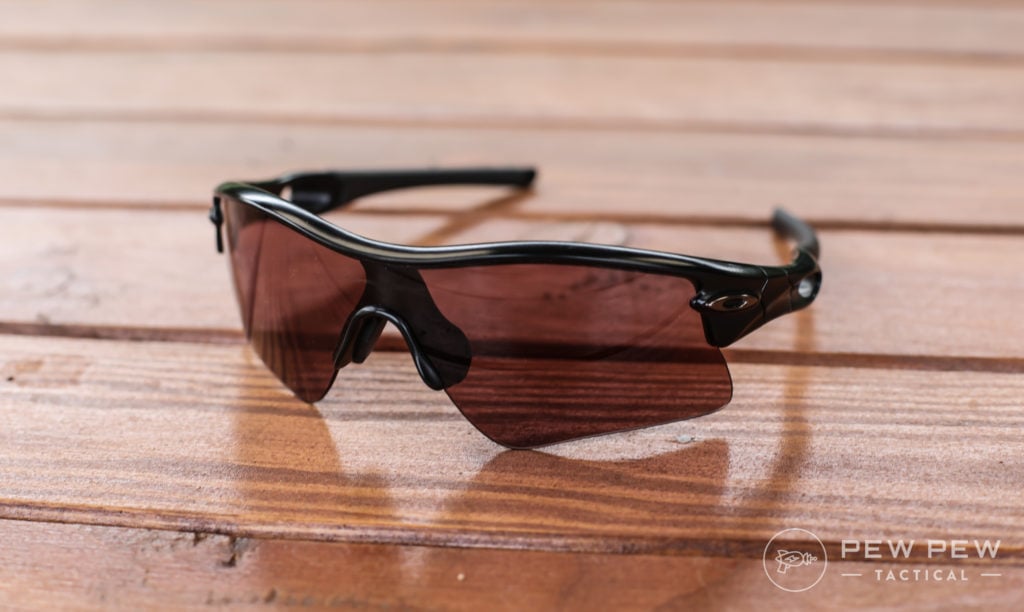 You can never go wrong with Oakley.
I've been rocking the Oakley Radar for years since it has great coverage, meets the standards, and has different sized nose pieces.
It feels great even with earmuffs and never falls off when I'm sweaty.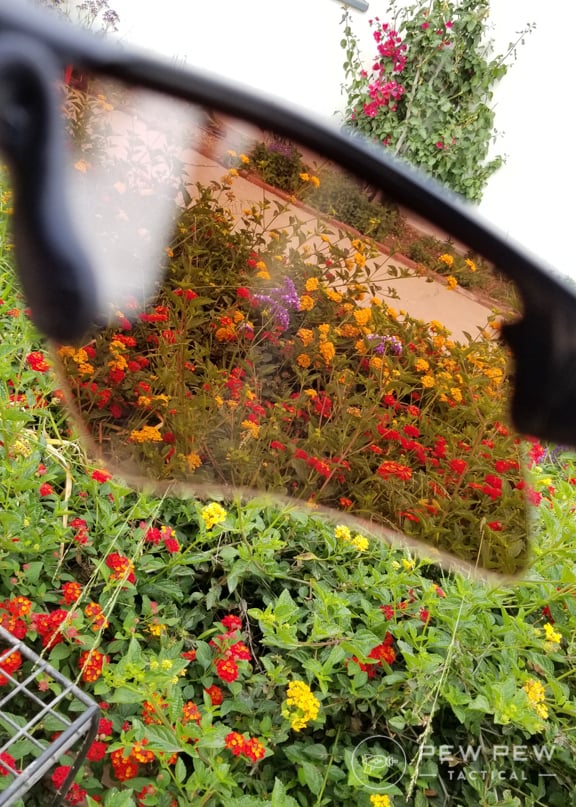 I also like how it makes the colors pop out and it does help a little when I'm shooting with fiber optic sights.
Another Oakley pair that was designed specifically for shooting is the Oakley Tombstone that doesn't have the top frame. There's the Spoil version for smaller heads and the Reap for normal/larger heads.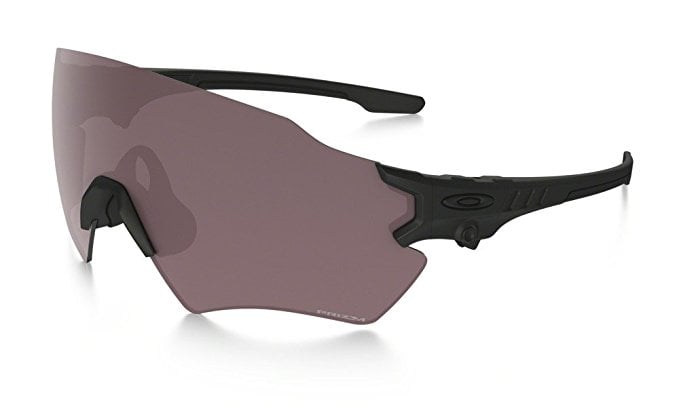 6. Smith Aegis Echo II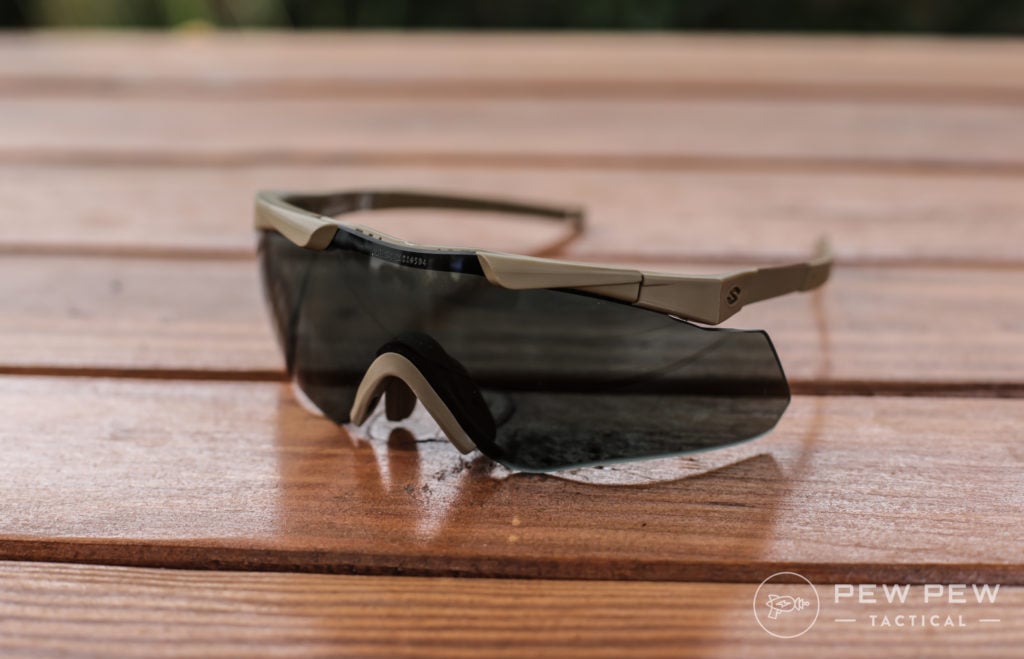 I really like the Smith Aegis Echo II. It has everything I want in a frame…
Meets ALL three standards, has great coverage, and fit everyone that tried it because of the adjustable nose piece. Think Oakley's "Asian Fit" for us with smaller noses.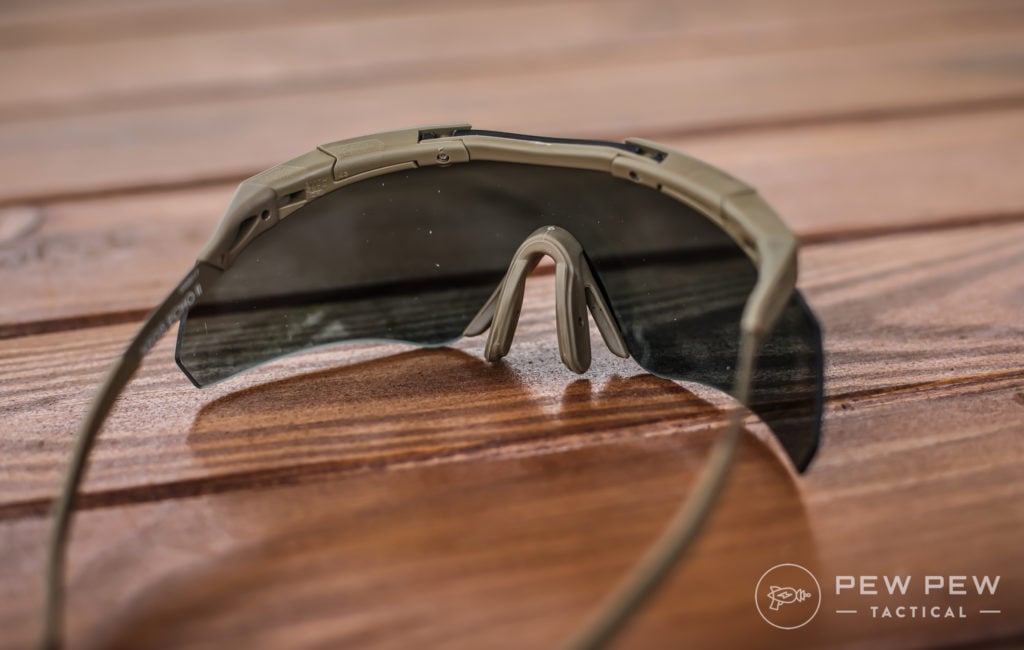 Also has a super thin frame that doesn't get caught up in even tight earmuffs.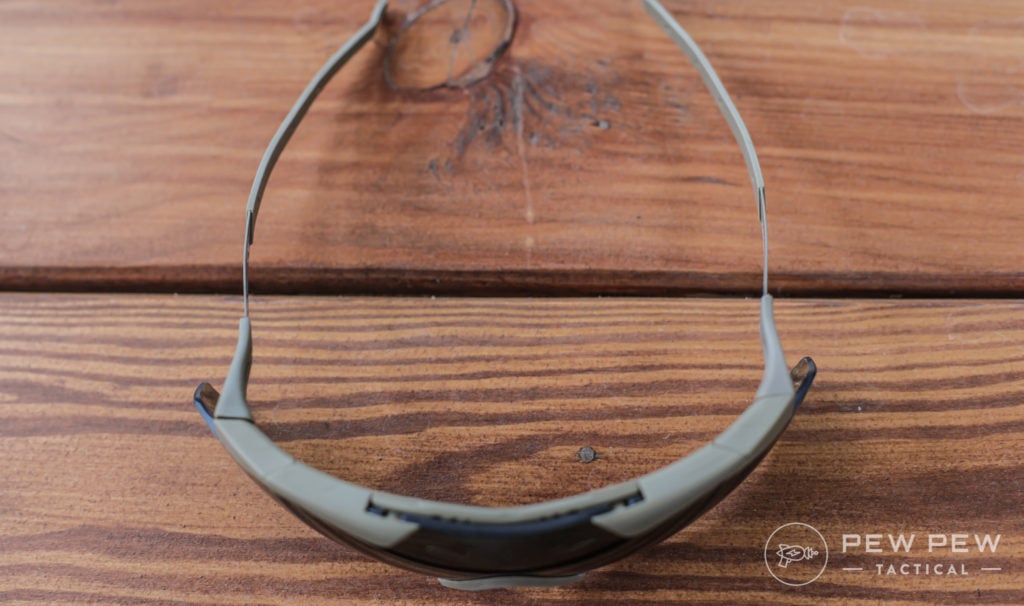 It feels quality and that means a little more weight than the others.
My only complaint is that the frame that's "missing" in the top middle makes it a little bit too aggressive. One person asked if I was on SWAT and another if I was from the Matrix.
Otherwise…it comes with a case and two lenses so you can shoot in both day and low-light.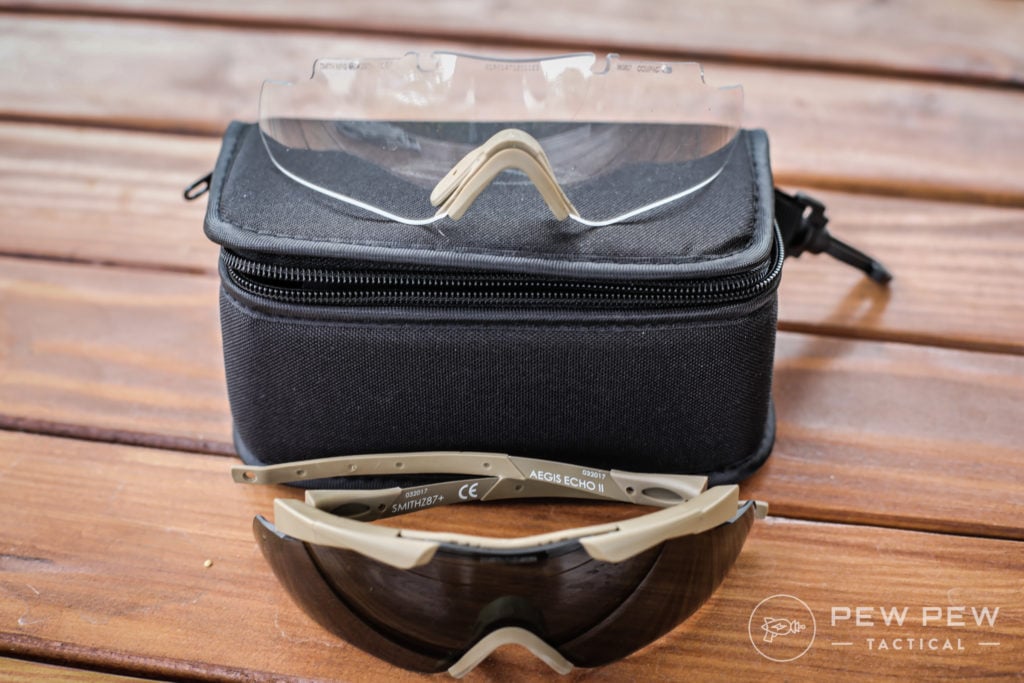 This is my pick for something more premium that really protects your eyes and has you set for whatever environment. As long as you can pull off the look.
Conclusion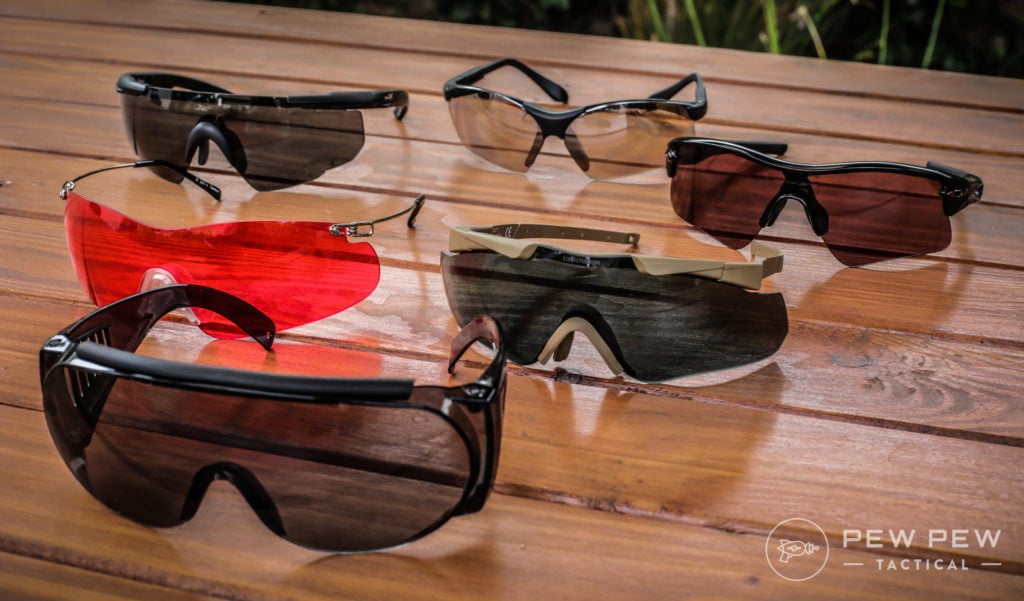 There you have it…my pick for the affordable range is the Wiley X Saber.
While for those that enjoy the finer things in life (and want extra protection and lenses)…the Smith Aegis Echo II.
Now that your eyes are protected…get yourself the best ear protection out there too. We cover everything in-hand from earplugs to all the most popular electronic earmuffs in Best Shooting Ear Protection.