Eyes and ears…the two most important things to have at the shooting range.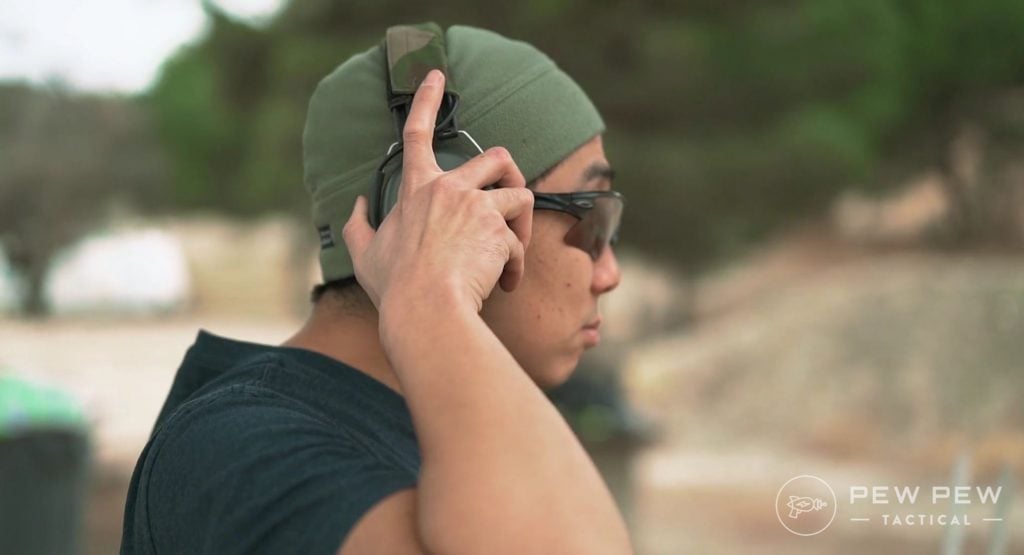 You don't want to end up like this guy…
We bought several of the most popular ones across different price points and tried them out with several buddies over a bunch of range trips.
By the end, you'll know which one is best for your budget and intended use.
Summary of Our Top Picks
Ballistic Eyewear Standards
When you get shooting glasses…you want to make sure they meet some standard of impact resistance. Otherwise, what's the point?
There are three major standards:
US Civilian: ANSI Z87.1
US Military: MIL-PRF-31013
European: EN166
It's recommended the minimum to meet is the civilian ANSI Z87.1 and if you're really at risk of frag or projectiles…to meet the U.S. military specs.
Now let's get into it…
Best Shooting Glasses
1. Wiley X Saber
My overall favorite for style, coverage, and protection is the Wiley X Saber.
It covers more angles and exceeds the military MIL-RF-31013 standards for impact resistance, UV protection, and optical clarity.
Nosepiece is pretty comfortable and adjustable while the frame is normal thickness. It didn't smush into my head when wearing electronic earmuffs.
Also light…but not the cheap kind of light.
Smoke grey is also perfect for sunny days or gloomy days like the above.
Check out their other models here.
What's your take on the Wiley Xs?
2. Radians Revelation
Radians Revelations are what I consider the bare minimum — $8 and available in a couple colors. They are decent in style but I do feel their affordable price point in the construction.
Meets ANSI Z87.1+ standards for high-velocity impacts so they'll protect your eyes.
One great thing is that the frames are pretty thin and can bend up at angles to match almost all faces.
I got the light smoke lens and it's a good mix for daytime and when it starts getting dark (or indoors).
3. Radians Clay Shooting Glasses
If you're really into clay shooting…Radians Clay Shooting Glasses might be for you.
The color is meant to make the orange clays pop out. It works somewhat and I like how there's no frame on the top to obstruct views…especially when looking upwards.
Nose is not that comfortable since it's not adjustable. But the frame is a thin wire so earmuffs are not a problem. Very light overall but also a little flimsy.
Meets ANSI Z87.1+ standards for higher velocity.
If only I could pull off red lenses…
4. Oakley Radar
You can never go wrong with Oakley.
I've been rocking the Oakley Radar for years since it has great coverage, meets the standards, and has different-sized nose pieces.
It feels great even with earmuffs and never falls off when I'm sweaty.
I also like how it makes the colors pop out and it does help a little when I'm shooting with fiber optic sights.
5. Smith Aegis
I really like the Smith Aegis. It has everything I want in a frame…
Meets ALL three standards, has great coverage, and fit everyone that tried it because of the adjustable nose piece. Think Oakley's "Asian Fit" for us with smaller noses.
Also has a super-thin frame that doesn't get caught up in even tight earmuffs.
It feels quality and that means a little more weight than the others.
My only complaint is that the frame that's "missing" in the top middle makes it a little bit too aggressive. One person asked if I was on SWAT and another if I was from the Matrix.
Otherwise…it comes with a case and two lenses so you can shoot in both day and low-light.
This is great for something that really protects your eyes and has you set for whatever environment. As long as you can pull off the look.
6. STNGR Alpine & Ridge
STNGR makes awesome and affordable AR-15 handguards…
And are one of our favorite picks in Best AR-15 Handguards.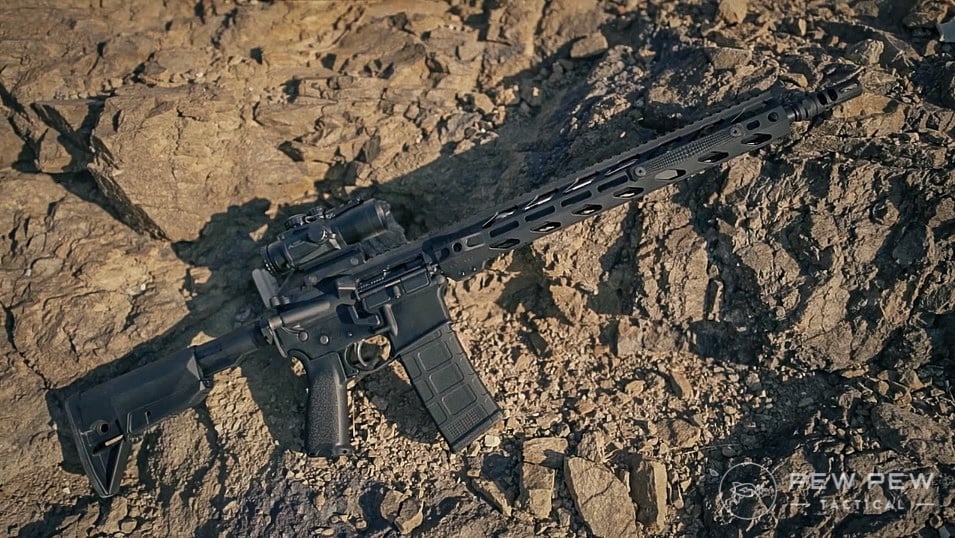 But I gave their ballistic sunglasses a try and they might be my favorite ones yet for something equally at home on the range or in the truck.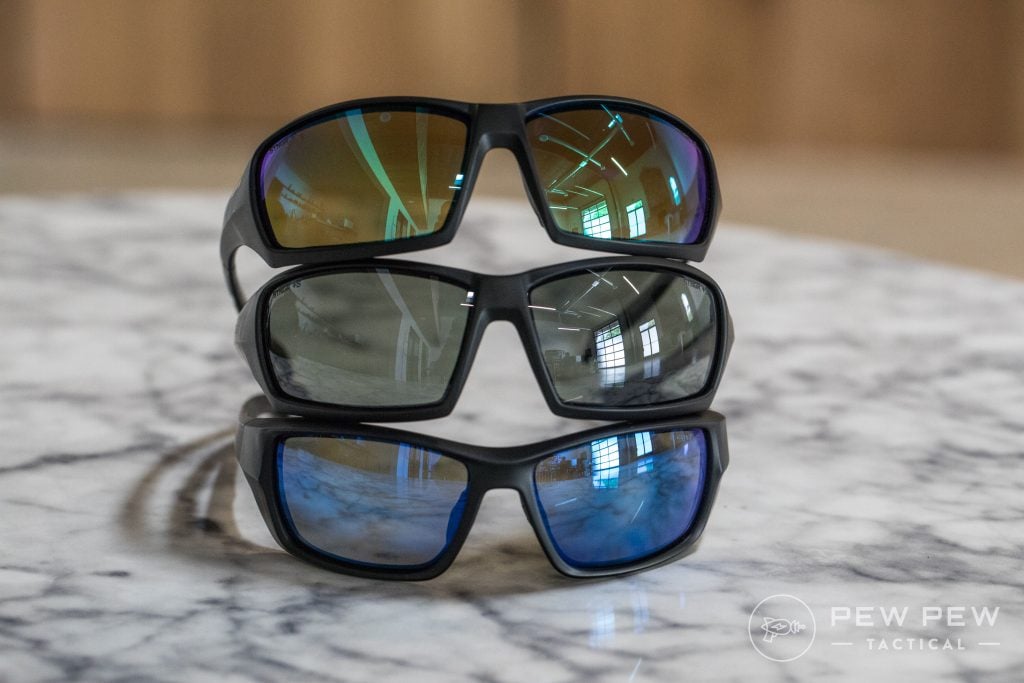 They come in two-size flavors and a few colors. And all have ANSI Z87.1 shatterproof lenses.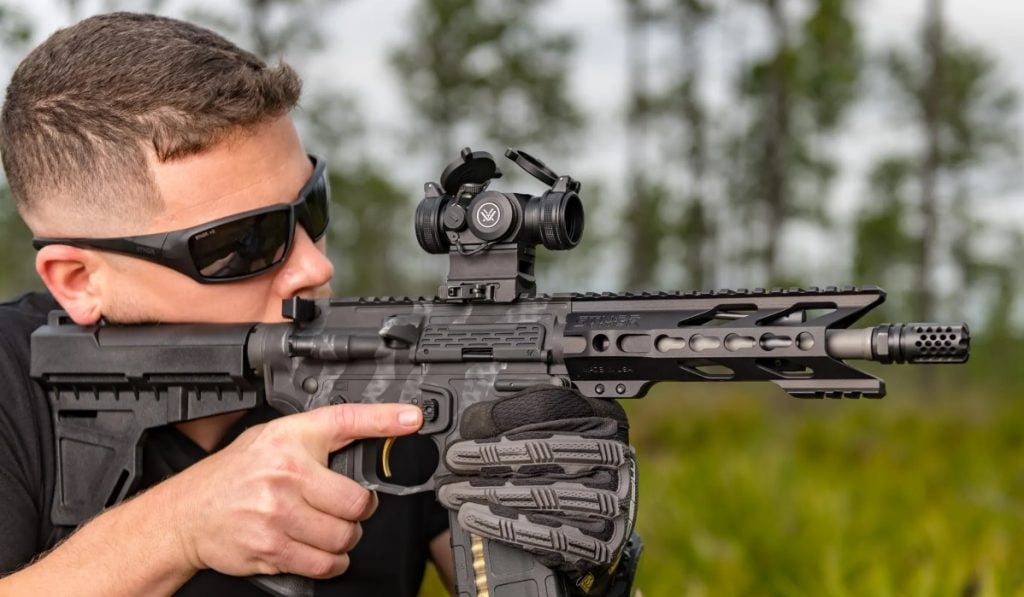 AND are crazy durable…cringe factor activate!
First up is the Alpine for medium faces…which include mine.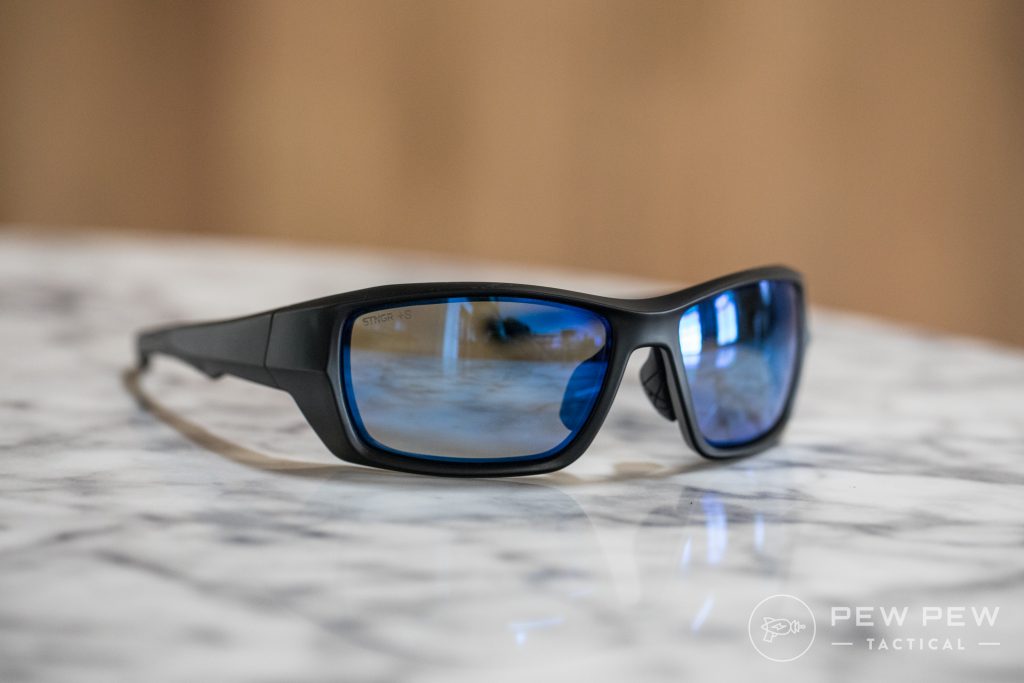 I really like these since they were super clear and cut enough glare/sunlight but won't intrude on target acquisition.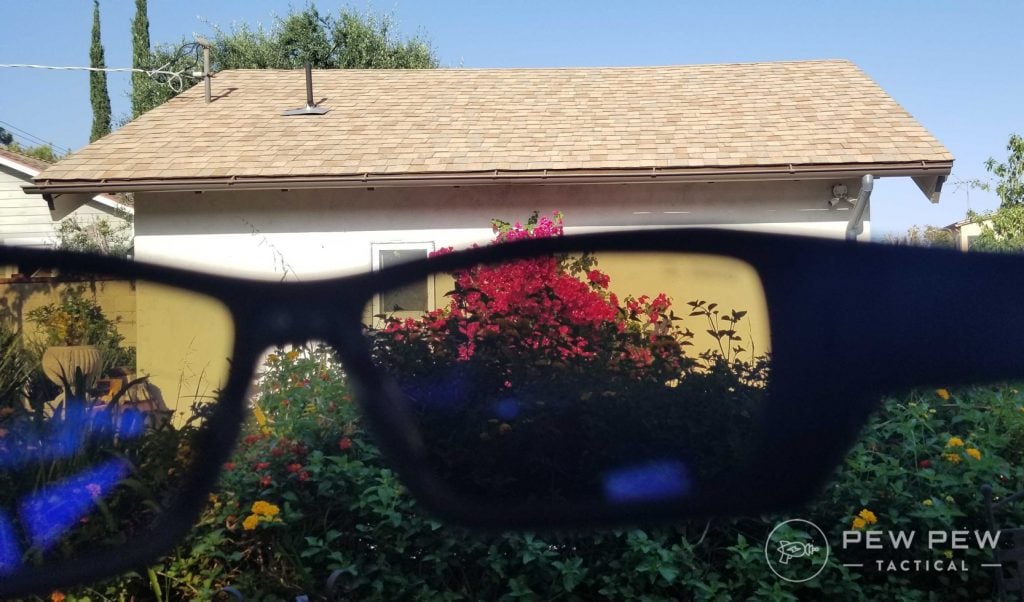 And had adjustable rubber nose pieces to custom fit my face.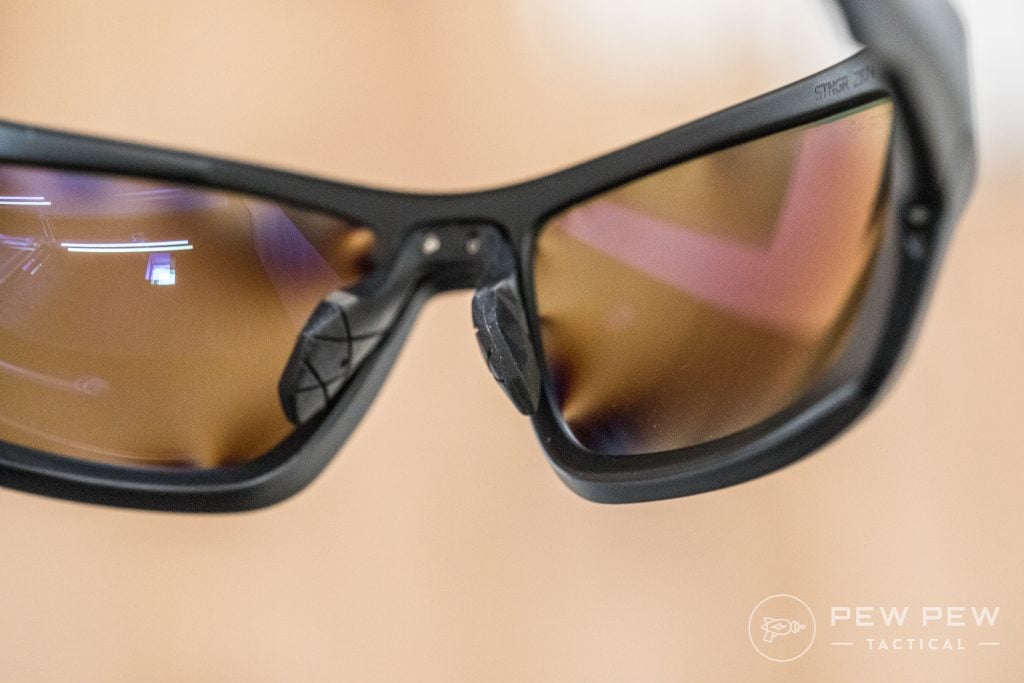 They have a great return policy and lifetime warranty.
Plus we've secured a 10% off coupon for our readers with code PEWPEW-10.
There's the larger version which they call the Ridge.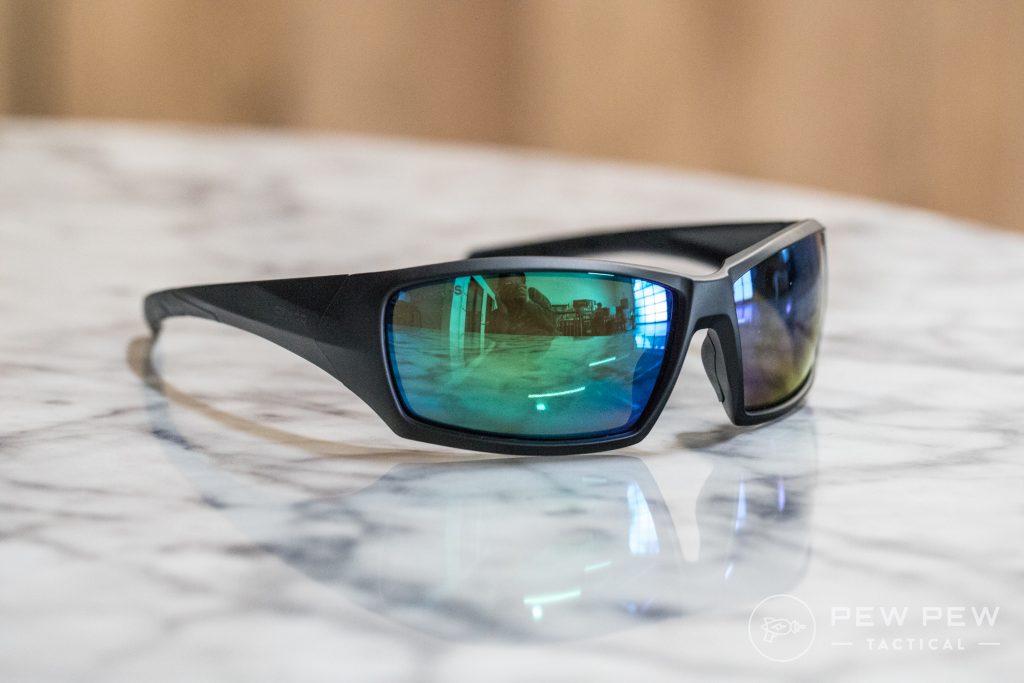 Same great build and lens quality…just a little larger and with a fixed nosepad.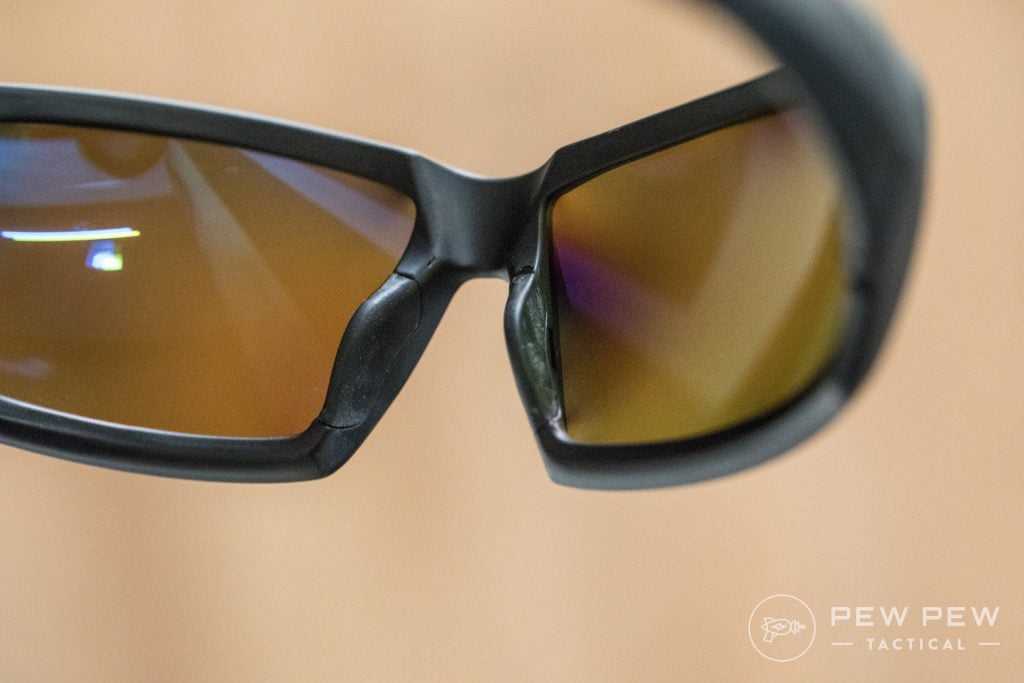 Here is how the green view through looks…
Want a "regular" color? There's also smoke for each type.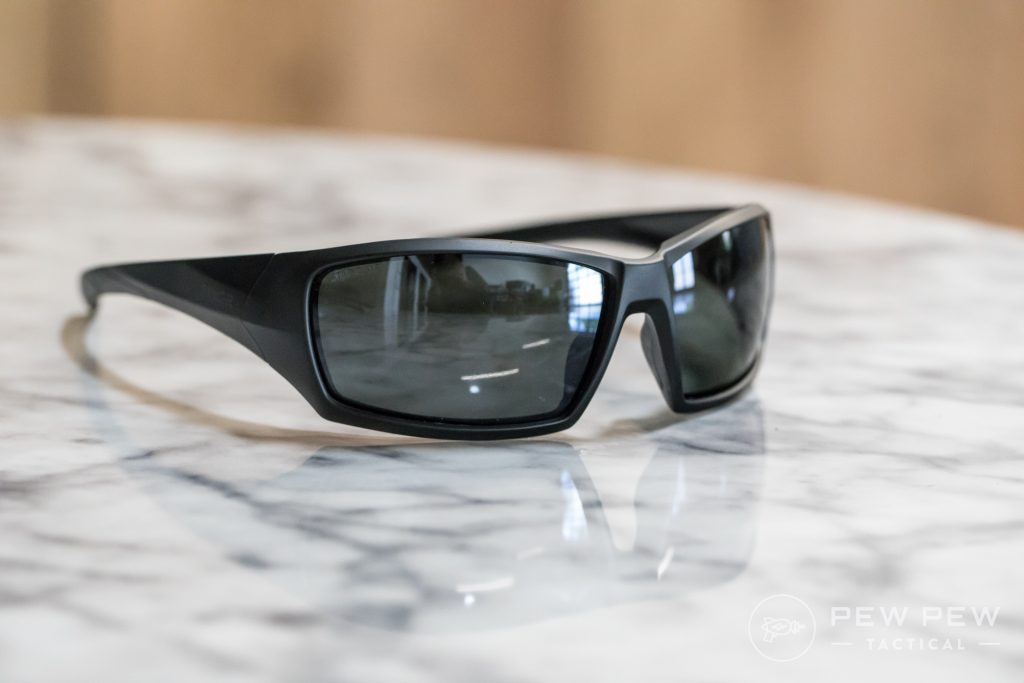 It didn't fit my face as well but for our larger-faced shooting buddies…they loved them.
All the glasses came in a nice case and also a retaining strap which was a nice touch.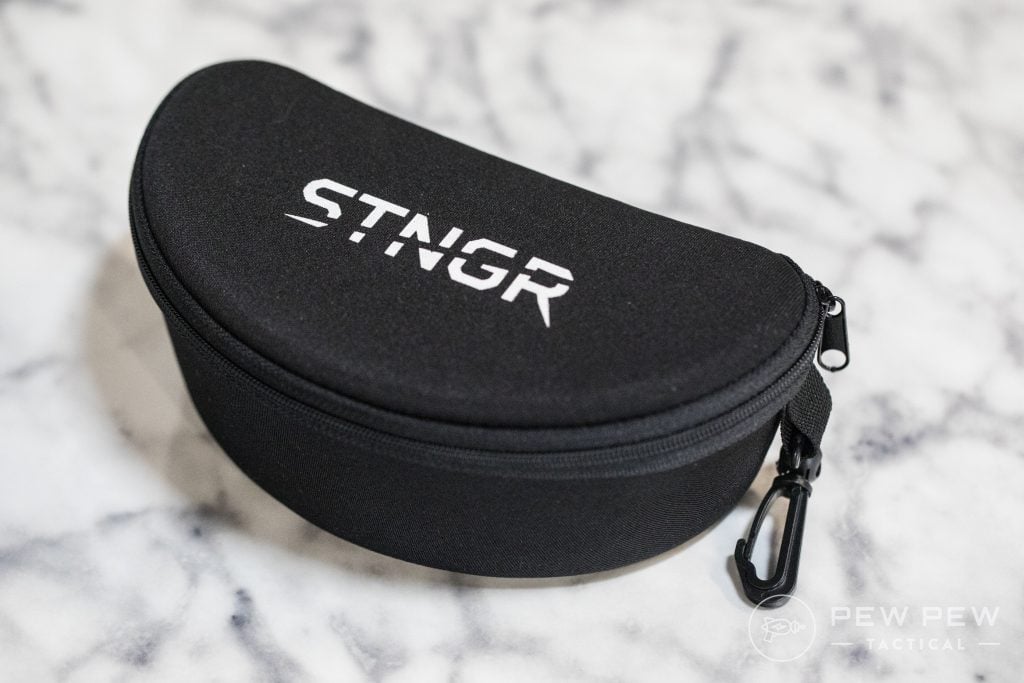 Again, be sure to use the PEWPEW-10 code we secured to get 10% off your sunglasses.
7. STNGR Lo-Drag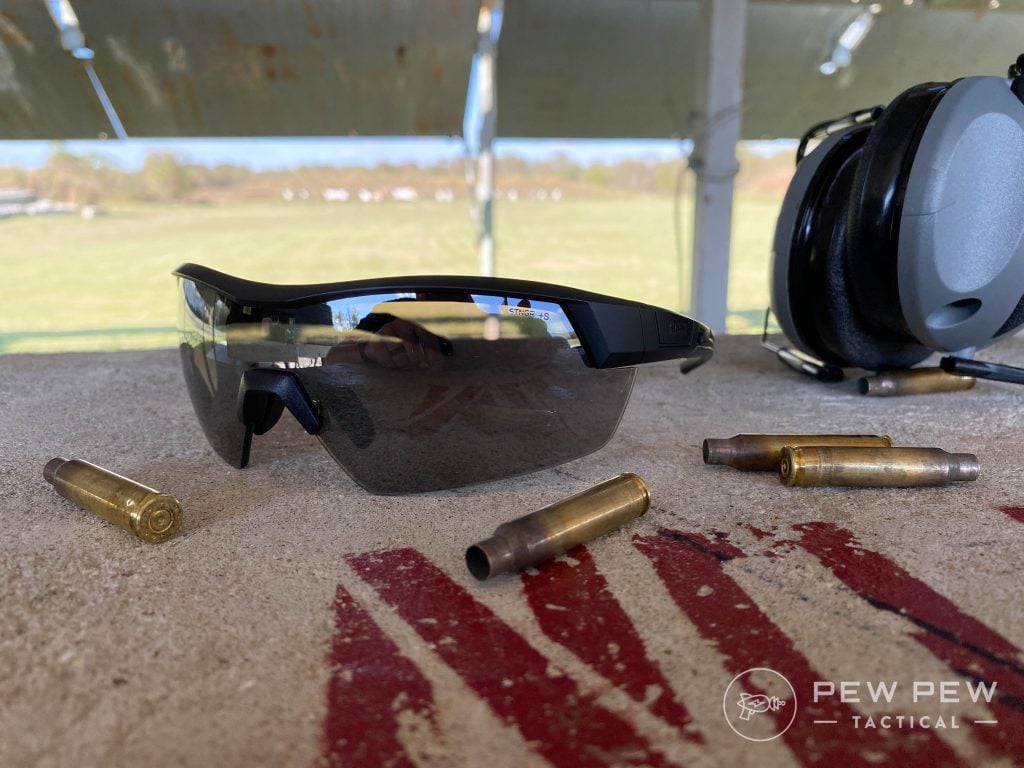 The Lo-Drags are tough and comfortable with a wraparound style that covers your eyes — even on the periphery.
Its thin earpieces don't grind into your head under muff-style ear pro either.
These glasses come with two lenses — clear and smoke — allowing you to swap when shooting indoors or outside. The Lo-Drags are rated to MIL-PRF-32432.
8. Gatorz Magnum Shooting Lens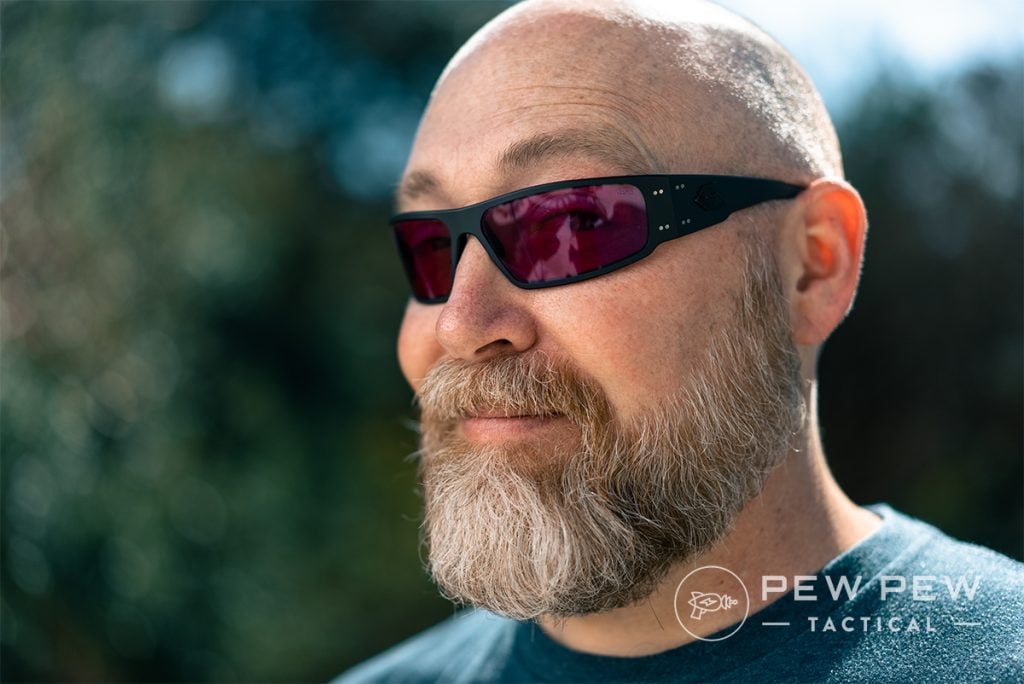 Recently Gatorz came out with a setup designed to help out shooters. This Magnum includes MILSPEC-rated glass tinted for high contrast.
Shooters (particularly those oriented toward competition) will appreciate how the lenses highlight oranges and reds while addressing or transitioning between targets.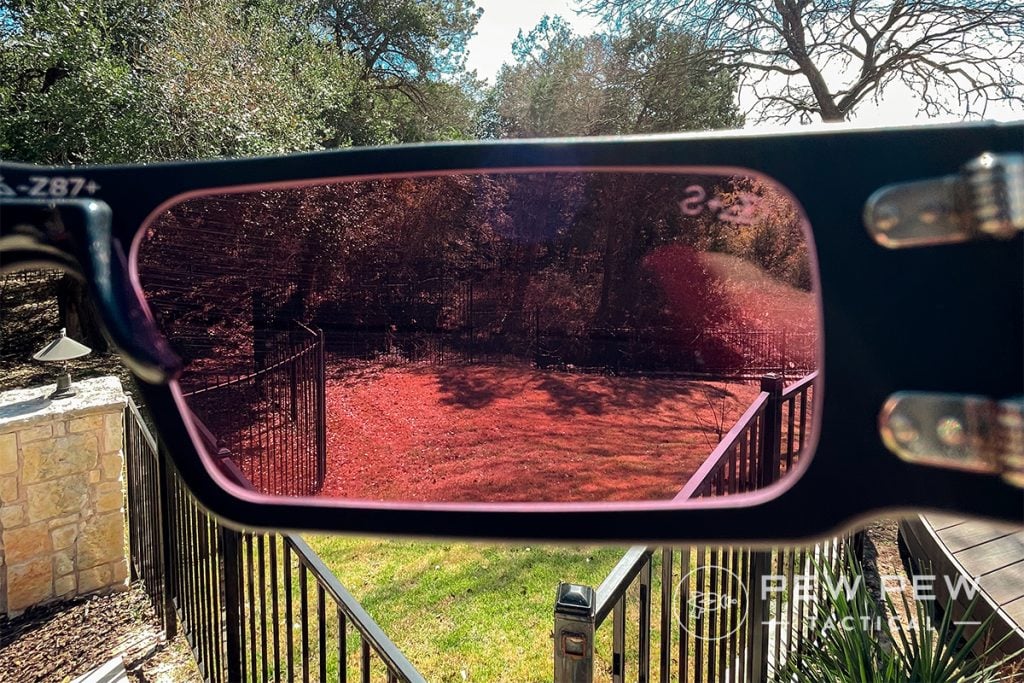 The aluminum frames are lightweight and comfortable but super tough. I know because I wore a pair of Magnums for years.
These new lenses come in two different shades, day and low light so you can choose what works best for you. Gatorz also has a discount for military and first responders.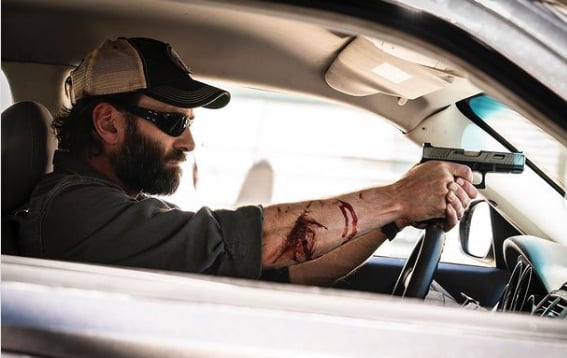 These shades were also heavily featured in The Terminal List, the television port of Jack Carr's book of the same title.
We've worked with Gatorz to get you 15% off with code PEWPEWTACTICAL15.
9. Gatorz Ballistic Delta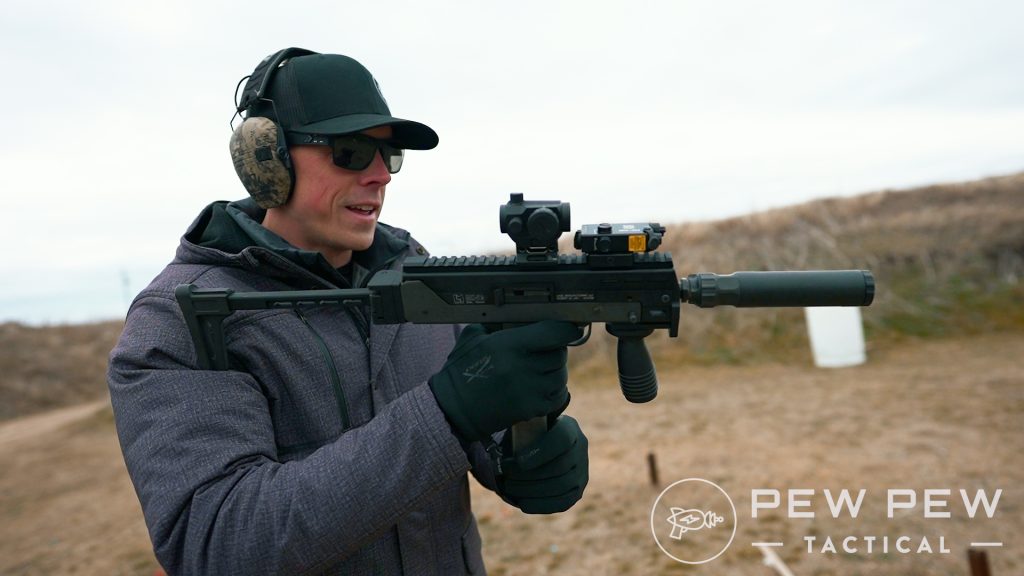 If you're not down with the wraparound style, the Delta might be perfect for you. Still made from aluminum, these ANSI-rated ballistic glasses come in a traditional style that's still lightweight and tough.
The Deltas are also perfect for both on and off the range compared to others on our list.
These are better for those of us with smaller nose-bridges as well…but the great thing about Gatorz is their adjustability.
View-through is crisp and clear.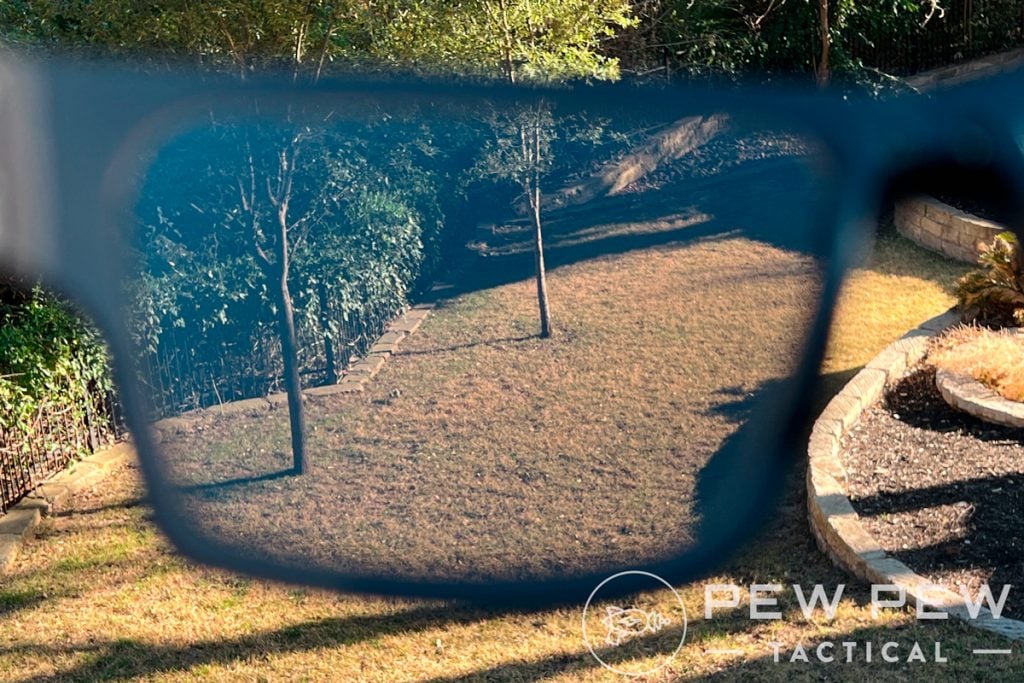 Another exciting option for the Delta is photochromatic lenses, which offer clear, no tint viewing indoors, but darken when they are exposed to UV light. The result is a pair of shooting glasses you can commit to in any condition.
Again, remember to use the code PEWPEWTACTICAL15 for 15% off.
10. Magpul Explorer XL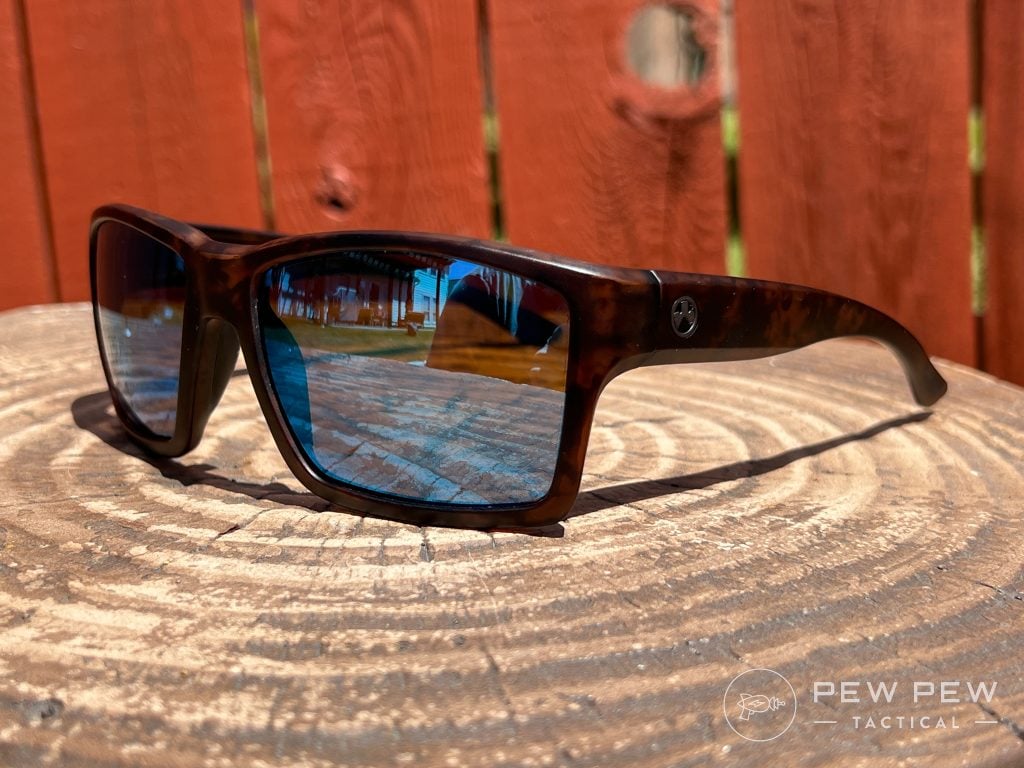 There are quite a few companies making eyewear applicable to the shooting lifestyle, but when Magpul stepped up and threw their hat in the ring, I paid attention.
This company has been making innovative and useful products for years, and their firearms know-how is unquestioned.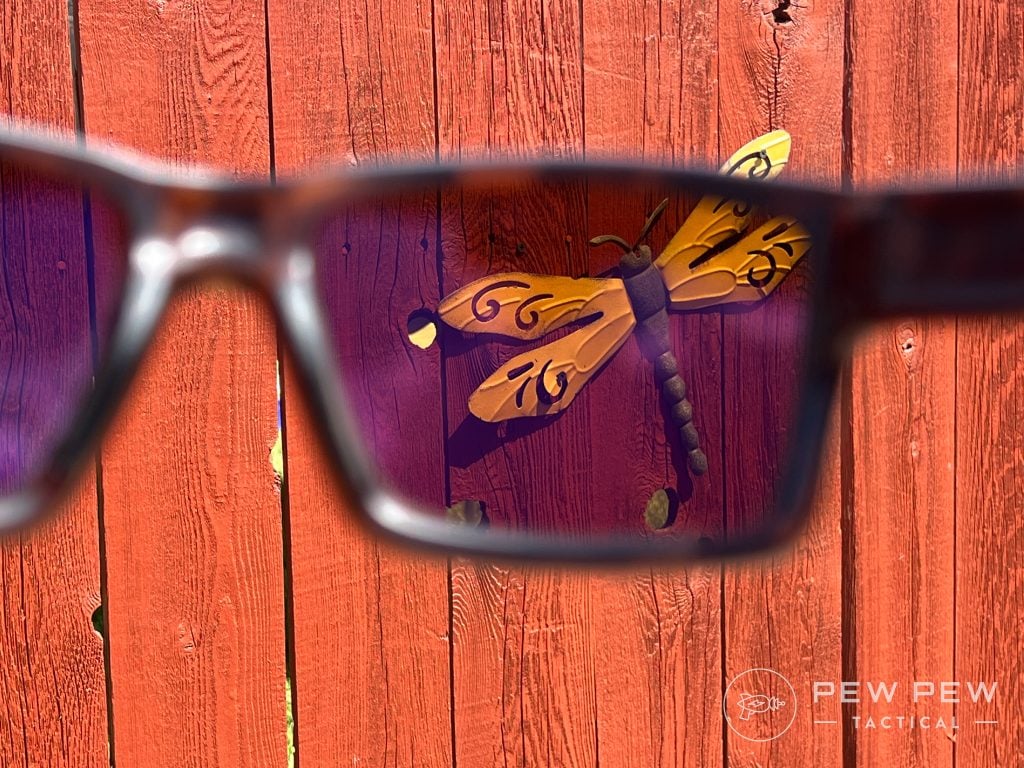 The Explorer XL (made for a larger fit) is made from injected-molded TR90NZZ, and it has a unique look because it's partly transparent – particularly with the tortoise color.
They are lightweight, comfortable, am provide ample shading. I noticed the blue-tinted, polarized lenses sharpen my vision just a bit when I'm at the range shooting.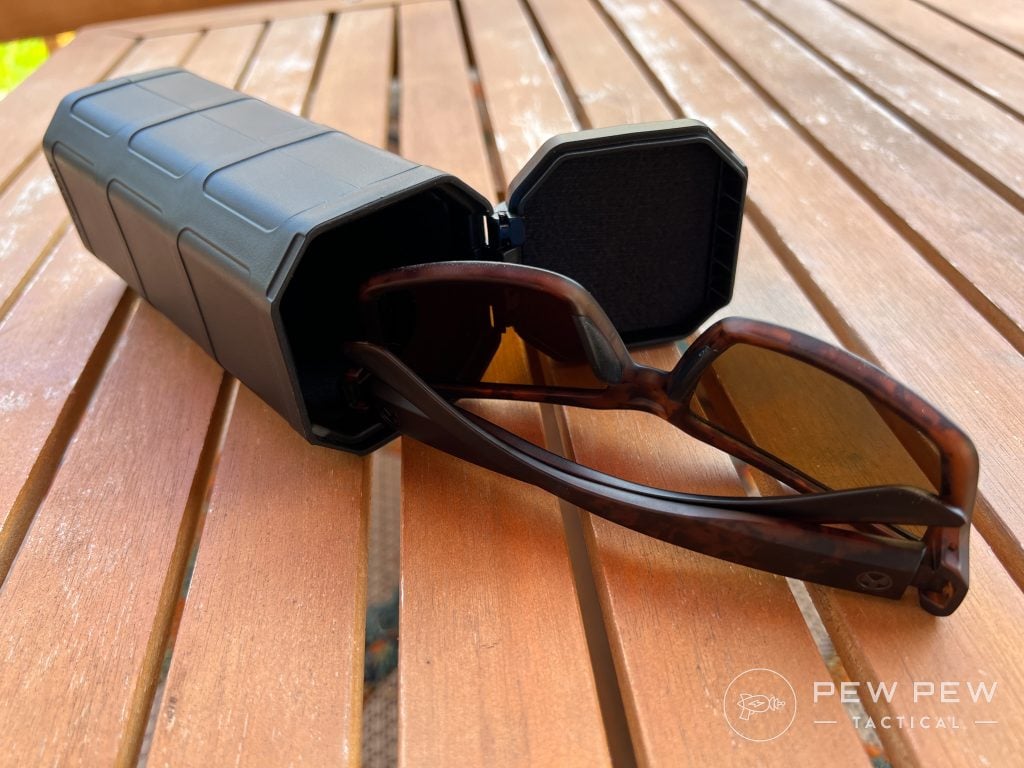 Although not Z87.1 rated, these are made impact resistant, just like the other sunglasses in Magpul's lineup. In addition, the Explorer XL comes with a DAKA can (hard case) for storage.
Final Thoughts
There you have it…my pick for the affordable range is the Wiley X Saber.
While for those that enjoy the finer things in life (and can pull off the look)…the Smith Aegis Echo II.
Now…my current favorites are STNGR's Alpine and Ridge sunglasses for their durability, fit, and look.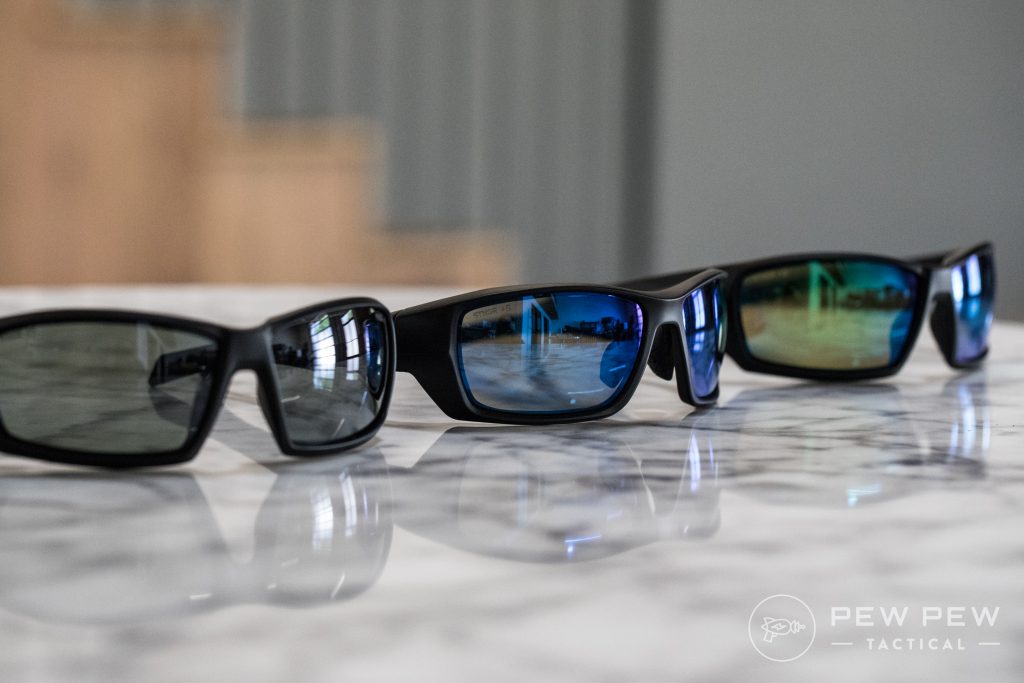 Now that your eyes are protected…get yourself the best ear protection out there too. We cover everything in-hand from earplugs to all the most popular electronic earmuffs in Best Shooting Ear Protection.