What's Pew Pew Tactical's favorite hybrid holster so far?
The title probably gave it away…but it's Hidden Hybrid Holsters.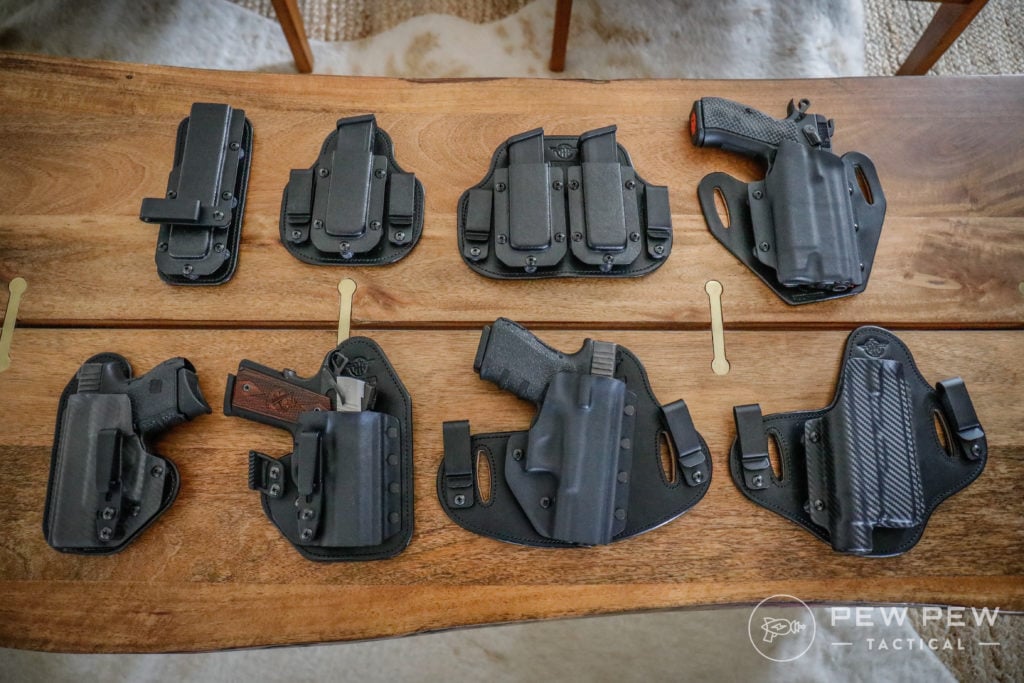 Literally every week we get another request from a holster company to review their stuff.
And I'm glad we asked around our friends to confirm that HHH was GTG.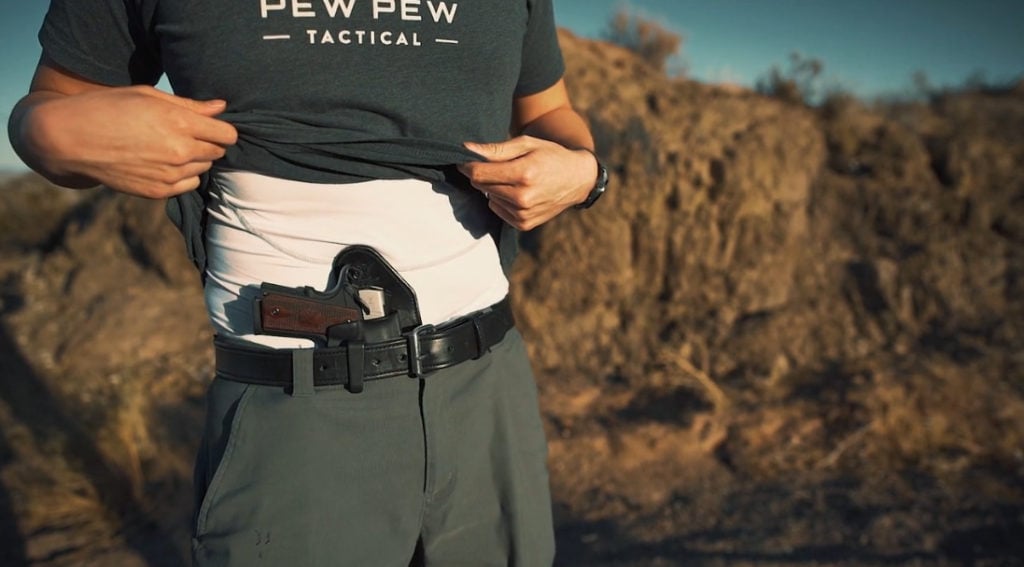 Our entire team tried out the holsters and here's the culmination of our findings over several months.
By the end you'll know if you should go with them for a hybrid holster option.
Disclaimer: This is not a sponsored post but HHH did send me the holsters for free with no strings attached. I just really like them now.
Table of Contents
Loading...
Background
There's a lot of players in the holster space.
Most are in the pure Kydex niche since you literally need two pieces of foam and a heat source to get started.
Hidden Hybrid Holsters went the "hybrid" route with a Kydex shell and leather+suede backer.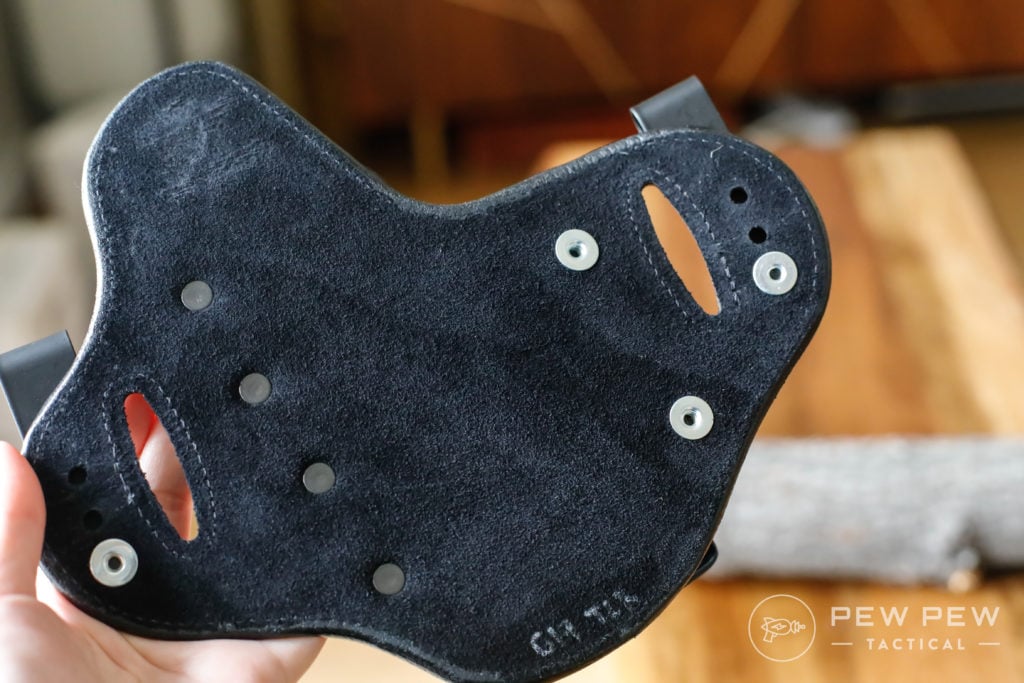 It makes a lot of difference in comfort.
Plus one of their claims to fame is their Amish-sourced leather from down the road from their small shop in Ohio.
I don't know too much about the Amish but I think they know their leather…and that there's a terrible (and likely fake) reality tv show.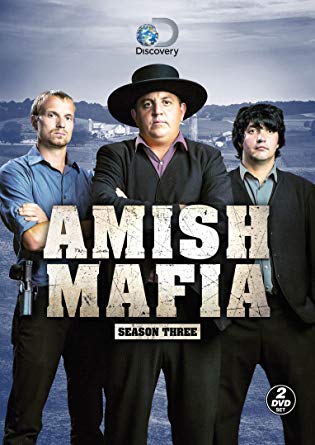 Look & Feel
I'm kinda meh about the look of holsters especially if they are going into your pants and meant to be hidden.
But Hidden Hybrid Holsters look great.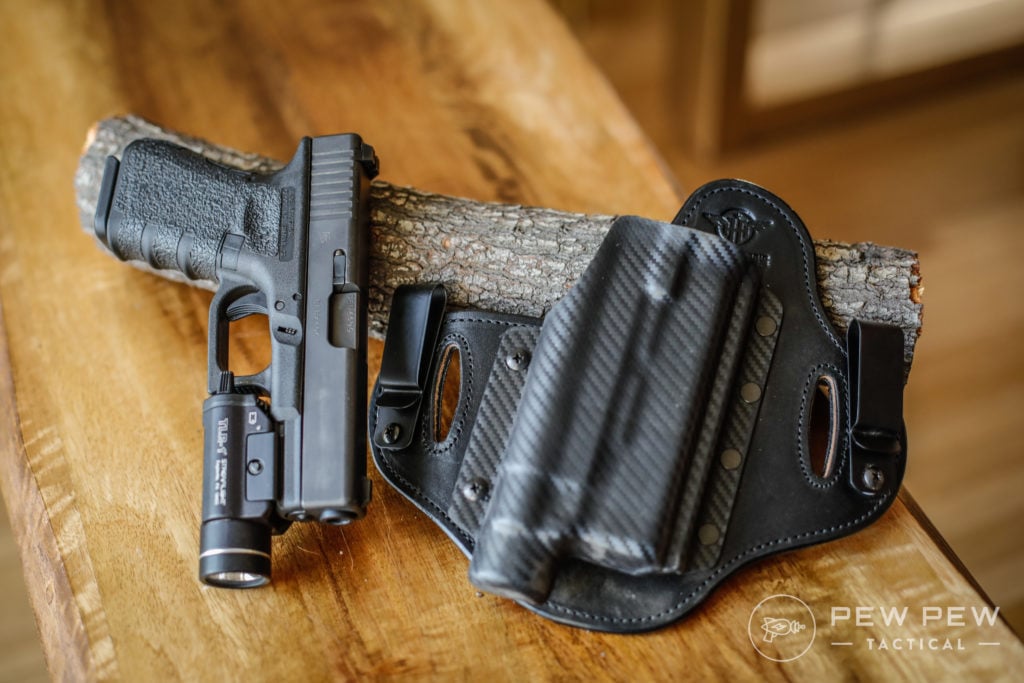 It will start wearing at the top near the logo after some use. But it's meant to be used!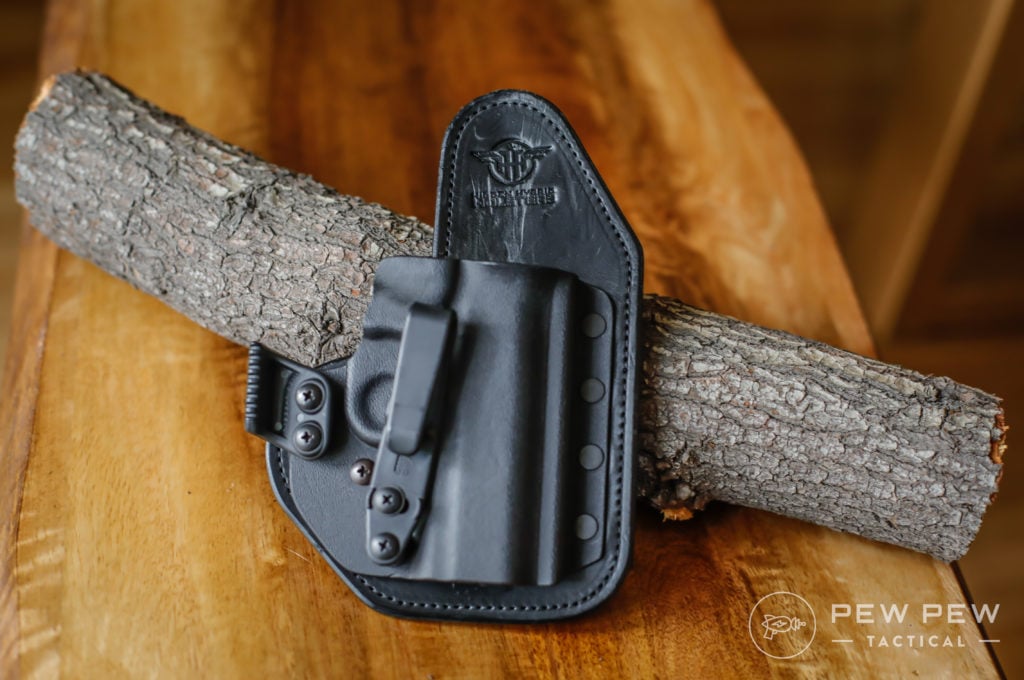 Stitching is nice (thanks Amish even though you'll never read this).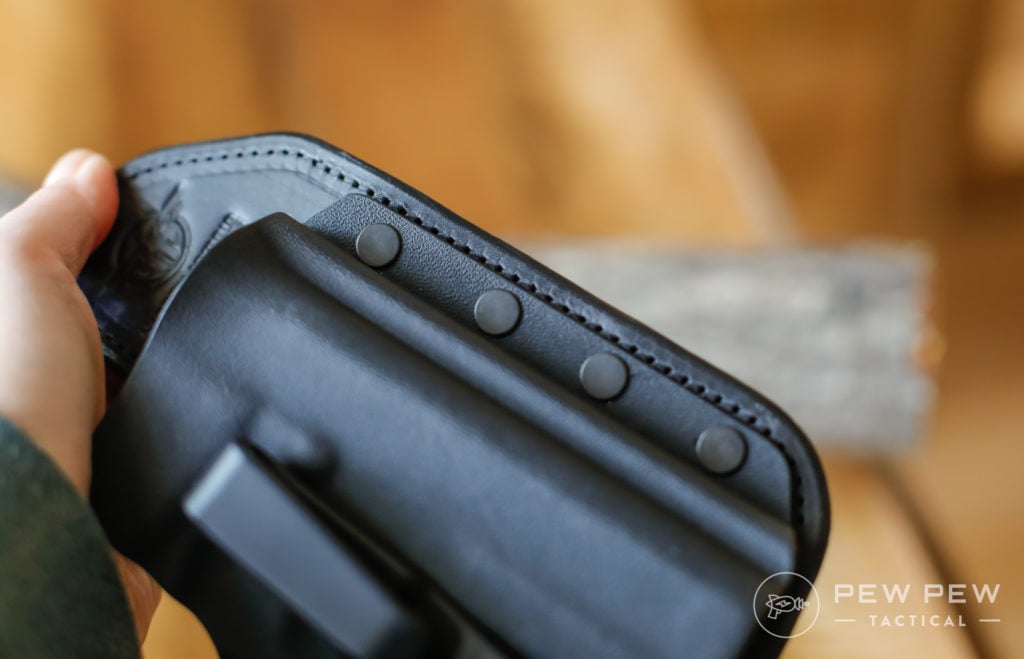 And from what I know from one semester of leather-craft in 8th grade…great job on burnishing and coating the edges.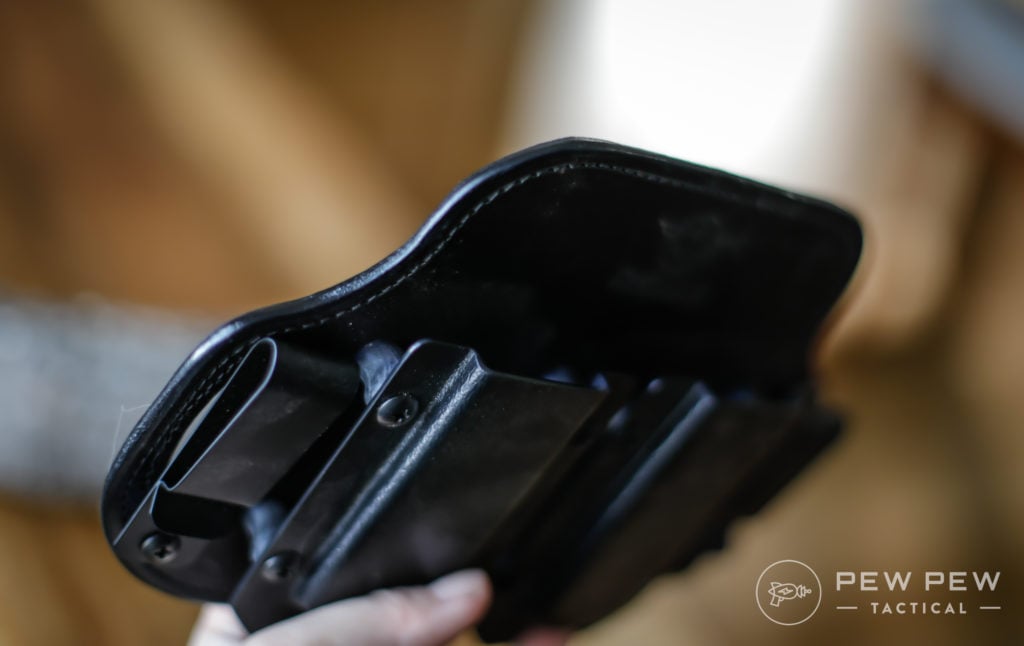 But what's more important is how they feel…because if a holster isn't comfortable you're probably not going to wear it.
First let's start with the leather (again).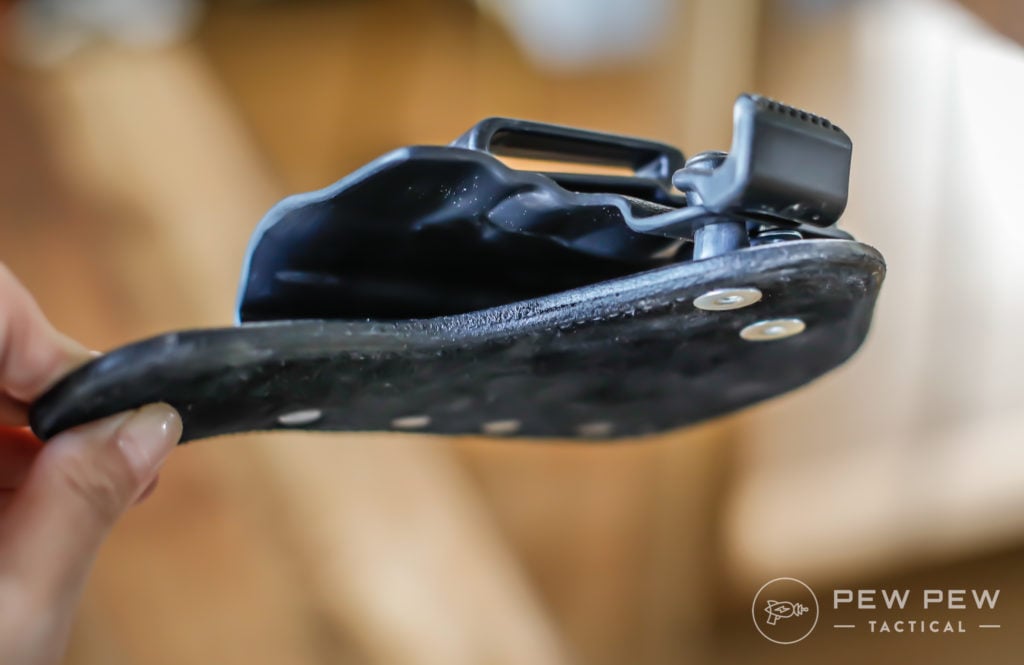 It's thick and won't flop around. But not so thick it's annoying or won't mold to your body.
For me it started to contour around the two day mark.
And that suede…it's way better than raw leather. Plus it still has enough cling to your undergarments.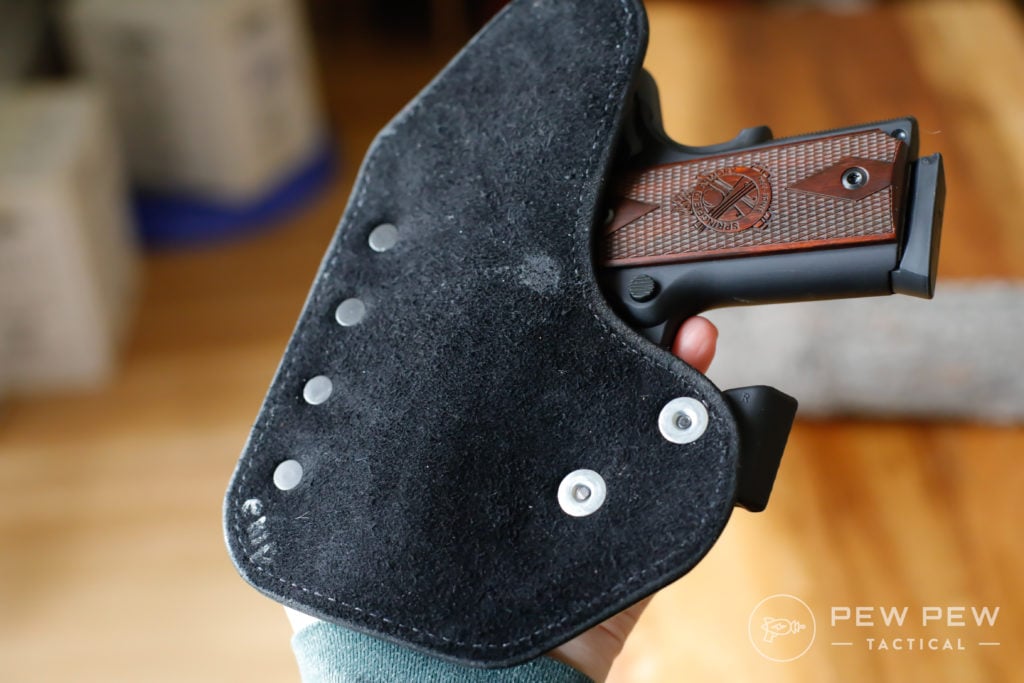 It's been hot but not Florida swamp hot, so I can't attest to that…but the suede is decent at wicking away some moisture.
Now how about that Kydex shell?
It's regular Kydex everyone uses…but they went with a slightly thicker .093″ so it will likely never break.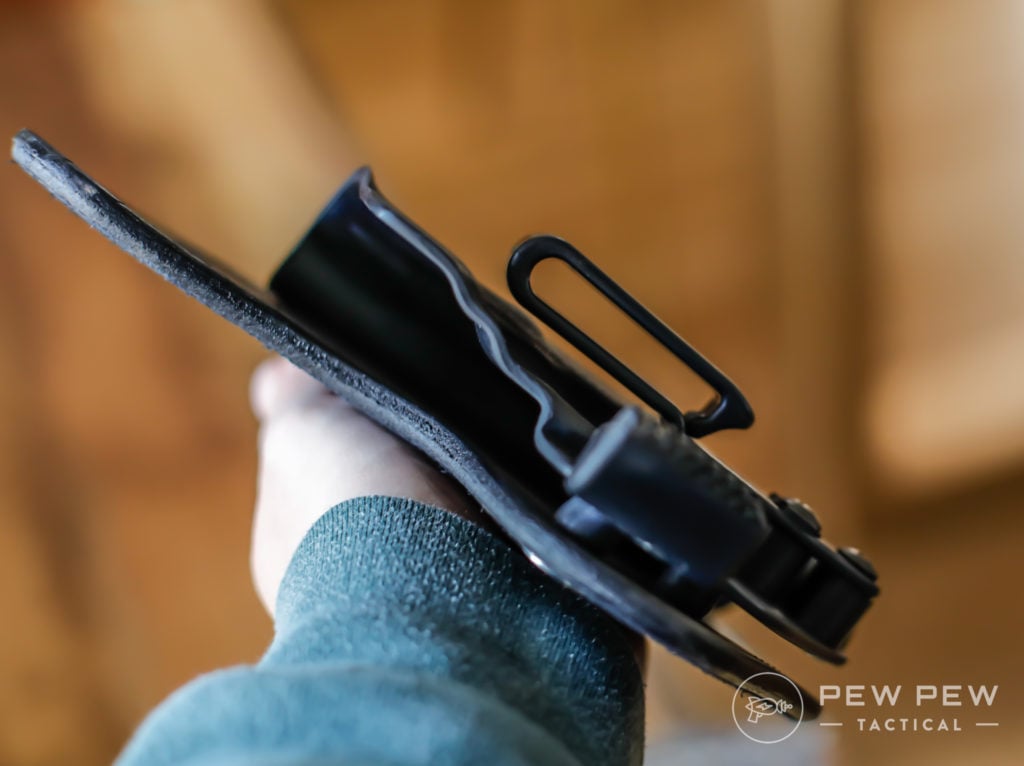 Plus they spend a little more time polishing it. I couldn't find any place for it to snag.
Main thing…it's the most comfortable holster so far for everyone that's tried it. Especially for appendix carry.
We did a blind test out of three hybrids for our Springfield EMP Review and HHH won hands down.
Here's John with it…
Models
Hidden Hybrid Holsters doesn't have the most creative name already.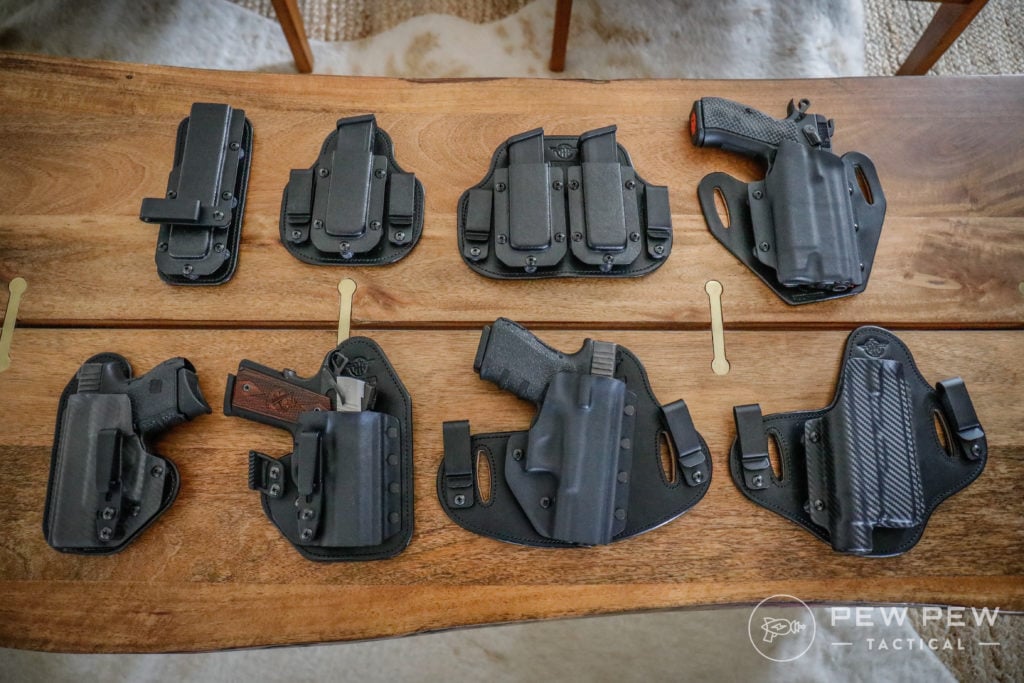 They really didn't try at naming their holsters.
Single Clip
Enter the Single Clip for appendix carry.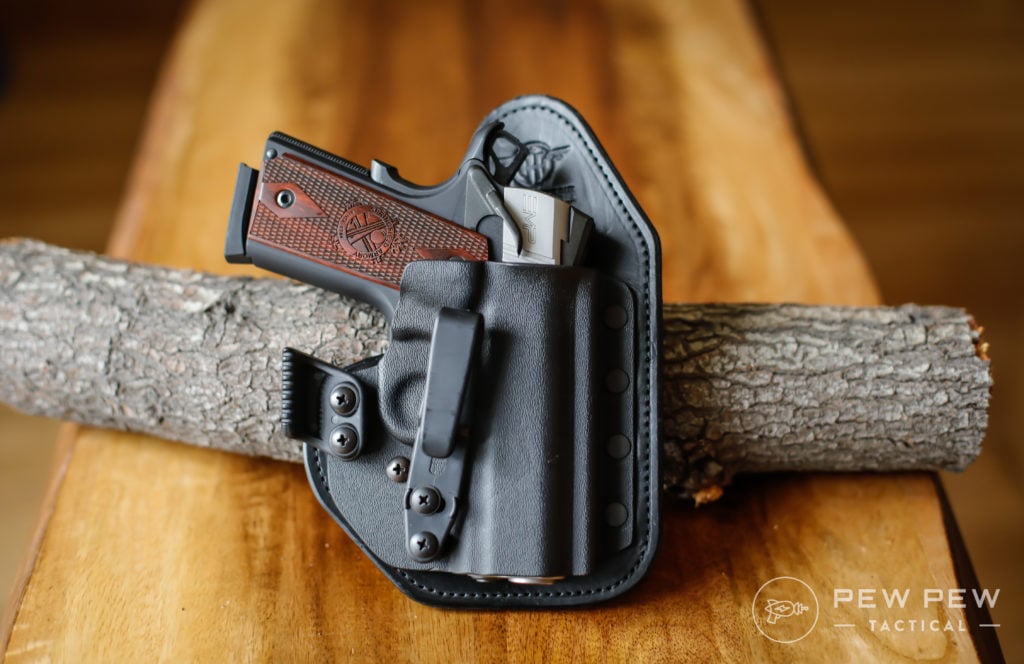 But I'll let it slide since it works.
Adjustable cant, retention, and all that good stuff.
I'd also highly recommend getting the "claw" option. It pushes the holster more into you for better concealment.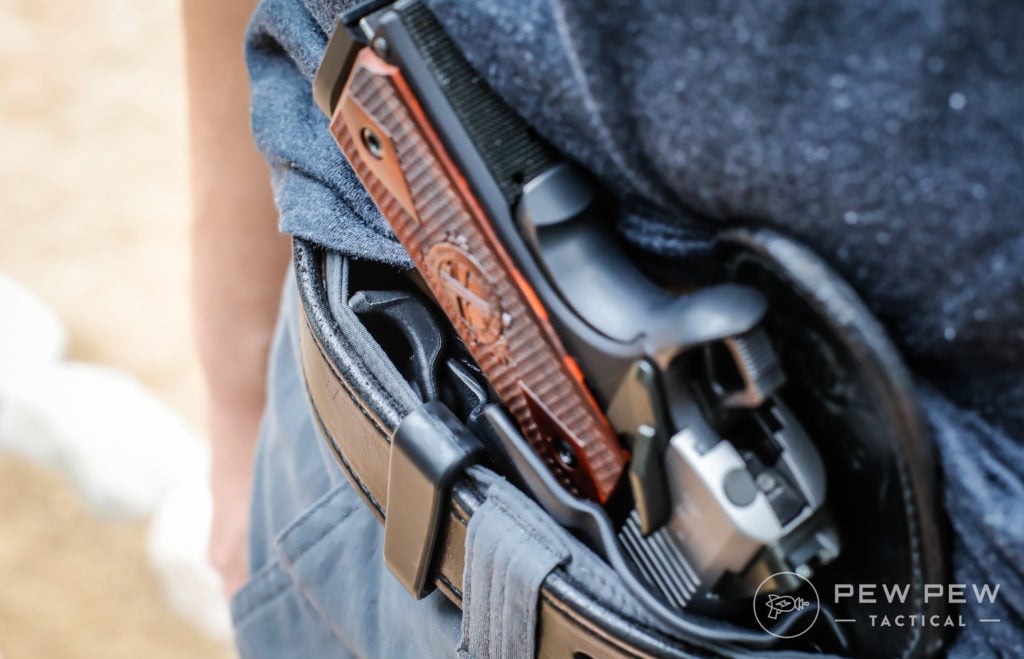 Here I am modeling it in my backyard.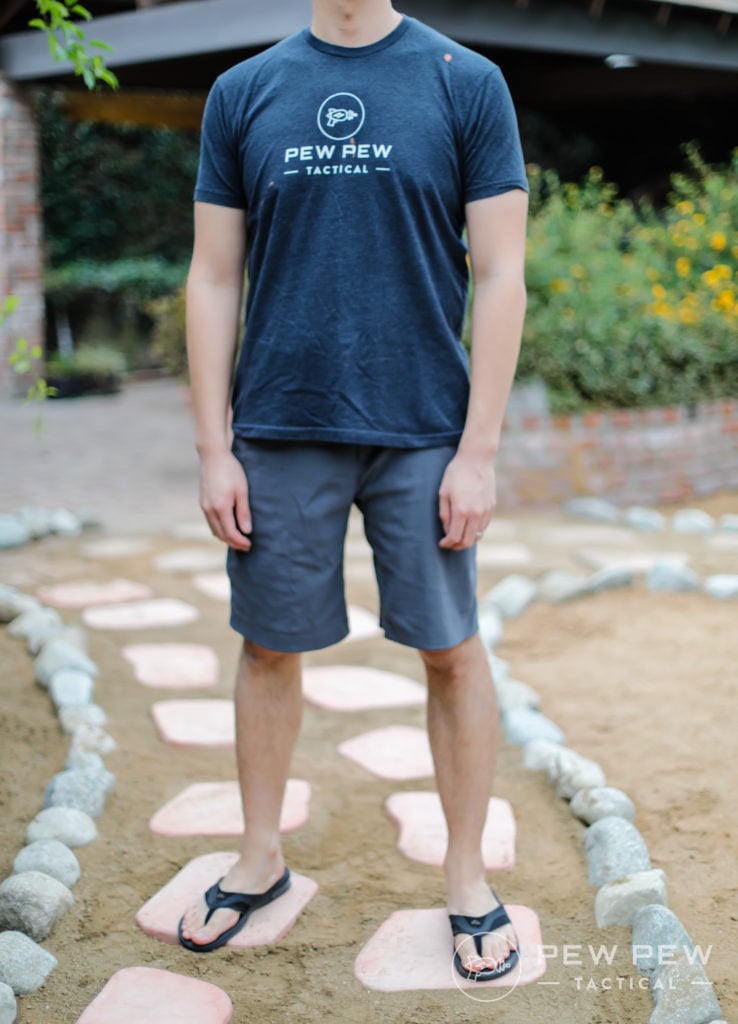 And drawing from it.
As you can tell, I like their appendix carry single clip version.
The backer is nicely cut so it feels fine sitting down especially when you have a little more than a 6-pack like me.
Double Clip
You guessed this one right?
The Double Clip is for larger guns at the 4-5 o'clock position.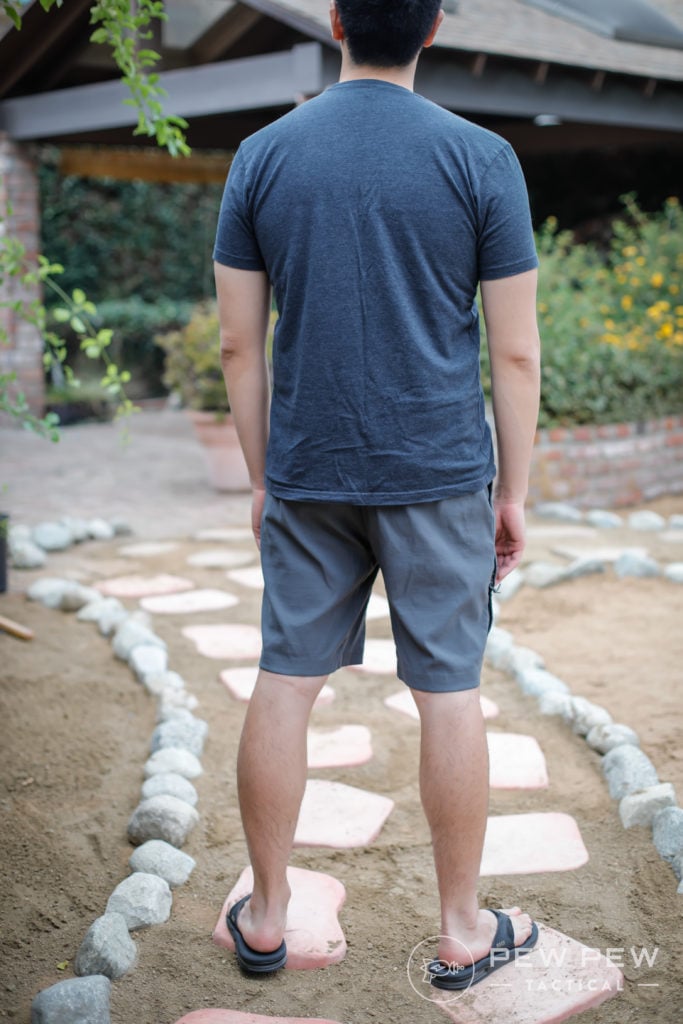 I also like that it comes with belt loop holes so you can change it into OWB (outside the waistband) if that's your thing.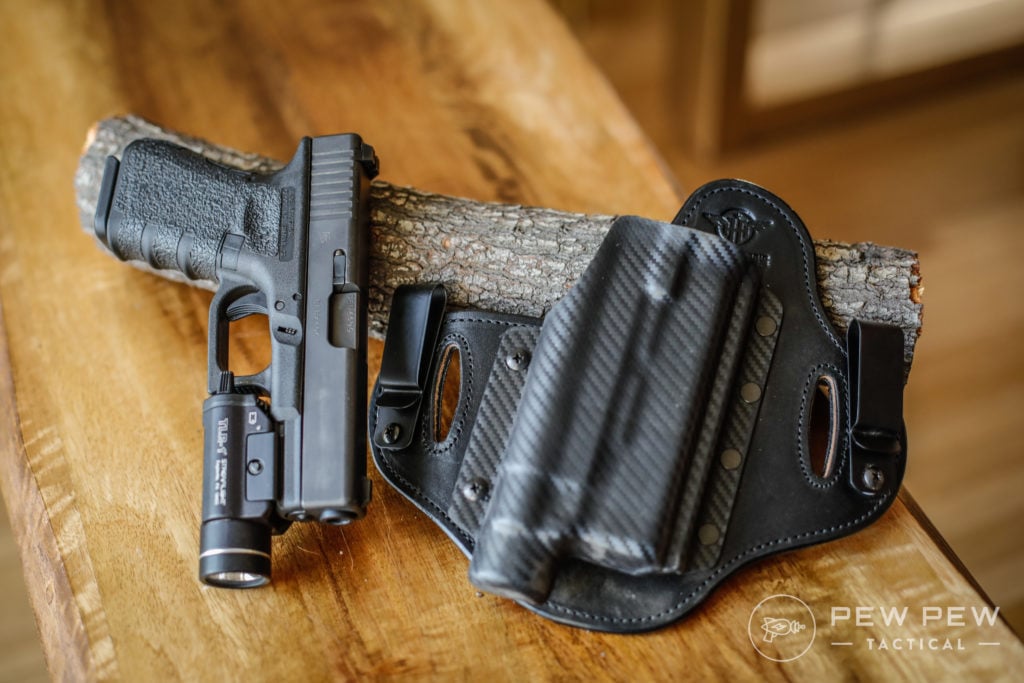 Side note, they also have a lot of light/laser options too. And Kydex colors!
Adding a light makes it chunkier but that's the price you pay…I'd say their molds are already really tight compared to some others.
Retention is not on the light so you can use it without it also.
I've also tried their non-light version with the G19. Probably how I'd carry it since I'm not huge and value comfort over all else.
All their holsters have the leather backer cut so you get a full grip. Super essential when drawing.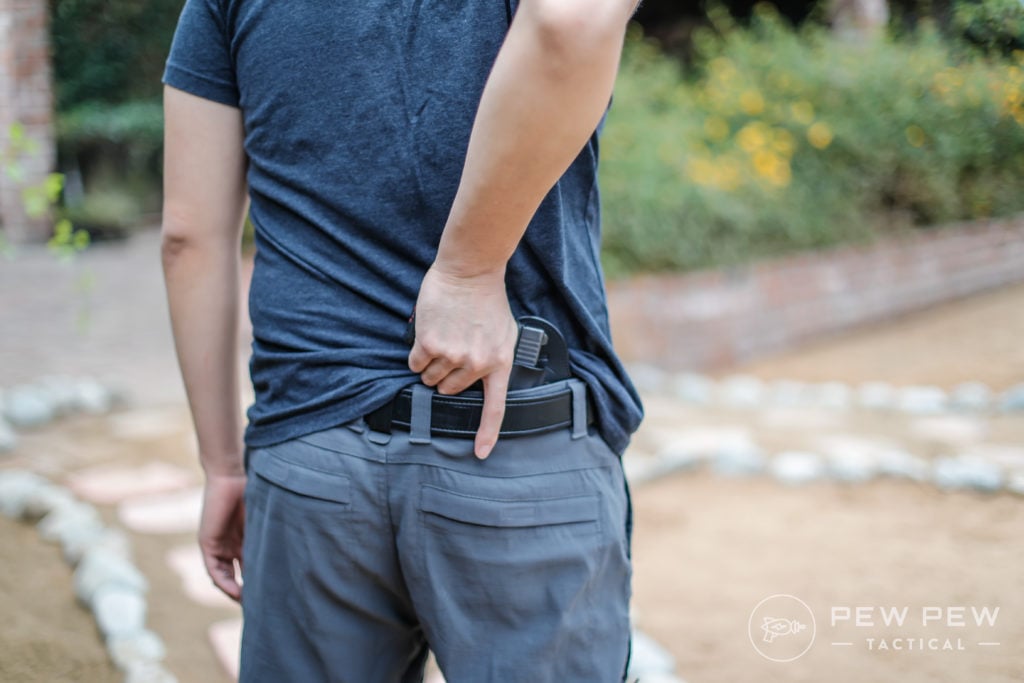 OWB
The OWB is kinda weird to me. It's only if you want to carry OWB.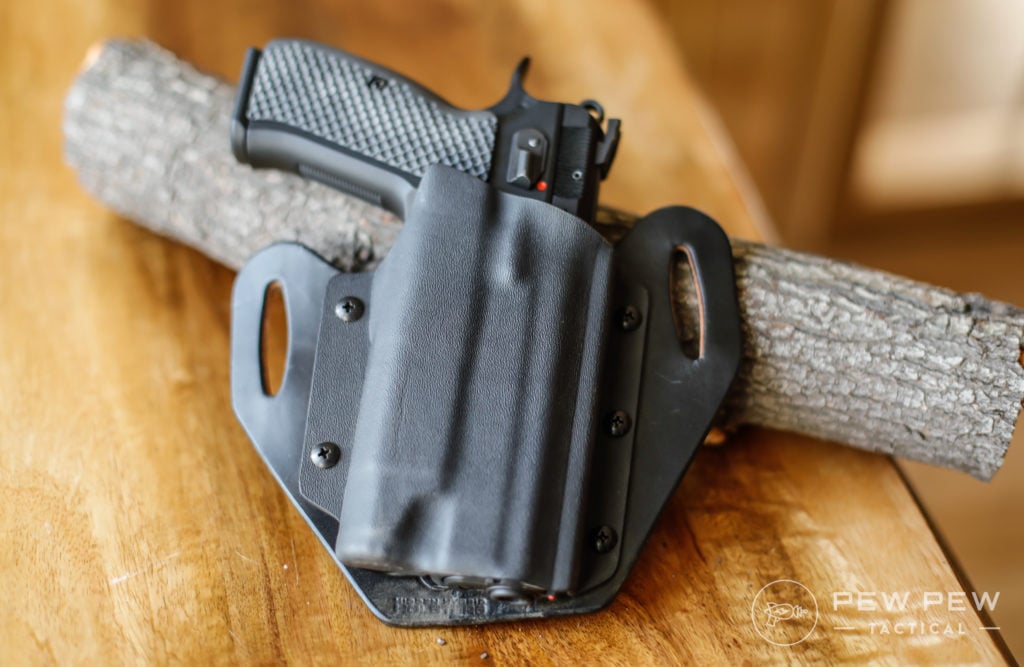 But why not get the Double Clip with the belt holes then?
Sure you save some maybe 3/4″ on each side…but ehh?
I'd personally get something full Kydex for OWB but that's my personal preference.
The HHH OWB did fine but I just didn't find it necessary when there's the other model already.
RMR Versions
Really want to carry an optics-ready sidearm?
HHH has those too…and it completely covers your optic plus gives you suppressor height sight capability.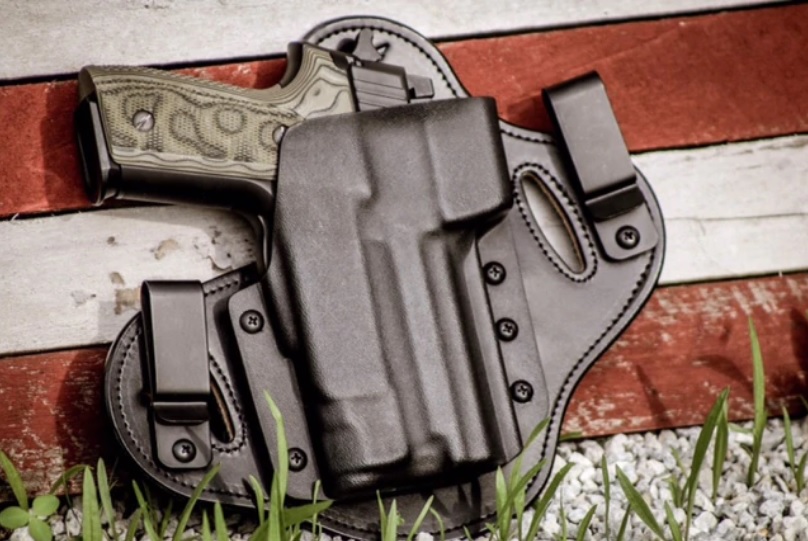 They've got an unusual amount of models from the obvious (Glock MOS) to almost all the Sig RX ones.
Don't have a pistol red dot yet? Check out our full review of the most popular ones.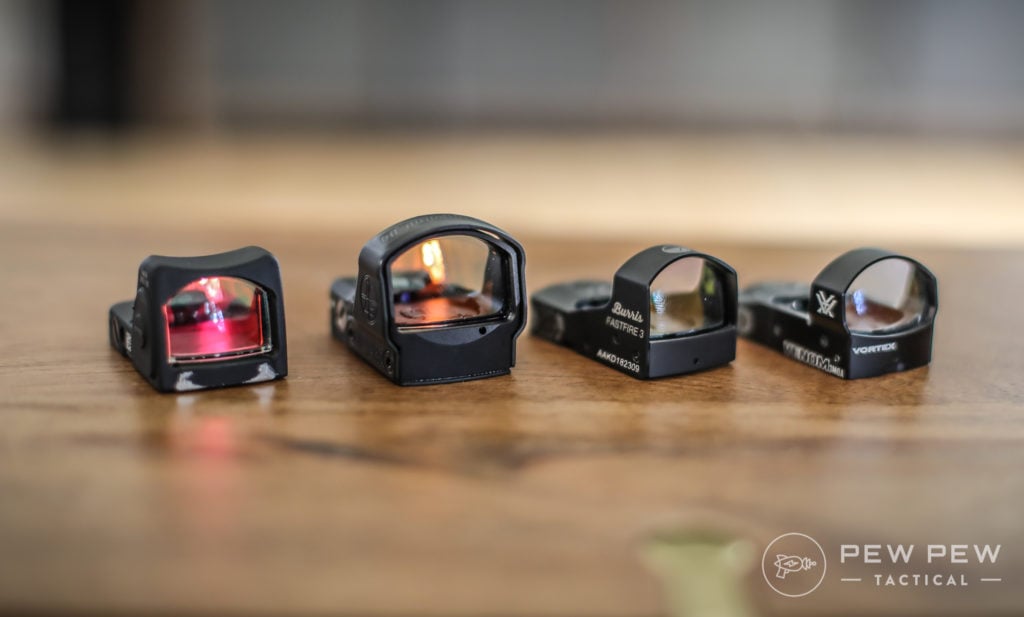 Small of the Back
I'm personally not a fan of small of the back holsters. But to each his own!
It's essentially a weak-handed appendix carry for you to draw your gun with your knuckles touching your back.
Hopefully that video helps since that last sentence hurt my brain.
But that's it for the models HHH offers…onto accessories!
Accessories
First, the "claw" attachment…just get it.
It's $5 and you can take it off if you don't like it. But I think it does wonders.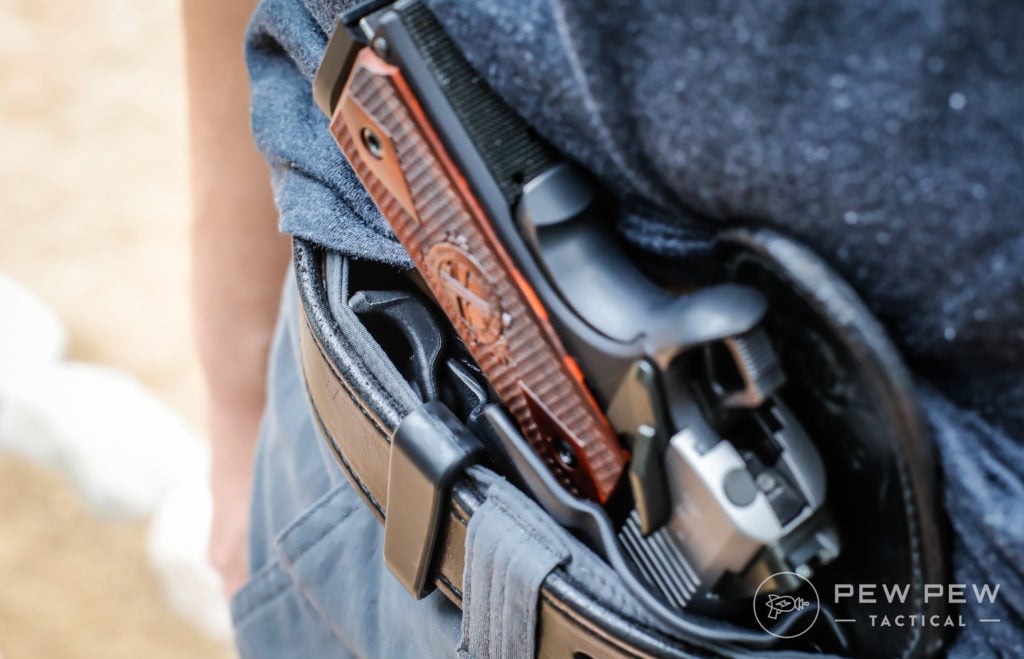 Next up…magazine carriers.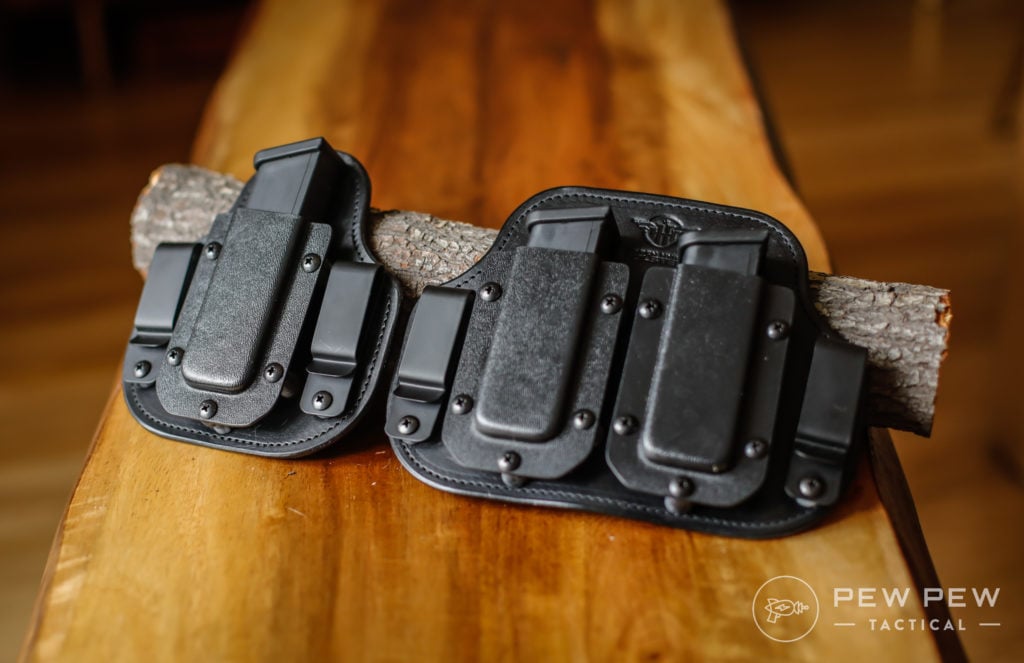 The single one is nice.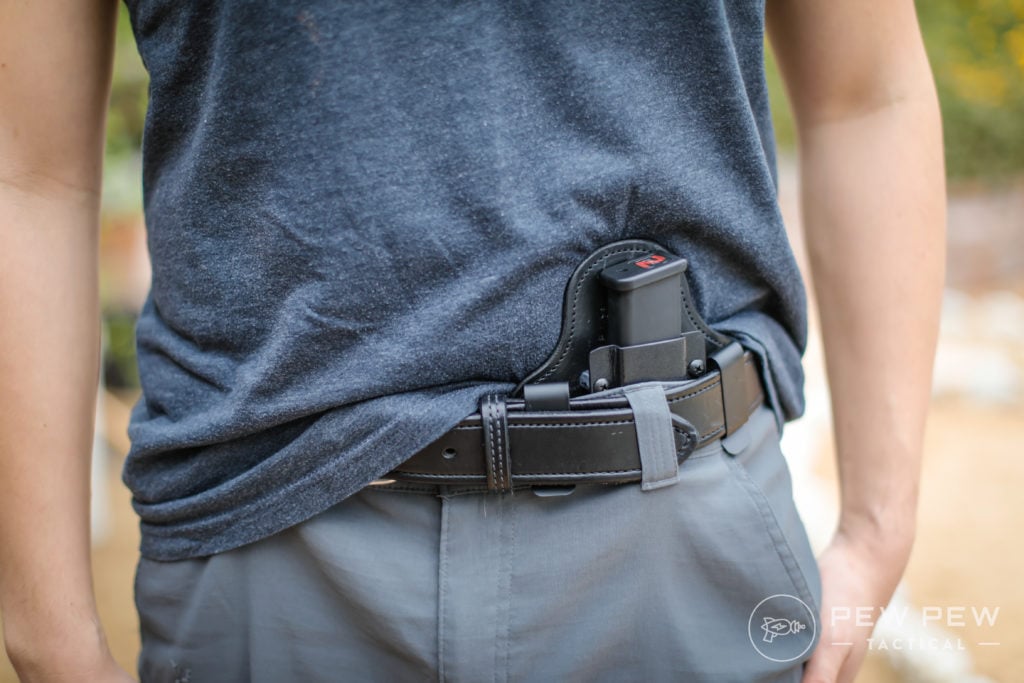 And if I anticipated lots of potential trouble I'd probably carry it.
The double is a big boy.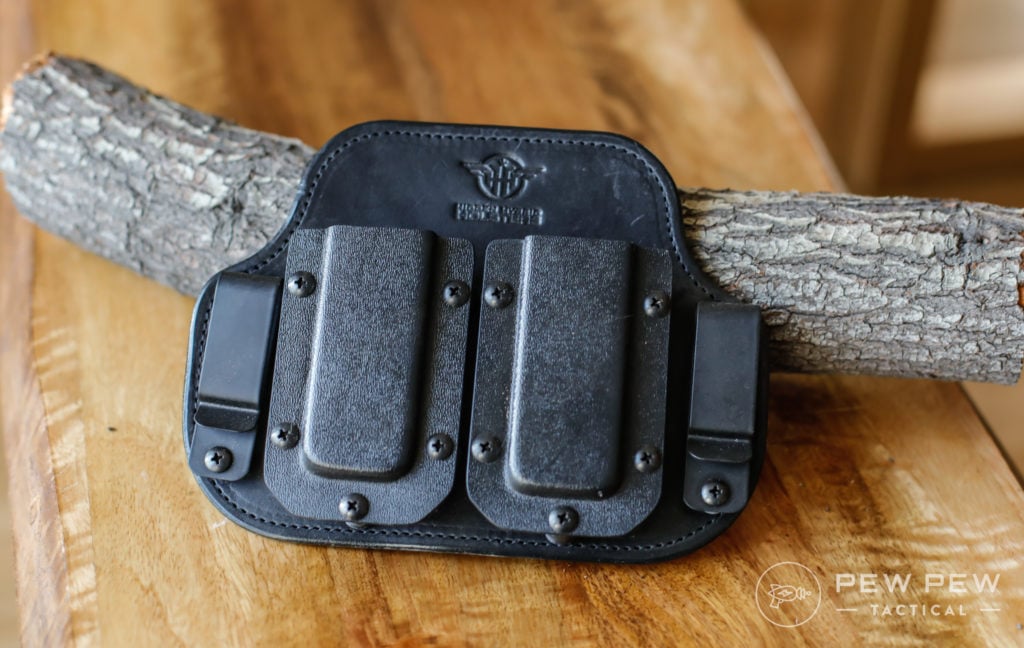 And as I'm not a big boy with extra waist real estate (*cries in 3-gun*)…I probably won't use it.
But need to go bigger?
I'm not sure if it started out as a dare or joke…but they have a big stick mag carrier…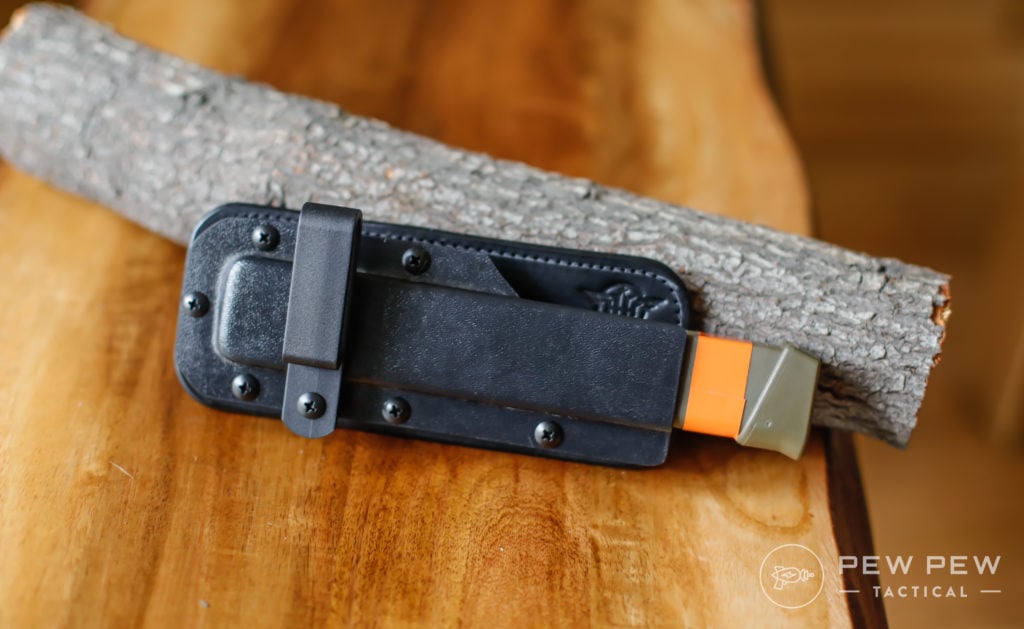 Of course I chose to get one. And pair it with my G26.
It's not bad actually. And I could see myself using it as a mag carrier for PCC competition.
55
at Hidden Hybrid Holsters
Prices accurate at time of writing
Prices accurate at time of writing
Almost done…
There's several different clips you can choose…and I feel they didn't do a great job describing them.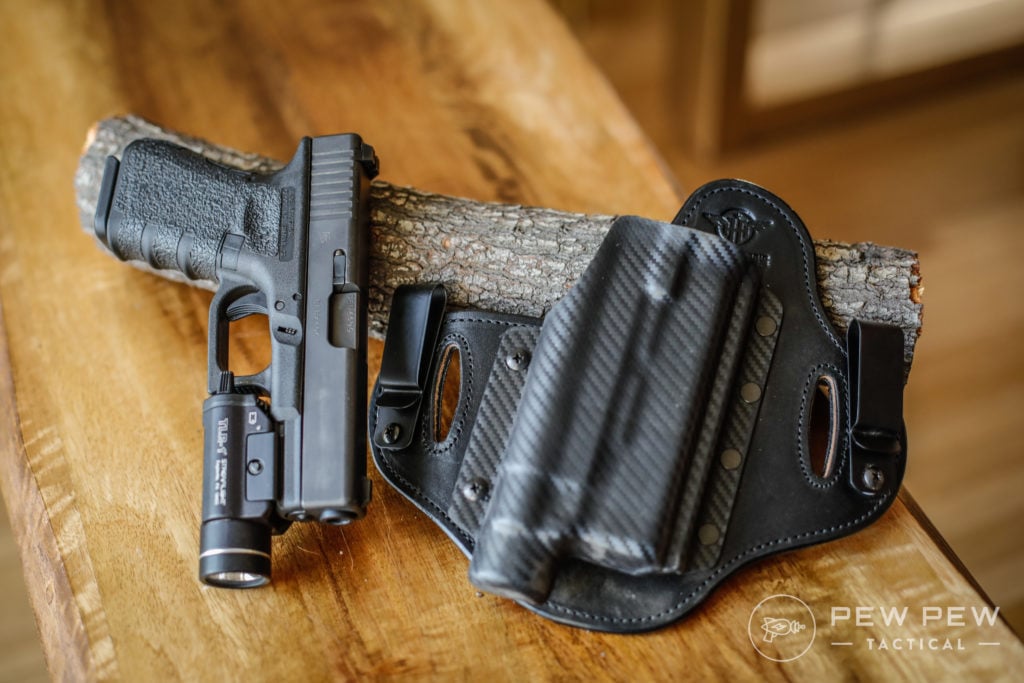 Standard steel clips will hook on super securely with a belt…but might accidentally scratch up stuff you rub against.
And polymer J-clips offer decent retention, but most likely won't put holes in your shirt or leather seats. But they are a consumable product.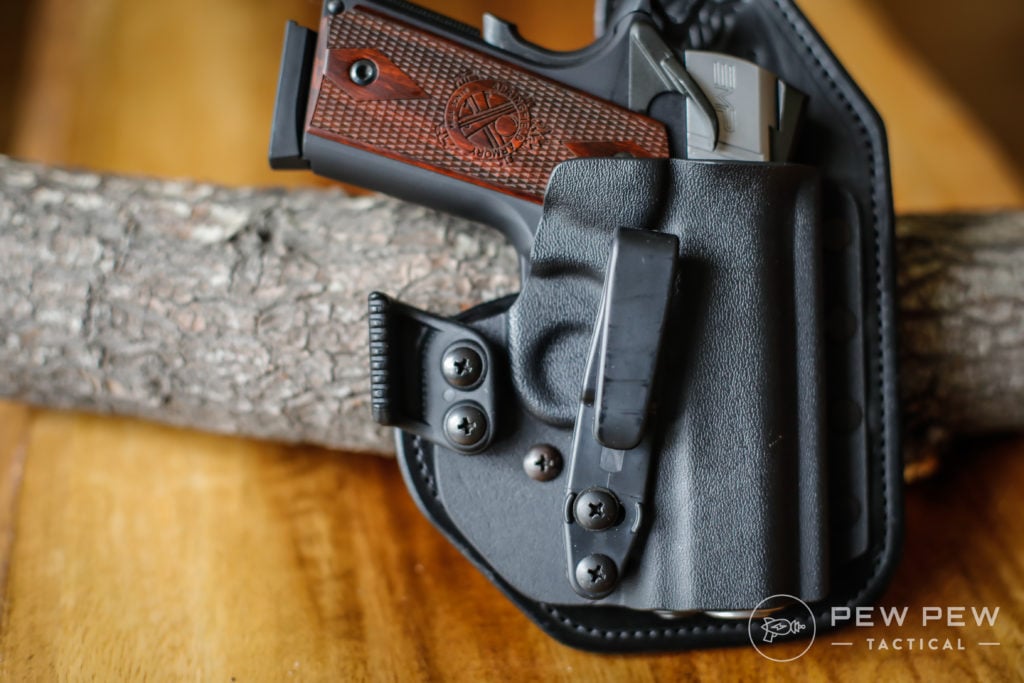 Lastly…
They also have belts from the Amish. Very nice as an add-on although you can also check out my Best Concealed Carry Belts for more info.
Pros/Cons
Pros
Most comfortable hybrid holster we've tested
Conceals well
Adjustable with height, cant, and claw
Lots of pistol models
Lots of lights/lasers and pistol red dot options
Lifetime Warranty
Cons
Premium pricing ($69 starting but there's a 10% coupon popup for your email)
Takes 8-12 business days to produce your holster since it's literally hand-made when they get the order
Site can be annoying if you choose by Brand…do the "Select Your Gun Model" instead
Conclusion & Favorite Models
If you like hybrid holsters (or your current one isn't comfortable)…you probably can't go wrong with Hidden Hybrid Holsters.
89
at Hidden Hybrid Holsters
Prices accurate at time of writing
Prices accurate at time of writing
We didn't touch on the price until the "Cons" section. But it's definitely at the upper end of holsters.
However if it's something you're going to wear everyday and trust your life to (and maybe your loved ones)…it's probably worth it still.
Amish leather can't be cheap and you can see it's all made by hand to order in a small shop.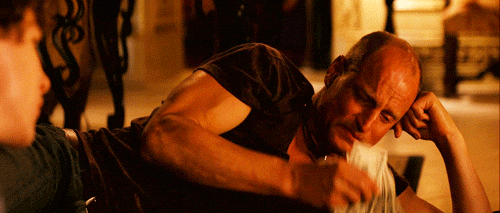 Plus they really cater to the lights/laser/RMR crowd it seems like.
My current favorite models are their Single Clip Appendix.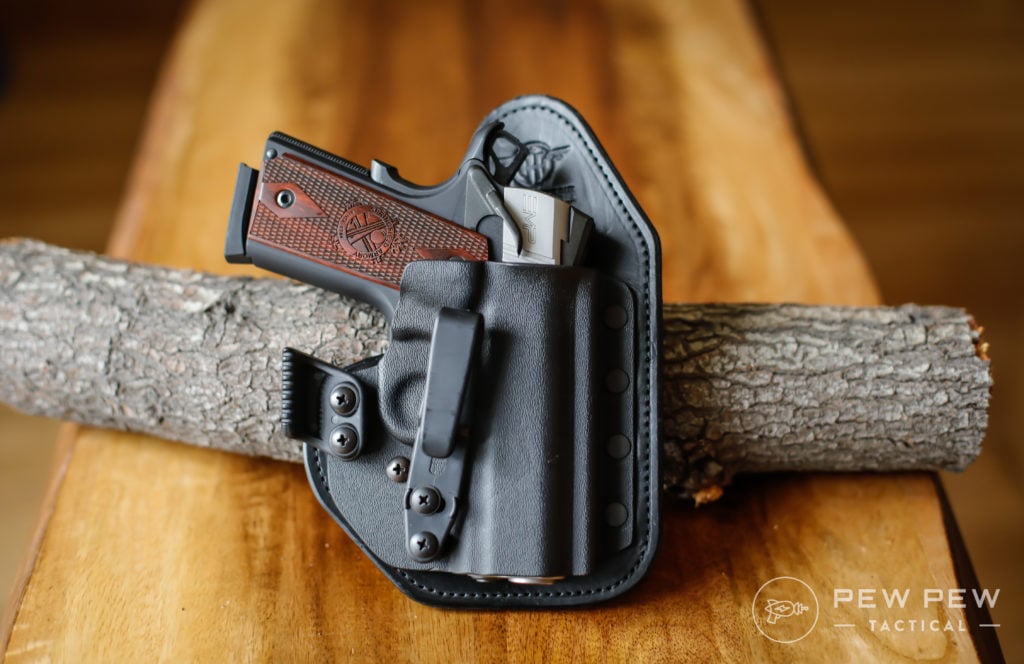 And the Double Clip IWB & OWB combo.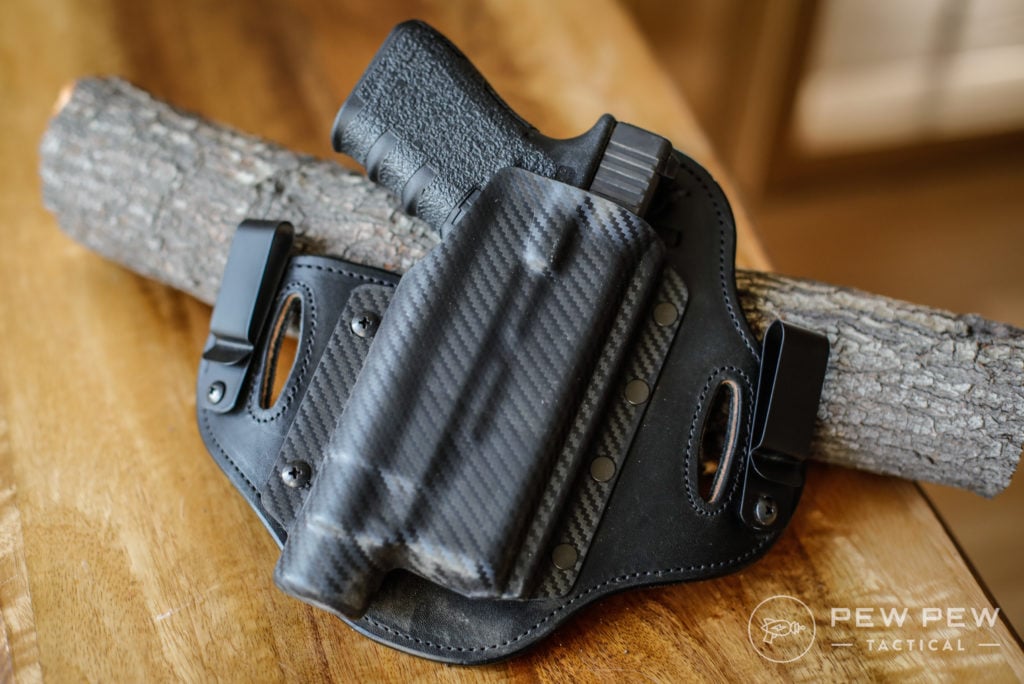 If we're talking mag carriers…I'd opt for the single carrier unless you really need two.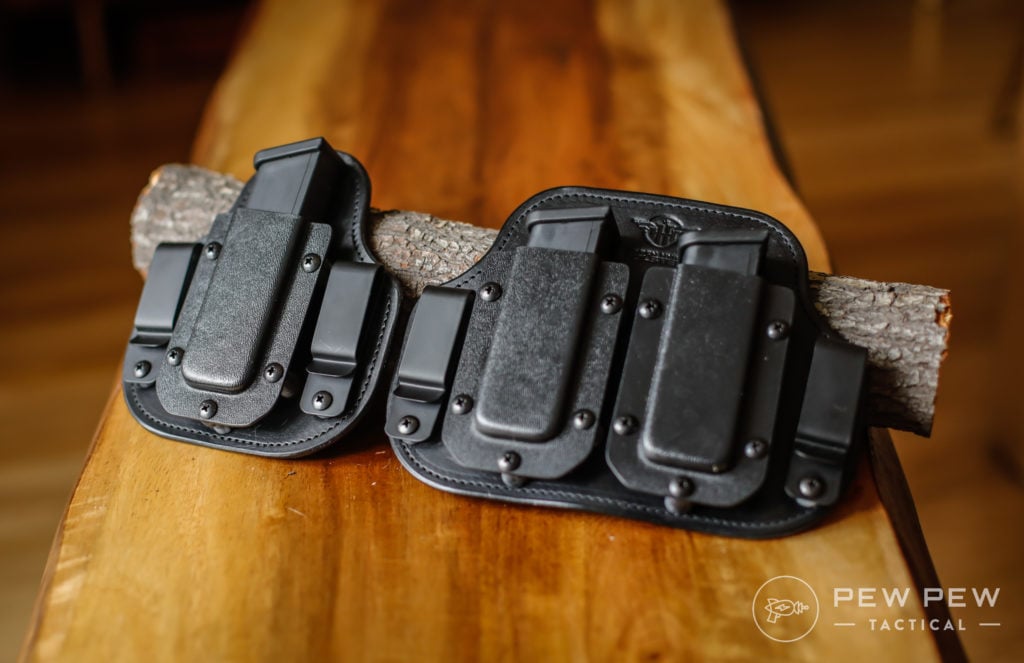 That does it for this review! Be sure to check out our huge Best Concealed Holsters article where we go over pure Kydex options, more hybrids, and even some weirder stuff.