The best part of the gun industry is the world that springs up to support it–holsters, flashlights, lasers, and, of course, optics.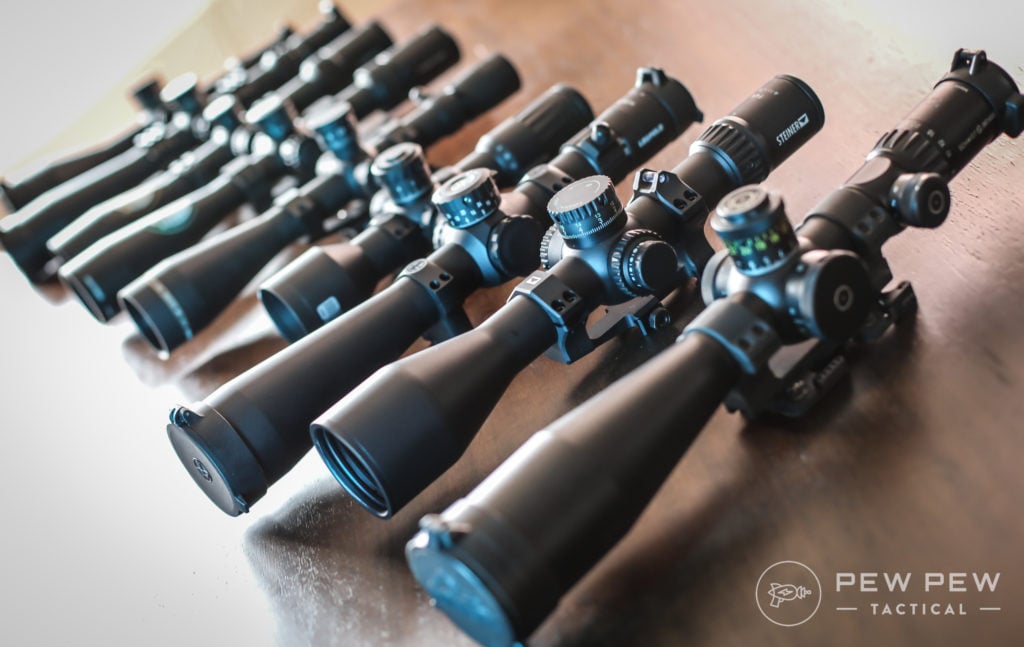 2020 has been a big year for guns with March recording the highest sales for any one month… ever.
2020 (and technically late 2019) showed us a lot of new optics, and I've gathered my ten favorite new optics for your perusal.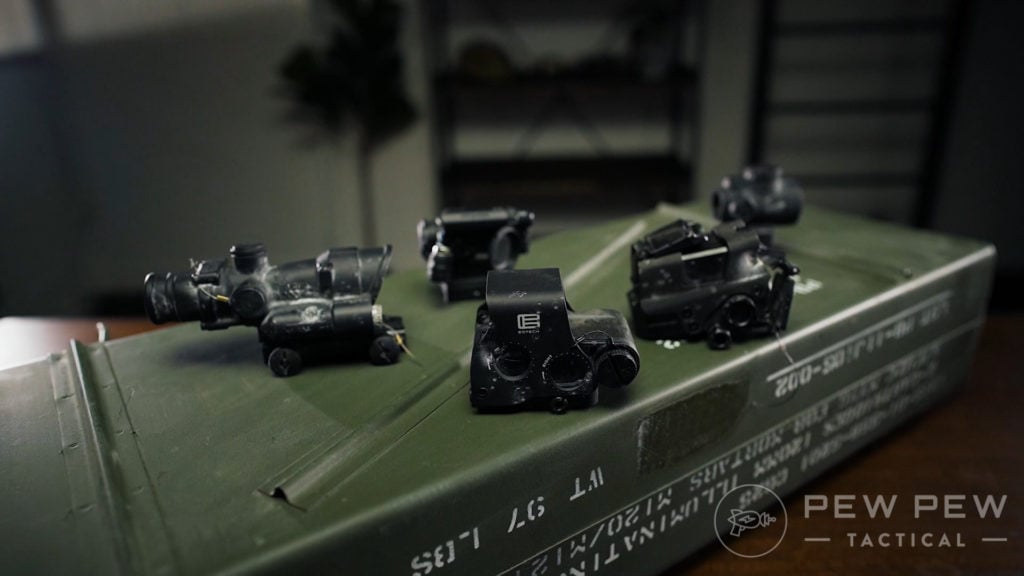 These include a little bit of everything I saw at SHOT, as well as what's come to light since. Check it out, and let us know what you think.
Best New Optics of 2020
1. Athlon Argos 1-8X
Low Powered Variable Optics are sweet, sweet optics that are perfect for the modern semi-automatic rifle. The ability to go between 1x to 8x with the spin of a magnification ring allows you to take full advantage of a modern rifle's versatility.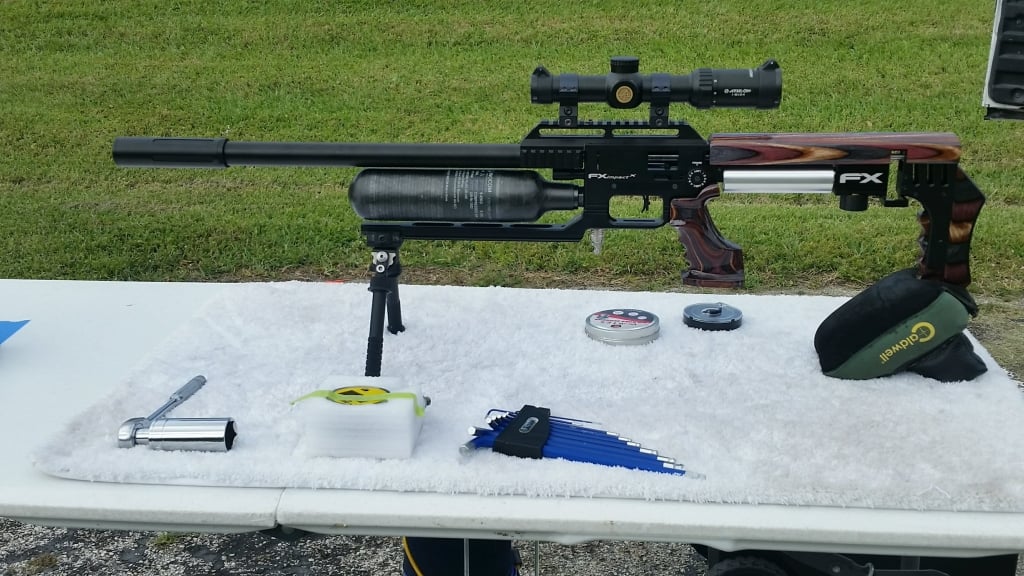 The Athlon Argos 1-8X is one of the first 1-8X LPVOs Athlon has produced, and they are bringing it out at a budget price.
It's most certainly priced to move and by far one of the best affordable LPVOs on the market. The glass is remarkably clear, and the included reticle does allow for max versatility.
At 1X, the three-quarter circle is brightly illuminated, large, and comfortable for the eye to pick up, and perfect for close quarter's shooting. Once you start expanding the range, the reticle's holdovers for both range and windage allow for precise engagements with holdovers out to 600 yards.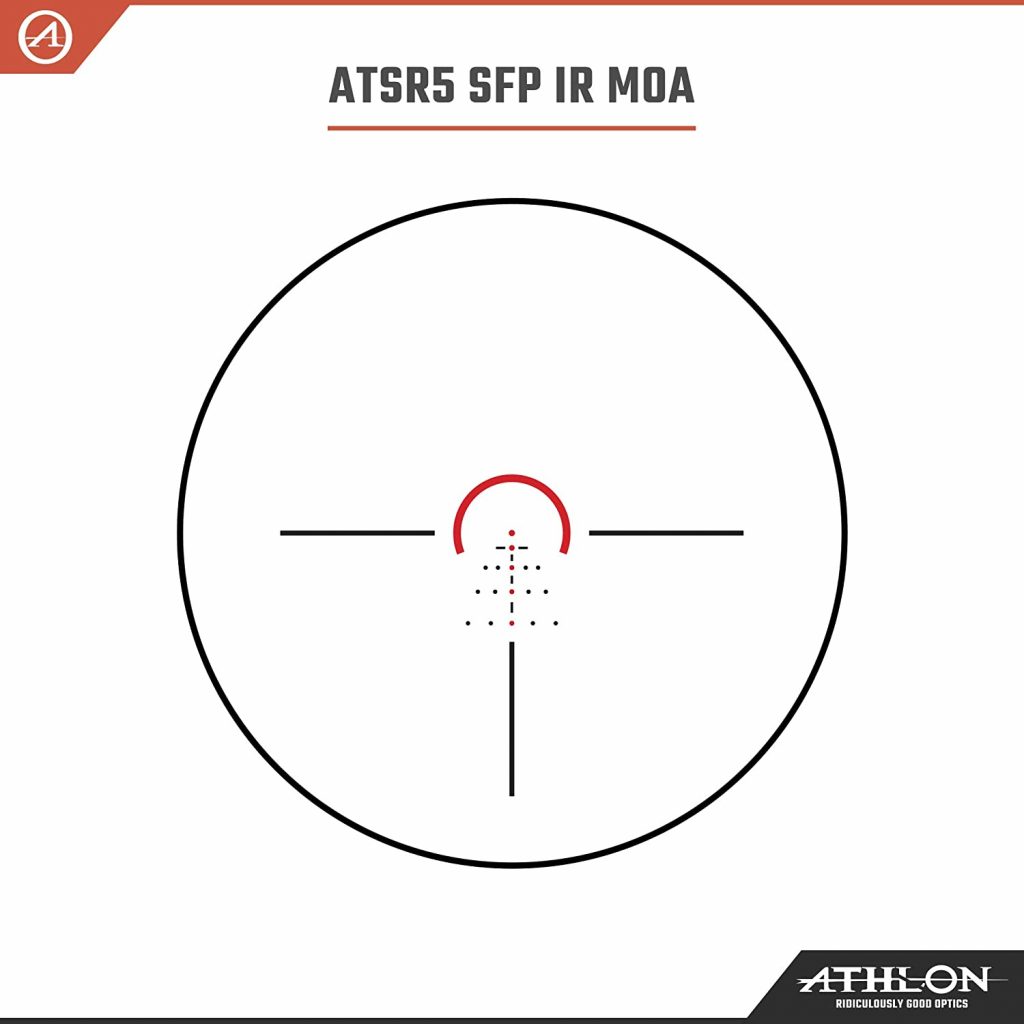 It's the perfect companion to an AR-15 and could be used for nearly anything the AR-15 could be used for. It could be used for hunting, 3-Gun, and even tactical use for a Police department on a budget.
I absolutely love getting behind the Argos 1-8X and engaging targets, both big and small, at various ranges. One of my favorite drills is to simulate shooting at multiple ranges. I mix up big and small targets and swap between magnification levels to engage everything from clay pigeons to man-sized targets.
380
at OpticsPlanet
Prices accurate at time of writing
Prices accurate at time of writing
2. SwampFox Blade and TriHawk Prism Sights
You are getting a two for one here because I'm writing the article and I'm making the rules.
These optics are also very similar, both are prism sights from Swampfox, and both are brand new. The Blade is a 1X prism sight designed to replace your red dot, and the TriHawk is a 3x scope for effective engagement within six hundred yards or so.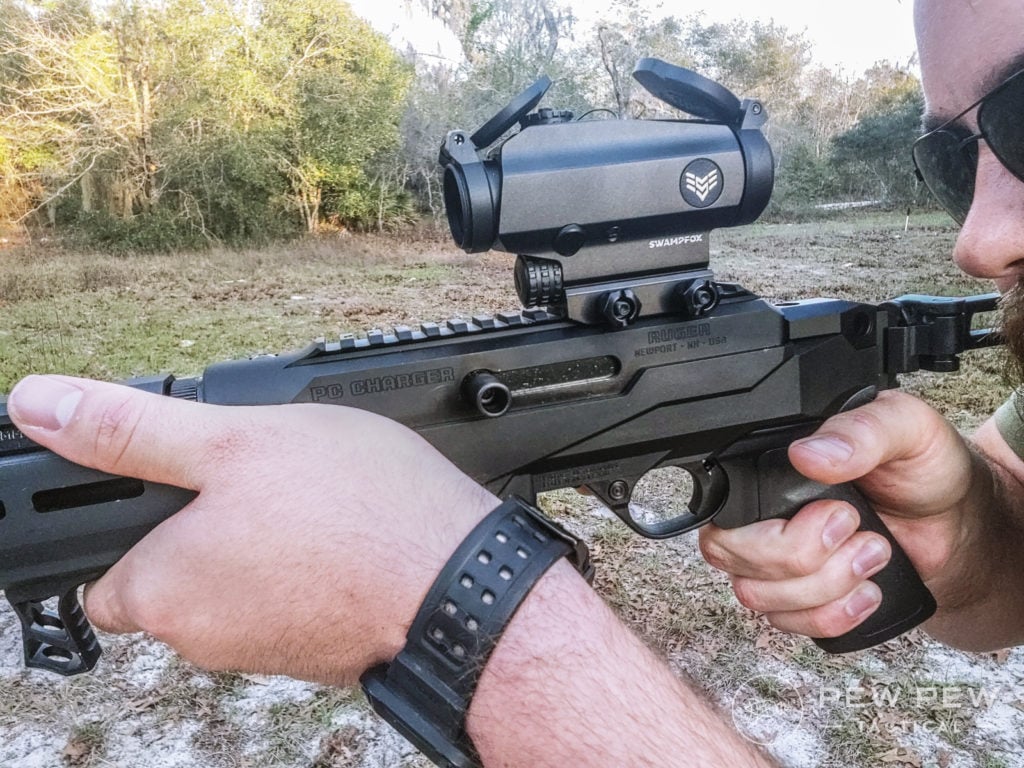 I'm a big fan of fixed powered prism sights and have used them successfully for years. The Blade is perfect for replacing a red dot and provides you with holdovers for close-range shooting and height over bore compensation.
289
at Swampfox
Prices accurate at time of writing
Prices accurate at time of writing
The TriHawk is coming out in June 2020, and I got a chance to take a sneak peek at this rockin' new optic. This thing has a BDC tuned for both 5.56 and 7.62 and goes out to an optimistic 800 yards.
It also features a reticle that is handy for both close quarters shooting and out to extended ranges. The design also allows for shooters to use the Bindon aiming concept when tracking targets.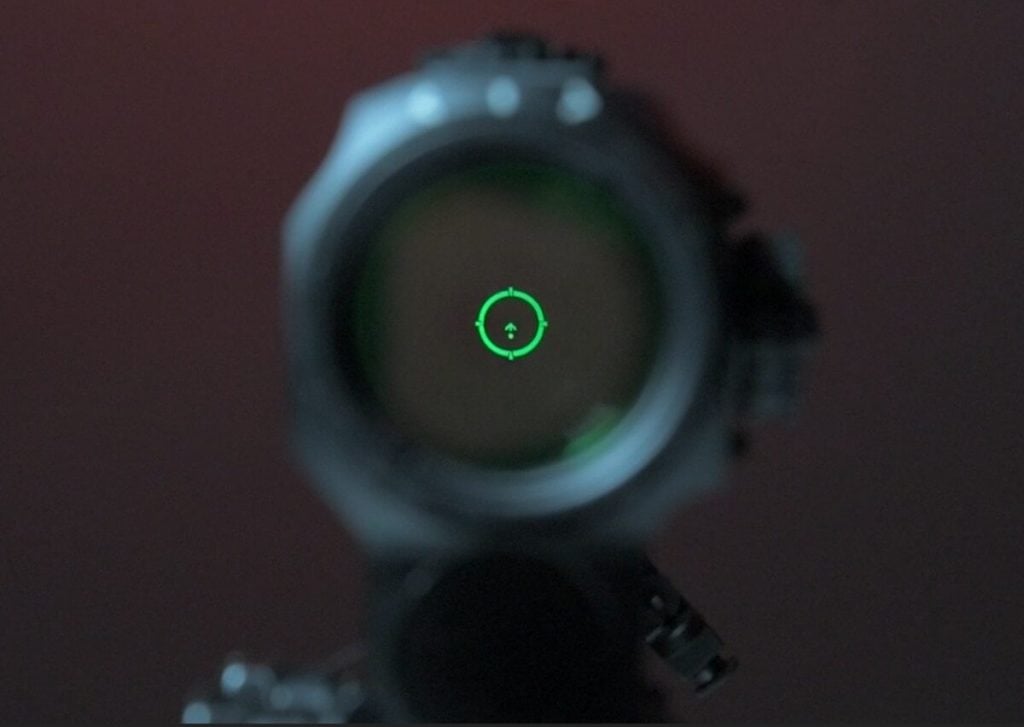 As prism sights, the reticles are glass-etched, so if the batteries die, you're still capable of rocking and rolling. Both optics are night-vision compatible and give you a very durable and low real estate optic. Best of all, Swampfox is well known for creating high quality but low priced optics, and you can't beat that.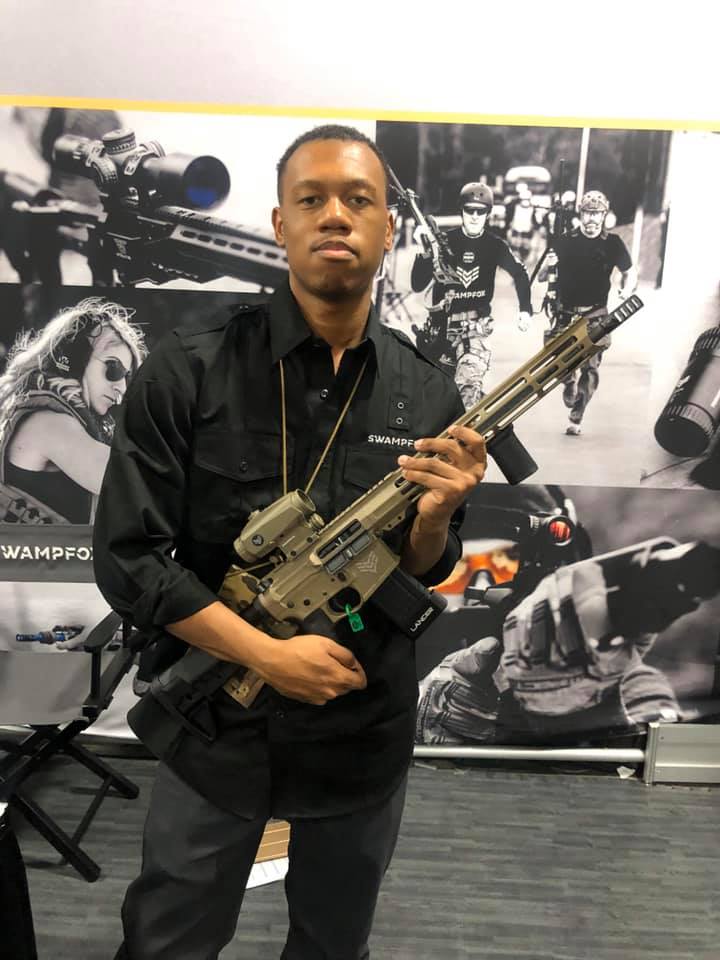 They are helping raise the quality of mid-tier optics to near high-end levels, and for that, they have earned a solid spot on this list.
3. Meprolight Foresight
I could write an entire article on how impressive the Meprolight Foresight is. It's the first augmented red dot and provides users with options we've never seen before. This includes connectivity to smartphones for advanced features.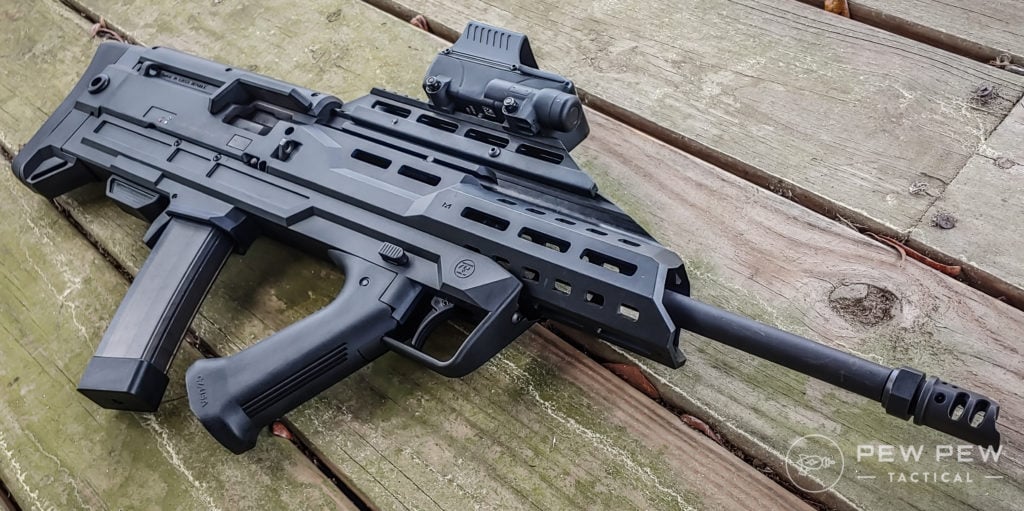 Augmented means you are getting more than just a reticle. You are also getting a compass that reads in degrees, a sight leveler, a battery meter, and in the future, a shot counter. The Foresight can contain ten different weapon profiles as well as ten different zeroes. You can also choose five reticles from a total of 20 for each profile.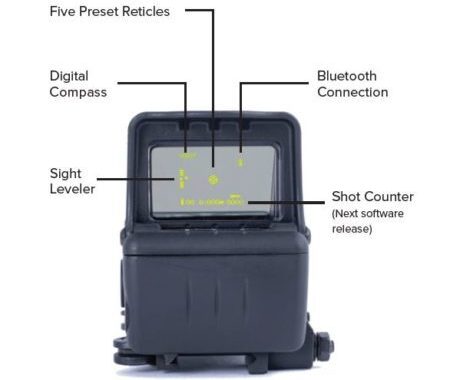 Multiple profiles mean the optic can be used for various weapons or multiple zeroes for the same gun. Multiple zeroes for the same weapons allow multiple shooters to have their exact zero.
Another use would be changing the zero between ammo types for the same gun. You can have a zero for supersonic and subsonic rounds buckshot, and slugs, and more.
Connecting it to your phone allows you to zero the optic very quickly, swap profiles, and apply updates as they come out. The Meprolight Foresight comes with a built-in QD mount, a rechargeable battery, and its compatible with magnifiers of all kinds.
699
at Amazon
Prices accurate at time of writing
Prices accurate at time of writing
4. SIG Sauer Romeo MSR
The SIG Sauer MSR Red Dot was kind of a sneaky little guy. I heard nothing about it then all of a sudden its at every gun shop and an online outlet for a shallow price point. The MSR is in an exciting place for SIG, their budget Romeo 5 is a great optic, but SIG seemed to think they can drop the price a little more.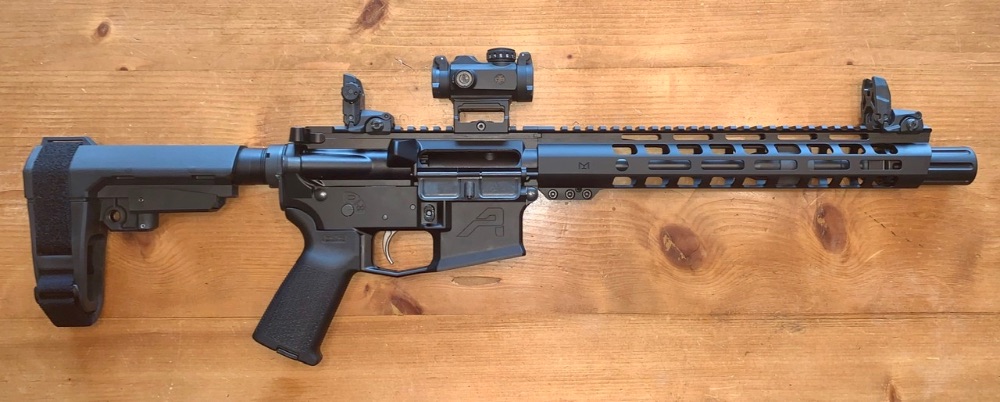 This is a reliable but straightforward red dot, and the main reason it makes the list is it's $99 price tag and its crazy good list of features. Let's see what the SIG MSR can do…
Lasts 20,000 hours on a single CR1632 battery
10 Different daylight brightness settings with 2-night vision settings
Integrated lens caps
Waterproof IPX7 rated
Included mount allows for an absolute co-witness on AR height sights.
Not too shabby for an optic you can get for 99 bucks at most outlets. On top of that, this optic is very compact and lightweight at only 4.9 ounces. The SIG Romeo MSR might be the best budget-friendly red dot on the market.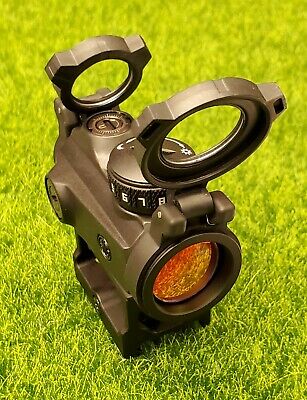 It mounts quickly and looks and feels like a much more expensive optic. Sure, it won't replace an Aimpoint optic but could be a very viable candidate for a budget home defense option.
87
at Optics Planet
Prices accurate at time of writing
Prices accurate at time of writing
5. Nightforce NX8 series
The NX8 series is an evolution of the NXS series and following Nightforce's long history of making tank-like optics for professional shooters. Nightforce optics are some of the best in the world and have long been proven optics in the Special Operations community.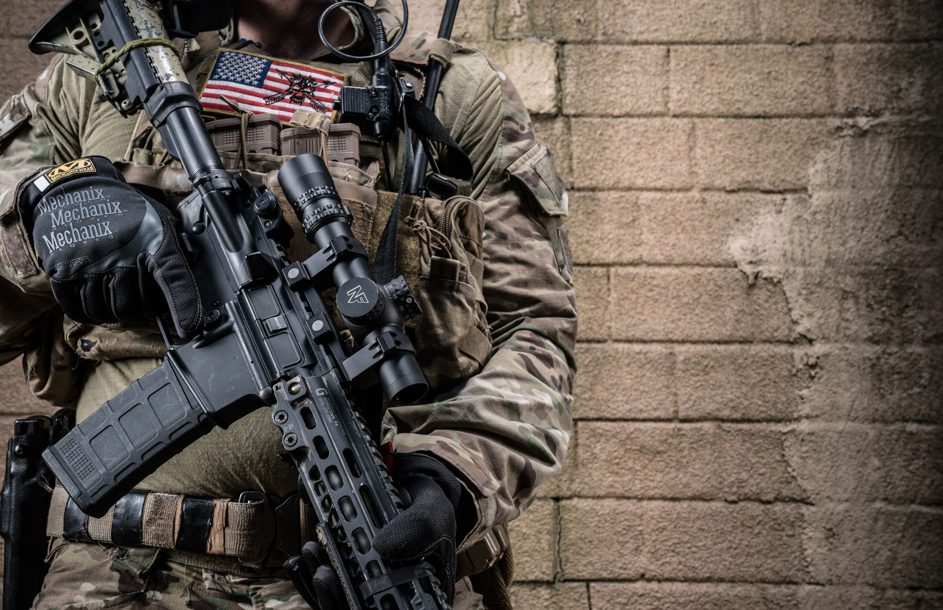 This series has an 8X zoom series that gives either a 2.5-20x option or a 4-32X series.
Why do we care? Because this style of optic is perfect for full-powered semi-automatic rifles in which shooters may need to transition between targets both near and far. The scopes will be offered with Nightforce's MOAR and Tremor 3 reticles for a crazy degree of both wind and bullet drop compensation.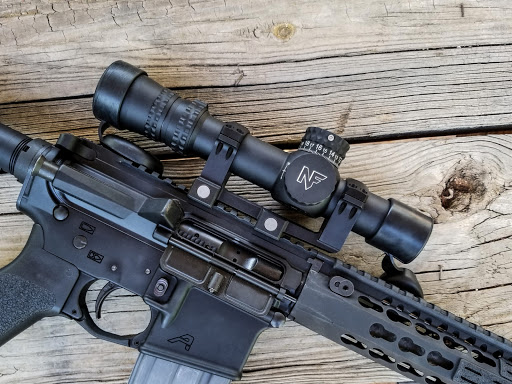 The Nightforce Series optics are genuinely professional grade optics. Their durability is nearly unmatched for variable optics. Being a tank is excellent, but Nightforce optics are also so freaking clear.
After seeing the world through the lens of a Nightforce optic, it's hard to go back to using other optics, or just my plain old eyes. The clarity of the NX8 series is no different. All that magnification is excellent, but without this level of glass, it would be largely wasted.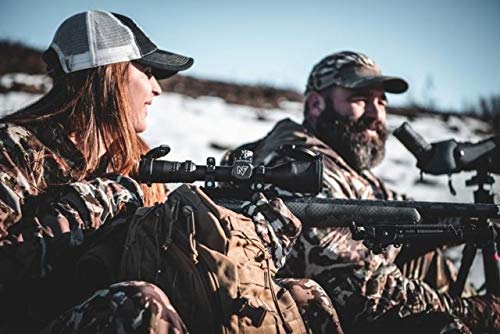 The NX8 delivers an excellent sight picture throughout its entire magnification range and allows you to see and hit targets way out there, as long as you have the right rifle and, even more importantly, the right skills.
Buy once cry once most certainly applies to these optics as well.
1750
at Amazon
Prices accurate at time of writing
Prices accurate at time of writing
6. Trijicon Credo Optics
I'm a bit of a Trijicon fanboy.
I find most of their products are absolutely amazing, and the Credo line looks like it might be their new flagship variable optic line. This line is made for duty use and built to the same professional standards that made Trijicon famous.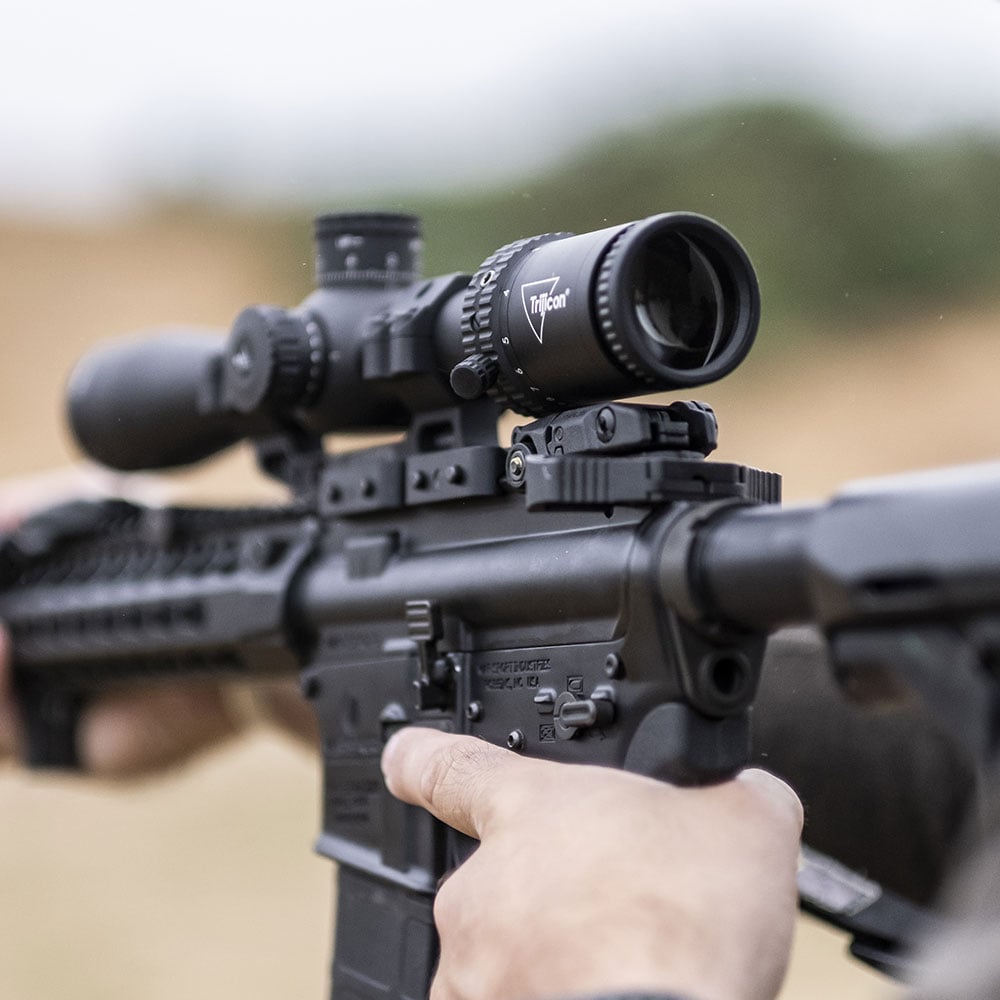 The Credo line might be Trijicon's most ambitious undertaking. It includes nine different models that start at a 1-4X LPVO and ends at a 4-16X powered optic. In between, you have just about every magnification combination you could desire.

Not to mention, the Credo series all offer two-eye open shooting capability and compatibility with the Bindon aiming concept. As you'd imagine, with so many different magnification levels, there are also tons of choices for reticles. The reticles range from straightforward, uncluttered designs for the LPVOs to more complicated long-range choices.

These optics also deliver excellent edge to edge clarity, which is a must-have when one of the big selling points for Credo scopes is their wide field of view.
Edge to edge clarity, a wide field of view, and the applicable Bindon aiming concept would make these perfect for fast-moving shooting and tracking for both hunting and tactical shooting.
I'm excited to see this new line from Trijicon, a company that seems to drag its feet when it comes to new products.
1020
at Amazon
Prices accurate at time of writing
Prices accurate at time of writing
7. Aimpoint CompM5B
Aimpoint is the premier red dot optics company, and its products have been used by shooting professionals, soldiers, hunters, and many more. The Aimpoint CompM4 is the Army's current M68 optic, and they invented the modern red dot optic.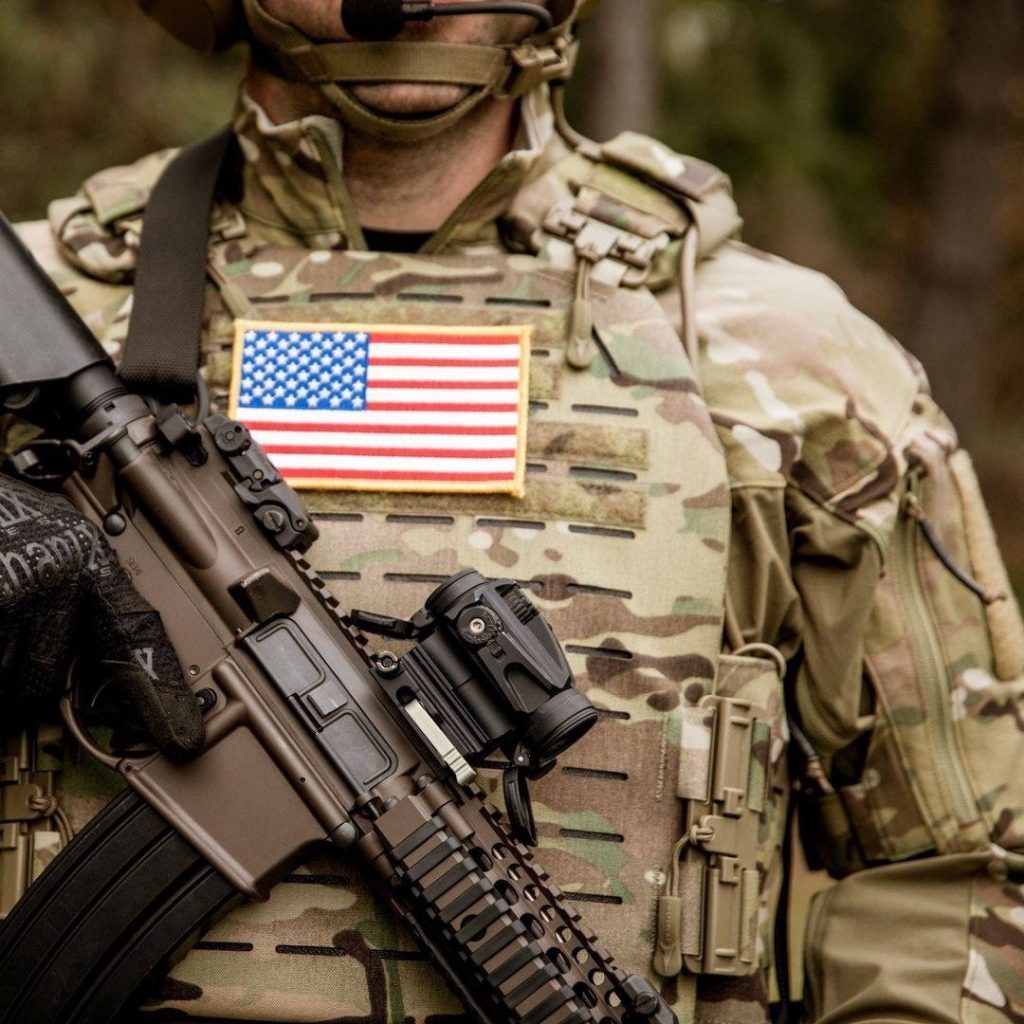 The newly announced (and not yet on the market) CompM5B might be the most ambitious red dot Aimpoint has created since the original 1975 model. It's the M5 with the addition of bullet drop compensating turrets, as wells a top-side ballistic turret that allows for instant adjustments to compensate for range.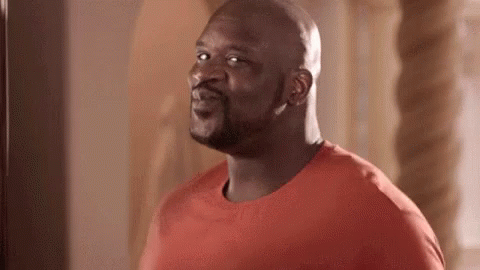 At the top of the turret is a series of numbers that coordinate with holdovers for specific ranges—aiming at a target 200 meters away? Simply rotate the turret to the correct number and boom. Got a target 400 meters away, well dial it into four and send it.
What calibers will the turrets be set in? Well, no one seems to know just yet, but we can assume the popular calibers will be present like 5.56, .308, and .300 Blackout, etc.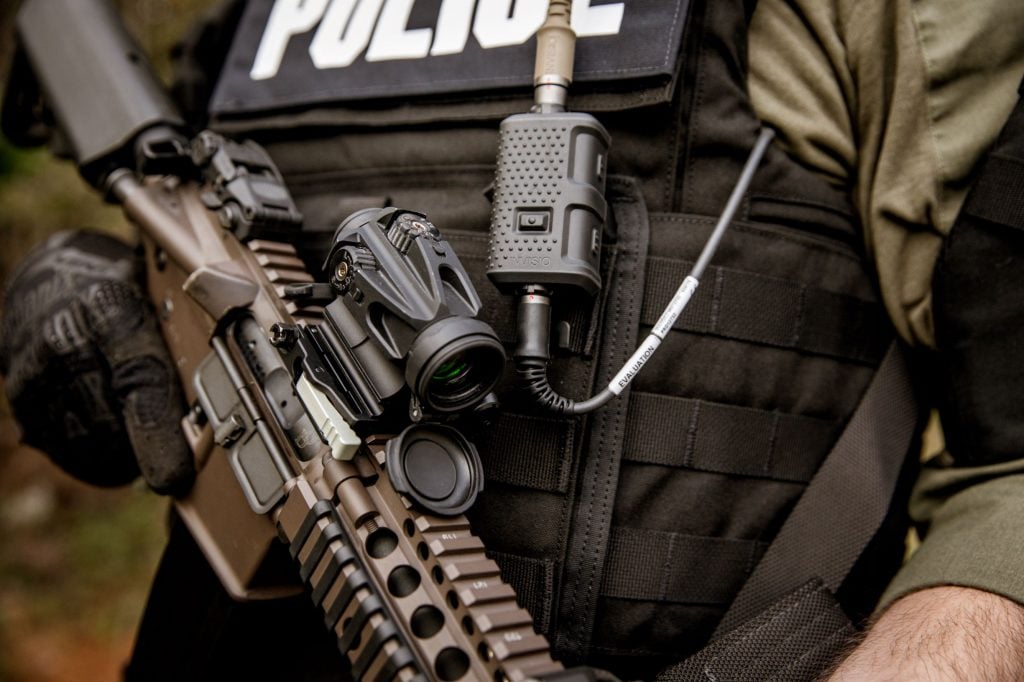 Beyond this unique function, the optic is still an Aimpoint.
That means rock-solid reliability, inherent precision, and it's an unbeatable red dot optic. The CompM5B looks to be starting a new chapter in red dot technology.
8. Vortex Razor Gen 3 1-10X
Low powered variable optics in the 1-10 realm are rare, but quickly becoming the new standard. 1-10X is a very versatile magnification range, and the Vortex Razor Gen 3 premiered at SHOT to great critical acclaim. It's one of the first high end, duty grade 1-10 power scopes, and that earns it a spot on this list.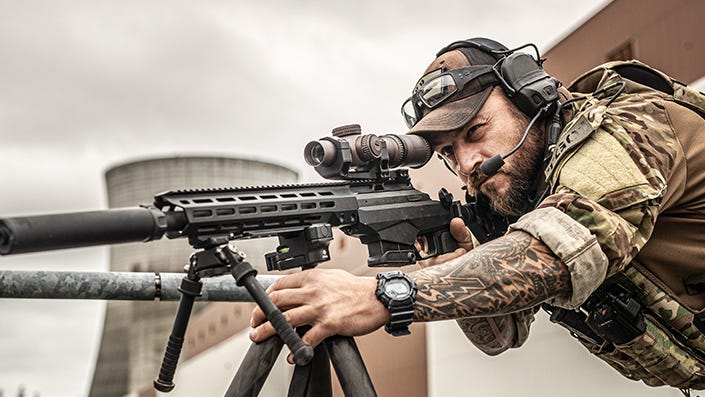 The Razor 1-10X uses their Enhanced Battle Reticle that somehow blends both a big illuminated circle with a big center dot for close-range shooting with a complicated long-range shooting reticle. It's complete with windage and bullet drop compensating holdovers for making rapid and complicated shots.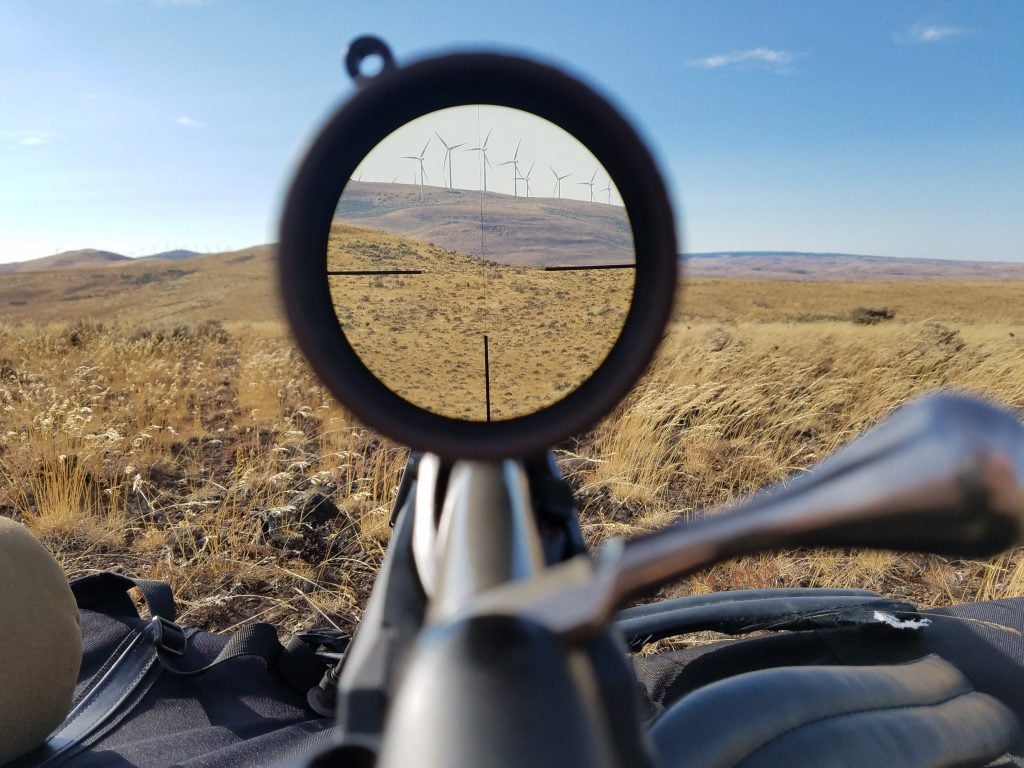 As police and military units move from bolt action sniper rifles to semi-automatic rifles, optics like the Vortex Razor Gen 3 1-10X are going to become the standard. The optic is incredibly versatile and built like a long-range precision scope in a slightly smaller body.
The Vortex Razor 1-10X has a lot of impressive features, and a lot of them stand out, but I was particularly impressed by the fact that it weighs the exact same as their 1-6X.
That's pretty neat, and very nice when you consider the fact this is a much more powerful optic that is just as robust without adding weight.
1999
at Amazon
Prices accurate at time of writing
Prices accurate at time of writing
9. Lucid M7 Micro Red Dot Sight
The Lucid M7 is a mid-tier red dot sight that's brand new for a company mostly known for its fixed power prism sights. The M7 is a very small, but it's an efficient sight that is quite robust for a mid-tier optic. It's water and shockproof and overbuilt to allow it to excel beyond what a red dot at this tier can do.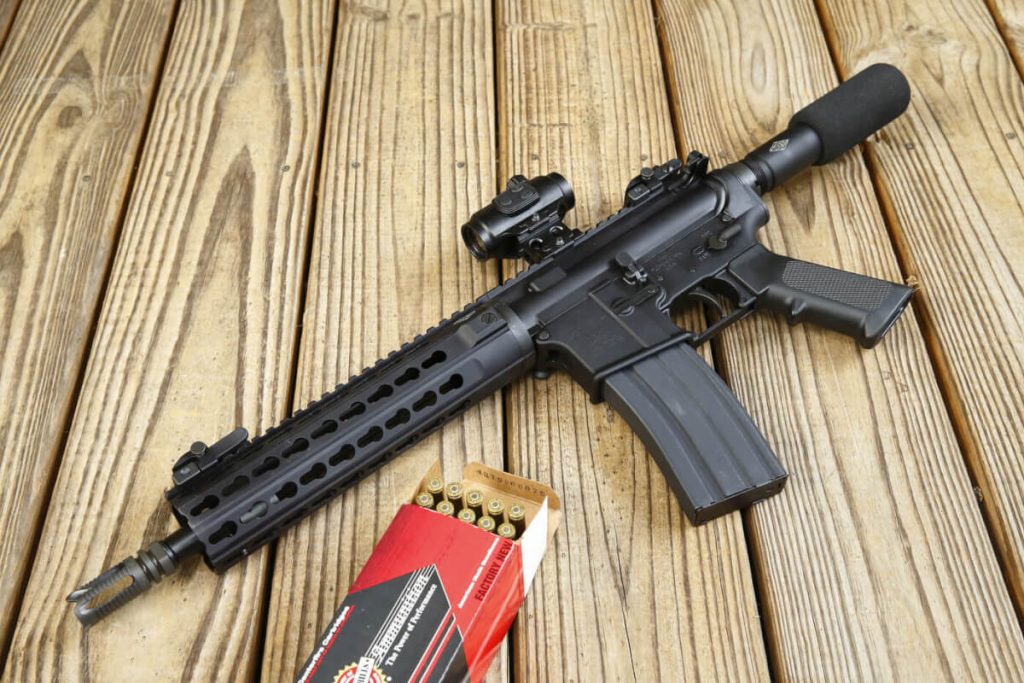 Best of all, the new M7 is 40% lighter than the older model without sacrificing any of the optic's durability. It also uses a CR2032 battery instead of a AAA.
The Lucid M7 red dot sight also features the M5 reticle. Red dot sights are traditionally just red dots, right? Well, the M5 reticle is a half-circle with a dot in the center and a chevron under the half-circle.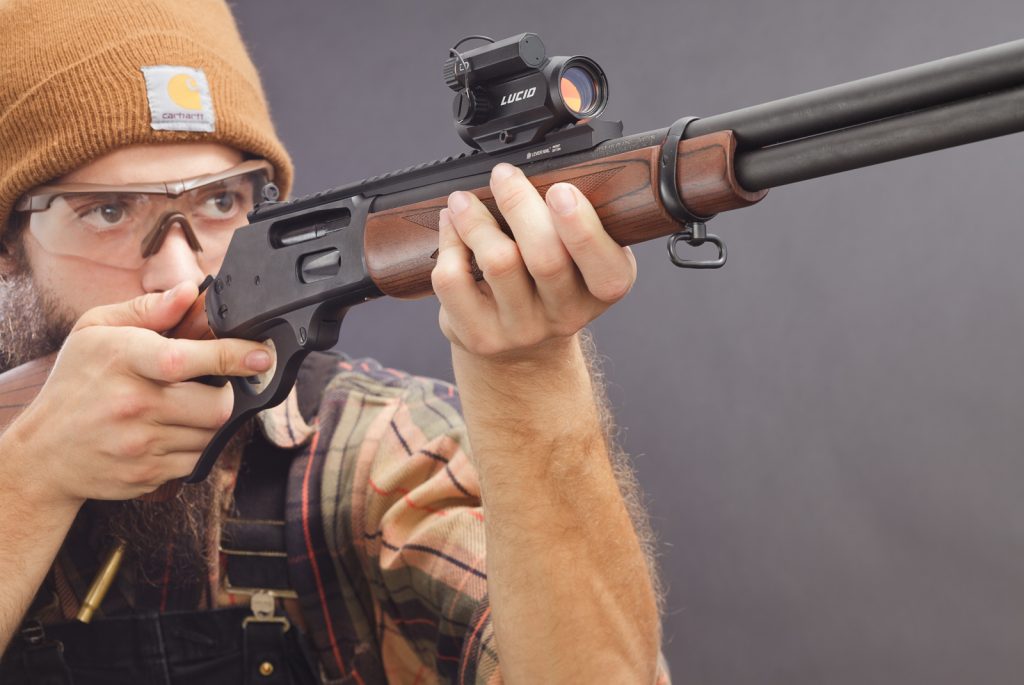 The larger reticle is easier to acquire with the eye and does allow for quicker close-range engagements but still gives you the ability to accurately hit targets at 200 yards or so. The M5 reticle is more versatile and handy to me than a traditional red dot reticle.
The mounting system is also versatile and allows shooters to mount the optic at a variety of different heights for different weapons or cowitnessing situations. The MSRP is 309 bucks, but online prices seem to be closer to around $250, making it plenty affordable.
240
at OpticsPlanet
Prices accurate at time of writing
Prices accurate at time of writing
10. Holosun 507K
With pistol red dots becoming the new normal, we are seeing smaller and smaller pistol be equipped with optics. For a long time, micro red dot sights were limited to the Shield RMS-c, and that was it.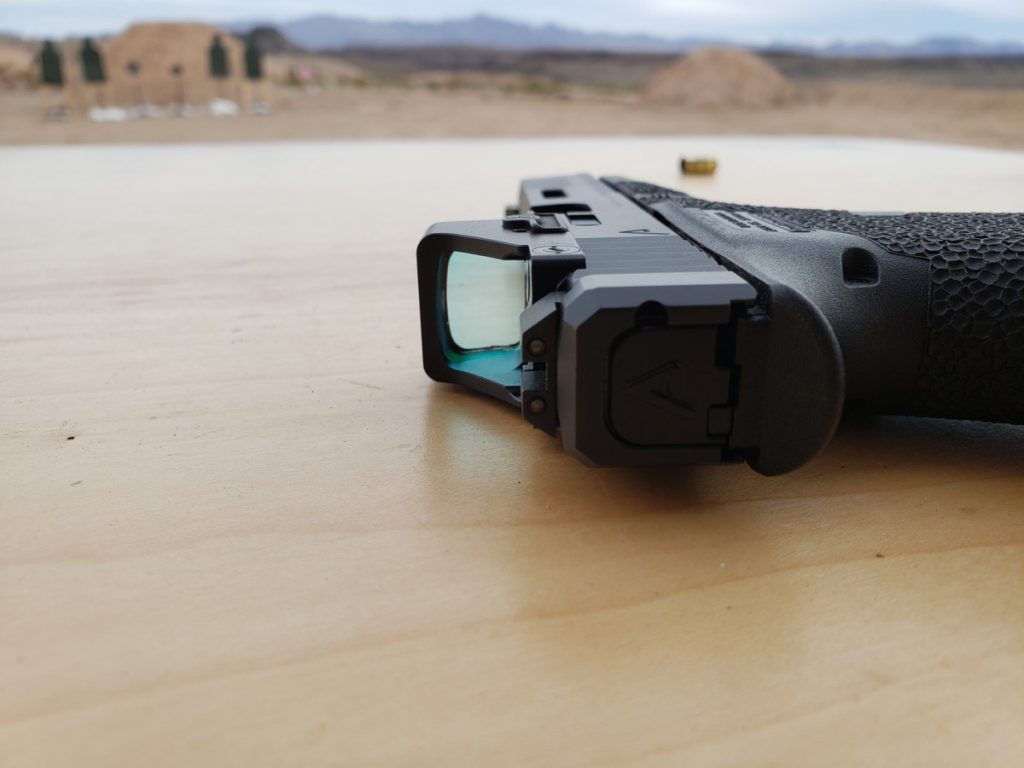 The Shield RMS-c seems to be the gold standard, but it appears that Holosun is giving them a real challenge with the Holosun 507K. The 507K fits the RMS-c footprint but completely blows the RMS-c out of the water.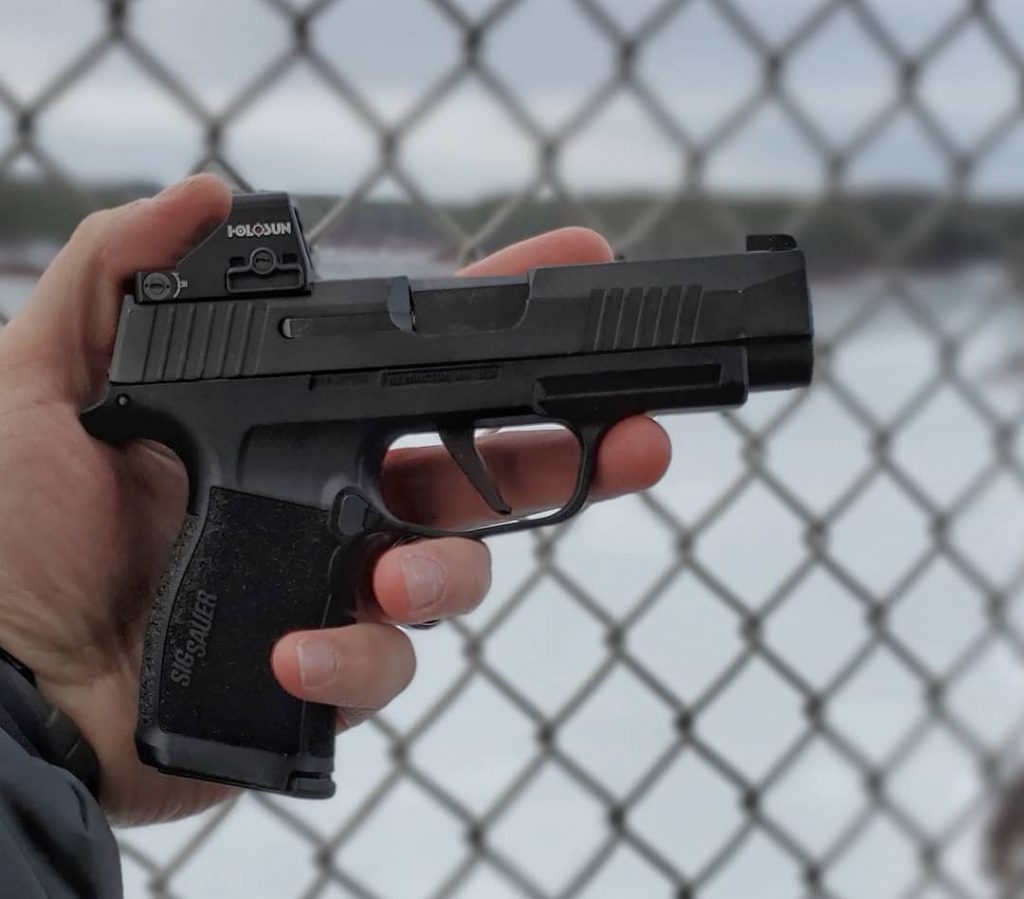 With the 507K, Holosun offers shooters numerous advantages over the Shield RMS-c including:
Sideloading battery (No need to remove optic to change batteries.)
Three reticle options
Side-mounted controls
300 Dollar price tag
The 507C has proven to be just as durable as a Trijicon RMR, so I have no doubts the 507K will be well worth the money. While the 507C isn't out just yet, I can't wait to throw one on my P365.
289
at Brownells
Prices accurate at time of writing
Prices accurate at time of writing
The Wide World of Optics
These new scopes, red dots, LPVOs, and prism optics are only a small taste of a very big optic industry. These are just a few of my favorites–well, is ten (or eleven…) still a few?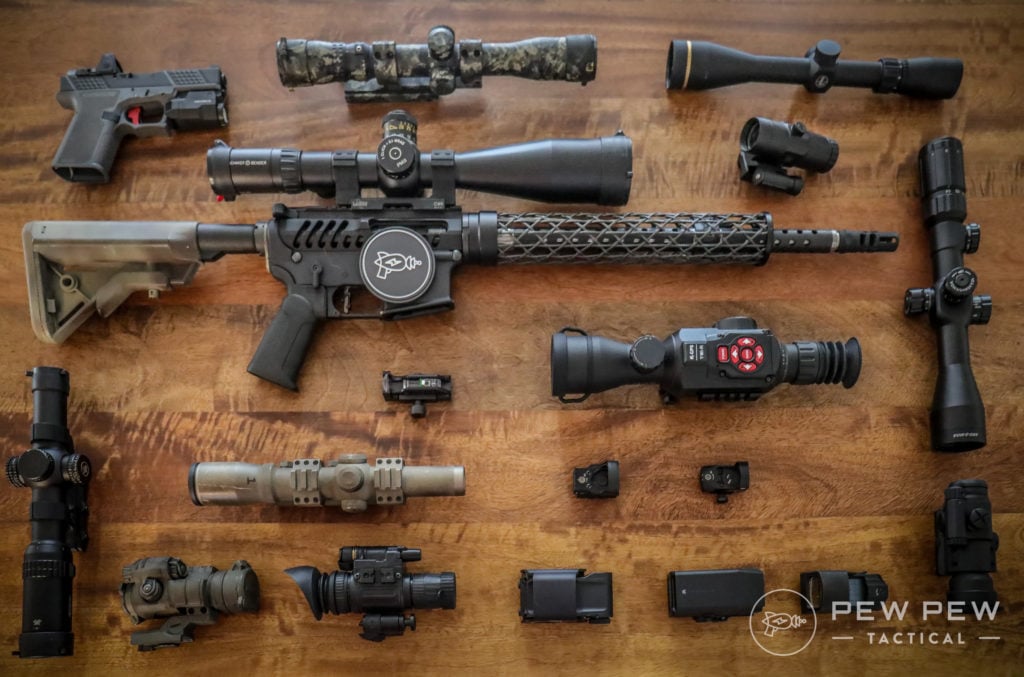 Tell us what new optics have you seen that are drawing your attention? Which ones have you used that you love? Best yet, does anyone disagree with a choice on my list? Let us know below. And if you're on the hunt for something new, give our Best New Guns of 2020 list a quick peek!