It's a whole different ballgame when you're aiming at a target over 1,000 yards away.
Every shot counts (especially when you consider ammo costs), and there's no room for error at that distance.  Your shooting needs to be on point, and just as importantly, you need a high-quality setup for your rifle.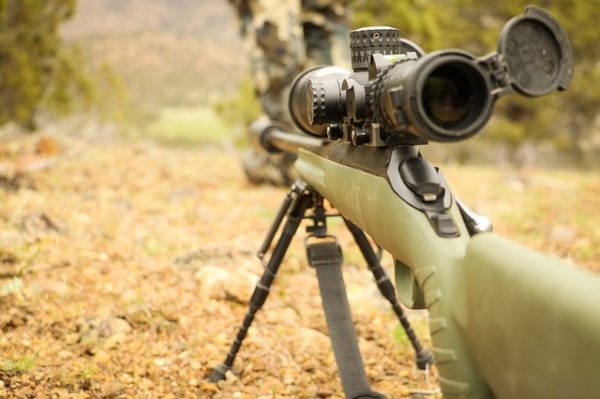 The rifle itself and your ammo both play a major role in your success, but you also need a topnotch long-range scope to acquire and put shots on your target.  At that far out, there are more factors at play than just lining up your sites.  Wind, elevation and bullet drop can easily turn a hit into a miss.
Whether you plan to go hunting in the mountains or you've gotten into precision rifle competitions, here are the scopes I consider the absolute best for long-range shooting at 1,000 yards and further:
1. Vortex Razor HD Gen II 4.5-27×56 FFP
The Vortex Razor HD has always been one of the premier riflescope lines on the market, and the Gen II only improves on the design.  
As you no doubt noticed already, you have your choice of choice of three reticles depending on what style you prefer, with all of them available for the same price.
Most Versatile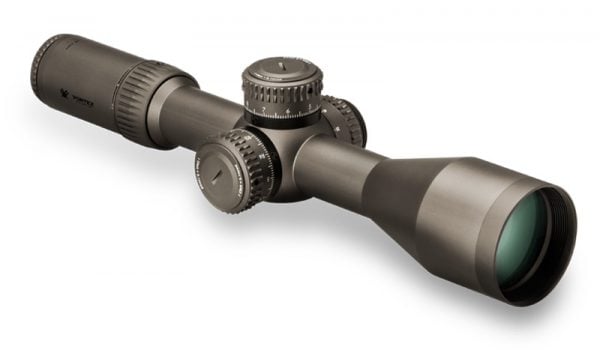 Vortex Razor HD Gen II 4.5-27x56 FFP
Prices accurate at time of writing
The term HD indicates that this scope has high-density, extra-low dispersion glass, and you'll notice the quality the moment you look through it.  Vortex coats the glass with XR Plus to avoid any reflection and provide the best light transmission.  Another perk with this scope is that it has an illuminated reticle, which means you can still shoot accurately if you're out hunting at dusk or dawn.
The side focus makes it easy to adjust your image without getting out of position or losing your target, and this scope also boasts an external rotation indicator.  At 27x magnification, this scope will be effective at well past 1,000 yards.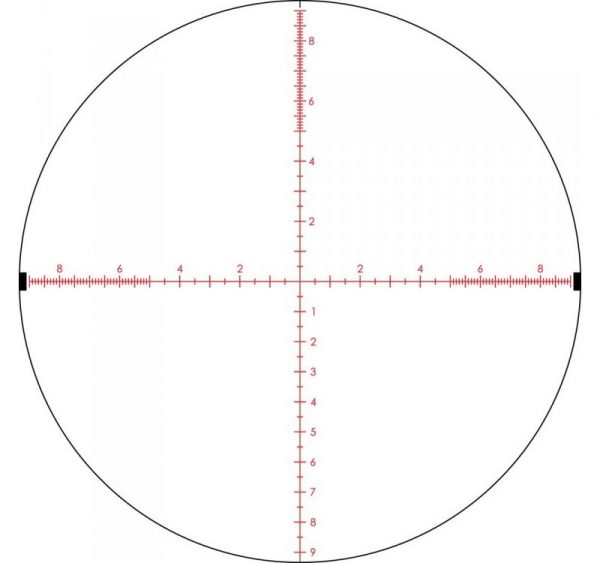 Vortex certainly built a tough, durable scope that can handle being banged around.  Waterproofing, fog-proofing and shock-proofing ensure that your scope is protected from the elements and the recoil of shooting even heavier ammo.
Although $2,499 is by no means cheap, this is one of the more affordable long-range scopes you'll find.  
And for the level of quality it provides, it's a great value.  That tends to be true for all Vortex scopes, as the manufacturer represents a nice midway point between the bargain-basement manufacturers and the high-end brands.
2. Nightforce ATACR 7-35×56 F1
Nightforce is another manufacturer known for high-quality glass, and the ATACR is its premier line.  
You'll be able to make parallax adjustments as low as 10 meters, and the wide magnification range makes this the only scope you'll ever need, as you could use it at short range all the way up to ultra-long ranges beyond 2,000 yards.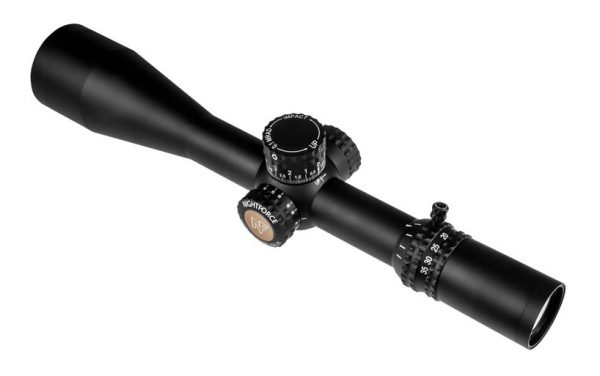 Nightforce ATACR 7-35x56 F1
Prices accurate at time of writing
The big decision to make with this scope is the reticle you want.  Much of that will come down to personal preference and the reticle you feel most comfortable using, since that will allow you to get the best performance.
Regardless of the odd capitalization choices in the Horus TReMoR3 reticle, that's the one I've found to be the most effective, particularly when I need to get a shot off quickly.  The other reticles are also good for fast shooting, but the TReMoR3 is great for elevation holds and wind calls.  The illumination is a nice touch, as well, and you may be surprised at how much it can help in low lighting.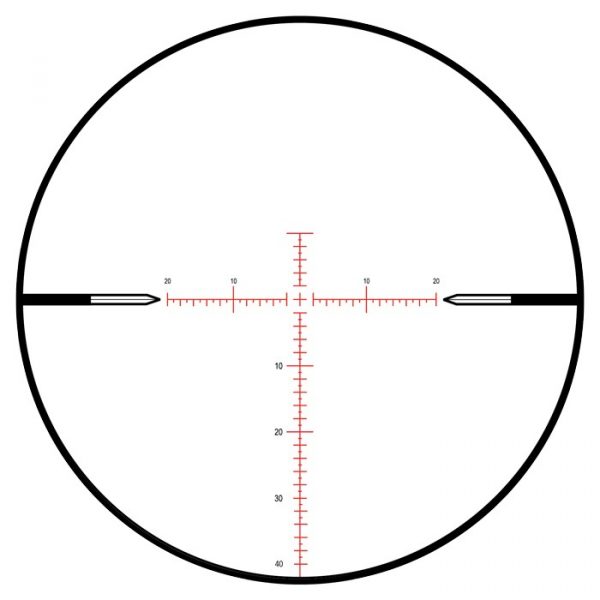 The TReMoR3 reticle will cost you more, but when you're already paying over three grand for a scope, it doesn't make sense to let a few hundred bucks affect your decision.  None of this is to say that the other reticles are poor choices – they can definitely work very well for you.  I just think Horus has outdone itself with the TReMoR3.
3. U.S. Optics B-25 5-25x
The U.S.  Optics B-25 has a simple, sleek aesthetic, and that simplicity extends to its controls.  
It won't take you long to learn the ins and outs of this scope, which has windage and elevation knobs that lock in place to ensure you don't lose anything after firing a round.
You can control the illumination on the scope with one button that U.S.  Optics integrated into the parallax adjustment knob, making it easy to get the parallax right and turn your illumination up or down in one go.  The advertised battery runtime for the illumination is up to 500 hours.  Your mileage may vary in that regard, but it's safe to say that the battery will last you a long time.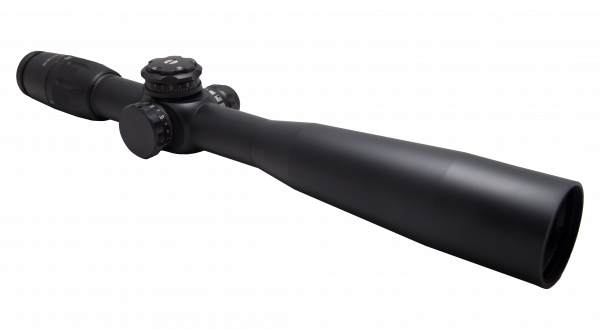 U.S. Optics B-25 5-25x
Prices accurate at time of writing
Optics designed this scope with quite a few different reticle options, and once again, your personal preference will play a big part in which reticle is right for you.  The aforementioned Horus TReMoR3 is available, along with a few other excellent offerings by Horus.  If you're primarily interested in precision rifle competitions, then the PR2 is a great choice, since that's what it's intended for.
In terms of pricing, this scope is competitive with similar offerings from Nightforce and Schmidt & Bender.  If you shop around a bit, you may be able to score a deal.
4. Schmidt & Bender 5-25×56 PM II Digital BT
With its magnification range and a large field of view, this Schmidt & Bender scope works well at almost any distance from your target.  The maximum 25x magnification may not be as far as a few of the other scopes on this list, but it's more than enough for most situations.
If you're regularly expecting to be several thousand yards away from your target, you may need more powerful magnification, but otherwise, this scope will be more than enough.

Schmidt & Bender 5-25x56 PM II Digital BT
Prices accurate at time of writing
A highlight of this scope is that it's compatible with a wide range of external devices, such as ballistics computers and laser rangefinders.  Simply press one button and you'll have info from those devices projected into your field of view.  You don't need to use any other devices to get the most out of this scope, but it's nice to have the option available.
Reticle options include many of the most popular offerings available through Horus, and no matter what type of reticle you like, it's probably available with this Schmidt & Bender scope.
What's your take on the S&B if money were no object?
5. Vortex Golden Eagle HD 15-60×52
If you're planning to sign up for any bench rest competitions or you just want a scope that can remain effective at the furthest possible ranges, then the Vortex Golden Eagle HD 15-60×52 is hard to beat.  Like all Vortex's best scopes, it has that crystal-clear HD glass with fogproofing, and its maximum magnification is among the most powerful you'll find.
Highest Magnification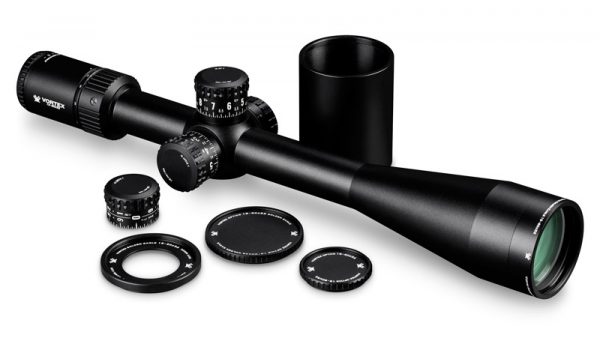 Vortex Golden Eagle HD 15-60x52
Prices accurate at time of writing
Since this is a scope that's designed for competitions, Vortex has made it fairly light at just 29.5 ounces, ensuring you can use it even if your competition has a weight limit on equipment.  This lightweight design also comes in handy when you're going on long hunting trips that involve hiking through woods or mountains
I only have two small issues with this scope.  Since the magnification range starts at 15x, this isn't a scope that will be at its best for short-range shooting.  That's to be expected because of how high the magnification on this scope goes, but it's still important to note in case you need something more versatile.
The other issue is that there are only two reticle options.  Those reticles will be fine for most shooters, but it is a drawback when you compare this scope to some of the other offerings on this list that have many more reticles available.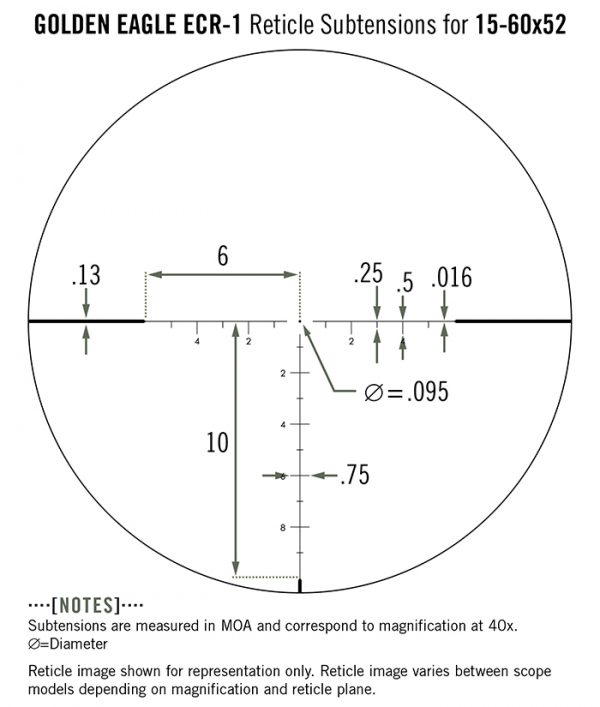 Of course, at a hair under $1,500, this is by far the most inexpensive scope on this list.  You may not be getting all the bells and whistles of those scopes that cost over $3,000 and $4,000, but this scope is one of my favorites in term of bang for your buck.
6. Leupold Mark 8 3.5-25×56 M5B2 Illuminated Front Focal
High-end Leupold scopes like this one cost a pretty penny, but you're getting great glass with all the features you could ever need for what you spend.  The design is rugged enough to withstand drops and impacts, while the waterproofing and fogproofing keep your scope working properly in any weather conditions.  To put it simply, this is a scope that will last you a lifetime.
Best Illuminated Reticle Scope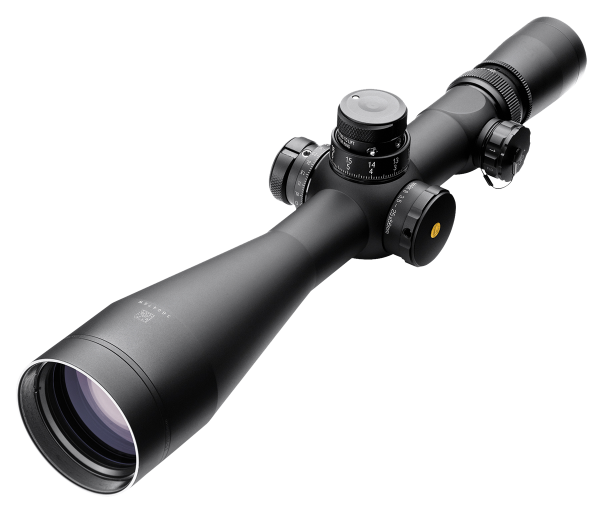 Leupold Mark 8 3.5-25x56 M5B2 Illuminated Front Focal
Prices accurate at time of writing
At lower magnification levels, you'll have a spectacular field of view that's perfect for target acquisition.  This scope allows you to make very precise adjustments at any range, and an adjustable eyepiece keeps you comfortable, which you'll appreciate on those days when you're spending hours with your rifle.
This is another scope where there are more reticle options than the ones currently being sold on Amazon, and you can typically find them for sale by shopping around online or using Leupold's dealer locator.
I recommend going online first to see what kind of deals are out there, because Leupold scopes are costly when you buy them new through a dealer.  For example, this scope has a manufacturer's suggested retail price (MSRP) of well over $5,000 on Leupold's site, but Amazon has them for much cheaper.  You can also save some money if you don't mind going with the non-illuminated version of this scope.
Staying on Target
The long-range scopes listed above are the ones I've found to be the cream of the crop, both through my own first-hand experiences and reviews from other shooters.  I wouldn't say any one of them is the de facto best, because that really depends on your specific needs and what you like.  Rest assured that they all provide reliability and accuracy from over 1,000 yards out, and you'll be protected by their excellent manufacturer warranties.

If you want good performance but don't have thousands available to spend, there are also plenty of affordable optics options on the market.  Just know that if you want quality performance at long range, you need to pay for it.
Long-range shooting is a fun challenge that every shooter should try.  Let me know what you think of these scopes, plus any that you feel should have been on this list, in the comments.