Which high-end optic reigns supreme?
We finally got around to brutally executing a handful of some of the highest end optics on the market on camera – for both dubious scientific conclusions and of course, for your sick, sick entertainment.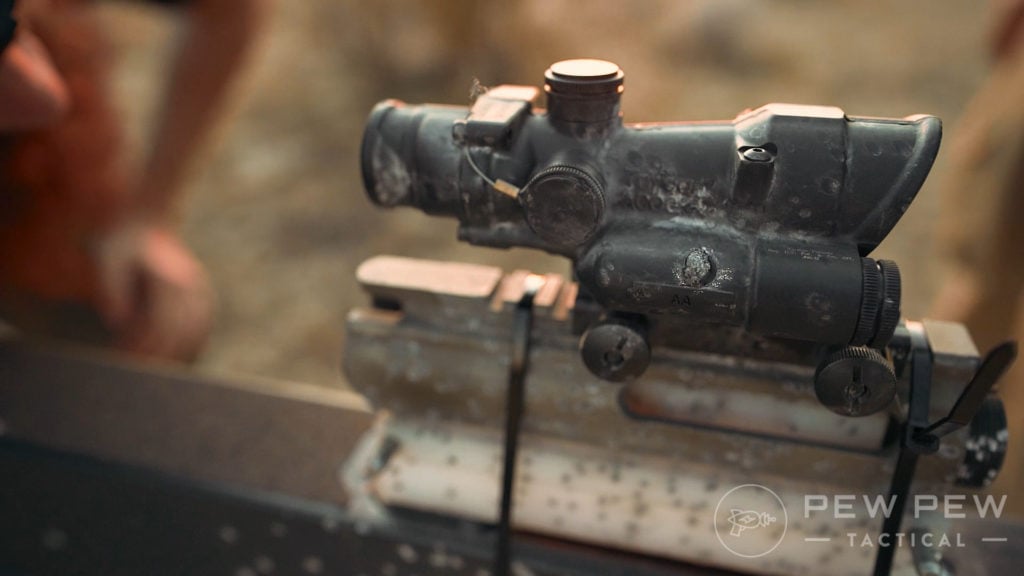 So, gather around and get your screechin' keys ready – today we're torture testing some pricey ass scopes.
Specifically the Aimpoint CompM5, EOTech EXPS 3-0, Trijicon MRO and TA02 ACOG, and Sig Sauer Romeo 8T to subject to a series of stress tests to determine just what type of abuse these bad boys can stand up to.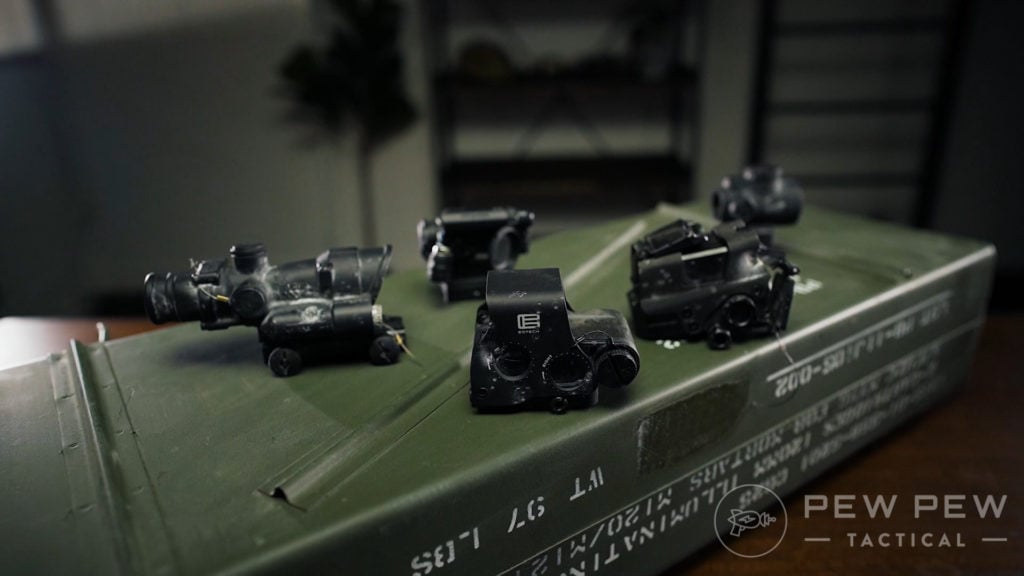 And it feels appropriate here to state the obvious: These are not, inherently, incredibly scientific tests, as we have an absolute ton of variables that we're not quite able to account for.
Watch the whole thing here! Then please sub to our YouTube Channel.
Table of Contents
Loading...
Round 1: Submersion, Temperature, and Drop Test Trials
Water Submersion
First up!
We subjected all of the optics in the lineup to a small submersion test. Admittedly, this was mostly just to test for waterproofing, as an actual submersion test would be done at depths that bring pressure into the equation as well.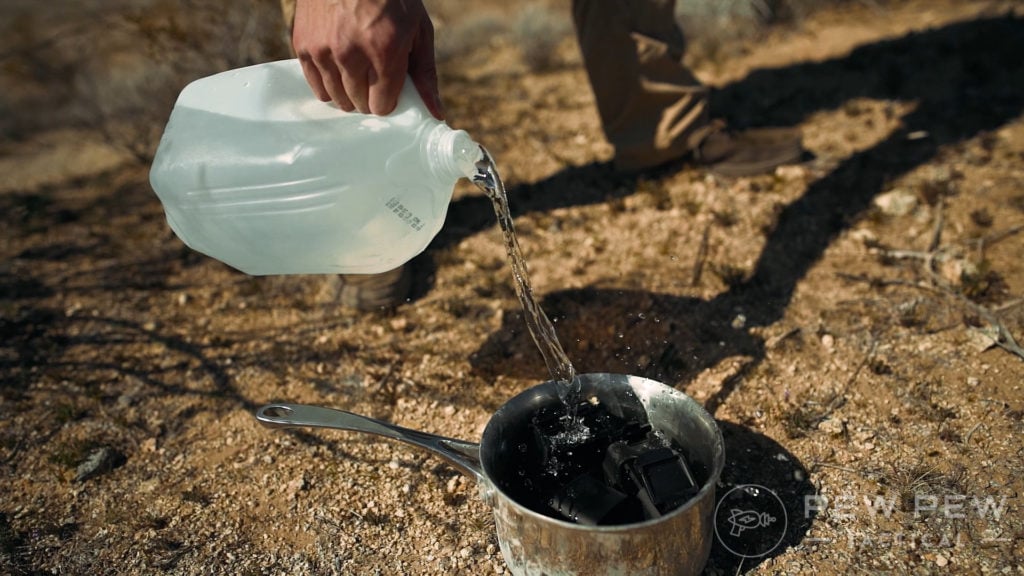 All the optics took a brief dunk, and unsurprisingly, all of them survived. Wow!
Thermal Drift
Up next!
We got all of our optics zeroed and shot a 3 round group at about 50 yards to demonstrate our initial point of impact spread – establishing a basis for observing any shift in our zero throughout the rest of the test if one does occur.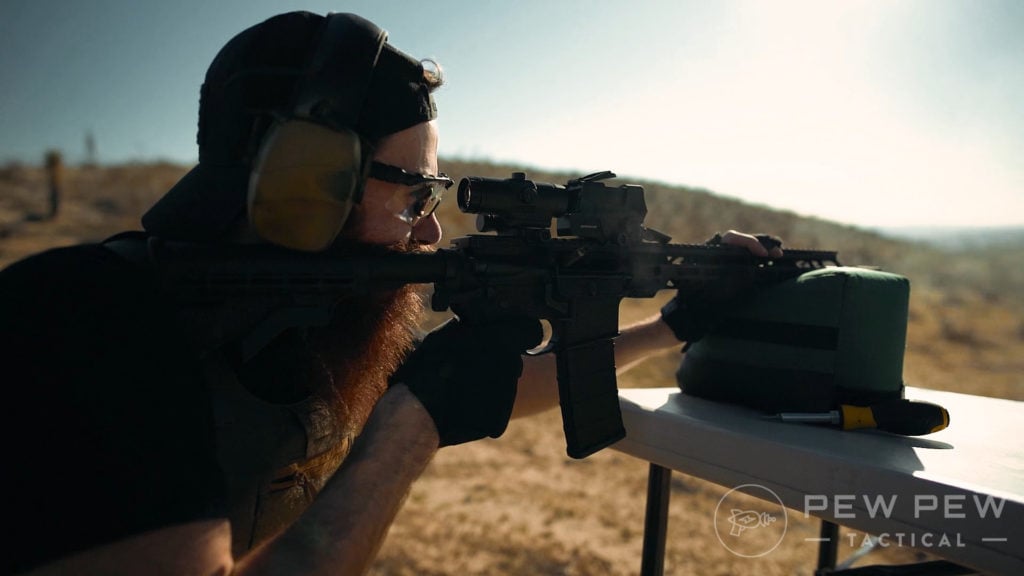 All optics outside of the ACOG were used in conjunction with a Vortex 3x magnifier
However, it should be noted that we didn't realize the MRO had a slightly lower mount than everything else and we encountered a tiny bit of a ghosting problem as a result.
But we don't believe that affected the end results.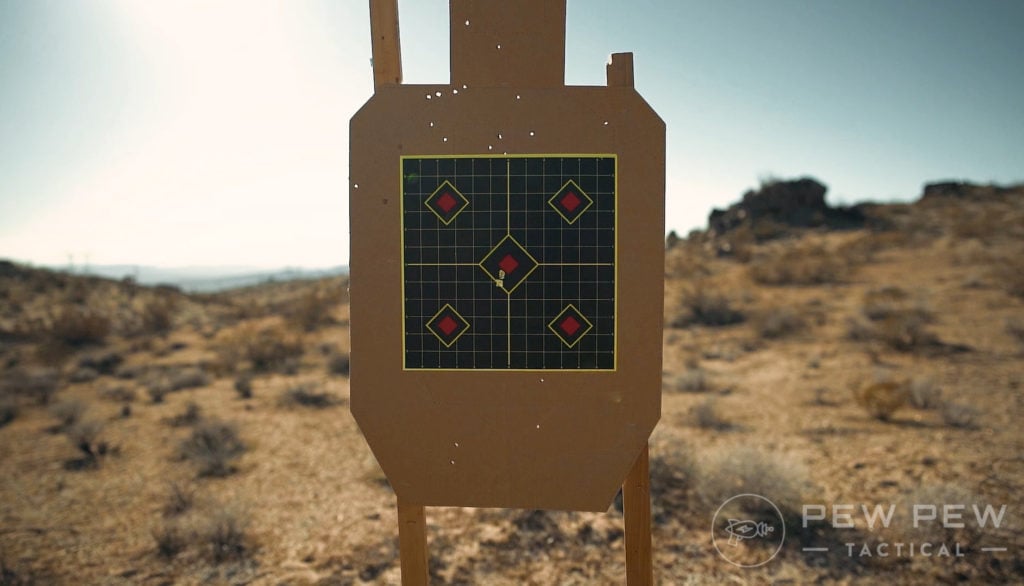 With our initial groups established, we moved on to test number two – a quick succession of rapid heating and cooling.
Some of you may be familiar with the term 'thermal drift', which is essentially the process by which optics may lose their exact zero when subjected to extreme temperatures, or rapid temperature changes, due to expansion or contraction of the components inside of the sight itself.
The military tests this with big fancy cryo chambers that can heat the environment all the way up to 140 degrees Fahrenheit, or cool it down to a brisk -40.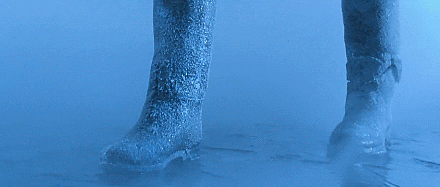 Although that's obviously a huge temperature spread, it can be an issue if you're doing some coolguy shit like HALO jumping into a hell desert or something.
Unfortunately, as we don't have access to that sweet sweet military-industrial complex wallet, we had to settle for… something a bit less extravagant.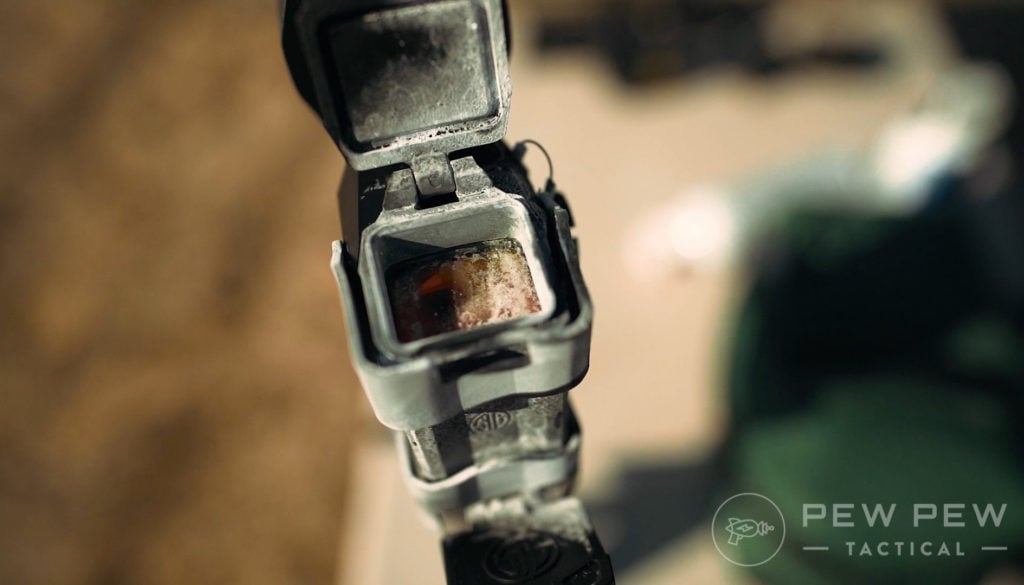 Each sight was blasted with compressed air held upside down, subjecting them to a stream of freezing liquid CO2 because of… science?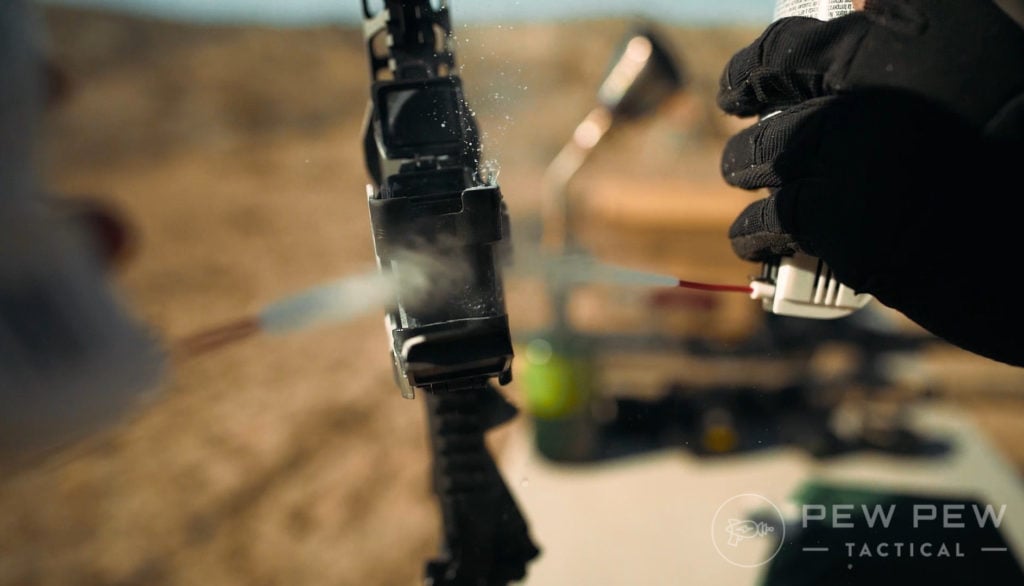 🤷‍♂️ We continued cooling the optic until a laser thermometer registered a temperature of around -30 to -40F.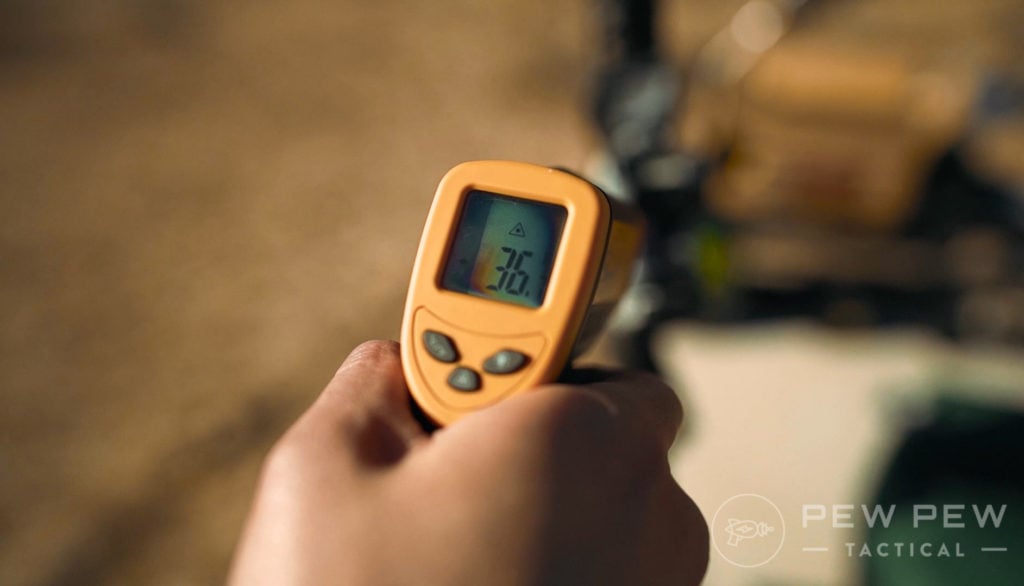 From there, we used a butane torch (usually reserved for searing sous-vide steaks) to reverse the process and nail the sight with heat until a temperature of around 130F or so was reached.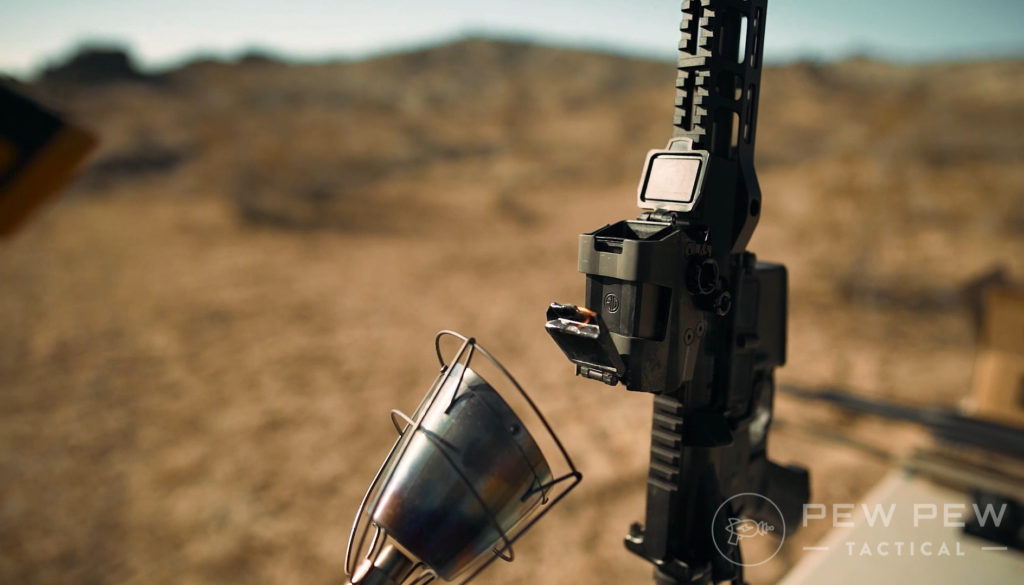 Before anyone says it, we're fully aware that both the heating and cooling cycles here are super imprecise, and it's entirely likely that our temperature readings were only reflecting the surface temperature of the optic.
Which wouldn't necessarily reflect the prolonged exposure that hits the internals of the sights that the military tests for – but…. Ehhh?
Once again, all of the optics survived the thermal drift test without issue, although it should be noted that the ACOG appeared to suffer some kind of strange issue that caused the optic to become a bit foggy, if that makes sense.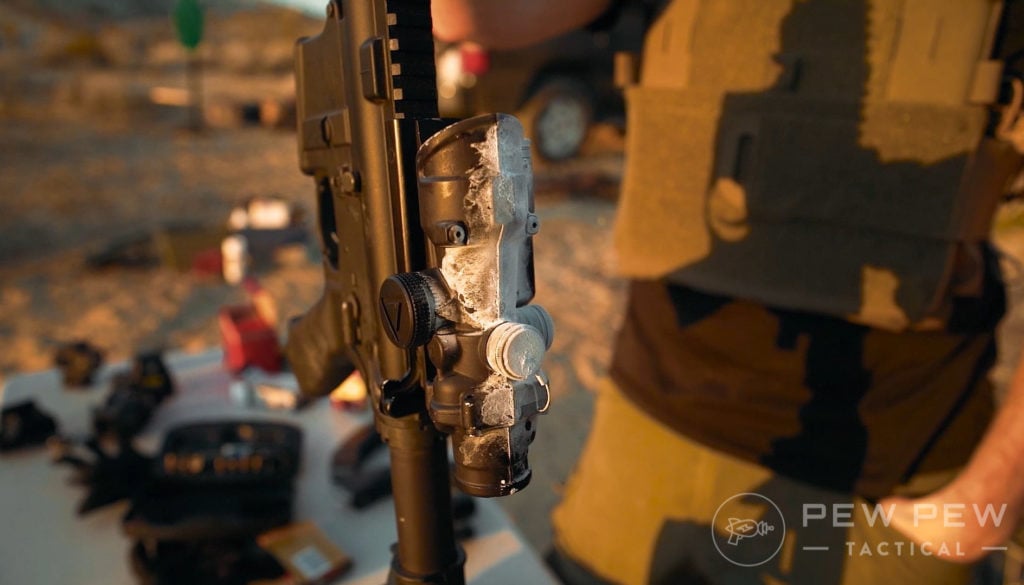 We're not entirely sure how this happened, as all of the optics in theory are nitrogen purged and shouldn't be permeable.
Although it's potentially possible that either the cold or heat damaged some kind of film on the glass itself, if such a thing exists. Regardless, the optic was definitely still usable.
Drop Testing
While still not incredibly scientific, we made an attempt to drop each optic in a similar manner directly onto a large rock about 5 or so feet below it – an identical process to what dealt the killing blow to a lot of our cheaper optics in our previous torture test.
We did, however, ensure that all windage and elevation adjustment turrets caps were installed this time.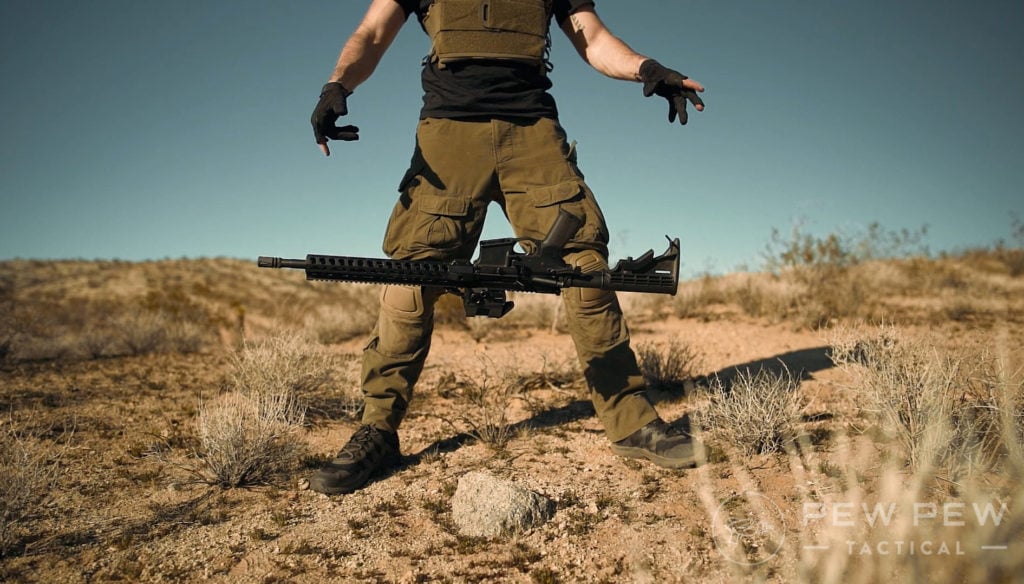 Sig Sauer Romeo 8T
Sig's Romeo 8 had the honor of being first to take the death dive, and after a pretty solid impact on its outer protective shroud, it came away a bit scuffed up and slightly dented.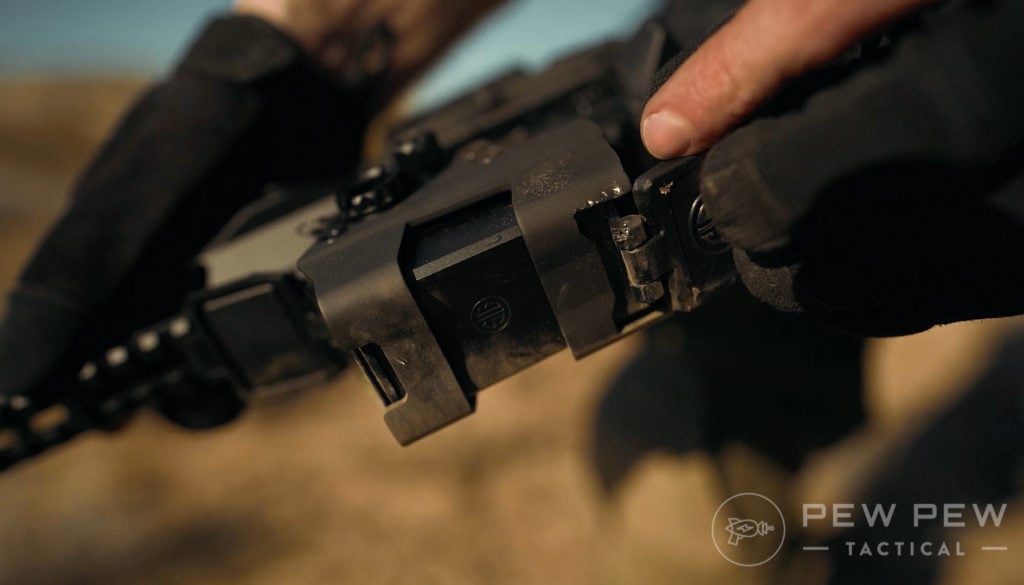 However, after throwing the magnifier back on and shooting another 5 round group, we saw no real detectable POI shift after the drop, and everything on the optic appeared to still be in normal working order.
However, Aimpoint's Comp M5 would not be quite so lucky.
Aimpoint Comp M5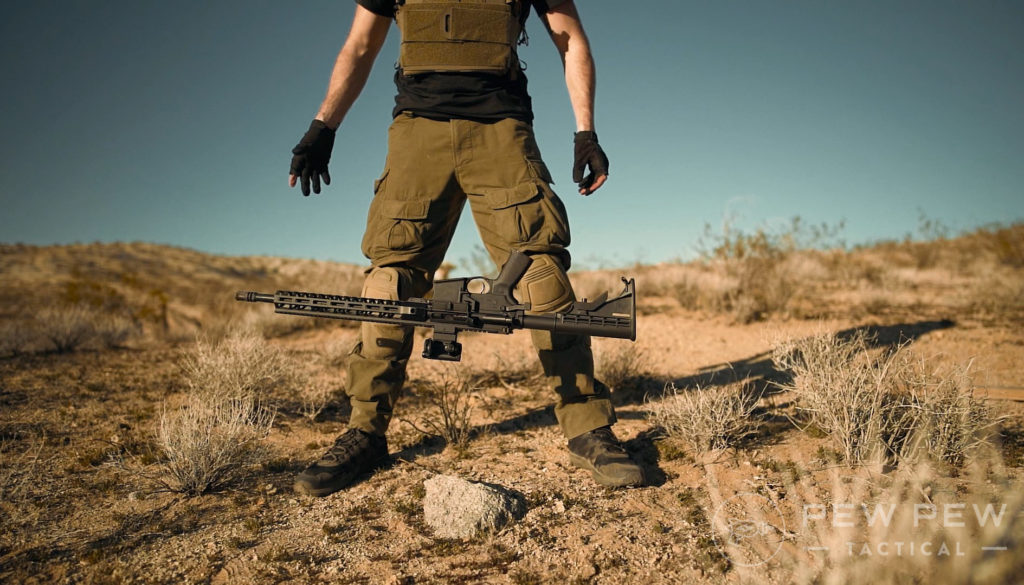 Same drill – we dropped the optic as best we could on its top surface, and in this case, the rock exploded the shit out of the battery compartment – which is honestly kind of surprising.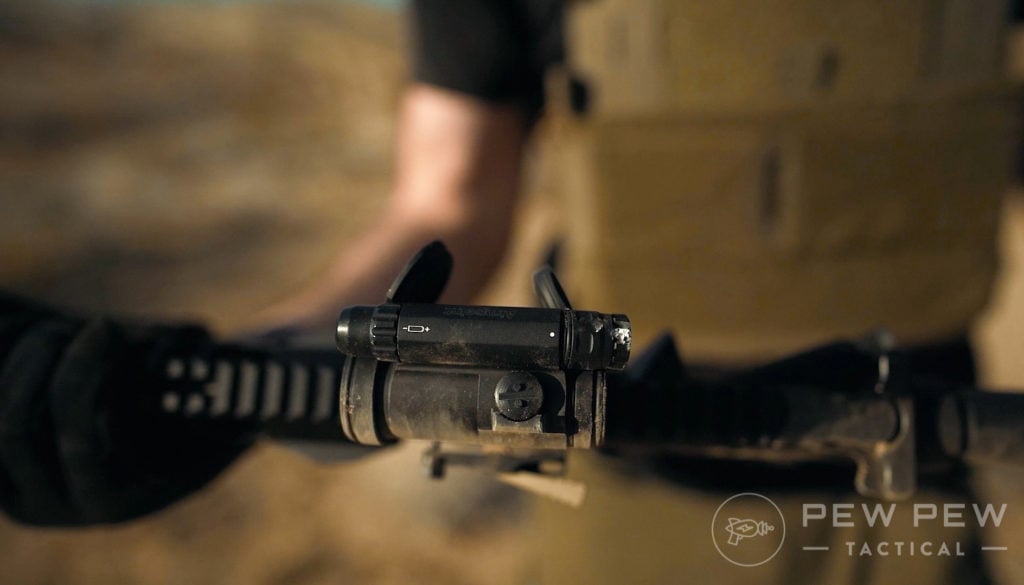 We've had great luck with Aimpoint in the past, and weren't actually expecting the drop test to render any of the optics here dysfunctional, but here we are.
Although it appears that a portion of the battery cap assembly had actually become dislodged from its housing, we saw no actual hard breakage in the materials at a glance.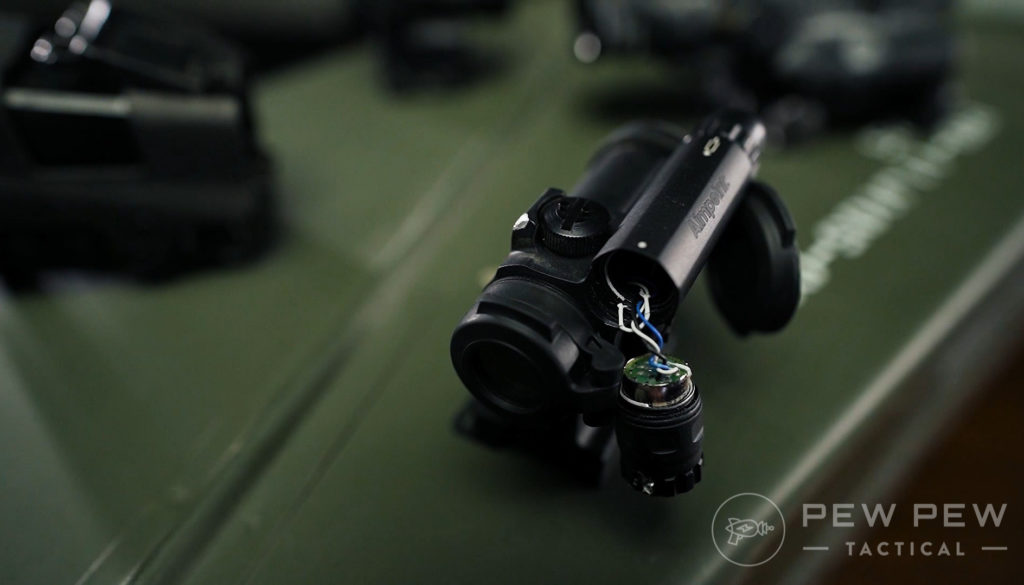 Regardless, this doesn't appear to be something that'd be fixable in the field, and as such, the Aimpoint Comp M5 has been eliminated.
Tragic, truly. We actually spoke to Aimpoint about the issue and they appeared genuinely surprised, and have requested that we send the optic back for inspection.
We'll be updating the article once we've got more info and some hands-on time with the follow-up unit they're sending as a replacement.
EOTech EXPS3-0
Next up to take the plunge was our EOTech EXPS3.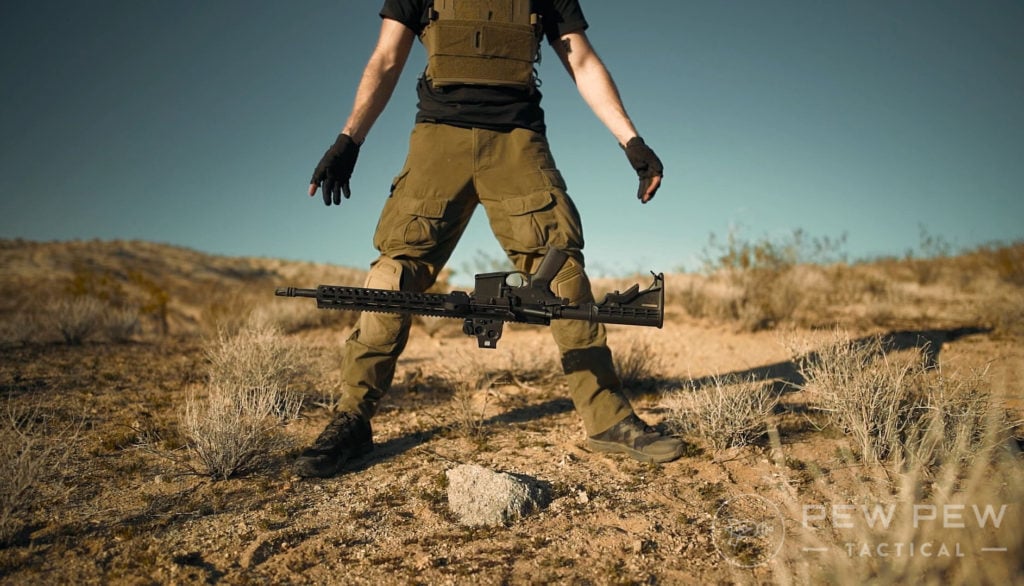 Unsurprisingly, the protective shroud on the EOTech took the brunt of impact just as Sig's optic did, and despite a bit of deformation and some scuff marks, she held zero with no detectable POI shift. Yay.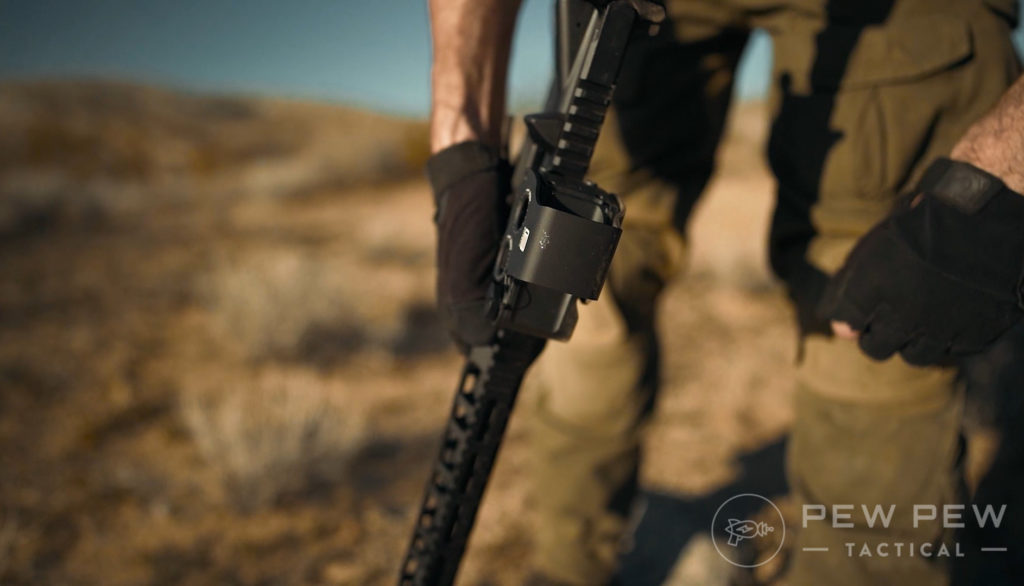 Trijicon MRO time!
Trijicon MRO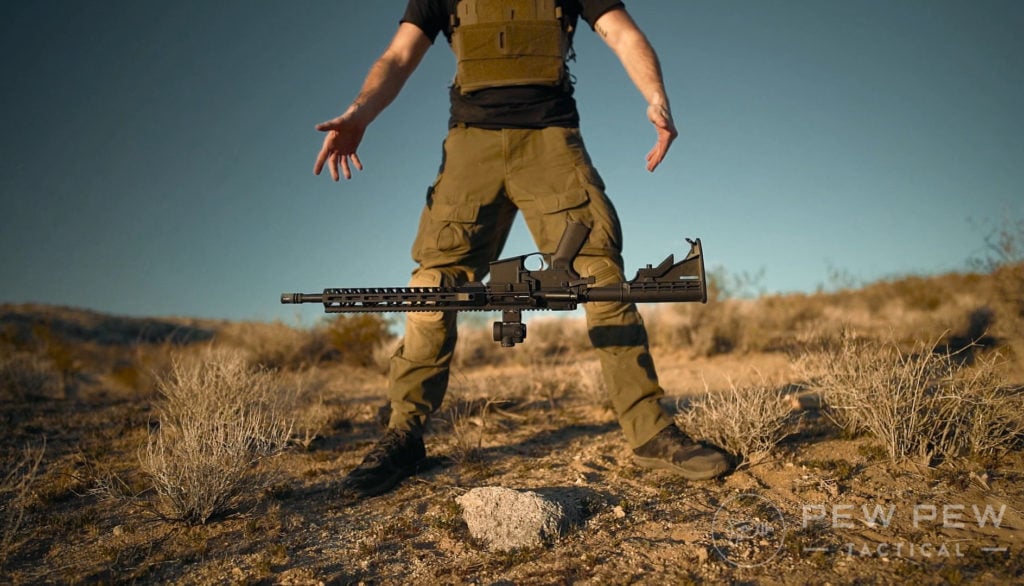 The MRO took a substantial hit to it's illumination knob on the drop, although everything did remain intact and the optic was still on and appeared functional.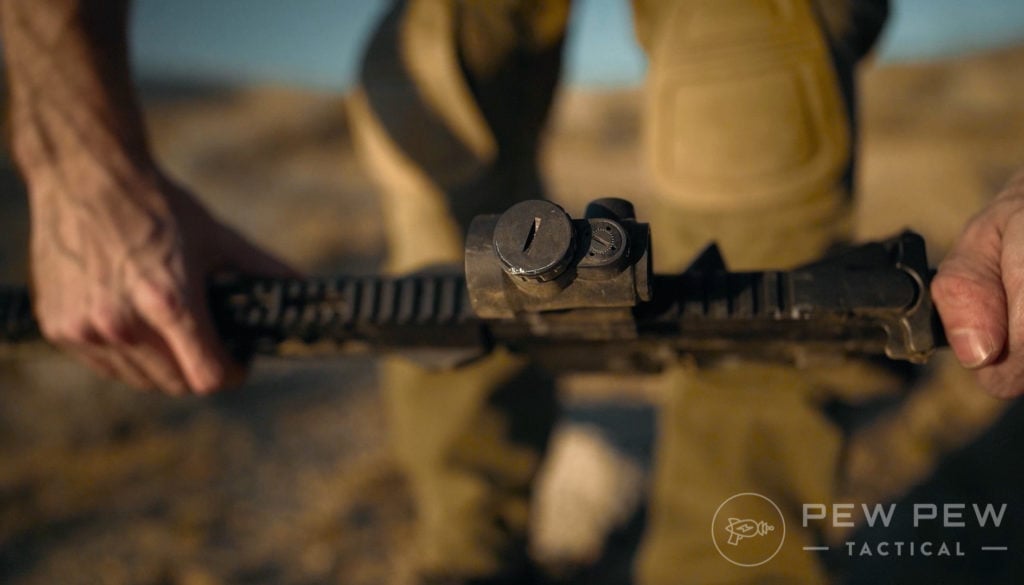 However, once we returned back to our table to shoot another group, it appears as if our POI had shifted pretty significantly – now hitting high left.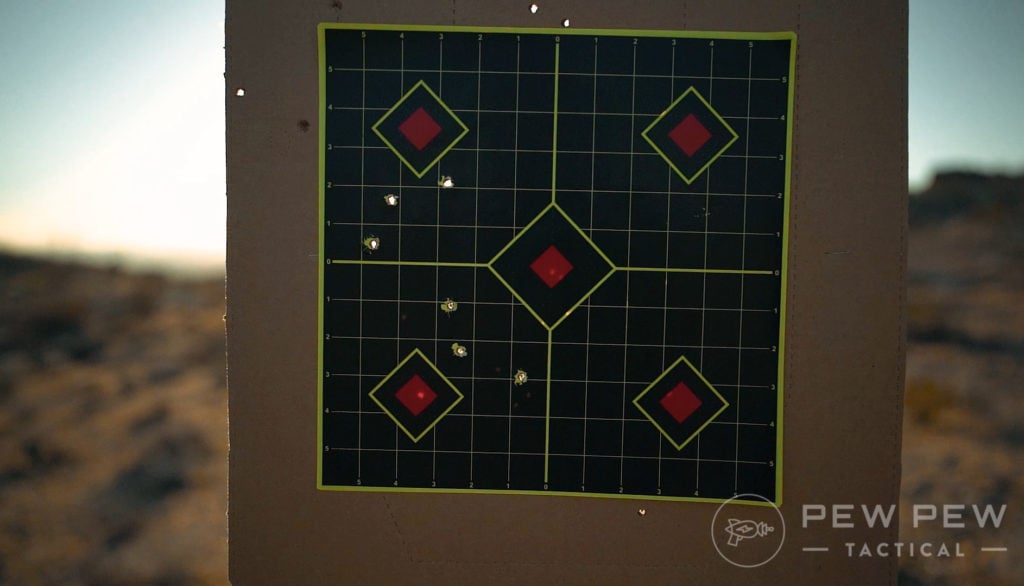 While this might be surprising, the optic was still otherwise functional.
Trijicon TA02
Lastly! The Trijicon TA02 – the battery powered ACOG that we reviewed in our Best ACOG Roundup a few months prior.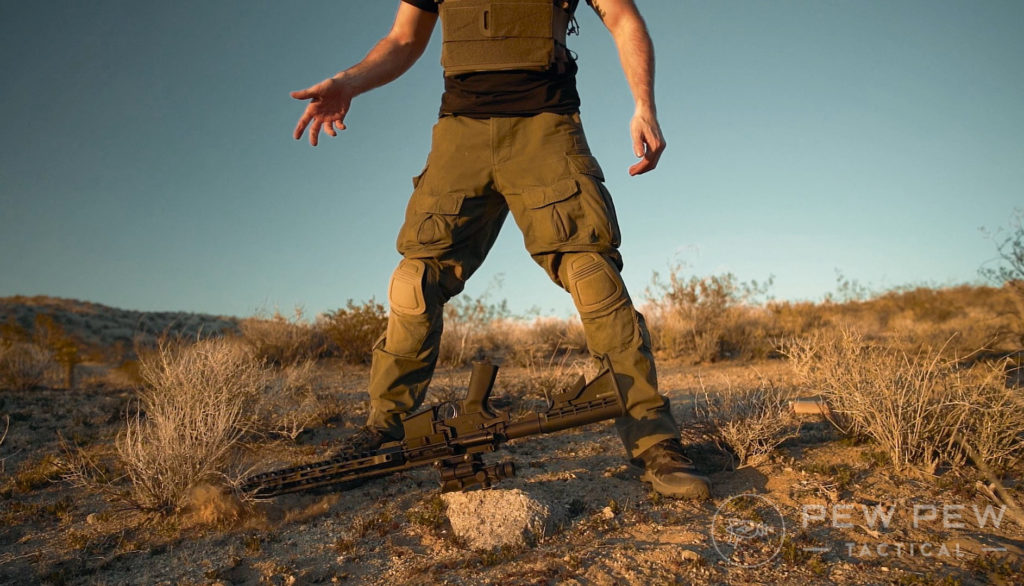 As pretty much the beefiest optic on the list, we expected the ACOG to hold up with no issues – aaaaaand it did just that. No real external damage to speak of whatsoever.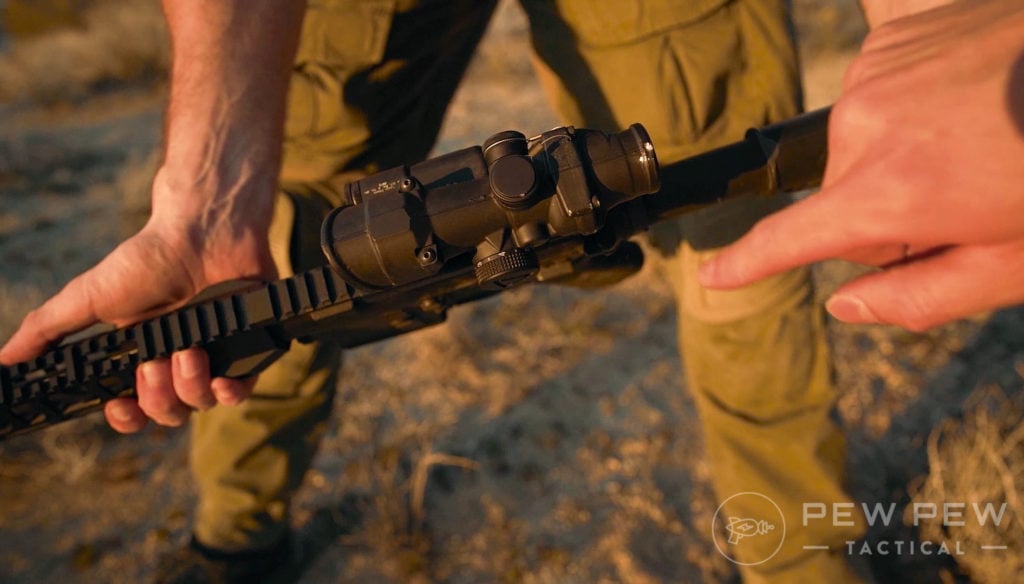 Round 1 Results
And with that, the drop test concludes. As mentioned, the Aimpoint Comp M5 suffered a pretty debilitating blow, and the Trijicon MRO experienced a pretty significant POI shift – but we're all good to go outside of that.
Round 2: Escalating Projectile Deflection Trials
Up next!
Not content to merely let all of the sights be passively subjected to gravity, we shot the optics.
With guns.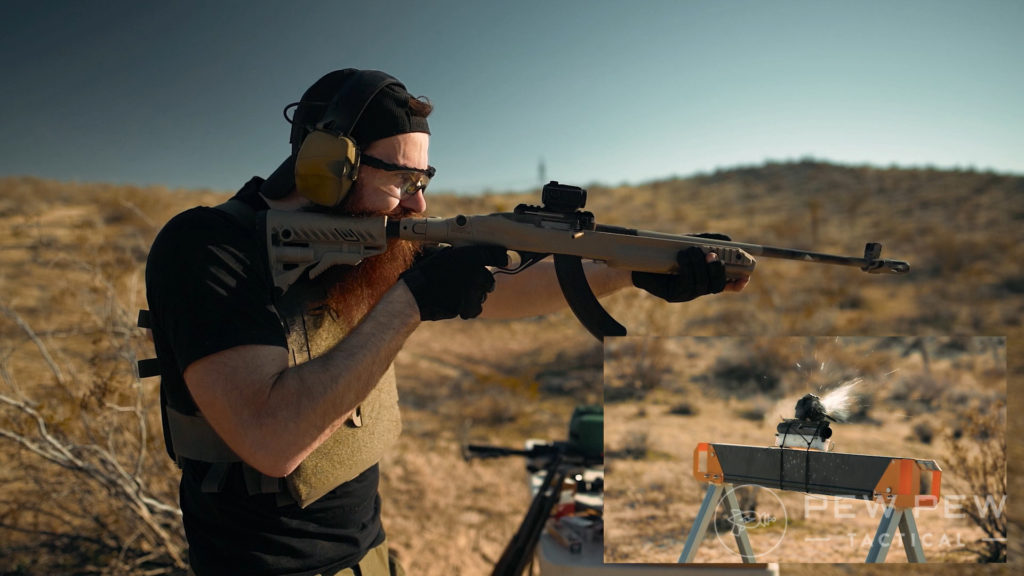 We used a sacrificial AR upper zip tied to a saw horse to secure all of the optics before putting them on the business end of a couple of different rounds.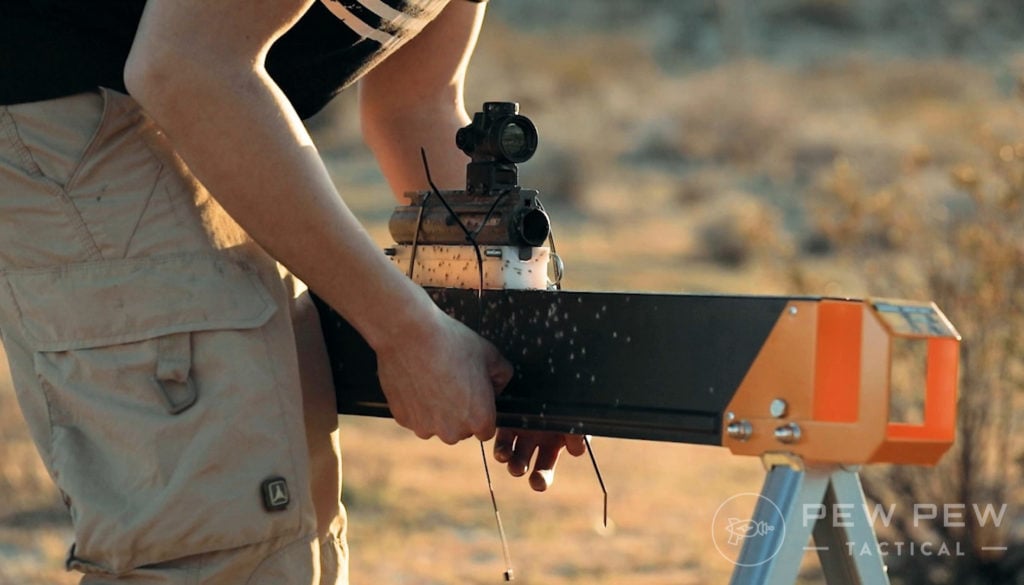 From the… impotent .22 ratshot…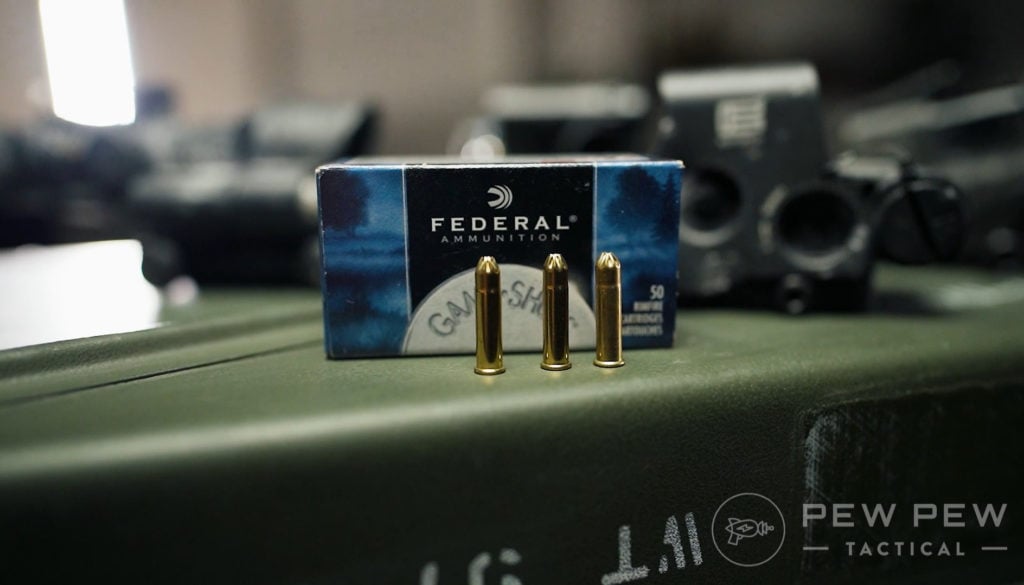 …To #9 .410 birdshot…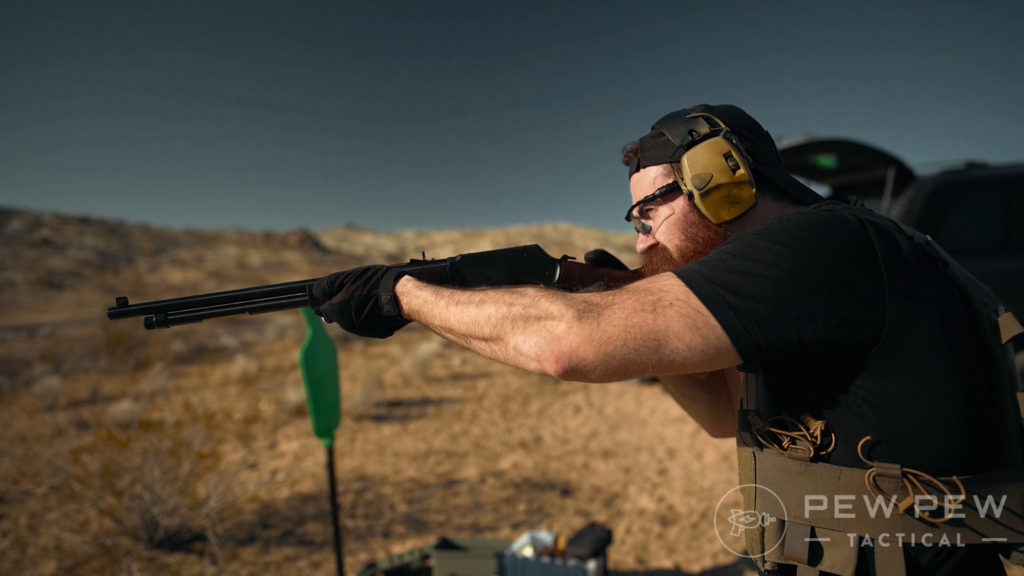 …to #7.5 .12ga birdshot…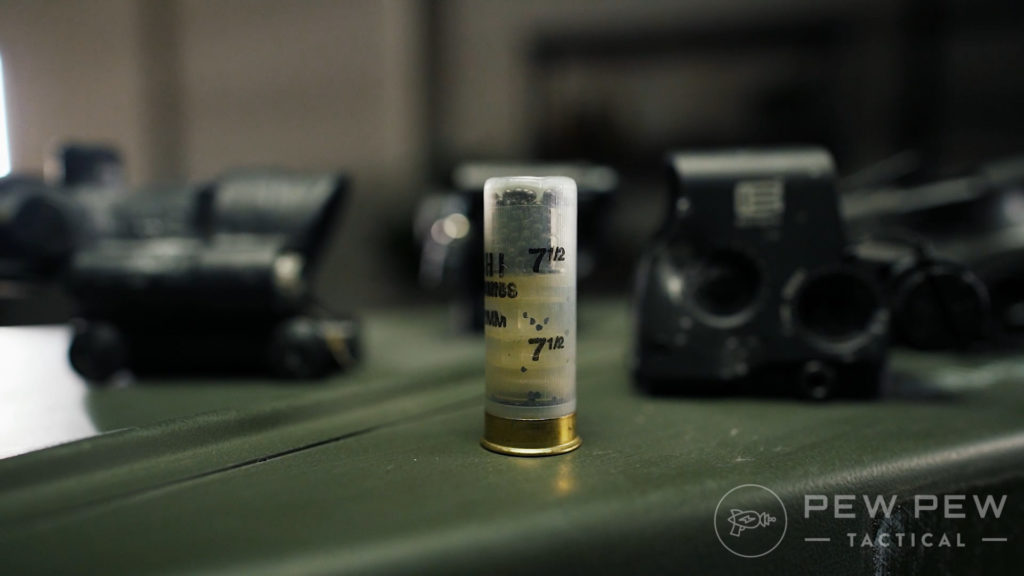 …and finally, .22LR 40gr minimag at 1235 fps.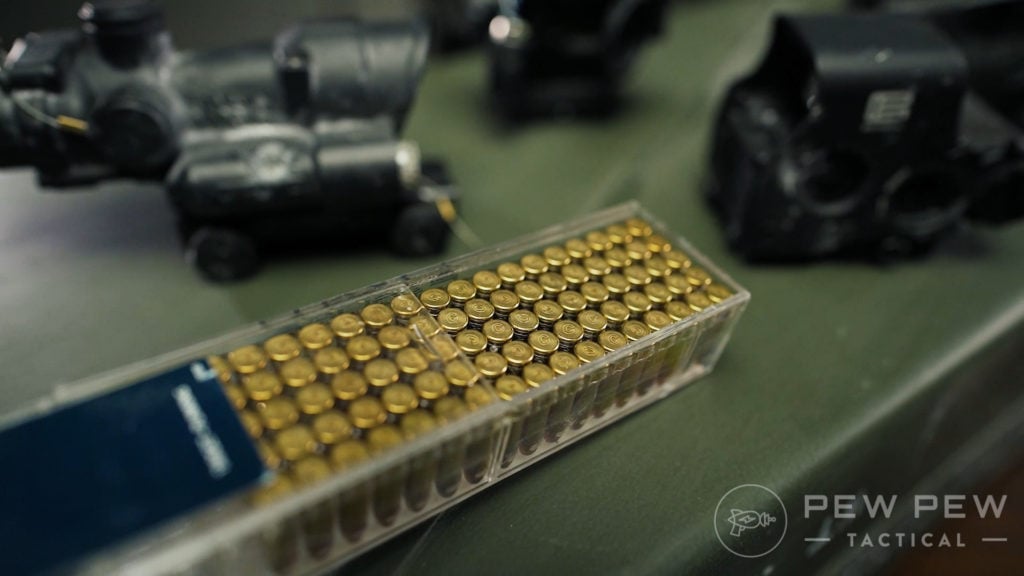 While we put in the time to zero, abuse, and check poi shift with the previous tests, this is merely just going to be abuse oriented, as there are way too many varying factors to really even deliver something remotely scientific from the results other than "did the optic survive".
Romeo 8T
.22 Rat ✔️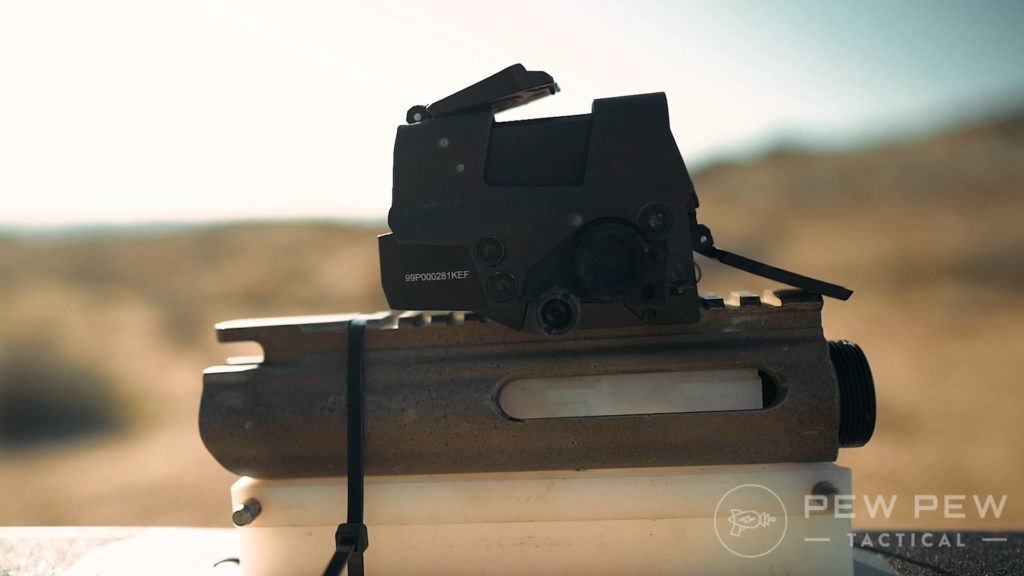 .410 Bird ✔️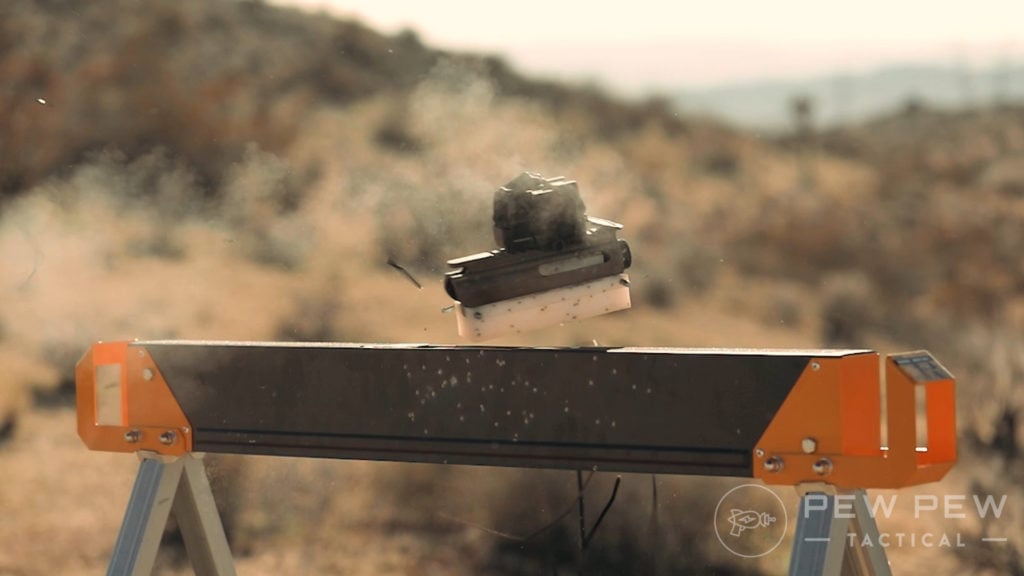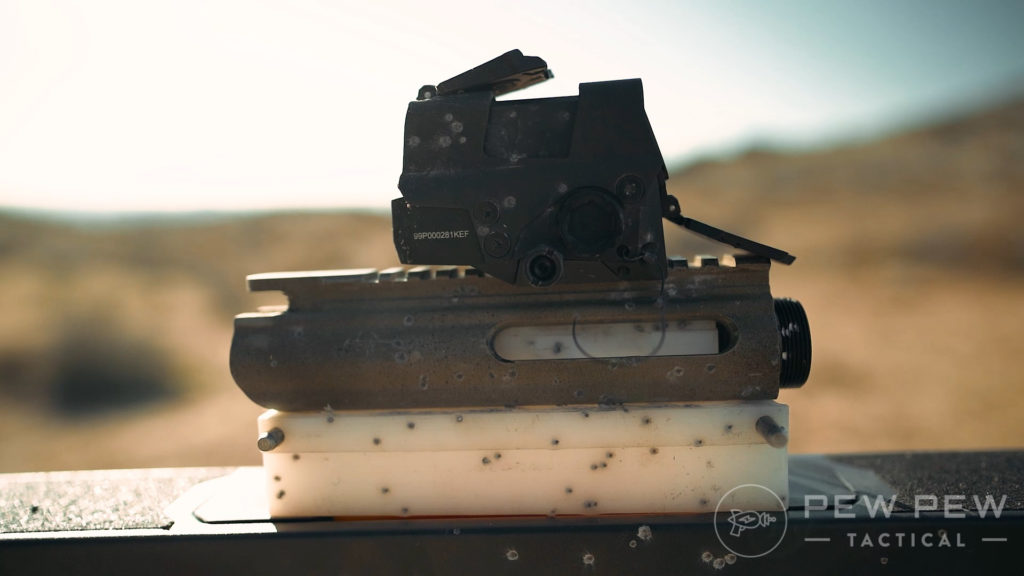 12ga Bird ✔️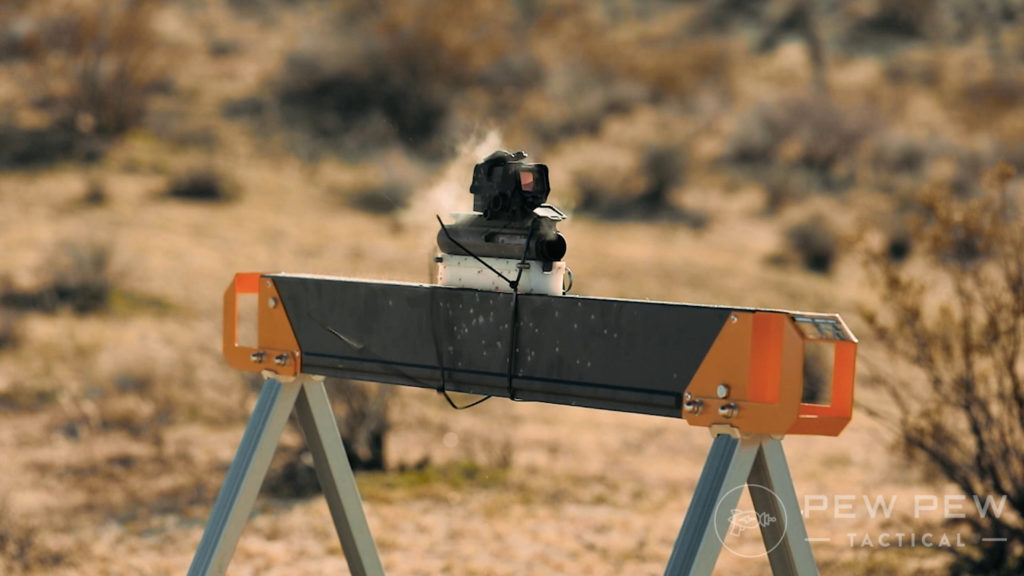 .22 LR Minimag 💀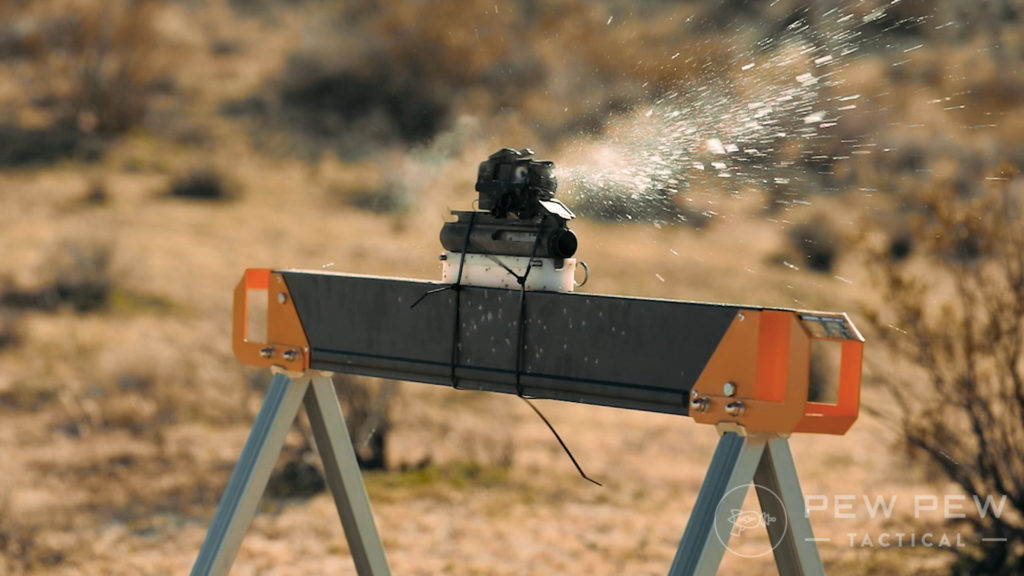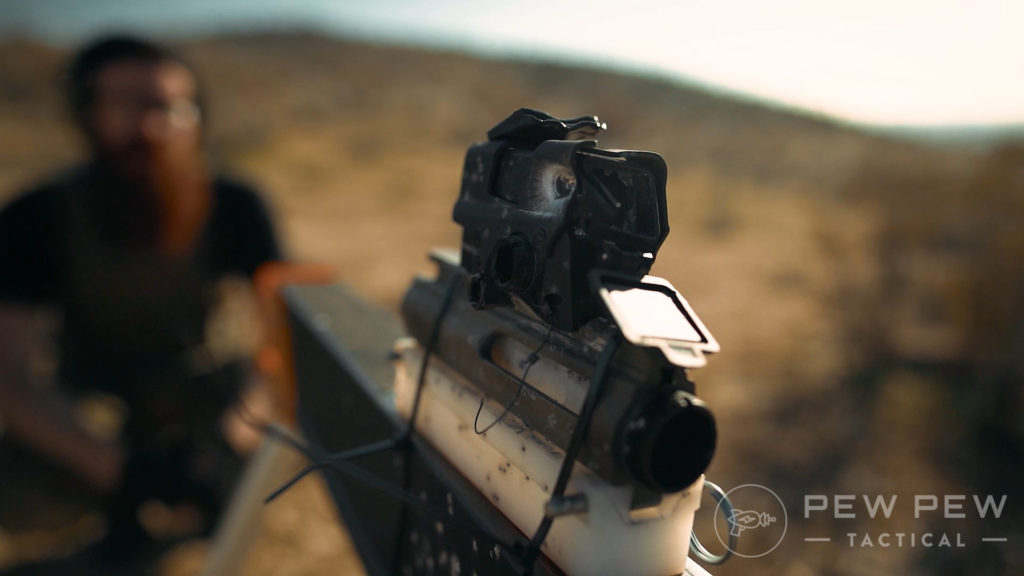 While the Romeo 8's front lens was blown out by the .22 LR Minimag, a tiny bit of the reticle remained partially visible through the rear lens on the shattered glass!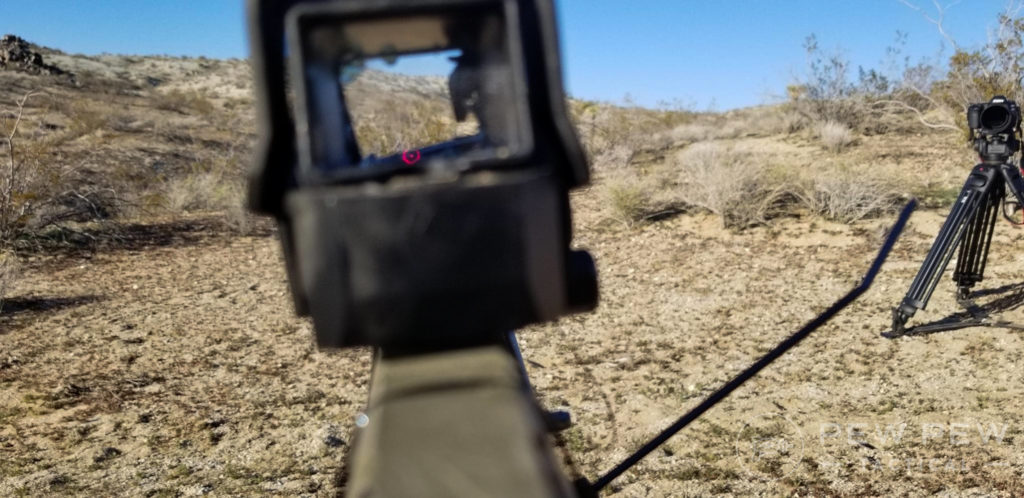 600
at Amazon
Prices accurate at time of writing
Prices accurate at time of writing
Aimpoint Comp M5
(We saw no further need to desecrate the dead)
EOTech EXPS-3
.22 Rat ✔️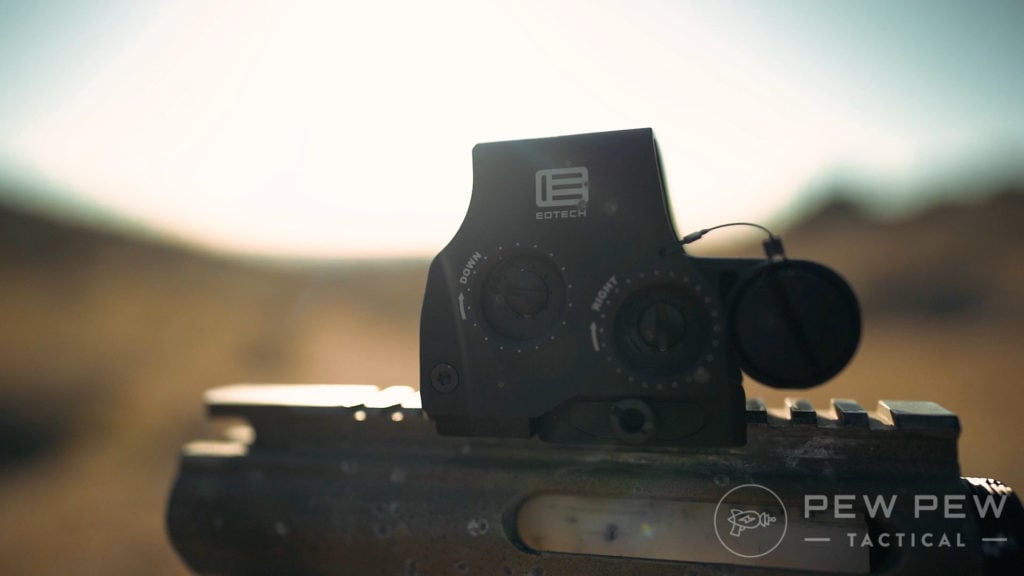 .410 Bird ✔️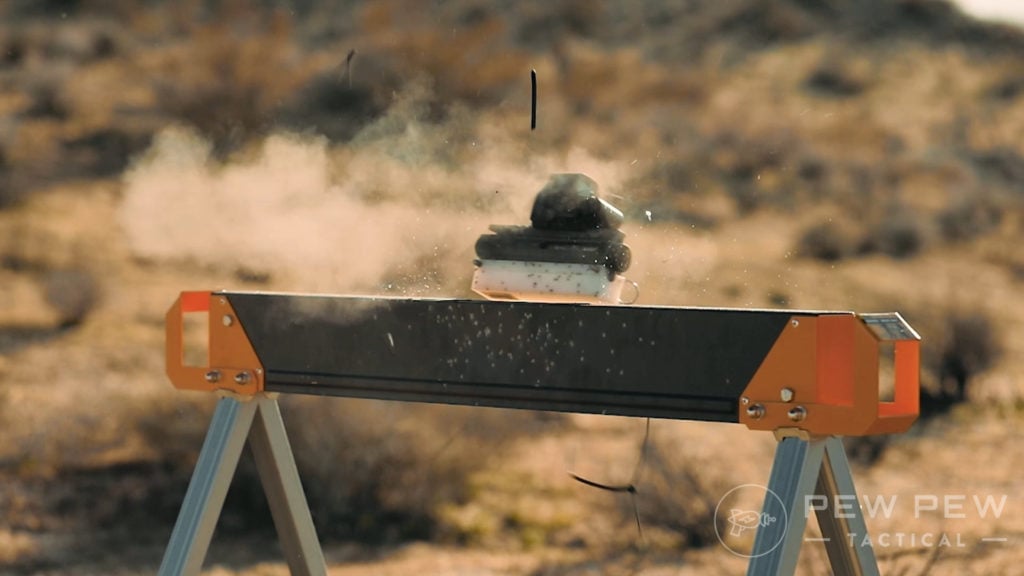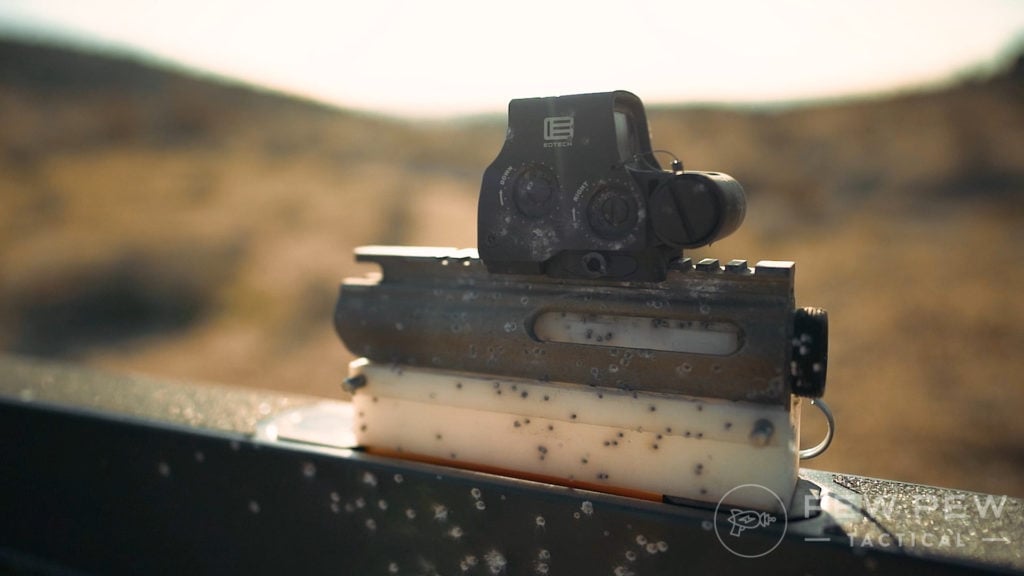 12ga Bird ✔️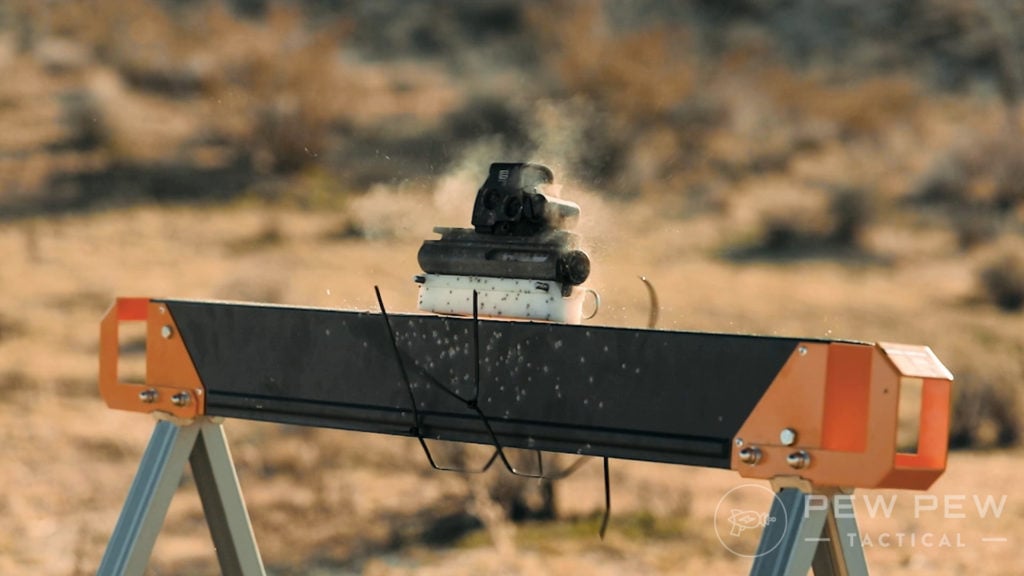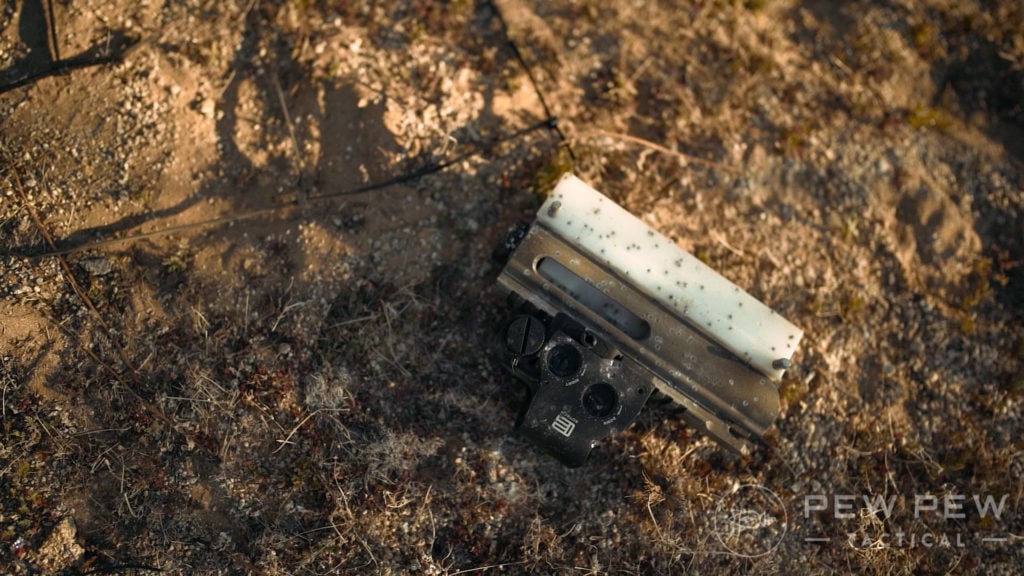 .22 LR Mag 💀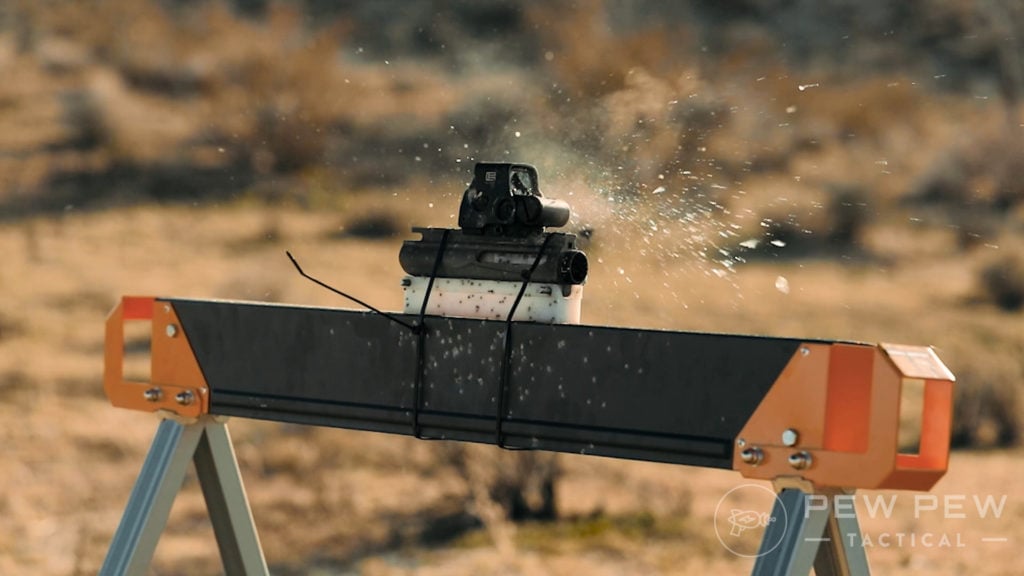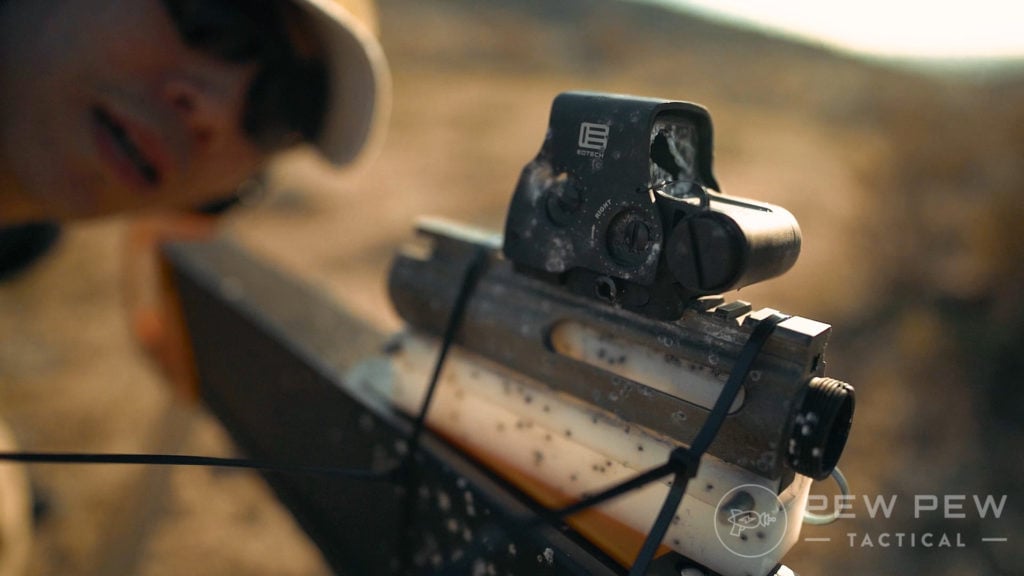 It is worth noting however that the EOTech's rear lens still remained slightly intact, and although we could barely make out the hologram, it was still on and remained slightly functional despite a severely limited FOV and splintered rear lens. Holosights!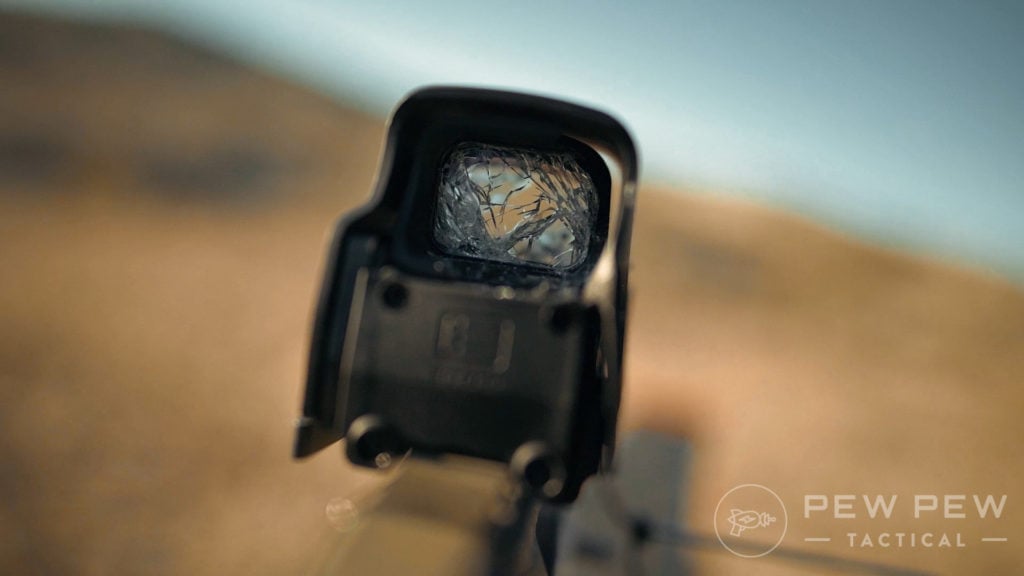 679
at Optics Planet
Prices accurate at time of writing
Prices accurate at time of writing
Trijicon MRO
.22 Rat ✔️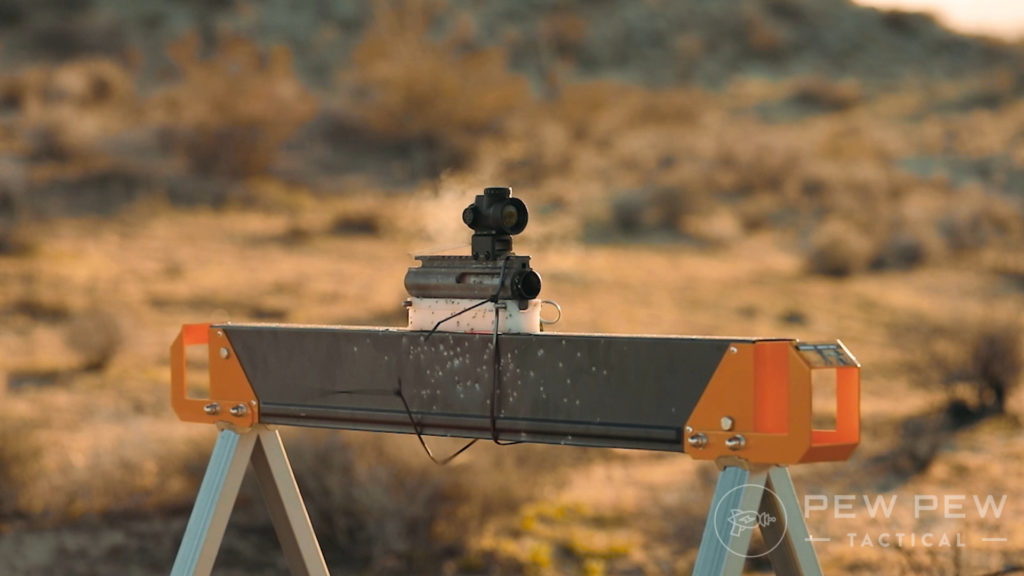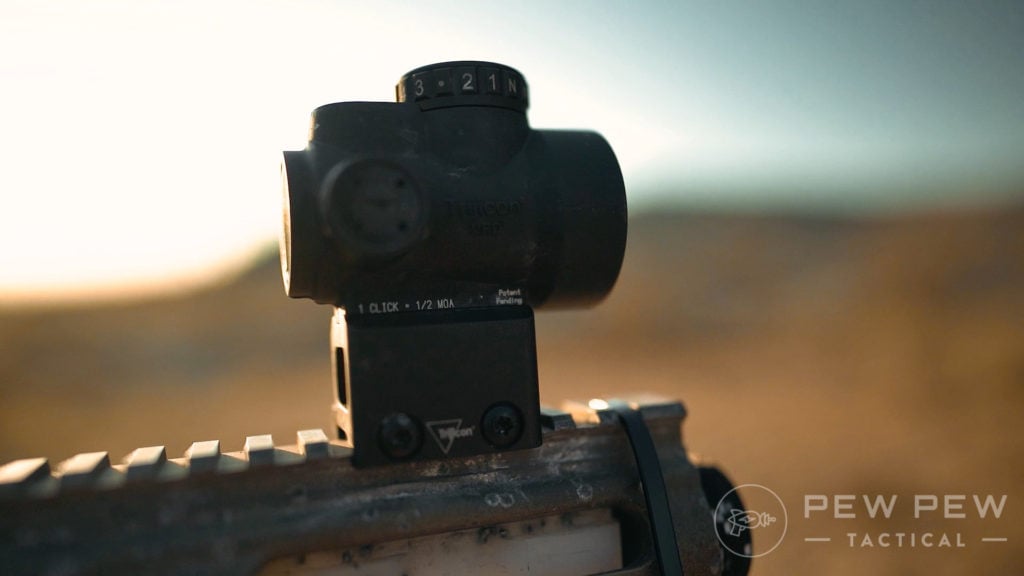 .410 Bird ✔️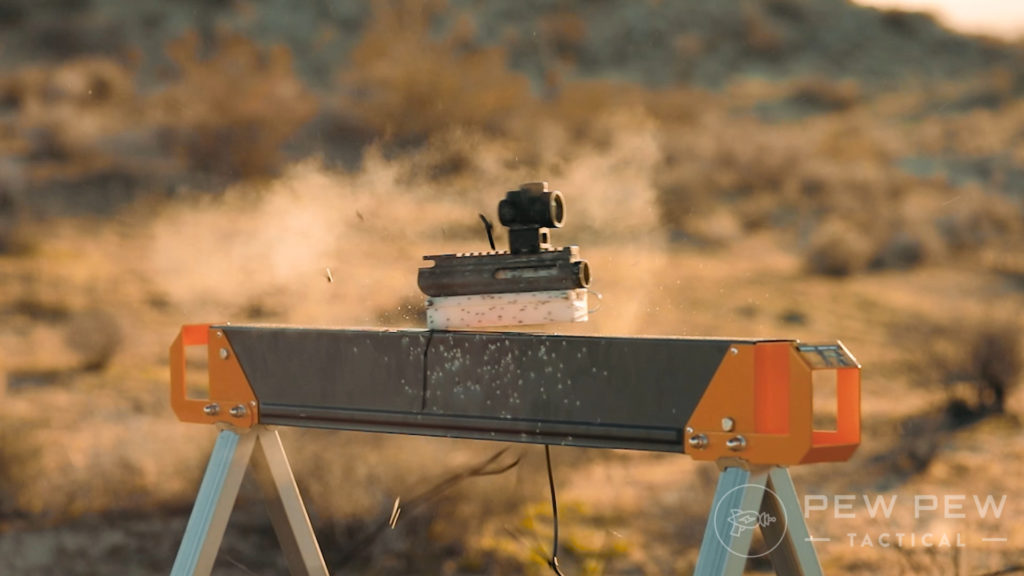 The MRO was dealt a small crack to its front lens by the .410 Birdshot, but remained on otherwise. Obfuscation to the view through the optic was still decent.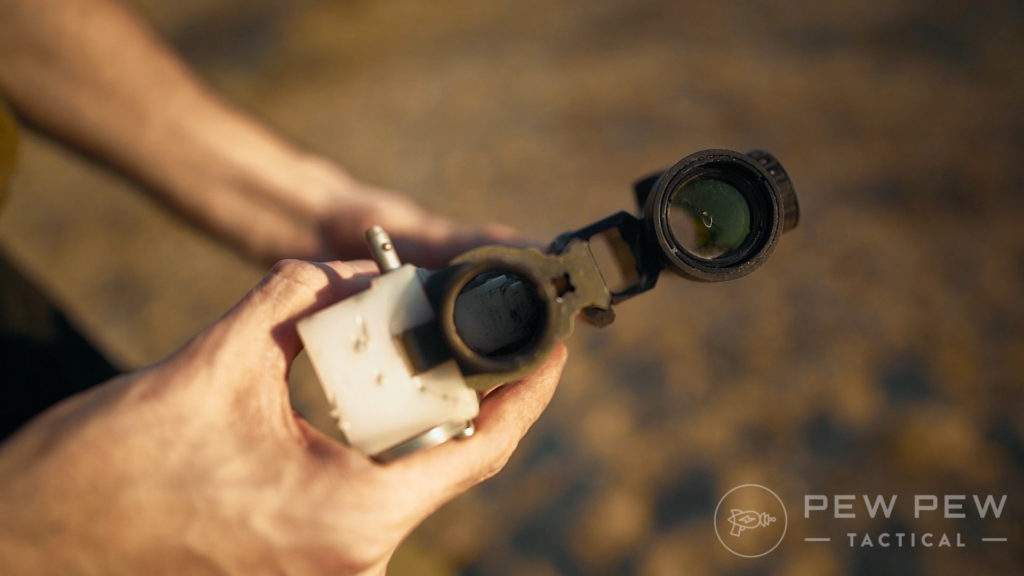 12ga Bird ✔️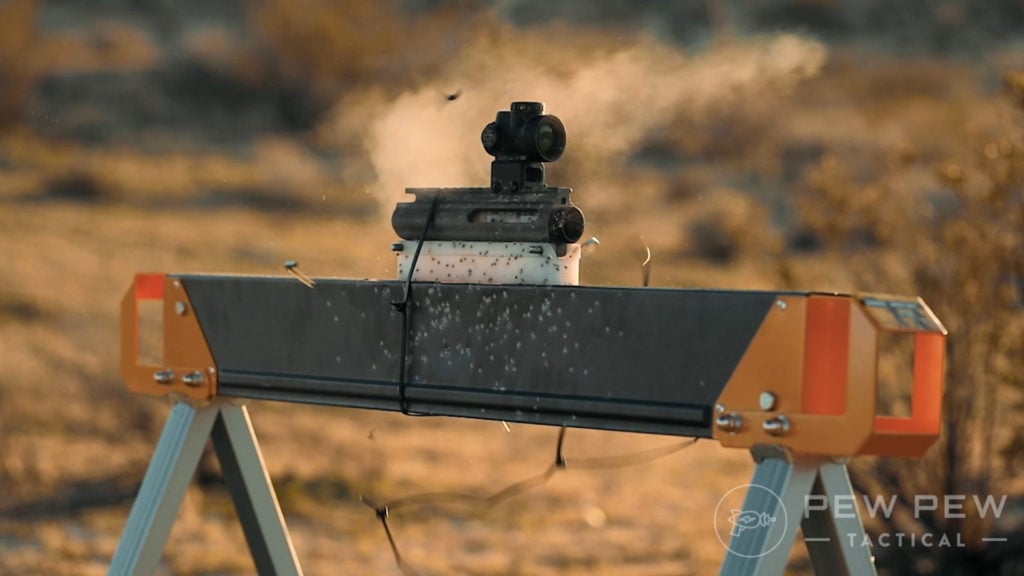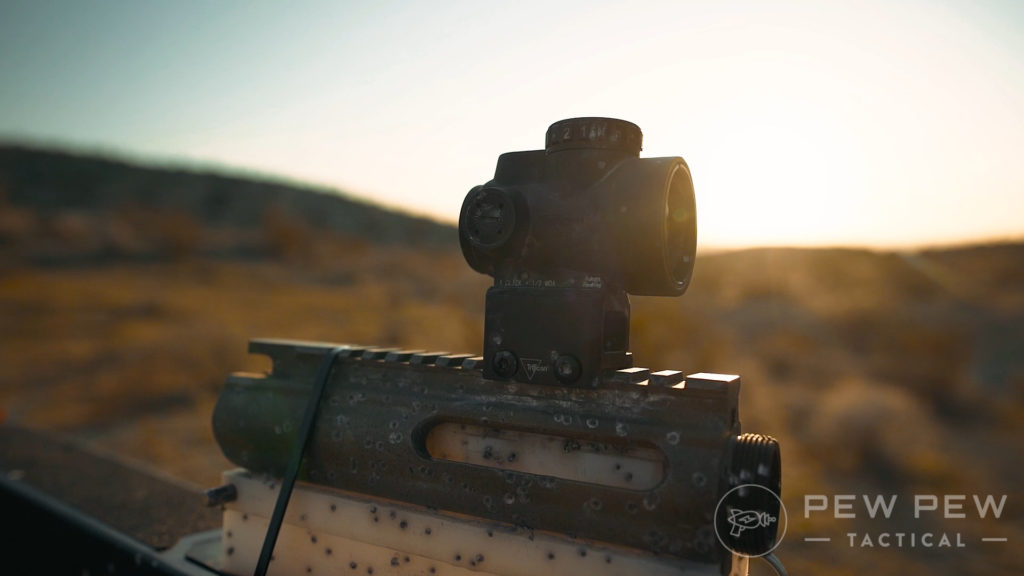 .22 LR Mag 💀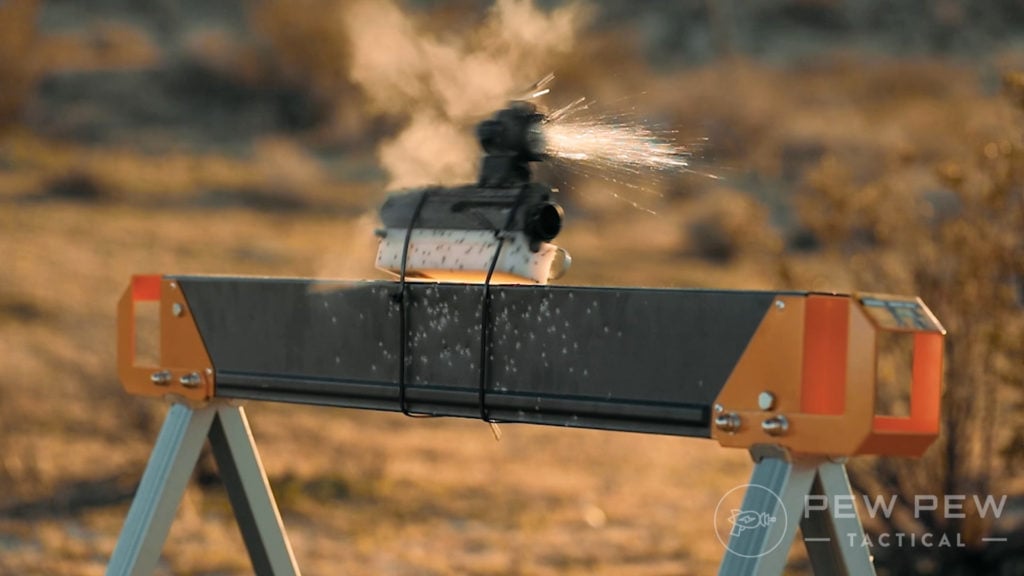 In addition to its front lens being fully destroyed, the MRO's battery cap was launched off of the optic as well.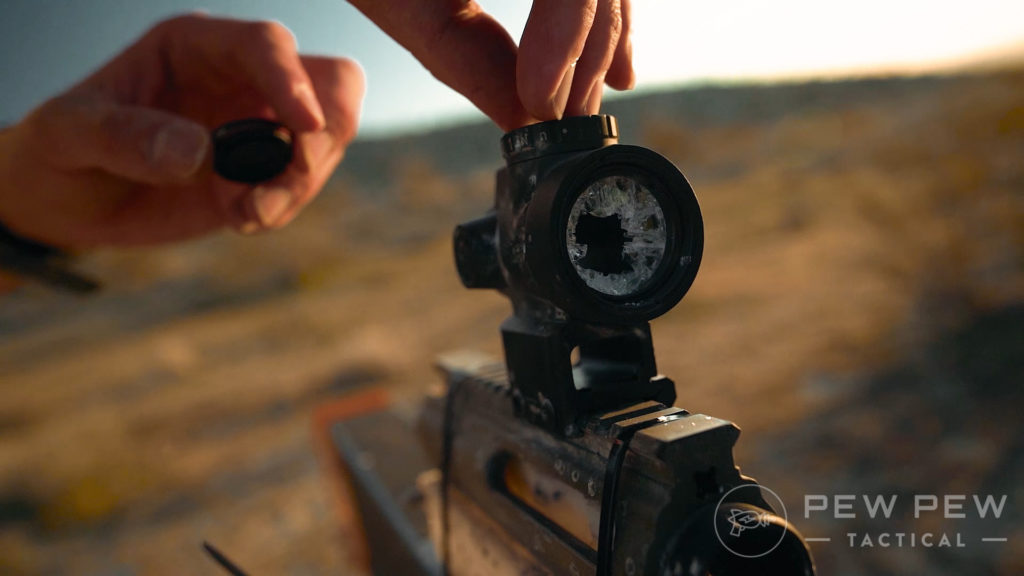 Best Green Dot
419
at Optics Planet
Prices accurate at time of writing
Prices accurate at time of writing
Trijicon TA02 ACOG
.22 Rat ✔️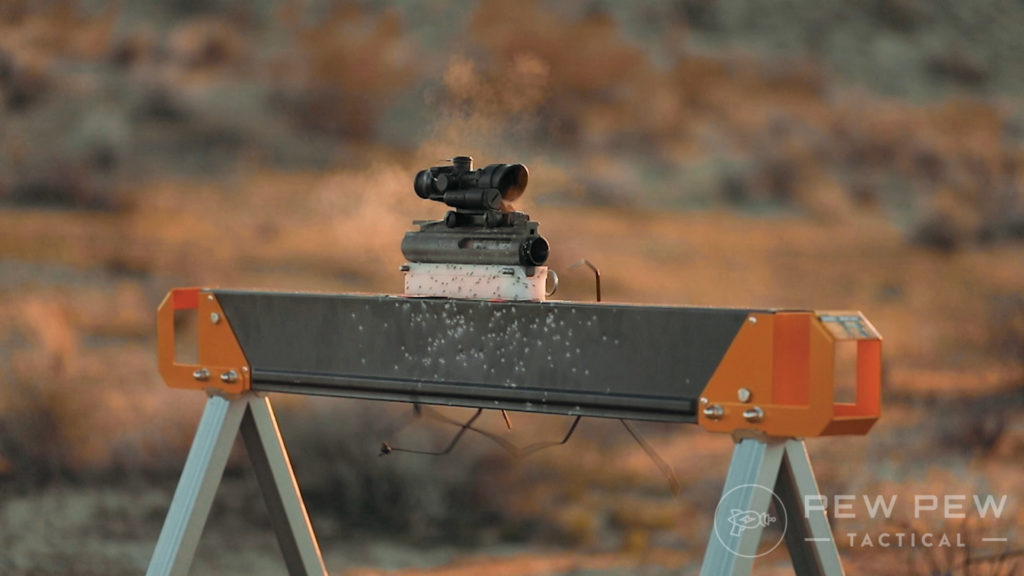 .410 Bird ✔️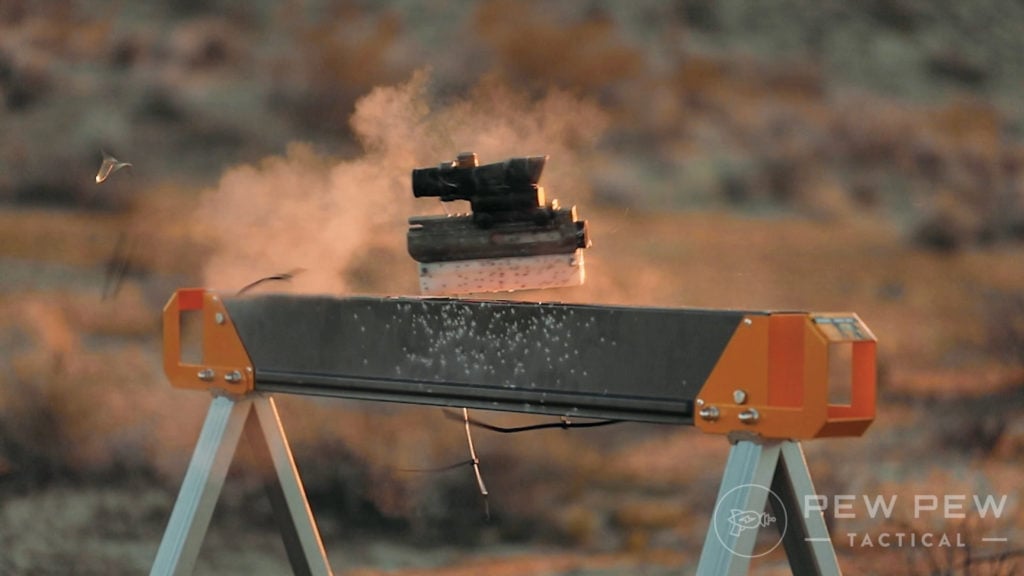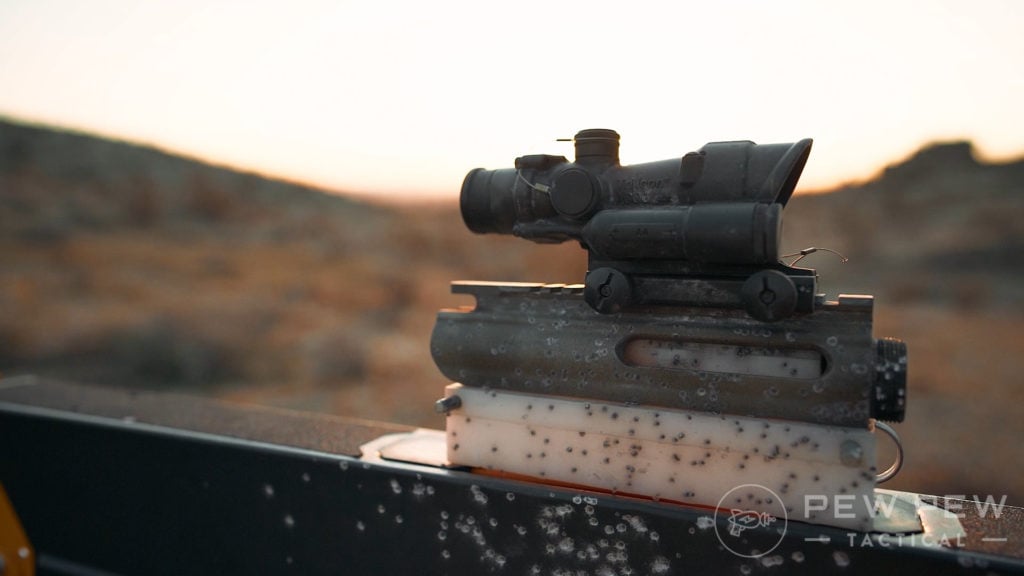 12ga Bird ✔️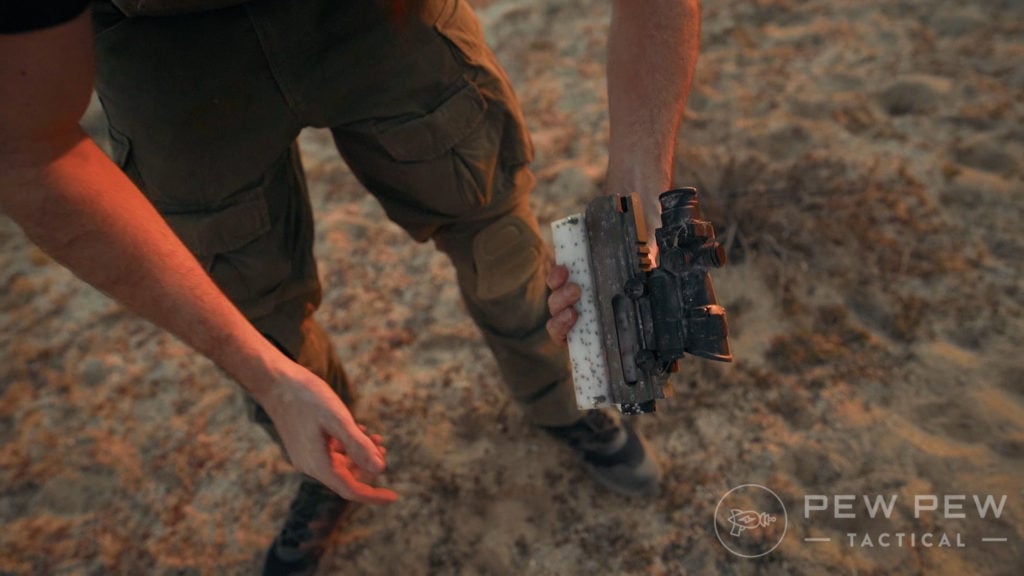 .22 LR Mag ✔️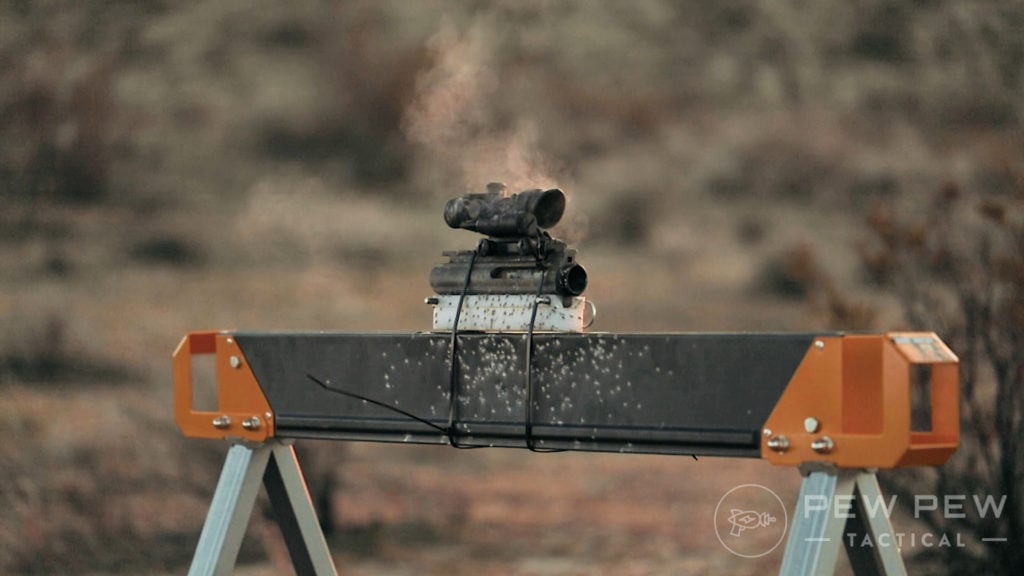 Interestingly, it appears as though the .22lr pierced both the battery compartment and the battery itself, which appeared to react chemically in a way that dissolves the .22 projectile.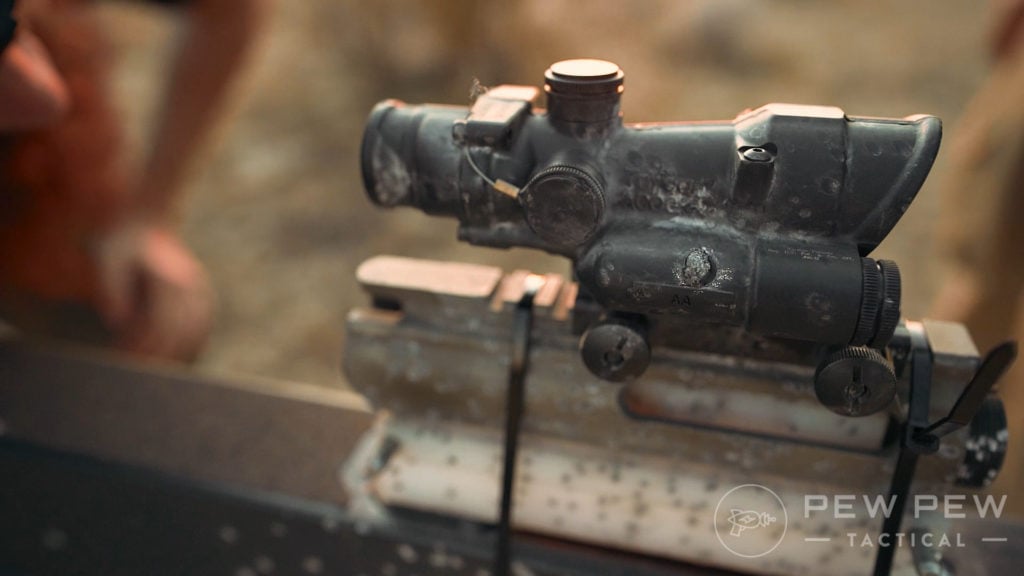 A cursory google search suggests that lead can be dissolved by sulfuric acid only in an environment with electric potential – such as that found within some types of batteries. This is what appeared to happen, but we barely remember last week let alone bill nye episodes from 20 years ago, so /shrug.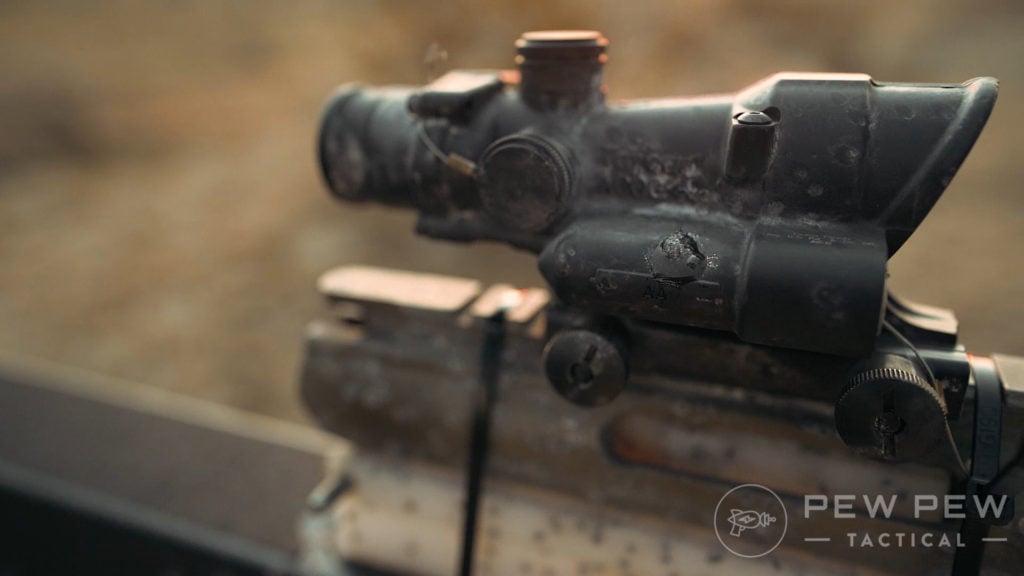 However, given the fact that the ACOG didn't immediately have it's lenses blown out, we figured it deserved one last POI test as a send off.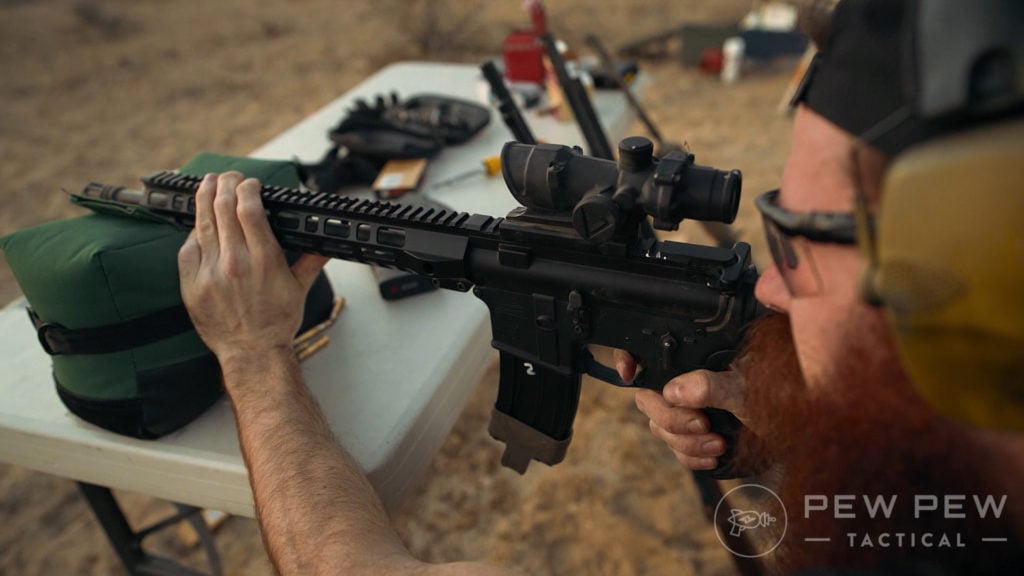 Although the illumination no longer worked, the optic was actually still zeroed and there was no detectable POI shift.
Additionally, the recoil of the AR appeared to momentarily revive whatever connection in the battery compartment we severed, and the reticle would illuminate again briefly once fired – possibly suggesting that it might have some life left in it if you could figure out how to repair it.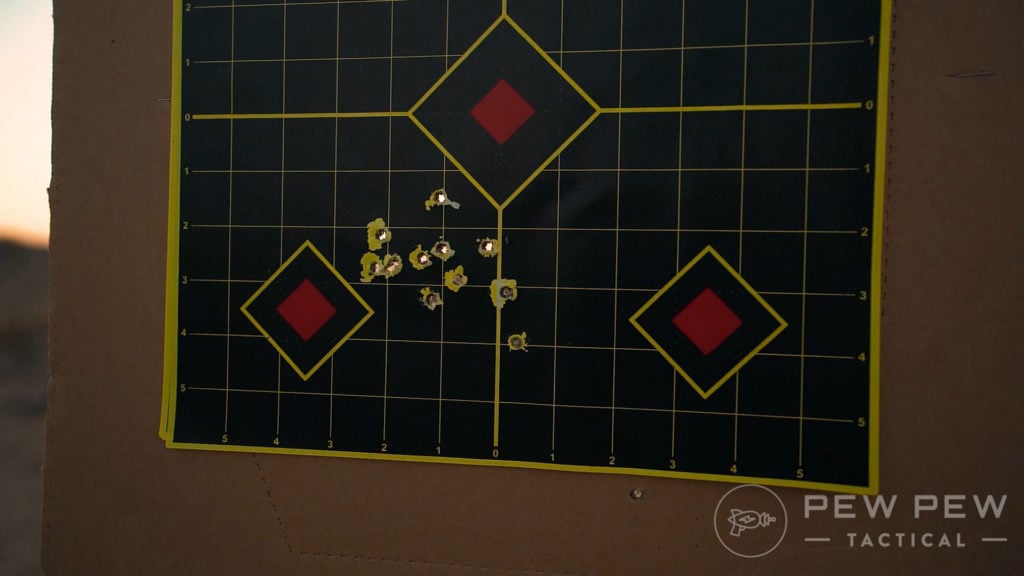 1089
at OpticsPlanet
Prices accurate at time of writing
Prices accurate at time of writing
Conclusions
All in all, there are some pretty fun takeaways here and again – pretty much the entire thing was just done for fun, so don't flip out.
If you haven't watched the video yet…what are you waiting for?
Perhaps it wasn't fair necessarily to pit a beefy ass prism optic against a lot of inherentlly sort of more fragile red dots and holosights.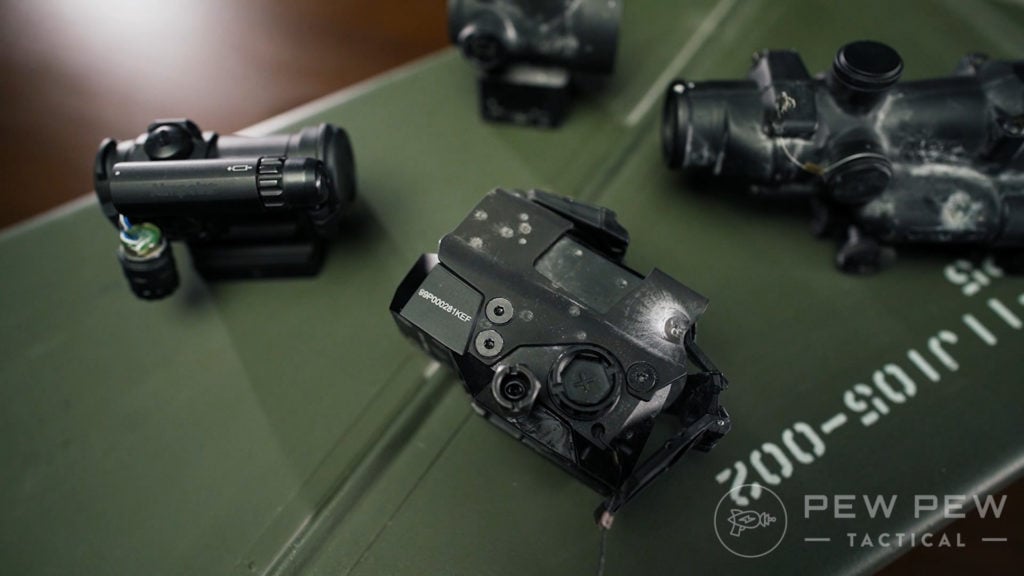 But we specifically wanted to put high-end optics as broad general category through the wringer and see what exactly it'd take to kill the offerings of some of the top brands on the market.
Parting Shots
Based on our observable results however, it feels like we can probably make some broad generalizations if nothing else. Shrouds obviously help mitigate drop and impact damage on optics that utilize them.
Even though our thermal drift test wasn't quite as extensive as we would have liked, the EOTech appeared to suffer no thermal drift whatsoever – which I'm sure you've heard people screech about in the online gun community.
679
at Optics Planet
Prices accurate at time of writing
Prices accurate at time of writing
Holosights also standup to front lens damage, and will continue to work if most of the rear lens is intact.
1089
at OpticsPlanet
Prices accurate at time of writing
Prices accurate at time of writing
Surprising no one, ACOGs are incredibly durable – and while the MRO is maybe a little on the weak side, we still dig the sight overall. See our full review here.
Best Green Dot
419
at Optics Planet
Prices accurate at time of writing
Prices accurate at time of writing
Is there a test we didn't do that you want to see? What other optics do you want to watch us blow up? Then check out our Best Rifle Scopes article and Best AR-15 Optics article for things from affordable to sky-high.