Need a rock solid optic for your go-to rifle?
Aimpoint's Patrol Rifle Optic (PRO) is our favorite pick when you need a bomb-proof red dot that can stay on for 3 years on one battery.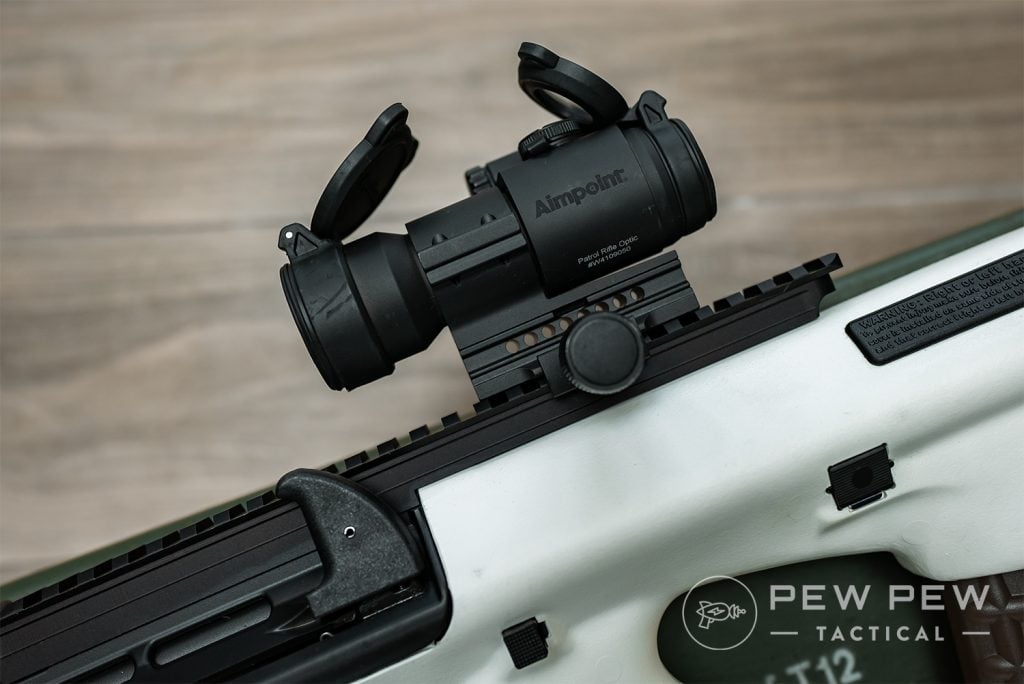 We tested one for almost 3 years and thousands of rounds…plus remounted it a couple of times to see any shift. And of course you know me…beat it with a hammer about 25 times in all directions.
The "Goldilocks" Red Dot
482
at Optics Planet
Prices accurate at time of writing
Prices accurate at time of writing
If you can afford the ~$400 price tag…it's what we totally recommend for an optic that just won't quit. If that's a little too much for now…check out our Best Red Dots Under $200.
Now…let's quickly learn about red dots, see some views through the PRO, accuracy testing, torture testing, and comparisons with other red dots.
Why Red Dots Rule
Super quick primer on why red dots are awesome…
Unlimited Eye Relief: There's no set distance you need to keep your eyeball to see the dot.
Parallax Free: Move your head around…and the dot moves with you so it's always on the target.
Keep Both Eyes Open: Now you get a full field of view while superimposing the red dot on target.
Cowitness: Got irons? You can set an absolute cowitness (dot matches with your irons) or lower 1/3 cowitness to see the the dot easier.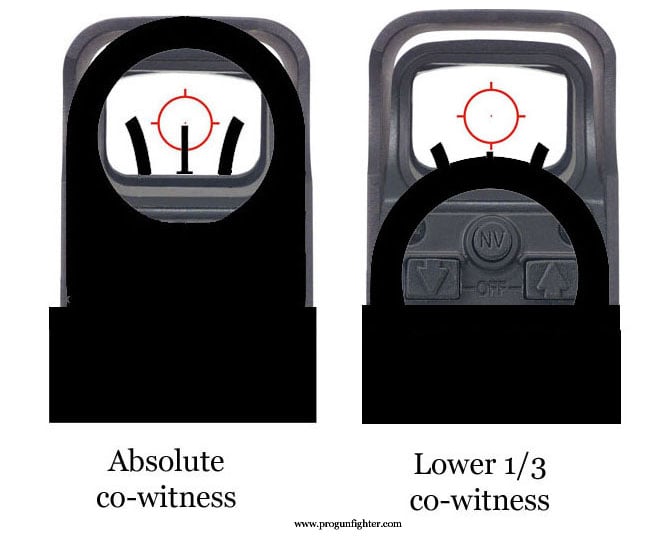 Video Review
If that helped, please subscribe to our YouTube Channel where we have weekly video reviews of the best guns & gear.
Views Through the Aimpoint PRO
Ok, so red dots are nifty…but how does it look like through the PRO?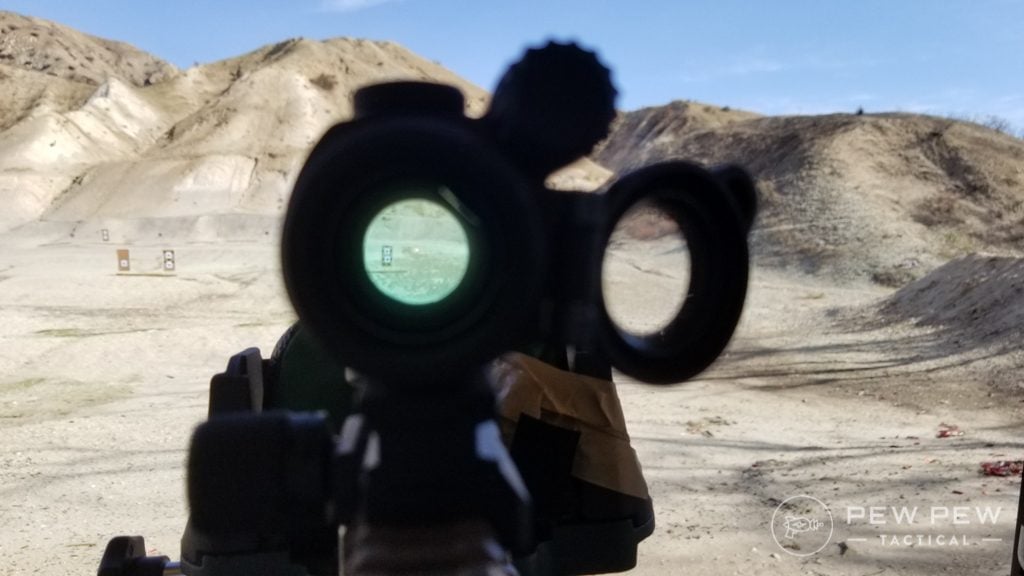 It was pretty hard to get a picture to represent what my actual eye was seeing…but in real life I'd say the dot is crisper and the green hue is less noticeable.
How about with a 3x magnifier in front using the Vortex winner from Best 3x Magnifiers?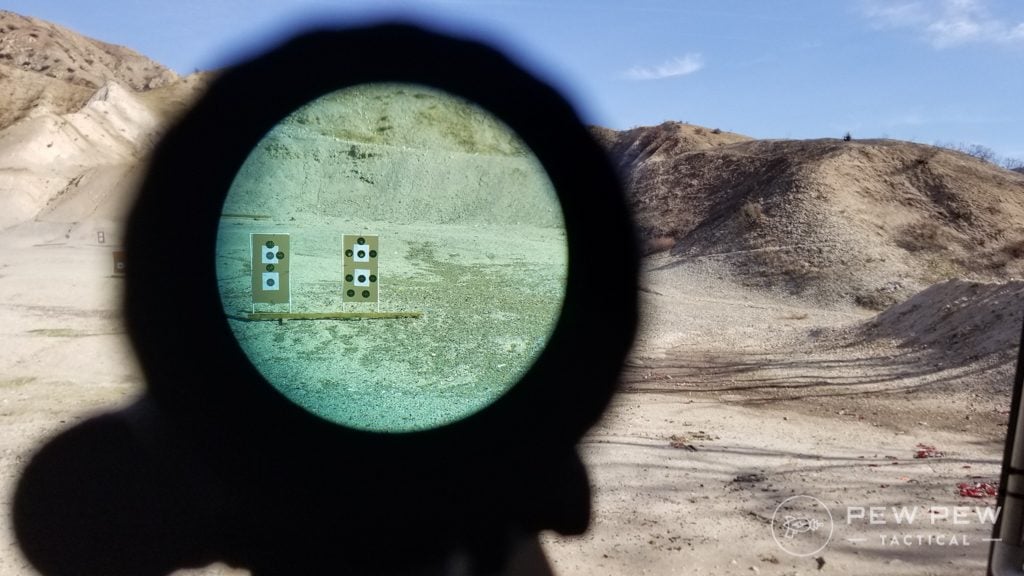 I kept the dot small (less bright option) for when I was testing for accuracy. But here it is amped up a little.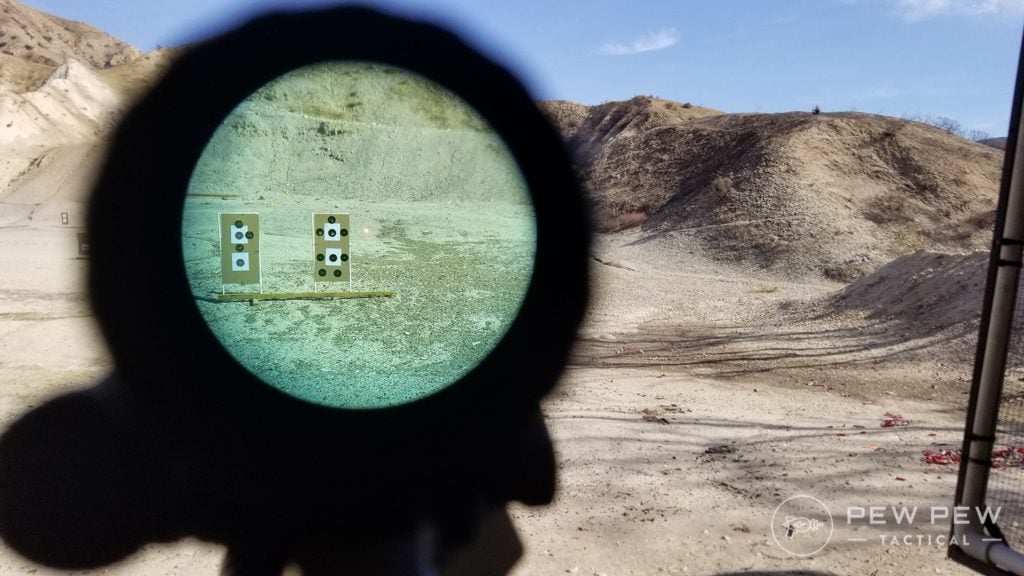 It was a bright day but not SUPER bright…so this was one or two brightness levels from the max setting. If you were to crank it up to the max without being in direct extreme sunlight you will see a red halo on the sides.
Now…for a more overcast day we have a video of it with the Vortex 3x Magnifier:
Accuracy Testing
It depends on your end goal, but for most red dots are meant for closeup encounters.
I put a target out to 50 yards and zeroed in with my best-bang-for-the-buck pencil Aero Precision Upper (full review) that does about 2-3 MOA (2-3 inches at 100 yards).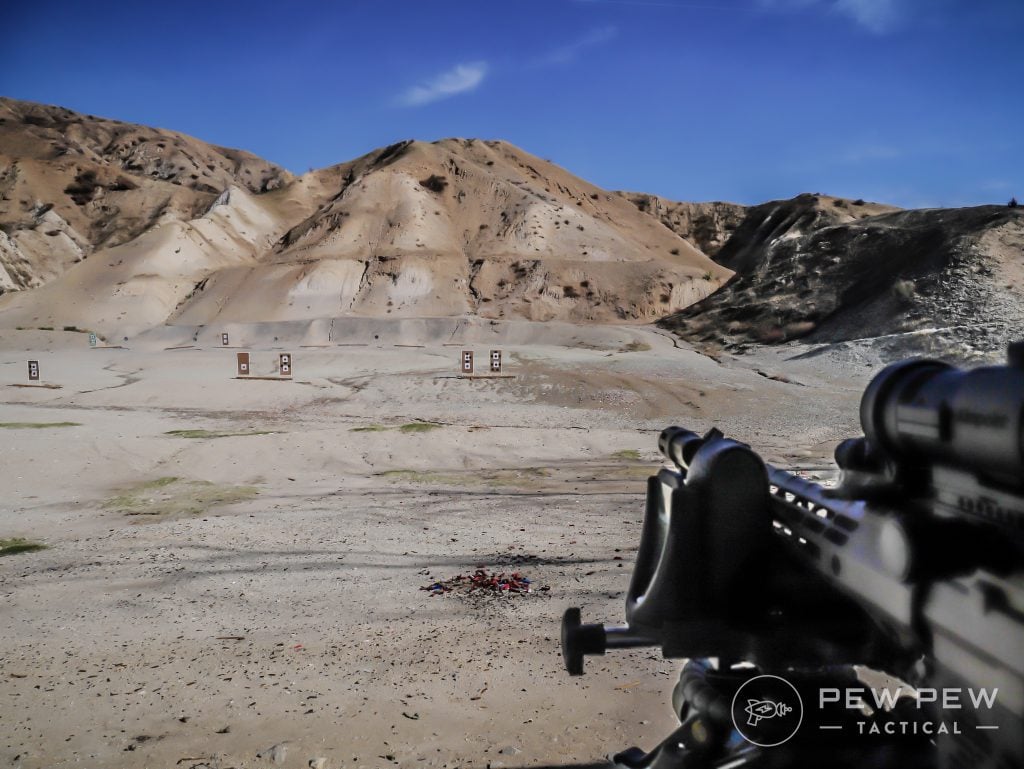 Same rig as how I test my uppers and barrels. Heavy benchrest and nice Hiperfire trigger.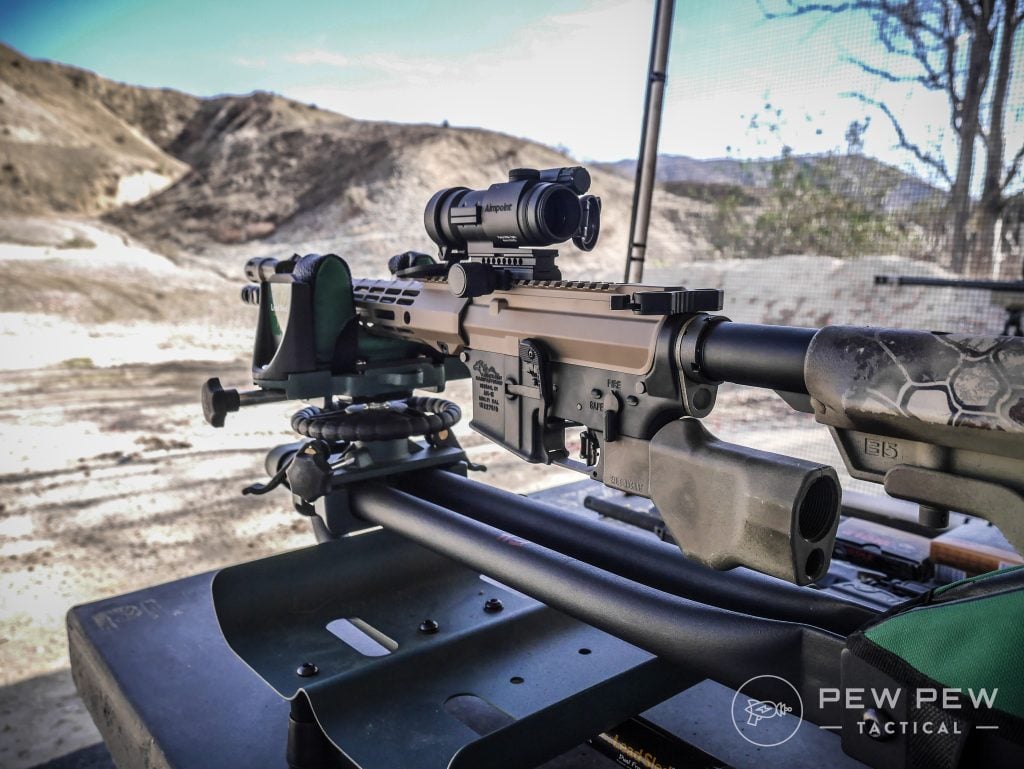 How did it do with some of my favorite ammo (Best AR-15 Ammo for Self-Defense & Range Plinking) at 1x and 3x magnification?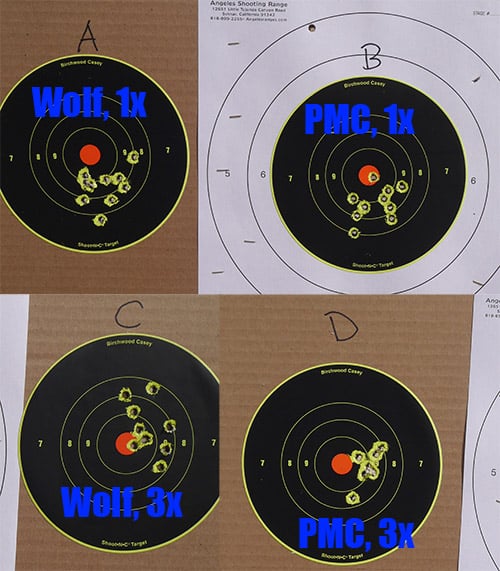 I shot these at reasonable speed (one every 3-5 seconds) and here are my takeaways:
PMC is more accurate than Wolf…like my previous review of the upper showed
1x is less accurate than 3x (duh)
But still plenty accurate for minute of bad-guy or even clay targets at a competition
Now how about taking the optic on and off a couple times?
The Aimpoint PRO comes with a big although incredibly useful knob that auto-torques…so you only need your hands to take it on and off.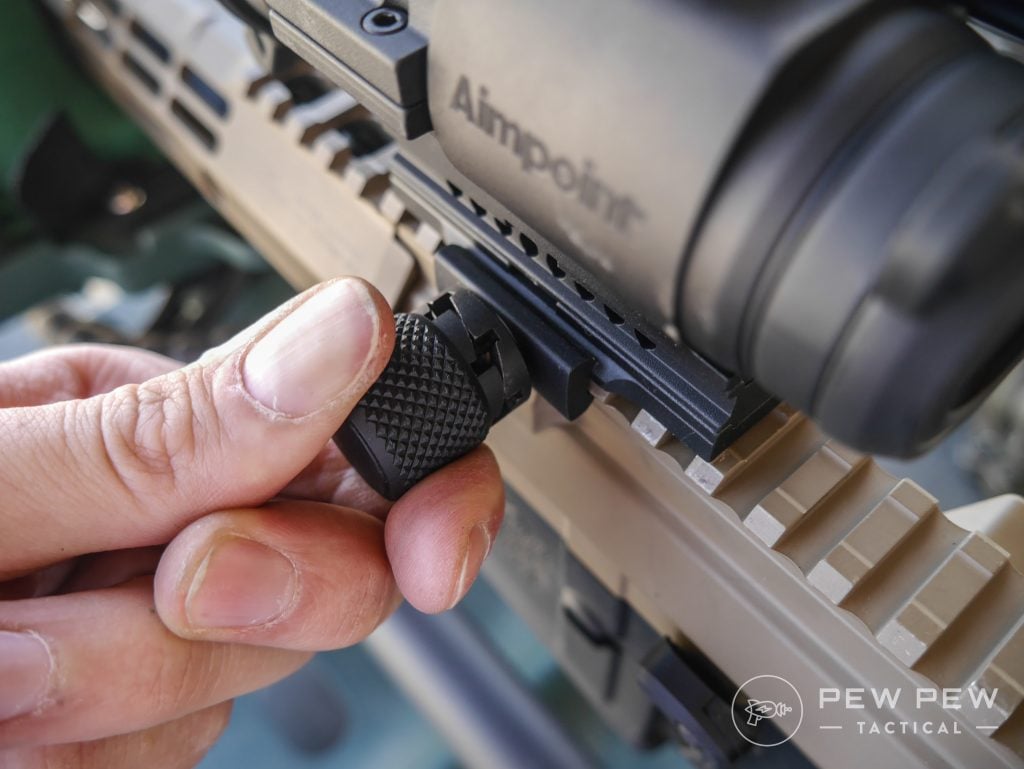 I took the optic off and on a couple of times, and made sure to always press the optic forward when I remounted. That way it's more the same each time and to prevent recoil movement.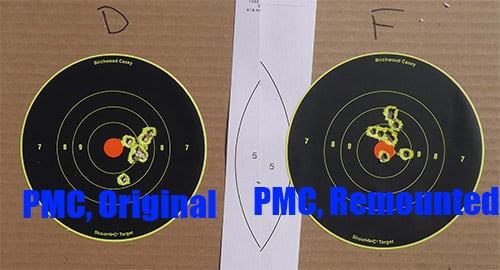 I shot with the 3x magnifier so it was a little more accurate and we could see the shift.
The optic is rated to 4 MOA shift and I believe the results are well within spec. And in this case actually made it more on target, lol.
Torture Testing
Aimpoint sent me the PRO to test…but with the caveat that I gotta give it away to a lucky reader in the future.
So I didn't go full-blown torture testing.
I used a relatively heavy plastic hammer and hit it 5 times from each side (front, back, left, right, top). I realized I missed some direct hits in the front so I added a few more for good measure.
Wish I panned around to see the faces of the people that watched me bash a $400 optic.
Here are the results of the shift: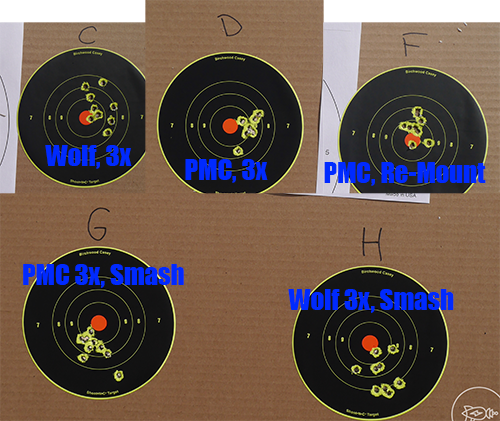 The hammer testing was after re-mounting so the best comparison is F vs G. There's definitely some shift but again this falls within the 4 MOA spec.
And I feel it was a good amount of jostling around…if you drop your gun or bang it into an obstacle…it should be way under what I put the optic through.
Passes in my book. And is unscathed for a future lucky reader except for some plastic knicks on the lens covers.
Aimpoint PRO vs Others
With a street price of ~$430…what makes the Aimpoint better or worse than other red dots out there?
I compared it to my old faithful Comp ML3…the PRO's beefier, more expensive (~$600), but discontinued cousin.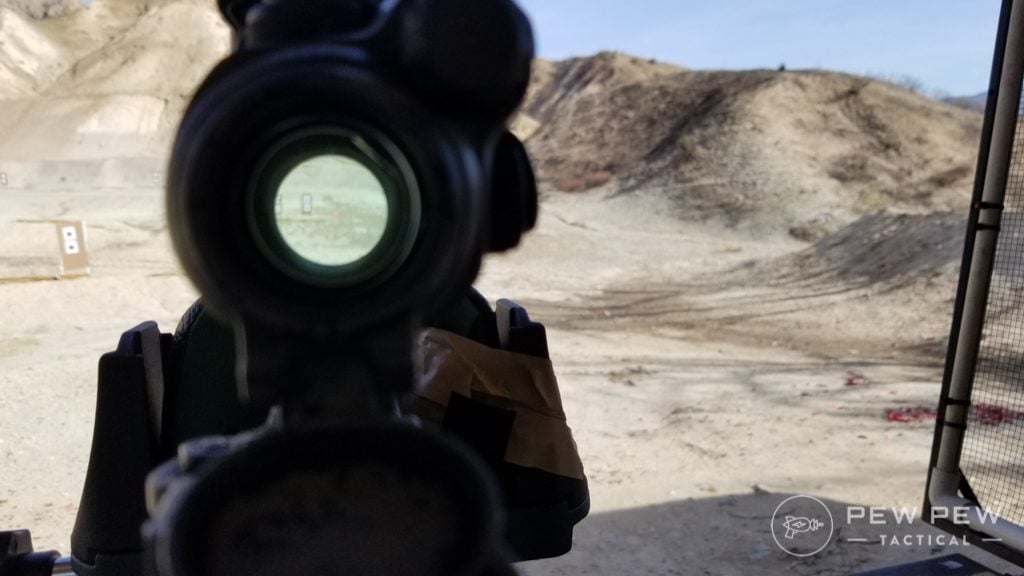 The green hue is a little less in this picture. At 3x here is the view: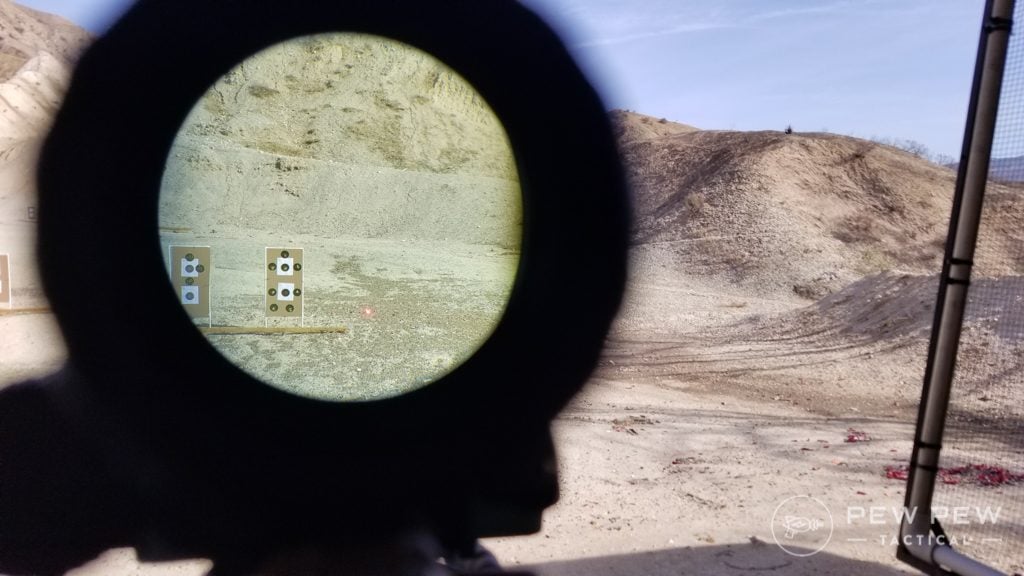 Dot is lower since the mount I have is a little higher than the PRO. In reality…the green hue isn't as big a difference as it seems in these pics.
So…what's the main difference?
From what I could gather…the Aimpoint PRO is more affordable since it has a slightly less battery life (30K hours) compared to the current Aimpoint Comp M4 (80K hours) and its housing is a little less strong (forged vs extruded aluminum). Someone correct me if I'm wrong.
Here are the specs so you can see if it meets your temperature and water submersion requirements. See the rest at Aimpoint:
Battery: 3v lithium (an odder 2L76 or DL1/3N)
Weight: 11.6 oz (with lens covers, mount, spacer)
30K hours of continuous use on position 7 of 10)
2 MOA red dot
Night vision compatible
-49 to 160 degrees F operating range
150 feet water submersion
But what about vs Under $200 Red Dots?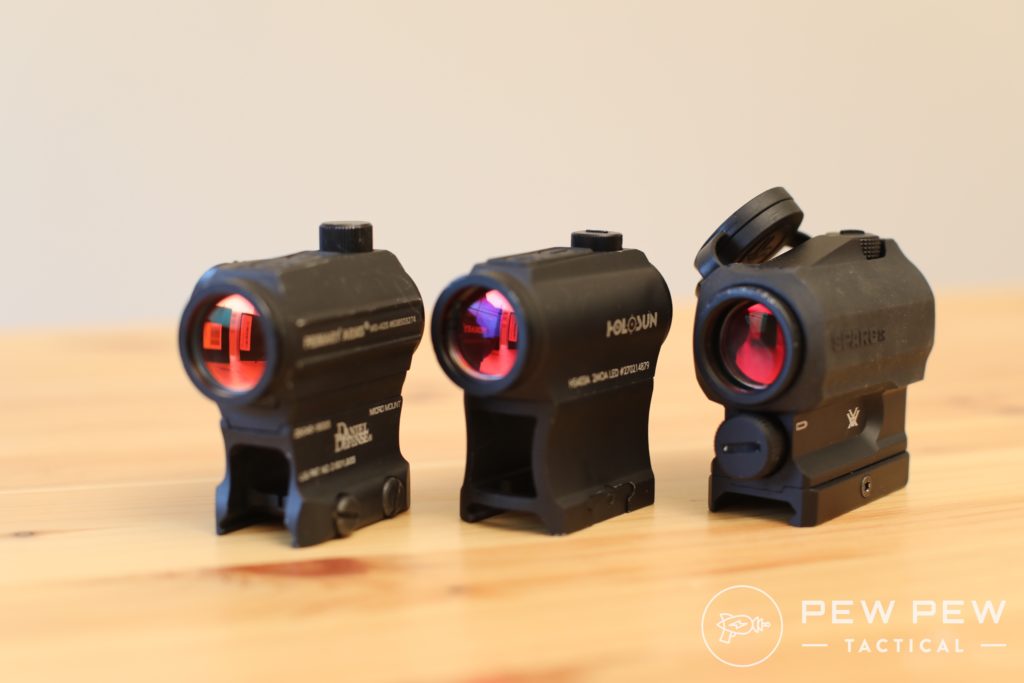 You get the name, 10 year warranty, and much better impact/submersion/battery-life. Plus clearer glass and less distortion.
I'm willing to look past the relatively heavy weight (11.6 oz) and oddball battery.
If you're looking for a red dot on a plinking rifle or an occasional competition? You can't go wrong with budget versions.
But if you're looking at something where you can't have it fail (home defense or patrol)…I'd take a serious look at the PRO.
Conclusion
Like I just said above…if you need an optic on a life-saving firearm…I would suggest the Aimpoint PRO.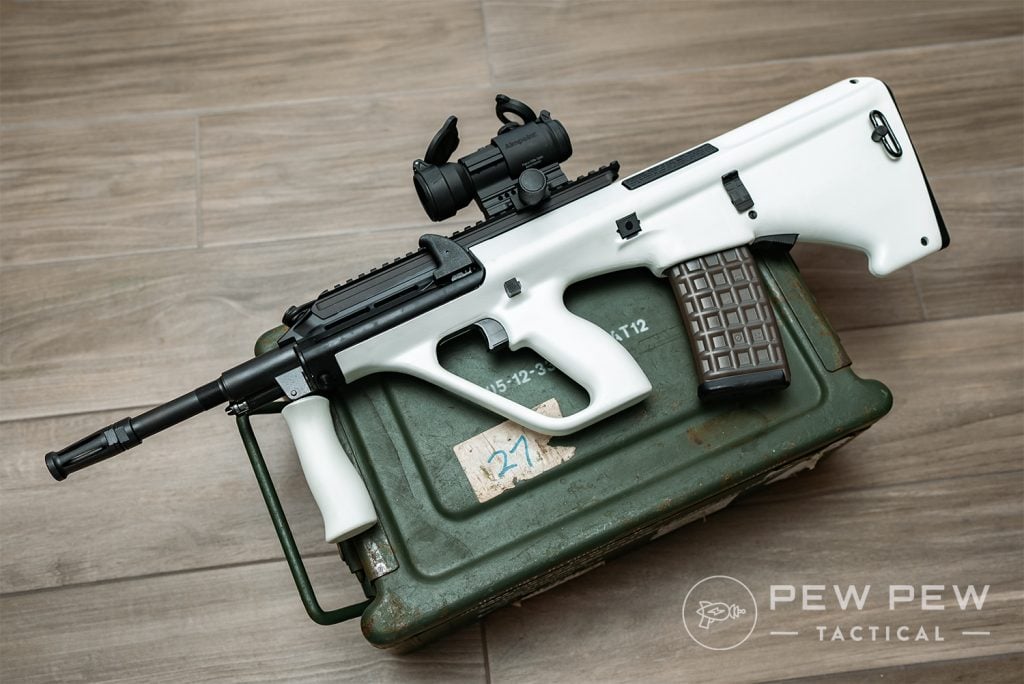 Unless you are willing to spring for the Comp M4 at $900…it's one of the best deals for something tested and nearly bomb-proof.
The "Goldilocks" Red Dot
482
at Optics Planet
Prices accurate at time of writing
Prices accurate at time of writing
Did you end up going with the PRO…or did you get something else? Let me know in comments below. Then check out more of our favorite Optics & Scopes for the AR-15.