Back in the day, you'd know who was a crack shot through their use of iron sights.
These days, that's not as much of a problem for the average shooter.
Unless you're a traditionalist, you've probably considered mounting an optic on your gun if you haven't already.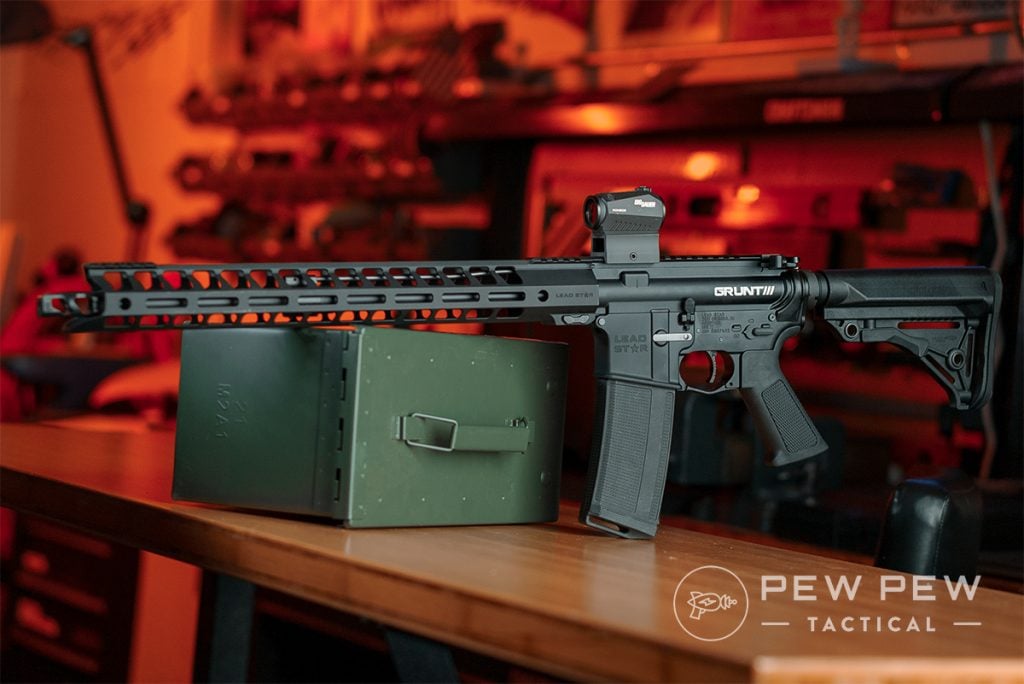 What happens when the batteries on your red-dot die or your holographic took one fall too many and aren't working as well as they should?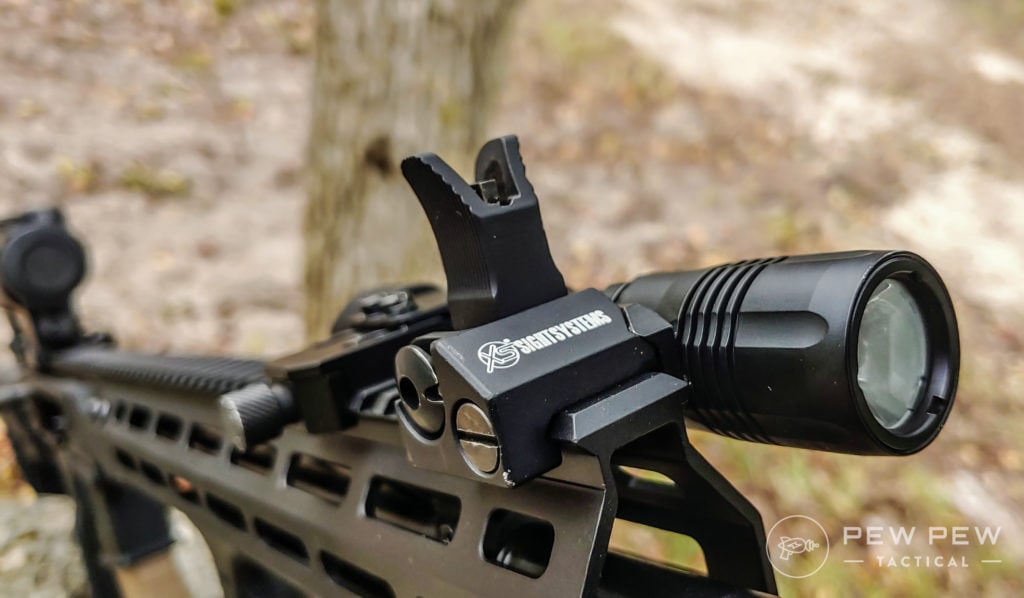 This is where backup iron sights (BUIS) become worth their weight in gold. Today, we're going to look at some reliable AR-15 BUIS to use when you're in a pickle.
Summary of Our Top Picks
Best AR-15 Backup Iron Sights (BUIS)
1. Magpul MBUS
The Magpul Back-Up Sight, aka MBUS, is an affordable sighting system that is designed for the AR-15 platform. It's an affordable and effective backup to your optical sighting system.
Affordable Option
37
at OpticsPlanet
Prices accurate at time of writing
Prices accurate at time of writing
Magpul's front and rear sights are both built with a lightweight and durable polymer that's can handle any wear and tear you throw at it without any major issues.
As long as you've got a Picatinny rail system on your gun, you'll have no problem mounting these BUIS in minutes.
Both sights are capable of folding down, so you don't have to worry about them being in your way when they're not in use.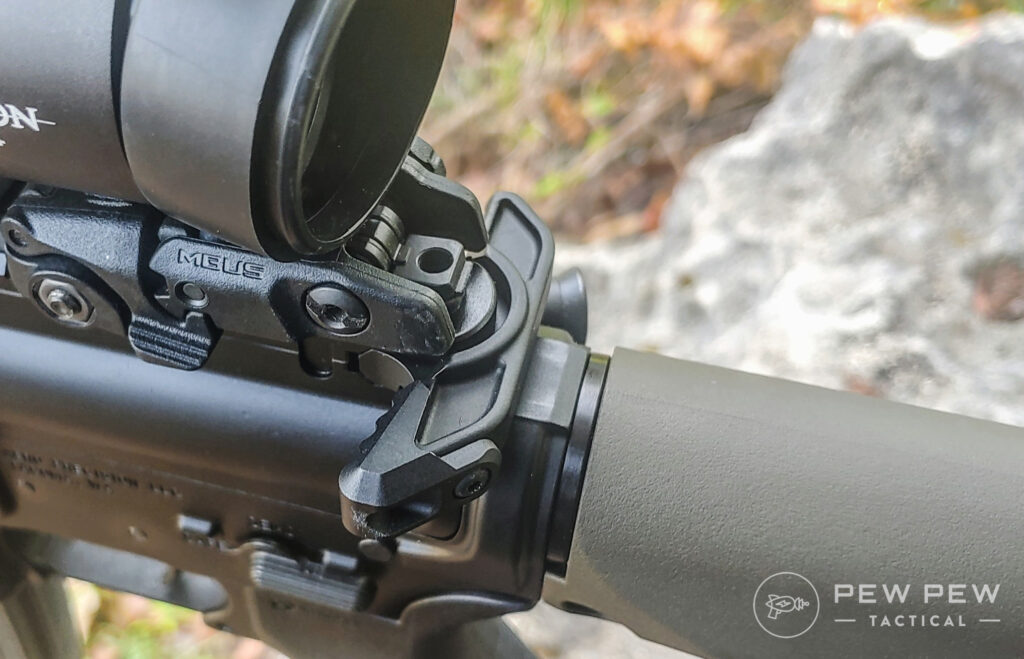 The internal spring system built into the MBUS helps make the sights sturdy enough to withstand bumps and knocks without unintentionally folding down.
Since the MBUS are the same height as the A2 sights, you don't have to worry about getting used to a new pair of sights. And if you want to make any adjustments, the rear sight has an easy-to-use knob for adjusting windage, while the front sight comes with a tool for making changes to the elevation.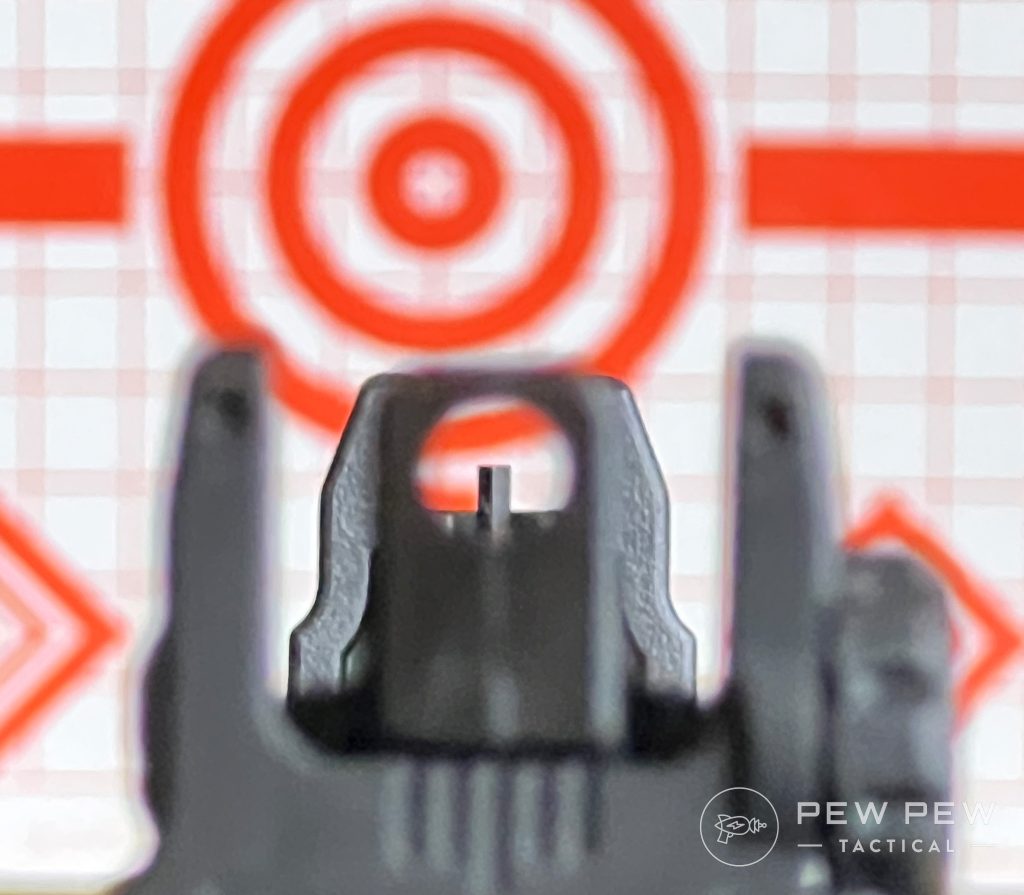 What's your take on the MBUS? Give it a rating below.
2. Magpul MBUS 3
Magpul eventually upgraded their MBUS to all steel with their Pro series and these were impressive. The newer version included evolved features.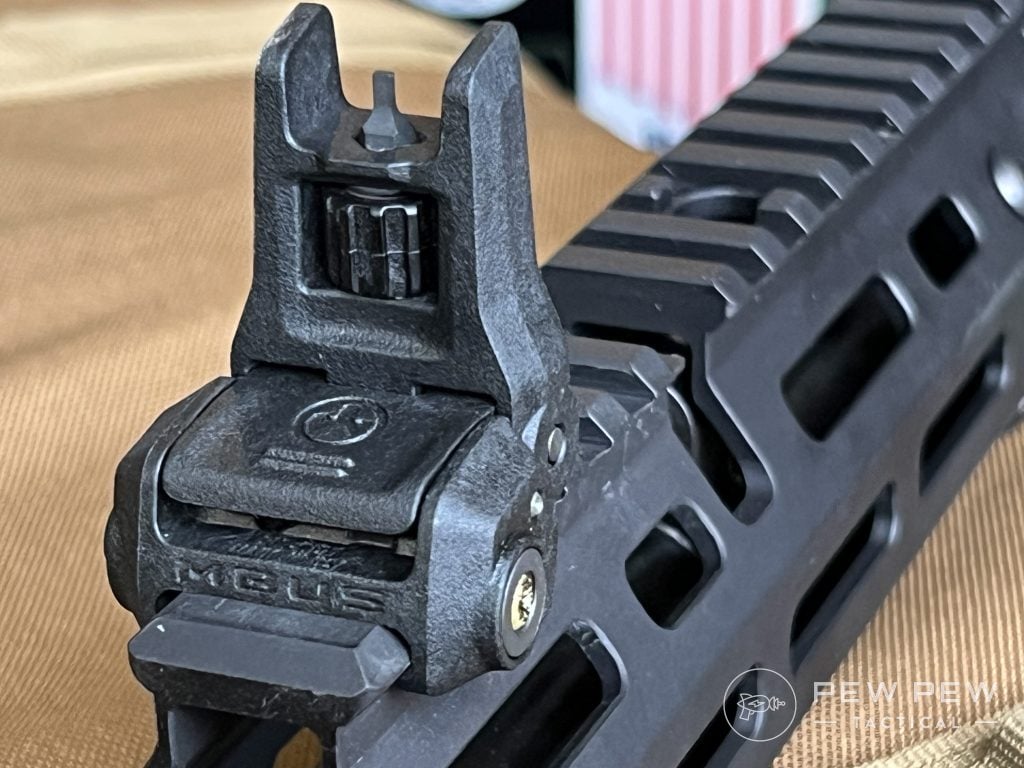 With the MBUS 3, Magpul returned to polymer but kept the Pro features while reducing the overall size of the sights. The MBUS 3 are lightweight and very durable. The reduced profile means they are very small when stowed though they can be deployed with an ambidextrous, spring-loaded, push button.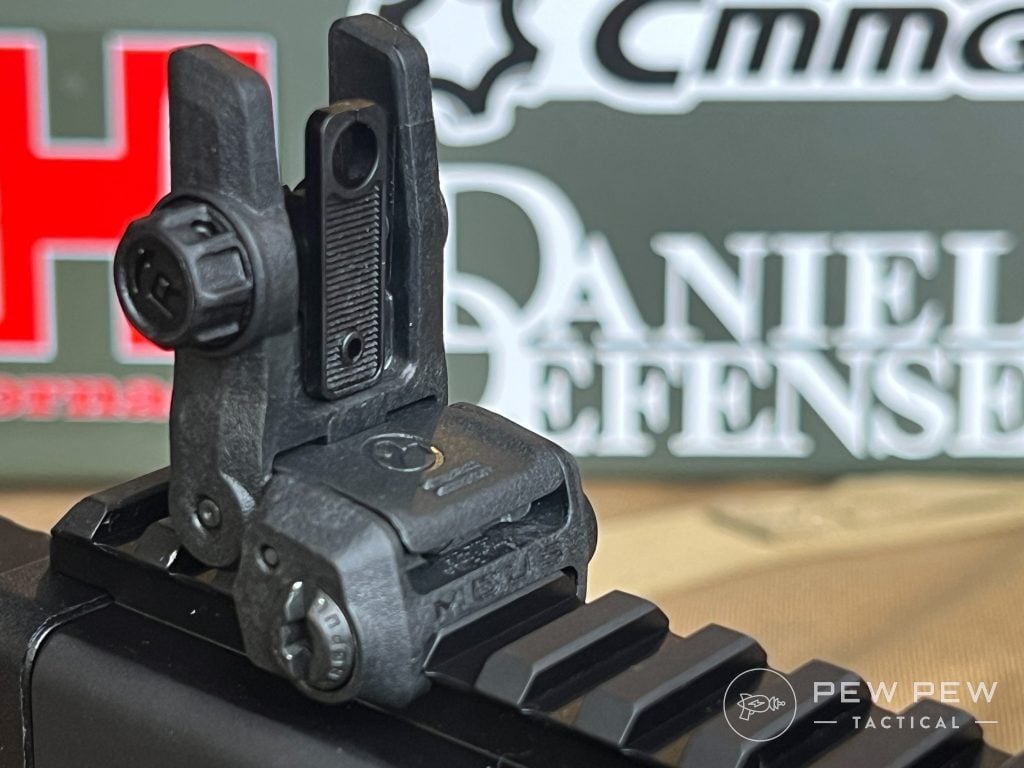 The front sight has tool-less elevation adjustment and a rectangular front post. The rear sight has tool-less, adjustable windage and dual apertures.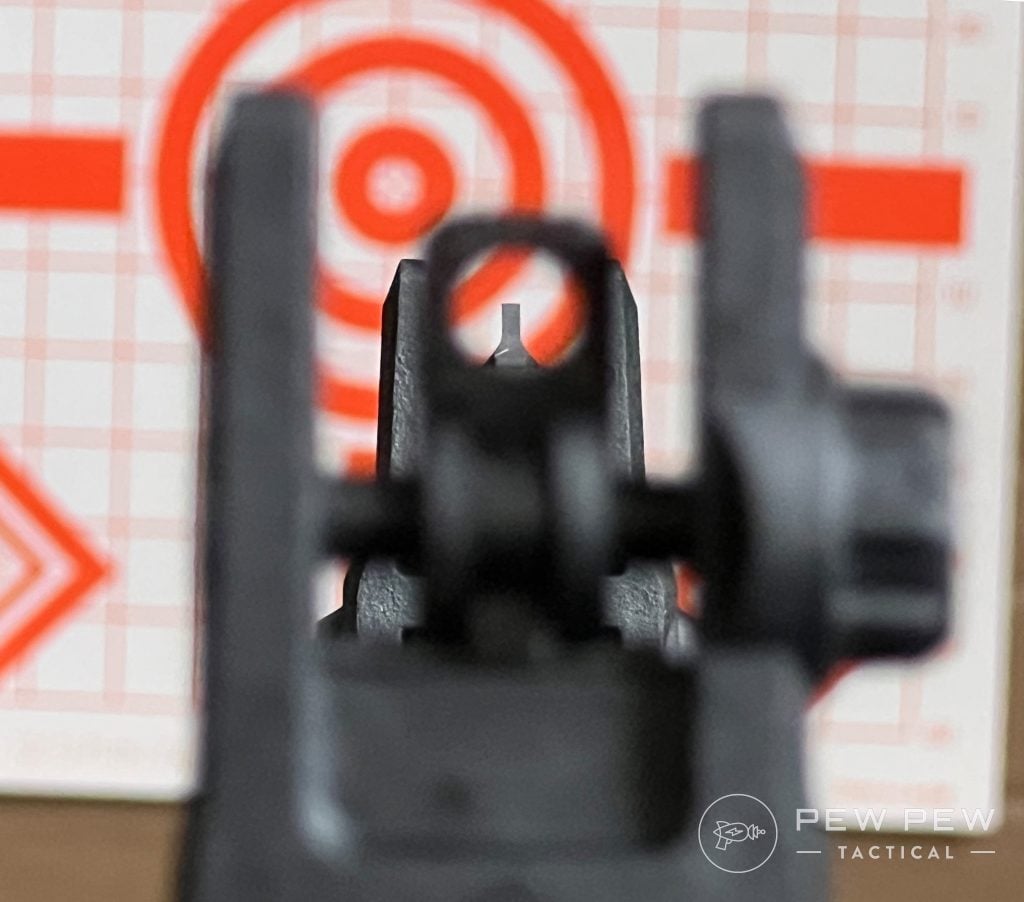 3. FAB Defense Flip-Up Sights
Straight from the guys that make stuff for the Israeli Defense Forces comes the FAB Defense Flip-Up Sights.
Lightweight Option
79
at Amazon
Prices accurate at time of writing
Prices accurate at time of writing
Lightweight like Magpul's but doesn't have an internal spring system. Which can be good or bad depending on your situation.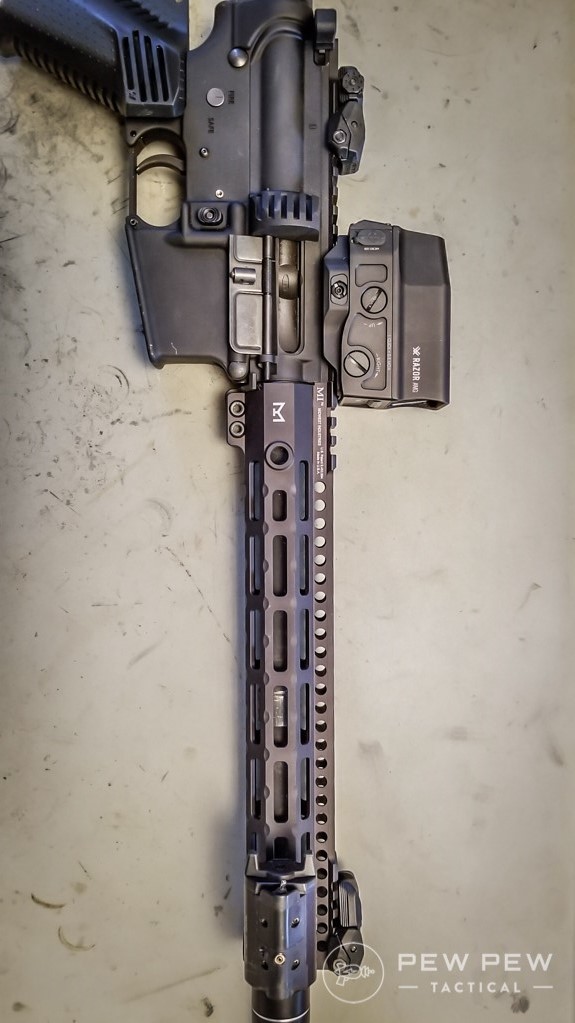 If it's rare to deploy your BUIS…I actually like FAB's system since you don't unintentionally activate the front sight if you use a far-reaching c-clamp grip.
View-through is great and sight is easily adjustable too.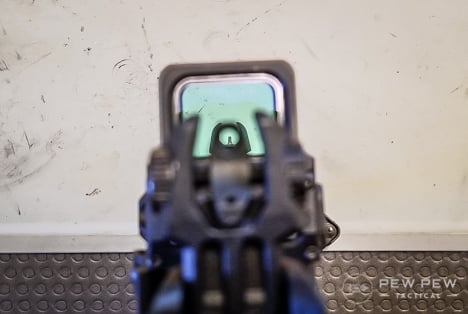 4. Troy Micro HK-Style Front and Rear Sights
If you're looking for something that's sturdy and dependable, Troy Micro HK-Style MBUIS are strong enough to take a lickin' and keep on tickin'.
These low-profile iron sights are under 1.5 inches in length and only weigh a couple of ounces, meaning that they're conveniently out of the way until needed.
Because of their low-profile design, the Micro BUIS could require a bit of adjusting when mounted on your M4. But if you're running a raised top rail system then the Micros are great to shoot with. Troy recommends mounting them to the Sig Sauer 556 carbine and the FN Scar.
Low-Profile Option
209
at Brownells
Prices accurate at time of writing
Prices accurate at time of writing
Overall, the Micro BUIS are pretty cool.
They clamp easily to your Picatinny rail system where they remain folded down until you need to put them to work. You can also flip the rear sight aperture to choose between short/medium-distance and long-distance (300 to 600 yards) shooting.
The best feature of the Micro BUIS is its rugged design. This makes it an excellent alternative for anyone who's not so keen on the polymer sights and wants something actually made out of metal – as the name iron sight implies.
In addition, the tritium really helps to make the sights visible, which is perfect for low-light shooting.
5. A.R.M.S. Inc. #40 L-F Combo
The #40 front ($130) and rear sights ($135) are a reliable set of BUIS that will make sure that your AR-15 doesn't lose accuracy in the event of an optical mount getting banged up or malfunctioning.
Their low-profile design makes them excellent for your flat-top due to the fact that they take up very little space and can be folded down when not in use.
Durable Option
130
at Brownells
Prices accurate at time of writing
Prices accurate at time of writing
Like a lot of other BUIS for the AR-15 platform, the #40 rear sight comes with a flip-adjusted aperture that switches between short and long-range shooting. Also, unlike some of the other BUIS out there like the MBUS, the front sight of the #40 can be mounted to the gas block without any issues.
One of the more popular features of the #40L-F is its lower-than-usual profile which gives the shooter far more clearance when mounting an optic to their AR-15.
Also, to avoid unnecessary damage to the front sight, A.R.M.S. designed the sight to fold back when struck from a front angle. That's definitely a plus for those of us who are a little too rough with our guns.
6. KAC 45-Degree Offset Folding Micro Sight Kit
If you've got no problem dropping a lot of money on a set of BUIS, the folding micro sight kit by KAC ($284) is arguably the Cadillac of iron sights.
But what makes a BUIS so special that it costs the same amount as a red-dot sight?
For starters, KAC's sights are some of the easiest to adjust on the fly. Instead of having to use special tools, the shooter can change elevation and windage with their hands. All you need to do is turn the specific knob in the direction that you'd like the sight to be adjusted to.
Offset Option
285
at Brownells
Prices accurate at time of writing
Prices accurate at time of writing
The other major benefit of the 45-degree angle BUIS is the way they're designed to not interfere with all other optics mounted to your device. Whether you want to take a quick shot without a scope or your red-dot just died out, you're able to easily squeeze off a round with the 45-degree sight by giving your rifle a slight counter-clockwise rotation.
While that may sound strange and even unnatural, shooting with 45-degree sights is actually easy – even intuitive. Have a look at this quick video to see how they're put into action.
The final word on KAC's Offset sights is that they're great to have, provide you're willing to spend the money. But the fact that they're compact, lightweight, and never get in the way makes them completely worth it, especially if you're shooting with a scope.
However, there is one drawback to the sights…the aperture. Instead of being able to cycle through apertures like you could with other KAC sights, the 45-degree offset comes in two versions — the 300 meter and the 200 to 600-meter version. So make sure you choose wisely before spending so much money.
7. Ade Advanced Optics Offset Sights
Don't have the coin for KAC? Check out the ultra-affordable Ade Offset Sights ($24) that have awesome reviews.
We've been testing them out for competitions where we leave our 1-6x scopes at magnification and use these bad-boys for quick and dirty close-up shots.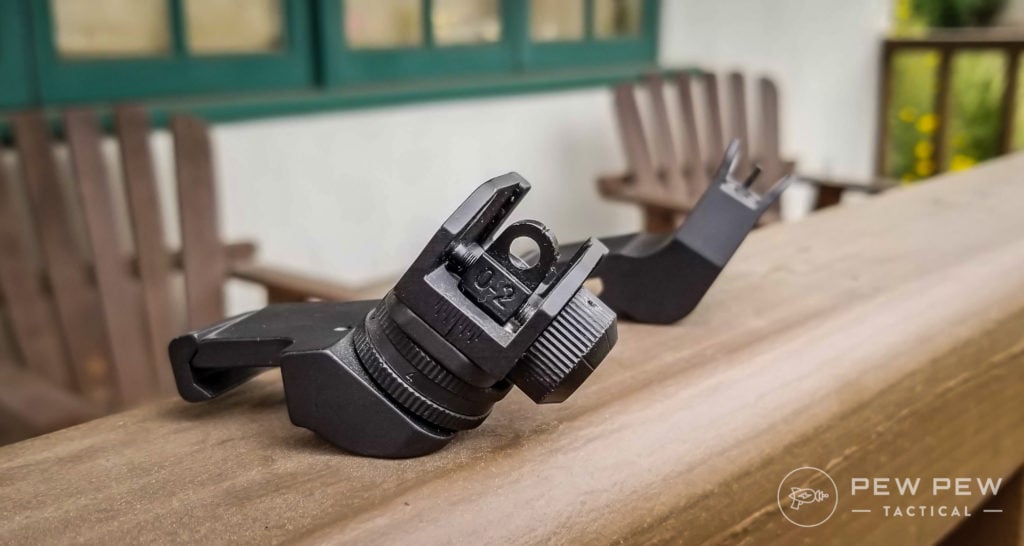 Here they are mounted on one of our rifles.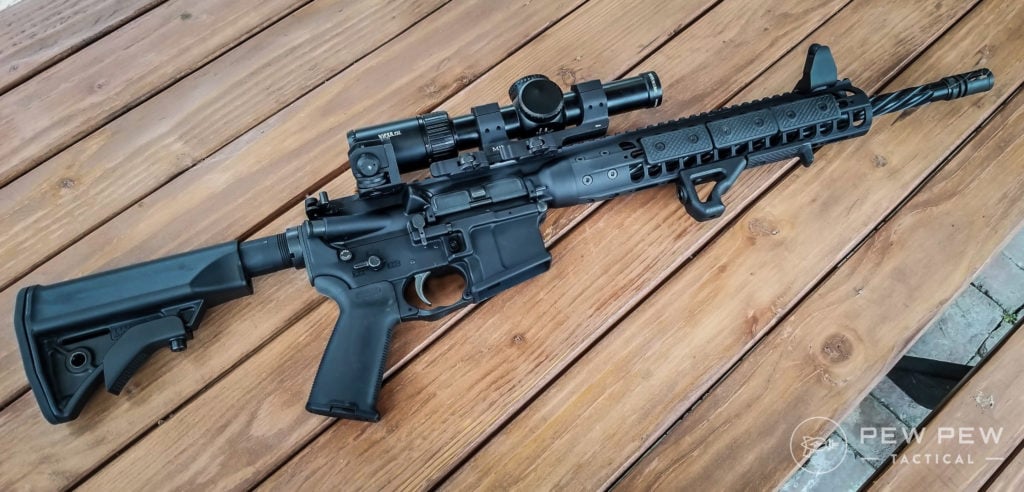 And of course…how they actually look.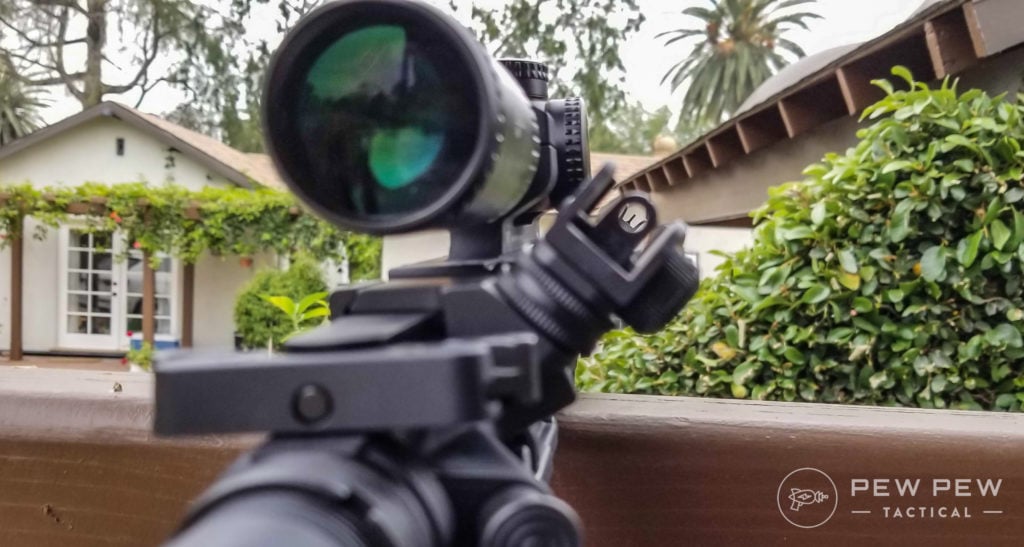 It's up to you to decide if that's worth it…but for quick man-sized target shots up to 25 yards…I love them.
Affordable Offset Option
18
at Amazon
Prices accurate at time of writing
Prices accurate at time of writing
We also have even more at Best AR-15 Offset Sights.
But Do I Really Need Back-Up Iron Sights?
I get it, redundancy isn't a good look. You don't want to be that person who has every single gadget known to man mounted on their AR-15. It's bulky, unnecessary, and cumbersome.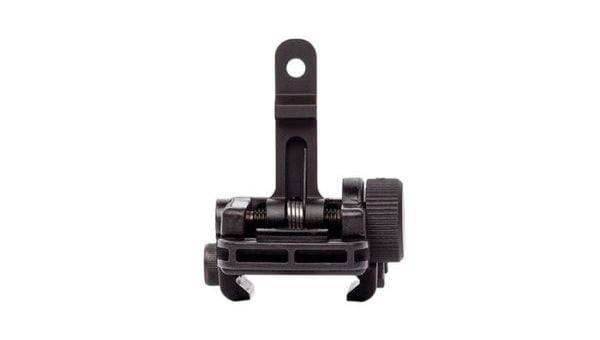 The thing is, BUIS should be neither redundant nor cumbersome. And if they are then you're probably doing it wrong.
The AR-15 market has come a long way from its older detachable carry-handle design– and we all remember how unnatural the 3x optical scopes felt mounted to those.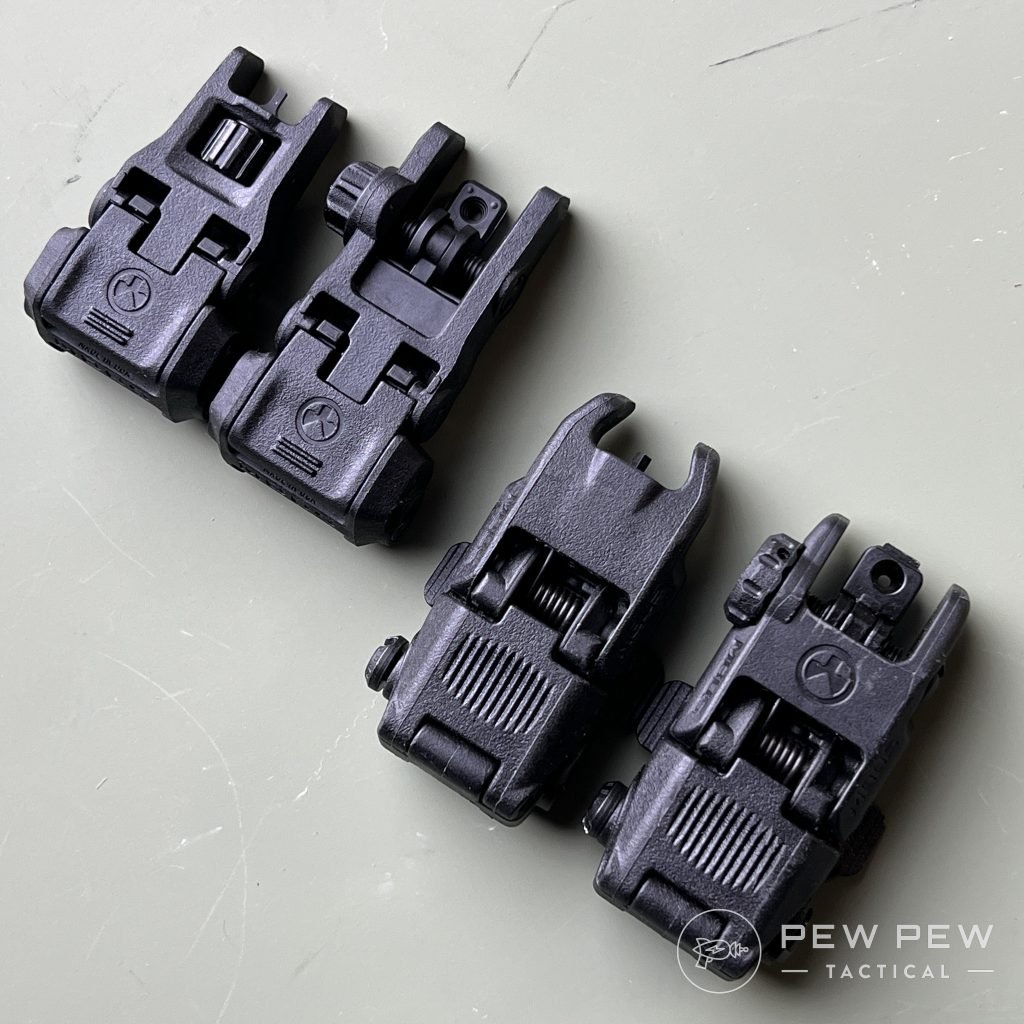 As you already know, AR-15s are now designed optical-ready and built with rail systems.
Because of this, a number of manufacturers have begun making ARs without iron sights. After all, most people rush out to buy a red-dot sight anyway. And whether companies do this to cut back on manufacturing costs or because the average shooter prefers mounting their own sights is irrelevant.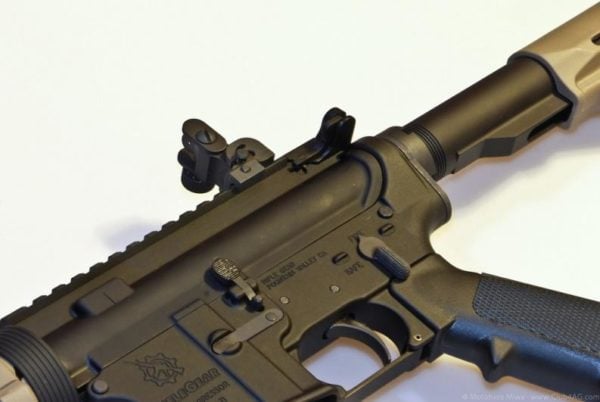 Back to whether you actually need BUIS or not – the answer is unequivocal yes, you do need them. The last thing you want to happen if your red-dot or holographic goes haywire is to be shooting blind. Fortunately, BUIS are easy to mount and available for pretty much every kind of budget, so you're always able to have a Plan B.
You can even get 45-degree mounts like the KAC mount up above in order to have iron sights mounted to the side of your primary optic for quick, up-close shooting.
Now that we've covered the importance of BUIS and looked at some good ones on the market, you're ready to upgrade your AR-15. Also, don't forget to check out our extensive red-dot guide while you're shopping around for optics.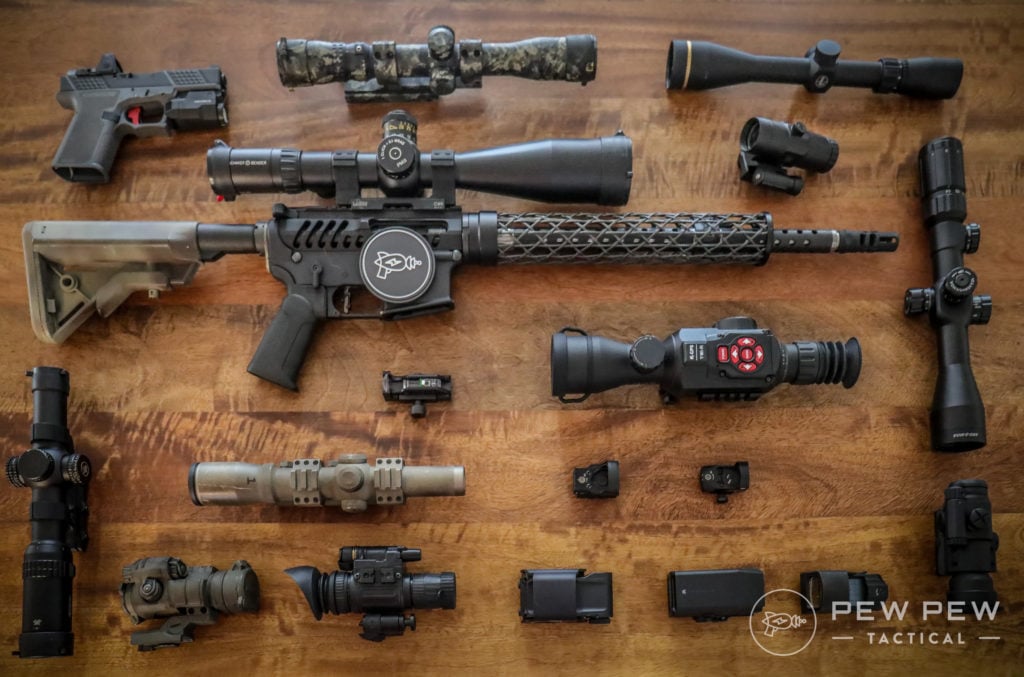 Do you have BUIS on your rifle? If not, did any of these catch your eye? Let us know in the comments below. Want go to electronic? Check out our Best AR-15 Scopes & Optics. To get the lowdown on how to zero irons, check out our guide!