Seeing if a holographic weapons sight is for you?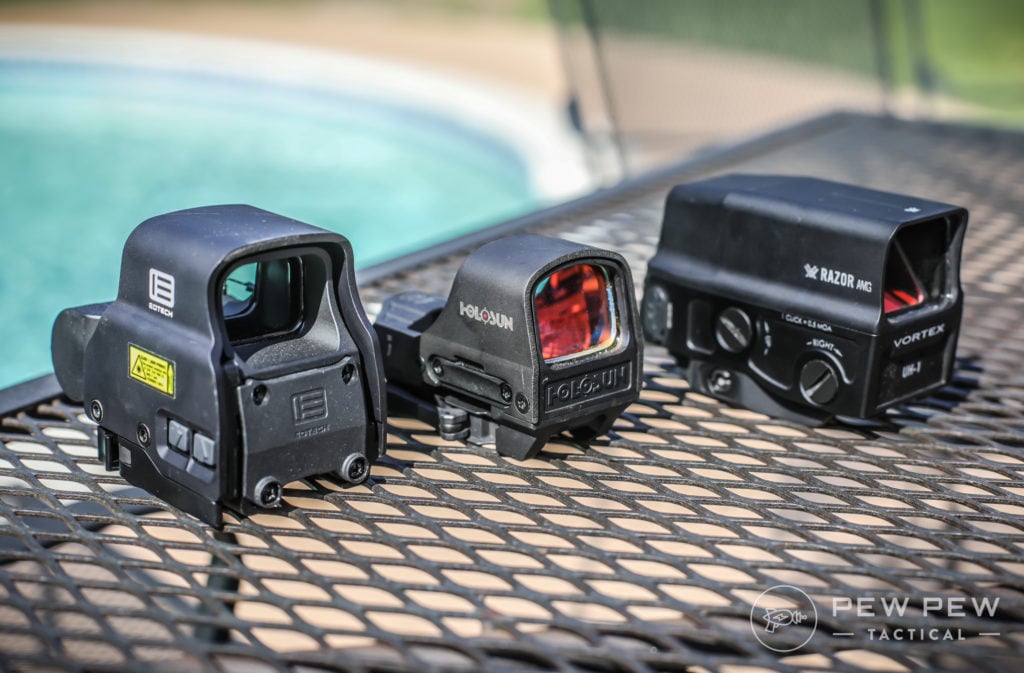 We bought the two most popular holographic sights right now…plus a third underdog contender.
And we break them down into what we think is the best.
*Update*: Now we have three tested EOTechs too!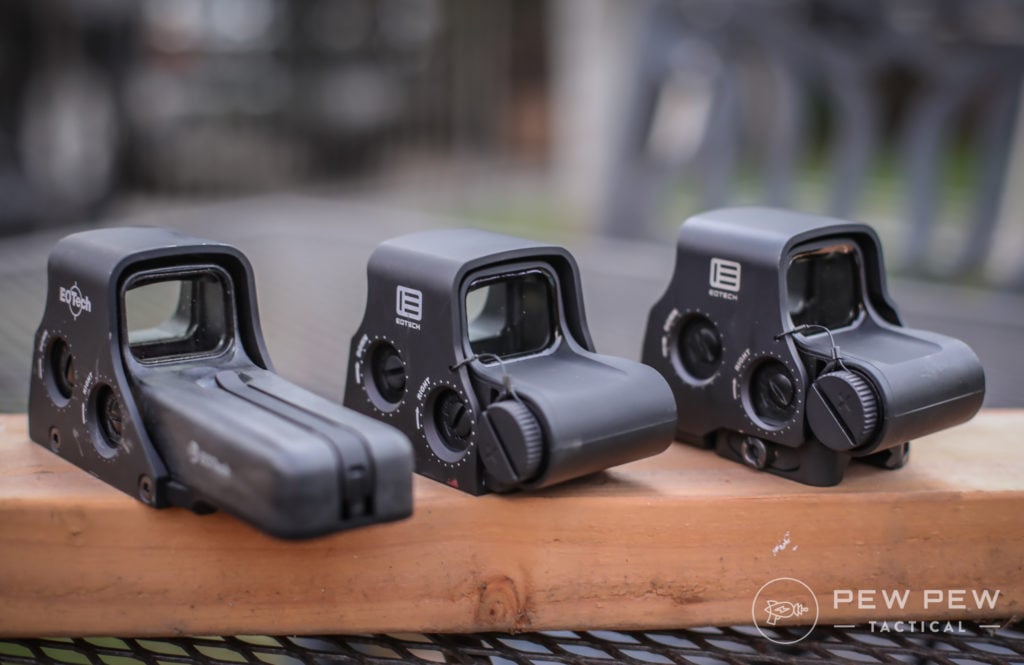 Keep reading to learn all about holographic vs red dots and the best models you can bank on.
Summary of Our Top Picks
Table of Contents
Loading...
Holographic vs Red Dots
Without going too much into everything…why would you even want a holographic sight compared to a red dot? We have this super in-depth article for that.
Red dots (or reflex sights) operate by having an LED project a dot towards a lens, which is specially coated so that it bounces back towards your eye.
Check out our Best Red Dots Under $200 article.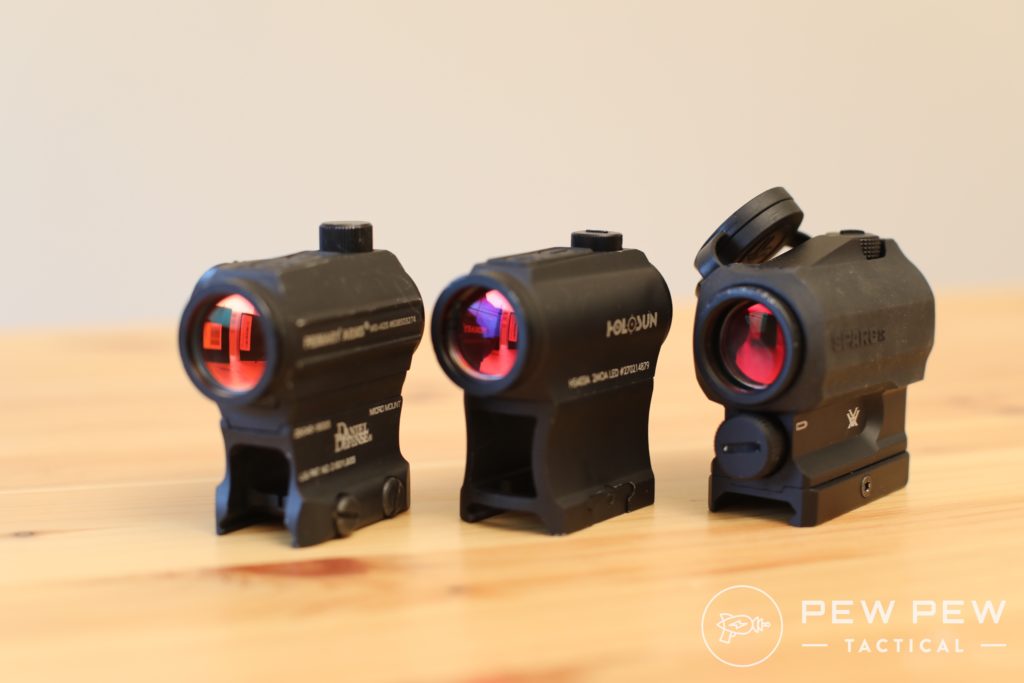 Holographic sights use a laser transmitted hologram of a reticle through a series of lenses back to your eye.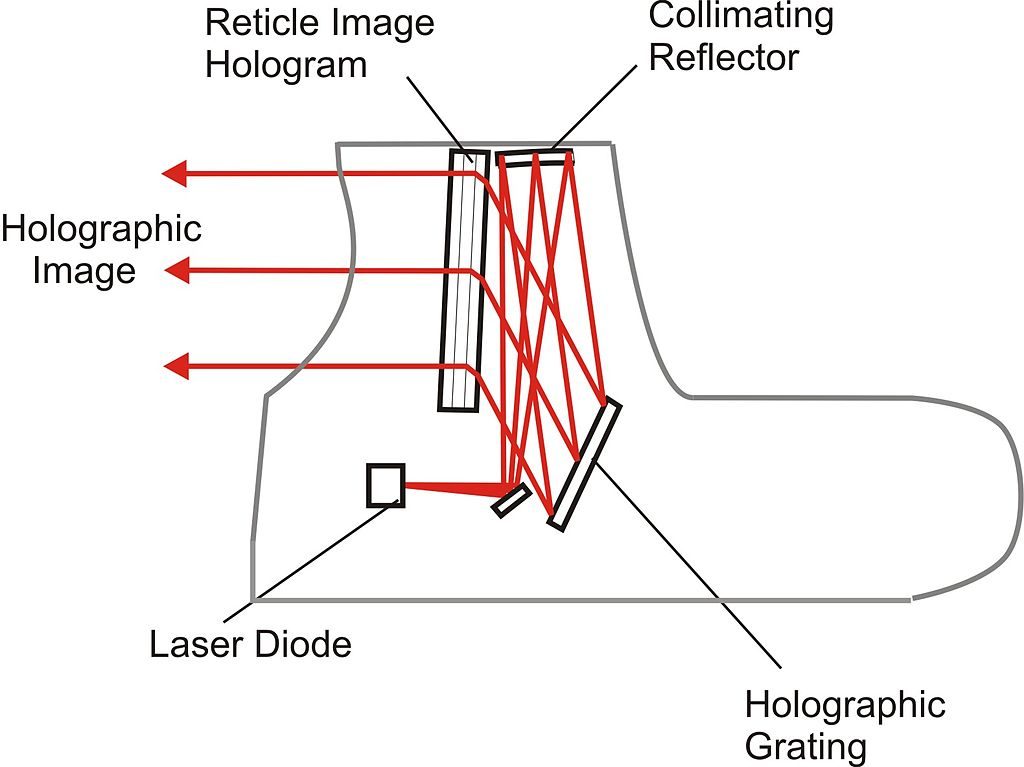 If it looks more complicated…it's because it is.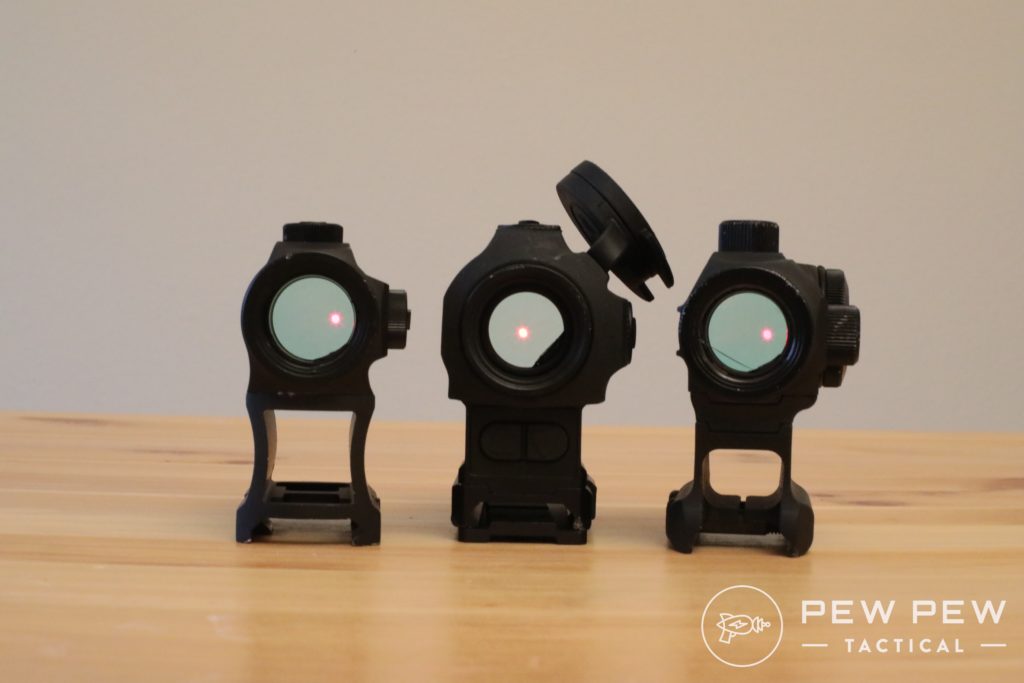 Since it uses a laser to transmit the reticle, it uses up more energy than a simple LED.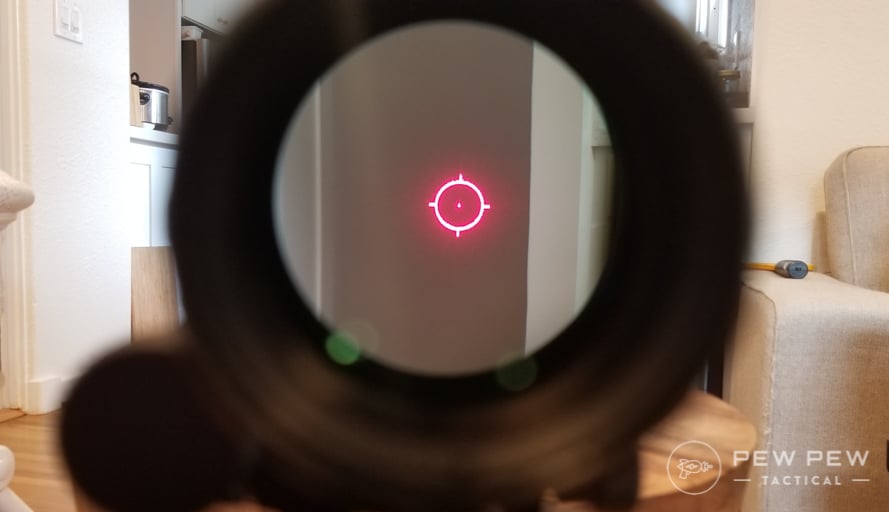 But because of that…
There's a relatively unknown (but super important) distinction is that the reticle is projected outwards at the target instead of bounced back to your eye?
Who cares?
It makes for faster acquisition since your eye is not battling between focusing on a red dot at the optic distance vs the target.
With a holo you're focusing on the target AND the reticle.
You also tend to get a bigger view window with holographic sights.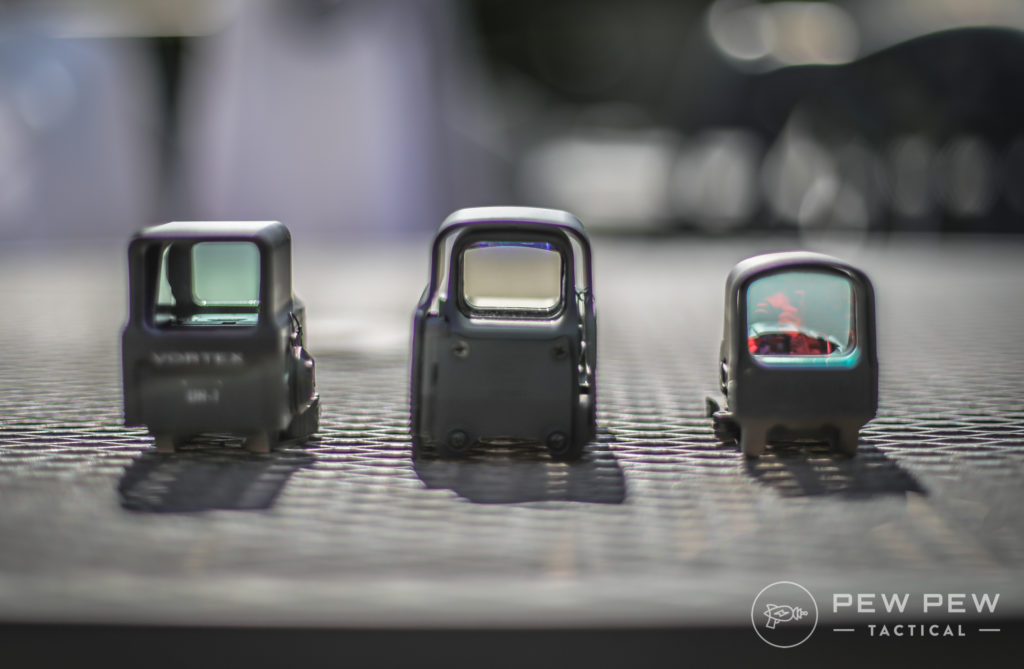 Oh…and even if your entire front lens gets destroyed…your holo will still keep on chuggin'.
There's more reasons we go over in Red Dots vs Holographic. But for now, onto our favorites…
Best Holographic Sights
1. EOTech EXPS2-0
EOTech is the giant in the holographic sight game.
Sure, they had a little snafu a few years back about thermal drift (where the reticle doesn't return to zero if subjected to extreme temperatures). But they are back and better than ever.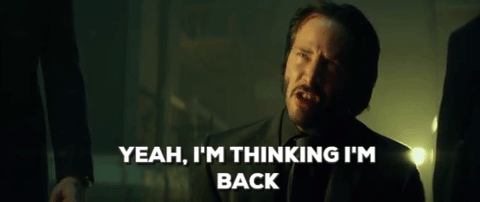 If you're still worried about the thermal drift (all sights, red dot or holo, have them)…check out EOTech's response for their new sights.
My favorite is their new EXPS2-0 which is shorter than the most popular previous model…the 512.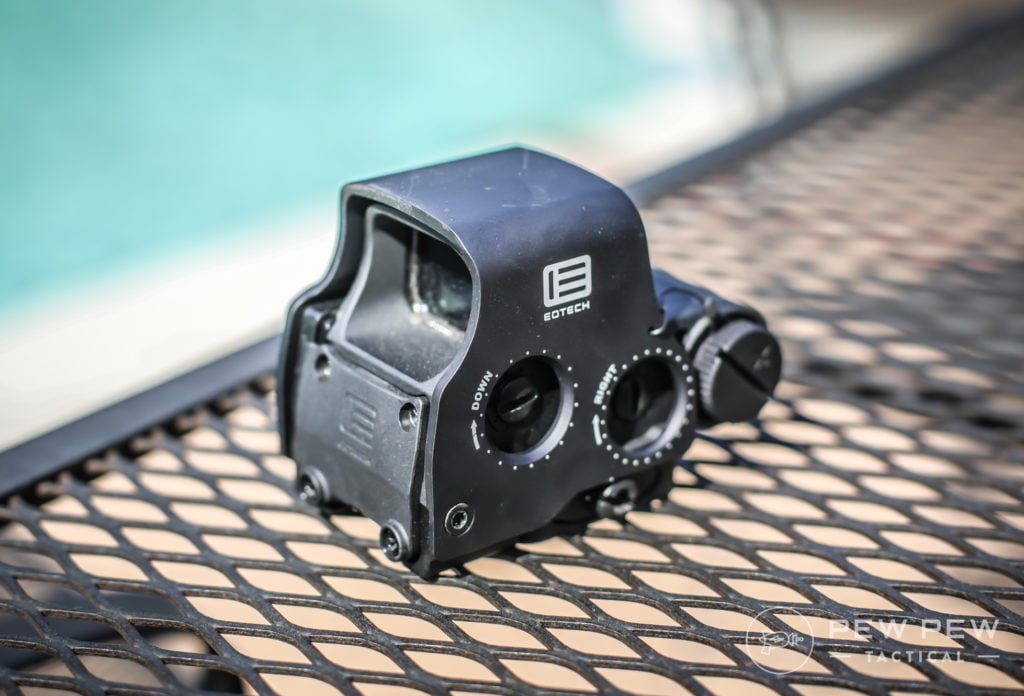 It has a big rectangular window that is very clear. And the famous 68 MOA circle with a 1 MOA dot in the center. Minute of Angle (MOA) means that at 100 yards, the big circle will cover 68 inches while the center dot will cover 1 inch.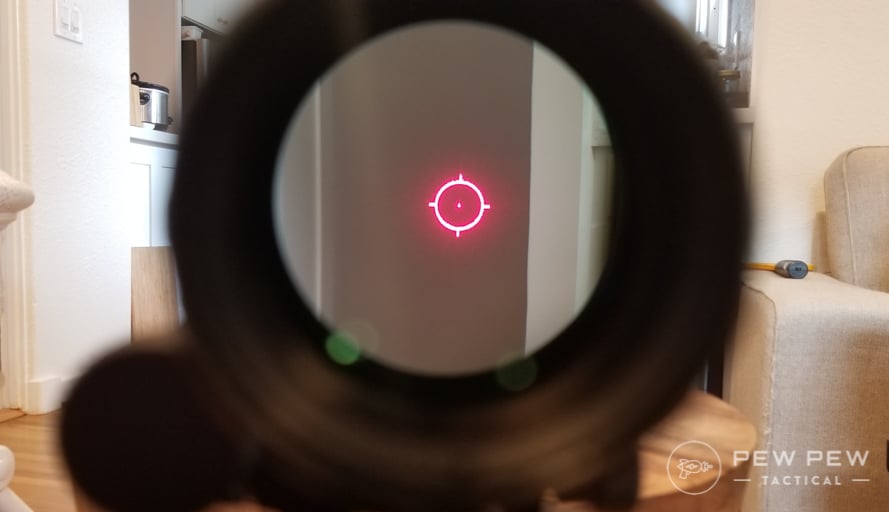 All holographic sights will look a little fuzzy but that's perfectly normal from the technology. When you have both your eyes open and are shooting at targets…it doesn't affect anything.
The reticle is the perfect blend of quick acquisition and fine-tuned accuracy. Note that the above is 3x magnified using a Vortex 3x to show the reticle (Best 3x Magnifiers).
Here it is at the range. I had trouble getting clear shots of the reticle in high brightness. But it works great even on the sunniest of days in the desert.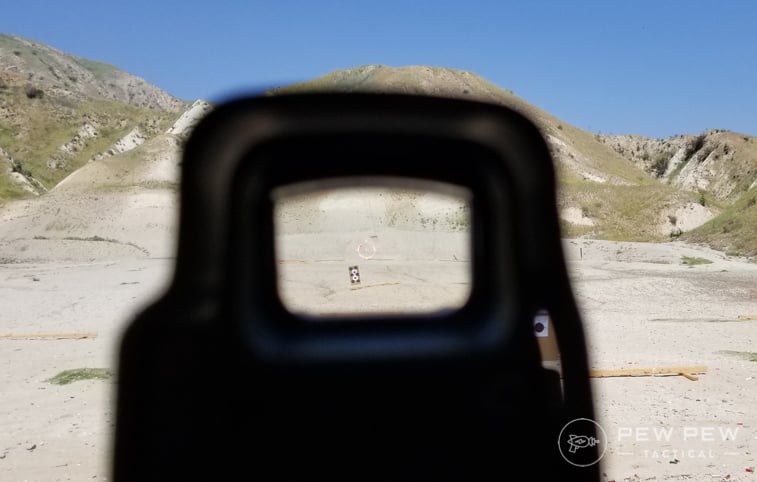 And a better image of it inside.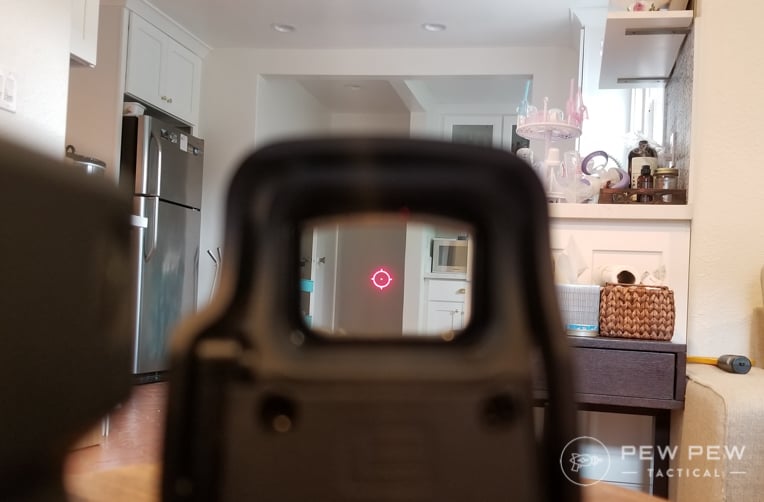 The shorter EOTechs have a couple of variants…but I like the EXPS2-0 compared to the regular XPS line since it is 1/3 co-witness which doesn't get in the way as much if you have irons or backup irons (Best AR-15 Backup Irons).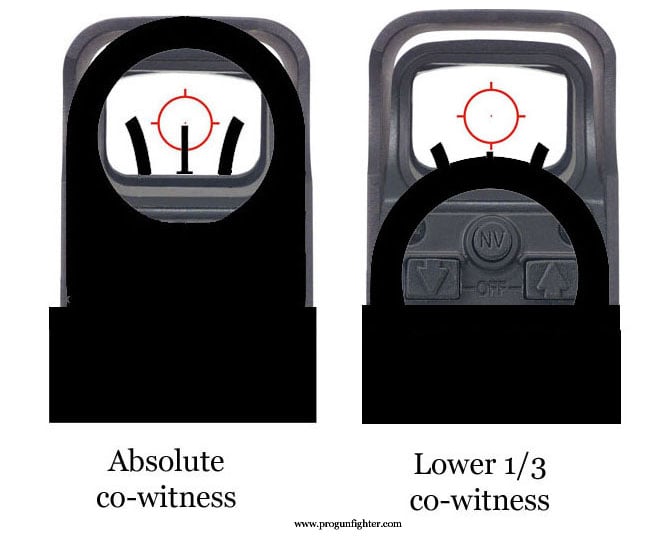 It also has a robust quick-detach (QD) rail system and the buttons on the side (essential if you're going to run magnifiers).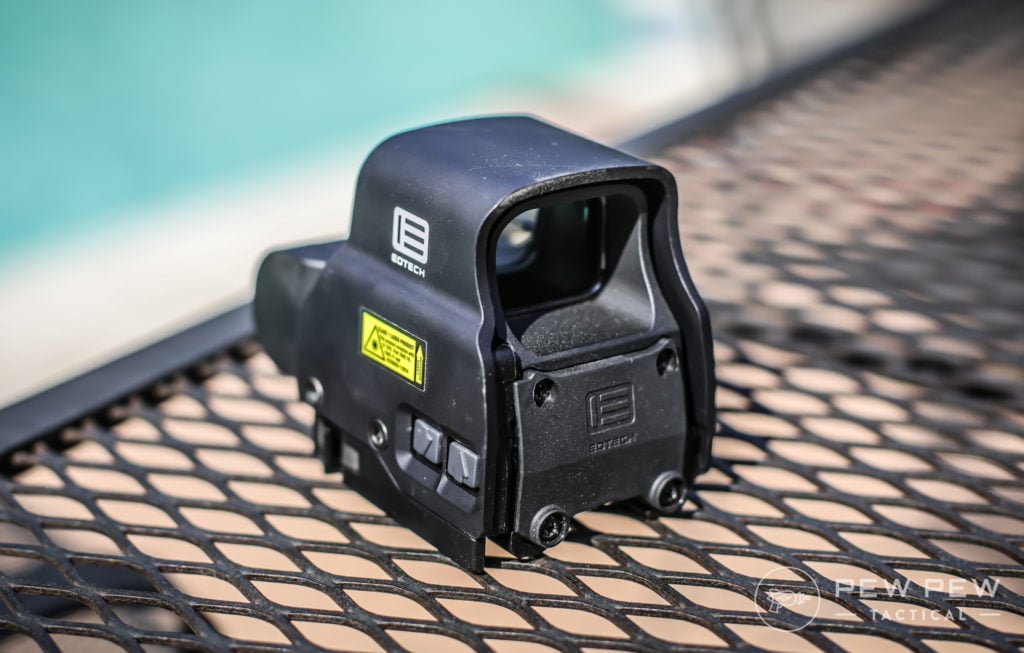 The 2-0 designates that it is the 68 MOA circle with 1 MOA center. A must if you ask me. If you're running night vision, opt for the EXPS3-0 which has some settings for NVGs.
Here's a video of it in action with a little simulated head movement to show how it's devoid of almost all parallax (moving your head will keep the reticle in the same location).
The reticle makes it super easy for close-up shots when I used the optic for pistol caliber carbine (PCC) competitions. While the 1 MOA dot was useful for farther plate racks.
I even took it on and off a couple of times while testing and it always stayed in zero (plate racks at 25 yards).
And how about some extreme abuse? We water submerged it, cycled it through cold/hot, dropped it, and then shot it with different loads.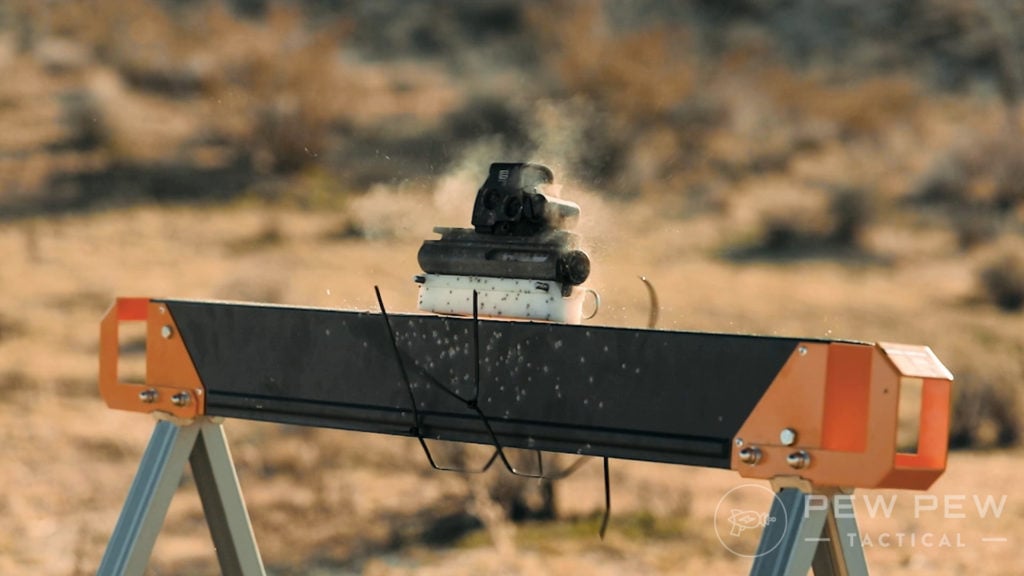 And it survived like the best of them in our High End Optics Torture Test series.
My choice for best overall holographic weapons sight.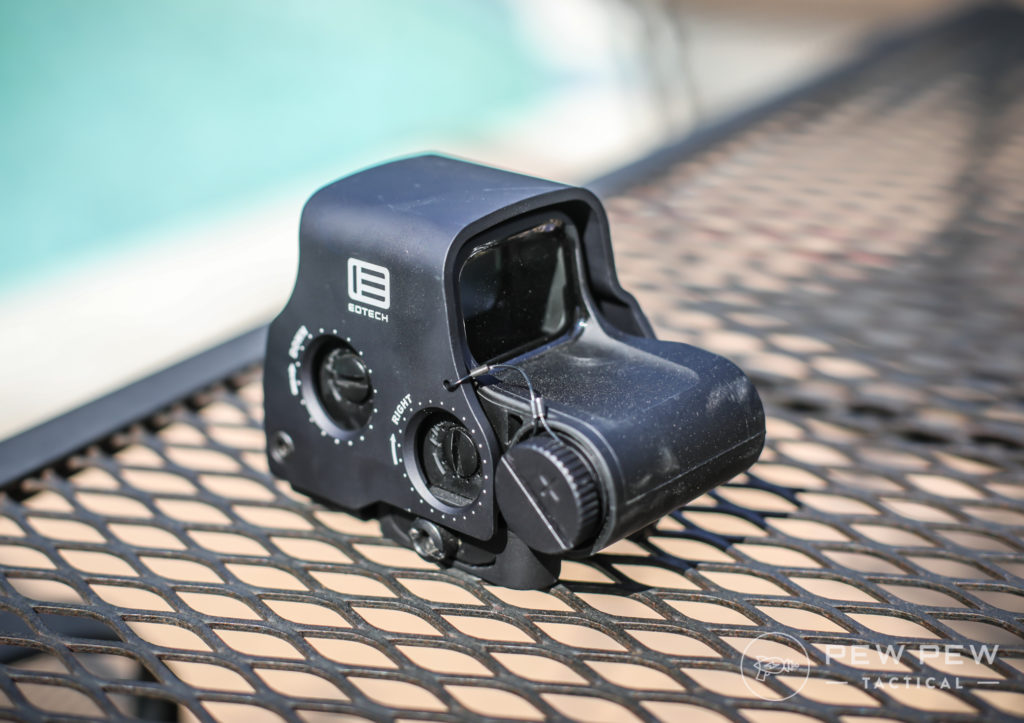 Stats
11.3 Oz
10 ft waterproof
CR123A Battery
600 hours battery life
Not NVG Compatible
Best Holographic Sight
669
at OpticsPlanet
Prices accurate at time of writing
Prices accurate at time of writing
What do you think?
2. Vortex AMG UH-1
The AMG UH-1 is a newish sight from Vortex and is the only real holographic contender to EOTech. It's affectionately known as the "Huey" because of the UH-1 designation.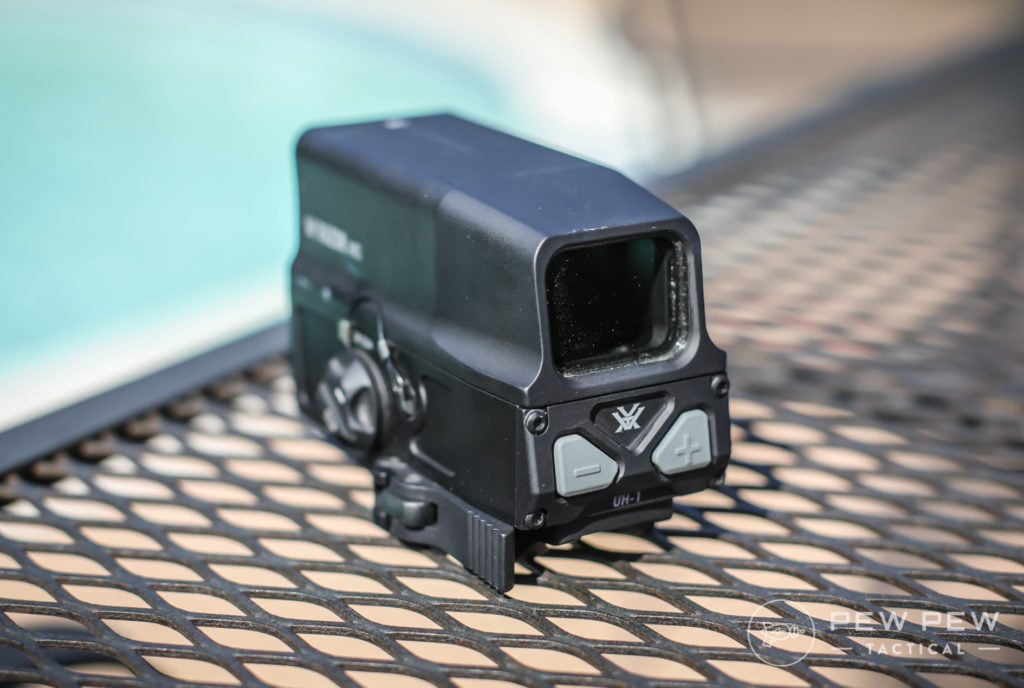 Built like a tank…it looks like it's much bigger than the EXPS but it's about the same length. The extra hood that protects everything makes it seem much larger.
Since it's new, it doesn't have the military track record of the EOTech but so far no major complaints besides a first initial batch that had some reticle flaring that is now fixed. Plus it's a Vortex so it has a lifetime transferable warranty.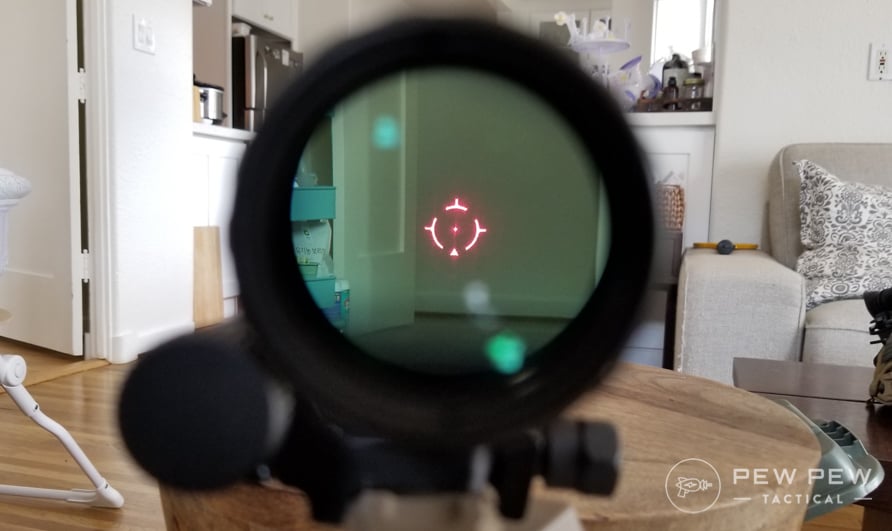 Speaking of reticles…the Huey's reticle is my favorite out of the bunch. Still has the large circle for CQB (close quarters combat) but also has a nice triangle chevron at the bottom for shorter engagements.
I set my zero at 25 yards for the shorter PCC competitions…but if you zero at the standard 100 yards…the triangle will really help. Also has a great integrated QD mount that maintained zero between testing.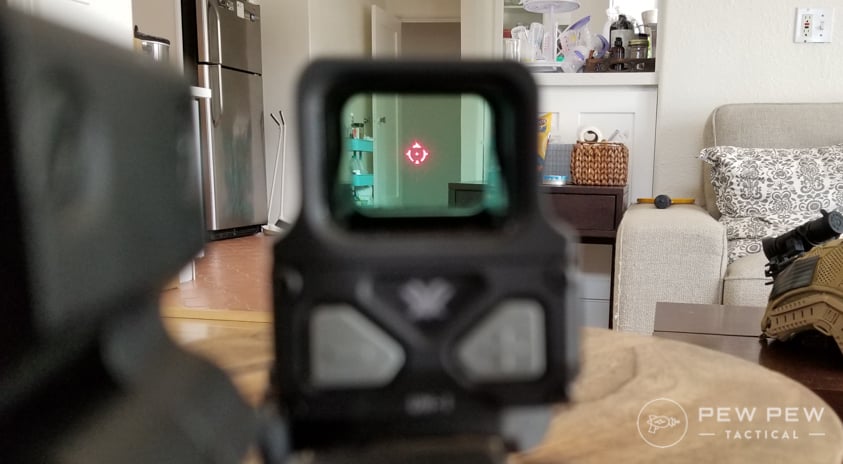 One thing I gotta knock it down for is…the greenish tint. It's a lot more apparent than the EOTech which if it has one…is nearly imperceptible.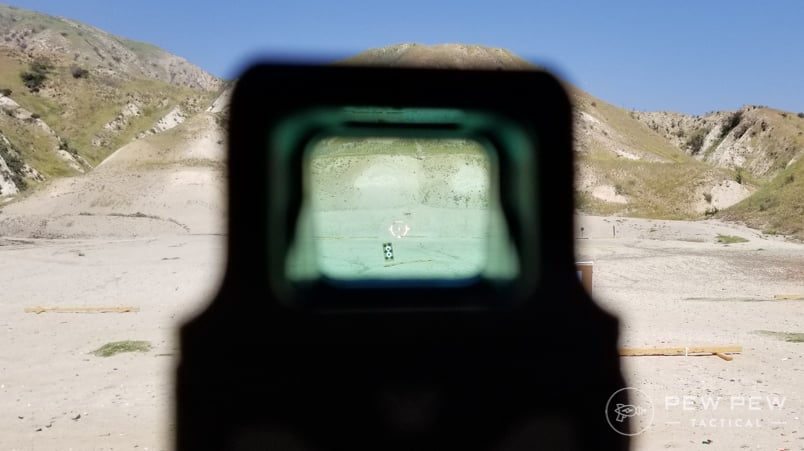 It didn't matter too much during actual shooting…but looking at it by itself it bugs me a little.
Another downside is that the buttons are on the back so it might also interfere with magnifiers.
However, one cool thing is that it has a rechargeable battery inside that you can charge through USB.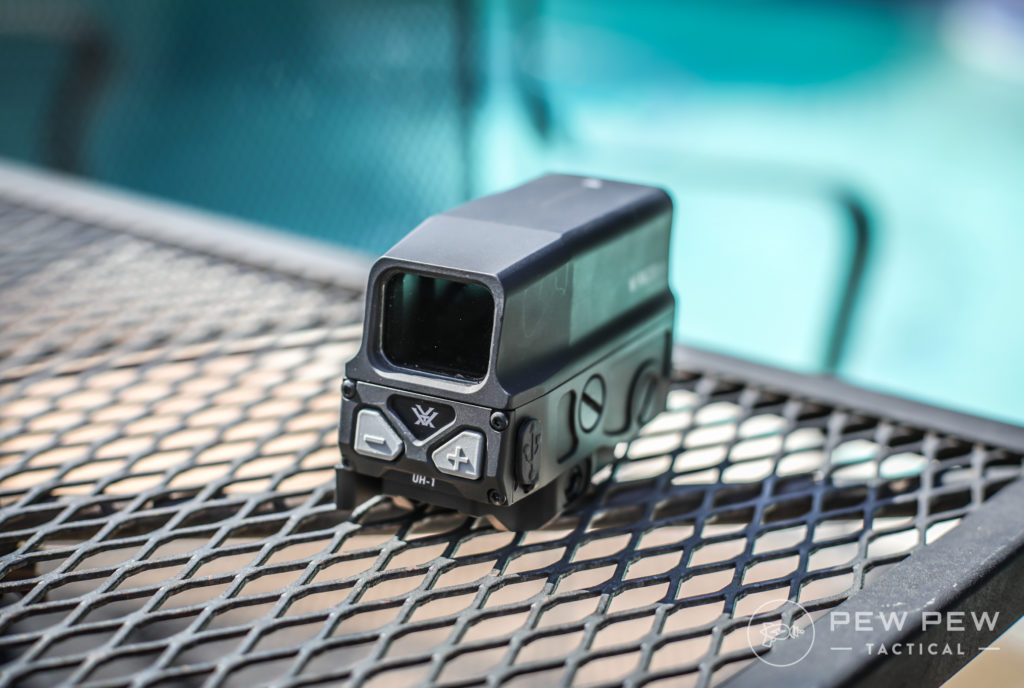 I tried it out to see if it works…and it does. But realistically I'm not sure if I'm really going to be plugging in my upper to my computer when swapping batteries seems so much easier.
Speaking of batteries…the AMG UH-1 has a sweet 1,500 hour battery life compared to the EOTech's 600 hours.
Overall, my runner-up if you want to get into the holographic sight game at a slightly lower entry fee.
Stats
11.8 Oz
10 ft waterproof
CR123A Battery
1,500 hours battery life
Not NVG Compatible
Runner Up Holographic
599
at OpticsPlanet
Prices accurate at time of writing
Prices accurate at time of writing
3. EOTech Model 512
Back to the EOTechs…the Model 512 is their most popular since it's their most affordable.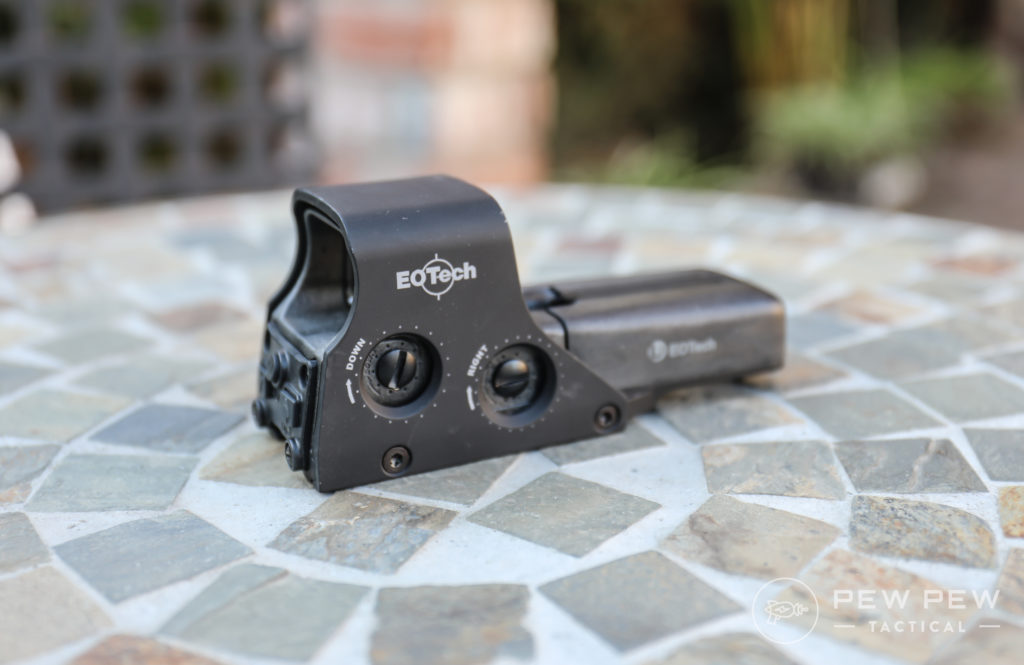 It's longer since it uses AA batteries which are normally easier to find than CR123 in the newer EOTech models.
You'll get up to 1,000 hours of battery life with a lithium AA and a matching 600 hours with regular alkaline AA.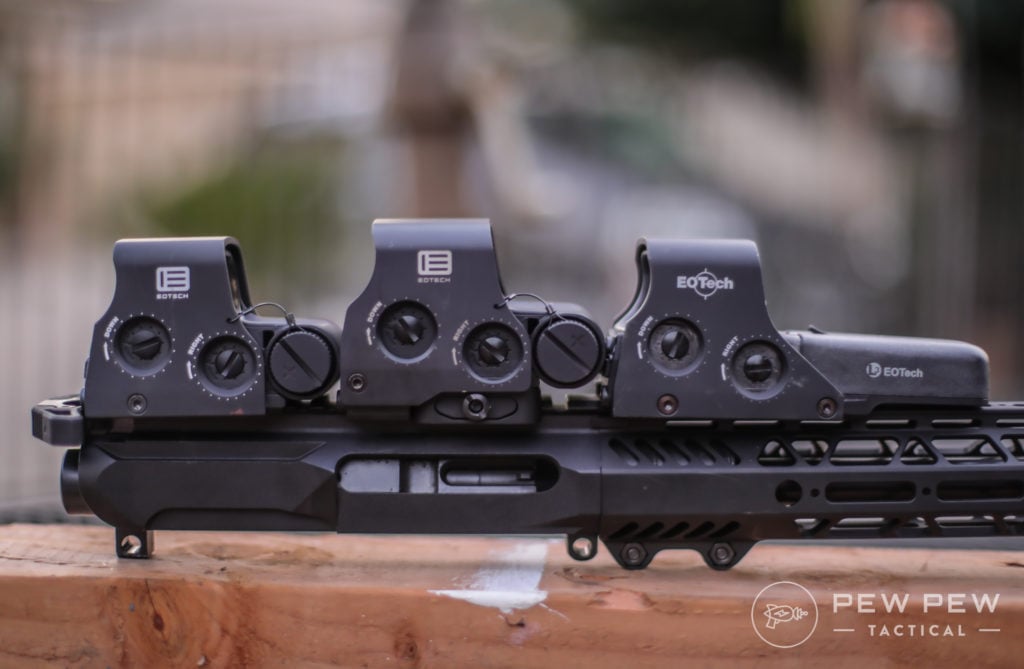 It also uses a screw attachment instead of the quick-detach system of the EXPS2-0. That means it weighs less, costs less, and gives you absolute co-witness.
Retail is around $450 but occasionally you'll find coupons at Palmetto State Armory that bring it into the $300s.
Stats
11.5 Oz
10 feet water resistance
AA Batteries: 1,000 hours on lithium, 600 on alkaline
Most Affordable
489
at Palmetto State Armory
Prices accurate at time of writing
Prices accurate at time of writing
4. EOTech XPS2-0
We're back to the "newer" smaller EOTech design with the XPS2-0.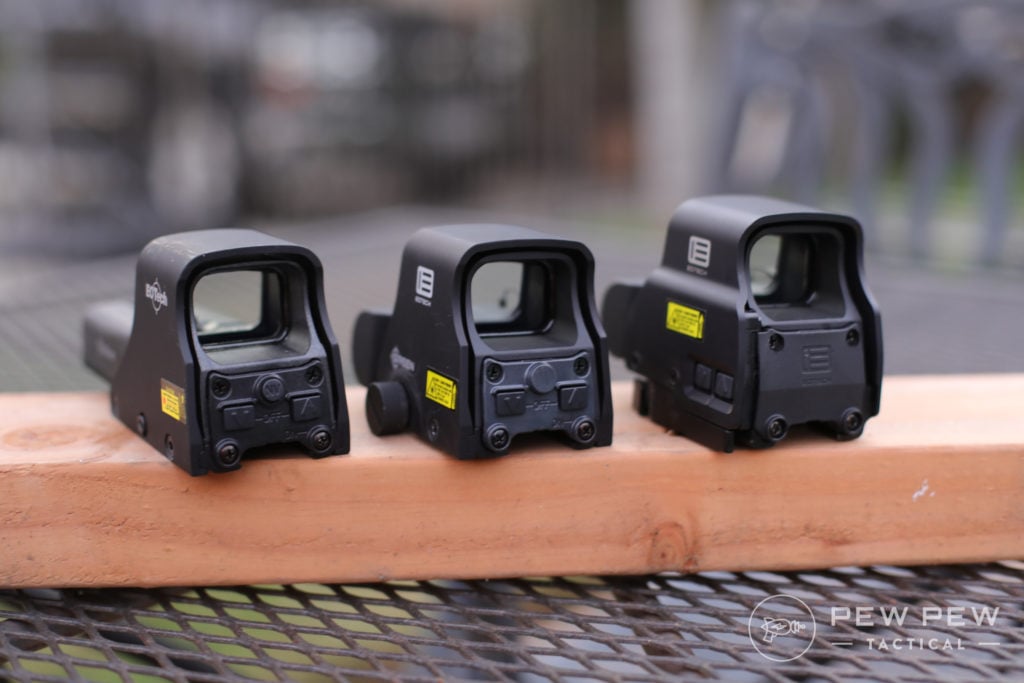 Like the Model 512, the XPS2-0 is screw based so you save a couple bucks vs the QD mounted EXPS2-0 version.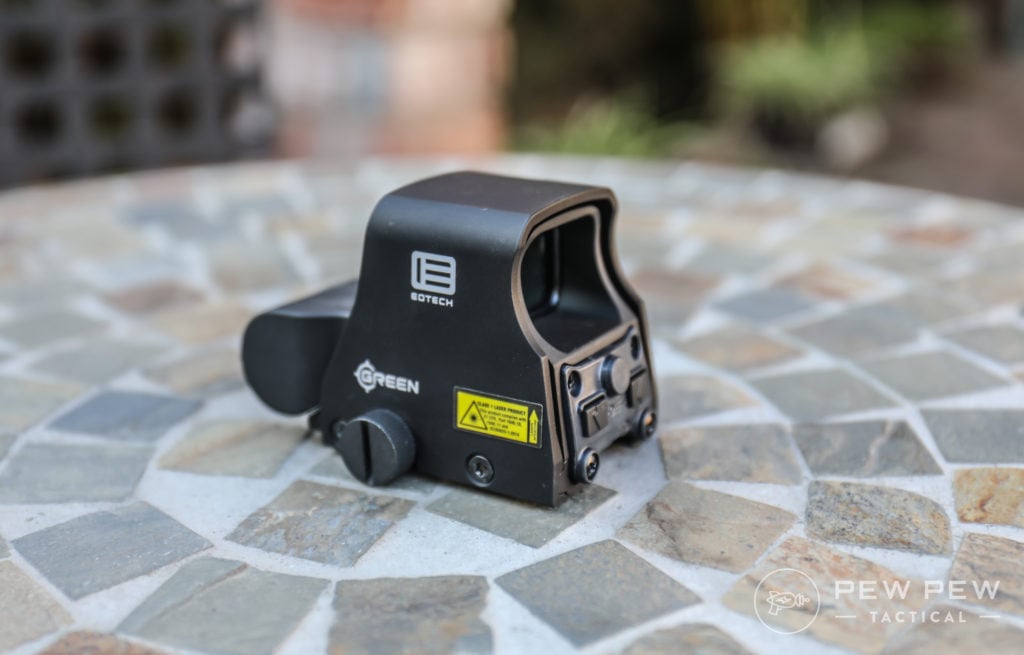 The buttons are also moved to the front which works easier for most applications but if you plan on adding a magnifier…it's better to have the extra height and buttons to the side of the EXPS2-0.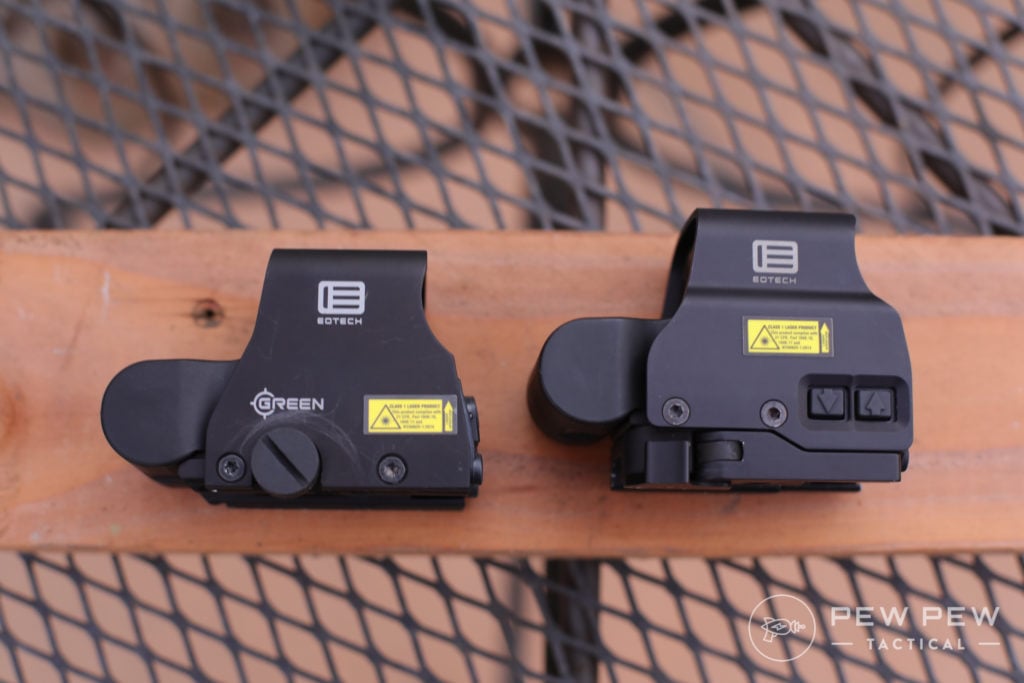 My pick if you don't plan on moving your optic a lot, not using a magnifier, and want to save a few bucks with the new EOTech model.
Stats
9.0 Oz
10 feet water resistance
CR123 Battery at 600 hours
Runner Up Budget Pick
579
at Palmetto State Armory
Prices accurate at time of writing
Prices accurate at time of writing
5. Holosun 510C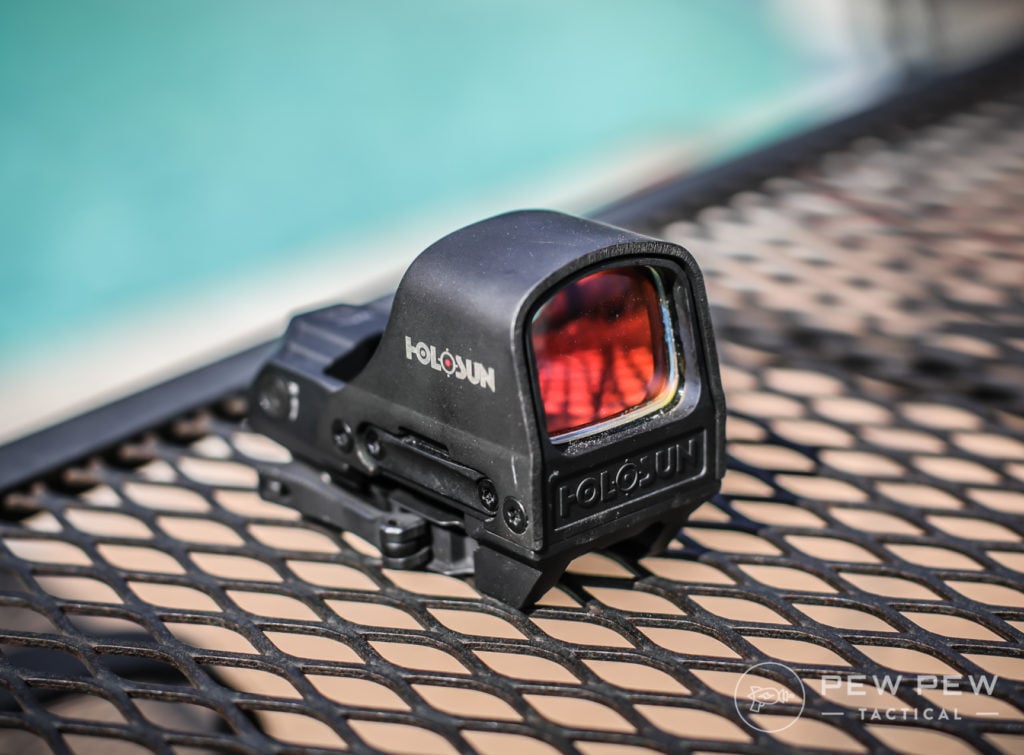 Ok…it's technically NOT a holographic sight.
But instead the Holosun 510C brings together the best of both worlds by using energy-saving LED technology and the reticle found in holographic sights.
Longer battery life and a sweet reticle that isn't "fuzzy" like normal holographic sights.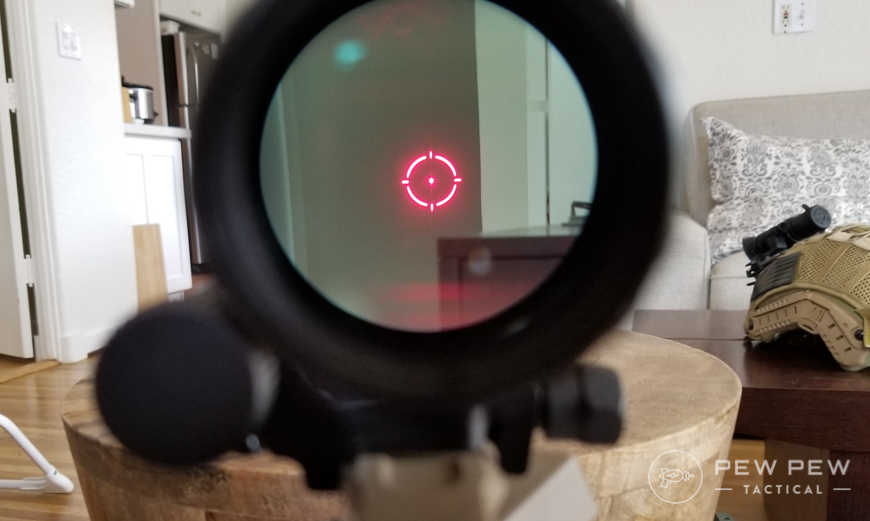 The center is a 2 MOA while the outside ring is 65 MOA. You can also cycle between using the dot only, ring only, or the combo.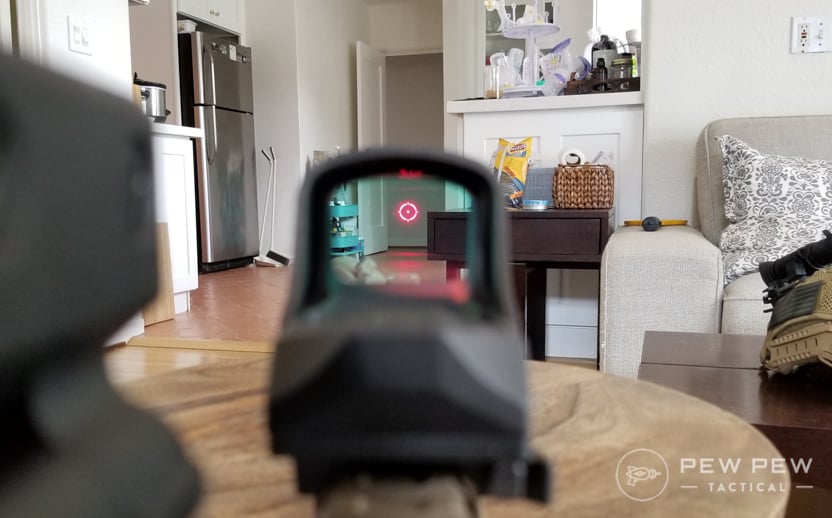 However, it does have a greenish hue on par with the Vortex. Again, it was hard to get good pictures at the range.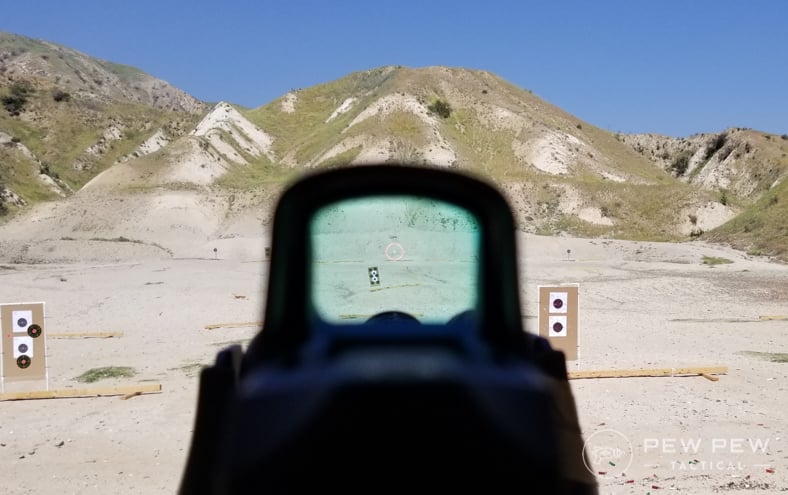 If you're solely looking for the circle and dot reticle (and not the slightly increased acquisition speed)…you can't go wrong with this optic.
It's crisp and nearly parallax free like its brethren.
AND with a 50,000 hour battery life since it runs off LED and not lasers. PLUS it has solar capability that switches in the sun so you aren't running off batteries. FINALLY, it's lighter and has a smaller profile.
Buttons are on the side for easy access and also it has a QD attachment system that also maintains zero. Has NVG capabilities but is less waterproof than the others.
My pick for the best worth-it "holographic-esque" sight.
Stats
8.3 Oz
1 meter (IP67)
CR2032 Battery
50,000 hours battery life
NVG Compatible (10 day and 2 NVG)
Most Worth It
309
at OpticsPlanet
Prices accurate at time of writing
Prices accurate at time of writing
And now they have their "Elite" version which has a green reticle. I haven't tried it extensively but it does help your eye see the reticle a little faster.
Or, along the same vein, grab the Holosun 507C X2 ACSS Vulcan.
It too offers 50,000 hours of battery life and a unique reticle that will help land those shots where you want them.
Best Bang for the Buck
339
at Primary Arms
Prices accurate at time of writing
Prices accurate at time of writing
Conclusion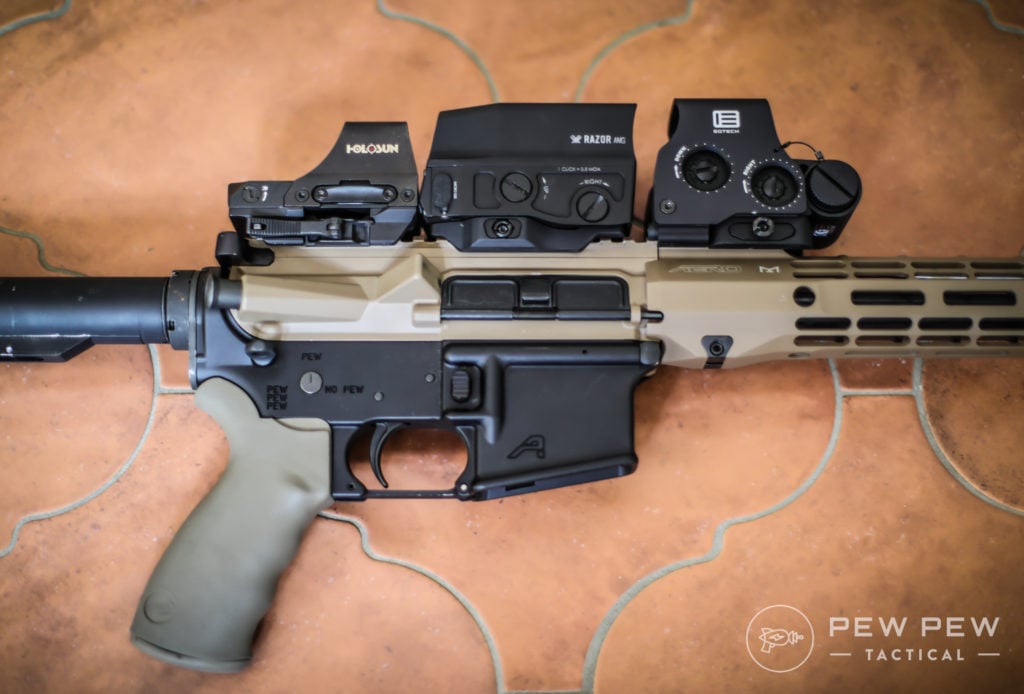 If you're looking for something more than a simple red dot…holographic sights are the way to go.
The big player and my favorite model is the EOTech EXPS2-0 which has the clearest glass, great button placement, and decent battery life.
Best Holographic Sight
669
at OpticsPlanet
Prices accurate at time of writing
Prices accurate at time of writing
If you want to go with EOTech but save a few bucks…go with the Model 512 which is a little longer and heavier.
Most Affordable
489
at Palmetto State Armory
Prices accurate at time of writing
Prices accurate at time of writing
My runner-up is the Vortex AMG UH-1 which is built tough, has my favorite reticle, has a longer battery life, but has a greenish hue.
Runner-Up
599
at OpticsPlanet
Prices accurate at time of writing
Prices accurate at time of writing
Lastly…if you're interested in the holographic reticle, go with the Holosun 510C which sports an impressive 50K battery life.
Most Worth It
309
at OpticsPlanet
Prices accurate at time of writing
Prices accurate at time of writing
Did we miss any holographic sights out there? If you're set on EOTechs and want to see even more models…check out our Best EOTech Models.