The 1-6x scope can do almost anything.
Close-up shots at 1x is almost the same speed as a red dot.  And 6x allows you to hit targets out at several hundred yards easy.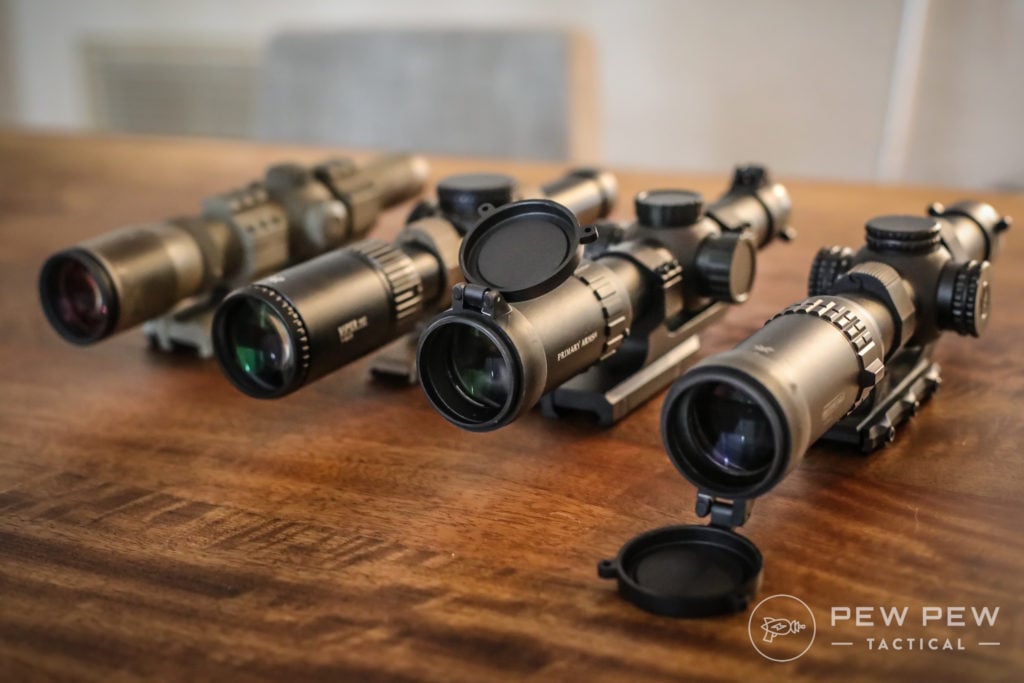 I've bought and used a bunch of 1-6x scopes for competition and plinking over the past few years.
Here's my favorites across a couple of price ranges.  All with real views and videos through the scopes.
Table of Contents
Loading...
1. Vortex Strike Eagle 1-6x
I was so happy when the Strike Eagle came out.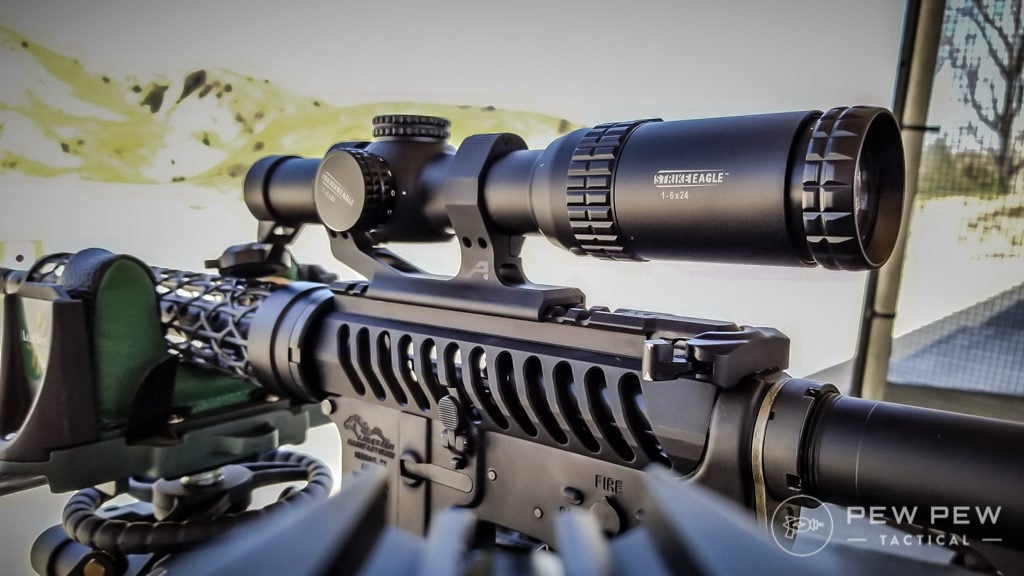 I was ready to move up from my 1-4x Burris Tac30 ($240) I used for a year and that was losing me time after my local rifle competition introduced ~400 yard targets.
This is a view of 1-4x for comparison aiming at 100 yard steel plates: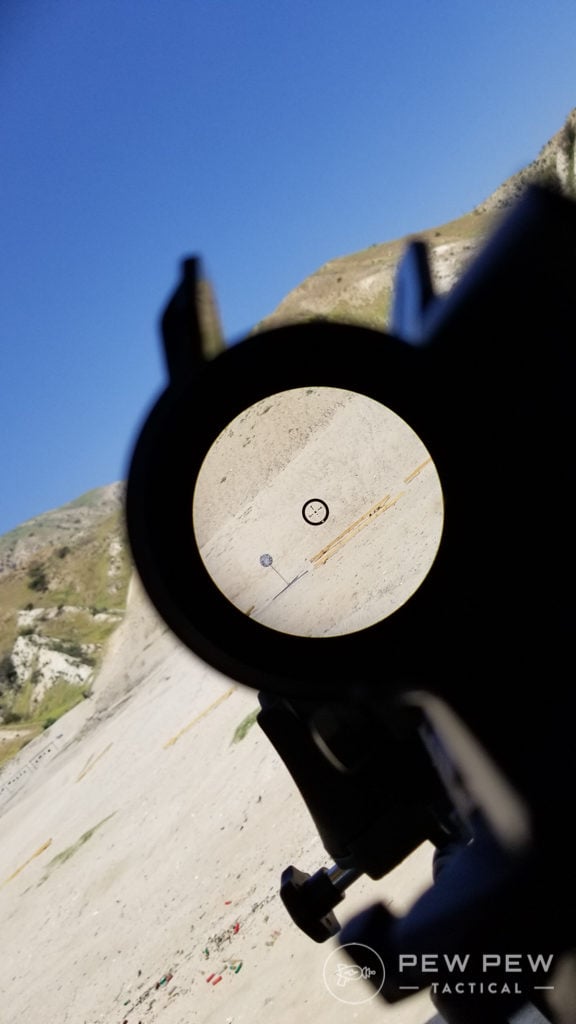 There were some 1-6x scopes out but they were expensive.  The Vortex Strike Eagle made it accessible for normal folks at around $300 (just a little step up from 1-4x scopes).
It had everything you needed with decent glass.  Very minimal side distortion on the sides at 1x.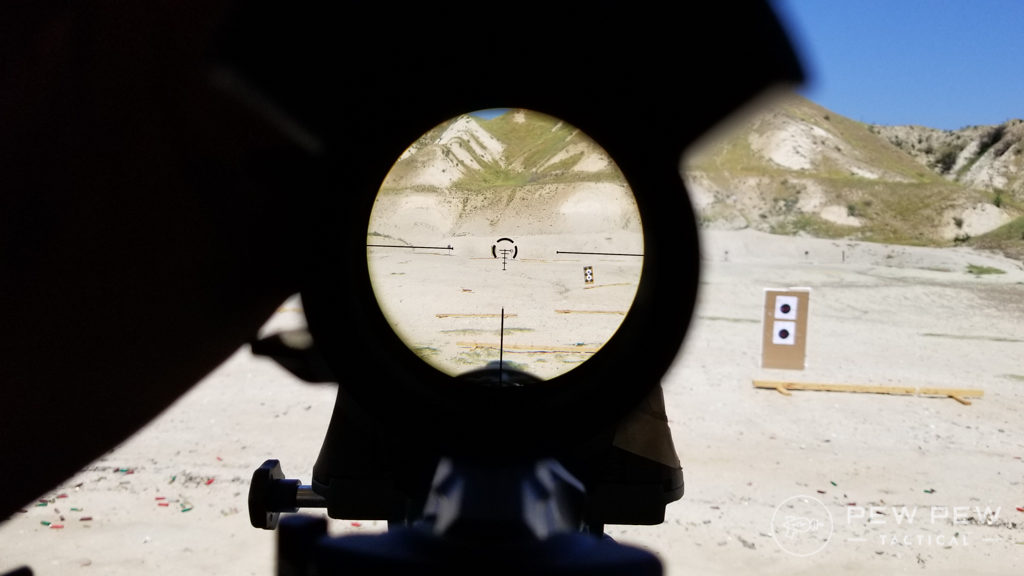 And acceptable clarity at 6x.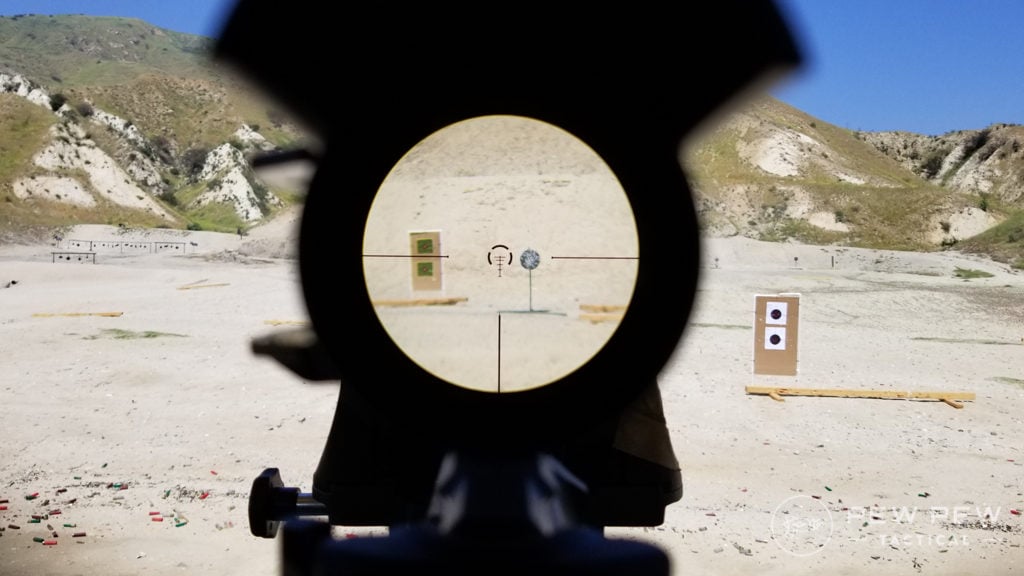 The illuminated reticle is also not daylight bright.  Fine for dusk/dawn but don't expect it to be a red dot at other times.
I'd knock the reticle a little bit…I prefer a dot or cross for 1x shots.  But the bullet drop compensation (BDC) marks did help for the couple hundred yard shots.
It held zero for the 2 years I used it as my primary rifle competition optic.  And the magnification ring was easily turned for speed since it has a protruding fin.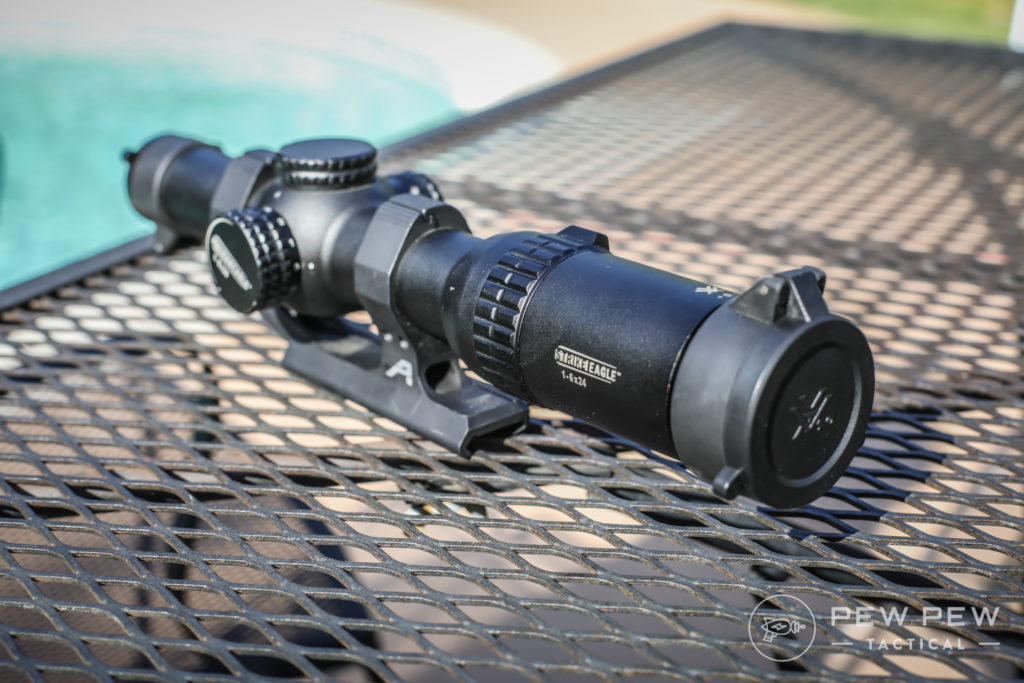 We also have a full YouTube video review:
And a full written review too.
At the end…my runner-up recommendation for a budget 1-6x scope.  With Vortex you also get a transferable lifetime warranty.
Recommended Accessories:
2. Primary Arms 1-6x ACSS
My new recommendation for the best budget 1-6x scope is the PA 1-6x with ACSS Reticle.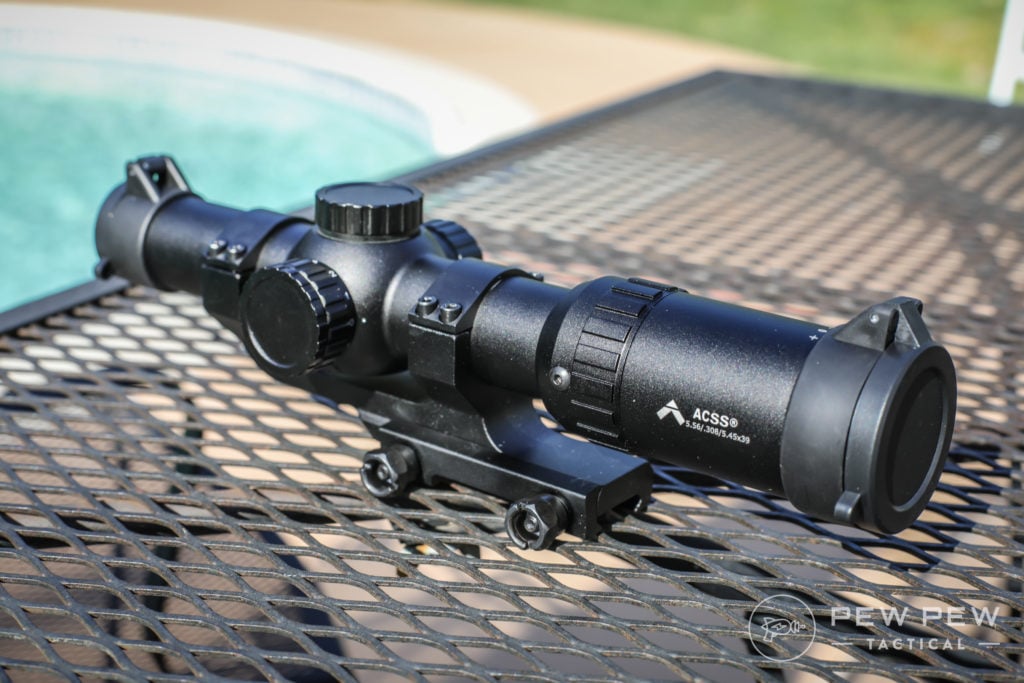 I've always heard of Primary Arms having affordable optics that perform great.  Now I'm finally a believer after using their 1-6x and 4-14x scope that they sent me for testing.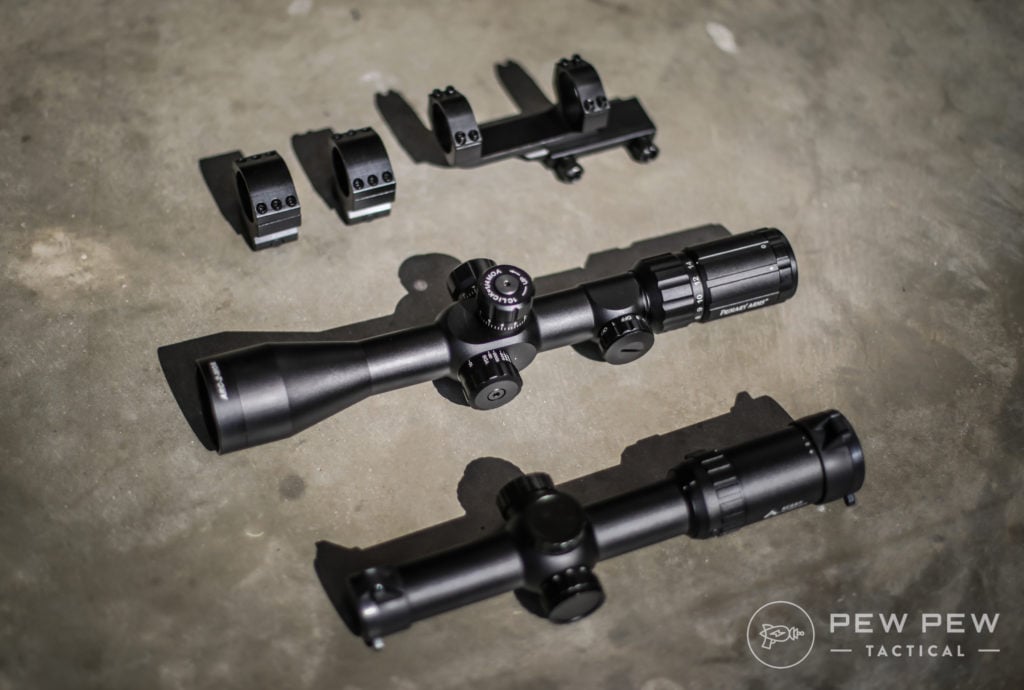 It's the same price range as the Strike Eagle at under $300.  But if you purchase directly from Primary Arms you get free rings or a discounted single-piece mount.
So far both have held zero admirably…although a little heavy.  I'd opt for the single-piece over the rings since it's much easier to take on and off without losing zero.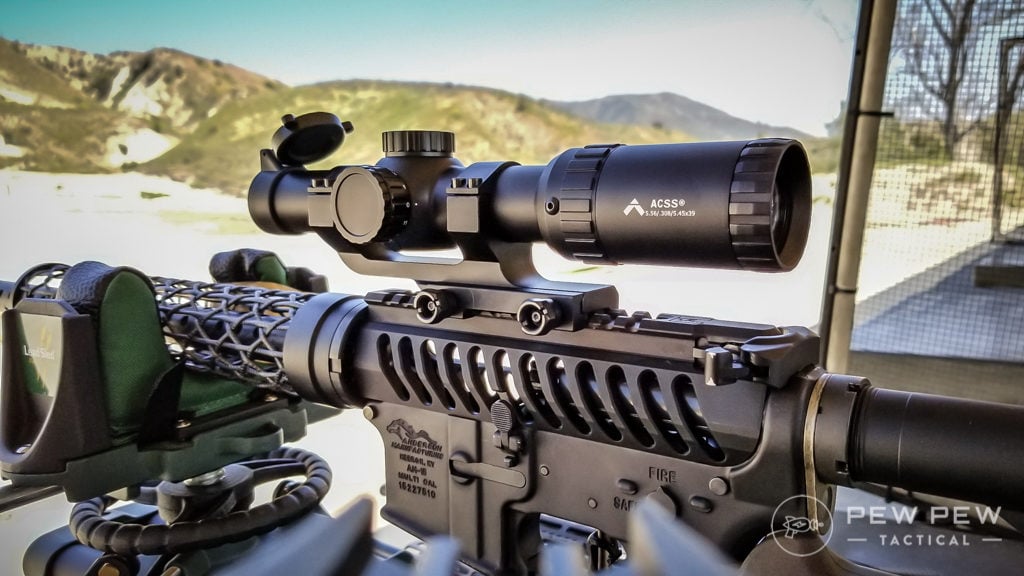 Now…how does it look through the glass compared to the Strike Eagle.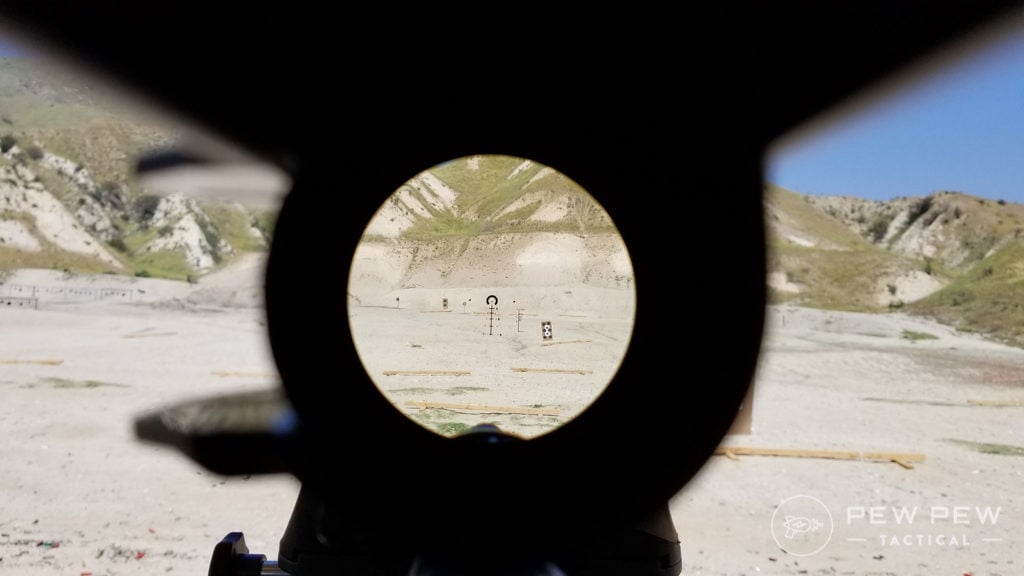 Less distortion at 1x.  And much clearer at 6x.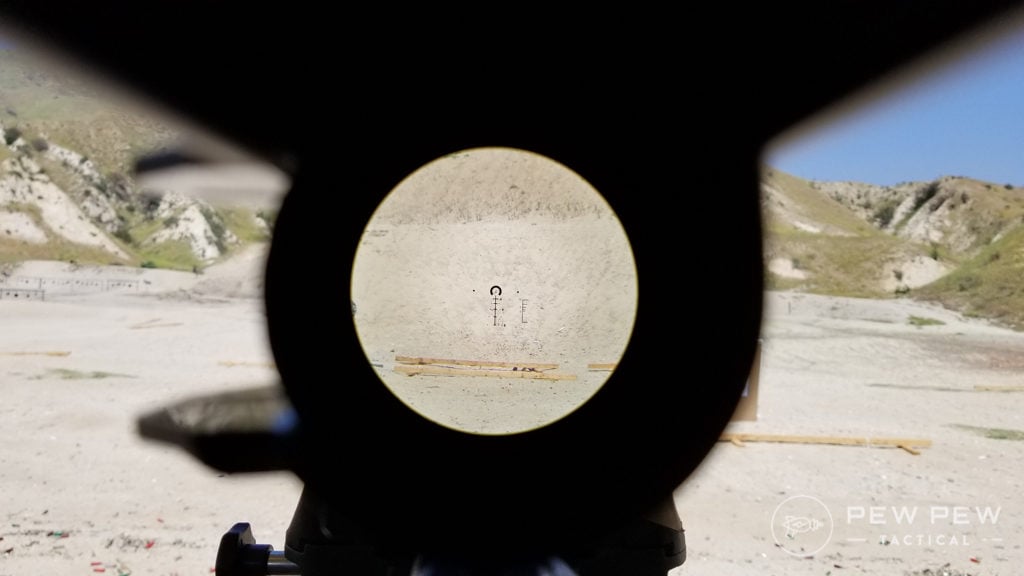 Here is the Strike Eagle at 6x again: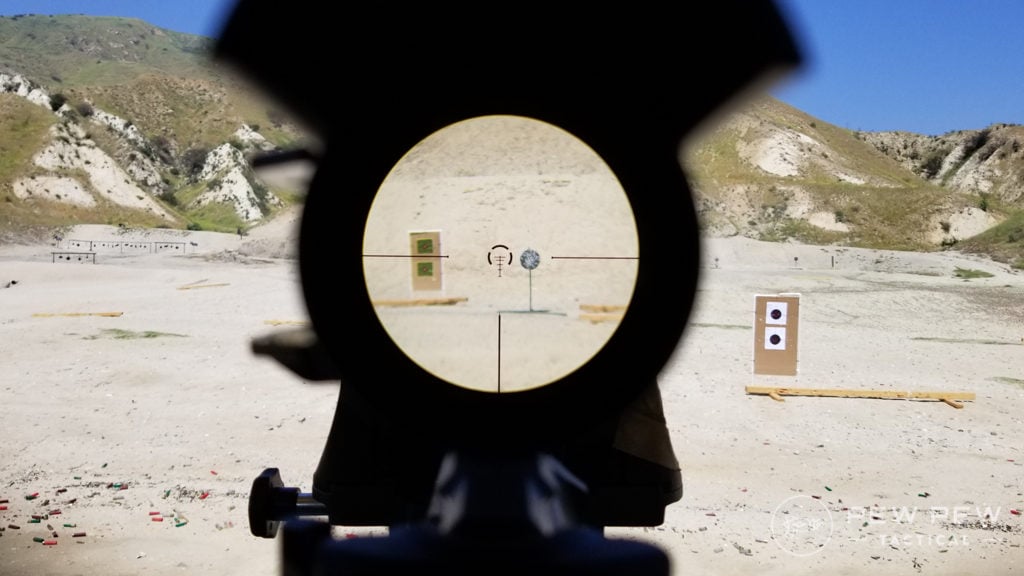 I also like the ACSS reticle a lot more.  It has a single arrow for precise work but also the bigger bold circle for hosing targets.  The BDC also worked well for several hundred yard shots.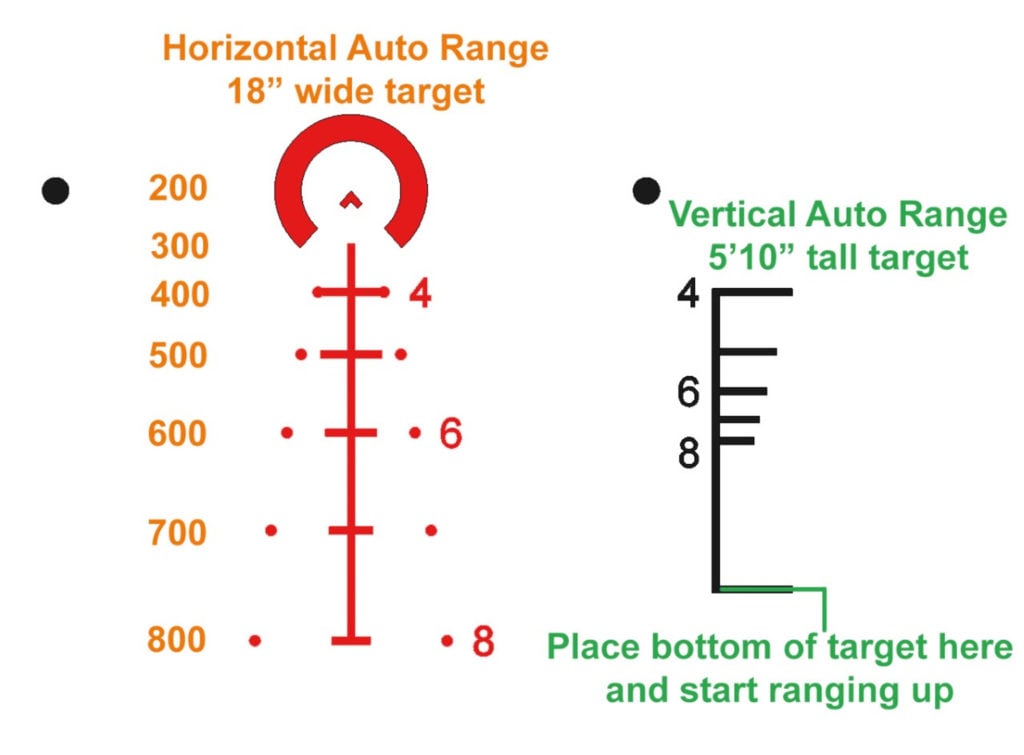 I haven't shot the PA as much as the Strike Eagle but so far so good.  Zero has held for several range trips but I'll report back if anything changes.
Magnification ring is also easy to manipulate but illumination shown at the beginning of the video is only useful for dusk/dawn.
For under $300 to get decent glass and a free mount (although heavy)…you can't ask for anything better than that.  Plus PA offers a lifetime warranty.  I had a damaged red dot and they took care of it quickly & easily (Best Budget Red Dots).
Note that PA's stock goes in and out since the 1-6x sells like hotcakes.  I also dig the simple reticle of the 1-6x KISS model.
Editor's Pick Budget 1-6x
What do you think of the PA 1-6x with ACSS?
3. Vortex Viper PST II 1-6x
If you want to spend a little more to get a much better glass and a day-time bright red-dot.  I would heavily recommend the Vortex Viper PST II.  I saw it at SHOT Show 2017 and had to buy it as soon as it was available.
It's my current competition rifle optic.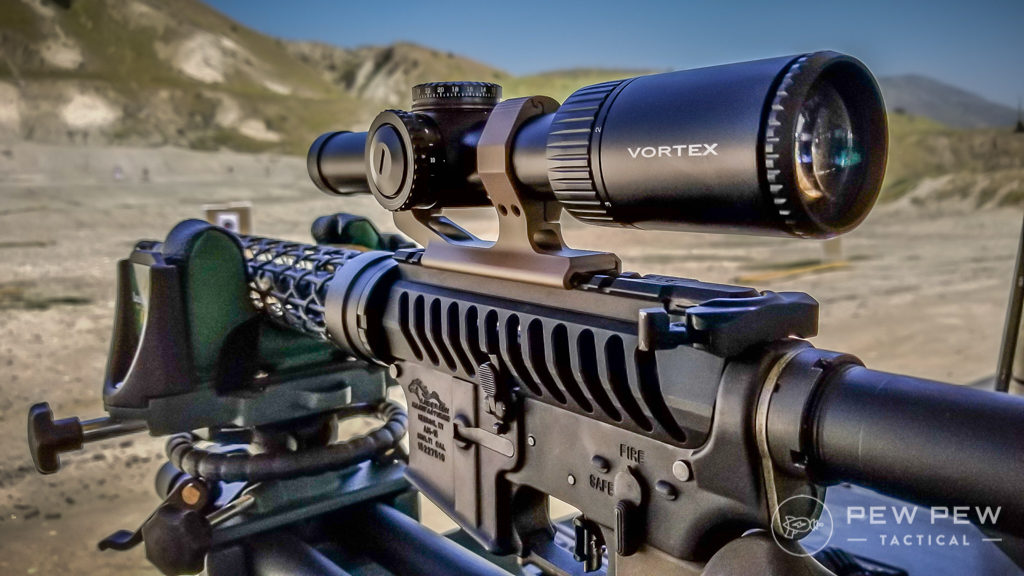 Forgiving eyebox (how specific your eye placement needs to be) and little distortion at 1x and 6x.  When you're actually on the rifle it's like having a thin black circle and a floating reticle.
Hard to replicate that through a cell phone camera!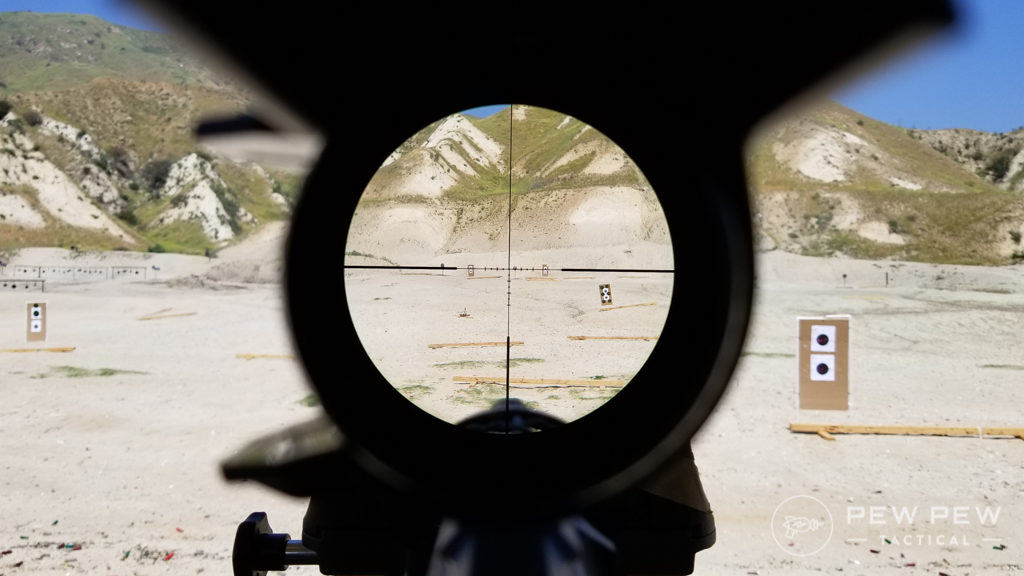 And here it is at 6x.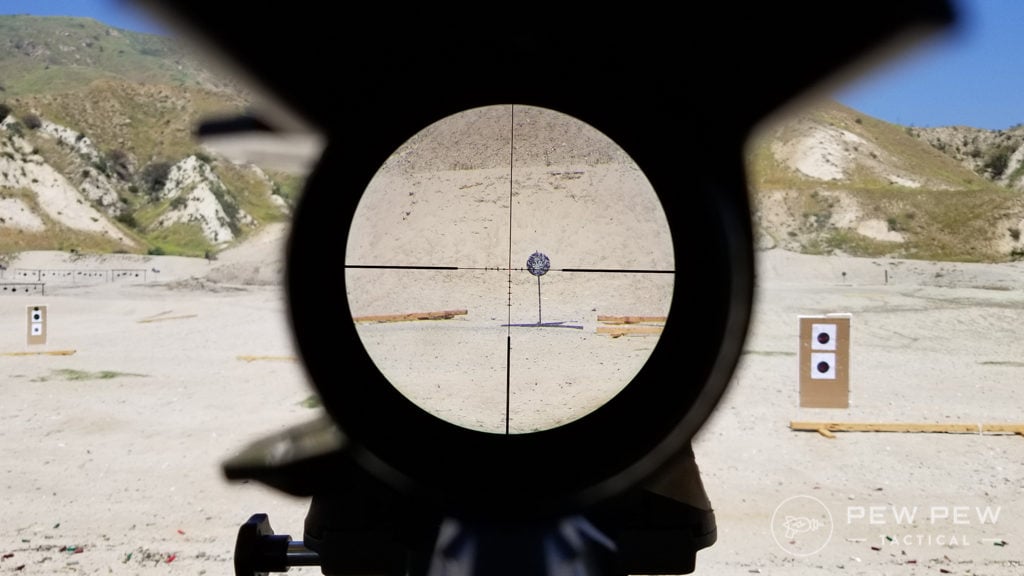 I also really like the reticle because of the red dot.  I'll try to get a better picture of it later since it was a super sunny day.  It even washed out the reticles in my Best Holographic Sights article when they were fine to my eyes.
Zero has held well in the Aero mount and magnification ring manipulation is fine too.  I've been putting off on getting a scope lever since my competition stages usually require only one change.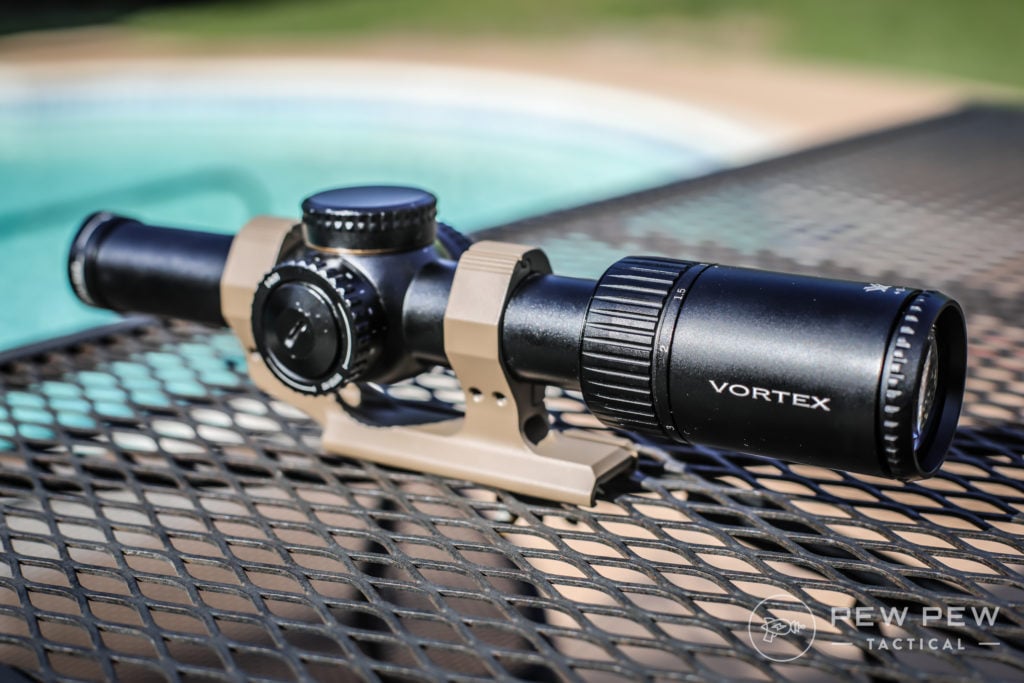 My current recommendation for the best bang-for-the-buck higher end 1-6x scope.
Best Bang-For-The-Buck 1-6x
Recommended Accessories:
Honorable Mentions
There's a lot of scopes out there…and these honorable mentions are for the higher end ones.  These are the ones I've shot at ranges or borrowed a fellow competitor's rifle for use on a stage.
When a slight edge in performance is worth a few hundred (or thousand) more dollars over the PST II…
Editor's Pick Premium 1-6x
The highest end Vortex has a much more forgiving eyebox and better glass while still having the daylight bright illumination.  My favorite for a future upgrade.
Lightweight and awesome describes the Kahles.
Daylight bright and awesome glass you can expect from the name Swarovski.  If money were no object.
Conclusion
Scopes have come a long way in the last few years.  Quality glass for plinking and competition doesn't have to break the bank now (but always can).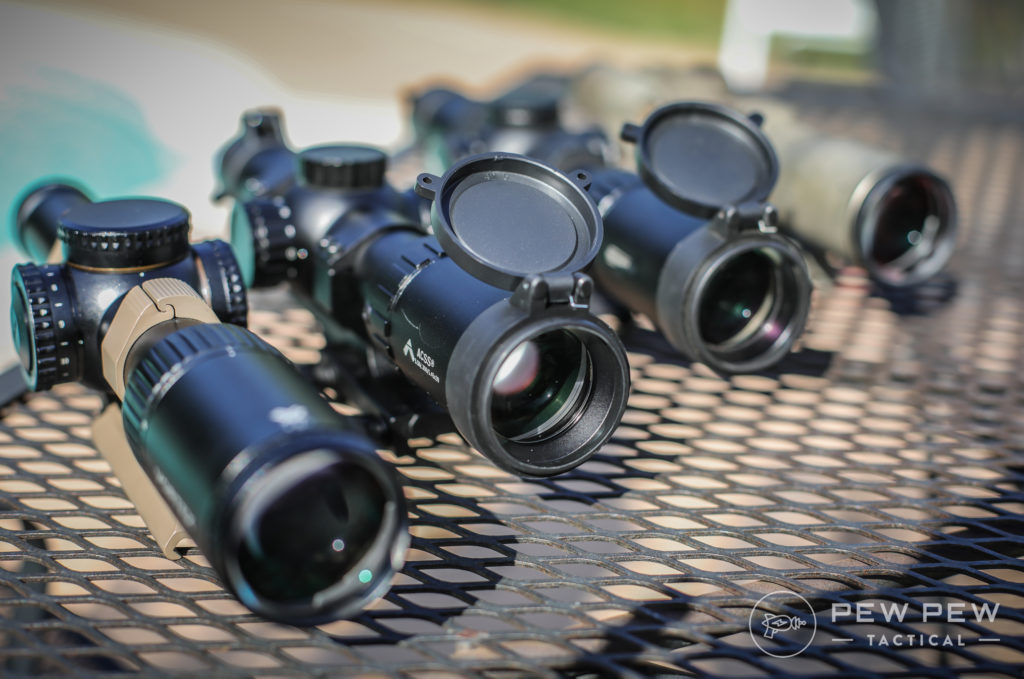 My go-to recommendation for a budget 1-6x scope is the Primary Arms.
Editor's Pick Budget 1-6x
Runner-up is the Strike Eagle 1-6x that has served me well and will still live on in a backup competition upper.
And my best bang-for-the-buck optic is Vortex's Viper PST II.
Best Bang-For-The-Buck 1-6x
Let us know if we missed any that we should try out in the future.  And for more of our favorite guns & gear…check out our Editor's Picks.  Or for more optics…check out From Red Dots to Magnified.