Pistol Caliber Carbines are awesome for a huge list of reasons.
But how do you make a PCC even more awesomer? Simple, you make it smaller!
Ruger took all of the usefulness of their amazingly popular PCC and combined it with their equally as popular Charger series to make a pistol that has all of the gains of being small and easy to carry, with all of the gains of a decent PCC.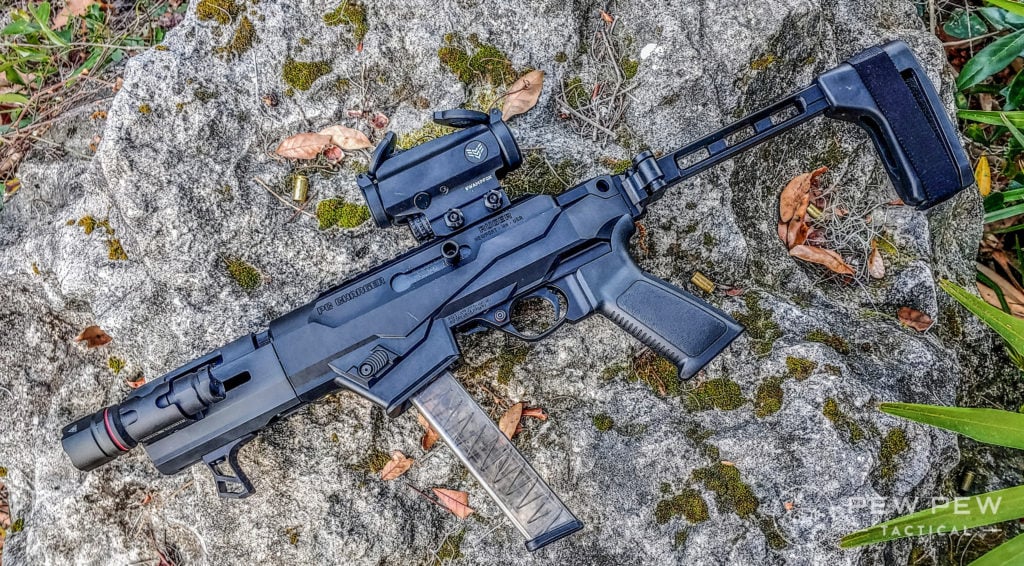 But does the combo really work out like it sounds? Ruger was nice enough to send me one so we could find out.
669
at GrabAGun
Prices accurate at time of writing
Prices accurate at time of writing
Table of Contents
Loading...
Sneak Peek Into The Firearms Industry
Ever wonder how guys like me get guns like this before they are released or even announced?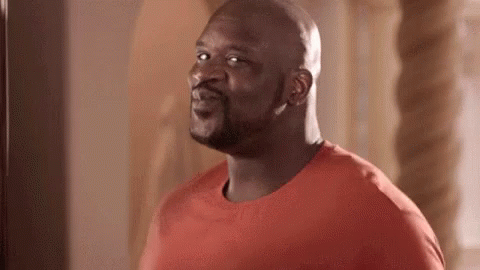 Well, it went like this:
Ruger: We are going to send you a gun to test and evaluate, but you can't tell anyone about it for a while.
Me: Is it a cool gun?
Ruger: Yep, its the Charger version of the PC Carbine. It has a 6.5-inch barrel that breaks down, comes with a 1913 rail for braces, and comes with an M-LOK handguard, magwell for the SR series and Glocks, and a threaded barrel.
Me: I'm terrible at keeping secrets though, how long do I wait?
Ruger: Til March 25th.
Me: Okay, I'll try.
Hey, It's March 25th March 18th, and Ruger is releasing a new gun. A PC Charger. That was a tough one to hold in.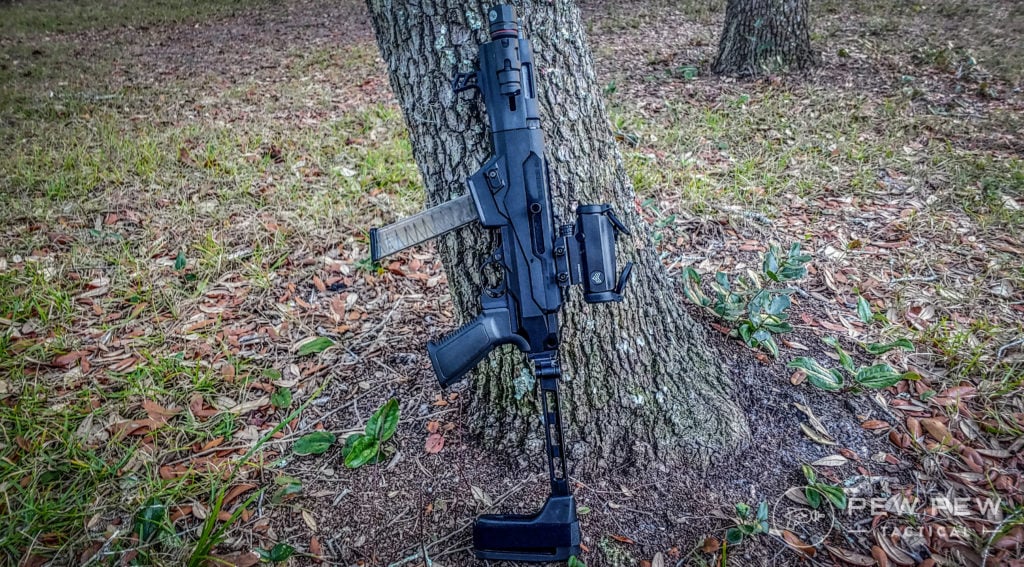 (Ruger changed their minds the other day and decided to announce early!)
So What Is The Big Deal Loose Lips?
The big deal is that the PC Charger is a gun that competes with the CZ Scorpion and MPX pistols at only a fraction of the price. This is coming from someone who owns lots of PCCs.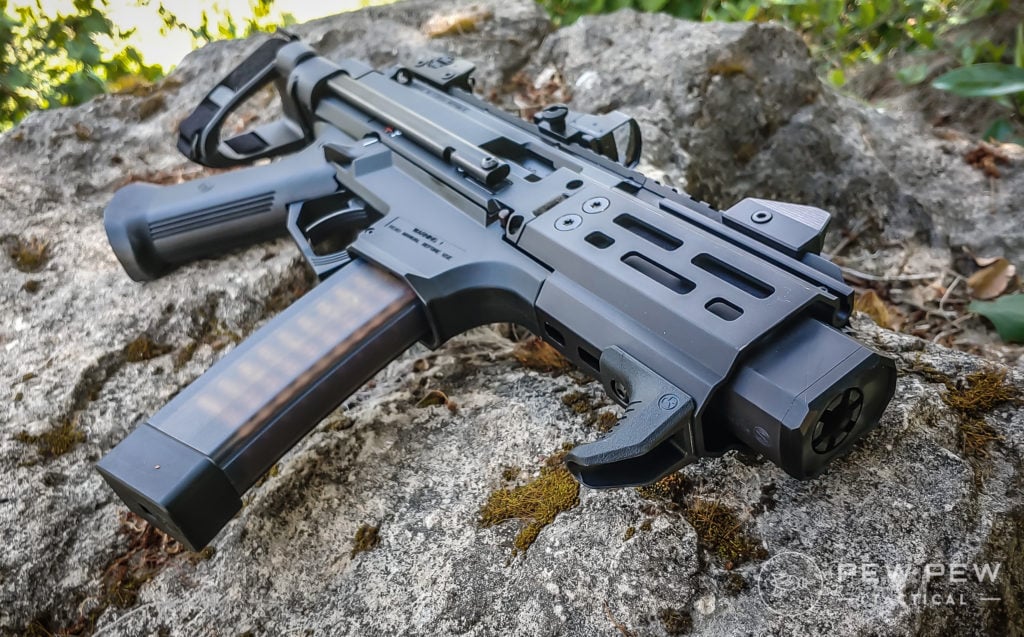 I own Scorpion in every flavor, including a bullpup variant. I own or have owned a Kel Tec SUB 2k, a SIG MPX Copperhead, a Hi-Point carbine, numerous AR 9mm carbines, I love PCCs and I can be pretty strict on my choices.
Trying to convince me to keep secrets about guns, especially ones I think are cool, is tough. It was really tough because I think the Ruger PC Charger is an awesome gun. The PC Carbine was already a good idea from Ruger.
Put out a high quality, affordably priced firearm that lets Ruger fans use Ruger magazines, or swap the magwell out to use Glock magazines.
17
at GunMag Warehouse
Prices accurate at time of writing
Prices accurate at time of writing
Glock magazines being affordable, widely accessible, and available in nearly any capacity you choose.
The PCC realm is hot and there was a place in the market between Hi-Point and SIG for an affordably priced, non-AR variant PCC.
Why a Pistol Variant Though?
The PC Carbine is already pretty great, but what's the purpose of a pistol?
While a PC Carbine could make a solid home defense carbine, the Charger is a better option. I would argue this would be one of the best guns for someone looking for something easy to shoot, handy, easy to use, and reliable.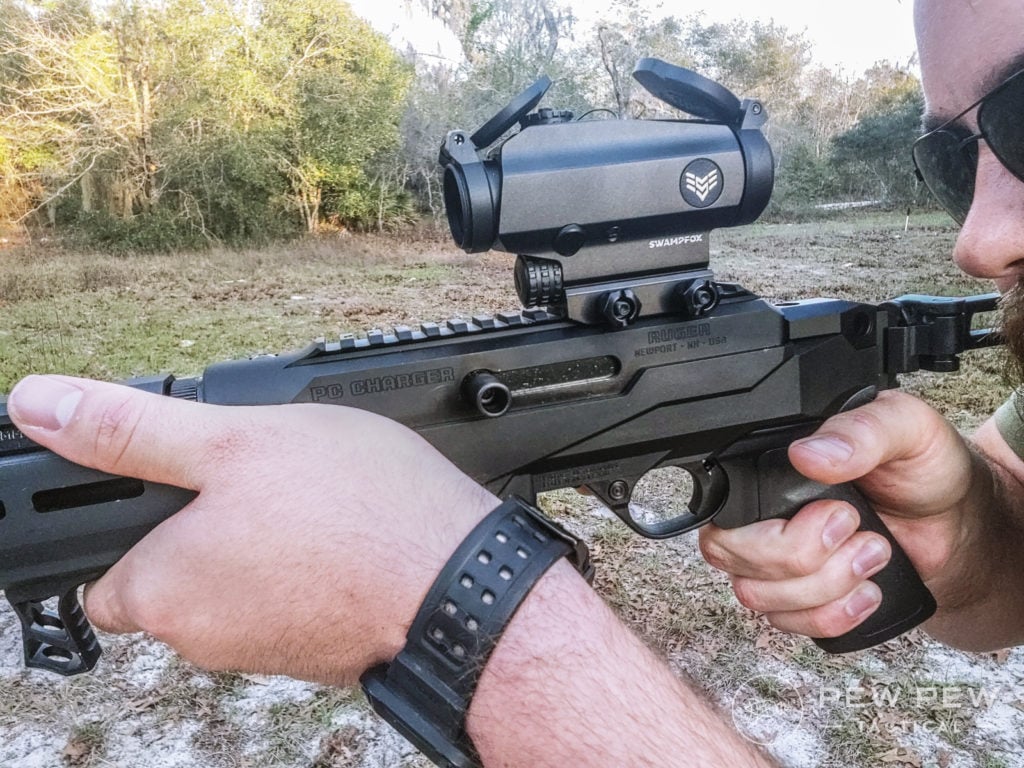 It's a good gun for home defense for people who aren't gun nuts. It's very simple overall and this makes it quick and easy for new shooters to learn.
And it's reasonably priced, easier to shoot than a handgun, and better for inside the home due to it's shorter length and lighter weight when compared to the carbine version.
It's also a good choice for gun nuts who want a home defense rifle. It's short and handy, and the threaded barrel allows for easy suppression. It can pack up to 50 rounds of 9mm and is very ergonomically friendly.
60
at Brownells
Prices accurate at time of writing
Prices accurate at time of writing
Let's Take a Look At It
The Charger variant takes the name of the famed Ruger 10/22 pistol and makes it a 9mm with the same reliable Ruger PC Carbine design.
But it doesn't stop there, the Charger variant uses a similar design to the newer tactical style PC Carbines.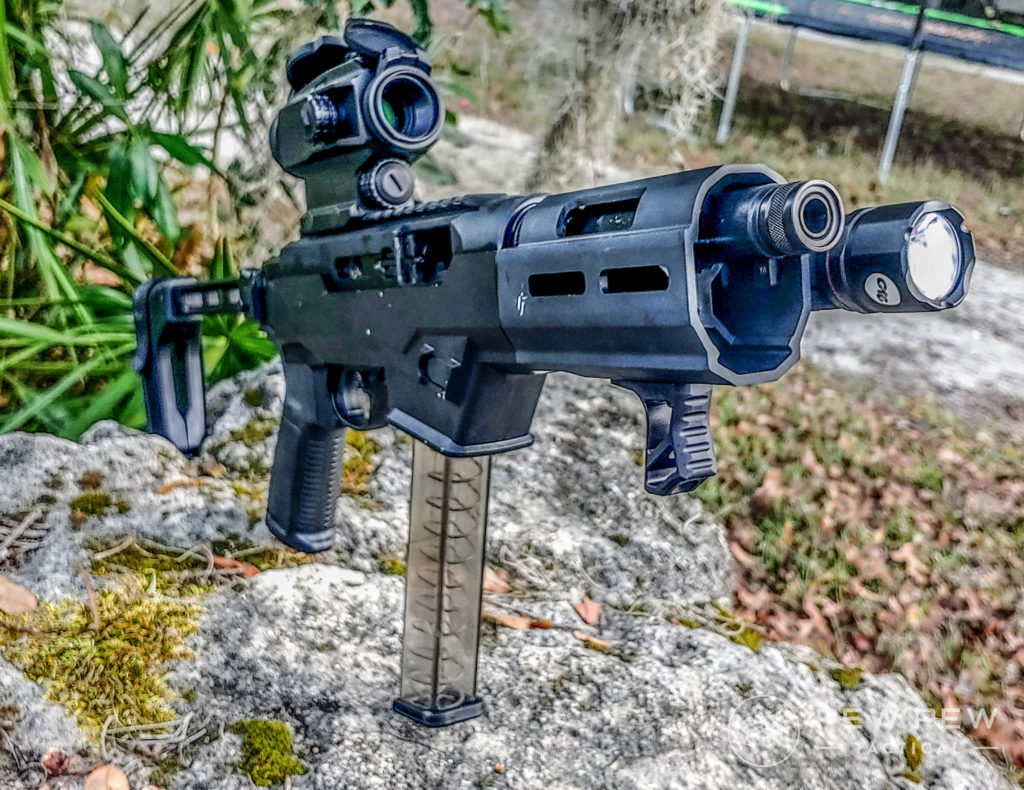 This includes the 1913 rail for attaching stocks for SBRs, or braces to remain a pistol. Plus a handguard with a short M-LOK variant that allows the barrel to be free floated. The M-LOK spots are few and far between but I still found room for a light.
That light being the very budget-friendly CWL-102. It's a Crimson Trace weapon light with a direct-attach M-LOK mount. I'm a fan of it and it's superbly compact and perfect for this little gun.
70
at Amazon
Prices accurate at time of writing
Prices accurate at time of writing
The handguard does come equipped with a hand stop to prevent any nasty accidents involving the support hand slipping in front of the barrel.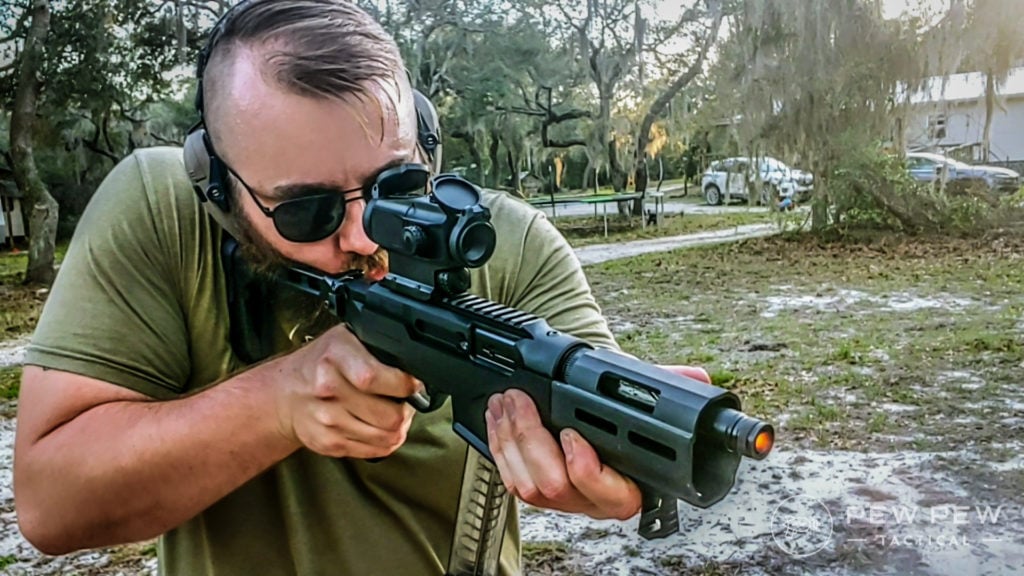 You get an AR-style pistol grip which opens up a massive market for swapping and customizing it.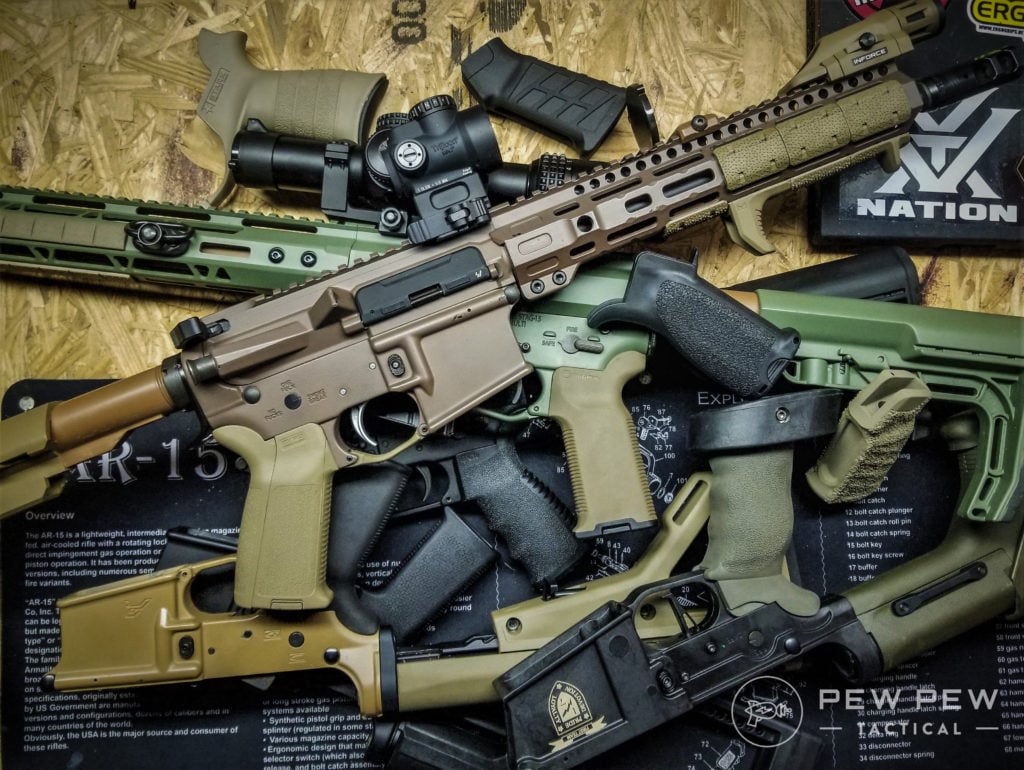 The Ruger feels and looks great. You can feel the quality of the metal chassis and handguard. The Type 3 anodized coating is tough and a well-proven finish.
There are no sights included on the gun, but there is a top rail that allows for mounting an optic. With no sights, an optic is absolutely necessary. On a gun like this, I think a compact red dot or a 1x prism is perfect.
Size-wise for red dots you can go as small as a Burris Fastfire 3 on a Picatinny mount or go the route I did with a SIG Romeo 5 that's a little bigger but still compact.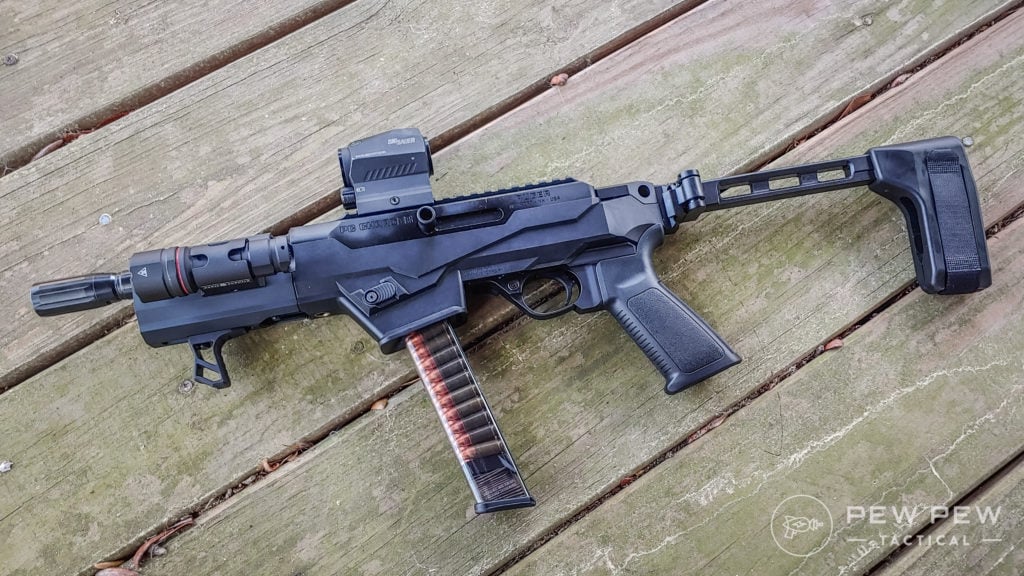 I split my shooting between the Romeo5 and a new optic from Swampfox called the Blade.
The Blade is a 1X prism sight and quickly became my favorite optic for the gun.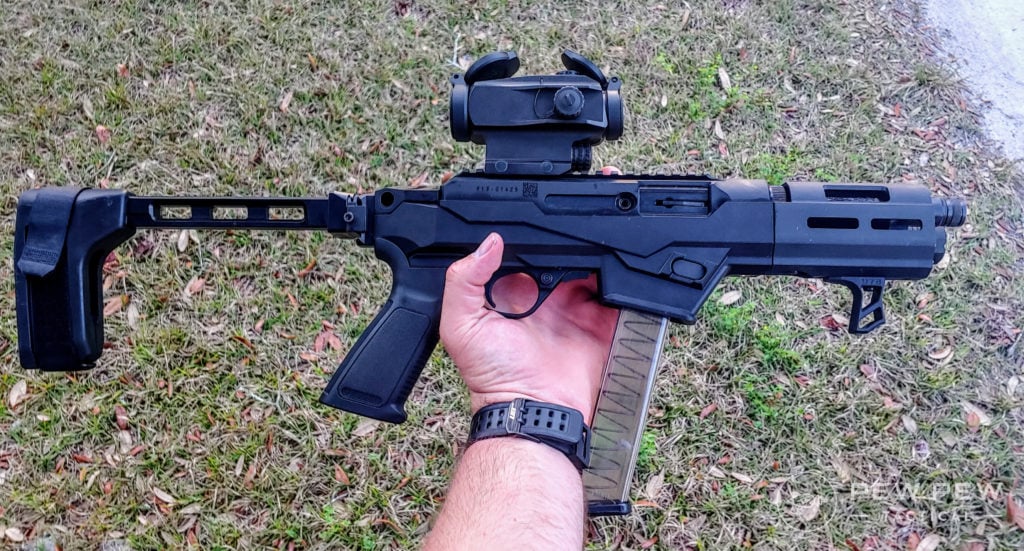 At close ranges, it allowed for speedy performance just like a red dot. It also allowed me to use a proper holdover for close-range shooting. Height over bore is a real thing and often makes your close-range shots hit rather low.
Using the built-in holdovers I could place precision headshots into targets quickly.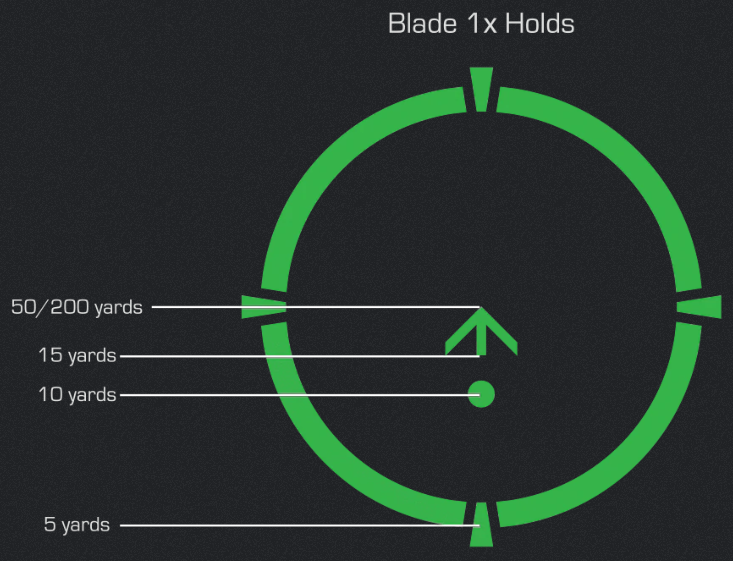 Without the holdover markings calling out close-range precision shots would be guesswork. It's nice not to have to guess.
290
at Swampfox
Prices accurate at time of writing
Prices accurate at time of writing
The Magwells
It comes with the aforementioned two mag wells for the Ruger SR series and Glock magazines. There is also a magwell available for Ruger American handguns too. It comes with one 17 round Ruger SR magazine and that works fine.
Most Wallet Friendly
450
at Brownells
Prices accurate at time of writing
Prices accurate at time of writing
I don't own an SR series, but I do own Glocks and have lots of Glock magazines so I promptly swapped the magwell.
The process is pretty simple and requires two Allen keys. The instruction manual makes it very clear how you do such a thing.
It takes about five minutes to do so. I'd hazard to guess most of us are going to use the Glock magwell. I think this was an awesome idea from Ruger and they made a Glock carbine before Glock could.
How Are The Ergos?
Lefties Will Love It
The gun comes with the ability to swap the magazine release to the right or left side, and the same goes for the charging handle.
Regardless of which side the charging handle and magazine release are well placed for quick access.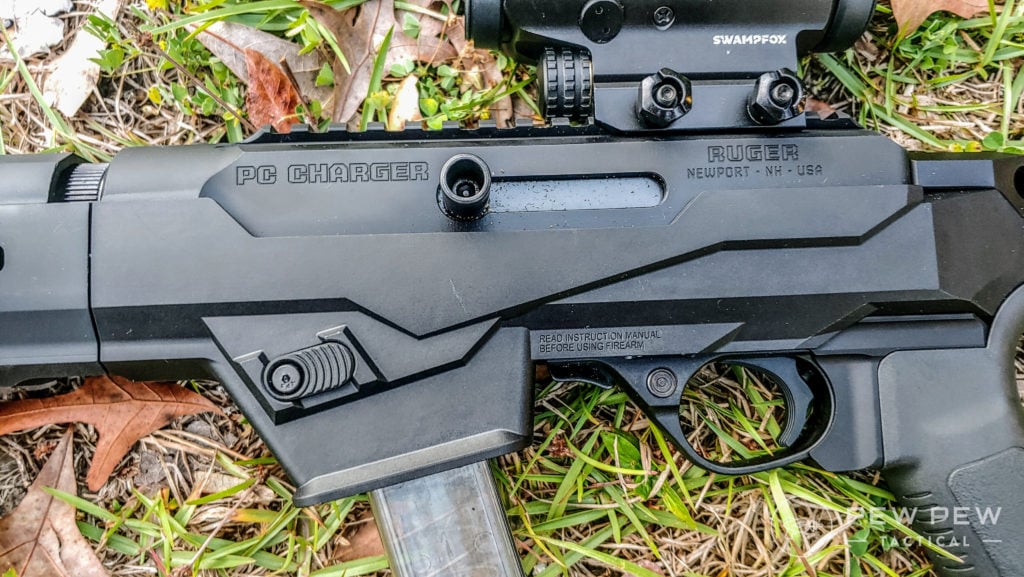 Both are also quite large which is nice for positive engagement.
A classic and simple cross-bolt safety design placed forward of the trigger keeps things ambi. Simple, efficient, and far from fancy, but it works and is ergonomic. The controls all click, pop, and slide with ease.
I found the included Ruger AR pistol grip to be comfortable enough and I haven't and likely won't swap it. The handguard is just long enough to fit my hand on and the hand stop is most certainly needed.
The downside is that without a brace this is a heavy, somewhat clumsy weapon. It's like a reliable TEC-9 without a brace. With the FS 1913 brace from SB Tactical, I am absolutely in love with it.
160
at Optics Planet
Prices accurate at time of writing
Prices accurate at time of writing
It completely changes how the weapon handles and if you want a PC Charger make a brace part of your budget.
What Did I Feed It?
I fed it a variety of ammunition. This includes cheapo Tula and Monarch steel cased stuff that represents the bottom of the barrel for ammo. It also tests reliability.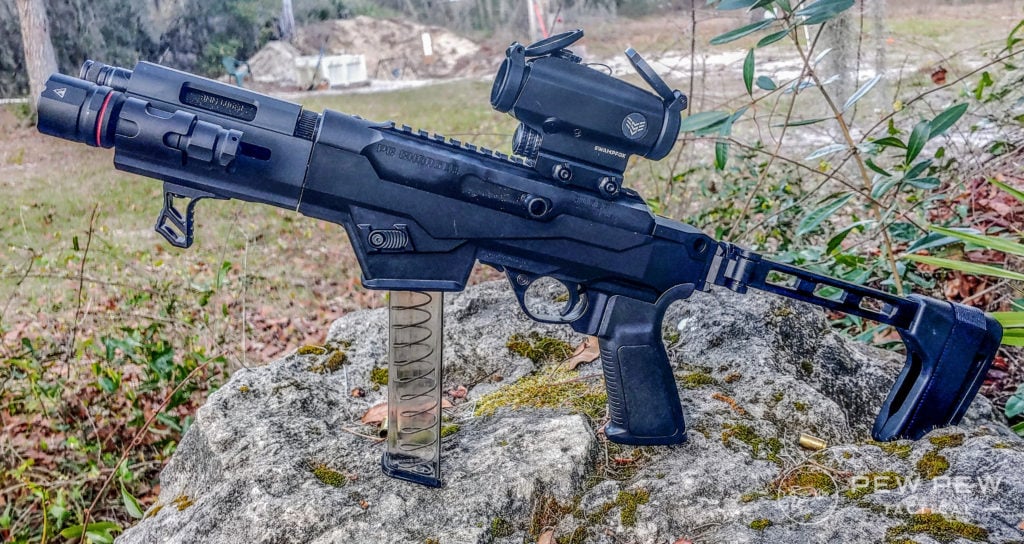 For more serious testing I went with the SIG 115 grain FMJs. These are much higher quality and gave me the best accuracy out of the box. I also mixed in some V-Crown M17 ammo just for giggles.
17
at Brownells
Prices accurate at time of writing
Prices accurate at time of writing
Speaking Of Accuracy
It's an impressive little gun. The accuracy tops out at about 7 MOA. That's typical for a 9mm at 100 yards.
It's still small enough to cover the chest section of a man-sized target. A 100 yards is also about as far as you are going to go with this gun.
I gave myself a little challenge using my Pocket Pro and ten rounds of ammo and various ranges. The test was simple, set the par time for 10 seconds, and fire 10 rounds in under 10 seconds at 25, 50, and 75 yards.
Best Overall Shot Timer
129
at Optics Planet
Prices accurate at time of writing
Prices accurate at time of writing
At 25 yards I went ten for ten in six seconds, for a braced pistol this range is nothing really.
At 50 yards I went ten for ten at eleven seconds and some change on my first run. Since I failed I went one more time and did ten for ten in 9.89 seconds.
At 75 yards I went eight for ten in 9.44 seconds. I tried two more times and could get ten hits in over ten seconds, or I could get under the time without the hits. That swinging motion of the gong. really threw me at that range.
It's quite accurate and more so than any standard handgun. The trigger is absolutely amazing. It's quite short and on par with the higher end MPX trigger. It's much better than the CZ Scorpion trigger.
The trigger is light, has a short wall and breaks cleanly with a short reset.
She's A Real Kitten
The recoil is also very limited.
It's a blowback gun so I expected more, but Ruger's dead blow action does a good job at reducing recoil.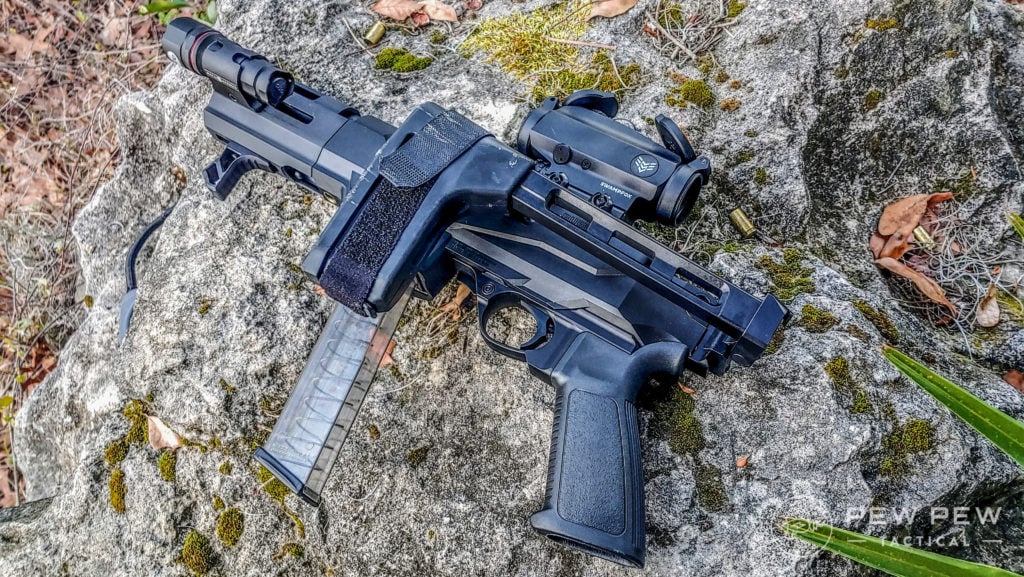 The system works by placing a tungsten weight that limits the rearward travel of the massive bolt and ensures the bolt seats properly with its limited travel.
A brace isn't made to absorb recoil but the gun is not uncomfortable to fire. Muzzle rise is also very little.
At the 25 yard line when I shot dead center of the gong the red dot never rose off of the gong. Its limited rise makes it very fun to shoot rapidly.
Is It Reliable?
That's a big question and an important one to ask. The good news is it runs, and runs hot and reliably so.
I'm 300 rounds deep in the SIG Ammo and 200 rounds of Steel case and some assorted hollowpoints without a hiccup, or even a sign of a hiccup.
I've used a wide variety of magazines with the Glock magwell.
This includes ETS extendos, Glock OEM magazines, and even the KCI 50 round drum. It all ran reliably regardless of the type of ammo. The drum makes it almost look like a futuristic Tommy gun, at least that's what I tell myself.
13
at Brownells
Prices accurate at time of writing
Prices accurate at time of writing
Break It Down
Because the barrel comes off the receiver and the brace I've chosen folds you can easily store this gun in a small bag.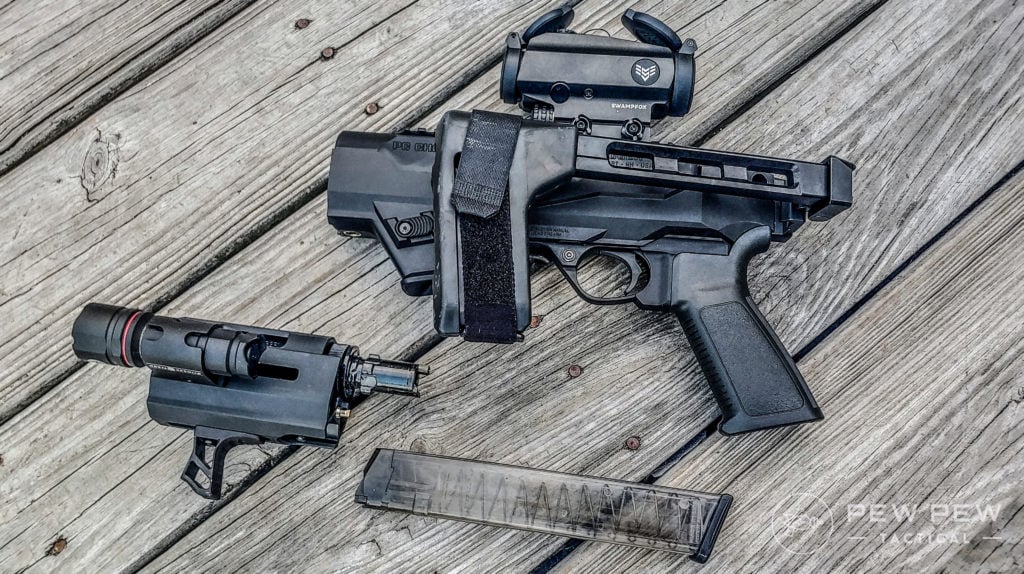 It fits with room to spare in my laptop bag, my Yeti backpack, my Vertx Commuter, and more. Also because it's technically a handgun I can conceal it and carry it on my person with my state's CCW.
I'm not saying I have a need to do so or will, but I can. I can see this being more or a perk when driving since the gun can be loaded, concealed and legally carried.
It's not as concealable as a handgun, but as far as SMG wannabes go it's only beaten by the Copperhead.
Ruger PC Charger Specs
Length – 16.5 Inches
Barrel Length – 6.5 inches
Weight – 5.2 pounds
Caliber – 9mm
Capacity – Comes with 17 or 10 round magazine. (Glock magazines vary between 10 to 50 rounds)
By the Numbers
Reliability: 5/5
The gun has been malfunction free for the 500 rounds I've put through it for this test. It works with the cheapest ammo I can toss into it, as well as a variety of different magazines without issue.
Accuracy: 4/5
This is no precision gun by any means, and when you view it through the lens of the gun being a 9mm braced pistol then it's quite accurate from a practical perspective. I found the trigger to be a godsend accuracy wise and the gun reaches out and gets the job done as well as 9mm can.
Ergonomics: 4/5
The ergonomics and controls of the gun are absolutely outstanding. They are reversible for lefties, easy to reach and placed for quick access. The downside is that without a brace this gun is unwieldy so I knocked a point off.
Looks: 5/5
I'm in love with this thing and the way it looks. Like an old gun made new, but not bubbaed. Maybe it's just the looks it has with the KCI drum in it. Like a Tec 9 and a Tommy gun had a weird, but attractive child.
Customization: 4/5
The Ruger PC Carbine was embraced hard by the aftermarket. There are quite a few things you can do to customize the gun to your liking. Not as much as an AR or Glock, but an impressive array for a relatively new gun.
Overall: 4.5/5
The PC Charger is a fun gun. An incredibly fun gun. It's accurate, easy to shoot, and is reliable. The ergonomics are spot-on, and the gun is more affordable than most of its competitors.
Plus it looks good, and that helps.
669
at GrabAGun
Prices accurate at time of writing
Prices accurate at time of writing
Conclusion
The Ruger PC Charger is a great gun. It's so lightweight and easy shooting it's perfect for both new and experienced shooters. Reliability and looks are top notch and accuracy/ergonomics are above average. Plus, it takes Glock magazines!
The Ruger PC Charger is an interesting gun for Ruger. This is something they haven't done before, but it was an excellent choice to make.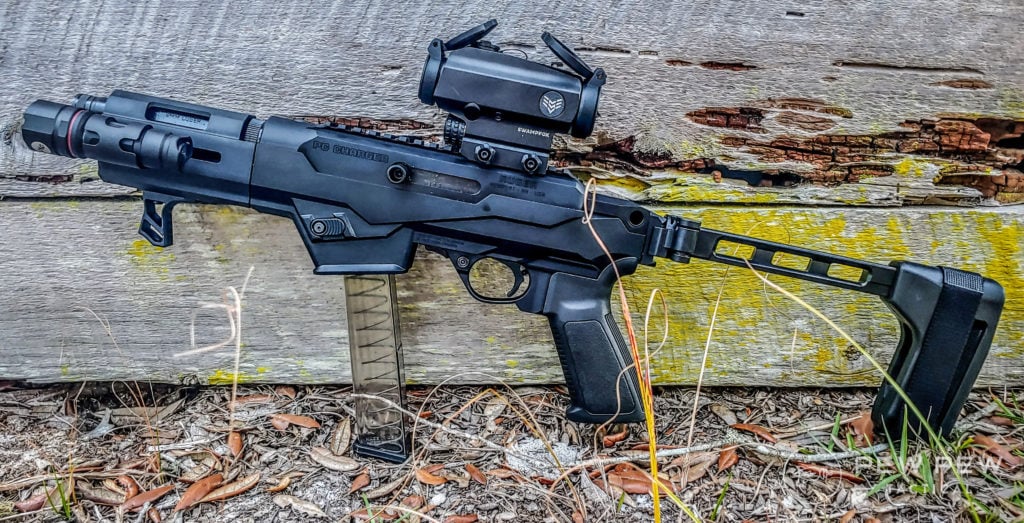 I'm glad Ruger is making new and exciting guns and the PC Charger probably the coolest thing I've seen out of them in a long time.
I find it to be a direct competitor with the CZ Scorpion and SIG MPX, both of which I've reviewed.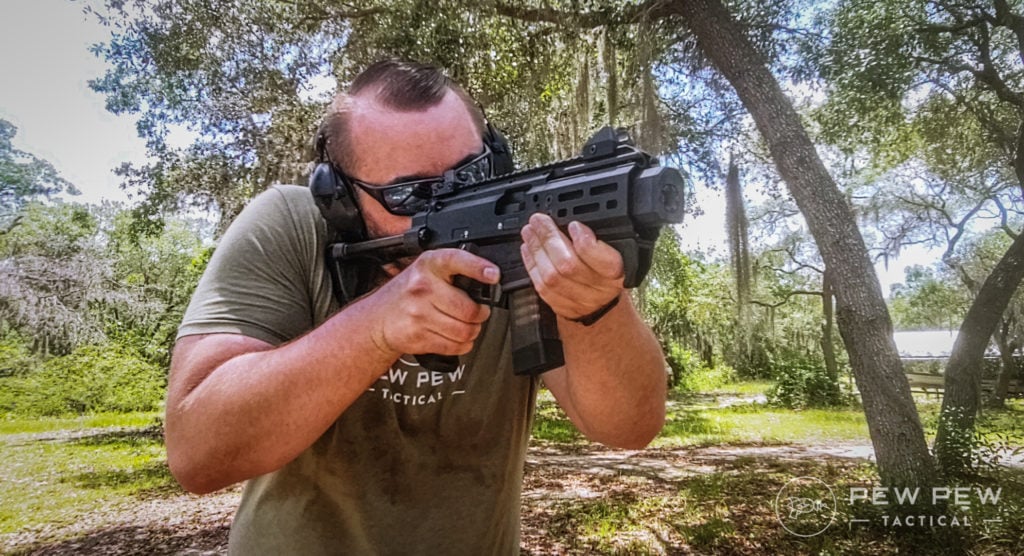 What do you folks think? Is the PC Charger for you? Are you excited for it? Do you keep secrets better than I do? Let me know in the comments! If you're interested in some awesome full-sized PCCs, take a look at the Best Pistol Caliber Carbines!