Do you like Greek Mythology? Do you like prism optics?
While this combination might make for a strange dating profile, the Primary Arms Cyclops Gen 2 might be the right choice for you.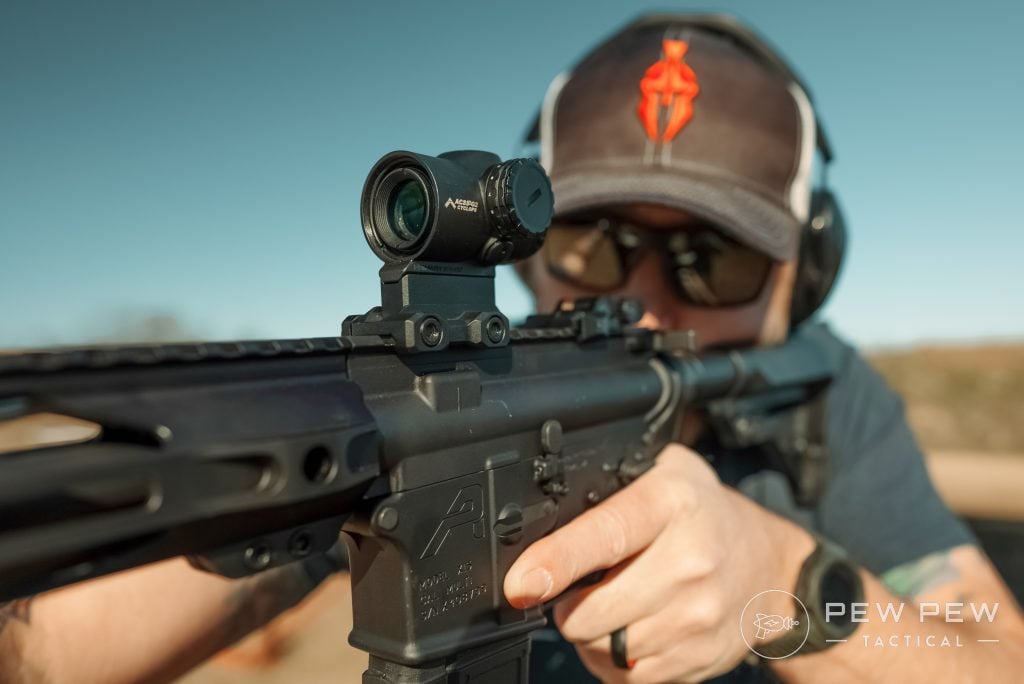 I recently got to test this one out and even compared it to the original model. The Gen 2 Cyclops is much improved and has some solid features.
The importance of a good optic for your rifle (or another long gun) goes without saying. The Cyclops Gen 2 is an outstanding value.
269
at Primary Arms
Prices accurate at time of writing
Prices accurate at time of writing
Keep reading and I will tell you why…
Table of Contents
Loading...
All About the Cyclops?
I love the name Cyclops and it makes perfect sense for this optic since they were powerful, one-eyed giants according to mythology.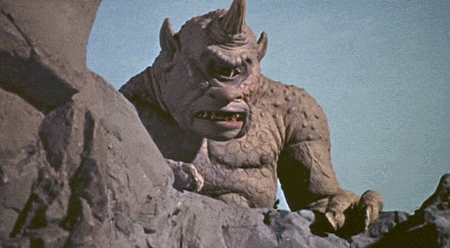 The features of the Gen Cyclops are perhaps less legendary, but a great value nonetheless.
This is a 1x prism optic so the view-through is a bit different than a red dot (more on those differences here).
I found the glass to be clear, but it also has that thick glass magnification-feel the further off-axis your eye becomes.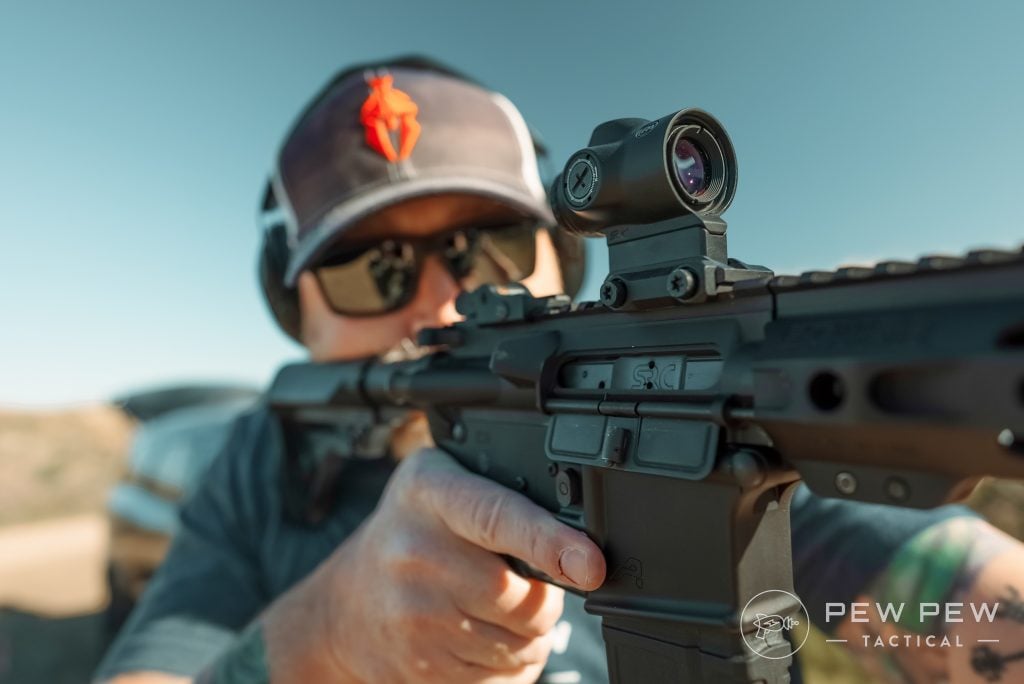 Approaching the Cyclops, the eye box was very forgiving and I was able to sight through it up close and ridiculously far back too, though the sense of magnification grows the further back you go.
ACSS Reticle
I love the ACSS reticle. The horseshoe is wonderful for bigger or closer targets, and the chevron is good for more precision, distance shots.
Its reticle is etched, so it will work without batteries. Overall, I find the reticle a little small, but that's likely just my eyes.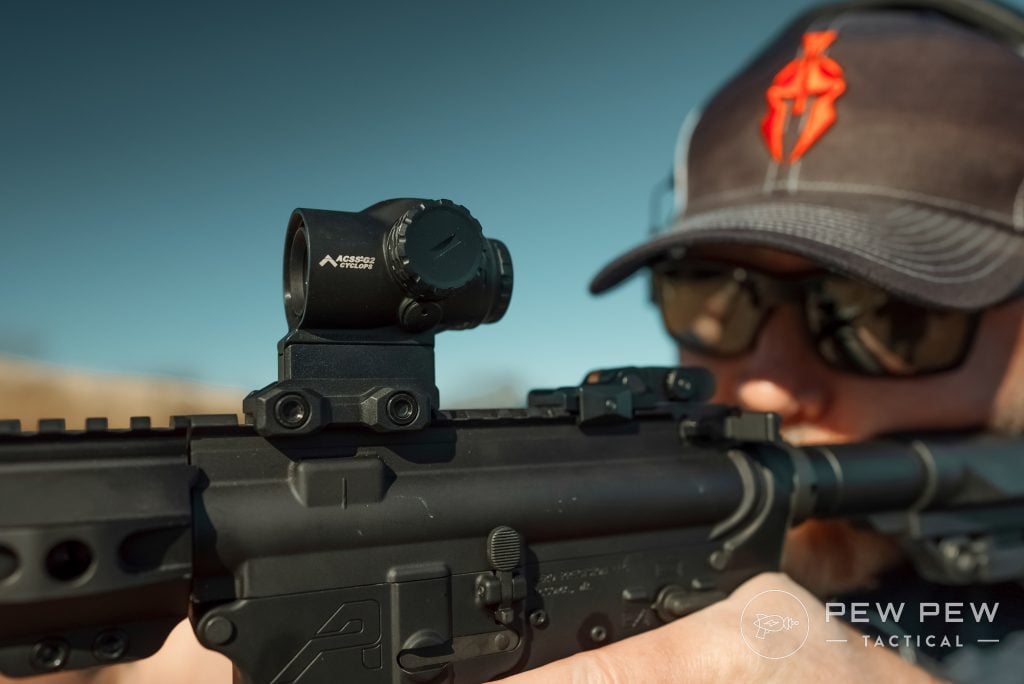 Zeroing & Adjustments
For shooter preference, there is an adjustable diopter for your vision. But the ring is pretty stiff so it's not going to move on accident once you get it dialed in.
Zeroing was easy — though the click value is 1 MOA. I'm not sure why they went in this direction but for me, it doesn't really matter…it's a prism optic, not a distance scope.
Worth mentioning that hash marks exist for ballistic drop for 200, 300, and 400 yards.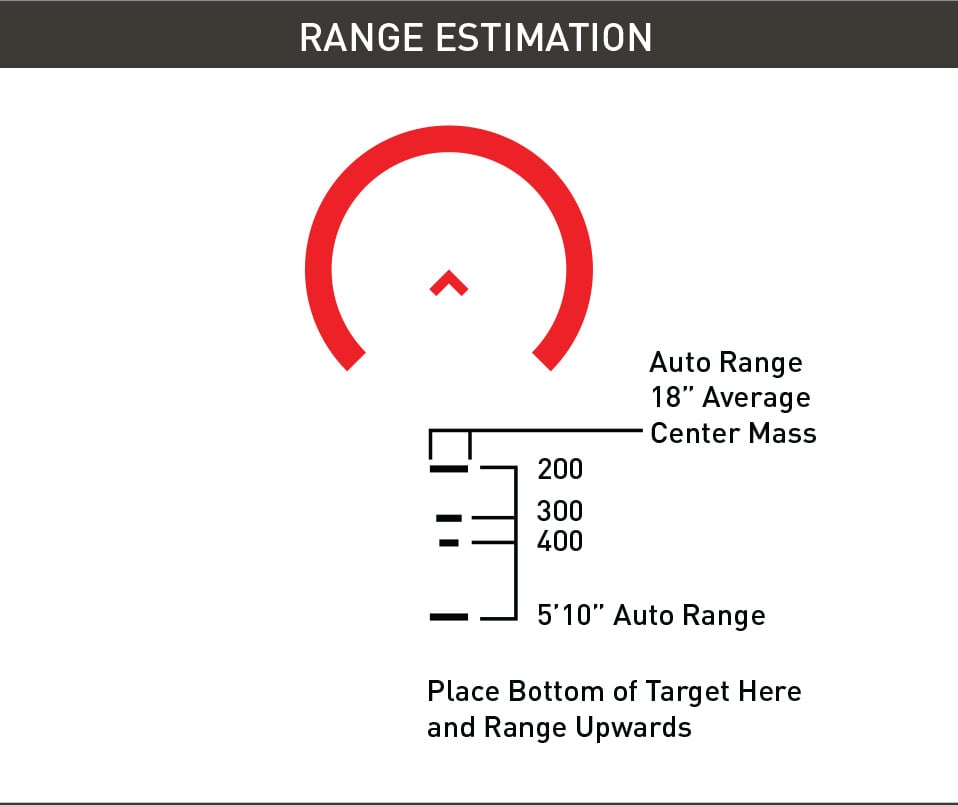 These also serve as ranging guides. Placing your target's base at the bottom line will give you distances based on where they stack up.
This is based on an average height target of 5-feet-10-inches. If the head reaches the 200-yard mark, you have your approximate target distance.
The horseshoe and chevron light up red (green is available!) when you activate them. Brightness (13 settings) is very good and the upper end is definitely good for daylight.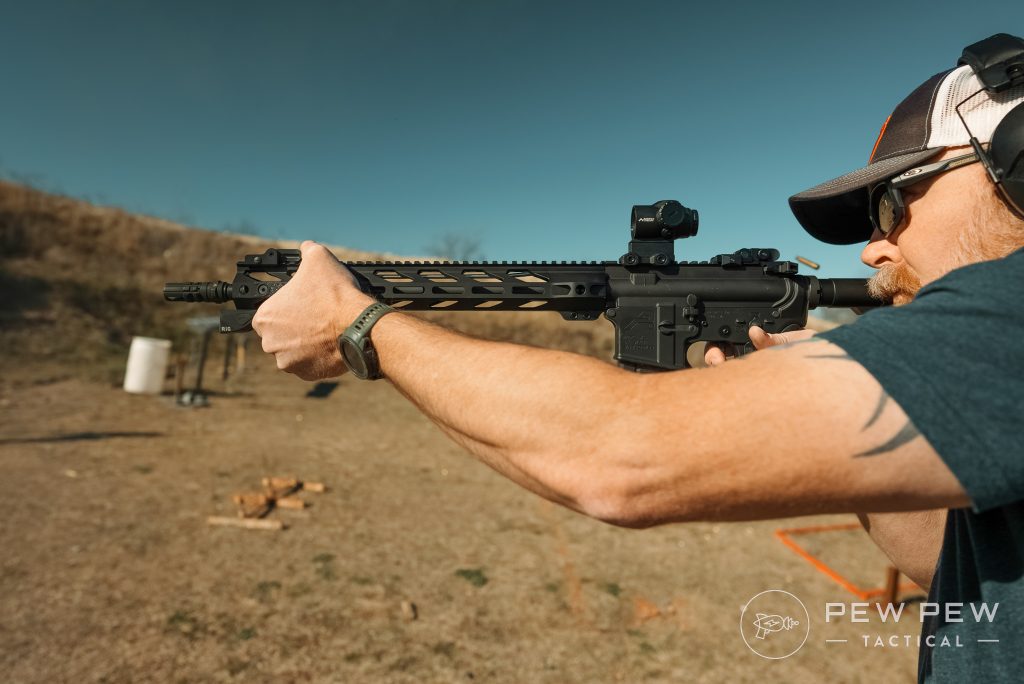 There are three night vision settings.
The dial is firm and won't roll or change accidentally. There are no alternating off options but there is a reason for that!
Equipped with AutoLive technology, the Cylcops will automatically shut off with 2 minutes of inactivity. It also features shake awake that resumes the same brightness level as when it shut down last.
The technology has worked every time but requires more than a casual bump. It's great because it likely wouldn't turn on just riding in a car, but pops up when you shoulder it.
269
at Primary Arms
Prices accurate at time of writing
Prices accurate at time of writing
This battery-saving feature is powered by a CR2302 3V battery and is estimated to provide 29,000 hours of battery life.
Finally, the Cyclops comes with several different mounting options (including cantilevered) which are adjustable for height.
Gen 1 vs. Gen 2
I must admit when I received the Gen 2 Cyclops for testing, I was pretty neutral. Not having experience with the first version, I wasn't sure what to expect.
Luckily I found the original model to compare it with. The Gen 2 is svelte by comparison with the housing roughly a third less in length.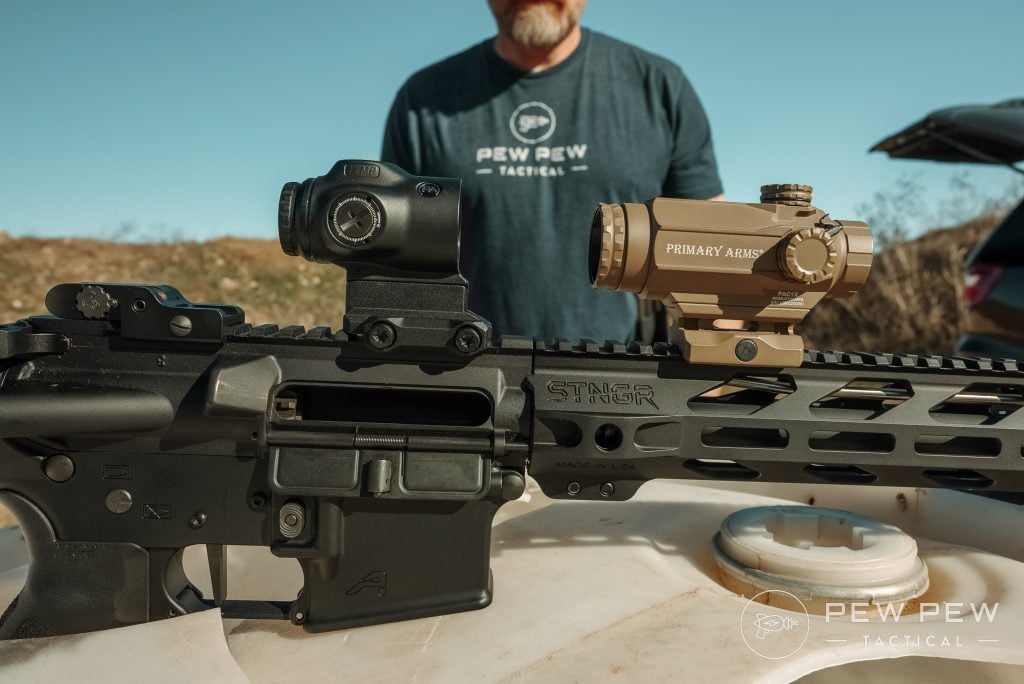 Primary Arms indicates the weight is also down around 20% from the original version.
In addition, the exterior is more rounded, less angular. The capped turrets were replaced with shouldered and recessed windage and elevation adjustments.
Bottom Line: Is it Worth It?
I wasn't sure the Cyclops Gen 2 was going to live up to its titanic name, but it absolutely did. I ran this optic on an AR-15 for roughly 1,000 rounds.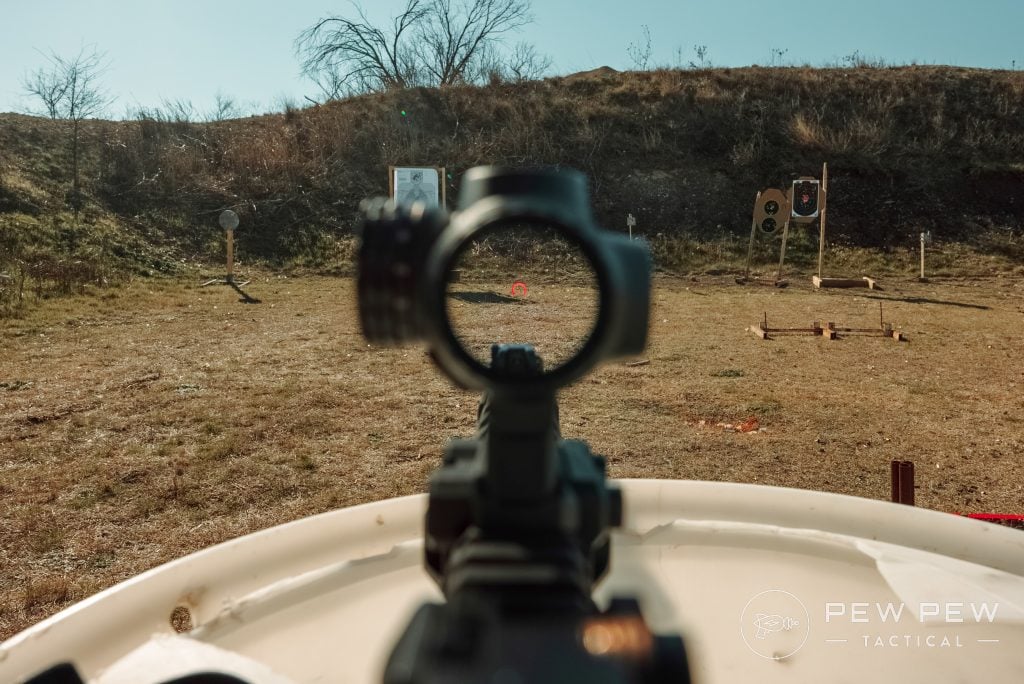 Once I grew accustomed to the differences between a red dot and prism optic, I found the Cyclops to be intuitive and extremely useful.
I enjoyed the smaller size of the Cyclops Gen 2 as compared to the original. I ended up thinking it's similar in shape and form to a Trijicon MRO, though at a much lower price point — heightening the value in my mind.
In short, yes, totally worth it.
By the Numbers
Ergonomics: 4/5
The only manipulation that happens on this optic once it is mounted and dialed in is the brightness setting. Even then, once this is set, you can simply forget about it with the shake awake feature. The dial is conveniently located for right-handed shooters though, on the left side. I'm only taking off a little for the size of the reticle.
Reliability: 5/5
I had zero problems with the function of the Cyclops. Through several trips to the range, the lit reticle kept coming up after it had gone to sleep. And while I did not outright abuse the optic, I was not gentle with it either.
Accuracy: 5/5
After zeroing, the Cyclops stayed on target. I did shoot in some colder weather but didn't notice any shift in zero. I didn't shoot in any heat.
Value: 4/5
The running price for this optic is between $250 and $270 — if you can find it! You're getting a prism optic with a lit reticle that can run for up to 29,000 hours on a battery due to features. Plus, with the etched reticle, the Cyclops has redundancy should that battery or the electronics fail.
269
at Primary Arms
Prices accurate at time of writing
Prices accurate at time of writing
Overall: 4/5
All in, the Cyclops is a great optic and the more I ran it, the more I found myself appreciating it. Really, my only misgiving is the size of the reticle and this could entirely just be me.
Conclusion
So far the Primary Arms Cyclops Gen 2 has proven very rugged. It's a great choice for close-quarters engagements, with some ability to reach out too.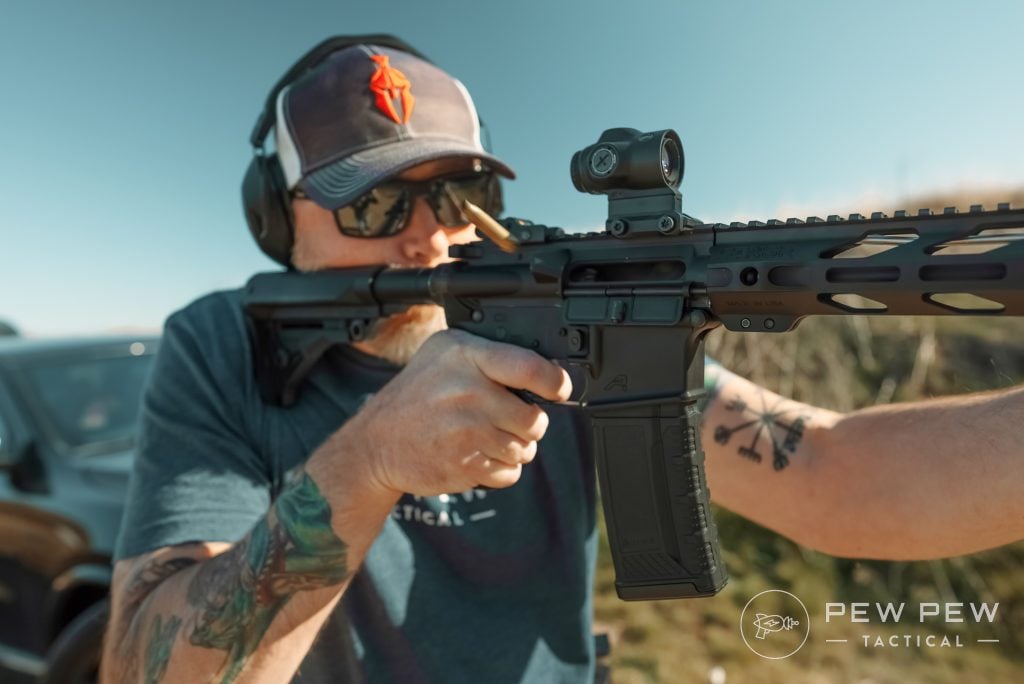 If this is what you're looking for, it could be a match made in Olympus!
Do you enjoy prism optics? Let us know in the comments section below and get even more info on our top picks by reading 6 Best Prism Scopes: Robust & Better for Astigmatism.