What's a prism scope and do you need one?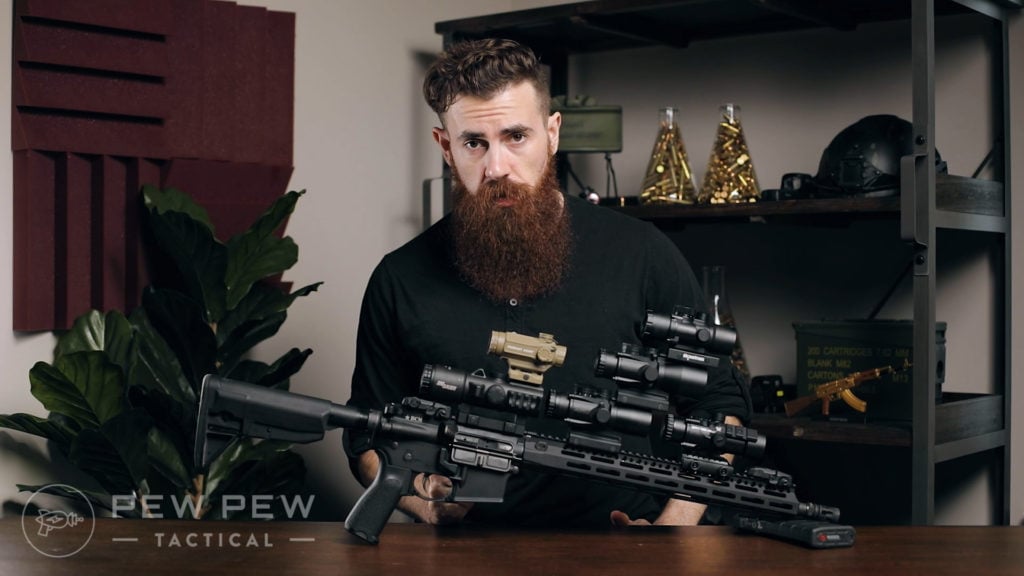 Long story short…they are fixed magnification optics that use a prism (whoa) instead of the two objective and ocular lenses of a traditional scope.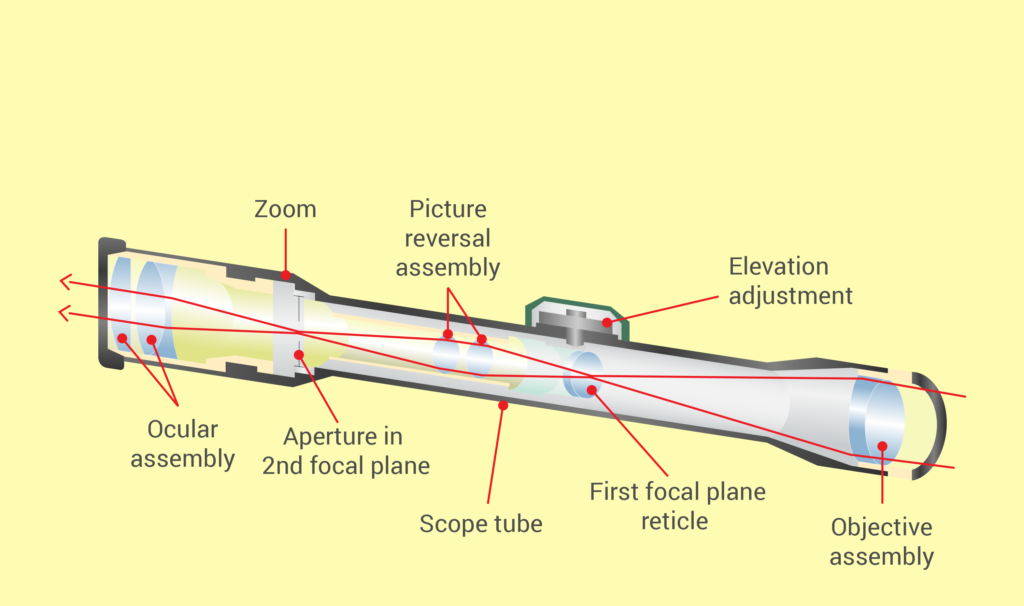 I'll go over some of the pros and cons of prism scopes vs. red dots and low-power variable optics.
Then dive into some popular models we prefer here at PPT. By the end, you'll know if prism scopes are right for you (there's especially one big reason) and which one to get.
Table of Contents
Loading...
Pros & Cons of Prism Scopes
Hard truth: you're not going to replace a dedicated long-range optic with a prism.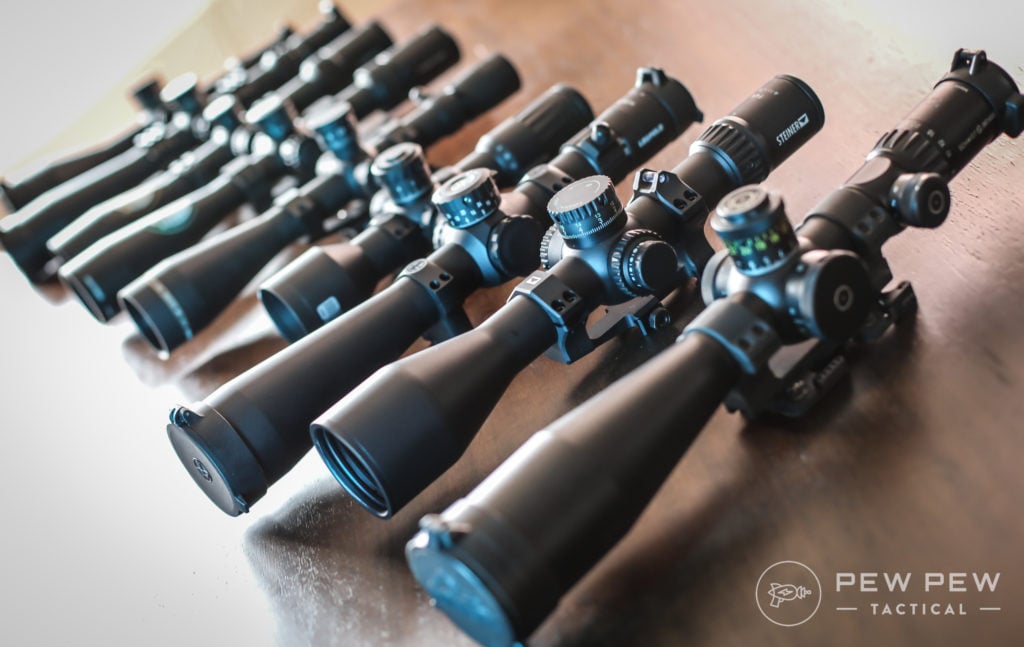 But you can get close. Here are some of our pros and cons.
Pros
Some level of magnification
Usually smaller package compared to a traditional scope
Increased durability due to no moving optical parts
Illuminated reticles are the norm
Don't need batteries like a red dot since the reticle is etched into the glass
Possibly better for astigmatism
In our opinion, this makes prisms ideal as a battlesight for carbines, as their flexibility means that they can generally be used at both close, mid, and occasionally longer ranges quite comfortably.
As for astigmatism…here's a nice illustration from AT3 Tactical.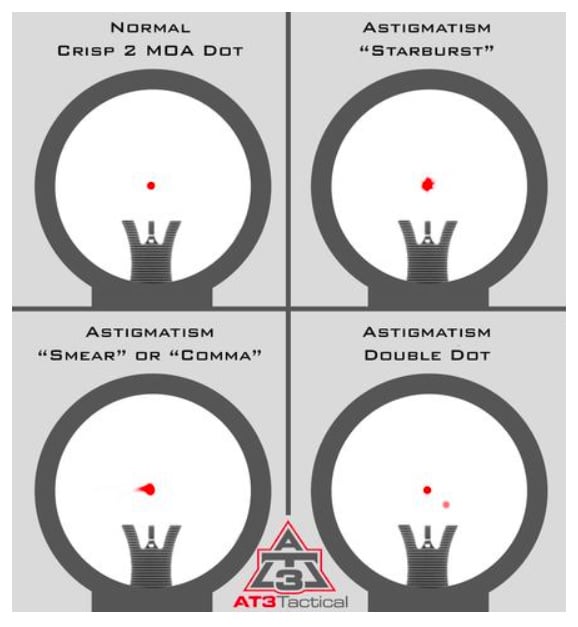 Cons
Magnification tops out at around 5x
Heavy compared to red dots
Not as forgiving parallax and eye relief compared to red dots
Illuminated reticles aren't all daylight bright
Price point of "nice" ones are around $250 and in the ballpark of low power variable optics (LPVOs)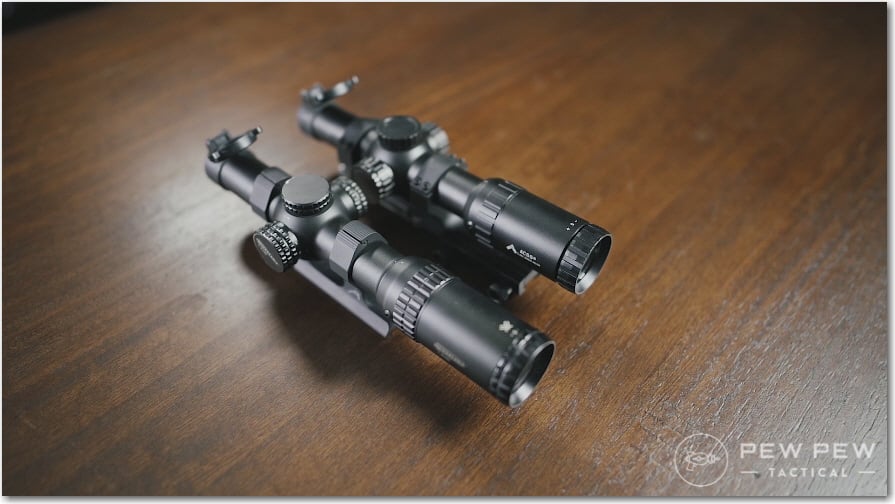 Prism optics definitely have their own cheering section online but keep in mind these negatives as we go into the hands-on testing section.
Best Prism Optics
We had the opportunity to take some of the most popular models of prism optics from a ton of different price brackets and square them up with each other, and boyyyyyyyy do we have some thoughts.
1. Primary Arms SLx Cyclops Gen 2 with ACSS
We were lukewarm with the first generation of Cyclops, with only ok illumination and decent eyebox.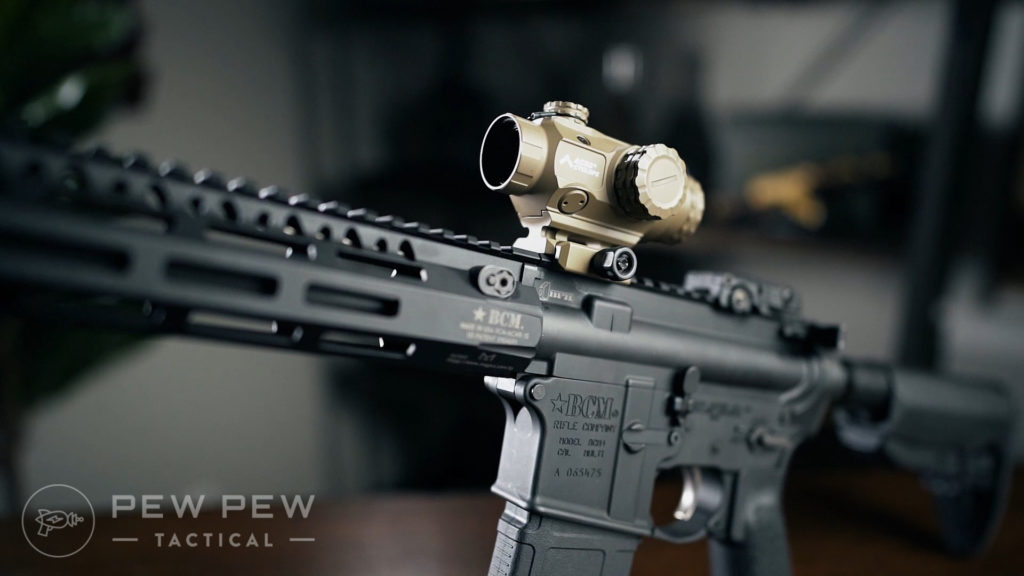 But the new Gen 2 Cyclops blows it out of the water.
Build quality is still superb, AND they managed to get it even smaller.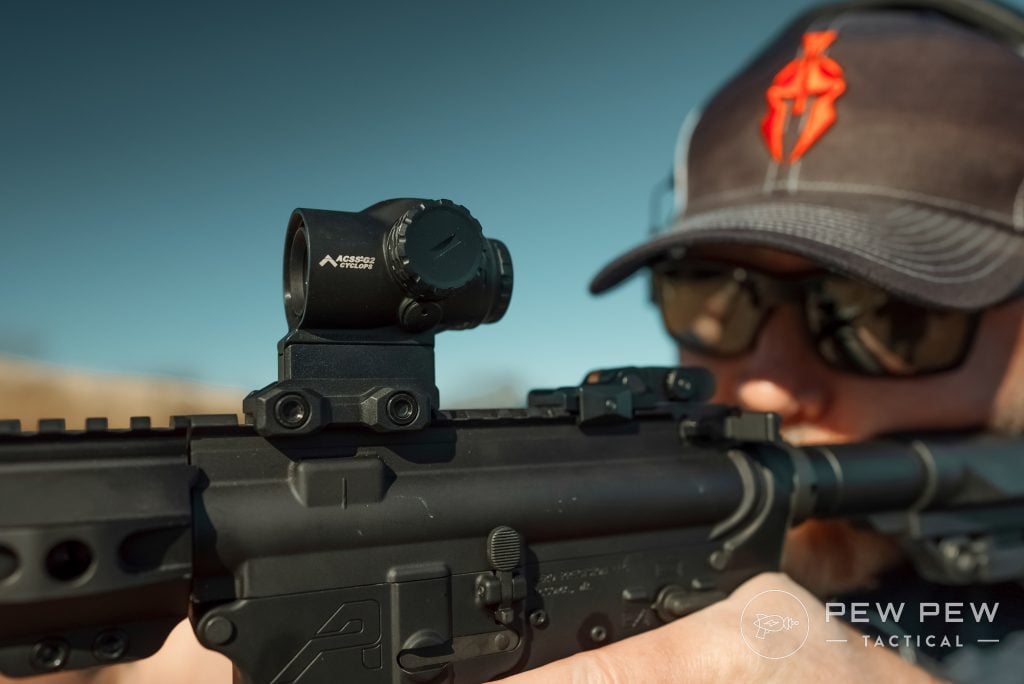 How about that illumination? Granted, we were no longer in the scorching California desert…but it was great. And it comes with 3-night vision modes as well.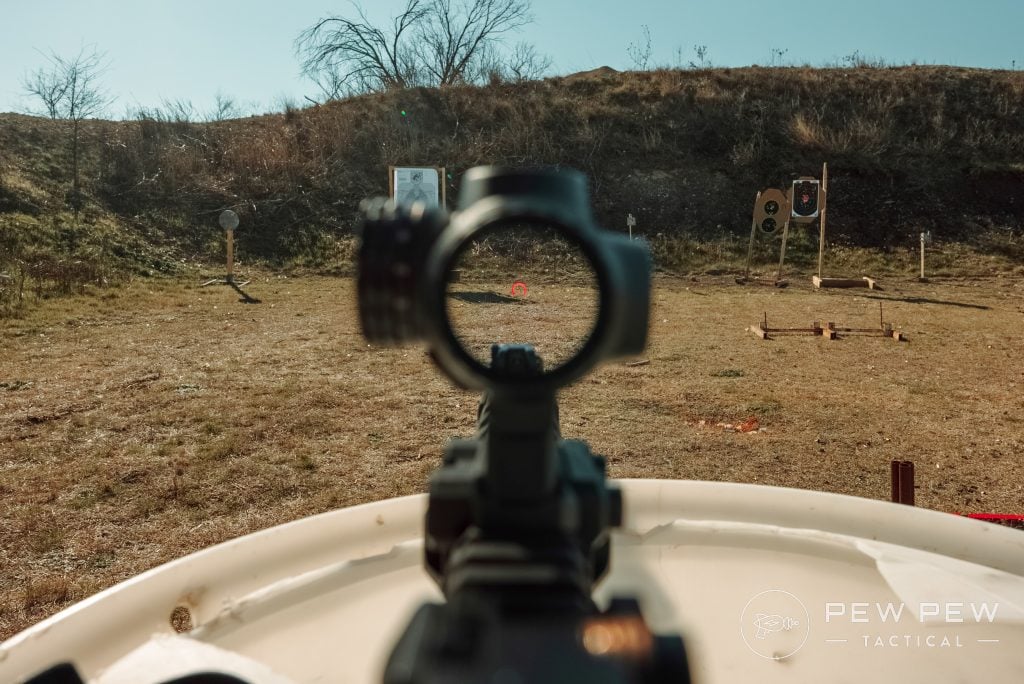 ACSS is one of our favorite reticles…and this iteration continues to deliver.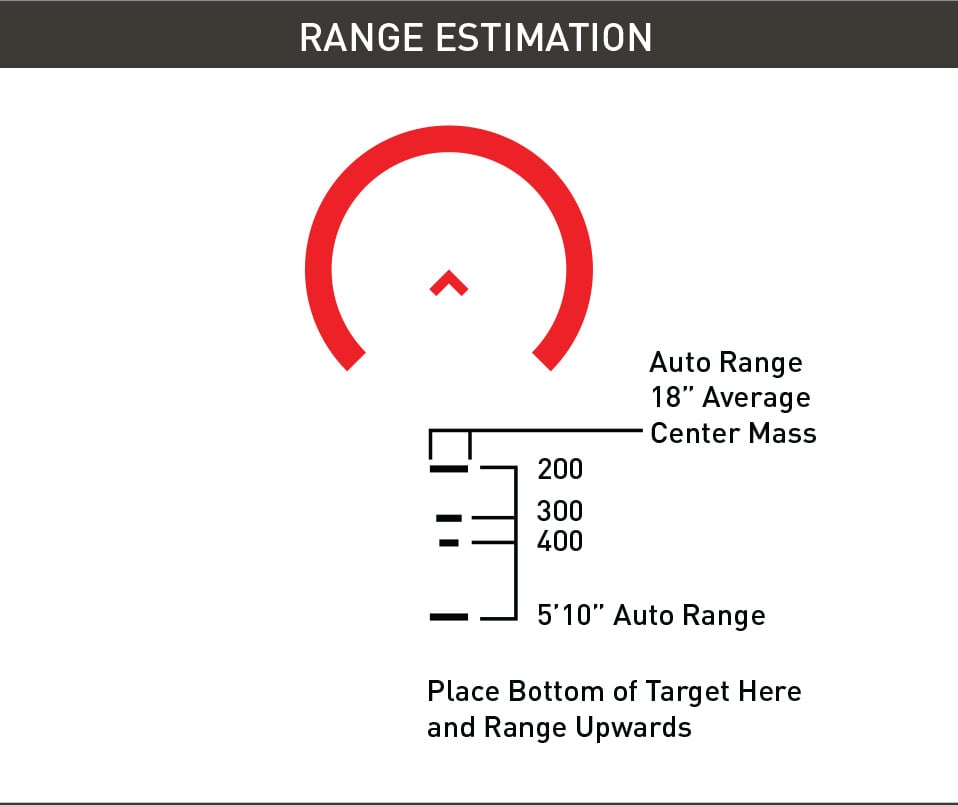 We had our editor, who has a fair amount of astigmatism, try the optic, and it still appeared crisp.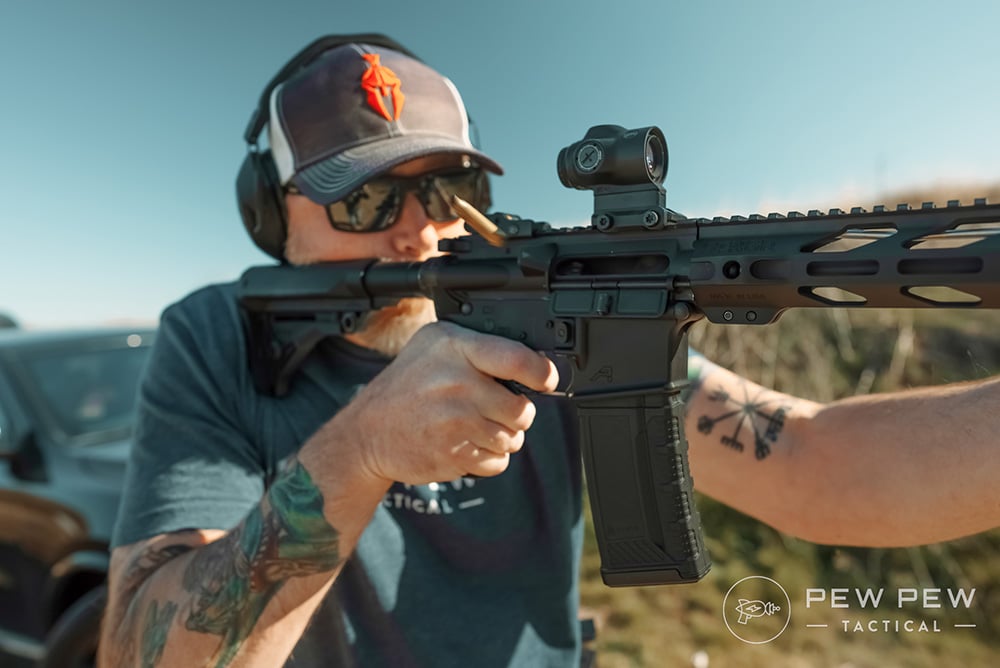 Check out our full review of the Gen 2 Cyclops where we ran over 1,000 rounds at different distances. There's a reason that we now love it.
269
at Primary Arms
Prices accurate at time of writing
Prices accurate at time of writing
2. Monstrum 2x Prism Scope
Up next, we've got a 2x illuminated prism from Monstrum.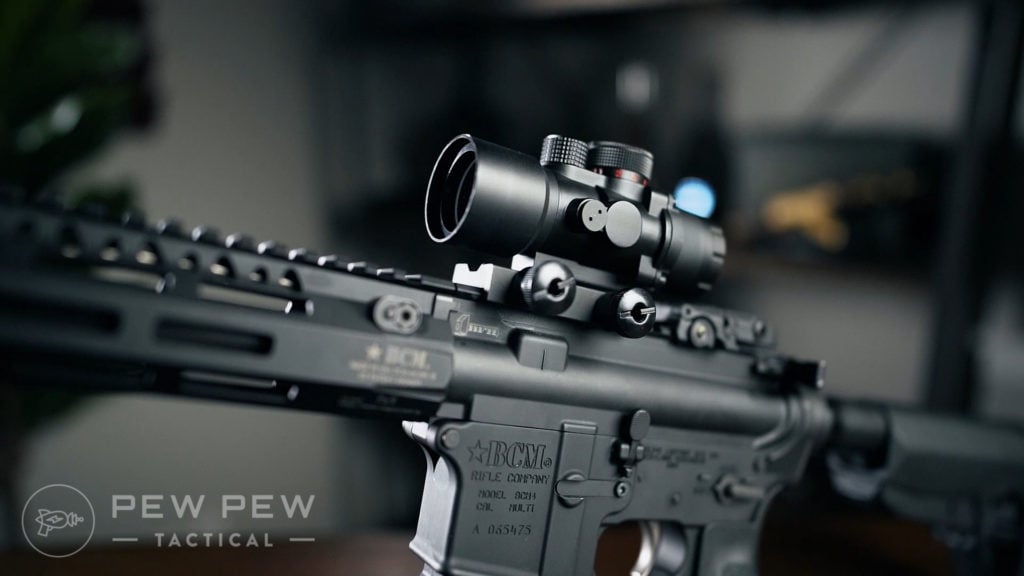 Now, I'm not generally one to hate on entry-level optics as I think they can be a useful way for entry-level shooters to ease into the world of glass without breaking the bank, and the Monstrum has some pretty solid reviews on Amazon.
HOWEVER, that said, I'm not sure the Monstrum is what you're going to be looking for if that sounds like an accurate description of you.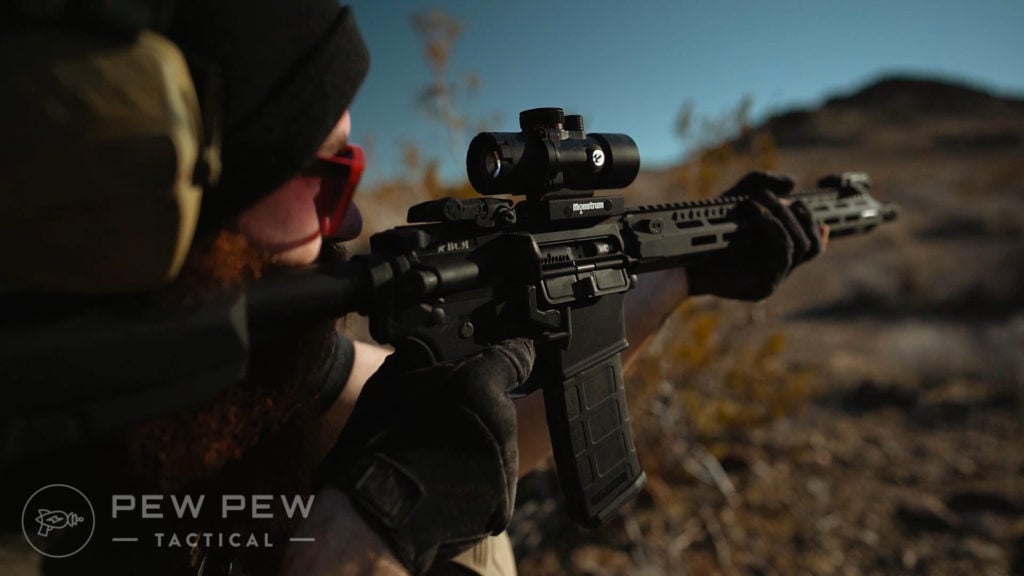 The optic features a 2x magnification, which is obviously a higher mag than the 1x from primary arms, but it still sort of suffers from the same symptoms as the cyclops.
It's also worth noting that we ordered the 3x from Amazon and were sent the 2x instead, which we were able to verify because the two have completely different reticles.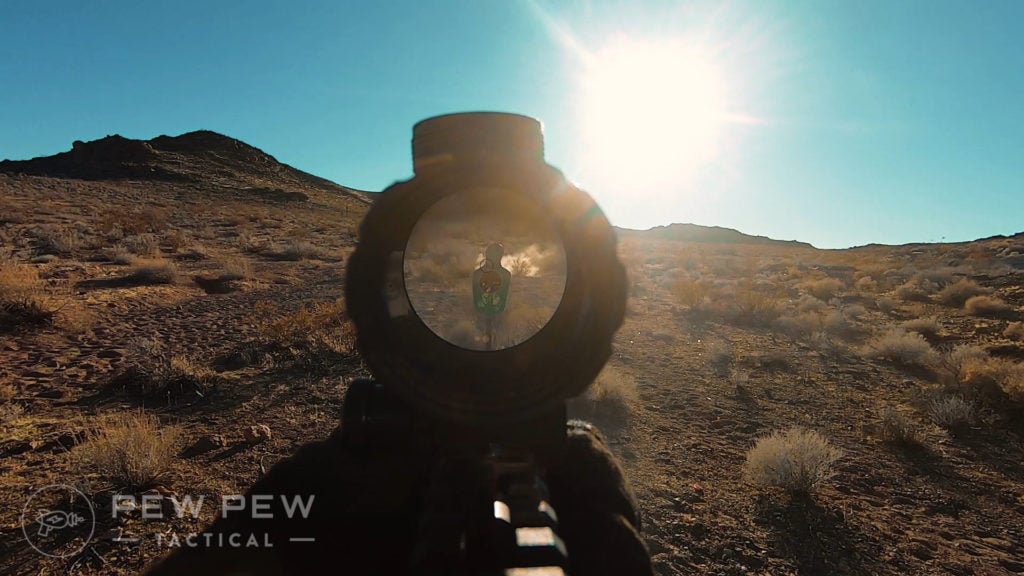 The optic's mount is actually a bit lower profile than everything else in the prism lineup, and I suspect that's the core root of the issue here.
Assuming you're throwing this thing on a standard AR-15, the height of the mount is going to ensure that the front of your rail and your weakside hand are going to blurrily occupy the lower third of your field of view.
Which just feels obnoxious and distracting and may not co-witness with your irons either.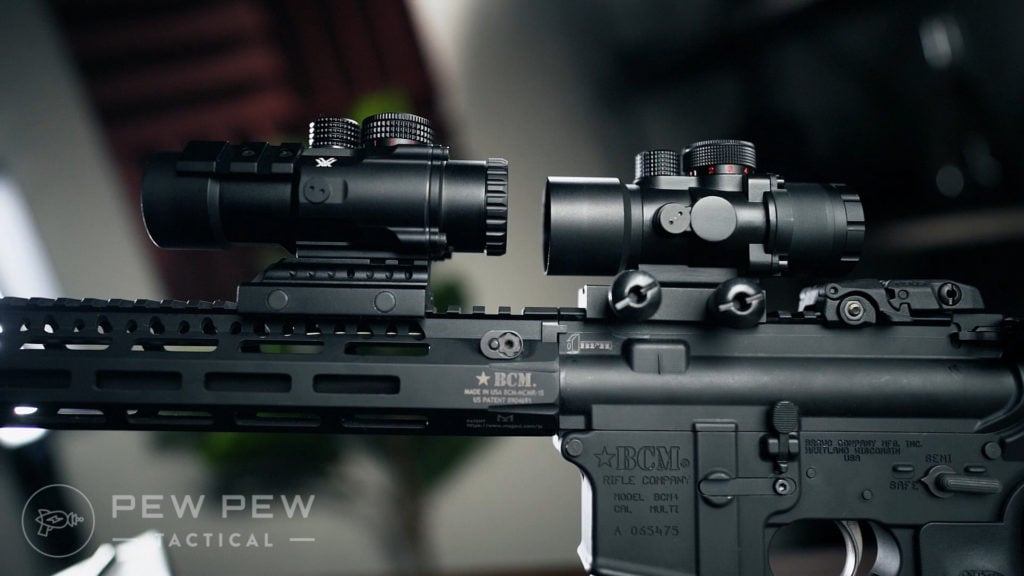 As you'd probably expect, the illumination here is also next to worthless in bright conditions, but it does have 5 levels of adjustable brightness in both red and green flavors that might be okay if you're shooting in overcast or more dim conditions.
The reticle itself is a simple circle with a dot at the center – with the outer ring being 24 MOA at 100 yards.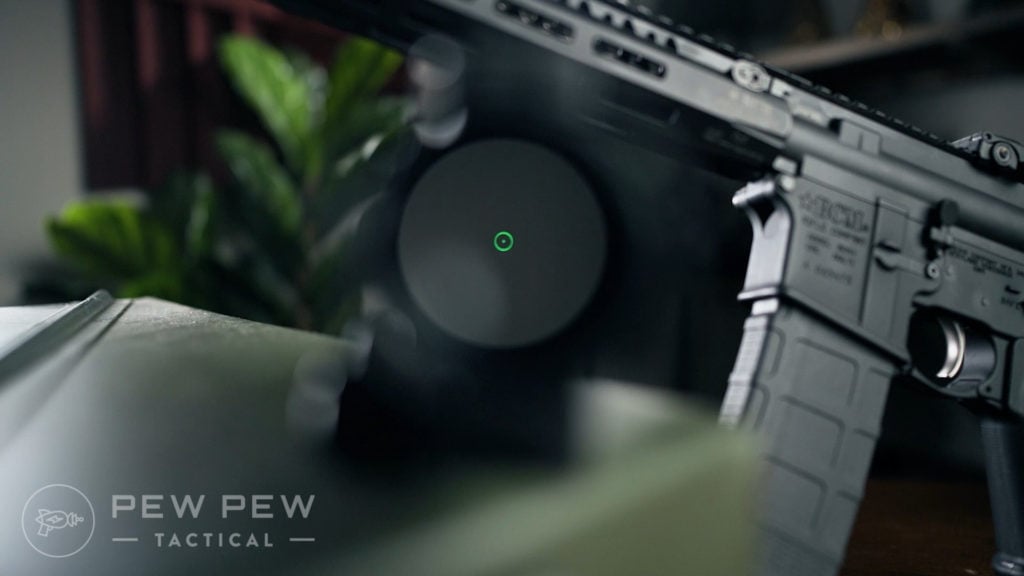 We have no real complaints about the glass itself, but there do appear to be tiny blemishes inside the optic if you really look for them.
It's kinda nitpicky, and you likely won't notice unless you knew about them beforehand, but we did pick them up when while scrutinizing the Monstrum for review – but again, this is an $80 optic.
What we did have an issue with, however, was the fact that the windage and elevation turrets are inexplicably reversed.
While zeroing the optic, we fired at our steel target and noticed that our rounds were hitting off to the right. As one does, we followed the indicated arrows and began turning the windage turret, such as to bring our reticle over to the right and get our point of aim to match up with our point of impact.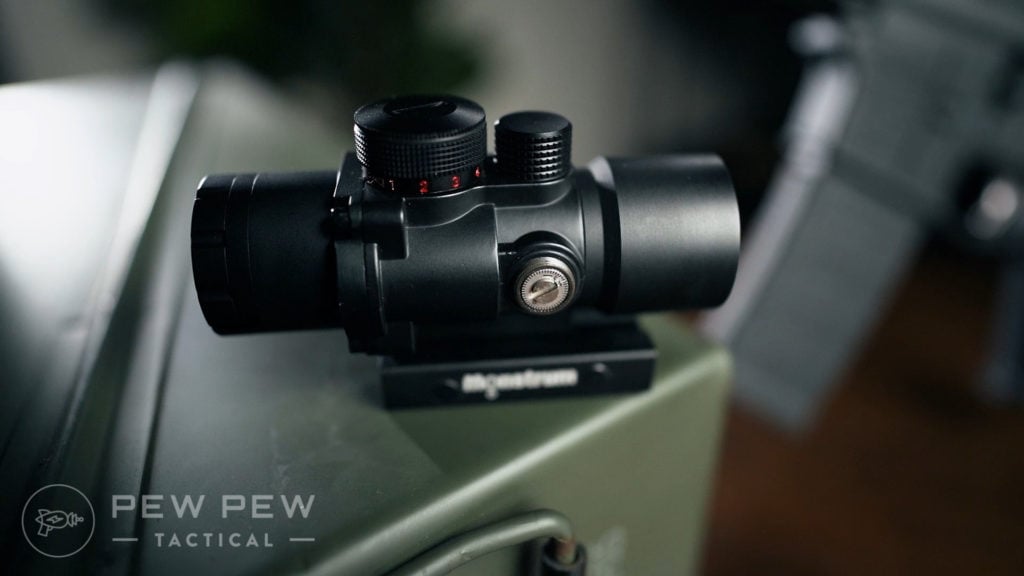 However, despite the fact that we were adjusting the optic correctly, our point of impact continued to shift even further rightwards, and we figured out shortly after that the turrets are actually mislabeled.
We began walking the reticle back the other way and eventually got the Monstrum zeroed – but how the hell does that happen? Some damn fine QC work there, gents.
Again, you can make the argument that this is a $80 budget optic and maybe you should expect some wonkiness, but I guess my main issue with it is that the scope is mainly geared towards beginners who might not realize right away what's going on, and that just seems sort of shitty.
We've also found similar concerns echoed on the review comments for the optic on Monstrum's own page, lest ye think the issue just stemmed from us being dumbasses.

Sub $100 is relatively cheap all things considered, and if you don't mind any of the weirdness I mentioned above, maybe you'll be happier with this thing than i was, but all things considered…. Ehhhh??
80
at Amazon
Prices accurate at time of writing
Prices accurate at time of writing
3. Vortex Spitfire 3x Prism Scope
Up next we've got Vortex's 3x Spitfire!
A proper 3x prism optic that boasts 5 levels of red and green illumination, a reticle with built in BDC hashmarks out to 500 meters, and slanted picatinny rail segments set at 45 degrees to either side of the optic for the addition of micro red dots.
The pic rails are also removable in the event you find that feature unnecessary.
The Spitfire is honestly the first prism in the review that I actually enjoyed using.
Even though the illumination still leaves a bit to be desired, the 3x mag and the quality of the glass itself meant that I wasn't struggling to see past my own thumb in my FOV.
And nothing really drives home how much glass quality matters like using optics that aren't quite as clear before moving on to one that is.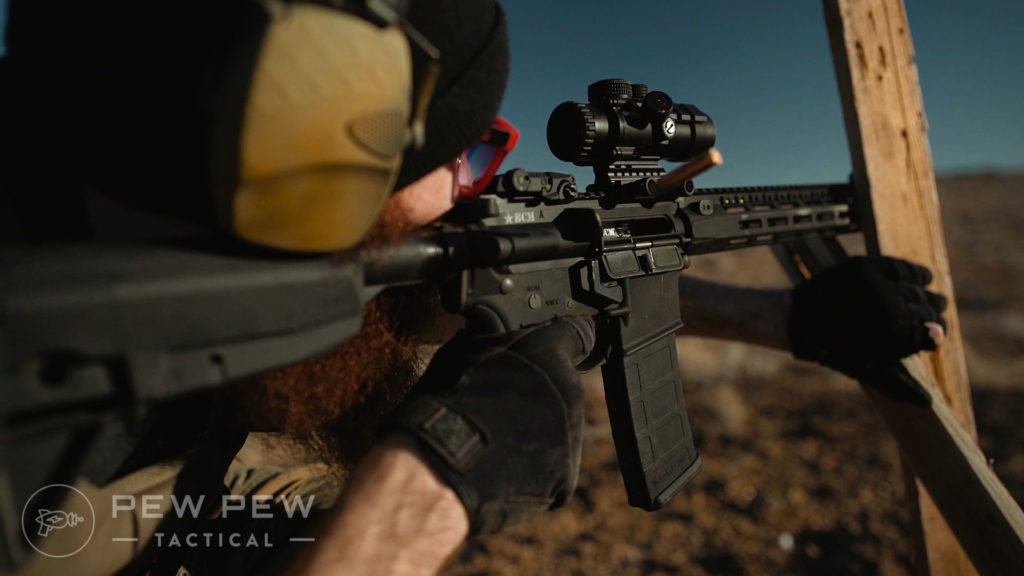 Also featured on the Spitfire is more wire cable tetherings for the turret adjustment caps.
Again, a cool feature just like on the PA 1x, but introducing dirt and dust into this system can occasionally mean that you've got to wrestle the cables out of locking the turrets up.
A minor gripe as you'll likely only have to play with it while zeroing, but something to note nonetheless.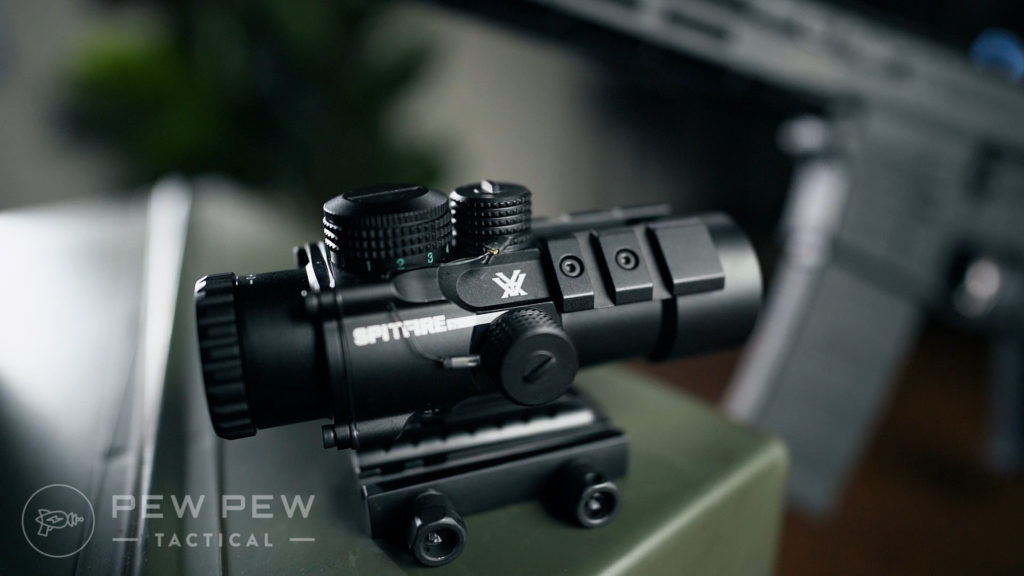 Battery life is reasonable, clocking in at about 250 hours on the highest power and 3k on the lowest setting – but like I said, the illumination isn't really a selling point for me here in sun land.
For me personally, I don't particularly see the point in running a magnified optic below 3x, so the Spitfire is just about the minimum that makes sense for utilizing on a rifle if you're specifically looking for prism optics.
The overall build quality is what you'd expect from Vortex, ie, it's pretty damn solid, and you can rest assured that the optic is backed up by Vortex's famous lifetime warranty.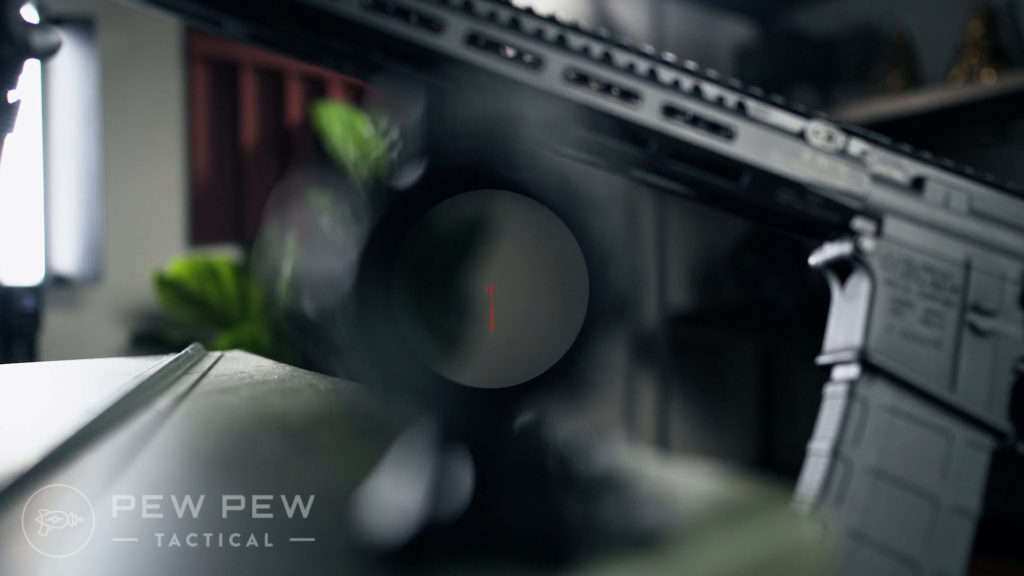 Although a pretty big jump up in price at about $349 on the street, if you're seriously considering a prism optic, this is probably about the general price ballpark you should be considering to snag something that's actually worth it IMO.
Best Fixed Magnification
301
at Amazon
Prices accurate at time of writing
Prices accurate at time of writing
The Spitfire gets a thumbs up from me.
4. Primary Arms SLx 3 Prism Scope
Moving on and standing as an almost direct competitor to the Vortex Spitfire is the Primary Arms SLx 3 Prism optic.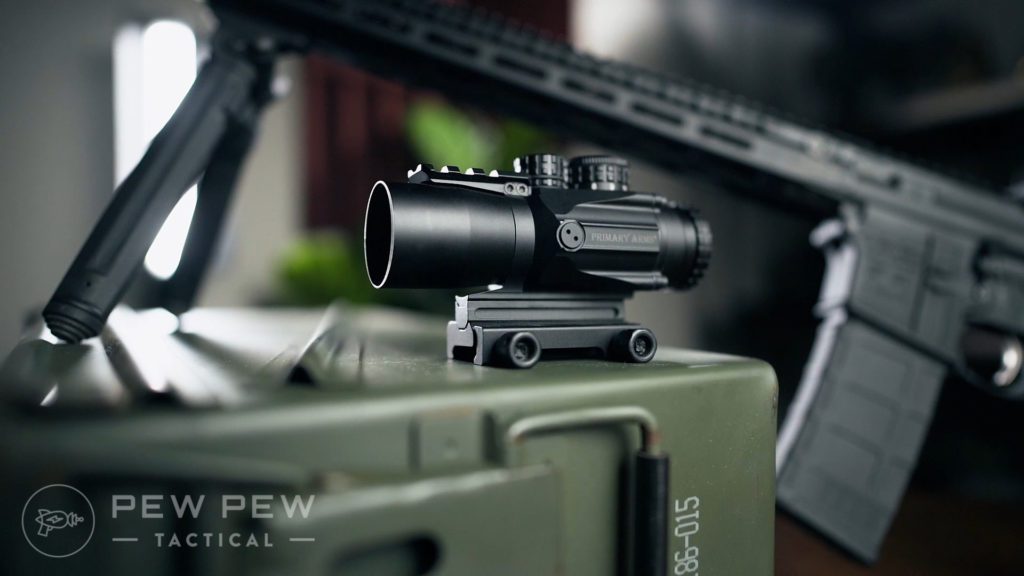 When I say that these two prisms are similar, I really mean it.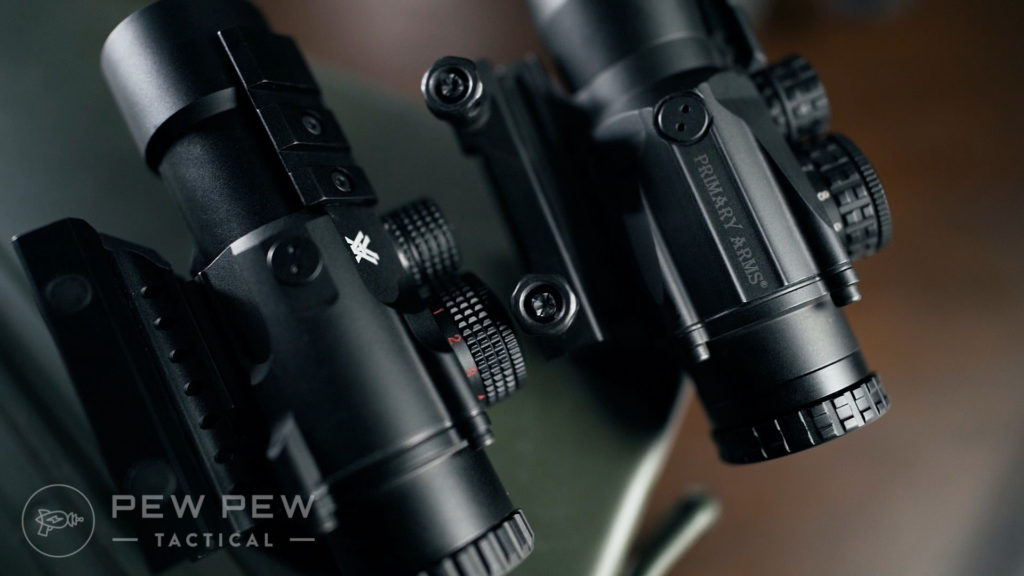 That being said, I'm going to say that the Primary Arms SLx slightly edges out the Vortex Spitfire, for a few reasons.
The SLx features the ACSS reticle that's standard on a lot of Primary Arms' offerings, this time in a CQB configuration with an outer ring that surrounds the familiar horse shoe in the center.
And while we won't get into the nitty gritty of what all the ACSS does from a features standpoint, we do quite enjoy the fact that it's got BDC calculations out to 600 meters and includes hold marks for both wind and engaging moving targets.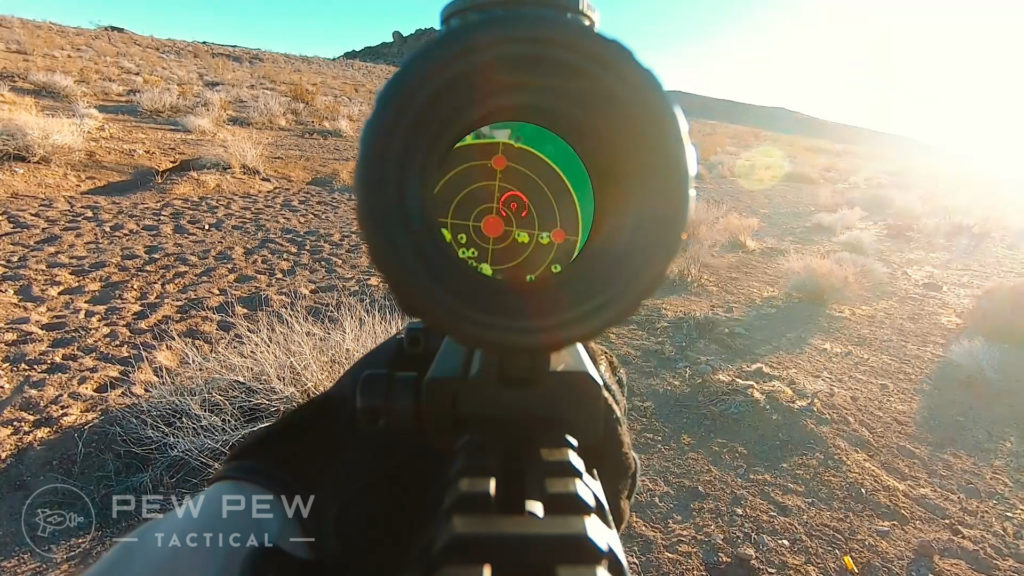 The reticle itself should be accurate for the vast majority of 5.56 cartridges on the market, and can also be used for .308 and 5.45×39 as well, though we haven't had the opportunity to test that.
Additionally, the mount includes a removable spacer to ensure you've got a comfortable cheek weld on both AR-15 and AK type platforms.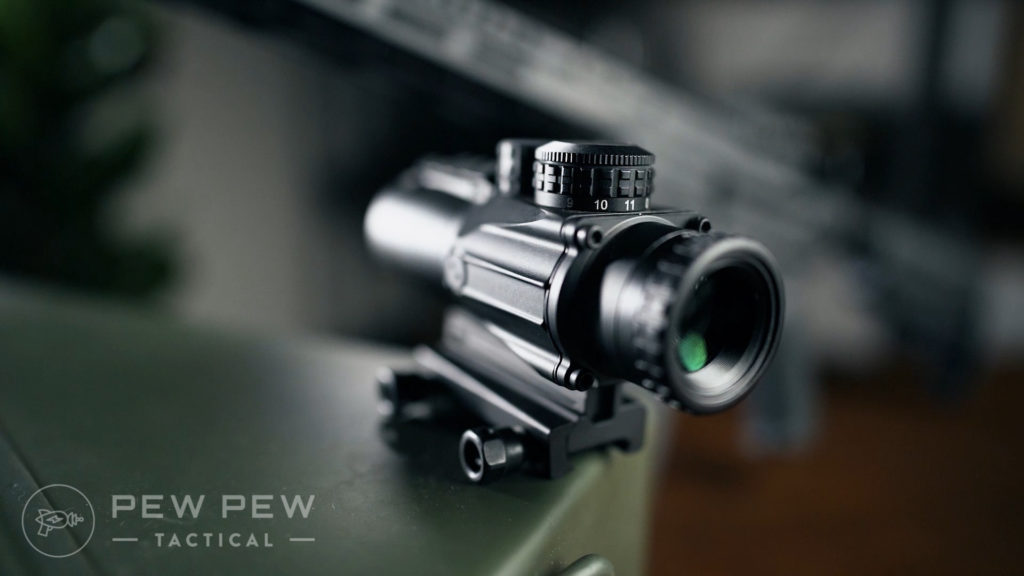 We're also not quite sure where to mention this, but ever prism we've touched on so far includes these really terrible flip up covers that you can safely just toss in the trash bin.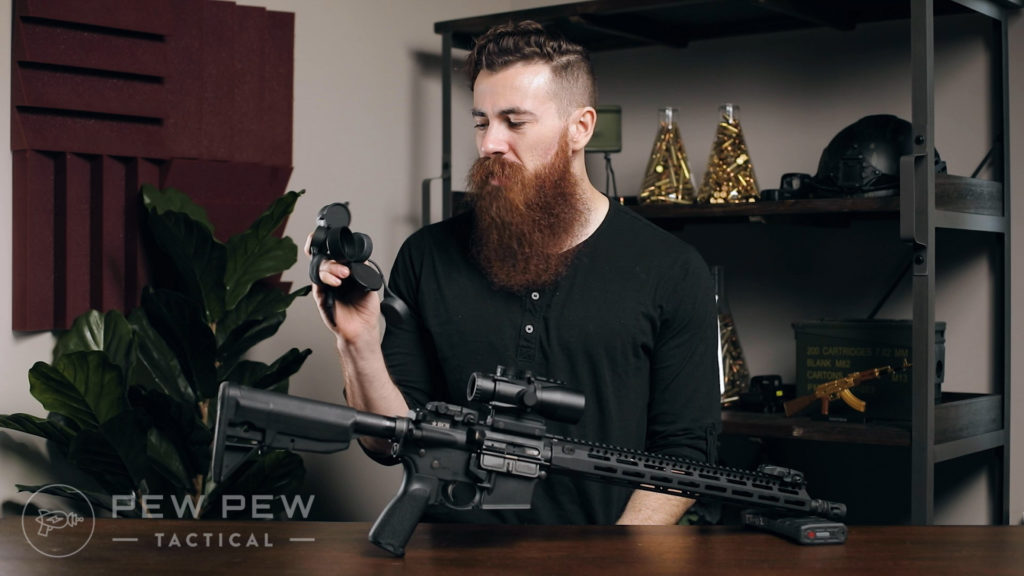 The SLx 3 is also the first prism out of those we tested with actual, functional illumination. Even in our bright ass Californian meth desert conditions, we were able to pickup the reticle easily on the highest setting.
This does makes us wonder why this is such a difficult thing to nail for other manufacturers.
What specifically is so hard about making sure your reticle is actually visible on a bright day? We may never know.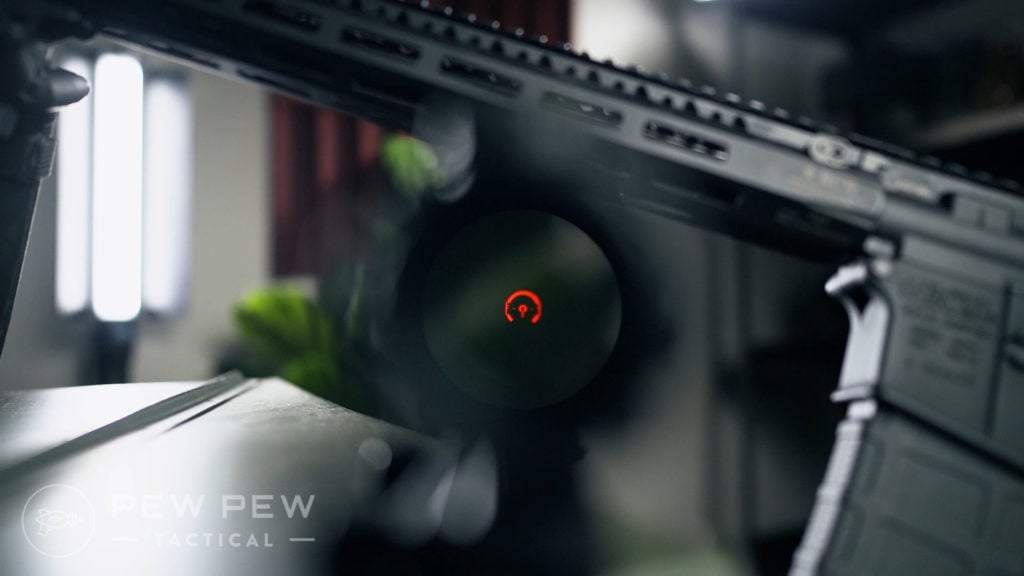 The SLx has got a small pic rail section just forward of the elevation adjustment turret, and both turret caps are held in place by a rubbery polymer piece that we feel is a bit better of a solution than the steel wires we've addressed previously.
290
at Primary Arms
Prices accurate at time of writing
Prices accurate at time of writing
Considering the fact that the PA SLx is sitting at a comfortable $289 MSRP, and I think it's fair to say that the SLx is the better optic, if only slightly.
What's your take on the SLx3?
5. Primary Arms SLx 5 Prism Scope
If you're sold on the SLx 3 but maybe want a bit more magnification, you're in luck!
Primary Arms also makes the SLx 5 – a 5x mag prism optic that still features the ACSS reticle with a slightly larger objective lens to boot.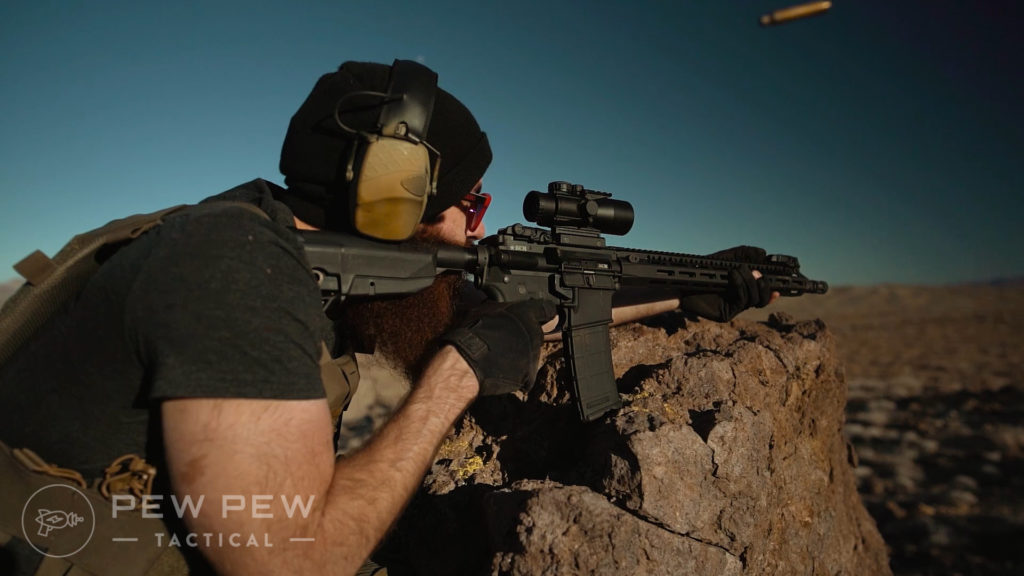 The SLx5 ditches the CQB reticle and gives you the straight forward ACSS horseshoe you might be familiar with if you've used a PA optic before or watched our review of their 1-6x low power variable optic.
Outside of the higher magnification and slightly larger lens, the reticle of the SLx5 features selective illumination that only lights up the horseshoe itself.
Considering you likely don't need the CQB-oriented setup where the entire reticle is illuminated.
It works great, and at just $330 or so, is only slightly more expensive than the SLx3.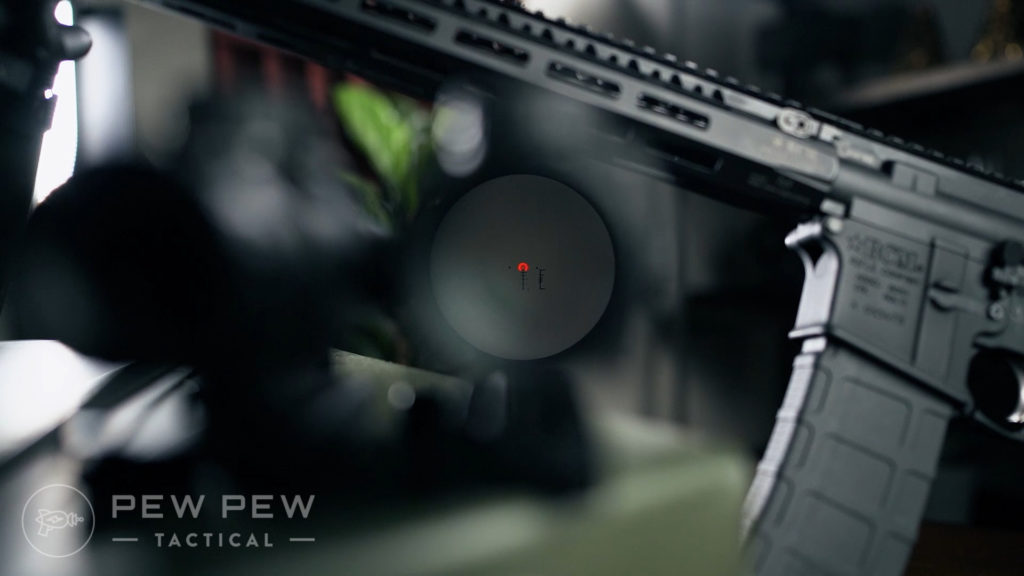 If you're looking for something a bit more long range oriented and don't need the CQB reticle of the SLx3, the SLx5 is likely a great choice for you.
330
at Primary Arms
Prices accurate at time of writing
Prices accurate at time of writing
6. Sig Sauer Bravo 5 Prism Scope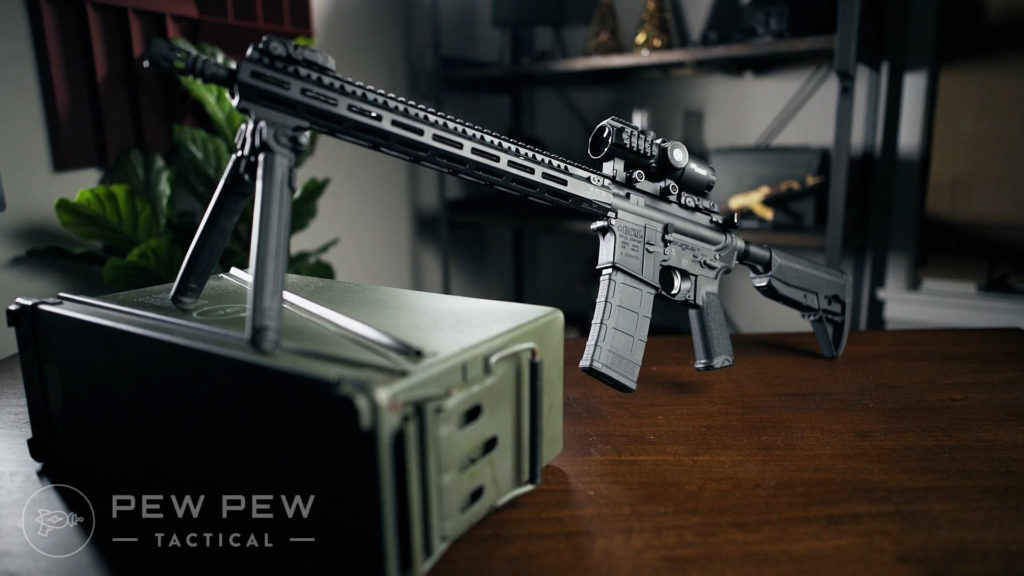 Last but certainly not least, we've got the Sig Sauer Bravo 5.

Straight away, the Bravo 5 takes the cake for the hottest Prism on this list.
The Bravo 5 features 5x magnification and an absurdly large fov due to some dark arts that Sig has taken to calling MegaView™ which by the way is trademarked.
As if anyone on the planet was going to steal that combination of words.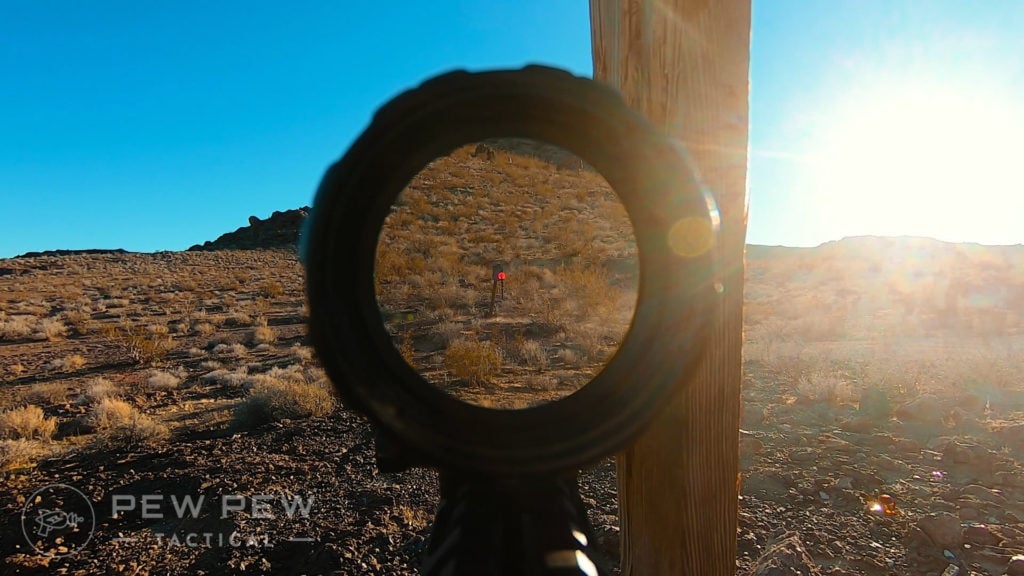 I won't pretend to understand the science behind Megaview™, but the optic boasts a roughly 40% larger field of view than competing prism optics – and it definitely shows after using all of them in one day.
The quality of the glass on the Bravo 5 is also fantastic – not that any of the previous optics we tested out were bad by any means, but compared to the clarity Sig puts forward, they all pale a tiny bit in comparison.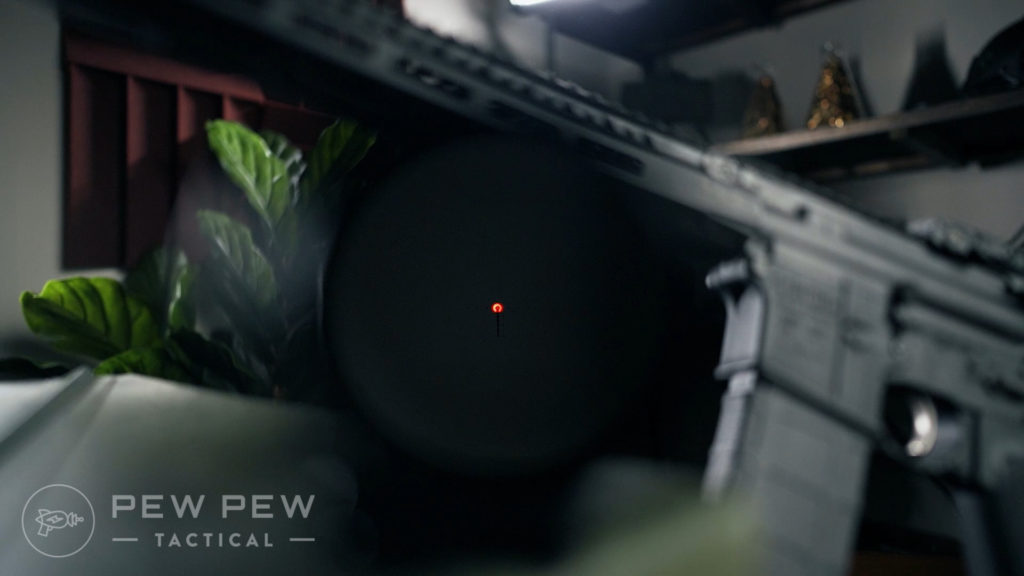 The reticle itself is another horseshoe type, this time with bullet drop markings all the way out to 800m, and with some windage hashmarks as well.
The illumination on the Bravo 5, for once, is bright – like really bright, and good lord do we appreciate that. The optic's got 8 levels of brightness indicated by the size of the red square on the illumination knob, in addition to having 3 levels of brightness specifically for night vision compatibility.
Sig notes that the Bravo 5 is purpose-built so that the centerline of the optical axis sits at exactly 1.535" above the top of a standard Picatinny rail for night vision compatibility.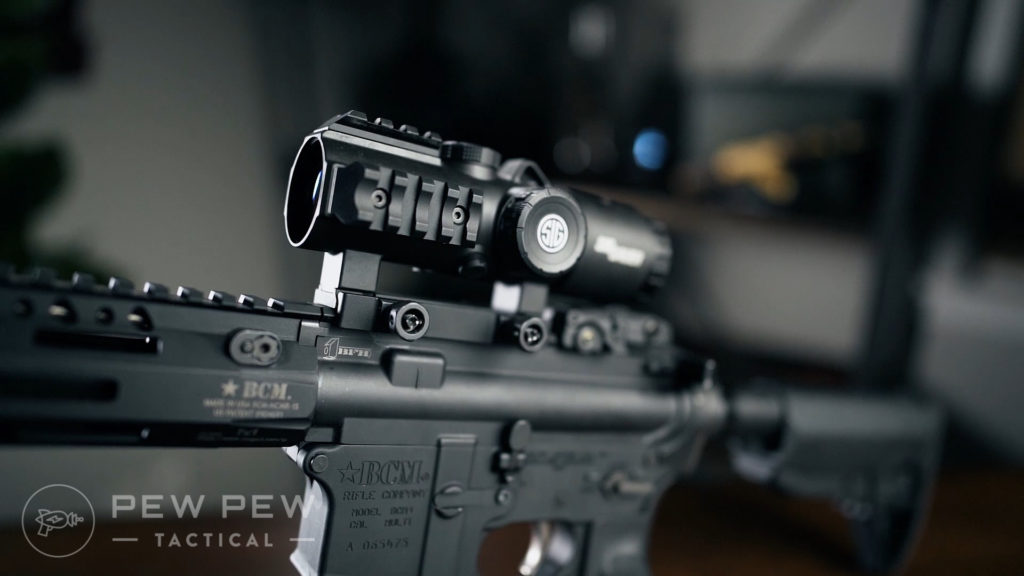 Although we don't currently have the means to test this, we're assuming that the bravo 5 should sit at the perfect height on your rifle to peer through something like a PVS14 if you've got it mounted to the gun itself.
Up towards the front you've got 3 Picatinny rail segments on the 12, 3, and 9 o clock positions of the optic for mounting, well, whatever you'd like to.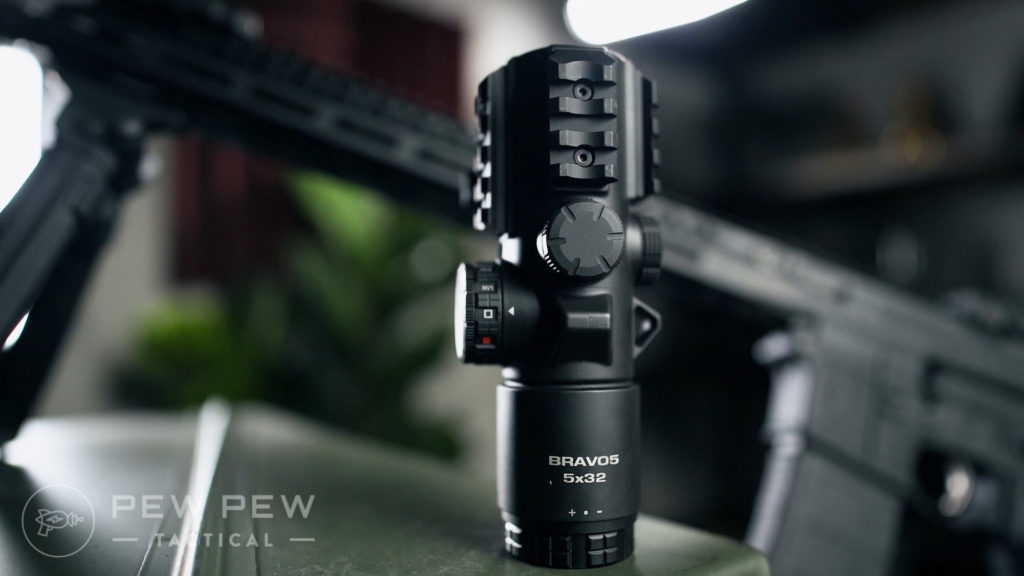 Probably the only other optic in a similar category that we've reviewed is the larger 6x ACOG from a few months back, and honestly? I'd say the Bravo 5 beats it.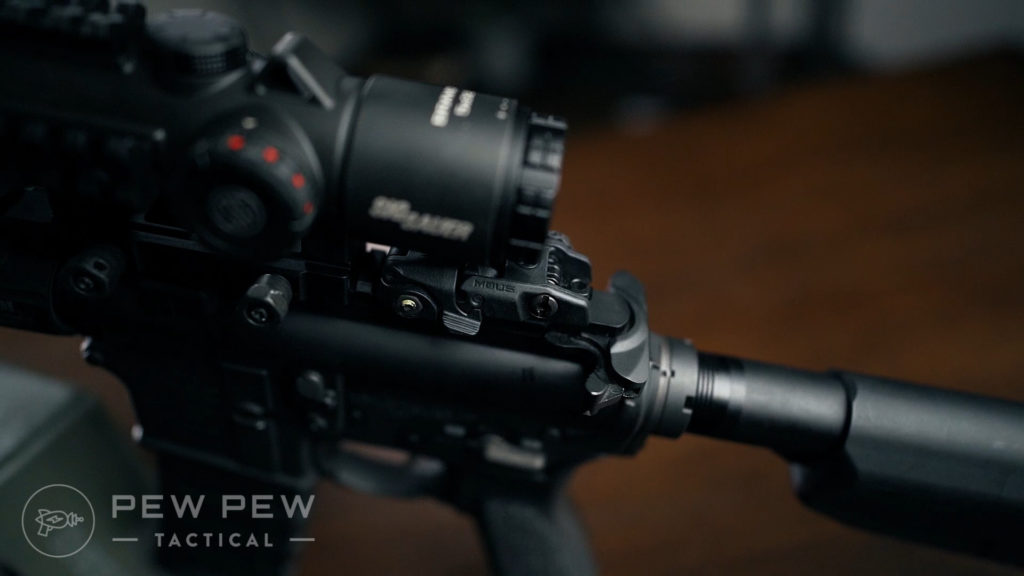 The slightly higher profile of the mount means you're not going to struggle with accessing your charging handle as I did on the larger ACOG.
Sig's illumination blows the ACOG's out of the water on the highest setting, and I'd hazard to say that the field of view on the Bravo 5 is a bit larger as well – if not just about even.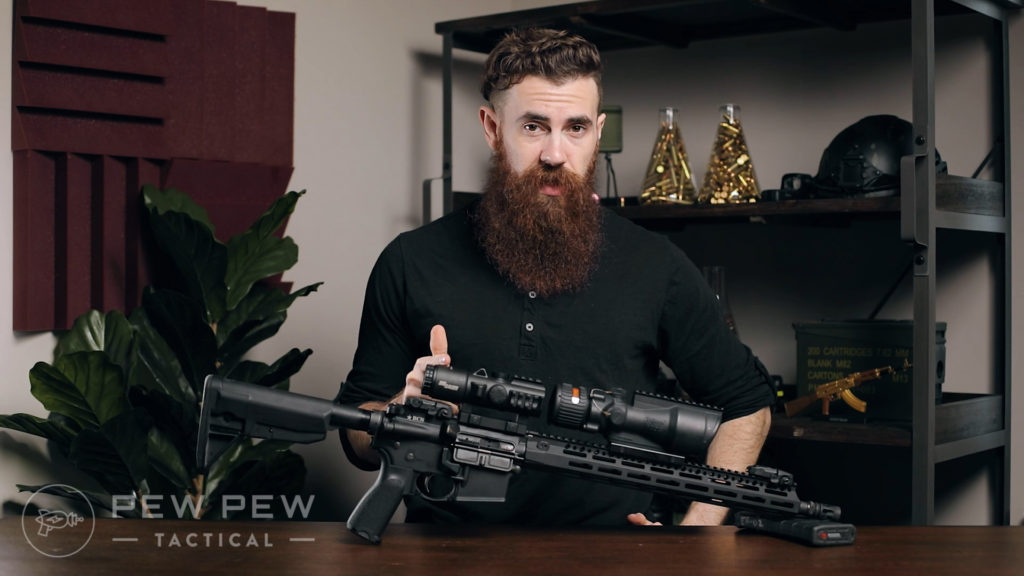 I know this is probably starting to sound like an ad for the Bravo 5, but this is just me legitimately being stoked on an optic that I can't really find a lot of negatives for, outside of perhaps it's slightly chunky weight of about 23oz.
At a current street price of $399, the Bravo 5 certainly isn't inexpensive, but in our opinions, it definitely punches above its weight for the price point and is easily one of the nicest optics we've ever had the pleasure of toying around with.
360
at Optics Planet
Prices accurate at time of writing
Prices accurate at time of writing
Obviously, if price is no concern for you, we have no issues with giving it our full recommendation over all of the other optics on this list.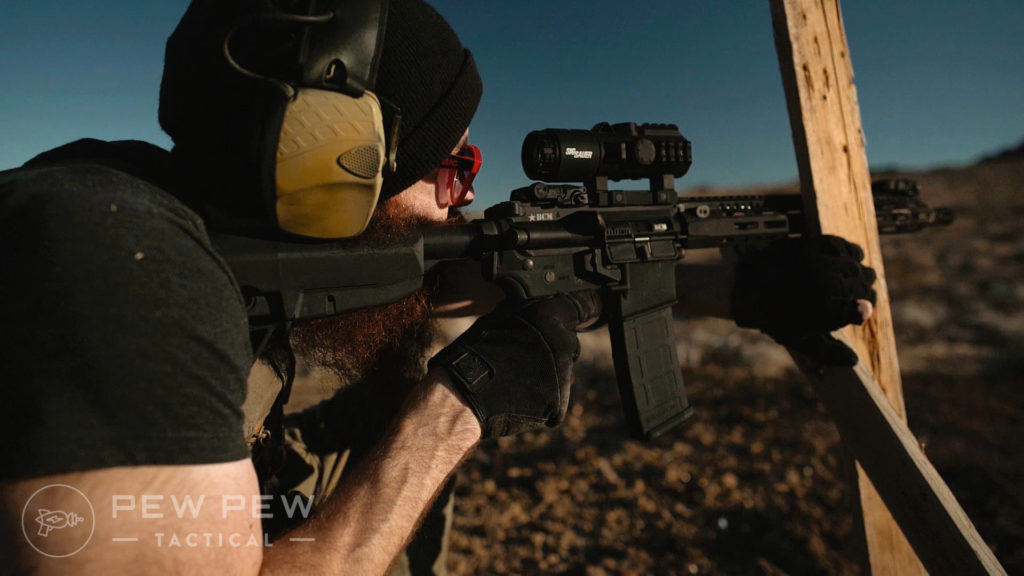 But What About ACOGs?
Probably the OGs of bombproof prism scopes are Trijicon ACOGs.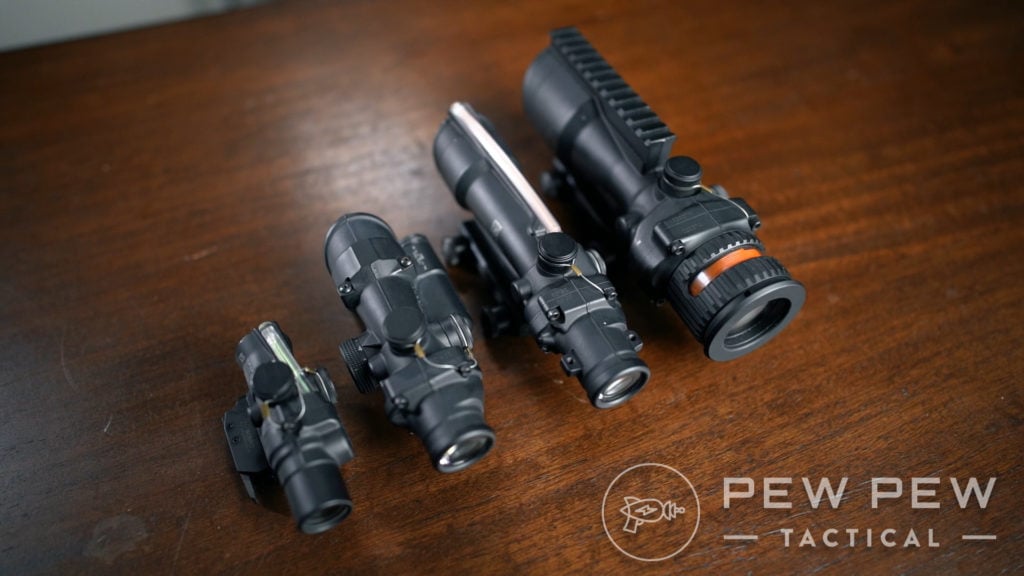 We've got an review article and video just for them…for when you want to spend $1400 on a super battle-proven optic.
Conclusion
Hopefully, we've given you enough information to help you make your own informed purchase – as none of these optics on the list are bad by any means, even if I didn't personally jive with them.
And if you still haven't checked out the video…
The bottom line is that, depending on your individual needs and ability to spend cash on gun glass, we're positive you'll find something in here that works for you – even if I think the idea of a 1x sight that isn't a red dot is fundamentally stupid.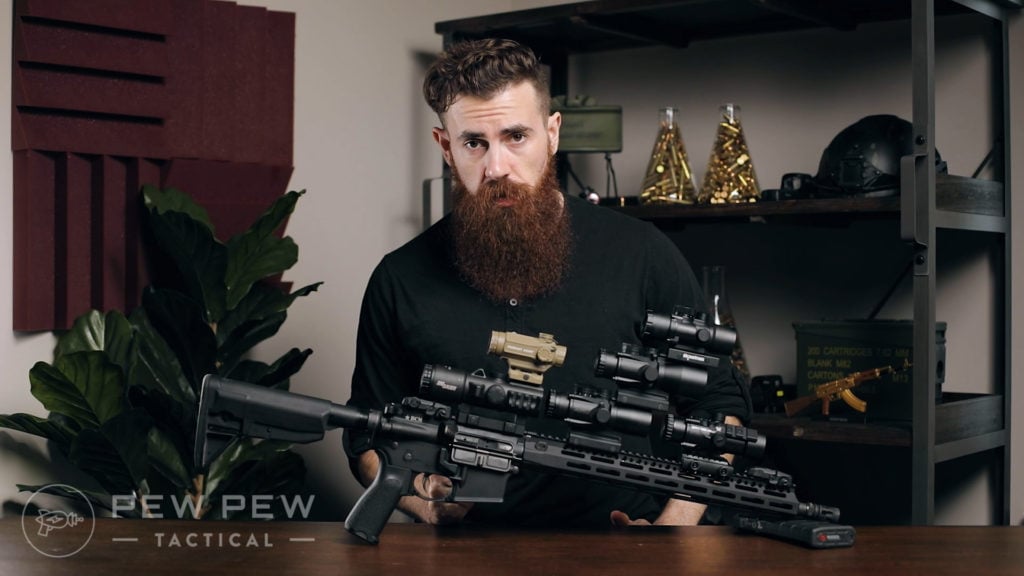 Our go-to entry for getting started in the prism world is to get the Primary Arms SLx3.
290
at Primary Arms
Prices accurate at time of writing
Prices accurate at time of writing
It's just the right amount of magnification with a nice reticle, daylight bright illumination, and a decent price.
Want to ball it out with one of the nicest views/glass we've witnessed? Check out the Sig Sauer Bravo 5.
360
at Optics Planet
Prices accurate at time of writing
Prices accurate at time of writing
What are your thoughts on Prism optics? Do you run a 1x? Or are you like us and prefer Low Power Variable Optics? Also, check out our all-encompassing Best AR-15 Optics and Best Optics for Astigmatism.