Using a red dot or holographic sight…but sometimes need to reach out and touch something?
A flip-mounted 3x magnifier might just do the trick.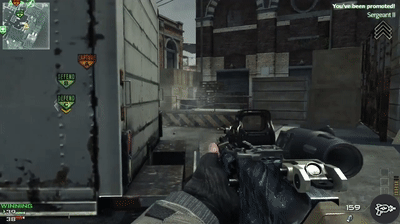 The big boys of Aimpoint and EOTech have their own magnifiers…but they are $300+ and sometimes without a mount.
But if you're on a budget…we bought 3 of the most popular 3x magnifier options under $200…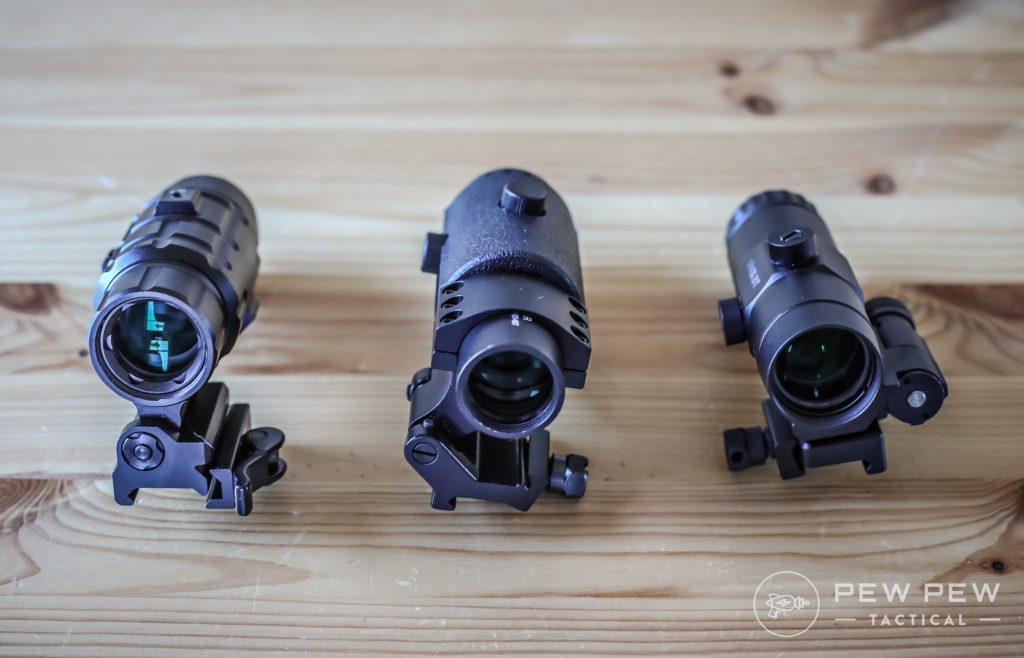 And put them to the test with real view-throughs of red dots and holographic sights.
By the end you'll know the best one for your budget.  Hint…it's the Vortex VMX-3T.
Overview
Turns out…it was pretty hard to get good pictures from a camera that showed what I experienced with my eye.  Here's unedited photos from my phone and scaled the same amount.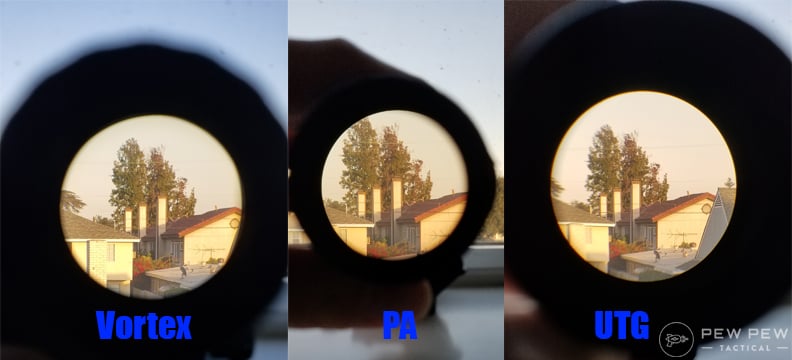 Basically…
Vortex was the brightest, had the biggest field of view, and good eye relief (3 inches from eye to optic)
Primary Arms had the same quality of glass but a slightly smaller field of view
UTG had blurry sides, a smaller eye relief, and was much darker
Pictures through optics were even harder to get right (thanks to my buddy Ryan for these).  Here is viewing the Vortex AMG UH-1 holographic sight ($499).

And the view through an Aimpoint H-1 ($600).

Now let's dig into each magnifier individually…
Best 3x Magnifiers
1. Vortex 3x Magnifier
Pros: clear glass, good eye relief (3 in), ambidextrous, easy to access mount, slim design, lightest (11.5 oz)
Cons: most expensive on the list
The VMX-3T is the highest priced one at $199 but Vortex's transferable lifetime warranty is pretty sweet.  Plus…it performed the best.
The lightest and slimmest of the bunch which allowed use of Magpul backup iron sights underneath.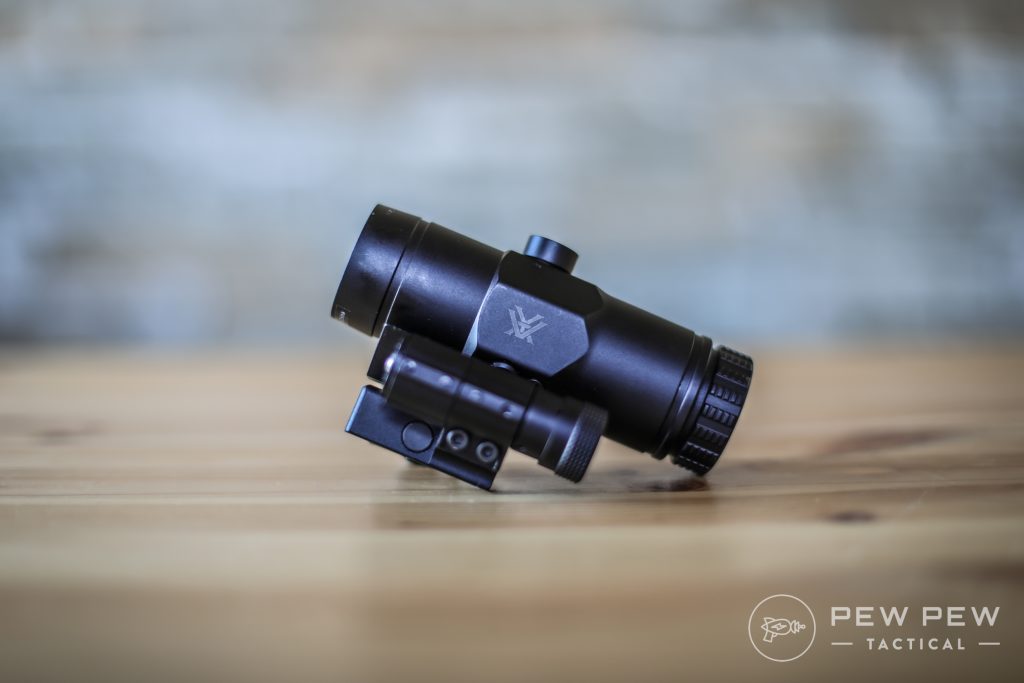 Mount was the easiest to use…just press the knob with your off hand and move the mount.  Also switchable for lefties.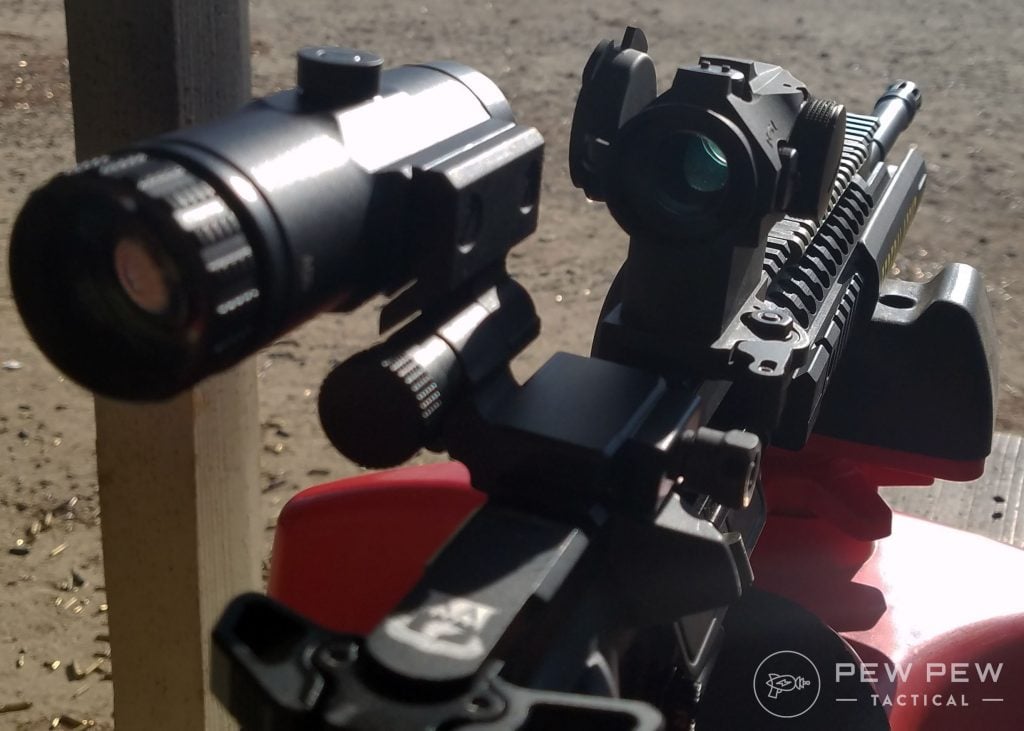 Glass was very clear (estimate same as the Primary Arms) but a larger field of view.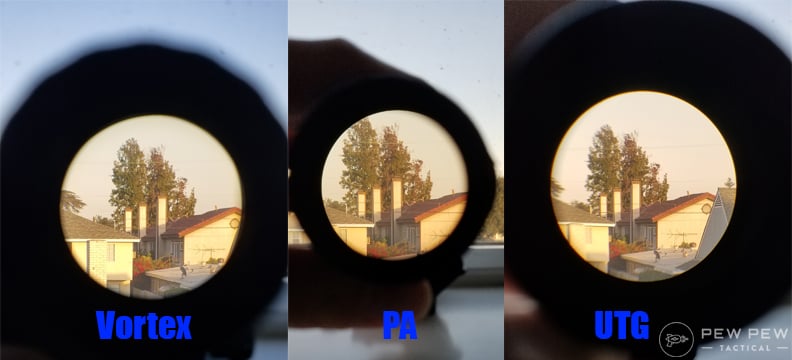 Here's a view of the Vortex through a EOTech EXPS2-0 indoors (see more in Best Holographic Sights).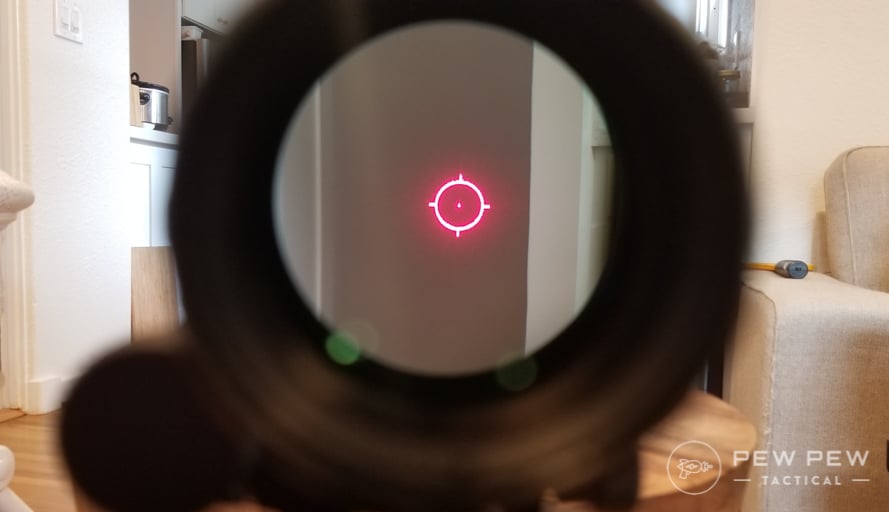 Plus a video of the EOTech outdoors and flipping the VMX-3T.
I couldn't get it to be a complete circle field of view since my camera was a little too high.  But with regular eyeballs it looks great.
My top choice if you're looking to actually use your magnifier on/off and have a decent optic already.
If you don't have one…check out our Best AR-15 Optics.
Best 3x Magnifier
199
at Brownells
Prices accurate at time of writing
Prices accurate at time of writing
What's your take on the Vortex?
2. Primary Arms 3x Magnifier Gen 4
Pros: rubberized cover, good eye relief (~3 in), clear glass
Cons: heaviest (13 oz), no included mount, field of view slightly less than Vortex, biggest
The PA 3x Gen 4 is the middle-priced optic at $100…but without a mount.  I picked up the Ade QD Mount ($27) which was OK.
I hope Primary Arms' home-brewed ones are much better.
The mechanism is pulling the optic towards you and pushing it out.  Harder to get right than the Vortex one but I'm sure you can get used to it.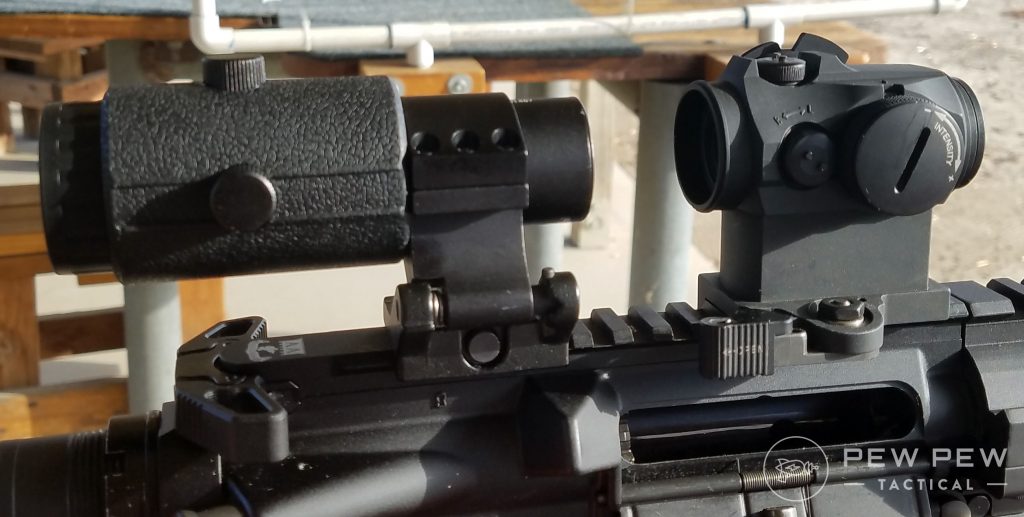 Mates up perfectly to the red dot and holographic we had on hand.

Glass and eye relief is on par with the Vortex but with a slightly smaller field of view.
If it came with a good mount at $100 I'd call it a screaming deal.
But since you have to get your own (I'd say skip the Ade and up it to the Primary Arms ($50) or the Burris ($60) which seems much easier to activate), it brings it up to near the $200 Vortex zone.
Plus it was the chunkiest and heaviest out of the bunch.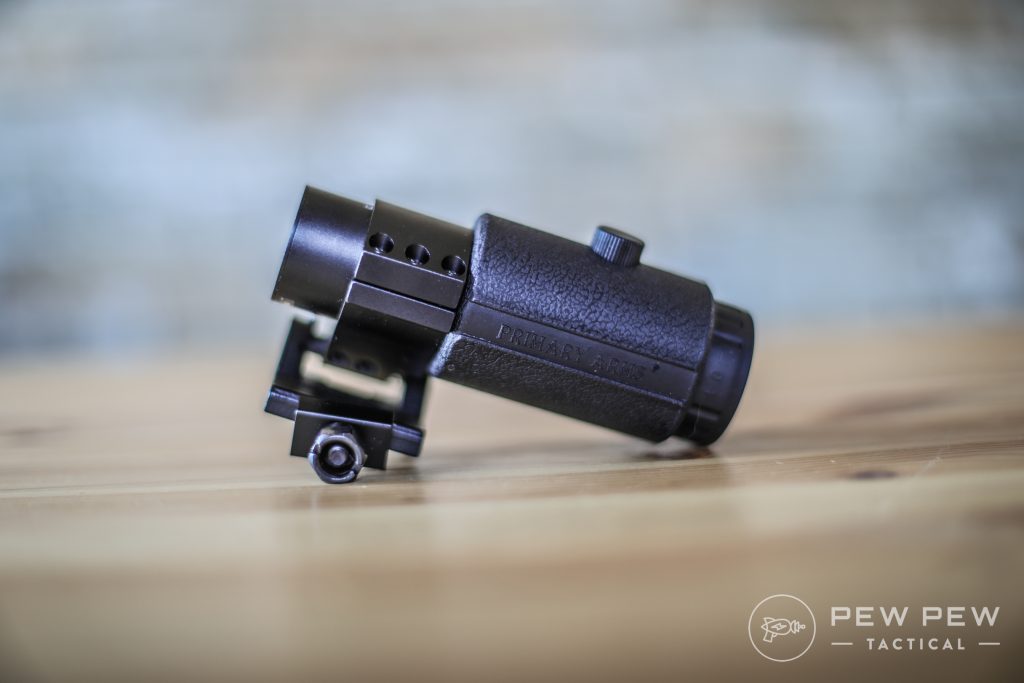 My recommendation is get a better mount and save $50 if you're ok with a slightly smaller field of view and bigger package (heh).  Otherwise…step up!
Runner-Up (3x Magnifiers)
99
at Primary Arms
Prices accurate at time of writing
Prices accurate at time of writing
3. UTG 3x Magnifier
Pros: most affordable
Cons: flip mount sucks, worst at gathering light, body design issues
Cheap at $60 AND comes with a mount.  I really wanted to like it…but I just couldn't.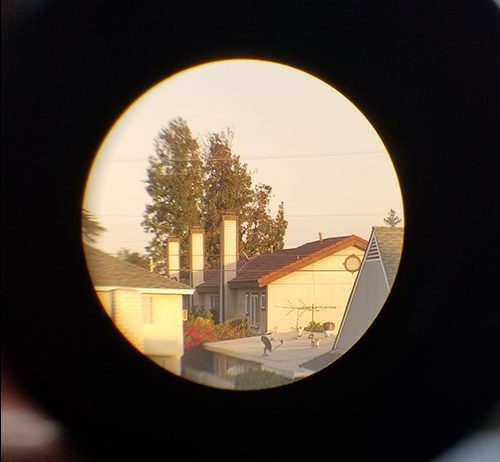 Glass wasn't great…you can see the side warp.  Plus the eye relief was much shorter than the others…you had to get pretty close to it.
It also didn't let in as much light so if you ever anticipate shooting in lower light conditions…good luck.
Mount was also the worst of the bunch.  And the body design doesn't clear an ambidextrous charging handle in the offset position.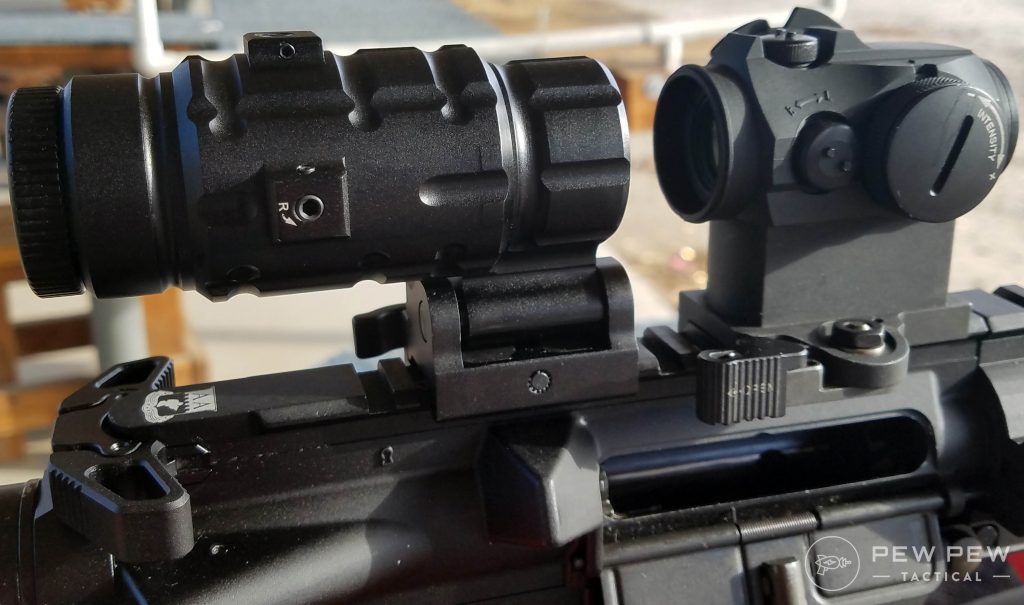 I'd recommend only getting it if you really want a 3x magnifier to try out or for the looks.  Or if you're running some really cheap optics already.
48
at Amazon
Prices accurate at time of writing
Prices accurate at time of writing
Conclusion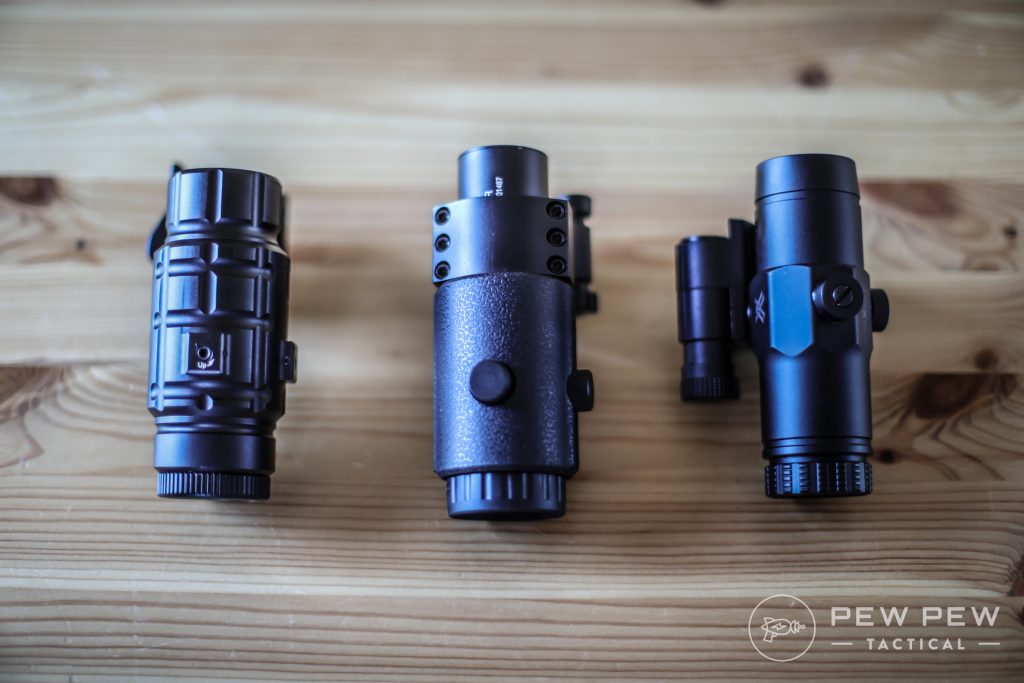 If you want the best under $200, get the Vortex.
Best 3x Magnifier
199
at Brownells
Prices accurate at time of writing
Prices accurate at time of writing
If you want to save a little, get the Primary Arms and a better mount.
Avoid the UTG 3x unless you're really scrimping or don't have a decent optic to begin with.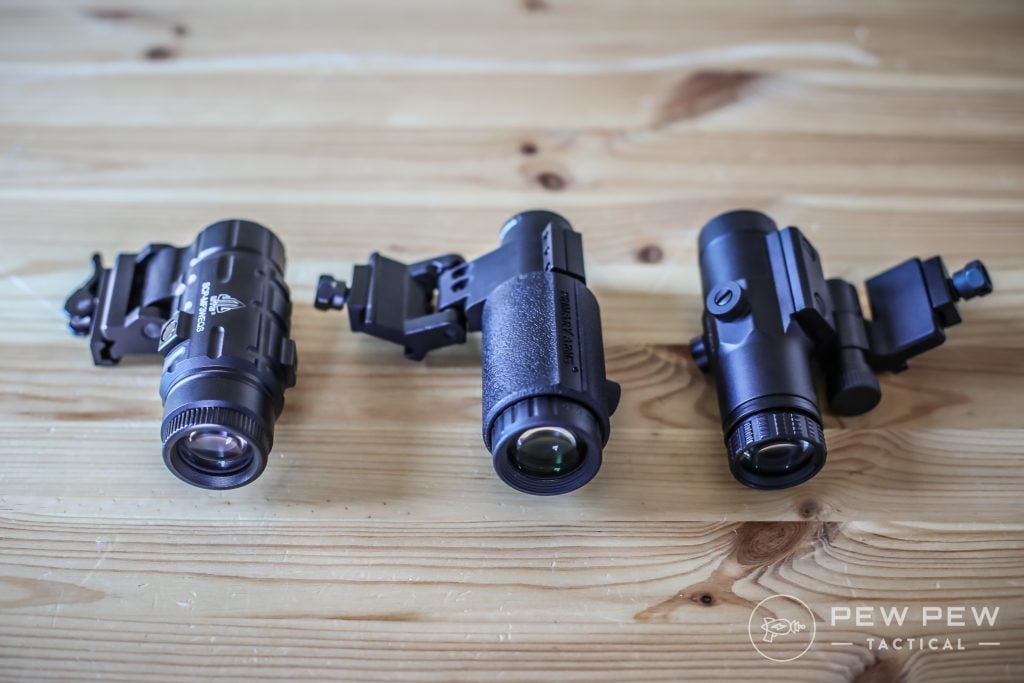 Let us know what you think!  Any other ones we missed that are in the price range and worth adding in our future update?  And be sure to check out our Best AR-15 Optics.