Let's do a road trip checklist.
Spare tire, Check

Jack, check

Jumper cables, check

Phone charger, check

Truck gun… What?
You don't have a truck gun? Not even for road trips?
Yeah, I know. I carry a concealed carry handgun, too, but that doesn't mean I don't appreciate a spare. I mean I have 4 tires on my car, but I keep an extra in the trunk, too.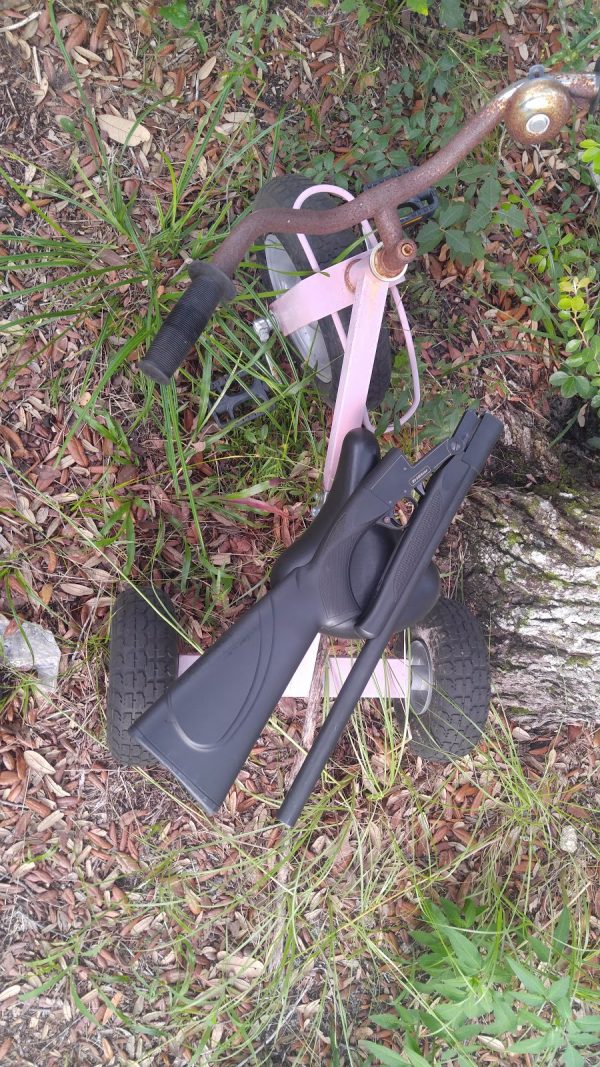 Perhaps I should back up and make sure everyone knows what I'm talking about. A truck gun is one name applied to a simple concept. You may hear it as trunk (with an n) gun as well, but the terms mean the same thing.
It's a gun kept in the car to provide you with a little extra firepower.
Table of Contents
Loading...
The Purpose of a Truck Gun
Why would someone want to keep an extra gun in their car? In general, it's to pack something a little better than a handgun for whatever the world throws at you.
A truck or trunk gun can be used in a survival scenario where you have to leave your vehicle behind and huff it back on foot. They could be carried and kept just in case you face a serious threat.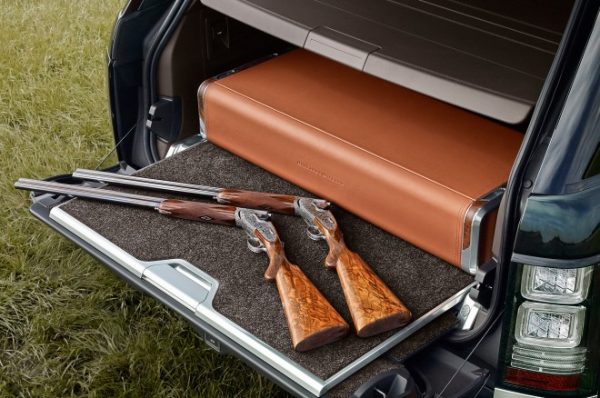 I keep a truck gun because of where I live. I live in an extremely rural area. It's a 30-minute commute from home to work, and 24 of those miles is a highway in the middle of nowhere.
There is no cell service, very few homes in between, and lots of potential for trouble.
Florida is basically a tropical jungle mixed with Australia. We are America's Australia, or least we are where I live in Florida. The threat of coyotes, feral dogs, hogs, and now even black bear are real.
Let's not forget the snakes and alligators.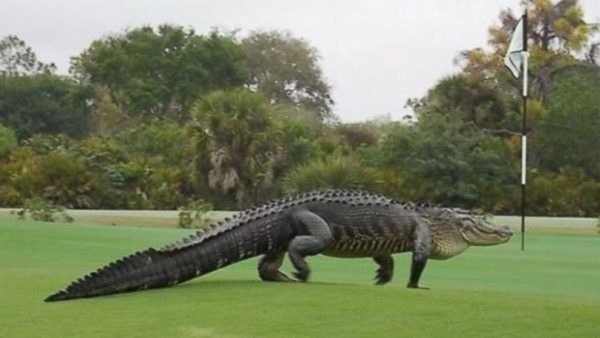 I want something a little easier to shoot, with a lot more capacity and range for dispatching these kinds of animals. If you offered me a 9mm pistol or a 22 caliber rifle I'd take the rifle to deal with most threats because of how much easier a rifle is to shoot.
Farmers, ranchers, and other folks have unique needs, and city dwellers may encounter some fierce two-legged predators.
What Makes a Good Truck Gun?
A good truck gun needs to be a few things.
First, it needs to be compact and lightweight. Nothing too big and too heavy. There are a few guns that even fold basically in half to reduce the overall size.
This makes it easier to store the gun and reserves a little extra room in the trunk.
Also if the rifle can fold, or be taken down, it can be easily stored in a discrete case. If you have to ditch your vehicle you can grab the gun in your bag and still be carrying concealed. There are several options by popular manufacturers for a takedown and even folding rifles.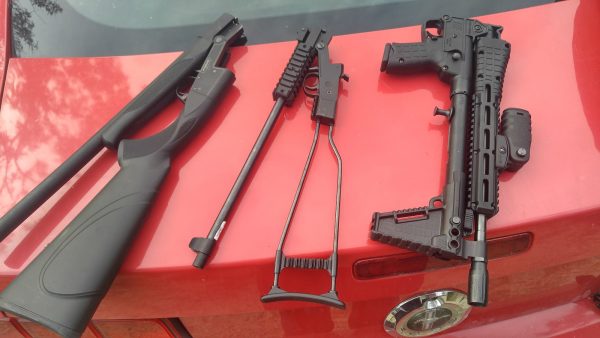 Preferably it needs to be a long gun or a brace equipped pistol.
Having a handgun for a truck gun doesn't make sense to me. I can already carry a handgun, if I have an entire vehicle to store a gun why wouldn't I choose a long gun?
Also, long guns are harder to snatch and grab than a handgun. Even if it's a takedown or folding rifle it can't be tucked into a waistband and disappear under a shirt.
Also, the gun doesn't need to be a tac'ed out rifle with a dozen different gadgets. It doesn't have to be designed for traditional defensive use. A bolt action rifle, or even a single shot rifle, could solve plenty of my problems.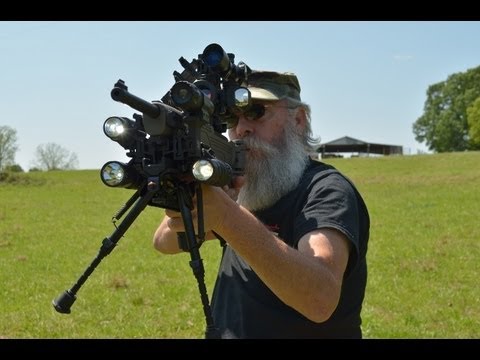 Because the gun is going to be riding around in the back of a truck or car it's also better to spend less than more…to a degree. Still get a dependable weapon, but we aren't shopping for a Benelli M4 here. It's going to be banged around, likely exposed to moisture, dirt, and a kick or two.
Simple is better here.
A Simple Rule About Truck/Trunk Guns
Before we dive into our suggestions for truck guns I want to say one last thing…
Do not leave your gun in your vehicle overnight, or just for extended periods of time. The easiest way to steal a gun is to break into a car and take it. It's common, and if you allow it to happen you are responsible for it.
What Not to Look For in a Truck/Trunk Gun
There are some bad choices for truck guns, and for lots of reasons. I mean, a transferable full-auto Mac 10 isn't a great choice obviously. I'm not going to dive into a list of bad choices for truck guns, but I want to mention one type because I keep seeing it suggested as the 'perfect truck gun.'
I love my Mossberg 590 Shockwave and my Remington Tac 14 but they are not good truck/trunk guns. They are small, powerful, and light so they fit the bill well right? Well, they are a bit too powerful for their small size, and lack of a stock.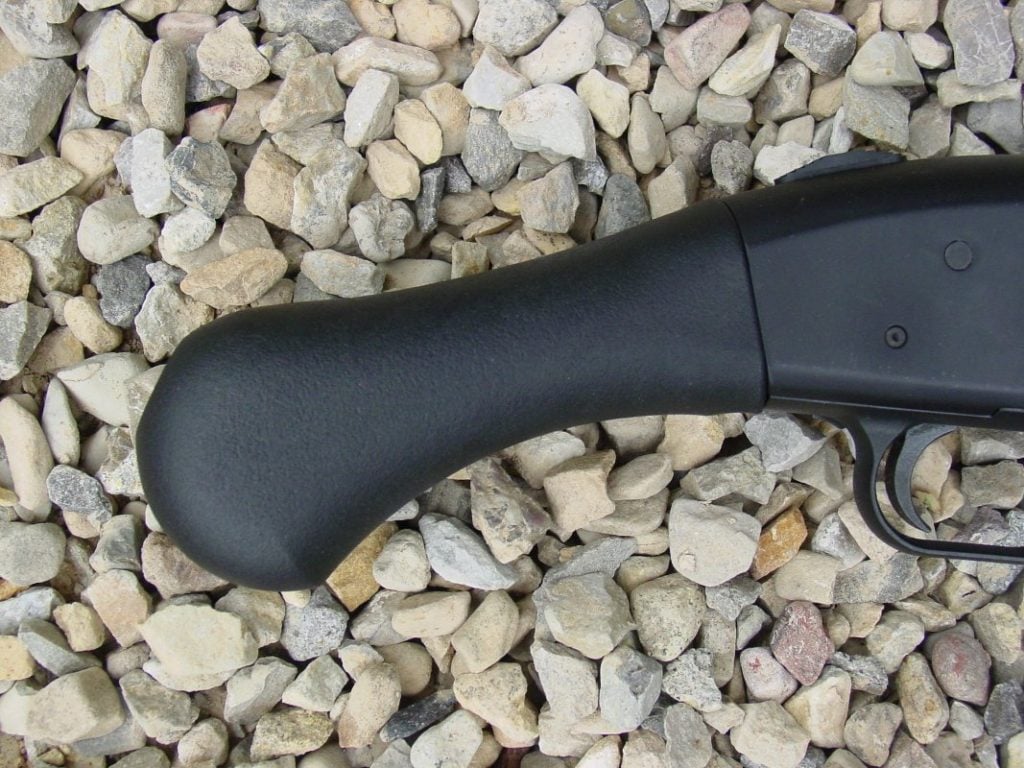 They are difficult to shoot well and takes some real practice to master. A standard shotgun with a folding stock is a much better option. The Shockwave and Tac 14 are niche weapons and range toys. Be sure to check out our review of the Mossberg Shockwave and of the Remington Tac 14 if you want to know more.
You'll also sometimes want more power than what we suggest in Best Survival Rifles which focus on .22LR ammo.
Alright? Let's look at some affordable, dependable, maybe even foldable truck guns.
Best Truck Guns
Kel Tec is a company that seems to produce some of the most interesting designs in the firearms industry. They tend to have some growing pains with new designs, but these two have been around for some time and have their kinks worked out.
You'll want to read our complete review of the Kel-Tec Sub 2000, but I'll give you the highlights here.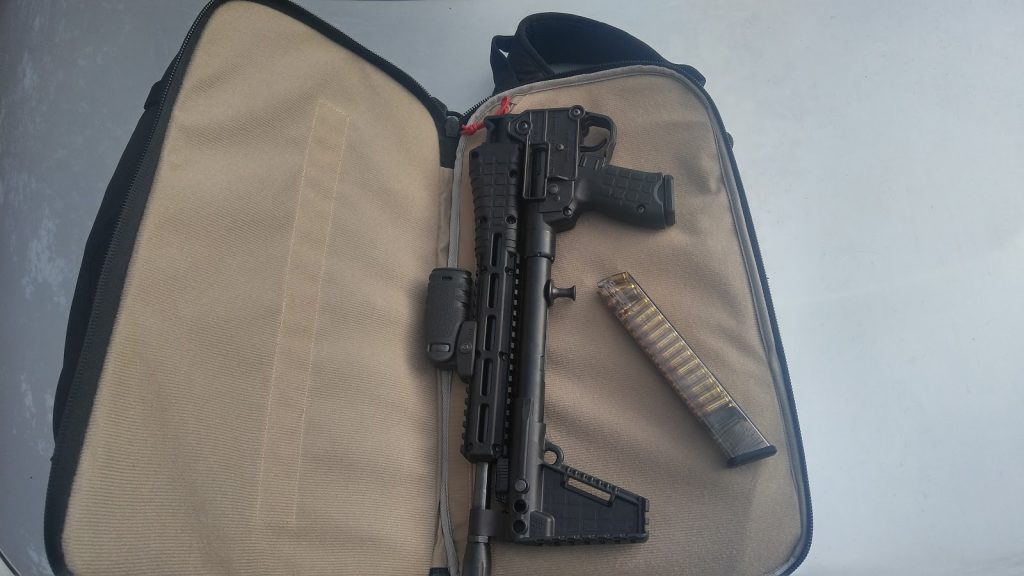 The Kel Tec Sub 2000 is a pistol caliber carbine that comes in 9mm and 40 S&W and comes in multiple magazine options. This includes the SIG P226, the Glock 17/19 and 22/23, S&W M&P and the Beretta 92 and 96. (But no CZ, which makes me sad.)
350
at Brownells
Prices accurate at time of writing
Prices accurate at time of writing
I own one of these and love it. Mine is the Glock model and chambered in 9mm. The rifle folds directly in half, with the barrel locking in over the receiver and reducing the size to 16.25 inches overall.
This makes the Kel Tec Sub 2k very compact, and it squeezes into the smallest packs. I keep mine in Vertx Commuter bag and it's a perfect companion, especially with some 31 round ETS magazines.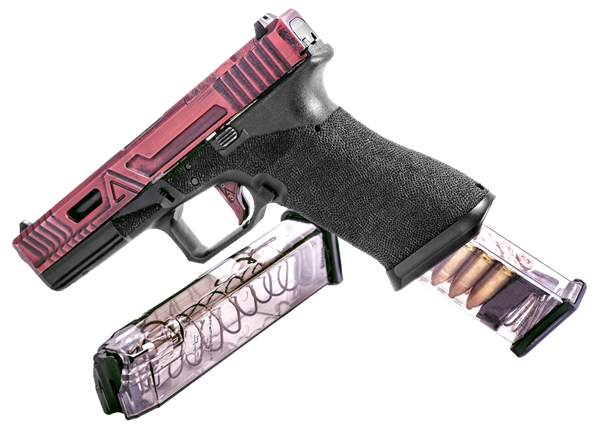 It's compact, lightweight, and cheap, and it's the perfect folding gun for your trunk.
The Kel Tec SU 16C is another folding gun from Kel Tec, but it's chambered in 223. It's stock folds underneath the upper receiver and latches to the barrel. The SU 16C is a total of 25.5 inches when folded.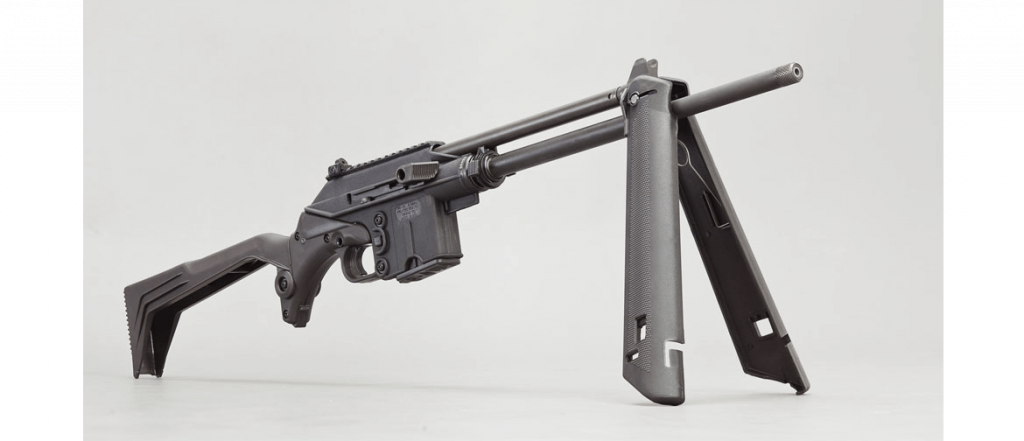 The gun uses AR 15 magazines so your mag options are wide open and affordable. The Handguard functions as an integrated bipod for stable shooting over longer ranges. You can even add a scope because the upper comes complete with a pic rail for optics.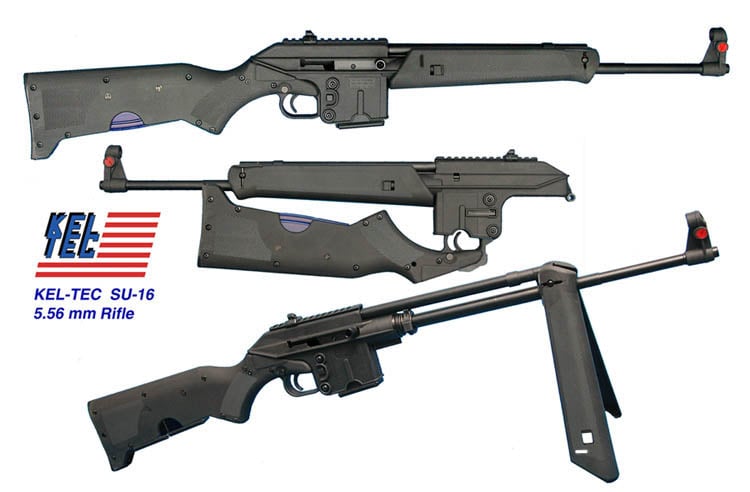 The barrel is even threaded so adding a can is a possibility if it floats your boat. Of course, you can also add any other muzzle device that's AR 15 compatible.
Let's stick with folding guns, shall we? So the first will be the Chiappa Little Badger. It's pretty adorable.
The Chiappa Little Badger is a folding 22 LR, 17 HMR, or 22 Magnum rifle that is probably the simplest design I've ever seen. It's a single shot rifle that utilizes a hammer. It has a wire stock, four Picatinny rails and some robust sights.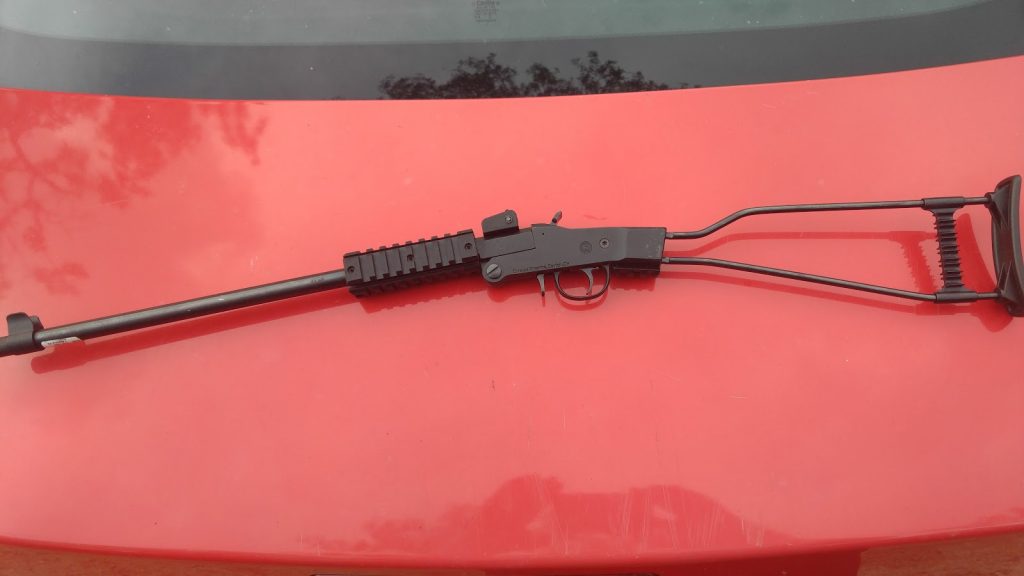 It folds in half and weighs only 2.9 lbs. The barrel is threaded for a muzzle device of your choosing. Not only is it a cool trunk gun, a cool folding gun, but it's excellent for teaching kids to shoot because of its small size.
It's also 50 state legal and costs less than 200 bucks.
Why do they even make a standard 10/22 anymore? The Ruger Takedown 10/22 barely costs more than a standard 10/22 and is just as reliable, fun to shoot and easy to handle. As a Takedown rifle, it doesn't fold but breaks into two pieces.
This allows you to carry the rifle in a small bag with ease. Ruger even includes a cool bag with the 10/22 Takedown. The 10/22, in general, is an amazing rifle.
429
at GrabAGun
Prices accurate at time of writing
Prices accurate at time of writing
It's accurate, affordable, chambered in 22 LR, and highly customizable. The Ruger 10/22 is one of the most popular 22 LR rifles for good reason. It's basically the AR 15 of rimfire rifles.
The Ruger 10/22, when paired with some quality ammo, a few BX 25 magazines, and stored in the included bag, is an excellent platform for a truck gun. The small rimfire rounds aren't the best for defensive use, or for large game, but it's a solid working rifle.
The shotgun is by far the most versatile weapon you can purchase for under 300 dollars. The Mossberg Maverick 88 is like the store brand Mossberg 500. It's slightly different, made in Mexico, and costs less than 200 bucks on average.
The Maverick 88 can take almost any accessory the Mossberg 500 can so your ability to customize this gun is wide open. You can easily toss on a variety of different stocks to change the configuration of the gun.

The Maverick 88 is another gun that's legal in all 50 states, and as a pump shotgun, it's quite reliable. Mossberg makes good guns, and they back them with a lifetime warranty. Toss a folding stock on this bad boy and you have a serious piece of compact firepower.
What's your take on the 88?
5.
Custom AR Pistol Build
While by law in the United States an AR-15 pistol is a pistol we all know it's a lot different than a 1911 or Glock 17. An AR-15 pistol is basically a short AR without a stock, and they make excellent truck guns. I could name any AR-15 pistol and you would have a good option for a truck gun.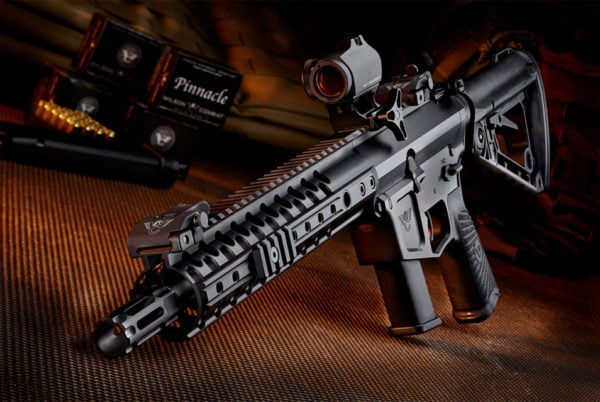 However, since AR 15s are so easy to build and there is a baffling amount of accessories for them I think it's better to build. I've put together a list of parts and pieces I think would make one helluva AR 15 pistol.
Caliber – 300 Blackout. 300 Blackout has the superior performance from a short barrel when compared to the 5.56. It also retains the advantages of using a rifle round over a pistol round.
Receivers – Any well made and solid set of receivers will work. A basic set of forged receivers is effective, efficient, and affordable for this build.
Barrel Length – A Barrel length of anywhere from 7.5 inches to 10 inches would be great. One length that is pretty standard is the 8.5 and it's a good choice.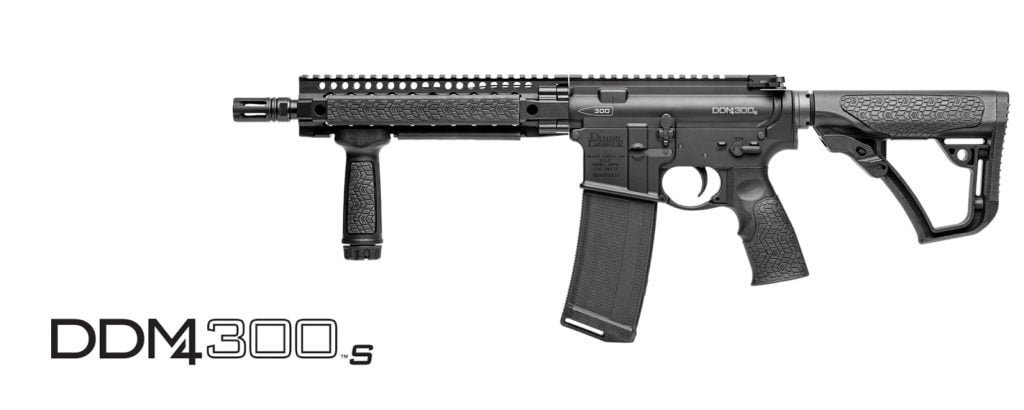 Rail – Have you ever heard of the Dolos QD barrel system? It makes any AR 15 an instant takedown rifle. This allows you to easily break down any AR and carry it in a small bag. The system is perfect for a truck gun and works with most modern Keymod and Mlok rails, so stick with MLOK or Keymod and you're golden.
Sights – A set of folding sights from any company is great, but the Magpul MBUIS are cheap and effective. You can also go with a cheap, but effective red dot like the Bushnell Trophy Series below.
65
at Amazon
Prices accurate at time of writing
Prices accurate at time of writing
Pistol Brace – A pistol brace of any kind is welcome on an AR pistol. SB Tactical makes a really cool collapsing PDW style brace that's an efficient means to save space. However, you can mix any brace and a Law Tactical Folding adapter for a compact and effective AR Pistol.
You can get the full story on braces in our 6 Best AR and AK Pistol Braces review!
With the Dolos and a collapsing or folding stock, you can pack an effective and accurate 'pistol' in a small space. Toss it in a bag with a few mags and you are ready to rock and roll. I mention this because I am in the process of building this very gun.
(And I can't decide between the brace or the folding stock adapter.)
And of course…our round-up of the very Best AR-15 Pistols.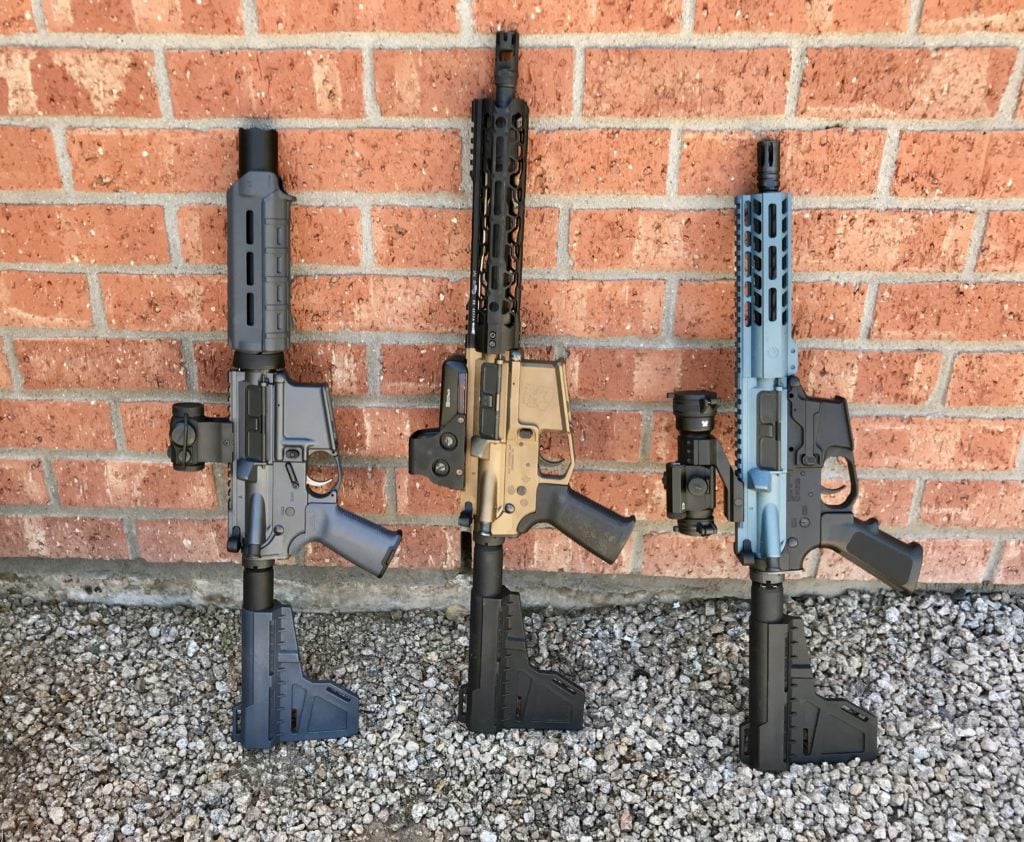 Junk in the Trunk
A trunk gun isn't going to be for everyone, but for many of us they are essential. Hopefully, I've given you the tools to choose the one that is right for you!
Speaking of things to keep in the car, you also need an IFAK. It isn't enough to know how to punch holes, you also need to have the tools to plug them as well. Take a look at our Complete IFAK Guide!
So now's the time we go to our readers!
What do you look for in a truck gun? Better question, do you carry a truck gun? If so, what gun is your go-to truck/trunk gun? Check out more of our favorite guns and gear in Editor's Picks.