I carry a concealed carry handgun, but that doesn't mean I don't appreciate a spare firearm. I mean, I have four tires on my car, but I keep an extra in the trunk, too.
Same goes for my guns…which is why I always have a truck gun.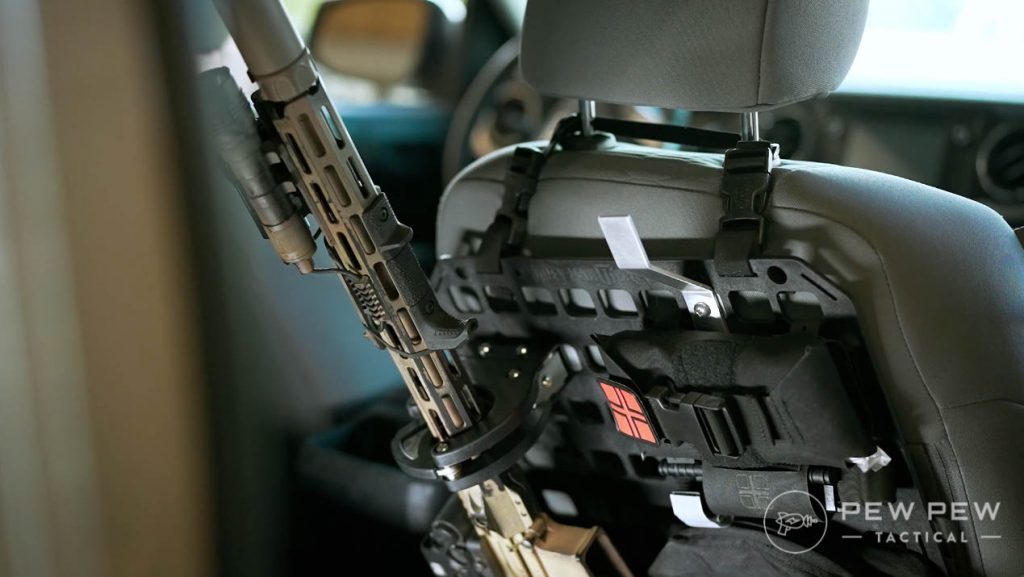 What's that, you ask? A truck gun is one name applied to a simple concept. You may also hear it as trunk (with an n) gun, but the terms mean the same thing.
It's a gun kept in the car to provide you with a little extra firepower.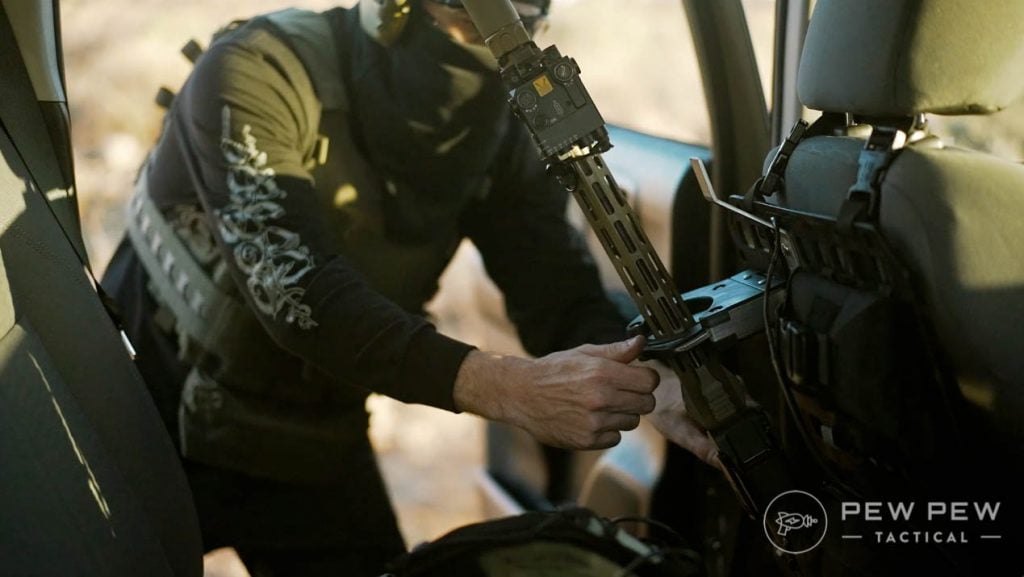 With tons of guns on the market, it can be overwhelming to find the right one.
But you've come to the right place. We're going to talk about the purpose of a truck gun, some things to look for, and also our top recommendations.
Keep reading!
Summary of Our Top Picks
Table of Contents
Loading...
The Purpose of a Truck Gun
Why would someone want to keep an extra gun in their car? In general, it's to pack something a little better than a handgun for whatever the world throws at you.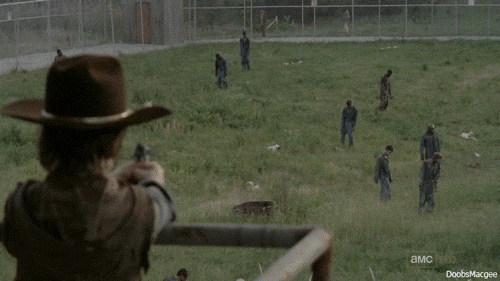 A truck or trunk gun can be used in a survival scenario where you have to leave your vehicle behind and huff it back on foot. They could be carried and kept just in case you face a serious threat.
I keep a truck gun because I live in an extremely rural area. It's a 30-minute commute from home to work and 24 of those miles is a highway in the middle of nowhere.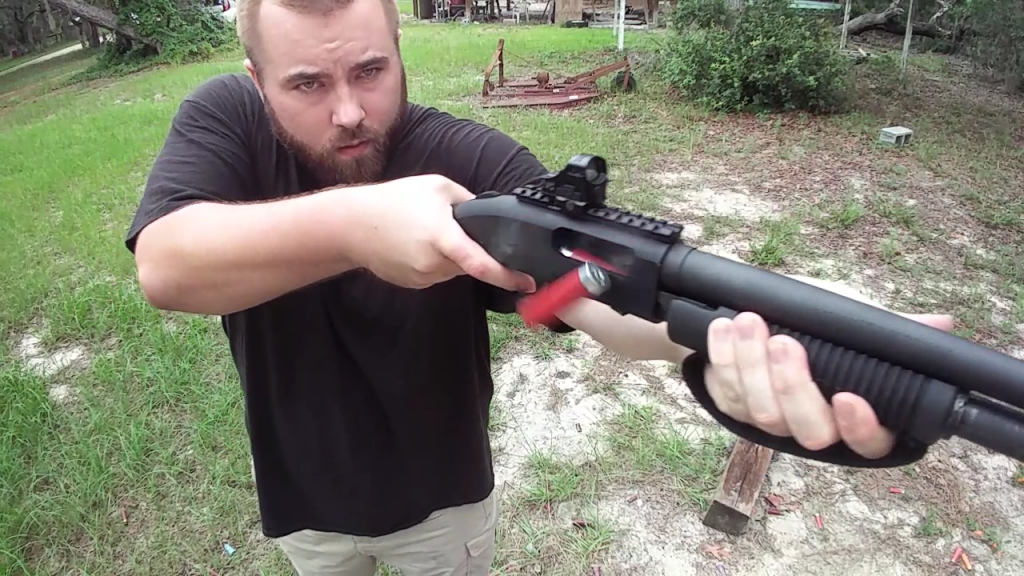 There is no cell service, very few homes in between, and lots of potential for trouble.
I want something a little easier to shoot, with a lot more capacity and range for dispatching animals like coyotes, hogs, and feral dogs. A rifle can deal with most threats because of how much easier they are to shoot.
Want to see more survival guns? Check out our recommended Survival Rifles.
What Makes a Good Truck Gun?
A good truck gun needs to be a few things.
First, it needs to be compact and lightweight. Nothing too big and too heavy. There are a few guns that even fold basically in half to reduce the overall size.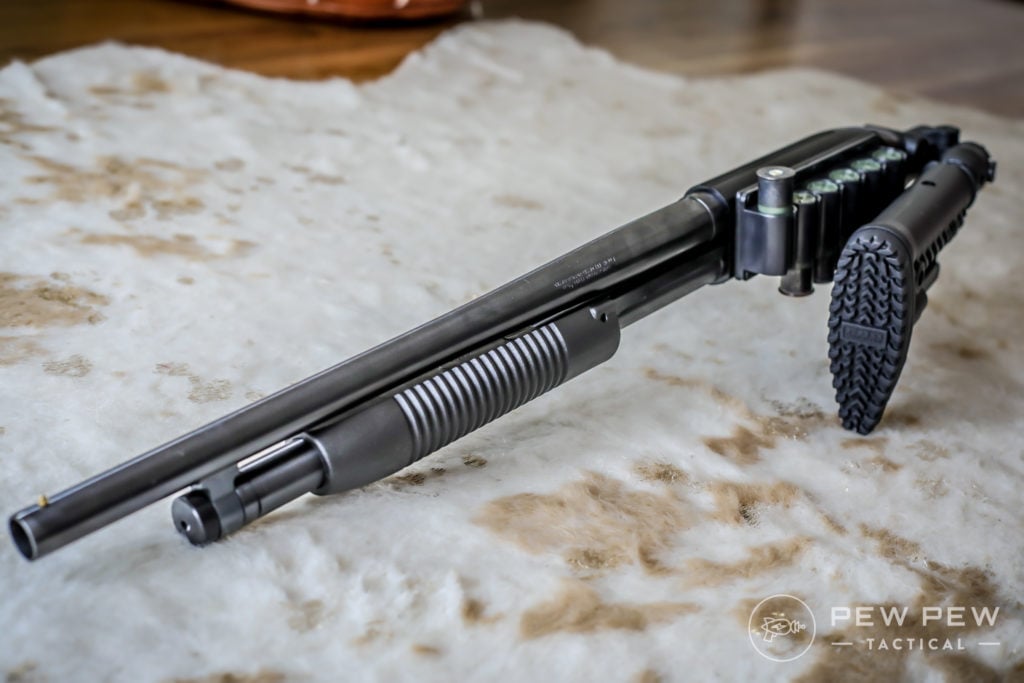 This makes it easier to store the gun and reserves a little extra room in the trunk.
Also, if the rifle can fold or be taken down, it can be easily stored in a discreet case.
If you have to ditch your vehicle, you can grab the gun in your bag and still be carrying concealed. There are several options by popular manufacturers for a takedown and even folding rifles.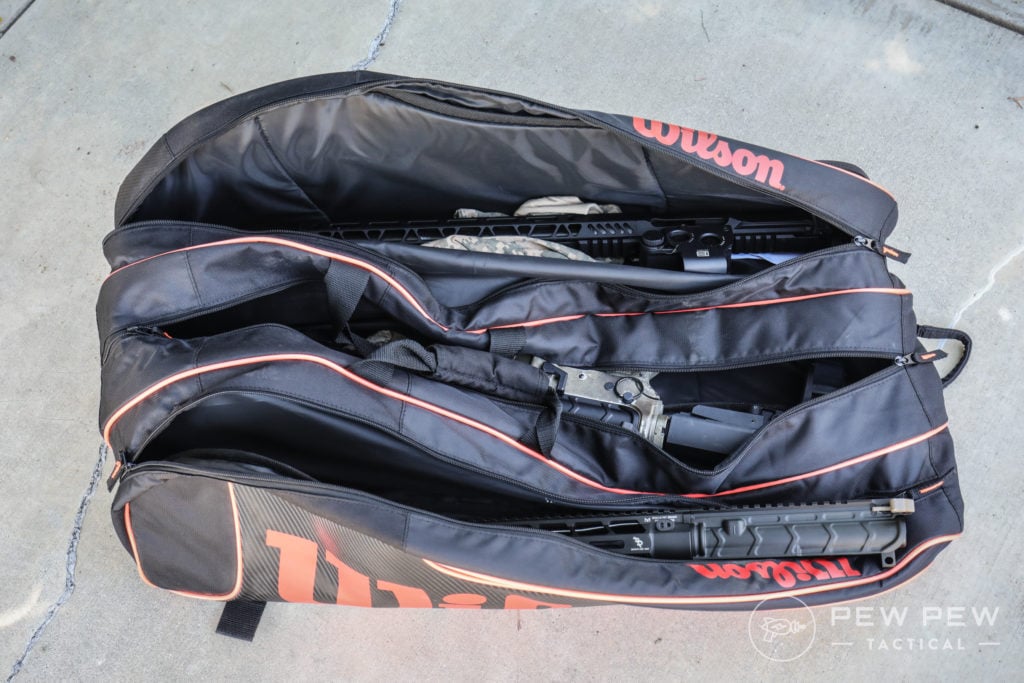 Preferably it needs to be a long gun.
Having a handgun for a truck gun doesn't make sense to me. I can already carry a handgun; if I have an entire vehicle to store a gun, why wouldn't I choose a long gun?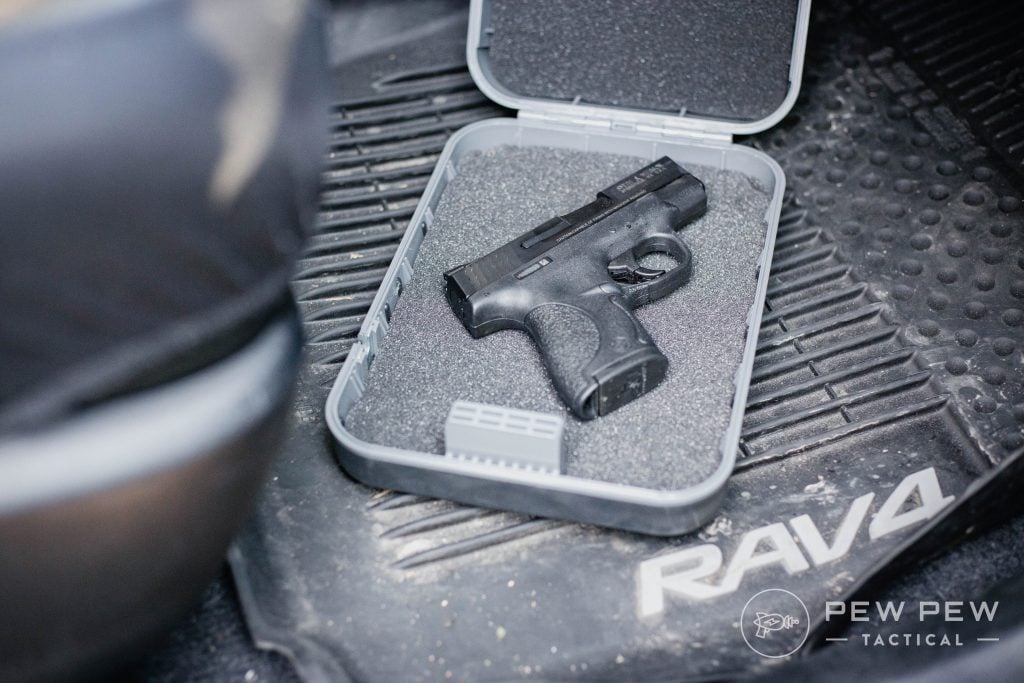 Also, long guns are harder to snatch and grab.
Further, the gun doesn't need to be a tac'ed-out rifle with a dozen different gadgets. It doesn't have to be designed for traditional defensive use. A bolt-action rifle, or even a single-shot rifle, could solve plenty of problems.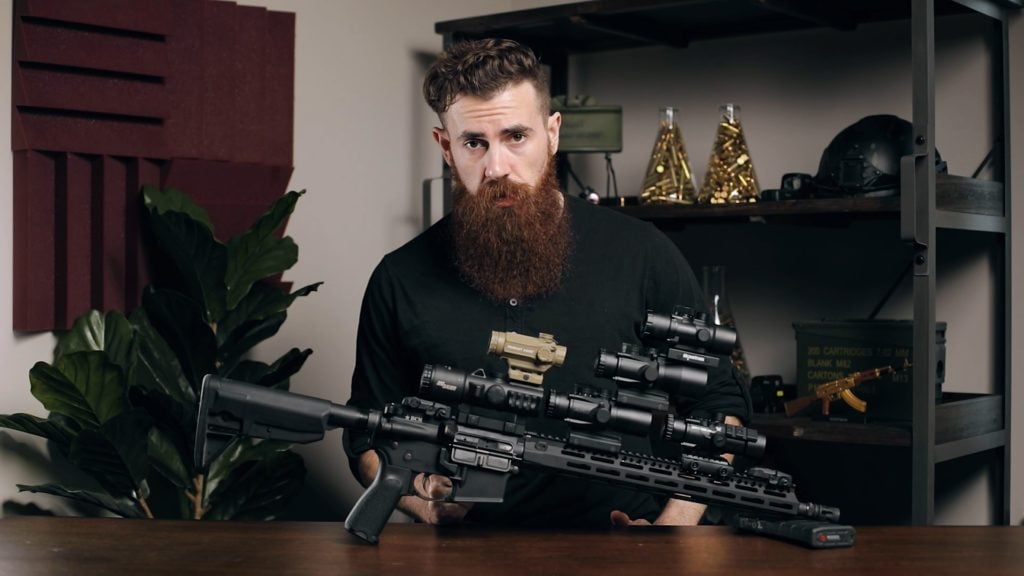 Because the gun is going to be riding around in the back of a truck or car, it's also better to spend less than more…to a degree.
Still, get a dependable weapon, but we aren't shopping for a Benelli M4 here. It's going to be banged around, likely exposed to moisture, dirt, and a kick or two.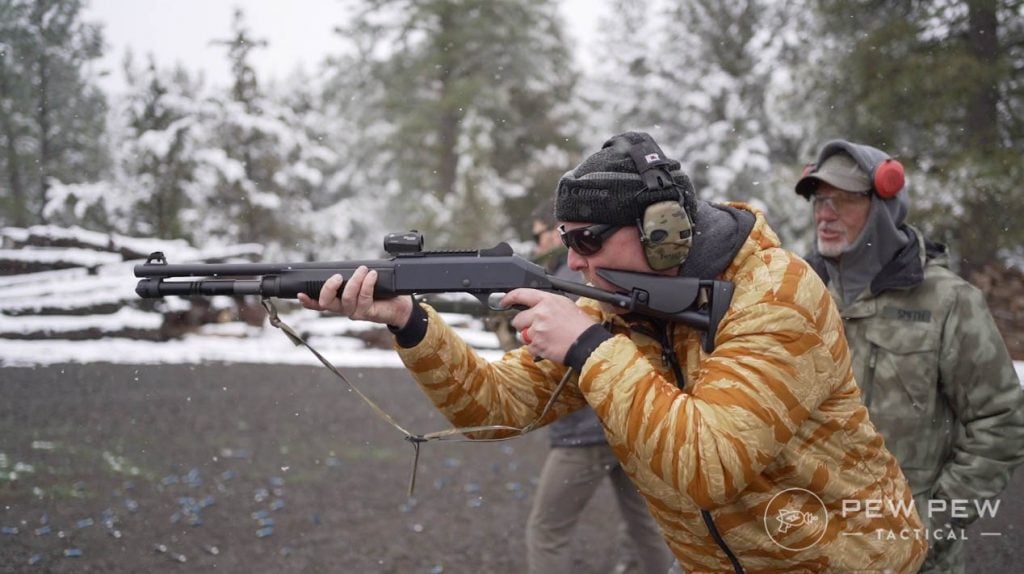 Simple is better.
I would also stay away from guns like the Mossberg 590 Shockwave and Remington Tac 14. Yes, they are small, powerful, and light, but they're a bit too powerful for their small size, and they lack a stock.
They are difficult to shoot well and take some real practice to master. A standard shotgun with a folding stock is a much better option.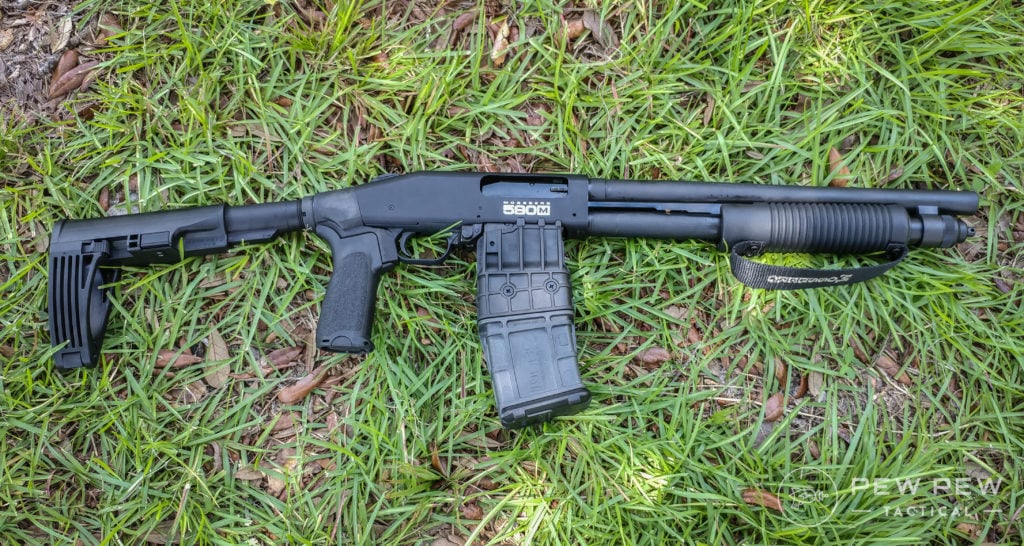 Before we dive into our suggestions for truck guns, I want to say one last thing…
Do not leave your gun in your vehicle overnight or for extended periods of time. The easiest way to steal a gun is to break into a car and take it.
It's common, and if you allow it to happen, you are responsible for it.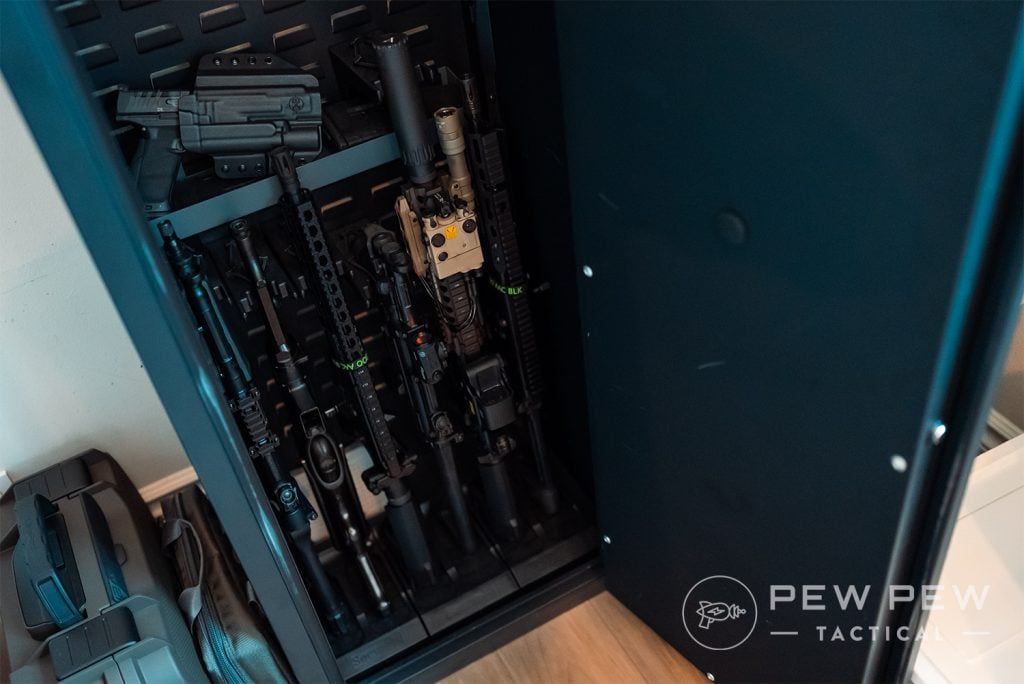 Best Truck Guns
1. KelTec SUB2000
KelTec is a company that seems to produce some of the most interesting designs in the firearms industry.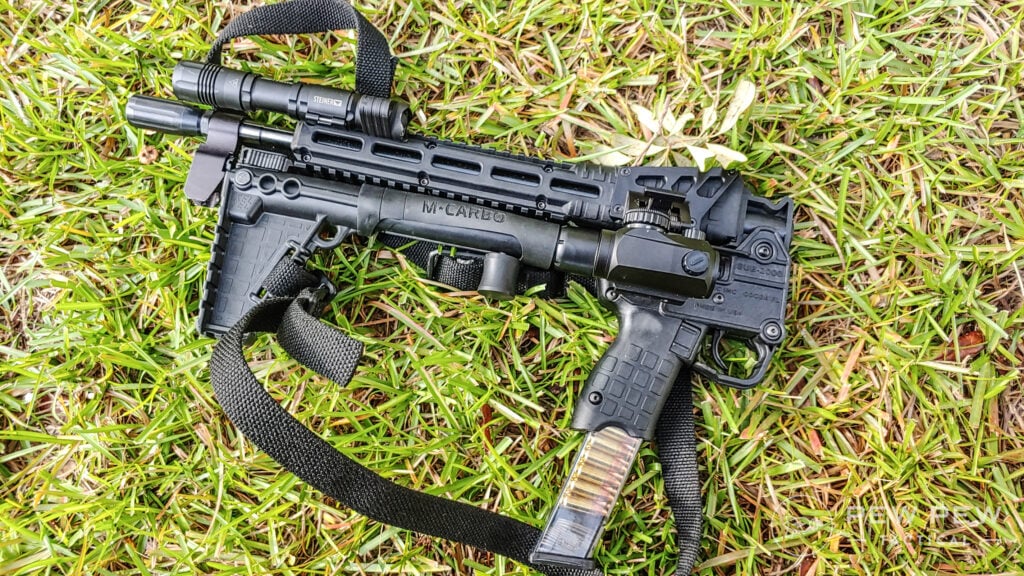 The KelTec SUB2000 is a pistol caliber carbine that comes in 9mm and 40 S&W and with multiple magazine options.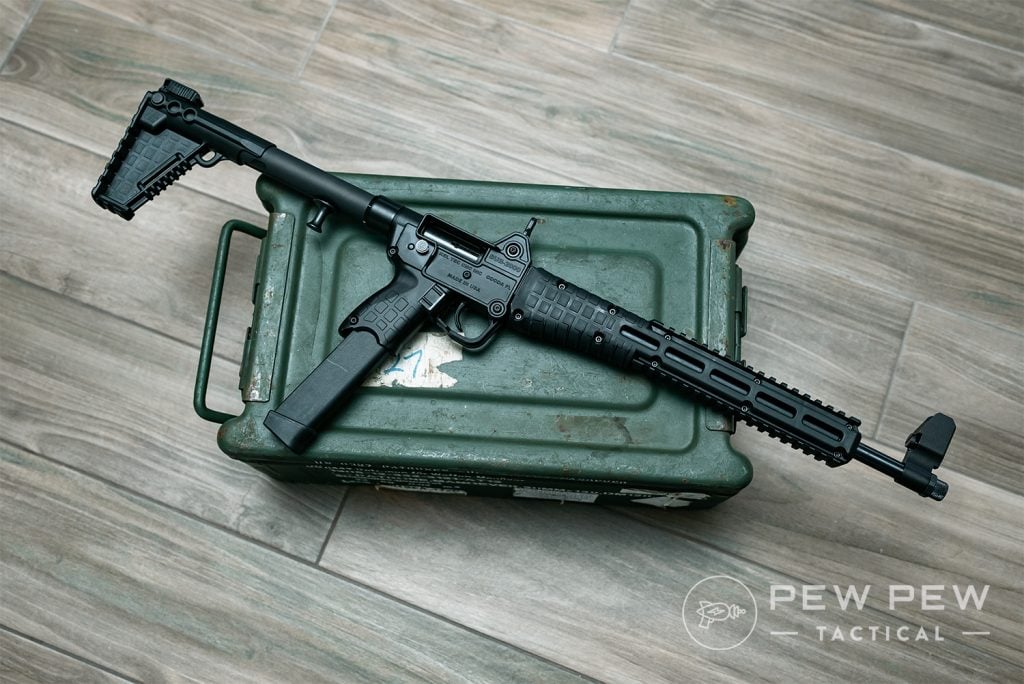 I own one of these and love it.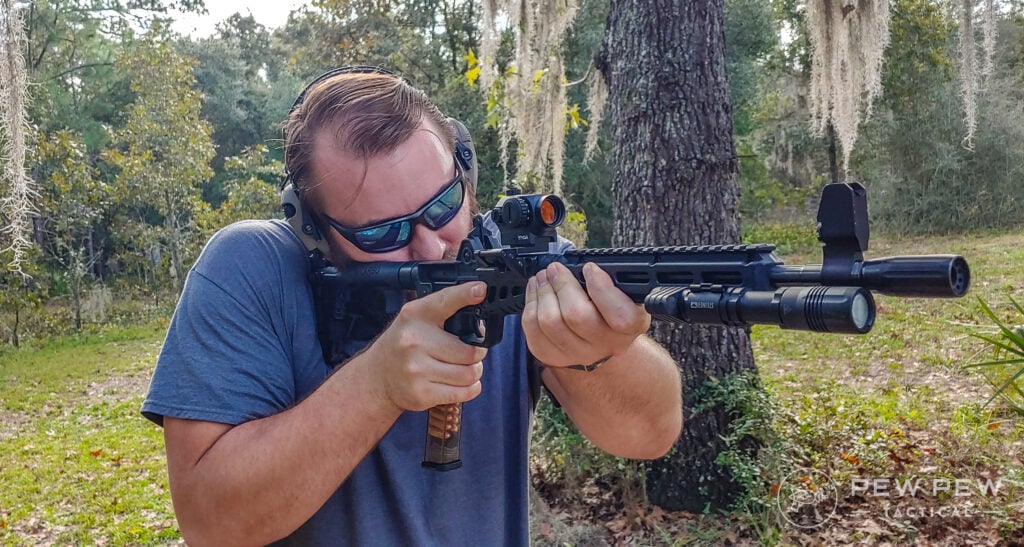 Mine is the Glock model and chambered in 9mm. The rifle folds directly in half, with the barrel locking in over the receiver and reducing the size to 16.25 inches overall.
This makes the KelTec SUB2000 very compact, and it squeezes into the smallest packs. I keep mine in a Vertx Commuter bag, and it's a perfect companion, especially with some 31-round ETS magazines.
It's compact, lightweight, and cheap, and it's the perfect folding gun for your trunk.
Best PCC
449
at Palmetto State Armory
Prices accurate at time of writing
Prices accurate at time of writing
2. Chiappa Little Badger
Let's stick with folding guns, shall we? So, the first will be the Chiappa Little Badger. It's pretty adorable.
The Chiappa Little Badger is a folding .22 LR, .17 HMR, or .22 Magnum rifle that is probably the simplest design I've ever seen.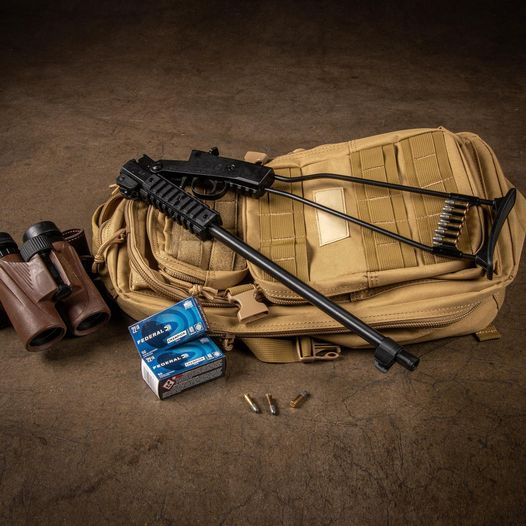 It's a single-shot rifle that utilizes a hammer. This gun sports a wire stock, four Picatinny rails, and some robust sights.
The Little Badger folds in half and weighs only 2.9 pounds. Its barrel is threaded for a muzzle device of your choosing. Not only is it a cool trunk gun, a cool folding gun, but it's excellent for teaching kids to shoot because of its small size.
It also costs less than $200.
Best Single Shot
204
at GrabAGun
Prices accurate at time of writing
Prices accurate at time of writing
3. Ruger 10/22 Takedown
The Ruger Takedown 10/22 is just as reliable, fun to shoot, and easy to handle as the OG 10/22. As a Takedown rifle, it doesn't fold but breaks into two pieces.
This allows you to carry the rifle in a small bag with ease. Ruger even includes a cool bag with the 10/22 Takedown. The 10/22, in general, is an amazing rifle.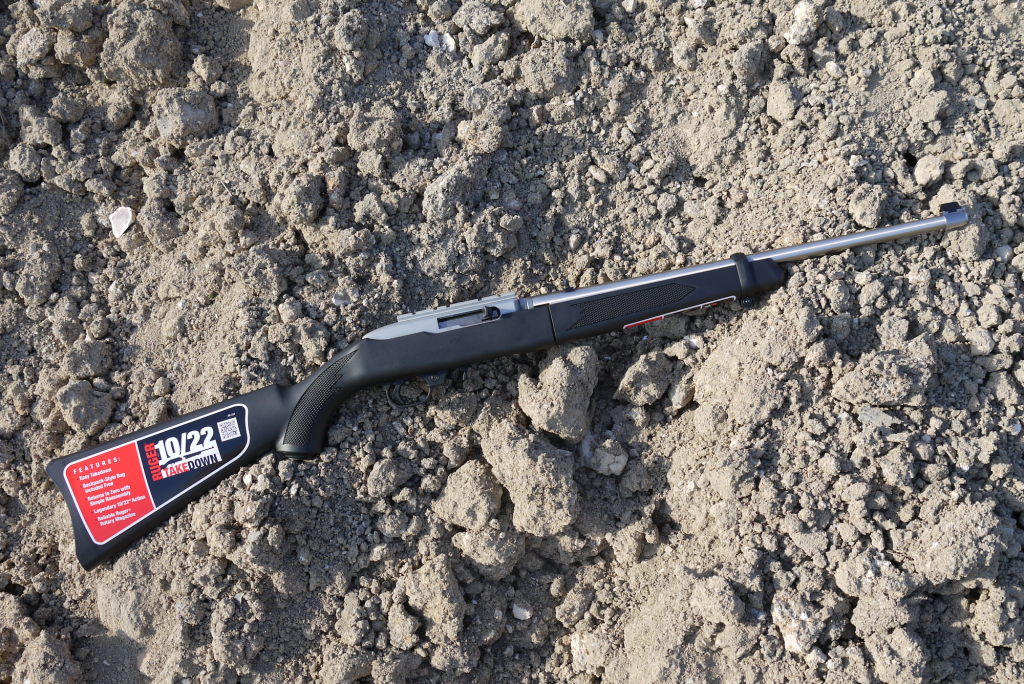 It's accurate, affordable, chambered in .22 LR, and highly customizable. The Ruger 10/22 is one of the most popular .22 LR rifles for a good reason. It's basically the AR-15 of rimfire rifles.
The Ruger 10/22, when paired with some quality ammo, a few BX-25 magazines, and stored in the included bag, is an excellent platform for a truck gun.
Its small rimfire rounds aren't the best for defensive use or for large game, but it's a solid working rifle.
Best Takedown Rifle
416
at GrabAGun
Prices accurate at time of writing
Prices accurate at time of writing
4. Mossberg Maverick 88
Shotguns are by far the most versatile weapon you can purchase for under $300.
The Mossberg Maverick 88 is like the store brand Mossberg 500, but it's slightly different, made in Mexico, and costs less than $200 on average.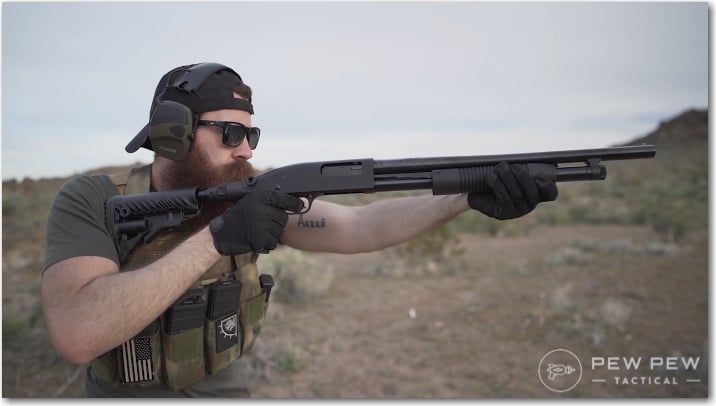 This model can take almost any accessory the Mossberg 500 can, so your ability to customize this gun is wide open.
You can easily toss on a variety of different stocks to change the configuration of the gun.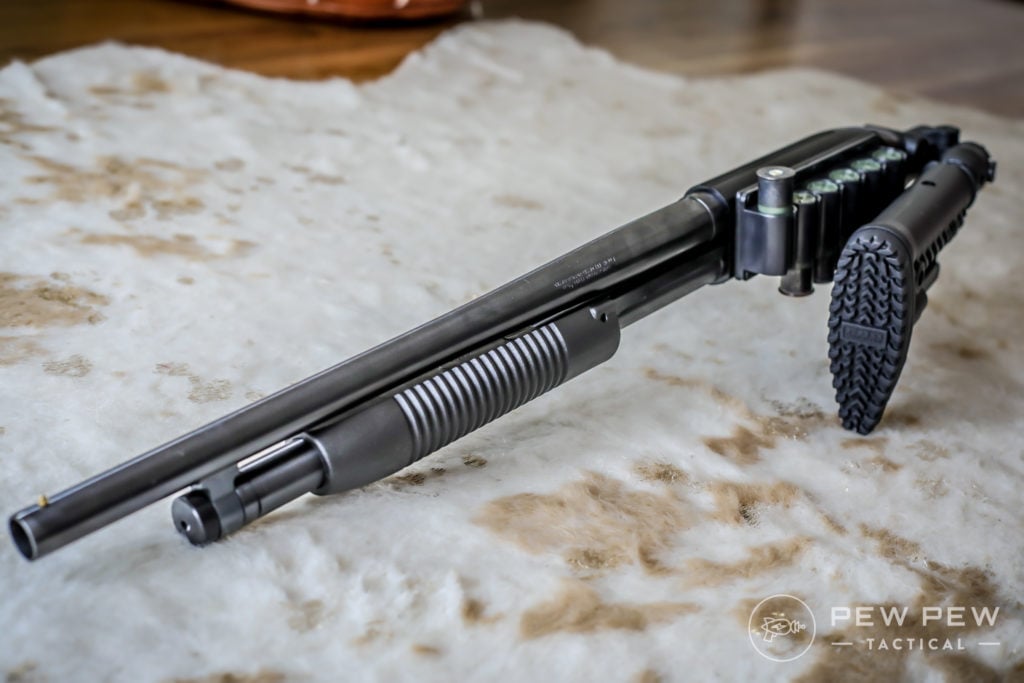 As a pump shotgun, it's quite reliable. Mossberg makes good guns, and they back them with a lifetime warranty.
Toss a folding stock on this bad boy, and you have a serious piece of compact firepower.
Best Pump-Action Shotgun
212
at Kygunco
Prices accurate at time of writing
Prices accurate at time of writing
What's your take on the 88? Rate it below!
5. Axor Arms PAF12
I have a love/hate relationship with Turkish shotguns. Some offer an awesome bargain and a solid shotgun, others…not so much.
I purchased the Axor Arms PAF12 because it could fold in half, and I've always wanted a burgess folding shotgun. For $350 or so, this was the best I was going to get.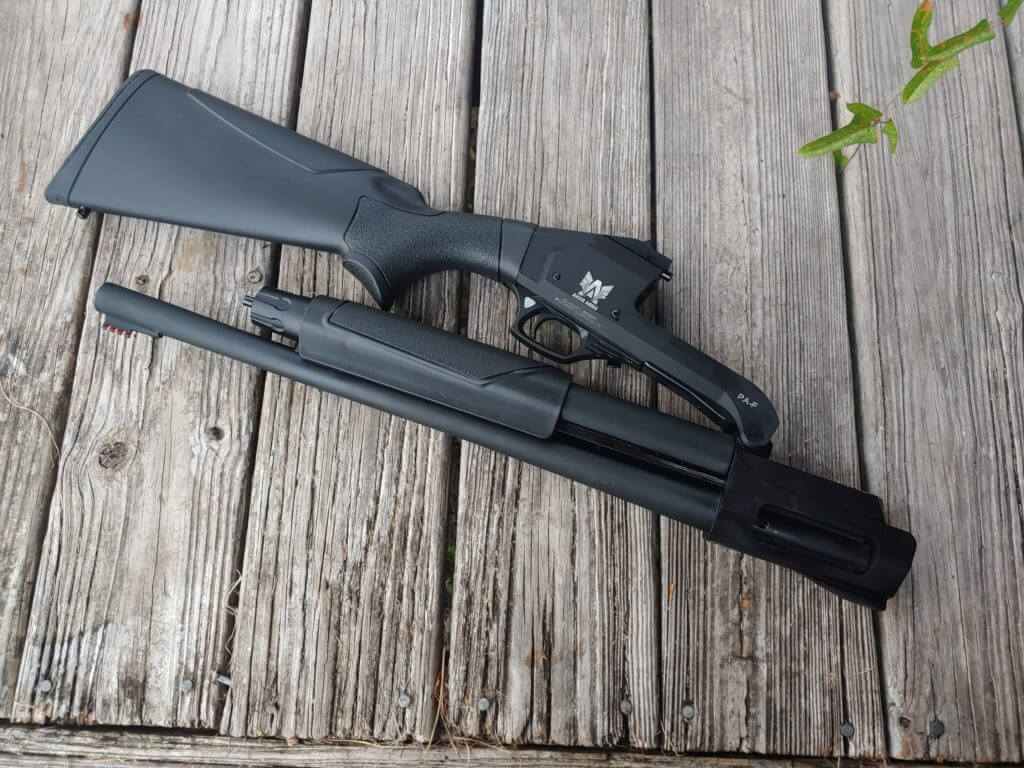 The PAF12 is a pump-action, 12-gauge shotgun that folds at the receiver. The gun essentially divides into two separate receivers and hinges closed. It's not locked, but a bit of friction keeps it folded…mostly.
Admittedly it needs to be tossed in a bag to keep it folded because it will wiggle open. The PAF12 holds four rounds of 2.75-inch shells, an 18.5-inch barrel, and a fixed stock. Its pump has one of those silyl spring returns that I hate and will remove.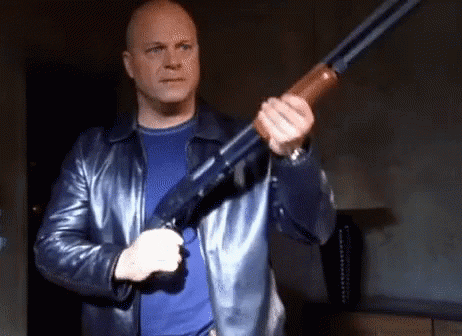 A lever that also acts as a rear sight allows you to rapidly fold the gun to tuck it away.
The design makes your normal pump-action shotgun quite small and compact. As a truck gun, shotguns are tough to beat.
They offer a lot of power and a versatile selection of loads. Buckshot, birdshot, and slugs give you the ability to engage anything in North America. Shotguns, especially pump guns, are rarely targeted by any form of gun control as well.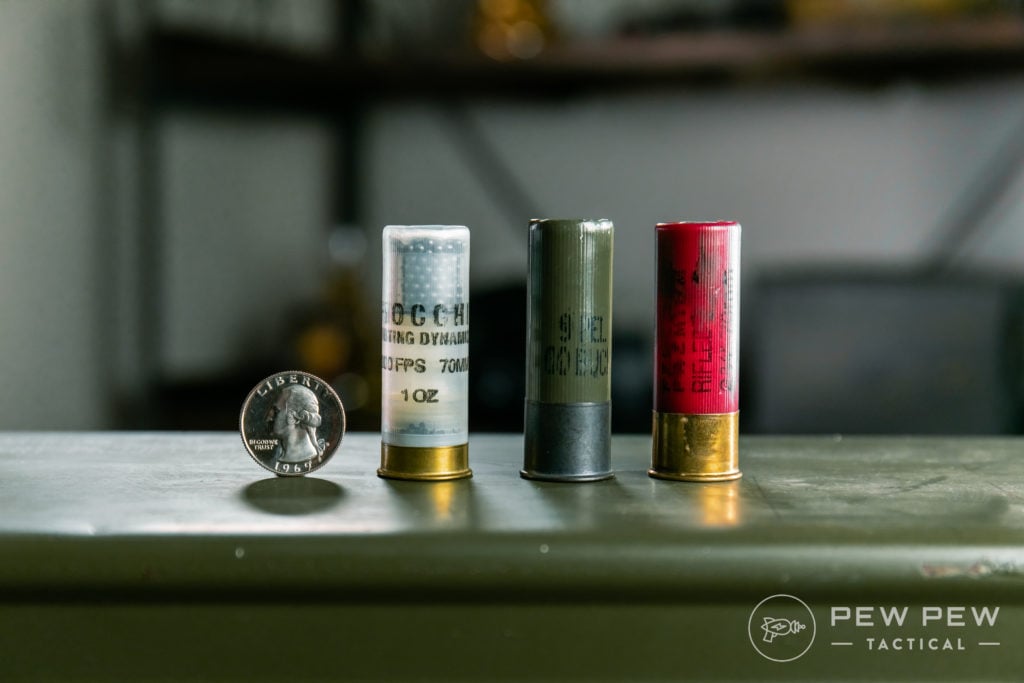 The low price of the PAF12 makes it an easy investment to get into for truck or trunk use.
You don't need to worry about a Wingmaster finish with this gun. Use it, abuse it, and get the most out of your money.
Best Folding Shotgun
350
at Gunprime
Prices accurate at time of writing
Prices accurate at time of writing
6. Smith & Wesson FPC
The Smith & Wesson FPC was 2023's surprise. This carbine dropped to rave reviews and immediate KelTec comparisons.
The FPC is similar to the SUB2000 in the fact they are both 9mm folding carbines that use direct blowback operating systems.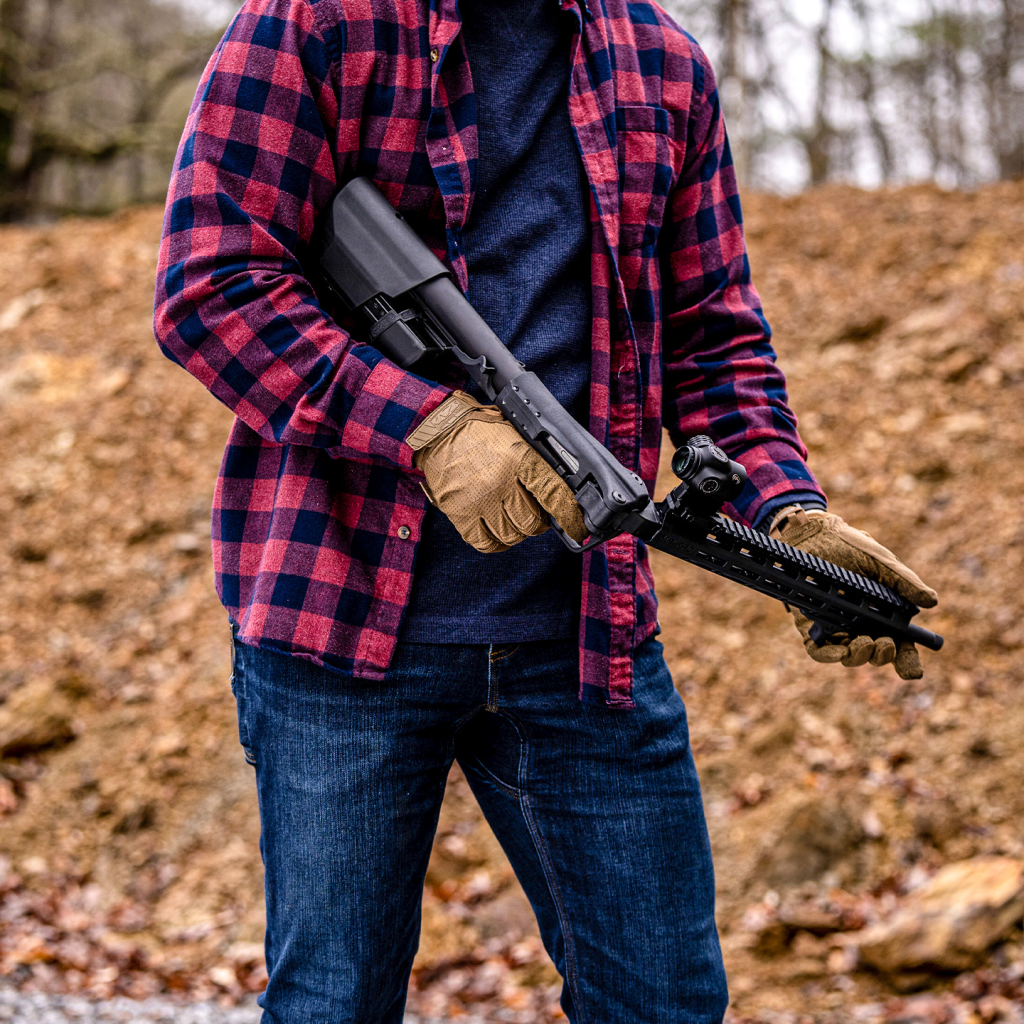 Comparisons are easy to make. Both guns use pistol mags, and the FPC uses M&P mags and just similar designs all around.
What Smith & Wesson does differently is that their gun folds to the side instead of over the top. This design makes the gun much more optic's friendly. Mounting a red dot, or whatever, isn't tough to do and doesn't require a special optics mount to make it possible.
The FPC has a few interesting and innovative features.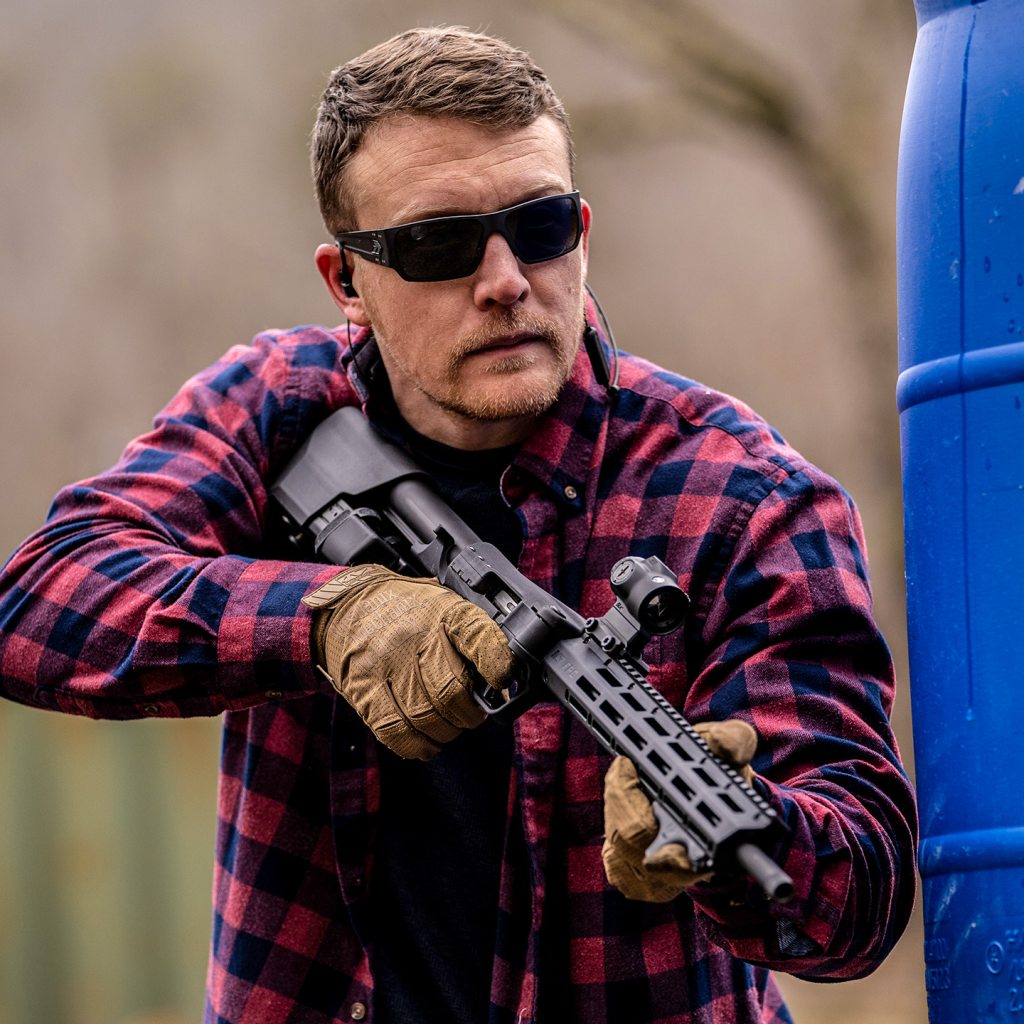 This includes an M-LOK rail, friction fit, quick deploy folding system, and a stock that holds two extra mags. Oddly enough KelTec used a stock that held extra mags in one of their older designs as well.
It's quite compact and admittedly quick to deploy when necessary. It's fast to deploy than the SUB2000. The gun can spring into action quickly but also safely. It can't chamber a round when folded.
The FPC acts as a rapid response tool that gives you a greater effective range, greater control, and more velocity than your pistol.
If you carry an M&P pistol, this is a great way to match your handgun to your rifle platform.
Best Folding PCC
579
at Firearms Depot
Prices accurate at time of writing
Prices accurate at time of writing
7. Palmetto State Armory JAKL
A mix between an AK-47 and an AR-15, PSA's JAKL brings a lot of firepower to the table for those looking for some oomph in their truck gun.
The JAKL sports the feel of an AR-15 pistol via the abbreviated receiver and piston operation. Its grip is an A2 style, and some people are okay with this, but it's one of the first things I tend to replace.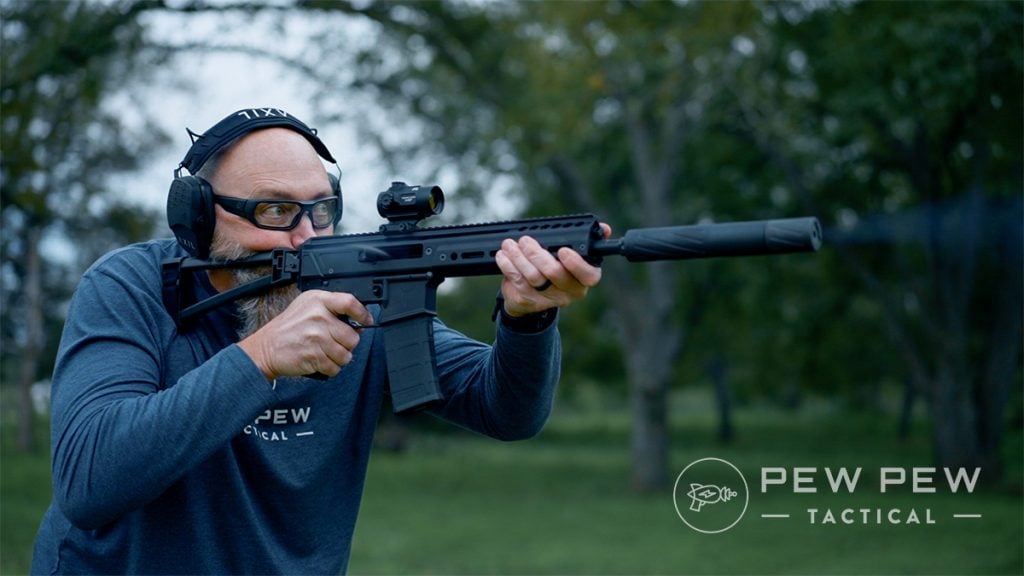 PSA added a rail that is a good size and brings a 1913 rail on top. It also offers QD wells as well as M-LOK slots.
The only downside we found was accuracy. Shooting this, it came in around 3 MOA, which isn't the best. But up close, it would probably do fine.
PSA's JAKL is a pretty cool firearm that has a lot of features you'd want in a truck gun and it's small enough to be suppressed without weighing it down.
AK/AR Hybrid
1099
at Palmetto State Armory
Prices accurate at time of writing
Prices accurate at time of writing
Want to learn more? Check out the video review below or head over to the written article.
A Note About AR Pistols/Pistol Builds
An AR-15 pistol is basically a short AR without a stock. Most sport a pistol brace and offer rifle-like performance but in a smaller, shorter package.
The law is rapidly changing regarding these builds.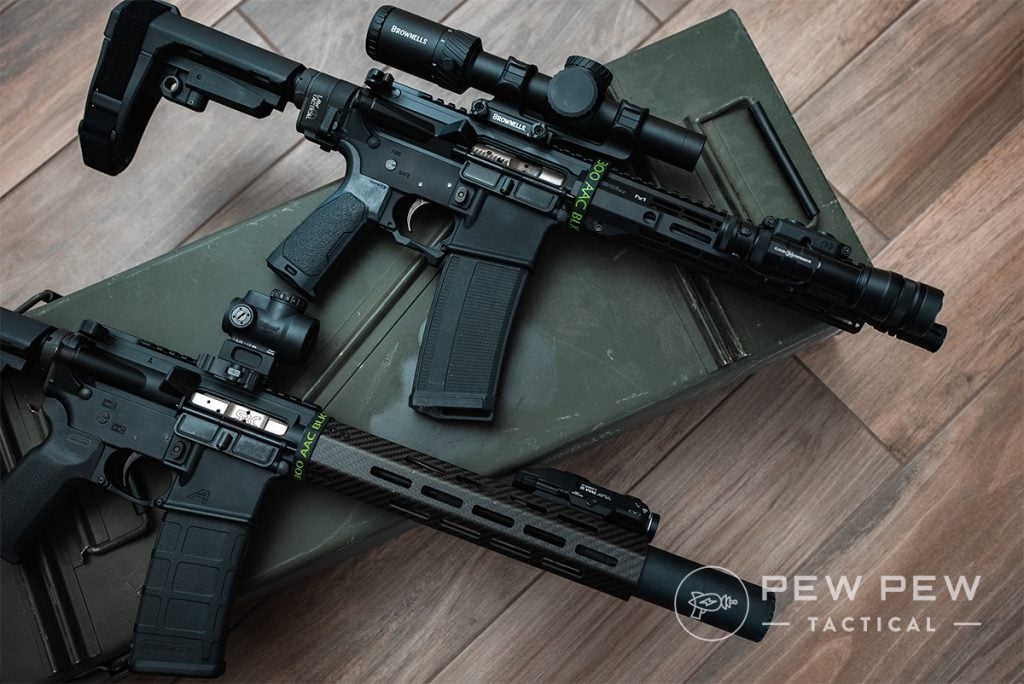 As of 2023, the ATF has ruled that AR pistols constitute a short-barreled rifle that falls under the National Firearms Act.
Pro 2A groups have filed suit, and we hope this rule gets overturned, but in the meantime, if you want an AR pistol, you have to go about it in the same way you would an SBR…that means ATF paperwork, waiting periods, and that $200 stamp.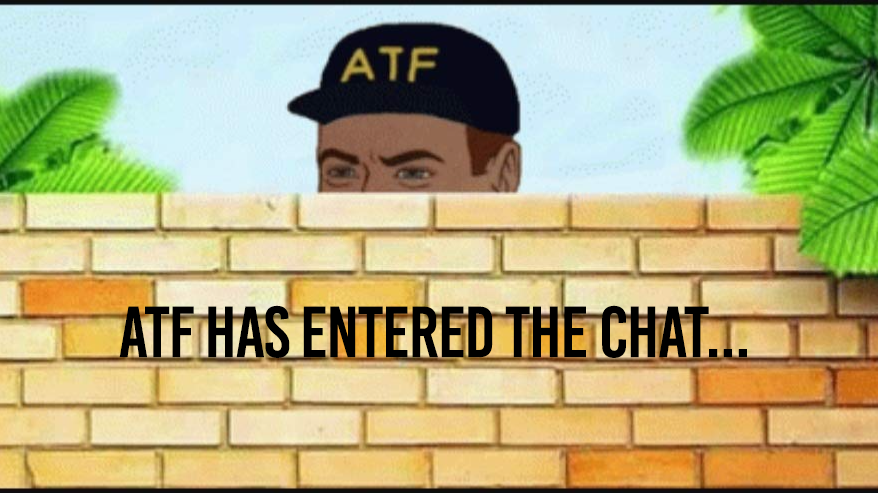 To stay up to date on the latest happenings, check out Pistol Braces & The ATF.
Final Thoughts
A trunk gun isn't going to be for everyone, but for many of us, they are essential. Hopefully, I've given you the tools to choose the one that is right for you!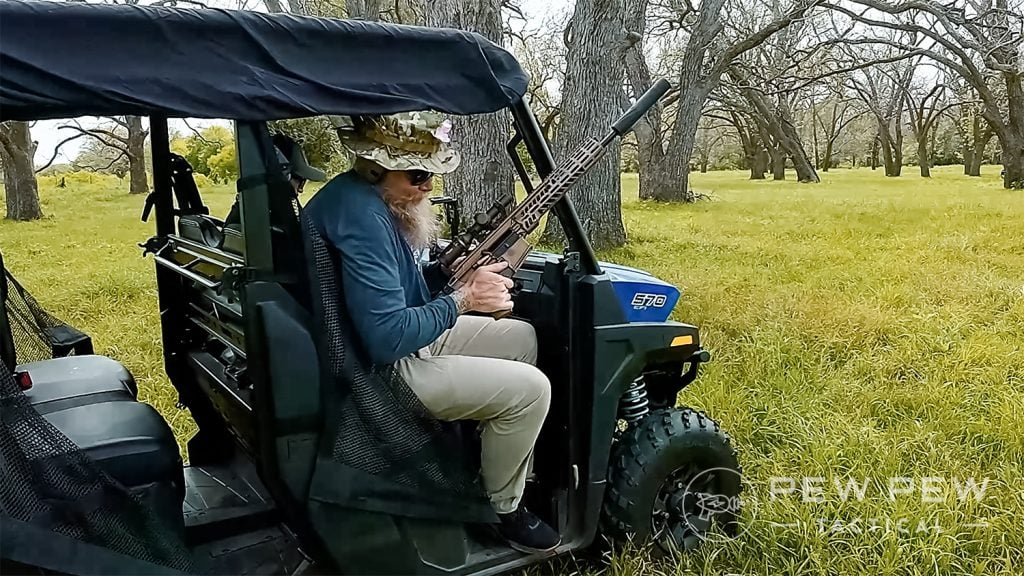 While we're on the topic of things to stage in your car, don't forget an First Aid Kit.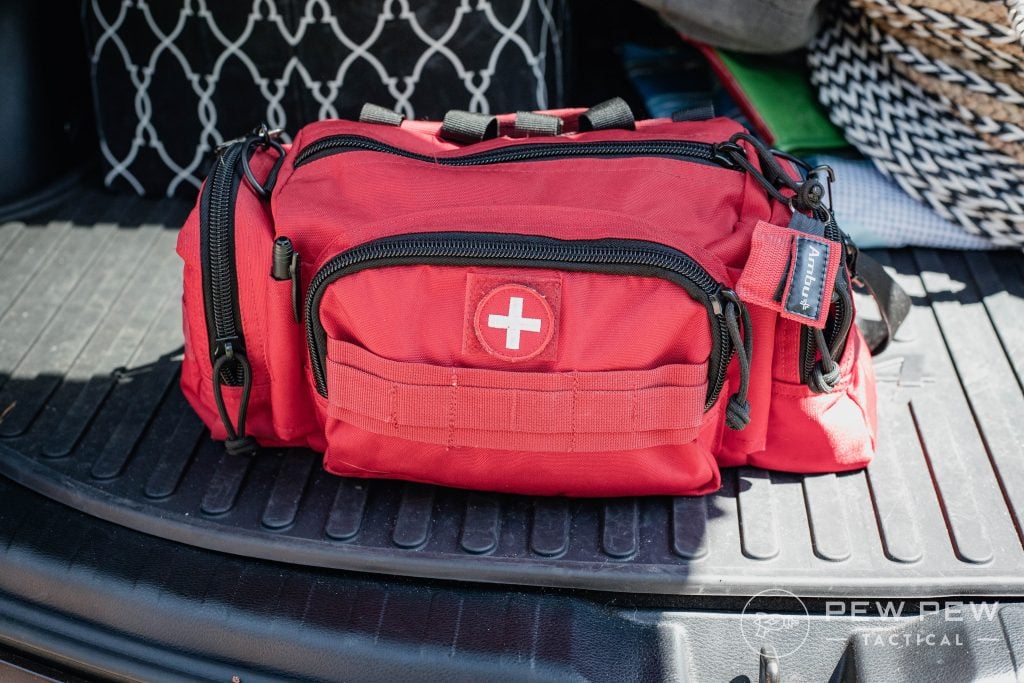 Do you have a truck gun? Let us know all about it in the comments below. Looking for more defensive-style firearms? Check out the Best Home Defense Gun or the Best Home Defense Tactical Shotguns.