Let's play a game.
Name a brand that the firearms accessory industry supports more than Glock.  I'll wait.
Naming another company as prolific in its aftermarket as Glock isn't easy, is it?
In fact, it's damn near impossible to find a gun that comes even close to competing with Gaston Glock's plastic fantastic when it comes to upgrades and customization. You can buy sights, grips, barrels, slides, triggers, and on and on to turn your Glock into something barely recognizable as a Glock.
Maybe you're in a hurry and need some magazine options now, well these are our recommendations:
Here at Pew Pew Tactical, we've talked about aftermarket slide stops, aftermarket Glock triggers, and aftermarket Glock slides that completely change the look, and in some cases performance, of the gun.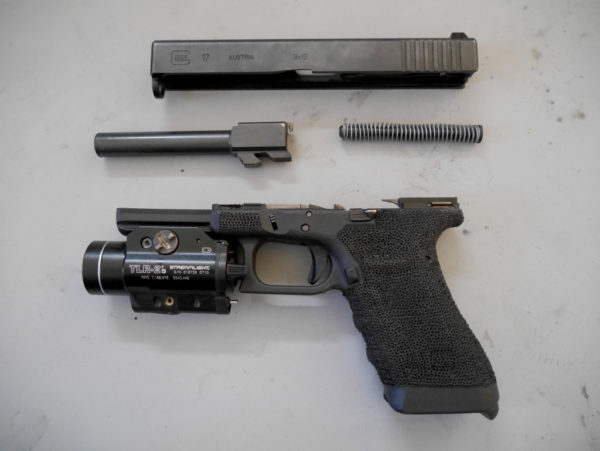 But about one of the handguns most important part, the magazines?
Are there any magazines out there that can improve on Glock OEM Mags performance, or at least match OEM performance?
In this post, we'll not only talk about the high-quality aftermarket Glock magazines, but we are also going to look at affordable magazines for the range, and one brand to steer clear from.
25
at Gun Mag Warehouse
Prices accurate at time of writing
Prices accurate at time of writing
Now before we dive into aftermarket magazines I do want to go ahead and say Glock itself manufactures high quality and dependable magazines.
They can on occasions dry up in terms of supply, and like many OEM magazines tend to be a little pricier than aftermarket. However, they are rock solid magazines.
Best Glock Magazines
This first group of Glock aftermarket magazines is the best of the best. You can trust these magazines day in and day out, and they are reliable, affordable, and widely available. These magazines that are worthy of both defensive use and competition use.
Elite Tactical Systems mags, aka ETS, are some very eye-catching and recognizable magazines for the Glock and AR platforms. They stand out from other magazines because ETS produces them from a translucent polymer, which gives them a unique appearance.
Best See-Through Glock Mag
15
at Gun Mag Warehouse
Prices accurate at time of writing
Prices accurate at time of writing
In addition to looking cool, the clear nature of these mags provides you with a means to instantly check how much ammo you have left in the gun. Glock OEM mags use witness holes, but ETS magazines use witness everything. You can instantly know exactly which of the magazines in your range bag are loaded and which are not.
ETS magazines are also well known for their durability and reliability. They can be dropped over and over, kicked, thrown and tossed and they just keep working as smoothly as ever. The same advanced polymer that provides such an unusual appearance is, according to ETS, also resistant to feed lip creep, harsh chemicals, and both high and low temperatures.

One of the best things about the ETS magazines is they make so many different varieties of magazines.
Unfortunately, they only come in 40 S&W, 380 ACP, and 9mm. No love for the 10mm or 45 ACP family. 40 S&W magazines should also work with 357 SIG, although I don't have first-hand experience since I don't own a 357 SIG.
However, they have the standard Glock 17/22 19/23 and 26/27 magazines in their respective round count like you'd expect. You also get options for the Glock 43 single stack 9mm and the Glock 42 single stack 380 ACP in their standard capacity configurations.
Then the extenders come into play.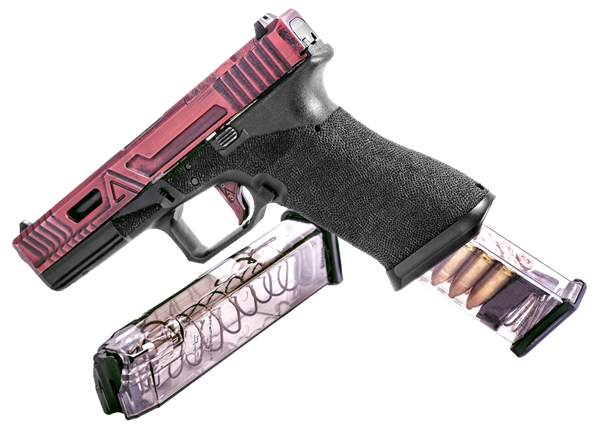 The increased capacity single stack magazines are my favorite. These mags allow you to carry 7, 9, or 12 rounds of 9mm or 380 ACP, depending on your gun. Plus, something about seeing a 12 rounder peeking out the rear of a Glock 42 is hilarious.
These compromise concealed carry by increasing size but can double your capacity.
When we move on to the double stacks we see a pretty big increase as well. Everyone knows about the Glock 18 33 round magazines, and they're lots and lots of fun at the range. Well, ETS produces extended magazines in capacities of 31, 27, and 22 for 9mm and 30, 24, and 19 for the 40 S&W.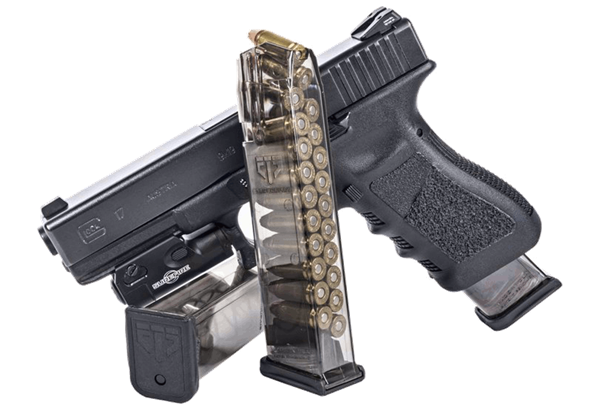 The 31 and 30 round magazines are designed for fun, while the other 27, 22 for 9mm and 24 and 19 for 40 S&W are designed for competition and to fit inside various rules. The 9mm 22 round and 40 S&W 19 round are 140 mm and are legal for USPSA limited division.
The 27 and 24 round magazines are for IPSC and are 170mm.
Speaking of competitions, one final bonus for these magazines is that most Glock base plates will fit on these magazines. This opens you up to base plates from companies like Taran Tactical.
Best Glock Base Plates
40
at Rainier Arms
Prices accurate at time of writing
Prices accurate at time of writing
The price is also solid. ETS magazines are available for less than $20 a piece.
Magpul made a huge splash only a few years ago showing their new Glock magazines. They had a rocky start and issued a recall pretty early on, but those problems are long gone.
These days, everyone knows the Magpul PMAG is an amazing magazine and revolutionized the AR 15 magazine world.
Best Polymer Glock Mag
12
at Gun Mag Warehouse
Prices accurate at time of writing
Prices accurate at time of writing
The Magpul PMAG GL series aims to do the same for the Glock magazine realm. At this time Magpul is only selling 9mm Glock magazines, but I imagine they will expand this as time passes. They have expanded their 9mm line significantly, and have options for the Glock 17, 19, and a 12 round magazine for the Glock 26.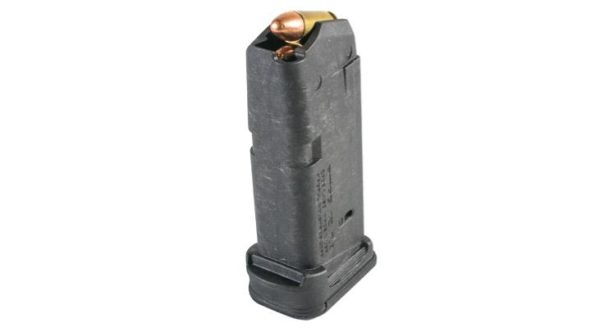 Magpul just recently released a 140mm, 21 round GL9 magazine, legal for USPSA limited class. Magpul is also releasing a 170mm, 27 round magazine for IPSC.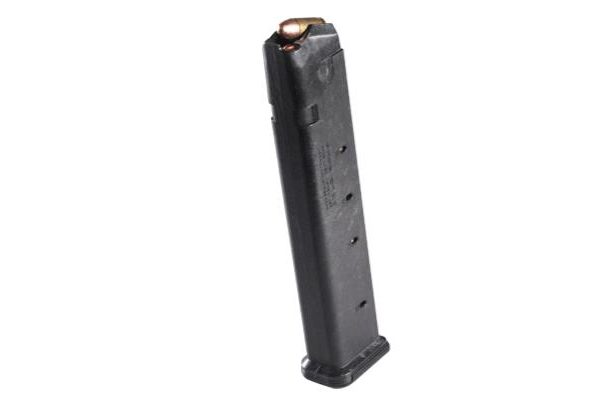 The Magpul makes their magazines almost entirely out of reinforced polymer, which makes them tough and stiff. The floor plate is interchangeable with most Glock aftermarket plates as well, like these from Taran Tactical ($40).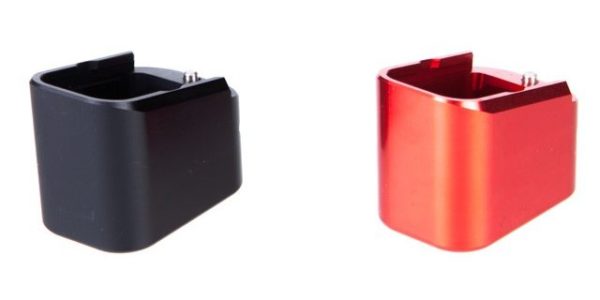 Magpul magazines drop free without issue, even when empty.
They are also pretty dang affordable, and at only 12 bucks for a standard 17 rounder, you can't go wrong.
My first experience with these mags was due to the fact that Kel Tec includes them with their Sub 2k Gen 2, and I'm now a convert to the Magpul Glock magazine for my little rifle.
Pro shooters and trainers, as well as yours truly, have given them rave reviews. They are just too affordable and high quality to say no to.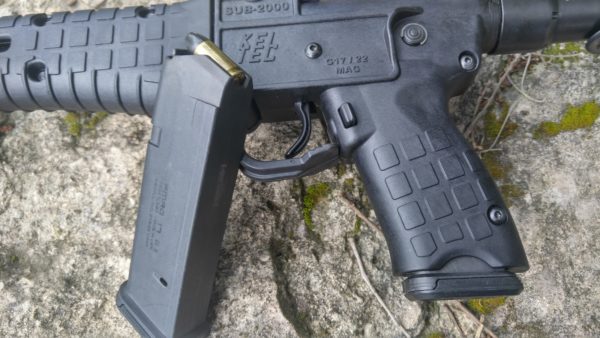 There is one downside, though.
The majority do not have any kind of witness holes, with the 17, 15, and 12 rounders only having a single hole at the bottom indicating the magazine is full. The extended magazines do feature witness holes, which make more sense because these stick outside the magazine well just a bit longer.
Overall, however, these are excellent magazines that are effective, affordable, and dead nuts reliable.
Range Mags
Not every magazine has to be used for life and death scenarios. Your average concealed carrier doesn't carry a spare mag, and for those that do Glocks come with 2 to 3 magazines when purchased anyway. Sometimes you just want extra magazines for the range.
When I go to the range, I want to dedicate my time to shooting, not loading mags, especially if the range charges by the hour. At the range, I don't need magazines designed to go to war, so I'm willing to skimp a little to get more affordable options.
If you want some range mags that are both reliable and affordable there are options.
Some of these magazines are intended to be used for genuine training, while others are just goofy fun.
KCI USA is a Korean manufacturer that produces super affordable, all-polymer magazines for a very low price.

Are they reliable? Most of the time they will cycle and feed fine. Will they stay together after they've been dropped dozens of times? Maybe not.
KCI also makes your standard 15 & 17 round mags for 9mm ($8.99), as well as a 33 round magazine ($12.99). One of their cooler, and more interesting, options are the 50 round drum.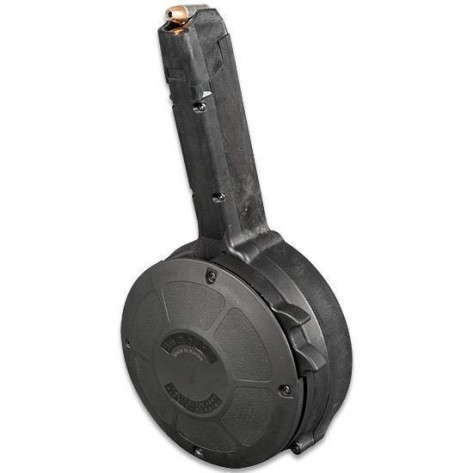 It's completely ridiculous looking, but it holds 50 rounds of 9mm. It's also quite heavy, impractical, and a little more expensive ($59.99), but sometimes ridiculousness is its own reward. After all, who wouldn't want a Glock drum?
KCI USA makes a 40 rounder for 40 S&W for Glocks too.
Just Say No To These Mags
Not all magazines are great, and not all have a price that reflects their quality. These magazines are even unreliable on a static range. They're frustrating and are often just plain junk.
So unless you want to get really good at malfunction drills, you should avoid this magazine company.
ProMag
ProMag produces magazines for almost every gun out there, even more, obscure ones.
The real shame is with a little quality control they could produce some awesome mags for weird guns. Unfortunately, ProMag has gained a reputation, and not a good one.
My experience with ProMag has been with their 1911 mags, their AK mags, and one solitary 10 round Glock mag a guy at the gun store gave me. They were all frustratingly bad. On some occasions, the magazines may function perfectly fine, but not usually.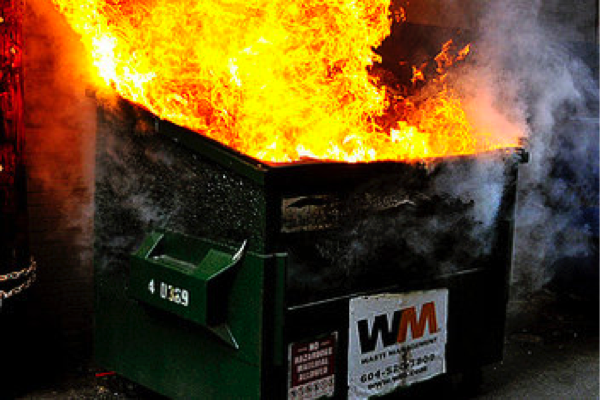 Things might be different if ProMag priced these magazines according to quality, but in a lot of cases they cost just as much, or only a hair under Magpul and ETS magazines. Plus, you'll just end up needing to buy a replacement, so you're far better off just buying a decent magazine, to begin with, even if it's quite a bit pricier
Many retailers will no longer carry them because of customer complaints, so be wary. I'm purposefully not linking to them for the same reason. You aren't even saving money, just get the Magpul ones if you're trying to save some money.
Glocked Out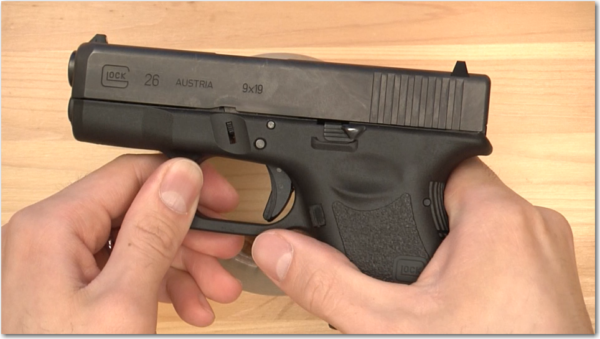 Glock's Plastic Fantastic has left a mark on the world that many have tried and failed to reach. Part of that success is due to a massive aftermarket, and the magazine aftermarket has only recently begun to grow.
I love that someone besides Glock is making high-quality magazines for the platform, especially since more and more guns are using Glock mags.

But since we're on the topic of magazines…let's go with extended magazines!
One of our favorites is Tyrant Design's.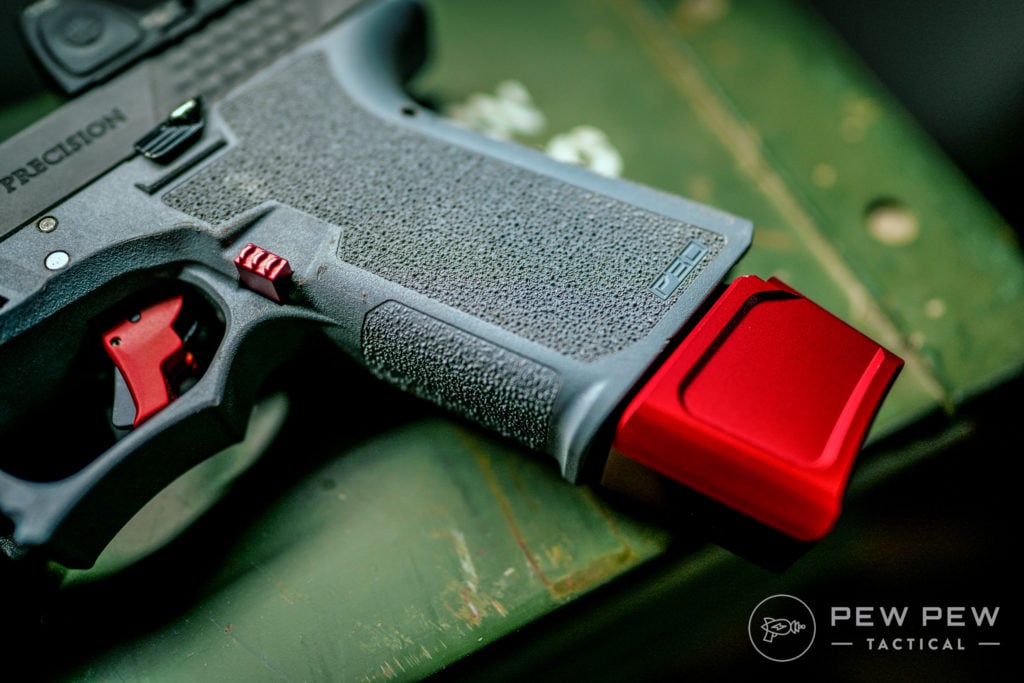 30
at Tyrant Designs
Prices accurate at time of writing
Prices accurate at time of writing
Now, am I missing any aftermarket magazines makers you'd suggest? Now that you've gotten your mags, it's time to personalize your Glock.  These are the Best Glock Mods we can't go without.