Of all the weapons I handled as a Marine, I always had one regret.
I never got a lot of time with the Benelli M1014 Joint Service Shotgun. I got my hands on most of the USMC's infantry arsenal, and one gun I hardly ever handled was the M1014.
I knew about, handled it a bit in country.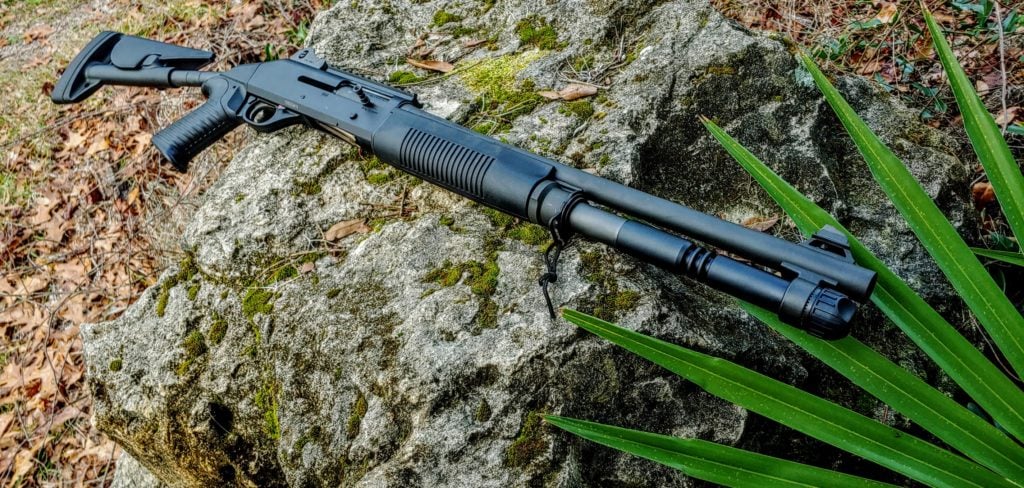 However, a machine gunner and a shotgun didn't cross paths often. Especially when your armory has two M1014s for the entire battalion. I loved it, but we weren't meant to be at that time.
We both needed to grow and learn and become the people and shotgun we were meant to be.
Plus, I needed to save my pennies.
They do cost a pretty penny. The Benelli M4 is an expensive gun, one of the most expensive I've ever owned. How can a shotgun cost nearly two grand?
Well, to warrant a price like that, you better be pretty freakin' special.
Table of Contents
Loading...
What Makes the Benelli M4 so Expensive ?
Well, Italian shotguns have a long history of being premium guns and weapons from Benelli has always been top of the line. The same could be said for Beretta, Franchi, and so on and so forth.
Best High-End Semi-Auto
1800
at Cabela's
Prices accurate at time of writing
Prices accurate at time of writing
To be honest, compared to some Italian double guns, the Benelli M4 is cheap.

With such a high price tag, does everyone need a Benelli M4?
No, not at all. A $350 Mossberg 590 is an excellent shotgun and a good deal cheaper.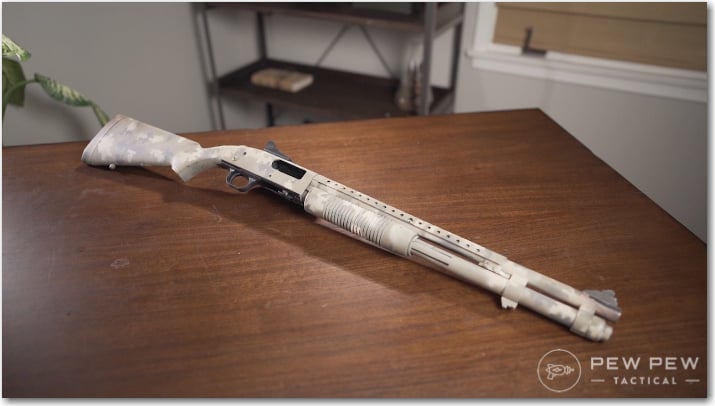 Forces like the USMC want a gun like the Benelli because it's an autoloader that runs and runs and runs. It has to be rugged and durable, and a lot of semi-auto shotguns are a bit finicky for military use.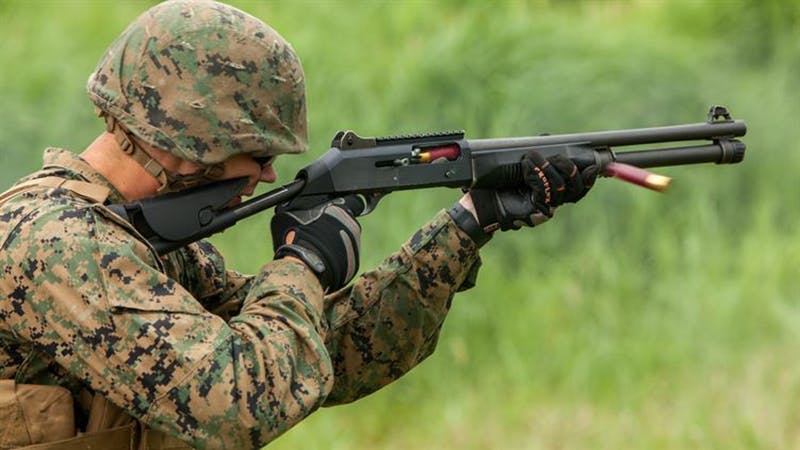 A gun like the 930SPX runs like a clock in my hands, but I'm also not patrolling for days on end in the desert, riding in dusty convoys, or in firefights right after a sandstorm.
The kind of reliability an infantry Marine needs is not the same kind I need as an average Joe.
Of course, the 2nd Amendment isn't about needs. It's about the right to keep and bear arms, and the Benelli M4 falls under arms.
If I can save my pennies and afford one, I can have one.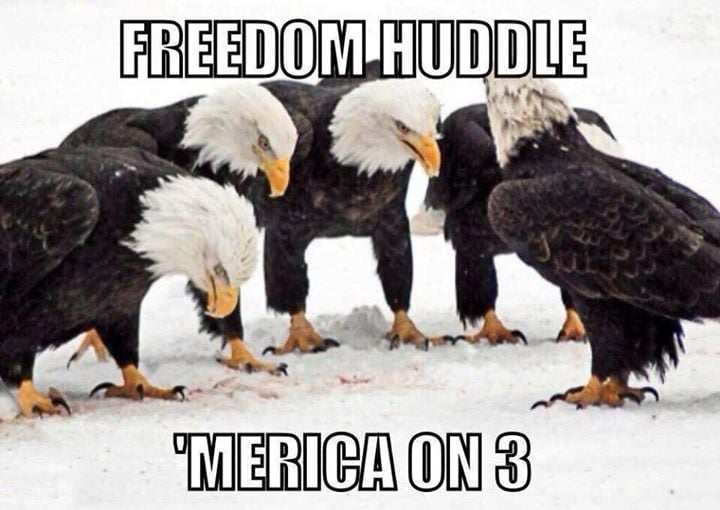 What Makes It Tick?
The price is tied to its reliability as an autoloading shotgun. Benelli can set a high price because they make a shotgun, unlike any other.
The Benelli M4 has something called the ARGO system.
Benelli's ARGO system was created specifically for this one gun but has since expanded into a line of rifles.
ARGO isn't just a pretty decent Affleck flick, it also stands for Auto Regulating Gas Operating system was built for this gun and for the USMC. Benelli is more or less known for its inertia guns.
The gas-operated M4 was a change.
They went with a gas-operated system because the military likes to weigh their guns down with all sorts of heavy night vision sights, and lasers, and kitchen sinks. An inertia gun is picky about what you attach to it.
If you throw off the balance of an inertia driven shotgun, then it may not run well, or run at all.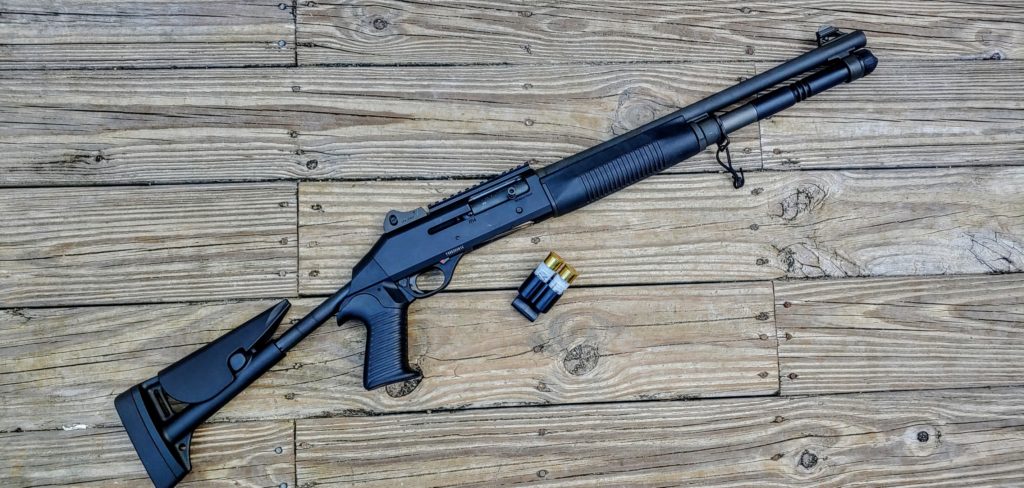 The gas-operated the M4 uses is a bit different than most gas-operated shotguns with the ARGO system uses dual gas ports just ahead of the forcing cone.
Gasses up here are hotter and cleaner, and this means the gun runs longer between cleanings. The ARGO system uses two stainless, self-cleaning pistons to drive the bolt rearward into a built-in buffer that's located in the stock of the weapon.
Like an AR-15, you have an extended buffer tube as a necessity. Gas guns aren't as revolutionary as far as shotguns go but the ARGO system is unique with its dual gas piston design.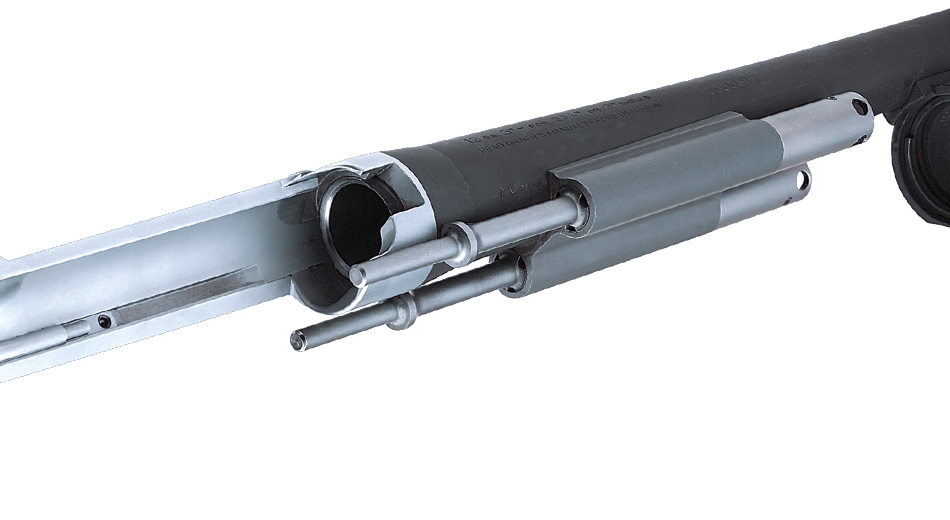 Gas guns are more reliable with a more extensive range of ammo and tend to be softer shooters.
The downside to gas guns is their need to be cleaned often to be reliable.
However, the Benelli ARGO system goes beyond what a standard gas gun can do and remains cleaner and more reliable.
The Benelli M4 and Configurations
The Benelli comes in all sorts of configurations. The most significant difference between them all is the stock configuration.
They come in fixed straight stock, fixed stock with a pistol grip, collapsing stock, and then a model that looks like the collapsing stock but is a fixed stock.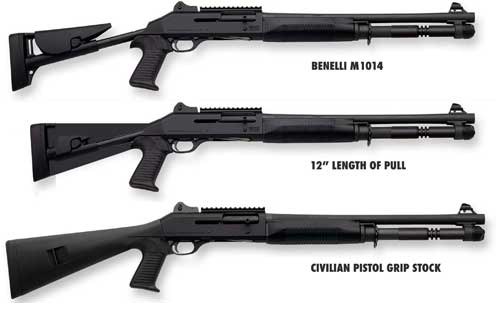 Other than that, they are all the same. The American models hold 5 rounds, and once you complete the 922 R process, you can add an extended tube!
Then it can hold 7 rounds of 2 ¾ inch rounds.
Ergonomics of the Benelli M4
I have a complaint.
After 400 rounds of assorted shotgun ammo, I can have at least one right? The only complaint I have is in the ergonomics department.
The bolt release is tiny.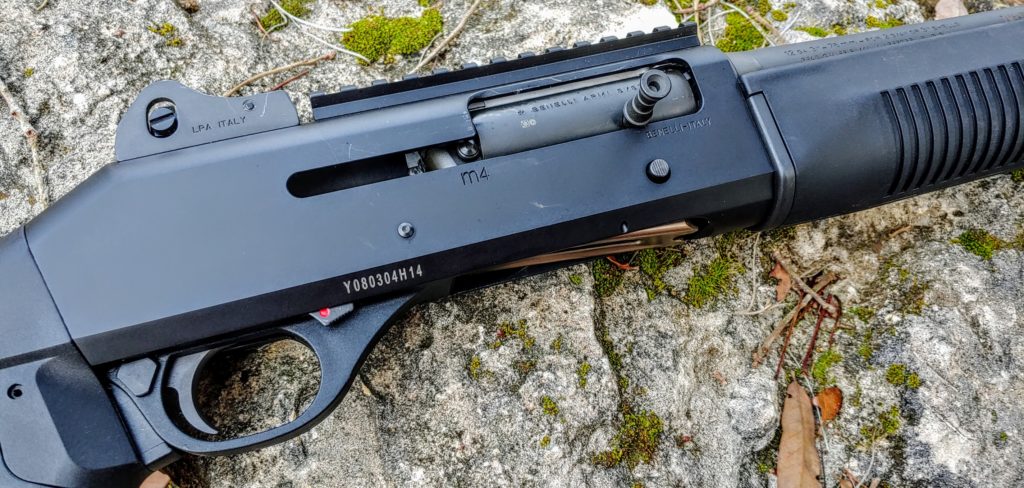 It's super small and kind of hard to press into action. It's also a critical component if you run the gun dry and have to speed reload the weapon. Closing the bolt when the weapon is empty isn't easy using that little button.
Other than that, I have no significant complaints. I wish the gun would have a left-side charging handle for right-handed shooters.
This would keep us from having to reach over or under the gun to charge the weapon.
My complaints have fallen on deaf ears of every shotgun maker I can think of outside of the Rock Island VR 80 puts the charging handle on the right-hand side of the gun.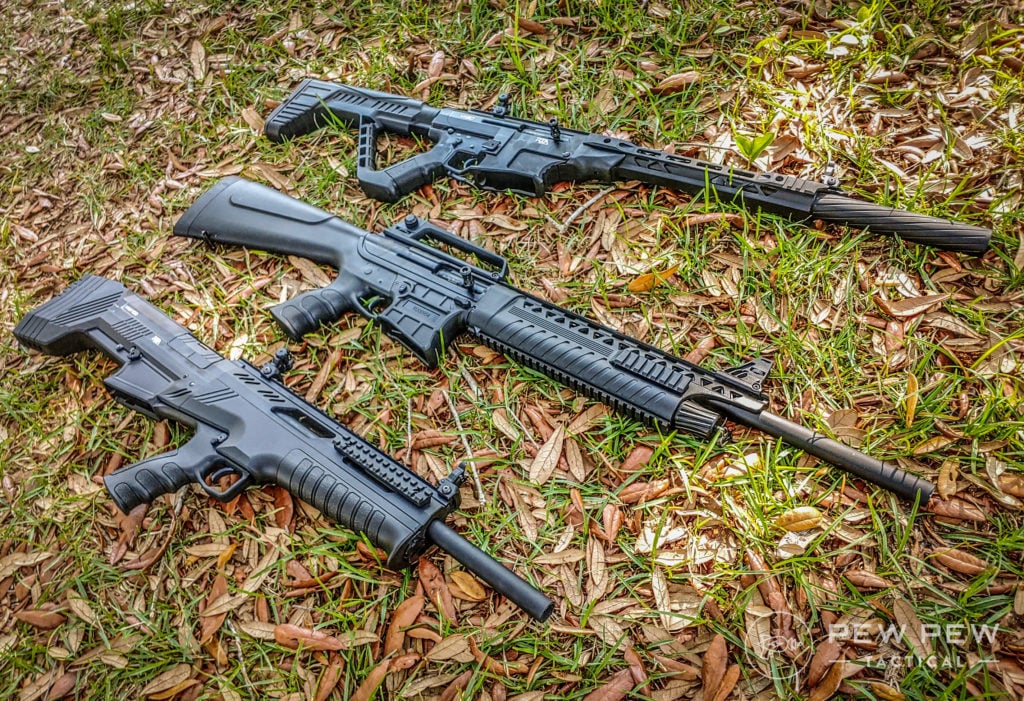 Other than that, the gun's large loading port is excellent.
It eliminated some of the clumsiness that comes with loading a tube shotgun. This is more prevalent when you are keeping the gun orientated downrange as you load.
The tube and follower flow very smoothly as you load the gun. It glides without interruption. The pistol grip also helps you keep the weapon orientated downrange as you shoot two, load two.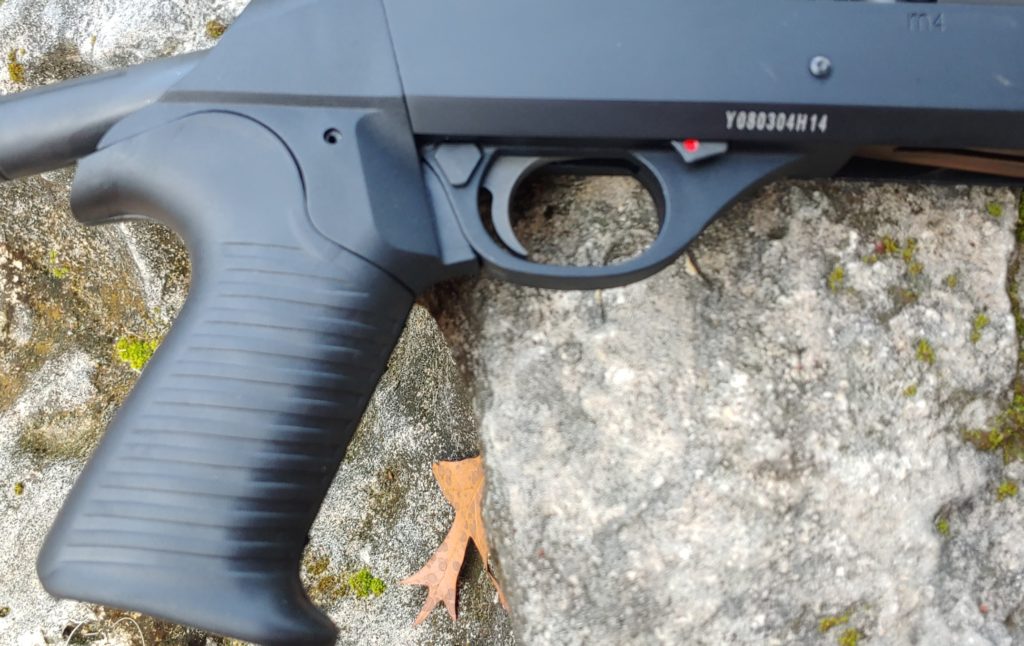 In my experience, each and every Benelli M4 stock option is rock solid. Even the collapsing military stock is super tight and rock-solid. Their portion that greets your shoulder is comprehensive and fits well into the shoulder.
The stocks all offer a hearty cheek weld, and this allows you to get behind the iron sights or an optic. The plastic forend is positioned close to the receiver and isn't a far reach for any shooter, and it's plenty comfortable as well.
Besides the tiny, and soon to be replaced bolt lock the Benelli M4 is a comfortably built gun. It's designed to fit a wide variety of users, and it shows.
Range Time
Oh man, have you ever driven a really lovely car?
Be it a fast one, or a luxurious one, and then had to go back to your sensible Toyota?
You'll never feel the same about your average car after you drive a high end one.
That's what it's like to shoot the Benelli M4 and go back to your average scattergat.
The gun runs so smoothly, and it's such a joy to shoot. Without any kind of break-in period, it was running lightweight birdshot loads.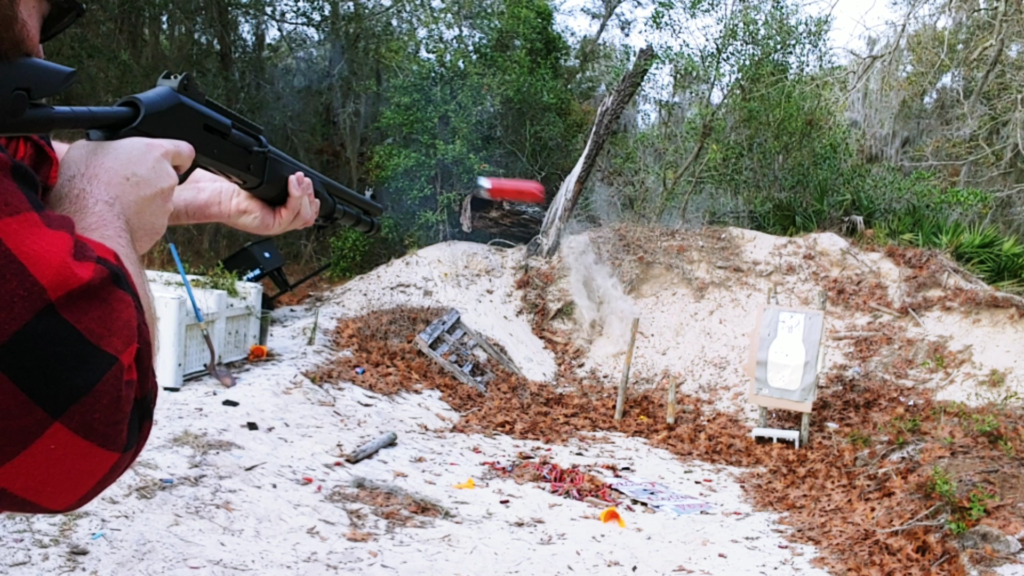 One demand I make of these guns is that they have run with light loads. Shooting nothing but buckshot gets expensive quickly, and I'm not about that life. I like to be able to run light loads and enjoy the gun as a plinker.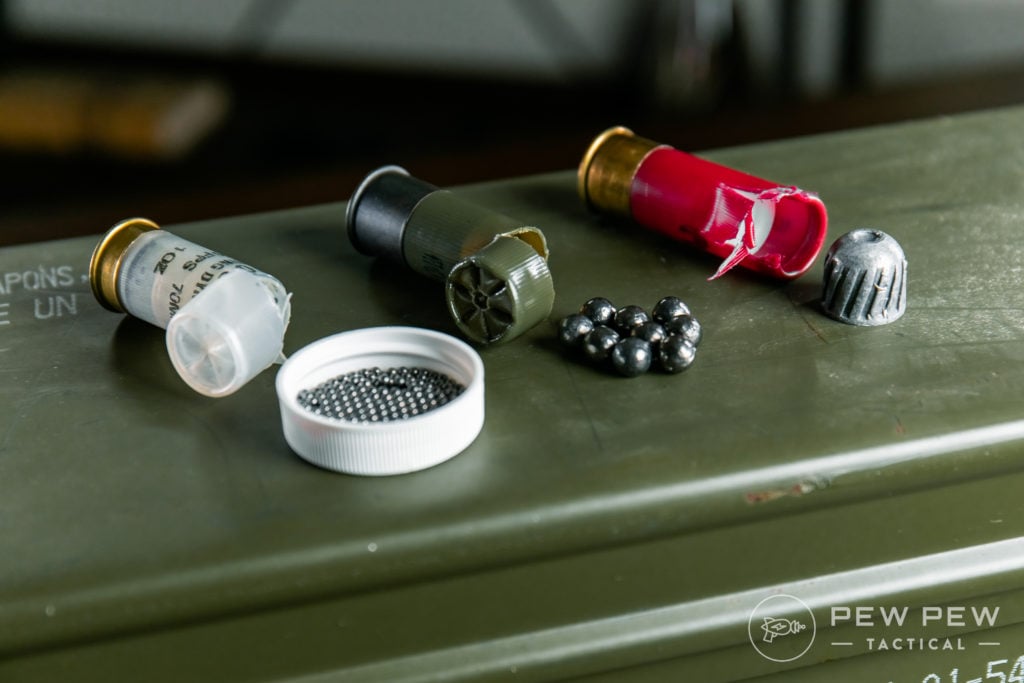 That's the Benelli M4 reliability for you.
It seems to eat just about everything and do so with style and grace.
One of the fascinating things about this gun is how tight the tolerances are. Every little thing is spec'd to a particular measurement. For the end-user that results in a weapon that feels and handles wonderfully.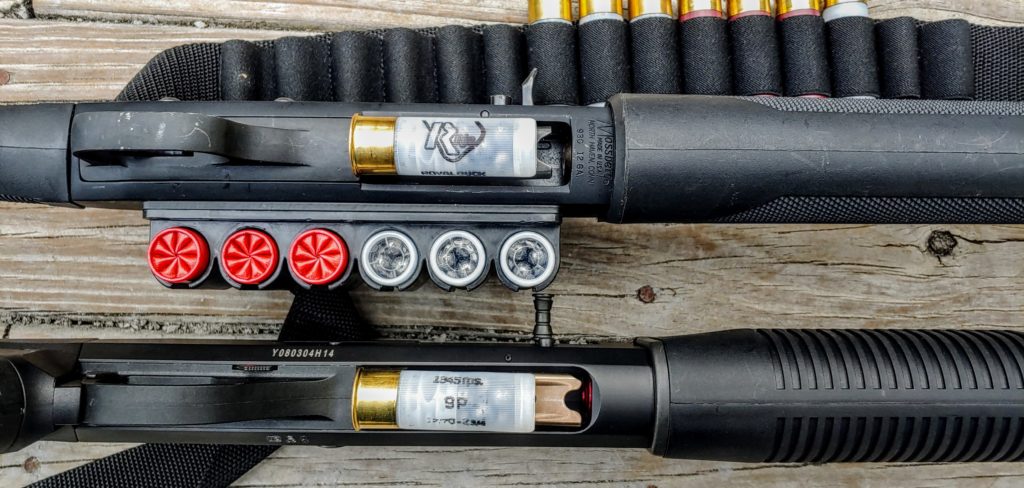 The trigger is easily the best stock shotgun trigger I've ever felt on a semi-auto tactical shotgun.
It's short and lightweight, and it breaks quickly and cleanly. Even the reset is short as well.
With practice, the light and short trigger pull allow you to work the trigger quite quickly.
Factor in the rapid moving action, and you can drop 5 shots before the first shell hits the ground. You'll have fun doing it too.
Despite the low overall weight, recoil is easy to manage. When you are working the trigger and sending a pound's worth of buckshot downrange, you'd expect a bit of muzzle rise. You'd be surprised at how easy the gun is to control.
The ergonomics of the Benelli, the soft recoiling ARGO design, and the weapon's weight keep it from rising too high as you dump rounds. I can keep it on a very dead paper target for the entirety of its magazine at 20 yards.
Everything about the M4 lends itself to being easy and smooth to move between targets. That mild recoil also translates well to buckshot and even slugs. I don't use slugs often, but it's nice to do so without suffering from a bruised shoulder.
Those remarkable iron sights can direct shot in the right direction just fine, but most sights can. The ghost ring sights are more rifle like and do give you an excellent option for using slugs at longer ranges.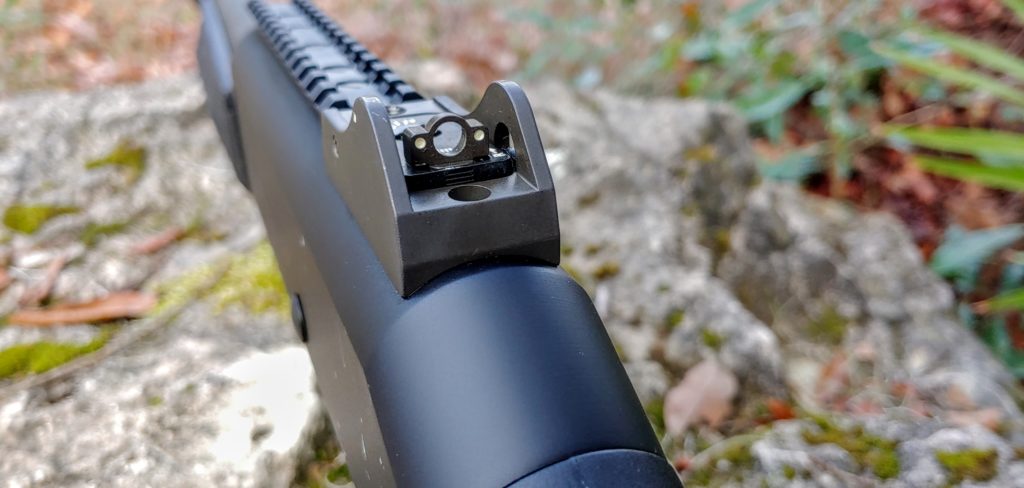 They are quite precise and made it easy to steer slugs the right way.
That little bit of rail gives you plenty of room to add an optic, and an excellent red dot is a quality option on a shotgun.
There are lots and lots of those available, and I tend to be more prone to light and small red dots on shotguns. I'd go as little as mini red dots on shotguns.
The Benelli M4 has earned a place in my home as my go-to home defense shotgun.
Best Benelli M4 Upgrades
1. Meprolight Night Sights
The Benelli M4's stock sights are outstanding, and if you want to toss on night sights, you can without sacrificing any of the functionality of the M4's sights.
Most Innovative
60
at Amazon
Prices accurate at time of writing
Prices accurate at time of writing
These tritium sights from Meprolight are identical to the M4's sight, but they have tritium inserts.
2. Trijicon RMR
If the Benelli M4 is the king of semi-auto shotguns, then the Trijicon RMR is the king of miniature reflex sights.
550
at Brownells
Prices accurate at time of writing
Prices accurate at time of writing
This is a rock-solid and very reliable red dot that's industry-standard and well suited for a defensive shotgun. It's available in multiple models and the dual-fuel models re my favorite.
See more picks in Best Shotgun Sights.
3. Scalarworks Trijicon RMR Mount
If you want to mount the optic low enough to use your iron sights to co-witness, then you need the Scalarworks works mount.
119
at Amazon
Prices accurate at time of writing
Prices accurate at time of writing
This replaces the stock rail and uses a direct mount system to keep the RMR super low.
4. Mesa Tactical Shell Carrier
The Benelli is like any other shotgun, and it has relatively low capacity, so keeping a little extra ammo on the gun is always a good idea.
The Mesa shell carrier is one of the best on the market. Mesa makes the most excellent shotgun accessories on the market, and this is an excellent and well-made shell carrier.
110
at Amazon
Prices accurate at time of writing
Prices accurate at time of writing
The Mesa carrier attaches to the same location as the rail, and this ensures nothing interrupts the action and inhibits reliability. The shell carrier holds 6 and holds them tightly.
4. Strike Industries Hayl Rail
The two-piece plastic rail on the Benelli M4 works, but the Hayl Rail gives you an aluminum handguard with lots of M-LOK slots.
115
at Optics Planet
Prices accurate at time of writing
Prices accurate at time of writing
These slots allow you to add lights and accessories to the gun quickly. A good flashlight is a must-have, and we have a little guide you can read about them here. 
We go over even more in Best Benelli M4 Shotgun Upgrades. Here's our current "Ultimate Build."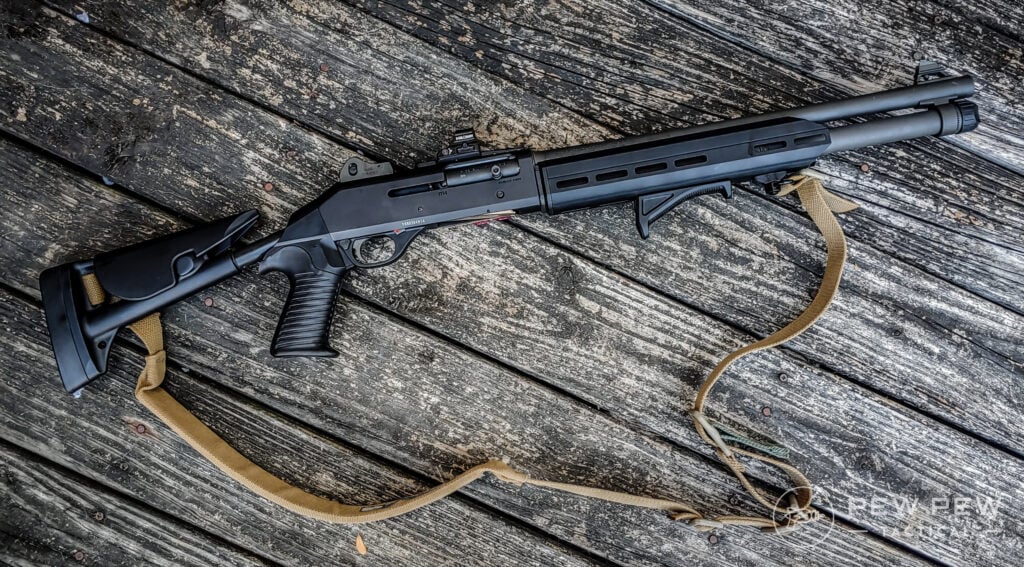 By The Numbers
Accuracy: 5/5
It's a shotgun, and it's a shotgun with excellent sights and a great trigger. It makes hitting your target quick and easy. It also directs slugs just about wherever you need them.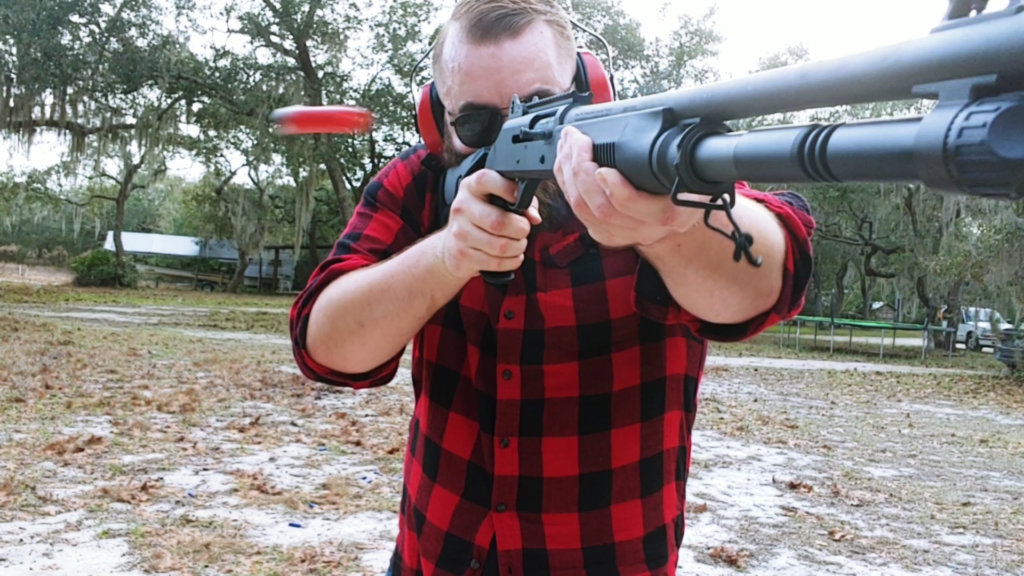 The addition of an optic's rail makes it easy to toss on your favorite red dot and have 24/7 performance.
Reliability: 5/5
The Benelli runs and runs and runs, with a boring level of reliability. If you want to practice malfunctions, buy some mini shells, or some nonlethal because the Benelli isn't going to allow you to get failure drills in naturally.
Customization: 3/5
The Benelli M4 is a bit of a niche weapon, especially with its price. The gun has a small aftermarket that's wholly dedicated to the gun. You can find a few different upgrades and parts to make it yours.
Looks: 5/5
I'm biased for sure, but the Benelli M4 is a great looking shotgun. It seeks, tactical in the best way and most certainly intimidating.
Price: 3/5
Is it worth the price? Sure, it's the most reliable semi shotgun out there. It works when it's filthy dirty, soaking wet, and when it's filled with carbon. Some don't need that level of reliability in a shotgun, but if you do, you have to pay for it.
Best High-End Semi-Auto
1800
at Cabela's
Prices accurate at time of writing
Prices accurate at time of writing
Overall: 4.5/5
Parting Shots
The Benelli M4 is a formidable weapon and remains unmatched in the semi-auto shotgun realm. It comes with a hefty price but you get military reliability, a great trigger, and a super smooth action. It will serve you well in home defense, range fun, or even SHTF situations.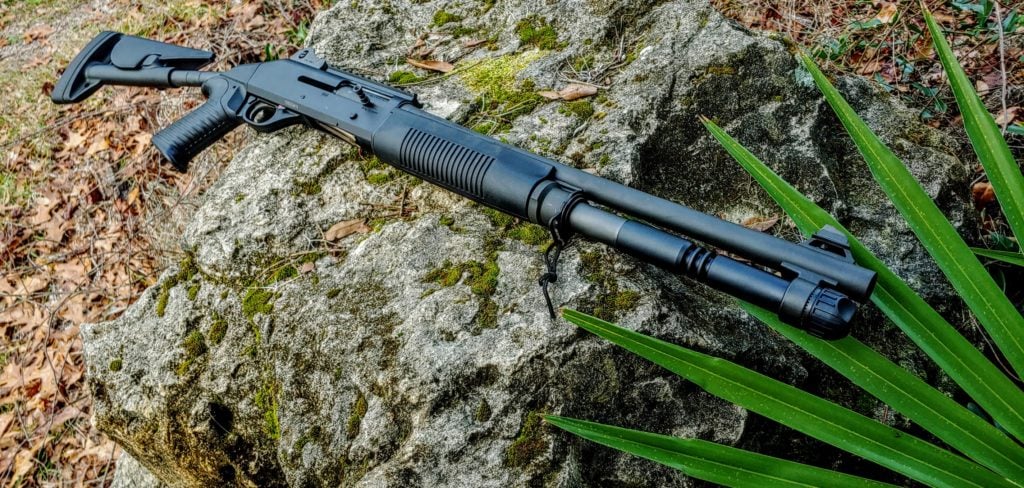 What are your thoughts on quality scattergats? Overpriced or well worth it? Let us know in the comments! If you're thinking of a shotgun for home defense, take a look at the Best Shotguns for Home Defense & Target Shooting!