We've had a bit of a retro redux in the last few years. You may have noticed that that old school is cool again.
With that in mind, do you know what needs to make a comeback? Takedown guns.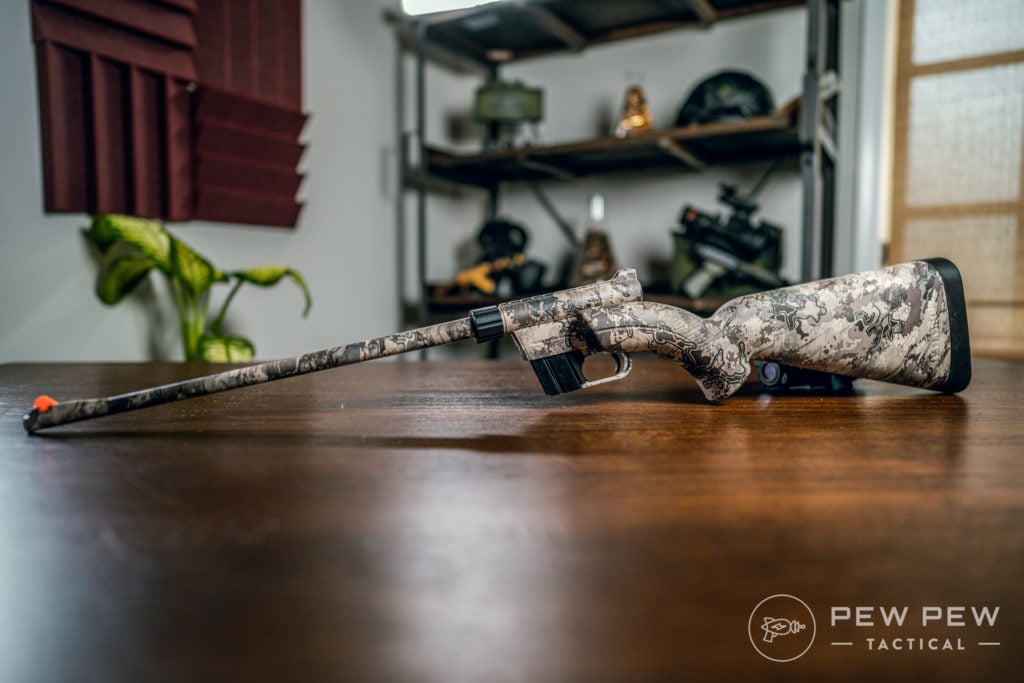 There used to be a time when takedown guns, whether it was lever-actions, semi-autos, bolt actions, shotguns, or rifles, were incredibly common.
Guns like the Winchester 1897, Model 12, Remington Model 8, and Winchester Model 1911 all had takedown capability.
So what happened? Who doesn't want an easier-to-carry, easier-to-store option?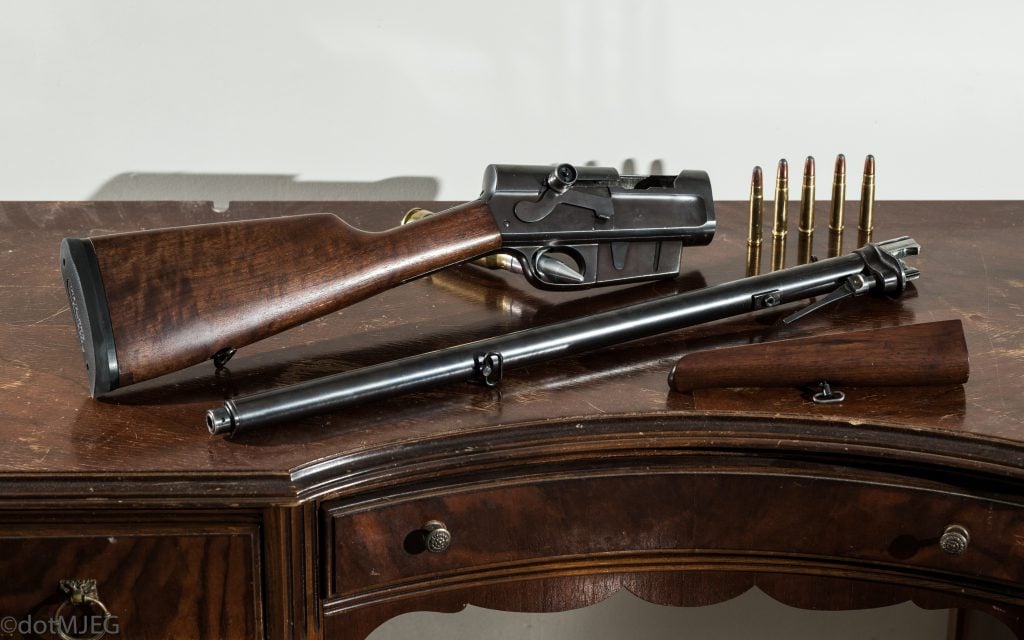 Luckily, they haven't died off completely. I've always appreciated takedown guns, and today I wanted to gather a list of the best takedown guns on the market.
This isn't a list of the best ever because many of the best ever are no longer produced. But without further jawin', here are the best takedown blasters you can get these days.
Summary of Our Top Picks
Best Takedown Guns
1. Ruger 10/22
Arguably the best modern takedown rimfire is the Ruger 10/22 Takedown.
Not only do we get a reliable platform with a long track record of proven performance, but we get a modular rifle that has kept up with the times.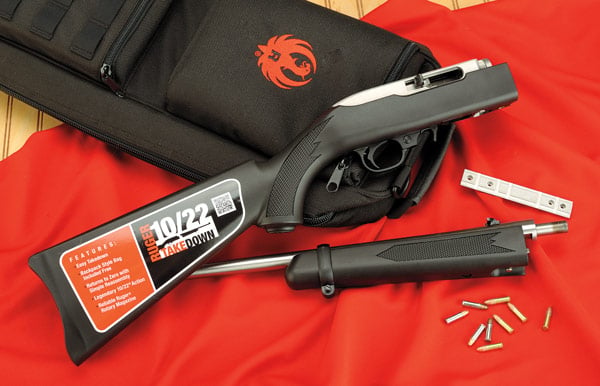 With the Ruger 10/22 series, shooters get a rimfire weapon that's not ammo picky and works with nearly every type of .22 LR ammo.
This semi-auto platform is light and handy and is perfect for smaller shooters and newer shooters while still providing tons of fun for veteran shooters.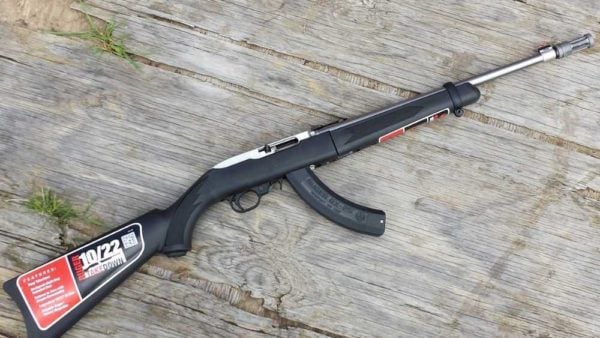 It's the most popular rimfire platform out there, with millions having been produced. With that level of popularity, we get all sorts of optic options, sighting options, and magazine options, and Magpul even makes an awesome aftermarket takedown stock.
Best Takedown Rifle
383
at GrabAGun
Prices accurate at time of writing
Prices accurate at time of writing
On the takedown model, the barrel pops off the receiver, making it very easy to break it down and toss it in a backpack. Ruger even includes a handy backpack option that is perfect for this utilitarian rifle.
Ruger also offers a takedown version of their 10/22 Charger, which is a micro-sized pistol version of the platform.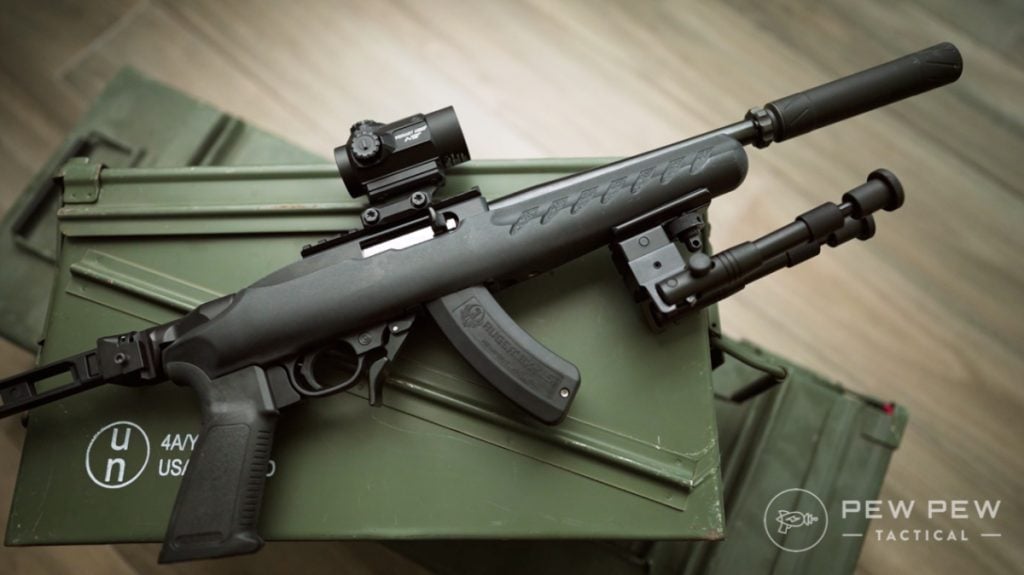 Overall, the 10/22 Takedown is light, handy, and, best of all, affordable.
397
at Bereli
Prices accurate at time of writing
Prices accurate at time of writing
Love the 10/22? Check out our hands-on article on the 25 best 10/22 Upgrades!
2. Ruger PC Carbine and Charger
At first glance, the Ruger PC Carbine and PC Charger look like amped-up versions of the Ruger 10/22. However, there are some significant differences.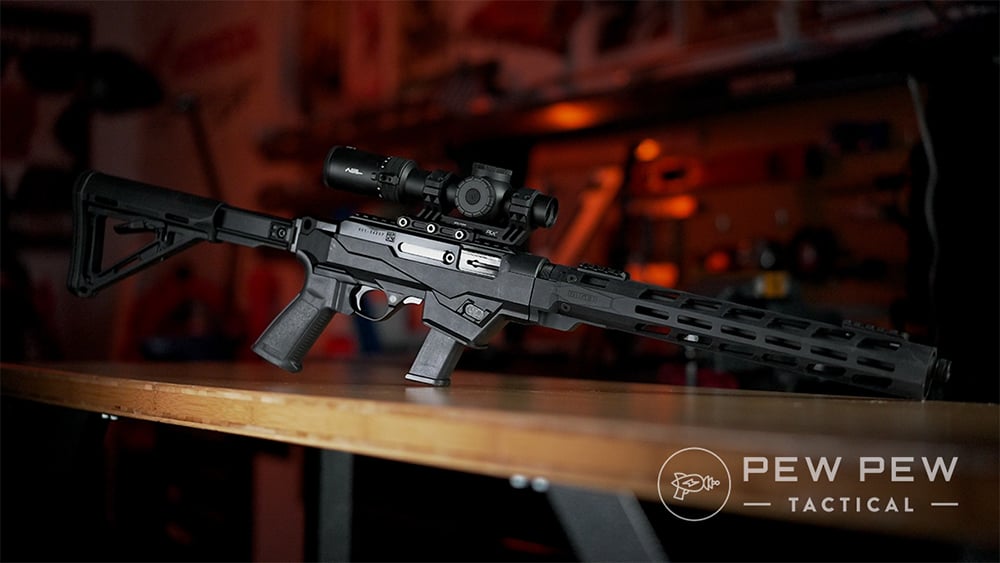 These are in 9mm, which is a substantially more powerful cartridge than .22 LR and is well-suited for home defense.
The Charger variant has a shorter barrel and lacks a stock. Both guns come with two magwells, one for Ruger mags and one for Glock mags.
Aftermarket magwells have also opened up support for various other magazine types.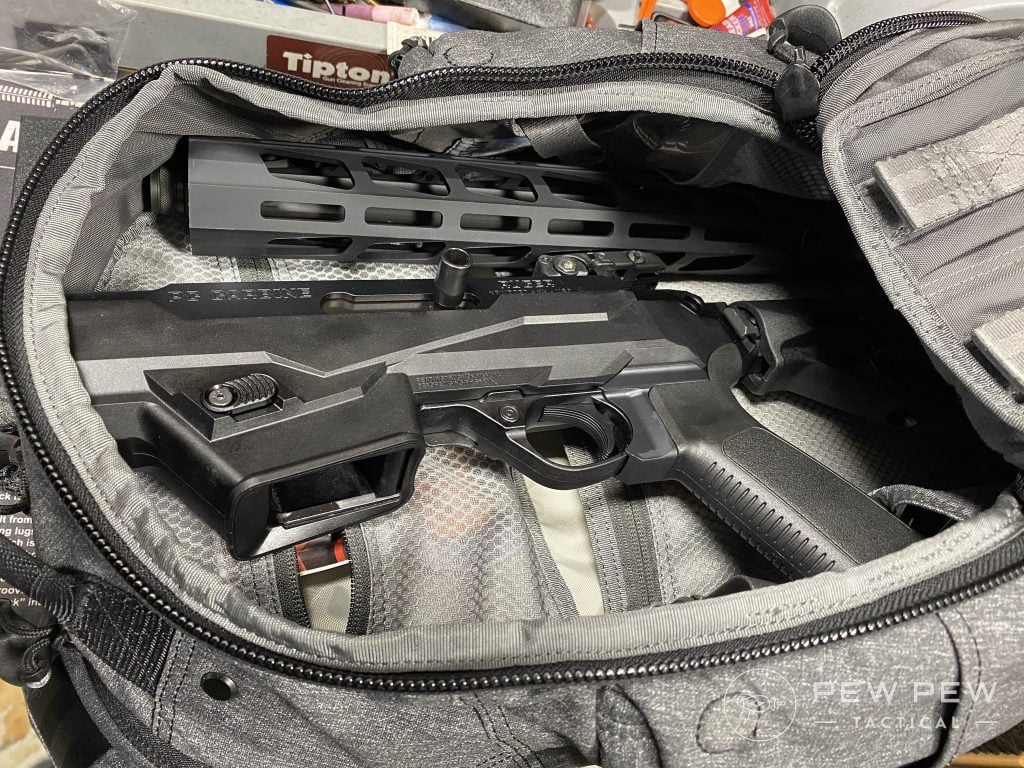 Ruger employs a novel Dead Blow action system that reduces recoil compared to a standard blowback action, giving shooters soft recoil and minimal muzzle rise.
Best Takedown PCC
746
at Primary Arms
Prices accurate at time of writing
Prices accurate at time of writing
Both versions feature a simple breakdown design that allows the barrel to detach from the receiver. Once detached, the platform has a much smaller footprint and is much easier to stash away for convenient storage.
The breakdown system is robust and well done, with no noticeable zero-shift in my shooting.
669
at GrabAGun
Prices accurate at time of writing
Prices accurate at time of writing
These affordable guns have taken the world by storm and become quite popular, enough to warrant numerous models. The takedown feature has been around since day one, and it's certainly helped propel sales.
Take a look at our full reviews of the Ruger PC Carbine and PC Charger!
Like the PC Carbine or Charger? Rate them below!
3. Savage Arms 42
The Savage Arms 42 is a modernized take on the no longer produced M6 Survival Rifle and gives shooters a combination of a .22 LR rifle and a .410 shotgun.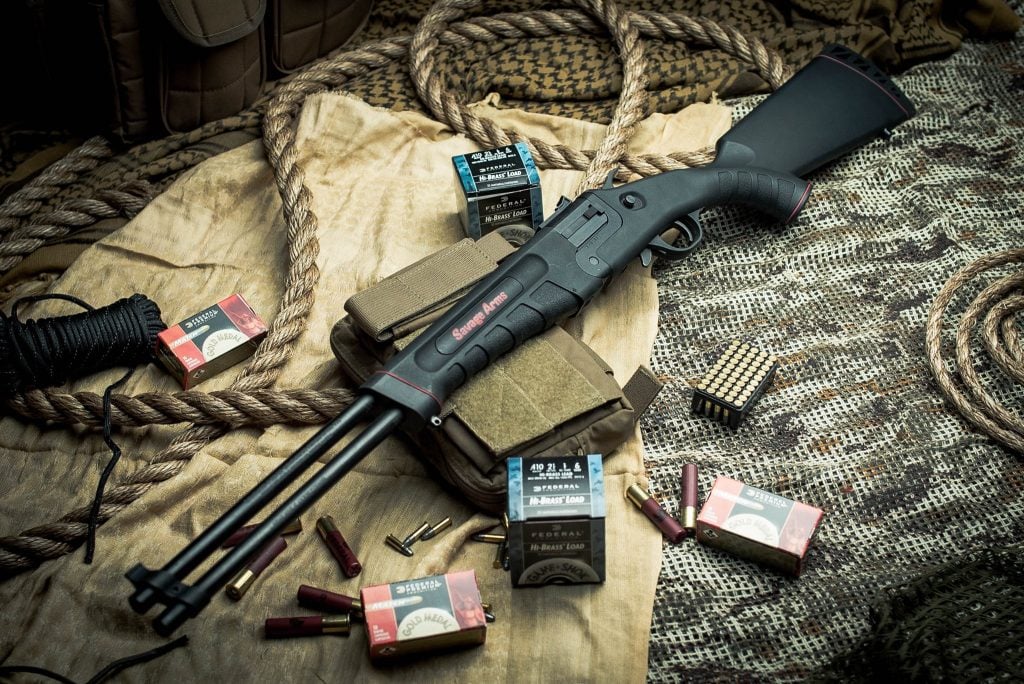 This over/under design comes in a convenient takedown model that's exceptionally nice.
When it comes to survival weapons, the Model 42 might be one of the best bug-out blasters out there. The combination of .410 and .22 LR makes it capable of hunting birds, squirrels, rabbits, and even deer or hogs with the right shotgun ammo.
Both .410 and .22 LR are extremely lightweight and packable rounds.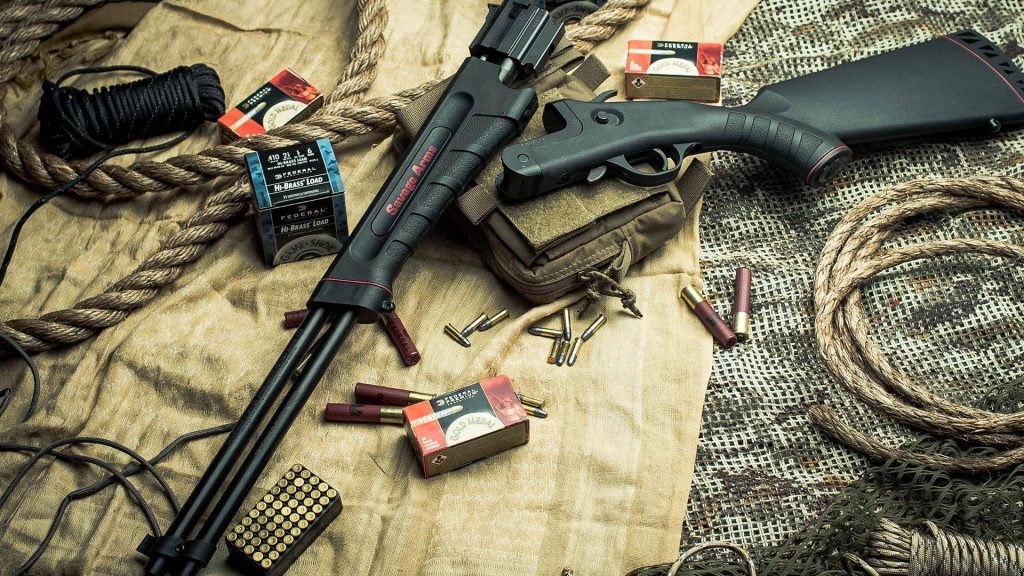 Takedown requires nothing more than hitting a button and splitting the weapon in two. The gun comes with adjustable sights, but that can be removed for an optic.
Savage includes a handy bug-out bag for stashing the weapon, but the gun is small and light enough to toss into your own bag or strap to the side.
Best Takedown Combination Gun
470
at Kentucky Gun Co
Prices accurate at time of writing
Prices accurate at time of writing
Even if you're not interested in survivalism and bugging out, the Model 42 is a handy little gun. It's perfect for young hunters and for pest and small game elimination.
4. Henry Arms AR-7
You might say I only like the AR-7 because of James Bond, and you'd be half right. Connery introduced me to the weapon, but the unique design and layout captured me.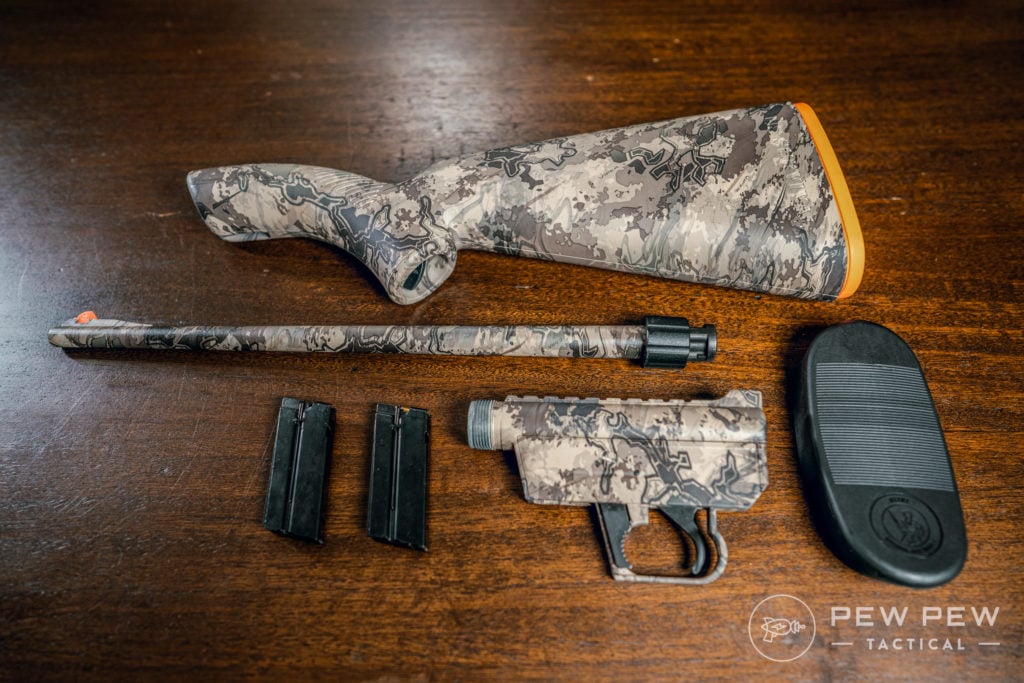 Armalite originally designed the AR-7 based on an early bolt action rifle known as the AR-5, but the gun we get now is a semi-automatic, magazine-fed .22 LR rifle.
It is very minimalist without many of the comfort features we get on modern guns.
Although Armalite no longer exists as it once did, Henry currently produces the AR-7 rifles. To break the gun down, the receiver and barrel separate from the stock, and the barrel then separates from the receiver. Users can then store the entire gun inside the polymer stock.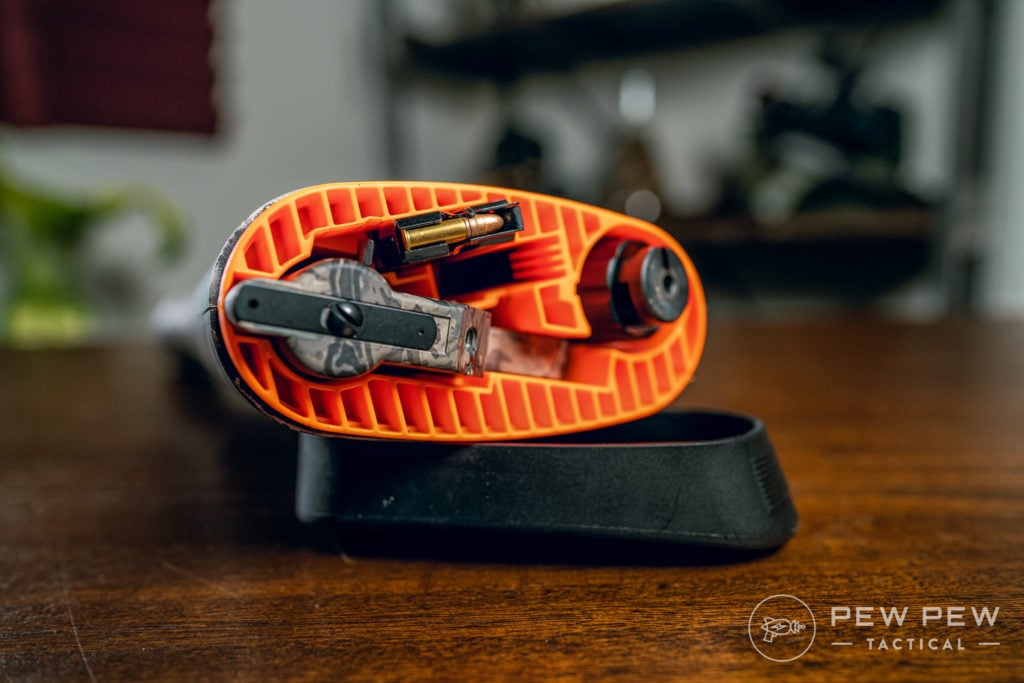 The sealed stock floats and doubles as a protective case for their rifles.
This package isn't the smallest, but it is very efficient. You can stash this thing almost anywhere, in your vehicle, a bug-out bag, your boat, or even a plane, and have a rifle on hand in case of emergencies.
A semi-auto, blowback-operated action isn't fancy, but it is reliable. This is a weapon that works well when oiled and paired with good ammunition. Federal Automatch seems to be the best option when it comes to bulk ammo.
Best Survival Takedown Gun
269
at Palmetto State Armory
Prices accurate at time of writing
Prices accurate at time of writing
Plus, James Bond used it, which makes it pretty cool.
Don't forget to take a look at our hands-on review of the Henry AR-7!
5. BLR Lightweight '81 Takedown
So far, we've had a lot of rimfires and a pistol-caliber carbine. While those are great guns, they lack the true range, power, and capability of a rifle.
When it comes to takedown rifles in real rifle calibers, it's tough to get better than the BLR Lightweight '81 Takedown.
Browning's BLR is a lever action rifle with a detachable box magazine that uses traditional rifle calibers with spitzer bullets. I'm talking .308 Winchester, .243 Winchester, .30-06, and many more.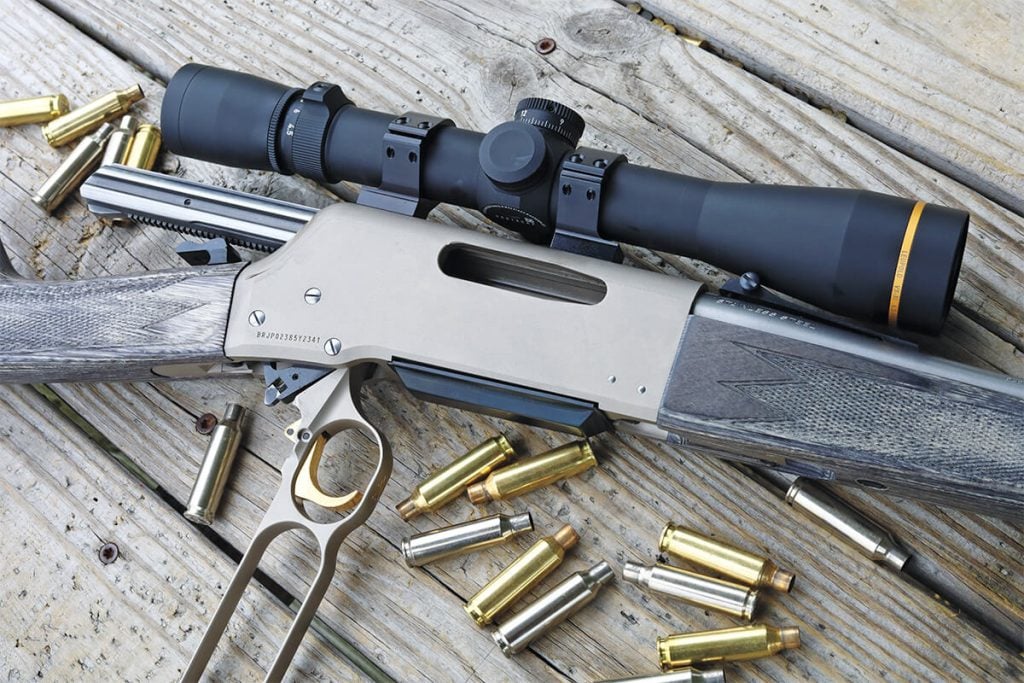 Personally, the .308 Winchester would be my caliber of choice, as it offers you awesome range, power, and penetration. Medium to large game can easily be taken by a well-placed .308 shot.
In a lever action format, you get fast follow-up shots while being legal in every state. However, if you want something with a little less recoil, the .243 Winchester is a fantastic alternative.
The BLR takes down with the flip of a lever and becomes the most compact, easily stored rifle caliber rifle out there. Browning has drilled and tapped the barrel for a forward-mounted optic to allow for a scout rifle-style setup.
Best Full-Power Takedown Rifle
1095
at GrabAGun
Prices accurate at time of writing
Prices accurate at time of writing
A slick and sleek design delivers you a lightweight, handy multi-purpose rifle. Like all Brownings, it's exceptionally well made but also quite pricey, so be prepared to dish out the dinero.
6. AXOR Arms FP 01 Shotgun
While not a "true" breakdown gun, the AXOR Arms FP 01 shotgun is a pump action shotgun that folds in half with a quick hit of a top latch.
This shotgun reminds me of the Burgess folding shotgun imagined as a modern concept.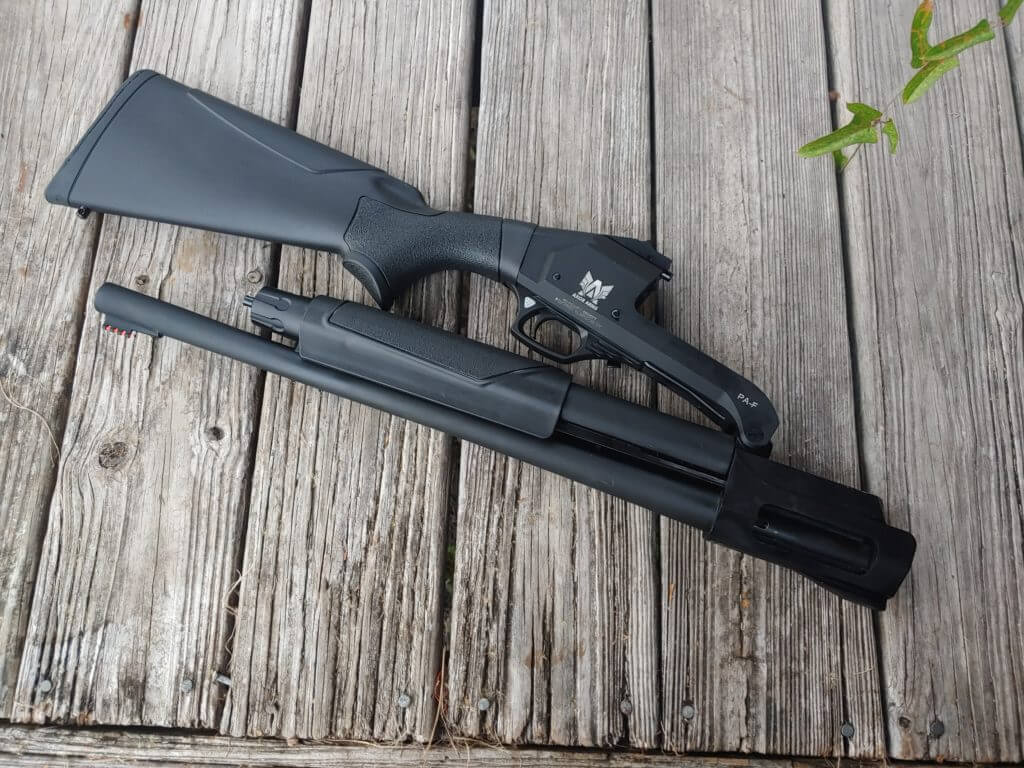 This Turkish-made shotgun has only recently hit the market. I grabbed one instantly because I'm a huge shotgun nerd. It's a neat design that's also quite affordable.
Takedown guns are often designed as survival and bug-out tools, and a 12-gauge shotgun is tough to beat for survival purposes.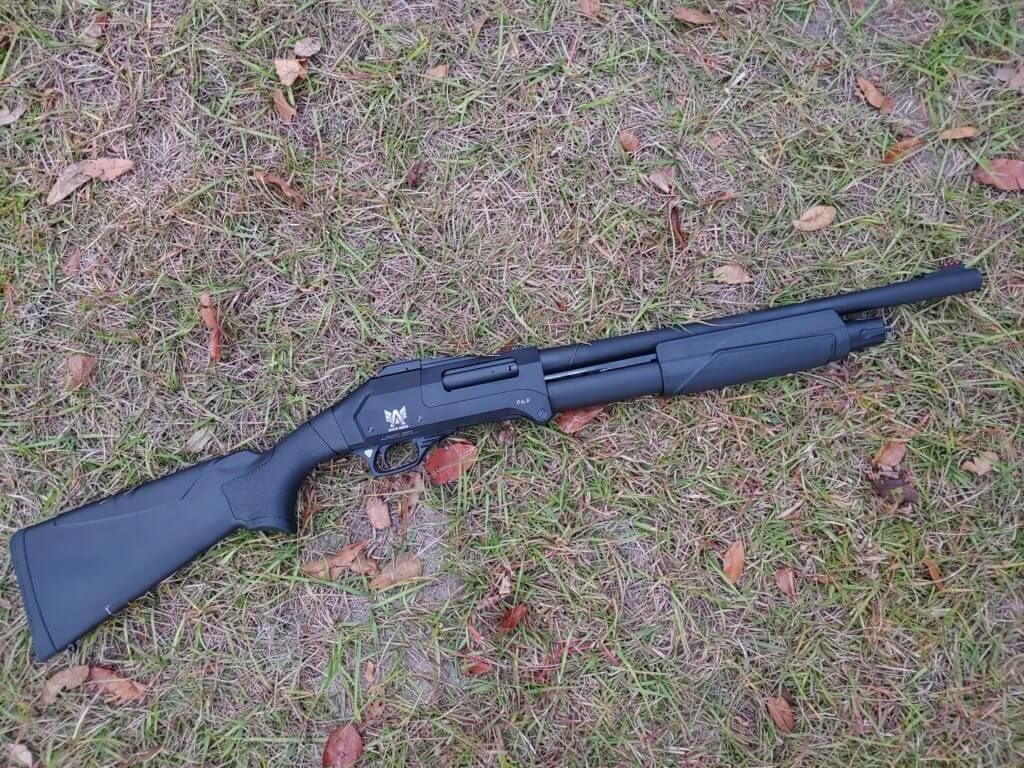 It can hunt anything in North America. Use birdshot for small game, buckshot of various sizes for various medium game, and slugs for bears and the big beasts. Plus, as a pump action, it's still a suitable option for self-defense.
With the AXOR Arms FP 01, we get four rounds of 12 gauge in a tube magazine with a nice set of open sights. They are very much like pistol sights but translate well to this shotgun.
323
at GrabAGun
Prices accurate at time of writing
Prices accurate at time of writing
It may not be an actual takedown gun, but you can just fold it and forget it.
7. Pantheon Arms Dolos Takedown System
AR-15s are somewhat takedown rifles as-is. Pop the upper off the lower, and bam, two pieces.
However, it's the fastest method, and the bolt will inevitably slide out and prevent the gun from being ready when you need it. It may work for most, but there is a better way, and Pantheon Arms has found it.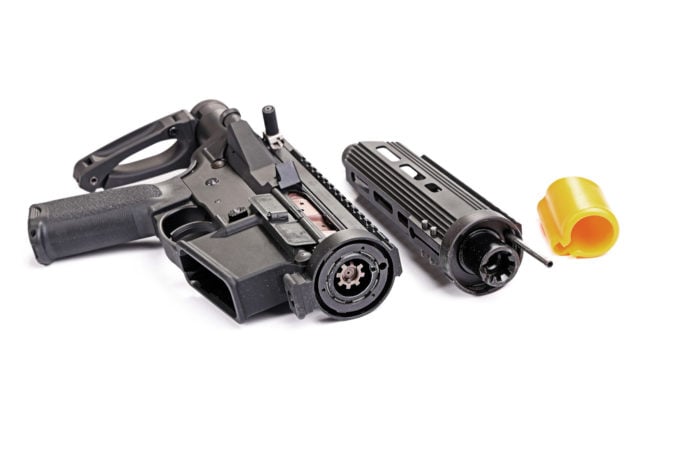 Their Dolos kit is essentially a barrel nut that allows you to remove your AR barrel from the upper receiver almost instantly.
You can toss it on nearly any AR-15 and instantly turn it into a takedown rifle. The AR-15 is already a lightweight, versatile rifle system that allows you to effectively engage targets from point-blank out to several hundred yards.
189
at Brownells
Prices accurate at time of writing
Prices accurate at time of writing
It's a kit that costs less than $200 and makes an already super handy rifle into a true takedown gun.
Final Thoughts
Takedown rifles, shotguns, and even handguns can be super handy. And honestly, they are neat pieces of engineering, if nothing else.
I can appreciate a long gun that splits into two and makes itself more convenient for my storage needs.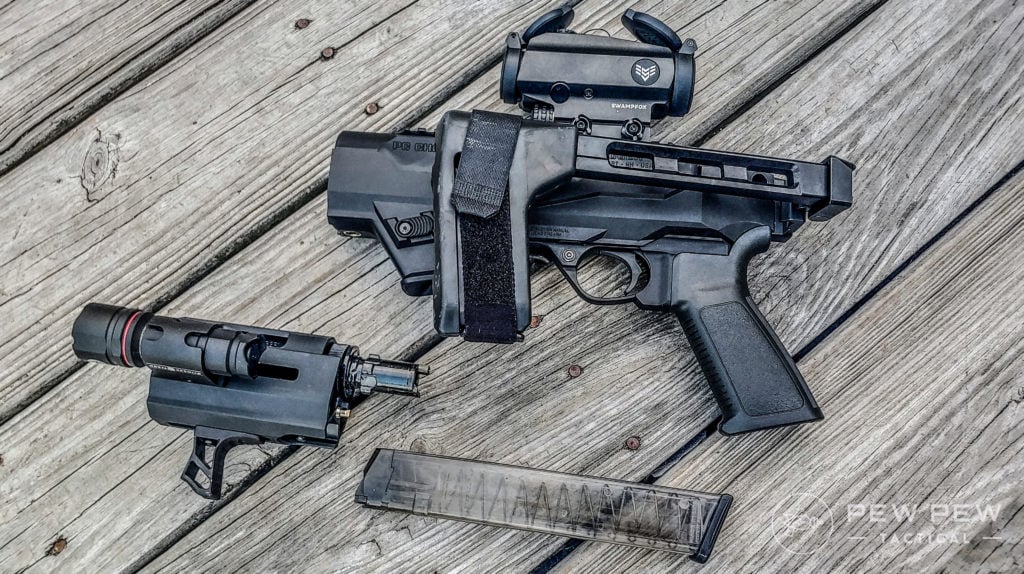 How come over a hundred years ago, they were the talk of the town, and now we are down to a meager list from a few companies throwing us a bone!
You know what! I'll go ahead and say it! I'd love to see more manufacturers look at takedown platforms seriously.
What are your thoughts on takedown guns? Do you have a favorite? Let us know in the comments below! Interested in survival rifles but aren't deadset on a takedown? Check out our complete article on the 8 Best Survival Rifles!