Military optics are fascinating – from red dots to LVPOs and more, the gear and tools soldiers use on the field are wide and varied.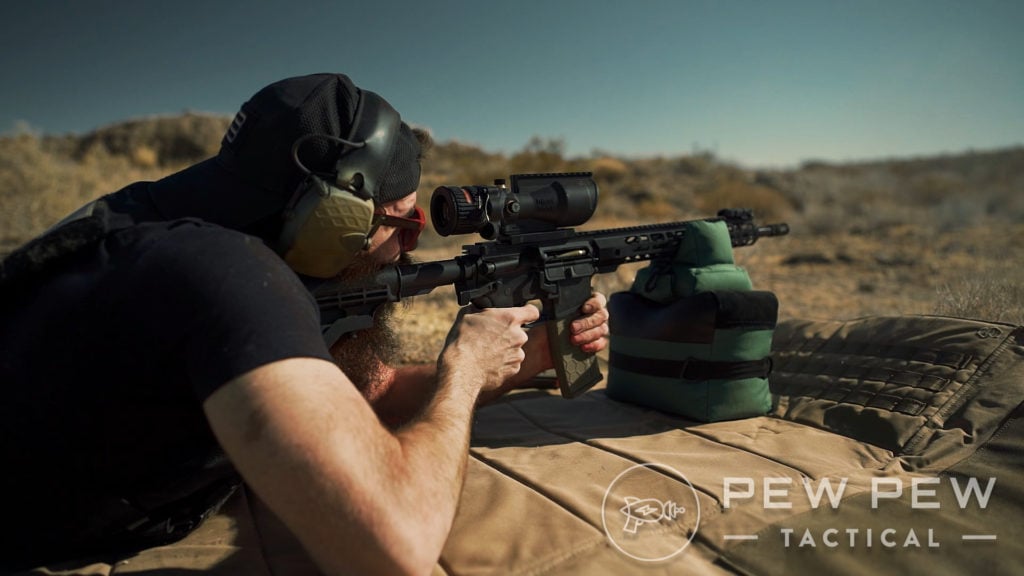 When I began researching this topic, I didn't realize how deep in the woods I'd get on my journey to find what the military opts for regularly.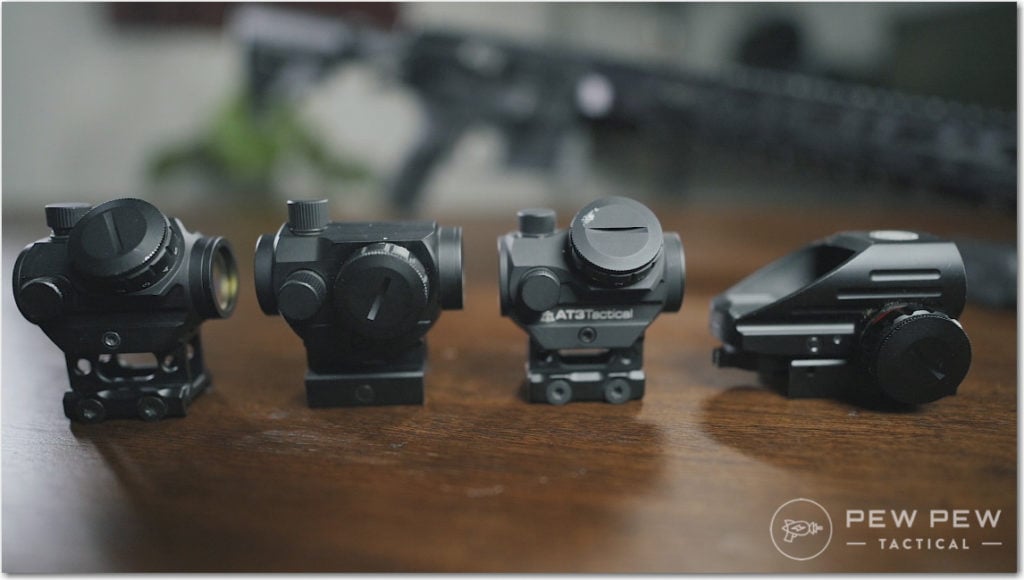 But here we are…so follow along as I take you through a tour of the military's most used optics on their weapon systems.
Summary of Our Top Picks
Table of Contents
Loading...
A Quick Note
It's cool to see how fast the military went from iron sights to adding optics to all the things. Heck, in the initial invasion of Afghanistan, Delta Force guys were still rocking fixed carry handle CAR-15s.
These days they use HK 416s or LVAWs with red dots, LPVOs, and more.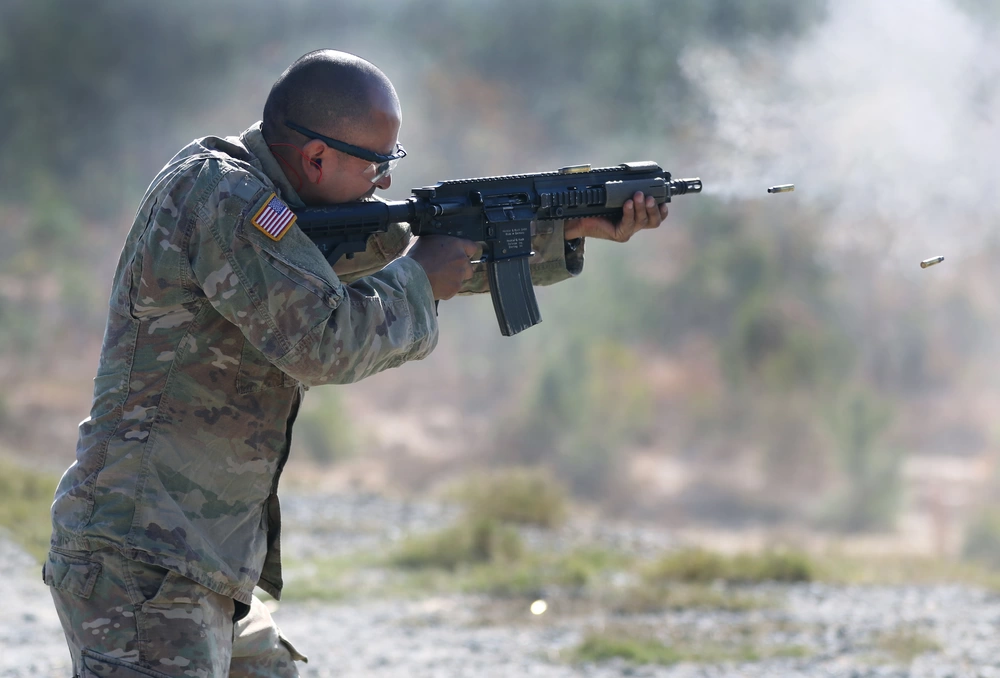 (Psst…check out our article on how military tech influences the civilian market.)
With special units having so much leeway, or some units using old gear, a few or a dozen optics could be in service with special ops, special units, or even reserve forces.
After combing over pictures from DVIDS and using sources like Soldier Systems, I aimed to find the latest information on the many optics utilized by the United States military.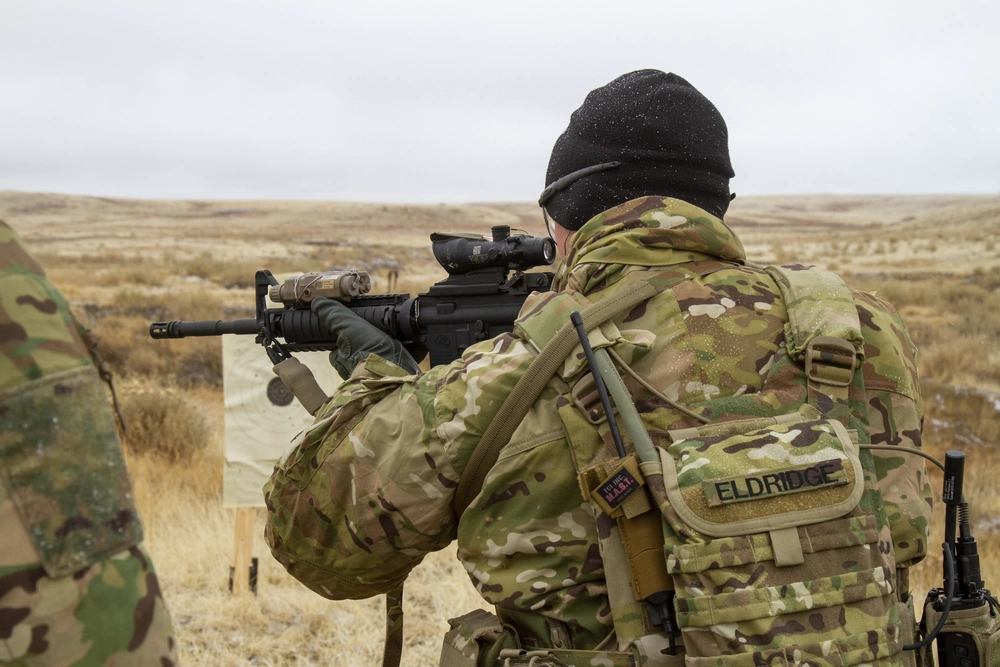 I've left off optics that are no longer in use and tried to keep the list as close as possible to what's currently being issued to our boys and girls overseas.
So, with that, let's take a look at military optics…
Optics Used by the Military
1. EOTech EXPS3-0: aka SU-123A
The EOTech XPS3-2 lives and breathes as the only holographic optic currently in use.
EOTech optics have long served the United States military, ever since they wore the brand "Bushnell" on their bodies.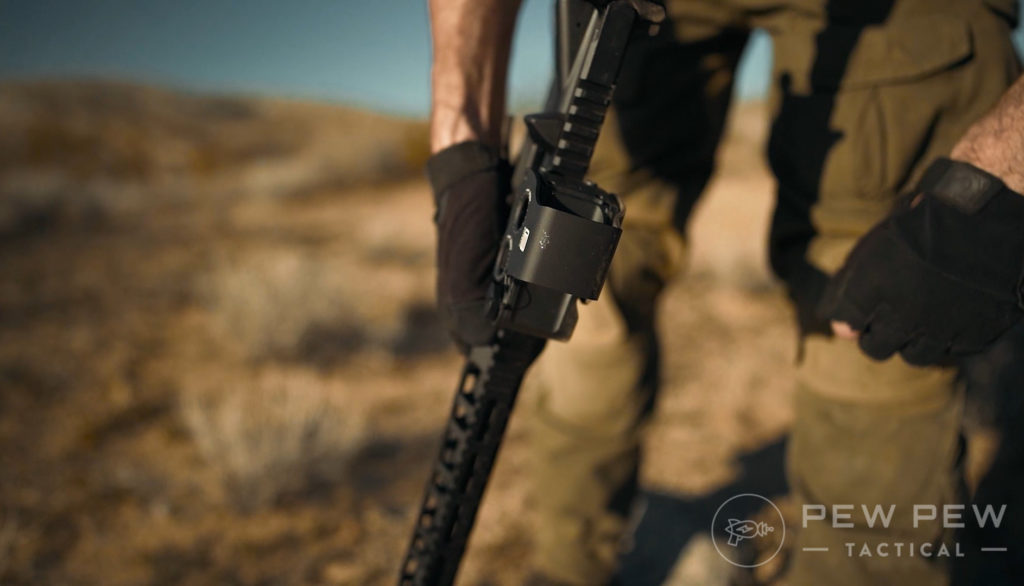 The SU-123A replaced the previous EOTech with the SU-123, with the non-military name being the EXPS3.
Holographic optics are incredibly tough and can take a real beating. The SU-123A seems to be the CQB optic of choice for everyone from the Navy SEALs to the Green Berets and over to the Marine Raiders.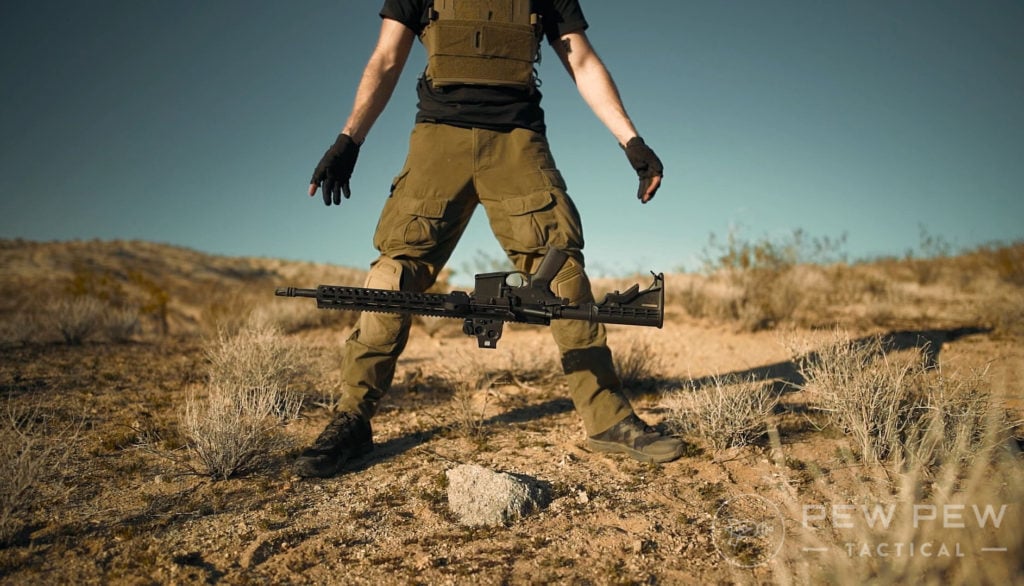 This optic can work with a broken lens and provides a crisp, clear reticle that can be used for a multitude of tasks.
The EXPS3 provides an absolute co-witness with iron sights and delivers a compact optic with a big wide window. Sure, the battery life kind of sucks, but our troops clearly make do, and the EXPS3 seems to be a popular option.
Especially when paired with an EOTech G33 3x Magnifier.
Holographic Optic
679
at Optics Planet
Prices accurate at time of writing
Prices accurate at time of writing
2. Trijicon RMR
Red dot-equipped handguns rule and help greatly with accuracy, speed, and effective range.
So, it's no surprise Special Operations Command (SOCOM) acquired Trijicon RMR Type 2 optics for its handguns.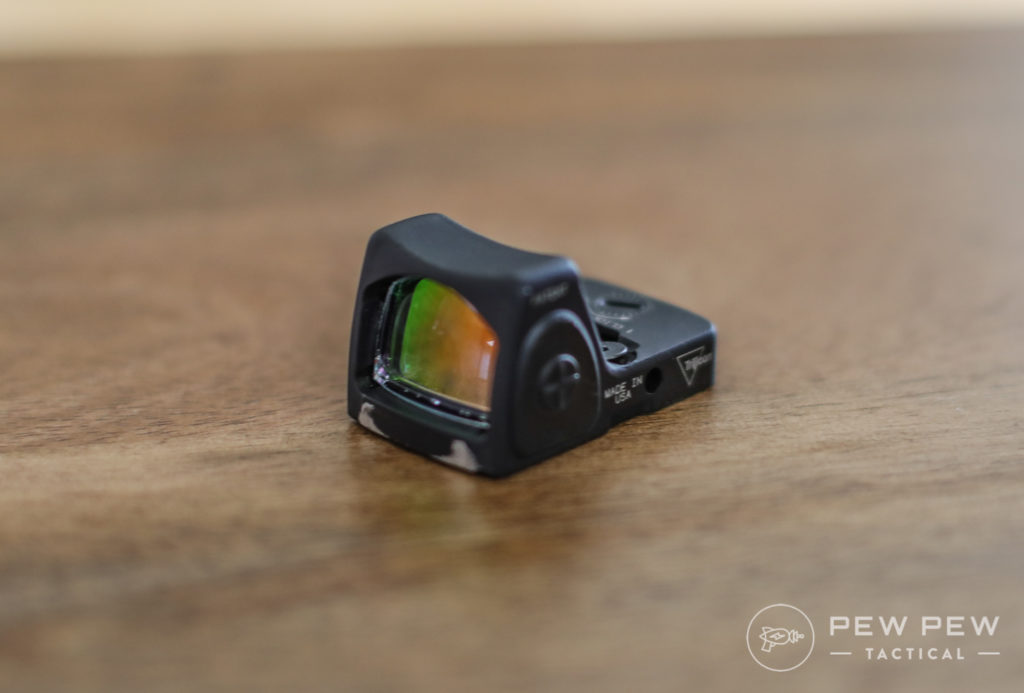 The Trijicon RMR is one of the first MRDS optics small enough to be slide-mounted and tough enough to take the abuse a reciprocating slide offered.
Well, kind of, the Type 1s did okay, but Trijicon created perfection with the Type 2.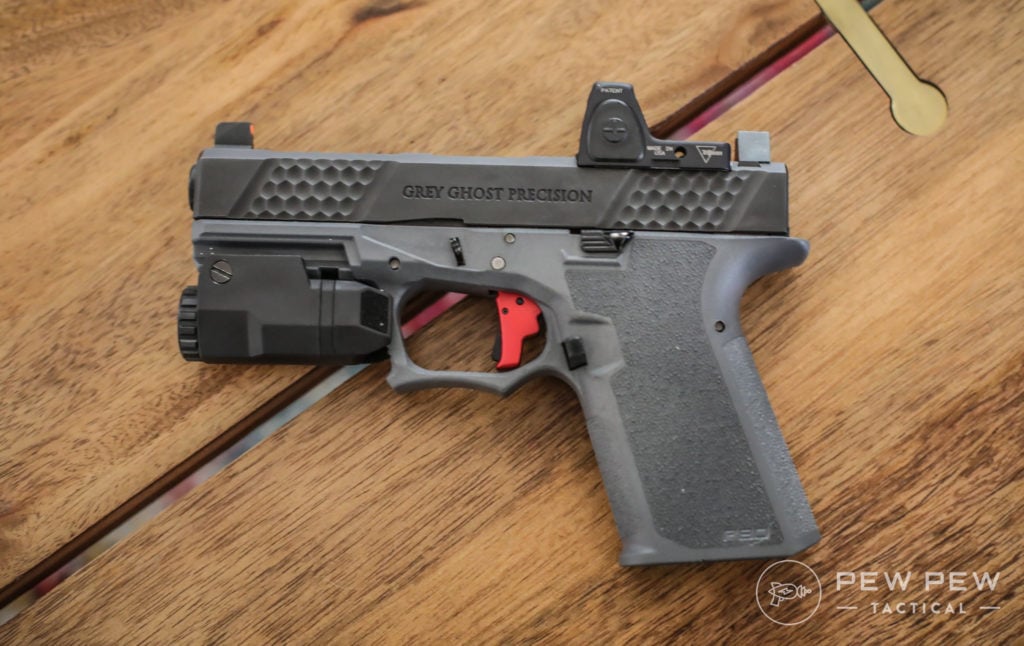 These rugged mini red dot sights are perfect for pistols and find their way on rifles and machine guns as backup optics.
A Trijicon RMR acts as a close-range backup for machine guns in the Marine Corps. They've been piggybacked onto variable optics for the same reason.
Pistol Red Dot
454
at Amazon
Prices accurate at time of writing
Prices accurate at time of writing
What do you think of Trijicon's RMR Type 2? Rate it below!
3. Leupold DeltaPoint Pro
I'm not sure how widespread the DeltaPoint Pro is on military sidearms, but we know that General Austin Miller carried one on his custom, Gucci-ed Glock in Afghanistan.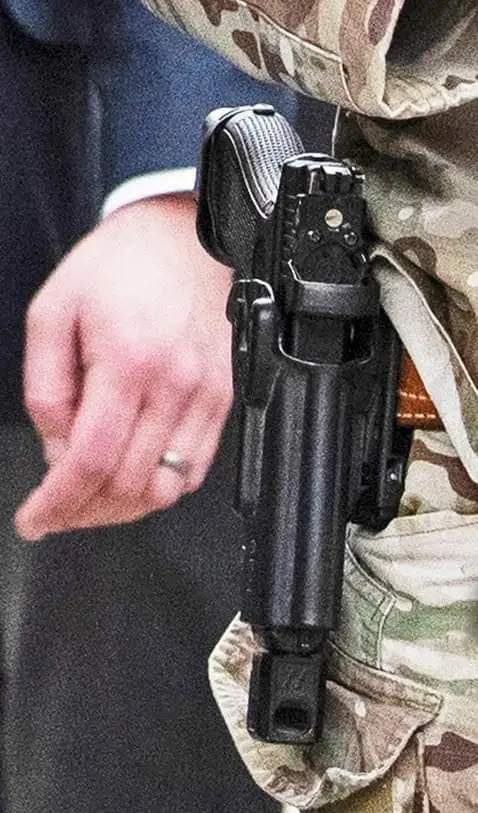 The M17 and M18 series pistols are also cut for the DeltaPoint, which bears mentioning.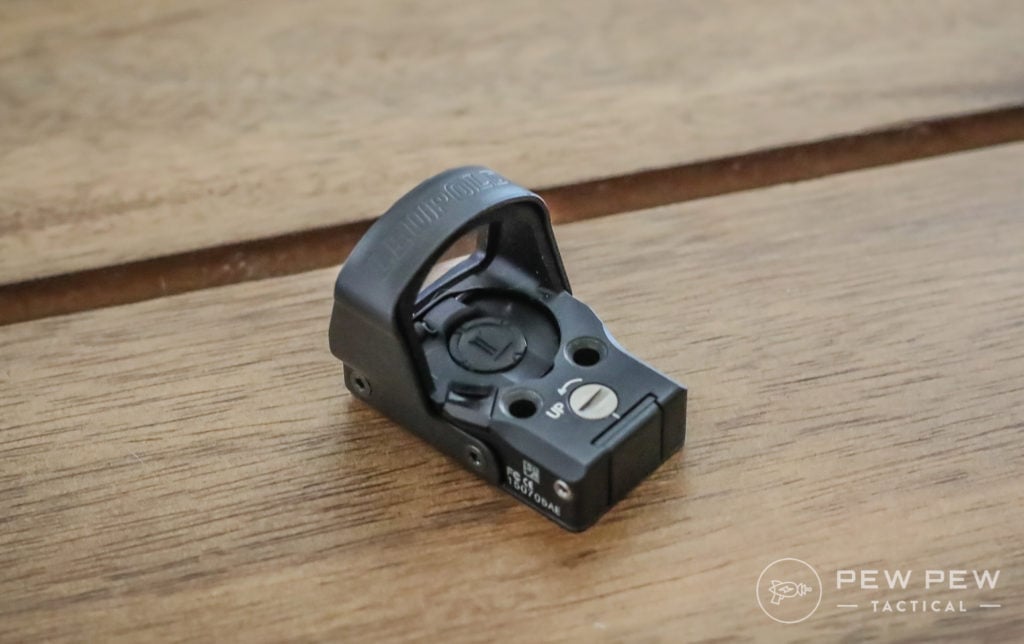 Like the RMR, the Leupold DeltaPoint is a professional-grade optic designed for duty use.
Its biggest claim to fame is that massive window. A big window makes the dot easier to find. For a duty and military pistol, the size hardly matters.
449
at OpticsPlanet
Prices accurate at time of writing
Prices accurate at time of writing
4. L3 MRDS Docter
The old Docter sight from L3 is one of the OGs of mini red dots.
It was ruggedized and duty ready early on. However, it was not intended for use on handguns. Instead, the Docter often piggybacked on ACOGs and heavily magnified optics.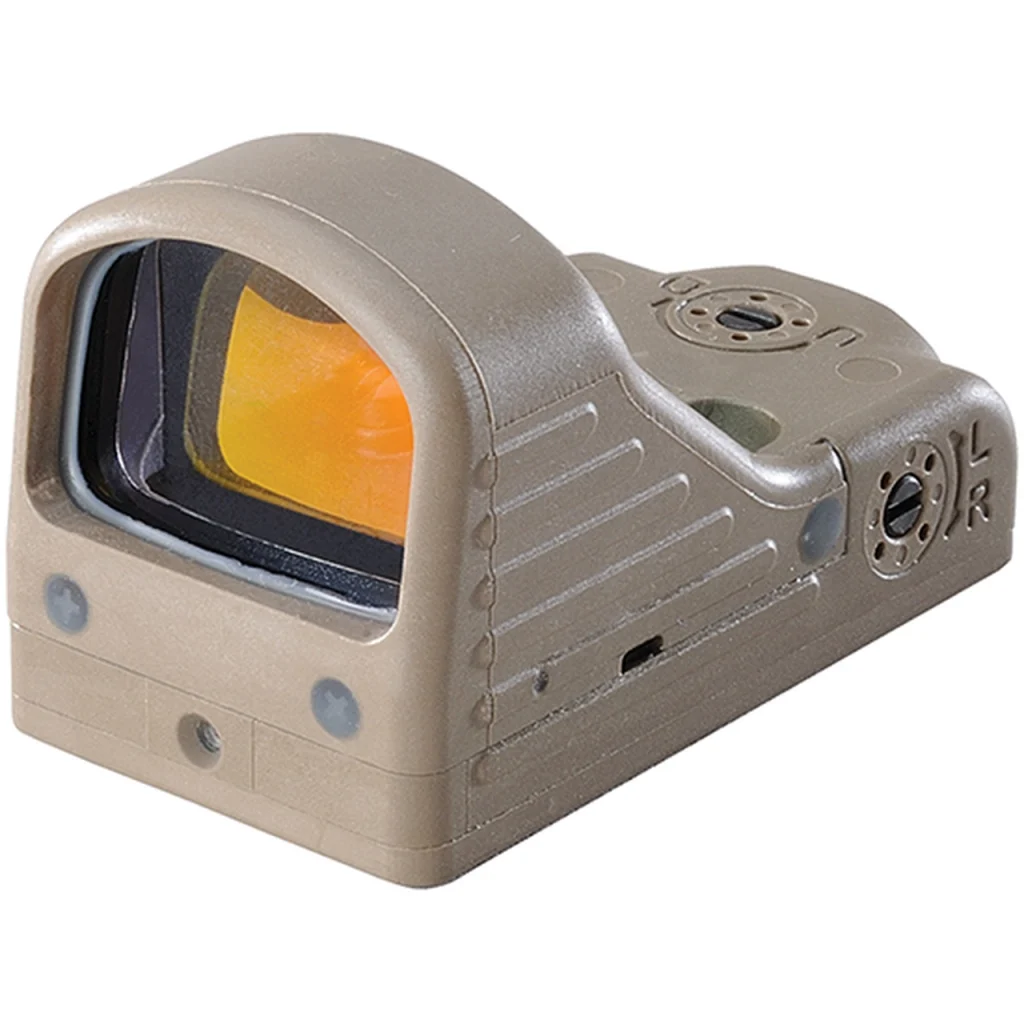 The Mini Docter sight offered a quick, close-quarter combat sight for dudes rocking and rolling with variable and magnified optics. In a pinch, they could get on target quickly and easily with the Docter rather than try and find the right eye relief and eye box of their magnified optic.
This optic still pops up now and then — although it seems like the RMR Type 2 is taking up more and more of its market share.
5. Aimpoint Comp M4 – M68 CCO
The Aimpoint Comp M4 might be the most widely issued optic throughout the military.
Selected by the U.S. Army to replace the Comp M2, the M4 serves as the Army's close-quarters combat optic. Troops of all ranks and MOS were issued the M68/M4, and it saw use in every corner of the globe.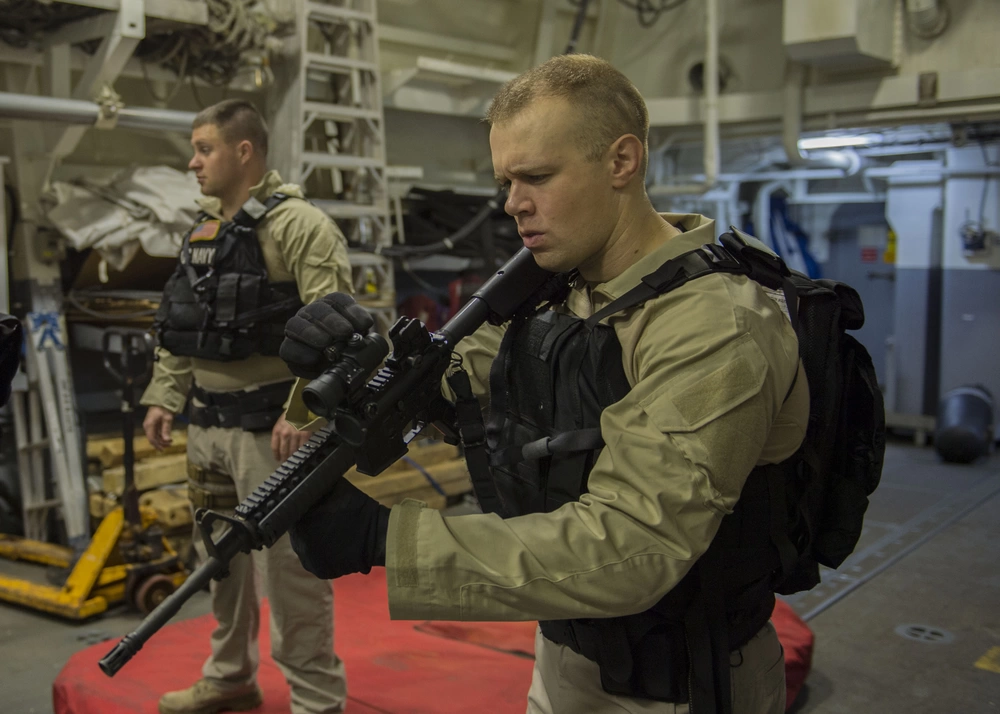 The Aimpoint Comp M4 is a very simple but incredibly rugged red dot. It's soldier-proof — meaning recoil, drops, falls, and water doesn't even touch it.
Its 2 MOA red dot provides a simple reticle that's easy to use and understand for anyone, regardless of their shooting experience.
Most Used Red Dot
898
at Amazon
Prices accurate at time of writing
Prices accurate at time of writing
With an 8-year battery life, the Aimpoint Comp M4 is an optic that won't die easily. And when it does, it takes AA batteries, so it's not like batteries are tough to find.
The Comp M4 provides soldiers with a simple, reliable option for easy target engagement out to 200 yards.
6. Aimpoint T-1/T-2
If you are packing a short rifle, why carry a big optic?
The Aimpoint T1 and T2 offer duty-grade optics with a very small footprint.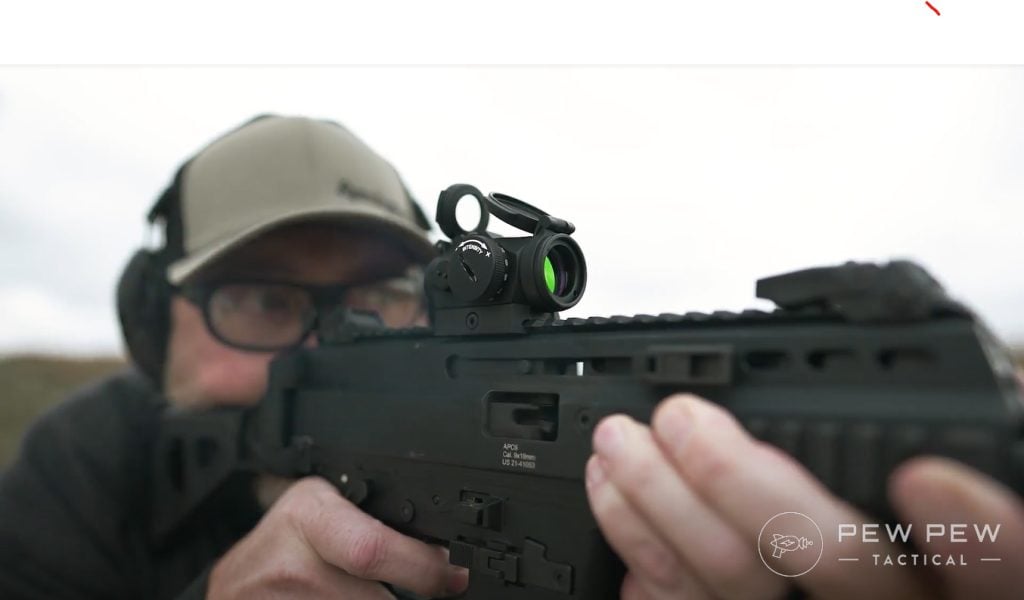 These are common on short, close-range weapons like the LVAW and the Mk18-style rifles. Heck, it's even seen on M4A1s in the hands of Force Recon and MARSOC.
The T-1 is about as small as you can make a miniature, tubular red dot. It keeps things light at only 3.7 ounces, and it's also only 2.4 inches long and 1.6 inches wide.
Yet, it can take some serious abuse without issue.
The Aimpoint T-1 and T-2 series are tough to beat for close combat rifles and even SMGs and PDWs.
809
at Amazon
Prices accurate at time of writing
Prices accurate at time of writing
They provide a simple 2 MOA red dot, keeping all the durability you'd expect from an Aimpoint — the Swedes can sure as hell design an optic.
7. Trijicon ACOG – TA31RCO
The Marines really, wholeheartedly believe in the value of the rifleman, and part of that translates to their optic selection.
While the Army went with the 1X Comp M4, the Marines chose the Trijicon ACOG, a 4x fixed power prismatic optic.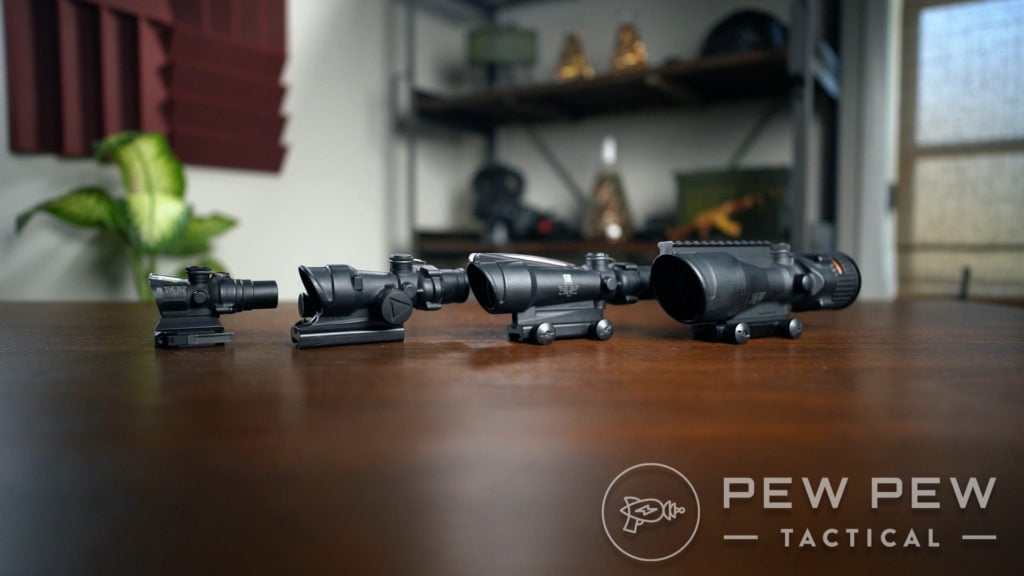 To be fair, the Army also issued the ACOG, but in smaller numbers.
The ACOG delivered a bullet drop compensating reticle that made hitting targets at distances out to 500 yards crazy-easy.
And the ACOG is powered by the SUN! The bright red reticle uses the sun for power and auto-adjusts depending on the lighting.
1200
at Amazon
Prices accurate at time of writing
Prices accurate at time of writing
ACOGs proved to be Marine proof, offering the magnification necessary to extend their effective range beyond the normal 300 yards.
In fact, these optics proved invaluable for my unit in Afghanistan, where fights often started at a decent distance.
8. Elcan Specter DR SU-230
The Elcan Specter is an interesting optic, offering a 1-4X design…but you can only use the 1X or the 4X magnification setting.
A lever at the base swaps shooters from 1X to 4X on the fly. Over the years, it's faded from the limelight as better LPVOs took over, but it seems to stick around.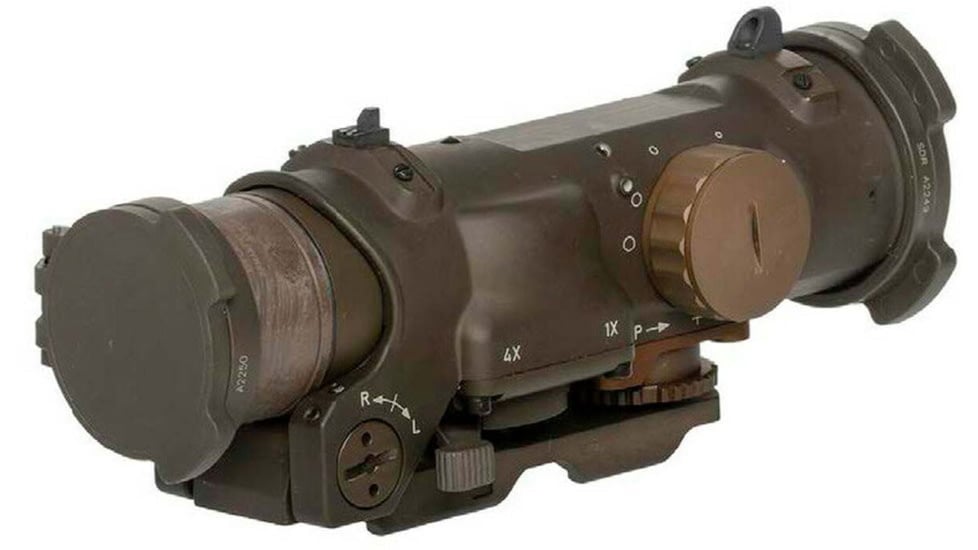 Its versatile nature makes sense, even when faced with more conventional 1-4X LPVOs. Let's be real; most people either use their LPVO at the max power or the lowest.
The Elcan Specter DR (Dual Role) embraced that idea and provided a very well-made brick of an optic.
1889
at OpticsPlanet
Prices accurate at time of writing
Prices accurate at time of writing
It's a hefty model but one of the better-built optics on the market. The reticle packs a BDC for bullet drop and an illuminated crosshair for quick reaction shots. This is a sweet optic, but man, wait until you see the price.
9. Sig Sauer TANGO6T
The U.S. Army stepped into 2021, planning to supplement the Aimpoint with the Sig Sauer TANGO6T.
This 1-6X LPVO will adorn M4s and likely replace ACOGs in service. The TANGO6T already saw adoption by SOCOM as the Squad-Variable Powered Scope and on the G-28 designated marksman rifle.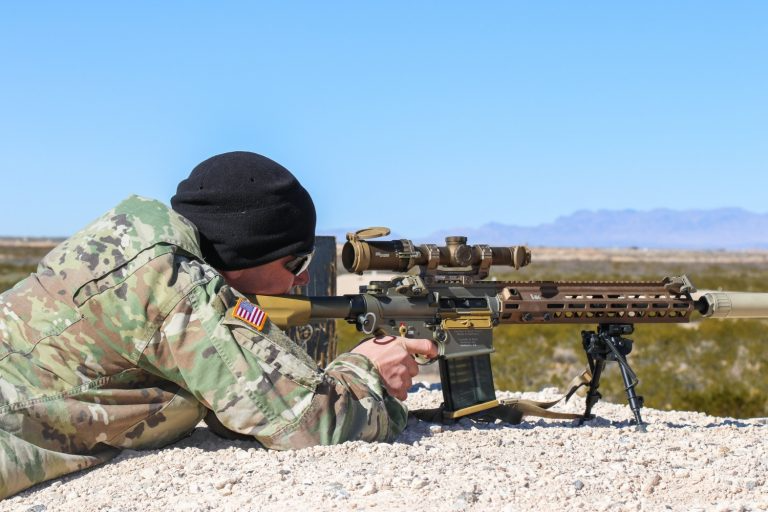 The TANGO6T is surprisingly compact and weighs 22.1 ounces. A big benefit of choosing this optic is that it's already in the supply line and has been proven in trials by SOCOM and the standard Army.
They clearly like the optic after awarding it three different contracts.
As far as LPVOs go, the TANGO6T isn't the most powerful, but it makes plenty of sense on an M4-style weapon.
New Army M4 Optic
1499
at OpticsPlanet
Prices accurate at time of writing
Prices accurate at time of writing
The TANGO6T comes with an illuminated reticle with both daylight setting and night vision modes, a fast-focus eyepiece, and an IPX-8 rating for total submersion to 20 feet.
10. Trijicon VCOG 1-8X28
The Marine Corps clung to the rifleman creed with the ACOG and pushed it further recently with the adoption of the VCOG 1-8X optic.
Marine infantry and combat arms will soon be wielding M27s equipped with LPVOs entirely. The idea behind the M27 is precision suppressive fire. And the addition of an LPVO will certainly enhance that capability.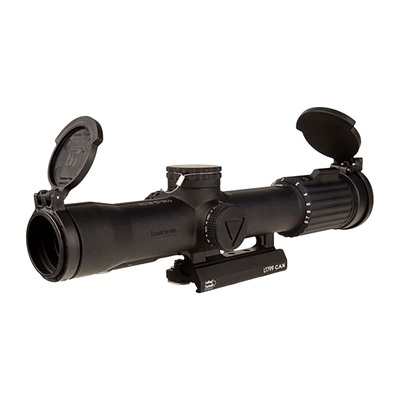 Every Marine infantryman will now be able to see well beyond the norm and push the accuracy of the M27 out there. In fact, the M27 will perform extremely well at range, and every Marine will essentially be a Designated Marksman. The VCOG promises to be a tough optic — it better be with its 31.5-ounce weight.
1979
at OpticsPlanet
Prices accurate at time of writing
Prices accurate at time of writing
It's a heavy optic but is made from one piece of forged aluminum that can be submerged 66 feet before it encounters an issue.
The VCOG provides a very clear view and versatile reticle, with a segmented, illuminated circle perfect for close-quarters use.
When you increase the magnification for longer-range shots, the built-in BDC makes it simple.
11. Nightforce ATACR 1-8X24 F1
SOCOM gets tons of cool optics, gadgets, and gizmos. One of its recent adoptions was the Nightforce ATACR 1-8×24 F1.
This model serves as the squad-variable optic, delivering compact power to the rifle of America's elite commandos.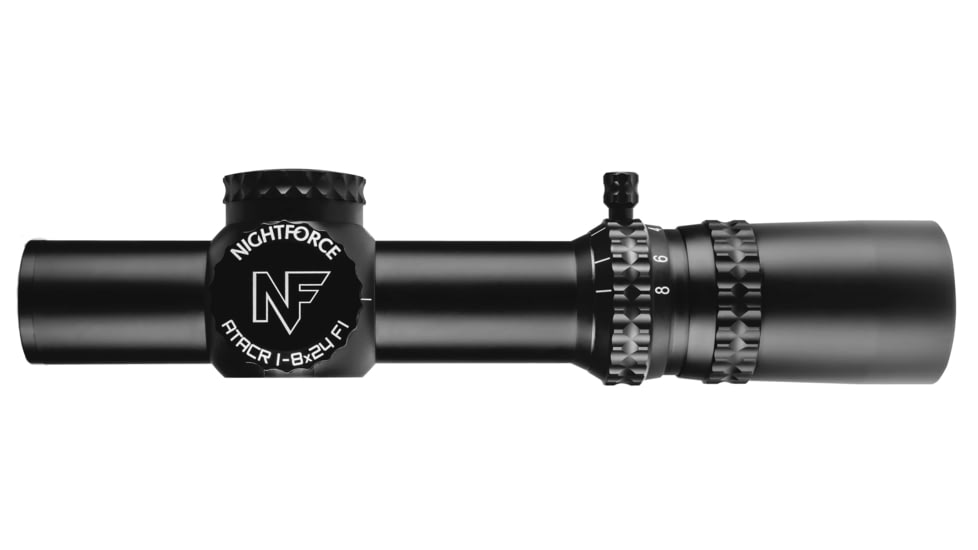 Nightforce makes some of the clearest, toughest, and most dependable sights on the planet. So, it's no surprise to see SOCOM choose Nightforce over and over.
What's impressive is the 10-inch overall length and the fact it weighs only 21 ounces. This makes the VCOG look like a boat anchor.
2519
at OpticsPlanet
Prices accurate at time of writing
Prices accurate at time of writing
The illumination is daylight bright with night vision compatible settings with a versatile reticle for all tasks. This might be the best LPVO on the market — certainly, the best professional gunfighters are using it.
12. Vortex Razor HD 1-6x24mm
One of the first LPVOs that saw widespread use was the Vortex Razor HD 1-6X24mm optic.
It's been associated with the guys in Delta Force, Marine Recon, Green Berets, and more. This tough 1-6X optic saw plenty of action and proved itself as one of the more successful commercial off-the-shelf options for LPVOs.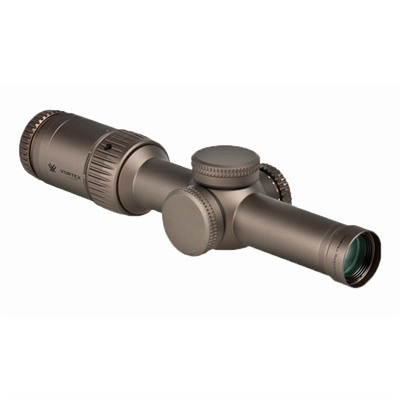 The reticle isn't super fancy but utilizes a small illuminated red dot in the center with a descending ladder for bullet drop.
It's super simple but packs a punch and worked well for years before optics like the TANGO6T and ATACR were adopted.
Popular LVPO
1499
at OpticsPlanet
Prices accurate at time of writing
Prices accurate at time of writing
To this day, it's still not uncommon on the rifles of spec-ops commandos.
The Razor is an extremely tough optic that's a single-piece tube made from aluminum. It's sealed against fog and water and designed to be shockproof.
Not to mention, it's also one of the lighter LPVOs on the market at 21.5 ounces.
13. Leupold Mark 4 MR/T 2.5-8X36mm – M38 DMR
The Marines recently adopted the M27 for all combat arms and, alongside it, marked the M38 as the squad-designated marksman's rifle.
This rifle is identical to the M27, except it features the Leupold Mark 4 MR/T 2.5-8X36mm optic.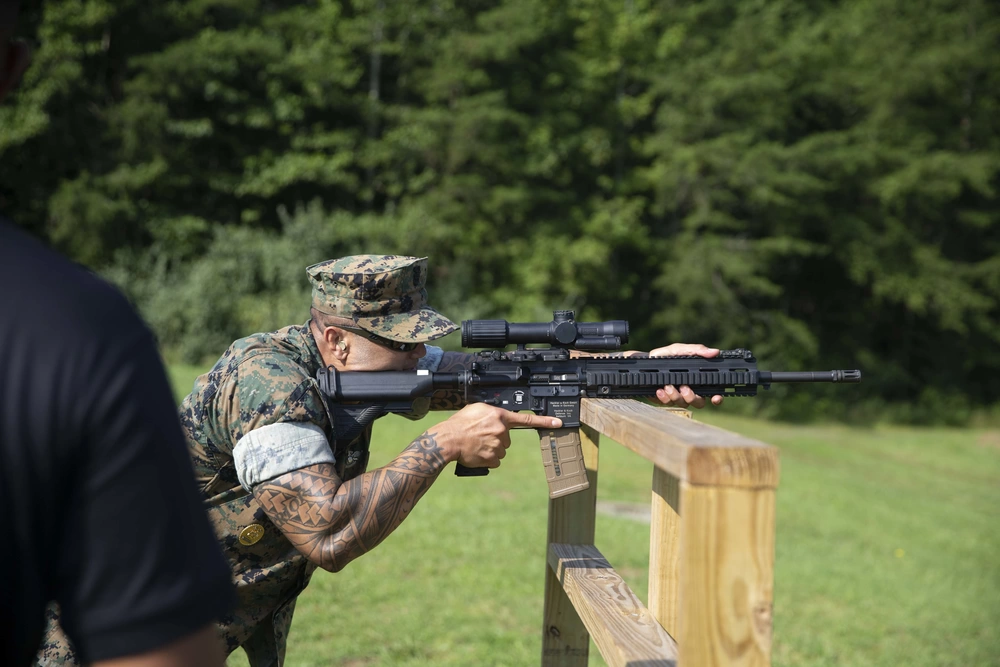 It rocked and rolled on the Marines and Navy's Mk 12 DMR. The MARK 4 MR/T provides a crystal-clear sight picture, a must for a DMR. It also provides a variable magnification setting that works for both close and long-range shots.
The illuminated reticle is fairly simple, with plenty of hash marks for windage and drop.
With just a little training, any half-decent shooter can learn how to effectively employ this optic. Plus, it's a fair bit lighter than the VCOG.
14. Nightforce NXS Series
The military uses a wide variety of Nightforce optics, including the same optic with various magnification options, reticle options, etc.
SOCOM uses Nightforce's NXS in two configurations — the 2.5-10X for the SCAR H series or rifles and the 3.5-15X on the Mk13 MOD 5.
When durability matters, the NXS is the way to go. With the optic destroying reputation the SCAR H carried, it's easy to see why the military chose the robust NXS.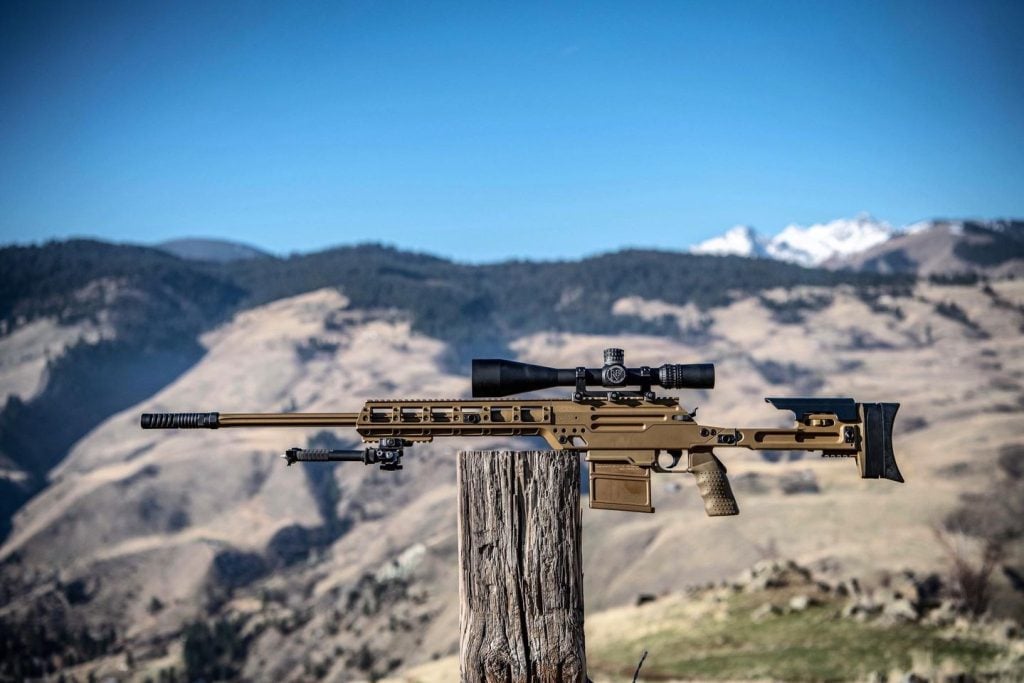 Simplicity is another big feature of the NXS series. These optics are brilliant in the basics and provide excellent clarity, clear reticles, amazing turrets, and a smooth magnification wheel.
Oh, and if you run out of ammo, you can dismount your NXS and beat your attacker to death without losing zero.
1800
at Brownells
Prices accurate at time of writing
Prices accurate at time of writing
Bombproof describes them well — perfect for the Special Ops guys who might not have the best logistics train.
They need to depend on their weaponry and optics in the worst conditions, and the NXS ensures they can.
15. Nightforce ATACR Series
While the NXS is all about durability and brilliance in the basics, the ATACR excels in extreme clarity. It's explicitly designed for military and police use.
Don't get me wrong, they are still tough optics, but the primary focus is on pinpoint, accurate fire. Plus, that level of clarity makes it easy to see the threat and positively identify them.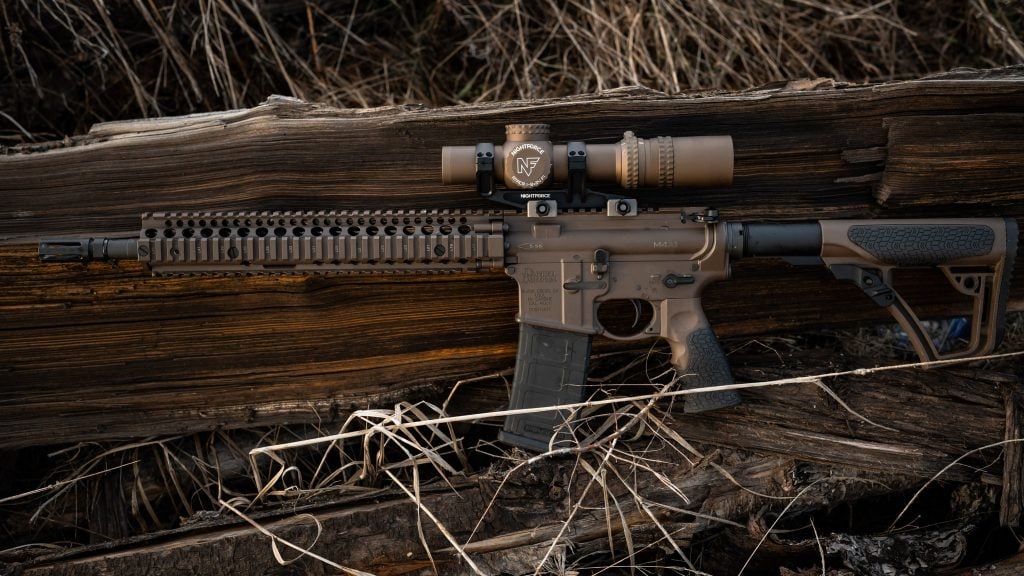 The Marines chose the ATACR M571 MIL-SPEC 5-25X56 for their version of the Mk17, the Mod 7. This allowed them to maximize their range and use .300 Win Mag.
Nightforce ATACR series optics equip various rifles with various magnification levels.
These are premium-grade optics…but with quite the price tag. SOCOM certainly lives up to the old adage of "spend more on your optic than your gun."
2400
at Brownells
Prices accurate at time of writing
Prices accurate at time of writing
Final Thoughts
There are so many optics in use by the military (especially among Special Operations troops) that it's hard to keep track.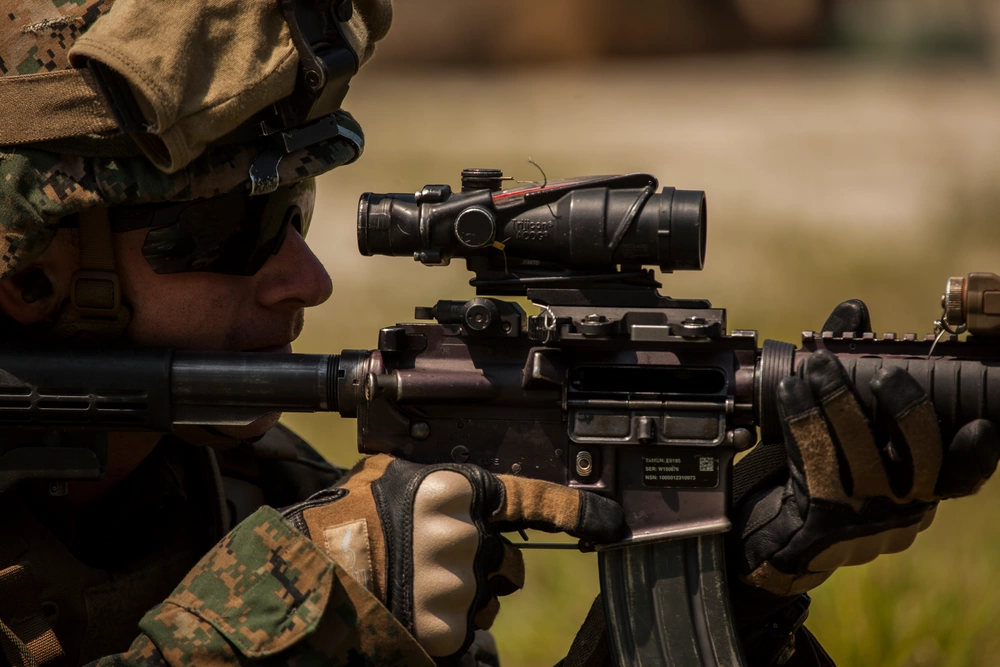 That said, we know these are some of the most used optics you'll find on soldiers' equipment.
I know I've missed more than a few, so tell me which optics I should have included in the comments below. Need even more optics? Check out our guides to the Best Pistol Optics and the Best AR Optics.