It's optics were the Brady bunch, then LPVO would be Marcia. It's all anyone talks about.
Their versatile nature has made them an extremely popular choice for modern rifles. I even use one now to hunt because it works perfectly for my environment.
Normally we try to cover all uses and price points, but today it's all about the best. We want proven options with top-of-the-line clarity, durability, and features.
Be warned, nothing here is cheap or budget-friendly, but maybe you'll earn a few credit card points to redeem.
That said, let's dive right in!
Summary of Our Top Picks
Why You Should Trust Us
I'm a Marine Corps infantry veteran, NRA-certified instructor, and concealed carry instructor teaching CCW courses in Florida.
I've been testing, researching, and writing about guns, gear, and optics for several years for several publications, including Pew Pew Tactical.
Best Lower Magnification LPVOS
1. Primary Arms SLx 1-6x Gen IV ACSS
The current Gen IV iteration of Primary Arms' SLx 1-6x is our Pew Pew Tactical editorial's favorite budget pick of the moment.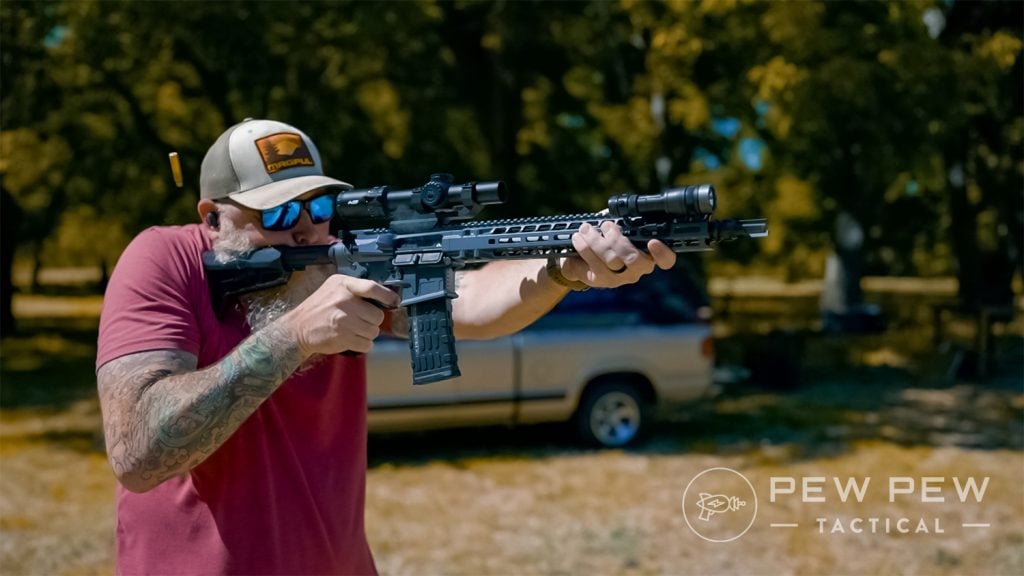 The previous Gen III model has been near the top of our optic rotation and has survived the CA desert and TX summers. Plus has kept zero while being taken on and off a variety of rifles.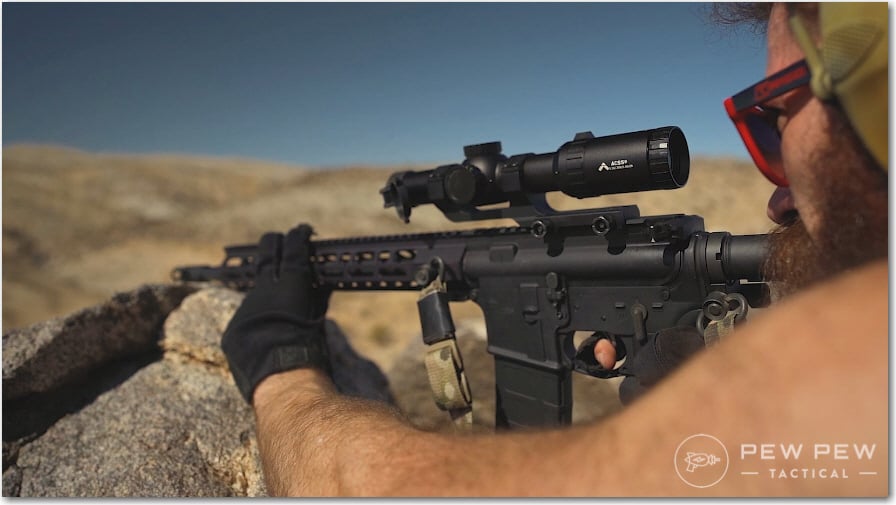 Glass has been improved in the Gen IV model. And our favorite thing is that the ACSS reticle is now daylight bright.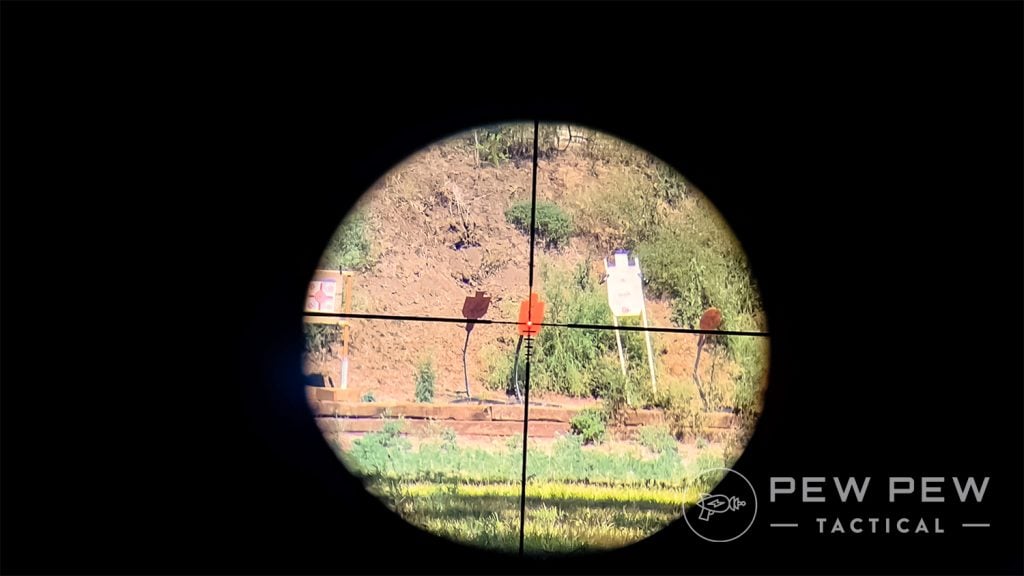 Check out the 1x in action in our quick video:
The 1-6x magnification dial is a little stiff but it feels like it will loosen out a little with more use. Check out a quick video of us zooming in:
We also love the latest generation of ACSS reticle…with our favorite now the Nova.
It doesn't get in the way at 1x but also allows for ranging and holding.
Another goodie? You can get a free mount by using our link and going to one of the dropdowns.
The Gen IV is totally worth it over the slight increase from the Gen III.
Check out the full reviews and videos of the Gen III and the latest Gen IV versions of the SLx 1-6x.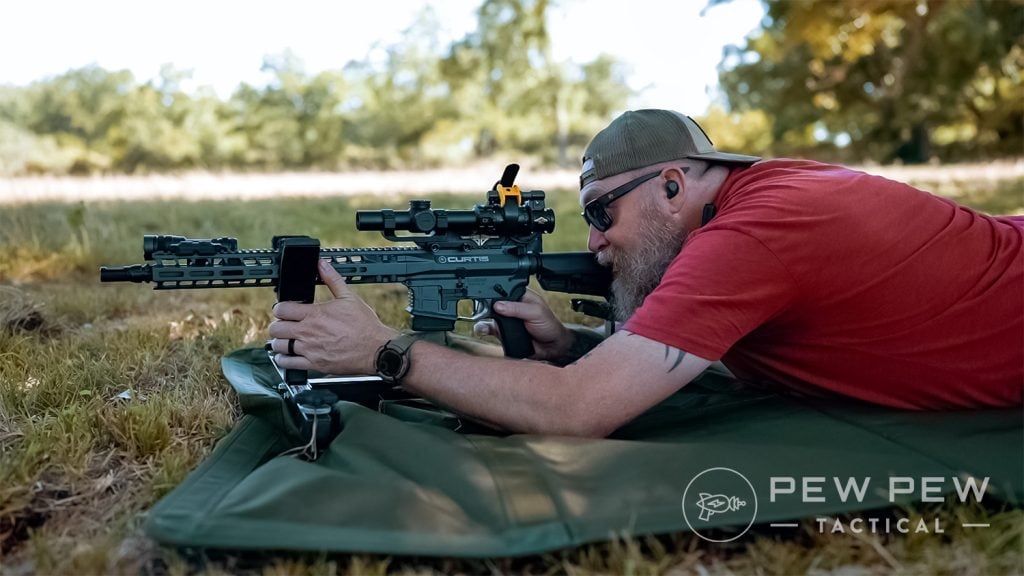 2. Steiner T5Xi 1-5X
While most people have a "more is a better" idea regarding LPVOs and magnification, there is certainly a place for a lower-powered option.
The Steiner T5Xi gives you a 1-5X option that's not as heavy or large as 1-8X or 1-10X. It offers a more simplistic optic for shooters who do not need a great deal of magnification.
The T5Xi gives us some very clear glass that provides a brilliant vibrance to your Sight picture. Everything pops in that high definition we expect from a premium-grade optic. You can see everything easily, making it quite nice for the range, for duty, or for target shooting.
Steiner markets this optic as a close-quarters option, and in close-quarters, you need a fast-Sight picture. The lower magnification of the T5Xi gives a more generous eye box and eye relief. You won't have issues getting behind the optic and quickly acquiring a good Sight picture.
Alongside a fast sight picture, we get a simple, uncluttered reticle. The center features a very bright dot that works as a red dot with the magnification at 1X, which is a true 1X, by the way.
The Steiner T5Xi's downside is the price when you consider you are only getting a 5X scope. On top of that, it's lighter and smaller than a 1-10X but heavier and longer than the average 1-6X.
If you can suffer those downsides, you are getting a fantastic optic for close to moderate-range engagements. It's got great eye relief, excellent clarity, a simple, uncluttered reticle, and it's dang near bombproof.
3. Sig Sauer TANGO6T 1-6X
Sometimes the United States military chooses crappy gear. That's a truth, but when it comes to optics, they've been fairly solid.
The US Army chose the Sig Sauer TANGO6T 1-6X optic as their squad-designated marksman optic, and SOCOM adopted the optics as their SFP (Second Focal Plane) choice.
Most people might dislike an SFP scope, but they can be pretty useful, especially in the 1-6X range. The Sig TANGO6T uses a simple reticle that benefits from remaining the same size.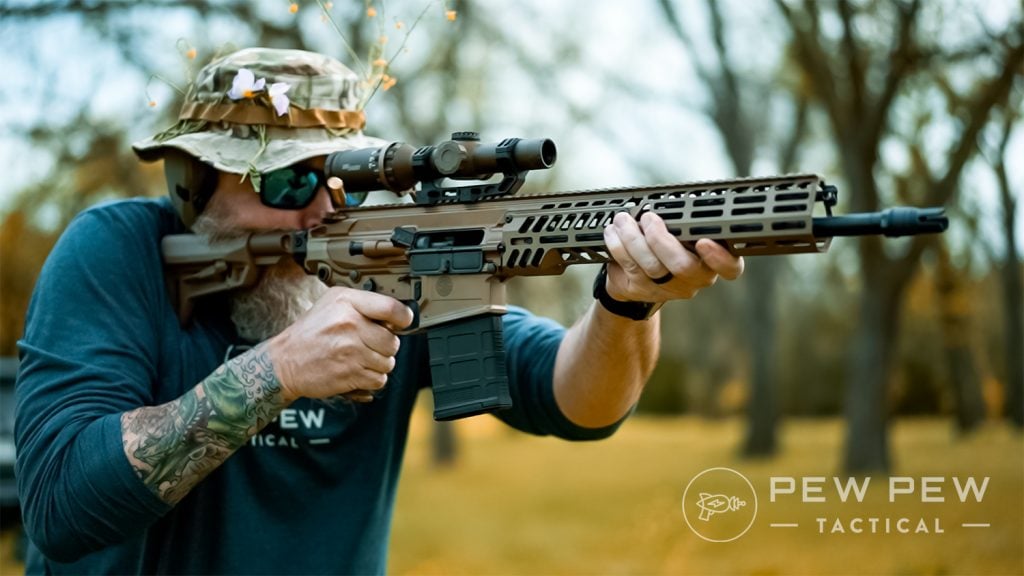 The Army's DWLR6 reticle is a very simple Christmas tree-style reticle with holdovers for windage and elevation. It also has a big illuminated horseshoe in the middle to help with fast focus.
Being SFP, the reticle holdovers are only accurate at 6X. But if you have to account for windage and elevation, you are probably using the optic at max magnification anyway.
The lower-powered design provides a fast-focus eyepiece that makes it easy to get behind the optic and on target. Generous eye relief makes it easy to use in odd positions and makes it quite versatile for rapidly changing environments.
The sight picture is fantastic. It's crystal clear, bright, and vivid. The reticle is uncluttered, and the reticle is daylight bright.
It's not only well suited for Army grunts but is great for 3-gunners, hunters, and more. One of the main downsides is that some people won't appreciate spending close to $2,000 for an SFP optic, and I get that.
Best Mid-Power Magnification LPVOS
4. Nightforce ATACR 1-8×24 F1
We are tapping into the military a second time, but also into a fantastic optic. US Special Operations Command chose the Nightforce ATACR 1-8X24 F1 as their FFP (First Focal Plane) squad day optic.
Nightforce makes some of the best rifle scopes on the planet. They are well known for their long-range marksmanship optics and have secured several high-profile contracts with military forces in the vein of sniper rifles.
The ATACR 1-8X F1 is an amazing optic if you need something to sneak behind enemy lines or parachute in with. What I'm trying to say is that's it unbeatably tough. The only thing tougher is probably an ACOG.
The glass is unsurprisingly clear. Nightforce made their bones from premium grade optics, and their LPVO is no exception. It is easily good enough to make full use of the 8X magnification.
An FC-DMx reticle offers windage and elevation holds in a pyramid style with a bright illuminated portion designed for close-quarter shooting at lower magnifications.
My problem with the ATACR does come down to the reticle — mainly the larger illuminated portions. They tend to be quite large at 8X and can jumble your view right in the center, making it tough to see the target at times.
It's a nitpick, but one that bothered me personally and frustrated me at longer ranges. If you can get past that, the ATACR is ready to rock and roll in the worst environments with clear glass and fantastic features.
5. Primary Arms PLxC 1-8x
Primary Arms are a champion of budget optics, especially LPVOs. Their premium PLx lineup technically fits that bill here, but when considering the price of other optics on this list.
At $1,300, it's still not cheap and is definitely not your average SLx.
The PLxC series of LPVOs feature a 1-8X magnification range and are available with several of their awesome ACSS reticles (I am a huge fan of the Griffin) that have been slightly modified for higher magnification.
With the PLxC lineup, they use an illuminated center that looks small and uncluttered at 1X. By the time the PLxC reaches 8X, the various holds have come into view. This includes a ladder for elevation holds and a pyramid-style design for simultaneous windage and elevation holds.
Don't forget the range finder and the target leads too. The ACSS really is the Swiss Army knife of reticles. To make the sight picture pop, Primary Arms uses Japanese high-dispersion glass that eliminates chromatic aberration and makes colors show.
You also get a fairly wide field of view — an impressive 121 feet at 100 yards.
Our downside comes from the reticle brightness. It's typically daylight bright and, in most cases, won't be an issue. However, on really sunny days with a light backdrop, it can wash out a bit.
If you aren't shooting in Iraq or the bright snow-covered Alps, it won't be a problem, and you can enjoy an excellent optic at a fair price. Primary Arms is certainly stepping it up these days, and the PLxC proves they are more than budget optics.
The Pew Pew Tactical team has also been big fans of Primary Arms' SLx 1-6x for their best bang-for-the-buck LPVO.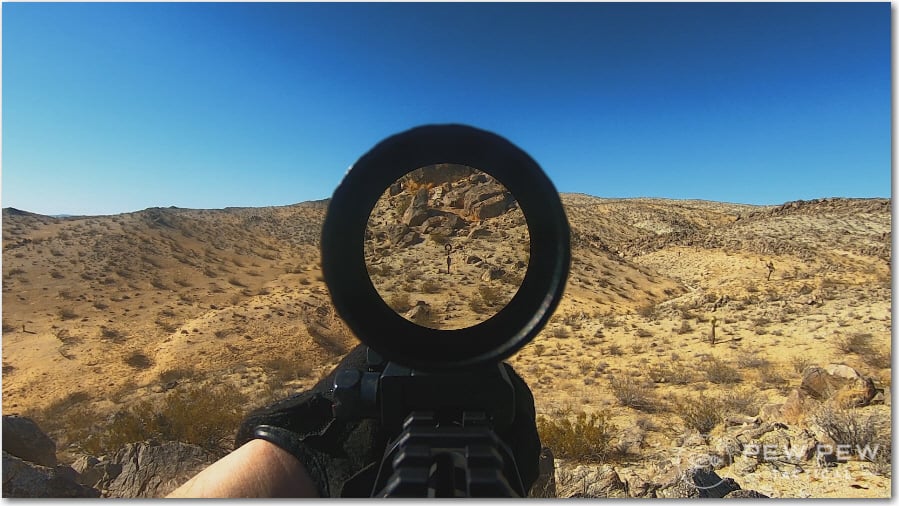 See the full review here.
6. Trijicon VCOG 1-8X
Moving on from the Army and SOCOM's choice, we arrive at the selection of the Marine Corps.
All grunts will be getting LPVOs, and the USMC is continuing its love affair with Trijicon and has chosen the VCOG.
What does the average Marine grunt need? A bombproof scope that can suffer the abuse of the battlefield and the abuse an 18-year-old infantryman tosses at it. Additionally, they need a versatile tool for close-quarters combat and long-range precision.
The VCOG certainly offers both. The magnification range matches the accuracy of the M27, and the versatile nature of the reticle makes long-range precision and close-range speed a reality.
At long range, they have a crosshair system with elevation and windage markings from top to bottom and right to left.
For those close-quarters room-clearing fights, shooters get a segmented illuminated circle. Since it's an FFP, everything shrinks, and at 1X, that circle looks like nothing more than a red dot.
It's perfect for quick, instinctive shooting and gets daylight bright without issues. When we have the zoom out, the red dot doesn't clunk up the sight picture either.
The VCOG does come with both a hefty price tag and weight. Making it grunt-proof means a beefy weight of 31 ounces!
It's not compact or lightweight by any means, so hit the gym if you're looking for the optic of the world's finest fighting force.
What do you think of the VCOG? Rate it below!
Best High Magnification LPVOS
7. Vortex Razor HD Gen 3 1-10X
For me, Vortex is a fairly weird company. They make everything from budget red dots to the mighty Razor HD Gen 3 1-10X, which for brevity's sake, I'm calling the Razor 1-10X.
The Razor 1-10X was the first real LPVO in the 1-10X category that broke the mold. Mainly because it's almost the exact same size and weight as the Vortex Razor 1-6X, I call it magic, but Vortex probably calls it engineering.
The Razor 1-10X brings a bit of a designated marksman charm to the LPVO world. Looking at its rather complicated reticles, it's clear this is an optic made for shooters who need to make precision shots at anywhere from five feet to 800 yards and beyond.
Four reticle options each offer an illuminated center for close-range shots combined with a fairly complex reticle for elevation and windage calls.
In the glass department, Vortex delivers wholeheartedly. It's amazingly clear. Even when ratcheted up to 10X, you aren't dealing with much noticeable dispersion. Edge-to-edge clarity is present, and excellent light transmission makes it easy to see that target way out there.
Vortex ensured the optic itself was fairly sleek with simple, low-profile turrets and magnification adjustments. The optic is impressively streamlined for its magnification and purpose.
At over $2K, you have to really want to reach out and touch targets to justify it. However, optics exemplify the phrase you get what you pay for. With the Vortex Razor, you get a 1-10X shoved into the frame of a 1-6X optic with great reticles and excellent glass.
8. EOTech Vudu 1-10x
Last but not least is the underappreciated and underrated EOTech Vudu.
The Vudu 1-10X series provides a fairly sleek, low-profile 1-10X LPVO with an attractive price.
It's about $600 cheaper than the Razor 1-10X, which is an impressive feat. At that price point, it's still an expensive premium optic, just a cost-effective premium option.
The view through the optic will impress you. You can see everything clearly with excellent color highlights. The shades of green from grass to trees and brush are apparent and visible, and none of the colors bleed together.
You have three to choose from here — two MRAD and one MOA. The MOA SR4 is simple with a crosshair and elevation and windage. The two MRADs offer Christmas tree-style reticles for windage and elevation calls.
EOTech's reticle designs shine in close-range. Their reticles with crosshairs and hash marks have a small illuminated dot in the center. When you bring them to 1X, the entire reticle sits inside an even larger EOtech-style circle, resembling the standard EOTech holographic reticle.
It's easily the best close-range option I've ever seen in an LPVO. They knocked it out of the park by combining close-range shooting and unobstructed long-range views. Sadly the Vudu series is often overlooked, but they really deserve a top spot.
Call this my editor's choice, if you will.
Final Thoughts
LPVOs are fantastic tools for modern rifles. They work perfectly with both full-power and intermediate semi-auto rifles to bring the sting and create a versatile platform.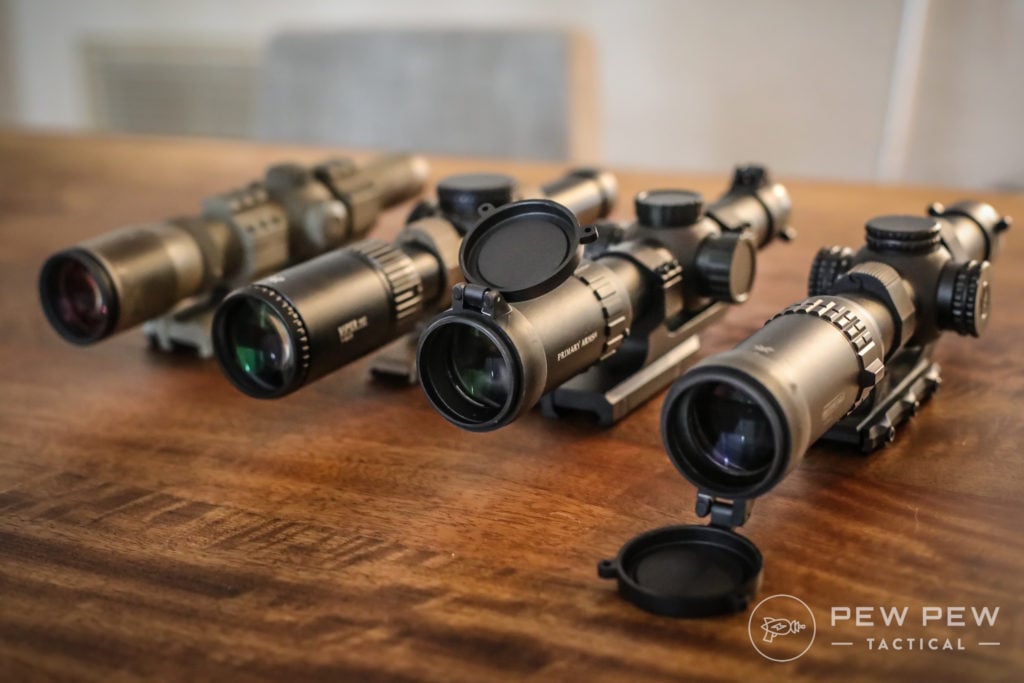 It's clear they are the future of rifle scopes for most modern rifles, and these are some of the best of the best. They take no prisoners and leave your wallet empty but your view clear. They don't tap out, and neither should you.
Do you have any experience with any of these? Are there any options we missed? Let us know in the comments below! Not sure if an LPVO is for you? Take a look at our article – [Optic Battle] Red Dot with Magnifier vs. Prism vs. LPVO!