Glocks…one of the most popular, recognizable, and divisive brands in the firearms world.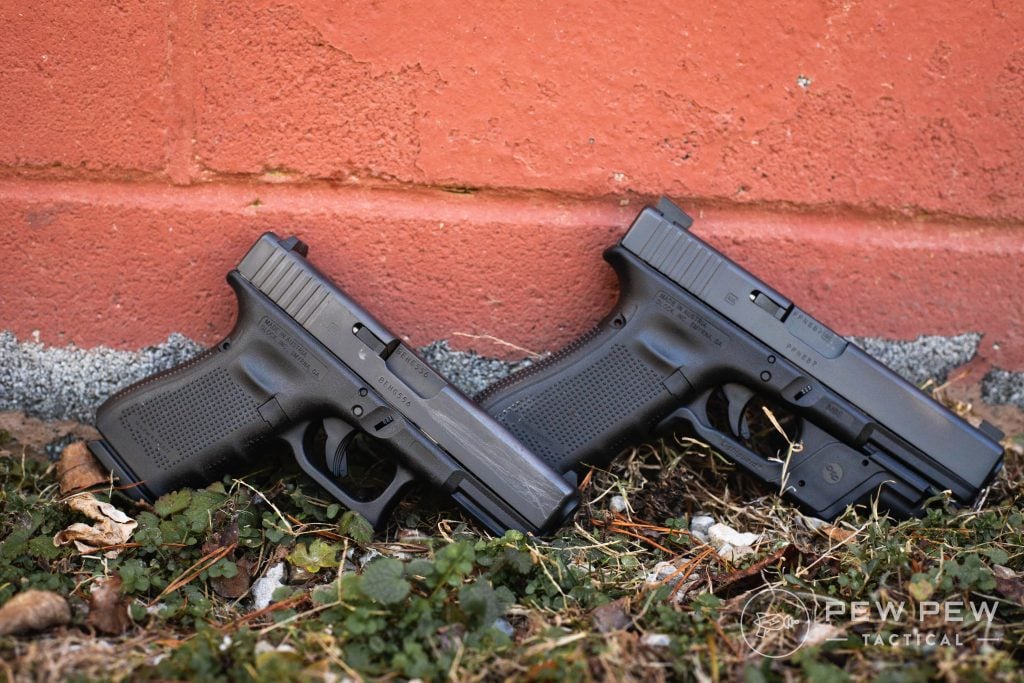 Even if you take a step out of the gun community, most people know about Glock. From movies to rap lyrics, the brand seemingly exists everywhere.
But within the gun world, Glocks are one of those guns that foster a conversation.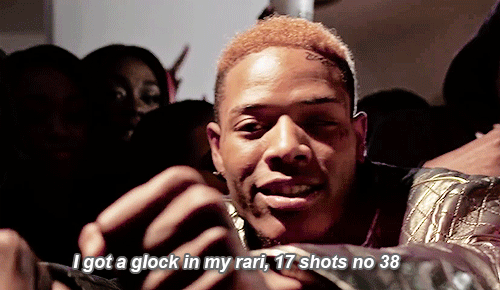 Whether you love Glocks or love to hate them, we're going to take a look at some of the best models the Austrian company has to offer.
From concealed carry 9mm variants all the way to full-auto (oh yeah, they have one of those too), we'll tell you which Glocks are worth your time, money, or are just plain fun.
Let's get to it!
Summary of Our Top Picks
Table of Contents
Loading...
History Time!
We would be remiss if we didn't at least touch on the history of Glock. Since it is a powerhouse brand, we feel we kinda owe it to you to explain how they got to where they are.
Glock began in the early 1960s, helmed by Gaston Glock.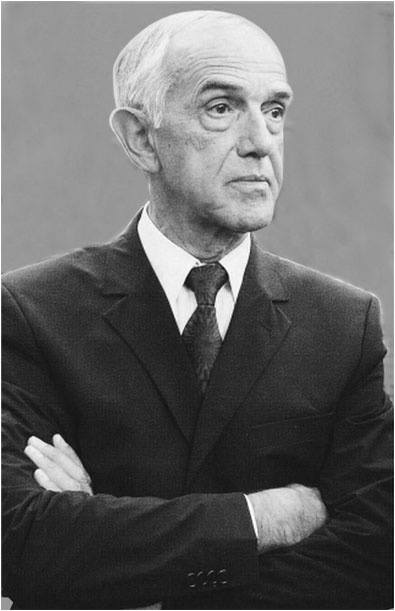 At the time, pistols weren't really on his mind. Instead, the company manufactured wood, steel, and plastic.
Fast forward to the groovy era of the 1970s, marking Glock's entry to the world of weaponry — specifically, knives, grenades, and machine-gun belt links.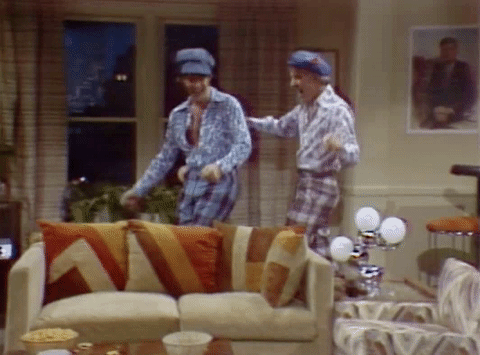 It didn't take long for the wheels to start turning and by the 1980s, the Glock 17 emerged.
While it wasn't the first polymer pistol to land on shelves (that honor belongs to HK VP70), it was the first one to be a big hit.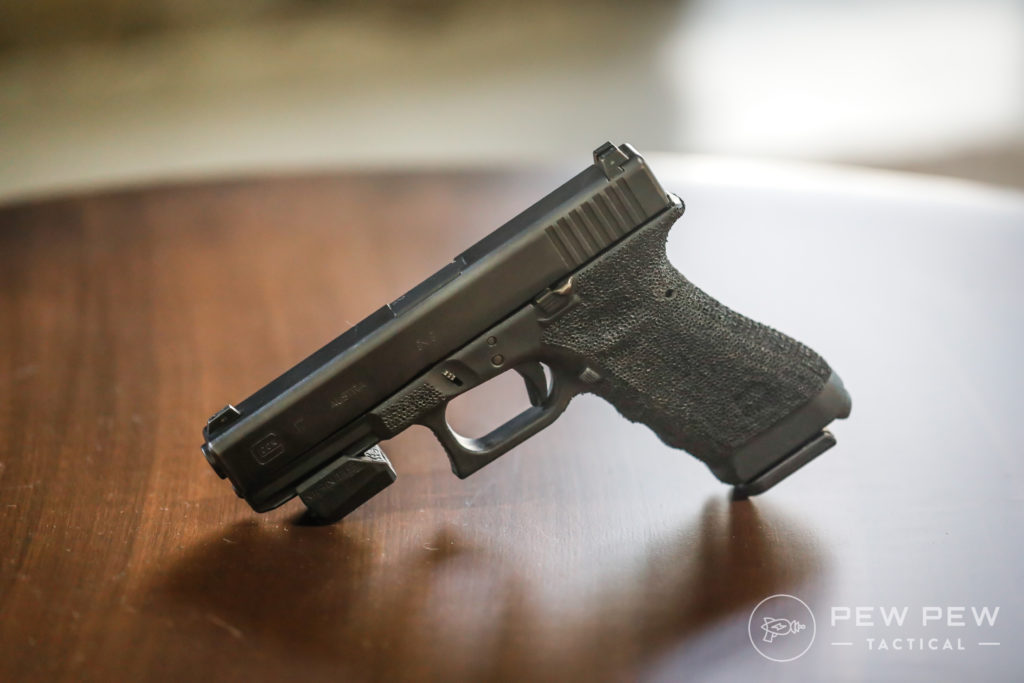 Before you know it, law enforcement was arming up with the plastic fantastic and its stellar 17-round magazine.
So, why has Glock maintained its stature?
Well, like it or not, the pistols are affordable and reliable. Two things that make both government agencies and civilians fall in love.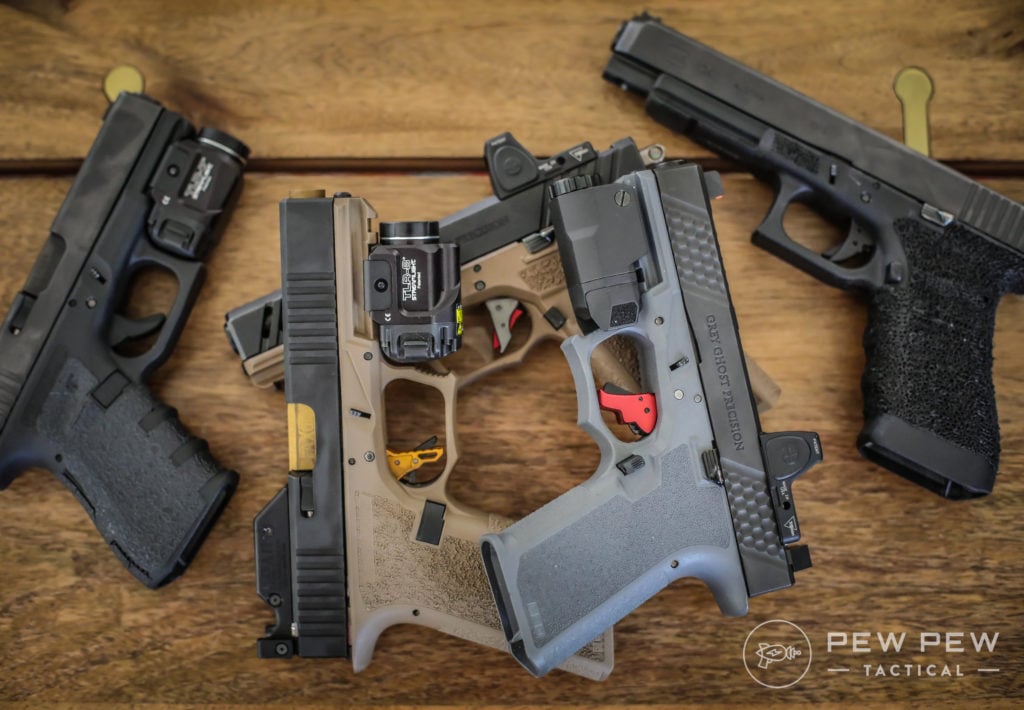 Since Glock's emergence into the firearms community, the brand has continued to release new models based on the tried-and-true design.
Whether that's upgrading generations or producing new models in different calibers (I'm looking at you G44), Glock isn't going anywhere anytime soon.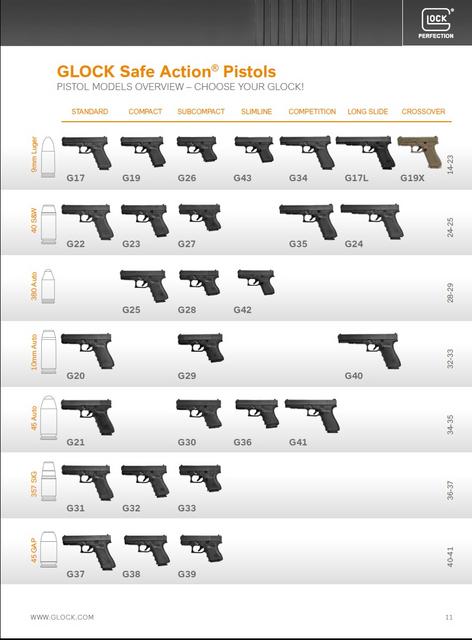 Top 10 Best Glocks in All Calibers
With history behind, let's get to what you really came for…the best Glock pistols.
Though 9mm is classic Glock, we're going to cover all sorts of calibers in the company's inventory.
1. Glock 17 (9mm)
Ok, so we had to kick this list off with the OG, the one that started it all…the Glock G17.
A full-size, 9mm model, the G17 is available in all multiple generations.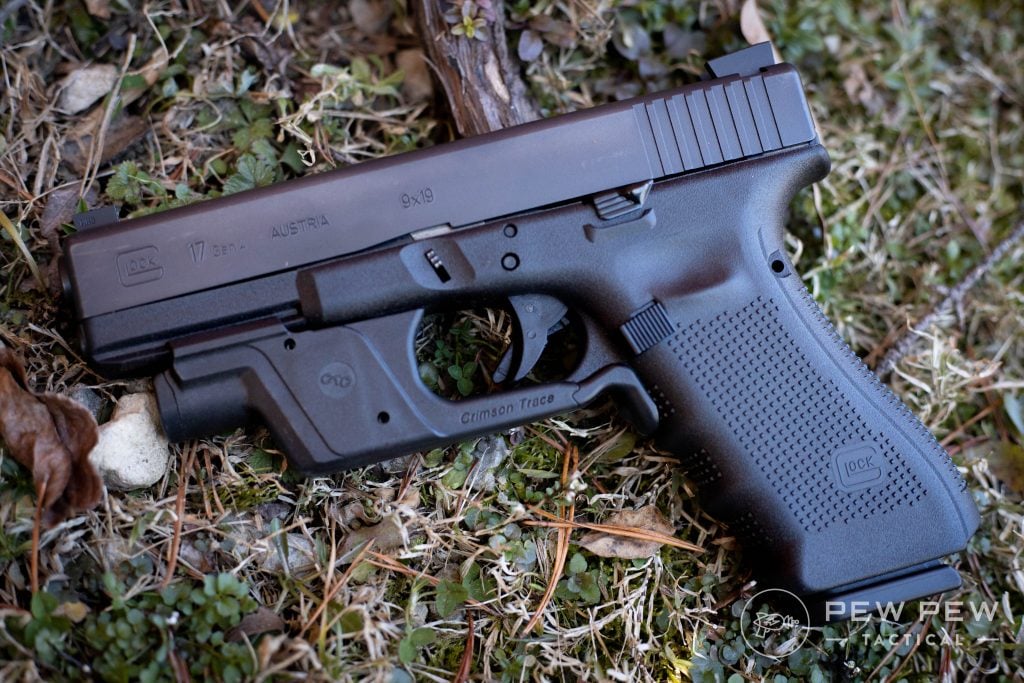 (Don't know the difference between a Gen. 3 and a Gen. 5, head over to our Glock Generations article to get the low-down.)
Featuring a barrel length of 4.49-inches, the G17 measures 8.03-inches in total length. It weighs in at 32.28-ounces loaded with a standard 17-round magazine.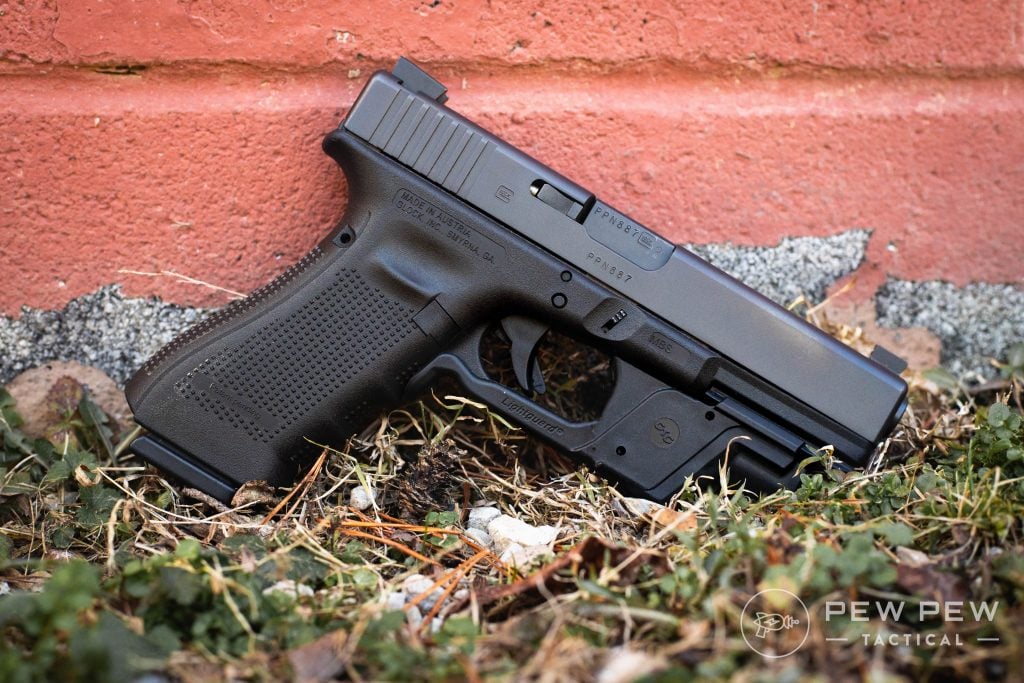 The G17 is the gold standard for most law enforcement and its reliability has made it a winner in the civilian market.
From carry to home defense, the G17's larger style makes it a perfect pistol for self-defense and personal protection.
Best Full-Size Glock
539
at GrabAGun
Prices accurate at time of writing
Prices accurate at time of writing
If full-size isn't your thing, however, then you might consider moving to Glock's midsize 9mm…
2. Glock 19 (9mm)
The Glock 19 is remarkably similar to the G17, but on a slightly smaller scale.
Still chambered in 9mm, the G19 measures 7.28-inches in total length. It sports a 4.02-inch barrel and weighs 30.16-ounces loaded.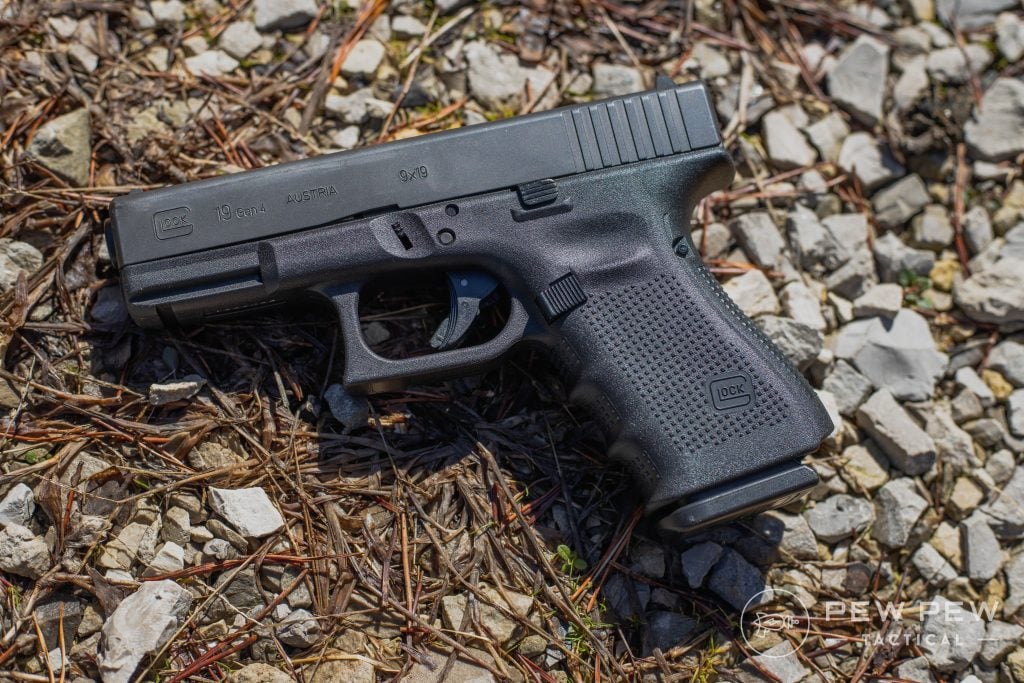 This midsize model is versatile and easily transitions from the range to concealed carry with its double-stack design.
Again, it's seen wide use in the law enforcement realm and, like most Glock products, is renowned for its ease of use and reliability.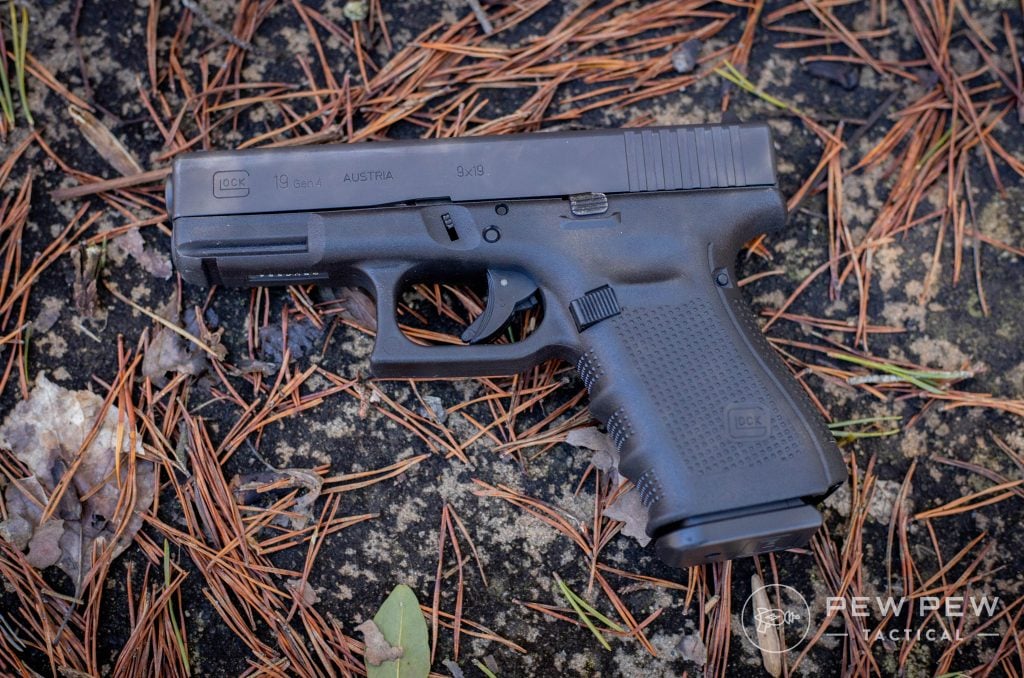 Not to mention, the 9mm chambering means that, in non-ammo shortage scenarios, you should be able to easily train with it alongside its standard 15-round magazine.
The G19 also benefits from a wealth of aftermarket support so you can switch sights, triggers, and slides if you so choose.
Best Mid-Size Glock
539
at Palmetto State Armory
Prices accurate at time of writing
Prices accurate at time of writing
Interested in learning even more, especially about the Gen 5 G19, then head over to our full review.
If you still need something smaller to conceal, maybe in hotter summer months, then let's take a look at a single stack.
What do you think of the Glock 19? Rate it below.
3. Glock 43/43X (9mm)
Coming in with a subcompact style, the Glock 43 and newer 43X reduce the size of the platform with a single-stack design.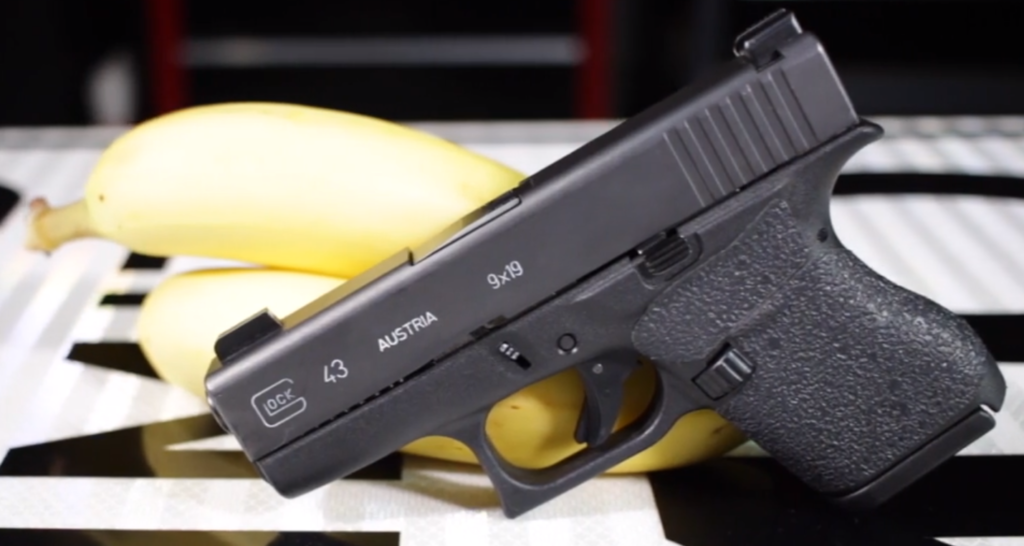 The 6-round capacity on the G43 brings with it a slimmer profile but still with a 9mm chambering.
Offering a 3.41-inch barrel and 6.26-inch overall length, the G43 weighs 20.64-ounces loaded.
Ultra Reliable Single-Stock CCW
449
at Palmetto State Armory
Prices accurate at time of writing
Prices accurate at time of writing
Meanwhile, the G43X brings an ever-so-slightly larger build.
The G43X measures 6.50-inches overall but still uses that 3.41-inch barrel. Loaded, it weighs more than the standard G43 at 23.7-ounces.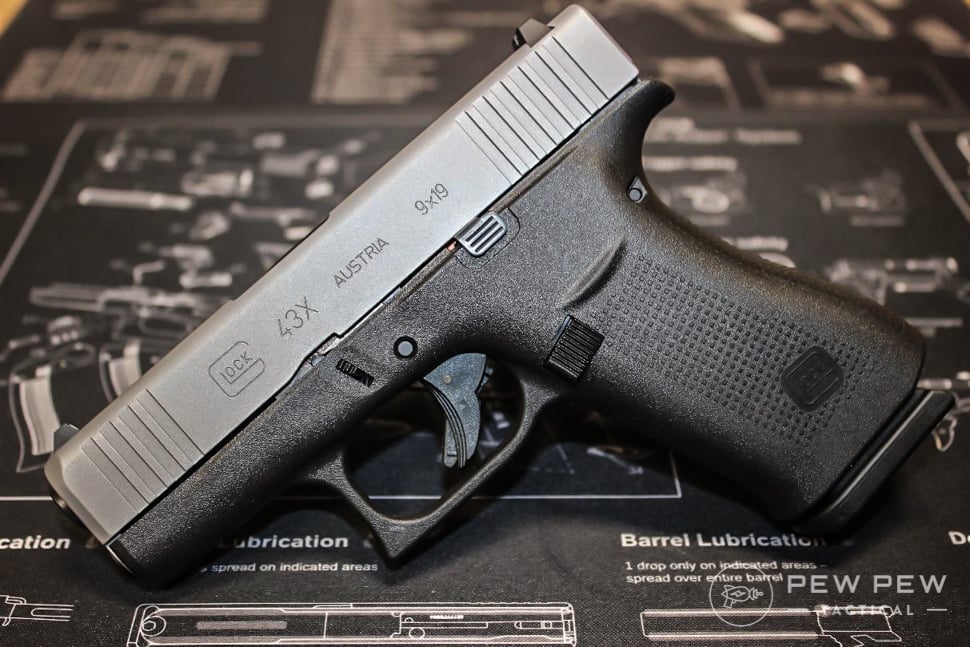 You also get more rounds with the G43X — it features a 10-round capacity.
If you want a slim CCW pistol but have to have that sweet, sweet 9mm, the G43 and G43X are right up your alley.
Best Subcompact Glock
488
at GrabAGun
Prices accurate at time of writing
Prices accurate at time of writing
For a more in-depth look at the G43, check our review here or just watch the video below.
If you prefer a little different oomph, however, you can knock it up to .45 ACP.
4. Glock 30SF (.45 ACP)
Some people love their .45 ACP and who are we to tell you you're wrong. If .45 ACP is what you want, then the G30 SF is the Glock pistol for it.
Based on the G30 design, the G30 SF brings a subcompact appearance with a 10-round capacity.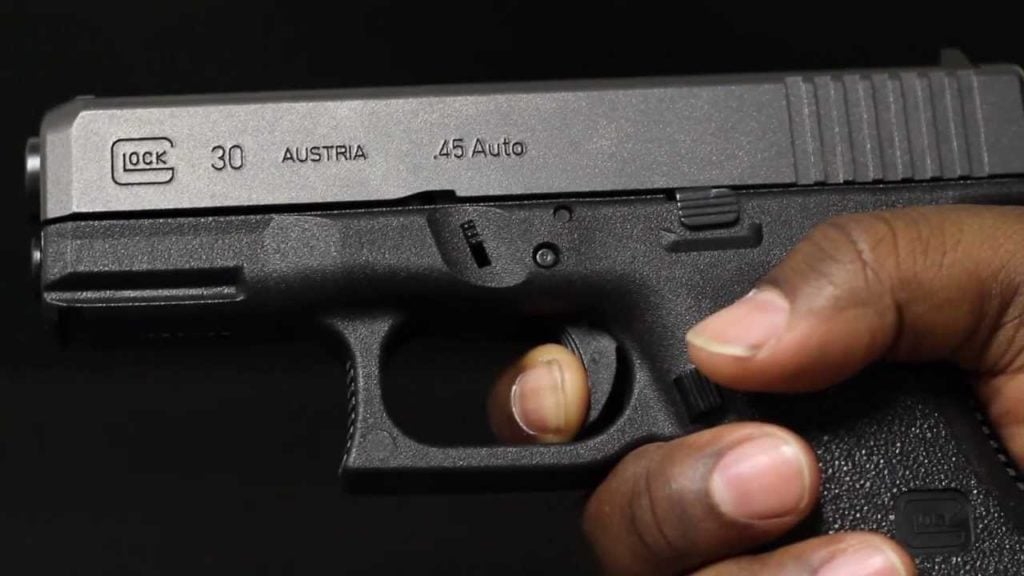 How does Glock accomplish this? With a shortened frame and reduced grip dimensions, of course.
With a barrel length measuring 3.78-inches and an overall length of 6.97-inches, the SF weighs 33.69-ounces loaded.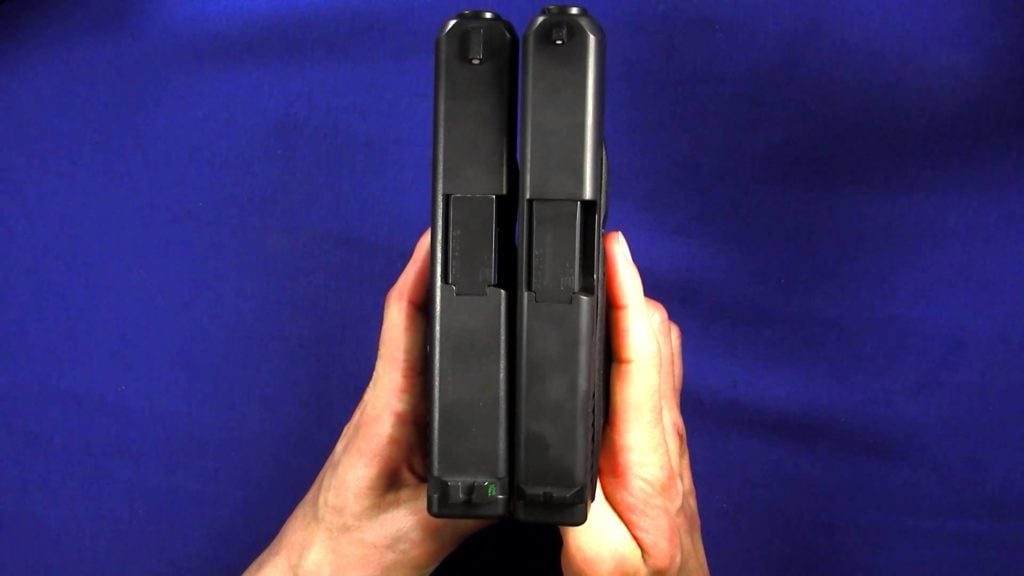 The choice of many plain-clothed street cops and security personnel, the G30 SF fits naturally into a concealed carry or defensive setup.
Like all Glocks, it's easy to operate and maintain.
Best .45 ACP Glock
599
at Sportsman's Warehouse
Prices accurate at time of writing
Prices accurate at time of writing
Though the G30 SF makes for flawless concealed carry in .45 ACP, what about a full-size for home-defense or just fun at the range…
5. Glock 21 (.45 ACP)
Continuing the .45 ACP vibe, the G21 is the full-size package.
With a barrel length of 4.61-inches and a total length sitting at 8.07-inches, the G21 weighs 38.80-ounces loaded.
What do you get from the G21 that you don't see with the G30 SF? More rounds!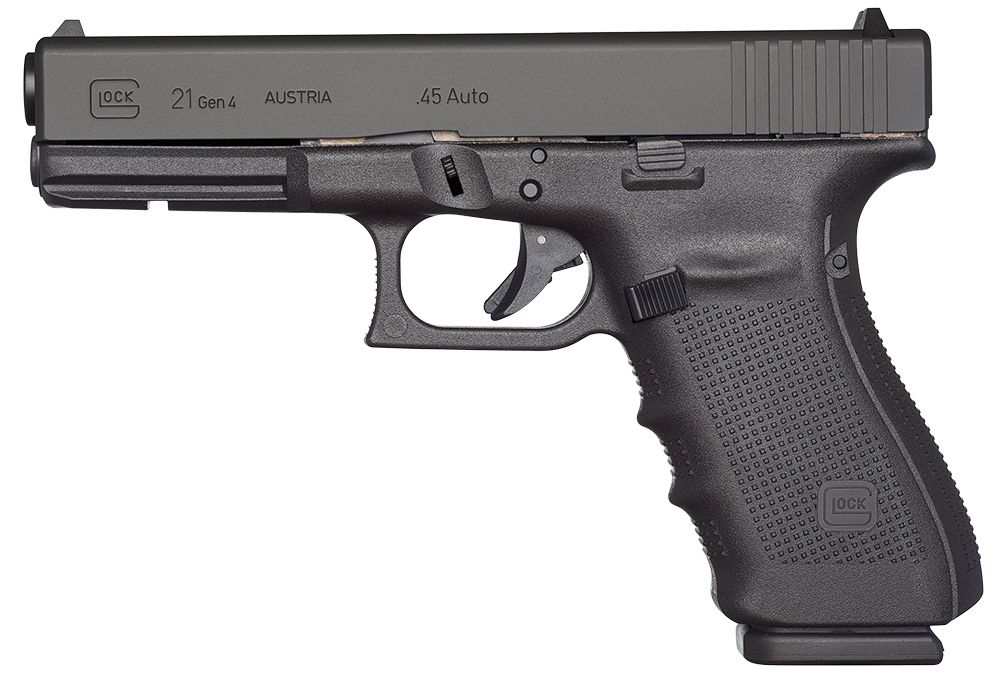 The G21 boasts a standard capacity of 13-rounds.
We always think more is better, especially when at the range or during a defensive situation.
Which, is where this pistol excels.
It could easily tuck into a nightstand safe or tossed into a range bag.
546
at GrabAGun
Prices accurate at time of writing
Prices accurate at time of writing
If .45 ACP isn't your cup of tea, though, Glock does offer a handful of .40 S&W models…
6. Glock 23 (.40 S&W)
The G23 comes chambered in .40 S&W with a magazine capacity of 13-rounds (though you can certainly spring for an aftermarket mag with up to 22-rounds).
Sporting a 4.02-inch barrel and total length of 7.28-inches, it weighs 34.36-ounces loaded.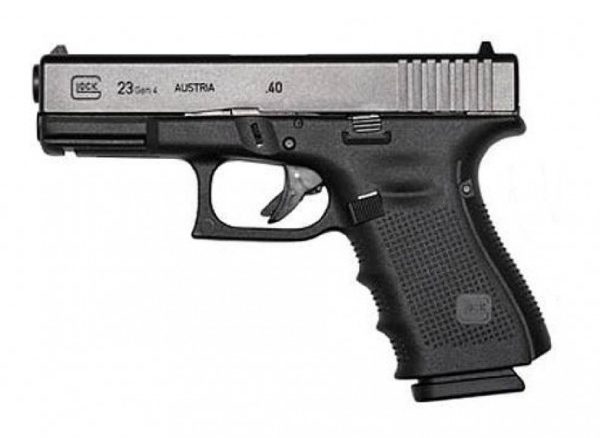 It's available in Gen. 4 or Gen. 5, but if you go for a Gen. 5 you'll get the bonus of an nDLC finish, Glock Marksman barrel, and flared magwell.
Oh, and lefties will appreciate that ambidextrous slide stop lever too!
Using a compact build, the G23 is a nice middle area between full-size and subcompact.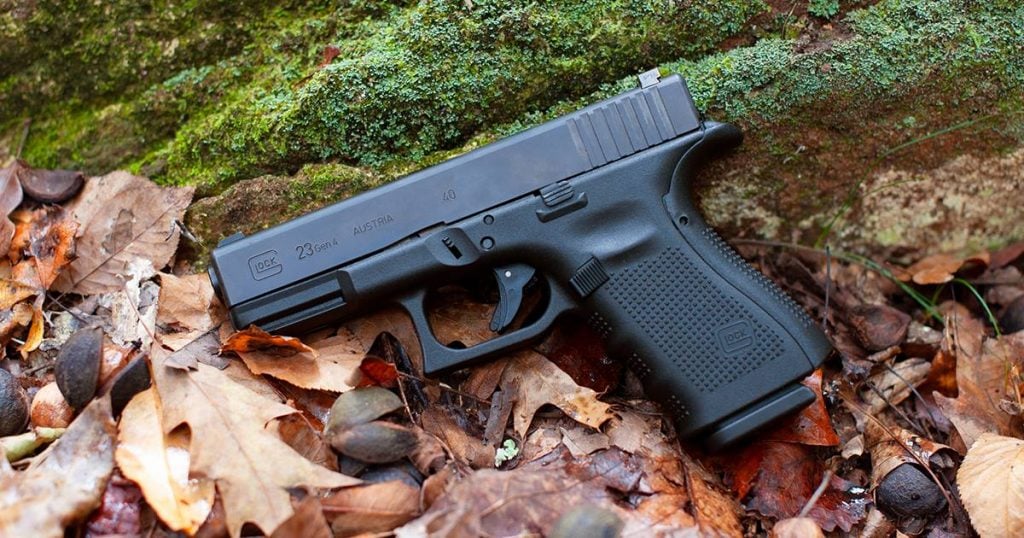 And if you happen to love red dots and optics as much as we do, there's even a MOS model that supports red dots.
If you love the .40-caliber, then you can't get better than the G23.
499
at Gunprime
Prices accurate at time of writing
Prices accurate at time of writing
Of course, while we're talking alternative rounds, we might as well mention that Glock also has 10mm offerings…
7. Glock 20 (10mm)
There's something cool about shooting 10mm. Whether you're doing it on the hunt or at the range, it's a fun round!
Luckily Glock has a few 10mm offerings up its sleeve, but our favorite is the G20.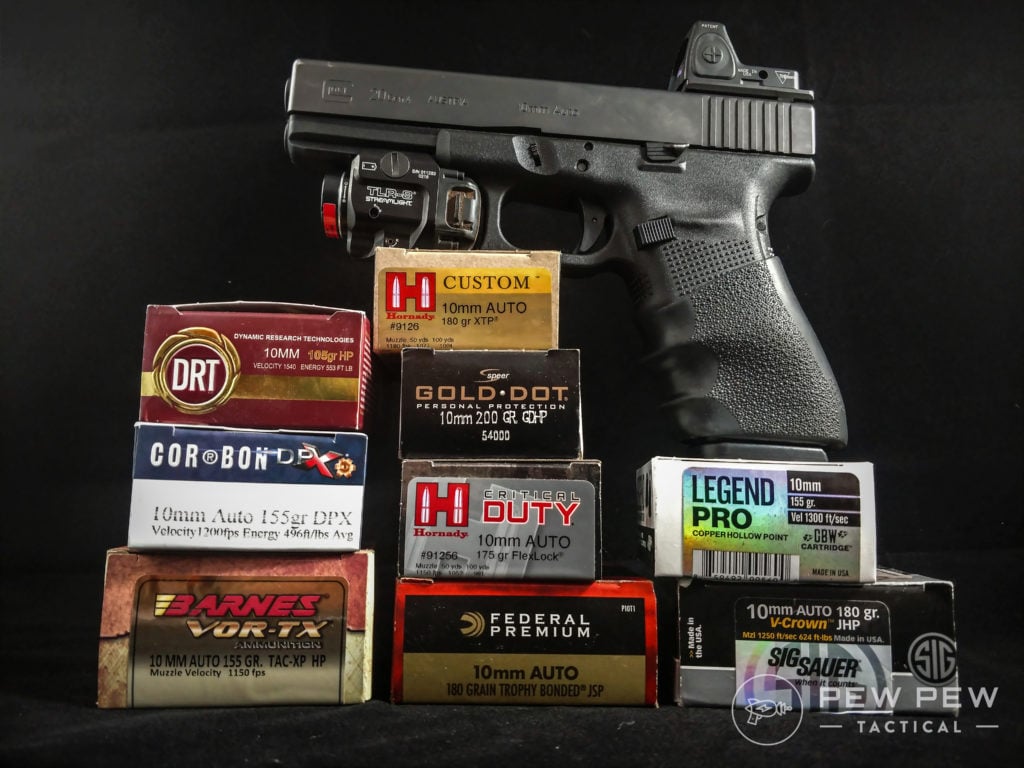 With a capacity sitting at 15-rounds, the G20 is a full-size model with 8.07-inches in total length to its name.
The barrel measures 4.61-inches and total loaded weight is 39.86-ounces.
While the G20 only comes in the Gen. 4 variant, but Glock does offer an SF, or short frame, model.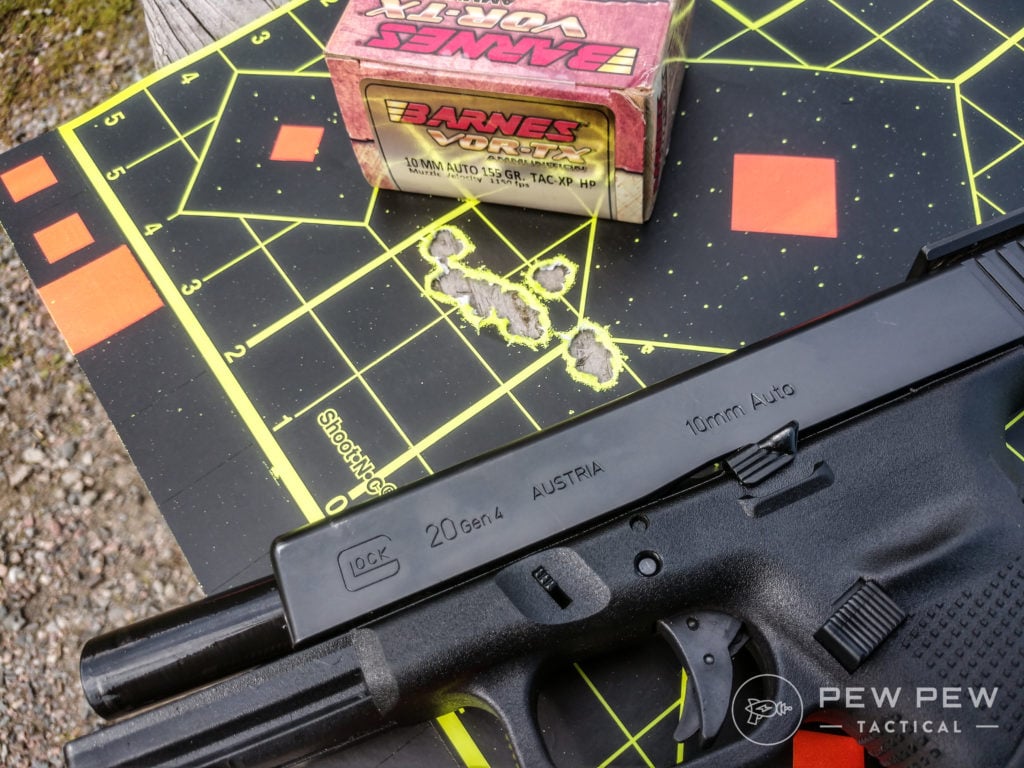 You still get that 15-round capacity with the SF and most of the measurements are on par with the G20.
But the SF downsizes the receiver's circumference at the rear for a little more ease when shooting.
Best 10mm Glock
521
at Primary Arms
Prices accurate at time of writing
Prices accurate at time of writing
Interested in a deep dive into this 10mm bad boy? Check out our full review here!
Of course, if 10mm is just a bit much in your book, you can move in the opposite direction to a Glock in .380 ACP.
8. Glock 42 (.380 ACP)
The G42 comes chambered in .380 ACP which means there's little to no recoil while shooting.
This subcompact offers a barrel length of 3.25-inches with an overall length measuring 5.94-inches. Weight rests at 15.87-ounces loaded.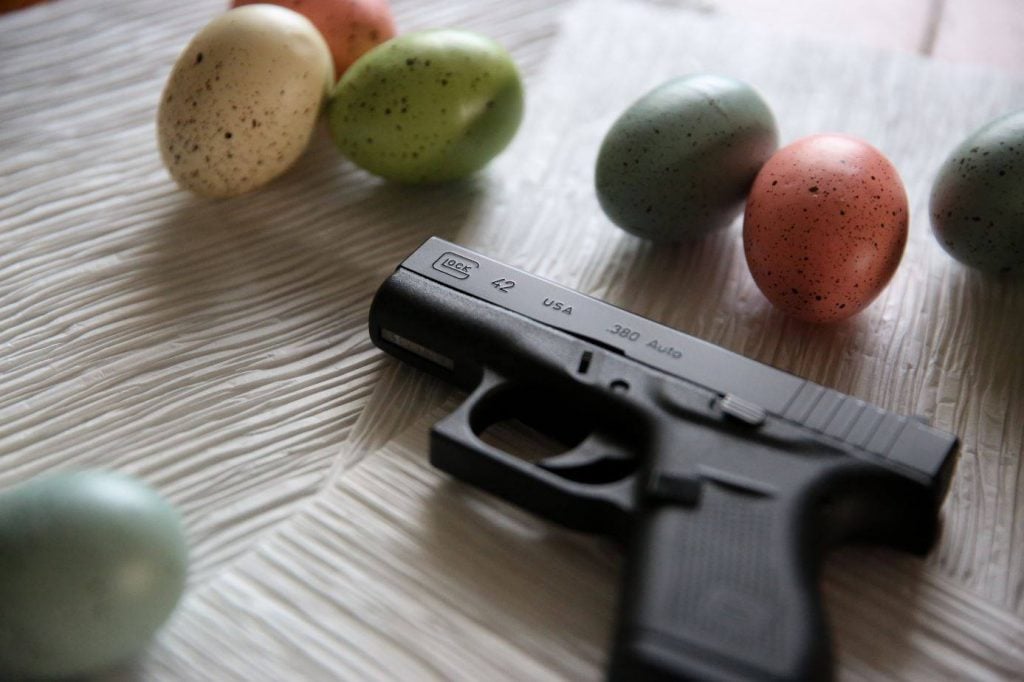 Glock's G42 is an ultra-compact pistol designed for concealed carry. This is your summer gun!
The trade-off for such a small handgun, though, is capacity. In the case of the G42, that means 6 rounds. Probably want to stock up on the spare mags…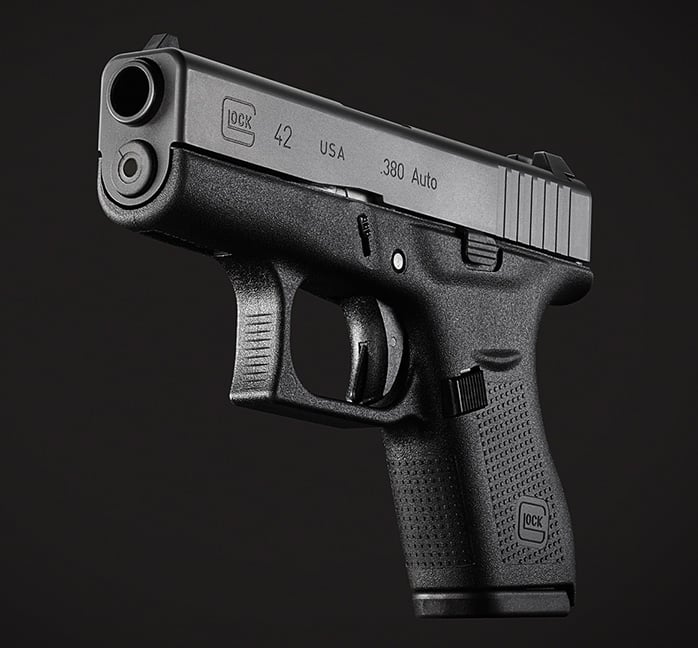 It keeps to Glock's easy-to-shoot-and-maintain platform and brings that durability you've come to expect from the Glock brand.
Best .380 ACP Glock
399
at GrabAGun
Prices accurate at time of writing
Prices accurate at time of writing
If .380 ACP is still too much, you can always go with a cartridge most of us probably started on…a .22 LR.
9. Glock 44 (.22 LR)
Ok, so I know the G44 is controversial. I'm sorry to all the fanbois who wanted a Glock PCC but instead got a .22 LR. Don't throw hate at me.
The G44 burst onto the scene with a .22 LR chambering. According to the company, they wanted to introduce a gun specifically for first-time gun owners and those that put in a lot of training reps at the range.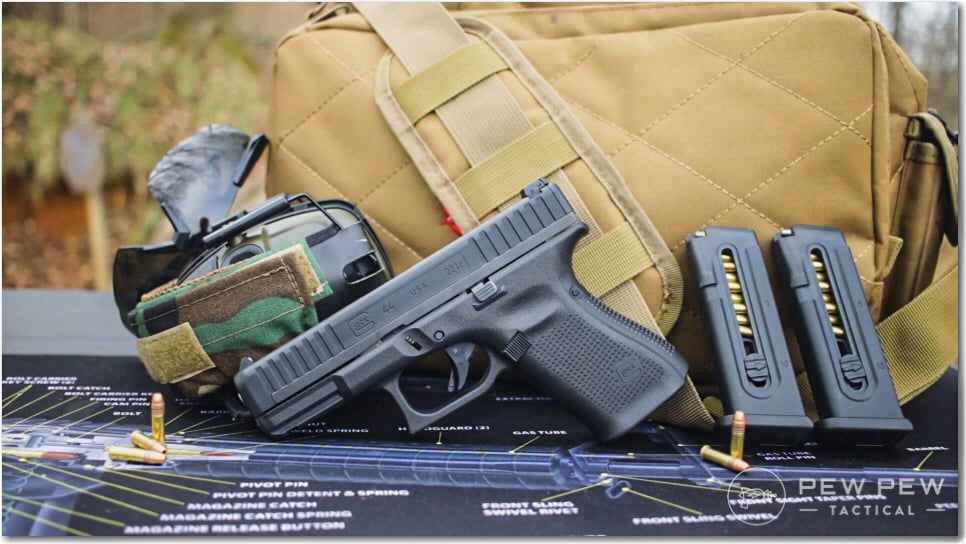 Mimicking the size of the G19, the G44 comes with a 4.02-inch barrel and an overall length of 7.28-inches. Loaded with its standard 10 rounds, it weighs 16.40-ounces.
While you most likely won't be packing this in your IWB holster, the G44's strength comes from the fact that you can easily plink with it.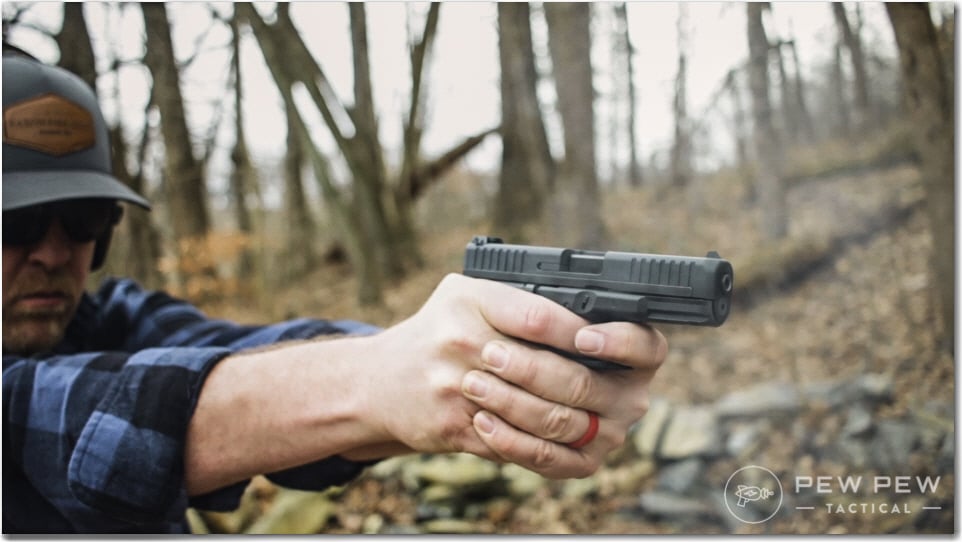 Normally, .22 LR ammo is cheap and easy to find, making this gun a perfect training companion.
Not to mention, .22 LR has virtually no recoil so first-timers will find this comfortable and less intimidating to shoot.
Best Rimfire Glock
359
at Kygunco
Prices accurate at time of writing
Prices accurate at time of writing
To see the G44 in action, peep our video below or you can read our full review here!
10. G48 MOS (9mm)
A newer Glock model, the G48 series takes a slim approach and looks to shave down on size.
Chambered in 9mm, it measures pretty close to the G19 but adopts Glock's Slimline build to reduce its width.
Where the regular, ole G19 offers a 1.26-inch width, the G48 MOS measures 1.10-inches.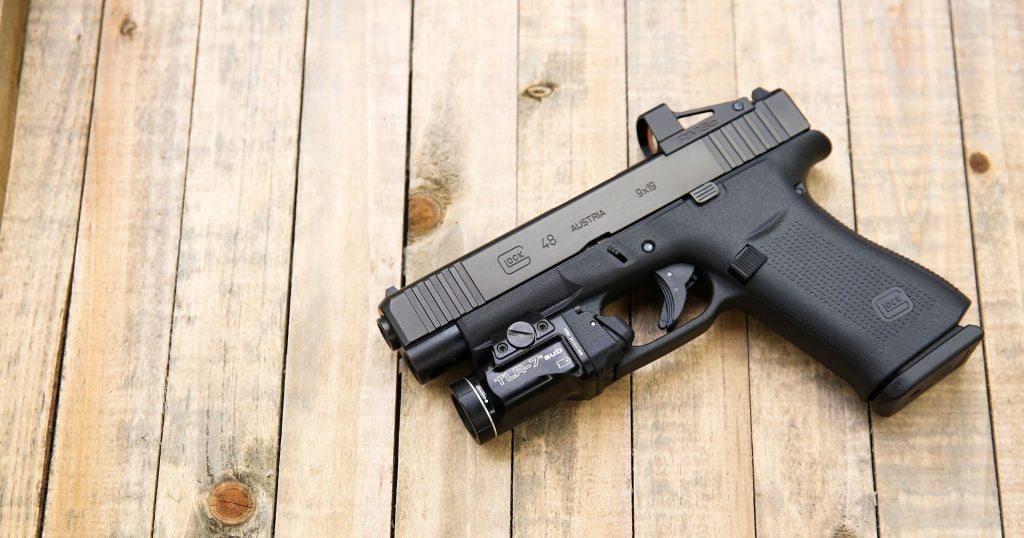 The G48 brings a 4.17-inch barrel to the table with an overall length of 7.28-inches. It tips scales at 24.97-ounces loaded. And, it comes with a standard capacity of 10 rounds.
The MOS designator means that it uses Glock's Modular Optic System. If you love red dots, this is a great pistol to toss an optic on — especially for concealed carry.
495
at Kentucky Gun Co.
Prices accurate at time of writing
Prices accurate at time of writing
For more info on the G48 (and G43X) walk on over to our full review here.
Honorable Mentions
We couldn't do an ultimate Glock list and leave off the very cool full-auto (yeah, you read that right) Glock 18.
The G18 is a BAMF 9mm full-auto Glock that most of us could just dream of owning. But for the lucky few, it's a rad model that is peak Glock.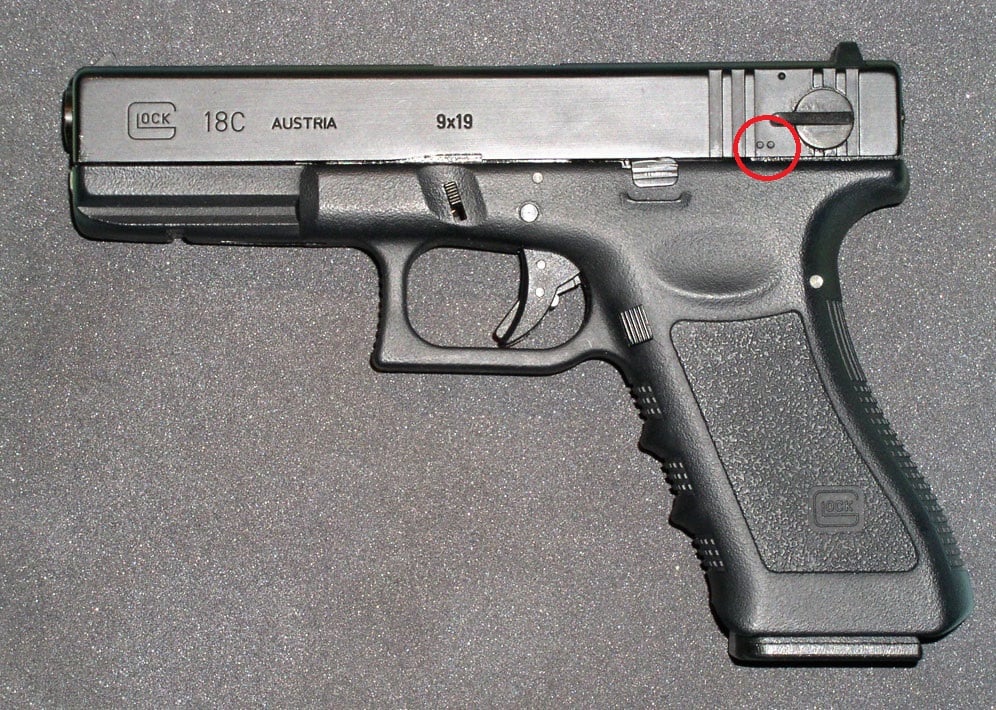 Also worth mentioning, if you're a fan of .357 calibers and were a little bummed to not see the cartridges mentioned…well, let me put you on the G31 and G32.
Both are .357 SIG models! So, go get your fix!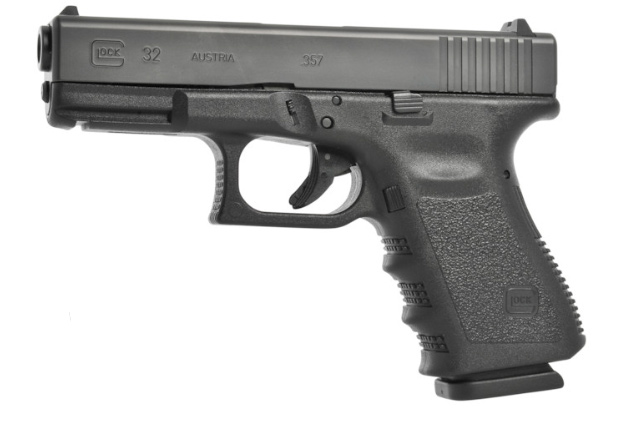 Conclusion
Glock pistols set the standard for polymer, striker-fired pistols. With a range of calibers from .22 LR all the way to 10mm, you're guaranteed to find a model that fits your needs.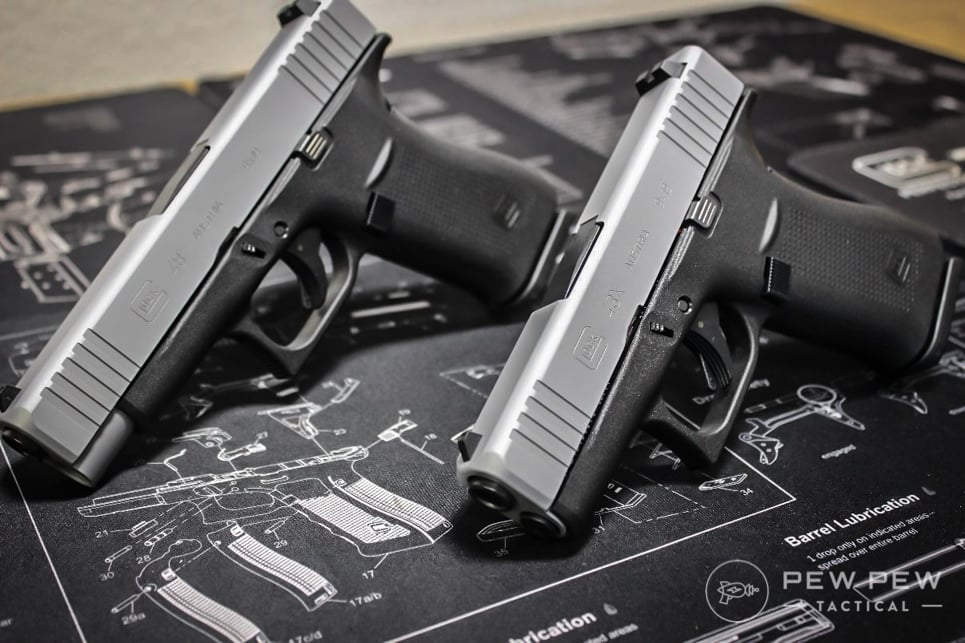 What is your favorite Glock? Did it make our list? Let us know in the comments below. If you've already got a Glock but want to snazz it up, check out some of our other articles on how to Gucci your Gat: Best Glock Upgrades, Best Glock Sights, and Best Glock Triggers.