Looking for a great self-defense handgun that is perfect for concealed carry and will never let you down?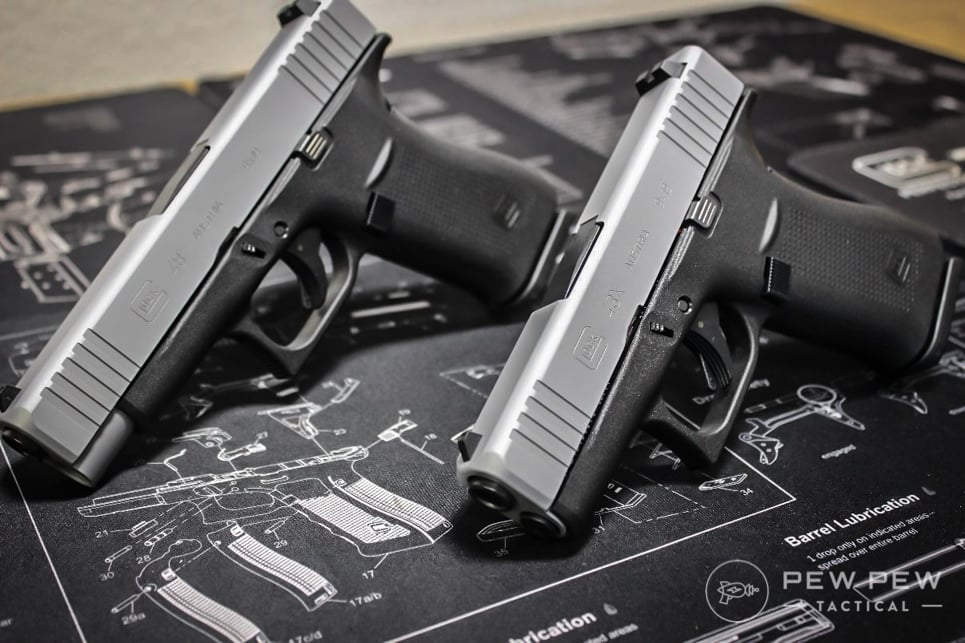 A 9mm Glock gives you the best of both worlds. You get the advantages of using a 9mm and the reliability that comes with the Glock name.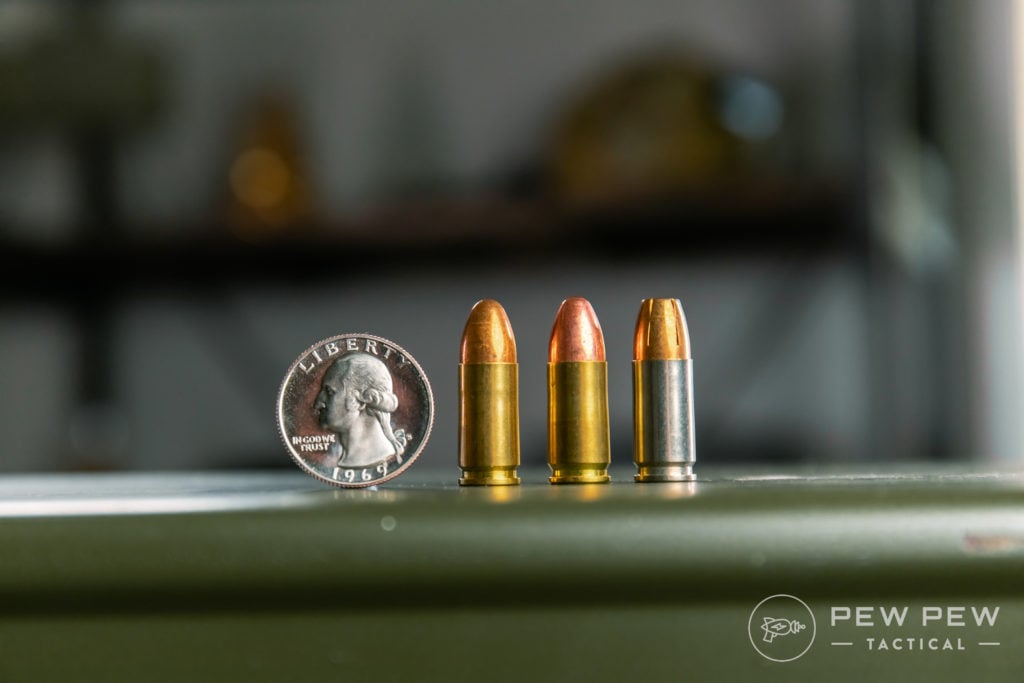 In other words, Glock 9mms are powerful, easy-to-carry handguns that can get dragged to hell and back and will still fire without any problems.
Today, we're going to take a look at the pros and cons of following Glock models. For those of you who can't wait, here's the rundown:
Glock 17

– Best all-around 9mm handgun for any situation.

Glock 19

– Slightly smaller size makes it great for concealed carry.

Glock 19x – Designed for the military, brought to you now as one of Glock's most popular options
Glock 26

– Subcompact design makes it great for concealed carry and backup guns.

Glock 34

– Engineered for long-range accuracy.

Glock 34 MOS – Long-range accuracy and pre-cut for the red dot of your choice
Glock 43 – Smaller than the Glock 26 and comes with a low-capacity magazine. Solid single-stack 9mm that packs a punch in a small package.
Glock 43X – A G43 with a redesigned frame and magazine! X standing for 10 as in the 10 round magazines that the G43X uses.
Glock 45 – Glock's newest innovation for the pistol market, large frame and small slide – designed for police and duty carry.
Glock 48 – One of Glock's newest pistols on the market, this is the same as a 43x but with a half-inch longer slide. This means a better sight picture and slightly more muzzle velocity, but still easy to carry.
If you're in the market for a new 9mm, this is an article that you don't want to miss!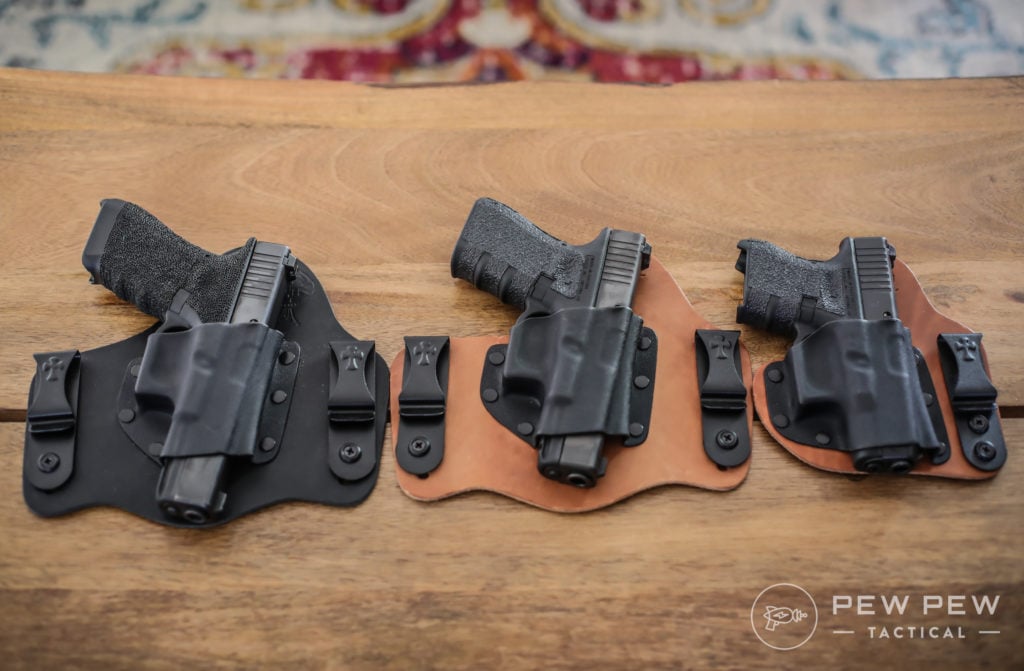 Which Type of Glock Is Right for You?
The best model is the Glock 18, hands down. Unfortunately, most of us are unable to purchase and own a 1200-rounds-per-minute handgun with full-auto capabilities.
Sadly, we won't be looking at the Glock 18 today, but there are a number of 9mm Glocks that shoot just as well, minus rapid fire.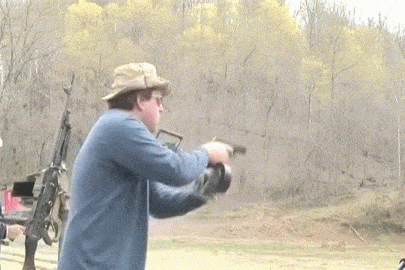 That being said, let's have a look at the parts of Glock's 9mm arsenal that are available to the average citizen.
Don't have time for the full rundown? Here's our list of the best Glocks across calibers and sizes.
Best 9mm Glock Models
There's a reason why the Glock 17 is a law enforcement favorite. It's accurate, weighs less than 1.5 pounds, and comes with a 17-round magazine.
When it comes to self-defense, you'll have a hard time finding a better overall gun that packs the stopping power, accuracy, and capacity of the Glock 17.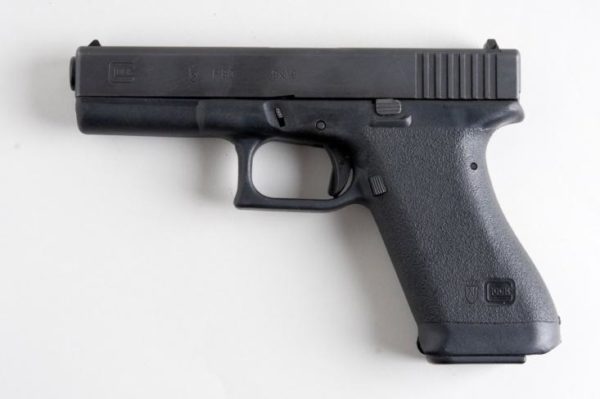 Here are some of the new features and upgrades added to the Gen4 G17:
More aggressive grip texture.

Dual recoil pin for less recoil and more accuracy.

Adjustable backstraps.
One of the biggest complaints that people have had about Glock handguns is the uncomfortable handle. However, the introduction of backstraps has helped make handling the Gen4 much easier than its predecessors.
Newst Generation Glock
628
at Brownells
Prices accurate at time of writing
Prices accurate at time of writing
For this reason, I recommend giving the G17 out for a test run before ruling it out.
Why it's great
The G17 was carefully designed with the help of military personnel, competitive shooters, and law enforcement officers. Their valuable input is one of the main reasons why the G17 is dependable, accurate, and easy to handle.
It's a great all-around gun and is perfect for anyone seeking a 9mm for self-defense purposes.
If you're looking for the same punch as the G17 but something that's easier to carry around, the Glock 19 might be the gun for you.  The size and design of the G19 makes it an incredibly easy gun to handle, which is why it's one of the top-rated self-defense handguns for women.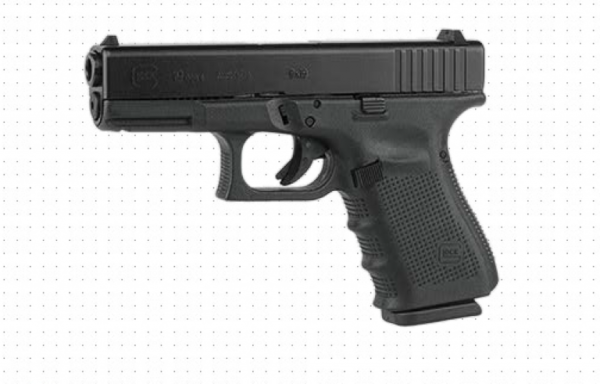 The Glock 19 is the G17's compact twin. Its 7.28" length makes it a popular gun for security forces and anyone looking for a good concealed carry piece.
The Gen4 version of the G19 was released with a number of minor upgrades that set it apart from previous models, including:
Adjustable backstraps.

More aggressive grip texture.

Enlarged magazine catch that supports right and left-handed operations.
549
at Palmetto State Armory
Prices accurate at time of writing
Prices accurate at time of writing
The G19 is a lightweight gun that was designed to be carried comfortably. It comes standard with three 15-round magazines, which is more than enough firepower for the average person seeking a gun for home or self-defense.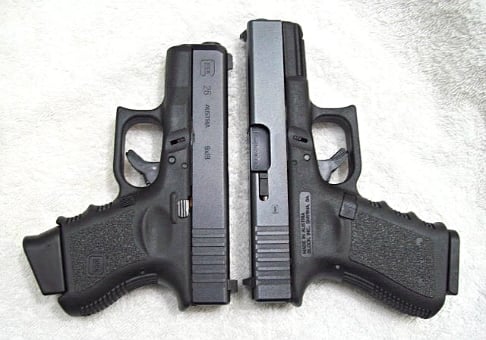 Why it's great
For starters, the G19 is a reasonably priced handgun that's dependable and accurate. Its compact size makes it perfect for concealed carry.
You can even comfortably carry the G19 around as a backup piece without having to worry about unnecessary discomfort.
Overall, the G19 is a more mobile version of its predecessor, the G17. It's compact size and built-in accessory rail makes the G19 a popular piece among private security agencies.
Along the same idea of the G19 is the G19x, a hybrid of the G17 and G19 that Glock designed for US Military trials.
Since then, it has become MASSIVELY popular with more than 100,000 units shipped in less than 9 months!
644
at Brownells
Prices accurate at time of writing
Prices accurate at time of writing
In the firearms world, that is a crazy amount of sales.
The Glock 26 is affectionately known as the "baby Glock." This 6.41" long sub-compact handgun is the smallest of Glock's 9mm models.
And while it's a great concealed carry gun, the G26's small size makes the handgun difficult to handle for people with large hands.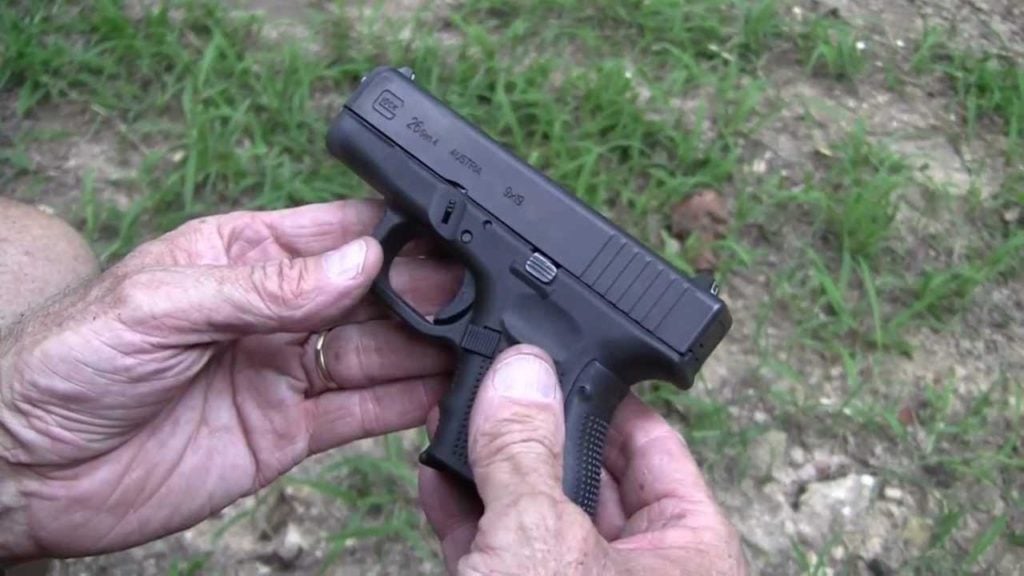 When Glock released the G26 Gen4, they added two great features: adjustable backstraps and a magazine-release button that's easier to access. While these modifications helped make the handgun easier to handle, the gun's small size may take some getting used to.
560
at Brownells
Prices accurate at time of writing
Prices accurate at time of writing
Like with other Glock products, the "baby Glock" is designed to be just as durable and accurate as its predecessors. It comes with a 10-round magazine, so you don't get as much firepower as you would with bigger 9mm Glocks.
Don't let the size fool you though, the G26 is just as strong as full-sized 9mms.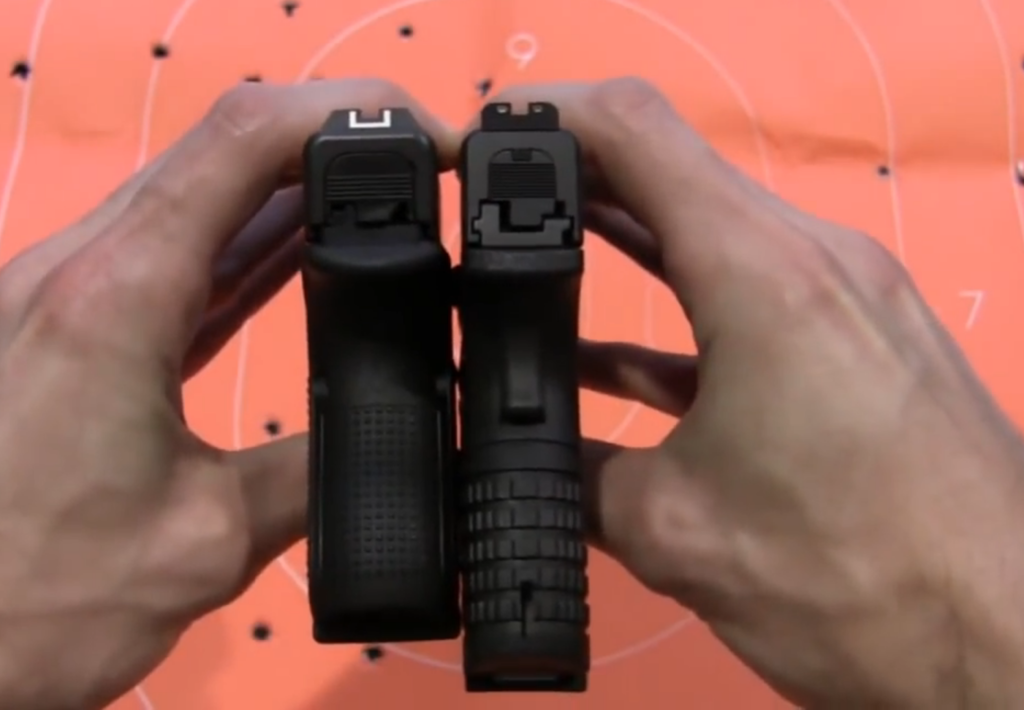 Why it's great
The G26 is designed for one primary purpose: concealed carry. If you're looking for a gun that's guaranteed to be comfortable and easy to lug around, you won't find a better match.
Its small size makes the G26 the best gun for shooters who need compactness over versatility.
The only 9mm Glock that was designed specifically for competitive shooting. Larger than the G17, the Glock 34 has a barrel length of 5.31" and an overall length of 8.74".
If you're looking for a Glock for concealed carry, the G34 is probably not the best choice. Its long-barrel design makes it difficult to conceal comfortably.
However, this same design makes it an incredibly accurate gun to have if you don't mind using it for open carry.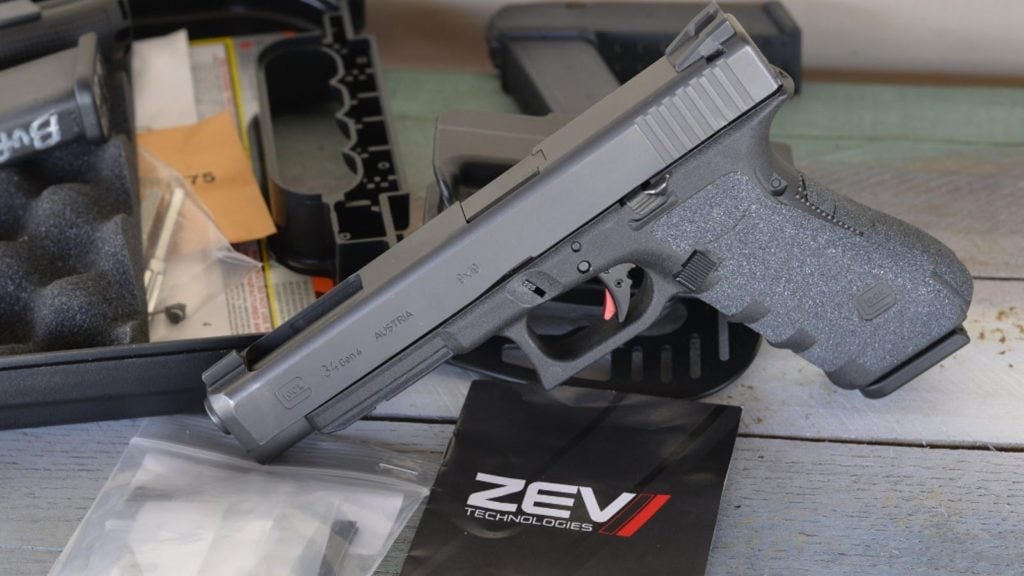 The design of the G34 was based off the Government Issue Colt 1911. It comes with adjustable rear sights and 7.56" between the front and rear sights, giving the gun a long sight radius.
In terms of accuracy, the G34 is arguably one of the most precise 9mm Glocks out there.
Another feature that sets the G34 apart from other Glock 9mm handguns is the extended slide release and magazine release button.
770
at Brownells
Prices accurate at time of writing
Prices accurate at time of writing
While it would have been nicer if the gun was made ambidextrous, these upgrades do make the gun easier to use in a fast-paced competition setting.
Why it's great
While the G34 is bigger and bulkier than the average 9mm, its long barrel and sight radius give it incredible accuracy. Factor in the fact that it's built with the same dependency as other Glock models and you've got yourself a great 3-gun pistol.
While the Gen 4 G34 is great – Glock has jumped ahead of the curve by now offering the G34 Gen 5 pre-cut for red dots sights! The Glock 34 MOS Gen 5!
730
at Brownells
Prices accurate at time of writing
Prices accurate at time of writing
If the G26 is the "baby Glock" then the Glock 43 is newborn. This handgun ins an ultra-slim, subcompact handgun that has a length of 6.25" and width of 1.02".
It's great for stashing a backup gun in a suit pocket or purse, but its 6-round capacity magazine completely negates one of the largest benefits of a 9mm: more ammo.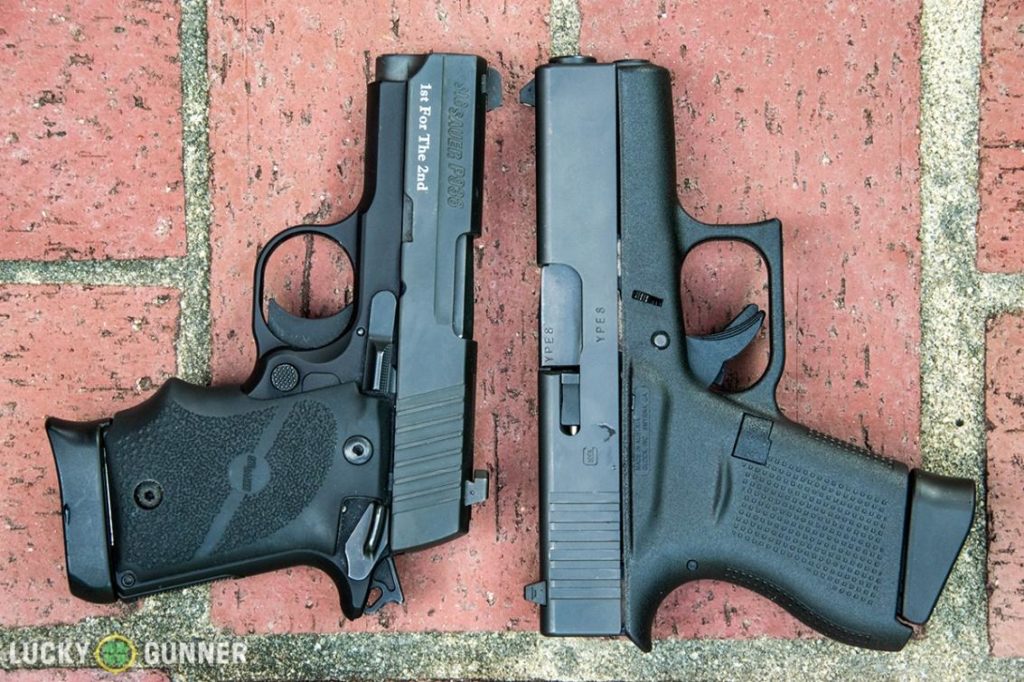 The biggest drawback of the G43 is that its small size can make the gun hard to grip, especially with people who have larger hands. Glock answered this problem by giving the G43 a beaver tail design, which does a great job with helping make it easier to hold and control the gun.
Ultra Reliable Single-Stock CCW
480
at Brownells
Prices accurate at time of writing
Prices accurate at time of writing
In order to get the most out of the G43's small size, you'll want to use the standard 6-round magazines. The good news is that the G43 is an accurate handgun for its short barrel length, making it a good backup piece.
See more of the G43 in our full written review or video below:
Why it's great
If you're looking for a handgun strictly for concealed carry, I'd recommend going with the G19 or the G26 since they have higher magazine capacity. If you already have a gun that you concealed or open carry and you're in the market for a reliable backup gun, give the G43 a try.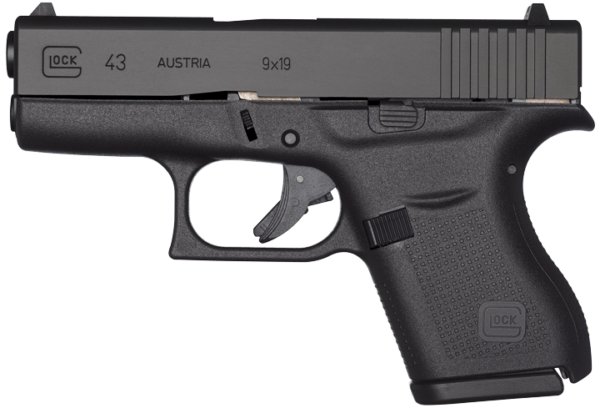 A major update to the standard G43, the X stands for 10 because this G43X takes 10 round magazines instead of the standard 6 round mags of the G43.
With a redesigned frame and grip, this is effectively the same footprint as a normal G43.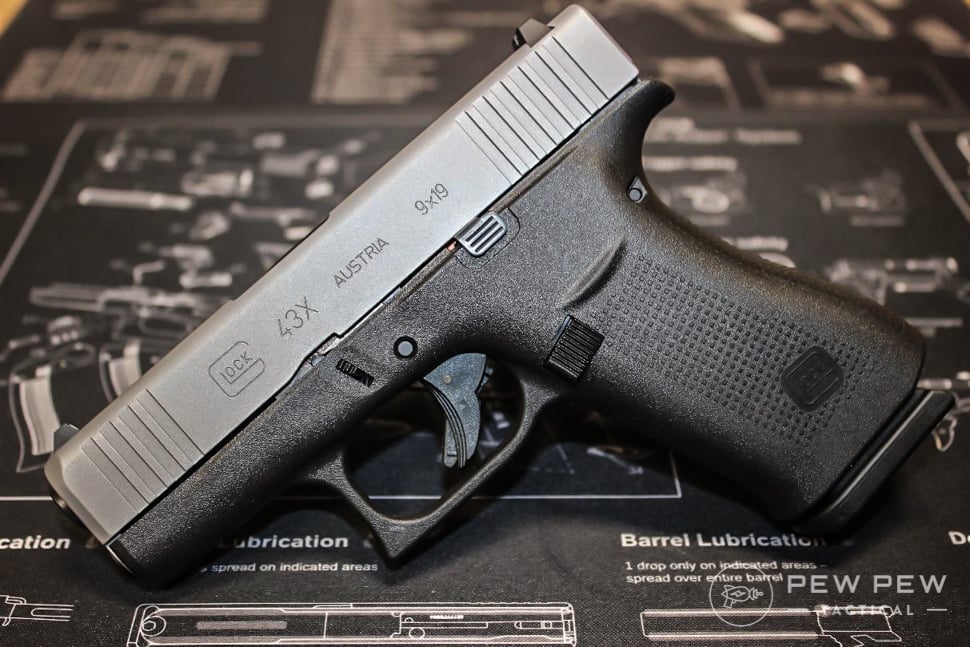 If you're looking for a CCW pistol, this is one of the best options on the market right now. Read all about it in our Hands-on Review of the G43X!
480
at Brownells
Prices accurate at time of writing
Prices accurate at time of writing
Another 9mm Glock, the G45 is like the G19x but backward. Sporting the slide of a G19 and the frame of a G17 the Glock 19 is designed to answer the masses need for a large frame, small slide Glock!
540
at Brownells
Prices accurate at time of writing
Prices accurate at time of writing
We have a complete Review of the Glock 45 that has everything you want to know about Glock's newest entry to the market!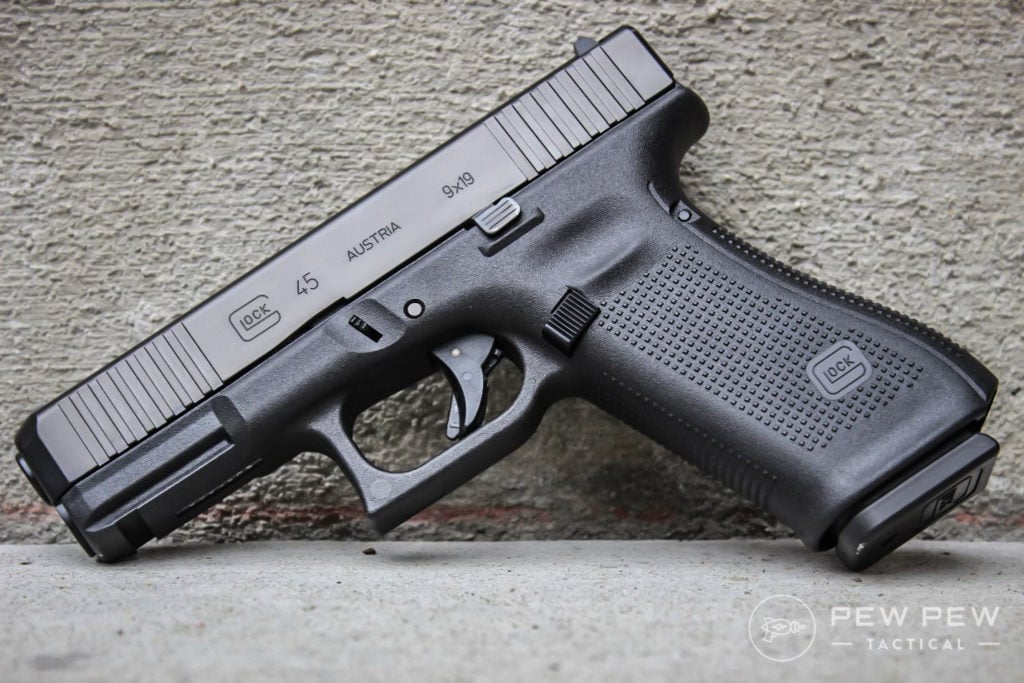 Glock's method of naming things can be a bit confusing, so it shouldn't come as a shock that the G48 is actually the larger sibling of the G43X. Featuring the same 10 round magazine and the same frame of a G43X, the G48 sports a slightly longer slide and barrel.
480
at Brownells
Prices accurate at time of writing
Prices accurate at time of writing
This has some nice advantages such as a better sight picture and more muzzle velocity that translates into more reliable expansion of HP rounds – important for self-defense.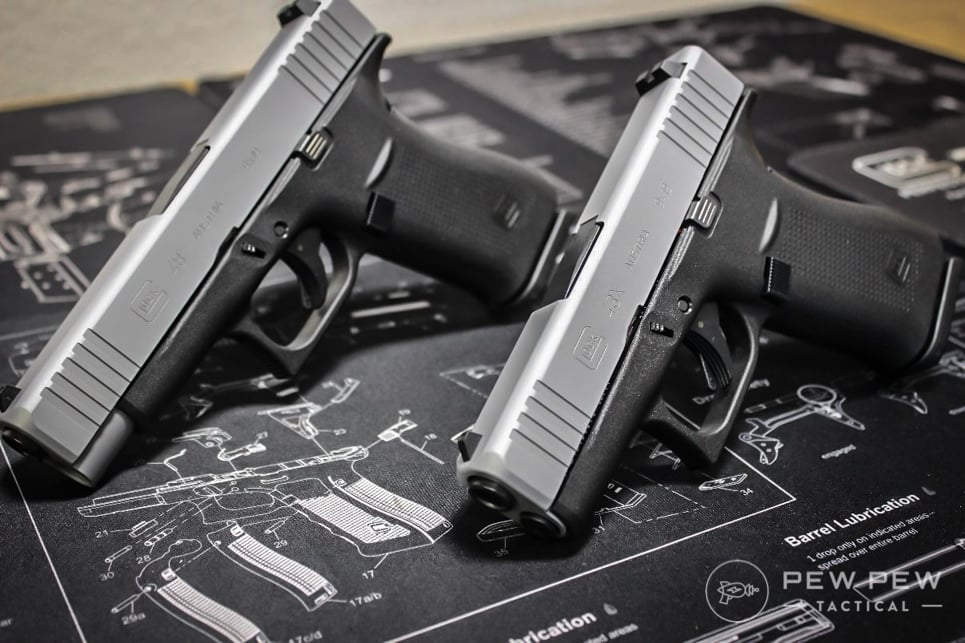 And yes, we have a Hands-on Review of the Glock G48!
More on Glocks
You probably already know that Glocks have their fair share of haters who don't like their unusual shape, polymer frame, or slippery grip.
Guess what? Many gun manufacturers are moving away from metal frames and switching to polymer.
Also, you'll get used to the shape and your Glock can easily be stippled for maximum grip traction.
The reason why you should consider making your 9mm purchase a Glock is because Glocks are known for their consistency. They're consistently accurate, durable, and dependable.
Need some 9mm recommendations? We go with results from an FBI-style ballistics gel test to come up with our Best 9mm Ammo for Self Defense & Range.
Once you get used to shooting one Glock, shooting a different model shouldn't be too much of a challenge. For this reason, I swear by them… even if they are ugly as sin.
How do you feel about Glocks? Let us know in the comments! Looking for something NOT 9mm? We have our Best Glock Handguns article that covers all calibers and sizes.