What can be said that has not already been said about the legendary Glock?
Whether in video games, movies, or even music, Glocks are ubiquitous in and out of the gun world.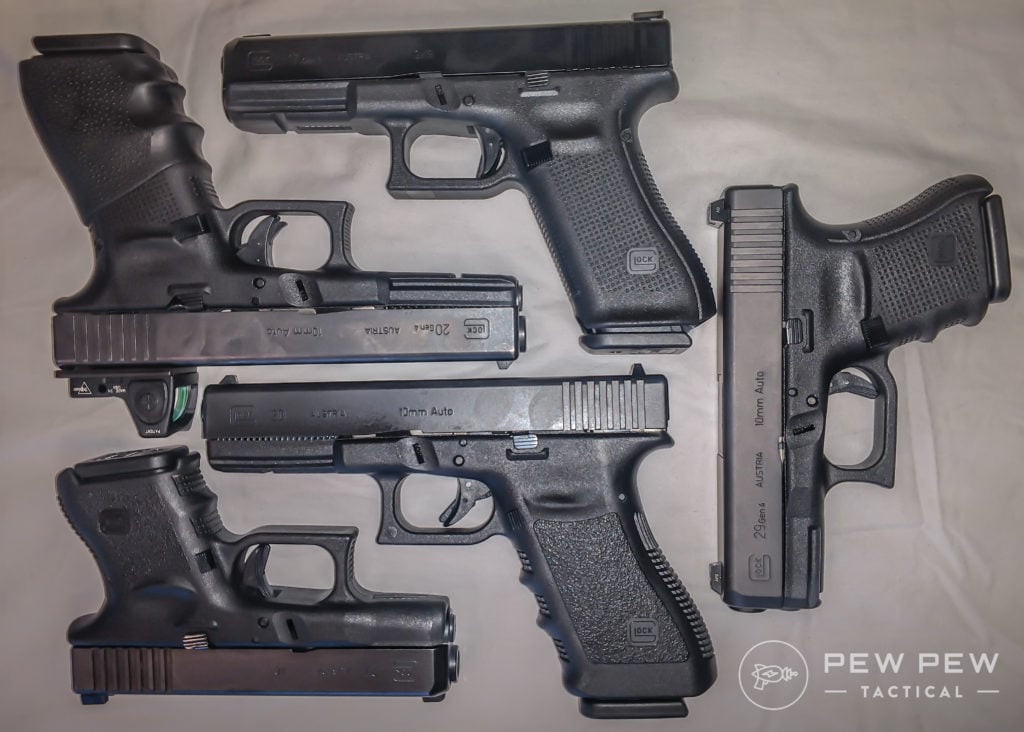 Ask someone who knows nothing about guns to name a manufacturer, and they will probably say Glock at least once.
Offering over 50 pistols in different sizes, styles, and calibers, Glock is an industry giant.
Although they weren't the first company to develop a polymer handgun — that accolade belongs to the HK VP/70 — Glock did make a model that proved successful in the market.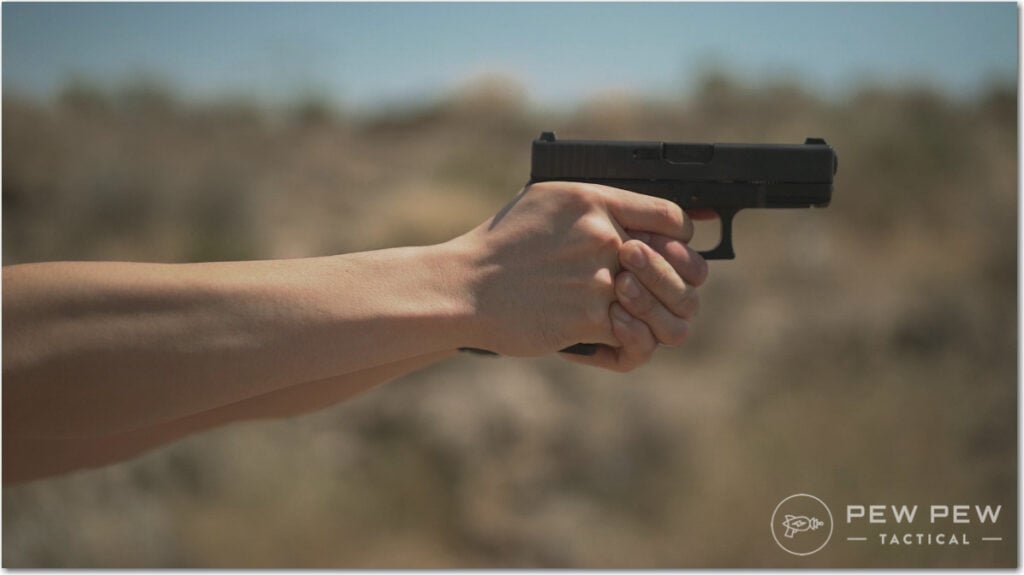 There's no doubt about it…Glock is one of, if not, the most popular handguns in the world.
With a history that touches back to the 1980s and three total generations, shopping for Glocks may seem a bit daunting.
But that's why you have us! We're going to cover Glock Gens 3, 4, and 5.
We'll look at when each generation got its start, the unique features each offers, and help you compare/contrast to ultimately narrow down your decision.
If you've got your heart set on a Glock model, but don't know which generation to go with, then read on, dear friend. Read on…
Table of Contents
Loading...
Glock: The Nokia of Guns
Whether you've been in the gun world for five decades or five minutes, you probably know someone who hates Glocks for the sake of them being Glocks.
Bottom line: These guns are great for shooters of all skill levels.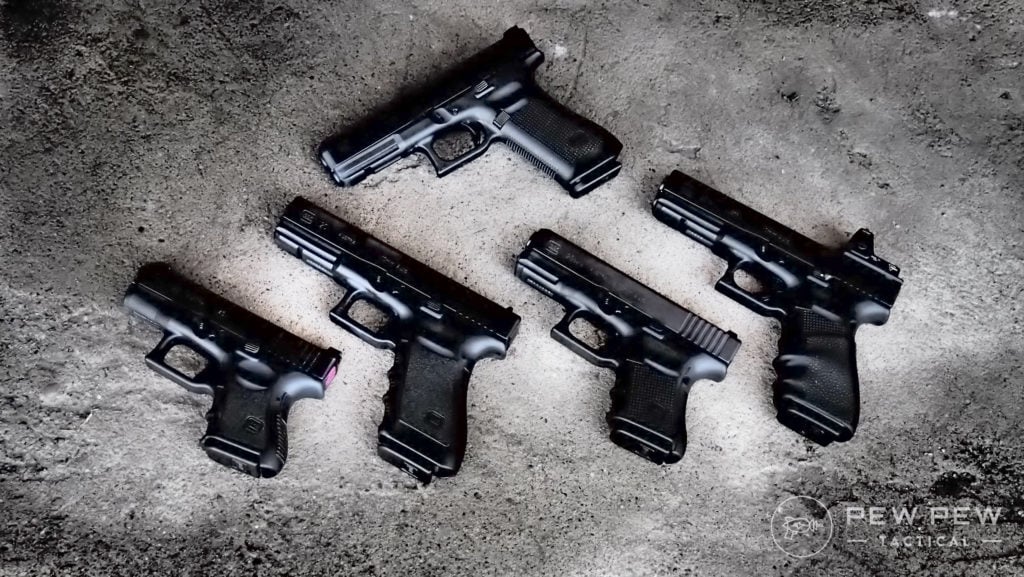 From beginner to the professional gunslinger, Glocks will probably fit your needs just fine. Don't let anyone tell you they suck.
If the approval of law enforcement agencies and concerned citizens around the world isn't enough to sway you, consider this: global and national shooting champion Bob Vogel has won numerous USPSA, IPSC, and IDPA matches with both stock and modded Glocks.
The proof is in the pudding: Glocks are proven firearms. Fight me.
Remember Nokia? The brick phones that were indestructible and provided hours of entertainment via snake?
Glocks are basically the firearm equivalent.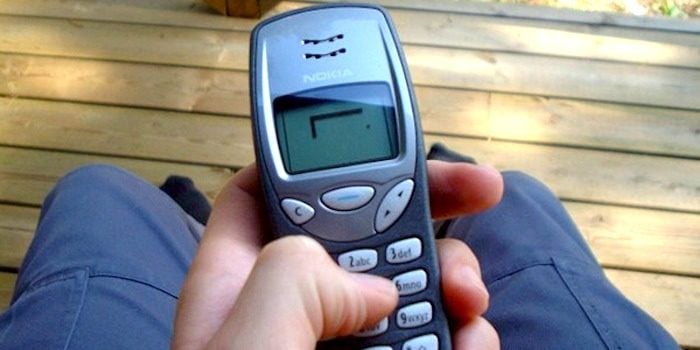 She ain't pretty, but she'll get 'er done.
They're the benchmark of reliability. So much so, in fact, that most discourse about firearm reliability will compare *insert gun model here* to a Glock.
You'll even find people who are reluctant to change out any OEM parts, even the infamous trigger, out of fear of reducing said reliability.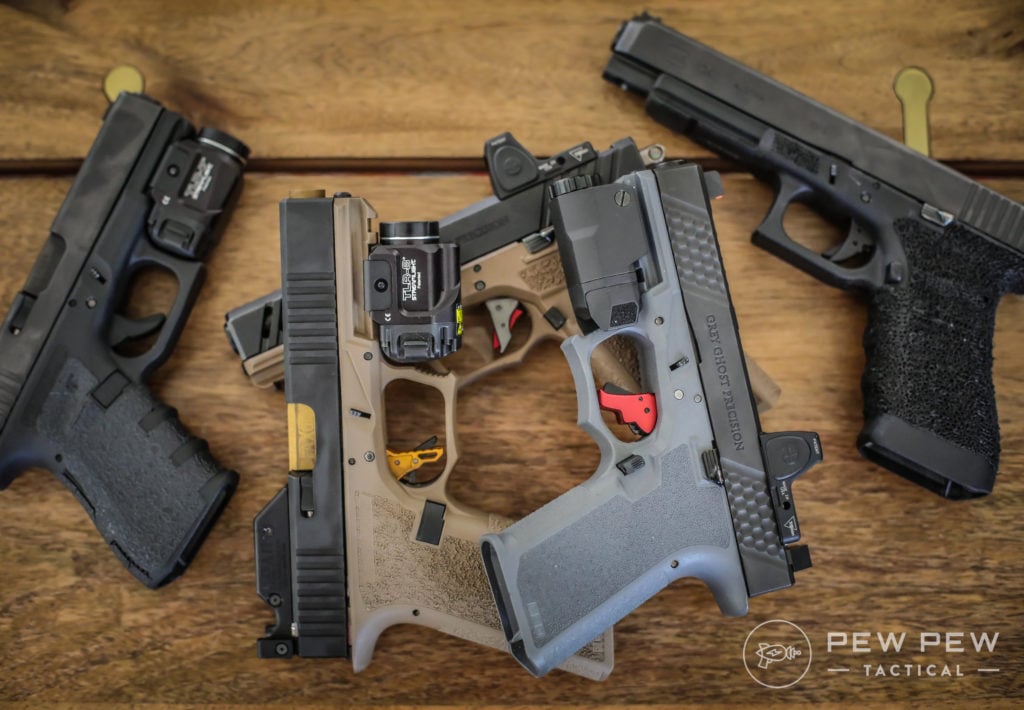 But how did Glock become legendary for its ability to endure hard use and abuse?
Let's discuss…
A Little History
Everyone knows the legend of Gaston Glock by now. If you don't, you're about to find out.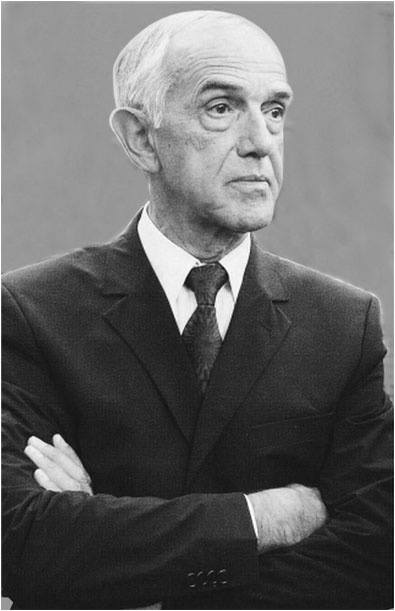 Founded in 1963, Glock did not start out as a firearms company. It was initially a wood, steel, and plastic manufacturing company.
In the 70s, Glock began manufacturing military products such as knives, grenades, machine gun belt links, and other similar products.
Though they hadn't produced a firearm yet, the wheels inside Gaston's head were turning. He had expertise with synthetic polymers and big ideas for what would eventually become the Glock 17.
Cue the 80s — a big decade for Glock (and hair).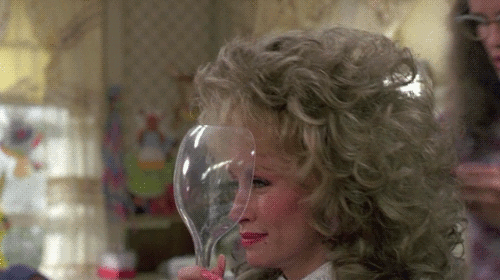 Glock created a working prototype of the Glock 17 that would eventually win the Austrian military contract.
It was the most innovative and cost-effective option.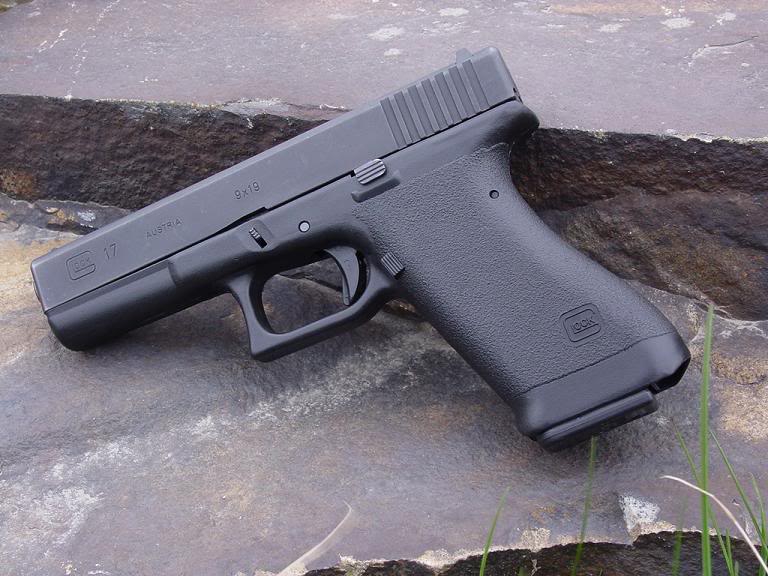 Under the name "P80" (not to be confused with polymer80), Glock was accepted as the new Austrian sidearm.
After that, Gaston's namesake exploded with popularity. Agencies around the world adopted the new pistol.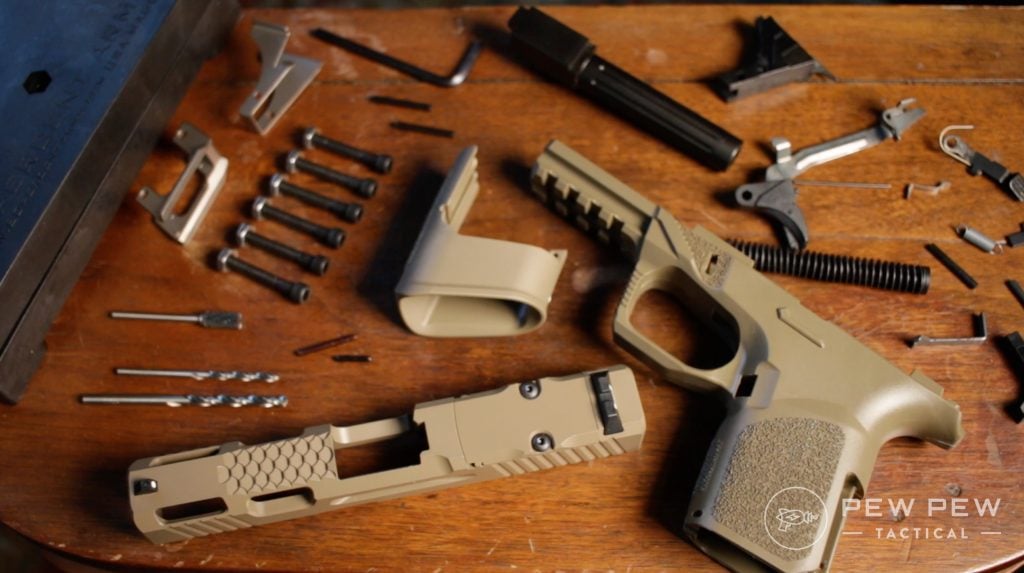 Glock didn't hit the U.S. market until 1986, but it took America by storm in both law enforcement and commercial markets.
In 1986, Glock released the second generation Glock. With no rail and no finger grooves, it was no-frills by today's standard.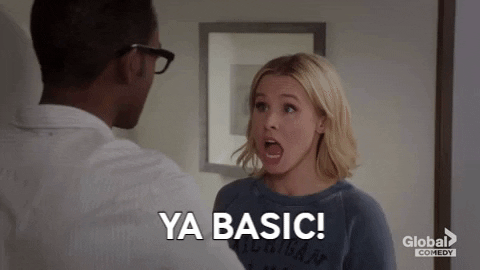 Continuing the forward momentum throughout the decades, Glock released the Gen 3 in 1998, Gen 4 in 2009, and Gen 5 in 2017.
All three generations are still on the market today.
Glock Gen. 3, Gen. 4, and Gen. 5: What's the Difference?
Let's be real, they're all Glocks so that means they boast some similar traits. That said, they do features some notable differences.
So, let's take a deep dive into what sets these generations apart.
Gen. 3: The Cali Glock
If you live in California, the Gen 3 is probably the best Glock for you. Actually, it's the only Glock for you.
Before we get into the nitty-gritty, let's talk about WHY Gen 3s are the only Glocks Californians are allowed to buy.
California is notorious for its tight gun laws.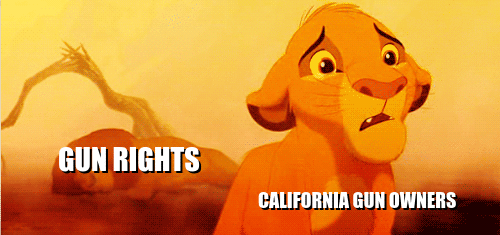 As I said earlier, the Gen 3 Glock was released in 1998, making it the only Glock to be released before the implementation of the 2001 handgun roster.
Anything not on that roster is illegal to purchase in California.
Off-roster handgun purchases are only permitted for LEO/government officials who meet certain requirements.
Citizens can get their hands on an off-roster handgun, however, they typically pay 2x to 5x the MRSP due to demand.
It gets worse.
While guns can expire off the registry, they are never added.
Why?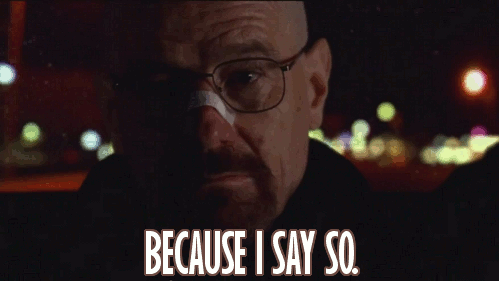 If the gun wasn't grandfathered in before the roster, it has to abide by certain rules. One of these rules is that they have to feature microstamping.
Ever heard of it? If you haven't, it's because it doesn't exist.
This non-existent technology, in theory, would cause a firearm to etch imprint a unique code that may include the make, model, and serial number, onto casings when fired through that firearm.
Under this law, semiautomatic pistols must incorporate this technology in at least two places inside the firearm.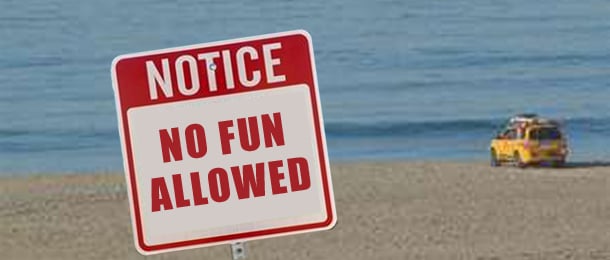 Sounds ridiculous, right?
Luckily, the Gen 3 Glock is still in production and is still a fan favorite. Some even swear by it over the newer generations.
At the time of its release in 1998, the third generation offered new features such as an accessory rail, loaded chamber indicator, thumb rest, and the ever-controversial finger grooves.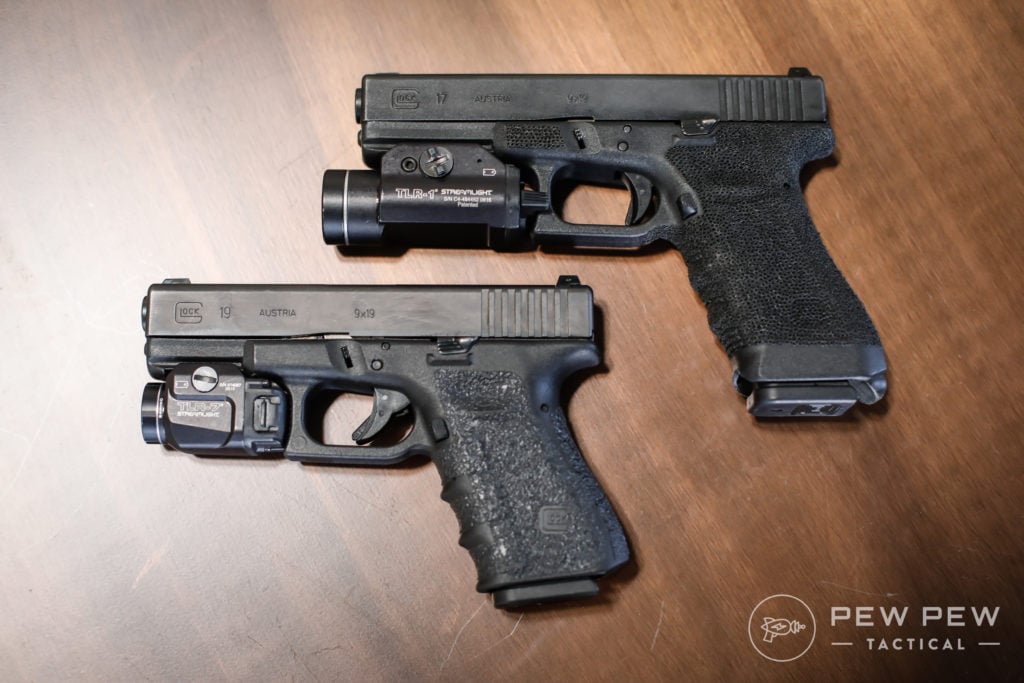 Generation 3 was groundbreaking for the times.
Fortunately, it's not made of porcelain and costs less than a police chief's monthly wages — sorry, John McClane.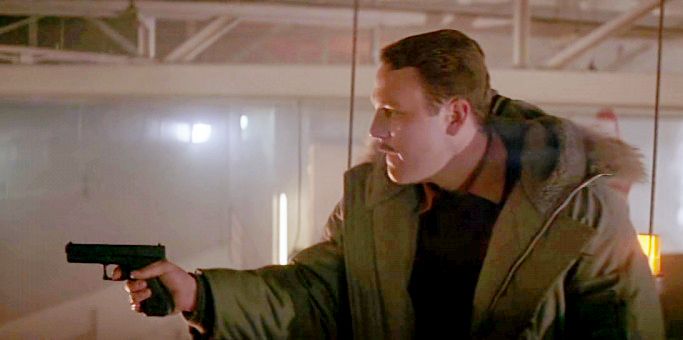 It has been over 20 years since the Gen 3 hit the market, and it's not going anywhere any time soon — a true testament to Glock's longevity.
Rumor has it, Glock only keeps it on the market to help out Californian gun owners.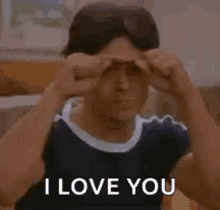 It's still an extremely popular model and arguably the most customizable out of all generations.
The Gen 3 was modular before being modular was cool.
Food for thought: Not every manufacturer that makes Gen 3 Glock parts makes Gen 5 parts, but most Gen 5 parts manufacturers make Gen 3 parts.

550
at Rainier Arms
Prices accurate at time of writing
Prices accurate at time of writing
Gen. 2: The Middle Child
For everyone living in a normal (read: free) state, the Gen. 4 is a great option.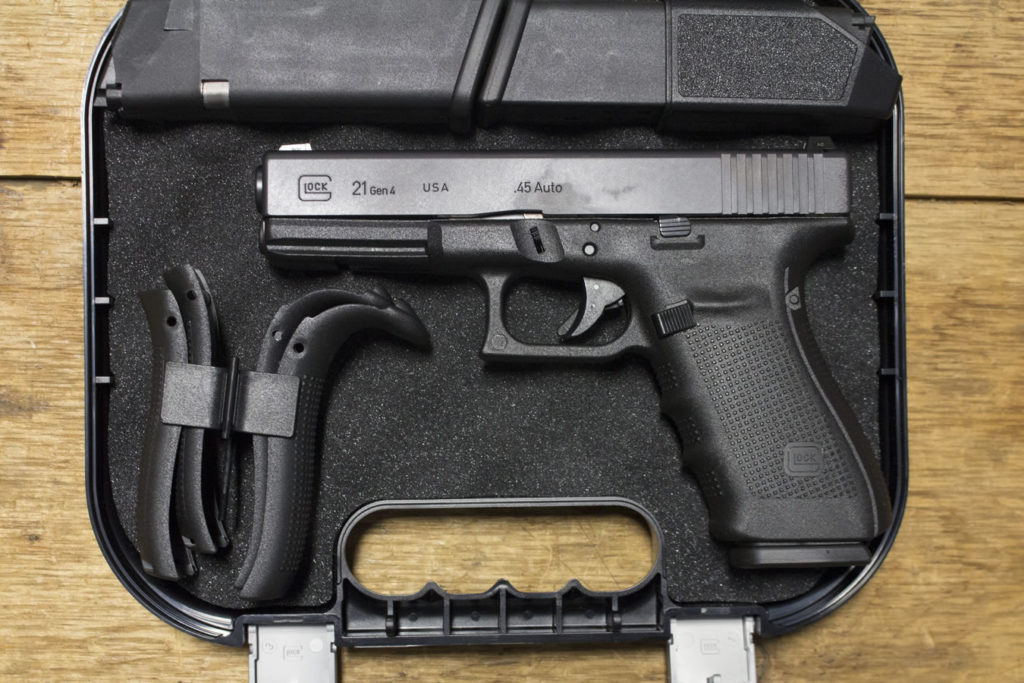 Born in 2010, it didn't feature anything particularly groundbreaking. That said, the Gen. 4 boasted a few new updates.
The Gen. 4 when compared to the Gen. 3:
Brought more ambidextrous parts — always nice for those weirdo lefties.
Upgraded to a larger magazine release button
Featured a new grid-like grip improved the shooter's grip on the gun.
Introduced a modular backstrap system to help accommodate different sized hands
Switched to a double recoil spring to mitigate recoil
Most Popular
700
at Brownells
Prices accurate at time of writing
Prices accurate at time of writing
The Gen 4 feels like a true half-step between the Gen. 3 and Gen. 5 models. Still rocking those controversial finger grooves, the Gen. 4 makes up for it with a lighter recoil impulse due to the double recoil spring.
Although not completely ambidextrous, like the Gen 5, the fourth generation is more left-handed friendly than the Gen 3.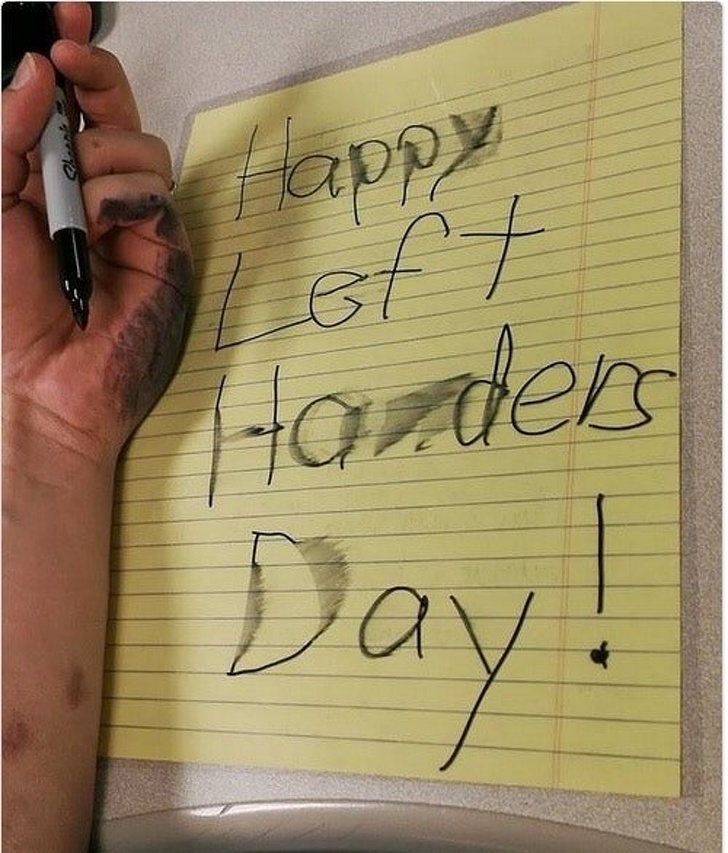 Ultimately, if you like the fit, finish, and overall modularity of the Gen. 3, but want some of the features of a Gen. 5, this is the perfect Glock for you.
Editor's Choice (Beginners, Home Defense)
530
at Brownells
Prices accurate at time of writing
Prices accurate at time of writing
Gen. 5: Blast From the Past
In 2017, things got a little weird with the release of the Gen 5.
This new generation brought a blast from the past, also a step forward for Glock.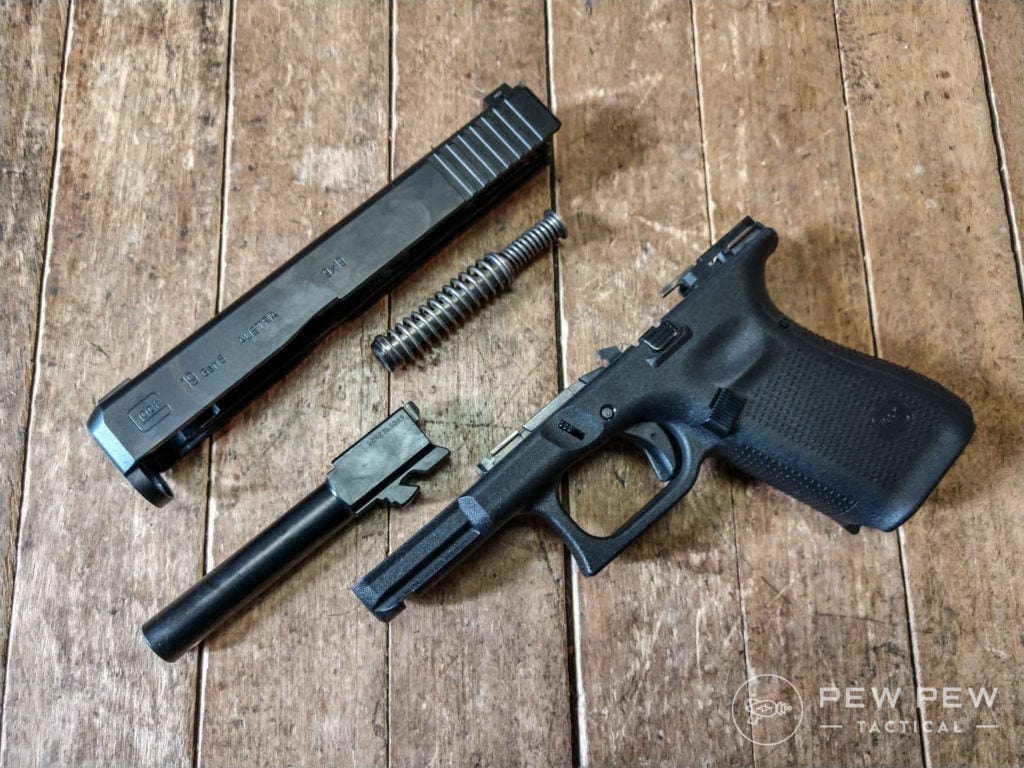 How can that be?
With the Gen. 5, Glock reintroduced a lot of goodies they had previously taken away.
In true Glock fashion, they marketed it as new and innovative.
Kinda like the whole "Coke Classic" thing.
The Gen. 5 model received a lot of hype leading up to its release.
After all, Glock generation updates occur once in every 4-6 blue moons.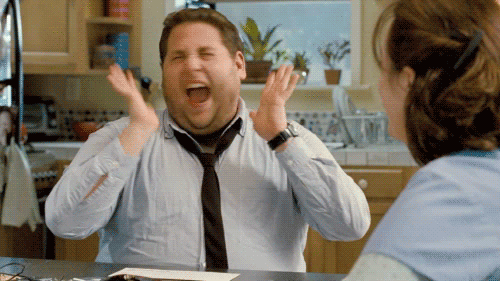 Its new-old features adhere to the "Glock Perfection" slogan. That is to say, they listened to the consumers.
There are two different Gen. 5 iterations out there: the original and the Front Serrations (FS).
Both versions use nDLC coating, fully ambidextrous controls, improved triggers, flared magwells, and a barrel that Glock calls "a Glock Marksman Barrel."
Most Dependable
559
at Palmetto State Armory
Prices accurate at time of writing
Prices accurate at time of writing
The Glock Marksman Barrel is a step back from the polygonal rifling that Glocks used to feature. It features traditional rifling and a thicker wall than previous generations.
Both of these updates allow for a more accurate barrel, according to Glock.
Originally, the Gen. 5 came with a half-moon cut in the grip and no front serrations.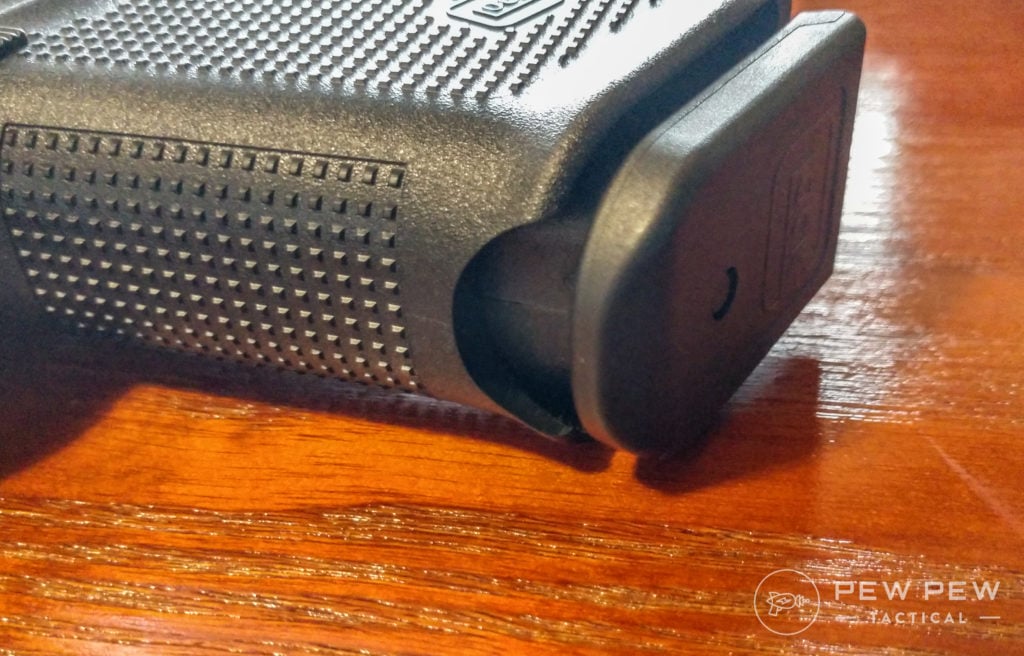 The half-moon was meant to help when/if magazines got stuck during a reload.
The half-moon cut was later removed because well, they were kind of ugly and useless.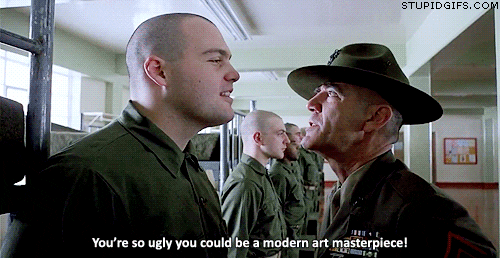 On the other hand, the FS model features front serrations to help with those high-speed press checks.
However, the trade-off is that now you can't mill the front half of your Glock with all the cool designs.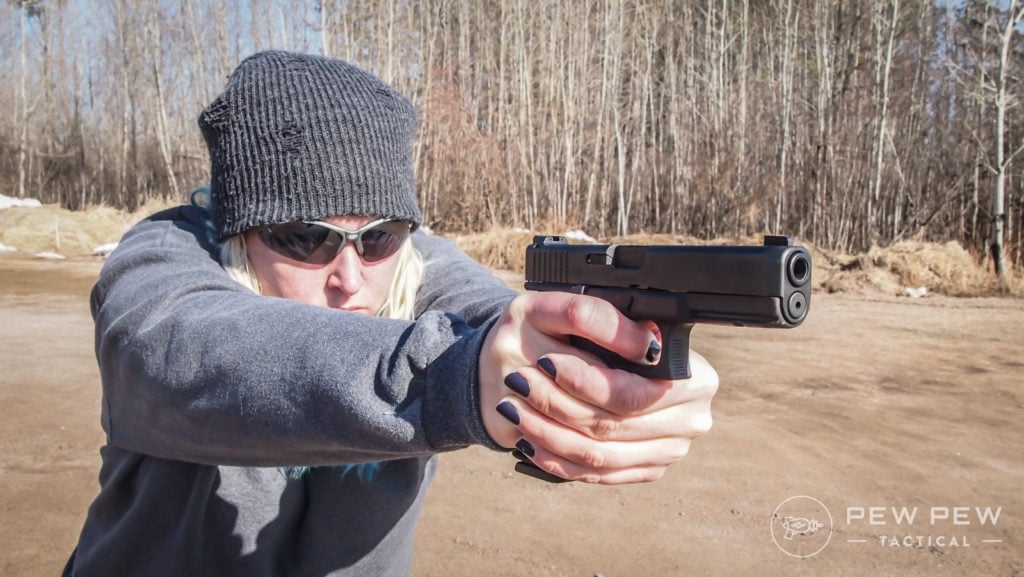 Ultimately, the Gen 5 represents Glock's pursuit of perfection over the pursuit of novelty. They looked at what works and built a Glock that is up to date and good to go straight out of the box.
But what if you want more? After all, you can never have too much good stuff.
Newst Generation Glock
539
at Primary Arms
Prices accurate at time of writing
Prices accurate at time of writing
Other Glock Models: Slimline and MOS
The Mini Glock
There are a few Glocks that seem to exist outside of the realm of generations.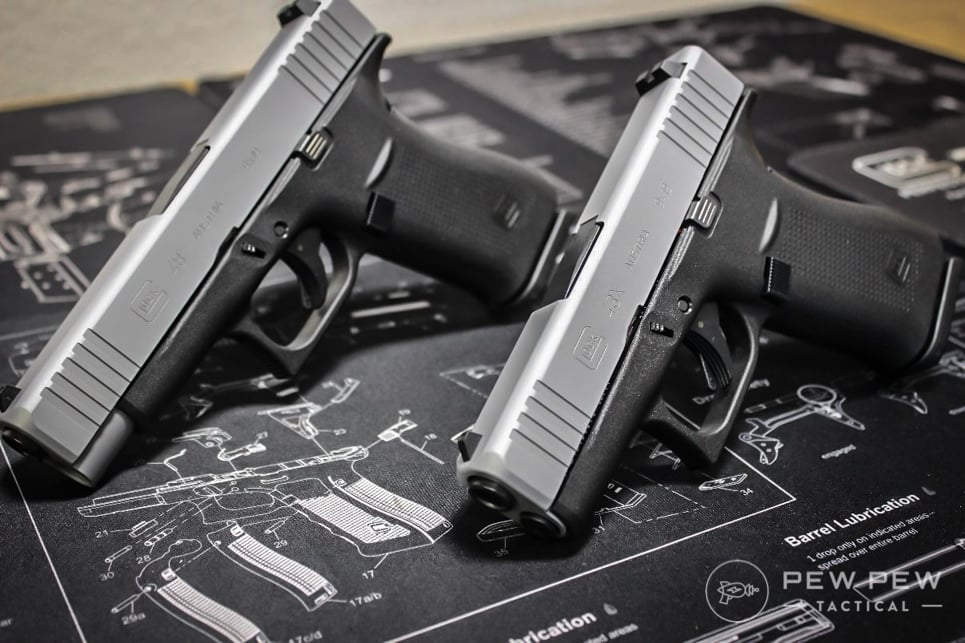 Designed with concealed carry in mind, the Slimline Glocks are not technically Gen. 4 or Gen. 5. Available in .380 Auto and 9mm, the Slimline line of Glocks includes G42, G43, G43x, G43X MOS, G48, and G48 MOS.
(Check out our review of the Glock 43.)
These models come with most of the bells and whistles of the Gen. 5, but in a smaller, single-stack package.
Ultra Reliable Single-Stock CCW
449
at Palmetto State Armory
Prices accurate at time of writing
Prices accurate at time of writing
Slimline Glocks are perfect for summertime or super covert, ninja-spy concealed carry.
Pro tip: Throw a Shield Arms S15 kit in the G43X or G48 to maximize the capacity and practicality of the noisy cricket.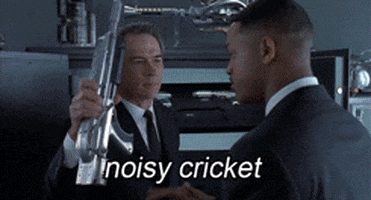 Glock MOS
Admittedly, Glock is not always at the forefront of innovation. Like aother companies, they make small adjustments over time.
Not overly ambitious, but just enough to differentiate between generations.
Enter the Glock MOS, another Glock line that exists outside of the constraints of generations.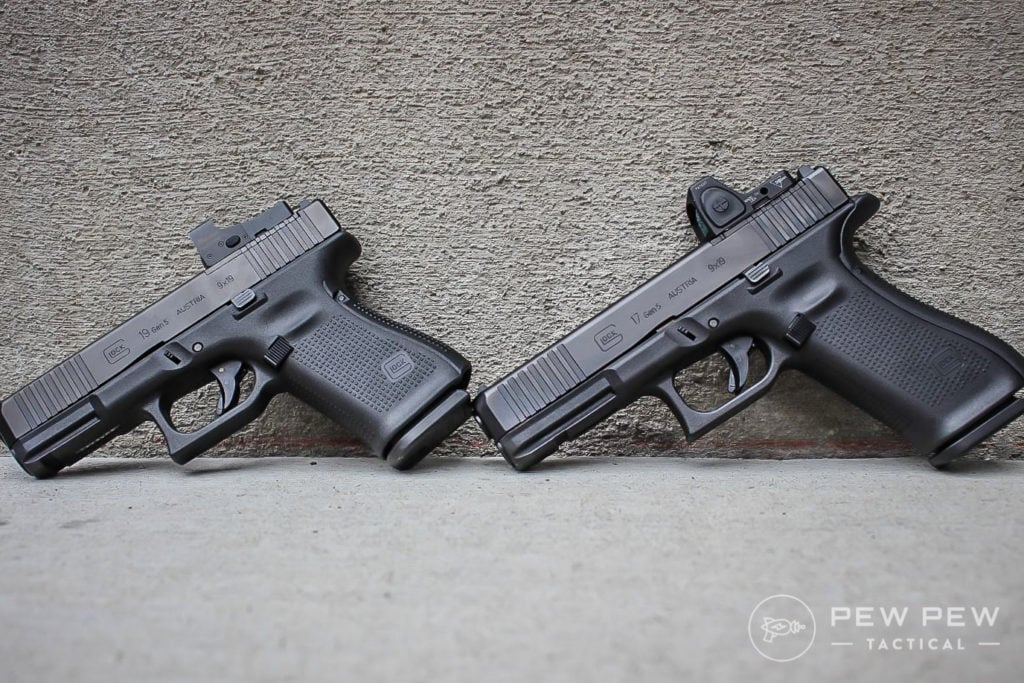 You can now get Glocks that can accommodate red dot sights right out of the box!
There's more!
Instead of sending your slide out to get milled and waiting 6 to 12 weeks, you can now just slap a plate on it, and it's ready to mount.
730
at Brownells
Prices accurate at time of writing
Prices accurate at time of writing
Want to change your optic? Just use a different plate!
The MOS line is available in both Gen. 4 and Gen. 5 models.
Conclusion
The truth is, no matter which Glock generation you buy — Gen. 3, Gen. 4, or Gen. 5 — these pistols are rugged and reliable, across the board.
Does Glock make small adjustments with each new generation? Sure, but the aftermarket support keeps it fresh and up to date.
After all, we have all heard of (and probably seen) Gucci Glocks that *cough* people never shoot *cough*.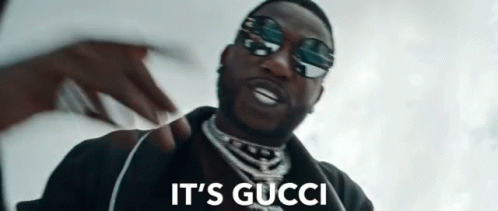 The best part? It does not matter which caliber tickles your fancy, Glock has one for you with uniform controls across all models.
This means you can get some reps in with .22LR when 9mm or .45 ACP is too expensive without compromising ergonomics and controls.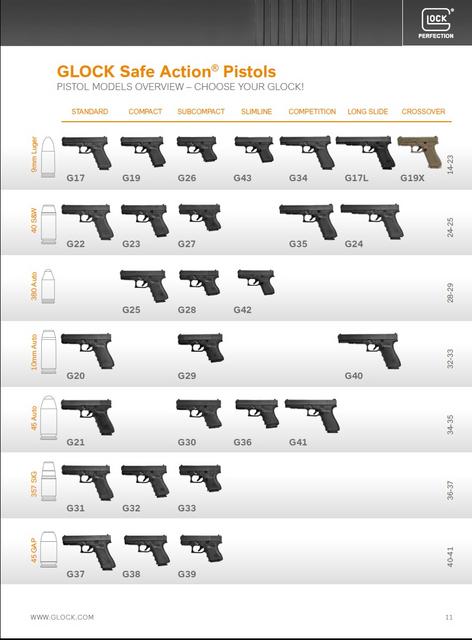 If you have been on the fence about whether your first gun should be a Glock, here's your sign….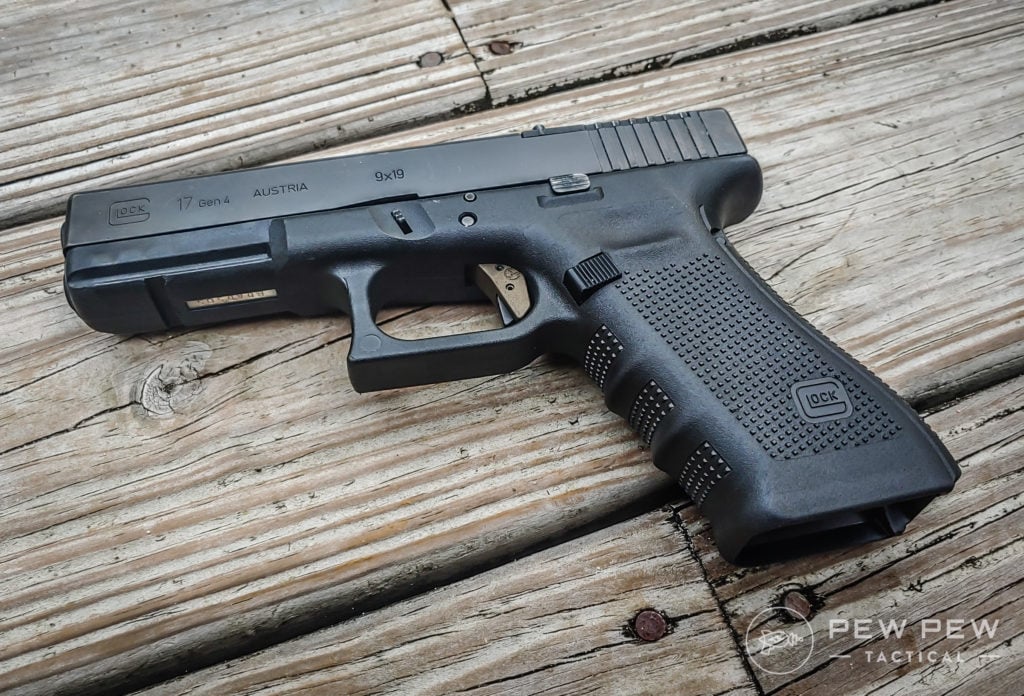 Which Glock generation/model is your fave? Share your thoughts in the comments! Read up on the Best Glock Upgrades to take your Glock to the next level or settle on a model with the Best 9mm Glocks or Best Glocks (Across All Calibers).