Love them or hate them, there's no denying that Glocks are dependable, durable, and accurate.  Some of the best-rounded handguns that I've ever owned were Glocks.  
But I've always had one complaint about them: their design.
When it comes to looks, the Glock fell from the ugly tree and hit every branch on the way down.  For some people, their box-shaped slide and rectangular handle leave a lot to be desired.  And I happen to be one of those people.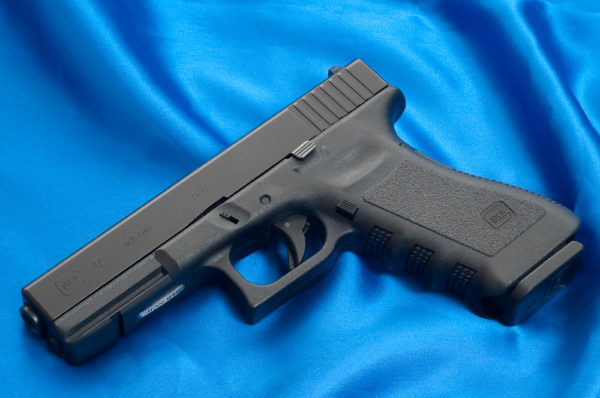 Fortunately, I'm not into Glocks for the looks.  I like them because their accuracy and durability make them a force to be reckoned with.  But I gotta admit, aesthetics do go a long way for me.  The good news is that Glocks aren't that difficult to mod, and given the popularity of the brand, there are a number of aftermarket parts out there to choose from.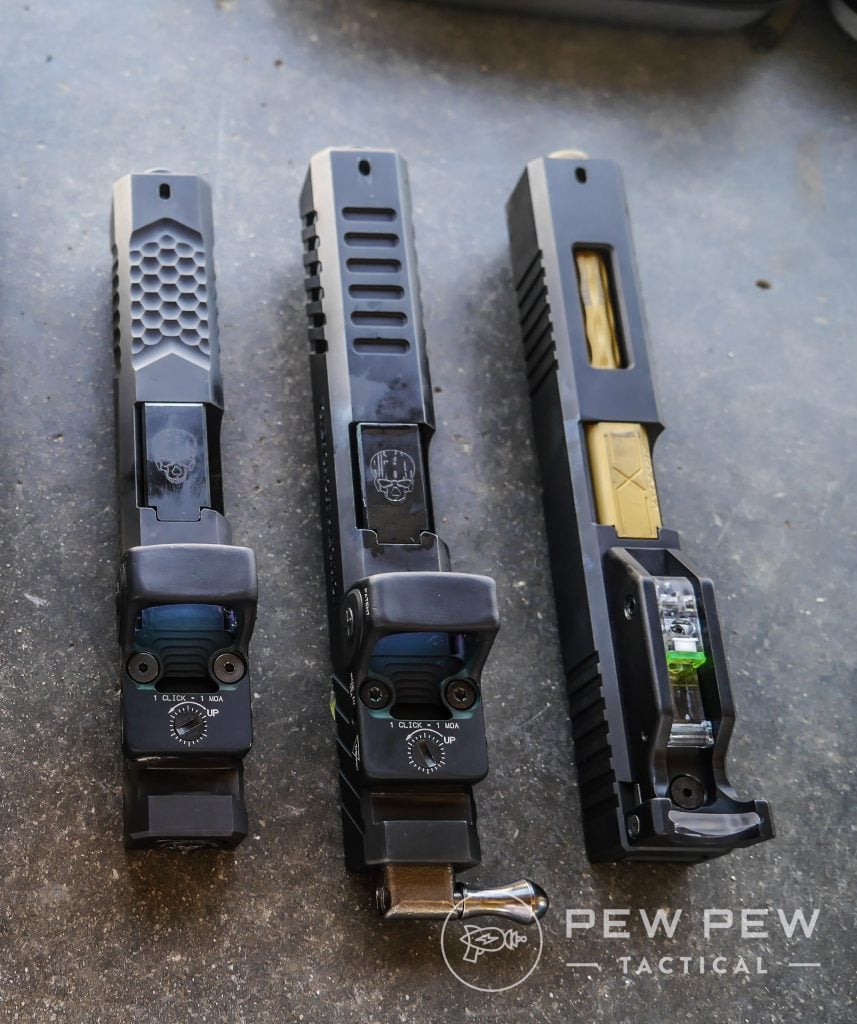 One of the easiest places to spruce up a Glock is the slide…and that's what we're going to talk about today.
Here are our favorite aftermarket Glock slides for improving the looks (and performance) of Gaston's Greatest Gun, and some info on why they make such a difference,
Why Should I Even Care about the Slide?
People like aftermarket slides for the same reason they like the color of their car (or the same reason they hate Hi-Point pistols): they want something that looks good to them.  It's nice to customize your gun to make it look just the way you like.  
Also, aftermarket slides can serve functional purposes like improved serrations and optical sight support, which is something you'll need to think about if you want to add a red dot to your pistol.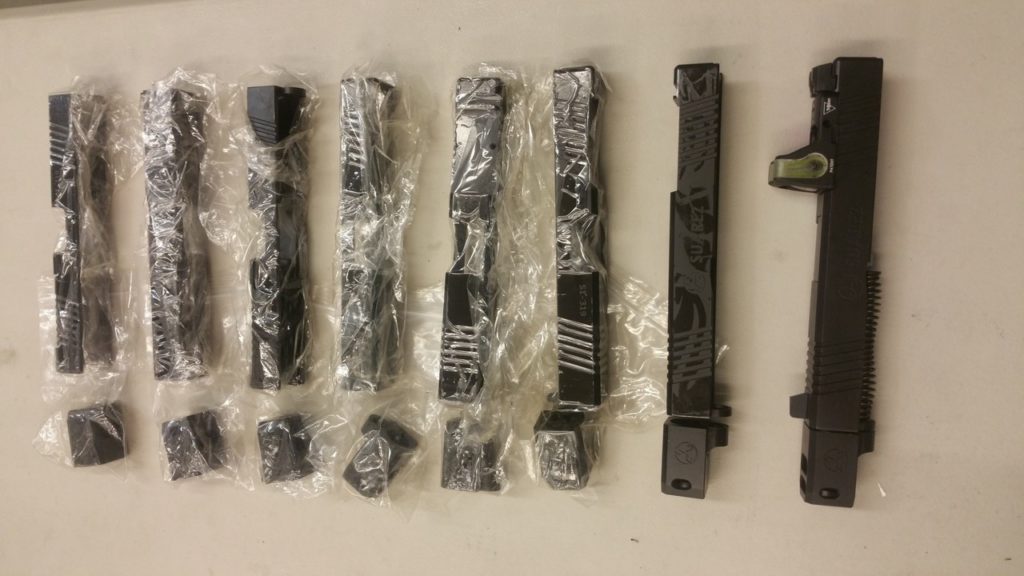 Ultimately, it's about mixing and matching until you come up with a gun that works best for you.
Now in the past, we've talked about some of the best aftermarket Glock triggers on the market, let's take a look at some equally awesome aftermarket slides to go with them.
1. Brownells
Brownells has always been my go-to for gun parts.  But I was surprised to see that they made Glock slides in regular, optics cut, and windowed varieties.
I went with the windowed version of course…since I was pairing it with a gold Faxon TiN barrel (full review…hint it's awesome).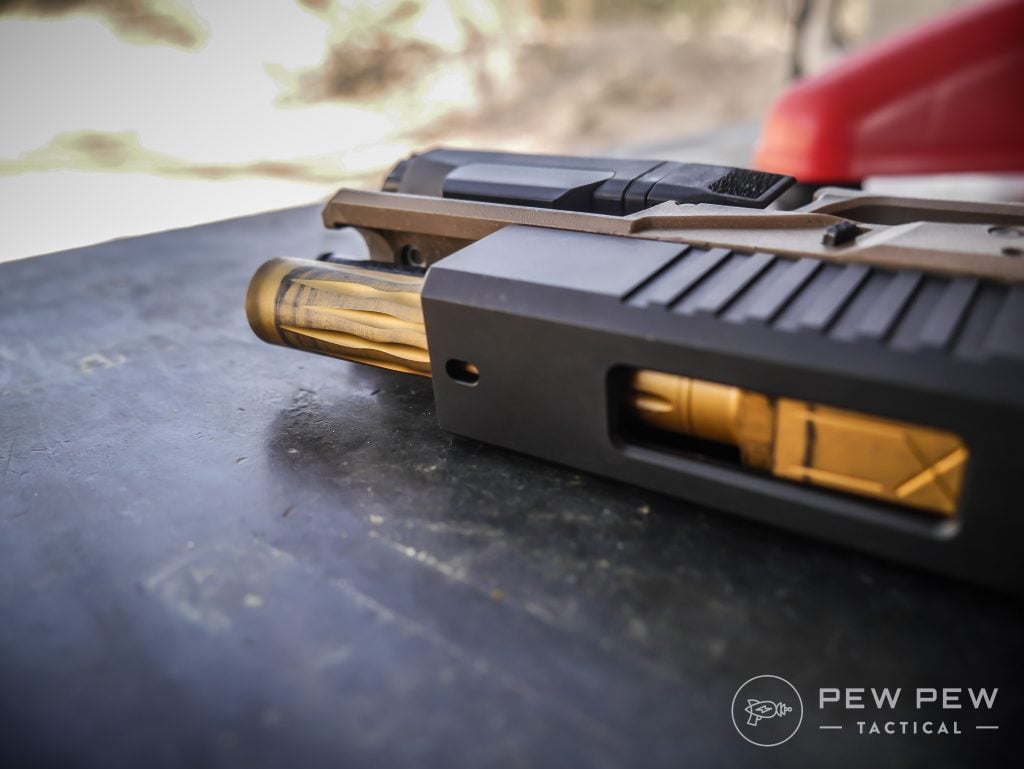 It fit well on two factory Glock frames plus two Polymer 80 frames.  Right on at factory tolerances, I would estimate.
For me…the best bang-for-the-buck slide at around $160 that still gives some coolness factor with the window.
2. Lone Wolf Distributors  
When it comes to Lone Wolf, there's always one person in every pack that complains about the company logo.  While that image of wolf does look like an unflattering sigil from a Game of Thrones episode, Lone Wolf does know Glock guns better than anyone, except maybe Glock themselves.
Maybe.
If you think their logo is that much of an eyesore, you can pay a little bit extra to have your slide custom engraved – Lone Wolf has loads of patterns to choose from.
Notable Mention: AlphaWolf G17
If you're looking for a bare slide for your 9mm that's similar to your factory slide, the AlphaWolf OEM profile ($210) is a great choice for you.  
The AlphaWolf G17 is almost identical to your original slide (except this comes with no sights!), with the exception that it has a sturdier feel to it.
The AlphaWolf G17 is made from 416 stainless steel and has a sleek matte finish to it. It's designed to fit the G17 (Gen 1-3 compatible) but is also able to convert the following models to support 9mm cartridges:
The great thing about Lone Wolf is that you have some control over the design of your slide.  Along with laser engraving, you can also have your Lone Wolf slide painted black, custom ported and even completely customized.   
And for a little extra, you can also have your AlphaWolf cut to support RMR optics.
They're also pioneers of the build your own Glock trend.  In fact, you can effectively build an entire "Glock" using mostly Lone Wolf parts.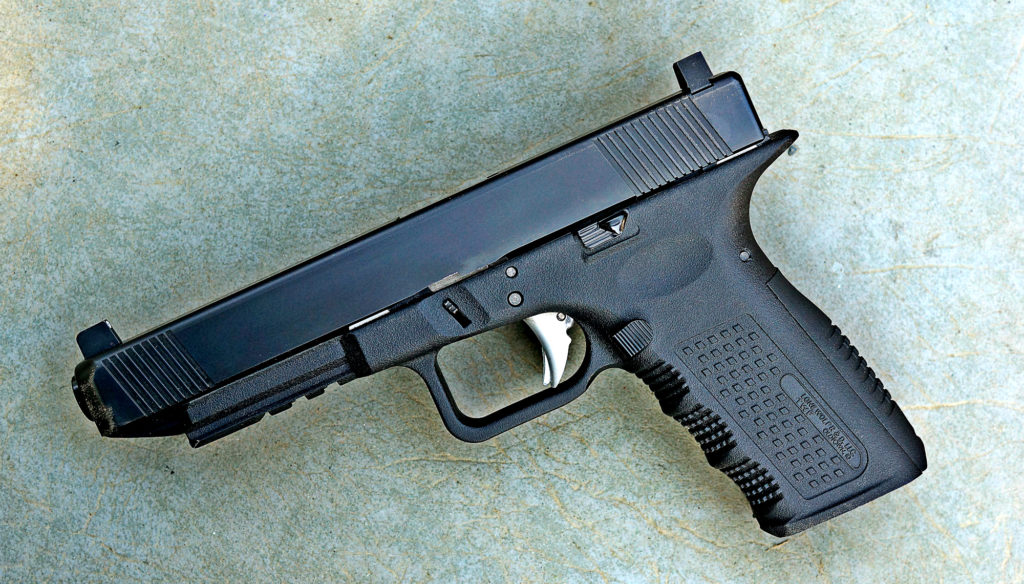 Is that even still considered a Glock?  We don't know.
Is it really freaking cool?  Hell yes.
When buying bare slides from Lone Wolf Distributors, don't forget to buy a slide parts kit  ($85) along with your slide.  You'll also need a conversion barrel if you plan on converting your current Glock into a different caliber.
3. Suarez International
Suarez International is another great company for all of your Glock modification needs.  They have a number of different parts and accessories that will help you give your Glock the overhaul you're looking for.  
Suarez International also has a wide-range of slides for a variety of Glock pistols that deliver the perfect combination of aesthetics and tactical design.  
Notable Mention: The RMR Slide Series
Want a slide that looks cool and also provides an excellent optical setup?  Look no further than Suarez's RMR Slides (starting at $315).   These red-dot ready slides come with optimized serrations that's effective in adverse conditions (sweaty hands, anyone?) while also being comfortable to operate.  
They are, as the name suggests, set up for use with the excellent Trijicon RMR ($350.00)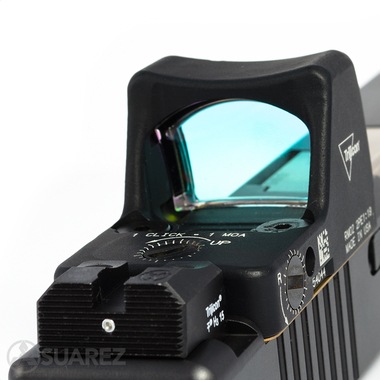 As with all Suarez slides, the RMR-ready series are built with an aerospace quality stainless steel that delivers durability while scoring high on the coolness factor.   The shape of the slide is also contoured in such a way that optimizes comfort when carrying the weapon.  
But the best feature of all is the modified ejection port, which was slightly lowered and altered to prevent spent casings from knocking you in the face – we all know how annoying that is.
You can find a Suarez RMR-ready slide for the following Gen3 and Gen4 models:
Since you're interested in an RMR-ready slide, Suarez also gives you the opportunity to purchase one before completing your order.  There are 11 choices to choose from, ranging from 1 – 13 MOA.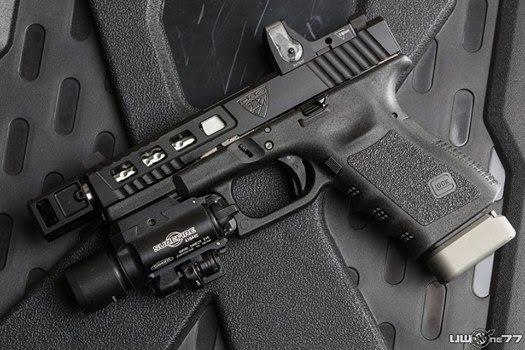 4. ZEV Technologies
Zev Technologies is known for customizing and reinventing Glock handguns.  They offer a number of custom parts and modifications that can turn your plain-looking Glock into a radical handgun.
What I like most about Zev slides is their creativity and over-the-top designs that can really take the Glock away from that boxy, rectangular look.  Also, most of their slides are able to accommodate all generation models, so no one has to worry about being left out.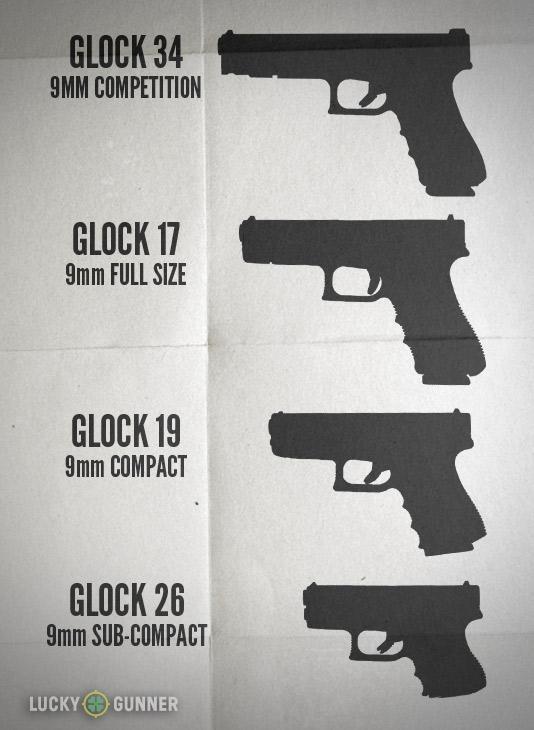 With that said, adding a bit of Zev's artistic flair to your Glock doesn't come cheap.  They're some of the more expensive Glock slides on the market, averaging between $525 and $550 a pop.  
Spartan
The Spartan slide is available for the G17 and the G19.  Its customized, machine-cut look transforms your plain Glock into a unique-looking piece.
Want to mount a red-dot sight to your Glock?  No problem.  The Spartan comes already cut for optics, so adding your RMR should be quick and easy. The slide is made from a high-quality stainless steel that highlights the craftsmanship of the piece.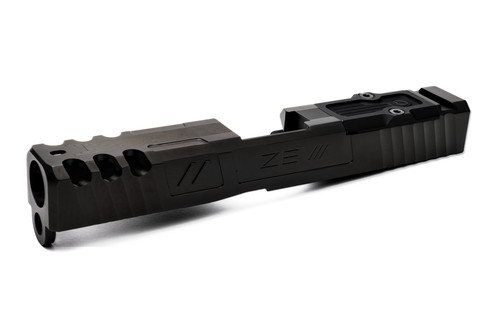 The Spartan has also been specially designed to increase comfort and accessibility when carrying your Glock.  Its front and rear serrations have been carefully angled in such a way that provides optimal grip without causing unnecessary friction when unholstering.  Serrations have also been added to the top of the slide to prevent annoying glare in bright settings.  
Dragonfly
The Dragonfly is one of Zev's first customized slides, as well as one of its most popular.  While much of the material in this stainless steel slide is removed, the slide still maintains its structural integrity.
In case you're wondering, the Dragonfly is mostly an aesthetic modification.  Its menacing look can turn your G17, G19, or G34 into a fearsome handgun.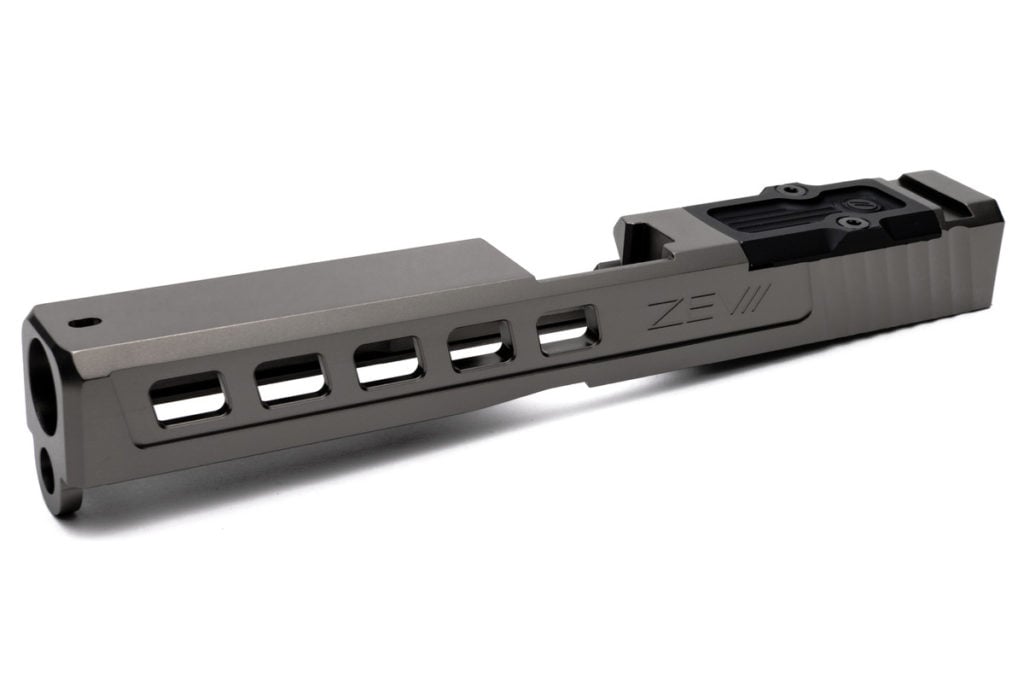 However, it does provide some functionality as well.  Its cutouts are said to make the barrel cool more effectively, and like other Zev slides, it also comes RMR ready.
5. Grey Ghost Precision
These don't just look amazing, they run amazing too. Tested on both a Glock frame and a Polymer80 Grey Ghost stood out on both.
From ultra tight tolerances to being able to be ordered with an RMR cut, there is a lot to love about these.
You can get the whole story from our In-Depth Review.
Customizing Your Glock 
Well, there you have it. That's my list of some of the best aftermarket Glock slides out there.  And while functionality and durability come into play when shopping around for a new slide, it's also about your preferences.
Of course, if you like the look of your gun more, you're more likely to carry it, even when its hot out, or you don't think you'll want to lug it around all day, and the gun you have is always better than the gun you left in the car or at home.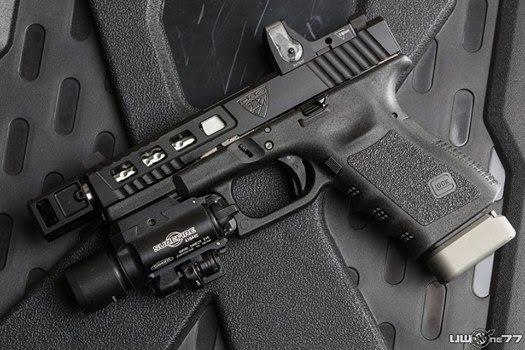 Keep in mind that the list is far from comprehensive.  There's a wide selection to choose from when looking for a slide for your Glock.  These just happen to be some of the more popular aftermarket Glock slides out there.
There are a number of companies out there that specialize in rebuilding and modifying Glocks. The fact that you can transform a very basic-looking handgun into something out-of-this-world is one of the things that I love most about Glocks.
As you can see, there are some really unique slides out there. Have you used an aftermarket slide to transform your Glock? What other mods have you thought about?