What is the best concealed carry gun?
That's the age-old question, isn't it?
We'll start by going over popular CCW (concealed carry weapon) calibers.
After you figure out the best for you, we'll cover some of our top pistol choices.
And finish it with some important accessories such as holsters!
Here's a sneak peek on our favorites:
Summary of Our Top Picks
Editor's Pick: 9mm Micro Compact

Compact with crisp trigger and 12+1 rounds of 9mm.

Also Great 9mm Micro Compact

Runner-up favorite 9mm micro compact.

Editor's Pick: Single Stacked 9mm

Only holds 6+1 9mm but disappears in a holster.

Budget 9mm Pick

Reliable and affordable CCW option that holds 12+1 9mm.

9mm 2011 Pick

16+1 9mm rounds plus the ergonomics and style of the 1911.

Editor's Pick: .45 ACP

Thin and easy to conceal for a .45 ACP pistol.

Larger .45 ACP Pick

Larger option but great for soaking up .45 ACP recoil

Editor's Pick: .380 ACP

10+1 rounds of .380 in one of the smallest form factors available.

Runner Up .380 ACP Pick

Super thin .380 ACP single stack option with 6+1 capacity.

Editor's Pick: Revolver

Lightweight .38 Spl revolver option with 5 rounds capacity.
Best Caliber for Concealed Carry
There are a few ways to choose the caliber of your CCW.
First is to ask around.
My guess is you'll get a lot of people replying that their carry gun is a 9mm or a .45 ACP. These are probably the most common...with 9mm taking the vast lead.
Another way is to follow what law enforcement, military, and government agencies use. They tend to do a lot of research into what the bare minimum yet effective caliber or weapons are out there.
What you will see with a lot of these groups is that they went back to 9mm.
This is because the 9mm has come a long way in the last few years.
The .40 S&W was the go-to for a long time, but not really anymore. Something I noticed in my time building police vehicles was the rural departments, and many times sheriffs in rural areas carry .45 ACP.
Learn more about acceptable calibers in our Pistol Caliber Overview.
What About .22LR?
While a .22LR can deter an attacker, it is not recommended for concealed carry.
If this is your only option, then go for it.
Something is better than nothing.
But, if you are going to purchase something to carry every day, go with a larger caliber.
If you are in a state that has colder weather, a .22LR will have some difficulties penetrating thicker or multiple layers of clothing.
Check out our picks in Best .22s for Pocket Carry.
If you want to go as small as possible…take a look at .380 ACP.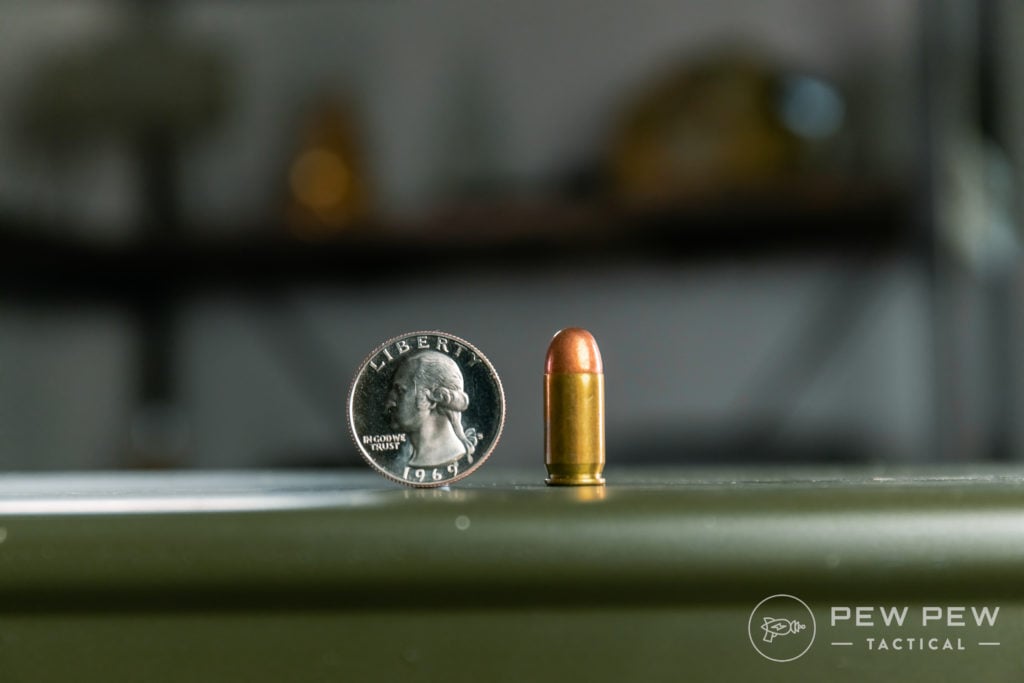 Best Concealed Carry Guns By Caliber
Below are a couple of choices for each caliber to help get your search started.
I know everyone has their favorites and there will be comments about this gun or that gun should be on or off the list. Feel free to interject, but leave useful comments and suggestions.
9mm
The 9mm CCW category is packed with a lot of good choices.
1. Sig Sauer P365 Series
These are newly designated as "micro compacts" with the P365 leading the charge of 10+1 rounds of 9mm in a tiny package that used to only be able to carry 6 or 7 rounds.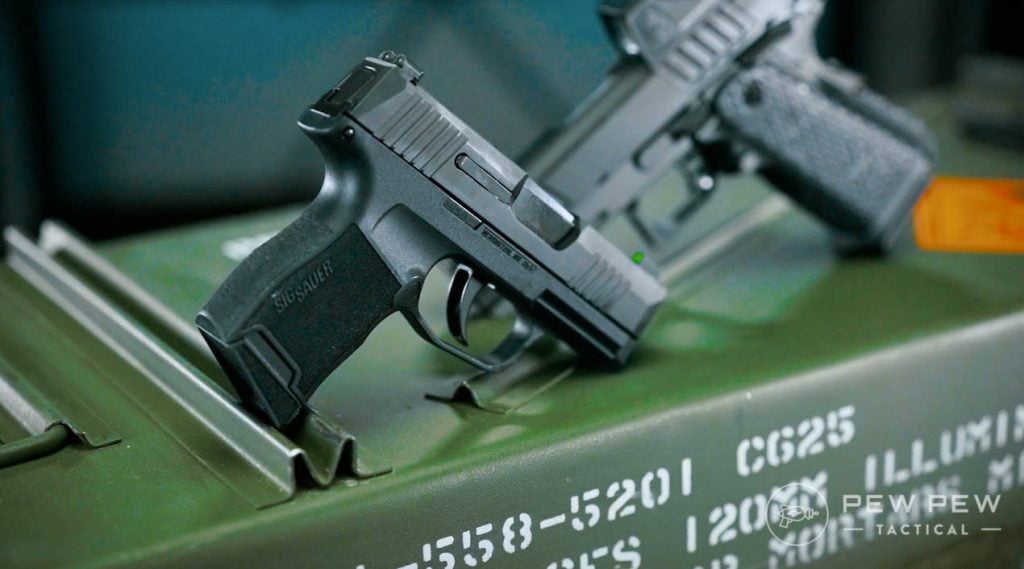 One of our favorites for the last few years and still holds its own.
Another PPT writer reviewed the Sig P365 not long ago and wrote a glowing review on it.
And now we have a full video review too!
But times change and Sig rolled out even more variants of the P365.
The current hotness and what our co-founder carries on the daily is the P365XL which holds a nice 12+1 rounds of 9mm.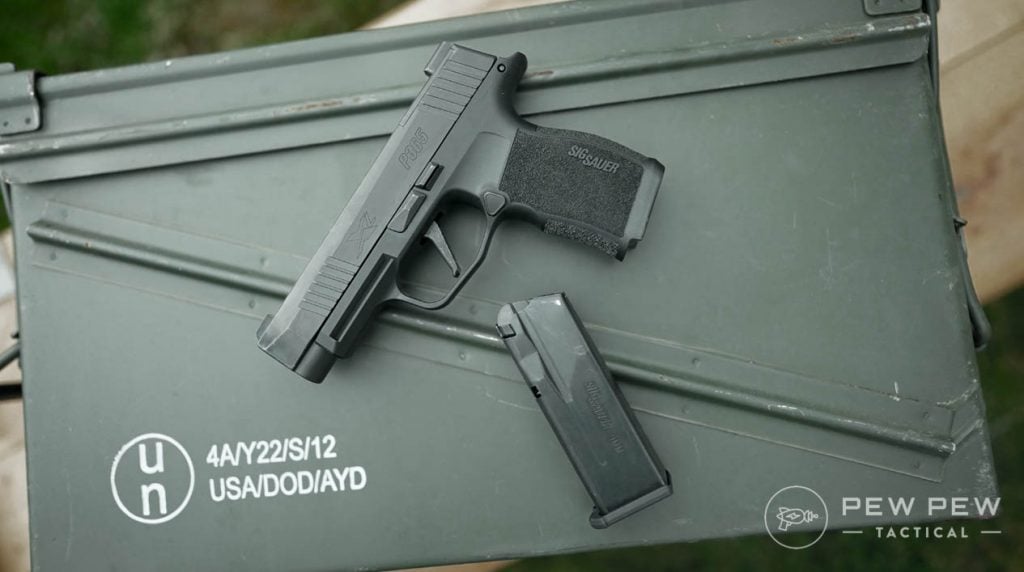 The XL is slightly longer in both grip and barrel which is enough to get that pinkie on there for most folks. Plus the extended sight radius makes for more accurate shots.
Another upgrade? Check that flat-faced trigger that somehow feels a LOT better.
Sig Sauer P365XL Stats
Capacity: 10 or 12+1 of 9mm
Weight: 20.7 oz
Barrel Length: 3.7″
Dimensions: 6.6″ x 1.1″ x 4.8″
See our full review of the P365XL here.
Now I know there's a bunch of other CCWs out there…but we have a recent article on the Best Micro Compact 9mm, and the standout winner is still the P365XL.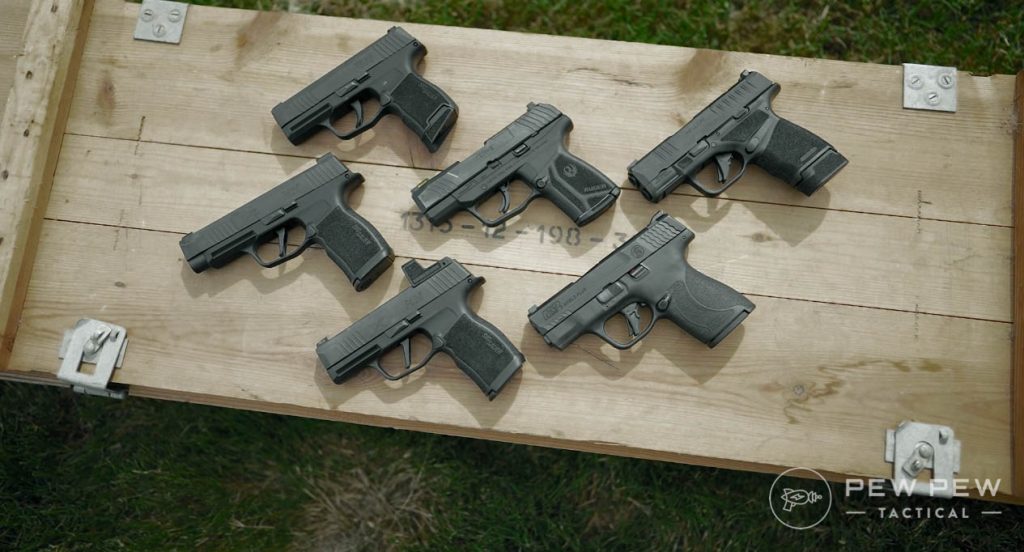 Check out the full video to get a good sense of the size, recoil, and small ergonomic differences.
There's also tons of upgrade options. Here's some of our favorites that we run everyday.
What's your take on the P365 series?
2. Smith & Wesson M&P Shield Plus
The Smith & Wesson M&P Shield Plus is another micro compact 9mm that lets you get a nice full grip…and up to 13+1 rounds.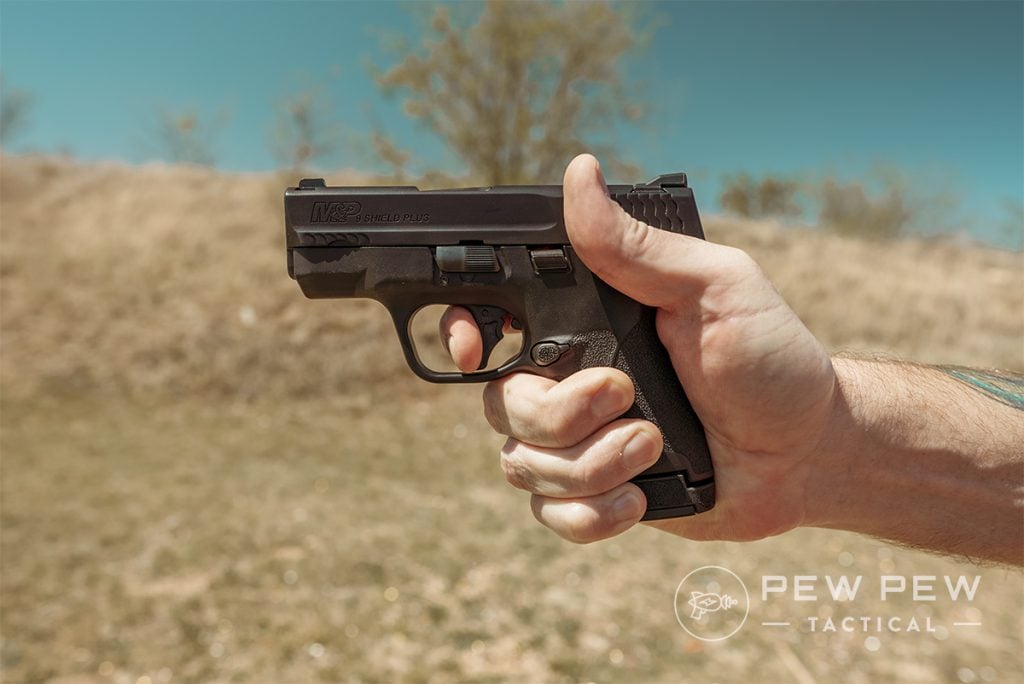 Does its name sound familiar? It's the latest iteration in the ultra-popular Shield and M2.0 series.
They also come in a variety of calibers such as the Shield .380 Auto and Shield .45 ACP.
It's a very usable platform with ergonomic controls and isn't as snappy as its older versions.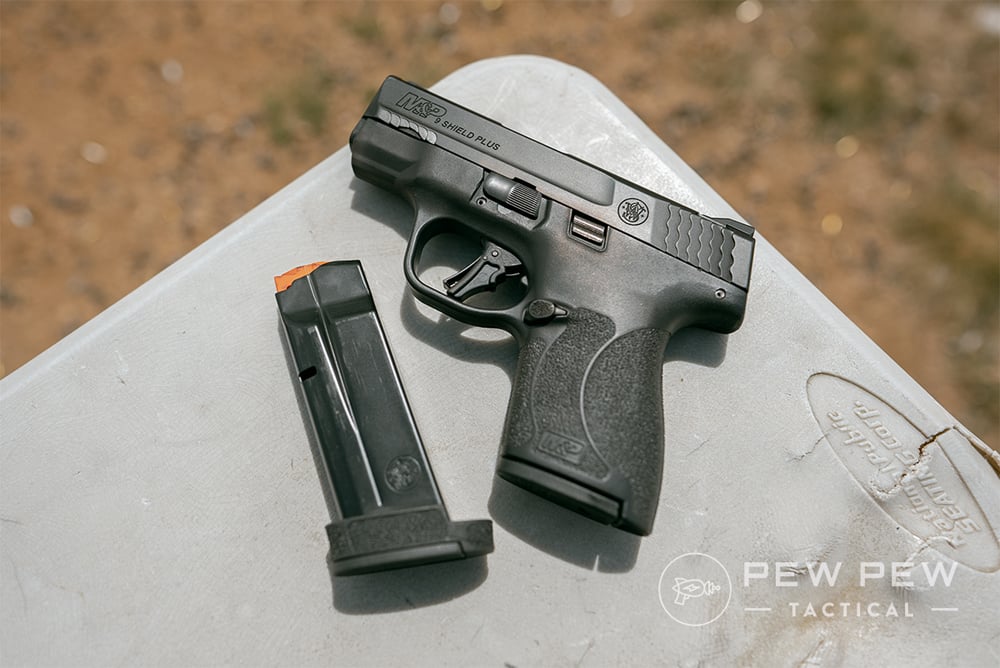 Check out our full review of the Shield Plus.
S&W Shield Plus Stats
Capacity: 10 or 13+1 of 9mm
Weight: 20.2 oz
Barrel Length: 3.1″
3. Glock 43
Single stacked goodness with Glock's impeccable reputation for reliability. Enter the Glock 43.
Holds 6+1 only but disappears in a holster. Plus it has a decent grip for a tiny 9mm.
Oh…and did we forget…it's a Glock so it will likely always go *bang* when needed.
Check out our full written review and our full video review:
Glock 43 Stats
Capacity: 6+1 of 9mm
Weight: 18 oz
Barrel Length: 3.41″
Dimensions: 6.06″ x 1.06″ x 4.25″
Also, don't forget to check out which other Glocks made our best Glocks list with the G43!
4. Taurus G2C
If you're really on a budget then you need to give the Taurus G2C a close look! It's about the size of a Sig P365, it's double-stack 12+1, and it is VERY reliable.
Johnny did a complete hands-on review and video of it and gave it a raving good rating!
He ran a bunch of steel and defensive ammo through it and never had a problem, that is saying a LOT for a $200-ish pistol.
For folks on a budget, the option to get a reliable gun with 12+1 capacity at this price is simply too good to ignore. The G2C has earned its place in the market.
Taurus G2C Stats
Capacity: 10 or 12+1 of 9mm
Weight: 22 oz
Barrel Length: 3.2″
Dimensions: 6.3″ x 1.2″ x 5.1″
For more 9mm specific CCW guns…check out Best Single Stack Sub-Compact 9mm.
5. Smith & Wesson M&P Shield EZ 9mm
Looking for the easiest racking 9mm handgun?
The "EZ" of the M&P Shield EZ stands for easy racking and easy loading.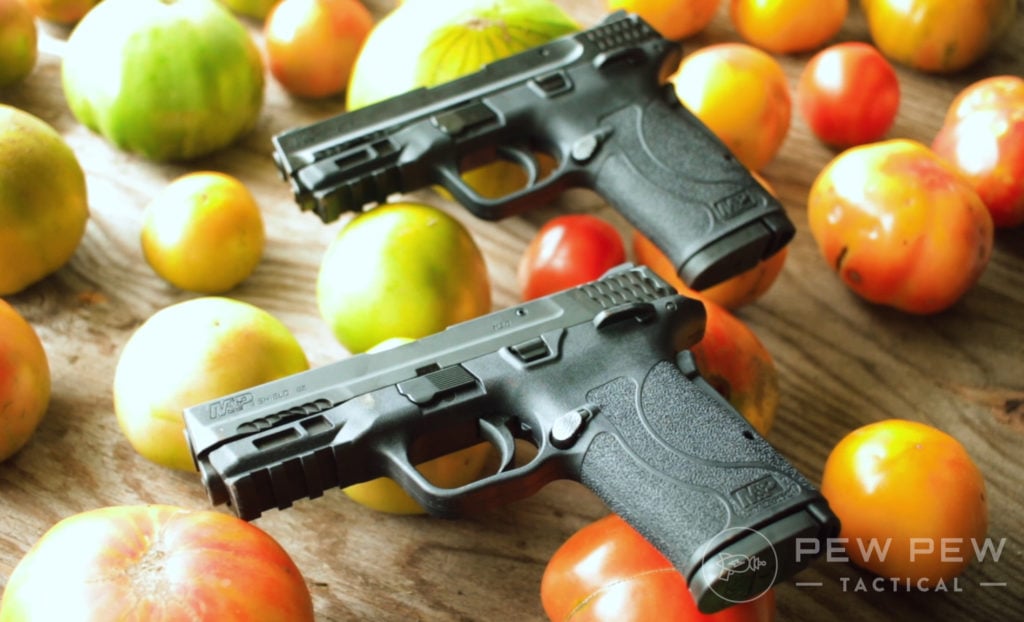 No hiccups, decent accuracy/ergonomics, and a good value.
Our pick if you have weaker grip strength in your hands and need a great defensive pistol.
S&W M&P Shield EZ 9mm Stats
Capacity: 8+1 of 9mm
Weight: 23 oz
Barrel Length: 3.675″
Check out our full review on the M&P Shield EZ 9mm and also our YouTube video for the full comparison of just how easy the slide is to manipulate:
6. Staccato C and C2
If you're looking for a 1911-style carry piece…you can't go wrong with Staccato.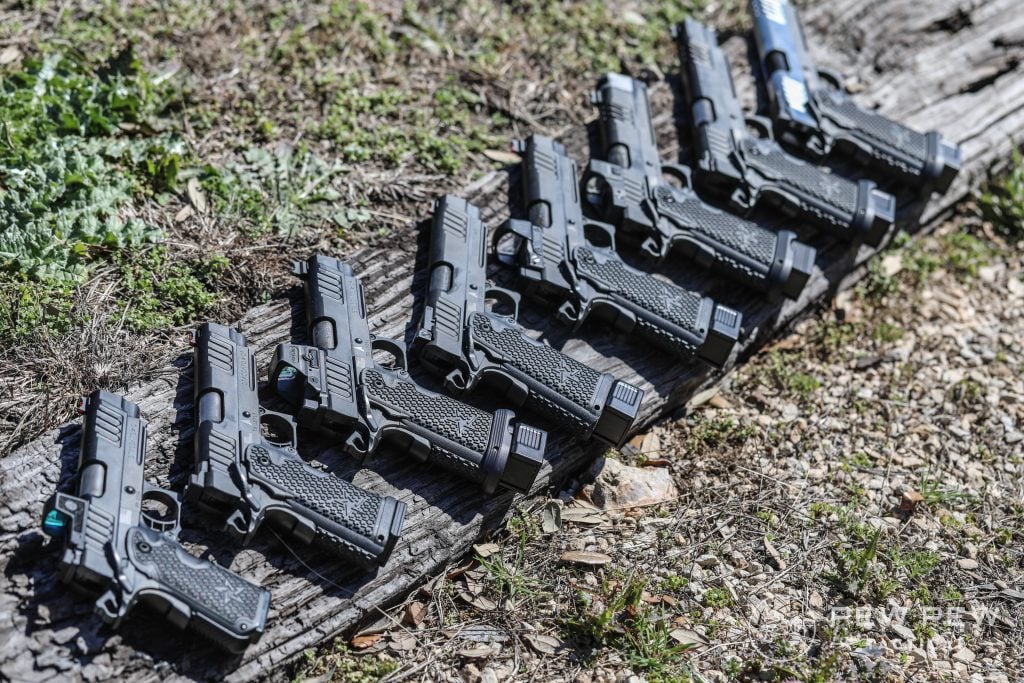 Staccato (formerly STI, the most winning competition gun manufacturer) now makes some great CCW and duty guns.
Here's our video on the C and C2.
For single stack…check out the Staccato C which brings 8+1 rounds in a compact, optic ready, and super flat-shooting package.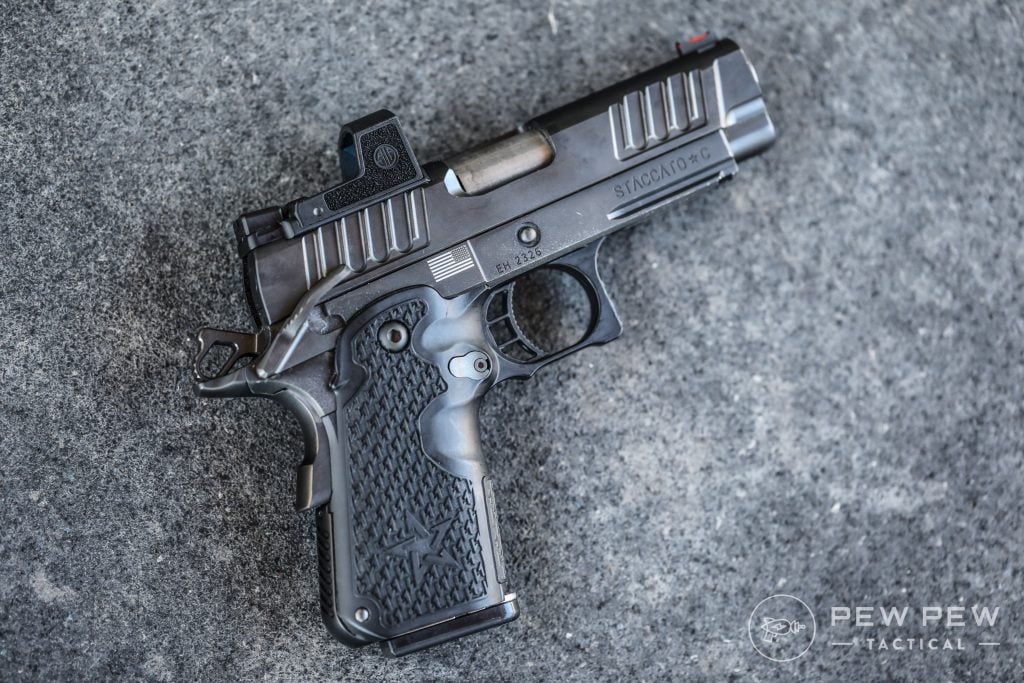 Check it out in action:
However, my favorite 1911 CCW is the Staccato C2.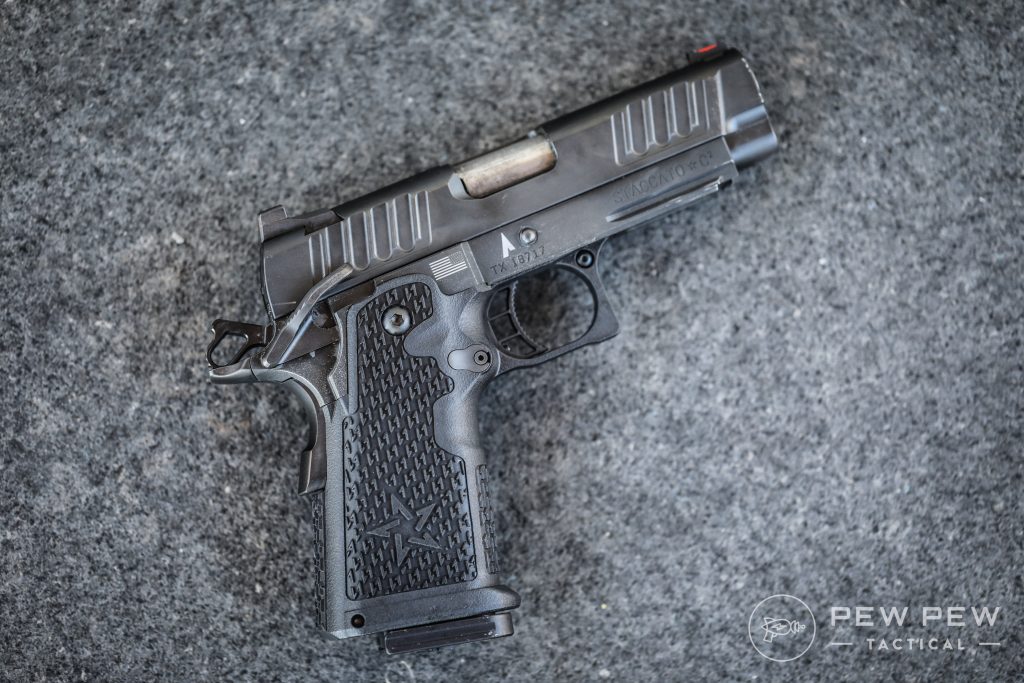 A little thicker than the single stack C but it doubles the capacity to 16 rounds and has a much nicer feeling grip. And manages to weigh less (25 oz for the C2 vs 26.6 oz for the C DPO).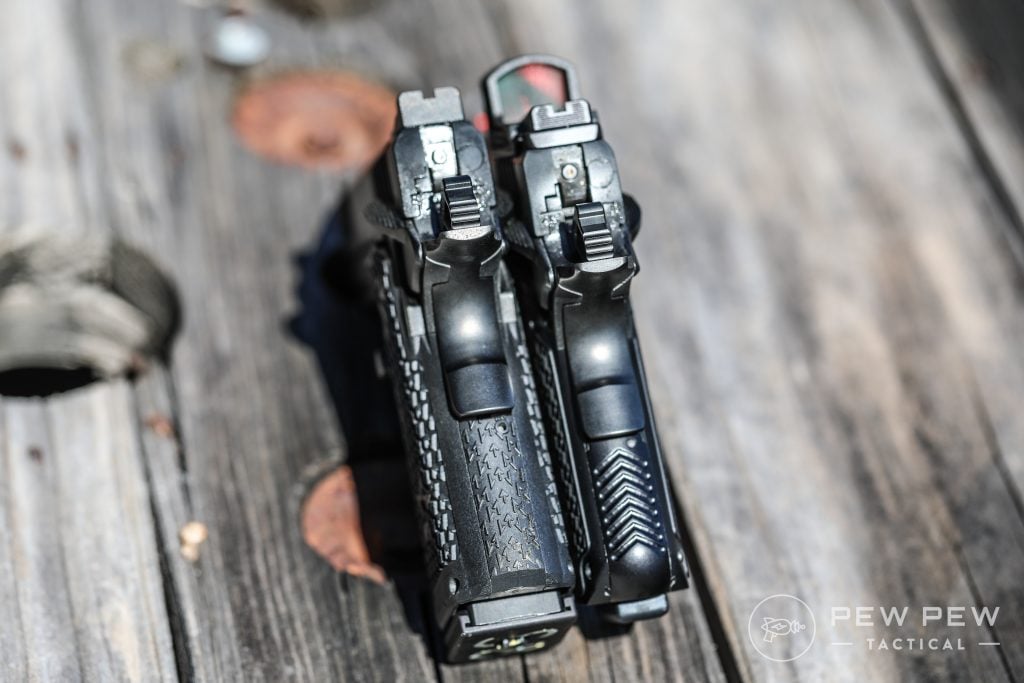 Of course I think it shoots easier too. So much so that Staccatos basically feel like cheating.
Available in irons version or optic ready (DPO). I never said the perfect 1911 carry gun was cheap!
See the full review of the C and C2 here.
Staccato C2 Stats
Capacity: 16+1 of 9mm
Weight: 25 oz
Barrel Length: 3.9″
Dimensions: 7.5″ x 1.3″ x 4.94″
.45 ACP
Something to note before you get your boxers in a bunch is I left out 1911s because this is an article about concealed carry. We have our Best 1911s article for that.
Yes, you can carry a big gun if you want, but most want a smaller gun for their EDC.
7. Springfield Armory XD-S
The XD-S, even though it had some issues a while back, is a great choice for your CCW. The large caliber in the small frame is helpful.
It's thin and easy to conceal, a combination that isn't easy to find in a real larger caliber.
Because of the shorter barrel and the larger caliber, it kicks and can make reacquiring your target more difficult when firing quickly. You'll probably need to train a little more with that than you would with a 9mm.
But extra training should be assumed when you're working with .45 ACP.
Springfield XD-S 45 Stats
Capacity: 5 or 6+1 of .45 ACP
Weight: 23 oz
Barrel Length: 3.3″
Dimensions: 6.3″ x .9″ x 4.4″
8. FN FNX-45
The FN FNX-45 is a bigger gun compared to some of the others listed so far. It is a compact size, so the barrel is a bit longer. If you are looking for something for your large hands, this would be a good option.
I got to shoot one of these and it was smooth for a compact 45. It was a little large for me to carry (I'm 5'11 170), but like the way it fired.
FN FNX-45 Stats
Capacity: 10+1 of .45 ACP
Weight: 33 oz
Barrel Length: 4.5″
Dimensions: 7.9″ x 1.58″ x 6.3″
The FNX-45 also comes in a Tactical version that sports a threaded barrel, red dot mounting ability, a rail, and suppressor hight sights.
While highly impractical for CCW, it makes for an outstanding duty, open carry, and competition pistol.
Using one of each for your different needs makes it easier to transition between the two and makes training much simpler.
.380
A .380 is a very concealable weapon.
They are usually thinner and smaller than a 9mm subcompact. You will lose some of the impact you get when a .380 hits the target, but they are still acceptable for self-defense.
Though it didn't make the list…here's us shooting the Bersa Firestorm .380:
You'll want to read up on the differences and limitations of the .380 Auto, and we have Just the Article for You.
Something you might want to look into right away if you are getting a .380 is a new trigger. Most of them have a long pull and can make them hard to shoot accurately under duress.
9. Ruger LCP Max
The Ruger LCP II was a popular small gun and a large improvement over the older LCP model.
Because of its size, the LCP II was a great "pocket" gun or even as a backup weapon. It had a 6+1 magazine which is pretty common for this size pistol.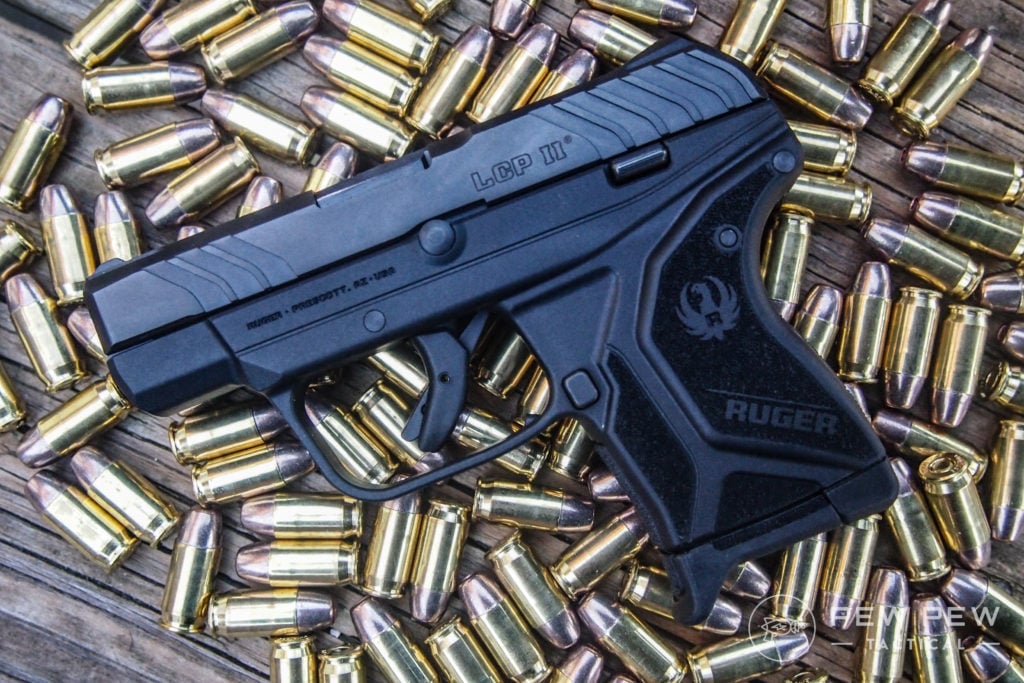 But move over!
There's now the Ruger LCP Max which is the next iteration…with an astonishing 10+1 or 12+1 rounds capacity.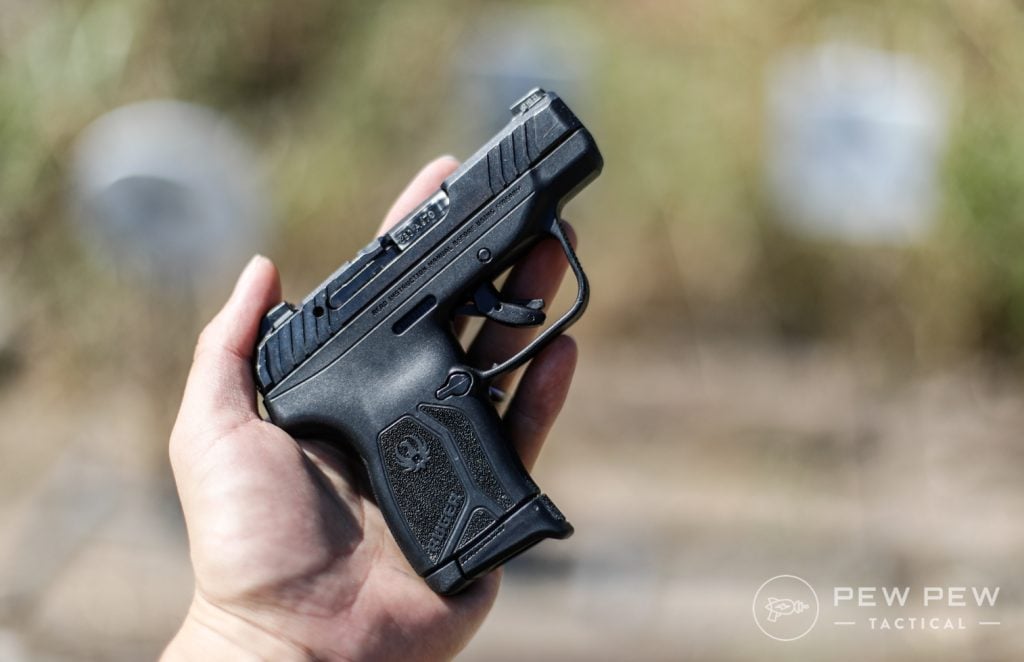 It's our editor's daily carry when he doesn't feel like a belt and a larger gun.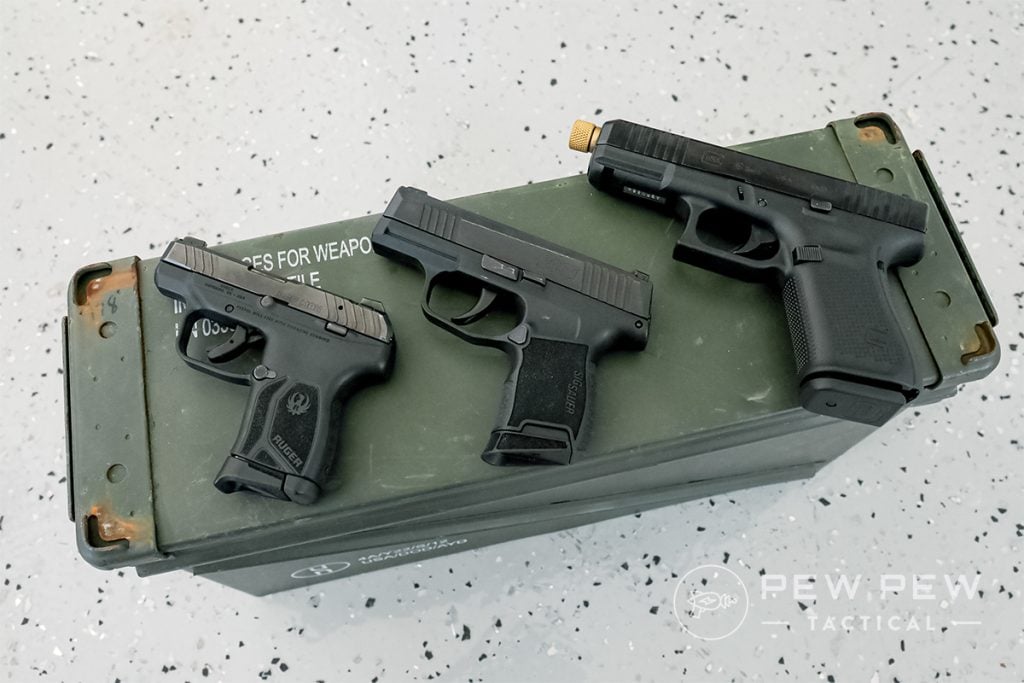 Plus the small size disappears in any type of holster. Our fav is Hidden Hybrid Holsters with an Ulticlip which allows you to clip onto pants/shorts directly.
Perfect for athletic wear.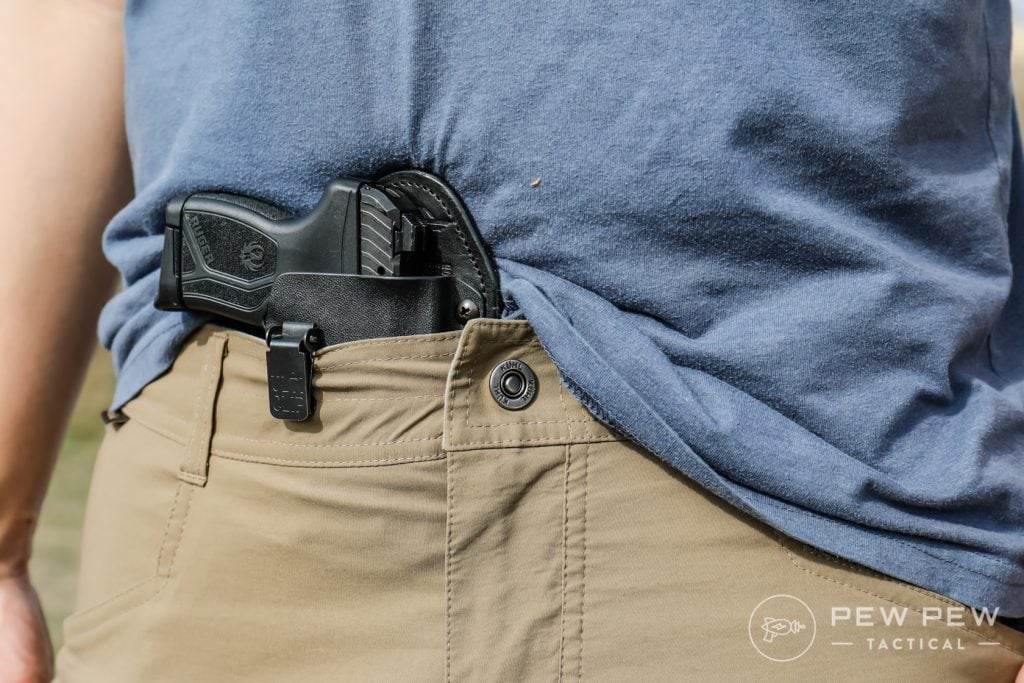 And how about shootability? It'll do it's thing at standard confrontation distances and will drill minute of bad guy all day along!
We do a complete deep dive into its pros/cons and break-in peculiarities in our full review here.
Ruger LCP Max Stats
Capacity: 10+1 of .380 ACP
Weight: 10.6 oz
Barrel Length: 2.8″
Dimensions: 5.17″ x .81″ x 4.12″
10. Glock 42
The Glock 42 is a great choice if you are looking for a reliable single stack .380 or if you are Glock fan and want something a little smaller than their other offerings.
Not a lot can be said, other than a thank you to Glock for starting to make some guns with a single stack magazine.
Besides that…it's a Glock. Its bombproof, reliable, has massive aftermarket support, and people either hate it or love it.
Glock 42 Stats
Capacity: 6+1 of .380 ACP
Weight: 13.76 oz
Barrel Length: 3.25″
Dimensions: 5.94″ x .98″ x 4.13″
For more .380…check out our 5 Best .380 Pistols for Concealed Carry.
11. Smith & Wesson M&P Shield EZ .380 ACP
The even tinier brother of the EZ 9mm has arrived.
And it's literally the easiest to rack and softest shooting gun in this list.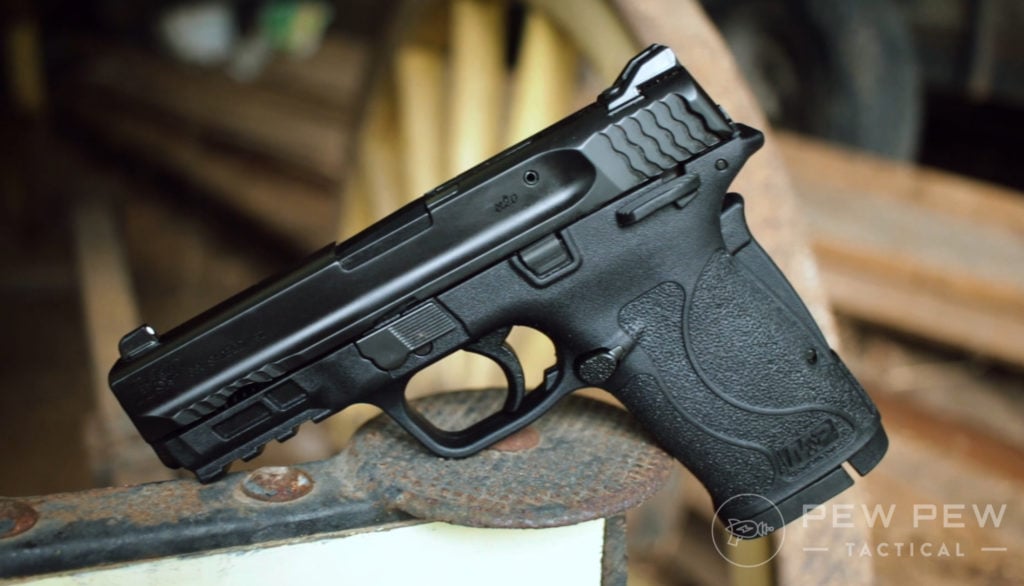 Perfect if you have reduced arm strength or are sensitive to recoil.
S&W M&P Shield EZ .380 Stats
Capacity: 8+1 of .380 ACP
Weight: 18.5 oz
Barrel Length: 3.675″
Check out the full review here and also the YouTube video where we compare it against the 9mm version (and other CCWs):
.38 Special
A .38 Special or .38 special +P are very common calibers for revolvers and don't really show up in semi-auto pistols.
When it comes to a revolver for CCW, lightweight and hammerless are two of the characteristics I recommend looking into.
12. Ruger LCRx
The LCRx is a lightweight revolver from Ruger with a 5 round capacity. An aluminum frame and some polymer parts make it a great carry gun.
Ruger LCRx Stats
Capacity: 5 rounds of .38 Special
Weight: 13.5 oz
Barrel Length: 1.87″
Dimensions: 6.5″ x 4.5″
It has an exposed hammer, so you'll want to practice your draw to make sure you can do it well and not snag clothing. It's also able to fire +P rounds for a little more punch.
For more .38 Special revolvers…check out 7 Best CCW .38 Revolvers.
Holsters, Belts, & Ammo
Going concealed with the perfect gun for you is still useless if you don't have a great holster.
We go through all the different types of concealed carry methods…and a bunch of our favorite holsters.
Plus with videos!
Check out our top holster picks for all the popular ways to carry.
Plus you'll need a sturdy belt that doesn't scream "I'm carrying a gun." Check out these nondescript options in Best CCW Gun Belts.
Same goes with ammo…we use data from shorter handguns and clothed ballistics gel to make our choices.
Since that's what you're likely to see in the real world.
See our self-defense and range ammo picks for all the popular calibers.
Final Thoughts
In this list, there are some popular models of various calibers to get you started in your search.
Take a look at your lifestyle. This will have a big impact on what and when you will carry. Look for a CCW that will be convenient and comfortable to carry or you just won't.
Comfort comes from how it fits your hand as well as how it feels carrying it on your person.
Just because you aren't strapping a pair of 1911s in shoulder holsters every time you leave your man cave doesn't mean you aren't going to be safe. Get a 9mm or .380 that fits your hand and you can conceal in the majority of the clothing wear daily.
We have some more specific articles too if you already know what you want:
We love to hear from our readers about their CCW choices, so let us know! What handgun do you use? What caliber? Tell us all about it in the comments! And then head to our CCW Definitive Guide.