What is the best concealed carry gun?
Spoiler alert — there isn't one.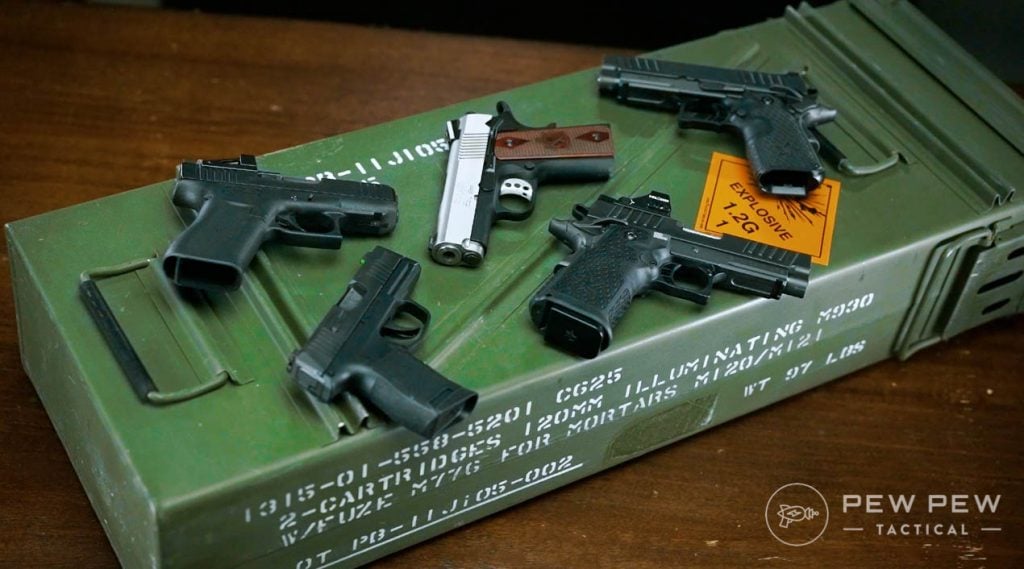 The real question you should be asking is, "what is the best concealed carry gun for me?"
People who choose to carry come in all shapes, sizes, and skill levels. Sometimes it may just come down to what you are wearing that day. All these factors mean different market feedback, which is reflected in the sheer amount of different guns available.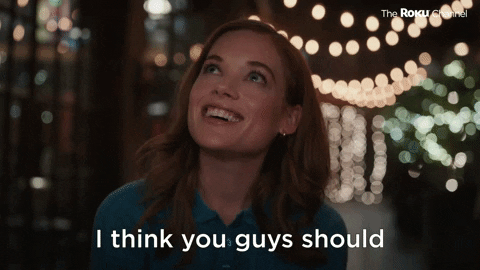 Today, we are going to take a look at a varied but non-exhaustive list of some of the best concealed carry guns on the market.
Summary of Our Top Picks
Table of Contents
Loading...
Best Caliber for Concealed Carry
Before we dive in, you may ask, "well, what caliber should I get?" This is a great question, but also a topic that usually brings heated debate.
Once again, I propose you ask yourself, "what is the best caliber for me?" The real answer to that is "the one that you will use."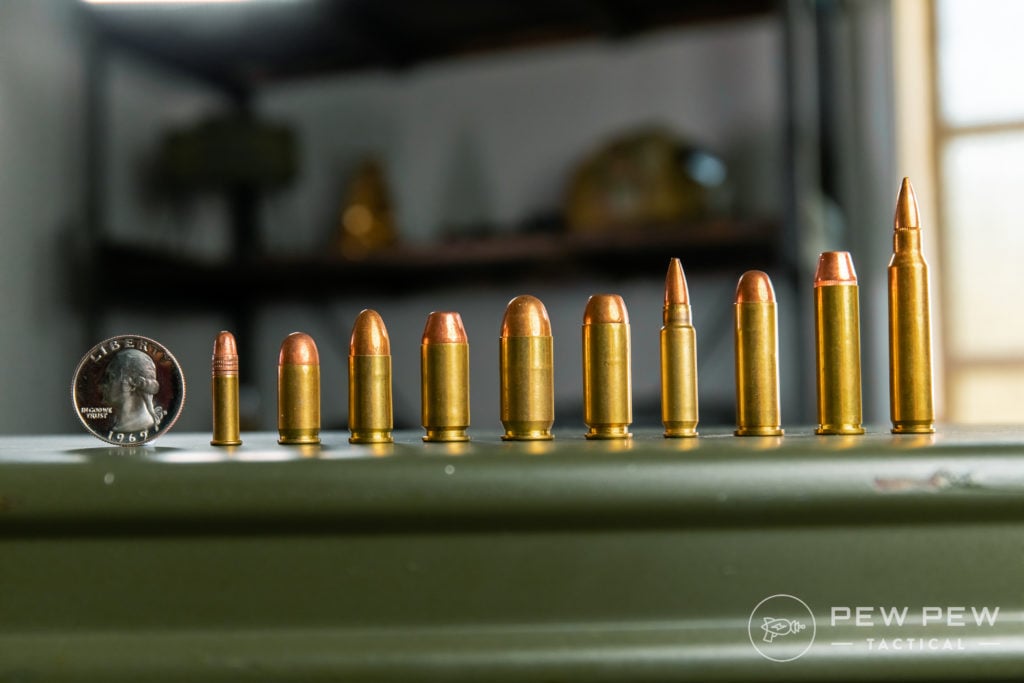 There are pros and cons to each caliber, but a gun you aren't comfortable with, or won't buy ammo for, doesn't help much when it comes to carrying.
That said, most common concealed carry calibers such as 9mm, .45 ACP, .40 S&W, .380 ACP, and .38 Special are proven and well-suited for self-defense.
What about .22 LR or .22 Magnum?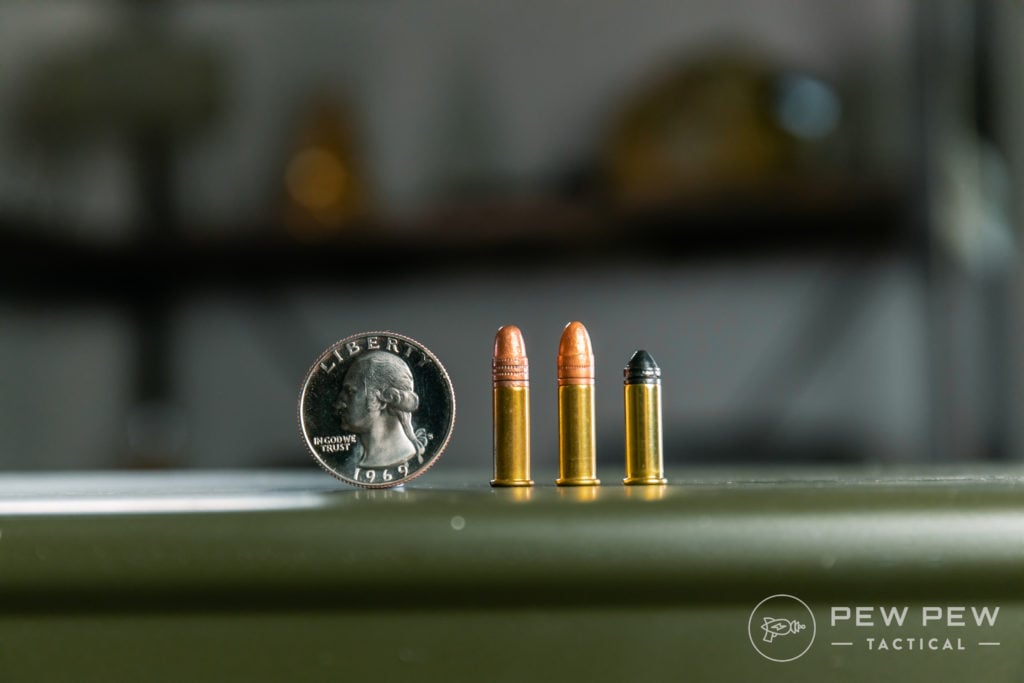 While the morgue has seen its fair share of victims taken by rimfire calibers, we typically recommend stepping up to a larger diameter, more powerful, and more reliable cartridge like the ones mentioned above.
However, if this is your pick, something is better than nothing, and these can still get the job done.
You can learn more in our definitive guide to handgun calibers.
Best Concealed Carry Guns
1. Sig P365 (and variants)
Pros
10+1 9mm capacity with up to 15+1 with extended mags

First micro 9mm form factor gun with 10+1 capacity

Tritium night sights

Excellent grip

Controllable given the size
Cons
Tight fit with full mag and one in the chamber

Thumb may rest on slide stop negating last round slide hold open
Micro-compact pistols have taken the world by storm, and rightfully so. They offer a reasonably high ammo capacity in a small, thin, lightweight package.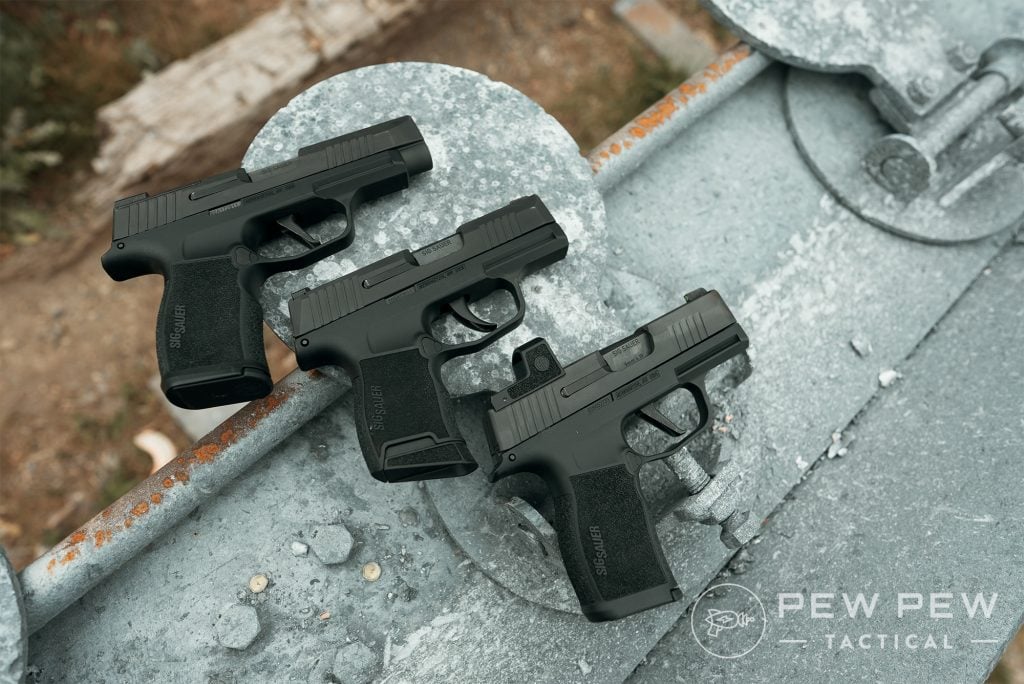 Sig has been leading the micro-compact charge with its ultra-successful P365 series.
These guns are just over an inch thick, but depending on the particular model, they boast anywhere from a 10-round (P365) to a whopping 17-round capacity (X-Macro).
499
at Kygunco
Prices accurate at time of writing
Prices accurate at time of writing
Excellent ergonomics, good triggers, OEM night sights, and solid accuracy and reliability have propelled these to the top spot for many gun owners worldwide.
I own both a base P365 and the P365XL, and even among my extensive carry rotation, I routinely find myself coming back to these guns for concealed carry.
These guns fit nicely in my medium-sized hands, and although they are small, they deliver great accuracy and are relatively easy to shoot. Here are some targets from my P365XL equipped with a Holosun EPS carry.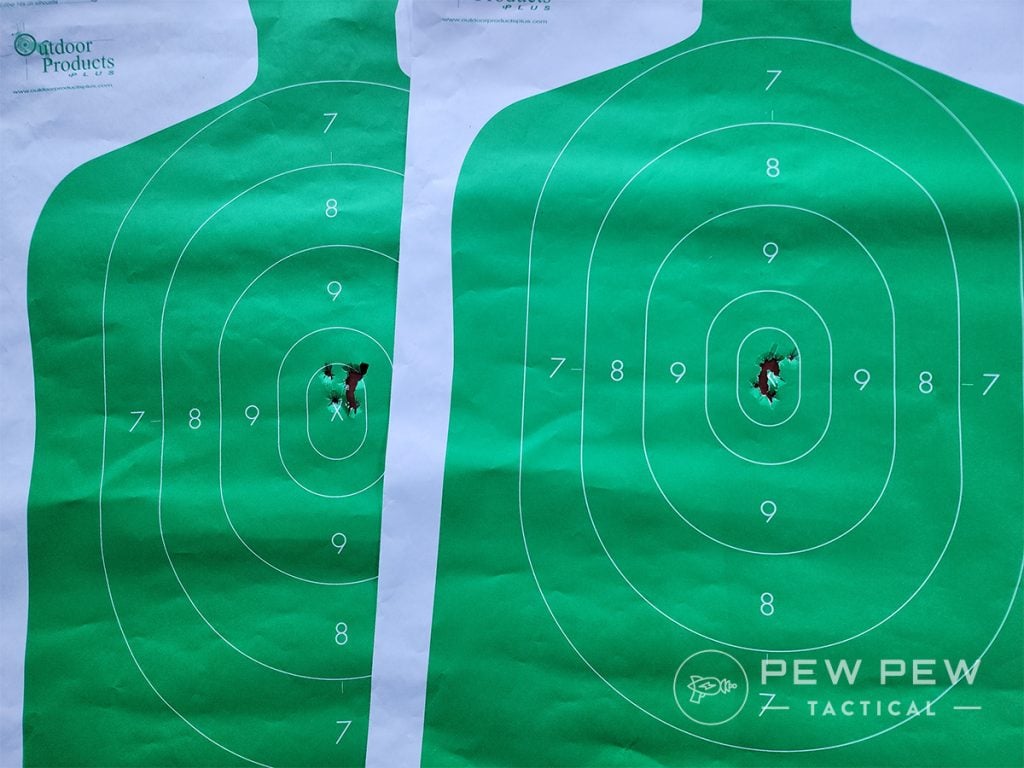 The XL version is also what our founder carries.
Hard to argue against 12+1 9mm in a small compact form that has always gone bang!
599
at GrabAGun
Prices accurate at time of writing
Prices accurate at time of writing
Additionally, the P365's modularity and rapidly growing aftermarket have pushed it even further, making it one of the most supported guns on the market today.
The latest in the series is the X-Macro which gives the Glock 19 a run for its money.
Highest Capacity
799
at Kygunco
Prices accurate at time of writing
Prices accurate at time of writing
Easily making it onto our list of 5 best striker-fired pistols, the X-Macro makes it easy to see why. A fast cycle time coupled with the integrated compensator helps the gun get back on target quickly.
I was surprised by how well this X-Macro shot for me, and seeing the slow-motion footage was even more impressive. I shot this gun way flatter than I had any right to, especially given its form factor.
Check out our full reviews of the P365, P365XL, and the P365 X-Macro!
2. Springfield Hellcat
Pros
Great for concealment

Aggressive texturing

Easy to shoot
Cons
May be too small for larger hands

Not a ton of aftermarket support

Snappy recoil
Much like the P365, the Springfield Hellcat is another top-tier option for those wanting a micro-compact.
A standard capacity of 11+1 gives it a slight capacity advantage over the base P365, but that's not all.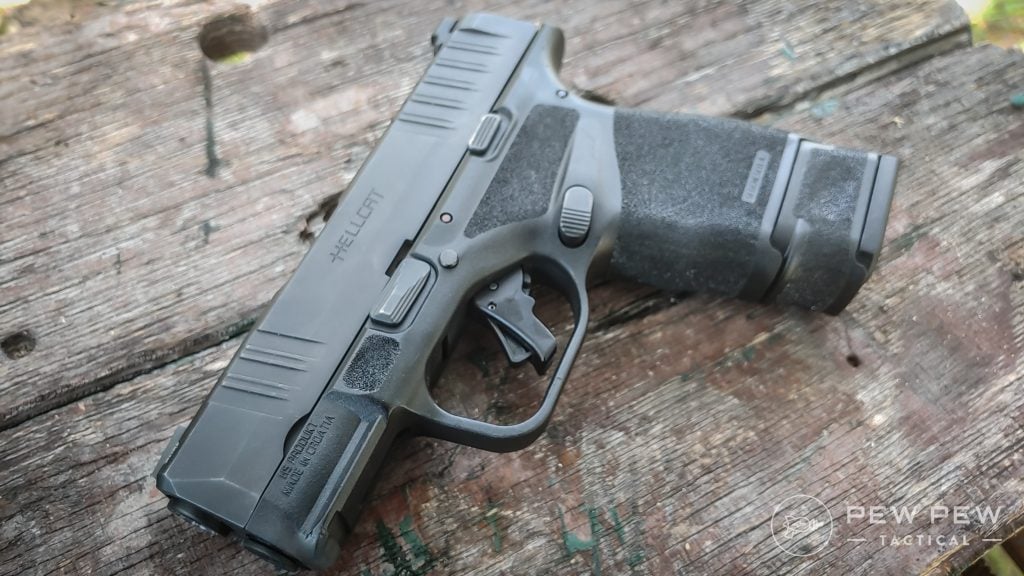 As a P365 owner, I wasn't sure how much I would like the Hellcat. After having shot a few different versions and examples, I can say that it stacks up.
In my opinion, the Hellcat's factory U-notch rear and tritium front sight is one of the best stock sight setups on the market. If that doesn't tickle your fancy, you can toss a micro red dot on the optics-ready models.
The trigger is not as light as the P365, but I find it more consistent across different guns. Accuracy has been great for me, whether I am doing 7-yard Mozambique drills or 40-yard Dicken drills.
Aggressive grip texturing, a crisp trigger, optional 13-round extended mags, and overall solid performance make the Hellcat a homerun choice.
537
at GrabAGun
Prices accurate at time of writing
Prices accurate at time of writing
After extensive trigger time behind both the P365 and the Hellcat, I can confidently say, "Pick whichever one feels best."
You can read up on our full review of the Hellcat!
What do you think of the Hellcat? Rate it below!
3. Walther PDP Compact
Pros
Excellent trigger

Optics ready

Ambidextrous
Cons
High bore axis

Optics plates must be ordered through Walther
We love Walther at Pew Pew Tactical, and it is no secret, but with good reason.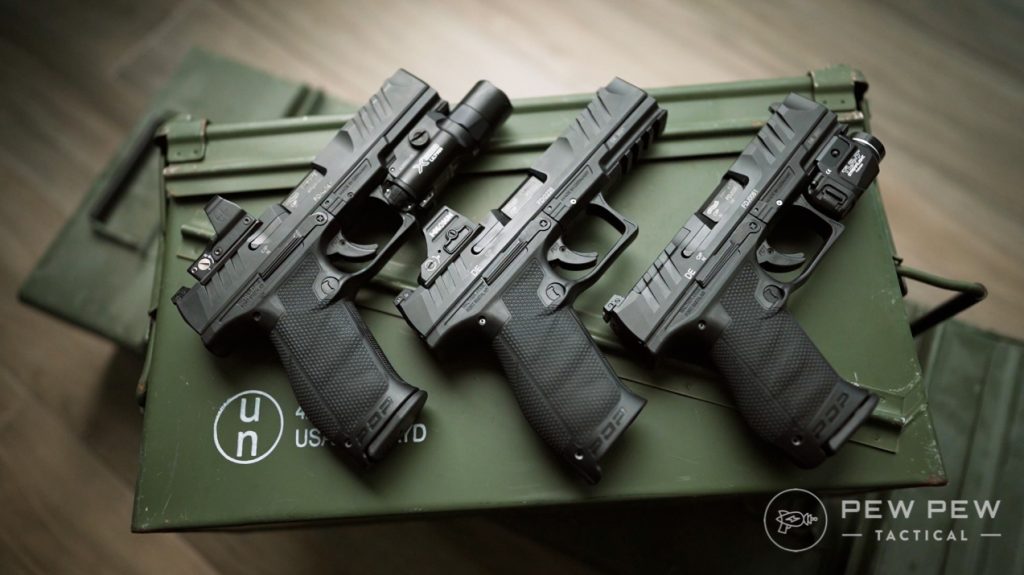 The PDP Compact is a true Glock 19-sized compact gun that can double as a duty gun or a concealed carry piece.
What places the PDP above its peers is the exquisite Performance Duty Trigger — a crisp 4-pound trigger with a clean break, almost no overtravel, and a very short reset.
Trigger aside, you get an optics-ready pistol that is boringly reliable, dead-nuts accurate, and extremely ergonomic.
For concealed carry, the 4-inch barreled compact model with the 15-round compact grip module is my personal choice.
Best Compact 9mm Pistol
586
at GrabAGun
Prices accurate at time of writing
Prices accurate at time of writing
The PDP can trace its design roots all the way back to the P99. This means that the PDP's core operating system has been proven for over 25 years.
When push comes to shove, I find these guns to be best in class. I frequently recommend them, and one of my most trusted duty guns is a 4-inch PDP with a Holosun 508T.
Not sold yet? Check out our 10,000-round review of the Walther PDP!
4. Ruger LCP Max
Pros
10+1 Rounds of .380 ACP

Super lightweight 10.6 oz

Decent sights with a Tritium front

Good value at around $400 street price

What our editor carries for athleisure days
Cons
Hates steel-cased ammo and required a break-in of 200 rounds

Snappy shooter that requires a disciplined trigger finger

Requires a tool to field strip
Sometimes when you are concealed-carrying, you want to ensure your gun is concealed.
That is where the Ruger LCP Max comes in.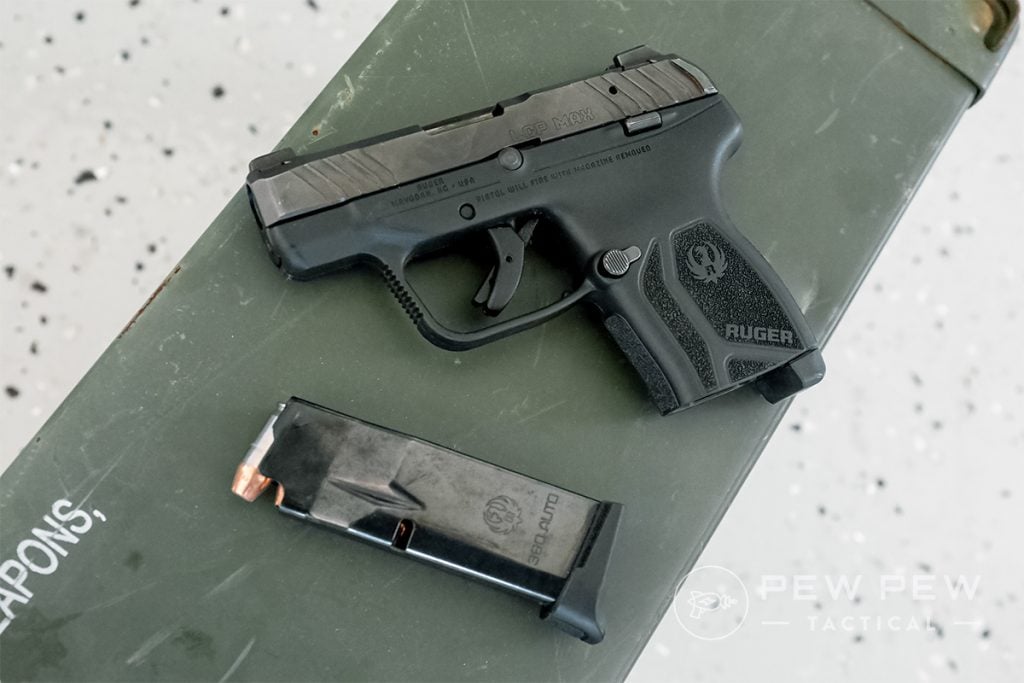 Even in today's world of tactical this or extreme that, I feel that tiny carry pistols still have a large (pun intended) role to play.
Sometimes I want to carry a full-size duty gun, and sometimes I just want something small enough to tuck away or shove into my pocket, and the LCP fits that bill to a tee for me.
Pew Pew Tactical founder Eric Hung describes it as "the ultimate combination of weight, size, and capacity for a .380 concealed carry gun."
The LCP Max Comes in under an inch thick and is only 10.6 ounces. It is 5.17 inches long, 4.12 inches tall, and has a capacity of 10 or 12 rounds (extended).
With those stats, we agree with Eric.
Best Concealed Carry .380
319
at Palmetto State Armory
Prices accurate at time of writing
Prices accurate at time of writing
A set of solid sights help squeeze out surprising levels of accuracy for a gun of its size, and the gun's popularity means holsters are plentiful.
Take a peek at Eric's hands-on review of the LCP Max!
5. Kimber K6s
Pros
Reliable

Snazzy design

Smooth trigger
Cons
Need a speedloader to load effeciently

Little aftermarket support

May not work for larger hands
Kimber surprised everyone when they dropped what is arguably the best gun the company has ever produced — the K6s.
I get it, revolvers are a bit dated, but damn, do I still love them, and damn, do they work. There is something about a finely fitted revolver that exudes elegance but also gives you peace of mind that it will go off when you need it to.
The first time I picked up a K6s, I melted.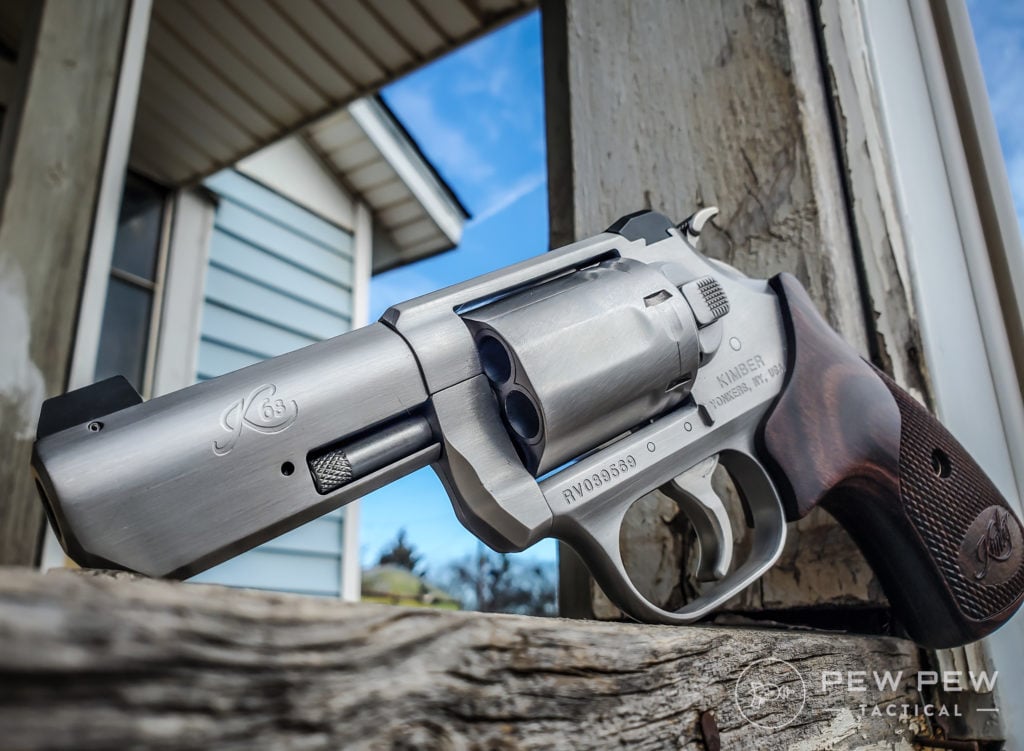 What I held in my hand felt like a combination of old-school Smith and Wesson fitment combined with that sturdy Ruger feeling but with modern styling. It took me a moment to wrap my head around the fact that this is a freaking Kimber product.
At 23 ounces, these guns are the lightest 6-shot .357 revolvers on the market, already making them a great candidate for concealed carry.
On top of that, the sights are snag-free and offer an excellent picture, the trigger is great, and the build quality is absolutely top-notch.
Not only are these guns built well, but they also shoot well and are gorgeous to boot.
Kimber offers the K6s 2, 3, and 4-inch barrel lengths, with the 2 and 3-inch variants available in either hammerless or exposed hammer (DASA) versions.
It may not be the cheapest revolver out there, but its price reflects its outstanding quality.
Best Concealed Carry Revolver
879
at Kygunco
Prices accurate at time of writing
Prices accurate at time of writing
If this one is calling your name, you can read more in our full review of the Kimber K6s.
6. Staccato C2
Pros
Exceptional accuracy

Great trigger

Minimal recoil
Cons
High MSRP

Mags are spendy
The Staccato C2 is a departure from the rest of the list in that it is the only gun north of $1,000.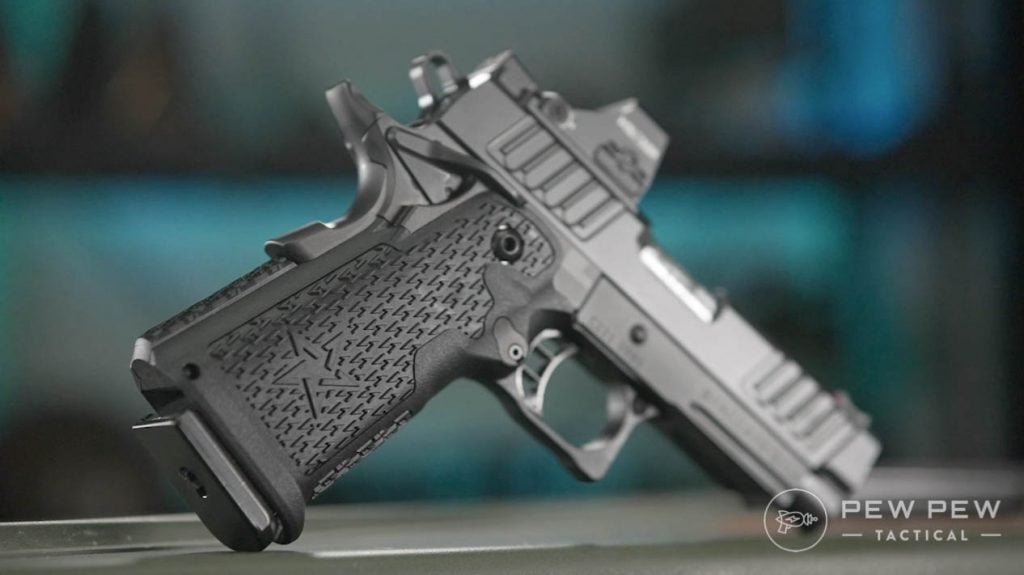 So what do you get for all that dough?
Just a hand-fitted barrel, frame, and slide, precision machined parts, extreme accuracy, an ultra-crisp 4-pound single-action trigger, and arguably the flattest shooting concealed carry gun on the market.
While that might sound like quite a claim, the C2 backs it up thanks to years of building experience by the industry-leading 2011 manufacturer Staccato (formerly STI).
I am going to be level here. Is this the best gun on the list? Arguably yes. Is it worth it? Not for everyone. Admittedly, I got mine for cheap from a friend (not a manufacturer), so I am not as heavily invested as most owners.
The gun gets high marks for me in most categories but does fall short when it comes to overall value. Guns like my Cajunized CZ 75 D PCR and my Walther PDP compact achieve similar results for much less money.
The C2 is a popular choice for those looking for a high-end gun, and it certainly fits that bill. Most of the money is in hand fitting and the exacting manufacturing process. Mine has been reliable as heck and is a smooth operator.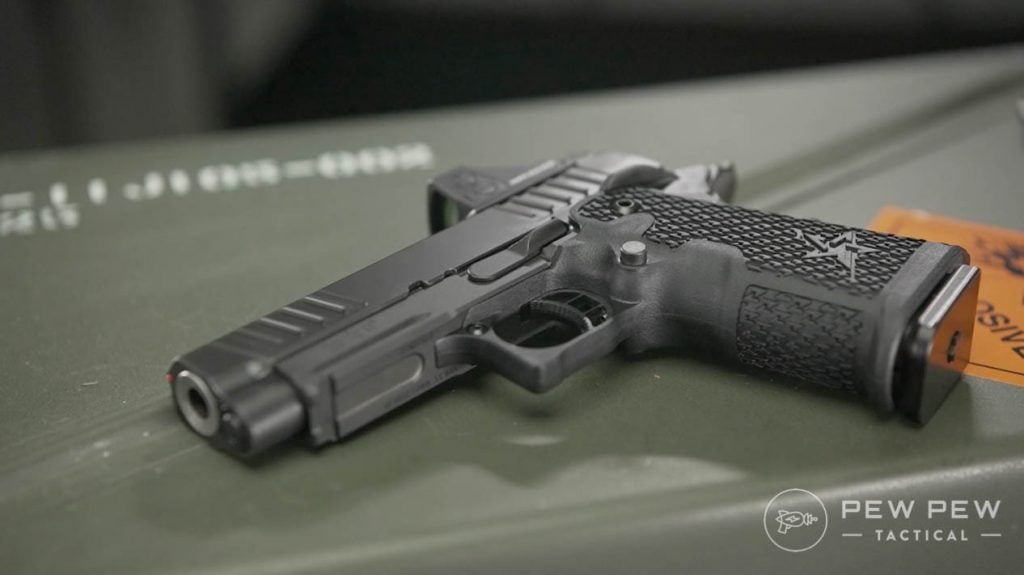 With a 3.9-inch match-grade bull barrel and 16 rounds of 9mm on tap, the C2 is on the bigger side for a concealed carry gun, but it is still a compact gun at heart.
Optics-ready versions are available for those that want to squeeze even more accuracy and speed out of an already blazing-fast gun. If you are looking for a pocket sniper rifle, this is the one.
Best High-End Concealed Carry
1999
at Staccato
Prices accurate at time of writing
Prices accurate at time of writing
You can read more in our full review of the Staccato C2!
7. Springfield XD-M Elite OSP .45
Pros
Optics Ready

10+1 capacity

CCW sized
Cons
Backstrap safety may be issue for some

Hefty recoil
Although it may be associated with older guns and the older crowd, .45 ACP is far from dead.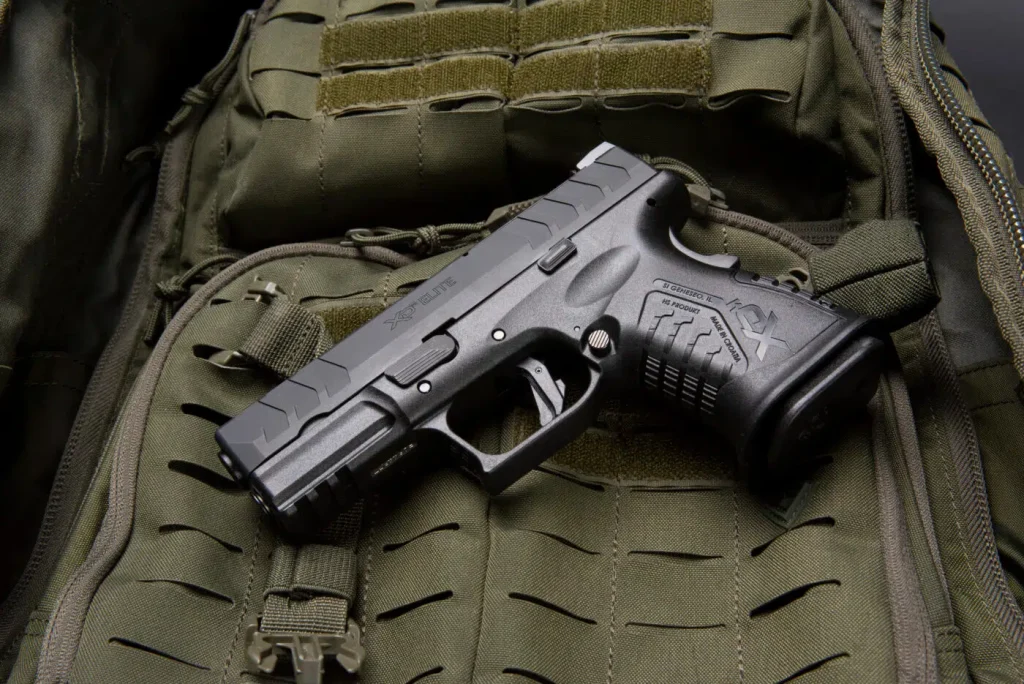 Shooters who enjoy this caliber will want to take a look at the Springfield XD-M Elite OSP.
The Elite XD-M line brings some awesome features, such as an improved META flat-face trigger, a removable flared magwell, fully ambidextrous controls, and an optics-ready slide.
Although the barrel is a carry-friendly 3.8 inches, the XD-M Elite OSP keeps 10+1 rounds of .45 ACP on tap, pushing you above the capacity of most 1911s and other single-stack .45s of similar lengths.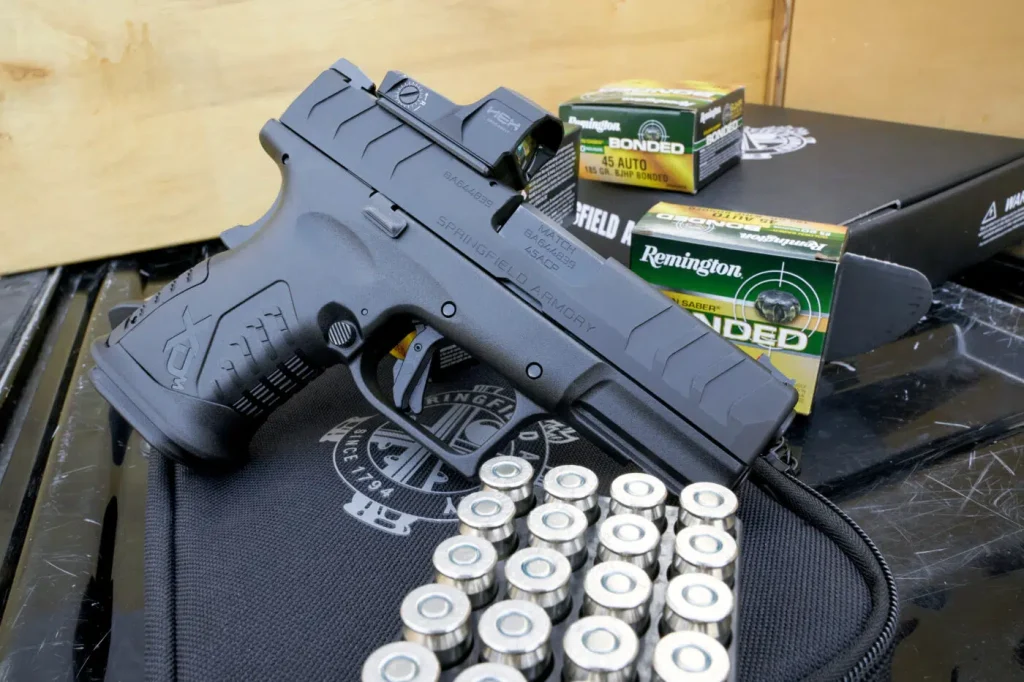 Every once in a while, I want to carry something with a bit more oomph, but I don't always want a huge hunk of steel on my hip. It is okay to want modern features on guns that aren't 9mm.
So why Springfield? Well, I looked high and low, and almost no one else is offering a .45 ACP pistol with these features in this configuration. Double stack .45, compact, and optics-ready? Sign me up. (oh…it also comes in 10mm too!)
565
at Firearms Depot
Prices accurate at time of writing
Prices accurate at time of writing
If you love moving big bullets out of small guns, this might be the one for you.
8. Canik TP9 Elite SC
Pros
Excellent trigger

Fiber optic front sight

Easy to reach controls
Cons
Wider than many micro-compact options

Grip may be too short for larger hands
While micro-compacts currently rule the roost, not everyone fancies an ultra-thin gun. Alternatively, some people still want something shorter than the standard 4-inch compact barrel.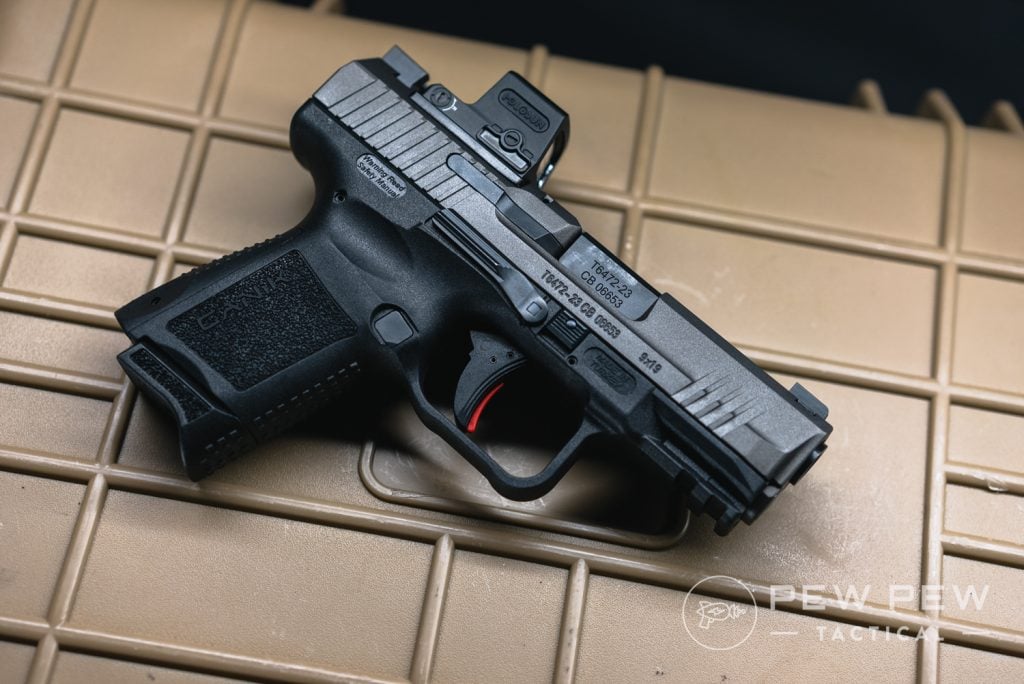 Whether it is hand size, comfort, or control, there is a still a solid argument for the good ole' basic sub-compact handgun—especially one as good as the Canik TP9 Elite SC.
I own various sub-compacts, and in addition to typically having mag compatibility with their full-size brethren, I find them to just feel a little more "substantial" than micro-compacts, so to speak.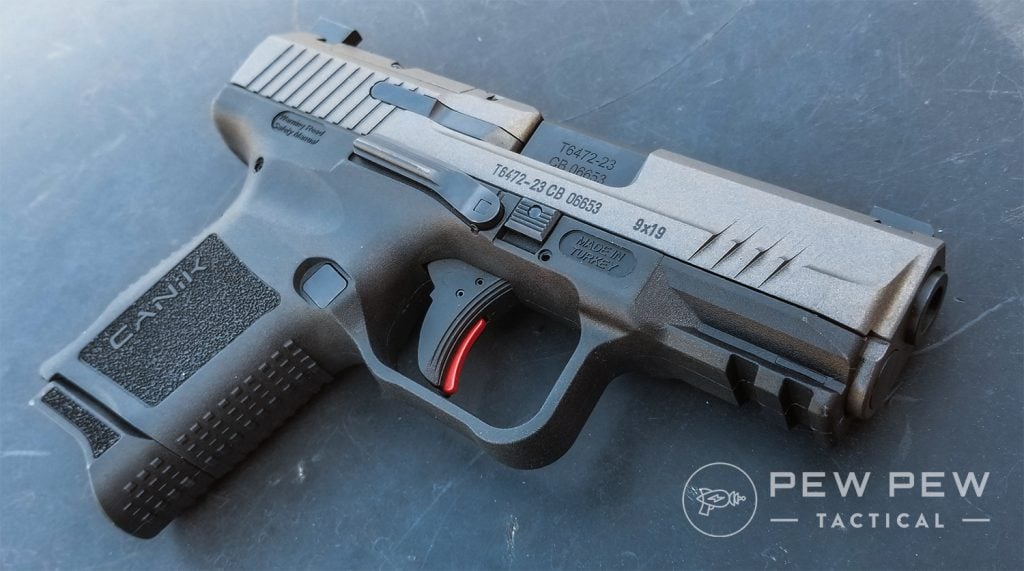 Canik has come on strong in the last few years with the TP9 lineup, which are Walther-derived guns. The Elite SC is no exception and features Canik's famously good triggers, great accuracy, and reliability.
With the Walther PPQ SC being among the best shooting sub-compacts I have ever handled, it is no wonder the suspiciously similar Elite SC is right on par with it, if not better.
The TP9 Elite SC features a 3.5-inch match-grade barrel, blacked-out rear and phosphorous front sight, ambidextrous slide release, and an optics-ready slide cut for Shield RMS/RMSc pattern dots.
Standard flush fits magazines offer you 12 rounds on tap, with extended 15-round magazines also available.
399
at GrabAGun
Prices accurate at time of writing
Prices accurate at time of writing
If you want something short and easy to conceal but isn't overly thin, the Elite SC might be for you. Oh, and it is easy on the wallet too!
You can read more about why I love this gun in our full review!
9. Smith & Wesson Shield Plus
Pros
13+1 capacity

Good grip texture

Reliable
Cons
Challenging for large hands

A little snappy

Slightly difficult field strip
As we cap the list off, we are headed back into the world of micro-compacts with the Smith & Wesson Shield Plus.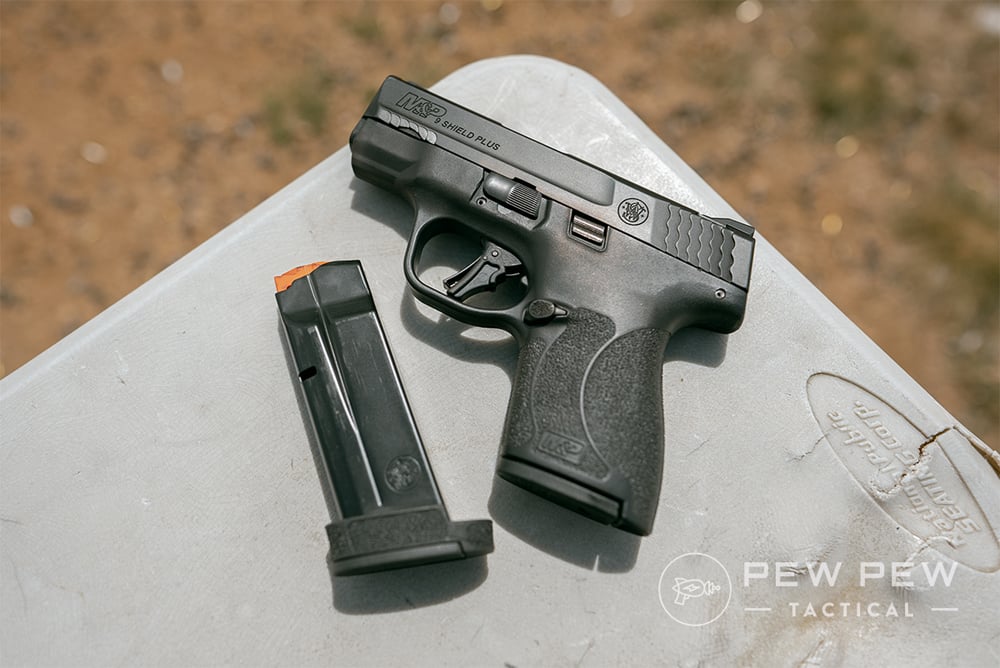 In 2012, the original Shield redefined what a modern, slim, concealed-carry gun for the masses was. It enjoyed widespread popularity, and it only makes sense they would update it to compete with higher-capacity guns.
Smith and Wesson added only a tiny bit of width (1.1 inches wide) but upped the capacity from 10 and 13 (extended) rounds of 9mm.
Surprisingly they were able to cut a bit of weight over the original, bringing it to 20.2 ounces.
As many others have noted, I find the aggressive grip texture on the M&P 2.0 helps with recoil control. It may feel harsh when handling the gun, but it works wonders during live fire.
While the overall ergonomics don't fit my hand as well as the P365 or Hellcat, this is largely due to personal preference and hand size. The Shield Plus would likely fill out larger hands better than the other micro-compacts, but if you have small hands, I still recommend checking this one out.
Additionally, the new flat-bow trigger is a much welcome upgrade for me over the older hinged trigger design like the one on my regular 2.0 Shield.
Optics-ready versions and models with or without thumb safeties are available. Additionally, Smith and Wesson offers the Shield Plus in the newer .30 Super Carry caliber, further increasing the capacity.
334
at BattleHawk Armory
Prices accurate at time of writing
Prices accurate at time of writing
Don't forget to take a look at our full review of the Shield Plus!
Final Thoughts
Covering all the great concealed carry guns out there would take ages; thus, sacrifices had to be made (including some of my personal favorites).
This list is meant to cover some of the best and easily available carry guns that work well for a majority of shooters.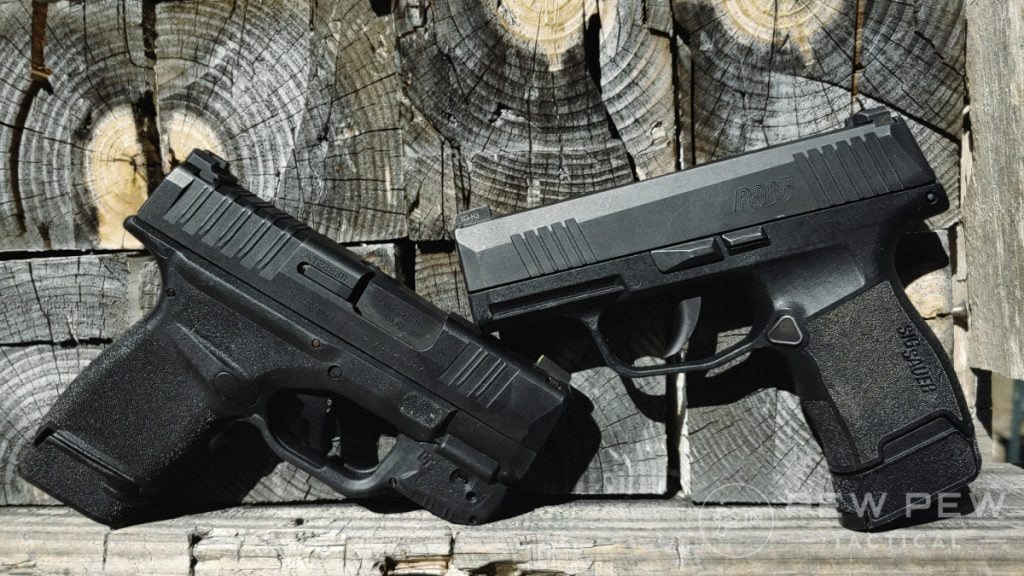 If your gun didn't make the list, don't fret, and remember, the best concealed carry gun is the one that works for you.
What are your thoughts on these guns? Let us know in the comments below! Still considering more options? Check out our articles on the 8 Best Compact 9mm handguns and Best Micro Compact 9mm Handguns.