What does it take to make the most successful carry gun currently on the market?
Well, it appears you need to make a compact gun, chambered in 9mm, give it a 10-round capacity and make it the same size as a single stack 9mm.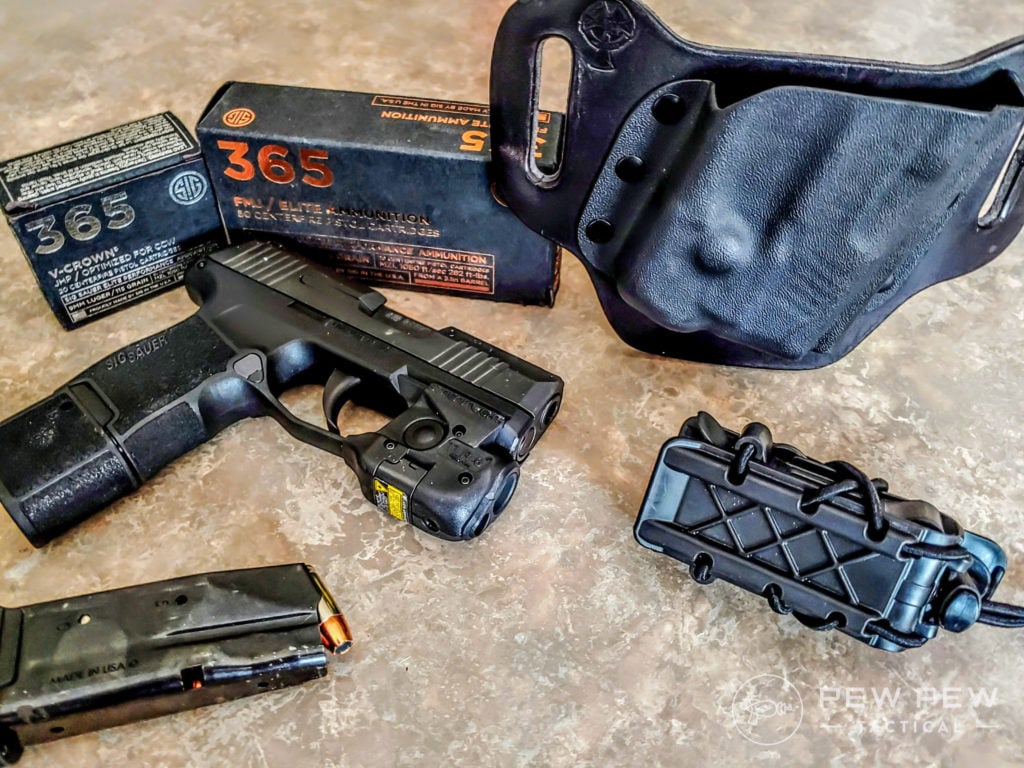 That's exactly what Sig did, and they produced one of the more revolutionary carry weapons to date.
And yes…we have a full review with YouTube video too.
The Sig P365 has been a home run for them in the carry gun market. The gun has been wildly successful in terms of the civilian market and has even been adopted as a back-up gun with a few different police forces.
I've gotten my hands on plenty of different accessories and add-ons for the gun so today I want to talk about the best upgrades and accessories for the P365.
Table of Contents
Loading...
My Personal Carry Gear & Build Goal
I've been carrying and using the Sig Sauer P365 for over a year now. I've explored it inside and out. I've gotten close to 1,700 rounds through the gun.
The early Sig P365s had some notable problems, but this seemed to be corrected quickly.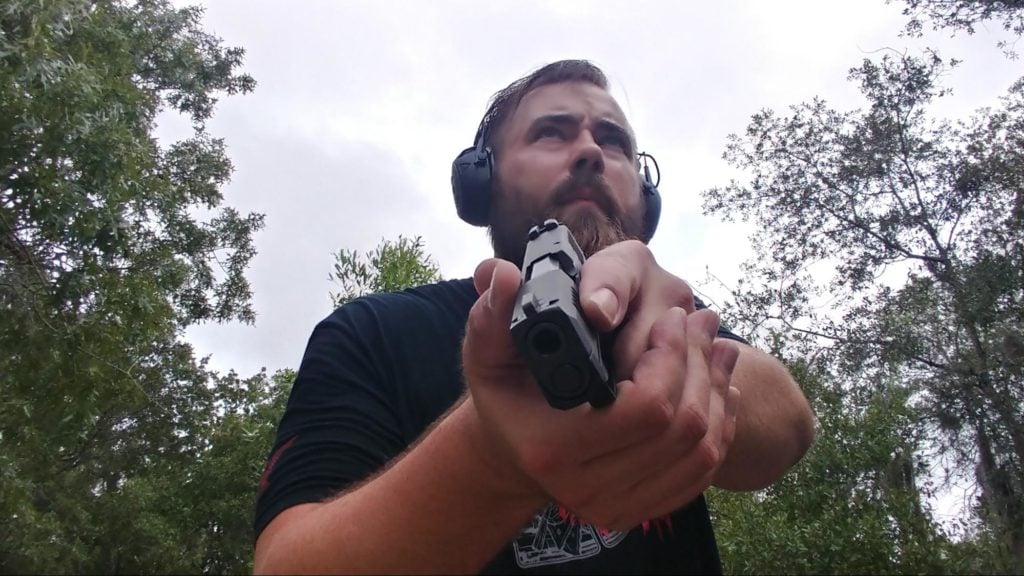 It's been a top-selling gun since then, and Sig and the firearms industry seem to be happy to throw their weight behind it.
I've also had the chance to try several pieces of gear out while carrying the Sig P365. Over time how I carried the Sig P365 has changed slightly.
With that in mind, I upgraded the pistol to make it a better defensive gun.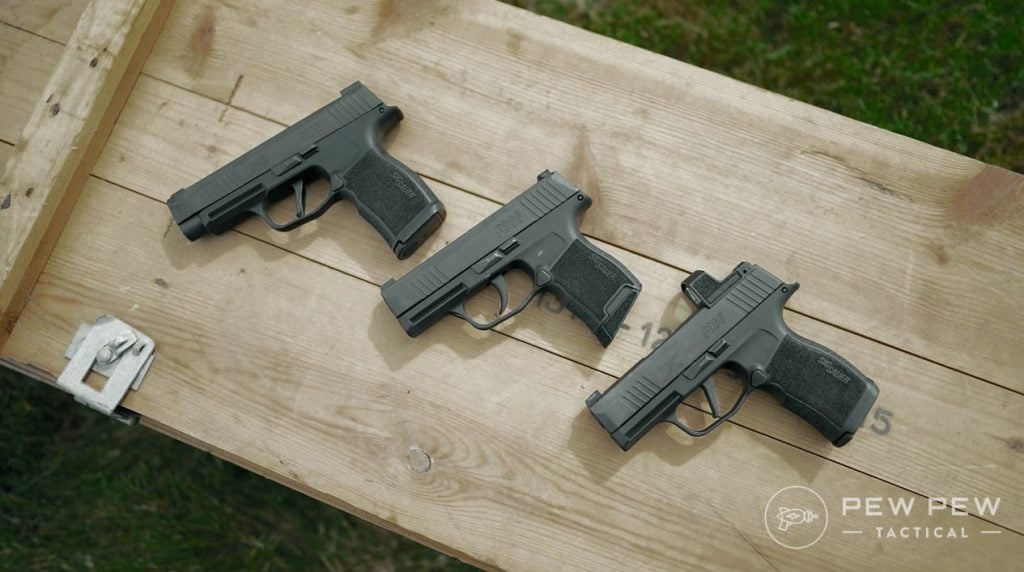 This means recognizing and addressing the flaws the P365 has.
As a small gun, it tends to be snappy with good self-defense ammo. The sight radius is rather short, and it can be tough to use beyond 15-yards with speed.
I wanted to tame the gun a bit, make it easier to shoot at various ranges, increase my follow-up shot time, and of course, make the gun look cool!
Looking cool is half the battle, right?
But first…how to field strip the P365 since you'll likely need to for the following upgrades:
Best Sig Sauer 365 Upgrades & Parts
1. Sig Sauer FCU + XL Slide
Sig invented a modular fire control unit for the original P250, which later went to the P320, and now the same idea lies within the P365.
The legal "firearm" portion of the gun is a removable chassis system that can insert into various frames known as the Fire Control Unit.
The FCU is compatible between various frame sizes and P365 models. I've taken full advantage of that with my P365.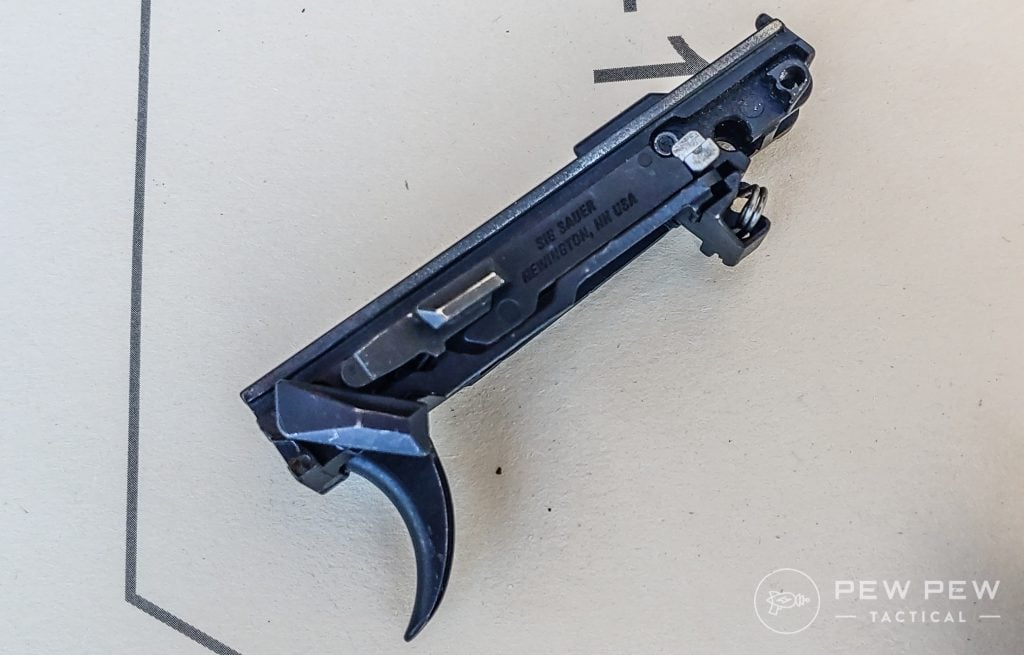 The modular design appeals to me, and I like having one firearm morph into multiple uses depending on the level of concealment or control I require.
The FCU is the core of the build, and it allows me to swap between various configurations.
My main configuration is a standard P365 frame with the XL slide. I find this an awesome combination that allows for an easy shooting gun that's highly concealable.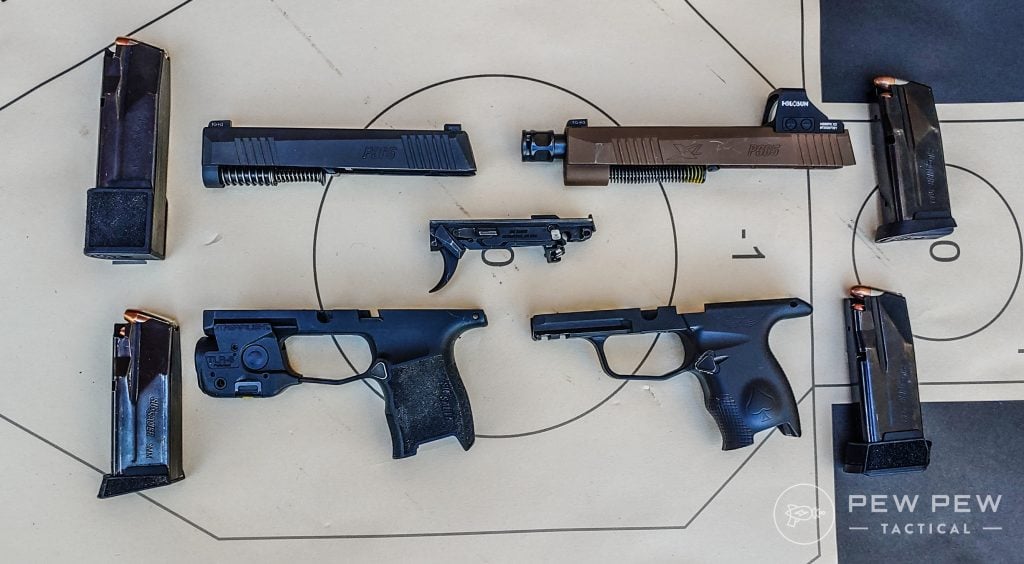 The shorter frame disappears in an AIWB or IWB carry holster.
The longer slide and barrel increase sight radius, velocity, and control. With the two combined, I have a very effective but concealable gun.
Should I want to emphasize concealability above all else, all I need to do is swap the XL slide for a standard slide, remove some accessories and go with the shortest magazine.
350
at Sig Sauer Parts
Prices accurate at time of writing
Prices accurate at time of writing
2. True Precision Threaded Barrel
I knew I wanted to add a muzzle device to my P365; to do so, I needed a threaded barrel.
True Precision produced the best-threaded barrel on the market. The ½ x 28 threads make it easy to attach a suppressor or muzzle device, so it was an instant sell for me.
Beyond just being a threaded barrel, the True Precision design accommodated a proprietary broach cut that enhances accuracy, and it is quite noticeable.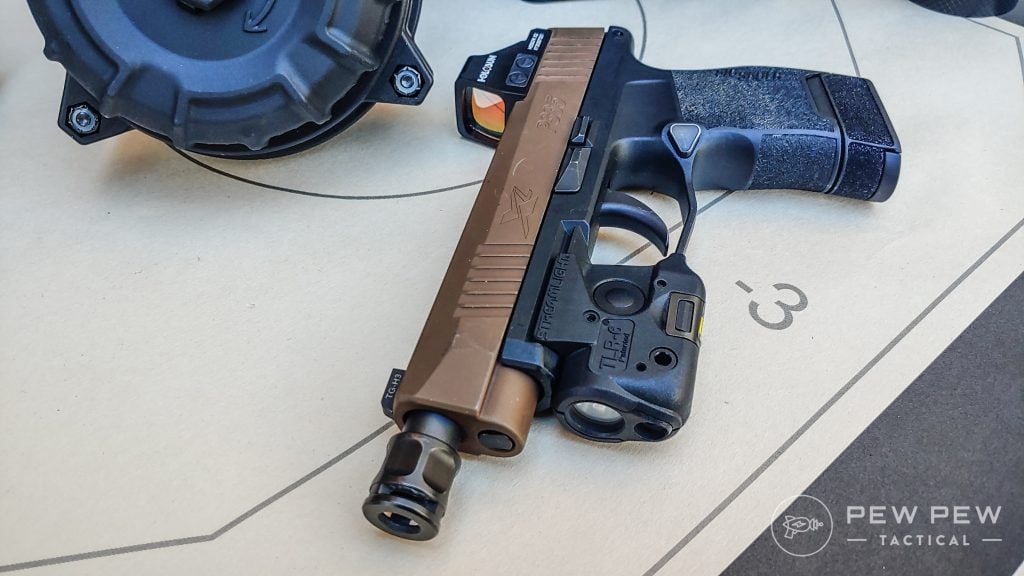 My groups tightened slightly after adding the True Precision barrel.
Beyond the broach cut, the barrel fits a good bit tighter, and that also helps in the accuracy department.
Another selling point was that the barrel could use the cheapest, crappiest ammo on the market and function perfectly fine, which is great in the current ammo drought.
170
at Rainier Arms
Prices accurate at time of writing
Prices accurate at time of writing
3. Sig Sauer P365 Flat Trigger
Do you want to be frustrated? Like really frustrated? Try buying a Sig Sauer OEM produced P365 flat trigger.
It's always sold out. Sig is restocking them and making them as fast as they seemingly can but the P365 is a popular gun and this trigger is extremely well regarded.

The Sig OEM flat trigger is a direct, drop-in replacement system that delivers a smoother, more consistent trigger pull.
There are other high-quality flat-faced triggers for the P365 out there, but they are often double the price of the Sig OEM model.
This flat-faced trigger positions your finger lower on the trigger and this gives you more control and leverage. This results in a smoother, more consistent trigger pull.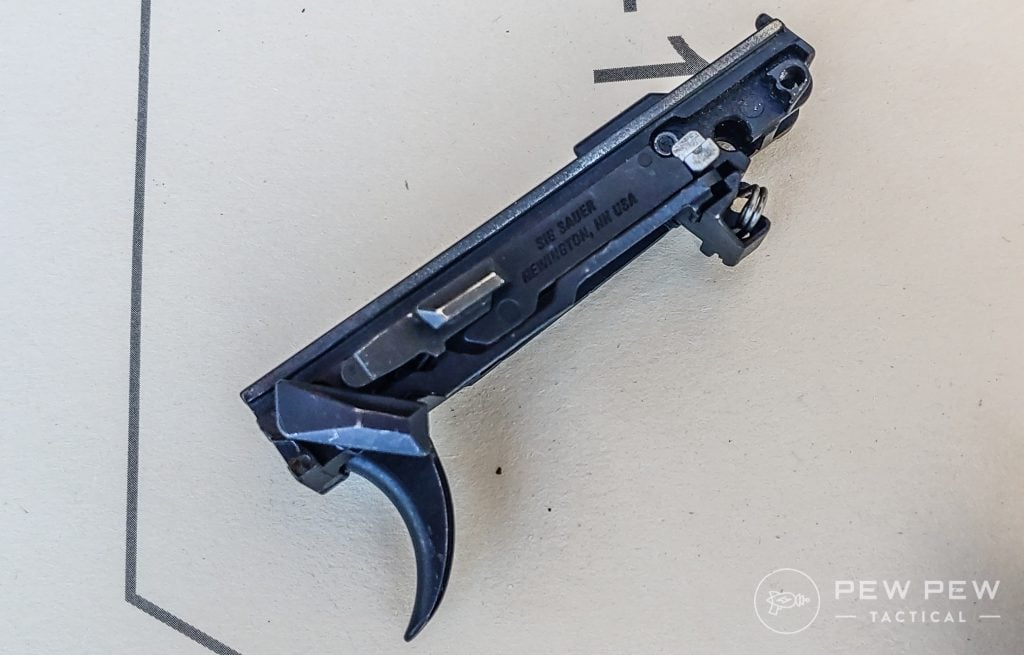 The Sig Sauer flat-faced trigger gives you a smoother trigger pull without having to change the factory weight. People with smaller hands and smaller fingers often find it easier to reach flat-faced triggers. Although, the thin grip of the P365 is likely thin enough for even the smallest of hands.
50
at Sig Sauer
Prices accurate at time of writing
Prices accurate at time of writing
4. Griffin Arms Micro Carry Compensator
Comps on carry guns are a fun subject to discuss. I like them, and since this is my build, a compensator was a piece of it.
Since this is a small carry gun, I went with a small compensator.
But which one?
The Griffin Arms Micro Carry Comp — the perfect choice.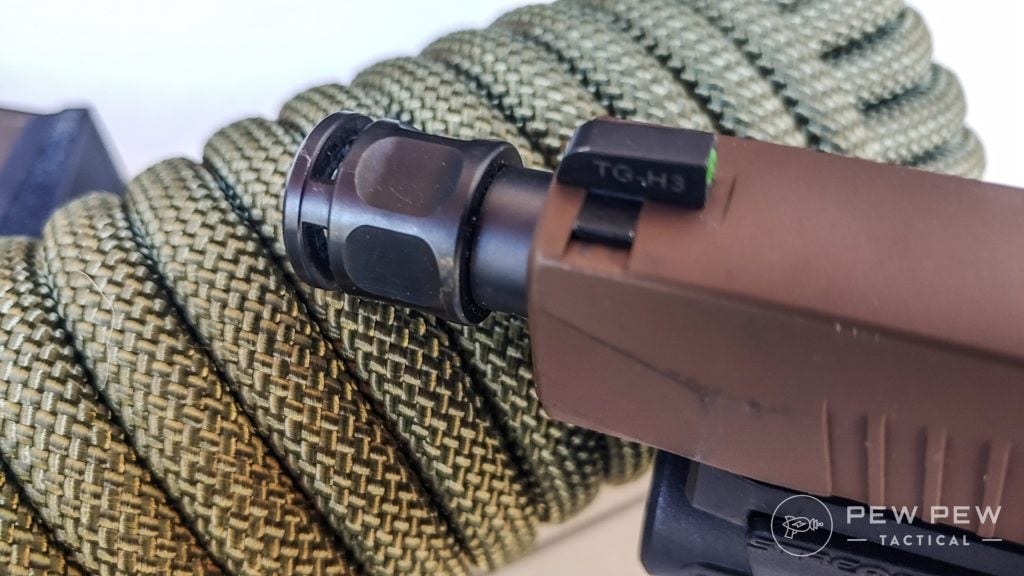 It's hardly any bigger than a thread protector but offers ports to dissuade recoil and tame your gun.
"You don't need a comp on a 9mm!" Naysayers shout.
Need is a strong word. But I agree, I don't need it. However, I won't deny its effectiveness.
The Griffin Arms Micro Carry Comp reduces muzzle rise and makes my subcompact pistol quite controllable and much easier to handle.
Seeing my red dot barely move between shots is a satisfying feeling. Best of all, it makes my follow-up shots faster and with greater precision.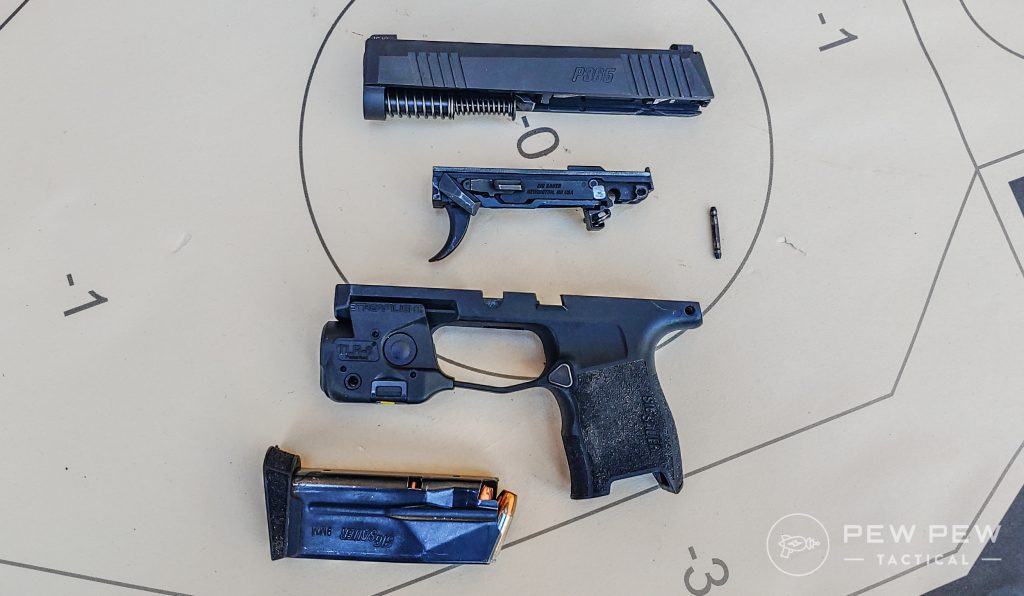 The real work is done when you fire the gun one-handed. That was the moment I realized how handy a compensator could be.
Shooting one-handed could be a very real situation in which I could find myself.
So, being able to do so with greater effectiveness makes the Griffin Micro Carry Comp a worthwhile addition to my P365.
The Griffin Armament comp works with most P365 holsters with an open bottom design.
Most compensators are on the large side and require holsters specifically made for compensated guns. So it's nice that the Griffin Armament doesn't require that.
60
at Optics Planet
Prices accurate at time of writing
Prices accurate at time of writing
5. Holosun 507K
I've played with optics here and there but only recently dived in feet first into serious carry optics.
The P365 XL slide comes cut for a particular footprint, often called the Shield footprint, in honor of the fact the Shield was the first micro red dot.
The Holosun 507K fits this footprint and seems to be the most durable option on the market.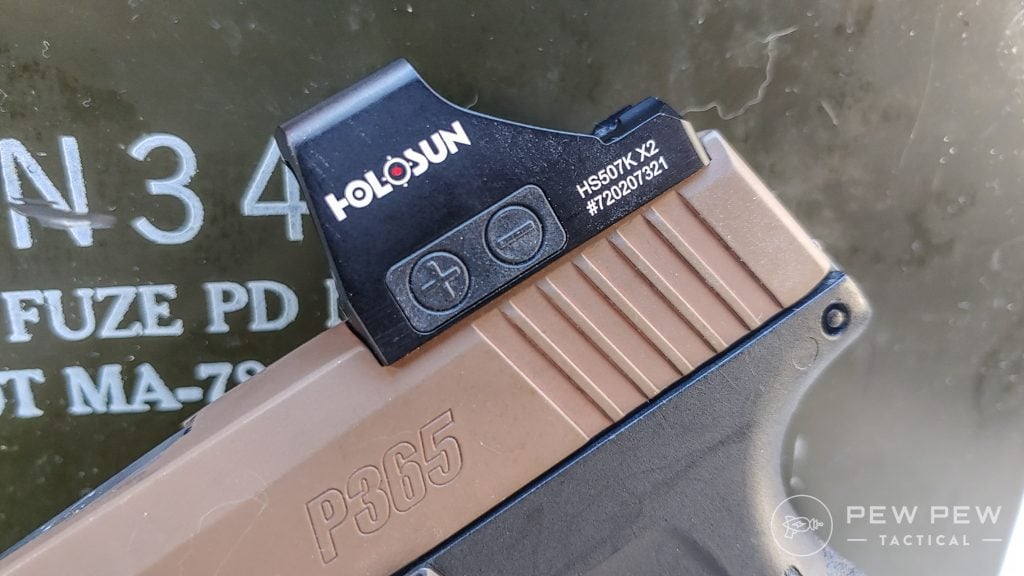 I turned to the internet and saw some failures with various other micro-optics. That said, the Holosun seemed to hold up the best.
I can now verify that the 507K is a well-made optic capable of withstanding a good deal of abuse. (Full review coming soon.)
Another reason I like the 507K is the built-in rear iron sight.
The P365 XL requires you to remove a rear plate that contains the rear Sight. The 507K's built-in rear sight nub and the optic's height allow it to naturally co-witness.
The multiple reticle options give you a big 32 MOA circle that's absolutely huge and easy to get on target at self-defense ranges.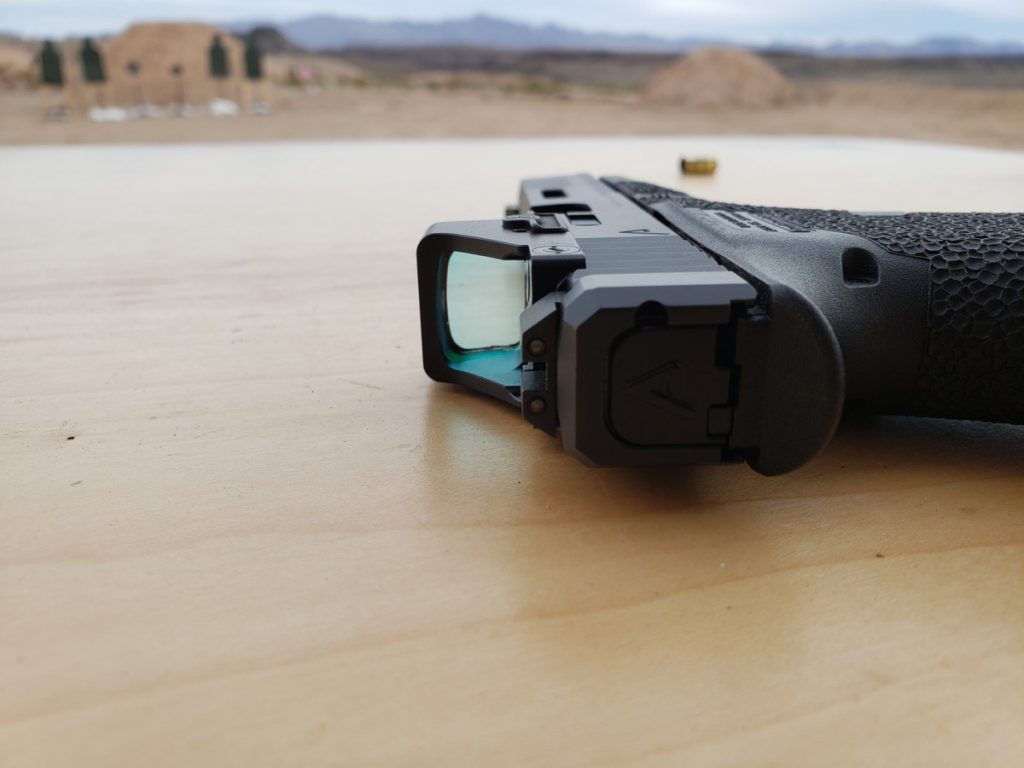 Look through the optic, put the dot on the target and go.
If you need more precision, the 2 MOA plain red dot is better at moderate and long ranges.
With the 507K, I'm faster and much more accurate. Red dots are wonderful additions to self-defense firearms and truly increase your capabilities. They blow iron sights out of the water.
Plus, you get a side-loading battery, and I love that. I hate removing an optic just to swap batteries.
289
at Brownells
Prices accurate at time of writing
Prices accurate at time of writing
6. Truglo Fiber Optic Front and Rear
If you're not a huge fan of red dots, no worries, you can still upgrade the P365 sights.
I've been a big fan of the Sig XRAY3 sights and have had no complaints.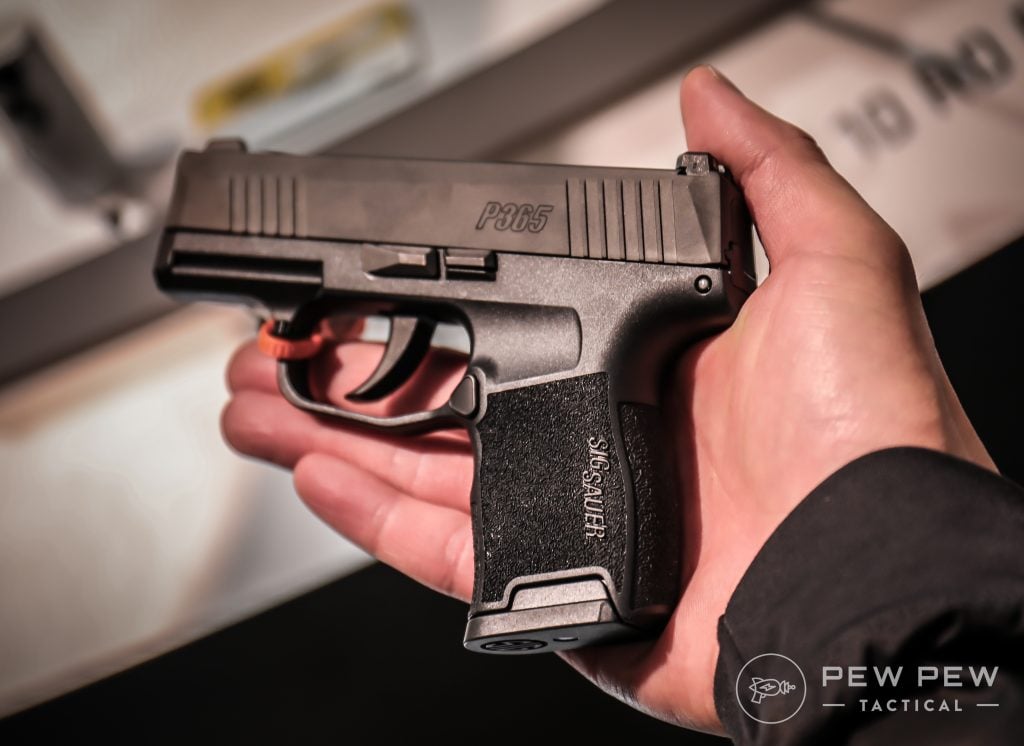 This opinion isn't shared by all though. I've seen complaints pop up here and there, as well as some who don't like night sights on their guns.
For those looking for something different the TruGlo fiber optic front and rear are an excellent choice. Sig produces similar sights for most weapons and they utilize numbers to differentiate their front and rear sights.
The P365 uses a Sig #6 front sight and a #8 rear sight. The TruGlo Fiber optic sights meet those designations and are conveniently packaged together.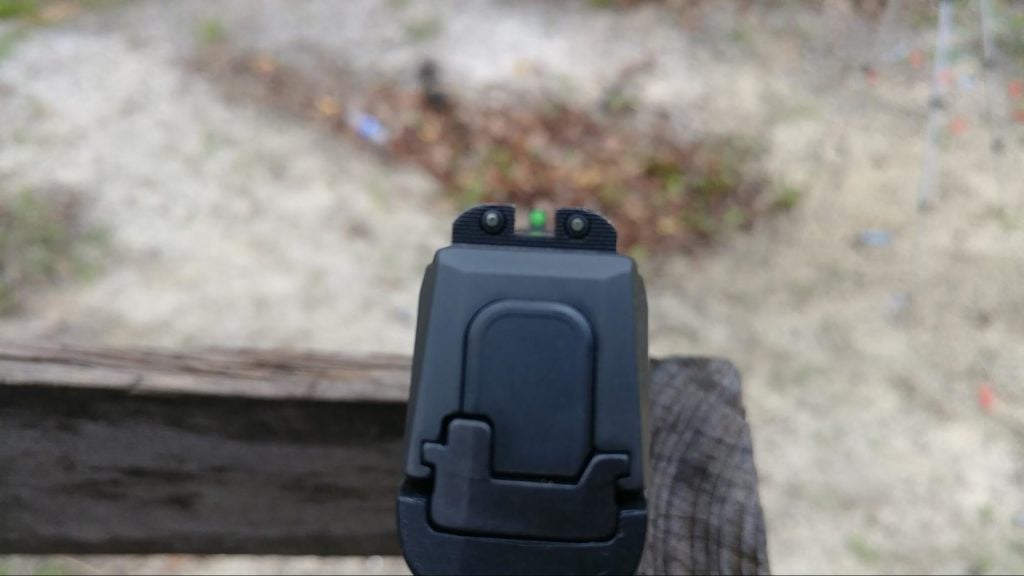 The front sight is a bright red and the rear sights are green. This contrast of colors makes it easy to pick up the front sight and quick to get on target.
The TruGlo Fiber Optic front and rear sights are made from CNC-machined steel, so they are well made and will last. The TruGlo sights are designed for daylight use but are high visibility and easy to see in low light as well.
They are a great alternative if you aren't a big fan of the stock XRAY3 sights.
50
at Amazon
Prices accurate at time of writing
Prices accurate at time of writing
7. Streamlight TLR-6
Lights for tiny guns are rather rare at the moment, especially when your tiny gun has a proprietary rail system.
I don't like the Olight, and the Surefire is tough to find. I have a TLR 7 SUB on the way, but the TLR 6 is my light of choice until then.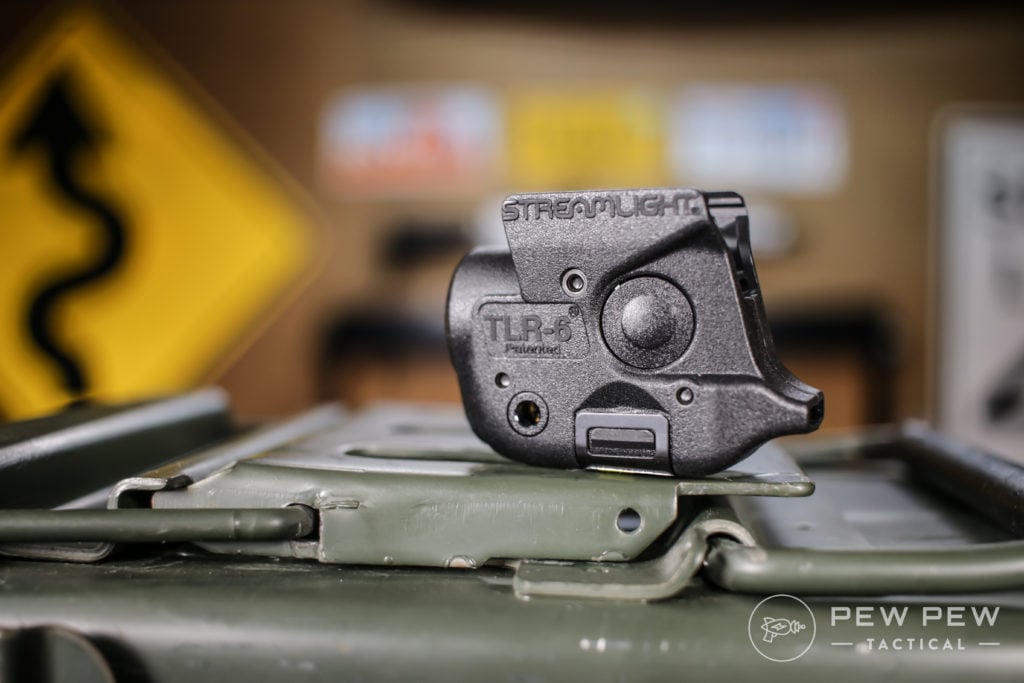 I've had one for well over a year now, and it's yet to let me down.
It's been abused, used, and present for daily carry for quite some time. The slim build means hardly any bulk added to the gun.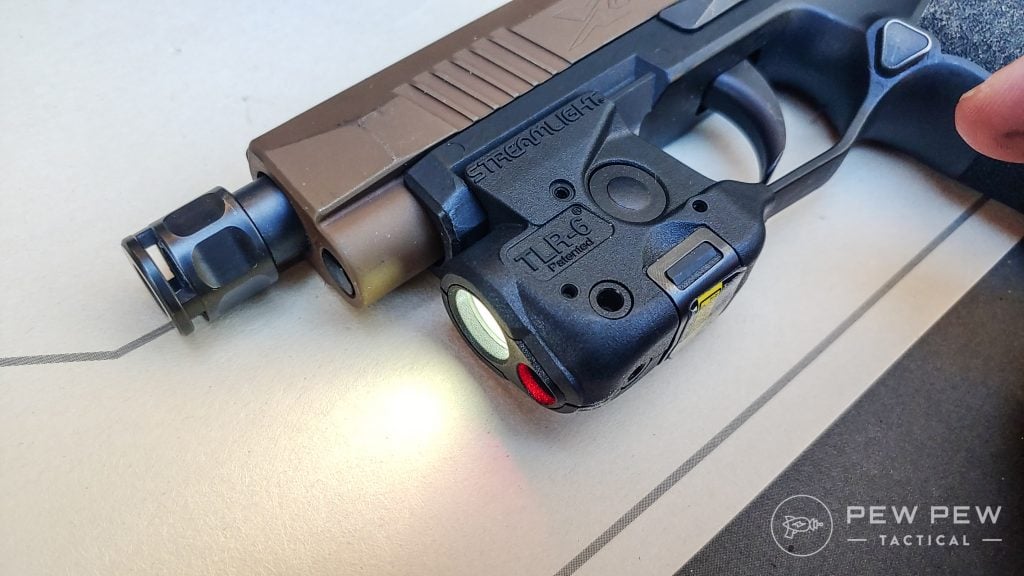 On top of that, the TLR 6 has been popular enough to warrant the holster manufacturer's attention. You can find a holster that fits with the light rather easily.
Dual buttons form ambidextrous controls that sit in a position that makes them easy to reach with a trigger finger or your off-hand thumb.
The TLR 6 is a combination of laser and light, and you can use the buttons to alternate between three different modes. Modes include light and laser, light only, and laser only.
My only issue is that the light is only 100 lumens. That's not a ton of power for the light to have, and it only works at extremely close ranges.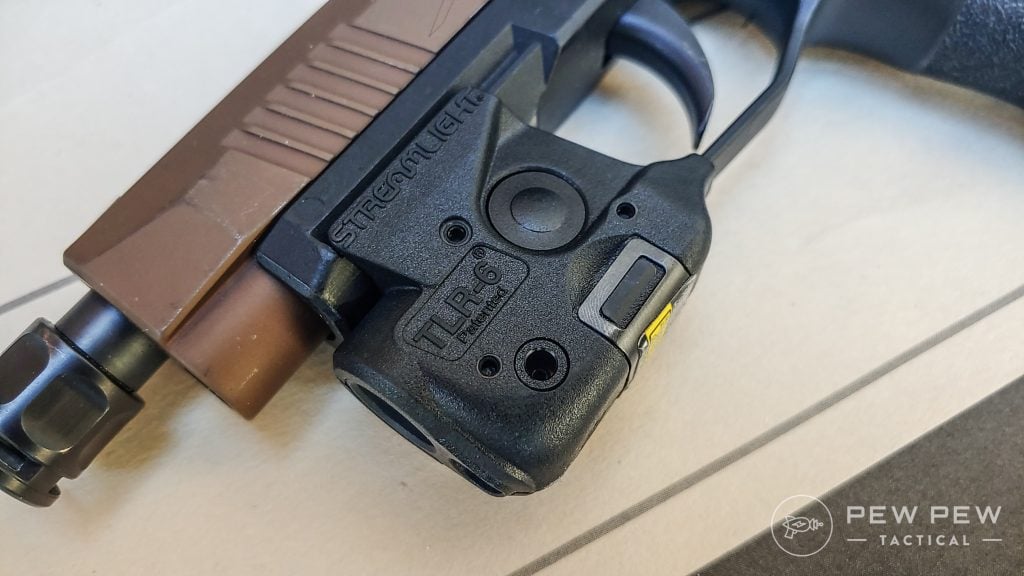 I treat it as more of a backup light called upon when my handheld light is down or inaccessible.
The laser is a handy aiming option should I be unable to use my optic or sights. It's also fun to fire accurately from the hip, ringing steel and punching paper.
The brighter, more powerful TLR 7 SUB may replace the TLR 6, but that won't be until I properly test it…and I can find a holster.
98
at Amazon
Prices accurate at time of writing
Prices accurate at time of writing
What do you think about the TLR 6? Rate it below!
8. Sig Foxtrot365 White Light
If you're not a fan of the Streamlight, check out the Sig Foxtrot 365 White Light, instead.
The Foxtrot365 is designed solely for the Sig P365 and its unique proprietary rail system featuring a 100-lumen white light system powered by a CR123 battery.
The LED-based light attaches over the rail system and runs a switch under the trigger guard. This switch is pressure activated when the weapon is gripped. The light is very small and very lightweight. It sits flush with the P365's frame and matches the gun's lines perfectly.
The switch is instant and ambidextrous. It's well designed backed by Sig's warranty.
I mentioned I carry the TLR-6 and there are a few reasons for that. It casts a light further, I prefer the button-based controls, and of course, the included laser is nice. The main benefits of the Foxtrot365 is how small it is.
If you want to minimize your space then the Foxtrot is a better option, plus holsters are easy to find for it.
144
at Amazon
Prices accurate at time of writing
Prices accurate at time of writing
9. Crossbreed DropSlide OWB Holster
When I got the light on my P365 I started looking for a holster. Crossbreed was more than happy to send me one when they found out I was looking.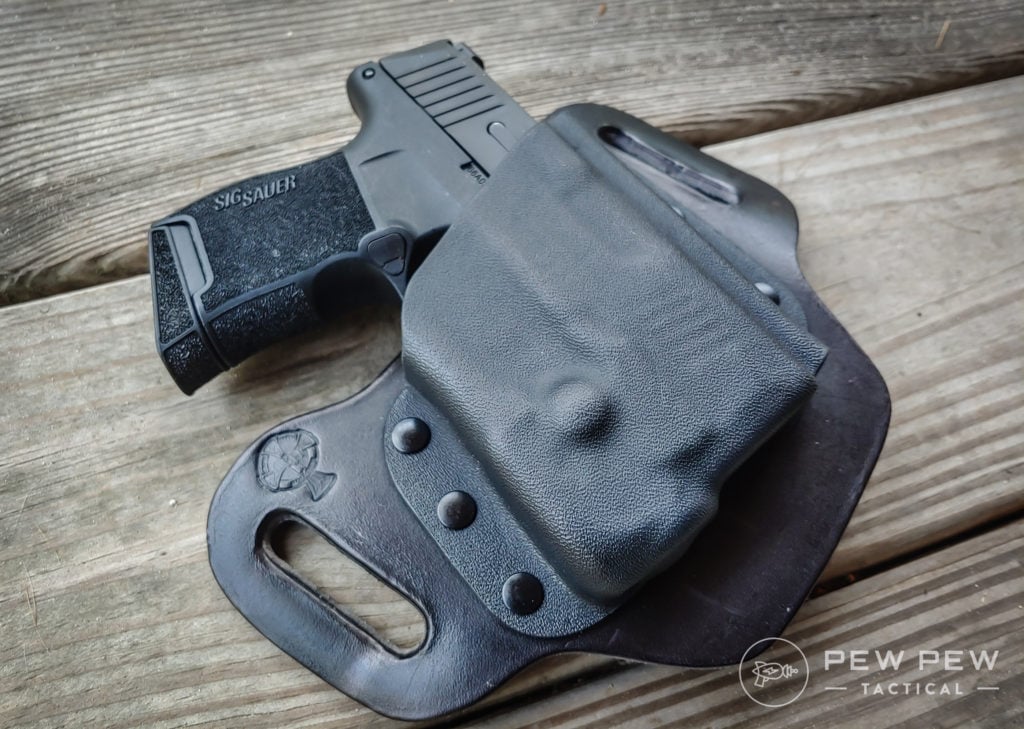 They produce both OWB and IWB models and I'm more of an OWB type of guy. I went with the DropSlide OWB for the P365 with the TLR-6 equipped.
The Crossbreed bends to my body and this allows it to hold tight to my body. The overall design stresses concealment and this makes it easy to keep the gun hidden under just a t-shirt.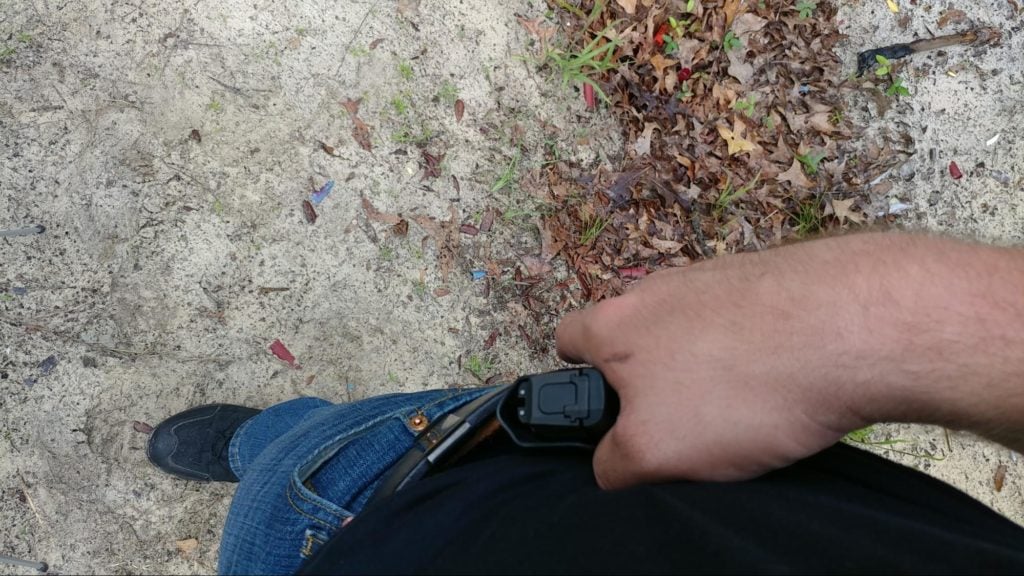 When it comes to the draw, the DropSlide design allows me to get my big hands around the gun.
A lot of OWB holsters that are designed to be concealed make it hard to get your full hand, including thumb, around the gun when drawing. This lower cut leather allows for an easy and complete draw.
65
at CrossBreed
Prices accurate at time of writing
Prices accurate at time of writing
The holster is comfortable, and it has no issues hiding the gun and the light. It's very comfortable and it's one of those holsters you can forget you're wearing. The holster is available in nonlight bearing designs as well.
10. MagGuts +2
Sig's success was built on the magazine design and its ability to hold a multitude of rounds.
The P365 originally held 10 rounds, but Sig released a 12-, then a 15-round magazine in short order.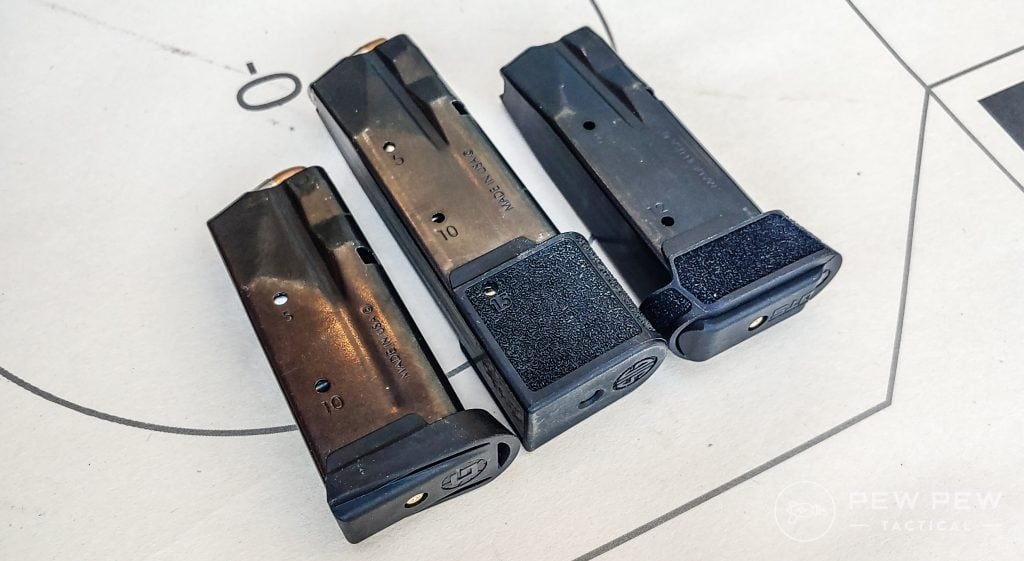 The 12-round magazine is my personal favorite and offers substantial ammunition with a slight extension that gives me a better grip on the gun.
The 10- rounder with the flush baseplate is the most concealable magazine, and I think it serves a purpose if you ankle or pocket carry.
That doesn't mean the 15-rounder doesn't have a place in the grand scheme of things. To me, it's the perfect option to carry a reload with.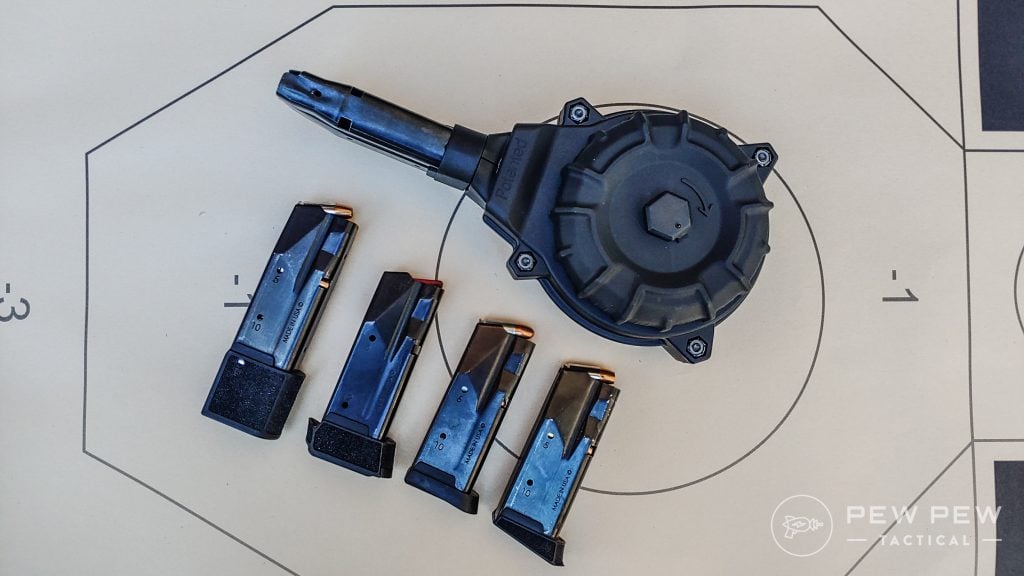 It fits in my pocket, and there are tons of magazine holders out there that fit it. This includes Neomag, which makes the best pocket reload option.
Why not carry a reload with a few extra rounds?
It's not hard to conceal and gives you a ton more ammo should you need to reload.
MagGuts recently released +2 MagGuts for the P365's 10-, 12-, and 15-round magazines.
To be clear, these are not magazine extensions. Nope, they are literally magazine guts that replace your internal spring, follower, and magazine base plate.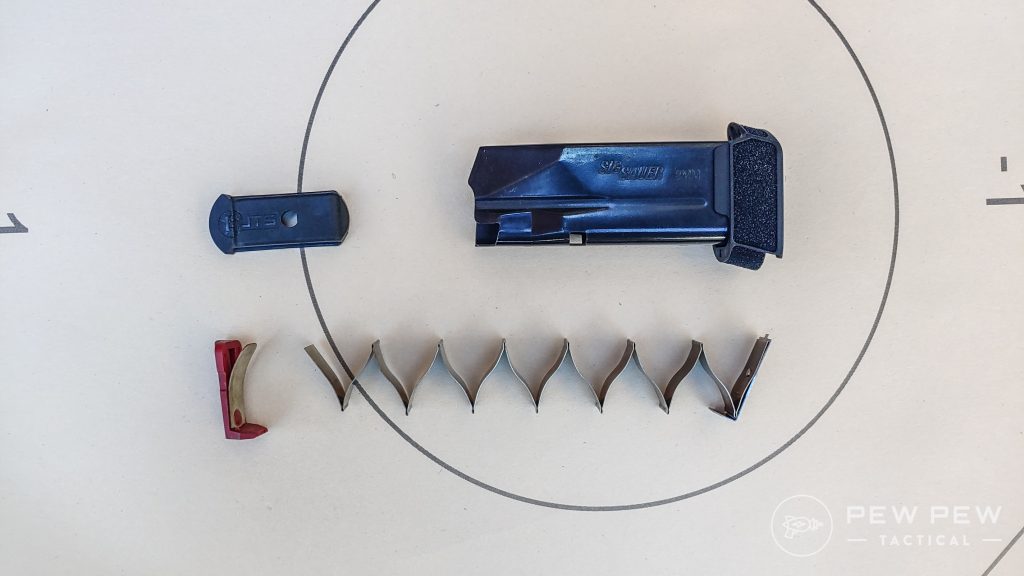 They add no extra length to your magazines but allow you to add two extra rounds to each magazine. My short 10-round magazine now holds 12-rounds. My favorite 12-round magazine now houses 14-rounds.
This allows my subcompact P365 to now have near the same capacity as a Glock 19.
Installation took no time at all, and my magazines were actually easier to load.
After installation, I dumped rounds out of these things to ensure reliability before I carried it.
After 300 rounds without issue, I felt confident enough to carry them.
Those two extra rounds are a big deal to me. Honestly, I think every P365 magazine should have MagGuts in them.
34
at MagGuts
Prices accurate at time of writing
Prices accurate at time of writing
11. Promag Drum
Promag has recently released a magazine to conquer all!
The P365 now has a drum, a 50-round drum, to be specific. It's as ridiculous as you think it is.
Is it useful? No, not really.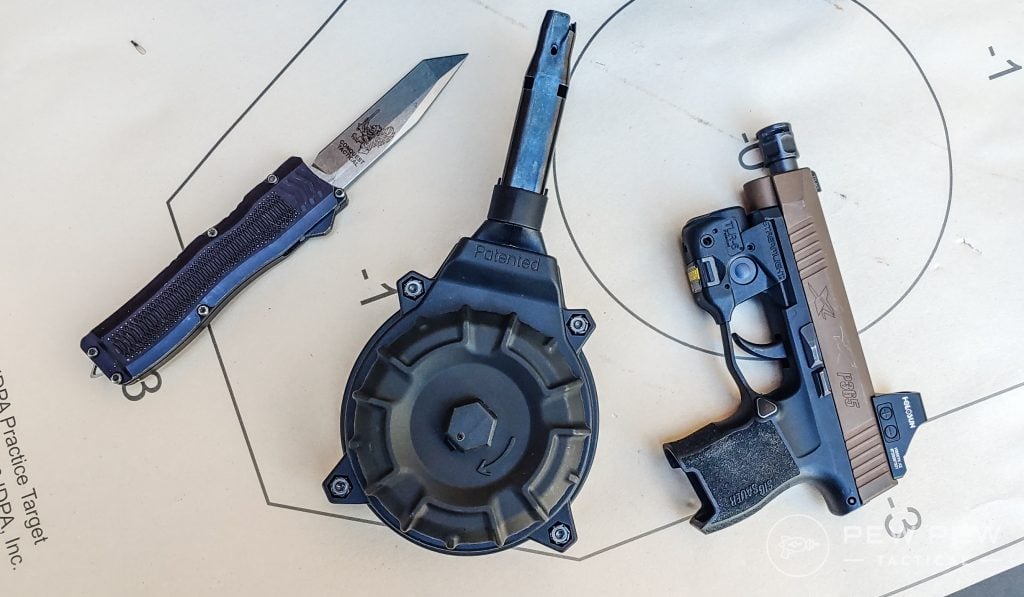 Will it replace my spare mag I keep for emergency reloads? No.
Is it practical in any way? Nah, of course not.
It's just fun and silly, making the gun look ridiculous!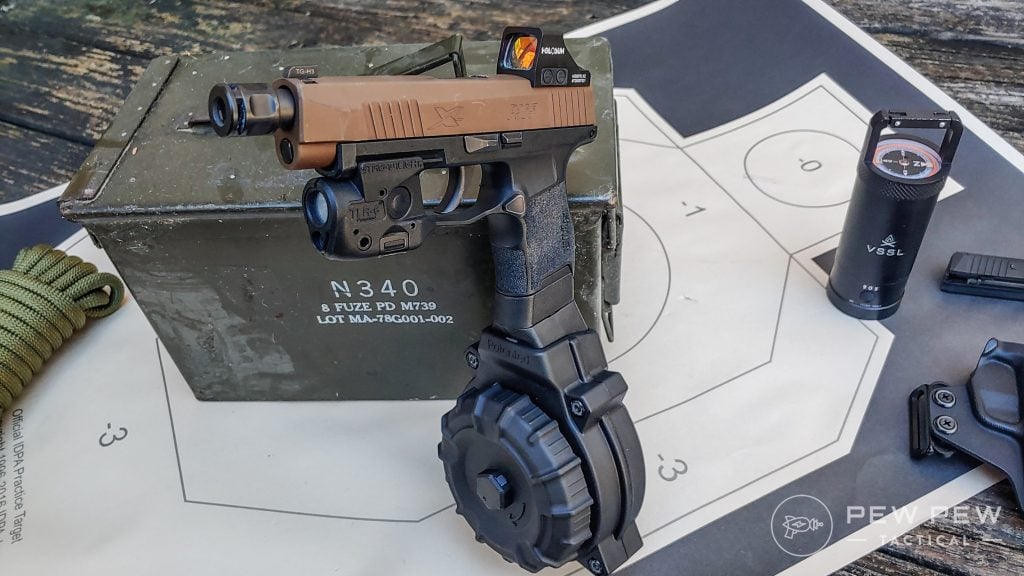 But, upside, it's also reliable. I put two full drums through this bad boy, and it worked without a hitch.
A hundred rounds aren't much, admittedly, but stressing testing a range toy is silly.
It's frustration-free so far, but I wouldn't put it through a mud, sand, and ice test.
82
at Kygunco
Prices accurate at time of writing
Prices accurate at time of writing
12. HSGI Polymer TACO
One little challenge I had was finding a good mag pouch for the P365. The magazines are too wide to be single stacks and too thin to be a traditional double stack.
That left me searching for a mag pouch that would meet the dimensions and simultaneously not be a piece of crap.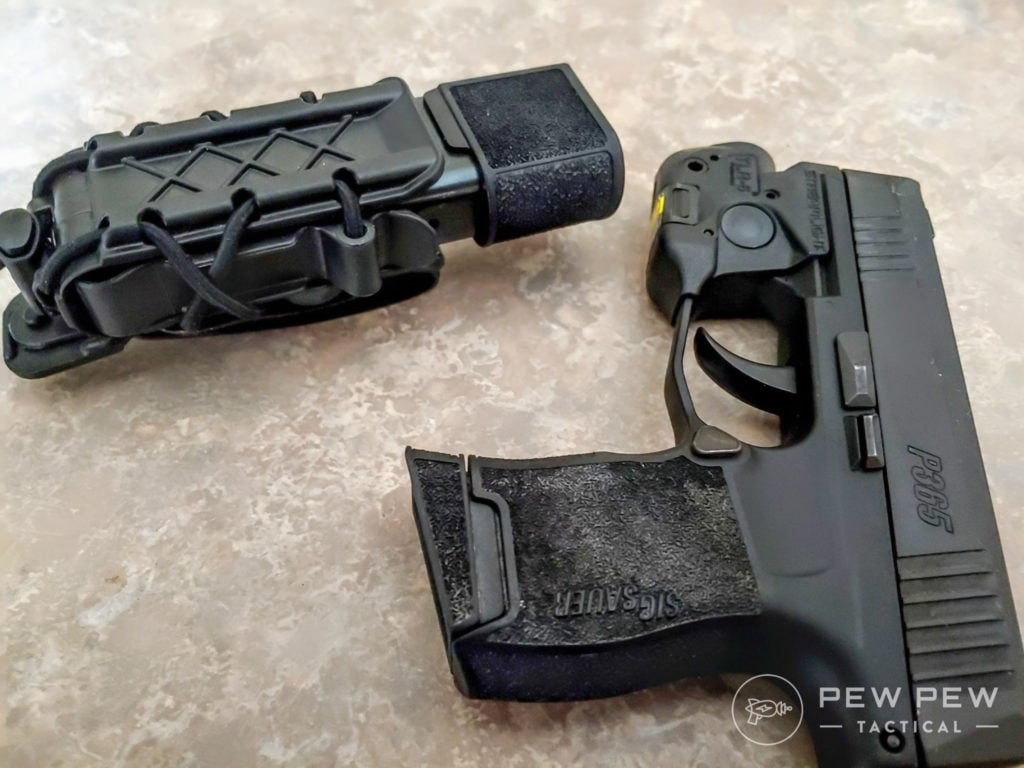 Way back when I was a cool guy I was issued a pistol and used old school TACOs to carry my spare mags on my plate carrier.
I remembered they adjusted for the size of the magazines so decided to go that route. I snagged a Polymer TACO with the Universal Mounting Clip.
This allowed me to just toss in my belt and go. The Taco uses polymer panels held together with a flexible shock cord that allows the mag pouch to grow or shrink while retaining retention.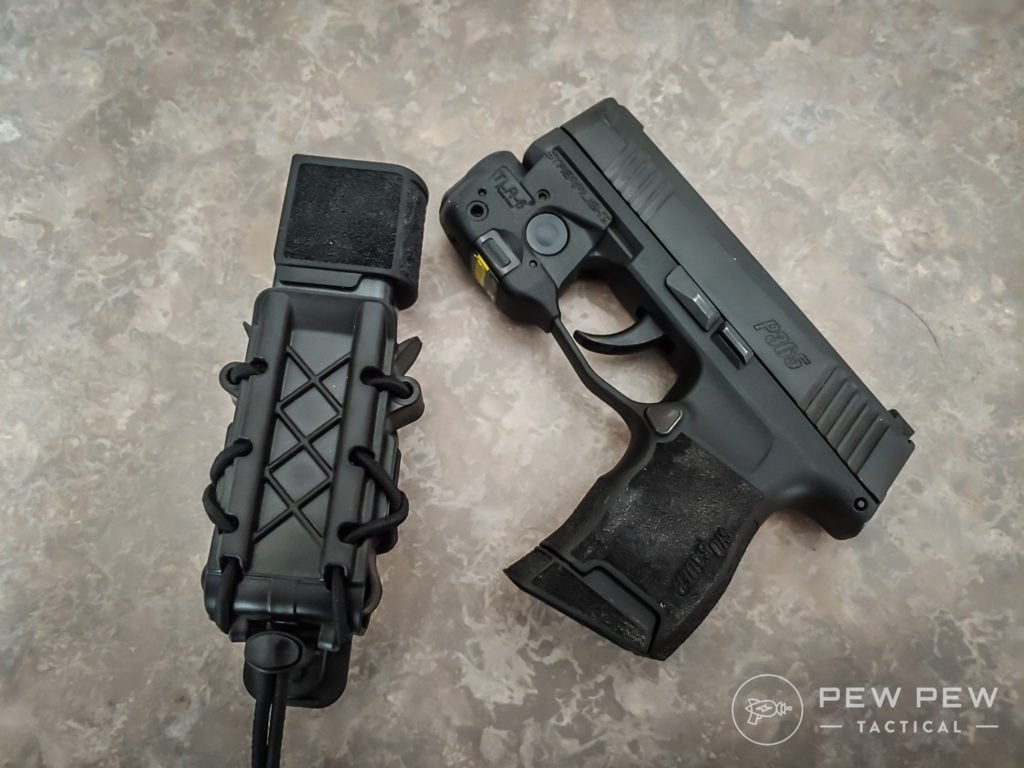 The mag pouch holds the magazines well and retention is top-notch.
The HSGI TACO polymer pistol pouches fit on my 1.75-inch belts with the U Mount and they are easily transferable to additional platforms. The polymer pistol pouches come in tons of different colors and are cut low enough to accommodate any of the P365 magazines.
28
at Amazon
Prices accurate at time of writing
Prices accurate at time of writing
The 15-round magazine is the easiest and quickest to draw when reloading.
13. Sig 365 Ammunition
Not to be a Sig fanboy but I respect the idea behind the 365 ammo and how it coincides with the design of the P365. The 365 ammo comes in both 115-grain JHPs and FMJs.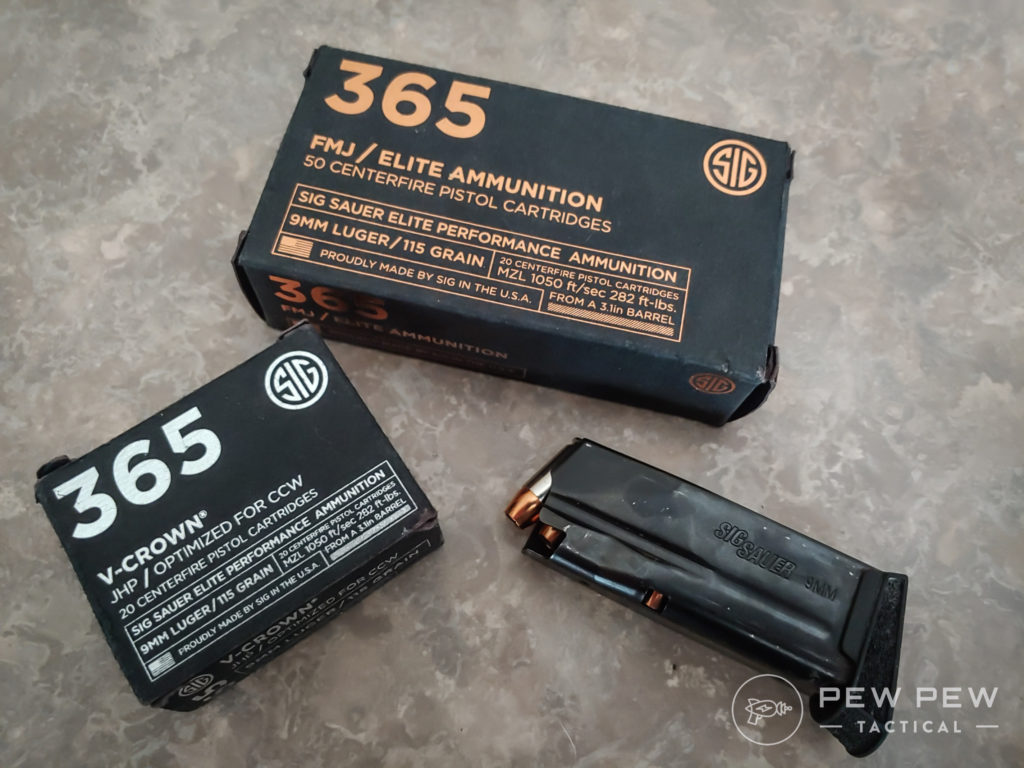 The idea is simple, the FMJs are for training and the JHPs are for self-defense.
The FMJ loads are designed to be identical to the JHP loads. This comes down to the recoil, as well as the flight of the rounds. In practice, the rounds handle and fire identically.
You can load a magazine randomly with FMJs and JHPs and you'll never notice a difference.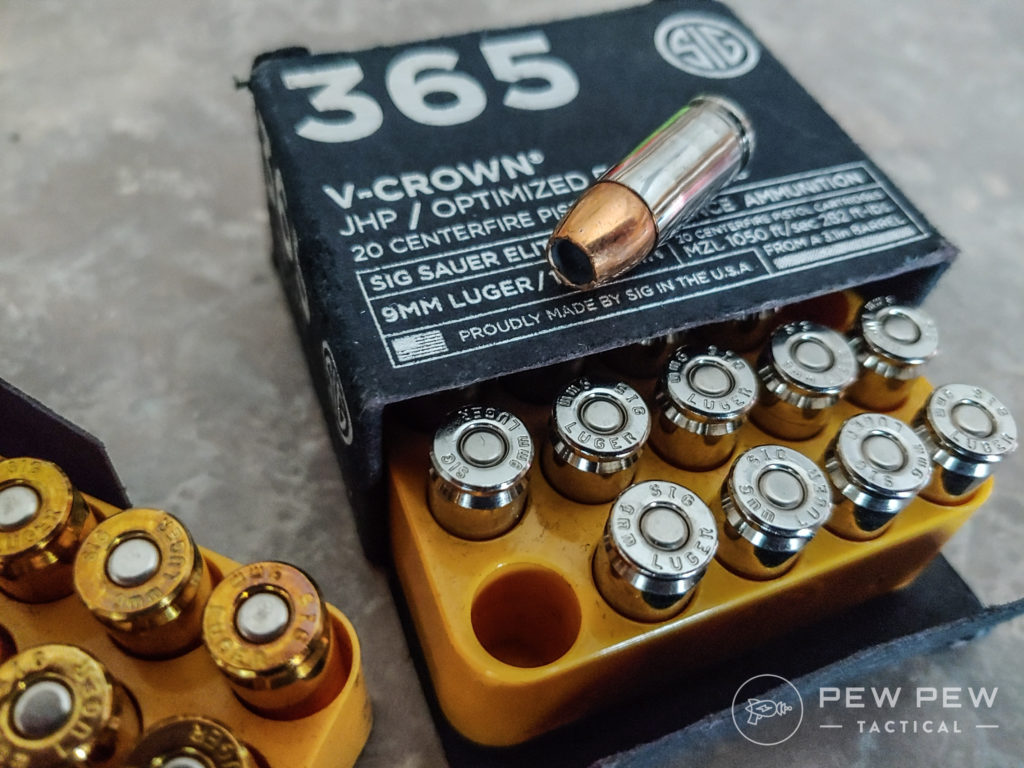 The idea of ammo that is identical between training and defensive ammo isn't new, but I respect the fact that SIG has made a brand of ammo designed for training and defense for short-barreled guns.
The Sig 365 ammo has very little recoil and muzzle flash is almost eliminated. Defensive ammo in small guns can lead to some mighty muzzle flash as you fire the gun.
This muzzle flash can be incredibly bright and cause some discomfort when you fire in dark environments.
16
at Cabelas
Prices accurate at time of writing
Prices accurate at time of writing
In terms of carry ammo, I appreciate the ammo being nickel-plated, which will prevent corrosion when carried for extended periods of time.
I live in Florida and I'm a big guy who sweats a lot. It only takes a little bit of salty sweat will start causing corrosion issues with ammunition.
Conclusion
You can normally judge the success of a gun by its aftermarket. The more popular a weapon is the larger the aftermarket for it will be. And the Sig Sauer P365 is one popular gun!
The benefit, of course, is a lot of cool extras you can toss onto the gun. The above is my favorite gear, but there is no reason to stop there. You can go quite far when it comes to going Gucci with the Sig P365 though.
499
at GrabAGun
Prices accurate at time of writing
Prices accurate at time of writing
I'm willing to bet several of our readers have their own P365s. If so, what upgrades have you made? Let us know below. If you want to see some other badass CCW pistols, take a look at the Best Concealed Carry Guns!