When it comes to handguns, the 9mm is one of the most popular calibers for pistol shooters.
And among the pistol arena, the 9mm compact, in particular, tends to be a regular choice for those looking to concealed carry.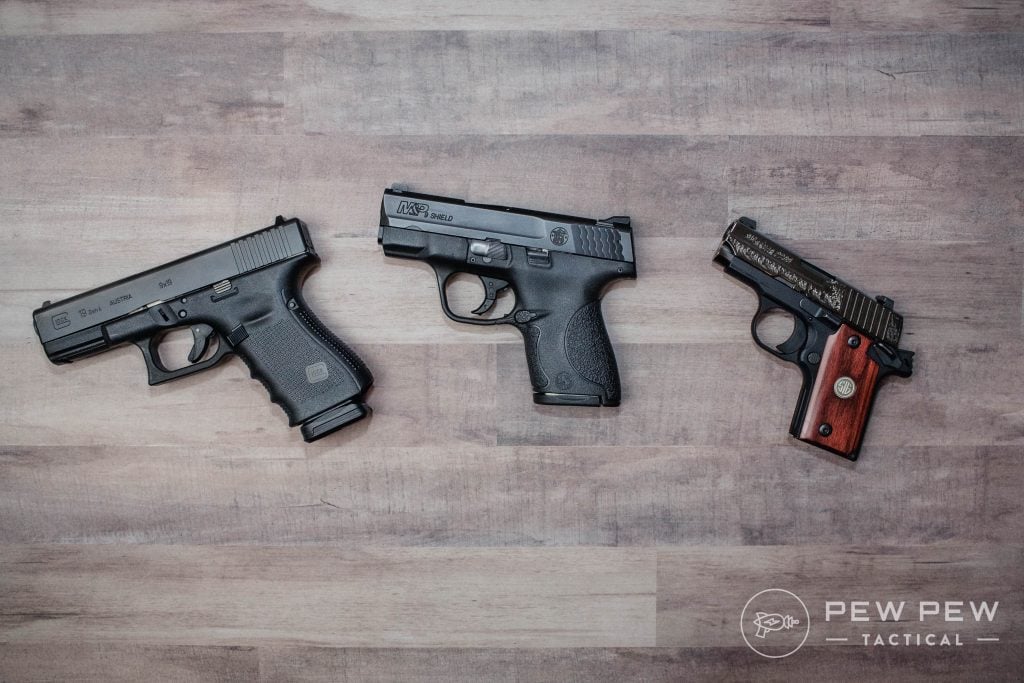 These guns bridge the gap between full-sized and sub-compact, offering a nice middle area. Basically, they're the Goldilocks guns — not too big and not too small.
But with a ton of models to choose from, it can seem a bit overwhelming narrowing down which one you should buy.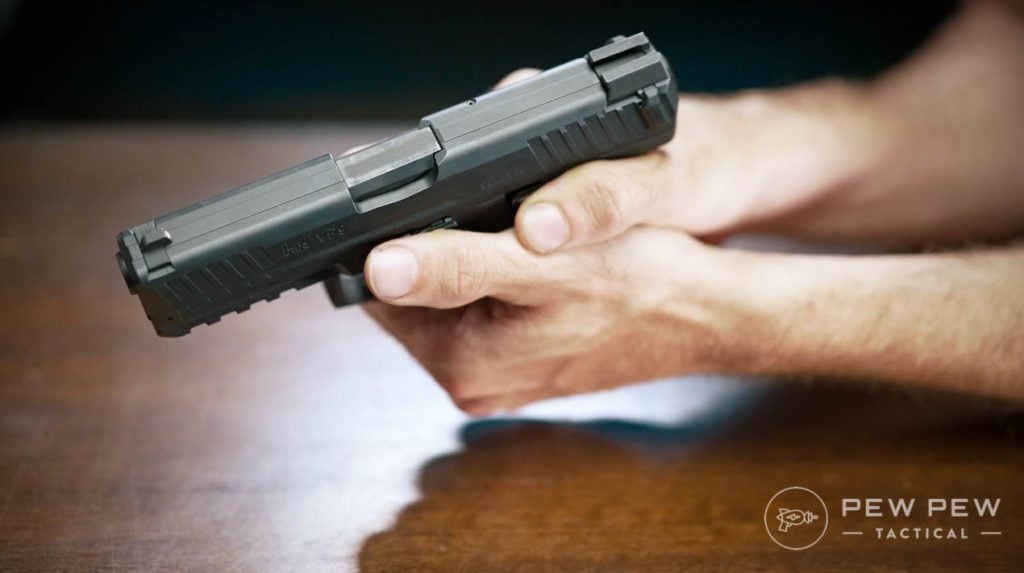 But that's why you've got us, right? We're going to walk you through some of our favorite compact 9mm handguns and tell you why we dig them.
By the end, you'll have a better understanding of what's out there and what we recommend.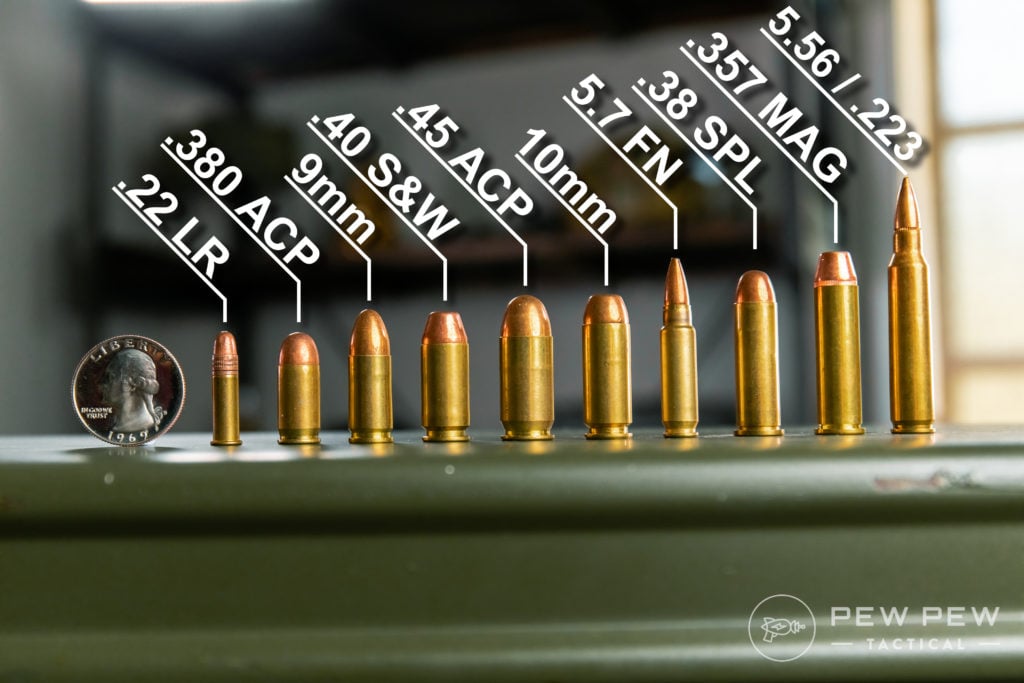 That said, if you're looking for something a little smaller, check out our Best Sub-Compact Single Stack 9mms.
Let's get to the compacts!
Summary of Our Top Picks
Table of Contents
Loading...
What to Look for in a 9mm Compact
No two 9mm compacts are exactly alike, so how do you narrow down which are the best?
There are a few factors to look for when shopping for a new handgun.
First, consider the features. Do you want to mount a red dot? If so, you need one with a slide cut for optics (or be ready to buy an aftermarket slide).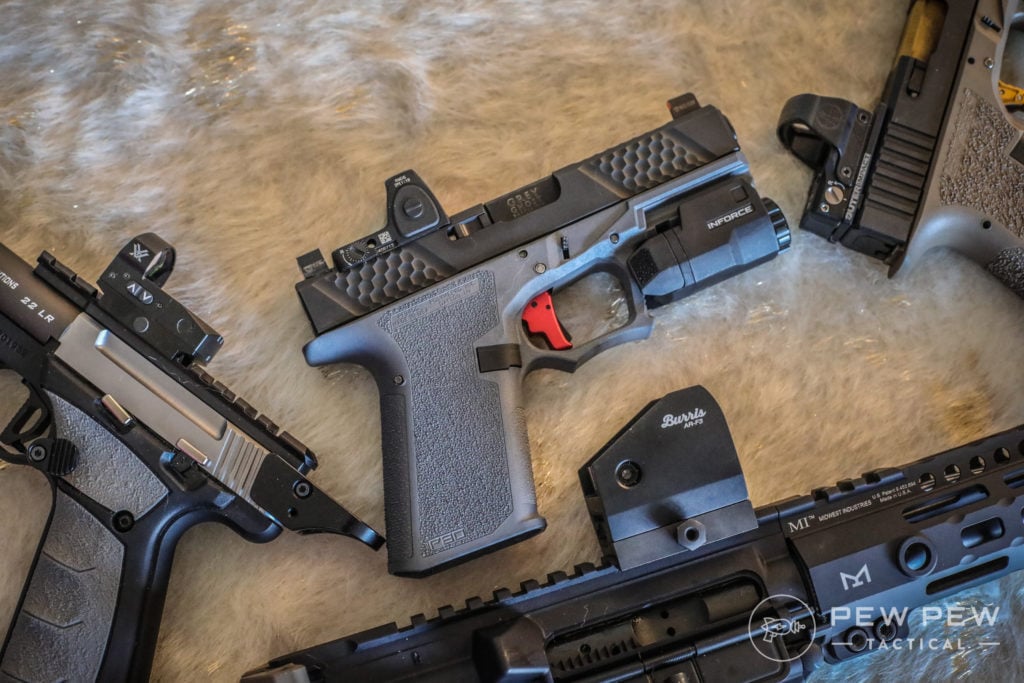 Do you want an external safety? Then you need to make sure the model you choose comes with one.
We always like to look at the aftermarket too…are there options like affordable mags, aftermarket sights, etc.
Finally, when shopping for a compact 9mm, consider how it feels in the hand. This may seem silly, but some guns simply don't feel right when you hold them.
And if it doesn't feel right, you won't want to train with it.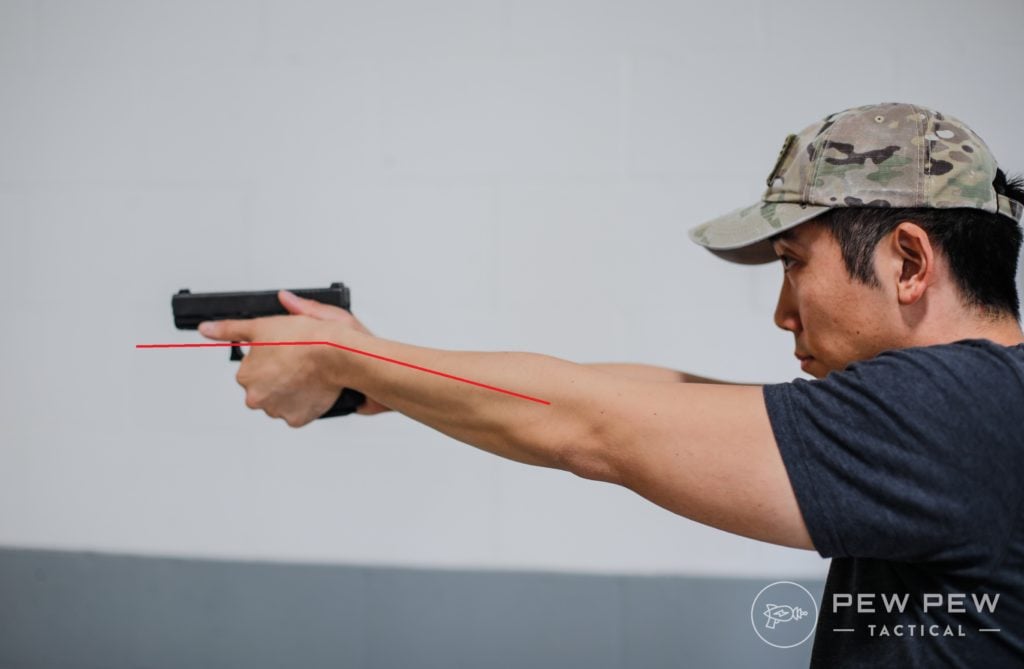 We always recommend trying to find a range/gun store that will let you rent guns so you can try before you buy!
Ready for some suggestions? Let's get to it!
Best Compact 9mm Handguns
1. Glock G19
You can't really have an article like this without mentioning the Glock G19.
It's pretty much the standard when it comes to compact CCW.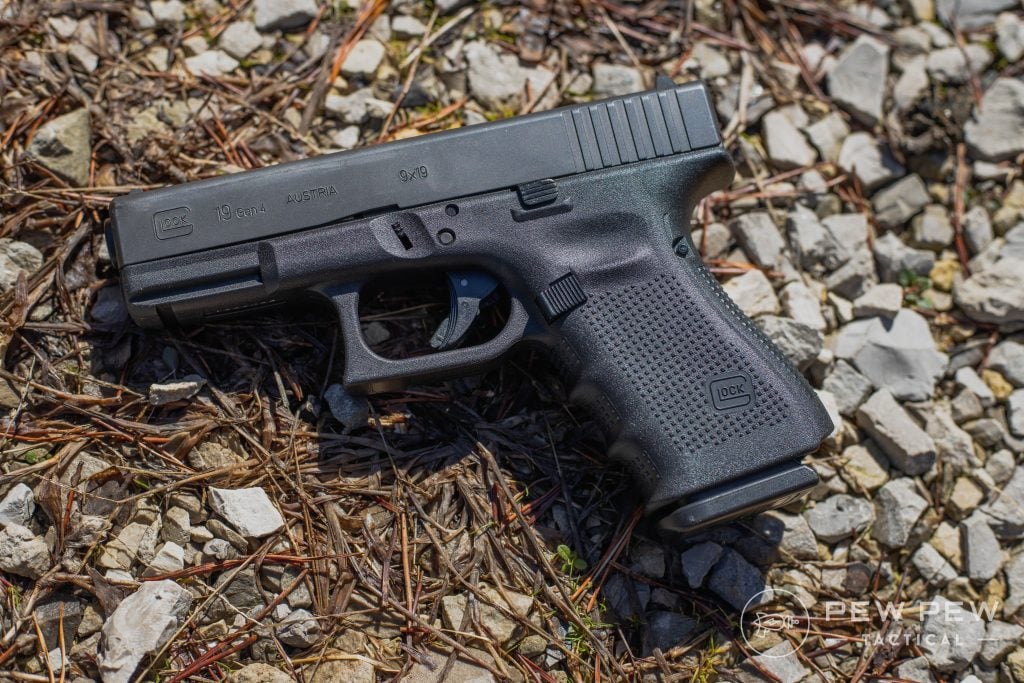 Why?
Because it just works. Trust us, people have run these things over, buried them in mud, and even frozen them, and they still work.
Aside from being durable, their reliable and boast a huge aftermarket. Seriously…you can swap out sights, slides, barrels, triggers, mags… the sky's the limit.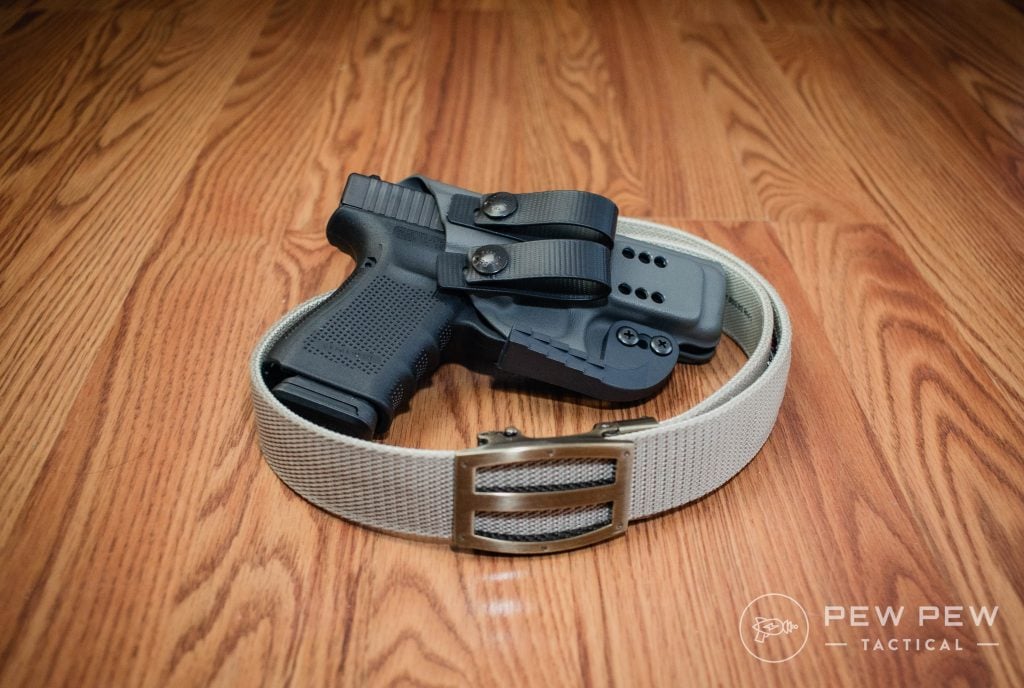 Standard capacity on the G19 is 15 rounds, but it does work alongside other 9mm Glock mags.
Glock's come in three generations for you to buy — Gen 3, Gen 4, and Gen 5.
We have a full breakdown of the generations and a full review of the Gen 5 Glock 19.
Best All-Around Pick
539
at Palmetto State Armory
Prices accurate at time of writing
Prices accurate at time of writing
What's your take on the G19? Think it deserves its place on our best Glocks list? Rate it below!
2. HK VP9
The Heckler & Koch VP9 is another reliable compact 9mm that we like.
Though it offers similar reliability and durability as Glock, its ergonomics are slightly different. So, if you want a polymer pistol that isn't a Glock, consider the HK VP9.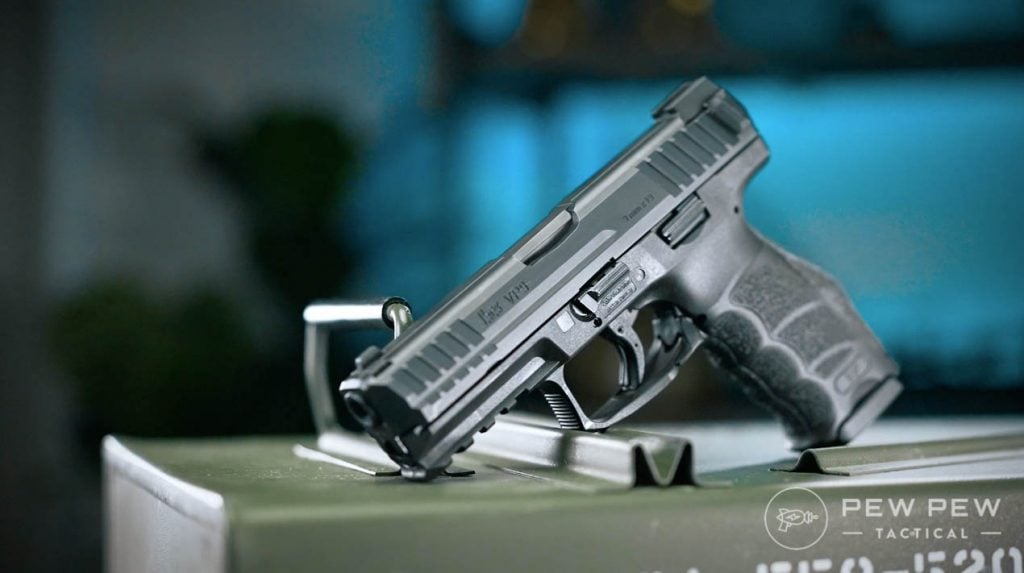 In our experience, it handles well and shoots with ease. It can support 10-,15-, or 17-round mags so you have some options in terms of capacity.
But a word of caution — the aftermarket is a little less robust. This means you aren't going to be able to deck this gun out like you can a Glock.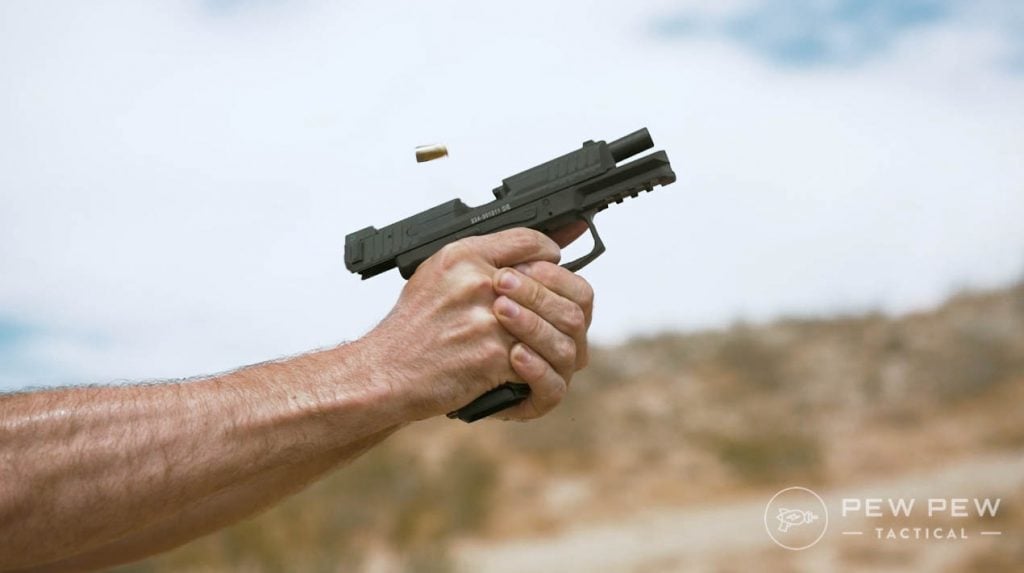 That said, if you're not into crazy customs and want something that works out of the box, the VP9 is a solid choice.
Best High-End Compact 9mm
559
at GrabAGun
Prices accurate at time of writing
Prices accurate at time of writing
We did a full review of the HK VP9 with a video! So check that out!
3. Walther PDP
The PDP by Walther is an impressive design that really wowed us.
Available in a few models, the PDP brings a 15-round capacity for its compact size with a whole lot of cool features.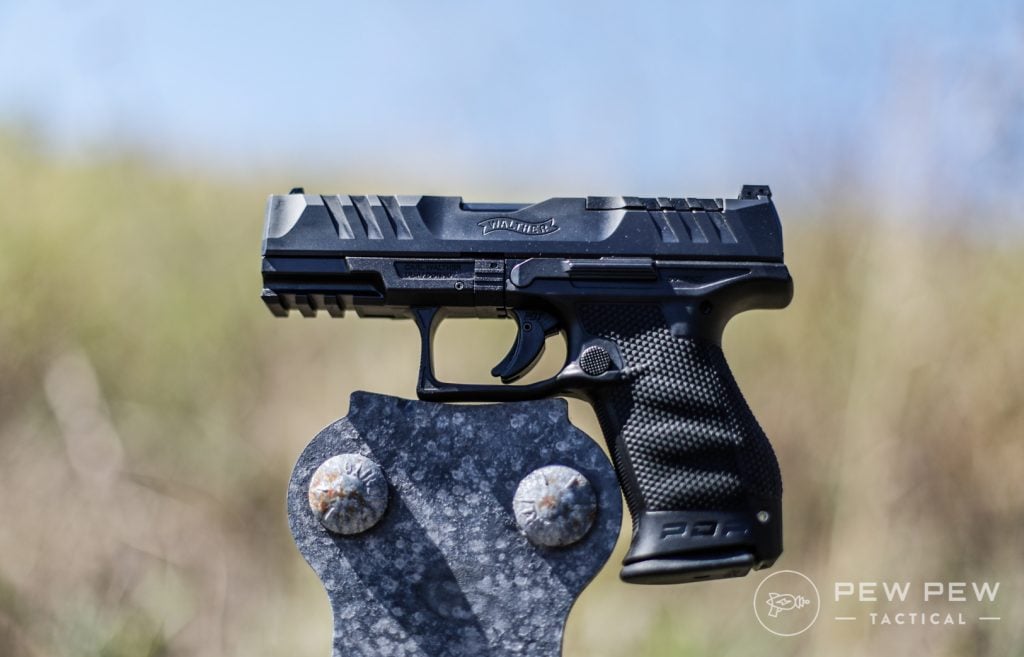 This gun sports some aggressive texturing and slide serrations making manipulations easy. It also boasts one of the best triggers we've tried…seriously, it's good.
The grip angle feels natural, and this gun is a comfortable one to shoot. Not to mention, it shoots reliably and accurately.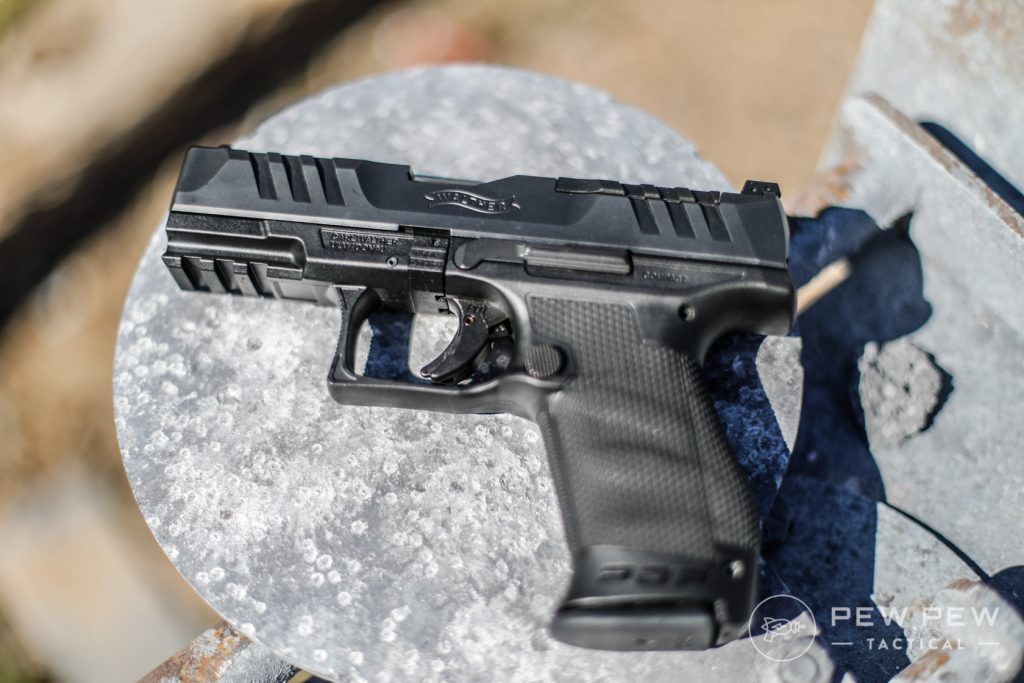 Topping off our favorite things, the Walther PDP is red dot ready!
Best Compact 9mm Pistol
529
at Grabagun
Prices accurate at time of writing
Prices accurate at time of writing
Sean recently reviewed the Walther PDP, so be sure to read up on his thoughts here or watch the video review below.
4. Springfield Armory XDM Elite
The Springfield Armory XDM Elite is a decent-performing compact CCW choice.
It's notorious for its grip safety, built into the rear of the handgun's grip. This design works best for people who want a manual safety but don't want the traditional thumb-style.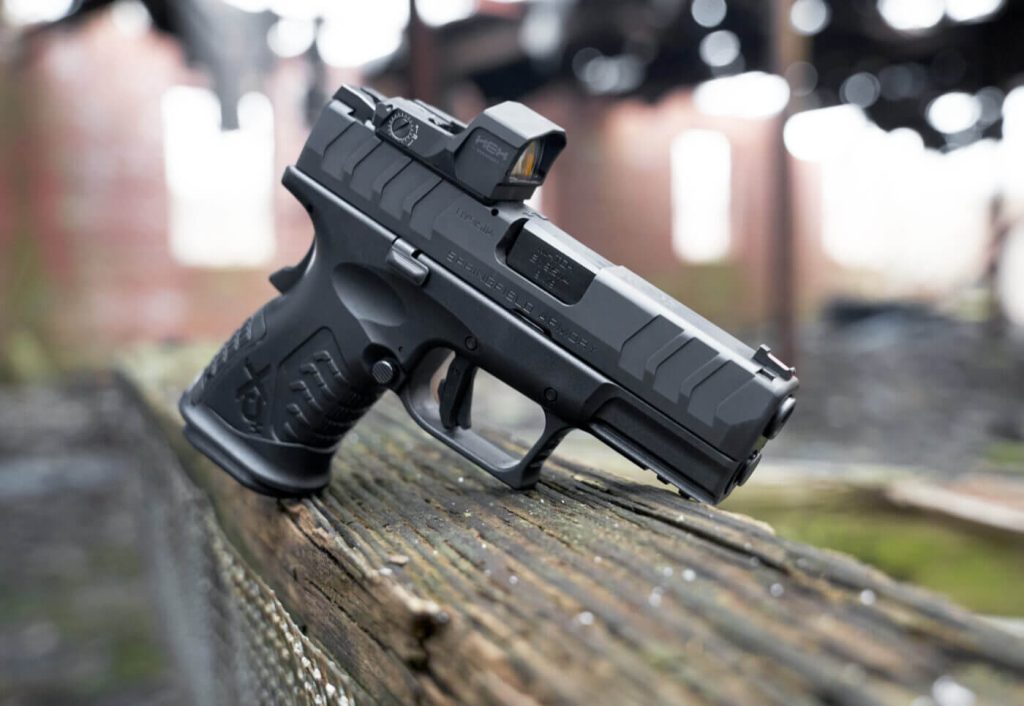 Upgrades over the older XD models include a flat-faced trigger, optics-ready slide, a flared magwell, and improved slide serrations.
The XDM Elite brings a 14+1 capacity. Again, like the HK, its aftermarket isn't as huge as the Glock, but if you want a moderately priced pistol, it will do the job.
570
at Kygunco
Prices accurate at time of writing
Prices accurate at time of writing
5. Sig Sauer P320
The thing we like best about the Sig Sauer P320 is there are plenty of options! And we like options.
From various models to an aftermarket that's beginning to rival Glock, the P320 brings a lot to the table….including a few compact models.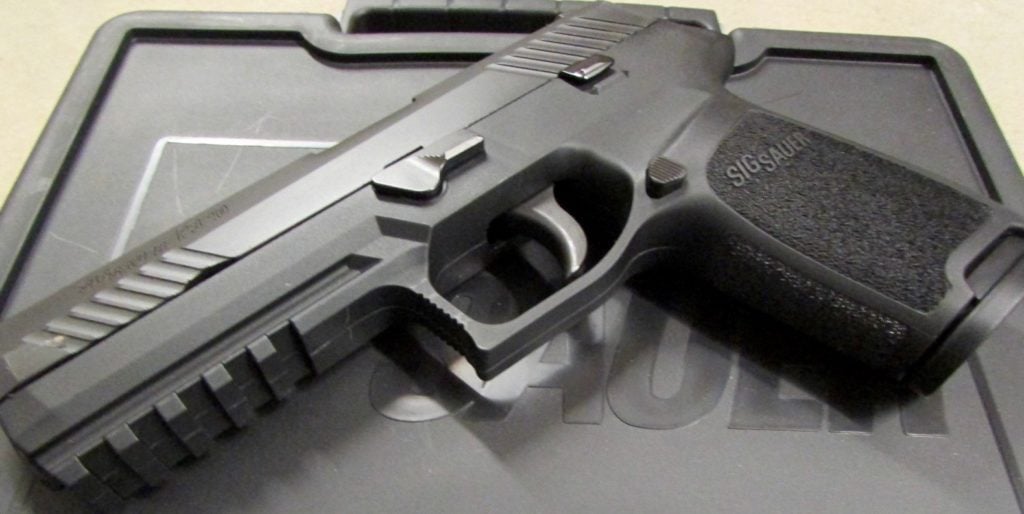 At its core, the P320 is a solid pistol that handles well and feels great in the hand.
It comes in 10- or 15-round models and Sig even offers a red dot compatible option.
Whether you stick with a basic model or jazz it up with one of the fancier ones, you'll be satisfied with the P320.
474
at Palmetto State Armory
Prices accurate at time of writing
Prices accurate at time of writing
We have a review of the P320 and a video below, so make sure to check that out!
6. Smith & Wesson M&P9 9mm
The Smith & Wesson M&P9 2.0 Compact is on par with most of the other manufacturers on this list.
It's reliable and a popular choice for concealed carry. Available in a black or FDE finish, the M&P series brings a great feel to it.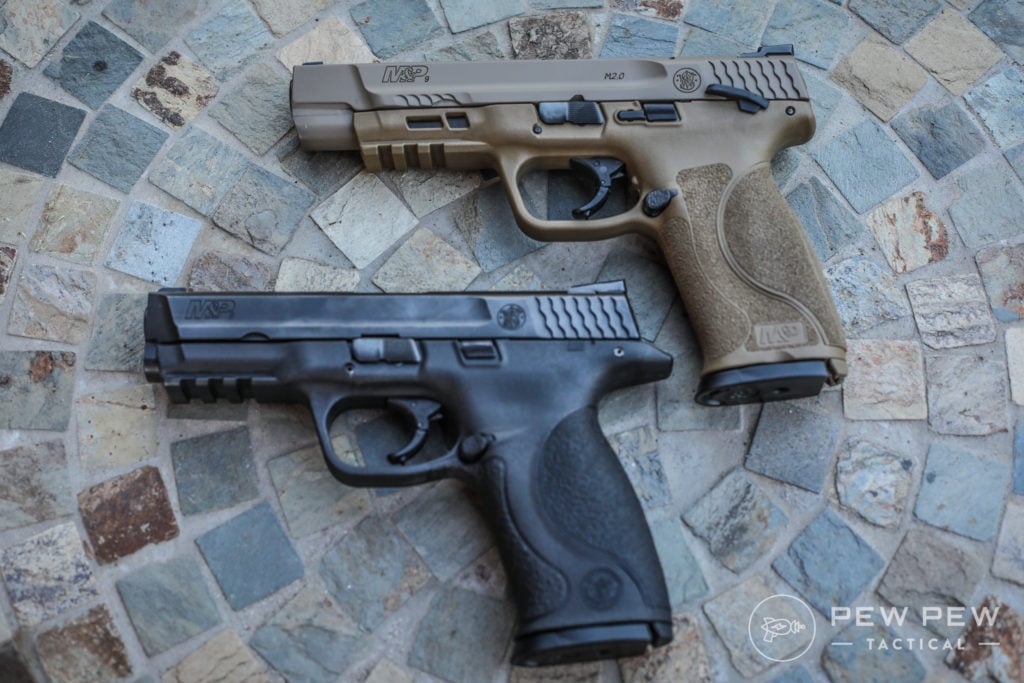 Almost all of the Smith & Wesson handguns we've held and shot are comfortable.
These guns shoot smoothly, offer a good grip angle, and the texture is great.
Overall, what you get with the M&P9 is a solid and reliable compact 9mm CCW.
439
at Primary Arms
Prices accurate at time of writing
Prices accurate at time of writing
Want to learn more about the M&P series? Read up on its history here! Or take a look at Sean's review of the M&P here!
7. FN 509
A lot of people tend to sleep on FN pistols, but they shouldn't. FN makes quality guns all around, and that extends to their handguns.
The FN 509 is a great compact option with a lot going for it.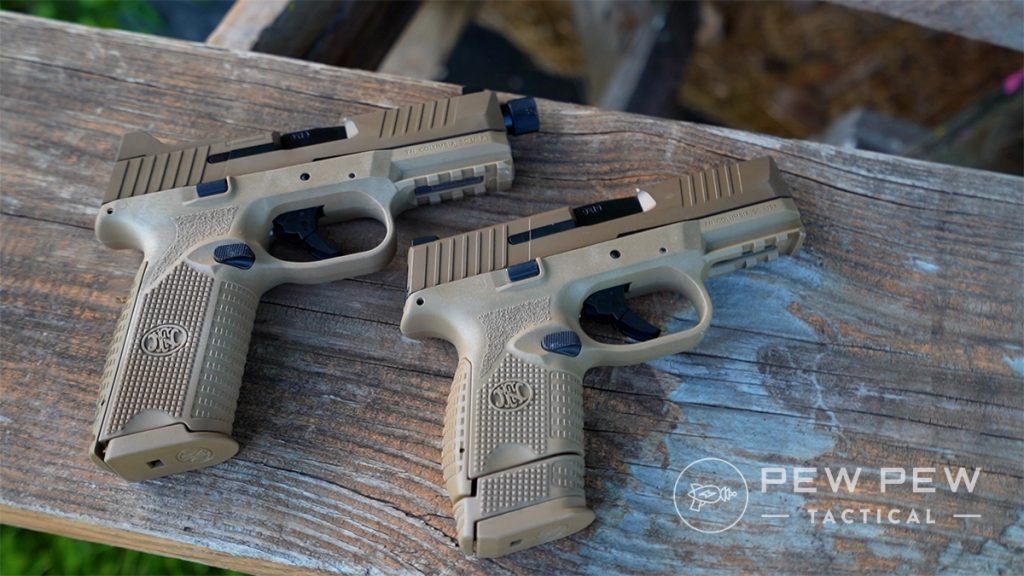 This polymer pistol originated from FN's attempt at securing the U.S. Army's MHS contract. Unfortunately for them, that didn't pan out. (Sig won that one.) But fortunately for us, we got the FN 509.
Capacity wise, it supports 10-, 12-, or 15-round FN mags.
The folks at FN bring you a fantastic 9mm handgun with a great trigger in an optics-compatible, suppressor-ready platform (if you opt for the Tactical model).
Wildcard
599
at Palmetto State Armory
Prices accurate at time of writing
Prices accurate at time of writing
Johnny B reviewed the FN 509 Tactical model and loved it! Check out his review here or watch the video below.
The LAPD recently moved to the 509 series for its duty gun. Read about that selection process here!
8. Taurus G3C
There is a lot to be said about Taurus…but despite some of the past sins, we really can't find much wrong with the G3C.
In fact, it's pretty awesome for the price!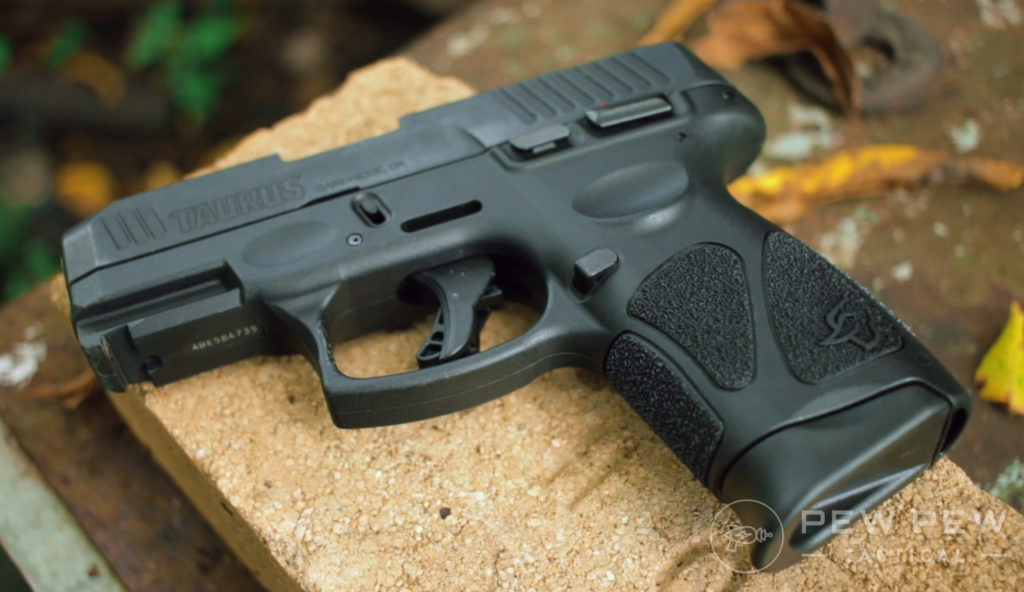 The specs for the G3C are basically the same as the G2C, with some cool additions like the slide serrations, mag well, and the sights — but that's about where it ends.
Something to note: The magazines are interchangeable. The G3C can even take P226 mags if that's what you're into!
Best Budget Option
245
at Palmetto State Armory
Prices accurate at time of writing
Prices accurate at time of writing
If you want all of the juicy details, Johnny has a great review of the pros and cons of this compact pistol.
Final Thoughts
The size of a compact 9mm handgun is a great starting point for most people. It's large enough for your hand still fits on the grip but isn't quite as big as its full-size siblings.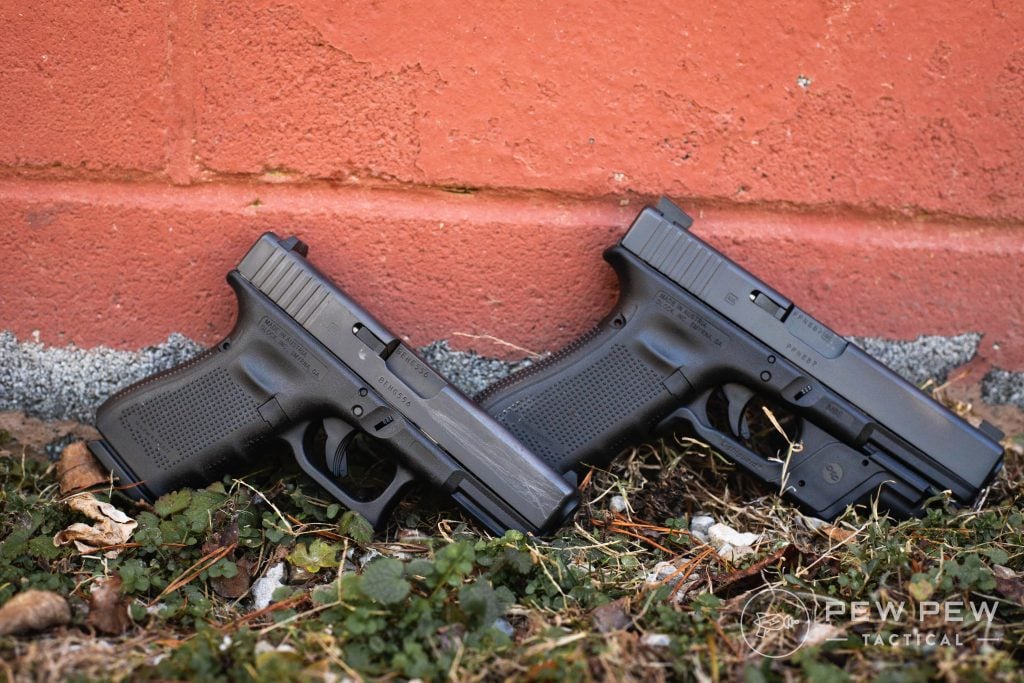 For most people carrying a concealed handgun, the compact is about as big as you can easily conceal without having an untucked and oversized shirt.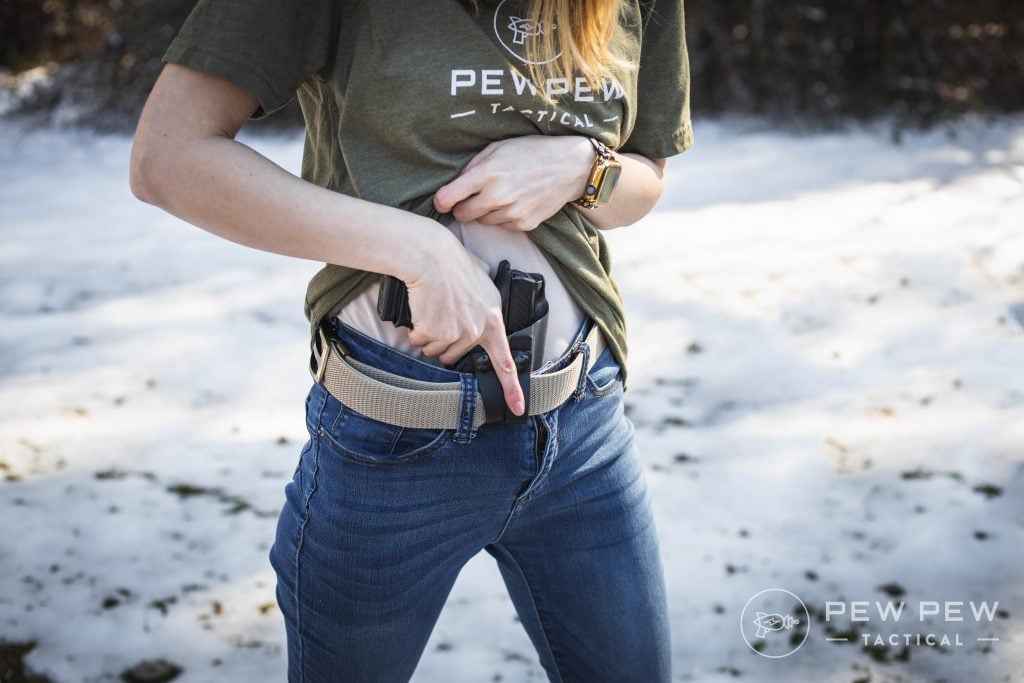 Do you have any favorite compact 9mm pistols that didn't make our list? Let us know in the comments. Want something even smaller? Check out our Best Single-Stacked 9mm Sub-Compact Handguns or the Best Micro Compact 9mm Handguns.