When it comes to handguns…nothing is more of an American classic than the .45 ACP.
It's big, powerful, and packs a mean punch that can stop nearly anything that comes in its way.
The .45 ACP has been an American icon since Colt released the M1911 in 1911.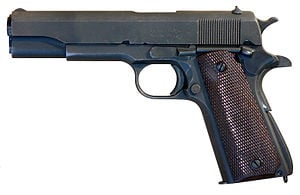 This pistol was the official sidearm of the United States military for the longest time and saw most of its action between World War I and the Vietnam War.
But now it's not only the 1911's that have the fun…
We'll cover what we think are the top seven .45 ACPs on the market.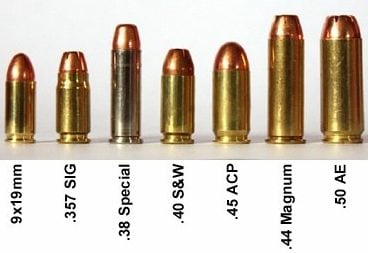 Each of these models have set the standard for reliability and accuracy.   They're excellent for home defense and will make a great addition to your firearms collection.  
If you really want a 1911 (everyone needs at least one) check out our Best 1911's for the Money.
For those of you who can't wait…
Taurus 24/7 OSS
Sig Sauer P220
The .45 ACP
If you're a firearms enthusiast, you already know that the .45 has a little bit of recoil.
Because of this, it's not a caliber that's recommended for beginner shooters who're looking for a first self-defense handgun.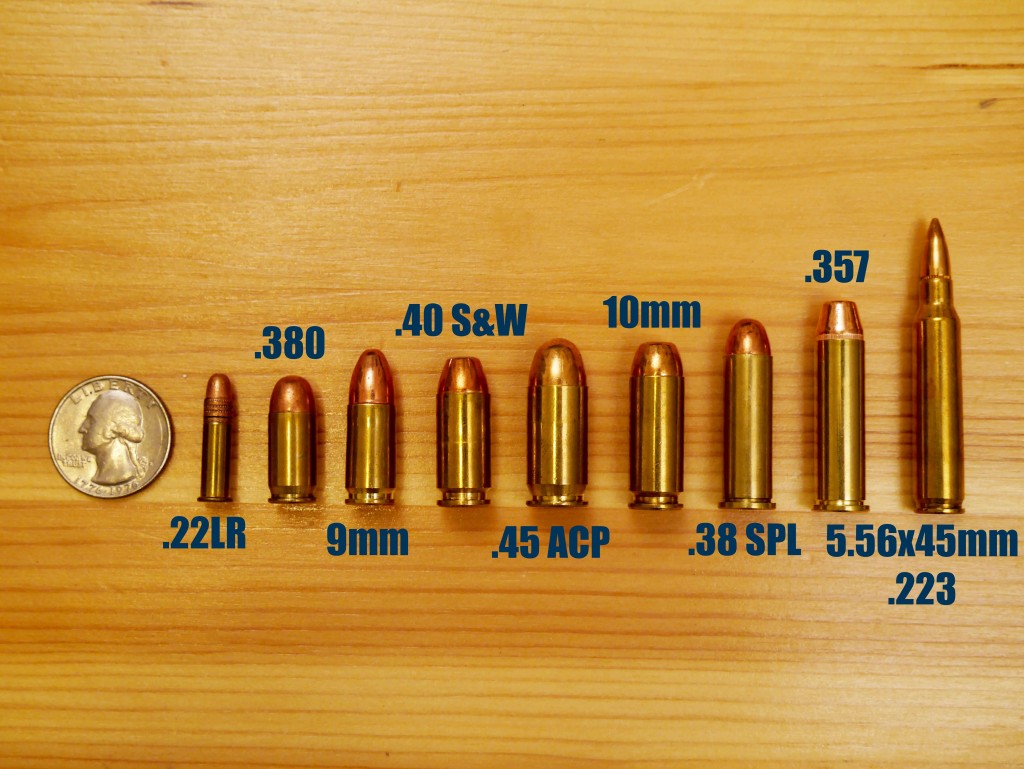 One of the reasons that the 9mm has experienced recent popularity among law enforcement is because it's easier to control than the .45 ACP.  Plus, hollow point ammo advancements have given the 9mm more stopping power.
However, once you learn how to accurately shoot the .45, you'll appreciate that raw power that other most other handguns calibers just can't offer.
Pros/Cons of the .45 ACP
So we've established that one of the biggest advantages of having a .45 ACP pistol is power.
What's another?
The ammo variety.  
There's so much out there because of its popularity.  We help you narrow it down a little for cheap but reliable plinking ammo plus self-defense rounds.

The downside of buying a .45 pistol is that they're usually more expensive than other handgun models.
Also, the ammo tends to cost a bit more and most .45 ACPs don't carry as many rounds as their 9mm counterparts.
However, if you're looking for a reliable gun with a lot of stopping power, nothing beats the .45 ACP.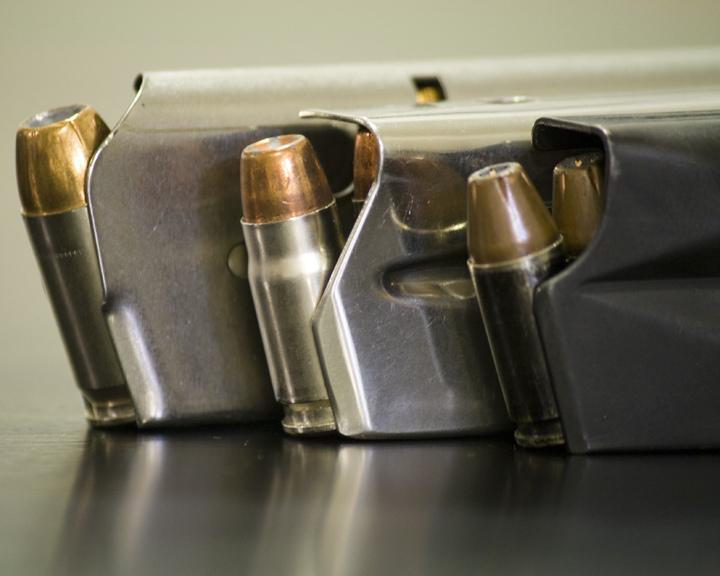 The Best .45 Pistol For You
While .45 ACPs are a bit bulkier than some of the other handguns on the market, they're still a very popular handgun for conceal carry.
If you're considering purchasing your very first .45 ACP, make sure that you do some testing before you make a purchase.
Comfort is part of what makes some guns better than others.
Take some time to see how the gun feels in your hand.  Pay attention to how much it weighs, if the grips are slippery or not, and if you can easily reach all the levers with your hand.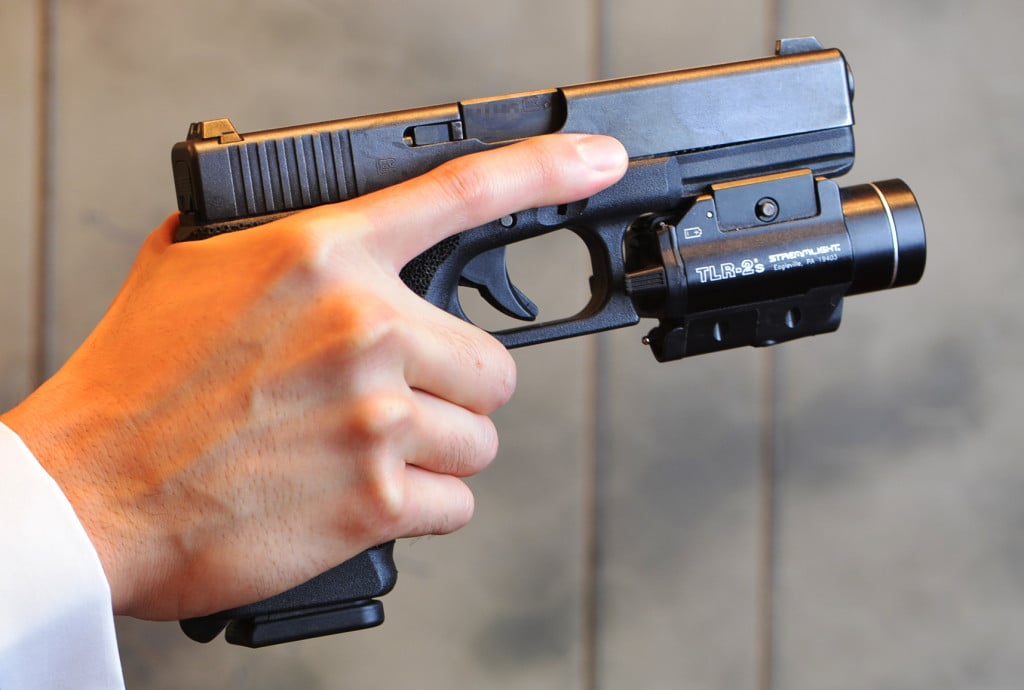 Some are better at range shooting and others are better for defense.  Take some time to think about what your .45 ACPs primary function will be.
While there are a number of high-quality .45 caliber pistols out there, the guns covered in this article are some of the most well rounded and diverse pistols on the market.  They are the pinnacle of craftsmanship, dependability, and accuracy.
Now…finally (in no particular order)
Best .45 ACP Pistols
Editor's Pick (.45 ACP)
1100
at Cabela's
Prices accurate at time of writing
Prices accurate at time of writing
If you want to purchase a gun for home defense (or tactical ops), then this is the pistol for you.
With a sticker price of around $1,100, the Heckler & Koch HK45 is an excellent upper-range gun that gives you both excellent craftsmanship and functionality.
It was designed with the hopes of replacing the M9, the US military's official sidearm.  While that never took off, it did become a favorite among some police departments in Australia and the United States.
Specs
Double action trigger.

4.25" barrel length.

10+1 capacity.

31.4 oz.
Are you looking for an ergonomically designed firearm that is reliable and easy to use?
If so, the HK45 is first in its class.
You'll find that the HK45 fits comfortably in your hand.  Its adjustable grips allow you to have a good hold on the gun regardless of your hand size.
The HK45 isn't as bulky as some of the other .45 ACPs on the market, which makes shooting it an absolute pleasure.
The gun's special octagonal rifling allows for longer barrel life and a better gas seal around the bullet, which makes for a more accurate gun.
This, combined with how well the HK45 rests in your hands, makes for one highly accurate firearm. 
Pros
Sits comfortably and nicely in your hand

Laser sights, lights, and various other accessories can be easily attached to its MIL-STD 1913 Rail

All of its functions are fully ambidextrous

Its polygonal rifling provides a boost in accuracy and improved durability
Cons
Expensive sticker price

The inner trigger guard has a groove that can cause discomfort for some people
You'll have a difficult time finding any drawbacks to shooting this gun.
It's an excellent piece to have for range shooting or home defense and is able to hold its own against its competitors.
2. Taurus 24/7 OSS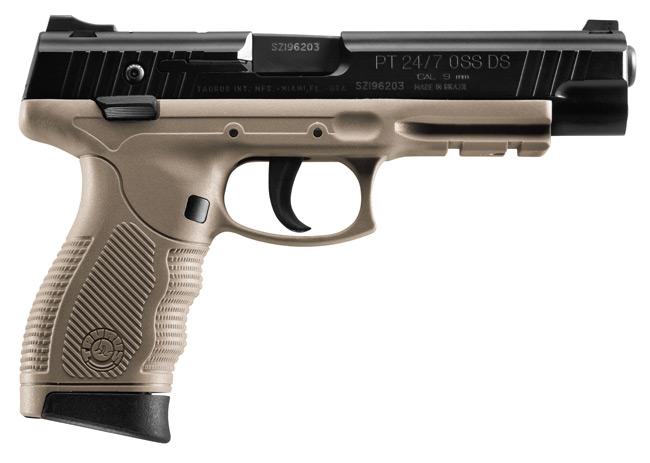 If you want a .45 caliber that's tactical and fun, the .45 OSS by Taurus 24/7 is the gun for you.
When developing this firearm, Taurus surveyed various Special Forces teams from different parts of the world.  Taurus then took that feedback and used it do make a weapon that is effective in virtually every type of combat situation.
Specs
Single/Double action trigger

5.25" barrel length

10+1 capacity

31.4 oz
The .45 ACP OSS is a sleek gun that feels great to hold.  It was designed to work with both left and right handed shooters, and all of its levers are able to be depressed without any issues.
If you're looking for an affordable gun with advanced features that don't come with the average pistol, consider the .45 ACP OSS.  Along with precision and durability, you also get the following functions:
A self-illuminating sight for improved accuracy in dark environments

An additional security system that locks the safety into place

Improved SA/DA trigger that has a consistent feel on the first and second pull

A life-saving trigger system that fires twice if the bullet's primer doesn't ignite on the first shot
Since Taurus designed the gun with military personnel in mind, they went to great lengths to ensure that the .45 ACP OSS is as reliable as possible.
It's durable enough to handle the most intense environments, including extreme humidity, blazing heat, and freezing cold.
It also is designed to shoot after being covered in dirt, mud, or sand.
But since the OSS didn't win the US Special Operations Command (USSOCOM) contract, it was soon discontinued which makes it a little hard to find. You'll likely have to look at auction sites for this unicorn.
Pros
Advanced slip-resistant grip that is easy to hold, even with wet or dirty hands

Added safety features

Optimized for self-defense

Very reasonably priced at $690
Cons
Advanced features require some time to get used to

Too big and bulky for concealed carry

Stiff and sticky magazine release

Discontinued
520
at Brownells
Prices accurate at time of writing
Prices accurate at time of writing
When it comes to self-defense, there's hardly a better handgun on the market than the .45 PX4 Storm.
What this pistol lacks in extra flair and features, it makes up for in performance and improved handling.
When Beretta designed the PX4 Storm, their goal was to create a gun that was optimized for one thing, shooting.  The result was a highly-accurate .45 ACP that beginners and proficient shooters can handle without any problems.
Specs
Single/Double action trigger.

4" barrel length.

9+1 capacity – also comes with an extended magazine for 10+1.

28.2 oz.
When you shoot the .45 PX4 Storm, you'll notice that it doesn't have the same amount of recoil as other .45 ACPs have.
This is in part due to a new locking design, which reduces recoil by rotating the barrel 45 degrees after each shot.  This, in turn, prevents your muzzle from rising as much as other .45 calibers, meaning that you can fire rapidly with improved accuracy.
Another factor that makes the PX4 Storm .45 ACP an excellent firearm to own is convenience.
Its ambidextrous features mean that you can use your right or left hand to engage the safety lever or de-cock the pistol.  You can even modify its magazine release buttons so that they accommodate your hand size.
Pros
Comes with small, medium, and large size grips for maximum comfort

Easy to hold in wet or dry conditions

Designed to accommodate all types of hand sizes

Lightweight and easy to handle
Cons
Slide mounted safety can feel unnatural

Magazine springs are stiff
Along with the recoil being significantly reduced, another reason that the PX4 Storm shoots so accurately is because it feels comfortable to hold.  
If you're looking for a well-rounded .45 ACP to own, the PX4 is one to seriously consider.  It's an easy gun to operate for beginners and advanced shooters.
The PX4 is slightly smaller than most .45 ACPs, so it's a bit more comfortable to conceal carry.
585
at Brownells
Prices accurate at time of writing
Prices accurate at time of writing
You'll be hard pressed to find a list of top pistols without Glock making an appearance.  Whether you love or hate them, Glocks have a reputation for excellence that is well deserved.  The .45 ACP Glock G21 is no exception.
Specs
Glock

Safe Action

trigger

4.6" barrel length

13+1 capacity

29.8 oz
The Glock 21 sets the standard for durability and performance.  If you're looking for a .45 ACP to put in significant range time with, you'll be pleased to know that this gun will meet all of your expectations.
If you're used to shooting Glocks, comfortably holding the Glock 21 shouldn't be a problem.
It has the same rectangular designed that the company is known for.  However, if you're new to Glocks, you'll need to take some time getting used to the way the gun feels in your hand.
If you find Glock pistols to be extremely uncomfortable, test out the Glock 21 SF.  It's a slimmer version of the gun that's designed to maximize comfort for people with smaller hands.
For some firearm owners, the way the Glock is designed is a deal-breaker, so make sure that you give yourself the opportunity to hold the gun before you buy it.
A component that is common across Glock models is the striker-fired feature, which removes the need for a protruding hammer.
The Glock Safe Action trigger is another feature that comes standard on Glocks and is something that will take some getting used to.
It functions similarly to the SA/DA trigger system, except that it has the same pull weight for every shot.  While this can initially throw off your accuracy, it doesn't take long to become accustomed to it.
Pros
One of the most durable handguns on the market.

Added internal locking safety feature that prevents the gun from being fired.

Indicator that notifies you when the chamber is loaded.

Trigger reset feature.

Above average round capacity.
Cons
Uncomfortable grip that comes standard with all Glock pistols.

Bulky magazine.

Its block shape makes it difficult for concealed carry.
The truth is that most people who don't like shooting a Glock aren't fans of the stylistic component of the guns.  
When it comes to functionality, there are few .45 caliber pistols on the market that can perform as well as the Glock 21.  It's durable enough to take neglect and abuse and continue to shoot accurately.
The Glock 21 sells for around $600, making it one of the best .45 ACPs on the market for the price.  If you're looking for a gun that known for unconditional dependability, regardless of the stress you put it through, the Glock 21 is your best bet.
One of our favorites…what's your take?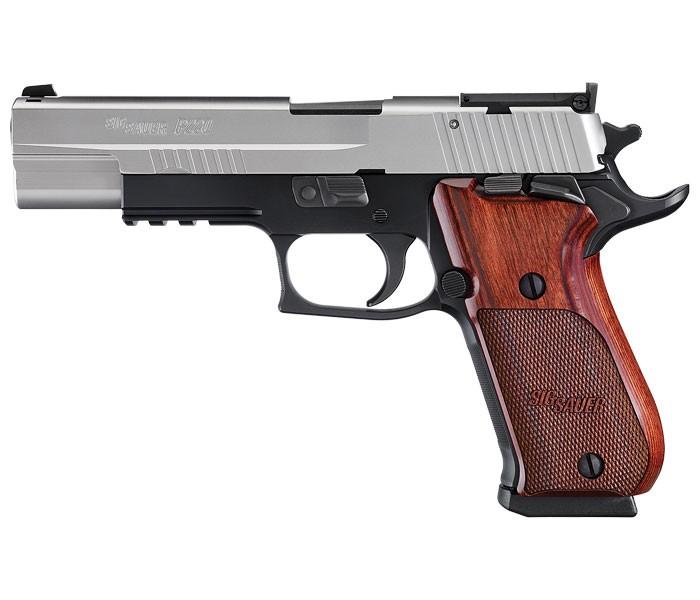 When it comes to both style and performance, SIG Sauer is one of the leading companies in the industry.
If you want a gun that is as sleek as the S&W Performance Center 1911, but is also well-rounded and practical in every situation, the P220 Super Match Full-Size will be the gun of your dreams.
OK, it's basically a 1911, but it doesn't have 1911 in the name!
Its superior craftsmanship and excellent functionality make it the perfect gun for collectors and shooters alike.
Specs
Single/Double action trigger with reduced trigger reset

5" barrel length

7+1 capacity

39.1 oz
The P220 Super Match Full-Size is one of the finest .45 caliber pistols you'll come across.
Its grip has enough grab to sit safely and comfortably in your hand without being rough enough to cause discomfort.
However, one of the downsides of the P220 is that it can feel a bit unnatural to people who have smaller hands, so make sure and properly test the gun before making a purchase.
The P220 Super Match Full-Size's DA/SA trigger system reduces the trigger reset travel by 60%, making it easier to fire follow-up shots.
While this is one of the more favorable features of the gun, it can take some getting used to – especially if you're someone who isn't used to this type of trigger.
If you purchase this gun for self-defense, be sure to spend some time on the range getting used to the trigger system and de-cocker function.
Pros
Unparalleled craftsmanship

Slide-release and de-cocker easy to access

Improved accuracy with short reset trigger

Easy to mount attachments like lasers and flashlights
Cons
Size can be hard for some people to control

Not optimal for concealed carry

Trigger system takes some getting used to

Below-average capacity
The P220 Super Match Full-Size retails for around $1,200, making it one of the most expensive .45 ACPs on the market.
However, if you can afford the expensive sticker price, the P220 is a great gun to have.  You'll even get a lot of looks from interested enthusiasts if you plan on spending a lot of time at the range with it.
Most Affordable (.45 ACP)
520
at Brownells
Prices accurate at time of writing
Prices accurate at time of writing
Springfield Armory has built a well-deserved reputation for producing excellent firearms.
The XD(M) .45 continues this reputation by providing a gun that has a perfect balance of power and ergonomics.
The XD(M) is much easier to control than some of the other .45 calibers on the market, yet it still packs the same punch as bigger, bulkier pistols.
Specs
Minimal Reset Trigger system.

4.5" barrel length.

13+1 capacity.

2lbs.
When you shoot the XD(M) for the first time, you may need to take some time to get acquainted with the trigger system.
After shooting off a few rounds at the range, you'll find that maintaining accuracy while rapid firing is easy to do.
Additionally, the XD(M) has an added safety feature that locks the trigger into place, so you don't have to worry about the gun accidentally firing if dropped or knocked into.
Pros
An affordable suggested retail value of $685.

Has an indicator for when the chamber is loaded.

Higher magazine capacity.

Comes with three magazines.
Cons
Not many options for customization.

Rear white-dot sights can be distracting.

Polymer frame might be a turnoff for some people.
The XD(M) .45 ACP brings the dependability and durability of Glocks without the design that people love or hate.
This means that you get a pistol that can spit out cheap or expensive ammo without an issue, and is also easy to operate.  
If you want the most bang for your buck with a full-size carry pistol, the XD(M) .45 ACP is the way to go.
Ready to Add a .45 ACP to Your Collection?
As you can see, there are a number of excellent .45 caliber pistols available on the market.  Each one has its own benefits and drawbacks, so finding the right one for you depends on what you're looking for.
If you're buying a gun for home defense, I'd recommend a .45 pistol with low recoil or higher magazine capacity.
You'll be thankful that you have that extra round or two if you are in a situation where you need it.
Also, make sure that you spend enough time at the range getting used to your gun. Even if you have experience shooting .45 caliber pistols in the past, every .45 ACP model shoots a little differently.
The .45 ACP is a great gun to have.  Not only will it be an excellent home-defense tool, it'll also provide you with hours of enjoyment at the shooting range!
What .45 pistol did you end up choosing?  Check out more of our favorite guns & gear in Editor's Picks.