I get asked all the time…what does the founder of Pew Pew Tactical carry?
And the short answer is the Sig Sauer P365XL which I've been carrying for ~18 months from the publish date.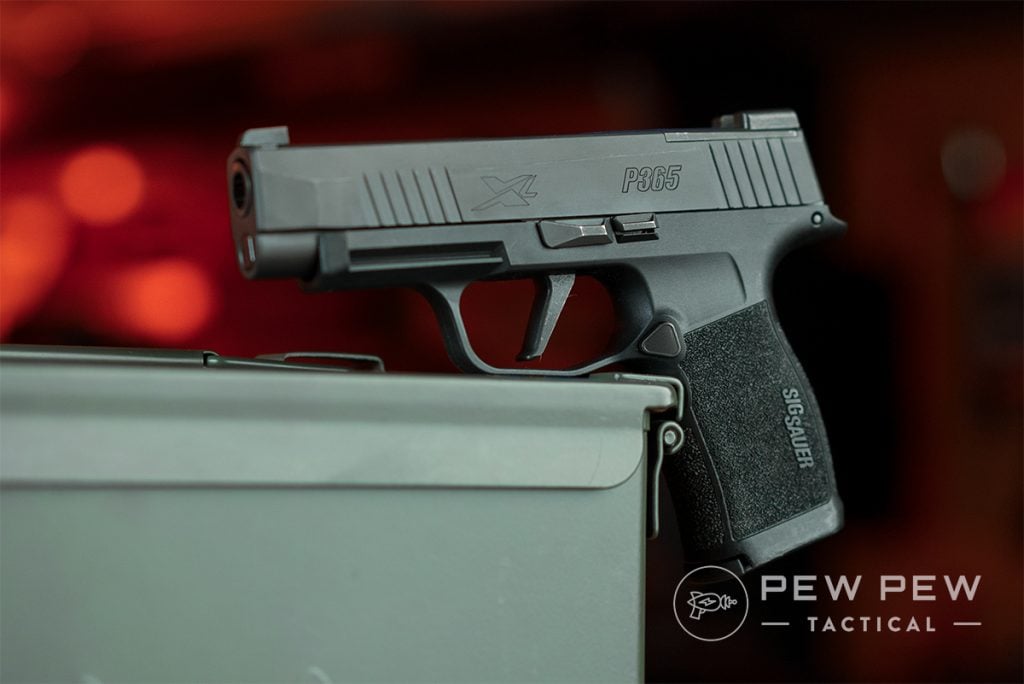 Of course, this doesn't mean you should stop researching your own concealed carry weapon (CCW).
But I'll cover all my personal reasons for carrying the XL as well as my personal everyday carry (EDC) gear for it.
599
at GrabAGun
Prices accurate at time of writing
Prices accurate at time of writing
And this is after I'm able to test and carry pretty much everything out there in the same category.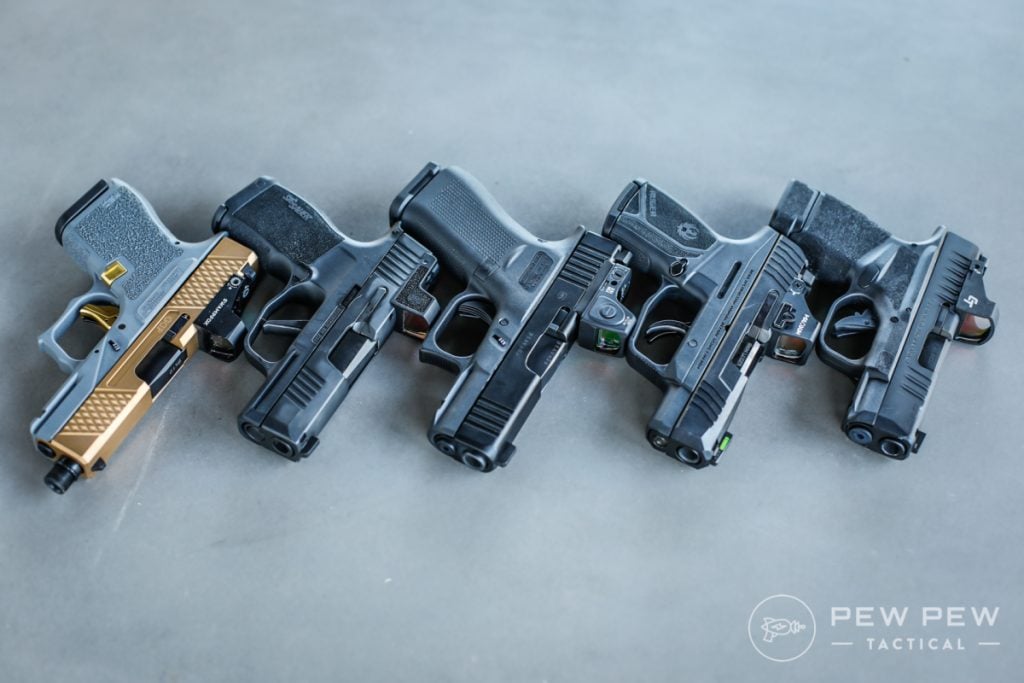 By the end, you should know if the XL works for your own wants and needs in a concealed carry gun.
Now let's get down to the review!
Sig Sauer P365XL Specs
| | |
| --- | --- |
| Capacity | 12+1 9mm |
| Barrel Length | 3.7″ |
| Overall Width | 1.1″ |
| Overall Length | 6.6″ |
| Overall Height | 4.8″ |
| Sights | Optic ready with iron night sights |
| Weight | 20.7″ |
| | |
Specs from Sig Sauer
Background
Sig Sauer released the original P365 in 2018 and made carry history with its 10+1 rounds of 9mm in a super small package.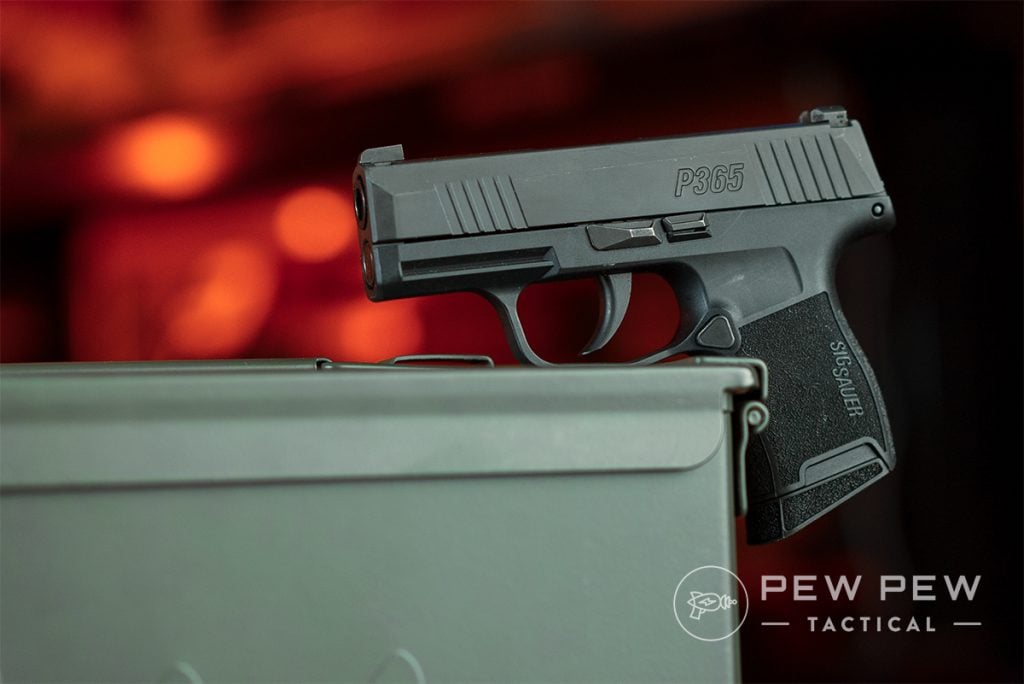 Since then, Sig has been releasing variants of it with different frame/grip sizes, triggers, optic readiness, calibers, and compensators.
The P365XL, as its name gives away, is the big brother to the regular P365 with a longer grip and a longer slide.
That leads to a higher capacity of 12+1 vs the original 10+1 and also a longer sight radius.
And although I don't really care one way or another…a flat trigger vs a curved one on the OG.
But don't worry…I'll go into deeper comparisons of the XL vs the other P365 variants a little down into the article.
Pros & Cons of the P365XL
Pros
Great 12+1 or 15+1 9mm capacity
Optics ready
Crisp flat-faced trigger
Nice feeling nearly full-sized grip
Thin for easy carrying
Tritium sights
Cons
Slide lock harder to hit
Reassembly sometimes tricky
Who Is It For?
Me…and maybe you if it has what you're looking for!
I wanted something in the sort-of-new category of a micro compact 9mm but still large enough for me to get a full grip.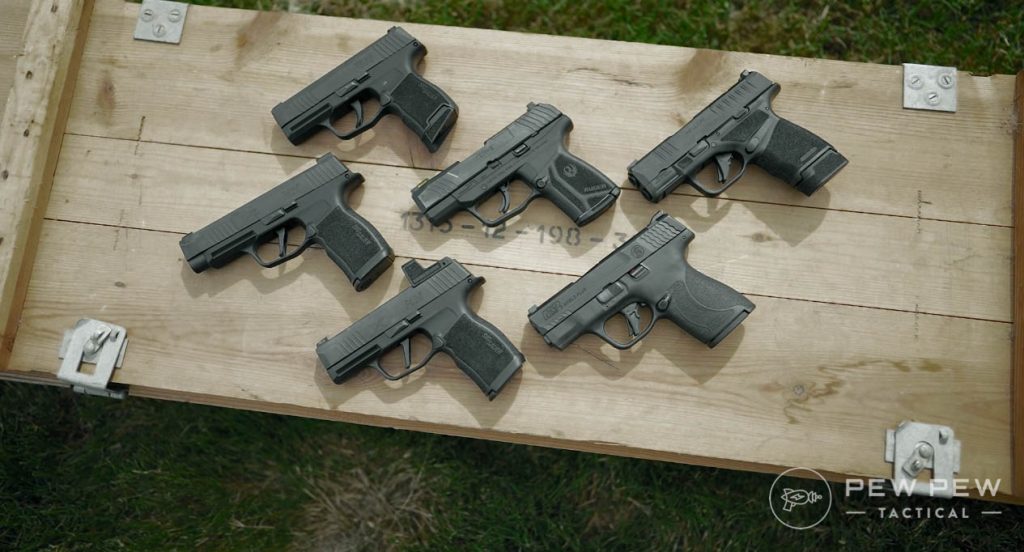 Because the main gripe I had with the original P365 was that I could barely get all my dominant hand fingers on its grip without a mag extension.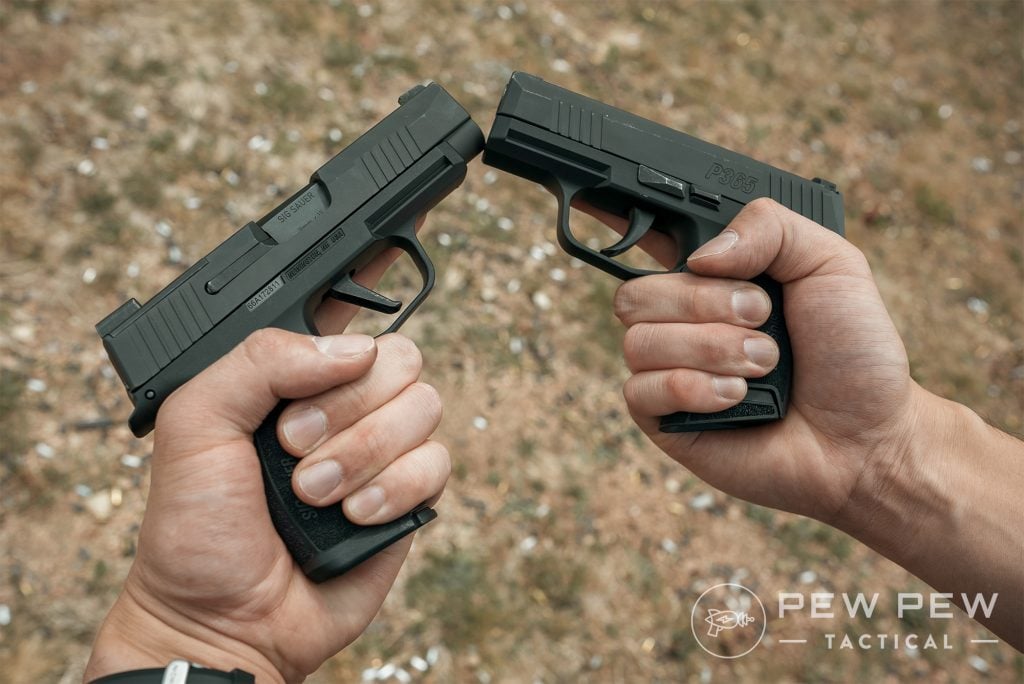 And the sight radius was also ever-so-slightly shorter than what would get me a perfect sight picture at speed.
The P365XL solved all these problems for me and gave me +2 capacity for a total of 13 rounds of 9mm. For me, hopefully enough to solve any problem that necessitates me drawing a gun.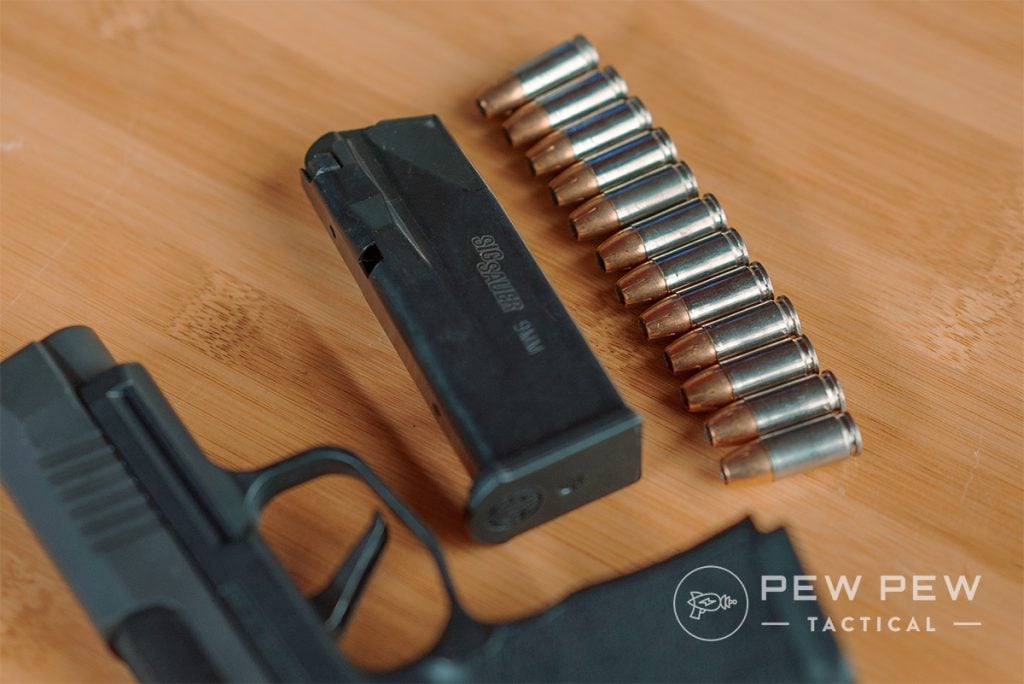 Plus, it's still small enough to disappear in an appendix carry holster and regular t-shirt.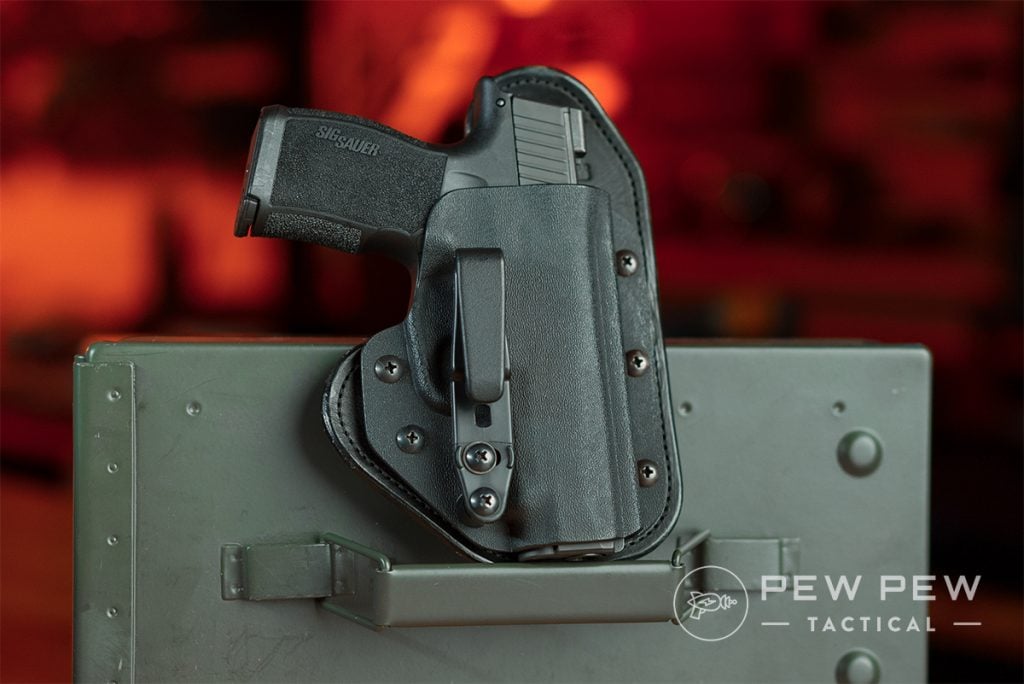 Fit, Feel, & Features
I went over the main parts…but now let's deep dive!
The P365 series is aimed squarely at the concealed carry market, and the grip texture perfectly toes the line between "grippiness" and "snagginess."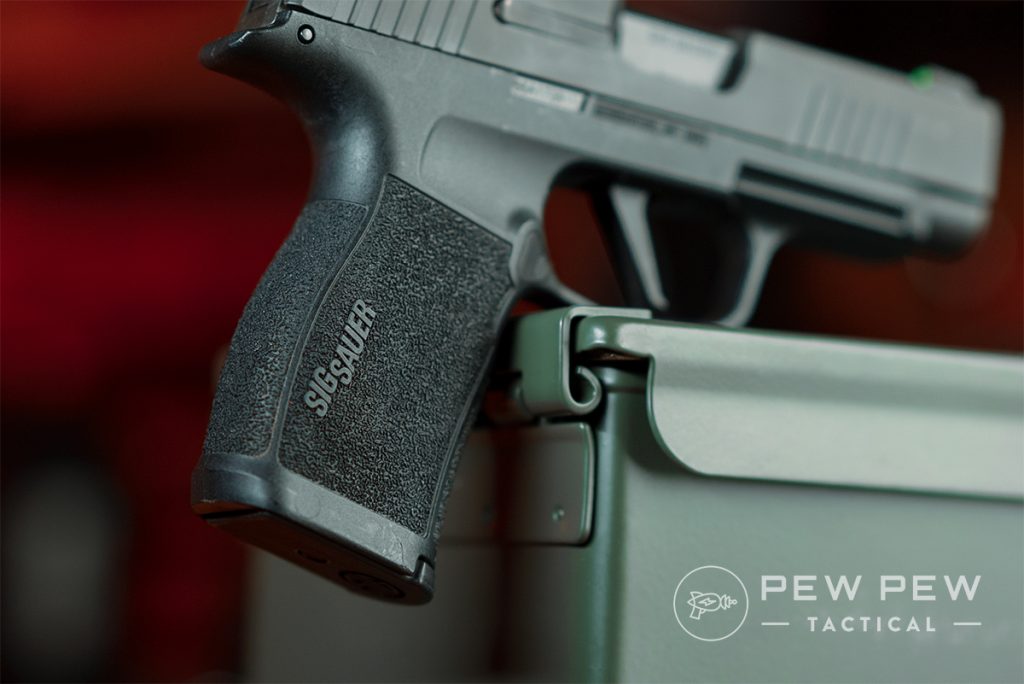 It's enough to keep the gun in your hands even if it were a little moist…but not enough to start catching onto your shirts or even wearing them down with constant abrasion.
And like I said before…I get a nice full-hand grip on the XL with some room to spare. Very helpful when drawing from a holster.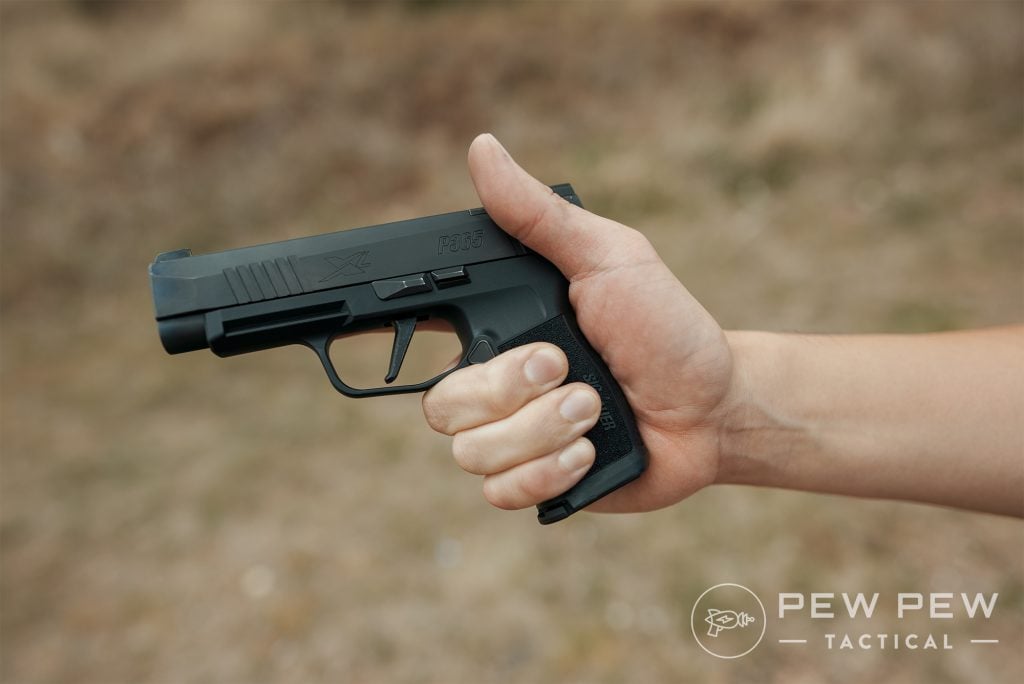 The mag release is also nicely contoured to prevent snag but is large and protruding enough so that most will be able to hit it without shifting grip.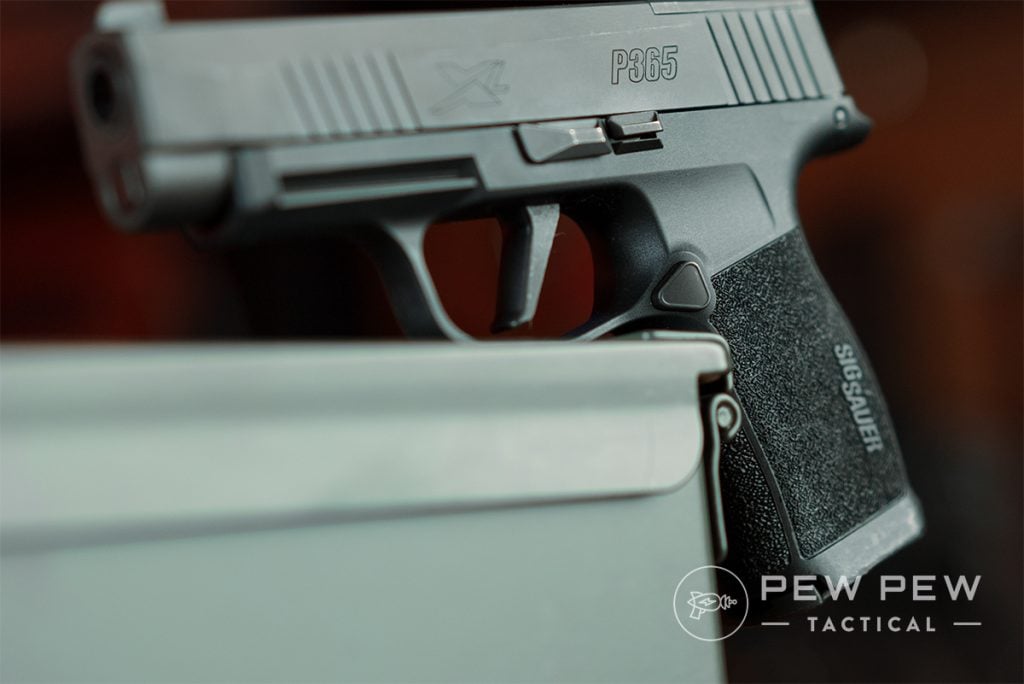 The slide lock is also out of the way enough so that my full-hand grip doesn't accidentally prevent it from locking on an empty magazine.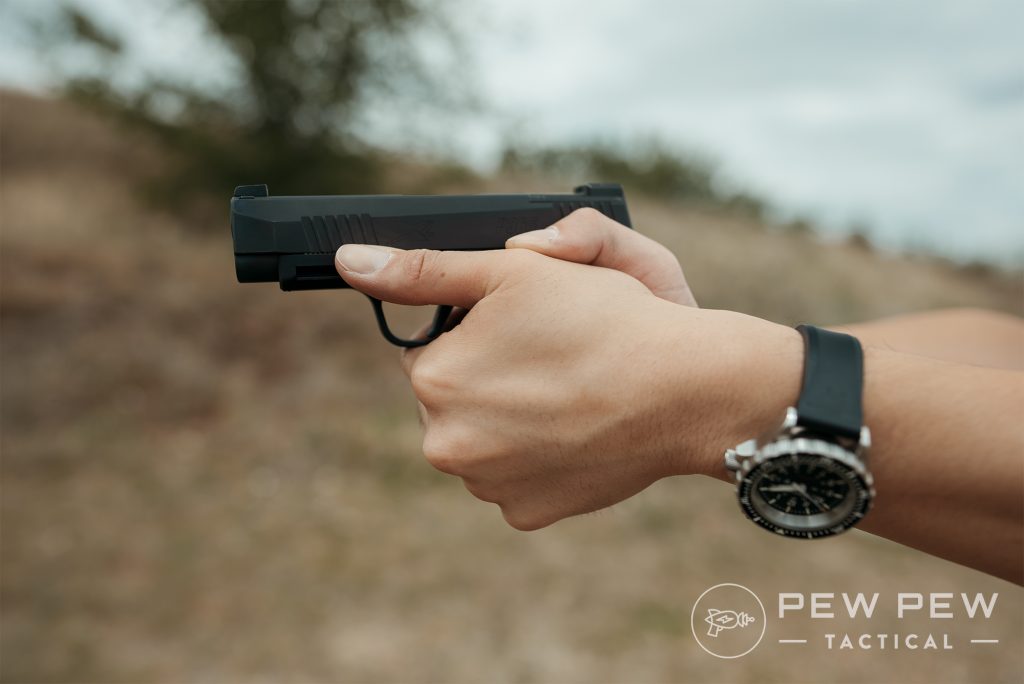 Although because it's more out of the way, you'll have to put more pressure to drop the slide on a fresh mag. Very doable with practice and nowhere near the frustration we felt with micro compact 9mms.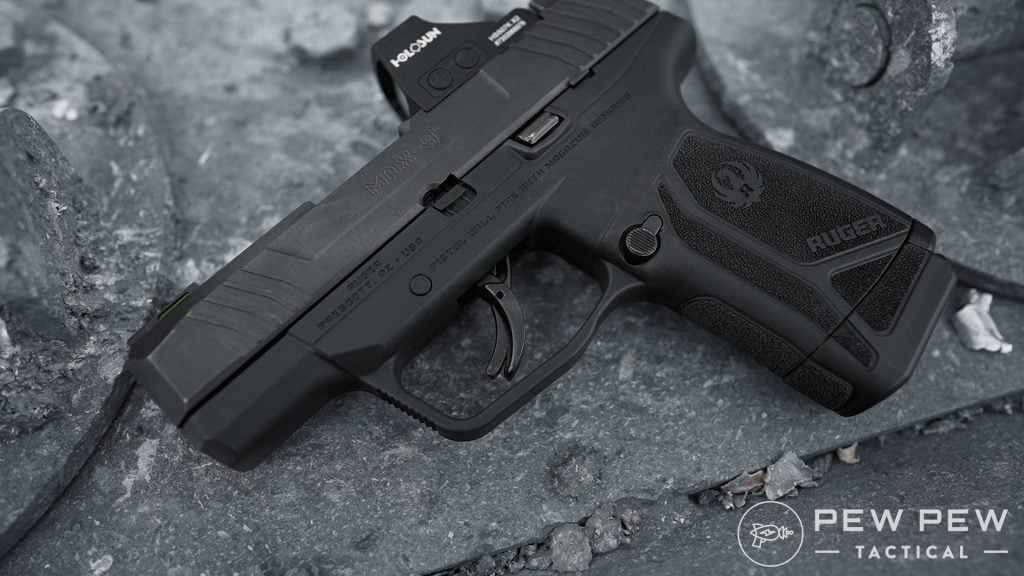 Another reason to slingshot the slide with all guns instead of learning each gun's slightly-different slide release.
The XL also comes with a front rail, but that makes it a little harder to carry and a little harder to find a holster.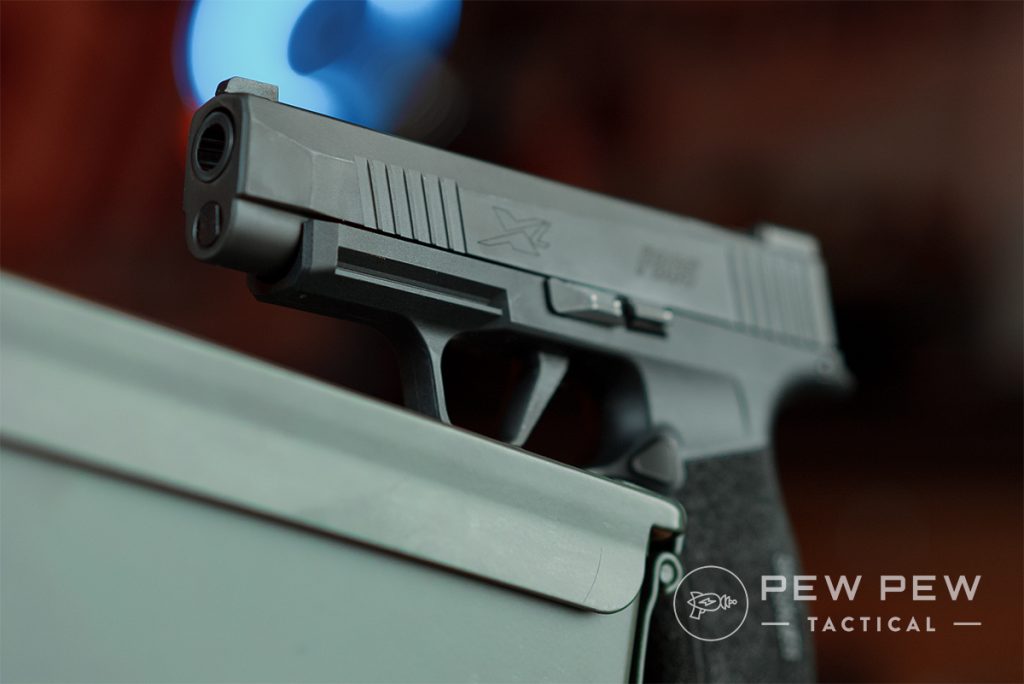 Now let's move on to the fun stuff…how it shoots.
How Does It Shoot?
Trigger
Let's start with the trigger…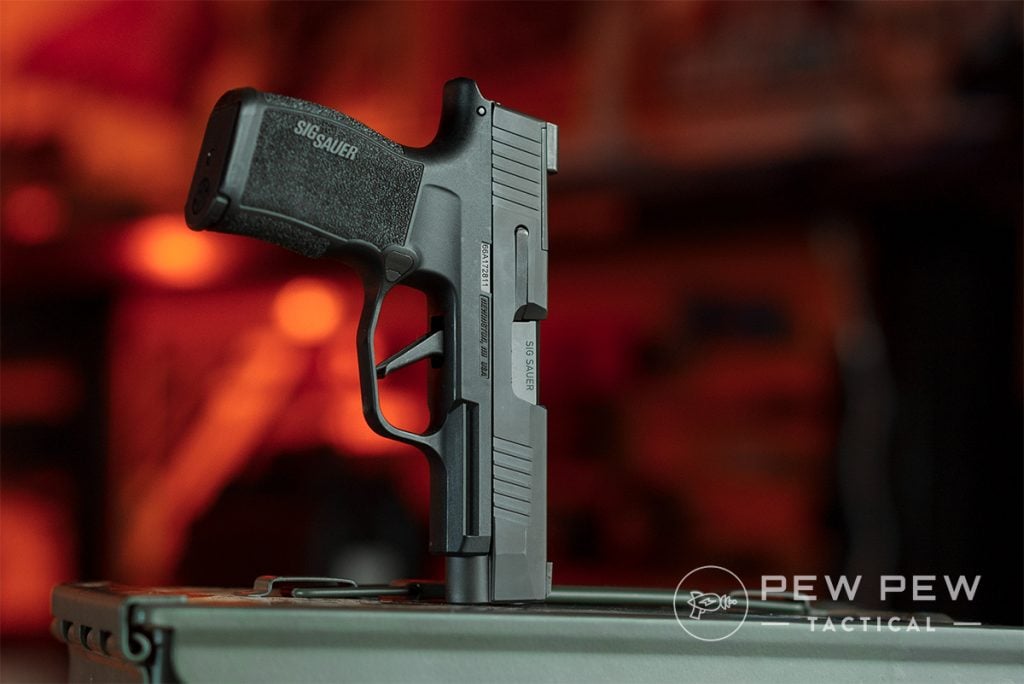 It's flat. Otherwise, I can't tell a difference from the original P365 trigger.
Both are still striker-fired guns, so there's some uptake before a relatively clean break between 5.5 to 6.5 lbs.
Check it out in this short video:
Reset is short and very strong, so you can get some fast shots downrange.
And compared to other micro 9s…it's right there at the top for me.
Sights
Everyone on the team that has shot it has liked how well it naturally points. That is thanks to the sights, extended sight radius, and overall ergonomics.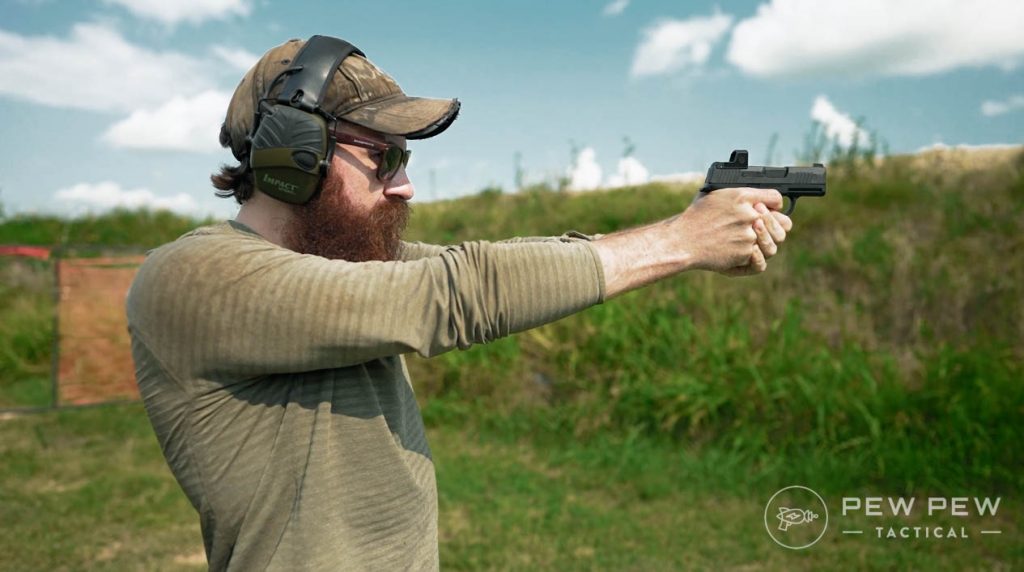 Sights are metal with two Tritium (glow-in-the-dark) white sights at the rear.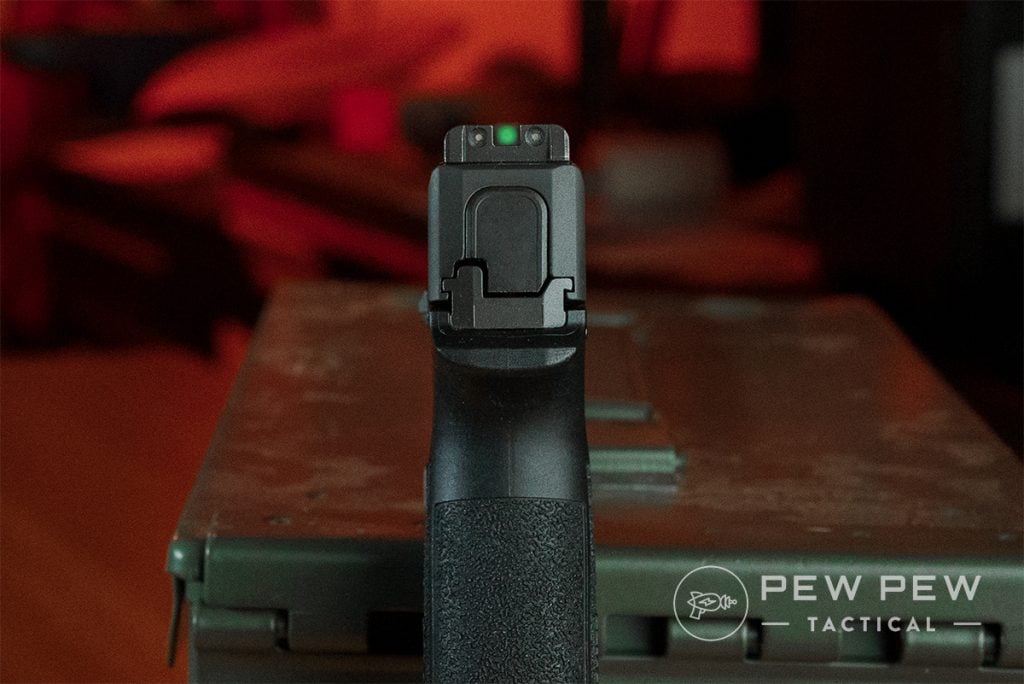 And a bright green Tritium front sight.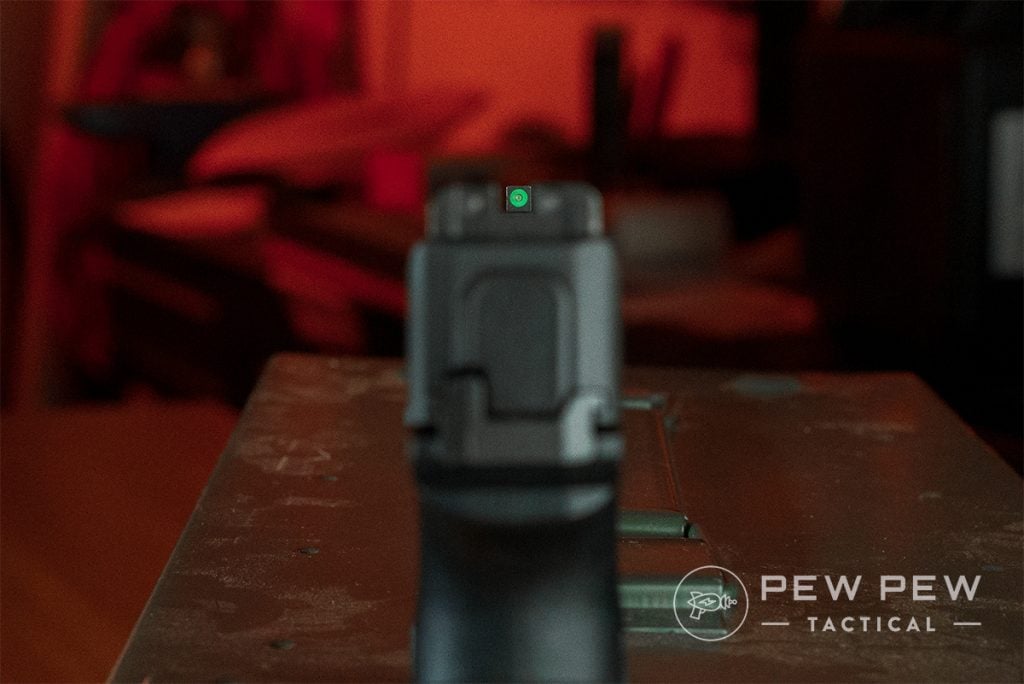 I'm an irons kind of guy and really like the contrasting colors to make it easier to focus on the front sight (which is what you should be doing).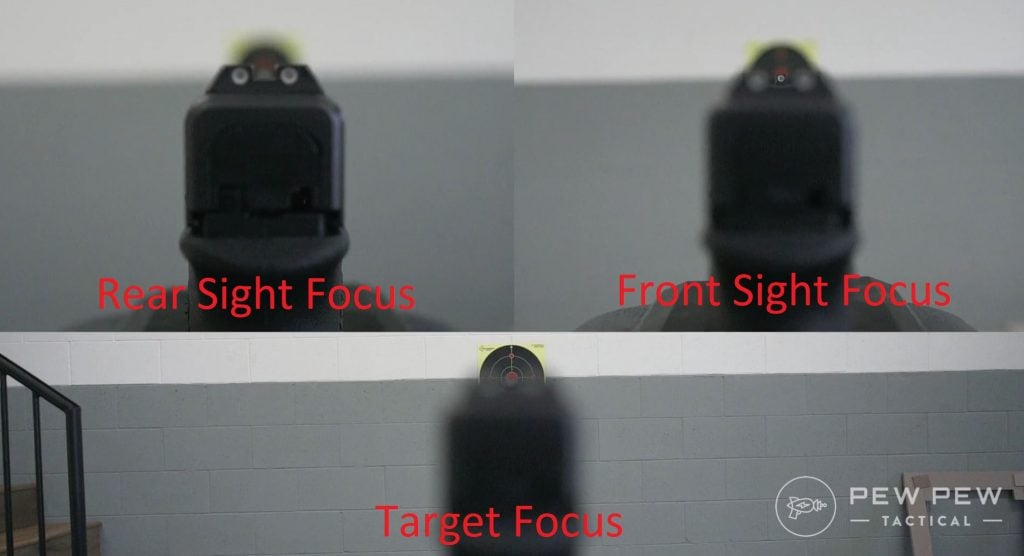 But I also know that pistol red dots are the new hotness. So yes…the XL is optics cut for the standard Shield RMSc "micro" red dot.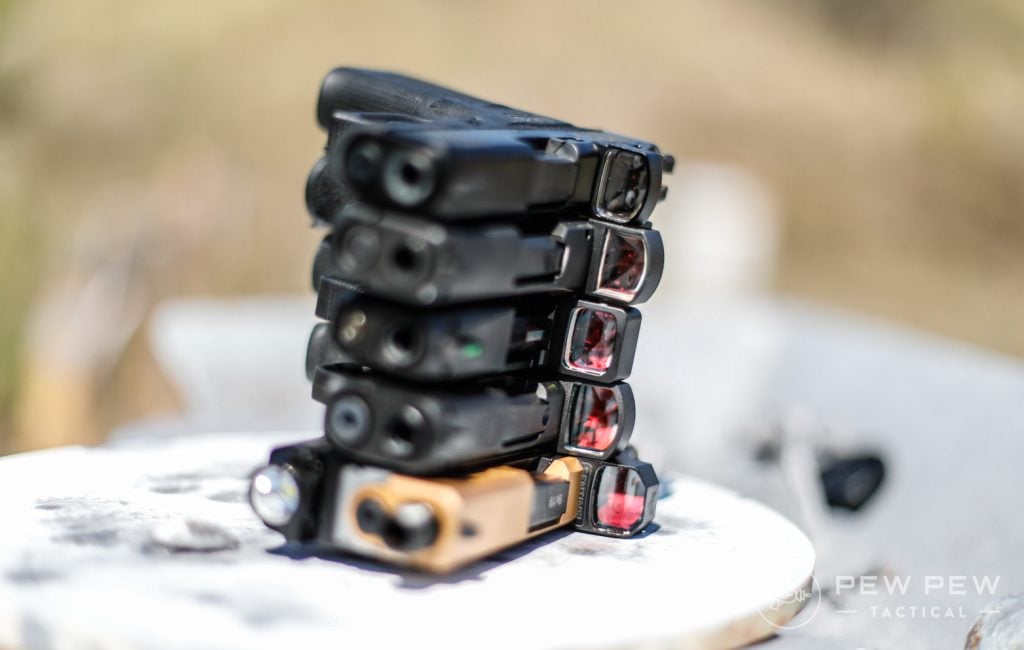 Recoil & Feel
Since it's larger than a true micro 9…the extra mass and real estate for a full grip help tame the muzzle flip that you find in smaller guns.
Check it out in action with me drawing from the holster:
Very easy to draw with the XL grip and easy to get all shots out quickly while letting the sights drop back down each time.
Ammo & Reliability
I tested some of my go-to range ammo of the 115-grain 9mm variety.
Can't find any at the time…check out our Best Places to Buy Ammo Online page.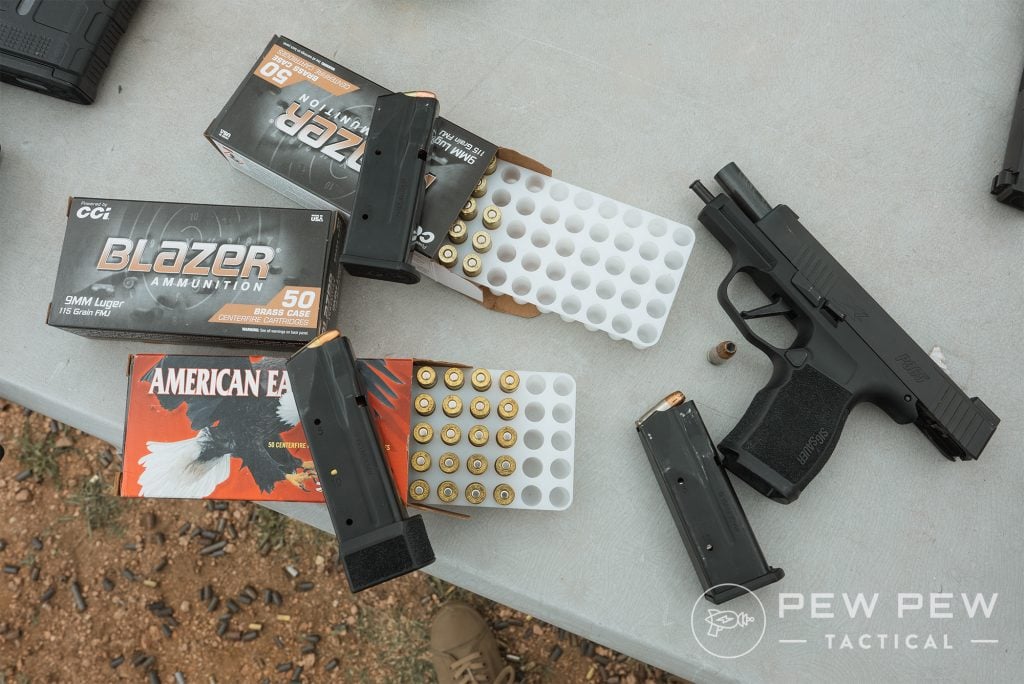 By this time, I've carried for close to 18 months, and I always rotate at least a mag or two each time I go to the range. Plus, I have a personal ~500-round test before I carry a gun for real.
Reliability is high at about 1000 rounds with zero malfunctions.
Accuracy
I'm on the side that almost all guns are more accurate than the shooter. So this time, I put it to a more real-world test. 10 yards, 10 seconds, 10 shots.
Here are the results.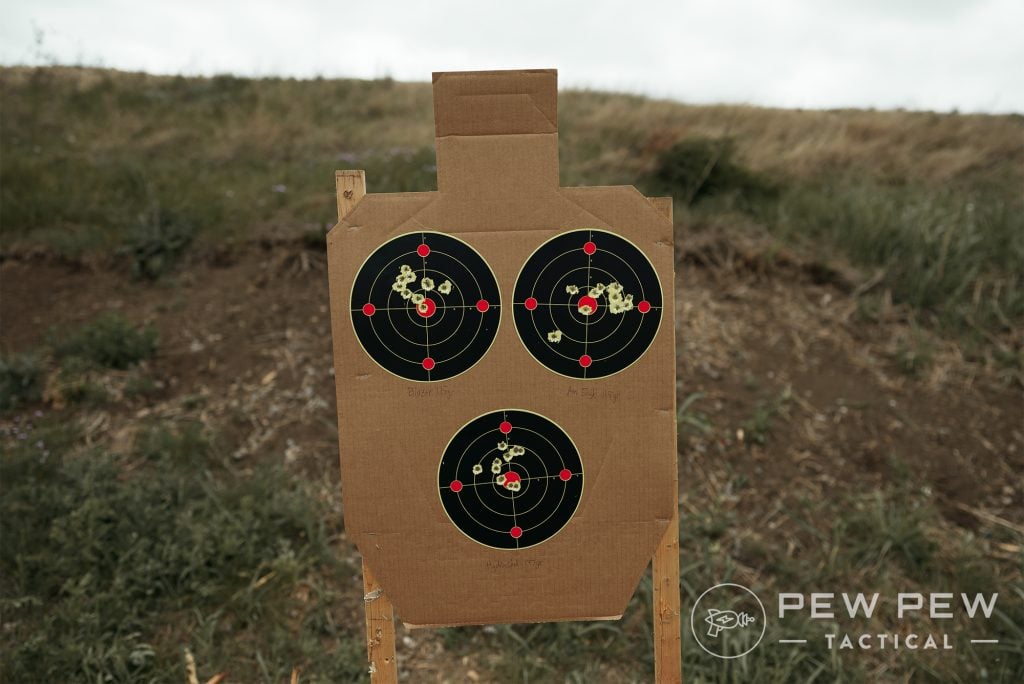 I'm an above-average shot and, given the time constraint, managed to get some flinches in there. But I'm still quite happy with 3-inch groups, given the further distance and time constraints.
No noticeable differences in the ammo, but I did feel the extra oomph of my 147gr defensive ammo. Remember to always practice with those as well!
What Sets It Apart?
Versus P365s
Against its fellow P365 models, I like the XL model the most with the longer slide/sights with longer grips.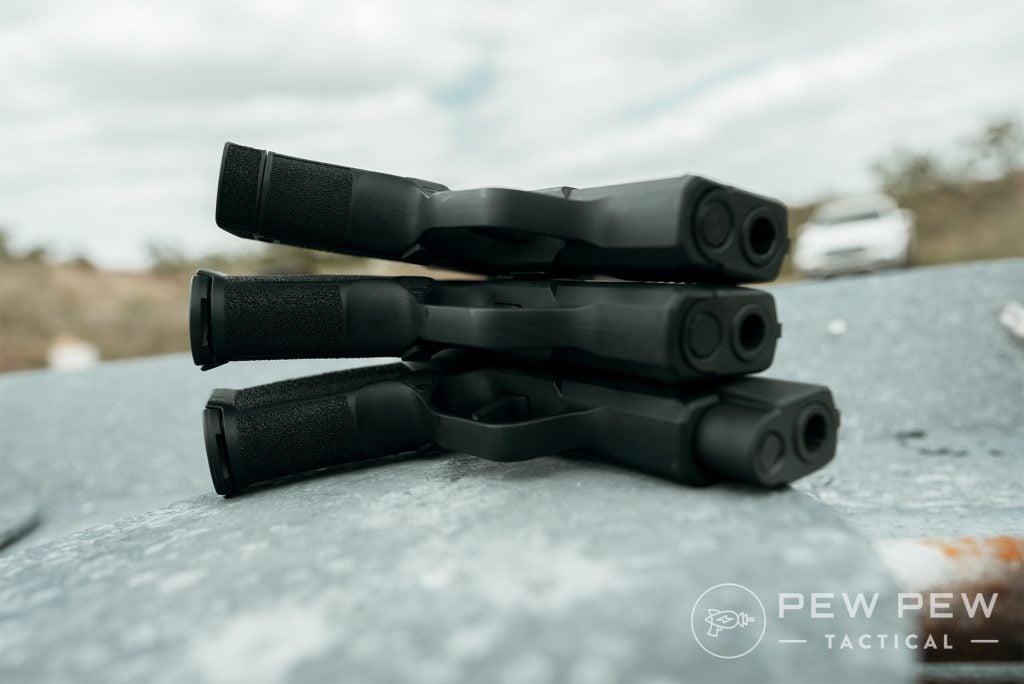 On the Pew Pew Team, Sean likes his P365XL Spectre Comp, which is an upgraded version of the XL with integrated compensator ports. However, that adds to the cost greatly.
1299
at Palmetto State Armory
Prices accurate at time of writing
Prices accurate at time of writing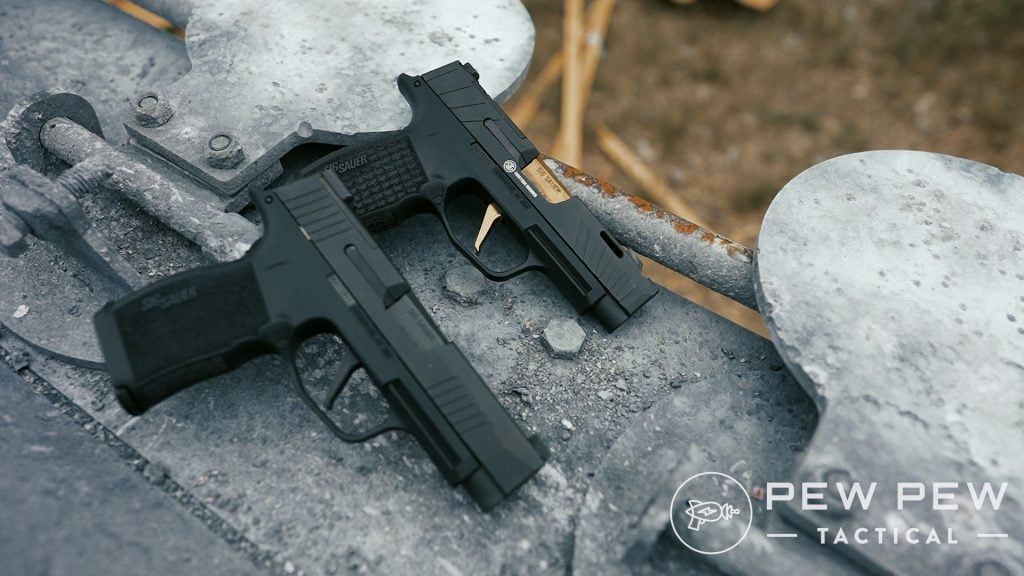 While Jonny, who is a smaller dude, opted for the P365X.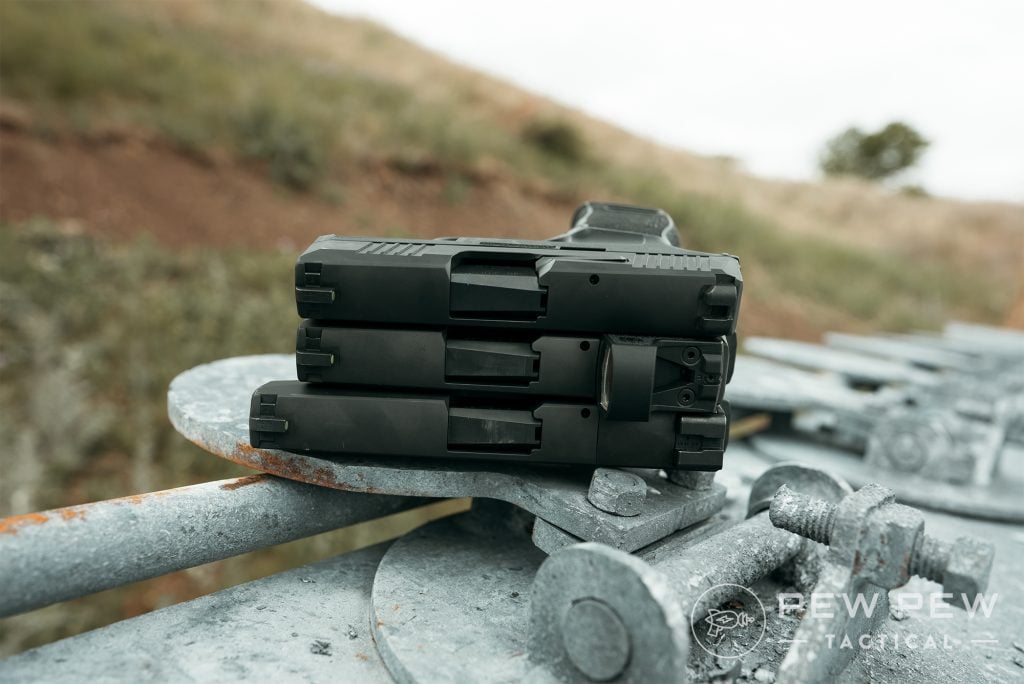 This variant has extended grips but maintains the shorter slide. Plus, it comes with a Sig Romeo Zero optic.
599
at Kygunco
Prices accurate at time of writing
Prices accurate at time of writing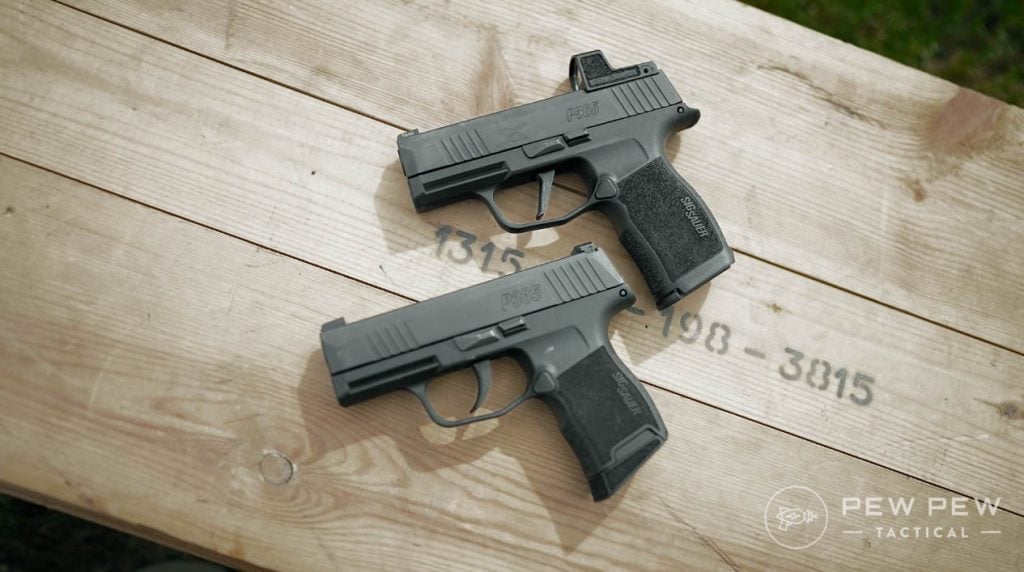 Want to dive deep into everything P365? Check out our Best P365 Models article.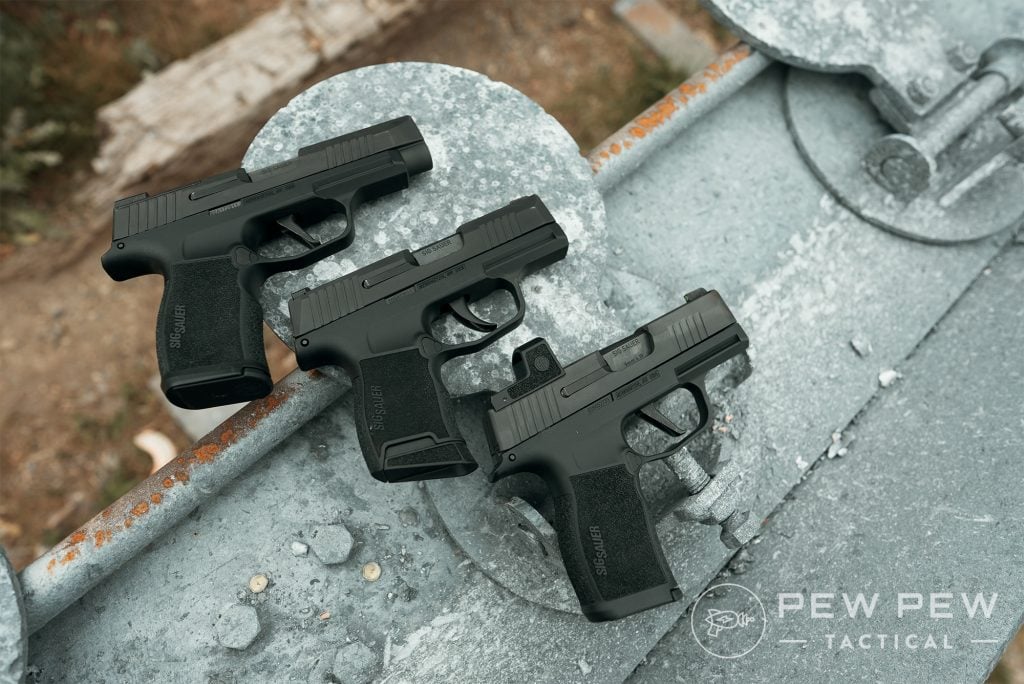 Versus Other Micros
We go over this in detail in Best Micro Compact 9mms…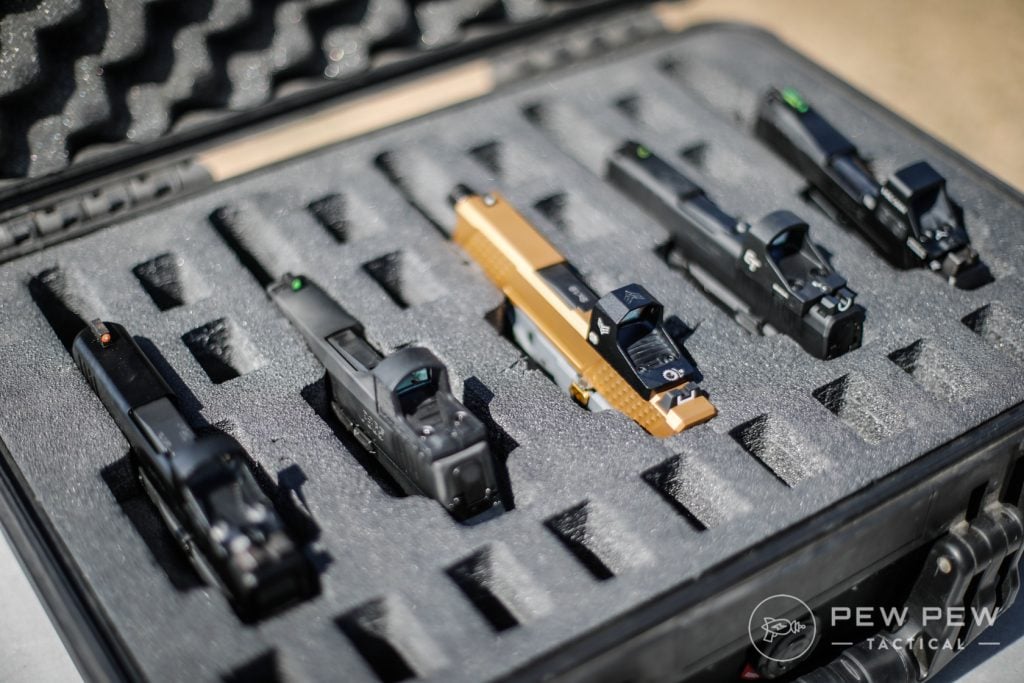 But essentially, the XL felt the best in my hand, pointed the easiest, and soaked up muzzle rise and recoil the best.
I would heavily recommend trying your hardest to feel all these micros in your own hands. What feels "best" in mine will likely differ from yours.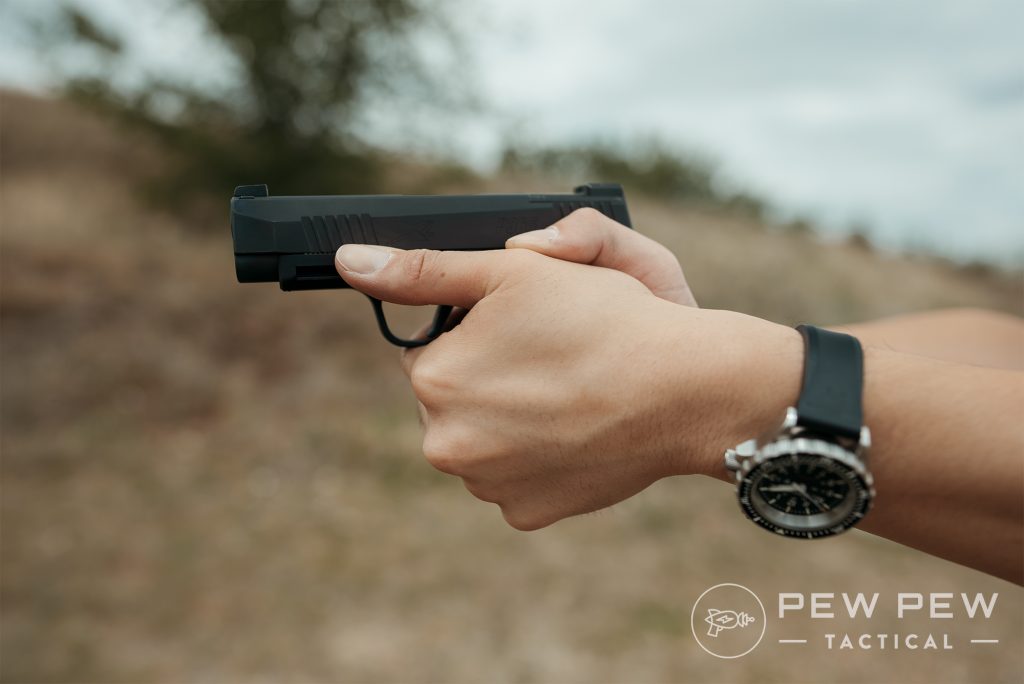 Although from our small sample size, our entire TX team liked P365s, while our CA guy had it in second place.
My Loadout & Upgrades
This is often the follow-up question after I say I carry the P365XL. So what's my specific loadout, and did I do any upgrades?
Holster
I went with my go-to CCW holster…Hidden Hybrid Holsters. I like the leather/suede comfort against my skin more than pure Kydex. But there's still the Kydex shell that holds the gun in tight.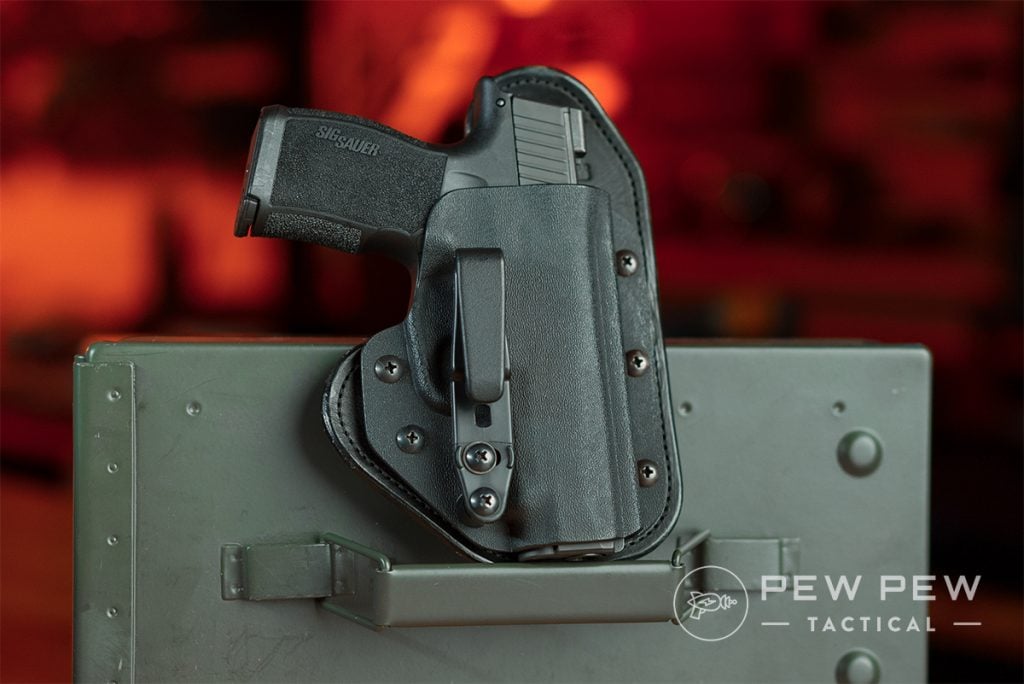 I went with a single clip AIWB (appendix inside the waistband) for concealment.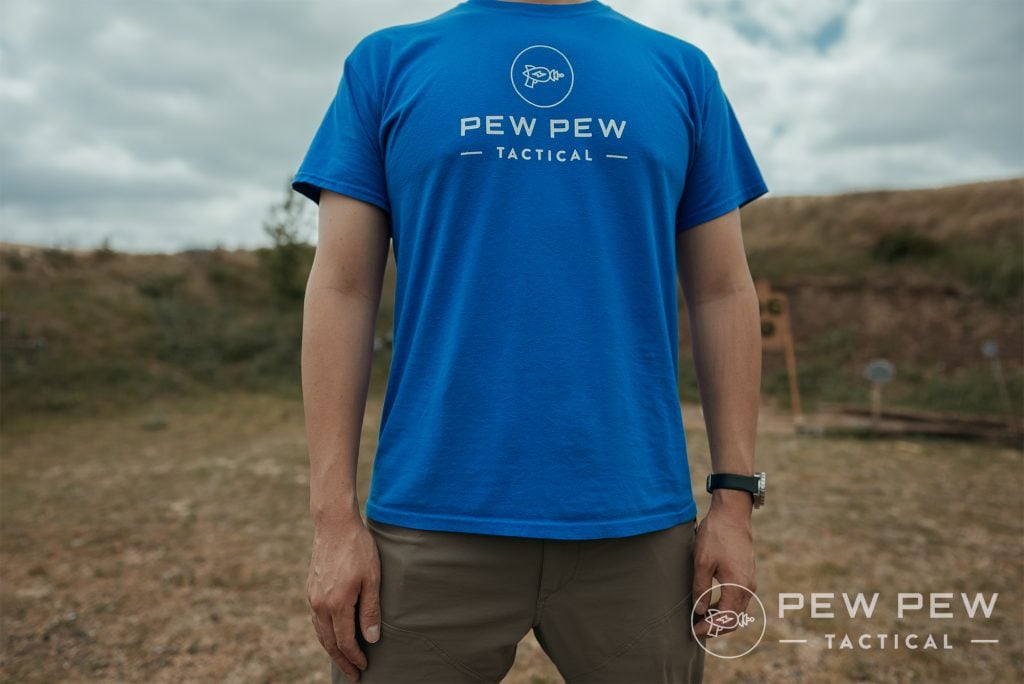 And, more naturally drawing.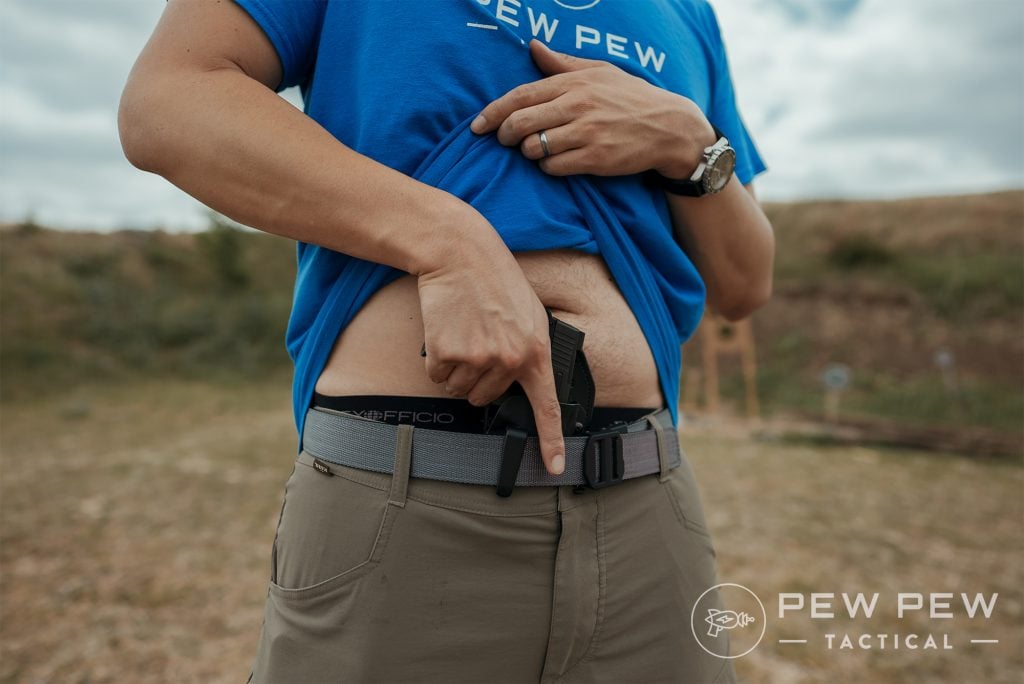 Here's the drawing/shooting short video from before again:
I went basic with no claw or any other holster upgrades since the P365XL is pretty easy to conceal. See my full review of Hidden Hybrid.
89
at Hidden Hybrid Holsters
Prices accurate at time of writing
Prices accurate at time of writing
If you like the simplicity and affordability of all Kydex, I liked the Rounded Gear one. See my full review.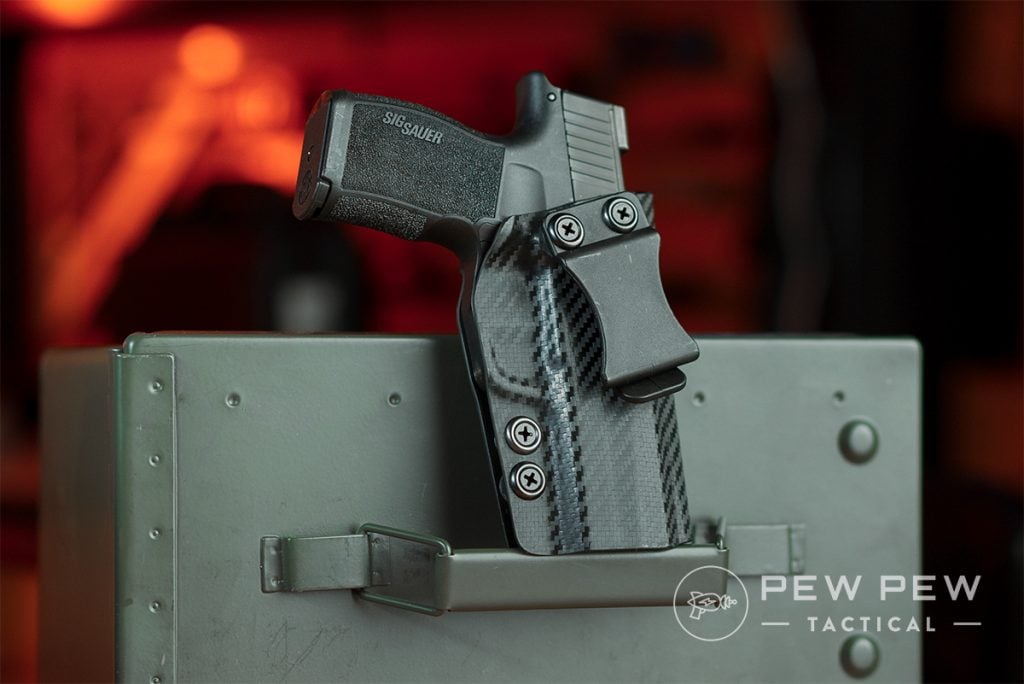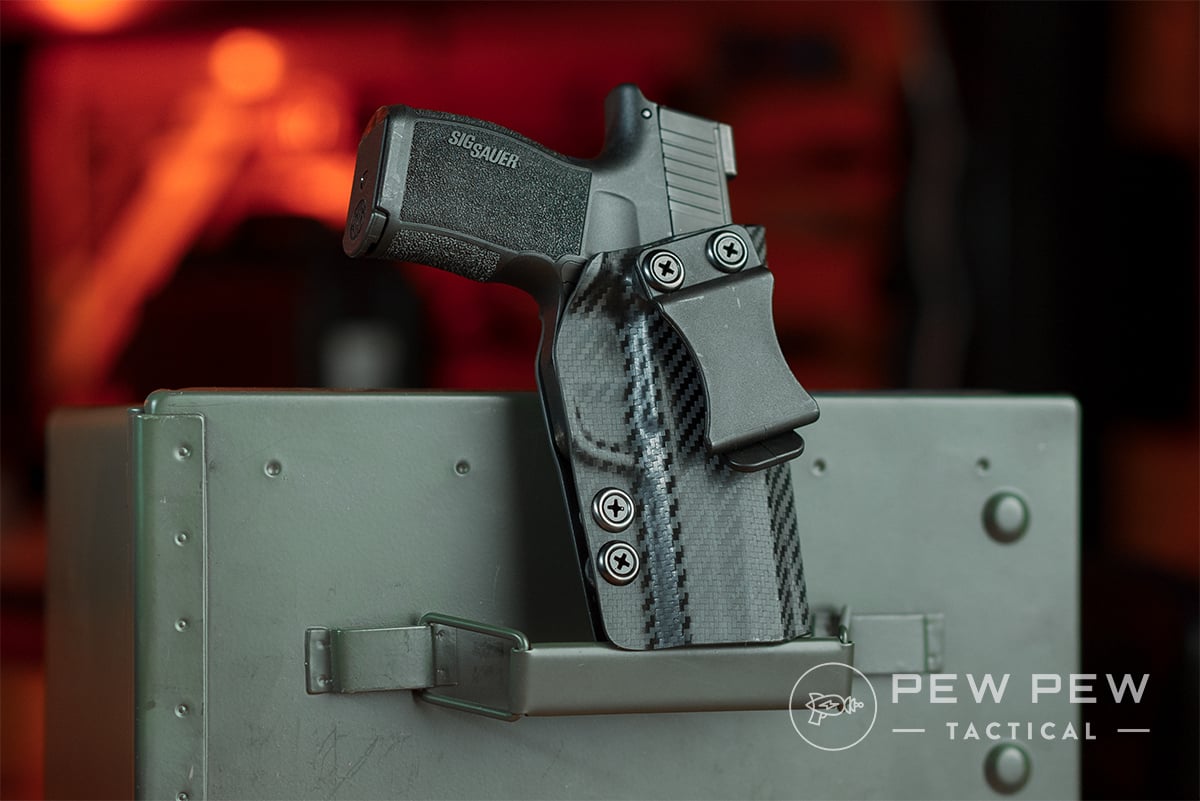 49
at Rounded Gear
Prices accurate at time of writing
Prices accurate at time of writing
Belt
The CCW belt is sometimes overlooked but is super important when it comes to comfort and retaining your gun. I go with Kore Essentials.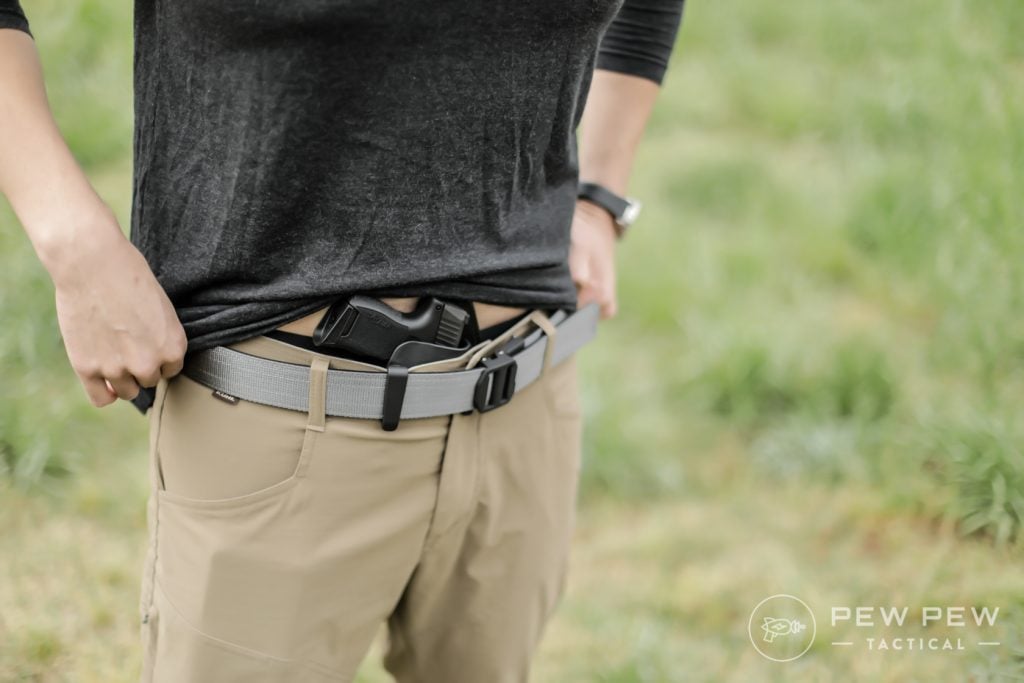 See the full review here.
Ammo
Get defensive hollow points over regular FMJ (full metal jackets) for your true CCW loadout. I like the 147gr varieties for more of a push rather than a snap.
But during these times, it's whatever you can find. Check my Best 9mm Ammo article.
For range/practice ammo, I get whatever is the most affordable but still brass-cased. Usually, this will be Blazer, American Eagle, or AAC.
29
at Palmetto State Armory
Prices accurate at time of writing
Prices accurate at time of writing
Don't cheap out and get steel-cased ammo for your carry gun!
Light
I personally don't have a weapons-mounted light for my P365XL, but if you choose to get one…I like the Streamlight TLR-7 version. I've used them on other guns, and they are good to go.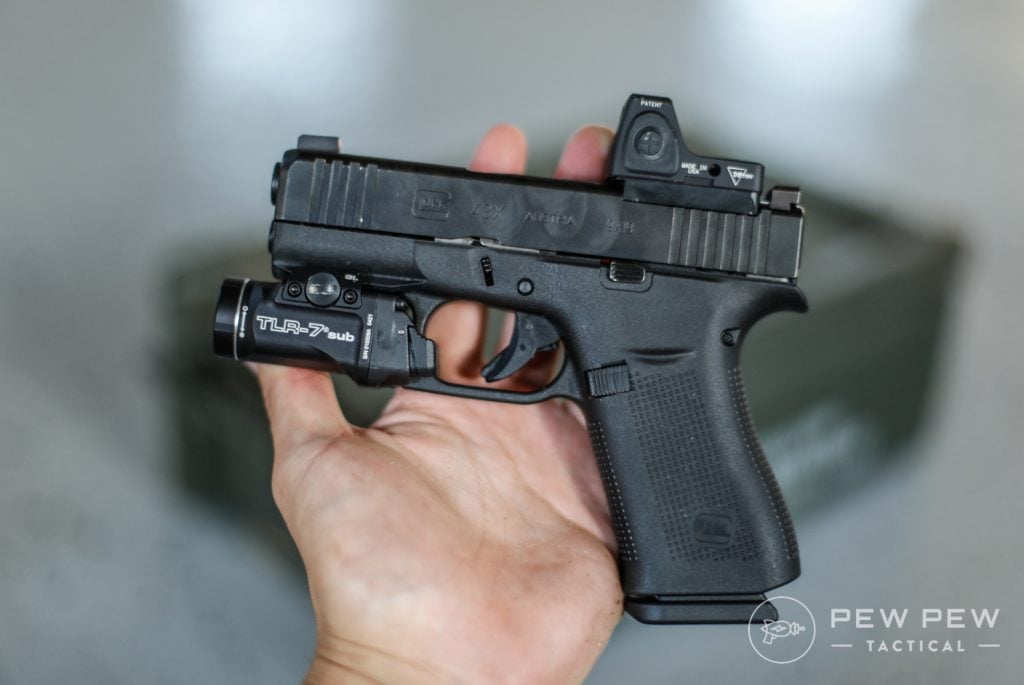 Magazines
I always have at least five mags for each of my carry or home-defense guns. I like the standard 12-rounders, which are flush with the magwell and can also work with the regular P365.
43
at Gun Mag Warehouse
Prices accurate at time of writing
Prices accurate at time of writing
There's also the 15-rounder which sticks out slightly but depending on your build or shirt, you can easily hide it just as easily.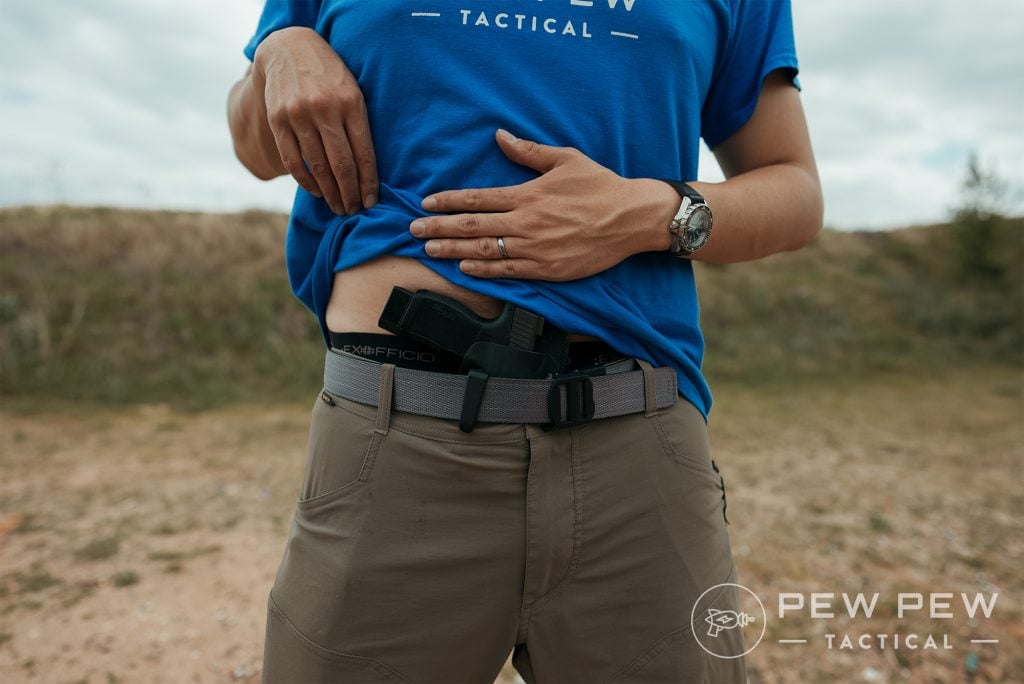 54
at GunMag Warehouse
Prices accurate at time of writing
Prices accurate at time of writing
By the Numbers
Accuracy: 4.5/5
The longer barrel gives you a longer sight radius which translates into an easier pointing gun. Accuracy at distance and speed was great for my skill level.
Reliability: 5/5
No malfunctions in its entire ~1,000-round count life. What I've been carrying for the past ~18 months.
Customization: 4/5
Factory options exist, like the Spectre Comp, and more parts are coming out all the time. However, for a CCW gun, I usually dismiss most internal upgrades. Holsters-a-plenty and some light options. Optics ready too.
Looks: 4.5/5
The overall dimensions and flat-faced trigger make it look pretty darn good.
Price: 5/5
List price is $599, which is in line but slightly higher than some of its competitors. But in my opinion, it is still worth it with all the features and reliability. Includes two 12-round magazines.
599
at GrabAGun
Prices accurate at time of writing
Prices accurate at time of writing
Overall: 4.75/5
Final Verdict
The best thing I can write for the Sig Sauer P365XL is that I carry it to defend my family and myself. It's easy to say when I love how it feels in my hand, how easily it points, the 12+1 9mm capacity, and tested reliability.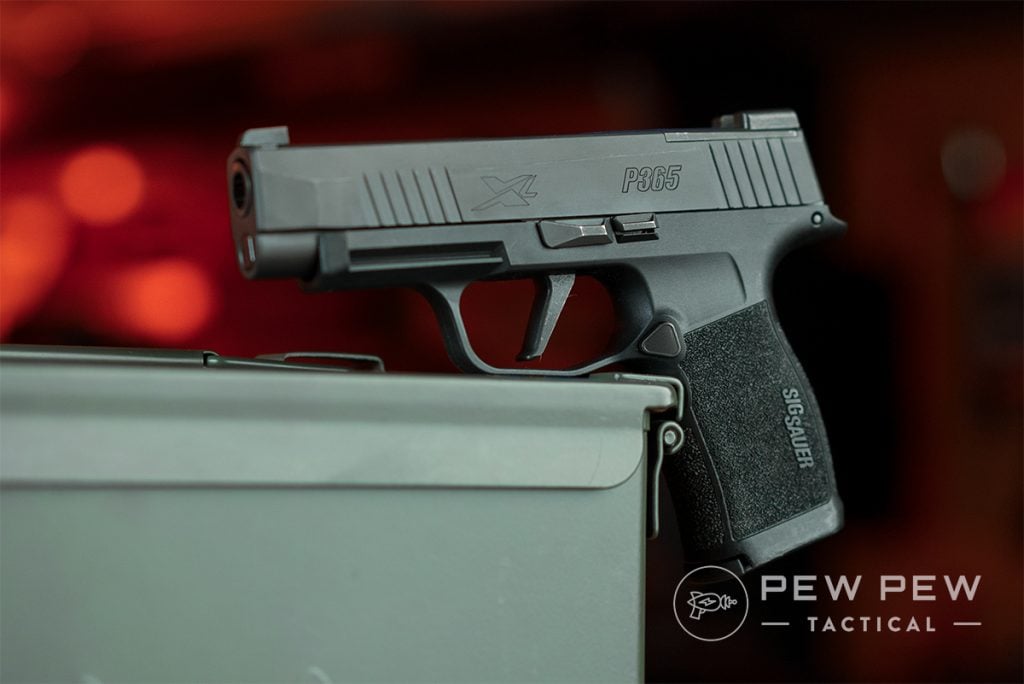 The rest of the TX team also swears by their own variant of the P365 series. I just happen to like the extended XL version.
599
at GrabAGun
Prices accurate at time of writing
Prices accurate at time of writing
Breakdown
There's a little trick to the breakdown and reassembly of the P365 family. Sometimes you have to fiddle with the takedown lever or even a tiny nub in the grip.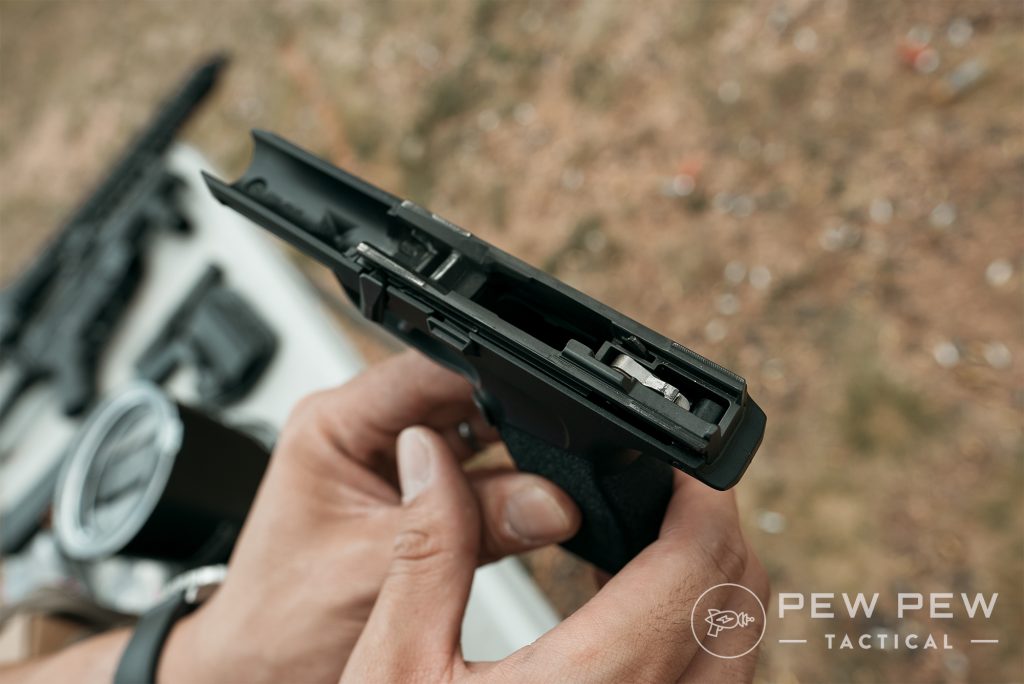 But don't worry, we go through it in a quick video:
FAQ
Does the P365XL have a safety?
There's normally no external safety but there is an external thumb-safety model available.
How many magazines come with the P365XL
The P365XL comes with two 12-round magazines.
How much longer is the P365XL compared to the regular P365?
The P365XL is .6 inches longer than the P365.