So you want to build your own AR-15 upper receiver?
We'll make it quick and painless for you with photos detailing every single step and tips/tricks we've learned through many builds.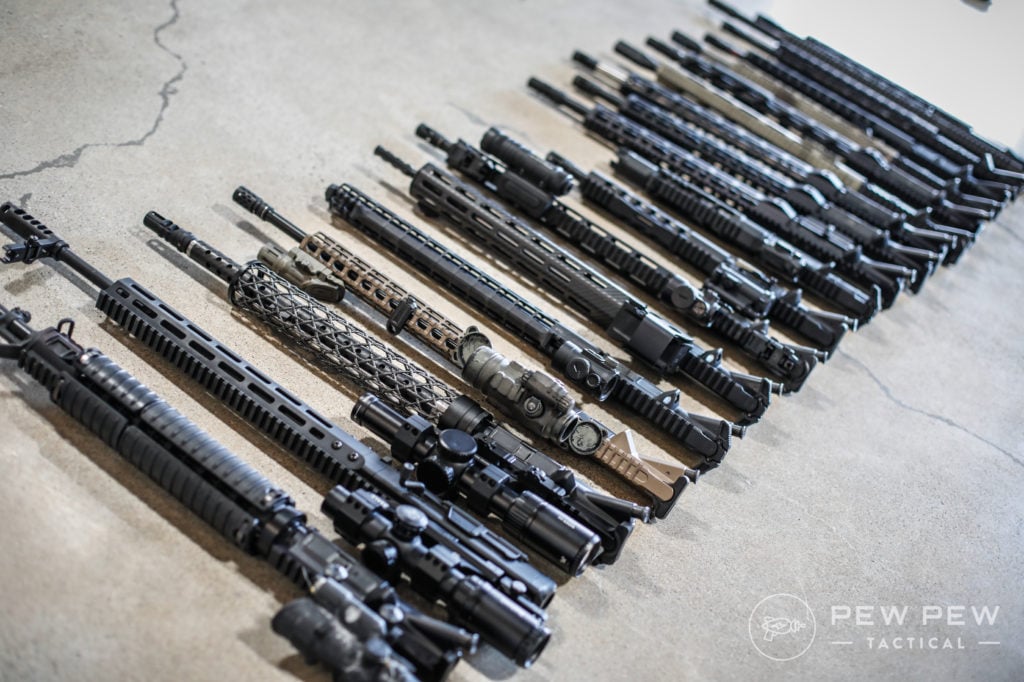 Plus, learn why we chose each individual part and which tools are really necessary for a successful build.
We'll go through two different builds that should cover the major differences in gas blocks, barrel, and handguard installations.
A disclaimer that this is for educational use only. If you don't have the right tools or experience, please have this done by a professional or buy a completed rifle.
So what are you waiting for…let's get started!
Parts and Tools
Parts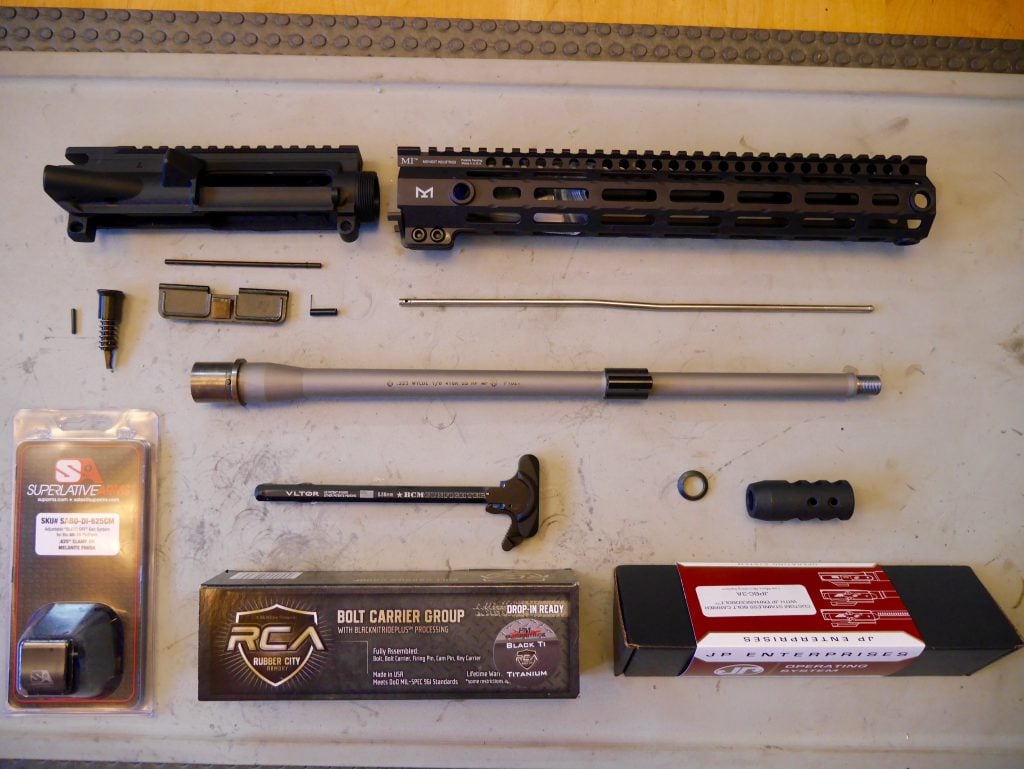 The AR-15 upper receiver holds all the good stuff that will determine the weight, accuracy, and general performance of your completed rifle. If you're interested in building the lower receiver too, check out that article here.
And if you're not super familiar with the major parts of an AR-15, I recommend reading my most popular article that covers everything in detail…Best AR-15 Buyer's Guide.
Moving on!
This first build is targeted towards competitive shooting and I go over the parts in detail in my Ultimate 3-Gun Rifle Build article (coming soon), but here's a rough overview of each part:
Aero Precision Stripped Upper Receiver ($80): My gold standard for upper receivers. I chose a stripped one (missing forward assist and ejection port cover) so I could show you how to install them. However, unless you want something custom there, go with the assembled one which costs $20 more…less than what the missing parts would cost anyways (forward assist and ejection port). My other suggestions for upper receivers.
Ballistic Advantage Barrel ($150-$250): Recently bought by Aero and is now getting more and more popular. I like how they had exactly what I was looking for…a 16″ light-weight profile mid-length gas chambered in .223 Wylde. I chose the specs to get a lighter rifle (.625 diameter) that shot softly (mid-length) and had more inherent accuracy (.223 Wylde chambering). The added perks of it being a "Hanson" profile that reduced barrel whip + an included gas block were just frosting on the cake. In-depth review here (coming soon).
Midwest 12″ G3 Handguard ($150-180): The newest iteration of my previous favorite Midwest handguard. Super light, strong, thin, and easy to install as you'll see soon. I went with the M-Lok version for aesthetic reasons. In-depth review for the Best AR-15 Handguards (2018)
Rubber City Titanium BCG ($360) and JP Aluminum Light Mass BCG ($335): For competition builds, the lighter materials of titanium and aluminum in the BCG combined with a tuned adjustable gas block give a super light recoil impulse since just the right amount of gas is being used to move a lighter object back and forth. See their in-depth review on the Best Lightweight BCGs (2018)
Superlative Arms Adjustable Gas Block ($99): A newcomer who can barely keep their gas blocks in stock. I picked the clamp-on model for the .625 barrel for a tighter fit. I like them versus my previous gold standard of the Seekins ($60) because you don't need to take off your handguard to adjust the gas and they have a bleed-off system that shoots the extra gas forward instead of all around (and onto my hands sometimes). See their in-depth review here (coming soon).
BCM Gunfighter Charging Handle ($50): Goes on every serious AR-15 I have since you can feel the difference when you rack it, especially when you do it one-handed. I like the Medium size for extra grip but it's not so large that it snags stuff.
DPMS – Miculek Compensator 223 ($40): Designed by machine gun fingers himself Jerry Miculek. It's a simple, but the very robust design that is perfect for Practical and Factory rifle competition. Since there are nearly endless options for muzzle devices, check out Differences between Flash Suppressors, Compensators, and Muzzle Brakes.
Spike's Gas Tube ($15): Although they are just tubes of metal, I go with a name I trust. This one got the mid-length.
Tools
Now we're getting closer!
Here are the tools that I use for my build. There are only a couple necessary things but having the others will make your life a lot easier.
AR-15 Upper Receiver Build #1
Finally, right? Let's do this!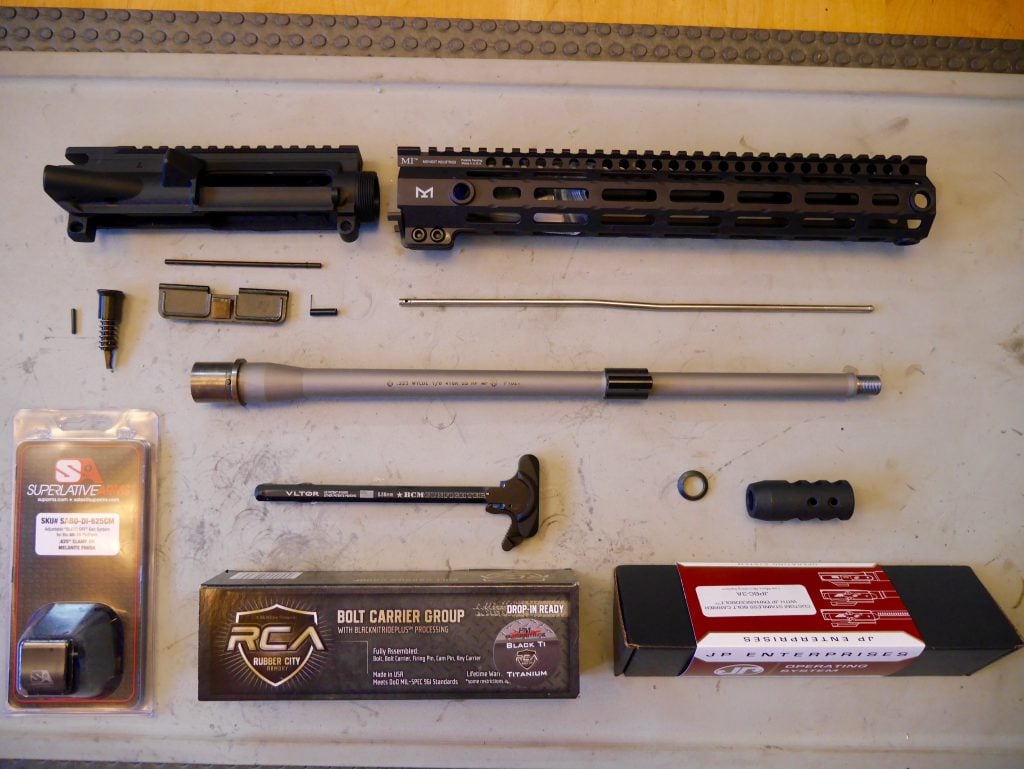 Gather up all your stuff!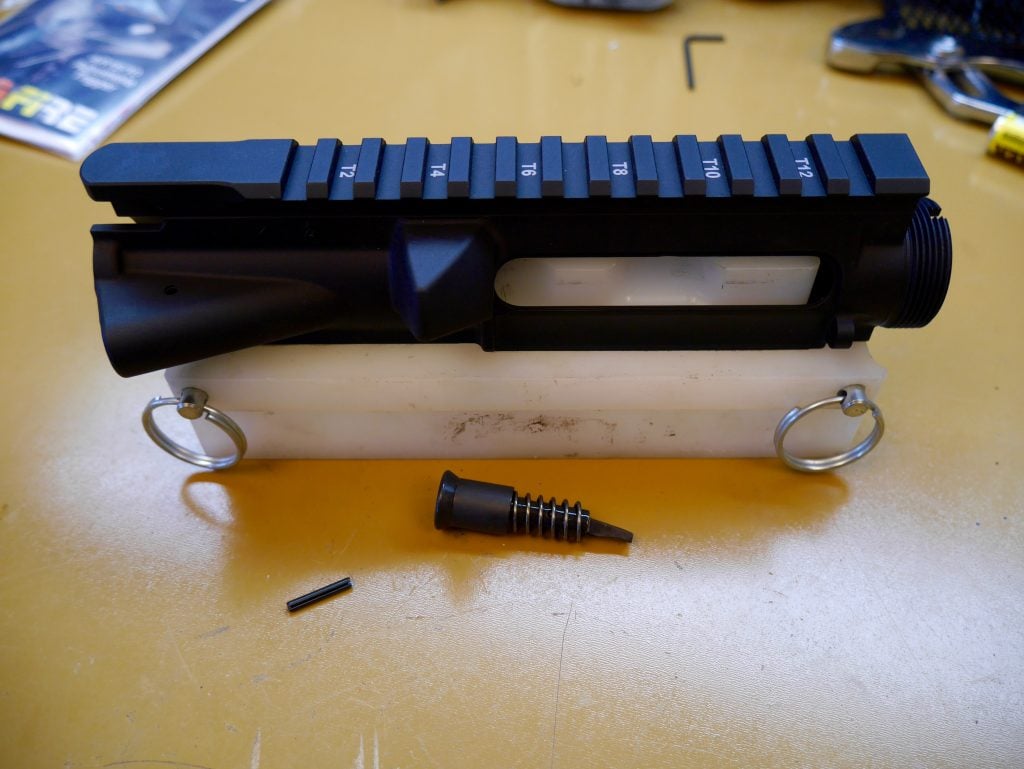 These next few steps are for a stripped receiver. If you bought an assembled receiver, just skip the forward assist and ejection port cover install.
First, place your upper receiver into the vice block and find the two pieces of the forward assist.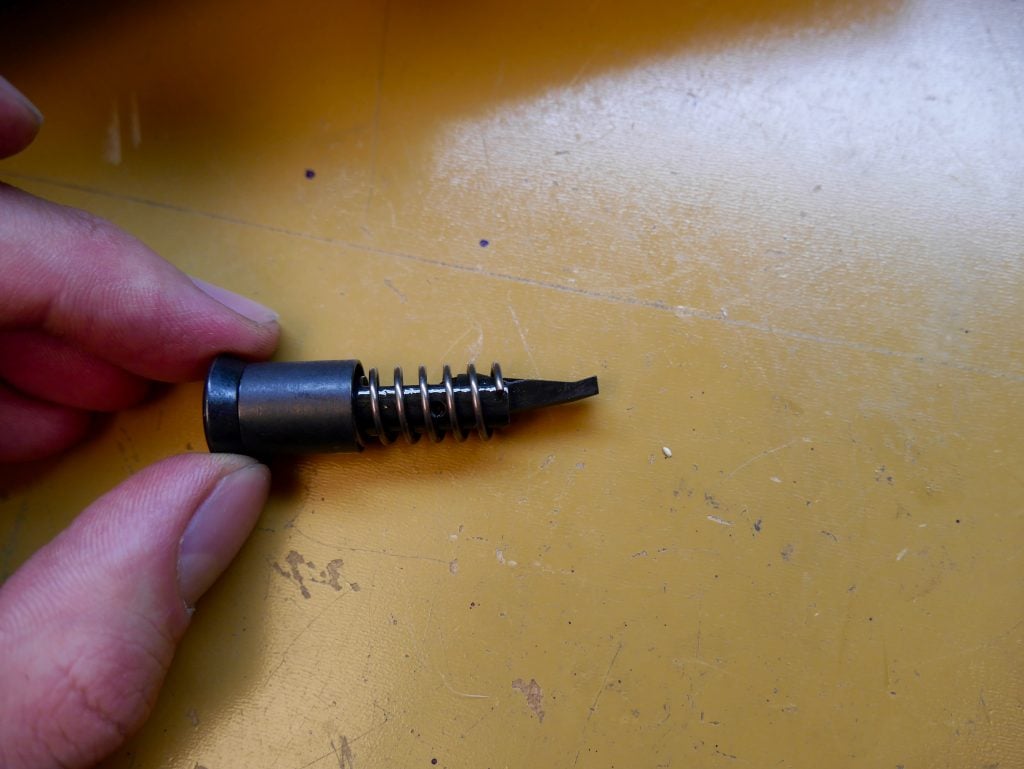 When we install the FA (forward assist), make sure that its "tooth" is facing in towards the receiver. It's this that catches the serrations of the BCG to make it go forward.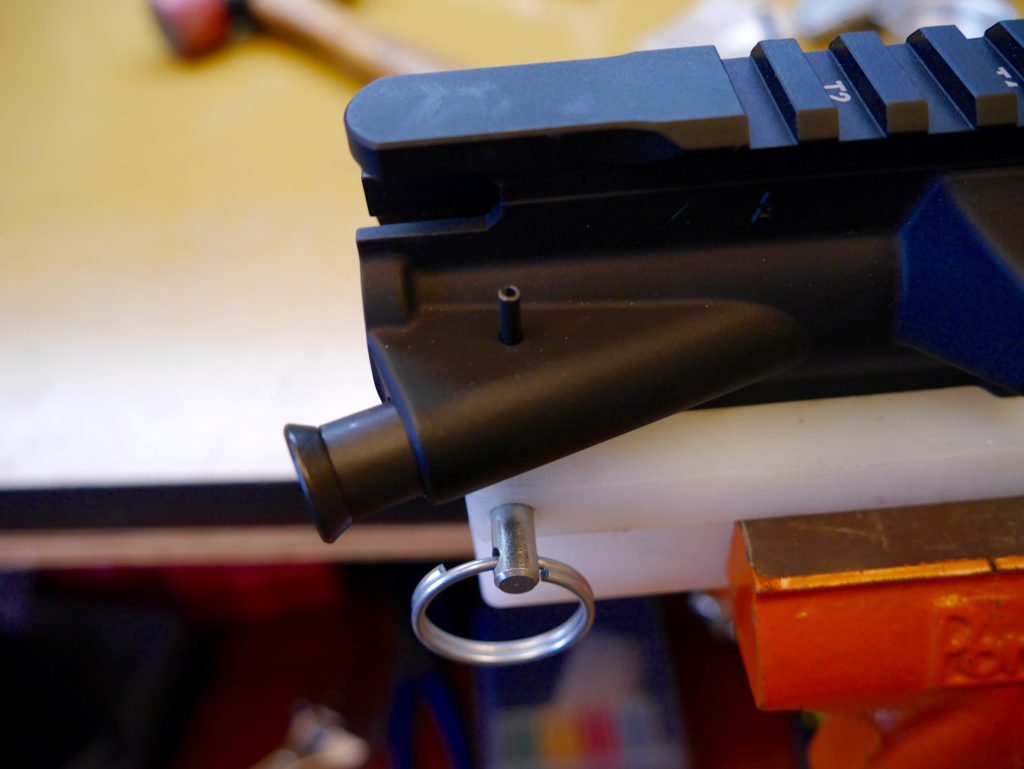 Attach the block with the receiver to your vice. Put in the FA with the correct orientation and start the roll pin with a punch.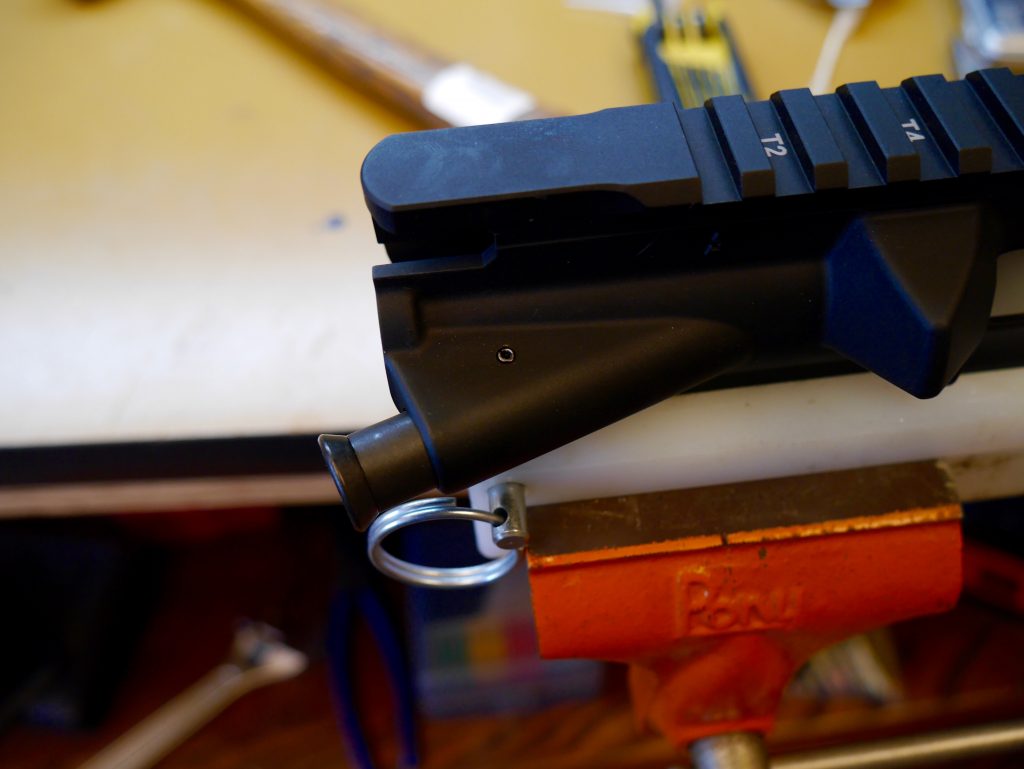 You'll have to press in the FA while you install the pin so a raised portion will get caught by the pin and keep everything in place. You'll likely need a third hand for this part, or gently use the hammer to tap in the pin enough so the FA cannot come out and finish it off with the punch.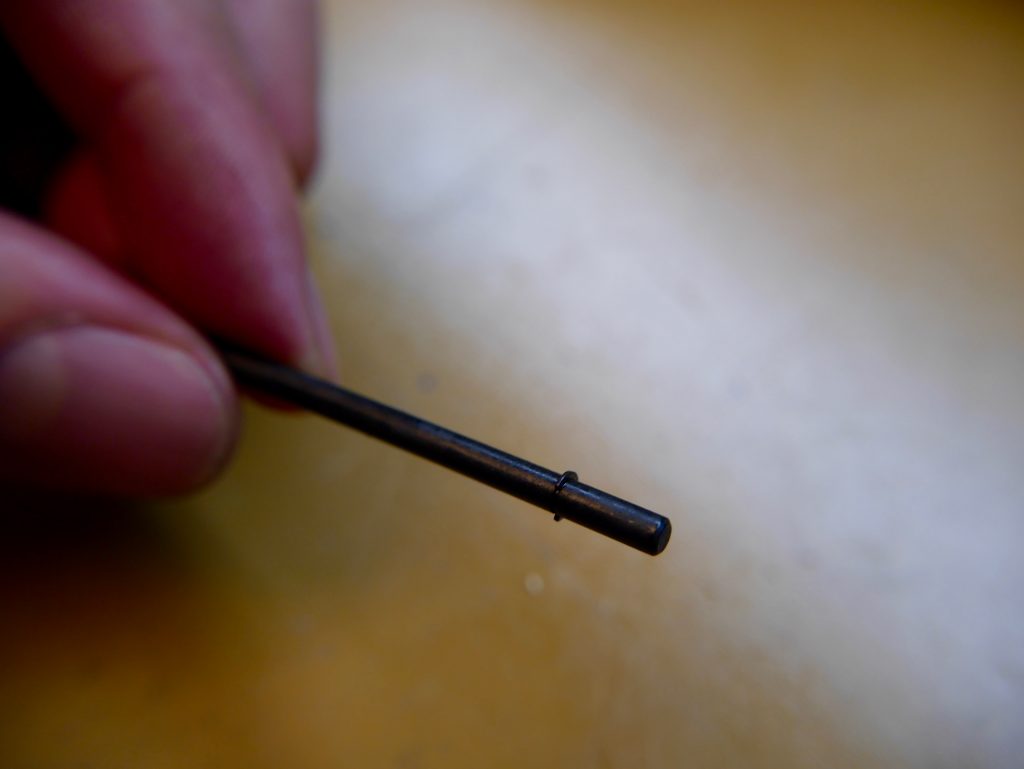 Now it's time for the ejection port install. Hopefully, the pin already has the C-shaped snap ring installed.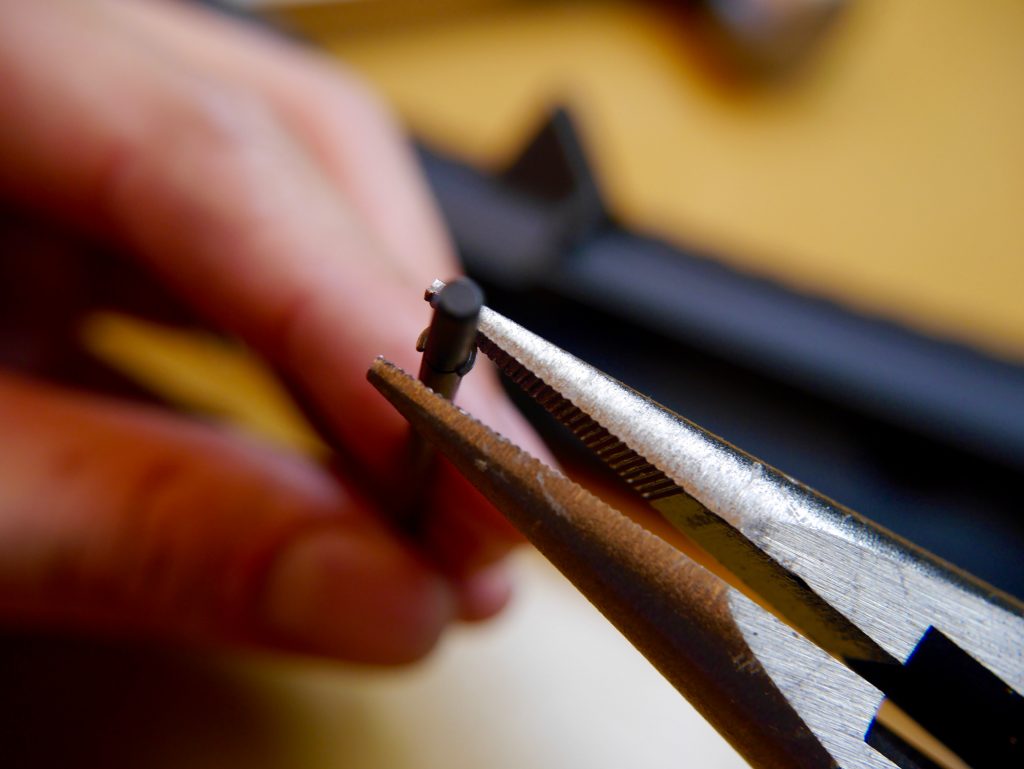 If not, you'll have to do it with some pliers on the cutout. Watch out…I've lost that little sucker before.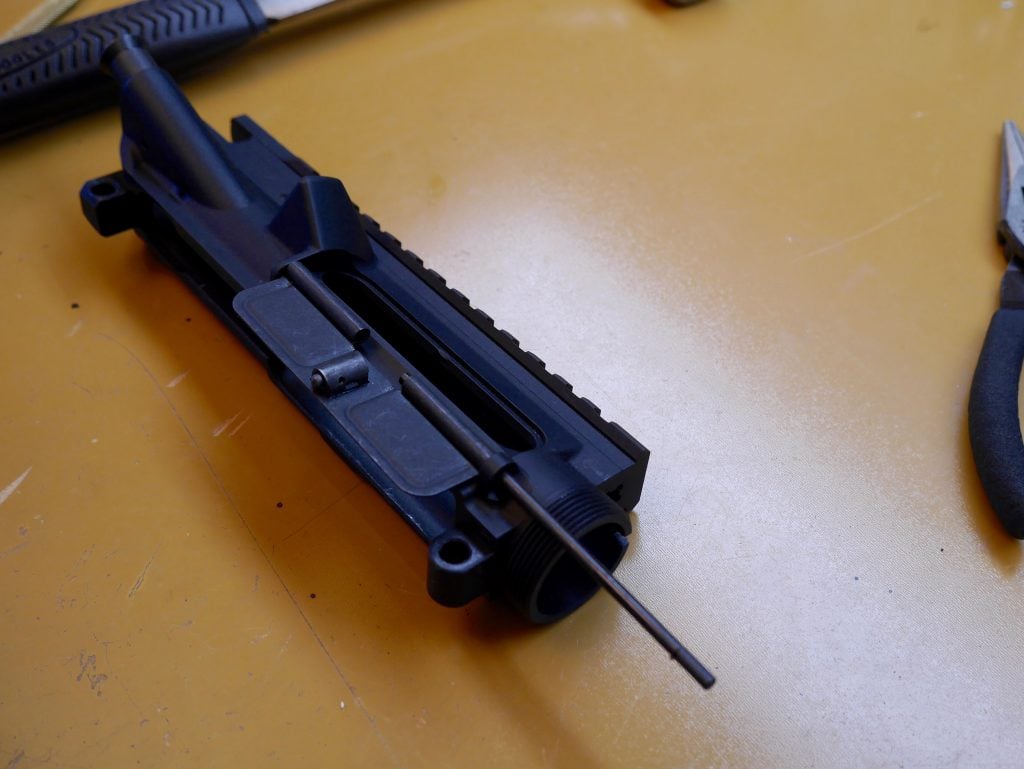 Place the ejection port like so and slide the hinge pin just so it shows into that middle exposed area.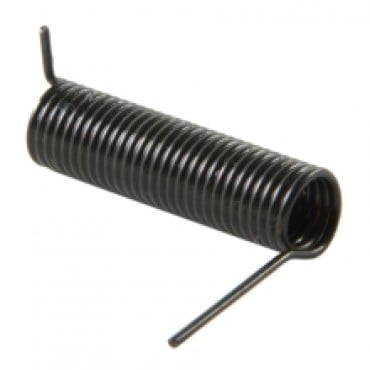 Take the spring in this orientation, and twist it 180 degrees.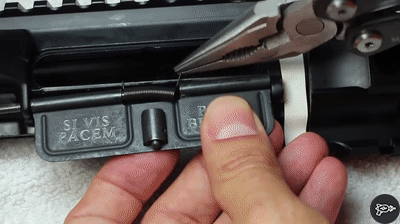 Place it in the empty area and try like hell to push the rod through. It should have proper tension to want to keep open.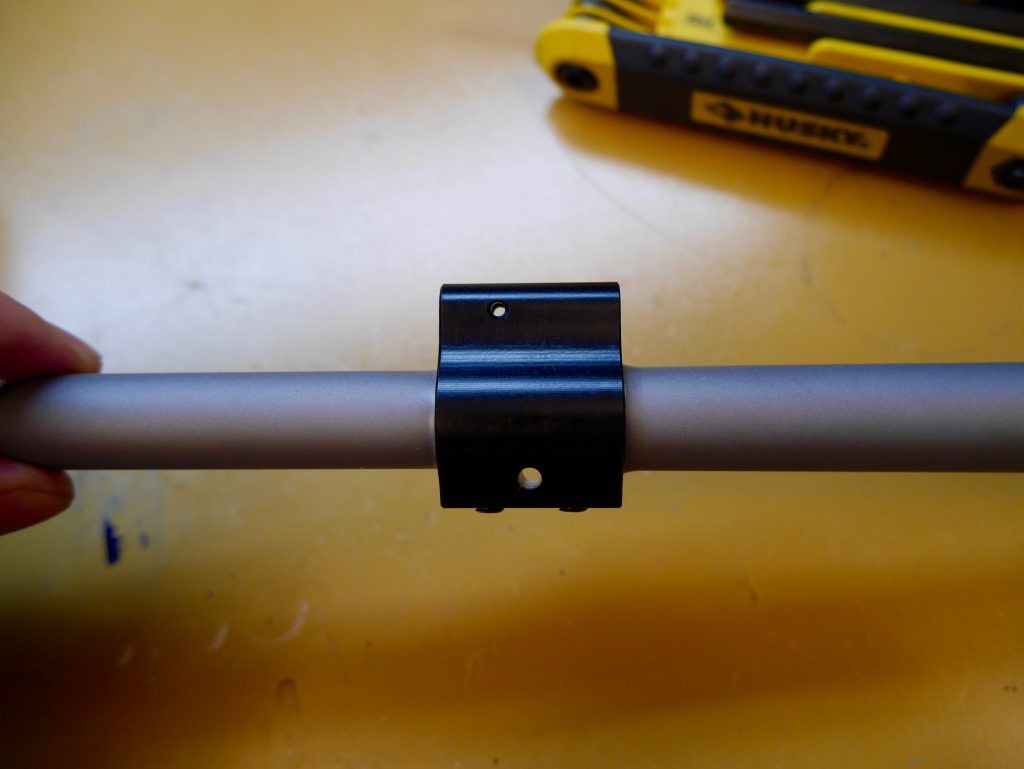 Take a look at your barrel. Another thing I love about Ballistic Advantage is that it includes a gas block which will save you at least $20-30. It's also already pre-drilled for a pin that will keep it super secure. However, we're going with an adjustable gas block so I take it off.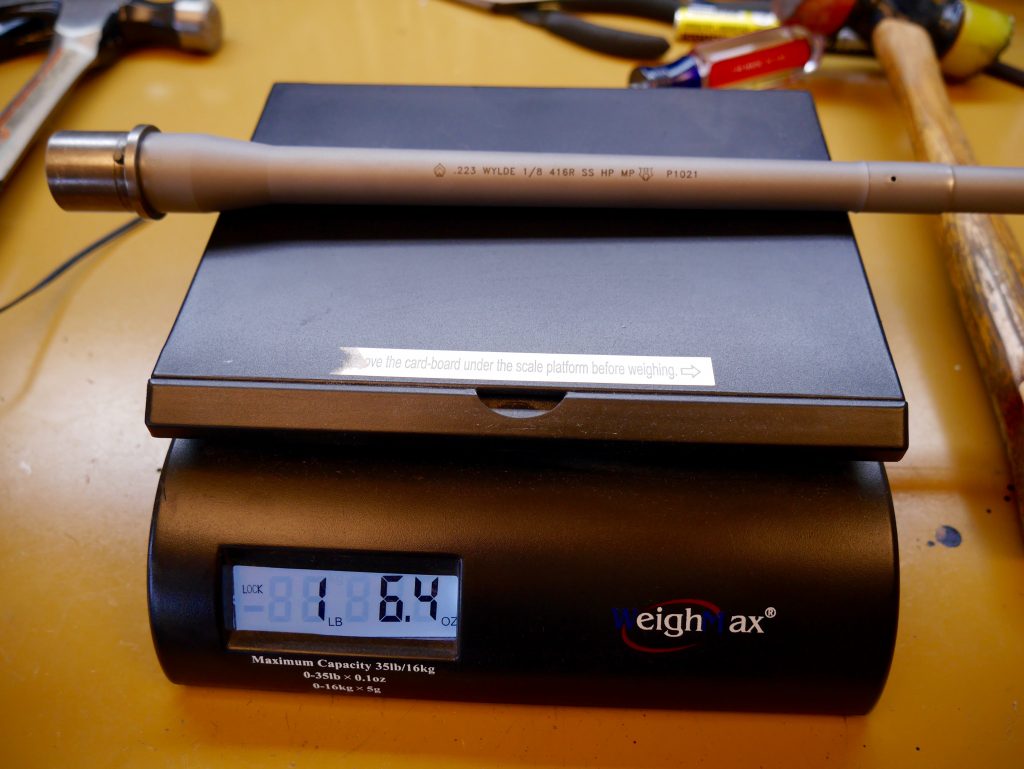 Pretty light…for example, a standard profile 16″ barrel would run around 28-30 oz while this one is just around 22 oz. Ounces equal pounds and pounds equals pain!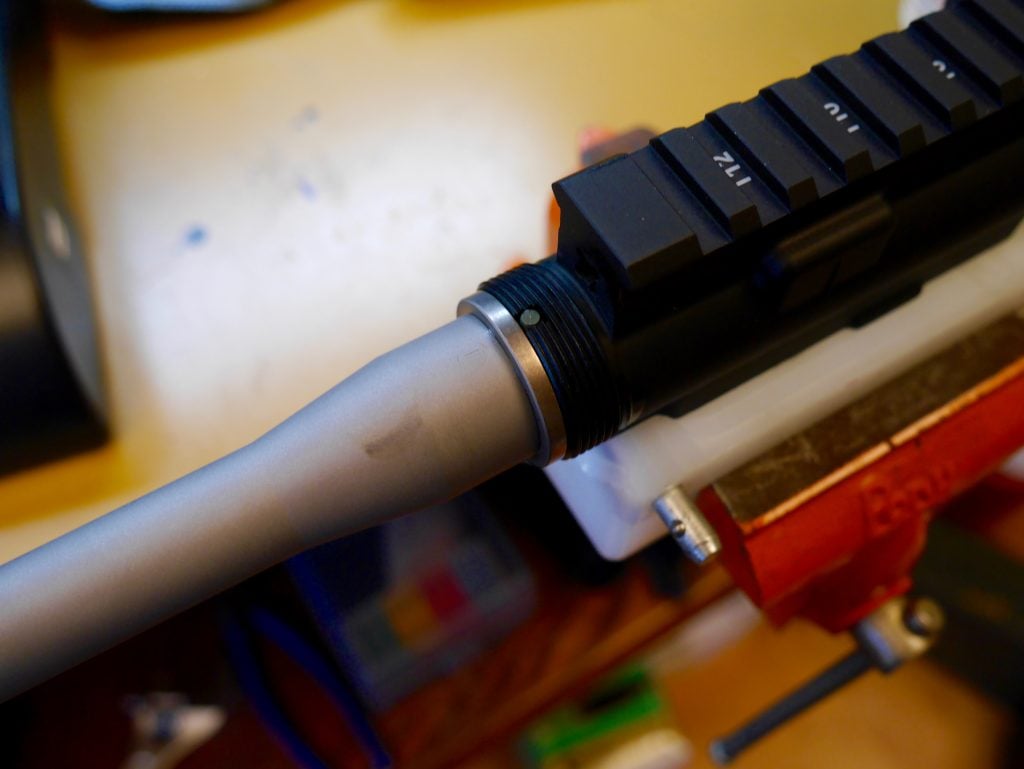 Install the barrel with the index pin fitting into the receiver. I use a light layer of gun oil to make it slide more easily.
Find the barrel nut and place it on to the barrel. The other parts shown above are for mounting the Midwest handguard.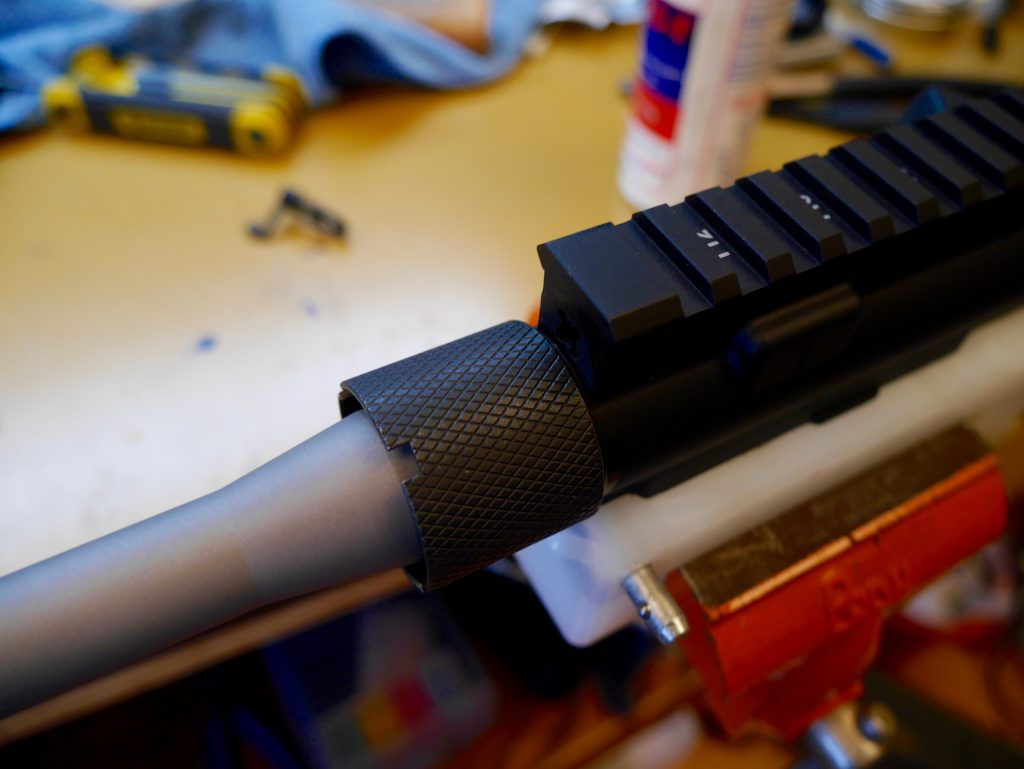 I will grease/oil up the threads here to make the surfaces mate up more easily.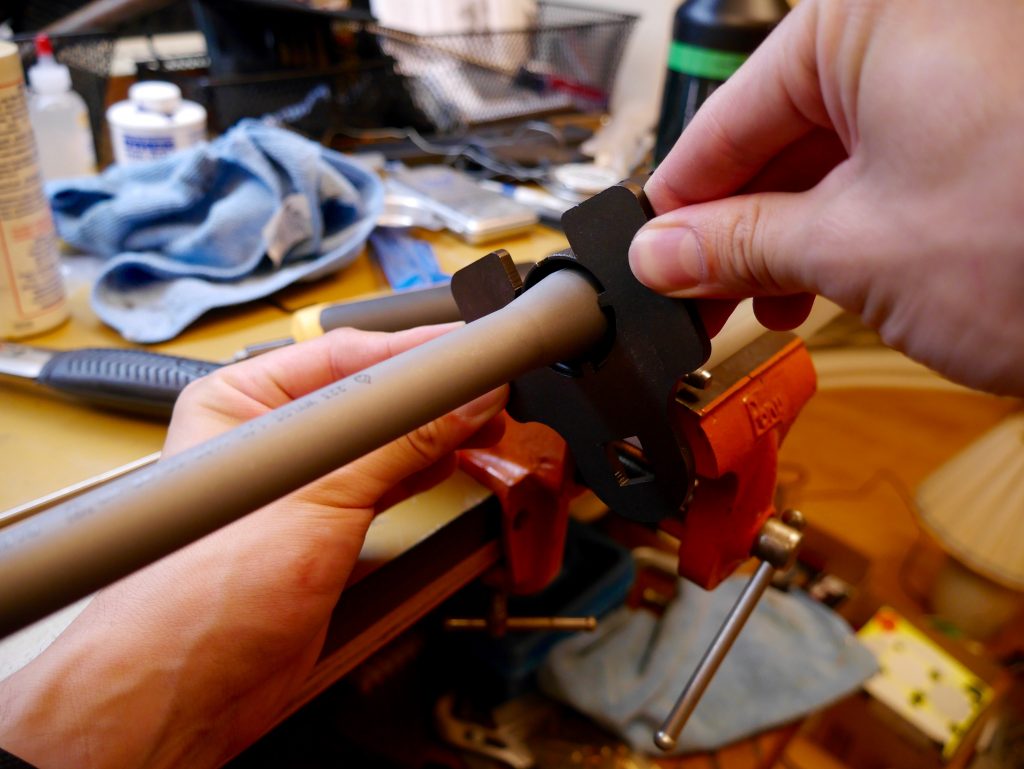 This is an example of the "tool" that comes with most modern handguards and will fit into the barrel nut. There's much less need for the AR Combo tool, but instead, you need a torque wrench. I forgot to take a picture of the torque wrench for this build, so this is a pic from Build #2. It goes into the square hole (1/2″) of the included tool.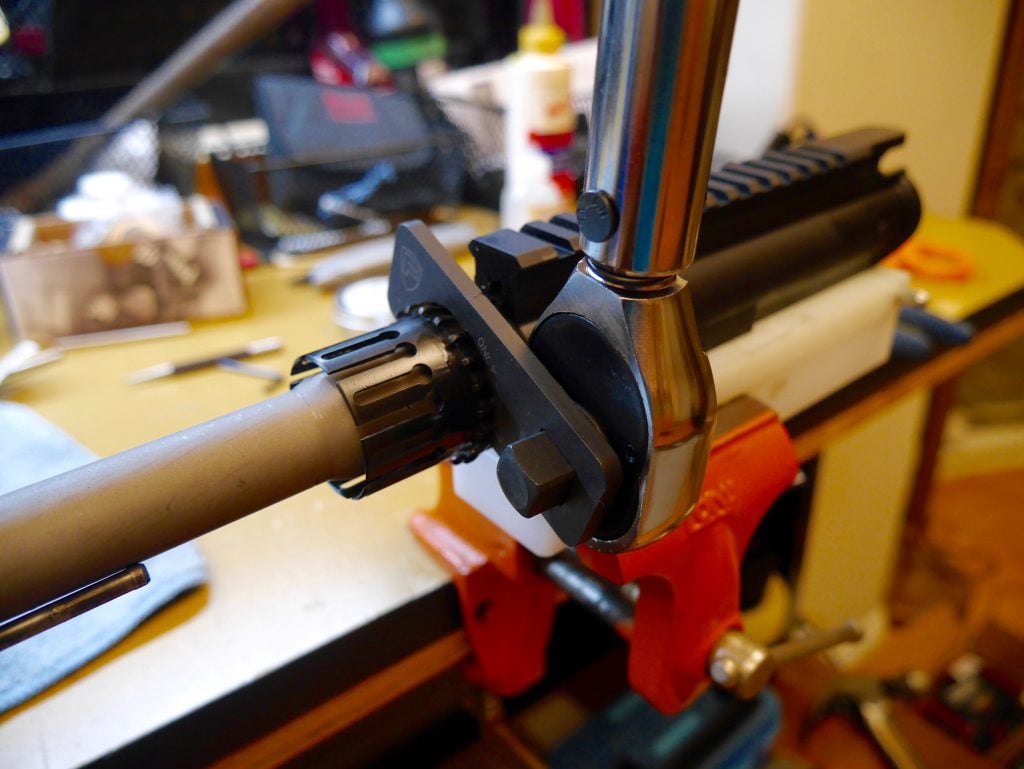 The proper procedure is to set the torque to 35 ft-lb and loosen, then do it one or two more times. This helps for a better seating between the surfaces later. What happens next depends on your specific handguard.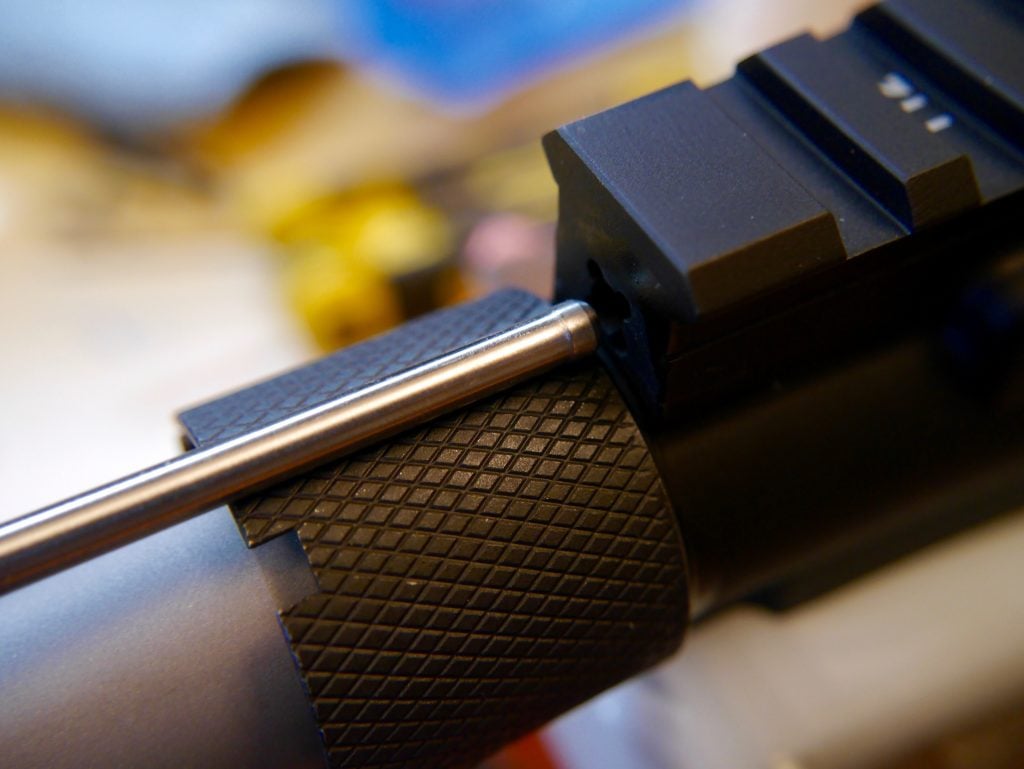 One reason I love the new Midwest handguard is that it doesn't have annoying alignment issues like older versions of many handguards like pictured below…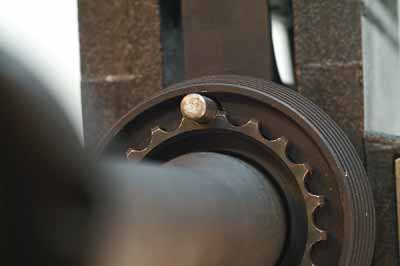 …Sometimes it takes an inhuman amount of strength to make the gas tube fit on straight with the gas block and also straight into the index "U" of the barrel nut (we'll see this in Build #2).
But I digress…since we have the Midwest G3 handguard, I would set the torque to 50 ft-lb or so (max is 80 ft-lb) and finish it up.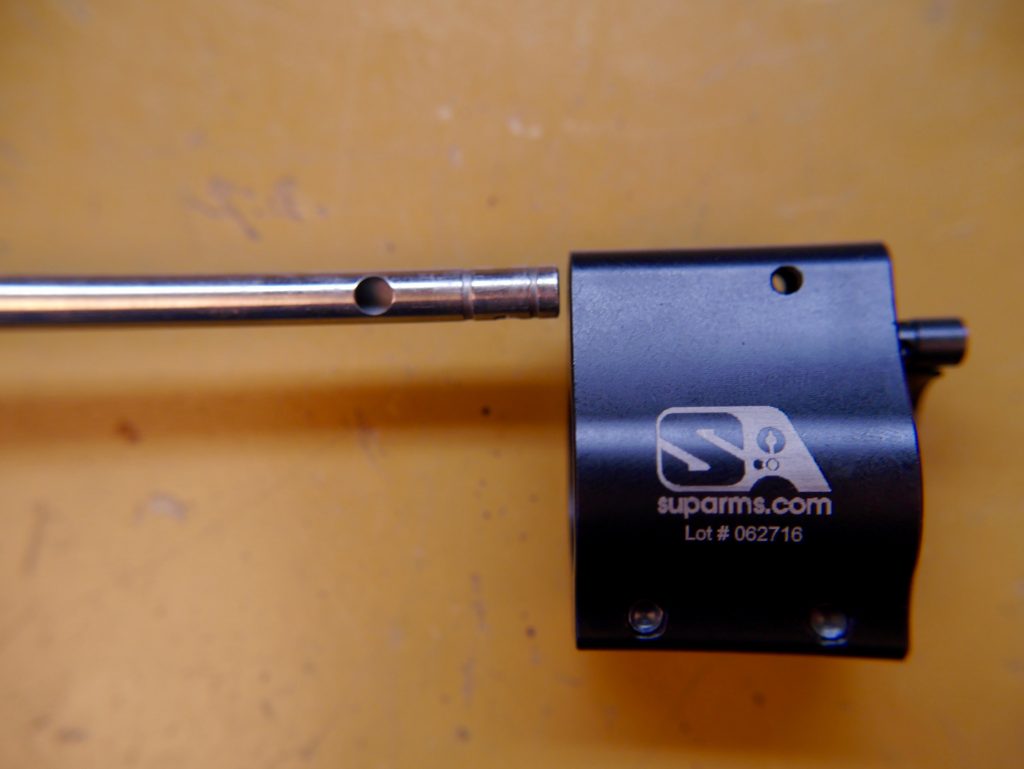 Get your gas block and gas tube out. There's a side with a bigger hole for the gas tube. This is going to face down when it goes into the gas block.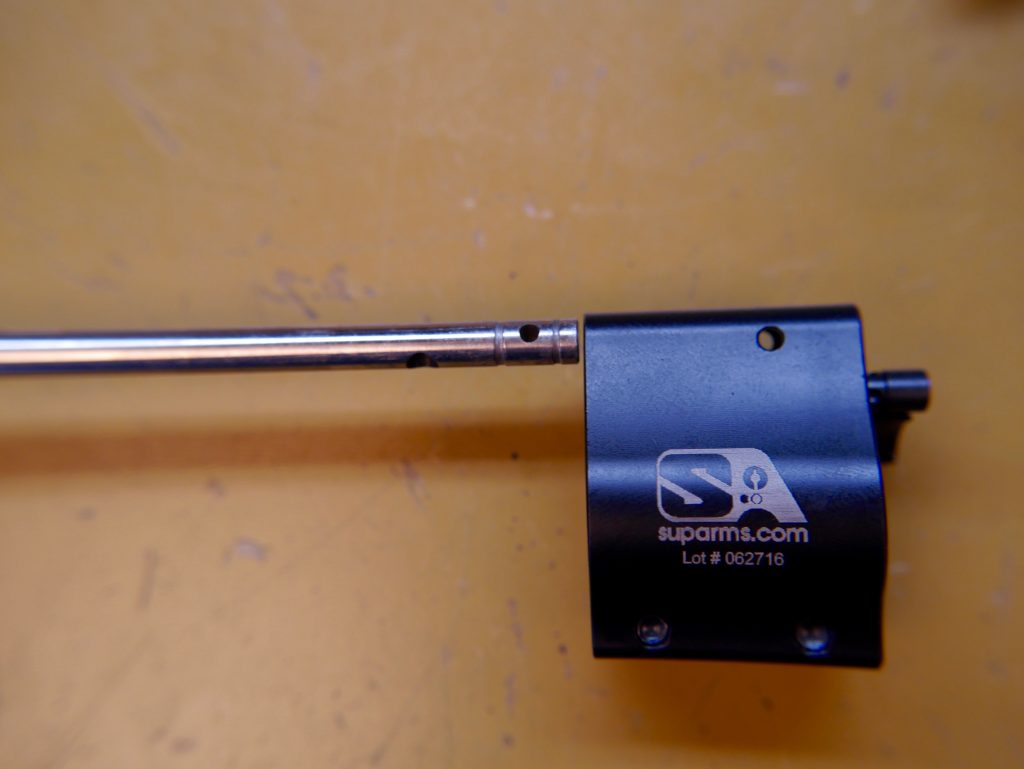 You can see the bigger hole is facing down while the smaller hole will match up with the holes on the side of the gas block.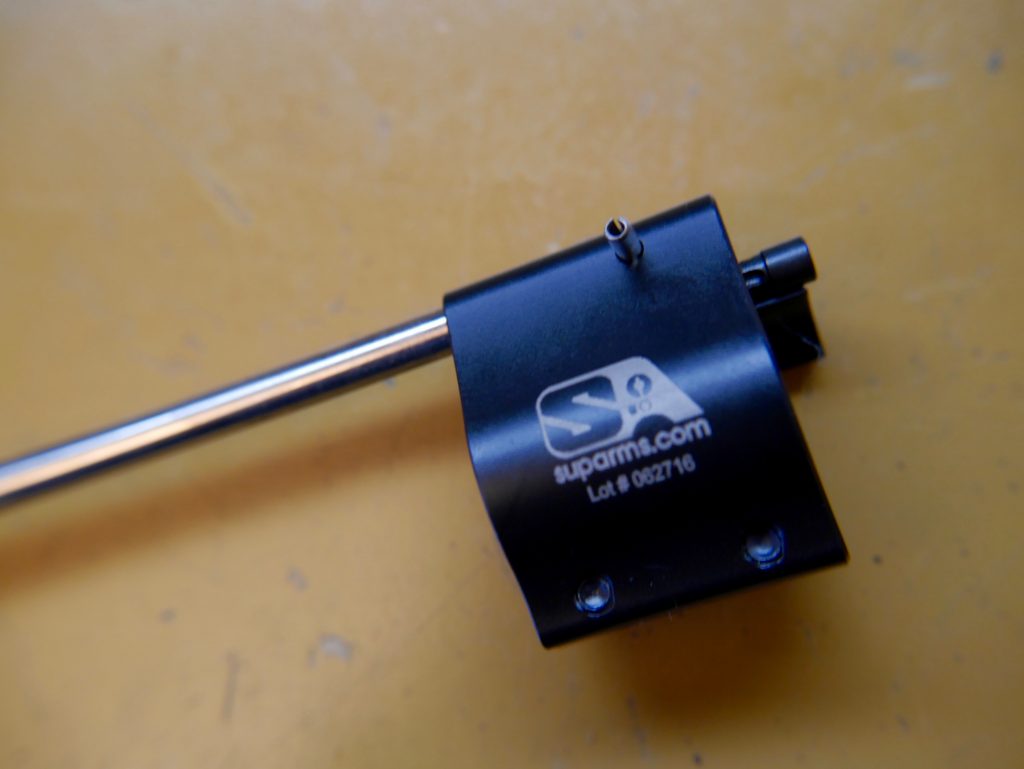 Start the roll pin. I like to scrunch up one end with pliers so it has a smaller point and then lightly tap it in so it just grabs onto the gas tube.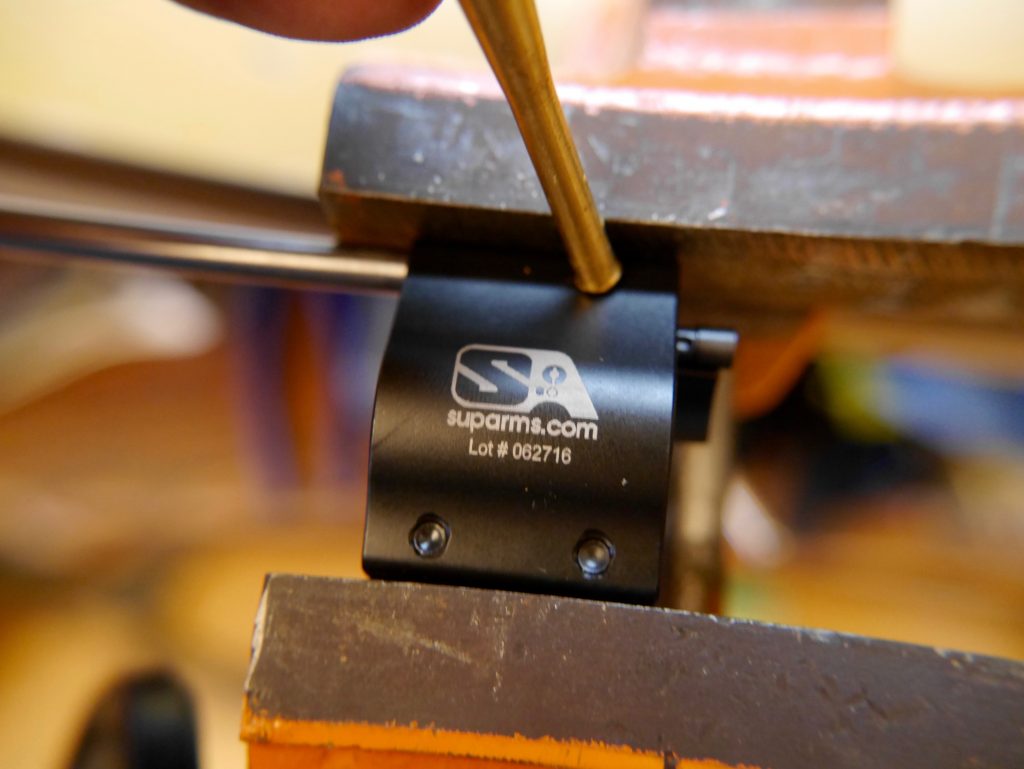 I put the whole thing into the vise (you can put some cloth or plastic on the jaws if you're afraid of marring) and finish the pin.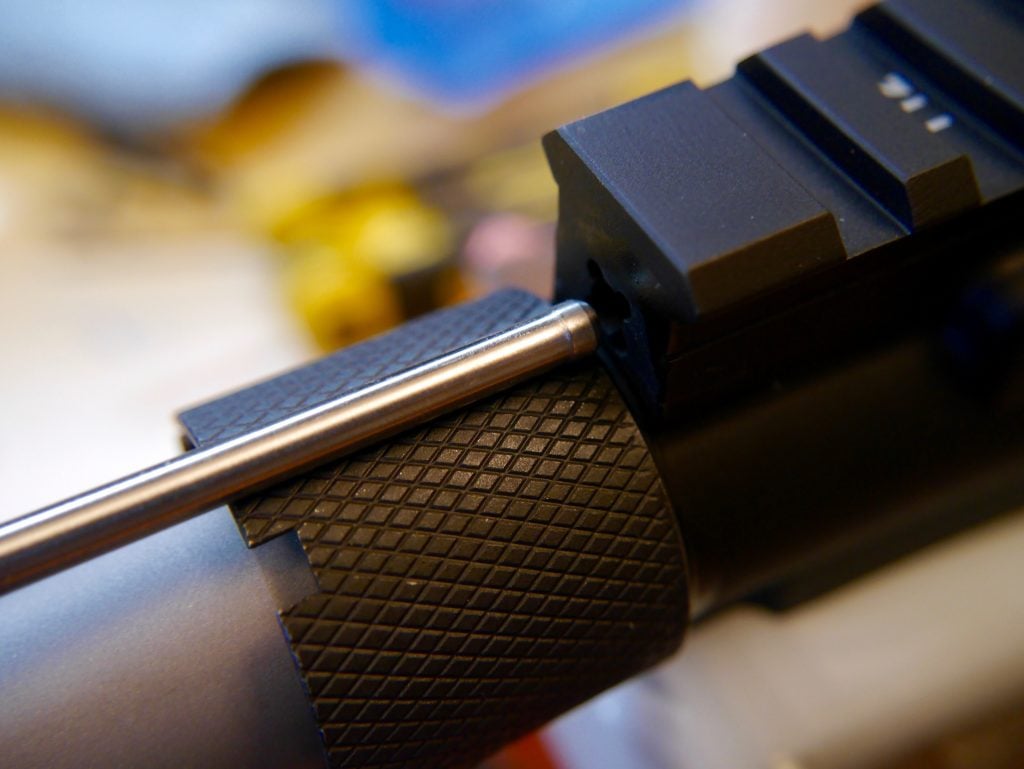 Slide on the gas tube over the barrel.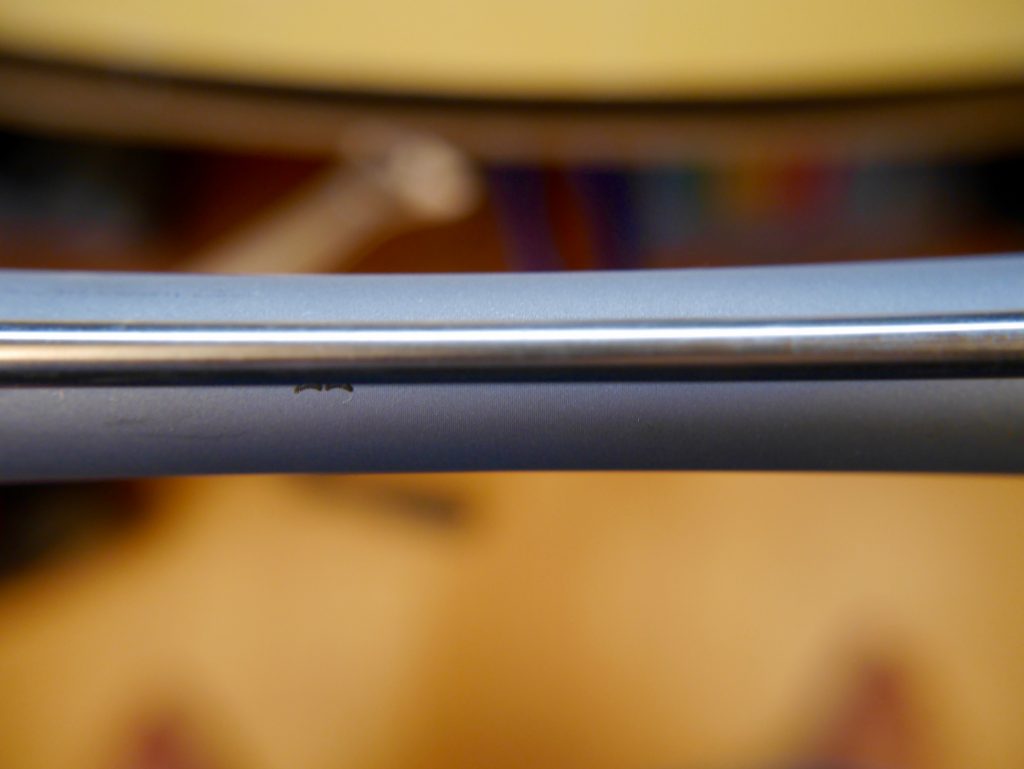 I align it with the words on the barrel (looking straight down).
For those of you who are using barrels without words exactly in the middle, what I suggest is marketing the middle of the barrel using the gas hole as a guide and also marketing the middle of the gas block. Check out the YouTube video above for a better explanation.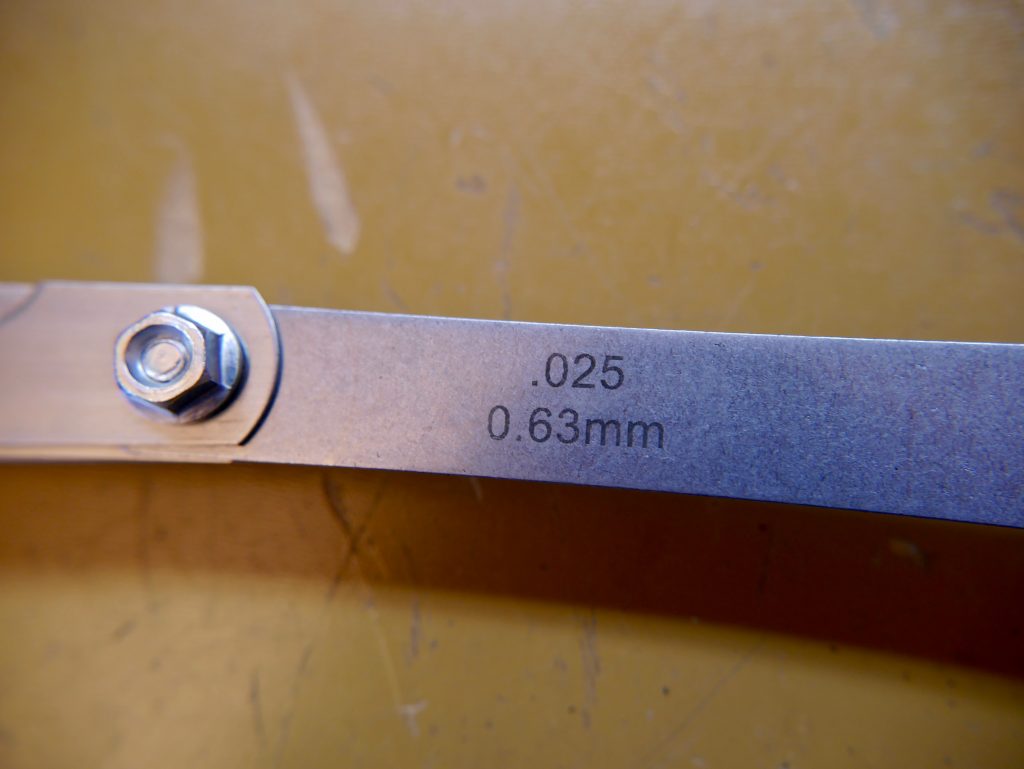 I also use a .025″ space to move the gas block back for the best fit. For a couple builds I never knew about this and everything still worked fine. However, now that I know, I like doing it the real way.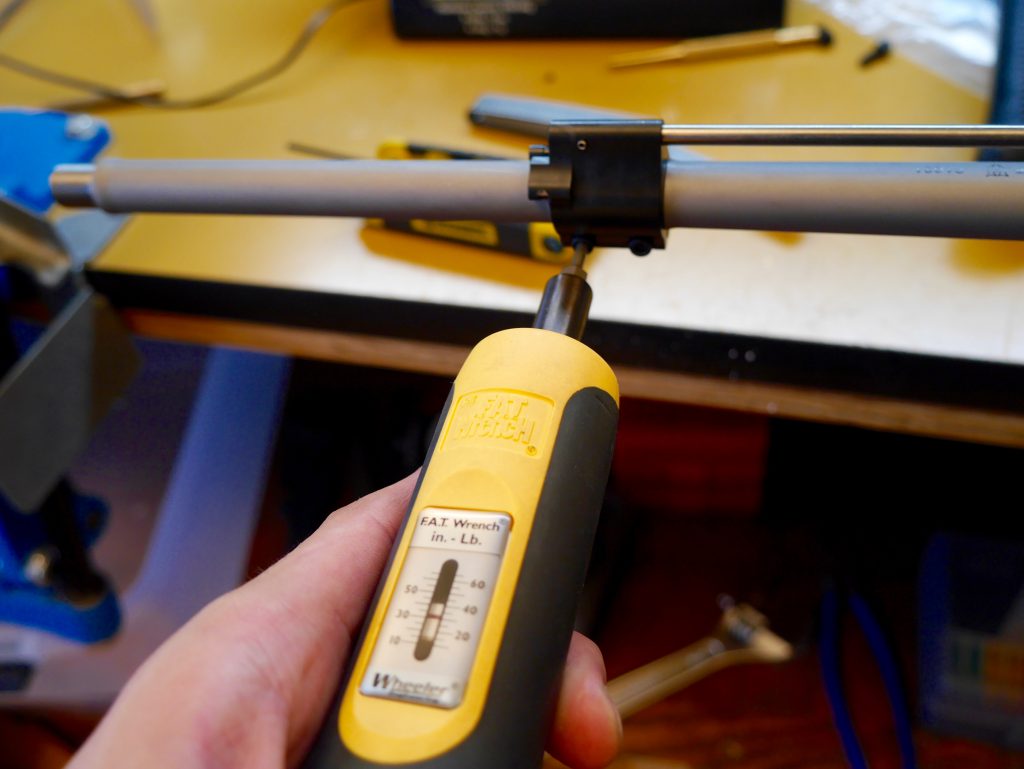 Take out your Wheeler torque wrench, set it to 35 in-lb (according to Superlative Arms, check your specific gas block instructions). Now the torque is even and it should not be going anywhere!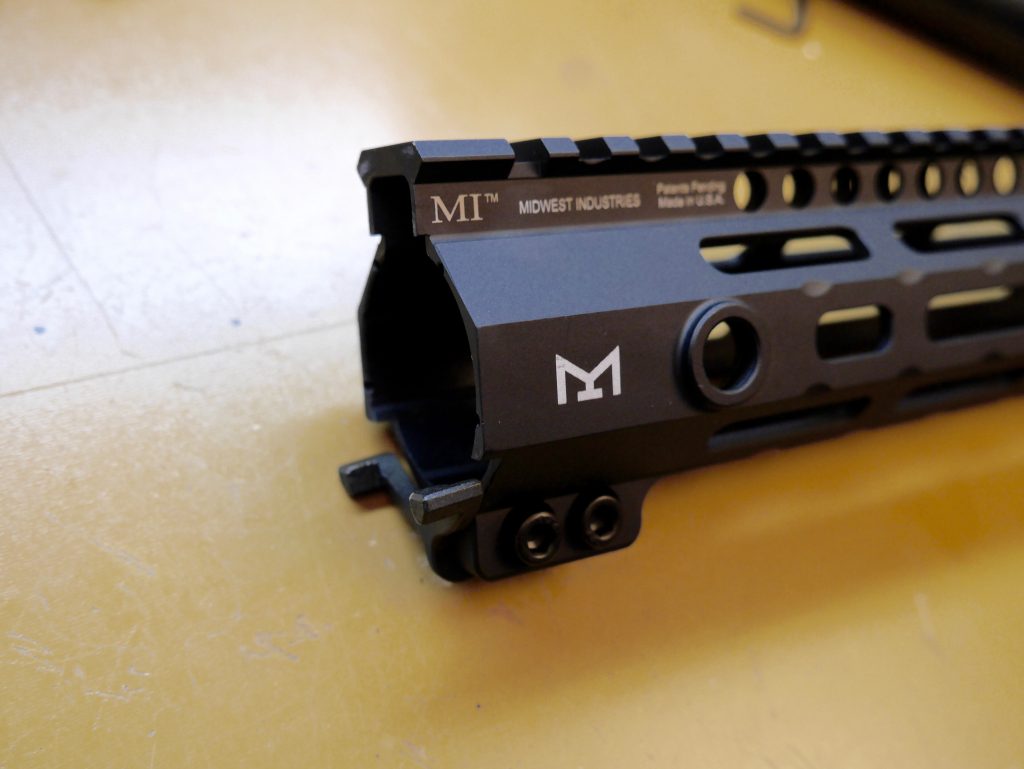 Install your Midwest handguard mounting hardware.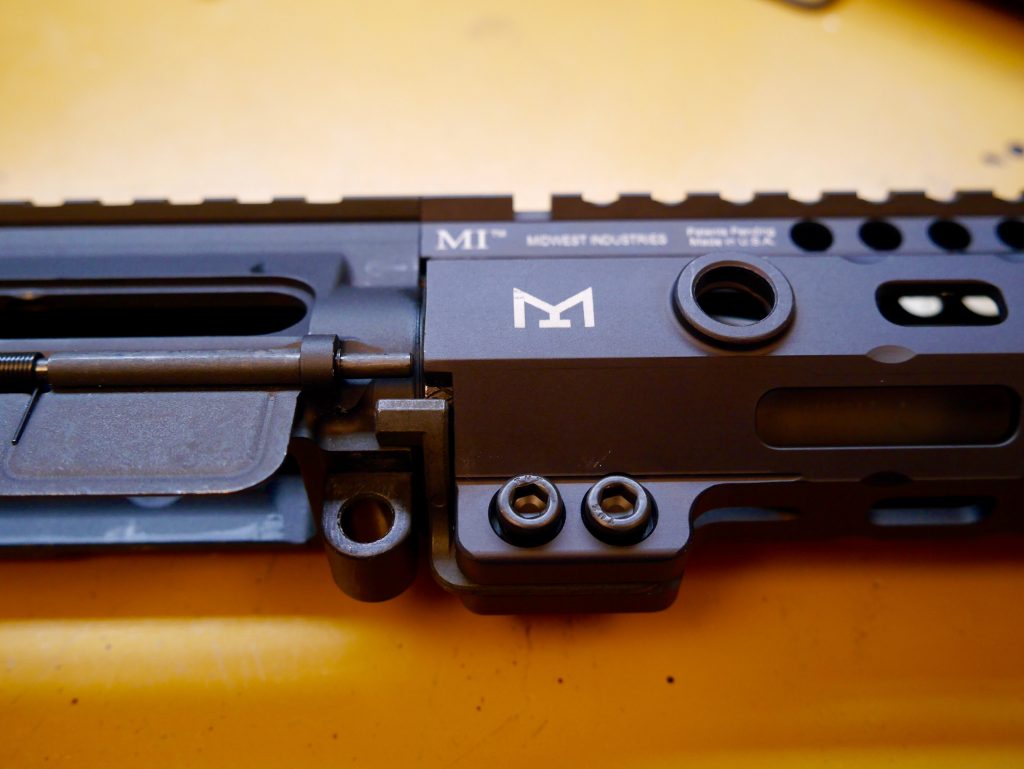 And fit it to the receiver. It should align perfectly. One thing I did figure out the hard way was to make sure the indexing pin thing is completely flush at the bottom near the screws.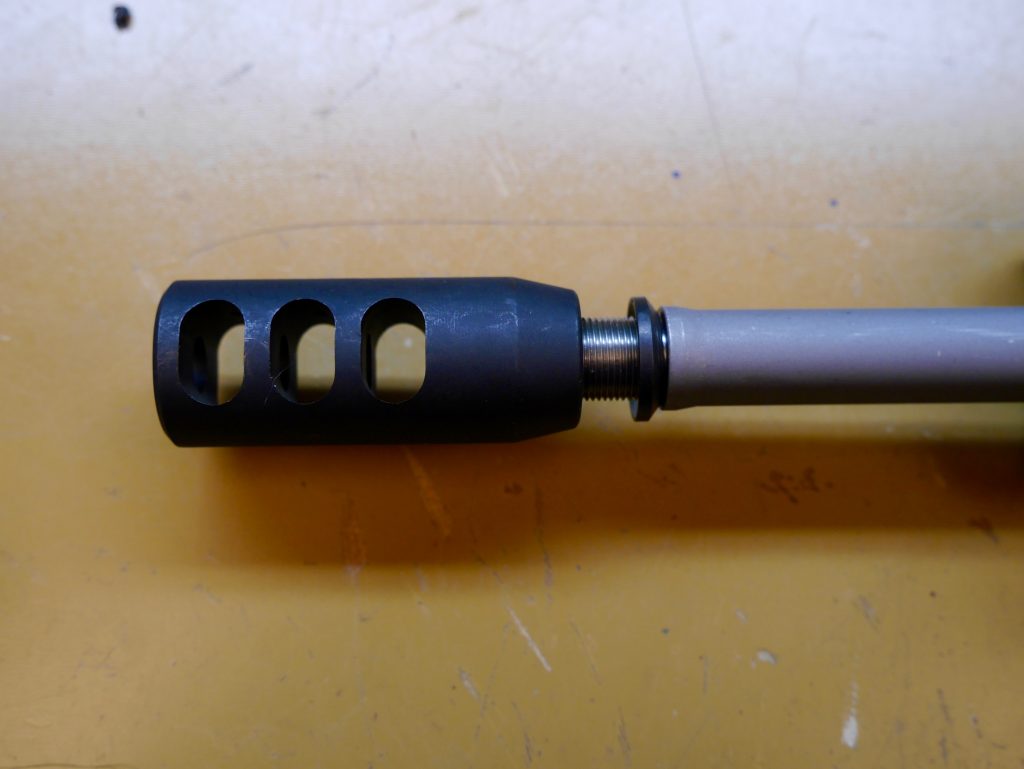 Install your muzzle device and if it does come with crush washers, make sure it's the smaller side towards the barrel.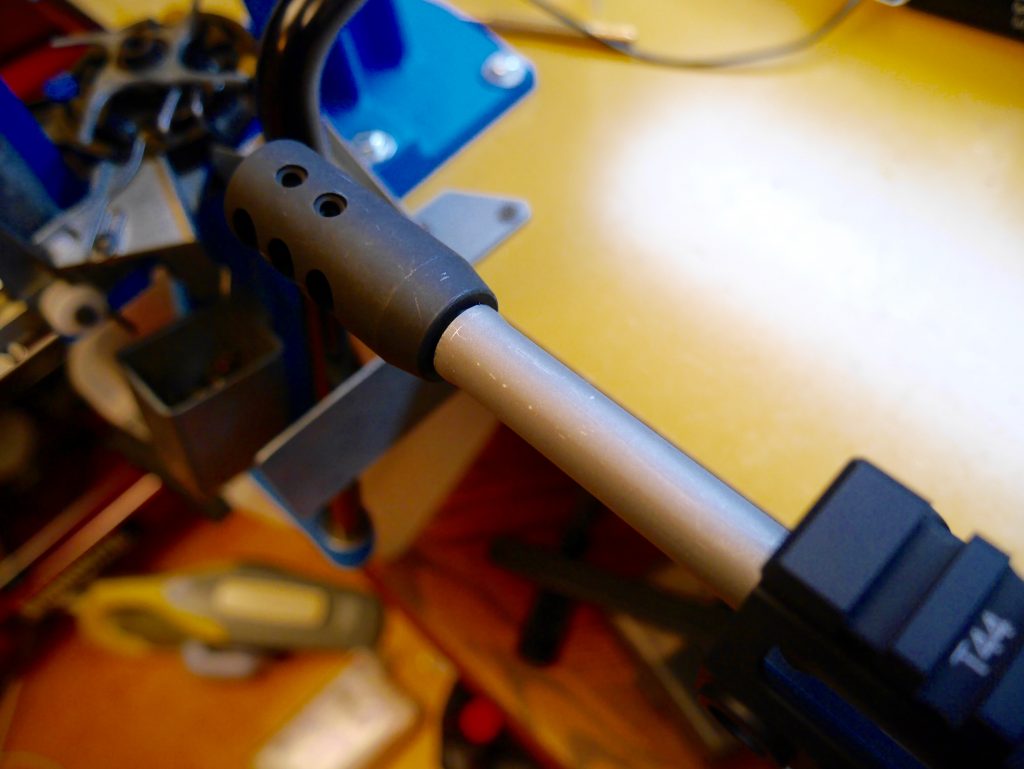 Make sure to use the crush washer! The above shows it without the crush washer since I couldn't muscle it on with just a wrench but then I realized with this particular muzzle device I could place a thick screwdriver through the ports on the side to turn it. Make sure you end up with the top holes aligned like so and the big ports on the side. This is so the majority of the gases are vented to the side (sorry shooting range neighbors) and some are vented to the top to counter muzzle rise.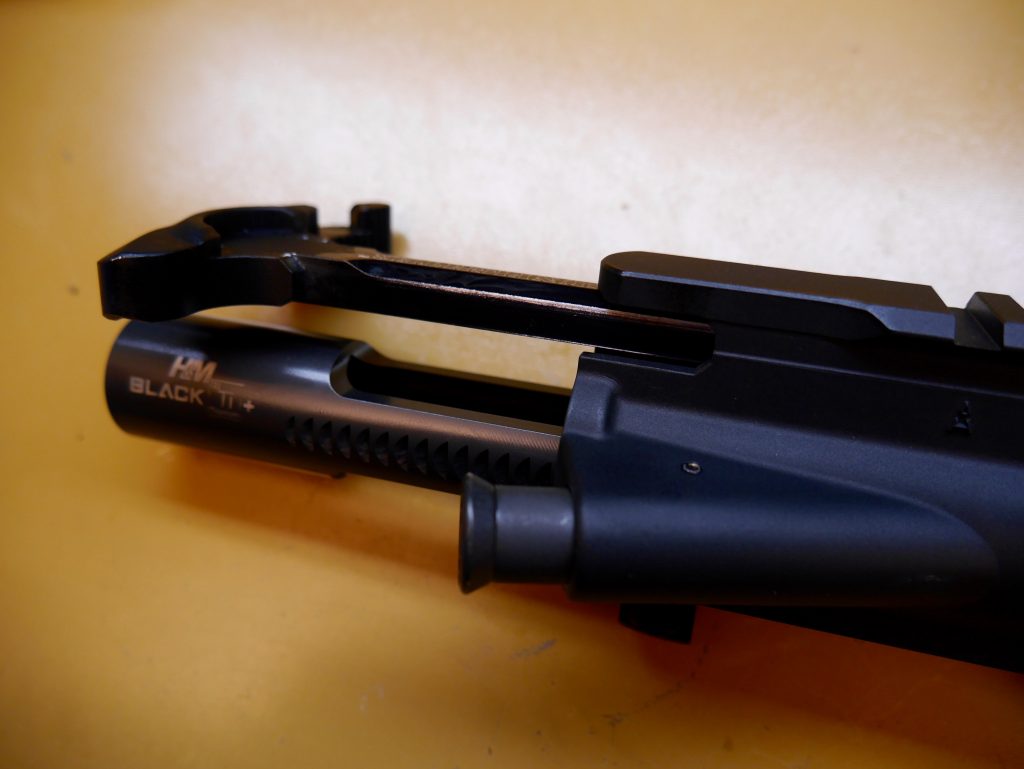 Lube up your BCG and charging handle and you're done! See how it performs (coming soon).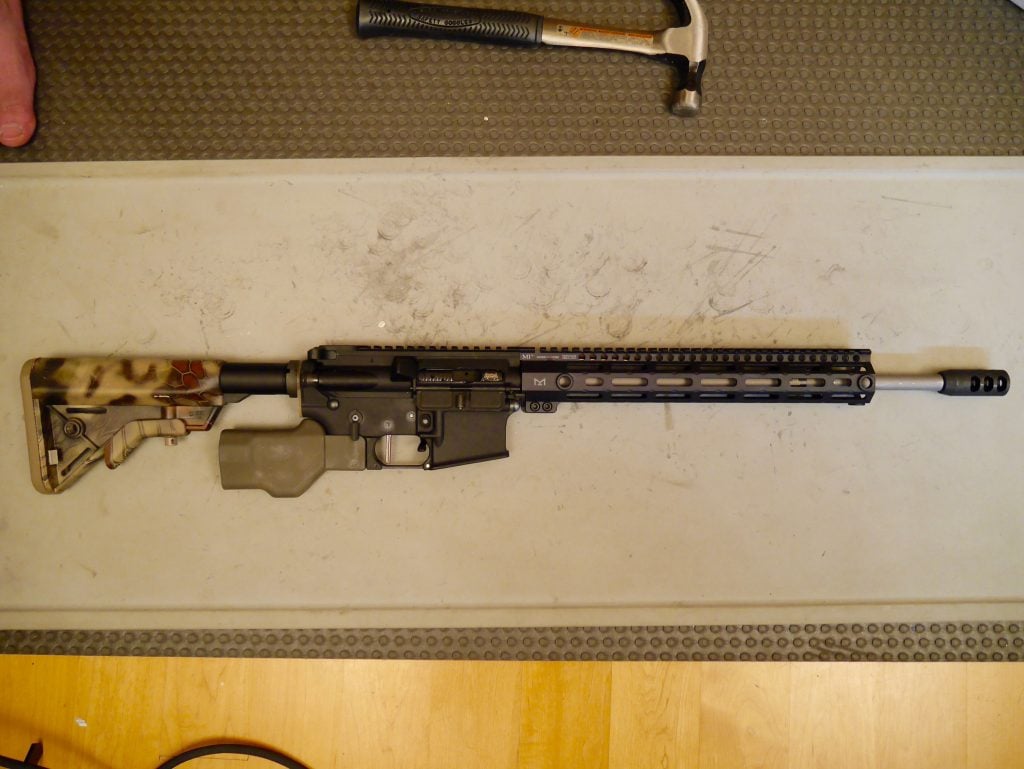 AR-15 Upper Receiver Build #2
This build covers parts that are different from Build #1 but are still fairly common in many builds. This includes a barrel nut that has the gas tube alignment tabs and a set screw based gas block.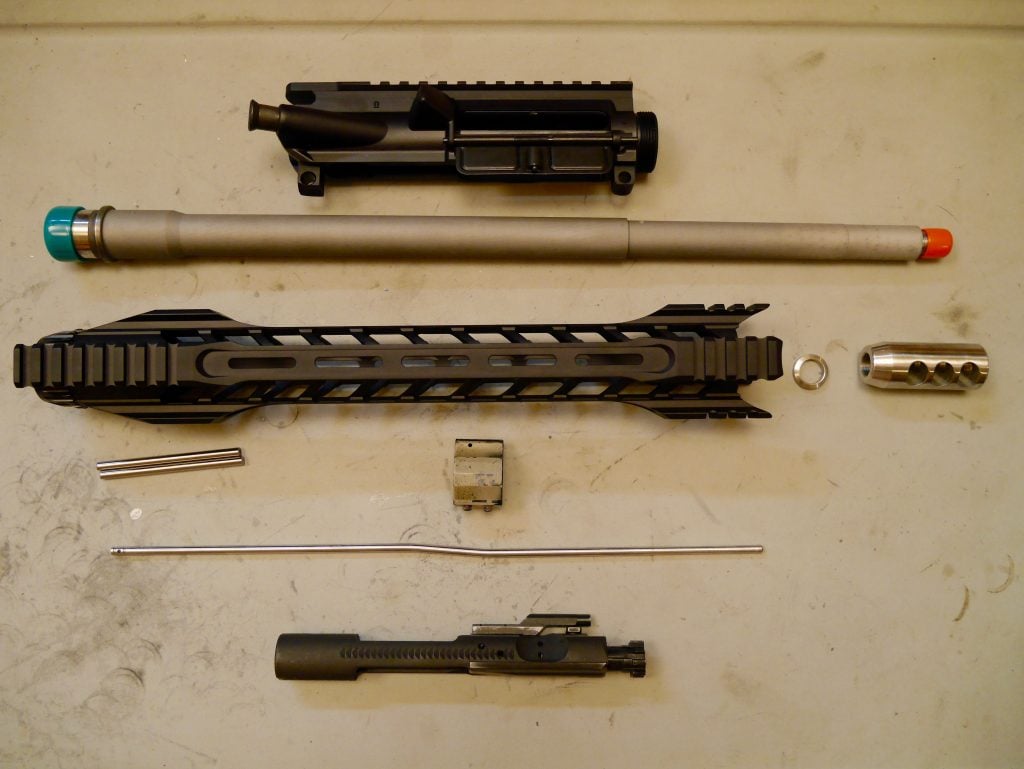 This build is an SPR (special purpose rifle) that is more purposeful around accuracy rather than weight and speed of the previous build. Here's what we used:
Aero Assembled Upper ($100): Now that you know how to install the forward assist and ejection port cover, I could use an assembled upper. My other suggestions for upper receivers.
Rainier Arms 18″ Intermediate Length .223 Wylde Ultramatch Barrel ($380): I chose what has a great reputation for customer service and precision. The longer barrel gives rounds more velocity, while the intermediate length (between mid and rifle) gives an even softer shot, and the Wylde chamber brings some more inherent accuracy. Expensive but should be worth it…see their in-depth review (coming soon).
Intermediate Length Gas Tube ($13): Match it with the barrel gas system.
Fortis Night Rail 14″ ($250): Decided to complete it with a matching Rainier rail since it looked so cool. Going with the M-Lok version and 14″ so I could get some extra length out there for my bipod.
Atlas Bipod ($200): Best of the best…but not shown above.
Seekins Adjustable Gas Block ($60): My previous go-to before I discovered Superlative Arms. But still works great although a little annoying when changing the gas amount.
Bolt Carrier Group: An extra full-auto weight one I had lying around. This build is not for running and gunning so a "normal" one will suffice.
Competition Muzzle Device ($20): I got a stainless version to match that has three ports on the side and 2-3 ports on the top. If you want to go name brand or something other than compensators, check out Flash Suppressors, Compensators, and Muzzle Brakes.
Let's see the build differences!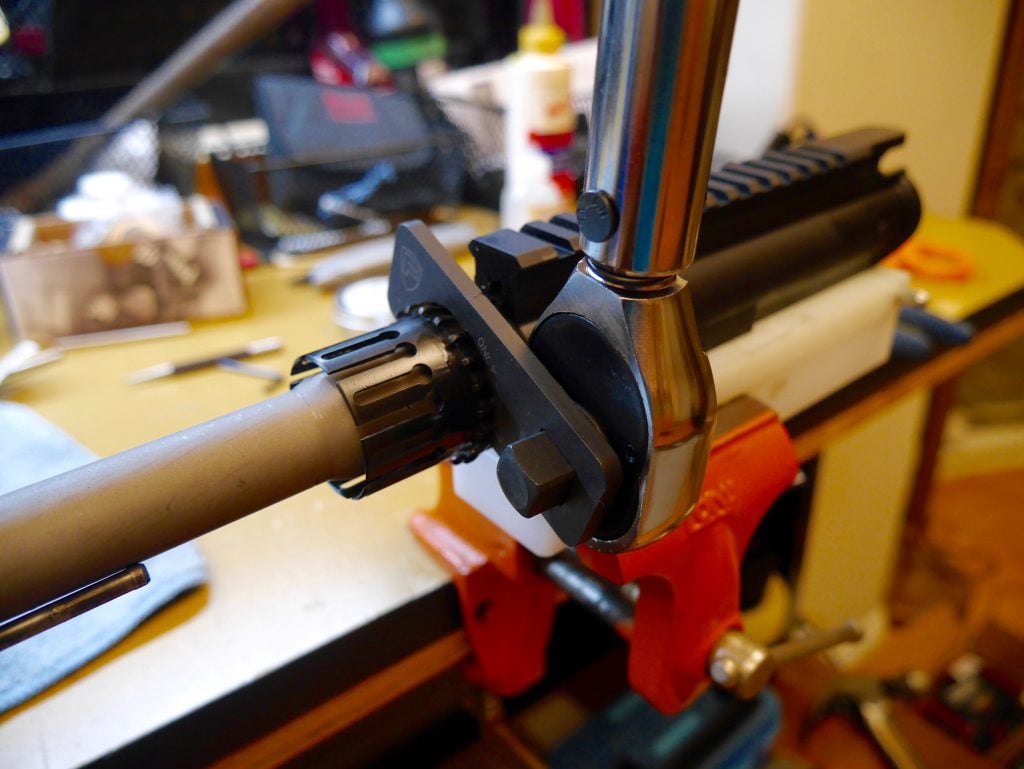 This handguard has a different kind of barrel nut but comes with its own tool still. Bust our your torque wrench and tighten it to 35 ft/lb a couple of times.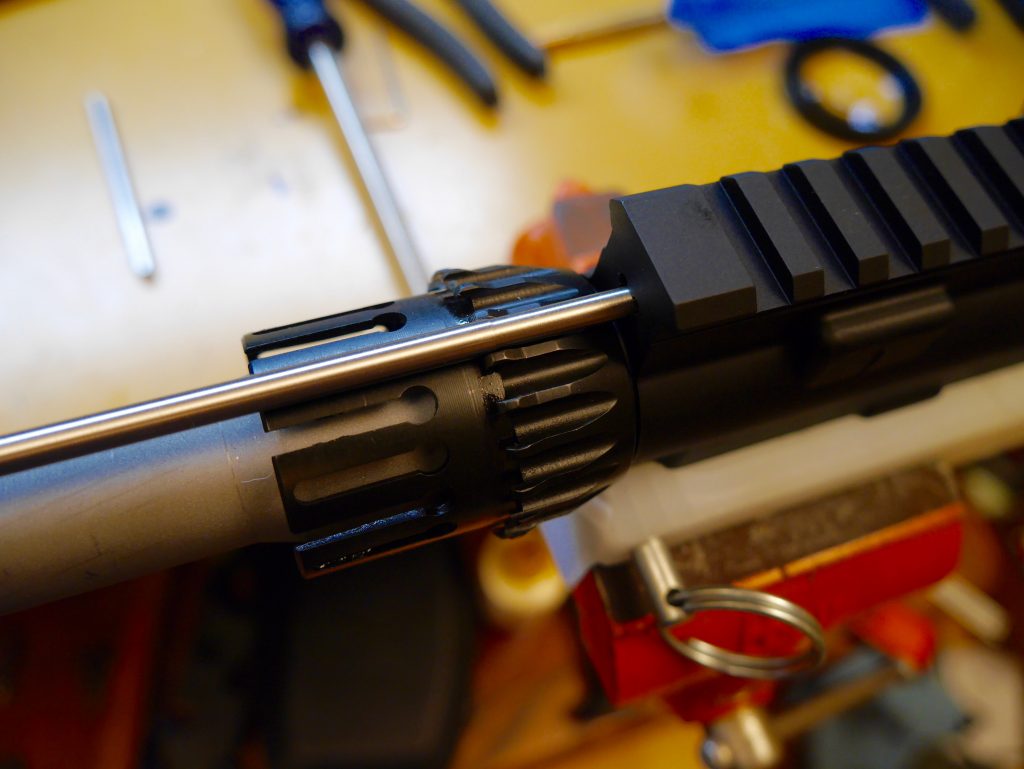 However, this handguard has the dreaded gas tube alignment notches. When you tighten up for the last try, use the gas tube to make sure it's coming out straight.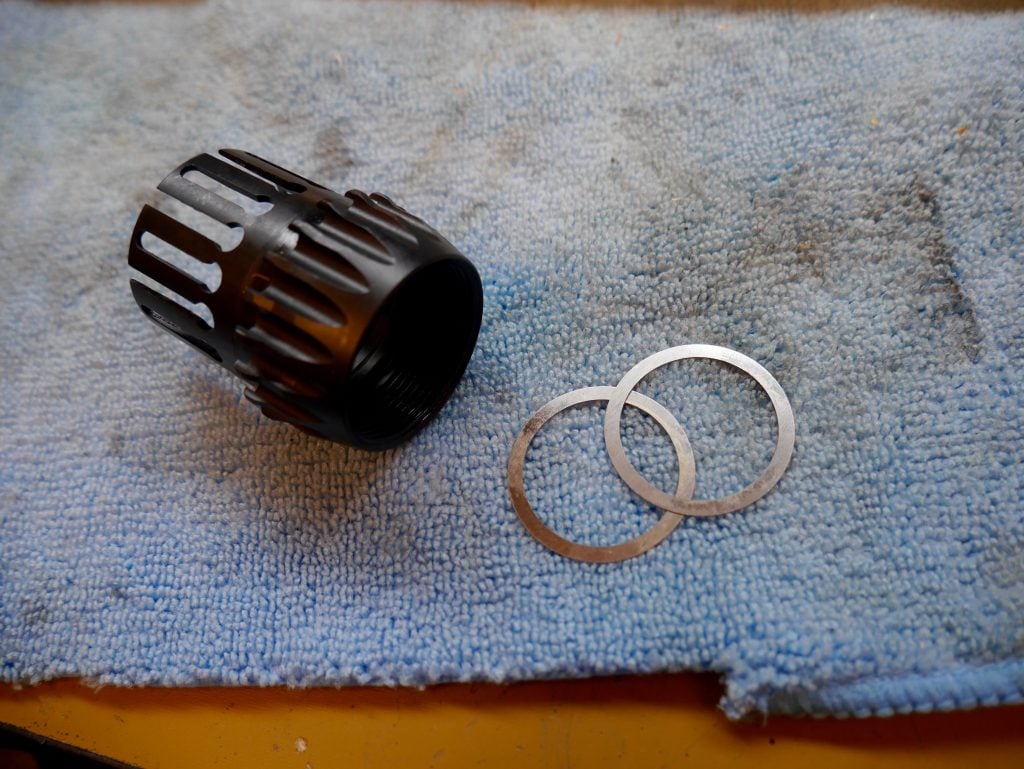 If you're going over 80 ft-lb or under 30 ft-lb to make it work…you will need to use barrel nut spacers. Simply slide those on in front of the barrel nut and the thickness difference will make it work.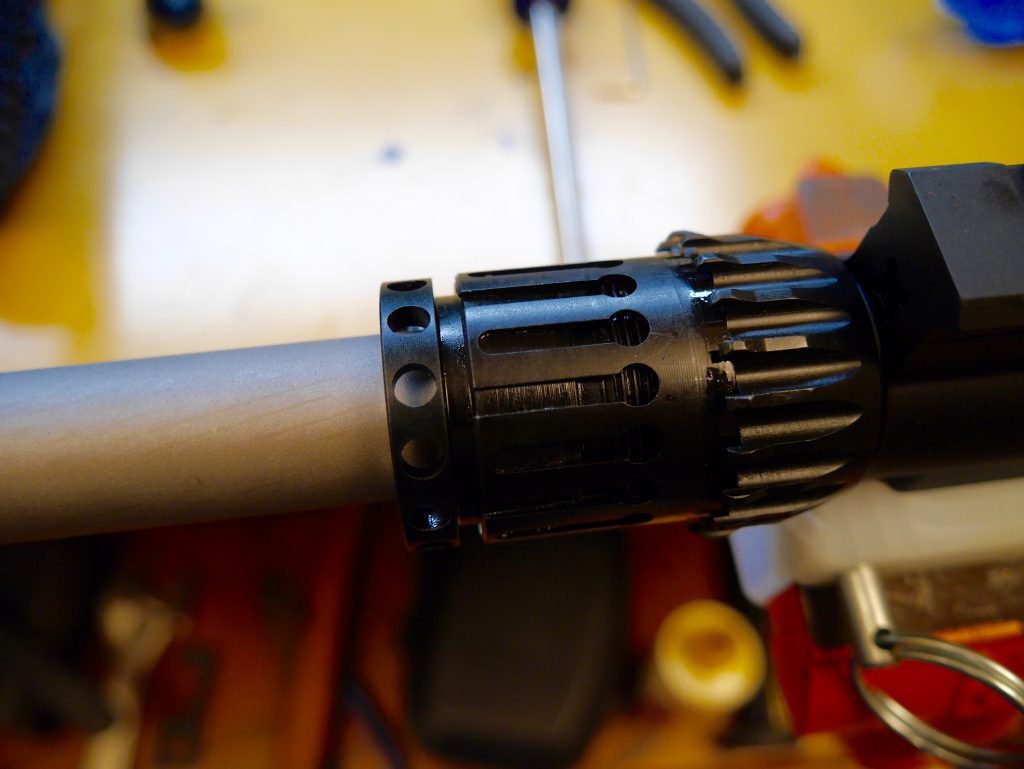 There's a second part that goes into the barrel nut so start threading it on before the gas block. This is what allows for tightening of the handguard at the end.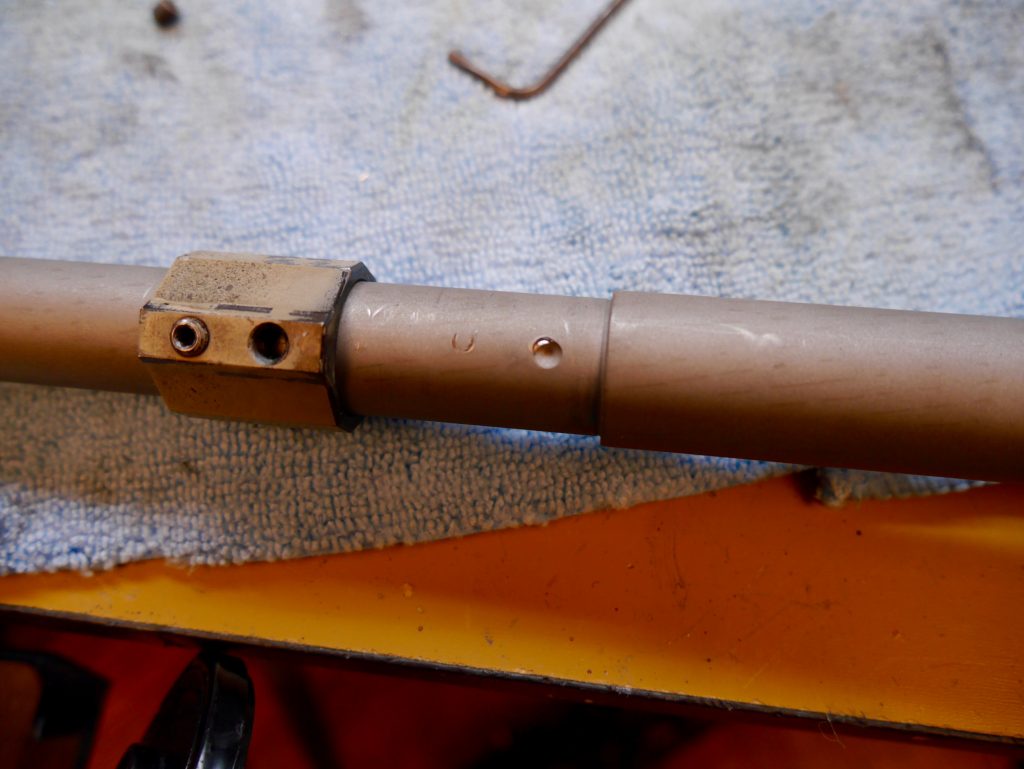 I like this barrel since it is dimpled already so that's why I paired it up with a set screw kind of gas block instead of the clamp one in Build #1. I double-check that it's going in there by first lightly screwing the end screw onto the barrel away from the dimple and noting the depth. Then I move it over the dimple and screw it in while making sure the depth is deeper.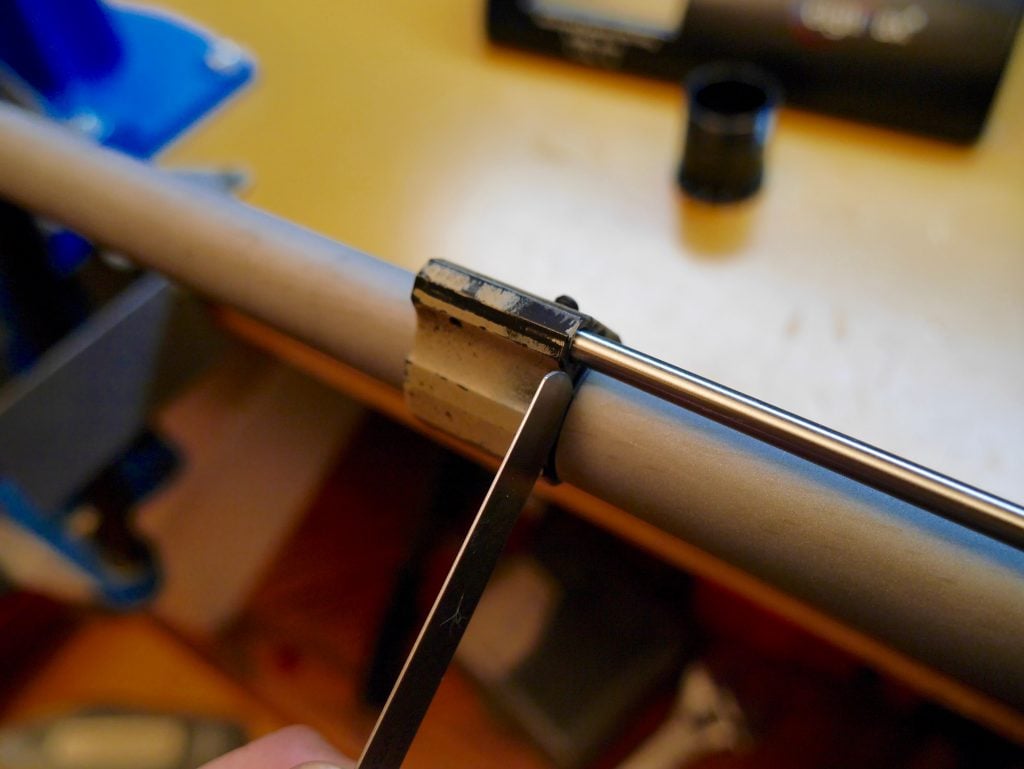 You can also get away with not using feeler gauges since the screw will fit into the dimple but if you have a clamp gas block or just want to double-check.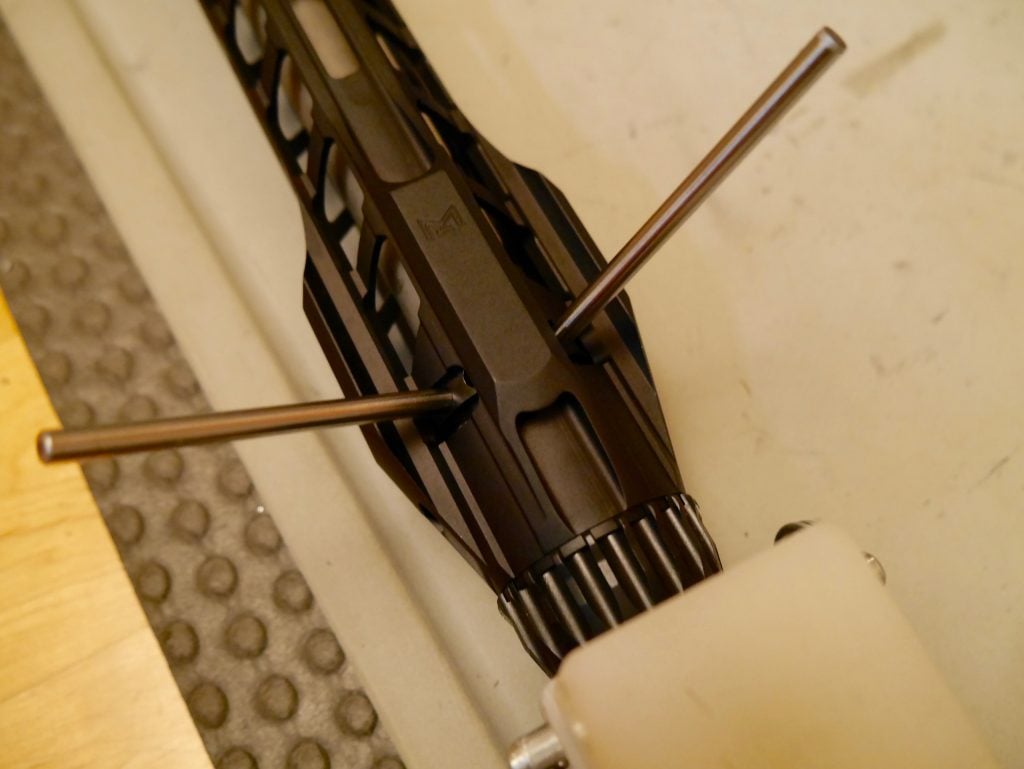 This is definitely atypical for handguards. But remember that the second nut…you tighten the holes with the two included rods. This makes the handguard stay put.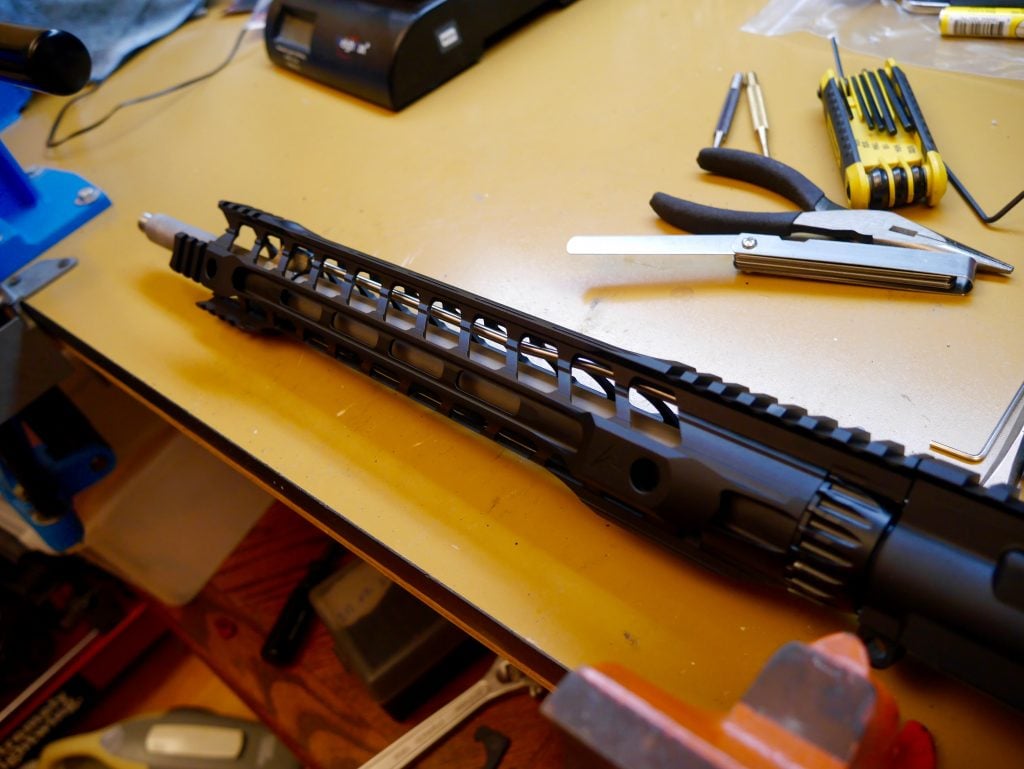 The completed handguard!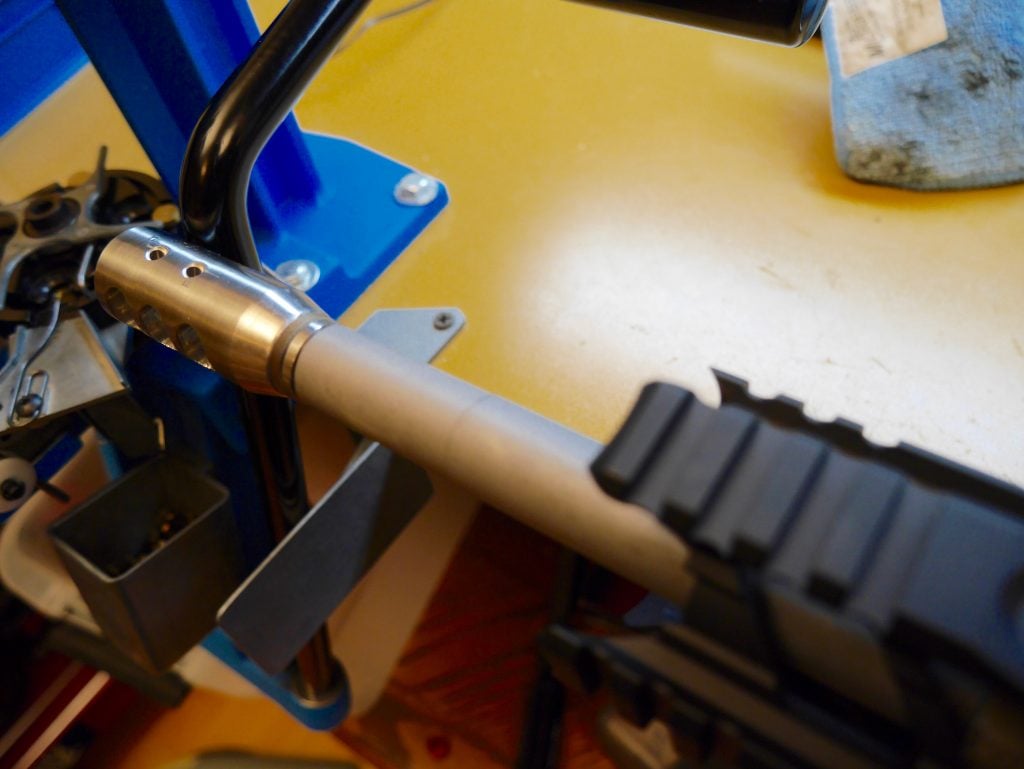 Same as before…I recommend using a screwdriver through the larger ports.
Otherwise, a more name brand muzzle device will have straight edges for a wrench.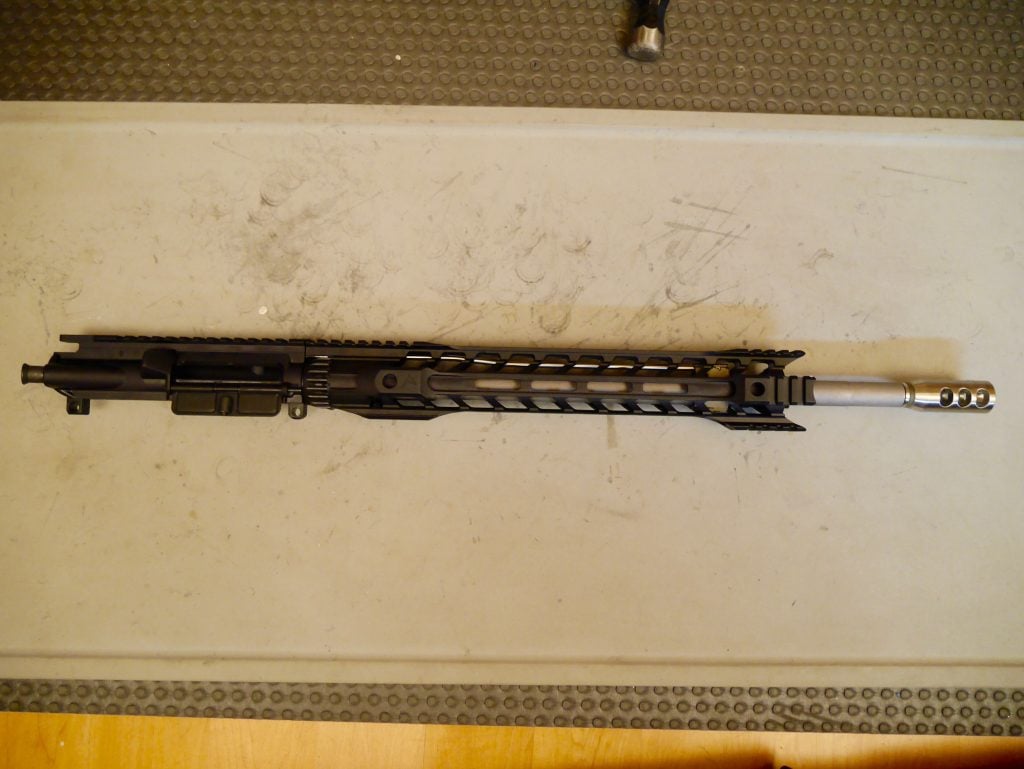 Done! See the awesome shooting groups (coming soon).
Conclusion
That wasn't so hard right?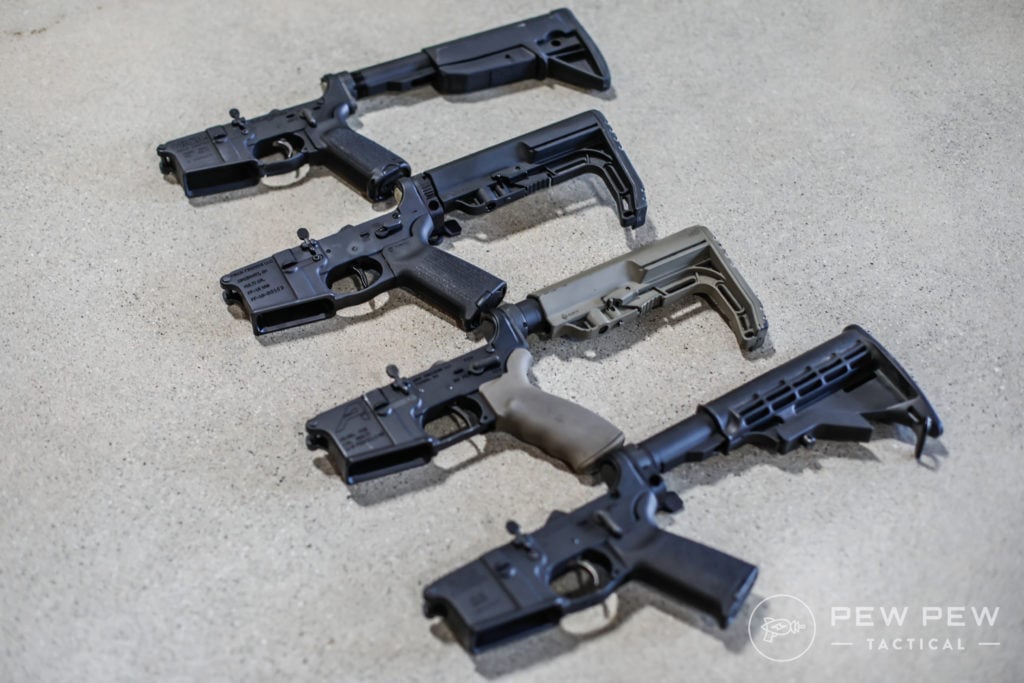 Pair it up with our How to Build an AR-15 Lower and you've built an entire AR-15 by yourself!  
If you're ready to choose all the parts to make your AR-15 perfectly suited to you and your objective…check out the rest of our AR-15 Definitive Resource or for more detailed instructions, check out How-To Install a Handguard and Gas Block.