Want your AR-15 to be the best it can be?
We've built dozens of ARs and we'll cover all the best AR-15 upgrades such as handguards, triggers, BCGs, gas blocks, and more.
Plus, there are individual hands-on articles for each part…so get ready to go down the rabbit hole!
Summary of Our Top Picks
Editor's Pick Muzzle Brake

Best at reducing recoil.

Fastest Trigger

Near zero reset distance, fastest shooting trigger we've seen.

Editor's Pick Mil-Spec BCG

Mil-Spec. Perfect for duty and self-defense.

Best Charging Handle

Easy to use and durable.

Best Ambidextrous Charging Handle

Ambi design for lefties.

Best Adjustable Gas Block

Set screw locks in adjustments.

Best Ambi Safety

Eye catching and easy to use.

Best AR-15 Suppressor

Easy to maintain and simple buying process.
Why Upgrade the AR-15?
After you get some time with a more basic AR, you'll likely start to realize could be improved to meet your specific purpose. And the AR-15 modular system makes upgrading a breeze for most components.
We'll start off first with possible upgrades to the upper receiver group followed by the lower receiver group and furniture. We'll also provide examples of what we think are the best in class for each type of upgrade.
Don't have an AR yet? Check out our Buyer's Guide to the AR-15 first.
Let's get started!
Best AR-15 Muzzle Brakes & Compensators
Brakes, compensators, and their hybrids are a super easy upgrade to help you reduce felt recoil and minimize vertical movement of your gun.
We cover a bunch of the best and most popular ones in our Best AR-15 Muzzle Brakes article…but here are our favorites.
Starting with…our Editor's Pick.
Precision Armament M4-72
The Precision Armament M4-72 Severe Duty is one of the best recoil-reducing brakes…plus it had the least reticle movement after firing.
It barely moves! But beware…it is really loud and will annoy people next to you. Still…it's the most effective.
VG6 Gamma
The Best Hybrid Brake/Compensator goes to the VG6 Gamma.
It's less punishing to your range friends but is also great at recoil reduction and limiting reticle movement.
Strike Industries J-Comp V2
And our Goldilocks Muzzle Device goes to the Strike Industries J-Comp V2.
It's great at recoil reduction…might have some flash-hiding capabilities…and definitely has very little reticle movement.
Oh…and it's around $30-40 only.
Again…see the rest of all the tests (along with more videos of side blasts and live fire) at Best AR-15 Muzzle Brakes.
Best AR-15 Triggers
In our original How to Choose Your AR article, we recommended sticking with the stock Mil-Spec (military specification) trigger and letting it smooth out with use. We still advise that with critical use ARs such as home/self-defense.
As you go with "better" triggers, you're skirting the line between performance and reliability.
And with some guns, you want to make sure they will always go bang. For others, such as range plinking, competition, or precision shooting rigs, you care more about the crispness and lower trigger pull weight.
We'll cover three varieties of aftermarket triggers: upgraded mil-spec, single-stage, and two-stage.
But also check out our complete Best AR-15 Triggers article for all our tested ones.
Upgraded Mil-Spec Triggers
These still maintain the same geometry as mil-spec stock triggers but are polished for a better feel. They maintain the same reliability with slightly better pull weight and crispness.
Trigger Pull Weight: 6 lb 15 oz
Split Time: .20 sec
Summary: Polished and coated mil-spec trigger that gives a much better feeling with less creep and a cleaner break…but maintains reliability.
This is one of our favorite (and easiest upgrades). What do you think of an upgraded AR trigger? Let us know below!
Single-Stage Triggers
These are very crisp triggers that move back in one movement with a lighter trigger pull.
Rise Armament RAVE 140: The best bang-for-the-buck upgrade at under $100 for a drop-in single-stage trigger that dramatically makes your AR-15 feel so much better.
Trigger Pull Weight: 4 lb 2 oz
Split Time: .16 sec even with my stutter
Summary: Most affordable drop-in trigger with a lighter than mil-spec trigger pull, small take-up, clean break, and good reset
Timney Competition Trigger: A huge name in the AR-15 trigger world is Timney. And I love their Competition Trigger, which comes in at 3.5 lbs of crisp goodness.
Trigger Pull Weight: 3 lb 5 oz
Split Time: .205 sec, which is decent
Summary: Love the almost non-existent pre-travel combined with a clean break.
Timney Calvin Elite: If you want the absolute lightest trigger…you get the Calvin Elite which comes in at an astonishingly low 1.5 lbs. Truly a hair trigger for you competition shooters out there.
Trigger Pull Weight: 1 lb 9 oz (lightest)
Split Time: .115 sec (fastest)
Summary: The lightest and fastest shooting for me…plus the most adjustable. I would make sure to Loctite all the adjustment screws since there's a lot of potential for things to become loose.
We liked our Timney Triggers so much that we even made a YouTube video on the two:
Want the fastest shooting trigger with near-zero reset distance? It's all about the Blackout Defense Zero.
It comes in 3 and 4.5-lb models for both the AR-15 and AR-10. Check it out in action:
Still with us? Let's move on to two-stage triggers!
Two-Stage Triggers
While single-stage triggers require all the force to engage, these two-stage triggers allow you to take up most of the slack in the first stage before requiring just a little more pressure to fire on the second (about 1 pound).
Thus, two-stage triggers are normally reserved for precision rifles but, when pressed quickly, act just like single-stage triggers.
You can choose varying combinations of force required to "set" the trigger and the final force to "release."
Geissele SSA-E Trigger: Geissele is a well-known name in the competition trigger world, especially for their two-stage triggers. Good choice of types of triggers and different weights. Also, check out their budget model, the G2S ($140).
PSA Two Stage Trigger: For the more budget conscious…the PSA version is very similar to the Geissele and comes in at half the price.
Trigger Pull Weight: 4 lb 7 oz (listed is 3 lb 8 oz total)
Split Time: Not timed, but seemed respectable
Summary: Great deal in the realm of 2-stage triggers if you don't want to spring for the TriggerTech or a Geissele. I pair this up with my PSA AR-10 precision builds.
Trigger Pull Weight: 3 lb 3 oz to 7 lb 2 oz (listed is 2.5 to 5.o lb)
Split Time: .24 sec, but 2-stage triggers are mostly for precision work
Summary: Very nice first stage that's reminiscent of 1911s that leads to a clean light break and minimal over-travel. Good reset to the end of the first stage if you're shooting slowly.
Again…see all the triggers we tested in our Best AR-15 Triggers article…complete with videos of us firing and split times.
To test your trigger pull weight, check out our recommendations for the Best Trigger Pull Gauges.
Best AR-15 Drop-In Handguards
We'll focus on two types of handguards, drop-in and free float. We cover this in much more depth in our Best AR-15 Handguards section. But here are our top selections.
Drop-in handguards are when you have a delta ring on the receiver and a fixed front sight base.
You're limited in the established length from the receiver to the FSB. Drop-in handguards are also in two pieces so they can fit without removing the barrel, delta ring, or FSB.
You also have to make sure you get the proper length for your gas system.
Magpul MOE Handguards
Price: $27
Length: 9.2″ (Mid-Length)
Total Weight: 8.7 oz
Probably the most ubiquitous drop-in handguard due to its weight, affordability, and looks. Comes in several colors and all the normal gas lengths: carbine, mid-length, & rifle.
Midwest Industries Two-Piece Drop-In Handguards
Price: $130
Length: 9″ (Mid-Length)
Total Weight: 6.6 oz
Aluminum rail options for the different gas lengths. Pricier but from a reputable company. We run multiple versions of their free-float handguards.
Troy Industries Drop-In Quad Rail
If you're looking for a quad rail system, here it is. Comes in a variety of gas system lengths.
Price: $160
Length: 9″ (Mid-Length)
Total Weight: — oz
Best AR-15 Free-Floating Handguards
Free-floating handguards connect only to the receiver and do not touch the barrel. This increases accuracy since there's nothing interfering with the barrel, such as the stock, grip, or accessories.
You can also choose the length of your handguard to be much longer to accommodate an extended grip and hang extra accessories. Just be sure to measure your barrel + muzzle device so you order the right length handguard.
My personal recommendation is for a 12″ or 13″ handguard, which will give you enough space for almost any arm position. Plus, I prefer M-LOK over KeyMod. Looks like US Special Operations Command (USSOCOM) agrees too.
The trend is moving towards just Picatinny rails on the top instead of quad rails (all around) to reduce weight. And then just adding on rails where needed for flashlights, grips, etc.
Again, here are a few of our top choices. For more, see our Best AR-15 Handguards article.
Aero Precision ATLAS
Price: $140
Length: 12″
Handguard Weight: 7.0 oz
Barrel Nut Weight: 4.7 oz
Total Weight: 11.7 oz
One of my favorites due to the weight savings from the removal of the top Picatinny rails. Plus, the front taper perfectly fits my thumbs.
Note that since it's curved, you will not be able to run a pressure switch for your lights/lasers.
Here it is on an Aero upper I love (full review).
They now also have a version that has the entire top rail if you need more space.
STNGR VYPR
My current favorite for the price is the STNGR VYPR.
It's missing vowels but it makes it up for great fit/finish/color…and price.
I also like the aggressive design but was initially wary since the top cuts seemed a little too large.
But after multiple mags (and other shooters)…my fear was mitigated.
Plus, they also have packages with comfy and cool-looking rail covers.
The reduced-rail VLCN has also become the basis of our night vision build…so that's pretty much the best rec I can give!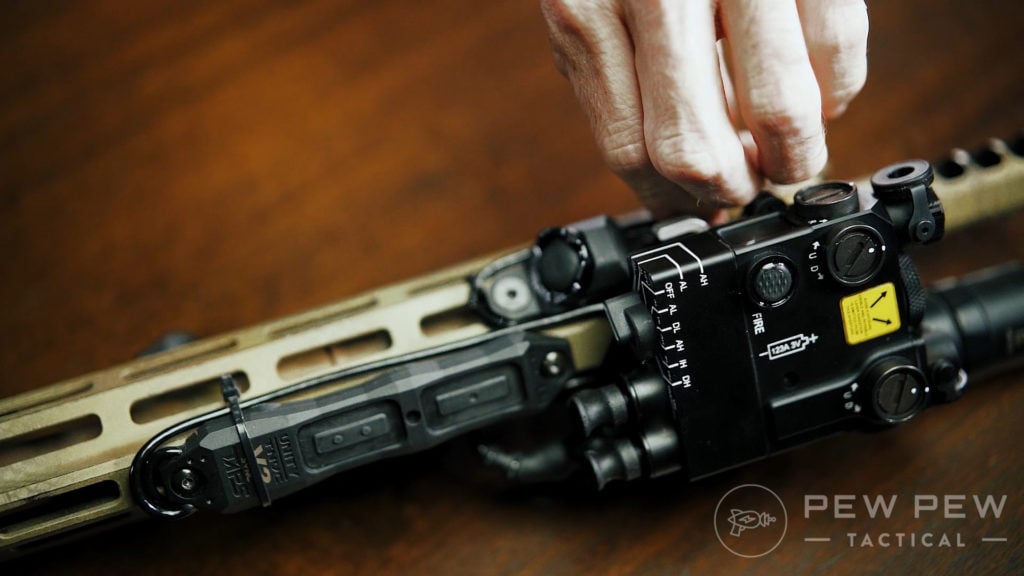 Price: $139
Length: 15″
Total Weight: 11.5 oz
Yankee Hill Machine Quad Rail
Price: $119
Length: 12.58″
Total Weight: 15.2 oz
If you're still looking for a quad rail…YHM has got you covered. A little heavier, but you get tons of real estate to put anything your heart desires.
Brigand Arms Carbon Fiber
Price: $296
Length: 12.4″
Handguard Weight: 2.9 oz
Barrel Nut Weight: 1.4 oz
Total Weight: 4.3 oz
Literally, the lightest I've ever felt…and still plenty strong. But you gotta pay to play. This was the winner of the Lightest Handguard roundup.
Best AR-15 Bolt Carrier Groups (BCG)
If Whatever BCG came with your rifle has run fine, it will likely continue to run fine.
But if you're dead set on fixing something that isn't broken, or if you're building a new rifle…check out Best AR-15 BCGs.
You can take a look at new coatings or lighter-weight profiles for BCGs.
Here are a couple of our favorites.
BCM M16 BCG
The go-to for mil-spec that will always go bang. If it's a duty or self-defense rifle, I suggest going with a BCM.
WMD Guns Nickel Boron BCG
Want something slicker and easier to clean? Check out this Nickel Boron coated BCG from WMD. Plus, the silver looks cool showing through your upper.
PSA BCG
This is what I'd use for a budget build. They are available in both phosphate and nitride coatings. The phosphate coatings are a little bumpy but they've always gone bang.
Brownells Lightweight BCG in Titanium Nitride
This one is a double threat.
Lightweight to go with an adjustable gas system for less recoil..remember the BCG is a big hunk of metal moving in your gun.
And if you're upgrading…might as well go with a different coating.
Rubber City Armory Titanium BCG
Want the same BCG profile but still the weight savings? I use the RCA Titanium BCG in my race gun for reduced recoil.
Check out the rest of the BCGs we love in Best AR-15 BCGs…or go straight to Best Lightweight BCGs for the competition shooters out there.
Best AR-15 Charging Handles
One of those upgrades that you were fine without…but now that you've experienced it…you wonder how you could have ever done without it.
Every one of my serious rifles has an upgraded charging handle for easier and more robust bolt manipulation. See the whole batch in Best AR-15 Charging Handles.
BCM Gunfighter Charging Handle
The OG and one that goes on every one of our competition/defensive rifles. Makes it much easier to rack the charging handle without worrying about flex or premature wear.
We've tried the cheaper options of just switching out the latch, but it just doesn't feel as robust. We go for the medium-size Mod 4 for the balance of ease of use and potential to snag.
Radian Raptor (Ambidextrous)
The most robust and smoothest ambi charging handle out there. But it will cost you.
Now let's move on to upgrades you can do to the AR-15 lower…
Radian Raptor LT (Ambidextrous)
A newer kid on the block…this is the "light version" of the ambidextrous Raptor. More affordable and lighter.
Especially useful if you're a lefty or like to use your right hand to brass check. Only a couple of bones more than the BCM, and you upgrade to ambidextrous controls.
We cover a bunch more charging handles for affordability and even for suppressed use in Best AR-15 Charging Handles.
Overwhelmed yet? We're almost done!
Best AR-15 Barrel Upgrades
You might consider a barrel upgrade if you've worn out your barrel or if your current profile/length isn't up to par for your purpose. Or you're doing a new build!
For more accuracy-related tasks, you might consider a heavier contour which makes the barrel stiffer and more resistant to accuracy drop-offs due to heat and barrel whip.
If you're wanting to reach out farther, you might consider a longer 18″ or 20″ barrel for that extra boost in velocity. Stainless steel barrels are also known for being more accurate but at the expense of a shorter life (and more expense).
Or if you're looking to cut back on weight and looking at sub-300 yard distances, you could go for a lightweight profile and drop to the standard 16″ or even 14.5″ with a pinned muzzle device.
And for critical use rifles, we would suggest both MP/HP tested barrels for that extra margin of safety.
For those looking for a softer shooting AR-15, you could look for a longer gas length, such as moving up to mid-length from a carbine. The extra length gives more space/time for gas pressures to lower before cycling back.
Recommended AR-15 Barrels & Manufacturers
We cover all of our favorite manufacturers and specific barrels in Best AR-15 Barrels…but here's the gist:
Faxon Firearms: My go-to barrel manufacturer. These are accurate, affordable, and have a specific Gunner profile. Made in-house with their aerospace manufacturing background. Great across the board for 16″, precision, short, and other calibers.
Ballistic Advantage: Another in-house manufacturer that has a proprietary Hanson profile that reduces barrel whip. I currently have one in my competition rifle. Also great for other calibers.
BSF: Did someone say carbon fiber?
Again, for a lowdown on everything barrel…check out our Best AR-15 Barrels Guide.
Best AR-15 Gas Blocks
Having a low-profile gas block allows you to put on a free-floating handguard which unlocks better accuracy and more rail space for your grip and accessories.
Some gas blocks will also be adjustable so you can tune your rifle to your specific ammo to create a softer shooting AR.
Be sure to match up the diameter of the gas block to your barrel profile. Light profile is .625″, normal is .750″, and heavy profile is .936″. Also, make sure to have the appropriate length gas tube if you are not reusing your old one.
If you have a front sight base barrel, it is extremely difficult to remove and can result in a bent barrel if done improperly. We recommend taking it to a gunsmith or just shaving it down yourself to have a makeshift low-profile gas block.
Recommended AR-15 Low Profile Gas Blocks
Superlative Arms Adjustable Gas Block: My new favorite because you can easily adjust without taking off your handguard plus it bleeds the excess gas forward instead of all over the place like other adjustable blocks.
You can check out our full review here.
Best AR-15 Ambidextrous Safeties
For the lefties out there or for poor Californians running "featureless" AR-15s who need to be able to flick their safety on the right side.
Battle Arms Ambi Safety
Lower profile safety lever on the right side that won't interfere with right-handed shooting. What we run in our competition guns.
Seekins Ambi Safety
Or if you're looking for some flair and quality. Plus, these work best with Featureless AR Builds.
Best AR-15 Suppressors
We've got an entire article dedicated to Best AR-15 Suppressors since it's way too much info for an overview article.
But if we had to choose one…it'd be the Silencer Central Banish 30. It's titanium, multi-caliber, and user-serviceable.
Plus blowback is way less than other suppressors…and it's super quiet.
Again…check out all our picks in Best AR-15 Suppressors, which will walk through how they work and how to buy one.
Miscellaneous AR-15 Upgrades
Law Tactical Gen 3 Folding Stock Adapter
Want to make your AR carbine or pistol the tiniest it can be?
You'll want the Law Tactical Gen 3 Side Folder Adapter, which lets you fold the buffer tube & stock over to the side…then quickly flip it back into place when you need to shoot.
For this…the best explanation is with a short clip:
There are other companies that make something like it but Law Tactical is our current favorite. Just be sure not to fire with it folded back.
Magpul B.A.D. Lever
We love the B.A.D. Lever since you can manipulate the bolt release using your right hand and not resort to hitting the paddle with your left hand. Also great to easily lock your bolt back during cease-fires at the range. Great for competitions and what we have on all our AR-15s.
Plus, they are super easy to install.
OuterImpact Adjustable Co-Witnessing Red Dot Adapter Mount
While the name is a mouthful, what this product does is pretty simple. OuterImpact has a few products that are all about giving you options.
This red dot mount is essentially a riser that includes their super-adaptable plate. It allows you to mount up a wide array of optics to your rifle.
They didn't stop there. OuterImpact designed the riser to be adjustable in height, offering co-witness, lower 1/3, and multiple points between. Shooters can set it how they like.
Final Thoughts
That should get you through most of the major upgrades for the AR-15. But there are still tons of things to upgrade!
What are your fave upgrades? Let us know in the comments below. If you're planning on upgrading a lot…you might be better off building your own. Check out how with our AR-15 Resources Page.