Have you noticed something changing about concealed carry guns?
They seem to be getting bigger…and holding more rounds.
Let's call it the P365 effect.
One of the brands taking note of this shift in the market is Springfield with their new Hellcat that holds 11 round and can be had optics ready right from the factory.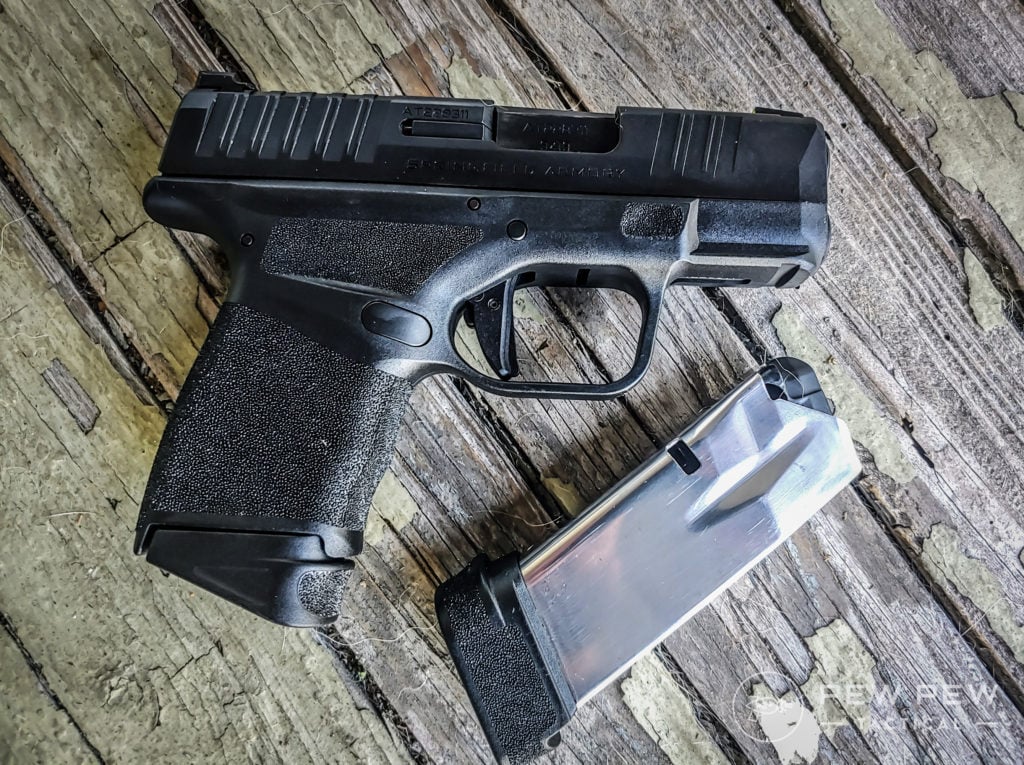 I got my hands on one shortly after their release and put it through testing.
500
at Palmetto State Armory
Prices accurate at time of writing
Prices accurate at time of writing
How it runs, if it's worth it, drills to run, and more are coming up!
Table of Contents
Loading...
The P365 Effect
Is this a term yet?
Well, it will be soon.
Sig's little 9mm has made a big splash in the market, and it changed what concealed carry looks like. Check out our full review here.
The P365 proved you could take a tiny gun, and cram ten rounds into it and have it take up the same space as a single stack 9mm.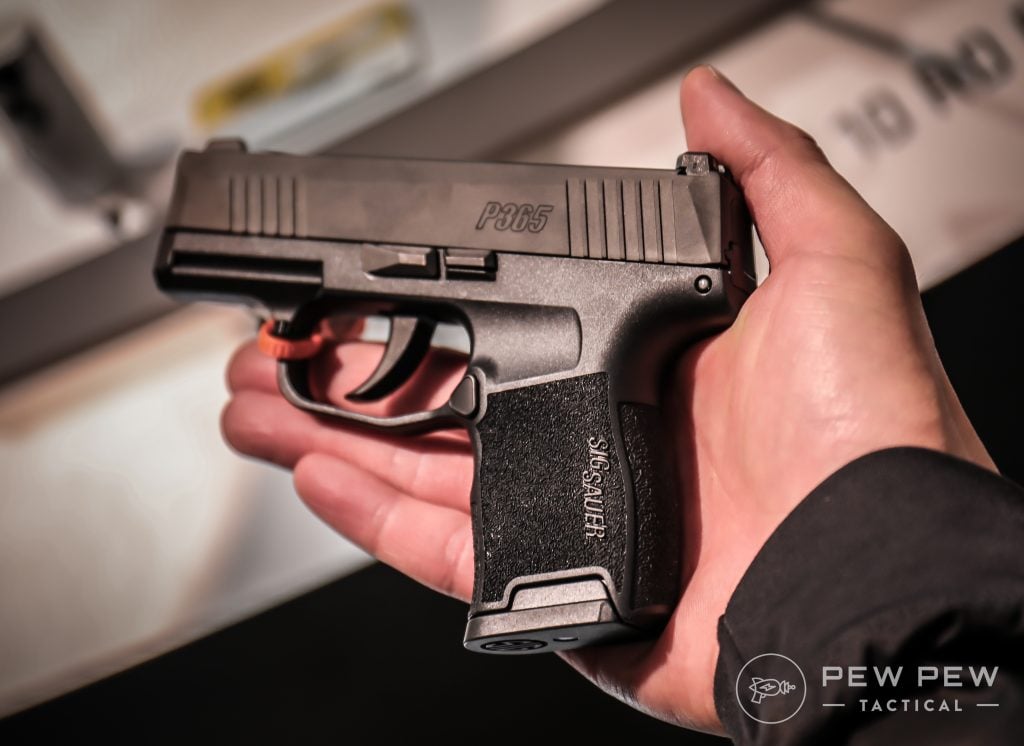 We got the Glock 48 and 43X, which offer ten rounds in a slightly bigger platform, and SIG released the bigger P365 XL model.
However, there hasn't been any real competition for the P365, well, until September 25th 2019 when Springfield premiered the Hellcat.
I got ahold of mine a few days later, sent from Springfield, and have been hitting the range with it every chance I have.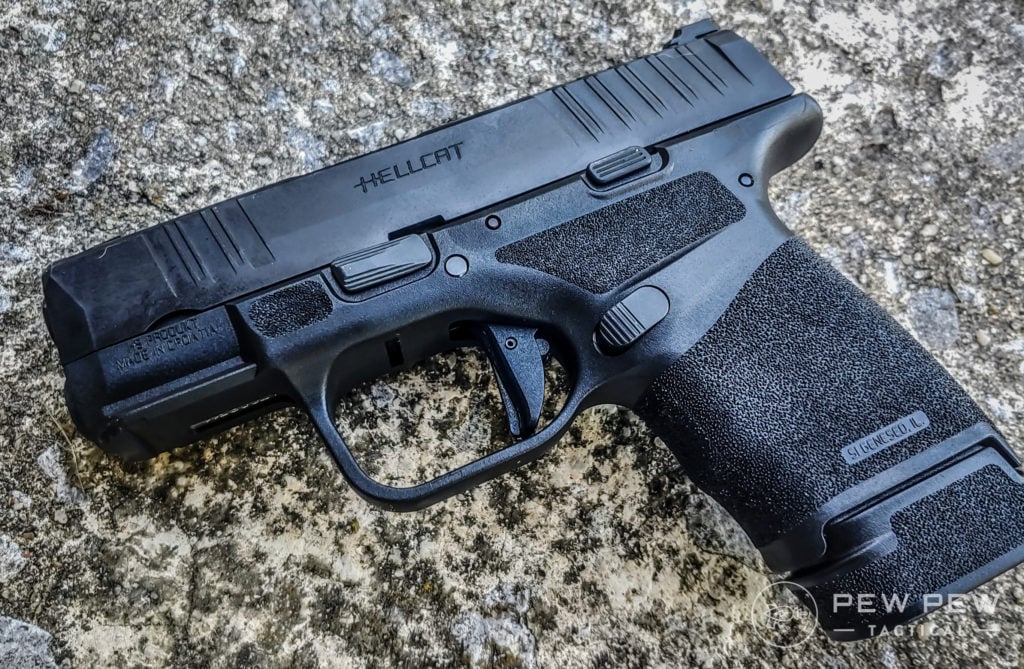 The excitement of having a new gun always brings me to the range, but Springfield has proven to be a pleasant gun to shoot, and it keeps me coming back.
Springfield also sent a Crossbreed Reckoning holster, which has been invaluable for testing and running drills.
We love Crossbreed holsters in our Best CCW Holsters article.
55
at Crossbreed
Prices accurate at time of writing
Prices accurate at time of writing
I've been busy with all sorts of fun stuff with the new Hellcat, and it's proven to be an enjoyable gun.
Breaking Down the Hellcat
The Hellcat is a mini XD essentially, but it does have a number of changes. It is a micro-compact gun, a new genre that seems to indicate the gun is small and holds at least ten rounds.
500
at Palmetto State Armory
Prices accurate at time of writing
Prices accurate at time of writing
The SIG P365 shoved ten rounds in a tiny magazine, but Springfield turned it up to 11.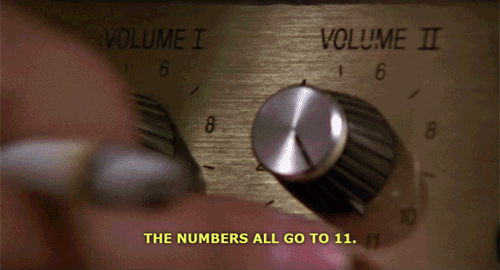 The Hellcat's flush magazine holds 11 9mm rounds, and the extended magazine holds 13.
The flush-fitting magazine also comes with an optional pinky extension, and my flush fit mag now wears the pinky extension.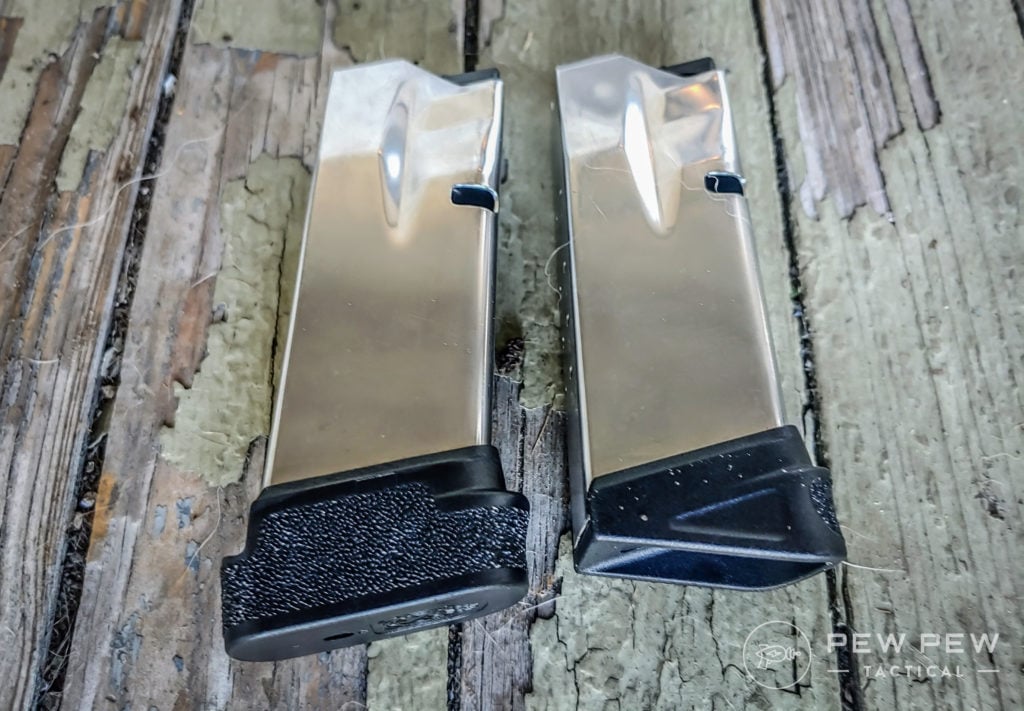 The Hellcat is a tiny and narrow gun.
Impressively small to be sure.
It has a 3-inch long barrel and is 6 inches long overall. It's 4 inches tall with the flush mag and 4.5 inches tall with the extended magazine. The grip width is 1 inch, and the slide seems slightly wider.
The gun weighs 17.9 ounces with the 11 round magazine and 18.3 ounces with the extended mag.
The gun comes in the optics ready OSP model and the standard model. The Hellcat has a hammer-forged barrel with a standard 1:10 twist rate. The finish is Melonite, and while it's not fancy, it's practical and robust.
The Hellcat even has a Picatinny rail that would allow for secure attachment of accessories.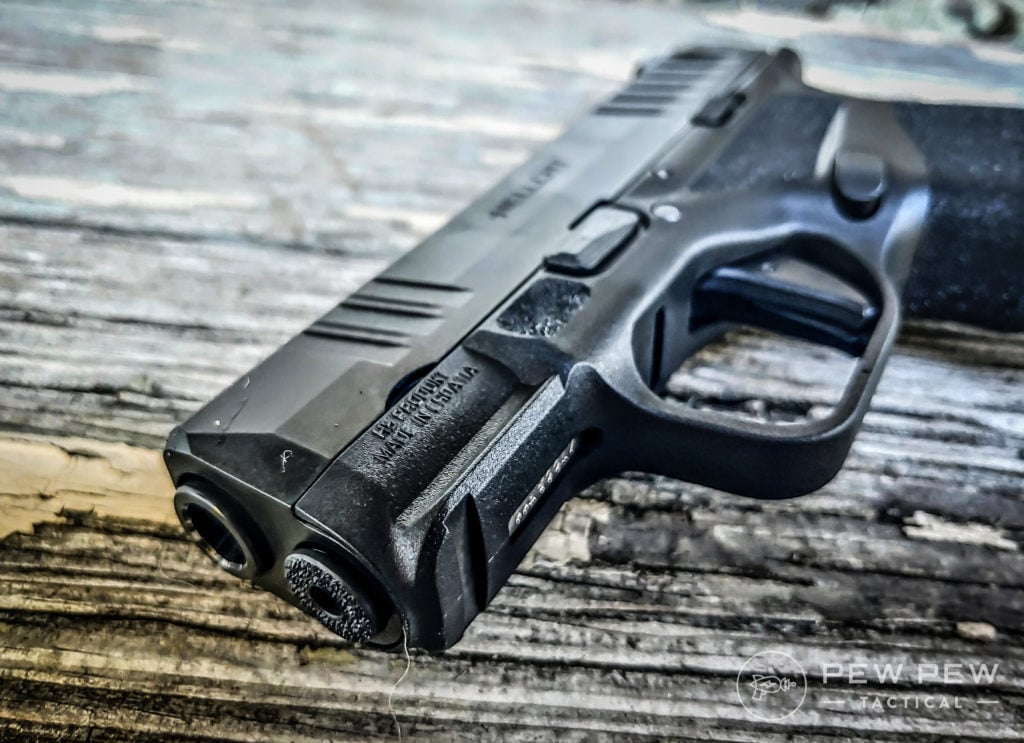 Small stuff like the Olight Mini Valkyrie 2, Streamlight TLR-7, or the Viridian C5L series will fit perfectly on the gun.
102
at Amazon
Prices accurate at time of writing
Prices accurate at time of writing
Now we need a light compatible holster, and we'll be good to go…
The sights are tritium and are outstanding.
The front sight is where all the action is. It has a tritium vial surrounded by a yellow luminescent polymer.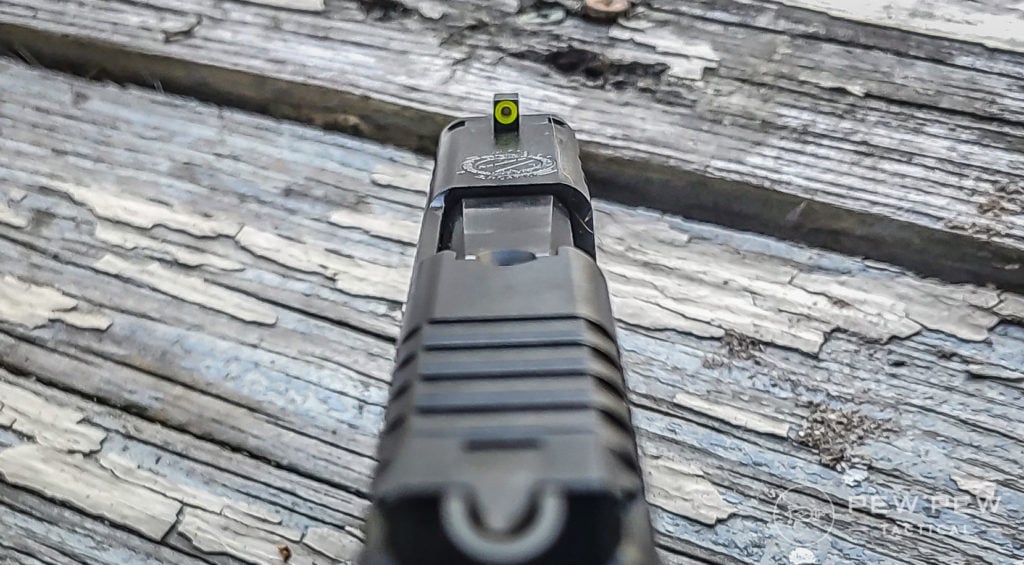 The rear sight has a bright white half-circle around the U dot sight. It's all effortless to see and very well made. The rear sight is squared off, and you can use it for one-hand manipulations.
The Hellcat does get rid of the grip safety that's common on the XD series.
I welcome this change and don't see a need for another thing to break or mess up. Insert this is my safety sir meme.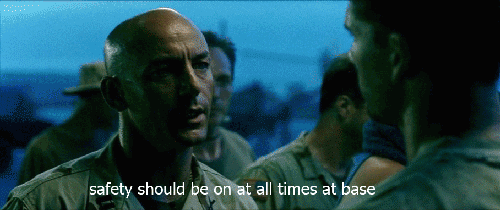 Springfield Armory equipped the gun with a new texture they are calling the Adaptive Grip texture.
They sell it as a texture that feels soft when touched softly and feels rougher when gripped harder.
That's the best way I can translate the marketing talk.
It works too. Seriously against the skin, the texture doesn't rub you raw. You don't feel how grippy the texture is until you squeeze down on it.
Then things get a little rough.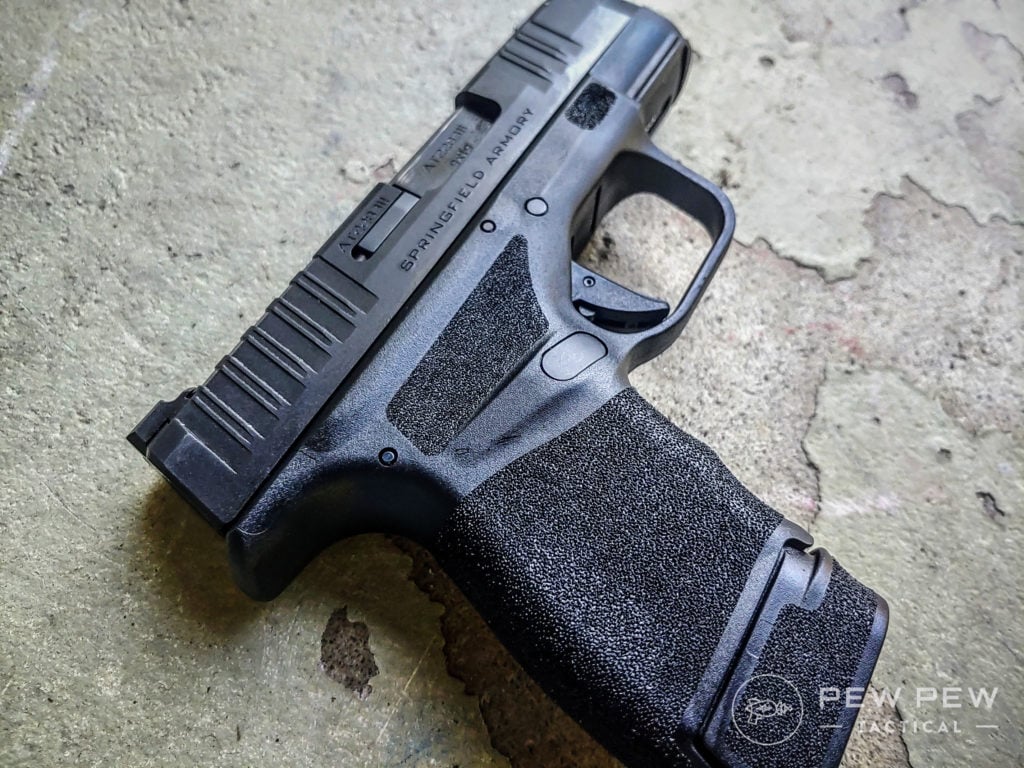 Ergonomics and Controls
Ergonomically the gun is quite simple.
It lacks any manual safeties and has a takedown lever and slide lock on the side. The trigger sports a small safety device similar to other XD models.
The grip is mostly straight and has a pretty standard grip angle — more American than European, and it's 1911ish so very comfortable and natural feeling.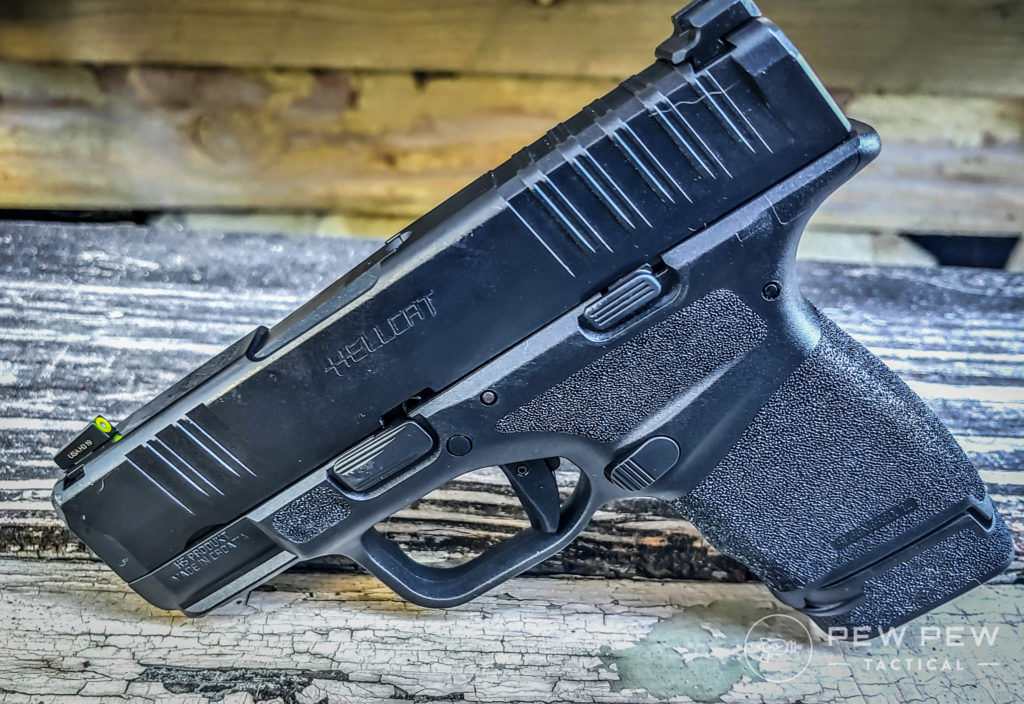 As I mentioned, the texturing is aggressive but comfortable.
It also goes all the way up the grip, and I do like that a lot. The same texture graces the pinky extension and extended magazine. There is also a spot of texture where your trigger finger lies when it's straight and off the trigger.
The beavertail and trigger guard undercut both allow for a high and comfortable grip that will enable you to control the gun well.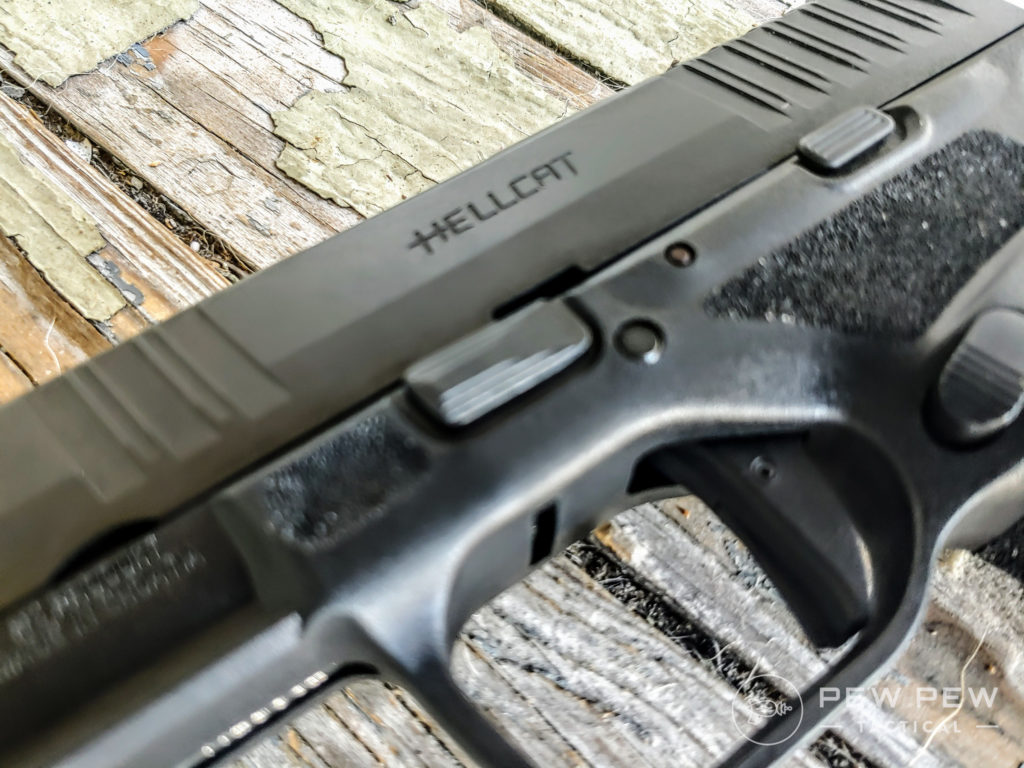 Also, it's one of the few small weapons that doesn't bite my hand all to hell. That's the curse of having big hands.
The sides of the grip are scalloped to allow for your thumb to sit alongside the grip without getting in the way. The magazine release is well placed it takes just a short jump of the thumb to activate it.
The magazine release is something else. I love that I barely have to move my hand to activate it.
The mags do drop free mechanically. However, my palm usually presses the mag against the grip, meaning it won't drop free.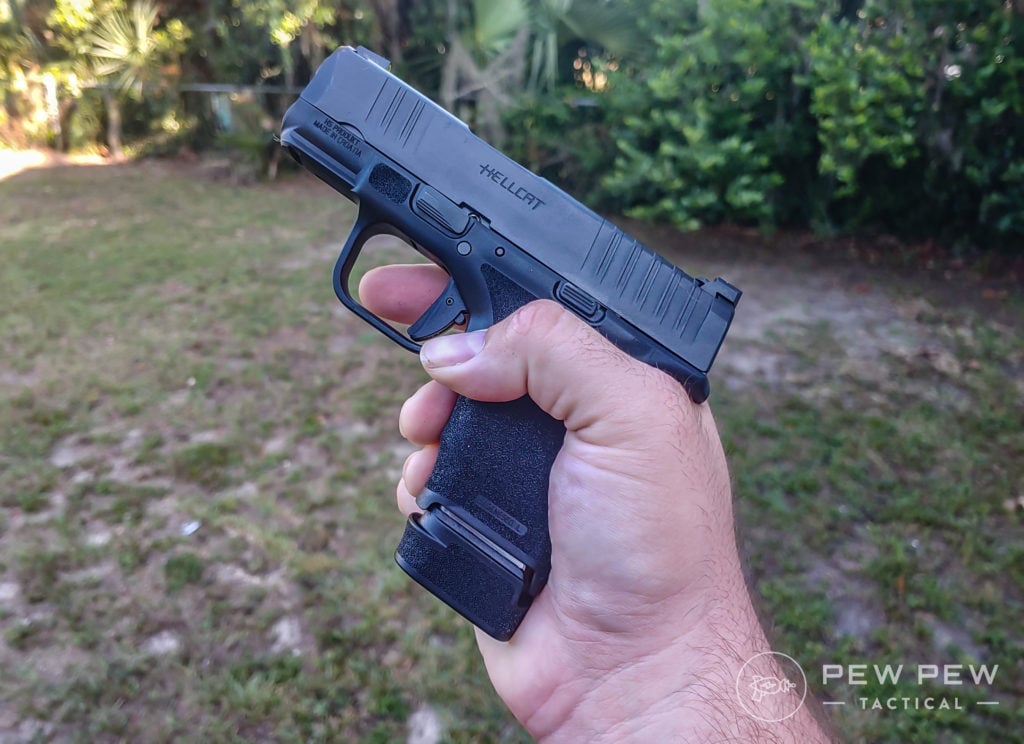 I have to open my hand kind of wide to get it out of the way for the magazine to drop free. The grip itself fills my hand well and is super comfortable.
The flush-fitting magazine is a bit short for my hands, and after shooting with it, I attached the pinky extension.
That made a big difference in how the gun handled for me and was much easier to shoot with a slightly longer grip. The pinky extension is the perfect fit.
Moving up to the slide, I am a big fan of the serrations. They are deep and aggressive, and the rear serrations also go over the top of the slide.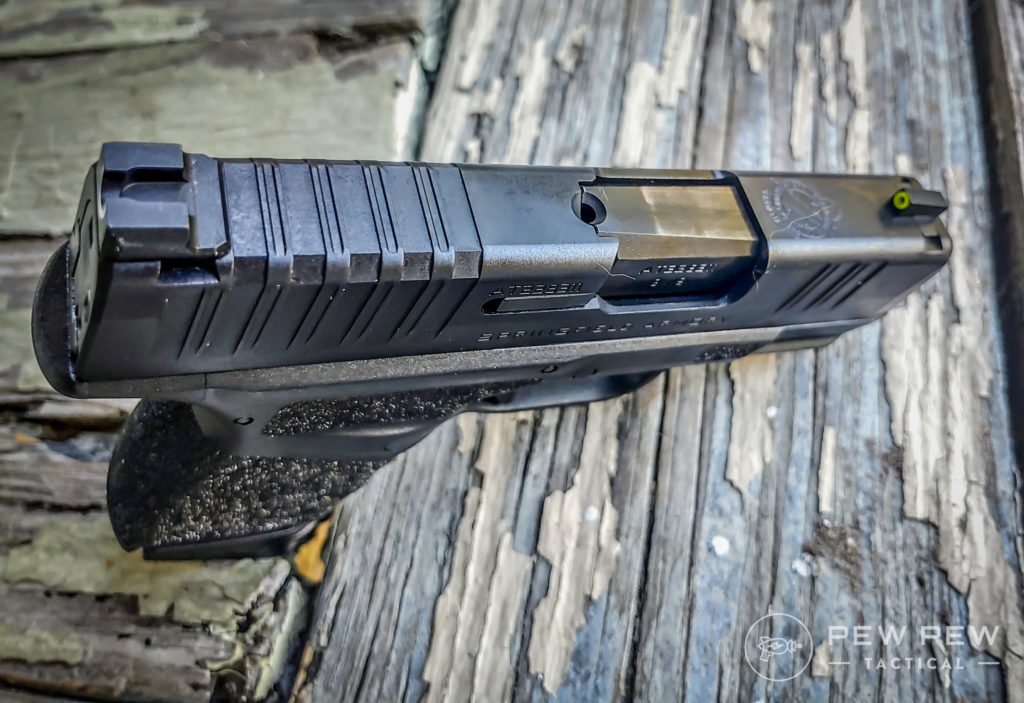 On a small slide, the top serrations make it easy to reload with and to rack. They dig into your hands and allow you to get a great grip even when you are moving fast.
Accuracy On the Range
At first, I was hitting low and left, classic signs of a flinch. I've been ignoring handguns for a little bit and focusing a lot on rifles and shotguns.
After my first 50 rounds, I took some time to dry fire and practice my trigger pull a bit.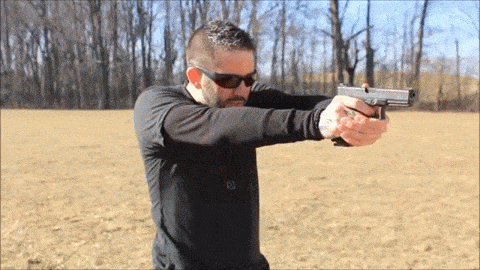 Even with my flinch, the gun was consistently highly accurate. I shot a round of Dot Torture at seven yards, and while my flinch wasn't helping the test, the weapon grouped brilliantly.
For example, take a peek at number 9. This portion of the drill required me to draw and then shoot, reload, and shoot number 10.
That three-round group was fired rapidly and shows how consistent the gun is.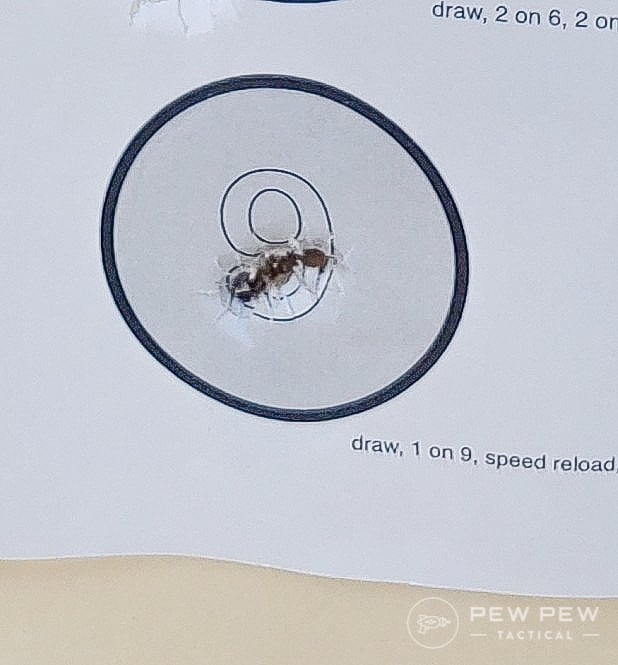 The sights and trigger are fantastic. The trigger is flat-faced, and the pull is short with a solid wall. It's a very comfortable trigger that lacks any grit of sponginess to it.
The flat-faced trigger design is comfortable, too, without any bite from the safety blade.
The U Dot sights are quick and eye-catching. They are also easy to focus on, and that makes getting and keeping front sight focus quite easy.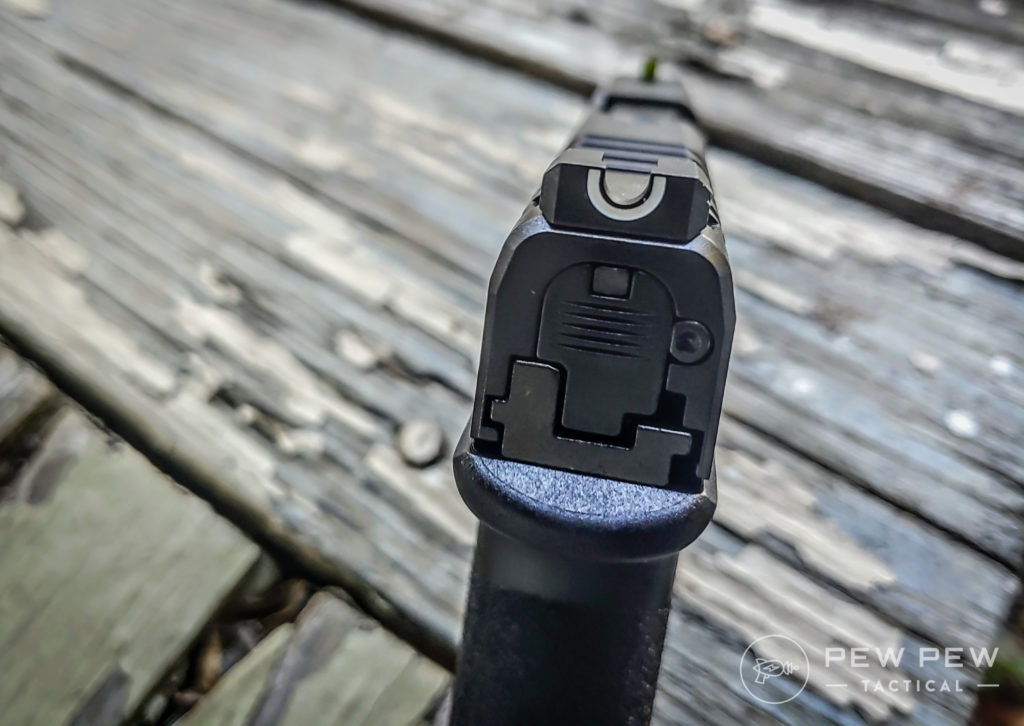 Front sight focus leads to consistent shooting, and ultimately a high degree of accuracy.
From a practical perspective, I backed off to 25 yards and landed headshots into an FBI Q target, and it was hardly a challenge, to be honest.
24
at Amazon
Prices accurate at time of writing
Prices accurate at time of writing
Not to brag, but the gun does most of the work.
Recoil and Handling?
Recoil is very mild and pain-free.
Small guns can slap hard, but the Hellcat is plenty comfortable. It's a gun you could train hard with and not feel fatigued or pain in your hands.
The gun does have some muzzle rise, but with double taps, I could keep it in the heart and lung zone of a man-sized target.
It's a controllable handgun that even a novice shooter will enjoy. A few days and several hundred rounds later, I ran through a few more drills, and a lot focused on speed.
The sight configuration, low recoil, and manageable muzzle rise all combined to create a controllable and accurate gun.
I've gotten in the habit now of running drills during reviews. It allows me to test the gun and allows me to train. With the Hellcat, I did Dot Torture, the iHack, Changing Gears, and the famed El Presidente.
I shot it four times, and I did fail once. The drill has to be shot in under 10 seconds, and I hit 10.21 in one of the runs. The gun was plenty accurate, and I landed every shot on my free Sage Dynamics torso targets.
I haven't run the El Presidente in years but still managed to pass with an 8.67, 9.98, and a 9.78.
The gun was easy to draw from, and I shot the drill from concealment. I also used the Reckoning IWB holster. The holster and gun provided a good enough fit to allow me to grip the gun and clear leather without a problem.
Reliability?
I've put 450 rounds of the cheapest ammo I've ever seen through this gun.
It's filthy, it's steel case, and it's dry as hell. That ammo is Winchester Forged.
29
at Lucky Gunner
Prices accurate at time of writing
Prices accurate at time of writing
It was dirt cheap to buy by the 500 round brick, so I grabbed a crate's worth. It's rough on guns, and I think that makes it an excellent choice for testing reliability.
The Hellcat ate it up.
Four hundred rounds isn't a lot of ammo in the long run, but 300 rounds were put through the gun in one morning, and it didn't even hiccup.
The gun fired round after round without any lubrication. I live so close to the beach that I'm surrounded by sand, and the gun has gotten a good bit of that.
Dropping magazines on the reload means they get full of sand, as does the weapon eventually.
I've started to feel the grit of the sand in the gun as I began to finish Friday's range session. I could feel it as I racked the slide and loaded magazines.
Yet the gun ran fine, it needs a bath for sure, but it runs.
If you want some better 9mm suggestions…check out our Best 9mm Ammo for Plinking & Self-Defense.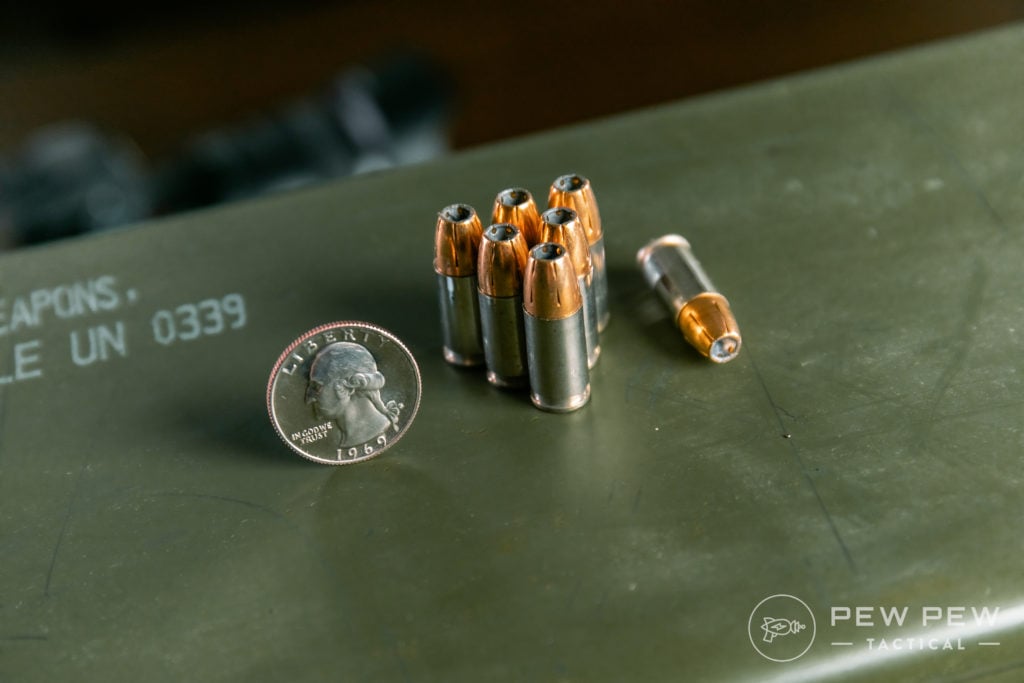 By The Numbers
Ergonomics 4/5
Ergonomically the gun is sound in most ways. It's comfortable to hold, everything is easy to reach, and the weapon is not painful to use. I deducted a point because the slide lock is placed so far rearward my thumbs ensures it won't do its job.
Accuracy 4/5
For a carry gun, it's superbly accurate. When compared to something like a full-sized 1911, you'll likely find the 1911 a little easier to shoot. The trigger and sights are great, but the sight radius is shorts and limits what you can do.
Reliability 5/5
Not a single issue, even when faced with the crappiest ammo, I could toss at it. The gun runs, even when it's slowly becoming sandy inside and out.
Customization 1/5
It's a brand new gun, what exactly can we do to it? It has a rail for lights and lasers, so it gets one point anyway.
Looks 3.5/5
It's a small, black striker-fired gun. It's okay looking, kind of Spartan in design. Not a bad thing as this is the most unimportant category. It's no Hi-Power, or CZ 75.
Price 5/5
It's priced very competitively for what it is. The OSP's MSRP is $599 and comes ready for a red dot. The standard model has an MSRP of 569, making it slightly cheaper than it's current competition.
Overall 4.5/5
The Hellcat is an immensely fun gun. It's easy to handle and shoot. It functions brilliantly, has terrific sights, and disappears under your t-shirt. It's perfectly sized for all shooters and will likely be a homerun for Springfield Armory.
Conclusion
The Springfield Hellcat is gunning for the SIG P365, and with a competitive price, a comfortable, yet diminutive frame, and stellar accuracy, it's a winner. We only wish there were more upgrades available right now for this brand-new gun, but we foresee that changing.
500
at Palmetto State Armory
Prices accurate at time of writing
Prices accurate at time of writing
The sights are fantastic, the over the top serrations are an excellent addition, and the removal of the grip safety was a step forward for the XD series.
Honestly, the XD series was always kind of boring to me, I'm a hammer-fired kind of guy, and the XDs were (mostly) striker-fired ladies. The new Hellcat has gained my attention and pleasantly surprised me. It's going to give SIG a run for their money.
Competition is always good, and hopefully, this presses other companies into action to make and form their Micro Compacts.
What is your top Micro or Sub-Compact? Who do you want to see release the next Micro? We have lots of awesome CCW content, from holsters to new guns – take a look at the Concealed Carry Definitive Guide!