Have you noticed something changing about concealed carry guns? They seem to be getting bigger…and holding more rounds.
One of the brands taking note of this shift in the market is Springfield with the Hellcat that holds 11 rounds and can be had optics ready right from the factory.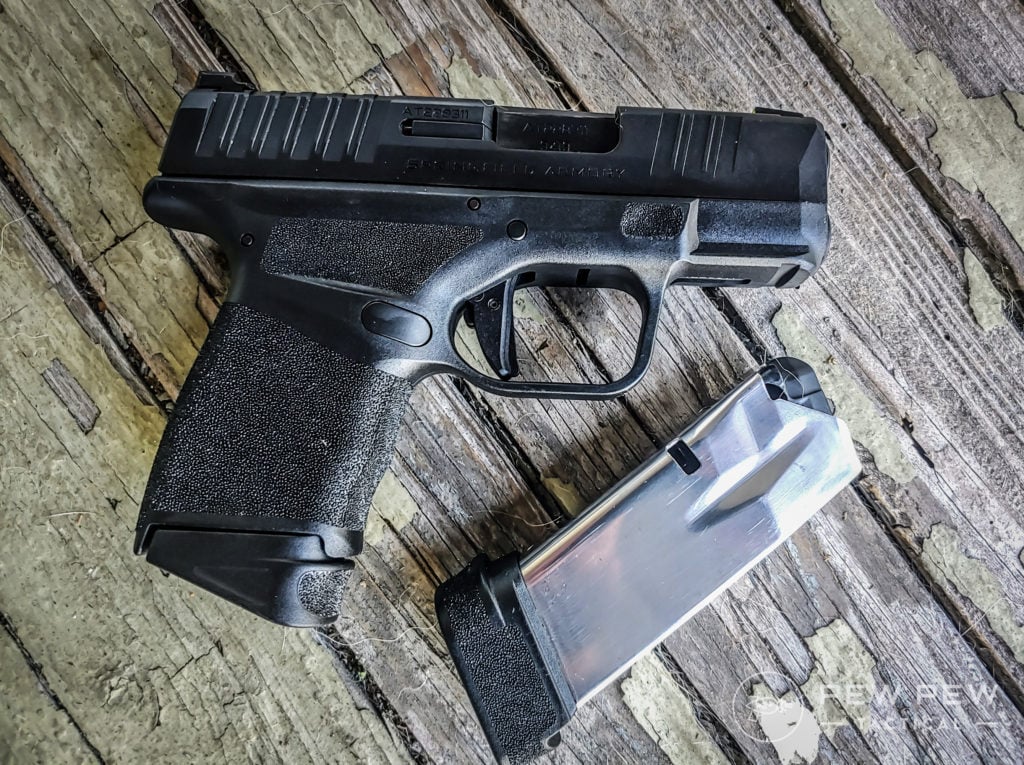 I got my hands on the Springfield Hellcat to do a thorough deep dive into this micro-compact and all that it has to offer.
We'll walk through the specs, talk about some features, take it to the range and ultimately help you decide if this pistol should be your next CCW.
So keep reading!
500
at Palmetto State Armory
Prices accurate at time of writing
Prices accurate at time of writing
Table of Contents
Loading...
Springfield Hellcat Specs & Features
< class="specsAndFeatures__heading">Springfield Armory Hellcat>
Breaking Down the Hellcat
First, let's talk capacity. That's the big theme behind these guns, right? So it bears mentioning.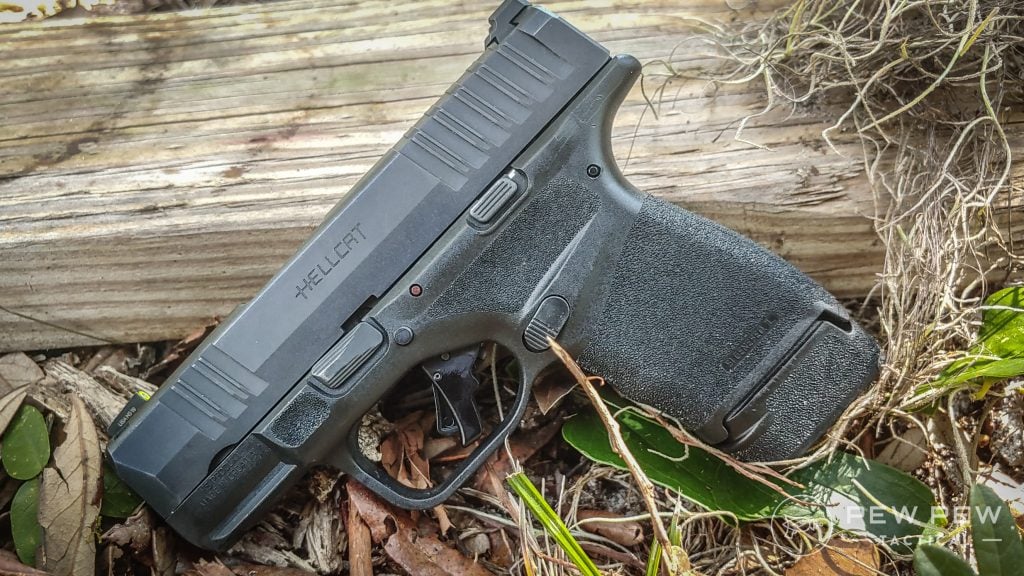 Springfield ships the gun with two magazines, aiming to beat Sig by cranking it up to 11 rounds of 9mm.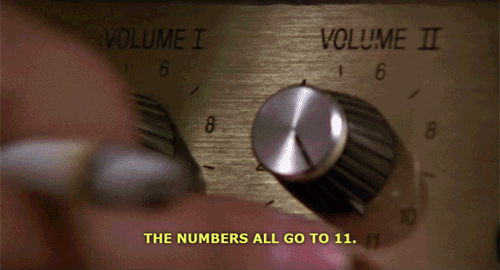 The second magazine is the slightly extended 13 rounder.
Recently Springfield also released a 15 round magazine to further compete with the Sig series of 15-round magazines. With the 11 round magazine and flush-fitting baseplate, the Hellcat is 4 inches tall, beating the P365 by about a quarter of an inch.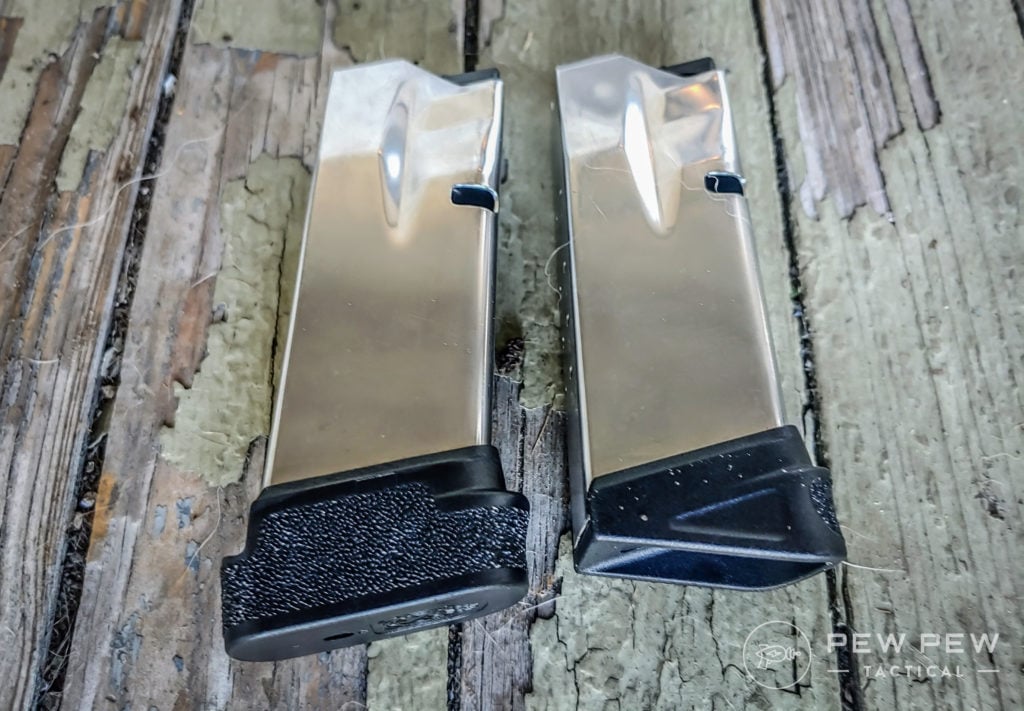 Springfield also included a pinky extension for the 11-round magazine that adds a little extra size. I've chosen to use it because I have big ole hands. I hate when my pinky hangs, and the extension helps a fair bit.
Finally, there is a 10-round magazine for states with capacity limits.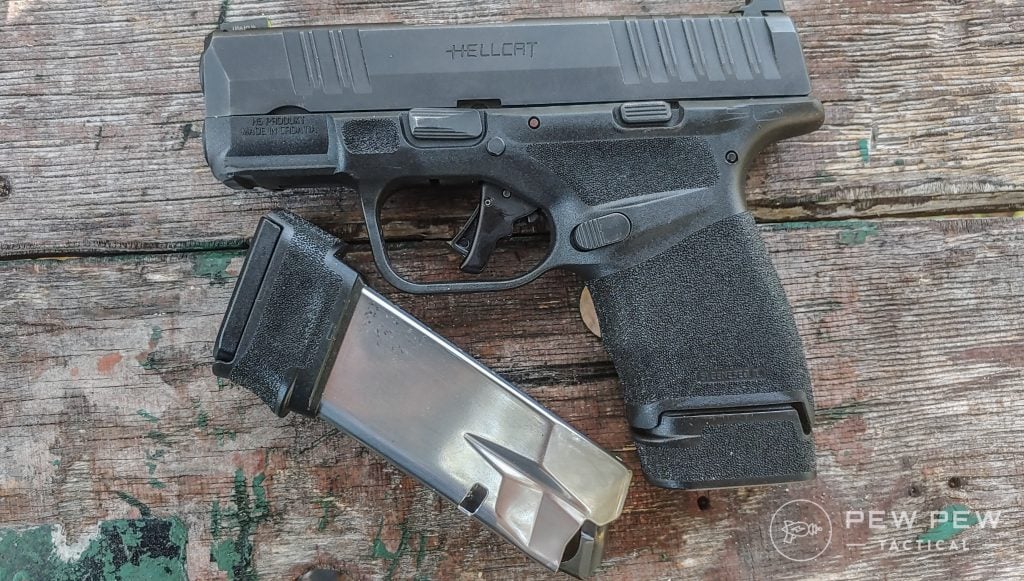 The Hellcat brings a 3-inch barrel and an overall length of 6-inches total. The weapon is 1-inch wide and weighs 18.3 ounces empty.
Overall it's a very efficient weapon in its size and design.
Springfield did shove a rail on the front of the gun with a single slot. There aren't many lights that would fit the small profile — zoom to the bottom if you want my light suggestions (among other accessories).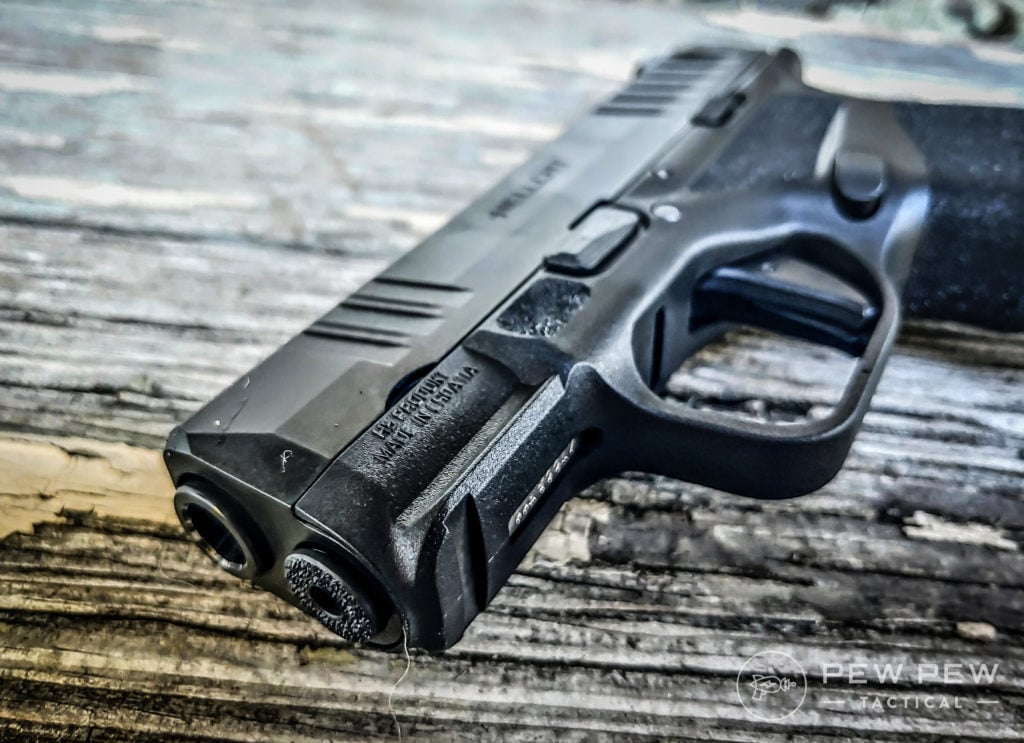 Springfield blessed us with a flat-faced trigger with a Glock dingus safety.
We also have the adaptive grip texture.
The idea behind this unique texture is simple — the harder you grab it, the more it grips back.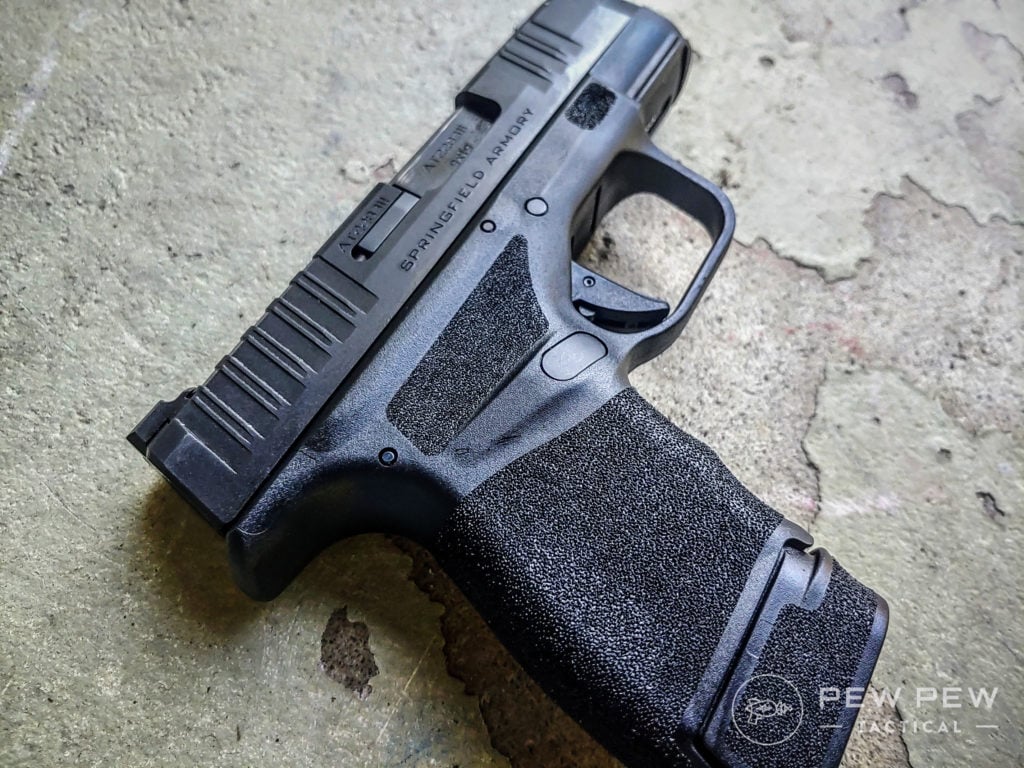 Without a good grip, it's not abrasive or rough. When you start carrying a small gun tight to the body, you begin to understand why a tight grip texture can be particularly rough to the skin.
At the top of the slide, we get a solid set of iron sights. There consists of a rear sight with a big hi-viz U and a yellow high viz front sight complete with a tritium lamp sitting in the center.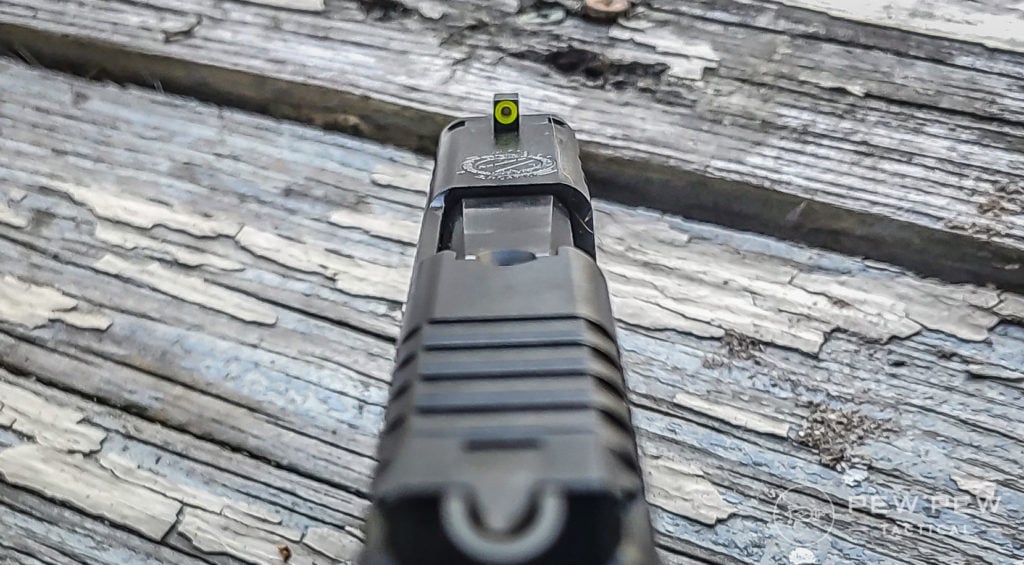 The rear sight has a bright white half-circle around the U dot sight. It's all effortless to see and very well made. The rear sight is squared off, and you can use it for one-hand manipulations.
The Hellcat does get rid of the grip safety that's common on the XD series. I welcome this change and don't see a need for another thing to break or mess up.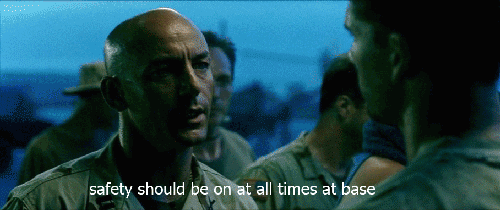 Field stripping is also familiar:
Ergonomics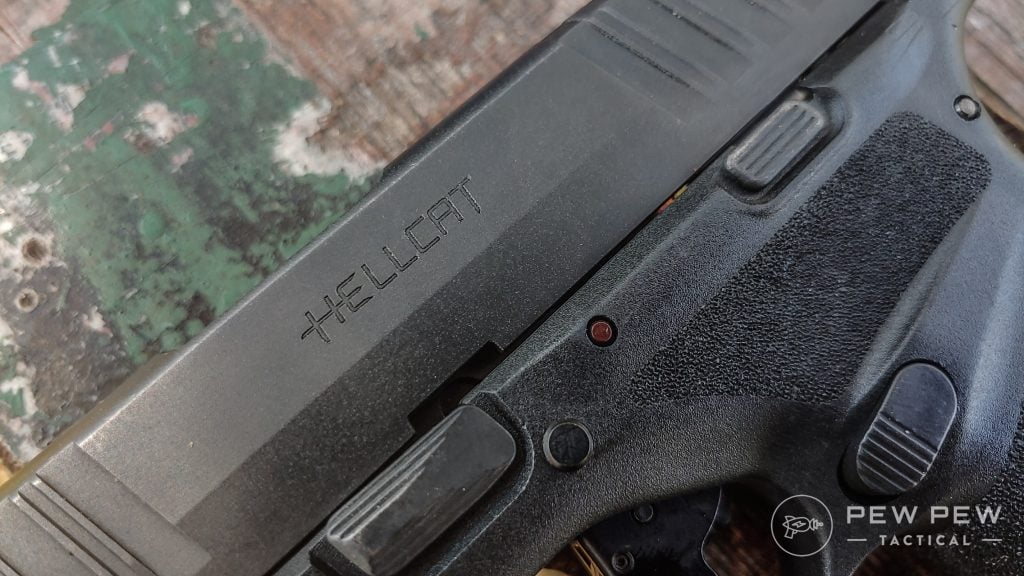 The controls are fairly simple. We have a slide stop, a trigger, a magazine release, and a take-down lever. Although that being said, an optional manual safety model now exists.
Here is where I have two problems I've found during long-term shooting.
Well, "problem" might be a strong word. I pin down the slide stop with my thumbs when shooting, so the slide never locks back to the rear.
Additionally, while the magazine release is easy to reach and the magazine drops free, technically, my pinky will pin it in.
This requires me to undo my grip a bit to reload. Damn these man-sized paws!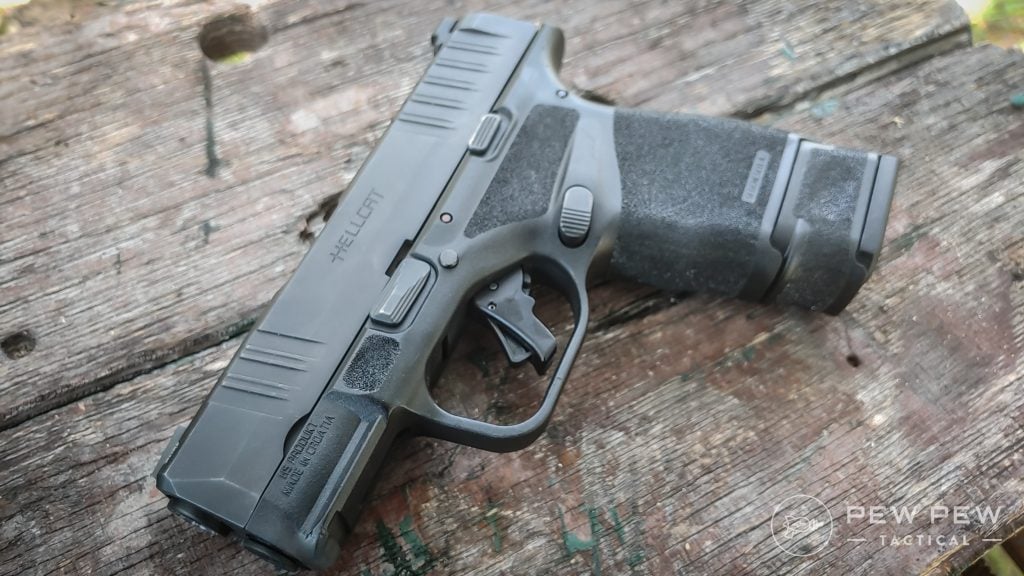 The slide serrations cover the front and rear of the gun and even go over the top with the rear serrations. I can do nothing more than a pinch grip with two fingers and rack the gun.
The serrations are great and would make clearing jams and getting the gun back in action simple.
Who Is the Hellcat For?
Well, that's pretty easy. It's aimed at the concealed carry market. It's short, light, and quite sweet.
Something like the Glock 19 is also considered a concealed carry gun, so let's elaborate a bit more.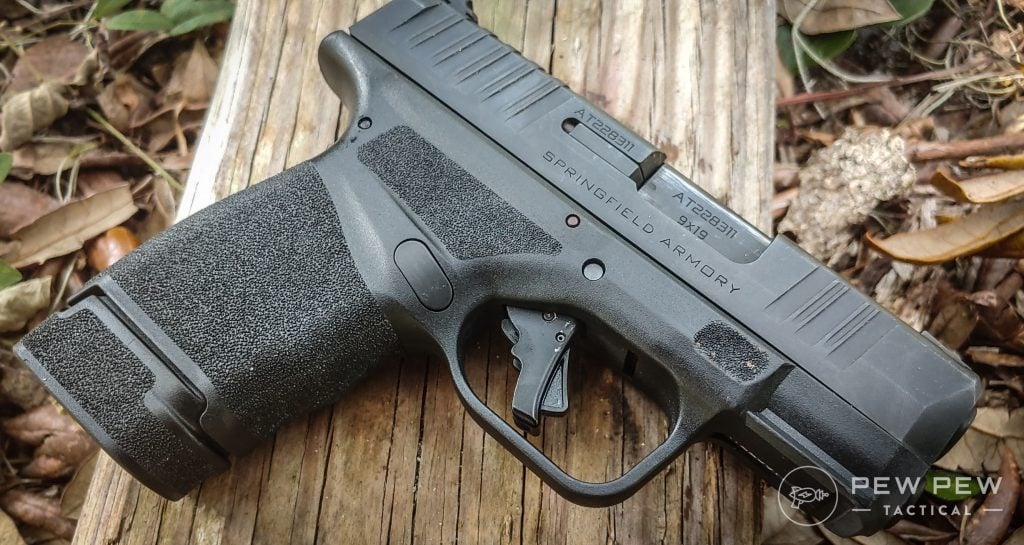 The Hellcat brings shooters the same capacity as something like the Glock 26 without being a big blocky sidearm.
Instead, it's very easy to conceal a firearm that borders almost on pocket pistol size.
This is a pistol that can be easily utilized for deep concealed carry.
If you feel like you want a gun that's easier to conceal in casual clothes without special-purpose holsters or anything crazy. It's well suited for formal clothing that challenges bigger firearms.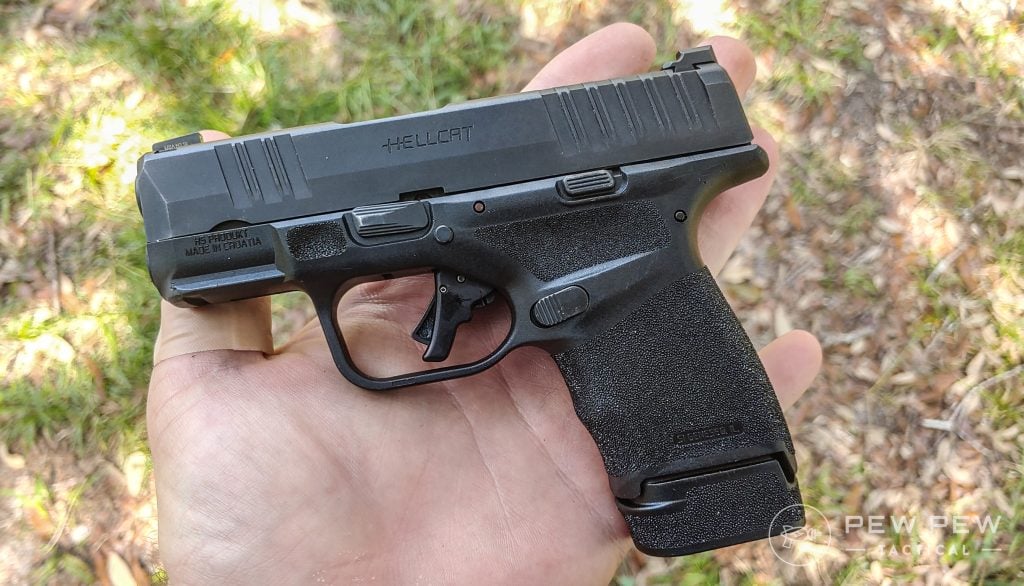 Even when carried OWB, it's relatively easy to conceal.
On the flip side, it is large enough to use for home defense and offers up to 15 rounds of 9mm.
Add in the rail and the ability to add a light, and you can have a competent home defense option that doubles as a carry gun.
While lots of gun owners and gun enthusiasts have multiple firearms, I'm willing to bet most people who want a gun to defend themselves likely don't want two or three guns. And the Hellcat is capable of doing both.
To The Range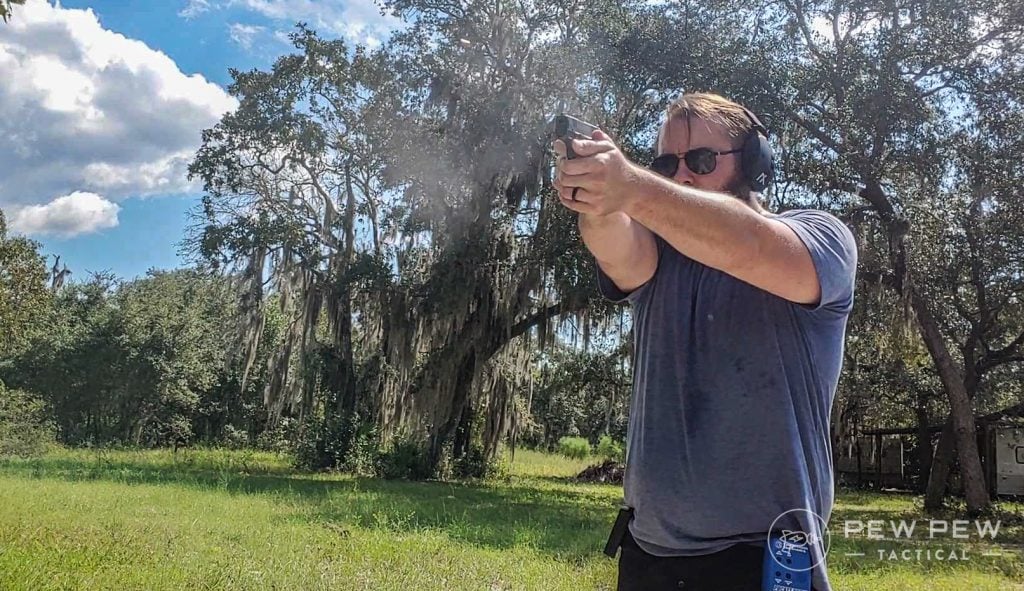 With my magazines loaded and my wallet a fair bit emptier, I began to sing the song of steel and lead.
My targets include various steel and paper options, and my goal was to run the gun through a wide variety of drills.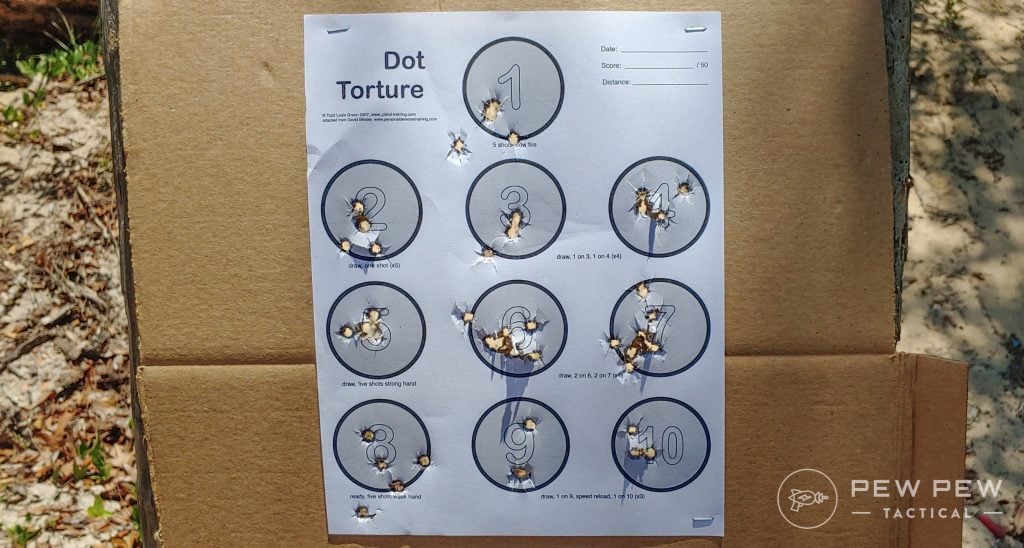 My favorites are classics like the El Presidente, the Box Drill, the iHack, and the 10-10-10.
I started warming up with some simple Box Drills from the draw.
Here is where those big sights stood out. They caught the eye well. Dropping the Circle into the U made it simple to score those initial two shots.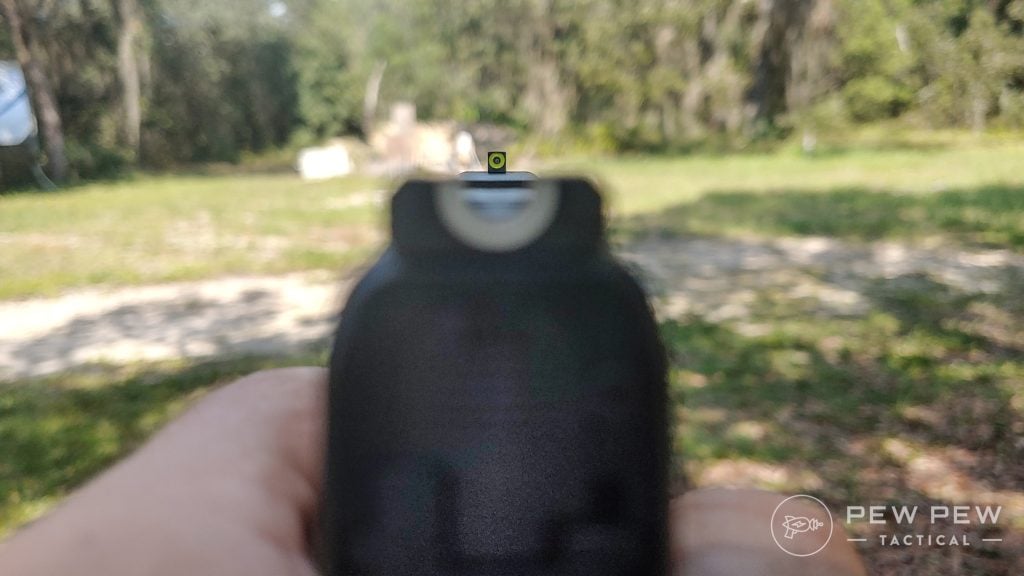 Tracking the big yellow front sight is also simple so getting those follow-up shots are fairly easy to do.
Repeat shots aren't challenging, but you most certainly feel the difference between the Hellcat and a full-sized pistol. As far as recoil goes, it is what I would call 'mild.'
It's got a little snap to it, but not so much to be painful or annoying.
The adaptive grip texture does a great job of keeping the gun in your hand, and it doesn't try and wrestle its way out of your hand.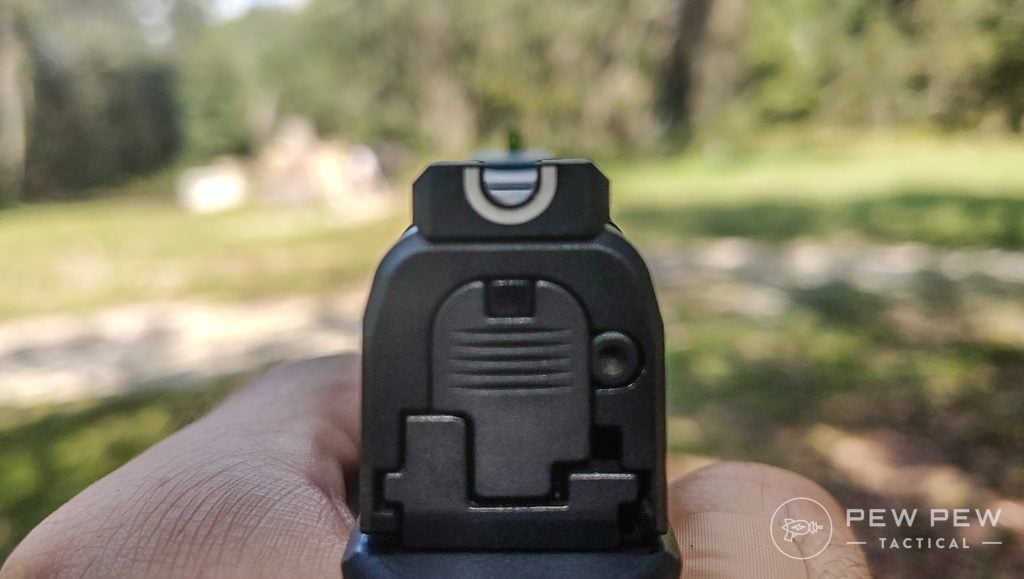 When you start adding precision with drills that involve 2-inch dots like the iHack, you do see some problems with those big sights.
They cover that target up a fair bit, but you can drop rounds in the circle. They might not be in the center of that circle, but they'll break the line at the very least.
On those drills where accuracy and time are an issue, you will see better results with standard-style sights. I passed the 10-10-10 drill, but I didn't score ten tens by any means.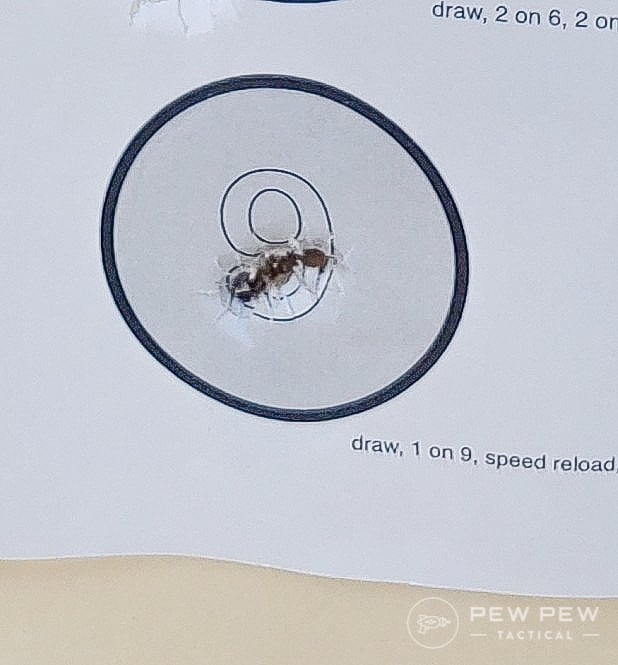 Slow fire accuracy is fairly good.
The flat trigger is nice, and the pull of the trigger is smooth. It's not the lightest, but it's plenty short and suitable for concealed carry and accuracy.
At 25 yards, I dinged and dinged 6 and 8-inch gongs. If I had the OSP model with a red dot, I bet I could reach out to 50 yards and score solid center-mass hits. At 50 yards, I could hit a man-sized target fairly well.
Springfield Armory Hellcat Gun Deals
Palmetto State Armory
Save $120
The World of Hellcats
The Hellcat comes in numerous models. What we have here is the standard model, which presents the most affordable option.
The OSP variant allows you to use Shield pattern optics like the Holosun 507K, Shield RMSc, Springfield Wasp, and a few more.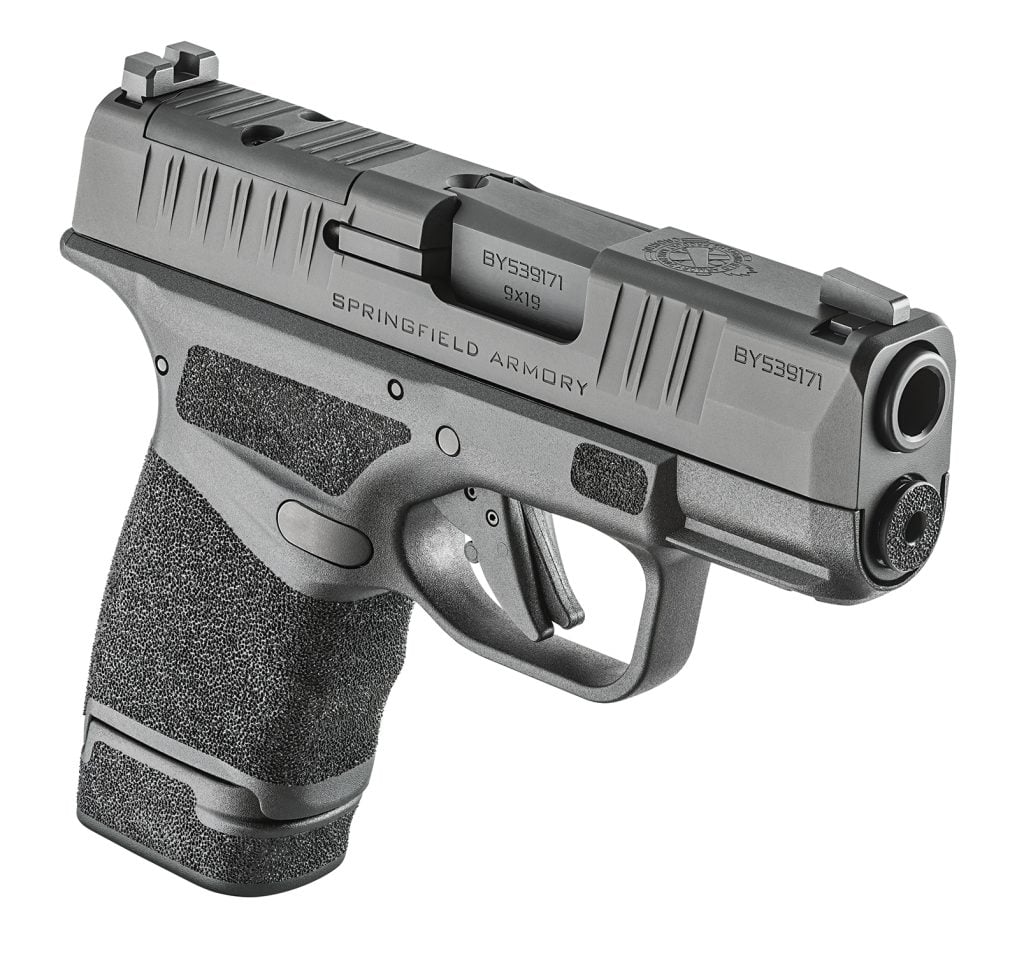 There is also the RDP which comes with a Wasp optic and a compensator.
It's a sweet rig that adds a little size and weight to the gun but aims to make it very soft shooting. I've had limited time behind an RDP but did find it an impressively easy-to-handle gun.
899
at Guns.com
Prices accurate at time of writing
Prices accurate at time of writing
Inside of these variants, there are low-capacity models with 10-round magazines for those less free states.
Additionally, Springfield produces an FDE variant of the standard and OSP models. I wish they did a stainless slide or an FDE/Black dual-tone. A boy can dream.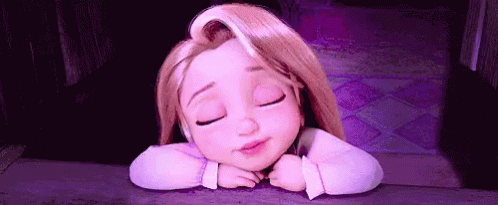 Upgrades & Accessories for Springfield Hellcat
Sure, accessories aren't a feature of the gun itself, but knowing that high-quality accessories are available for a gun is a huge advantage. Here are a few of my favorites for the Hellcat.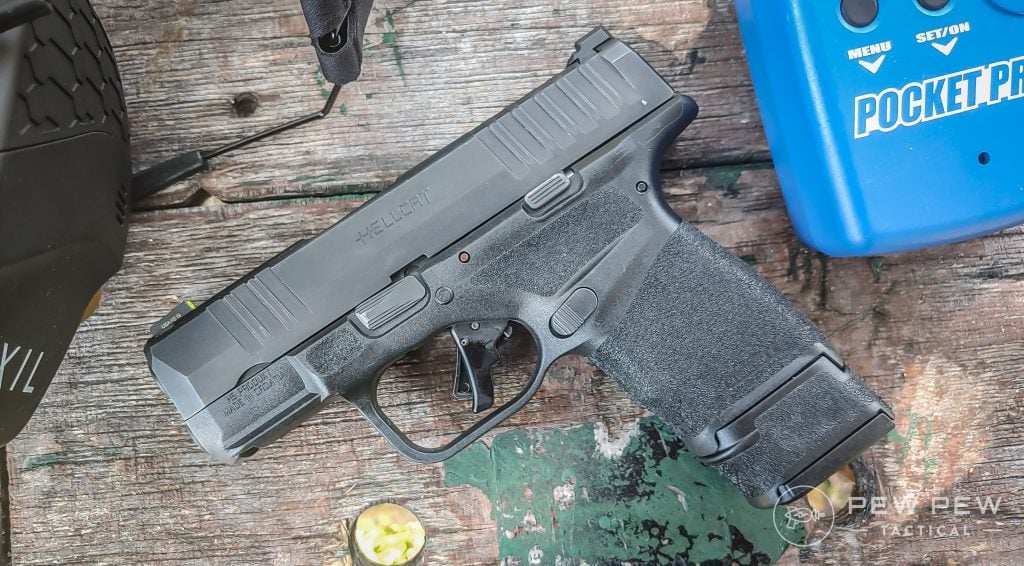 Light
The Rogers Shooting School Rail Mount Kit is a weird system that works really well for the Hellcat and similar weapons.
It's a quick detach system that utilizes a plastic mount and a Streamlight Microstream. It pops on and off and isn't meant for holstered use.
It just pops on, packs 250 lumens of close-range light power. Oh, and it only costs $40.
40
at Amazon
Prices accurate at time of writing
Prices accurate at time of writing
Mantis X10
Speaking of rail use, we might as well make use of the Mantis X10 for dry fire training.
It's an awesome training system that delivers you outstanding feedback for dry and live firing, drawing, and more. This system pops onto your magazine via a special base plate and to the Hellcat's rail.
250
at Amazon
Prices accurate at time of writing
Prices accurate at time of writing
Trigger
The Hellcat's trigger is acceptable, but the Apex Trigger Kit makes it a fair bit better. It's a little smoother, and the metal trigger just feels better. It's fairly affordable and an easy upgrade.
75
at Brownells
Prices accurate at time of writing
Prices accurate at time of writing
Optic (For OSP/RDP Model)
I don't have the OSP model, but I had one it would wear the Holosun 507K.
The 507K is the best of these mini optics. It's very capable, robust, and provides three different reticles for those who are picky.
289
at Brownells
Prices accurate at time of writing
Prices accurate at time of writing
By The Numbers
Ergonomics: 4/5
My big problem is the thumbs forward grip failing to work with the slide release. I'll blame my big hands for the magazine-dropping issue. I love the grip texture, the slide serrations, the magazine release, and even grip length.
Accuracy: 4/5
For the gun's size, it's fairly easy to shoot and accurate enough for concealed carry. No one would mistake it for a competition pistol, but it works. Smaller, more traditional sights might slow you down, but they would enhance accuracy.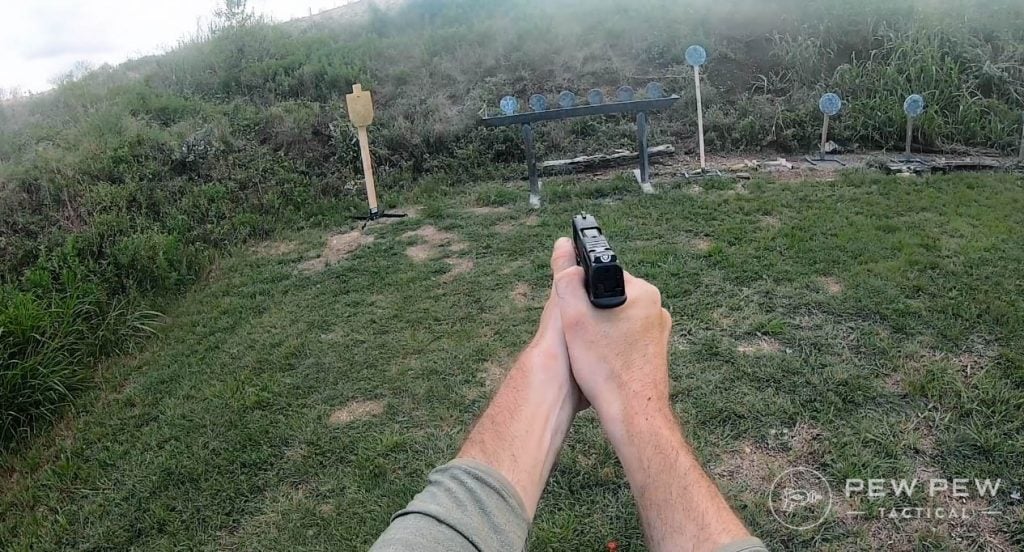 Reliability: 5/5
The only malfunctions I've experienced are with some hard-primered Tula. I had a single click and couldn't get the weapon to fire in a Glock 19 or a Sig P365. Other than that, the weapon remains insanely reliable.
Customization: 3/5
The Hellcat has some customization options, but it still hasn't reached Glock or even P365 levels.
Value: 5/5
It's a fairly priced pistol outfitted with the features I want for a concealed carry pistol. What I do enjoy is the fact the gun comes with an extended magazine which sets it a little bit apart. It's nothing genre-changing for the price but acceptable. My big issue is the magazine prices are not low by any means.
Overall: 4.5/5
The Hellcat provides stiff competition for the P365, as well as the other Micro Compacts on the market. It's a solid concealed carry pistol with varying capacities, optional accessories, and an actual Picatinny rail.
549
at Brownells
Prices accurate at time of writing
Prices accurate at time of writing
Field Strip & Reassembly
Conclusion
The Springfield Hellcat guns for the Sig Sauer P365 and do so well. With a competitive price, a comfortable, yet diminutive frame, and stellar accuracy, it's a winner.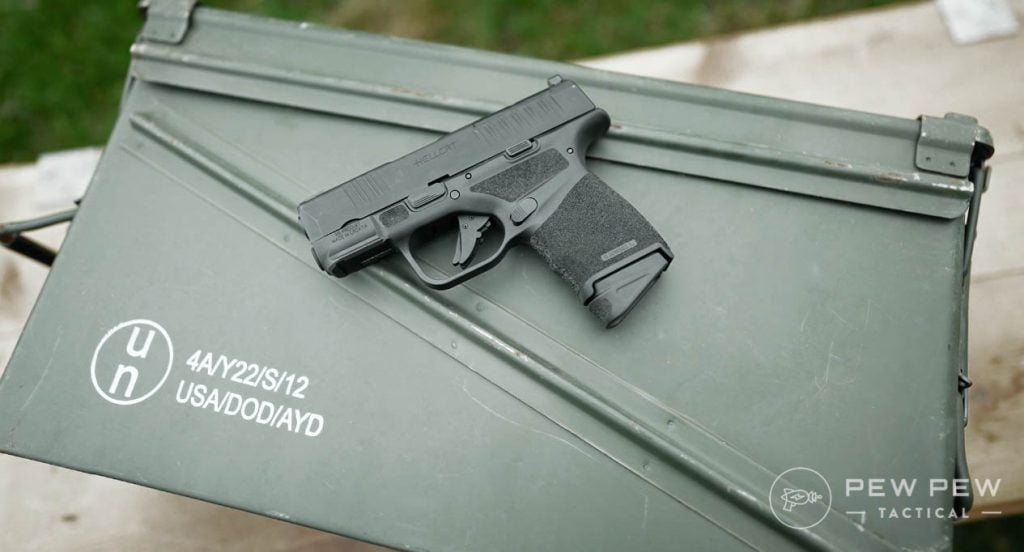 What is your top Micro or Sub-Compact? Let us know below. Also, check out more mico compacts in the 5 Best Micro Compacts!